9 Best Beach towns near Buenos Aires, Argentina
Olga Sukhorukova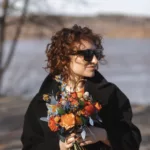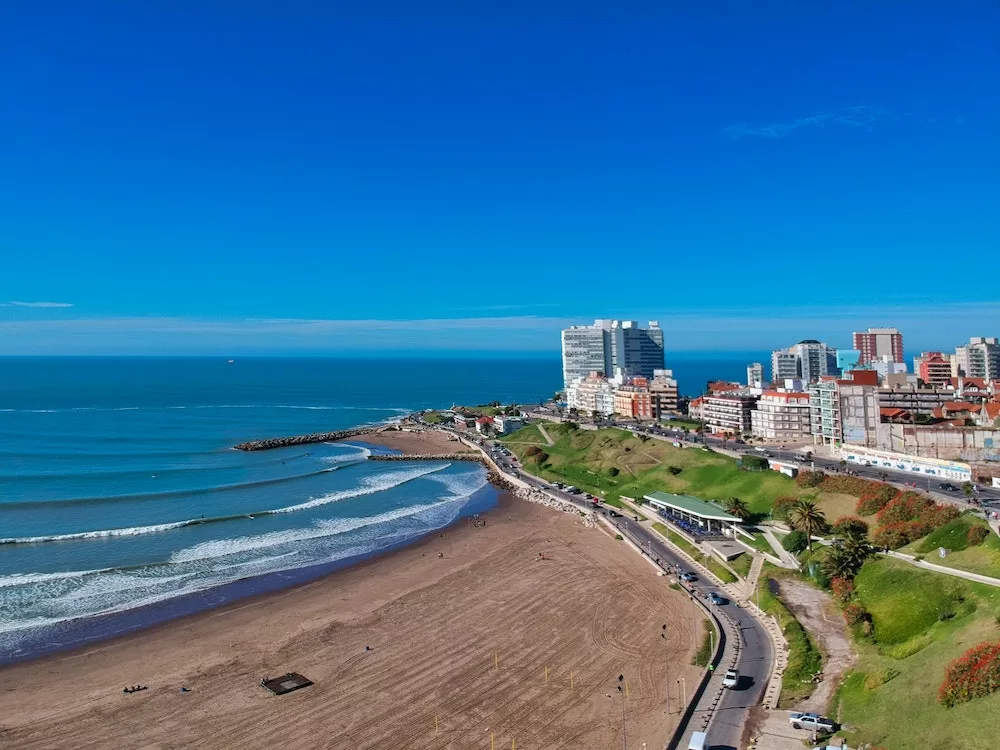 In the summertime (December-February), Buenos Aires is quite hot and it can be delightful to spend time on its beaches with pristine white sand while listening to the soothing sound of waves from the Atlantic Ocean.
If only that were true.
Buenos Aires is indeed a port city, but if you look at the map, you can see that it stands on a deepening of the ocean into the mainland, as if on the shore of the bay. In fact, this is not a bay, although it is very similar in appearance. This is the Rio de la Plata River (estuary, to be precise).
That means Buenos Aires is situated along the banks of a river that empties into the Atlantic. It may not seem like much, but it's better than nothing! One can swim in its expansive waters where you can't even see the other side of its bank…
Once again, there is a catch!
The river carries so much sediment that its water turns brown. Not many people would want to swim in such an unappealing river! However, for those who are willing to disregard the murky-brown color of the water, beaches in Buenos Aires do exist.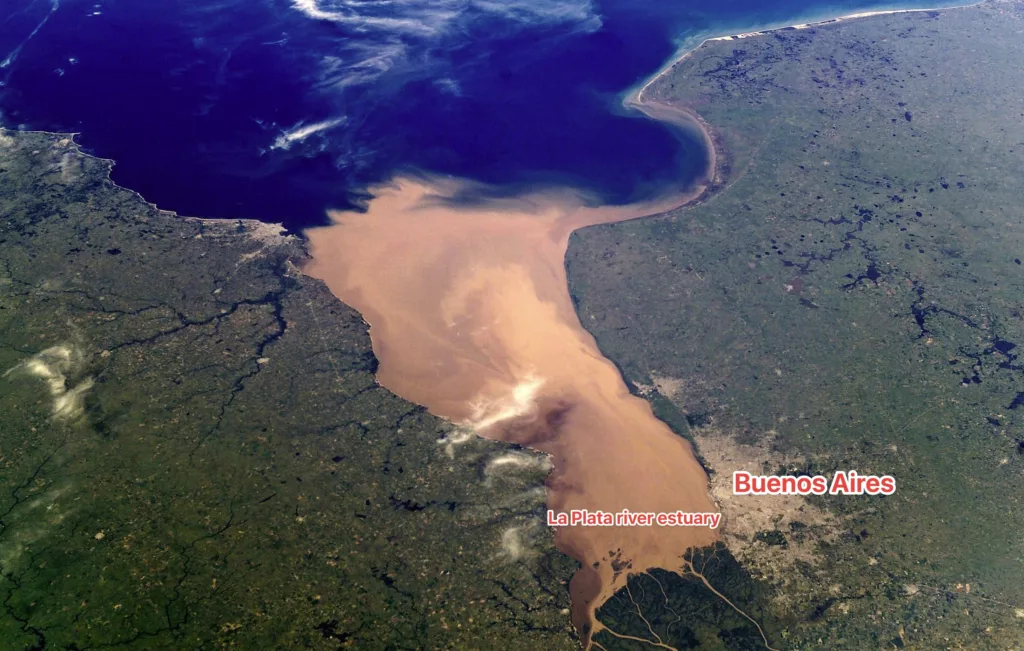 But they face yet another challenge – environmental issues. The port does not contribute to water purity, causing various problems every now and then. For instance, recently in Buenos Aires province an orange alert was issued due to cyanobacteria appearing in Rio de la Plata waters which can be hazardous for human health. Hence swimming is currently discouraged there.
So it turns out there is nowhere to swim in Buenos Aires and no beach vacation is possible? Not at all; you just need to know where to look. I will tell you everything now!
Of course, you can still find a beach holiday with white sand and ocean waves in Argentina. It is simply not located in the city of Buenos Aires; instead, it lies within the province of its namesake. Therefore, to get there, you must travel south along the coast for approximately 300 miles from the capital.
Argentines typically take their vacations during January or February when children are off school and many people residing in Buenos Aires head to the shoreline then as well.
I will start with the most famous resort town in the province of Buenos Aires:
Mar del Plata
Must-visit: 10/10
Accessibility: 5/5
Restaurants: Yes
Crowds: Yes, in peak season
Sports: surfing, kitesurfing, windsurfing
Some downsides: too noisy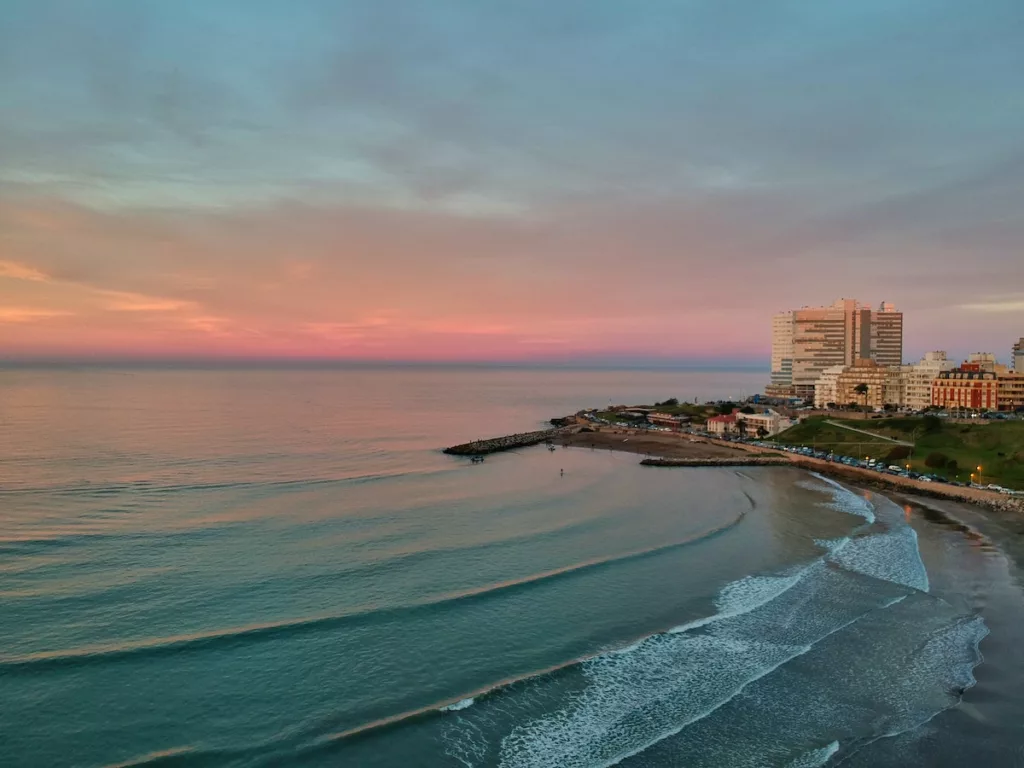 Mar del Plata is the most popular resort in Argentina, and during the summer months it can be packed with millions of tourists. It is a large city that offers many different types of beaches to suit various tastes – you will find crowded urban beaches as well as private ones where you have to pay for access; there are also some secluded wild beaches.
There is also something to see in the city itself. Mar del Plata is renowned for its impressive Victorian mansions. The Cathedral, with intricate architecture and many chapels, is also an attraction worth visiting. For those academically inclined tourists, there are several museums to consider visiting such as the Historical Museum, Maritime Museum and Natural Sciences Museum.
One of the natural attractions in this city is a colony of sea lions that have chosen to make Mar del Plata's coast their home and are often seen close by tourists. The connection between these animals and the city has even been memorialized with a monument.
Helpful tip If you are planning on visiting Mar del Plata, it is important to remember that this is a very popular vacation spot for Argentines. Therefore, it's essential that you book any tickets, apartments, restaurants and activities in advance to avoid disappointment.
Pinamar
Must-visit: 9/10
Accessibility: 4/5
Restaurants: Yes
Crowds: not really
Some downsides: there isn't much available in the city in terms of entertainment.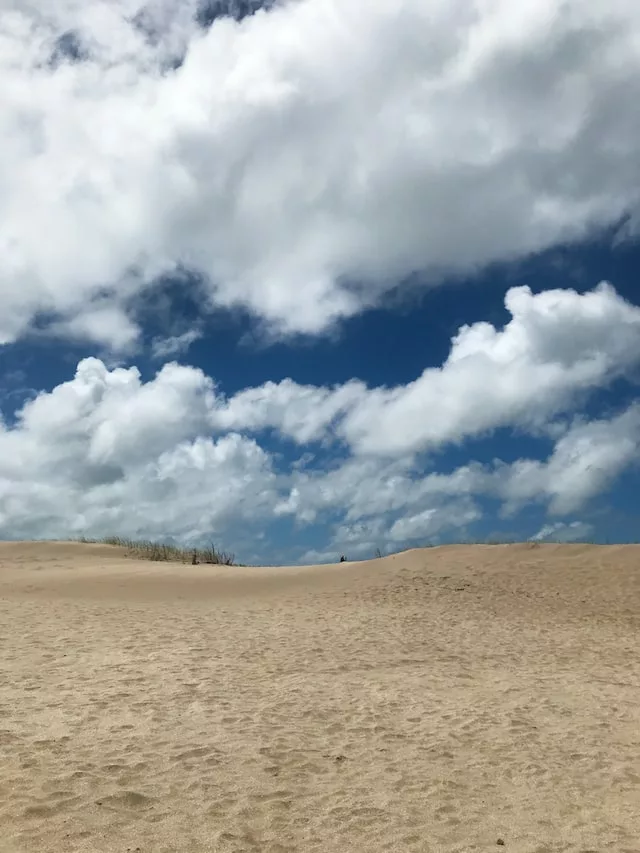 This city, located north of Mar del Plata and closer to Buenos Aires, is renowned for its excellent pine-filled air. One hundred years ago, it was a lifeless desert; however, in an effort to strengthen the coastline it was decided that a whole forest of pines should be planted which now surrounds Pinamar.
It is the perfect destination if you are looking for some rest and relaxation as there is not much to see within the city itself. The beaches of Pinamar offer plenty of opportunities when it comes to sports activities such as surfing or fishing and diving. Although water temperatures can be slightly cooler than in Mar del Plata they are not drastically different.
Mar de las Pampas
Must-visit: 7/10
Accessibility: 3/5
Restaurants: Yes
Crowds: not really
Some downsides: little entertainment, suitable only for families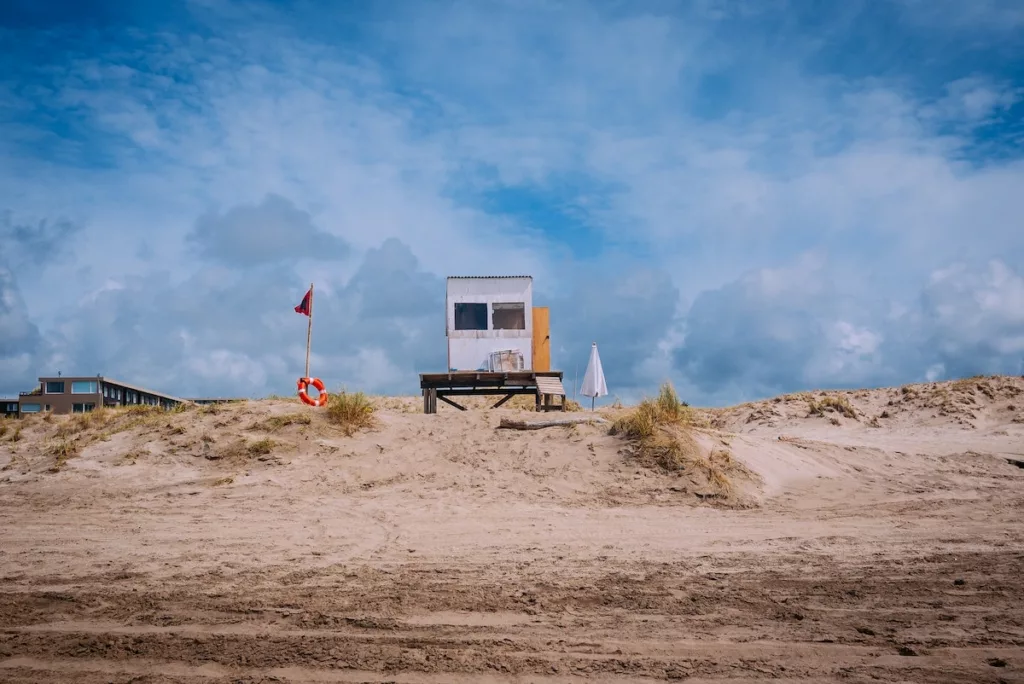 This small town located south of Pinamar is often the destination of choice for families with children who are looking to relax. While it is not a bustling city with an abundance of nightlife, there are plenty of cafes, restaurants, parks and its beautiful beach to enjoy during your stay.
Mar Azul
Must-visit: 8/10
Accessibility: 3/5
Restaurants: Yes
Crowds: no
Some downsides: no other attractions except nature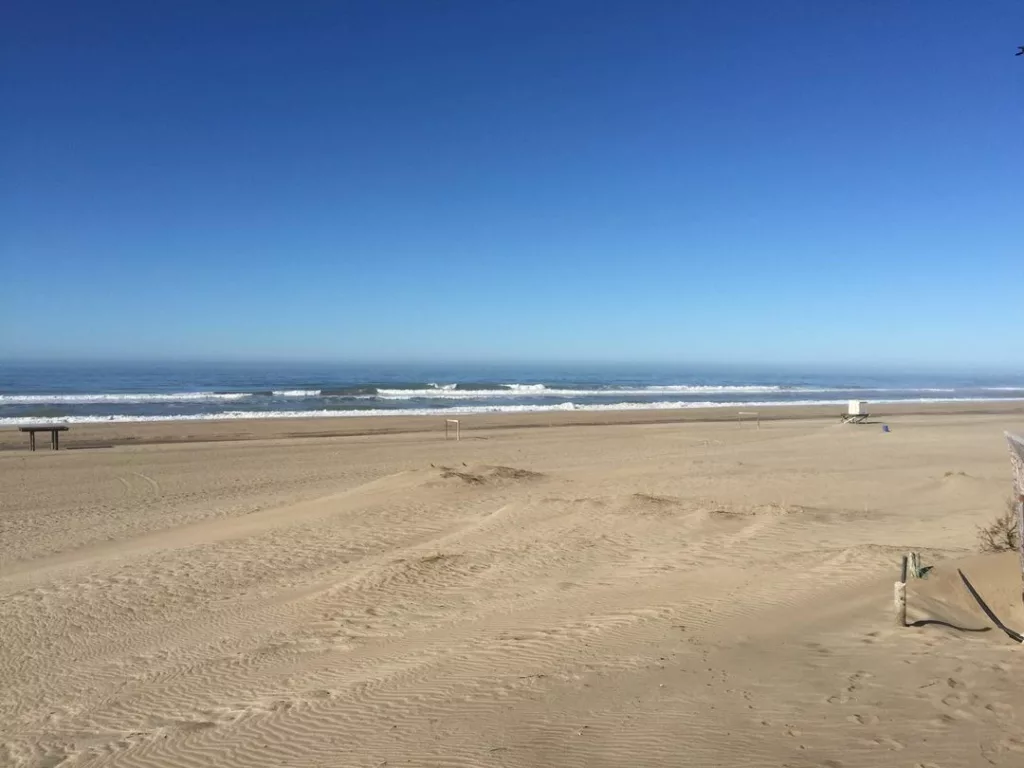 This is no longer a bustling city, but rather a small village located just south of Mar de las Pampas. The beach there is one of the best on the entire coast and renowned for its camping. It is perfect for those who appreciate bonfires, guitars, and romantic nights under the starry sky beside the ocean.
Miramar
Must-visit: 9/10
Accessibility: 4/5
Restaurants: Yes
Crowds: not really
Some downsides: somewhat rural area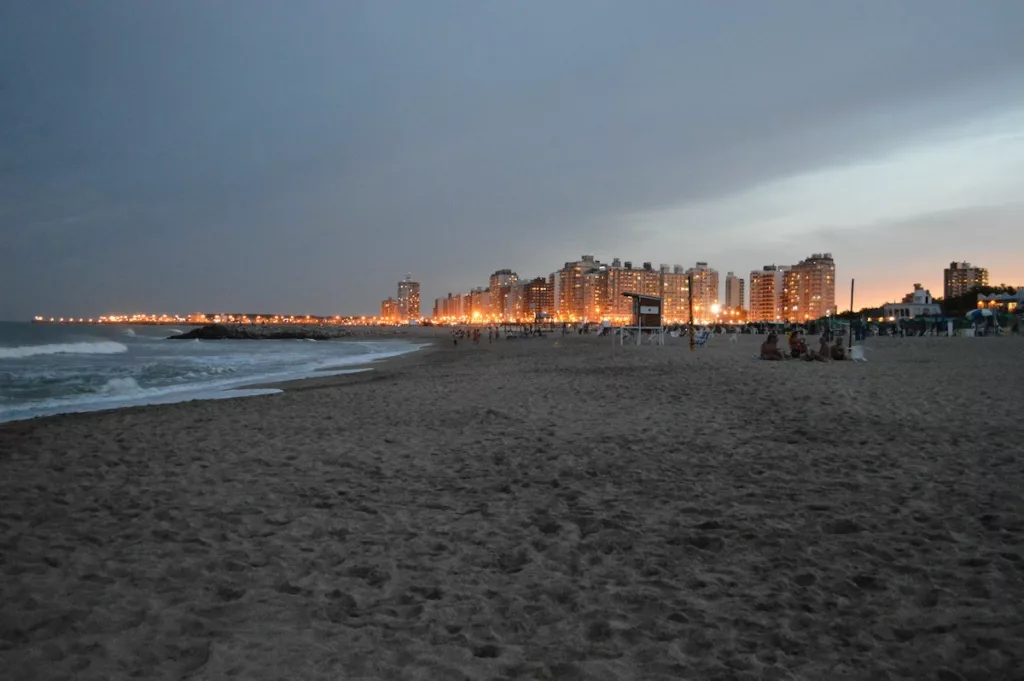 You will find Miramar 28 miles (45 km) south of Mar del Plata. Although the towns in this area generally provide similar experiences, Miramar's charm stands out. There are fascinating excursions to a local agricultural school where visitors can learn how organic vegetables and cheese are produced before tasting them for themselves.
Additionally, there is a beautiful beach with various water sports activities available for those who wish to partake.
San Clemente del Tuyú
Must-visit: 7/10
Accessibility: 5/5
Restaurants: Yes
Crowds: Yes, in peak season
Some downsides: the water could be cleaner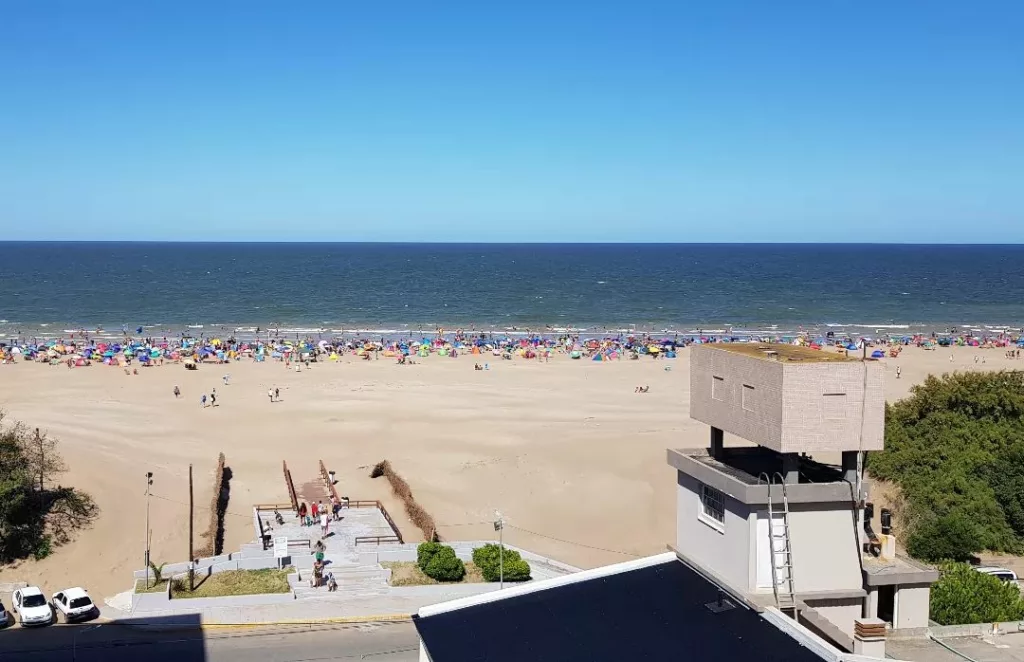 You will find this town in the north of Buenos Aires. Although San Clemente del Tuyú is surrounded by beautiful beaches and sand dunes, the main attraction is its Mundo Marino, a giant oceanarium. Though I would not say the beach here is ideal for swimming or sunbathing, it's definitely worth visiting just for its incredible oceanarium.
Mar de Ajó
Must-visit: 7/10
Accessibility: 4/5
Restaurants: Yes
Crowds: Yes, in peak season
Some drawbacks: A variety of things, but without any special features.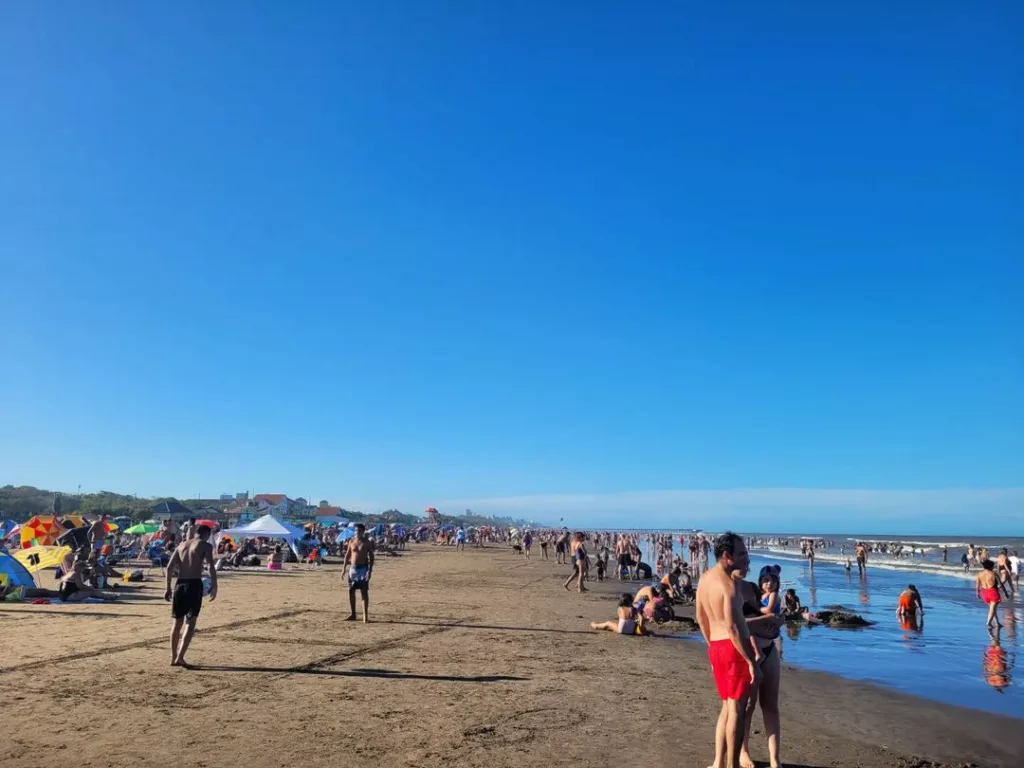 Mar de Ajó is situated between San Clemente del Tuyú and Pinamar, and it is a large town with plenty of urban entertainment options like restaurants, bars, casinos and discos. The beach here also offers decent relaxation opportunities for those who prefer an urban lifestyle but which isn't as intense as the one found in Mar del Plata.
Nueva Atlantis
Must-visit: 9/10
Accessibility: 3/5
Restaurants: quite a bit
Crowds: no
Some downsides: too quiet for those who like to party.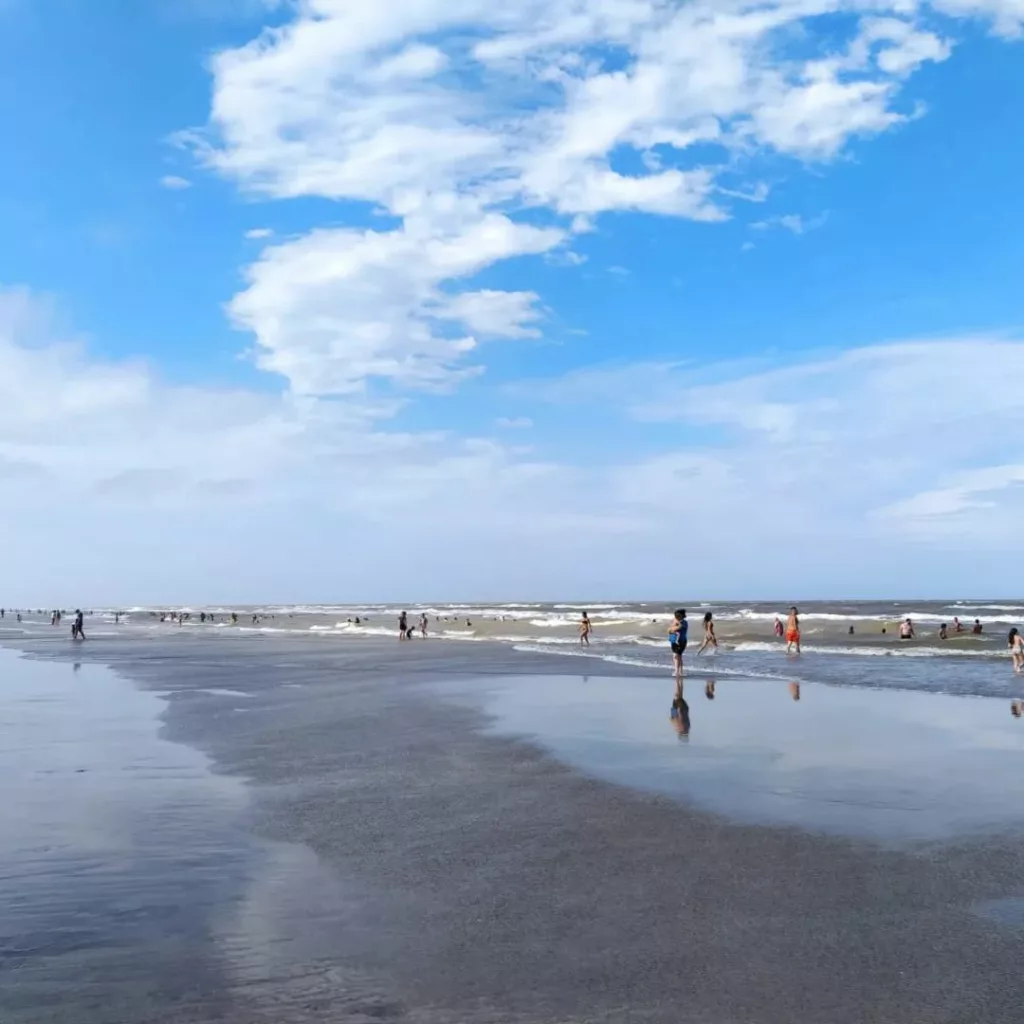 It is located a little south of Mar de Ajó. This is an ideal place for lovers of nature and silence! Both are plentiful in the town of Nueva Atlantis. And it is a rare place on the Atlantic coast where you can go to the beach and look at the waves without being distracted by anything else.
Necochea
Must-visit: 7/10
Accessibility: 3/5
Restaurants: Yes
Crowds: Yes, in peak season
Some downsides: pretty far from Buenos Aires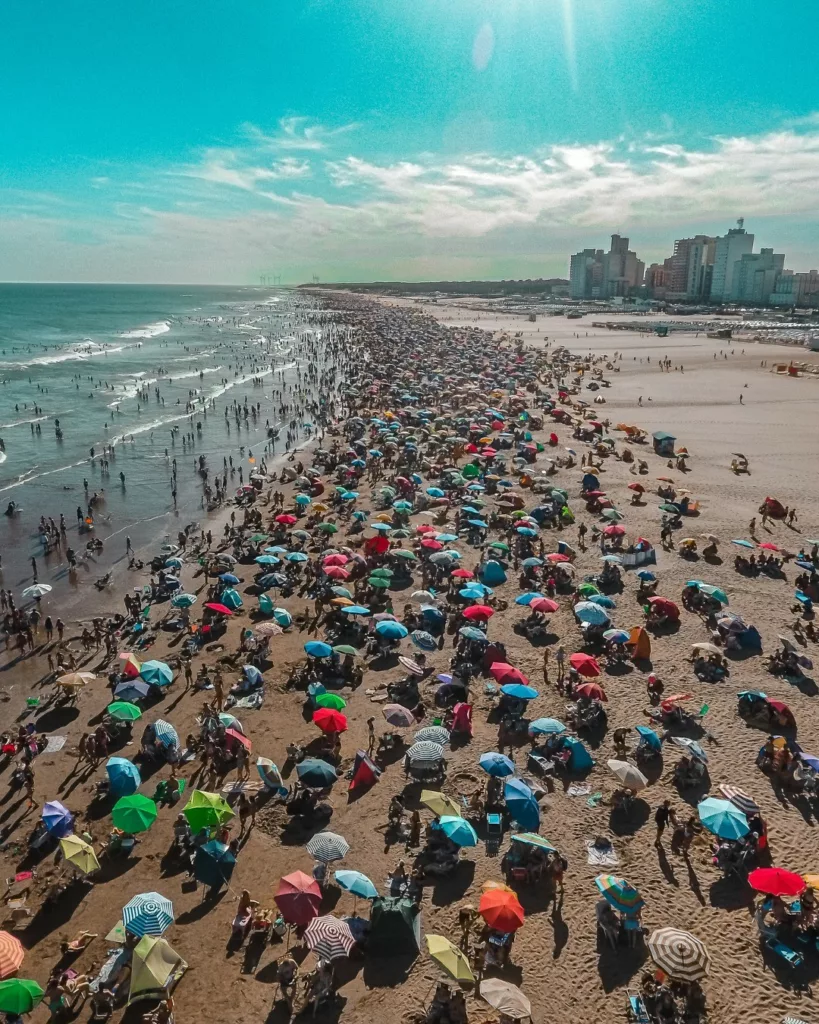 This town is located south of Mar del Plata and is more than 400 miles from Buenos Aires. A large port situated in the town slightly detracts from it being an ideal destination for a beach holiday, but the magnificent forests along the coast, which make wonderful walking grounds, save its status as a great tourist spot. The city has various beaches to choose from that cater to all tastes.
Map of beaches in the province of Buenos Aires
Frequently asked questions
What is the best time of the year to visit the beaches of Argentina?
The best time of the year to take a beach holiday in Argentina is from December to March, which coincides with summertime in the southern hemisphere. During this period, the ocean water is warm and sunshine will leave you with a beautiful tan. However, during the rest of the year tourist places may be closed and there can be increased wind speeds and rain showers; making it an unsuitable time for visiting beaches in Argentina.
How to get to the beaches of the province of Buenos Aires?
If you are looking to get to the beaches of the province of Buenos Aires, there are several options. You can take a car along a toll but high-quality highway from Buenos Aires to Mar del Plata, which will take approximately four hours. Additionally, an airport in Mar del Plata offers flights that arrive in just one hour if departing from Buenos Aires. Alternatively, taking a train is also possible; it takes 6-7 hours for this journey and tickets can be purchased at Retiro station in Buenos Aires. Finally, another popular option among Argentinians is traveling by bus – seats are laid out horizontally and food is provided during the trip (much like on airplanes). Tickets must also be bought at Retiro station before departure and usually last 5-6 hours en route to your destination!
Despite Buenos Aires has water nearby, it is unfortunately not ideal for beach leisure in summer.
However, just a short distance away from the city where the waters of Rio de la Plata no longer mix with those of the ocean lies everything that you would expect from a perfect beach holiday – white sand beaches with clear water and beautiful Atlantic waves.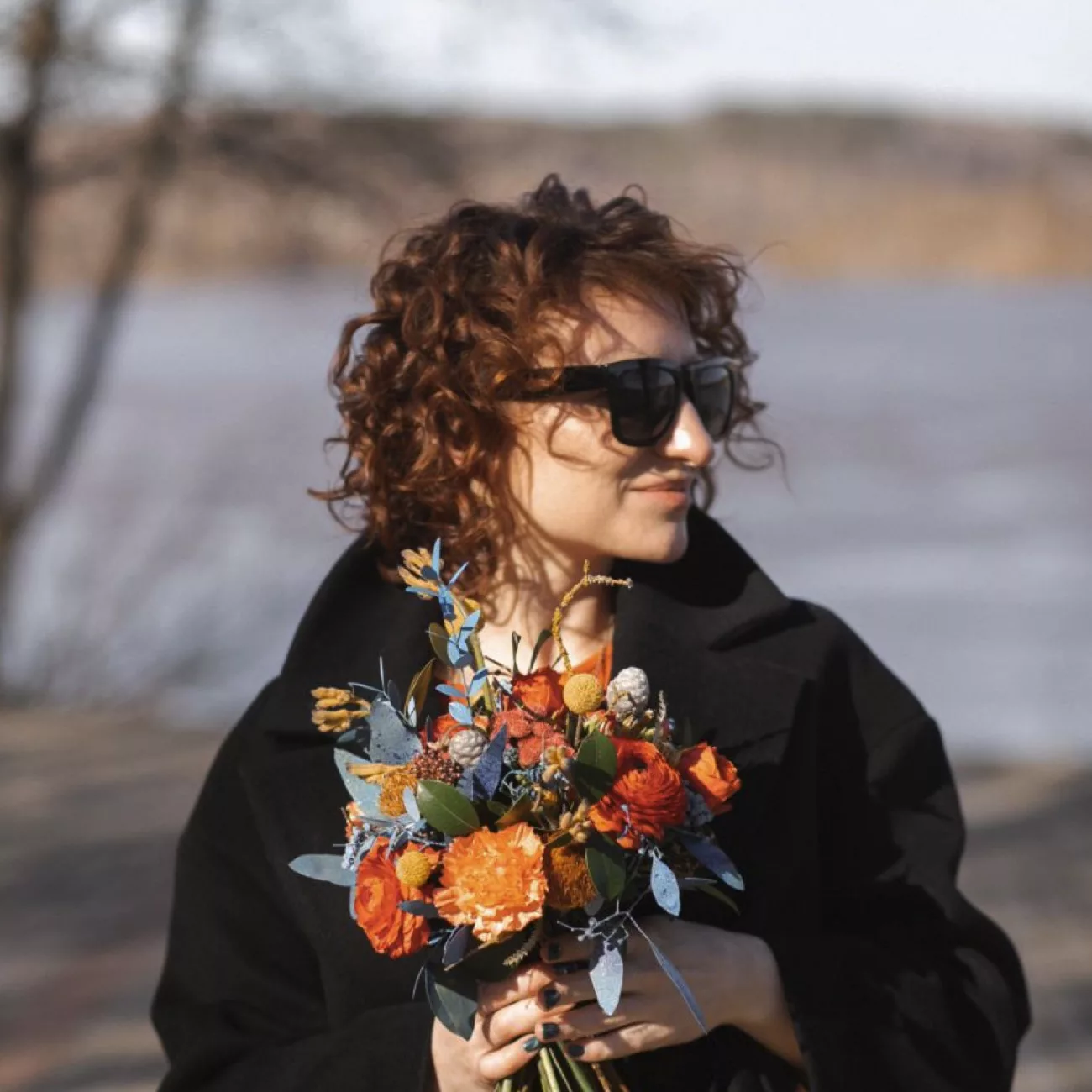 I live in Buenos Aires and write about Argentina and other places I like. For me, traveling is a great possibility not only for discovering new destinations but also for learning about myself (that is usually hidden behind everyday life).
In other words, you discover new landscapes of your soul when traveling!
This post might include some affiliate links. If you make a purchase through these links, I may earn a small commission at no additional cost to you. I appreciate it when you use my links to make purchases.