17 Scenic Hikes In The US Worth Visiting This Fall 2023
Nadia Podrabinek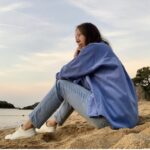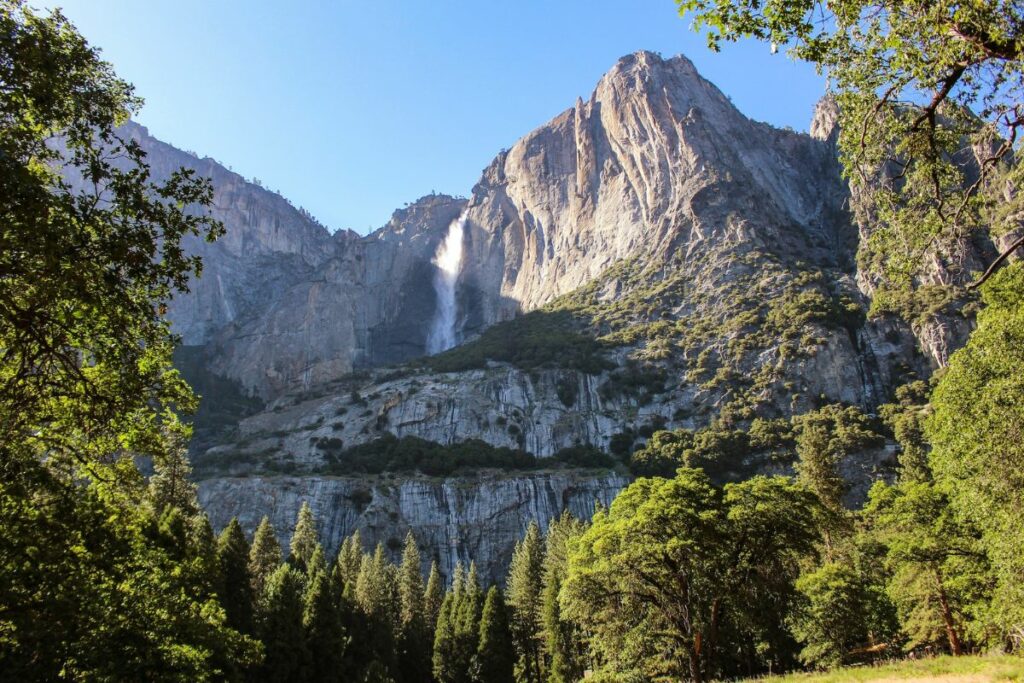 As the leaves paint the landscape in fiery hues and the crispy fall breeze beckons us outdoors, there's an undeniable call to explore the great American wilderness.
During fall, I can't help but lace up my hiking boots, grab my backpack, and hit the trails. And for those of you who live for the scenic beauty of fall and the satisfying crunch of golden leaves beneath your feet, I've got something special to share with you.
I've gathered the best hikes in the US right here. I've even thrown in a few neat tips and tricks, and tailored hiking trails, so get reading!
---
Key Takeaways
From the Pacific Northwest to the Rocky Mountains, every region of the US offers incredible fall hike experiences.
Safety is paramount: wear the right gear, check the weather, and respect the wildlife.
Don't forget a camera to capture the vibrant colors of fall!
---
Best Hikes in the US to See Fall Foliage with Map
The US is a hiker's haven, with miles and miles of mountains, sparkling waterfalls, and hidden beaches to explore on foot.
Northeast Region
1. Acadia National Park, Maine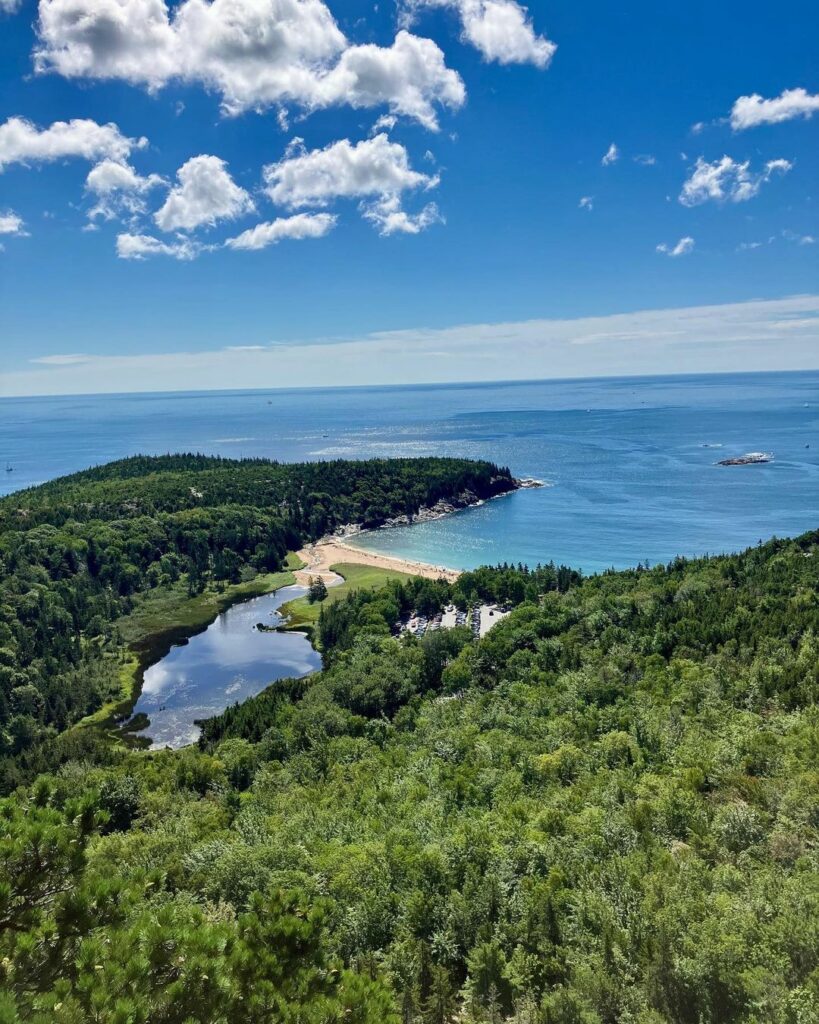 Ocean Path Trail
Distance: 2.2 miles (3.5 km) one-way; 4.4 miles (7.1 km) loop
Difficulty: Easy to moderate
Duration: 2-4 hours
Acadia National Park, Maine – a must for any US hiking guide. Nestled on Mount Desert Island, it's a nature lover's paradise with woodlands, rocky beaches, and glacier-sculpted peaks, including the legendary Cadillac Mountain.
With over 120 miles (193.1 km) of trails, Ocean Path stands out. Known for its breathtaking scenery and ease of access, you can choose a short section or the whole route. Either way, there are non-stop sights to see.
You'll see jaw-dropping sites like Thunder Hole, Monument Cove, and Otter Cliffs. Savor the sun, sea air, and seagull calls before reaching your final destination at Otter Point.
How to get there Drive south on the Park Loop Road from Hulls Cove Visitor Center for 9 miles (14.5 km). If you're in Bar Habor, follow Route 3 south for about 4 miles (6.4 km), turning right just before The Tarn.
Tip I highly recommend taking this trail at the start of fall when the weather is still slightly warmer.
2. White Mountains, New Hampshire
Franconia Ridge Loop
Distance: 8.5 miles (13.7 km)
Difficulty: Strenuous
Duration: 7+ hours
In New Hampshire's scenic north lies Franconia Notch State Park, a natural paradise with hiking trails, biking routes, skiing spots, and waterfalls.
Franconia Ridge Loop Trail is the ideal hiking trail to explore; it's ranked in the world's top 10 by National Geographic! Covering over 8 miles (13 km), it's a challenging but rewarding trek across three mountain ranges.
Two routes lead to the ridge. The Falling Waters Trail is popular, but I suggest the Old Bridle Path to Mount Lafayette. It's less crowded, with scenic stops and a gentler descent – though it's still tough!
How to get there Franconia Notch State Park is an easy drive on Route 93 North or South. You'll be treated to scenic views on the way, with mountains all around you.
Tips
This hike isn't a walk in the park, so be sure you have the stamina.
Proper footwear is a must. Leave the sandals at home and wear windproof clothing for the summit – it's breezy up there.
3. Adirondack Mountains, New York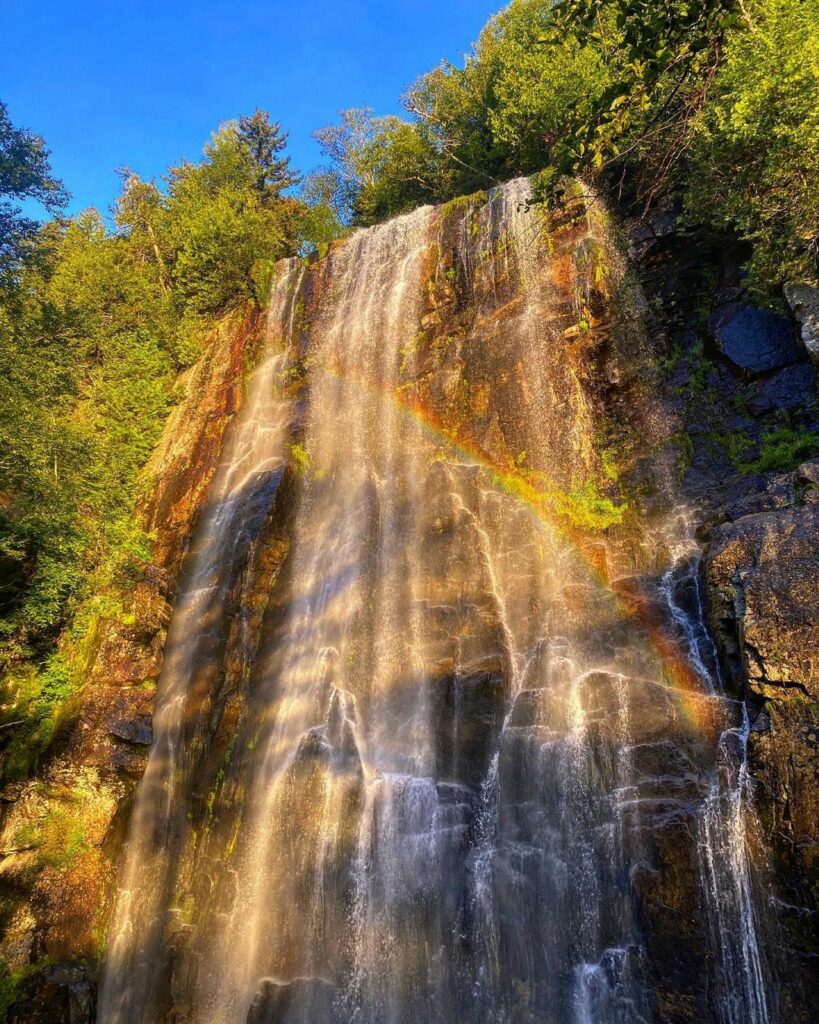 Cobble Lookout Trail
Distance: 1.3 miles (2.1 km) one-way; 2.6-mile (4.2 km) round-trip
Difficulty: Easy
Duration: 1 hour
In New York's Adirondack Mountains, you're in for a spectacular fall foliage season from September to October.
The Cobble Lookout Trail is the perfect path to see fall in the Adirondack Mountains in all its glory. The path is wide and well-maintained, making it accessible for all.
Throughout the trail, you'll encounter everything from forests to mountains, giving you spectacular scenes of fall foliage. At the end, you'll emerge onto open summit cliffs. To the southwest, Esther Mountain and Whiteface Mountain grace the horizon, while to the southeast, the majestic Hamlin and Winch Mountains come into view.
How to get there The trailhead parking lot can be found on Gillespie Drive/Route 18A, a short distance from Wilmington's Four Corners and west of Santa's Workshop and the Whiteface Memorial Highway entrance.
Tip Certain sections of the trail may be rocky and muddy, so wear waterproof hiking shoes.
Southeast Region
4. Shenandoah National Park, Virginia
Dark Hollow Falls Trail
Distance: 1.4-mile (2.3 km) loop
Difficulty: Moderate
Duration: 1-2 hours
There's nothing like fall in the Southeast of the US, especially in the Blue Ridge Mountains. And when it comes to wandering among towering trees painted in red and orange foliage, there's no place like Shenandoah National Park.
A must-do hiking trail is the Dark Hollow Falls Trail, a moderate 1.4-mile (2.3 km) loop leading to stunning waterfalls. Starting in a serene, shaded forest alongside a gentle stream, it feels like stepping into a postcard. Half a mile in, the terrain gets steeper, signaling the approach of the star attraction – the waterfall.
Once you've soaked in the views at the falls, get ready for the uphill trek back.
How to get there From the Limberlost Trail, head south on Skyline Drive for about 7.6 miles (12.2 km) until you spot a parking area on the left. The trail starts just across the street.
Tips
The rocks around the falls can get slippery, so shoes with good grip are a must.
It's a good idea to bring some basic first aid supplies, you never know when you might have a little slip.
5. Great Smoky Mountains, Tennessee/North Carolina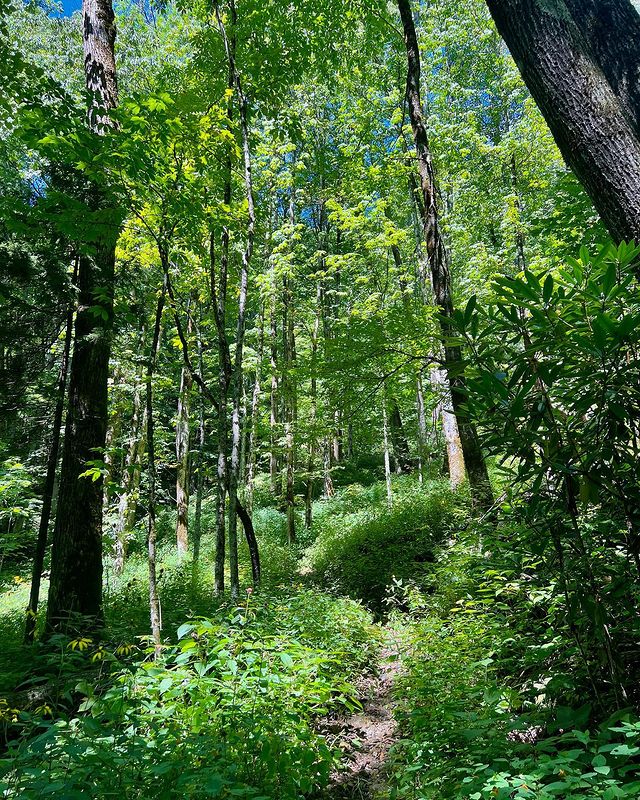 Rich Mountain Loop
Distance: 8.5 miles (13.7 km)
Difficulty: Strenuous
Duration: 4-5 hours
Welcome to the Great Smoky Mountains, where the autumn magic unfolds from mid-October to early November. During this season, vibrant colors from sugar maples, red maples, and scarlet oaks paint the landscape.
The Rich Mountain Trail is your golden ticket to experiencing the fall foliage up close and personal in the Smokies. The trail offers two paths to explore. Opting for the clockwise route, you'll meander along Rich Mountain's southern slopes, tracing streams flowing into Cades Cove.
Once you reach the mountain's summit, take a detour to Cerulean Knob. Here, you can soak in the autumn views before joining the trail again and completing the loop.
How to get there Drive 7.7 miles (12.4 km) west on Laurel Creek Road from the Townsend "Y" intersection toward Cades Cove. The trailhead is a mere 50 feet (15.2 meters) beyond the gate.
Midwest Region
6. Starved Rock State Park, Illinois
LaSalle Canyon Trail
Distance: 2.3-mile (3.7 km) out and back trail
Difficulty: Moderate
Duration: 1 hour
If you ever find yourself in Oglesby, Illinois, you simply must visit Starved Rock State Park; famous for its 18 canyons carved out by various streams.
One of the standout trails for experiencing the beauty of the park is the LaSalle Canyon trail. The journey begins where the River Trail and Bluff Trail diverge.
The magic of this hike unfolds as you descend a grand staircase leading to the tranquil banks of the Illinois River. Just picture it in the fall, unbe-leaf-able!
You'll trek through a spot known as "horseshoe bend", a serene cleaning that's prime for photo ops, and finally, you'll reach your destination – the magnificent LaSalle Canyon.
How to get there If you're itching to start your hike, skip the Visitor's Center parking and head straight to the Parkman's Plain parking lot and trailhead.
7. Porcupine Mountains Wilderness State Park, Michigan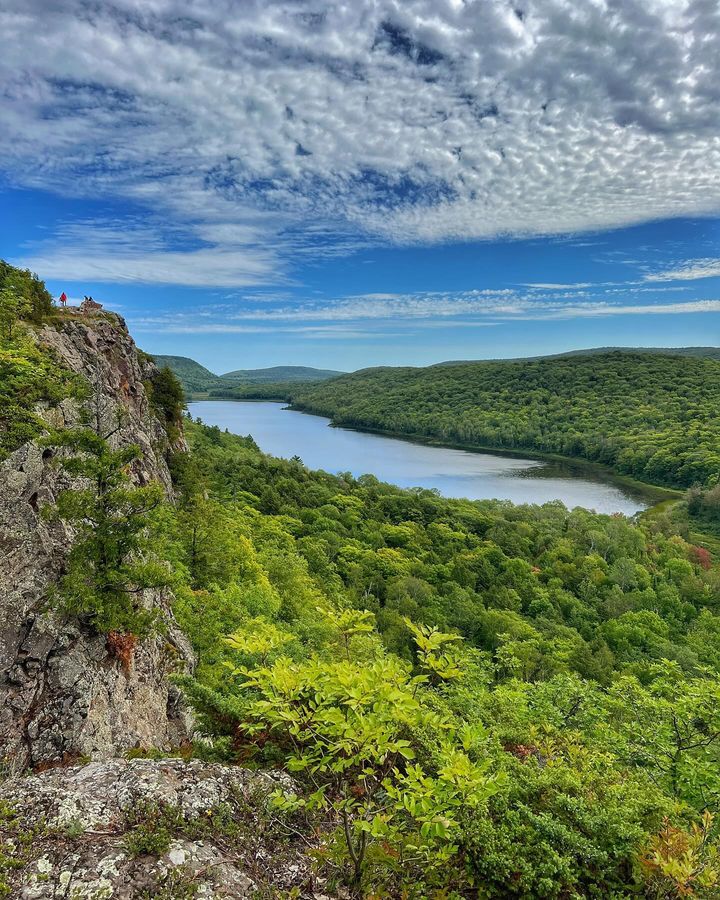 Escarpment Trail
Distance: 4.2 miles (6.8 km) one-way; 8.6-mile (13.8 km) loop
Difficulty: Moderately challenging
Duration: 2-4 hours
The Porcupine Mountains Wilderness State Park, lovingly known as "the Porkies", is a Midwest gem. It offers stunning hikes, waterfalls scenic overlooks, and one of the most magnificent displays of autumn colors in the US.
Among the many incredible trails in the Porkies, the Escarpment Trail stands as the crowning jewel not only of this park but possibly the entire Midwest. The hiking trail treats you to high rocky bluffs, alpine-like vistas, and captivating views of the park's rugged interior.
Take your time, savor the scenery, and enjoy snacks along the way.
How to get there You can take M-64 from the east, which follows the Lake Superior shoreline westward from Ontonagon, eventually leading to the park entrance at M-107.
Tips Wear sturdy boots or shoes, especially when the trail dips into the woods with its rocky terrain.
Southwest Region
8. Arches National Park, Utah
Delicate Arch Trail
Distance: 3.2 miles (5.1 km)
Difficulty: Moderate
Duration: 2-3 hours
An otherworldly escape awaits at Arches National Park, where millions of visitors flock to see the towering red sandstone formations and unreal sunsets and sunrises.
Naturally, you can't come hike here without visiting the arches, and among the 2,000 scattered across the landscape, Delicate Arch is where you should head. It's not just any arch, it's practically the unofficial symbol of this breathtaking state!
Climbing over rolling hills and ascending a steep ascent on a rock slope are all a part of the journey. Finally, you'll see Delicate Arch in all its glory. Walk right up for a photo beneath it – you can't leave without proof you've done it!
How to get there Drive 11.7 miles (18.8 km) north into the park and turn right onto Delicate Arch Road. Drive 1.2 miles (1.9 km) to the parking area on your left.
Tips
Arches is popular, so begin your day early to avoid crowds.
Desert hikes dehydrate you quickly. Bring at least one gallon of water per person.
9. Grand Canyon, Arizona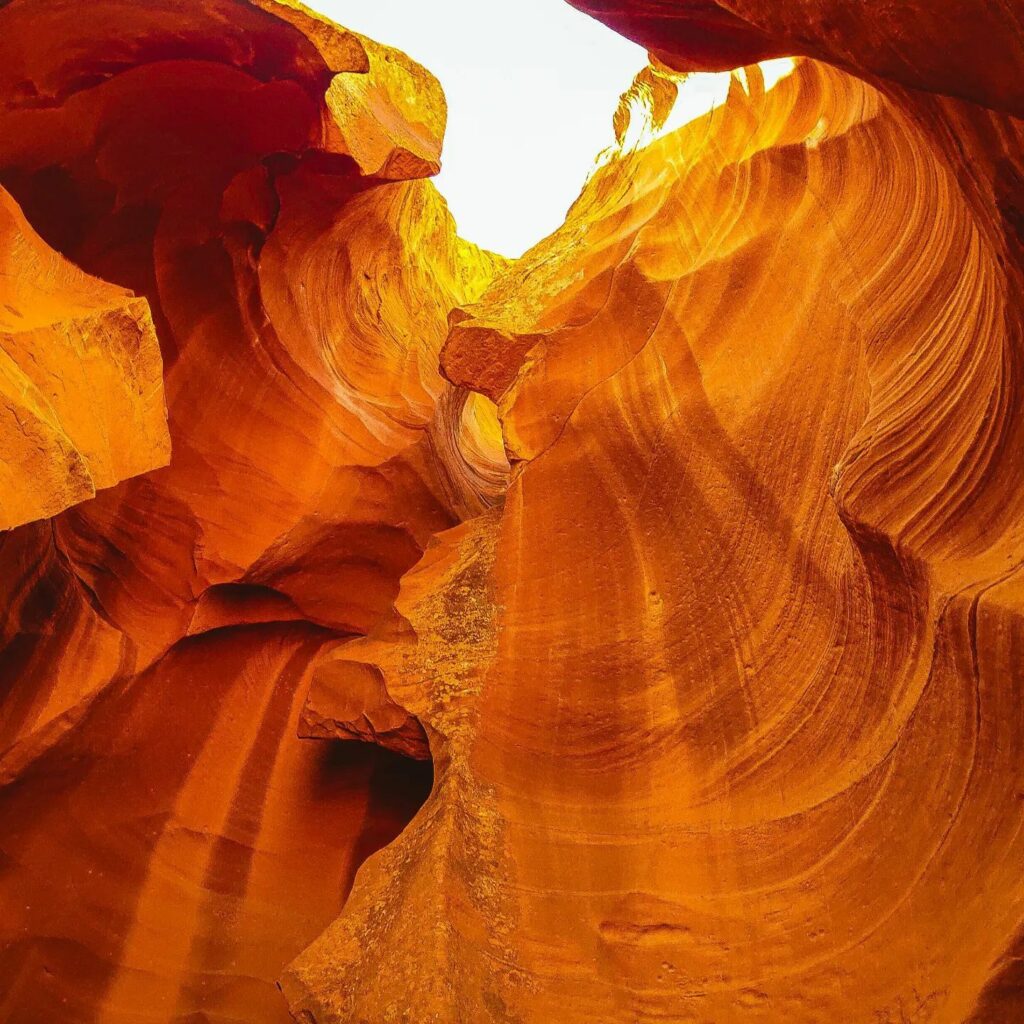 Bright Angel Trail to Havasupai Gardens
Distance: 9 miles (14.5 km) out and back
Difficulty: Strenuous
Duration: 4-6 hours
Imagine standing at the edge of one of the Seven Natural Wonders, the Grand Canyon, with nothing but your hiking boots and a sense of adventure.
Among the many trails that wind through this magnificent park, there's one that truly stands out – the Bright Angel Trail. This iconic hike, stretching to Havasupai Gardens, is as much a part of the Grand Canyon experience as the stunning sites.
You'll navigate a series of switchbacks, each offering evolving canyon views. Upon reaching the Havasupai Gardens campsite, you'll face several choices: set up camp, press on along Bright Angel, or rest before your return journey uphill.
Disclaimer This trail is tough so don't get too ahead of yourself, literally!
How to get there You'll find the Bright Angel Trail in Grand Canyon Village on the South Rim.
Tip If you're a beginner hiker or this is your first time hiking the Grand Canyon, I recommend setting up camp at Havasupai Gardens or turning back.
West Region
10. Yosemite National Park, California
Four Mile Trail
Distance: 4.8 miles (7.7 km) one-way; 9.6-mile (15.4 km) loop
Difficulty: Strenuous
Duration: 3-4 hours one-way; 6-8 hours round trip
Yosemite Valley is as enchanting as it gets when fall comes around. The scenery viewed from your car's dashboard is a sight to behold, but it gets even more magical when you hit the hiking trails. In this case, the beautiful Four Mile Trail.
Starting near the base of the towering Sentinel Rock, it leads you on an uphill journey all the way to the crown jewel of Yosemite Valley, Glacier Point.
Along the way, you'll be treated to jaw-dropping vistas of Yosemite Valley, El Capitan, Yosemite Falls, and the grand finale, Half Dome. When you reach the top, Glacier Point welcomes you with incredible views and photo ops.
How to get there Hop on the complimentary El Capitan Shuttle Bus at the Yosemite Valley Visitor's Center.
Tip If you're planning a one-way hike, you'll need a fellow hiker who can either drop you off at the starting point or pick you up at the trail's end.
11. Mount Rainier National Park, Washington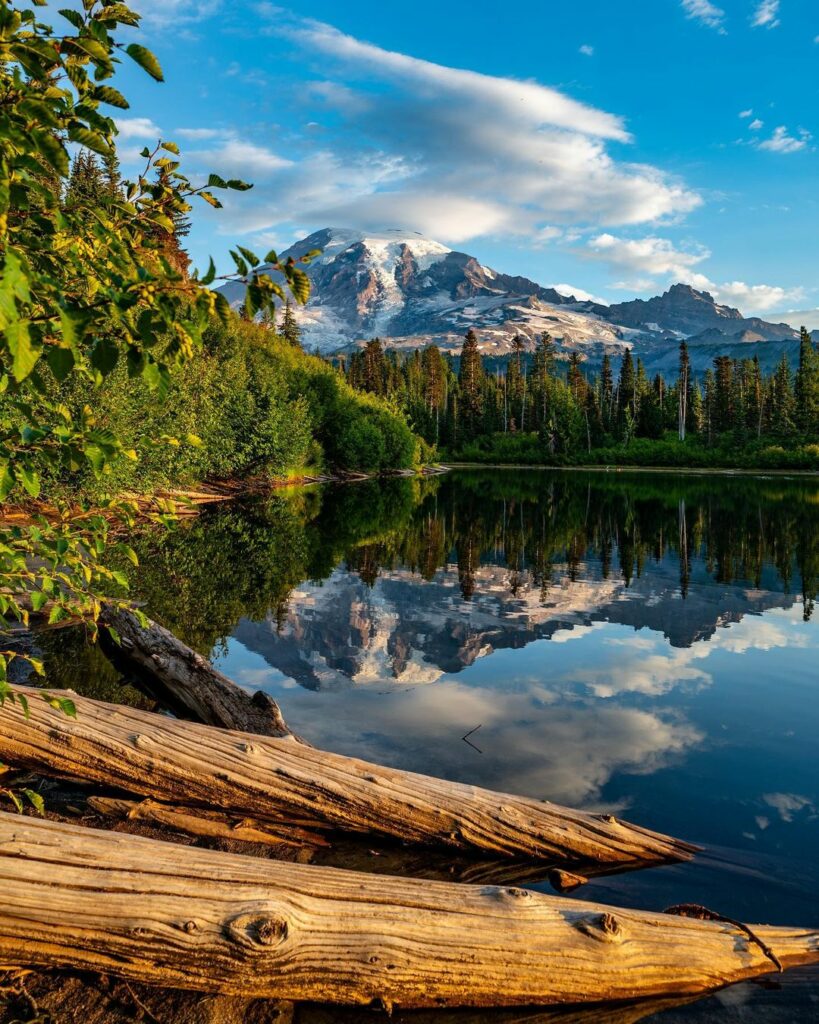 Skyline Loop Trail
Distance: 5.5-mile (8.9 km) loop
Difficulty: Moderate to strenuous
Duration: 3.5 hours
Crystal-clear lakes, diverse wildlife, enchanting meadows, and the majestic Mount Rainier; what more could you ask for the perfect fall hike?
The Skyline Loop Trail is the ideal path to immerse yourself in vibrant foliage. Opt for either the clockwise or counterclockwise route. While the clockwise route begins with a thigh-burning ascent, it rewards you with breathtaking views of Mount Rainier.
The trail guides you to ascending stone stairs for Tahoma peak views. Glacier Vista, to your left, offers excellent photo ops and a turnaround point if you prefer to skip the challenging climb ahead.
Continuing on promises a reward for all that climbing. You'll reach Panorama Point, aptly named because it offers some amazing panoramic views of Paradise Valley, Mount Adams, and Mount Hood.
How to get there Enter through the Nisqually entrance and follow 706 as it becomes Paradise Rd E. Over 16 miles (25.7 km), signs will guide you through detours and scenic lookouts until you arrive at the Paradise Visitor Center.
Pacific Northwest Region
12. Columbia River Gorge, Oregon
Latourell Falls Loop Trail
Distance: 2.4 miles (3.9 km)
Difficulty: Easy to moderate
Duration: 1 hour
The Columbia River Gorge lights up with stunning fall colors from September to early November. As the trees change into vibrant shades, it's like a natural fireworks show, especially with all the waterfalls and forests around.
When it comes to hiking, you're spoiled for choice here. One trail not to miss is the Latourell Falls Loop. Its autumnal charm is a must-see for a fall afternoon adventure.
Latourell Falls is a magnificent 249-foot (75.9 meter) waterfall, the third tallest in the Columbia River Gorge. Get up close to feel the mist or admire it from the bridge over Latourell Creek – a fantastic spot for photos.
How to get there Take I-84 to the Bridal Veil turnoff, onto the Historic Columbia River Highway, and follow the signs for the Latourell Falls trail.
13. Olympic National Park, Washington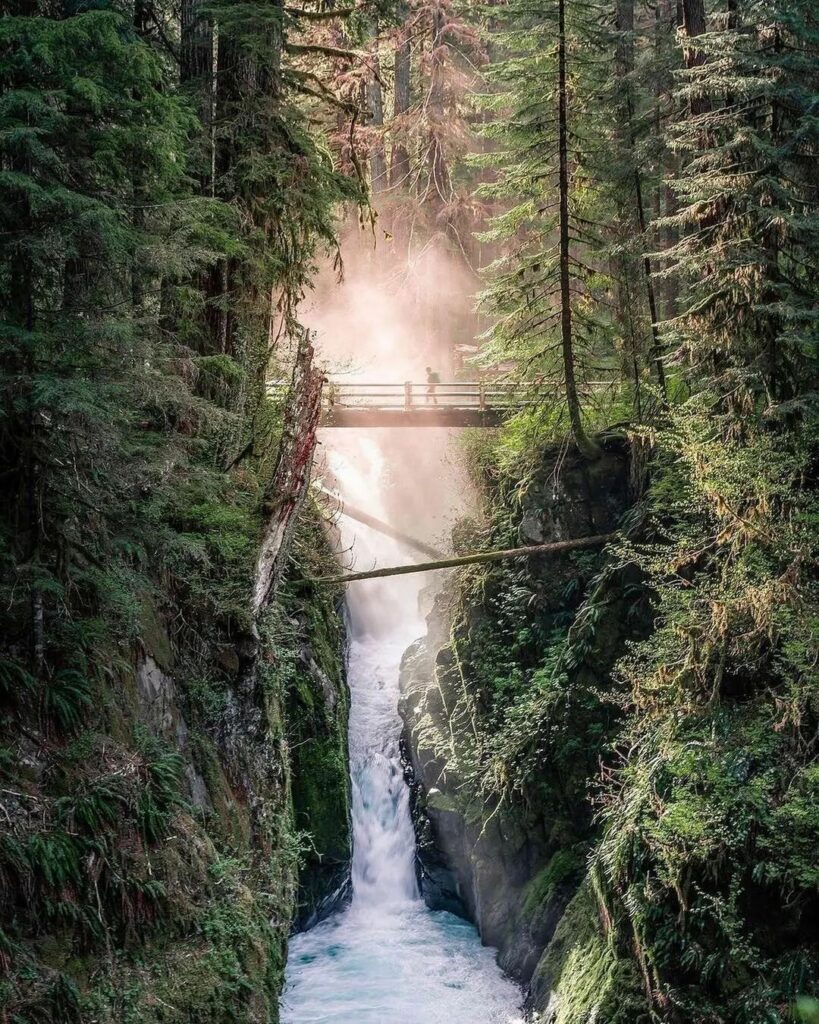 Hall of Mosses Trail
Distance: 1-mile (1.6 km) loop
Difficulty: Very easy
Duration: 30 mins
Fall in Olympic National Park is simply magical with snow gracing the mountaintops. It's a superb time for hiking in the park, offering enchanting experiences in its various landscapes.
The Hoh Rain Forest shines in the fall, and the Hall of Mosses trail is an iconic gem. True to its name, this easy hike (more like a walk) takes you through a forest of moss-covered trees, ancient ferns, and forest floor.
Most hikers tend to go clockwise, but I'd recommend taking the less-traveled counterclockwise direction. Take your time to admire the towering trees adorned with lichen and moss. This hike is shorter than it seems, so you won't want to rush through this enchanting forest.
How to get there Follow Road 101 and look for signs pointing to Hoh Rain Forest. Take Hoh Upper Road for approximately 20 minutes until you reach the Hall of Mosses Trailhead.
Tip Make sure your shoes have a good grip as the moss-covered forest floor can be slippery.
Rocky Mountain Region
14. Rocky Mountain National Park, Colorado
Emerald Lake Trail
Distance: 3.2 miles (5.1 km) out and back
Difficulty: Easy to moderate
Duration: 1.5-2 hours
Fall is one of the most enchanting seasons to explore Colorado's high country. The Rockies come alive with a vibrant display of changing aspens and wildlife, transitioning from the alpine to the montane.
Emerald Lake, a beloved hiking destination in Rocky Mountain National Park, offers a short yet rewarding adventure. Beginning at the Bear Lake Trailhead, the trail weaves through aspen groves and ponderosa pine.
The path to Emerald Lake follows the northern edge of Dream Lake. As you ascend, a picturesque pine forest surrounds you.
How to get there Follow Bear Lake Road from US 36 for 9.7 miles (15.6 km).
Tips
This trail is incredibly popular! Arrive early to secure parking and a less-crowded trail.
Be prepared for Colorado's unpredictable weather!
15. Grand Teton National Park, Wyoming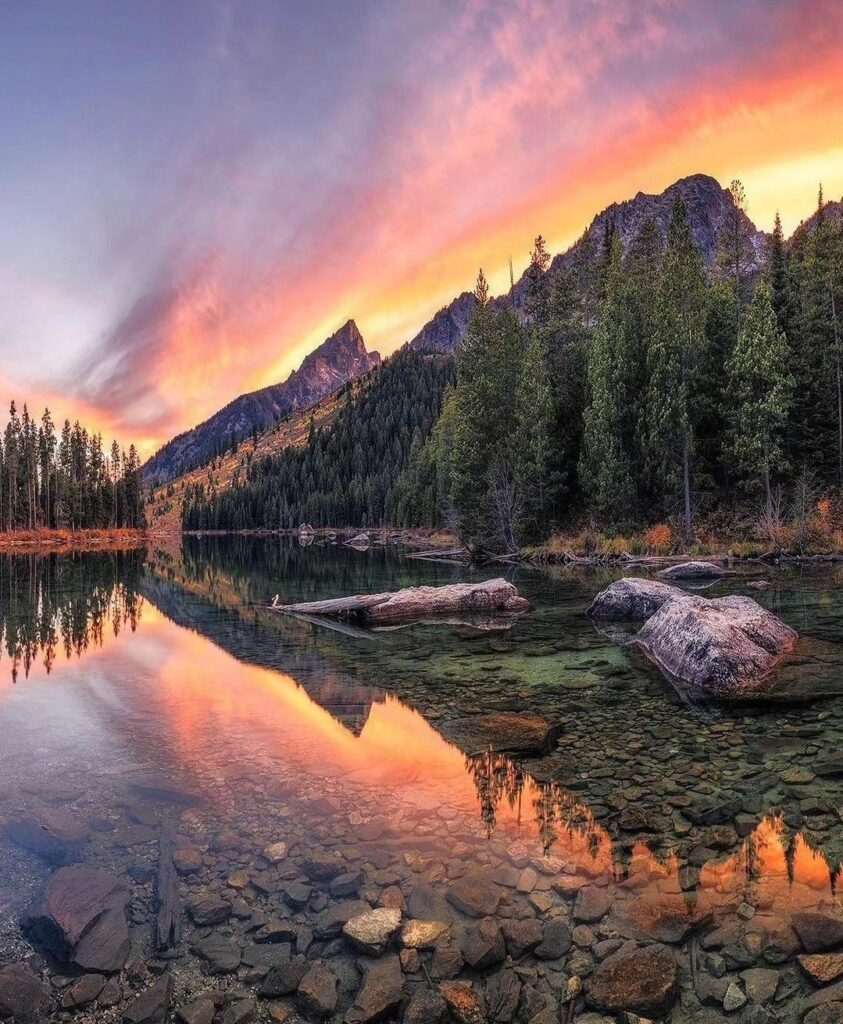 Cascade Canyon Trail
Distance: 8.8 miles (14.2 km) out and back
Difficulty: Moderate
Duration: 3-5 hours
When it comes to enjoying the natural wonders of Grand Teton National Park, hiking is where the magic happens, and the Cascade Canyon Trail is your best route in the fall. This hike offers jaw-dropping views of the Tetons, the calming sounds of Cascade Creek along the way, and wildflowers aplenty.
Starting your adventure at the Jenny Lake West Shore Boat Dock, you'll first make your way to Hidden Falls and then to Inspiration Point, where you'll enjoy incredible views of Jenny Lake. The trail then meanders into the canyon, treating you to the stunning Cathedral Group in the Teton Range.
The Cascade Canyon trail is flexible, so you can turn back whenever you like.
How to get there Opt for the boat shuttle across Jenny Lake. Your hike becomes a more manageable 8.8-mile (14.2 km) round trip, starting from the West Boat Dock at Jenny Lake.
Tips Since Grand Teton is in bear territory, always have bear spray handy when hiking here. Keep your distance – 100 yards (91 meters) from bears and 25 yards (22.9 km) from other wildlife. Safety first!
Alaska
16. Denali National Park
Triple Lakes Trail
Distance: 9.5 miles (15.3 km) one-way
Difficulty: Strenuous
Duration: 5 hours
Denali National Park, Alaska, is an enormous expanse, sprawling 6 million acres! While most of it lacks trails to preserve its natural state, there are a couple that unveil the best of Alaska's untouched wilderness.
For a serene and meditative hike, the Triple Lakes trail is perfect. It leads you through dense boreal forests of pines, larches, and spruces. Along the way, you'll stumble upon three hidden alpine lakes, each more enchanting than the last.
Your journey will take you across two sizable creeks, and a spruce forest, followed by sweeping views of Riley Creek and distant mountains. At around the halfway point, the trail veers southeast, revealing the first of the three "Triple Lakes".
How to get there To start from the north, head to the Denali Visitor Center and access the trail via the McKinley Station Trail. If you're coming from the south, simply begin at the parking lot on the west side of Highway 3.
Hawaii
17. Haleakalā National Park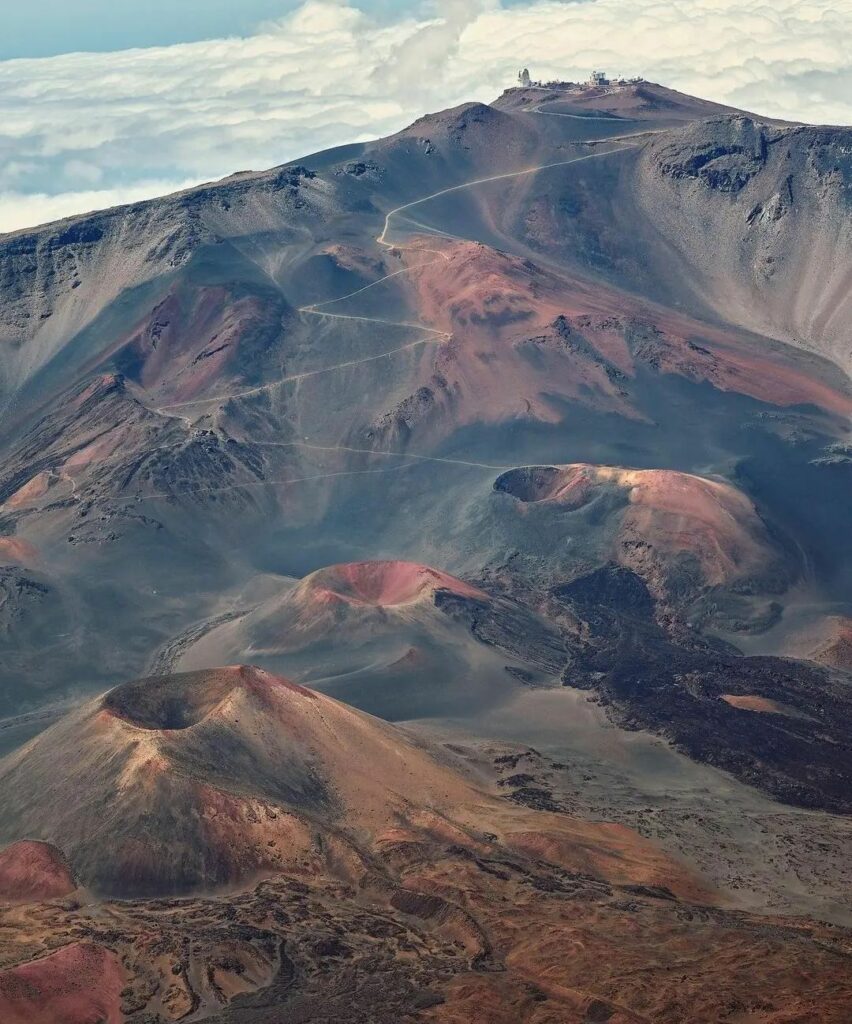 Waihe'e Ridge Trail
Distance: 5 miles (8.0 km) out and back
Difficulty: Moderate to strenuous
Duration: 2.5-3 hours
Maui's Haleakalā National Park is a real gem, with all sorts of landscapes to explore – from lush rainforests to mountain valleys, volcanic terrain, and even five different climate zones!
If you've ever dreamt of standing on a mountaintop, sharing the moment with nothing but the clouds, the Waihe'e Ridge Trail is your ticket to this extraordinary experience.
While you may spot a few waterfalls on this hiking trail, most are hidden in the lush valleys of the West Maui Mountains.
The trail varies between flat and steep sections, leading to a series of switchbacks that bring you to the grand finale – Lani-ili. Here, you might enjoy a clear valley view or find yourself surrounded by clouds.
How to get there You'll find the Waihe'e Ridge Trail starting at the parking lot located at the end of Maluhia Road, where it meets up with Highway 340.
A Map of Scenic Hikes In The US Worth Visiting This Fall
Why Fall is the Best Season for Hiking
No other season prompts you to pause and look around quite like fall. Nature seems to slow down, and as you hit the trails, you'll find a world painted in red, orange, and brown hues.
After enduring the sweltering days of summer, the cooler, more comfortable weather of fall is a breath of fresh air. It's a relief to hike those steep trails without the relentless burden of 90+ °F heat.
Another bonus of fall hiking is the thinner crowds. With school back in session, family travel plans dwindle, meaning fewer people on the trails. Even better, the mosquitoes are just as thin as the crowds!
And of course, fall campfires. Few things in the world beat sitting around a crackling campfire with your loved ones. It's a quintessential fall experience that serves as the perfect ending to a scenic hike.
Safety Tips for Hiking in Fall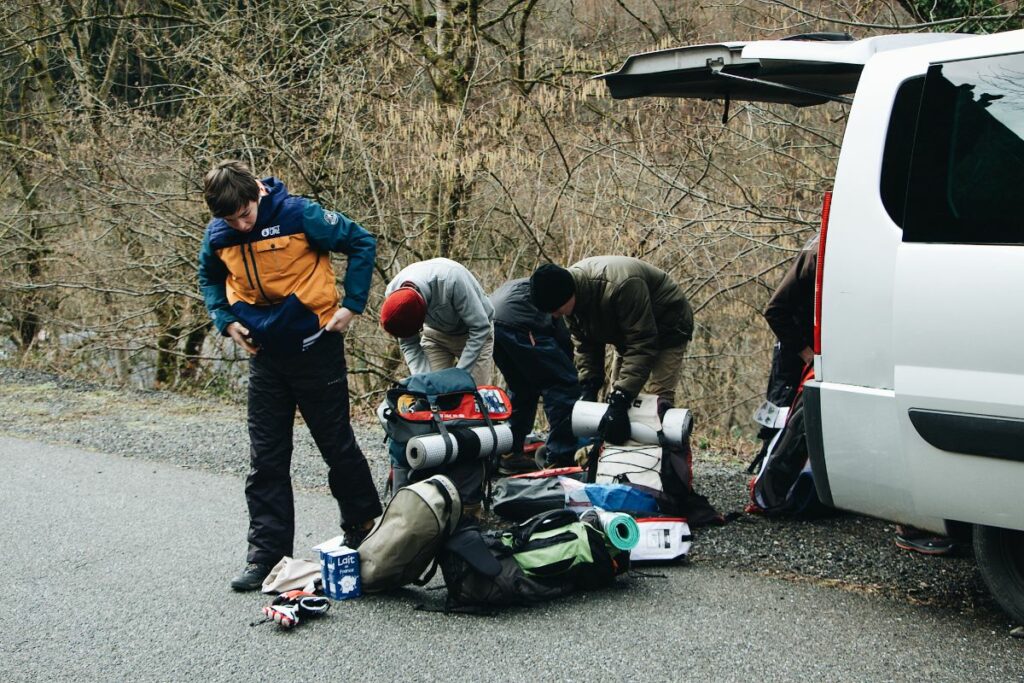 Besides the essential tips like taking plenty of water, hiking safely in numbers, and packing refueling snacks, there are a couple of safety tips many hikers overlook.
Wear the right hiking gear: Layering is key! Wear a moisture-wicking base layer for sweat management, add insulation for warmth, and top it off with a waterproof, windproof layer.
Be considerate of the wildlife around you: It's best not to approach or feed the wildlife. You should also always pick up after yourself.
Check the forecast: Fall weather can be unpredictable, so check your local forecast. If you're heading into the mountains, get an accurate forecast for higher elevations.
Family-Friendly Hikes You Can Go On in Fall
Looking for hiking trails that the whole family can enjoy, from the kiddos to the grown-ups?
These hiking hotspots combine breathtaking scenery, manageable trails, and accessibility from major cities. Here are 5 of my top locations for the best family-friendly hikes in the US:
Zion National Park, Utah
Yosemite National Park, California
Acadia National Park, Maine
Glacier National Park, Montana
Shenandoah National Park, Virginia
Pet-Friendly Trails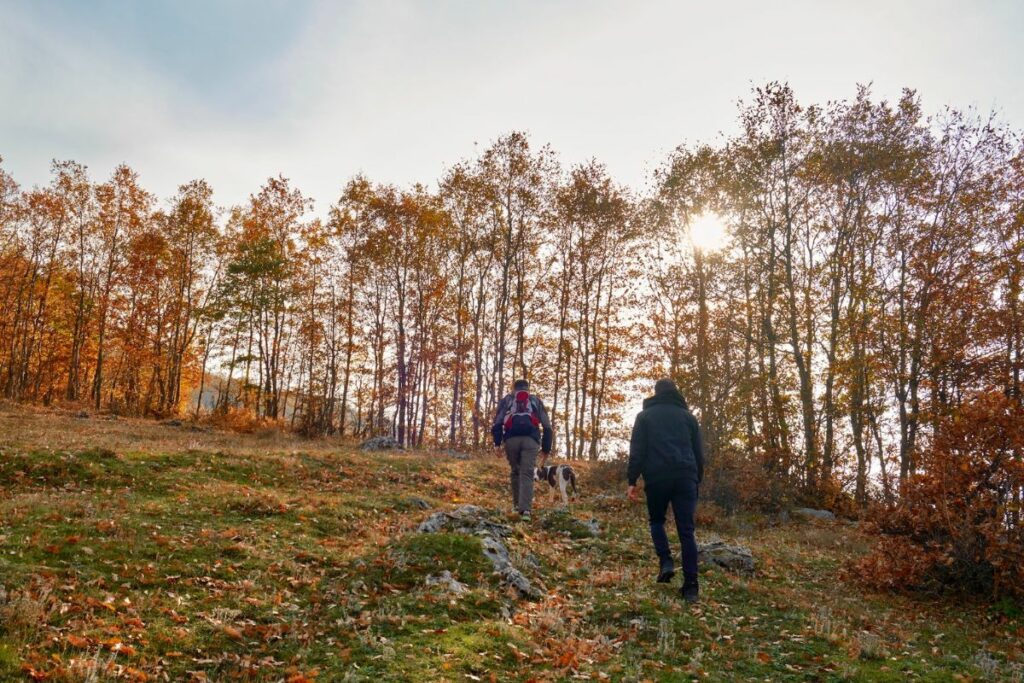 Pet-friendly hiking trails are like a playground for both you and your four-legged buddy, offering nature's finest views and that refreshing outdoor vibe.
As long as you obey leash laws, bring enough water for your doggo, and know their limits, you can happily enjoy some of these wonderful pet-friendly trails:
Acadia National Park

Gorham Mountain Loop
Ocean Path

Yosemite National Park

Wawona Meadow Loop Trail
Bridalveil Fall Trail

Olympic National Park

Peabody Creek Trail
Madison Falls Trail

Grand Canyon National Park

South Rim Trail
Bridle Trail

Shenandoah National Park

Hawksbill Loop Trail
Rose River Trail
Photography Tips to Catch Fall
When I started hiking and taking photos, I thought it would be easy. After all, mountains are naturally picturesque, right? But, my pictures didn't do justice to the real beauty.
Thankfully, I've got the hang of it now, and want to share some of my best tips for capturing that stunning fall foliage!
Let's talk gear. Fall photography aims to capture the dramatic colors and contrasts of the season, so you'll need good photography gear for this. I recommend:
Circular polarized filters – great for enhancing color and contrast.
Wide-angle lens – ideal for capturing expansive, dramatic landscapes.
Telephoto lens – perfect for capturing intricate details.
As for the best spots, any of these hiking locations will do. But I do have a few tips on how to make the location's view work for your camera.
Time it right: Choose the peak color season in your chosen destination.
Go high: Capture stunning views from lookout points or elevated spots.
Hike further: Venture beyond the usual spots for unique angles and compositions.
Conclusion
Whew! I'm sweating just talking about all these amazing hikes in the US! But I promise, taking on these hikes is worth it. Picture yourself enjoying the refreshing fall air, walking on colorful leaves, and taking in the stunning autumn scenery.
From the Northeast's rugged beauty to the Pacific Northwest's lush forests, there's an adventure waiting for everyone!
Frequently Asked Questions
What should I pack for fall hikes?
You'll want to pack plenty of water, snacks to fuel your hike, a first-aid kit, any necessary navigation tools, sturdy footwear, and comfortable clothing.
Is it good to hike in the fall?
Absolutely, fall offers the ultimate hiking experience with cooler temperatures, fewer crowds, and vibrant foliage. Even better, no mosquitoes!
Do I need a hiking permit to hike in the US?
Whether or not you'll need a hiking permit to hit the hiking trails will depend on the specific location and trail. For example, many sections of the Appalachian Trail don't require fees or permits, but a few of them will. A quick search on the park's website will let you know.
Can I camp overnight in these locations?
You can camp overnight at some of these locations. Some of the most popular locations I've listed that have camping sites include Acadia National Park, Arches National Park, Grand Teton National Park, Grand Canyon National Park, and Olympic National Park.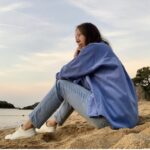 Hello, my name is Nadia.
I usually write about traveling (there are so many places to fit all the lifestyles), relocation (finding a job overseas or moving without losing an income), and living in a foreign country (adapting to a different culture and mentality). Follow me on Twitter, Facebook, Instagram, or LinkedIn!
This post might include some affiliate links. If you make a purchase through these links, I may earn a small commission at no additional cost to you. I appreciate it when you use my links to make purchases.