41+ Best Travel Items in 2023: Essential Gear for Travel and Things to Pack
Sergio Fomenkov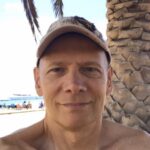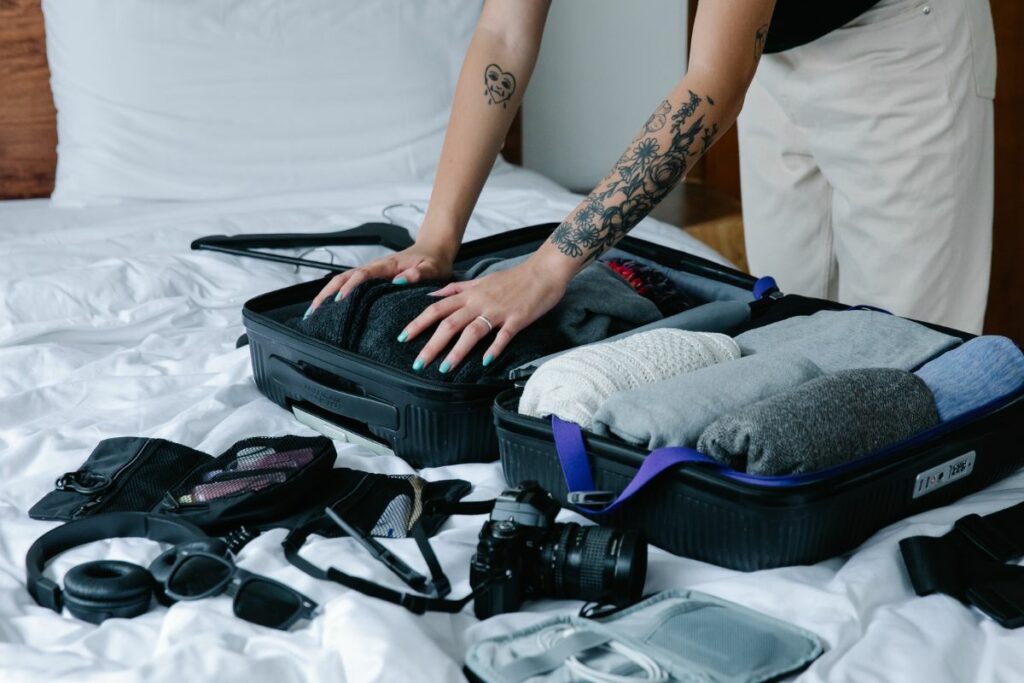 Traveling opens up new opportunities for exciting experiences, and the right gear and accessories can make the adventure comfortable and hassle-free.
Over the past few decades, the number of travel items has increased significantly, making it really a challenge to keep track of all the new products.
Today, I will give an overview of the best travel accessories and offer practical tips on how to use them based on my 20-year travel experience.
---
Key Takeaways
Smartphone. As simple as it is: Clock & alarm, translator, camera, light, kindle, a movie player.
Other travel tech: Power bank, power adapter converter with USB charging, cables, and noise-canceling headphones.
Health and hygiene: Travel-sized toiletries, moisturizer, dental floss (a life saver!), and wipes.
Comfort: Travel pillows, eye mask, ear plugs, fuzzy socks.
Backpack, obviously!
---
Now, let's dive into it!
Travel Tech
1. Smartphone
Not so much to say about this. Simply must-have.
Tips
2. Airtag (iOS users) or Tile (Android)
Attach it to your belongings, such as a backpack. It sends a signal via Bluetooth and is detected by your mobile devices in the Search network; its location is sent to iCloud, and you can see it on the map in the Search app. So if you lose something valuable like a suitcase or a backpack, you have a chance of finding it.
3. Power Bank
You should choose large-capacity portable chargers to ensure that you can charge your cell phone, tablet, and other gadgets. Look for 3,000-5,000 mAh.
Available in any electronics store, both online and in physical locations.
Prices range from $20 to $100.
4. Universal Power Adapter with USB
A multi-travel adapter with USB & a multi-point power plug with a surge protector will cover all your needs with just one powerpoint. Don't forget about different types of electrical outlets in other countries.
5. Travel-sized Power Strip
To extend the capabilities of the previous gadget, use a travel-sized power strip to charge several devices at once.
Buy it here, ranging from $10 to $30.
6. Earplugs
Look for noise-canceling headphones that block background noise, plane noise, and crying children. It's the best money I've ever spent on travel equipment.
Buy them here, or check Bose for specific noise cancellation.
Prices range from $50 to $400. Tips
Wearing the headphones will signal to chatty neighbors that you're unavailable.
7. Kindle and Tablet
Buy it here, ranging from $70 to $1000 for tablets. Tips
Connect with the free Libby app to borrow library books/audiobooks, and download music and films for long trips.
8. Bluetooth Speaker
For portable music, choose a compact and comfortable Bluetooth speaker with long battery life.
Buy it here, ranging from $20 to $300.
9. Action Camera
Though many now use cellphone cameras, action cameras offer better pictures as they are designed for filming. Choose a waterproof and durable one.
Buy it here, ranging from $50 to $500.
10. Memory Cards
To avoid running out of memory for shooting, consider additional memory cards like SD and micro SD cards.
11. RFID Blocking Sleeve for Credit Card
Insert your card into the sleeve to block its data from card readers, protecting you from financial fraud.
Buy it here, from $3 to $20.
Health and Hygiene Travel Items
Taking care of your health and hygiene when traveling is crucial for peace of mind and maintaining a normal, happy state of mind. Here are the 10 most essential items to take with you when traveling:
1. Travel-Sized Toiletries
There are special mini versions of shampoo, conditioner, body soap, face cream, and shaving creams available. You can find them here. You can buy ready-made kits or empty containers to fill yourself here. Magnetic travel containers are also convenient at this link.
Another great idea is bringing the solid shampoo bar, which functions as both shampoo and body soap, takes up little space, and requires no extra packaging. You can buy them here. I recommend Lush's shampoo bars, especially this one, or Juniper, which doesn't turn to jelly if left in a puddle of water. Find it here.
The cost of the set varies depending on the number of items, from around $30 to $100. You can buy it from an online shop, a supermarket, or a perfume shop.
Tips To pack, just roll the toiletry bag into a roll. Suitable for medicines, toothbrushes, nail clippers, etc. It unfolds and has a built-in hook for hanging bags in the bathroom. I recommend the Osprey ultra-light roll organizer. It's small but fits what you need.
2. Travel Toothbrush
A compact travel toothbrush is essential when traveling. Put it in a protective case for easy packing and carrying. Folding toothbrushes are also available. Find them here. Toothbrushes cost between $2 and $20, depending on the manufacturer and features. Add a compact pack of toothpaste and dental floss to your oral hygiene kit here and here.
3. Face and Hand Wipes
Don't forget face wipes, you will thank me later! I also recommend adding antibacterial hand wipes to the hygiene kit. They are irreplaceable on the road for neutralizing germs on your hands. The cost of a pack ranges from $3 to $7.
4. Eye Mask
An eye mask really helps, especially when combined with noise-cancelling earplugs. Check them out here.
Tip A sleep mask with built-in wired speakers, like this one, can help you fall asleep in a noisy room with bad blinds. White noise apps such as Naturespace can be a lifesaver when you need a good night's sleep or a nap.
5. Earplugs
You can buy earplugs instead of headphones, along with an eye mask. For many, isolation from outside noise is important for falling asleep. Find them here. They cost between $4 and $45, depending on material and model.
6. First Aid Kit
Don't forget a first aid kit, including antiseptic plasters, napkins, bandages, painkillers, motion sickness tablets, allergy medication, and sorbents like activated charcoal for food poisoning. You can buy a complete first aid kit here. It costs between $15 and $25.
Tips Consider sedative pills for long flights, and remedies such as No Jet Lag or Melatonin gummies for sleep. Anti-fungal cream can prevent crotch odor, extending the usability of underwear.
7. Wine Wands
For those allergic to histamines and sulfites in wine, take Wine Wands with you to enjoy wine without any adverse effects. Find them here. The cost is about $30.
8. Contact Lens Cases
For travelers wearing contact lenses, take cases to conserve liquids. Find them here. Prices range from $5 to $15.
9. Cool Mist Water
For summer travels, consider a Cool Mist water bottle. Mist is a better way to cool down your face than a portable fan. Find different models here. Costs range from $10 to $90.
10. Reusable Water Bottle with Filter
This provides clean water where bottled water may not be available. A recommended option is this Brita Premium Filtering Bottle, costing around $20. Other models range from $15 to $50+.
11. Face Masks
Just in case!
Traveling with Comfort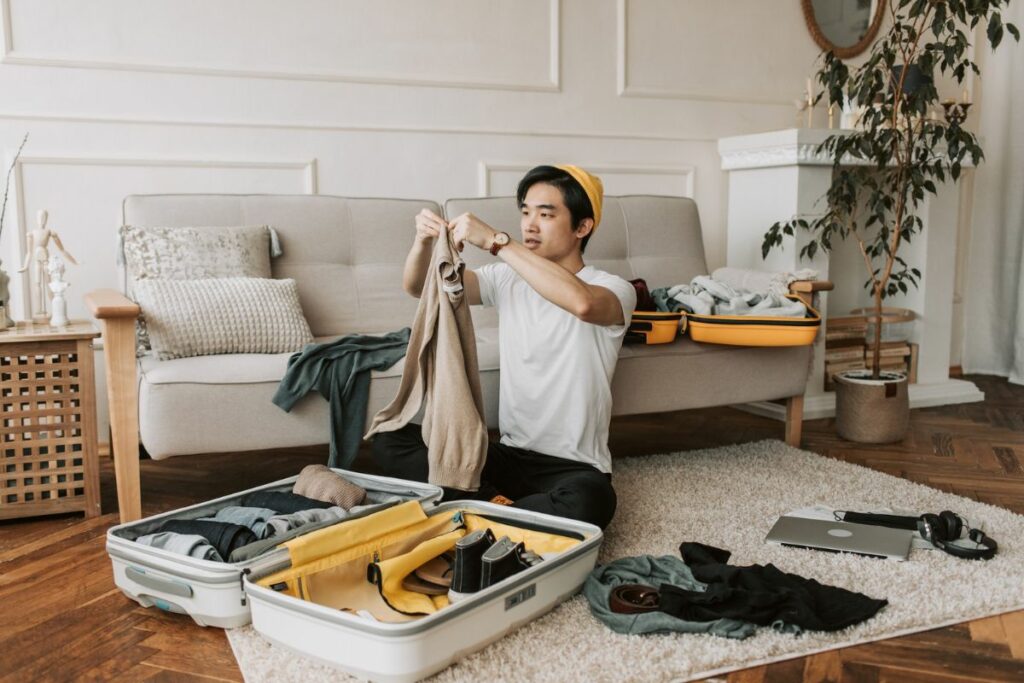 1. Travel Pillow
Travel pillow provides comfort and support for the neck and head while traveling or waiting for a transfer. The pillow will reduce the load on the neck, allowing you to fall asleep on a long trip.
See what a variety of travel pillows are available
However, I'd rather schedule a flight that arrives at bedtime than rely on sleeping on the plane and leave the pillow at home.
Prices range from $10 to $50. You can buy them online, in retail stores, and at the airport.
Tips
The only travel pillow that works for me is a Trtl.
Krama, a traditional Cambodian scarf. It's basically an all-purpose garment. You can use it as a scarf, hat, headband, towel, blanket, pillow, belt, bag, and many other things.
Dog bone style travel pillow can be used as a "pillar" to keep your head up. Feels more comfortable than the donut type.
Pro tip Try placing a pillow with a cutout on your shoulder instead of your neck; it may be more comfortable to rest your head on your shoulder while you sleep. 
2. Foot Hammock
A foot hammock, which improves circulation and reduces swelling of the legs by lifting them, will allow you to take a more comfortable position for the legs while sitting. Your feet will not swell and hurt when you use it.
The cost ranges from $10 to $30.
3. Travel Blanket
I would recommend that you fly with a blanket that folds very tightly because the blankets on the plane are rough and I usually get cold on flights. There is a wide variety of blankets available and they range in price from $12 to $30.
4. Scarf
A light scarf or shawl will help many, especially women, in cold places; you can use it as a blanket, or pillow, or just wrap it around your neck for a direct purpose.
The prices range from $10 to $40.
Merino wool buff can replace the traditional scarf.
5. Travel Slippers or Socks
For comfort, rest and cleanliness while traveling, wear travel slippers or socks. There are many choices and prices range from $5 to $30.
6. Compression Socks
Fuzzy socks are essential for longer flights and sitting postures, as they keep your feet comfortable and help to combat poor circulation in the legs and fatigue.
They cost between $12 and $20.
7. Neck Wallet
You can use a neck wallet (that fits under my shirt so you can't see it) for my passport/extra money, which shouldn't be used for everyday money, just for transportation security.
The cost starts from $3 and above.
8. Waterproof Phone Case
Water activities and trips to the beach often involve getting your phone wet and then being left without communication. Even models of cases can even be used for underwater photography. Choose the recommended ones with good reviews.
9. Collapsible Electric Kettle
Your electric kettle can help you because you don't know what conditions you might find yourself in.
The cost varies from $12 to $45 depending on performance and design.
10. Small Cutlery Set
I would recommend a small cutlery set. You can use a bamboo set that has a fork, knife, spoon and chopsticks all in a small carry bag. I would add a reusable straw. That's so happy.
The cost varies from $2 to $15.
11. Hair dryer
A hair dryer designed specifically for travel, there may be folding models.
Prices range from $20 to $90.
12. Compact Umbrella
Compact umbrellas that conveniently fold into special covers are a necessary thing for a traveler.
Prices range from $10 to $30.
13. Moleskine-style pocket notebook
A Moleskine-style pocket notebook and a tiny pencil are always a great choice. You can write down your schedule and important things like flight/booking numbers, addresses and phone numbers, and the like. It can happen that your phone runs out of battery.
14. Pen or pencil for make notes
A good old pen or pencil are still necessary in many situations.
Tips on Packing Travel Items
Packing Cubes have been the biggest travel game changer for me. Basically small zippered compartments to organize your luggage. Especially when you're staying in a hostel, it means that if you're grabbing stuff out of your luggage in the dark, you can just grab the packing cube that has what you need instead of rummaging through your entire suitcase and having to repack everything all the time.
Stasher bags. They're reusable, resealable silicone bags that come in a variety of sizes and colors. You can use them for both packaging and food storage.
A lockable clipboard is an excellent choice for safety and convenience. For 2 reasons: You can put your carry-on items in it during flight transfers when you are hopping on and off multiple flights where you have to go through multiple security checkpoints. It keeps your essentials with you at all times including your tickets and passport and your phone and charger etc.
Tortuga backpack that opens with a flap/lid. It keeps everything organized and is easier to close.
E-bags, which allow you to stack all your electronics and documents and organize things into different compartments, are a wonderful choice for you.
Belt Bag. You can use a waist bag as your preferred option for documents and money.
A simple organizer insert to keep your passport, travel documents, open and other small items grouped together in your carry-on.
Try Pacsafe cable locks for the safety of your luggage while traveling. It is not always possible to have a safe in a room and you can lock any cupboard with a cable lock to keep your valuables safe and secure. In addition, when you are on the move, they are easy to use to secure luggage to something immovable so you can sit and eat/drink without having to keep a constant eye out.
Other Essential Items for Travel
Luggage straps in case a zipper breaks or a hard case cracks. At the very least, it will make your luggage look different.
A change of clothes in your carry-on in case your luggage get lost or you spill something on yourself.
Church Key
Cork Screw
What else?
The flight apps (United, etc.) and Global Entry/TSA PreCheck as important tools.
Preliminarily downloaded Google Maps for where you are going ahead of time.
Pre-loaded staff on your phone or tablet for when there is no Wi-Fi.
Ultra lightweight dry bag. If you are in the rain, slush or snow, everything will still be safe and sound.
Pants with side leg pockets. Snap or Velcro closure. You can put your passport and some money in your pocket. Safer there than in a back pocket, backpack, or purse.
A hoodie with a pocket in the front instead of a blanket. It is very comfortable to sleep with the hood up and your hands in the pocket.
A printed copy of your passport in your wallet. However, keep your original documents separate in case a pickpocket takes your belongings.
A printed book to read as a replacement for an electronic one.
A "necker" knife on a string as a necklace that you would have a knife and short cordage as a bare minimum for survival in the wild or for protection.
My Personal Travel Items Checklist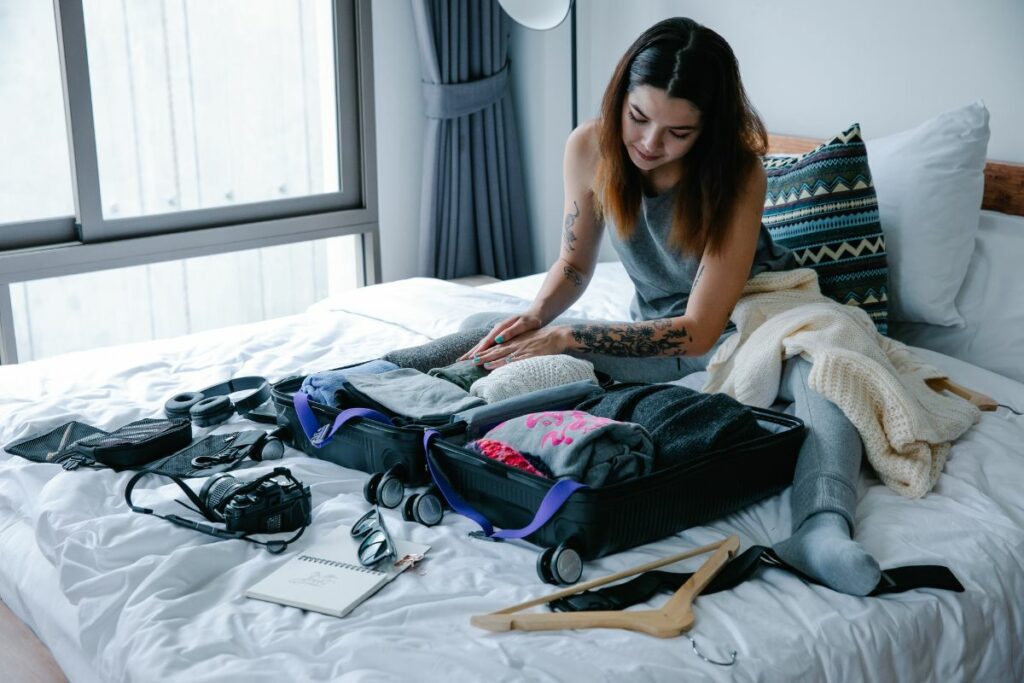 Here is a list of essential travel items that I cannot go without:
The necessary documents, including passport, tickets, hotel reservations, insurance.
A backpack or a suitcase on wheels, or maybe both.
Cell phone.
Waterproof Phone Case.
Tablet with downloaded books and movies.
Power adapter, power bank, cables.
Noise-canceling earplugs.
Eye mask.
Travel pillow.
Travel size toiletries.
A set of necessary medications and a first aid kit.
Wallet and document organizer..
Favorite snacks, including an energy bar or dark chocolate.
Comfortable shoes, I prefer sneakers. Sometimes I bring the second pair.
Hooded sweatshirt with pocket.
Final thoughts
Preparation is the key! Check everything off before you leave. If you take the time to plan and pack carefully, you'll have a much better trip, and you won't have to worry or rush to some stores trying to find an important item
Frequently Asked Questions
How do you pack healthy for travel?
I always pack fresh fruit, vegetables, a bag of nuts and dried fruit, chocolate or an energy bar, wholemeal tortillas, vacuum-packed sliced turkey and cheese, a reusable water bottle, dry oatmeal from which I can easily make a snack.
What are the most forgotten toiletries?
I often forget about shampoo, razor, sunscreen and lip balm, after-sun cream, toothpicks, and dental floss.
What is something you bring on every trip?
Chargers, power bank, universal adapter, and medications.
What snacks to pack for the trip?
A bag of nuts and dried fruit, chocolate or an energy bar. 
How do you stay fresh while traveling?
I choose breathable fabrics for my clothes, pack antibacterial wipes, use deodorant and always have a spare change of underwear, drink plenty of water, and avoid alcohol on flights.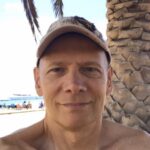 Meet Sergio! A travel enthusiast with a zest for exploration, he's all about discovering Spain's beauty, especially the Canary Islands! 🏝️
As a true Canary Islands lover, Sergio dedicates his time to uncovering hidden gems  and capturing stunning landscapes  that make this paradise so unique. He combines his love for adventure and in-depth knowledge of the region to inspire fellow travelers and help them create unforgettable memories on their journeys through the Canary Islands and beyond!
Follow Sergio on Instagram, Facebook, LinkedIn, and WikiData.
This post might include some affiliate links. If you make a purchase through these links, I may earn a small commission at no additional cost to you. I appreciate it when you use my links to make purchases.