Glass Beach California – Tips & Things to Know Before Visiting 
Nadia Podrabinek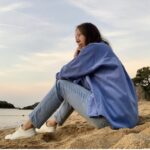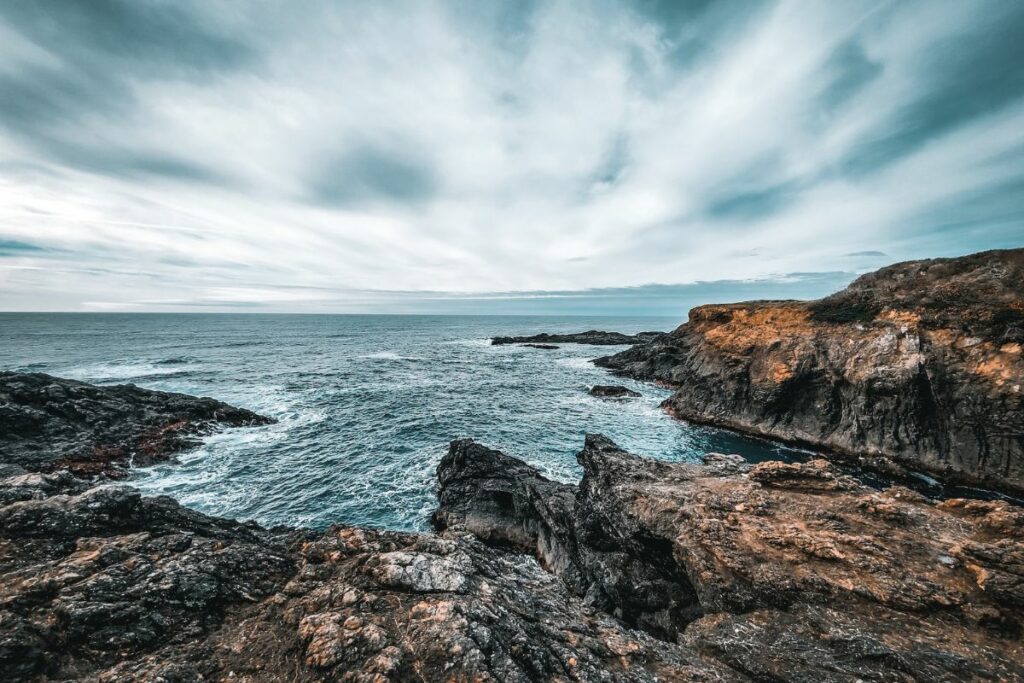 Picture this—beautiful multi-colored pebbles washing up along the shore. Glinting in the sun, one piece catches your eye. Picking it up, it's smooth and soft. The closer you look you realize, that's no pebble. That my friends is a piece of glass!
Glass Beach California is full of these incredible pieces of gleaming beauty. But don't worry, through decades of erosion, the sea glass is totally smooth, making up parts of the sand to form a multicolored layer of beachfront bliss.
I'm taking you through everything you need to know about Glass Beach in Fort Bragg, from how to get there to what to do, and what you can expect from your trip.
It's time to dust off those sun hats, let's get glowing!
---
Key Takeaways
Glass Beach is one of the best sea glass beaches in the world.
The sea glass has been forming for decades, making it soft and smooth.
You can pick up the sea glass but you CAN'T take it home.
Low tide is the best time to see Glass Beach.
A visit to the glass museum is a must!
Walking the trails offers incredible views of the natural surroundings.
---
My Experience Visiting Glass Beach in 2023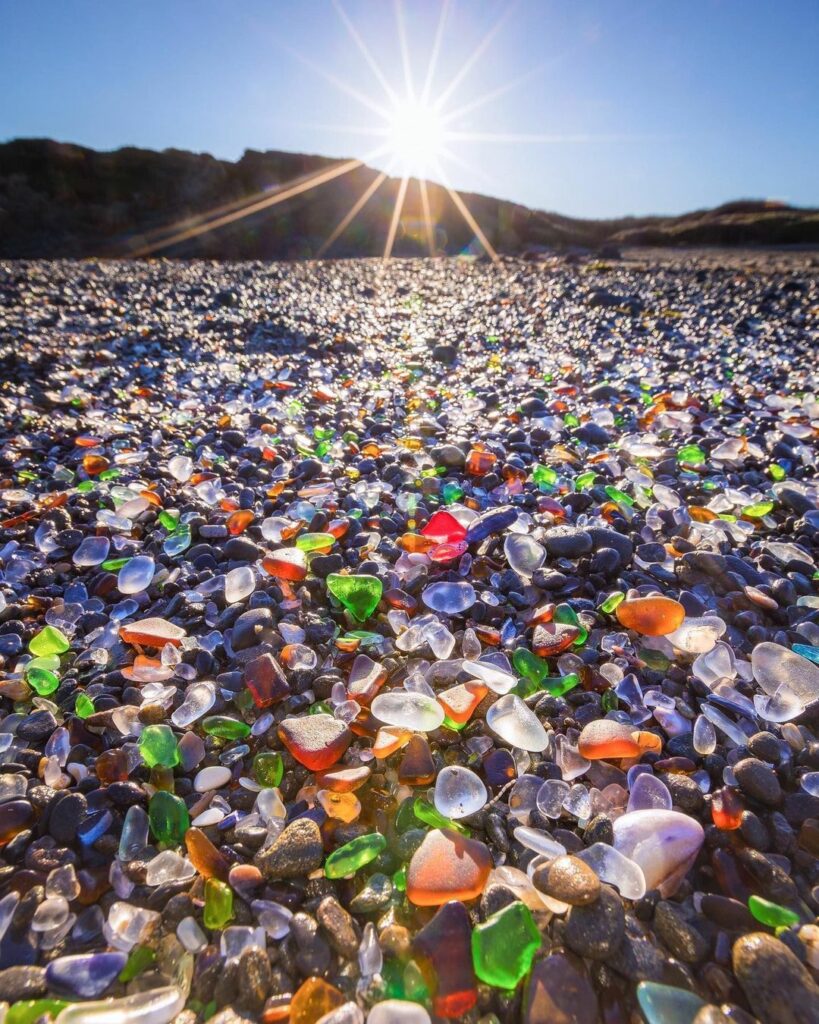 This famous beach's reputation proceeds it. I must admit, the varying reviews had me nervous, but I was ready to see the infamous Glass Beach for myself!
I parked and saw the trail, my nerves turned to anxiousness. But once I got going, the trail down to the beach took five minutes. It's a bit steep but nothing too crazy.
When I reached the beach, my worries were long gone. Standing on the hard sand with the gleaming light flickering off the shore told me, I was in the right place.
Glass Beach is truly a sight to see. The incredible colors and sounds of the crashing waves hitting the cove had me entranced for a good hour. Seeing the smoothed sea glass was one thing but picking it up, I realized how incredible this nature's paradise is.
With the morning sun on my skin and memories of the incredible rock pools, I left Glass Beach feeling genuinely grateful I had the opportunity to experience one of nature's sensational gifts.
The History of Glass Beach
Glass Beach had a pretty strange start. For centuries, locals used the area as a dumping ground. From electronics, garbage, and glass bottles, residents would throw whatever they could over the cliffs to the beach below.
An earthquake in 1906 that tore through San Franciso didn't help, with residents forced to dump just about everything they could from the destruction before trying to rebuild their towns and homes.
Luckily in 1967, cleanup efforts would see the majority of large items taken off the beach. What lay beneath was centuries of gorgeous glass, smoothed by the crashing waves along the shore.
So, while the old myth about mermaids' tears forming sea glass is beautiful, Glass Beach actually got its start out of devastation. From this, the magnificent coastal beaches of MacKerricher State Park formed the internationally famous beach.
Where do the different colors of glass come from?
As you'll come to learn, sea glass takes years to form. The tumbling waves and strong tides mold the plain broken bottles into shiny beacons of beauty.
Once you're on the beach, pick up a piece of the sea glass and feel it between your fingers. The sharp edges are long gone, leaving smooth and soft pebble-like sea glass.
The colors of sea glass vary. While most are brown, green, or clear based on bottle popularity (wine and beer), you might spot some unique colors like red and lavender from disposed-of pottery and china.
Here are a few examples of uncommon sea glass colors:
Vaseline glass: Light green glass from as far back as the 1800s. If you find a piece big enough, holding it up to the sun could make it glow. But these are very rare finds.
Gem shades: Think of your favorite gem, maybe an emerald or rose quartz. Glass from old magnesium-based perfume bottles can transform into stunning shades of lavender and lime green sea glass.
Blue: Softly rolled blue glass comes from old perfume and medicine bottles.
Fire glass: A piece of glass burnt in the dump can form around another object. It still rolls on the shore for decades, forming an intertwined piece of art. While very rare, you may spot a few at the Sea Glass Museum (more on that shortly).
You'll likely only come across the green, brown, and clear sea glass on your visit to Glass Beach California. Still, they are just as beautiful as their rarer counterparts.
What to Expect at Glass Beach
The beach itself is absolutely stunning. The sand and small soft sea glass pebbles coupled with the rolling waves crashing into the coves, it's a transcendent experience.
Seeing sea glass on the beaches of Fort Bragg does seem to come down to when you go. While I experienced loads of glass at low tide, many other visitors haven't been as lucky. So, planning ahead is a must if you want to experience the famous glassy delights.
There are two beaches with sea glass pebbles within MacKerricher State Park. Beach one is the main area where most visitors go to experience the sea glass phenomena. This one may be a little disappointing if you go at the wrong time.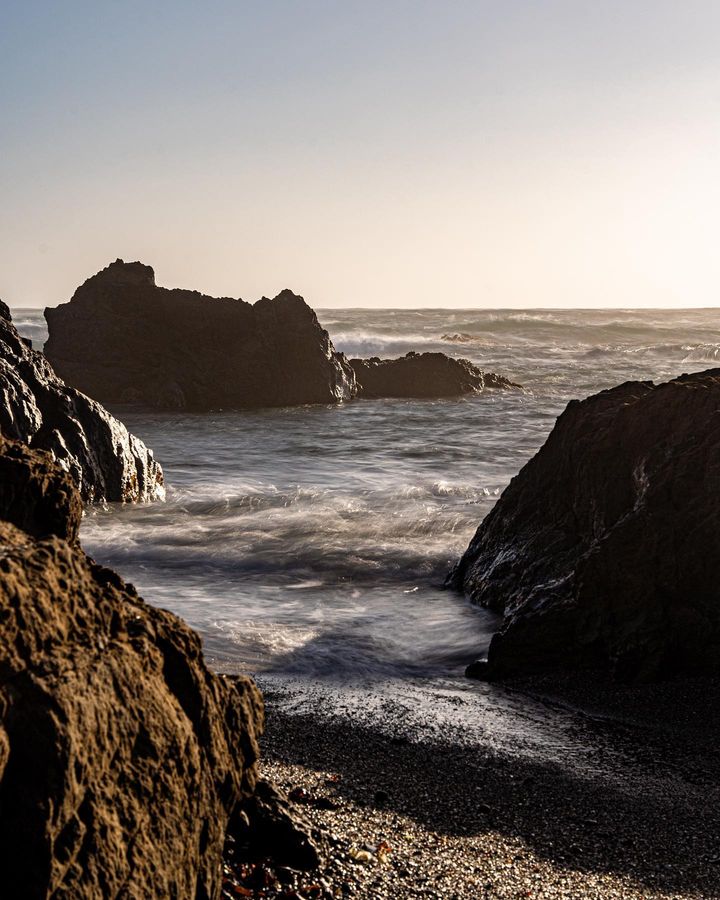 Beach two is off the main trail with only one small sign to indicate that anything is even there, so it's often missed. This beach is plentiful, offering sea glass of various colors. The trail takes you down to a little cove where the treasures lie waiting. So, keep an eye out for the sign along the main trail.
Sea Glass Beach California isn't a place to go for a day of relaxing in the sun. The sand and glass along the entire beach are hard, so this isn't the spot for tanning or swimming.
If you go during low tide, rock pooling is possible. There are a ton of little sea creatures in the pools which kids love to explore. Just take care as the rocks are extremely slippery.
The coves, rockpools, and stunning ocean views are truly something to experience firsthand. The quiet natural surroundings and unique sandy landscape are a once-in-a-lifetime experience.
Where in California is Glass Beach?
First things first, here is the address for Glass Beach: West Elm St and Glass Beach Dr, Fort Bragg, CA 95437.
Glass Beach is situated along the Mendocino Coast in Northern California. The beach forms part of the MacKerricher State Park located three miles (4.8 km) North of Fort Bragg – a city spanning 2.8 square miles (7.3 km²).
Fort Bragg is about three to four hours from San Francisco, depending on the route you take. The US-101 is the quickest route.
Glass Beach is located along a short trail, so you'll have to get your walking shoes on to reach this stunning glass sanctuary.
How to get to Glass Beach in Fort Bragg, California
Once you reach Fort Bragg, take a left on West Elm Street (near the Denny's). Drive along towards the ocean until you reach the parking lot.
From here, follow the signs to Glass Beach to start along the path. The trail will take you down to beach one in about five minutes.
Fair warning, since the trail is along the coast, some of the path is a little difficult to maneuver. There are areas where the steps are deteriorated so it's a bit of a slope. But for most it's not too challenging, just try to keep your footing as grounded as you can.
When you want to head back, the slope is quite steep. You might see others using the alternative pathway through the wildflowers, but this isn't permitted. It's best to stick with the designated path.
Getting to beach two is a little more tricky because there isn't a designated walking trail. On the left of the parking lot there is a little walking path, take that and walk down towards the beach. Please note that this isn't the official path and taking the trail is at your own risk.
Once you've reached beach two, walking to the left will take you to a small cove where many have had luck finding incredible sea glass.
I got lucky on both beaches. The low tide really played in my favor and I got to see the shimmering sea glass in all its natural glory.
The facilities at Glass Beach
As mentioned before, Glass Beach isn't really a spot for relaxing and taking in the sunshine. So, if you're expecting a day of swimming and sunbathing, this isn't the place.
The parking is free, with a load of bays to accommodate the hundreds of visitors each day during the summer. There are only two bathrooms located in the parking area, so you'll need to hit the trail to get up there.
MacKerricher State Park has beach wheelchairs free of charge. Just be sure to contact them a week in advance. All the info is available on the official website.
Things to Do at Glass Beach
Take in the natural surroundings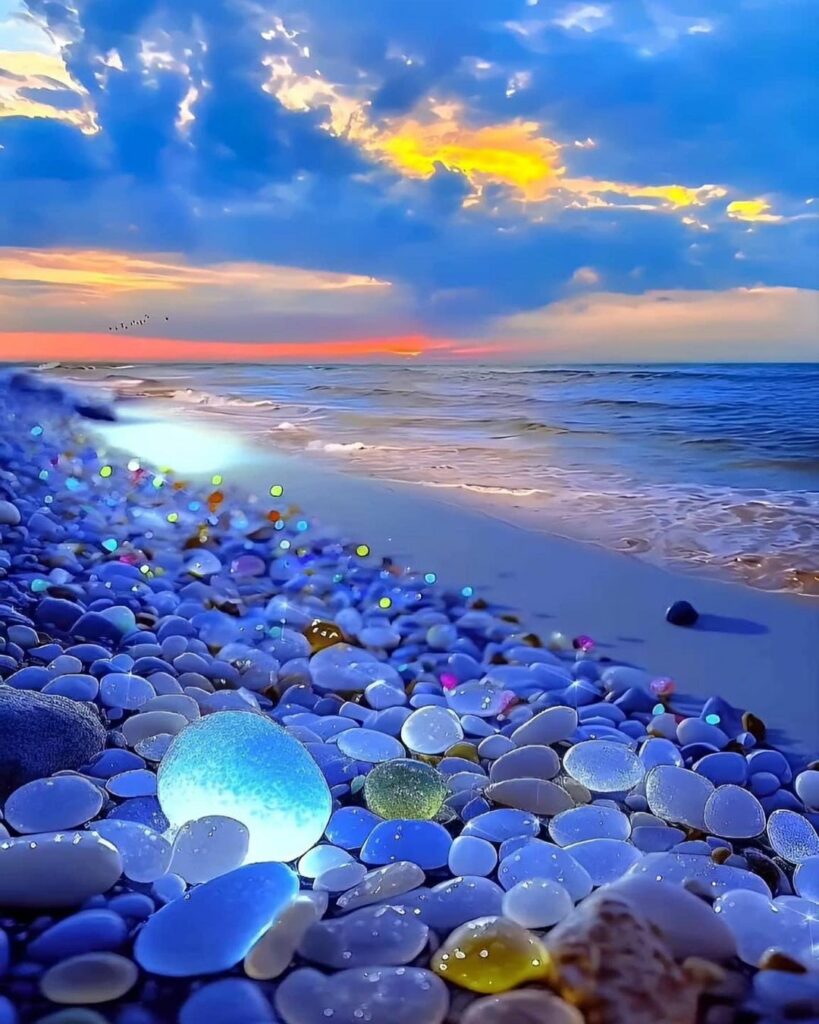 Glass Beach is one of the most beautiful sea glass beaches in the world, so take your time to breathe in the ocean air and feel the sunshine on your face.
Leave enough time to walk along the beaches, picking up the glass along the way. Feel the soft edges and sleek texture, transformed over decades. Just be sure to put the glass back, removing glass from the beach is illegal.
Perfect snapshots at Pudding Creek Beach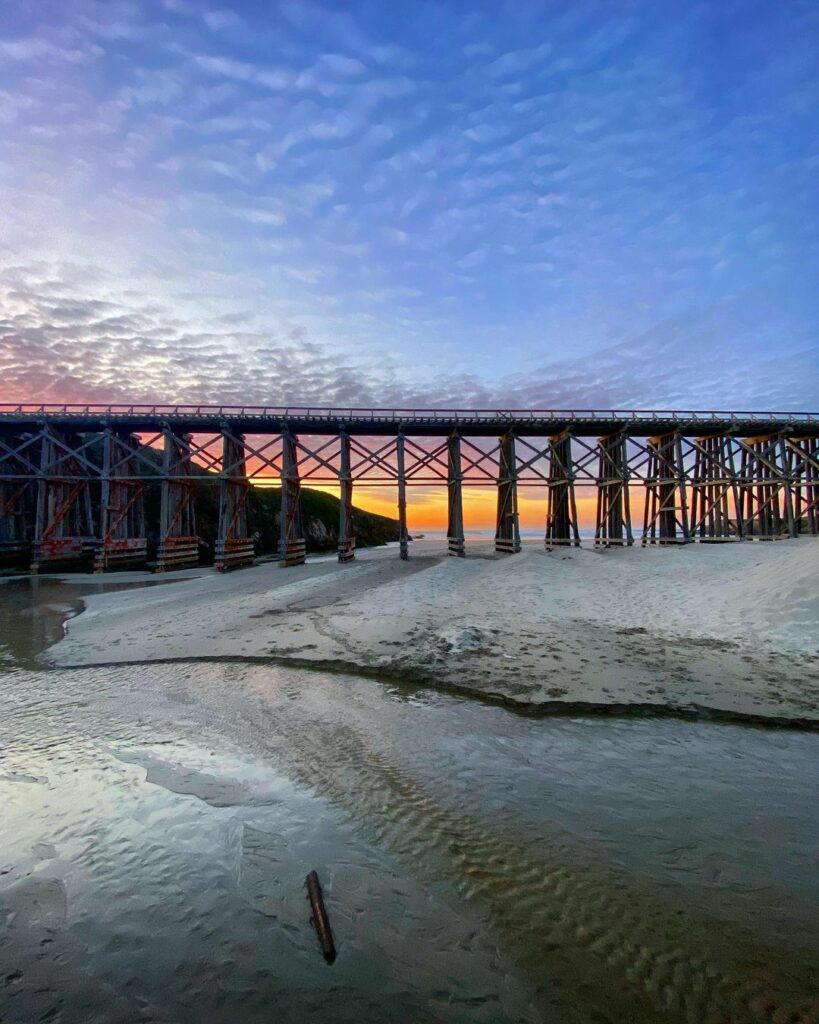 The park has various multi-use trails that take you along the coastline. To the north is Pudding Creek Beach.
Famous for the wooden train trestle that towers above the waves, Pudding Creek Beach offers some out-of-this-world photo ops.
There are fascinating coves and tidepools along the way with incredible views of the Pacific Ocean. If you get there when the tide is low, you can cross the shore to Old Haul Road Beach, a hidden sandy escape.
Even though Pudding Creek is more sandy, it's still not a place to go swimming. It lies at the mouth of the creek so the rocks and tide are dangerous. But there are tidal pools which are super fun to explore with little creatures like starfish and sea anemones.
The creatures that lie beneath
While you're there for the glass, the low tides don't only reveal more glass, but an abundant world of sea creatures that call Glass Beach home.
Between the tidal pools, you'll find incredible aquatic plants. Mind your step, they can get mighty slippery!
A magical home for mollusks, crabs, and anemones awaits between the plants and rocky landscape. Take care when walking along here during low tide, you don't want to cause any damage. But what a fascinating sight to see these creatures in their natural habitat, flourishing next to the shiny glass sand along the beach.
As always, be careful of the waves, the tide can come in pretty quickly here so always keep an eye.
Take a walk along the coast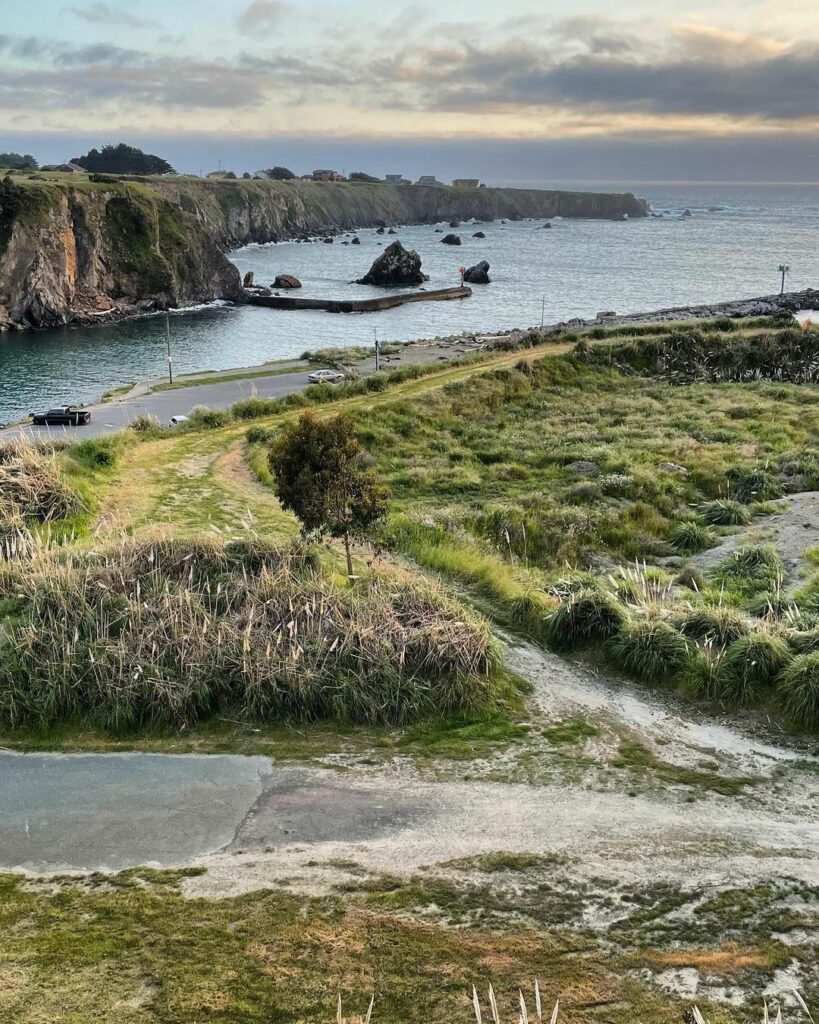 The Noyo Headlands Park Trail is a five-mile-long (8 km) trail that offers incredible views of the Northern California coast. Previously off-limits to the public, the trail is now open to all.
You can hike, cycle, rollerblade, or simply walk along the trail while taking in the stunning natural scenery, stopping along the way to read about the history of the Noyo Headlands Park trail.
One of the trail entrance points is the parking lot for Glass Beach, so it keeps things convenient if you want to pack everything into one day.
From Glass Beach, you can reach a gorgeous viewpoint within 0.5 miles (0.8 km). There are benches to take a rest and enjoy the expansive views.
If you feel up to it, a further two miles (3.2 km) will take you down to Noyo Bay Beach.
Going beyond Glass Beach
Skunk Train
Heading towards the forested hills, you'll find an amazing history-filled adventure. The 1885 Skunk Train will transport you through the towering redwood treetops.
Once used as a way to transport logs, the Skunk Train now invites visitors to sit back and take in the fantastic Mendocino County.
The history lesson along the way is fascinating and a delicious lunch at the logging camp awaits.
Fort Bragg
Fort Bragg is the quintessential working town. It's small with one street of shops and a few restaurants. Don't worry coffee lovers, your beloved Starbucks is waiting when you visit Fort Bragg!
You'll travel through Fort Bragg to get to Glass Beach, so make a stop to support the local businesses.
Mendocino Coast Botanical Gardens
Located just outside Fort Bragg, the Mendocino Coast Botanical Gardens offers expansive views of the coast and lush flora.
Take a deep breath and take in the manicured gardens with flowers and trees throughout the gardens. The onsite coffee shop is great for a mid-morning pick-me-up before heading into this natural paradise.
Sea Glass Museum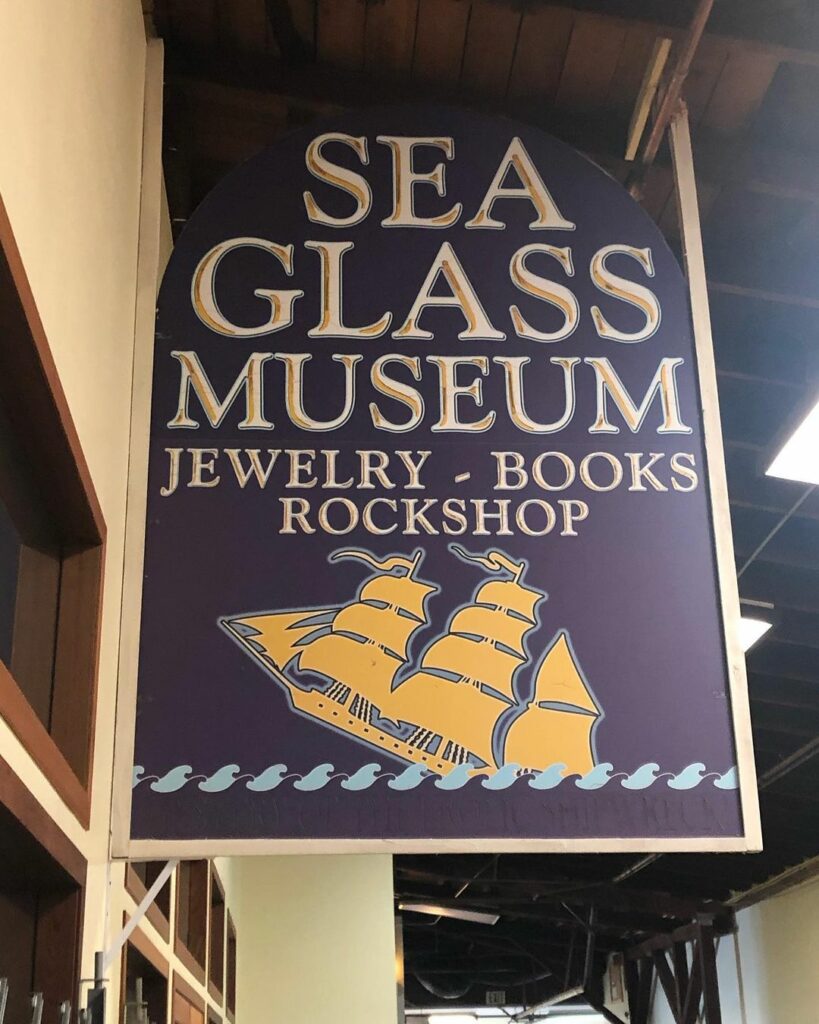 History buffs, if you want to learn more about how Glass Beach came to be, the small Sea Glass Museum located in Fort Bragg is where you want to go.
Captain Cass Forrington has been telling tales of the Mendocino Coast sea glass phenomena since 2009. While quaint, this is a must-visit on your travels through Fort Bragg. Cases are filled to the brim with incredibly intricate glass pieces, each with its own story to tell.
As a retired sea captain, you can bet your socks Cap Cass has a world of knowledge to share with enquiring visitors.
Plus, the gift shop has some unique souvenirs and jewelry available to remember your interesting visit to the museum.
Tips for Visiting Glass Beach
Best time to visit Glass Beach
You can visit and enjoy Glass Beach throughout the entire year. The most popular time is during summer (June-August). If you're looking for a quiet visit, then I recommend going early in the morning before the heat of the day or early evening, just after 4 pm.
You'll also get the most out of your trip to Glass Beach by going during low tide. Generally any time in the morning before 10 am is good.
Don't remove the glass
The glass is so stunning that it can be very tempting to pick it up and pop some in your pocket. But according to California State Parks, you can't take any glass from the beach.
There are often local residents and park employees that patrol Glass Beach to ensure you aren't taking any parts of the park with you.
You should always leave nature as you find it. If every one of the 1000+ daily summer visitors takes even one piece of glass, there will be very little for future visitors to enjoy.
Also, be sure to pick up any litter when you leave. I fully support the leave no trace initiative. It's the only way to save these incredible natural spaces for future generations to enjoy.
What to bring for your visit to Glass Beach in Fort Bragg
Glass Beach doesn't offer much in terms of facilities. There are two bathrooms at the parking lot and that's about it.
If you want snacks or drinks, you'll need to bring your own. I stopped in Fort Bragg on my way to the beach to stock up on supplies.
If you're planning to head along the trails, I highly recommend bringing a good pair of walking shoes and enough water for the day.
Here is a list of things to bring along:
Sunhat
Sunglasses
Sun cream
Towel to sit on
Water shoes
Walking shoes
Drinks and snacks
A light cover (there may be early morning fog)
Phone (for all your Insta-worthy shots)
If you want to check out the rock pools, you might want to pack another set of clothes. If the tide pools kick up, you don't want to walk the trails wet.
Dining and Accommodation Near Glass Beach
Nearby dining options
Accommodation options close to Glass Beach
If you're looking for comfort, family-friendly convenience with epic Pacific Ocean views, The Beachcomber Motel and Spa on the Beach is the place to be.
Each room features a kitchenette, TV, and free wifi, keeping guests comfortable from the moment they walk in. Plus, with a free breakfast, you're sorted before heading down to Glass Beach – which is only one mile away.
Your sunset beach barbeque awaits!
Located on Pudding Creek, the Beach House Inn offers incredible views of the coast. Each room features a kitchenette with coffee makers and TVs.
The free breakfast and fun picnic areas keep visitors coming back year after year. Plus, it's situated a mere 0.7 miles from Glass Beach.
Other Important Information About Glass Beach
Glass Beach in Fort Bragg is a true gem. Among the gorgeous natural landscape of coves and trails, there is something for everyone.
Most want to know if Glass Beach is dangerous.
The great thing about the beach is that although it's glass, the edges aren't sharp. It is smooth and you can pick the pieces up with your bare hands.
However, that being said, the glass does make the beach quite hard, so you want to wear some comfortable shoes while exploring.
If you want to be on the safe side, there's nothing wrong with taking some protective gloves along if you're nervous. But I personally don't think you'll need them.
The rockpools are really fun and offer you an up-close look at some of the sea creatures that call Glass Beach home. Still, the rocks are pretty sharp, and if you slip on the aquatic plants, it's going to hurt. So, just be careful when you go up on the rocks during low tide.
Also, keep an eye on the tide. Glass Beach is known for its quick running tides, so if you're not careful a big wave can knock you off the rocks.
All in all, Glass Beach is very safe, as long as you take the right precautions.
Final Thoughts: Is a Trip to Glass Beach California Worth It?
Glass Beach in Fort Bragg is one of the best things you can do in Northern California. Trust me, it's famous for a reason!
While the incredible smooth glass is why most people venture to Glass Beach, it's the entire area that leaves you with way more than you bargained for.
From the inviting rock pools to the hiking trails, this natural haven offers some of the most incredible views of the coast I've ever seen.
You won't be sorry you visited one of the best glass beaches in the world, just be sure to go at the best time!
Frequently Asked Questions
Is it possible to collect sea glass at Glass Beach and are they sharp?
Most of the sea glass is safe. It has been rolling around the waves for decades, getting smoother as the years go by. While you can pick the glass up to get a feel for it and admire its beauty, you MUST put it back. It is against park regulations to remove anything from the site. 
Can I swim at Glass Beach?
No, Glass Beach is not a swimming beach, the rocks are sharp and the tide can get fierce.
Is there still glass on Glass Beach?
Yes! But you should still consider going at low tide to increase your chances of seeing the glass in all its glittering glory. 
Is Glass Beach dog-friendly?
Dogs are allowed within the park as long as they're kept on a leash. However, keep in mind that getting down to Glass Beach is a steep trek and your pooch might not be able to make it down without some help. It's better to stick to the paths and trails so your dog can enjoy the trip too.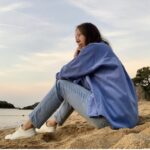 Hello, my name is Nadia.
I usually write about traveling (there are so many places to fit all the lifestyles), relocation (finding a job overseas or moving without losing an income), and living in a foreign country (adapting to a different culture and mentality). Follow me on Twitter, Facebook, Instagram, or LinkedIn!
This post might include some affiliate links. If you make a purchase through these links, I may earn a small commission at no additional cost to you. I appreciate it when you use my links to make purchases.