15 Best Day Trips from Phoenix
Nadia Podrabinek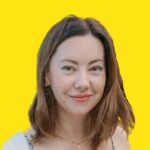 Written by Nadia Podrabinek
Hello, my name is Nadia. I usually write about traveling (there are so many places to fit all the lifestyles), relocation, and living in a foreign country (adapting to a different culture). My travels stretch beyond Spain, with journeys to the US, Italy, Norway, Portugal, and France. Relocating to Spain in 2018, I lived in cities from Barcelona to Madrid, currently calling Valencia home.  Follow me on Twitter, Facebook, Instagram, or LinkedIn! ... show more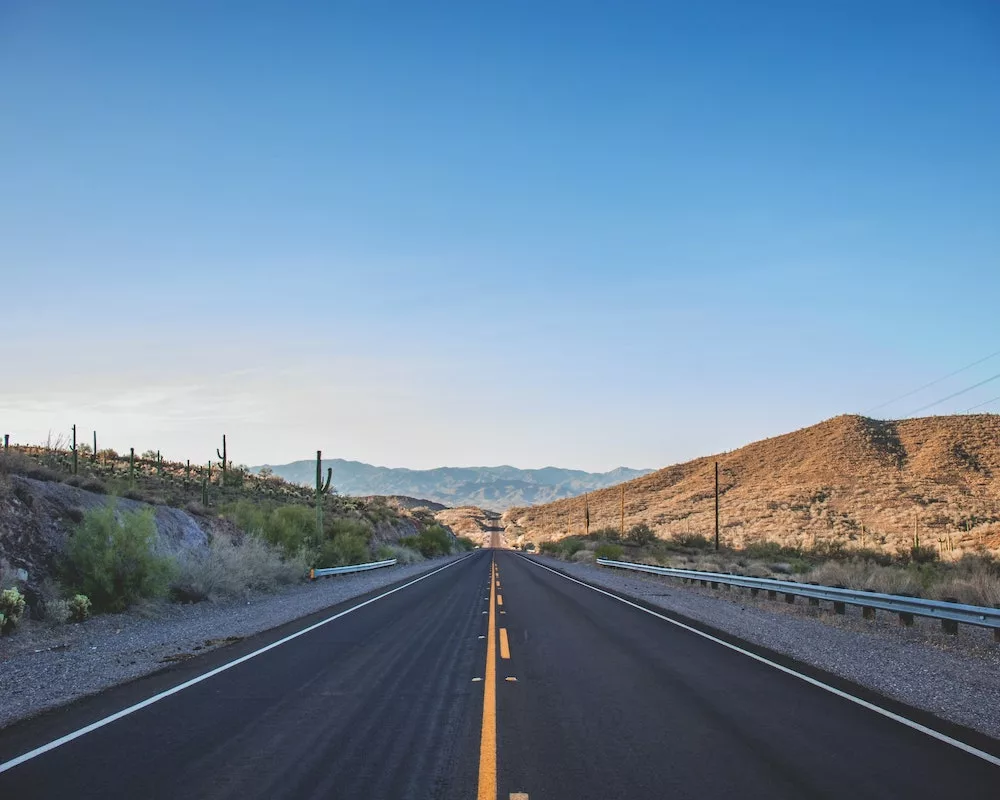 Phoenix, the capital of Arizona, is known for its year-round sunshine and outdoor recreational opportunities. But did you know that the city also makes a great jumping-off point for day trips to some of the most beautiful and unique destinations in the Southwest?
Whether you're looking for rugged mountains, picturesque deserts, or charming small towns, there is something for everyone within a short drive of Phoenix.
In this blog post, I will introduce you to 15 of the best day trips from Phoenix that you should know about. So pack a picnic and hit the road – adventure awaits just beyond the city limits!
---
Key takeaways
Sedona is amazing! But you have to start early in the morning.
Tucson: The second biggest city in Arizona with lots of things to do.
Downtown Flagstaff: For the food and the mountains.
Jerome: A unique place and close to Tucson and Flagstaff.
There are many other exciting day trips. Choose whichever you like.
If you dare, go to haunting places in Arizona.
---
What people say Reddit
Prescott – cooler temps and lots of hiking – enjoy a kayak on Watson Lake for an hour, too. So much to do! Downtown is great for lunch or dinner before heading back.

davehattonphotos
We (2 teens and myself) have taken a couple of trips to Jerome and it's lovely. The drive is beautiful and the town is cute and fun. Stop by the visitor center/museum, then Haunted Hamburger for lunch, then browse the stores. We especially enjoy the kaleidoscope store and the Christmas shop.

MeepSloth
I highly recommend Montezuma Well too which is not far. Amazing ruins at both places, and for that matter Tuzigoot would be a nice addition if you don't mind some extra driving. Montezuma Well is a very strange ecosystem of its own and quite fascinating.

MrsTurtlebones
Prescott, Sedona, flagstaff, Jerome, bisbee, Tucson, Payson, Heber, strawberry, globe all of these are great. I recently went to the Tonto National bridge near Payson every time I go there I am blown away by the beauty and cooler temps. I do a lot of truck camping and sometimes it nicer just to spend the night near by and arrive at your destination in the morning. However if you are in time church all of these are great destinations that can easily be a day trip from the valley.

SmellDue1335
Day trips by distance and time
| | | |
| --- | --- | --- |
| Road trips from Phoenix | Distance, miles | Time, by Car |
| Scottsdale | 12 | 24 min |
| Lake Pleasant | 43 | 51 min |
| Tortilla Flat | 52 | 1 hr 9 min |
| Picacho Peak | 76 | 1 hr 19 min |
| Montezuma Castle | 93 | 1 hr 27 min |
| Prescott | 99 | 1 hr 44 min |
| Jerome | 111 | 1 hr 57 min |
| Tucson | 113 | 1 hr 48 min |
| Sedona | 116 | 1 hr 56 min |
| Flagstaff | 144 | 2 hr 15 min |
| Kartchner Caverns State Park | 167 | 2 hr 32 min |
| Tombstone | 185 | 2 hr 55 min |
| Meteor Crater | 186 | 2 hr 48 min |
| Petrified Forest | 212 | 3 hr 36 min |
| Grand Canyon | 224 | 3 hr 24 min |
The map of day trips from Phoenix
Top day trips from Phoenix
1. Sedona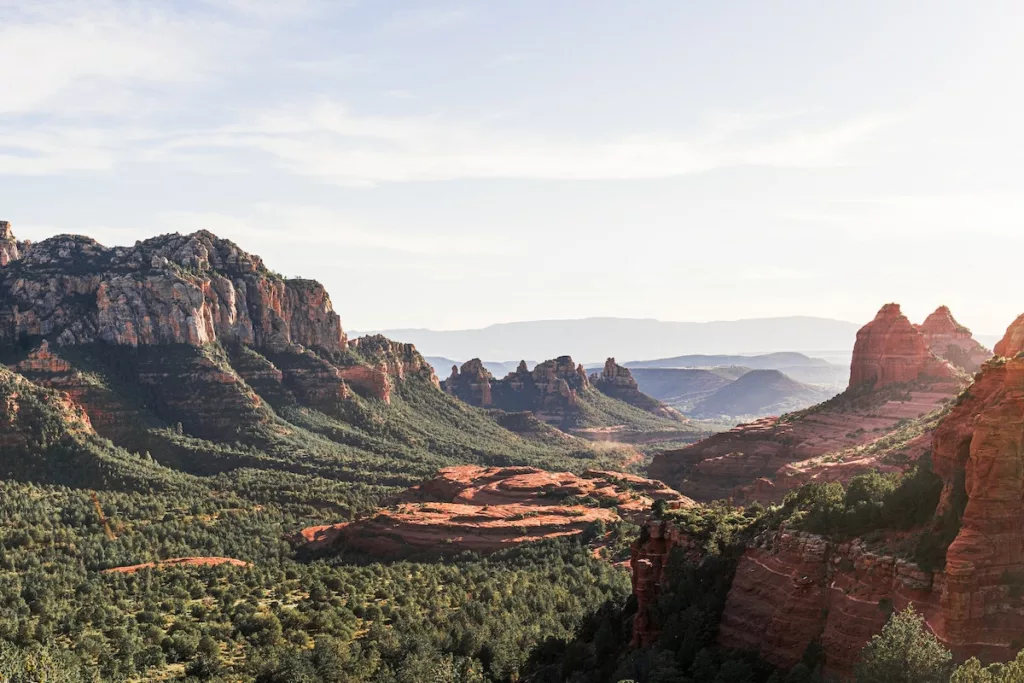 Escape to the breathtaking red rocks of Sedona, just a two-hour drive from Phoenix. This picturesque city is known for its stunning natural beauty, vibrant arts scene, and outdoor activities.
Take a scenic drive on the Red Rock Scenic Byway, a winding road through some of the most striking red rock formations in the Southwest. Hike the Devil's Bridge Trail or the summit of Cathedral Rock for panoramic views of the surrounding landscape.
Read also: 15 Must-See Stops on a Phoenix to Las Vegas road trip
For a truly unique experience, consider taking a Jeep tour or visiting Slide Rock State Park for a day of gliding down natural water slides.
If hiking or biking is not for you, consider visiting the Sedona Art Center. Here you'll find a wide range of artworks from local artists.
When it comes to dining, Sedona offers a variety of options, from casual cafes to fine dining restaurants. Some popular restaurants include Elote Cafe and Cress on Oak Creek.
How to get to Sedona: The best way to get there is by car via the I-17 highway or State Route 179.
2. The Grand Canyon National Park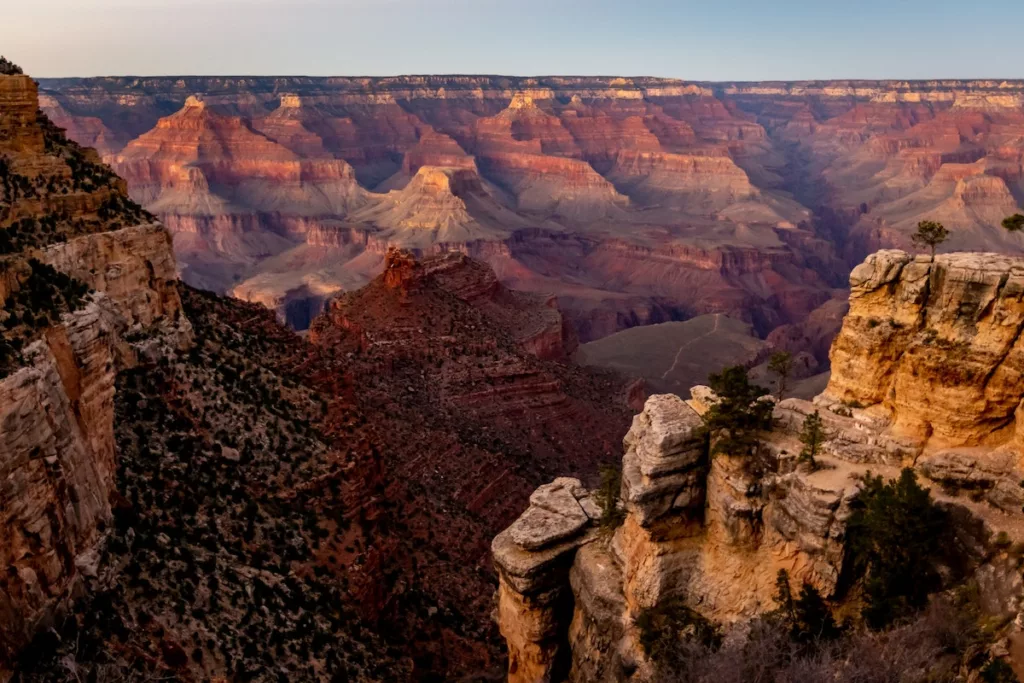 Experience one of the Seven Wonders of the World with a day trip to the Grand Canyon National Park. Boasting a natural beauty that's unmatched anywhere else in the world, the park is a great place to spend a day trip.
With miles of trails for hiking and backpacking, the park offers some of the best outdoor activities in the country. The park has several guided tours available, which are a great way to learn more about the history and geology of the canyon.
Another activity is visiting The Grand Canyon Village, which offers various amenities such as museums, restaurants, and a visitor center.
It's essential to plan ahead and be prepared for the weather conditions. Pack plenty of water, sunscreen, and comfortable shoes. Be prepared for the altitude if you plan on hiking. Parking can also be limited, so it's best to arrive early.
How to get to the Grand Canyon: It is about a 4-hour drive from Phoenix to the South Rim. The North Rim can take up to 5 hours.
3. Jerome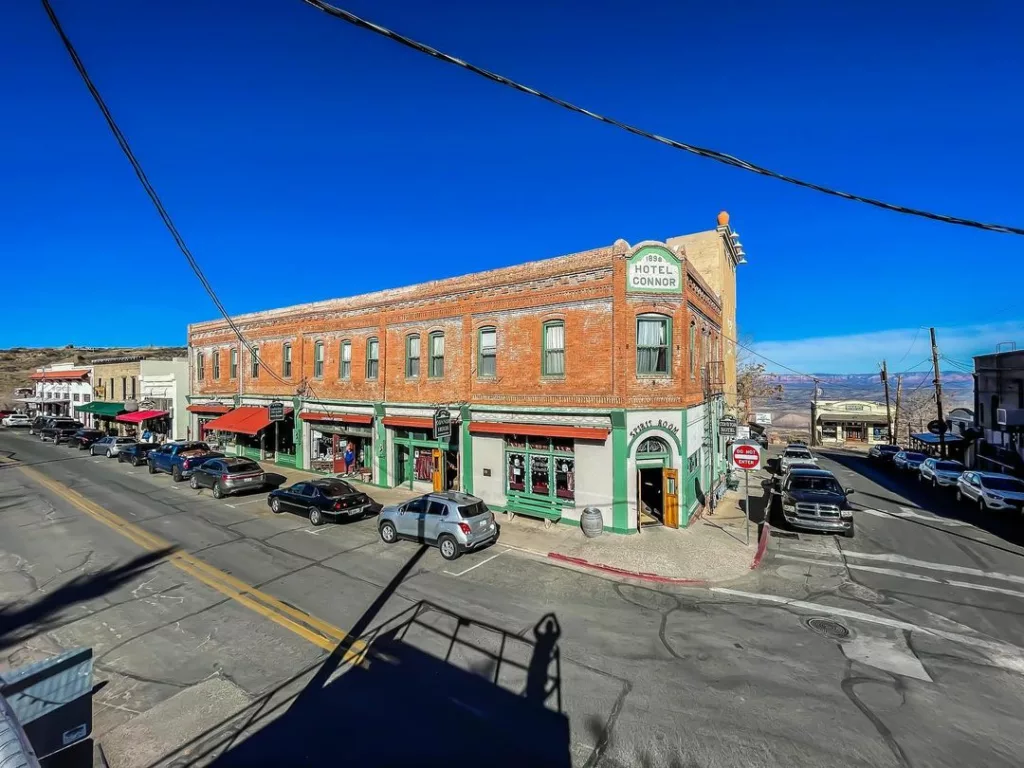 Jerome, also known as "The wickedest town in the West," is a former copper mining town located about two hours north of Phoenix. Today, Jerome is a popular tourist destination that marks history.
One of the must-see places is the Jerome State Historic Park, where you can learn more about the town's history and the mining industry. Another popular spot is the Jerome Ghost Town. You can explore the abandoned buildings and get a sense of what the town was like in its heyday.
If you are fascinated by the paranormal, the Pandora's Box Ghost-hunting and history tour is a must-do when visiting Jerome. This tour takes you to some of the most haunted sites in the town, where you'll learn about the gruesome history of the place and maybe even have a ghostly encounter!
Read also: Fun Things to Do with Kids in Phoenix
After a day of exploring the once-booming mining town, you can grab a bite to eat at the Asylum Restaurant or Haunted Hamburger. Both restaurants offer delicious food and stunning views.
How to get to Jerome: Jerome is a two-hour drive (111 miles) north of Phoenix on I-17 via state routes 260 and 89A.
4. Tombstone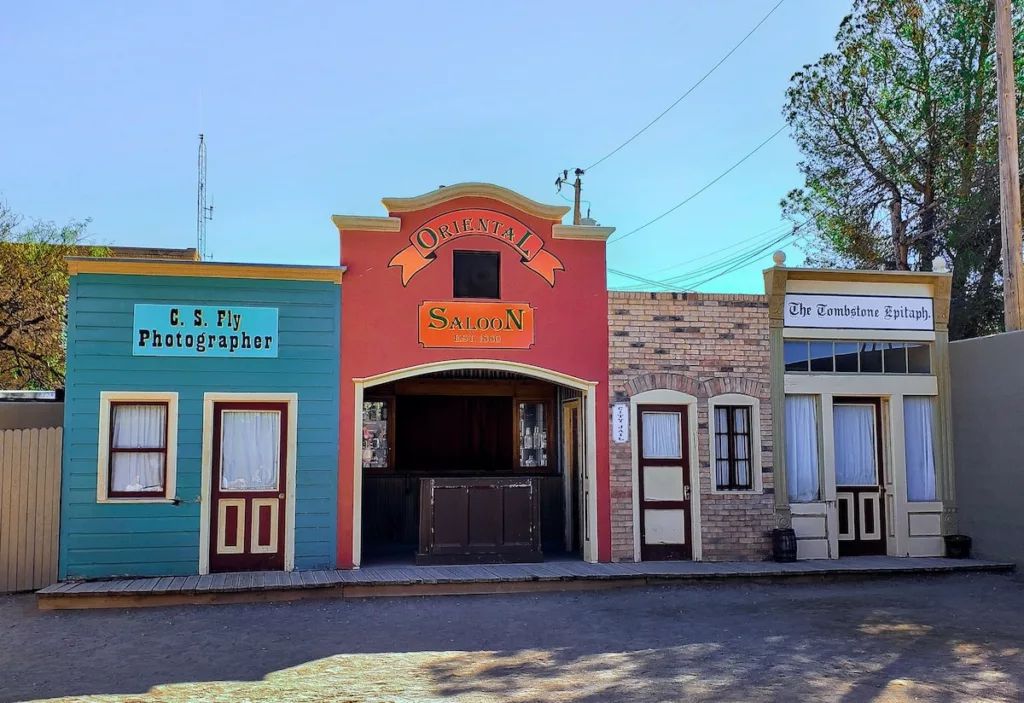 Step back in time and experience the Wild West like never before with a day trip to the infamous town of Tombstone. Located just a couple of hours from Phoenix, this historic town is known for its role in the Gunfight at the O.K. Corral and its legendary figures of the old West.
See a western standoff at OK Corral, learn the history at the Tombstone Epitaph, and grab a bite at Crystal Palace Saloon. You can also explore the surrounding area via horseback back or ATV tour.
If you cannot get enough of the American Wild West, head to the Old Tombstone Western Theme Park. This amusement park is action-packed with activities like a trolley tour and a gunfight show performance.
Parking in Tombstone is normally no problem. You can parallel park on many streets. Plus, there are two major sections of Tombstone's town for parking.
How to get to Tombstone: It is a three-hour drive from Phoenix via I-10 and State Route 80.
5. Scottsdale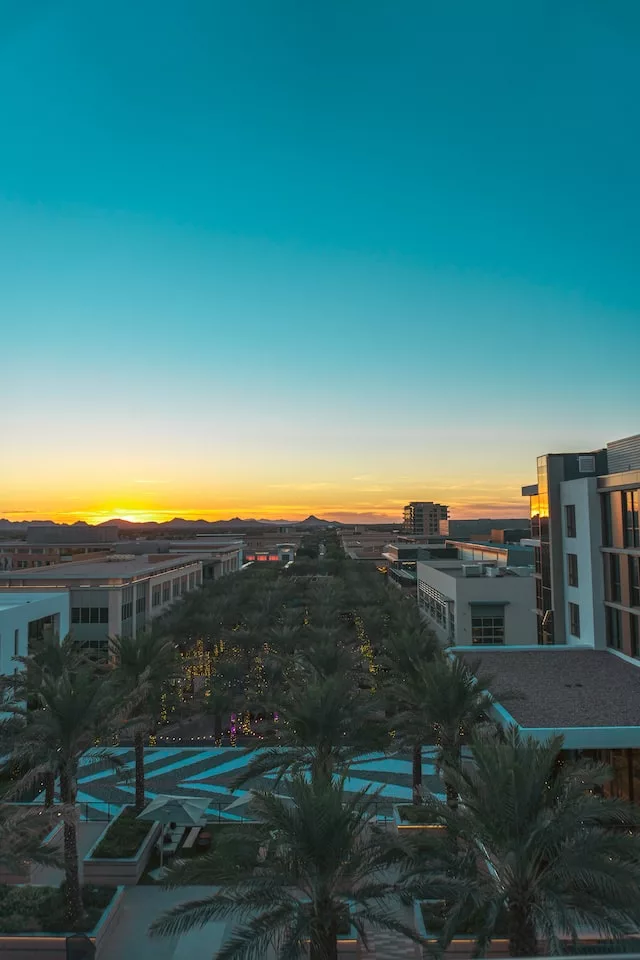 Get ready for a day of luxury and leisure with a trip to Scottsdale, a vibrant city located just northeast of Phoenix. Known for its world-class resorts, high-end shops, and golf courses, Scottsdale offers a perfect mix of culture and adventure.
The Scottsdale Museum of Contemporary Art is a great place to start if you're an art lover. It boasts an impressive collection of modern art, exhibitions, and events. The Old Town offers a glimpse of the city's history and provides a chance to shop til you drop and hop between the many restaurants and bars.
Regarding dining, options are endless – but prepare to spend a bit of money. The city boasts an extensive restaurant and bar scene, so you're sure to find a spot to satisfy your appetite! It's the perfect day trip if you're celebrating a birthday or a big accomplishment.
How to get to Scottsdale: It's about a 30-minute drive from Phoenix to Scottsdale via State Route 202.
6. Prescott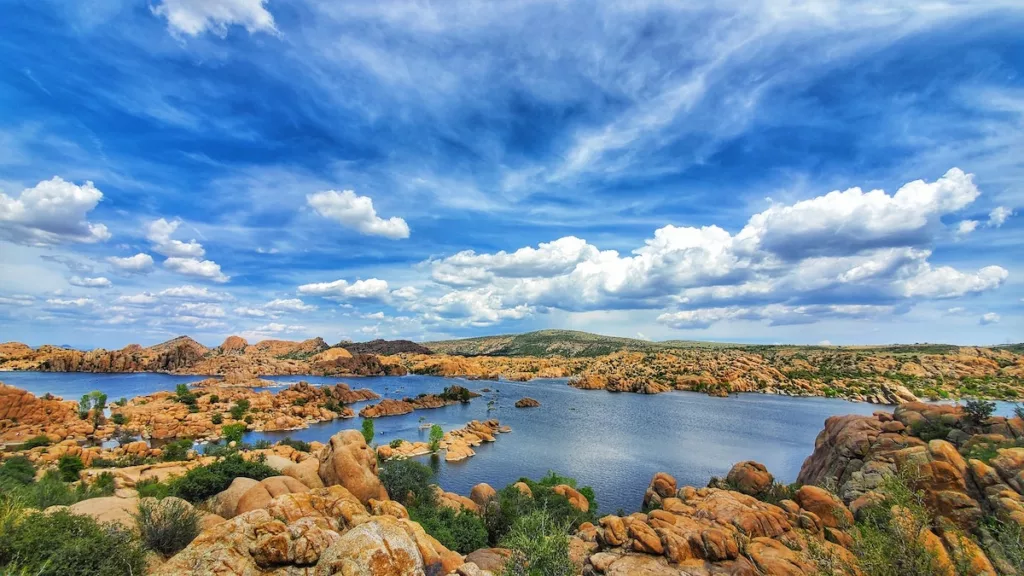 Prescott, the historic mountain town, offers a perfect day trip for those looking to explore its charming city center and indulge in the great outdoors. The town is located within a two-hour drive from Phoenix.
You can stroll through the city center and explore historical sites such as the Sharlot Hall Museum and Whiskey Row – named for the many saloons that dotted the area during the gold rush era.
The surrounding area of Prescott offers unique natural beauty, with excellent hiking trails in the nearby Prescott National Forest. Watson Lake offers a great spot for a picnic or stroll, with boulder-strewn shores. You can even fish and kayak in the beautiful blue waters of the reservoir!
Bear in mind that parking can be challenging in the downtown area. It's recommended to arrive early or utilize the public parking lots.
How to get to Prescott: It is under two hours from Phoenix - drive north from Phoenix on I-17, then east on state route 69.
7. Tortilla Flat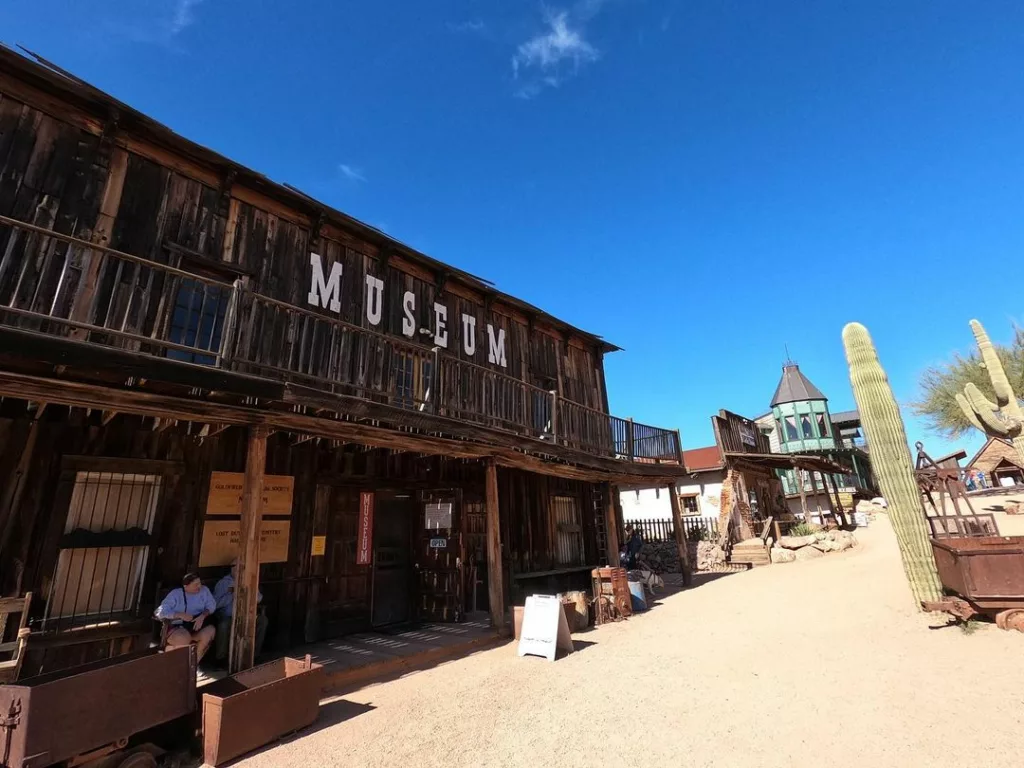 Tortilla Flat is a small unincorporated community located in the Superstition Mountains, about an hour's drive from Phoenix. This small desert town, which consists of a few buildings and a handful of residents, offers a unique glimpse of the Wild West and its history.
Take a drive on the Apache Trail, a scenic drive that winds through the mountains. You'll see stunning views of desert scenery and Canyon Lake. Alternatively, you also have the opportunity to hike in the Superstition Mountains.
Grab a bite at the Tortilla Flat General Store, the only remaining building from the original settlement. This is also a great spot to pick up a souvenir or check out the tiny museum in a replica of a one-room schoolhouse.
How to get to Tortilla Flat: A 1 hour 15 mins drive on AZ-87 E, then the Apache Trail scenic drive.
8. Tucson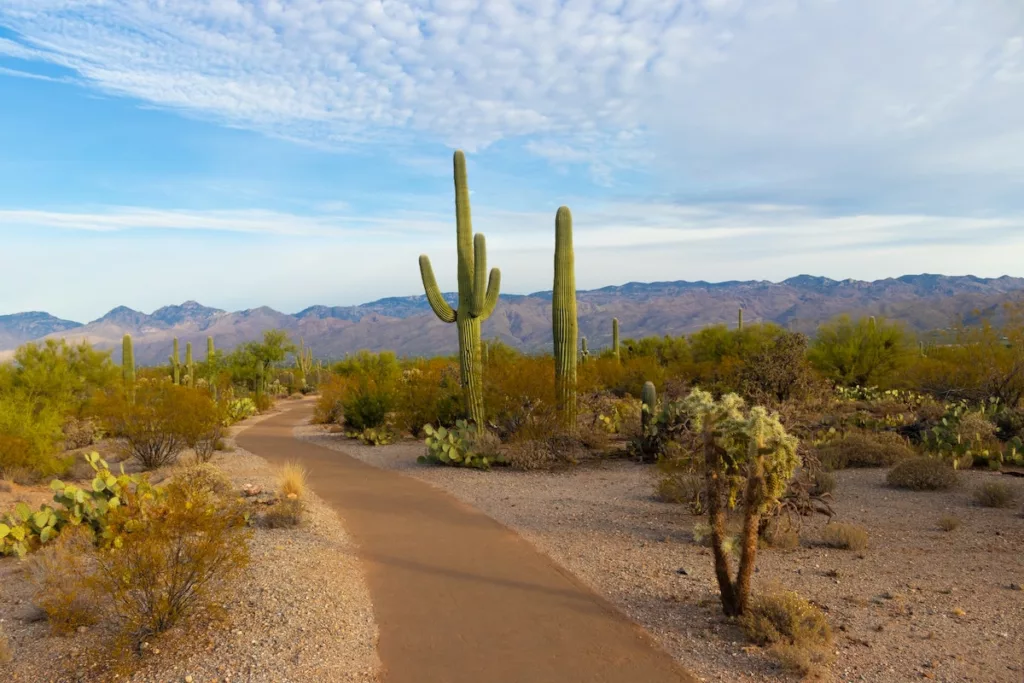 Planning day trips from Phoenix makes no sense without considering taking on Tucson for the day! Only around 90 minutes from Phoenix, this vibrant city is brimming with rich cultural history, outdoor activities, and delicious Mexican cuisine.
You can spend the day visiting the city. Or, if you're an outdoor enthusiast, you can explore Saguaro National Park and Tucson Mountain Park. Horseback riding and mountain biking in the desert are popular activities, as both parks boast plenty of trails to explore.
History buffs, art lovers, and natural history enthusiasts will love the Arizona-Sonora Desert Museum. The museum offers a fusion experience with art galleries, a botanical garden, an aquarium and zoo, and more!
You can catch some live music on 4th Ave in the evenings and wander around the downtown area. The city is also a foodie's heaven! After all, it's the first UNESCO City of Gastronomy in the US.
How to get to Tucson: It's about an hour and a half drive from Phoenix to Tucson via State Route 10.
9. Montezuma Castle National Monument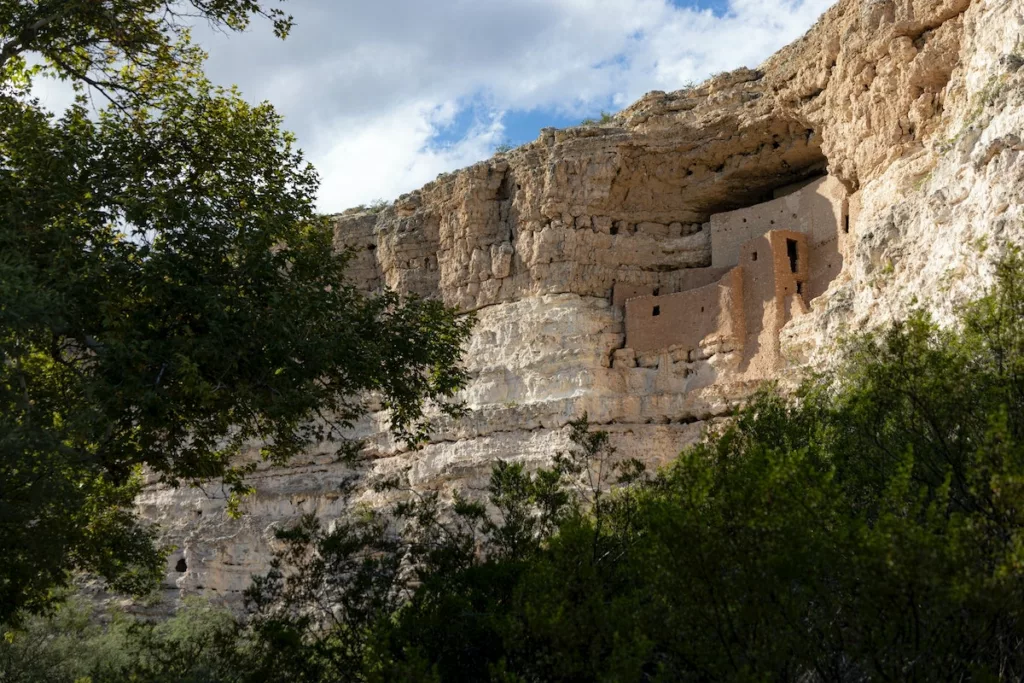 Montezuma Castle National Monument is a must-see for ancient architecture and Native American culture. This site offers an unparalleled look into the lives of the Sinagua people, who inhabited the area over 700 years ago.
Take a short walk from the visitor center to see the well-preserved ancient cliff dwellings built into a limestone cliff. You can learn about the area's history from the visitor center's informative exhibits.
The park also offers ample opportunity to explore the surrounding nature, with the beautiful landscape of the Verde Valley that makes for great hiking and picnicking.
When visiting the monument, purchasing tickets in advance and wearing appropriate clothing and shoes is a good idea. It is also important to note that climbing on or entering the dwelling is prohibited for preservation reasons.
As far as day trips from Phoenix, Montezuma Castle National Monument is a must!
How to get to Montezuma Castle National Monument: Less than 90 minutes from Phoenix, take I-17 North to Exit 289, then follow the signs to the monument.
10. Meteor Crater & Barringer Space Museum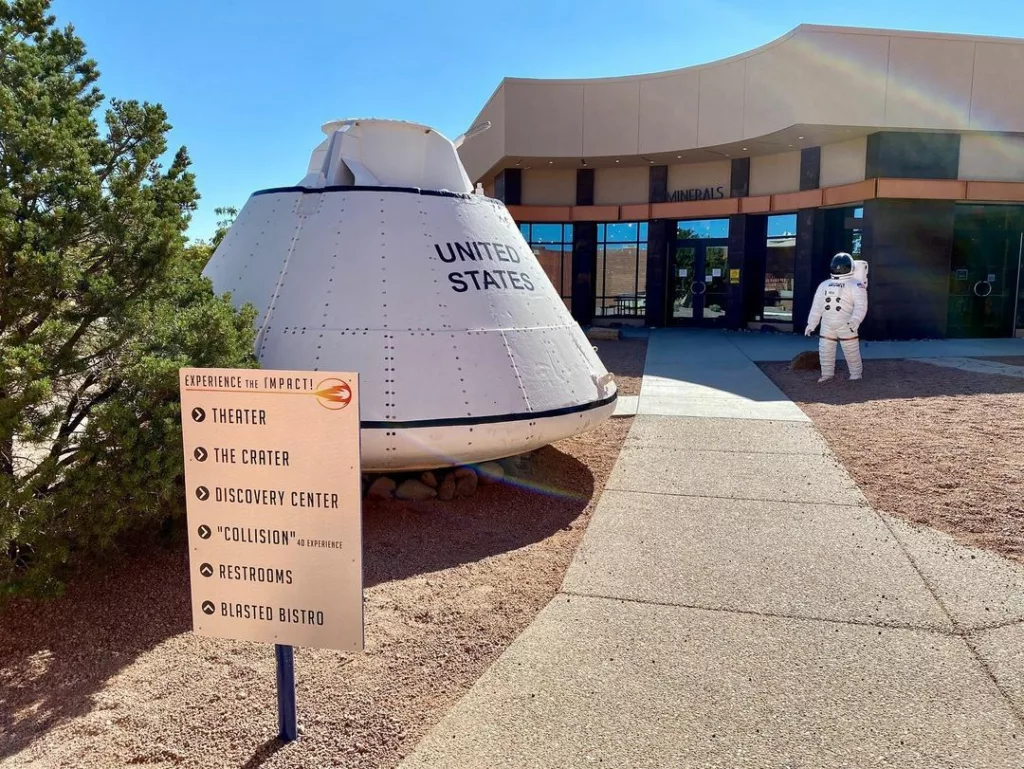 Experience the awe-inspiring Meteor Crater, the world's best-preserved meteorite impact site. A 2-hour 45-minute drive from Phoenix, this natural wonder is located in the heart of the Arizona desert.
This day trip is an absolute must-see for anyone interested in space, geology, and natural history! As you approach the crater, you'll be able to see the massive impact of a 150-foot-wide meteorite over 50,000 years ago.
The Barringer Space Museum is also located on-site – a great way to complete your day of adventure and awe. This interactive museum provides a detailed history of the Meteor Crater, showcasing meteorites and impact-related specimens.
Remember to bring sunscreen and water, wear comfortable shoes, and purchase tickets in advance to avoid the lines.
How to get to the Meteor Crater & Barringer Space Museum: Take I-17 north to Flagstaff, then I-40 east to Meteor Crater Road. Drive south 5 miles to Meteor Crater. 
11. Petrified Forest National Park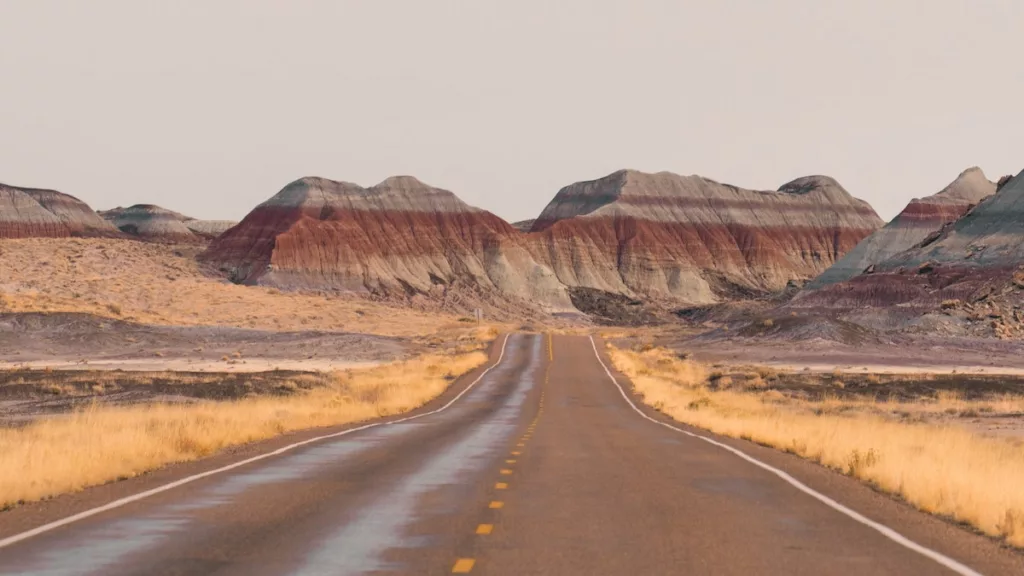 Petrified Forest National Park, also known as the Painted Desert, is a unique and captivating destination in northeastern Arizona. Spanning 28 miles, the park is home to a vast collection of colorful petrified wood, offering a glimpse into the distant past.
A day trip to this park from Phoenix is a great way to experience the natural beauty of Arizona and learn about the area's geology and history. You can hike to some of the park's most scenic areas, such as the Crystal Forest. Or take a scenic drive through the park to see the highlights.
Several ranger-led tours also provide an in-depth look at the park's geology, ecology, and cultural history.
Some tips for visiting the park include checking the weather forecast and dressing appropriately. It's also important not to remove any natural resources from the park, including fossils, as this is illegal.
How to get to Petrified Forest National Park: The drive is the longest on this list (but well worth it). Take I-40 East for around 4 hours.
12. Lake Pleasant Regional Park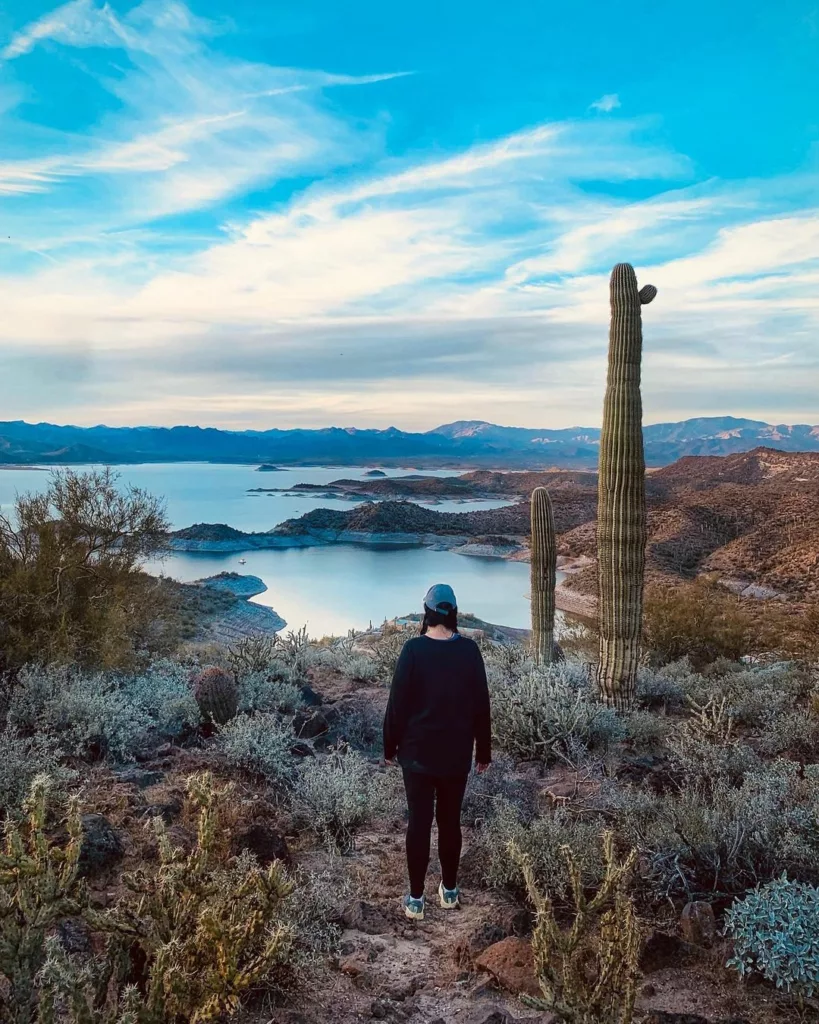 Escape the heat of Phoenix and enjoy a day on the water at Lake Pleasant Regional Park. The park's main attraction is the 10,000-acre Lake Pleasant, a popular spot for boating, fishing, swimming, and waterskiing.
You can rent paddle boards, kayaks, and even speedboats to explore the lake and enjoy the beautiful scenery. This desert oasis also has several hiking trails and a campground for overnight visitors.
Summer and early fall are the best times to visit Lake Pleasant. It's best to avoid weekends when the locals flock to the lake with their boats, which tends to be crowded.
While enjoying the refreshing waters of the lake, taking care of oneself in the Arizona heat is important. Remember to wear sunscreen, drink plenty of water, and bring a hat to protect yourself from the sun.
How to get to Lake Pleasant Regional Park: Take AZ-74, then take I-17 N to Happy Valley Road. Take the exit to the Park entrance. The drive is approximately an hour.
13. Flagstaff
Experience the dramatic change in landscape and climate with a day trip to Flagstaff, a charming mountain town located just over two
hours north of Phoenix. At an elevation of 6,900 feet, the town boasts towering pine trees and a refreshingly cool climate.
Take a stroll downtown and discover the historic buildings and interesting restaurants along Route 66. Head to Walnut Canyon National Monument and explore the ancient Sinagua cliff dwellings. Or check out the volcanic landscape of Sunset Crater Volcano National Monument.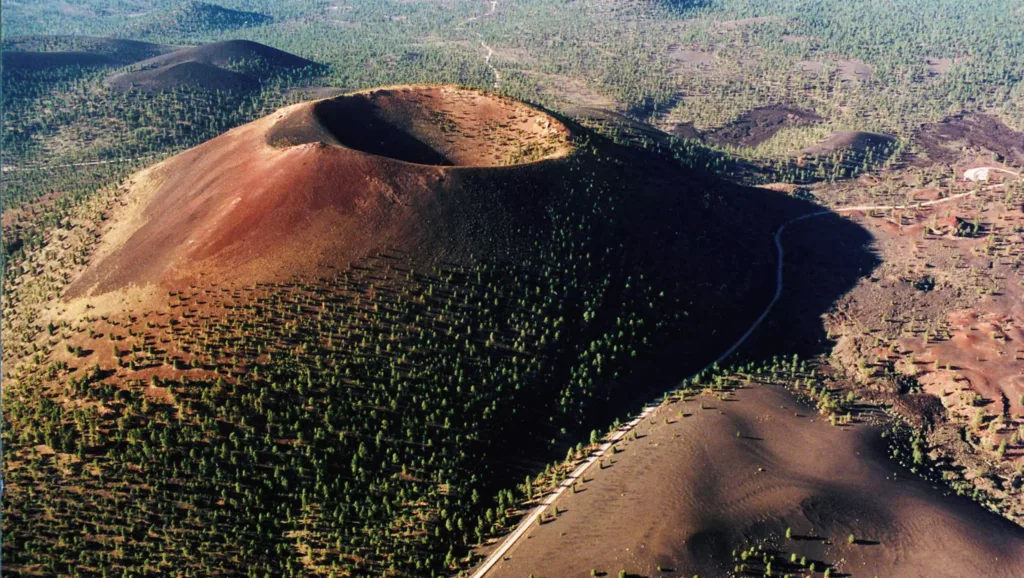 Winter brings snow to Flagstaff, making it a popular spot for skiing and snowboarding at Arizona Snowbowl. Hiking is also a popular activity from spring to fall!
Some tips for visiting Flagstaff include bringing warm clothing, as the temperature can be cooler than in Phoenix, especially in the evening.
How to get to Flagstaff: A two-hour drive on I-17 North and through Coconino National Forest.
14. Kartchner Caverns State Park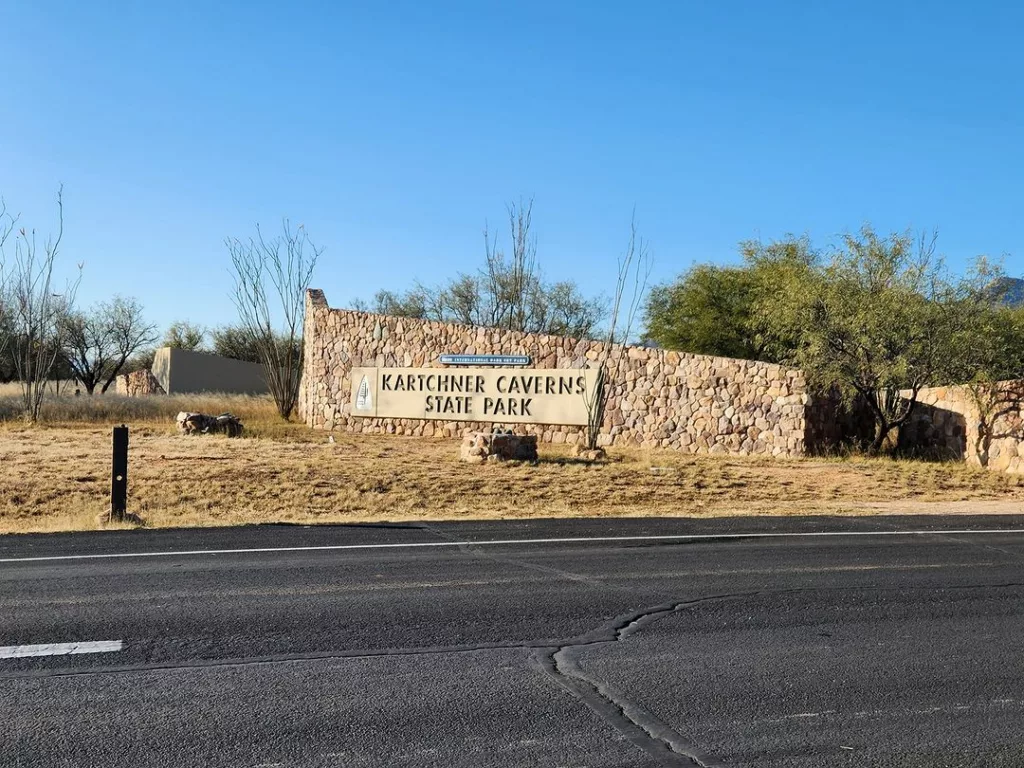 Kartchner Caverns State Park is located in southern Arizona's foothills of the Whetstone Mountains. The park is best known for its limestone caverns, home to an array of unique and delicate mineral formations. This is definitely one of the most remarkable day trips from Phoenix!
You can take a guided tour of the caverns and see the unique mineral formations, such as soda straws, cave bacon, and the world's longest stalactite. The park offers several tours, including the Rotunda/Throne Room Tour and Big Room Tour.
It is important to note that the cavern temperature is always around 70°F (21°C). Hence, it's a good idea to bring a light sweater. I recommend purchasing tour tickets in advance to ensure availability.
Helpful tip No phones are allowed in the cavern, so you will not be able to take pictures. But you can take a photography tour, offered every third Saturday of the month.
How to get to Kartchner Caverns State Park: Take I-10 east to Exit 302 (SR 90), then head south 9 miles to the turnoff. The drive is around two and a half hours.
15. Picacho Peak State Park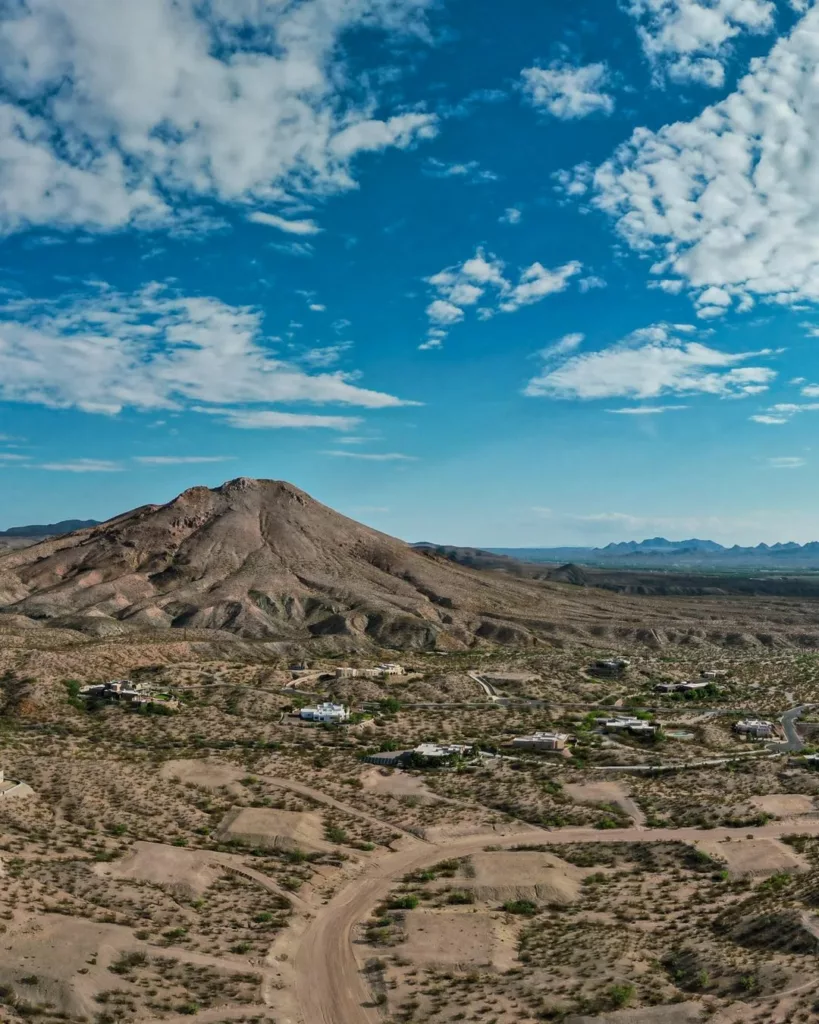 Get ready for an action-packed day of adventure at the Picacho Peak State Park, less than an hour and a half drive from Phoenix. This state park is known for its towering, needle-like peak that offers stunning views of the surrounding desert.
The park offers a variety of outdoor activities, from hiking to bird watching. The Hunter Trail and Sunset Vista Trail are popular among hikers. These trails boast challenging climbs and breathtaking views of the surrounding desert.
A visit to the Civil War battlefield site is a must for history buffs. This site can be explored through guided tours.
Be sure to bring plenty of water, wear appropriate clothing and footwear, and carry sunscreen and a hat. An entrance fee to the park is also required per car or bike/individual.
How to get to the Picacho Peak State Park: Take I-10 south to Tucson. At exit 219, you'll see a sign for the park - about one hour outside of Phoenix.
Frequently Asked Questions
What are the best weekend trips from Phoenix?
For a weekend trip from Phoenix, consider Sedona, Flagstaff, and the Grand Canyon. If you love the great outdoors and camping, head to Lake Pleasant or Saguaro National Park.
What are the best half-day/short trips from Phoenix?
There are a few spots you can visit for short-day trips. You can visit the lively city of Scottsdale, just 20 minutes from Phoenix. For a quick history season, head to the Montezuma Castle National Monument. And for a quick hike and a swim, head to Lake Pleasant.
Can you drive the Red Rock Scenic Byway as a day trip from Phoenix?
Absolutely! The Red Rock Scenic Byway is an incredible drive, perfect for a day trip from Phoenix. The 7.5-mile stretch of highway will take you through the Coconino National Forest and the Oak Creek Canyon, with its beautiful forests and waterfalls.
Conclusion
Phoenix is an excellent starting point for a day of adventure. Just check in advance for parking and dining options, as well as the availability of guided tours and other activities. I hope this post will make your day trip even more enjoyable.