Phoenix to Vegas: 15 Stops on My Road Trip
Nadia Podrabinek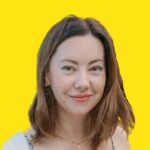 Written by Nadia Podrabinek
Hello, my name is Nadia. I usually write about traveling (there are so many places to fit all the lifestyles), relocation, and living in a foreign country (adapting to a different culture). My travels stretch beyond Spain, with journeys to the US, Italy, Norway, Portugal, and France. Relocating to Spain in 2018, I lived in cities from Barcelona to Madrid, currently calling Valencia home.  Follow me on Twitter, Facebook, Instagram, or LinkedIn! ... show more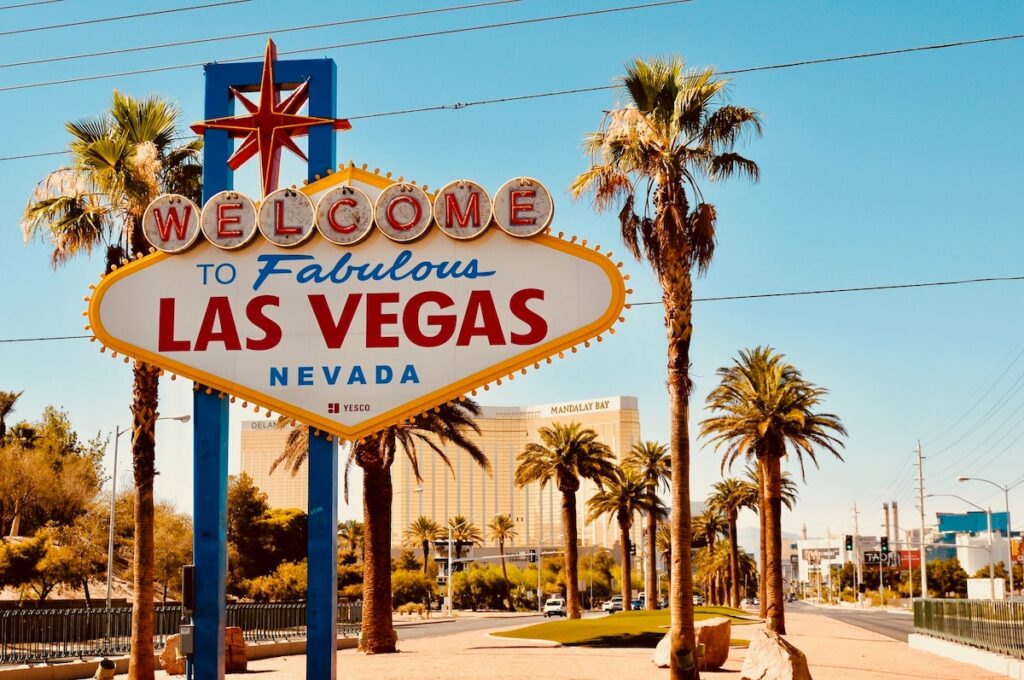 Have you ever dreamed of driving along the highway, as seen in Quentin Tarantino's movies?
Endless American deserts, hotdogs purchased at local diners along the way, and breathtaking sunsets create a very specific and memorable experience.
If a one-day road trip has been on your "things to do before you get old" list for a while, consider embarking on the highly sought-after route from Phoenix to Las Vegas.
---
Key takeaways
The North Rim of the Grand Canyon, Sedona (with plenty to see), the Hoover Dam, Flagstaff, Montezuma Castle, and Valley of Fire State Park should be your top-priority stops on the route.
It's better to take the road trip on weekdays, as traffic can be brutal on weekends.
Make sure to bring a lot of extra water in your vehicle, just in case.
Slide Rock in Sedona is great for kids.
---
What people say on Reddit
That's the closest to the perfect route I've seen anyone share on here. Personally I wouldn't go to Phoenix, but instead go east after the Grand Canyon and Make sure I get into Chaco Canyon and maybe Aztec National monument, then finish up in Albuquerque. Unless you're planning on going to some spring training games in Surprise, in which case I'm entirely in support of that metro destination.

SasquatchFingers
Just did half this route a month ago. Started & ended in Phoenix creating a loop through Az & reaching close to Capitol Reef in UT. Here are some points you can consider.

Sedona is lovely. Check out the Subway Cave trail, Devils bridge, Cathedral Rock. Choose a trail that suits you & the time you have.

On your way from Sedona to Grand Canyon, take a detour & check out Meteor Crater Natural Landmark, its pretty cool. If you plan to go here, on your way to Grand Canyon, take the 180 route deviation from Flagstaff, this is one of the most scenic route's I've taken. Its etched in my memory as we were driving during the sunset hour.

MasterpieceNo1260
Try not to go there on a weekend if possible. Traffic is brutal on weekends. Slide rock in Sedona is great for kids of your children's age. Flagstaff is just north of Sedona and is a beautiful town with a cool downtown area that has some good food options. Also Costco usually has good deals on rental cars but I haven't rented since the pandemic started so idk what they're like now.

AZMadmax
Between Prescott and Sedona is a small cliff-side town called Jerome, AZ. It's something you can drive through on the way to Sedona or stop for a bite to eat if you wish. It's definitely worth seeing.

dannymb87
This road is 330 miles long, which enough to drive the whole day but not too tiring or time-consuming to miss a chance to stop by some good parks, towns, and lakes.
The route boasts fantastic views and natural wonders, such as the legendary Grand Canyon National Park, Antelope Canyon, Sedona, Death Valley National Park, Red Rock Canyon National Conservation Area, and Valley of Fire State Park.
Apart from untamed nature, you can enjoy recreational activities at Lake Havasu, Winslow, the "greatest dam in the world" called Hoover Dam, and Las Vegas Strip at the very end of your trip.
This Nevada-California-Arizona route is definitely one of the most majestic roads in the USA, so crank up American music hits, take some sandwiches, and enjoy one of the 15 spectacular stops detailed below.
1. Grand Canyon National Park, Arizona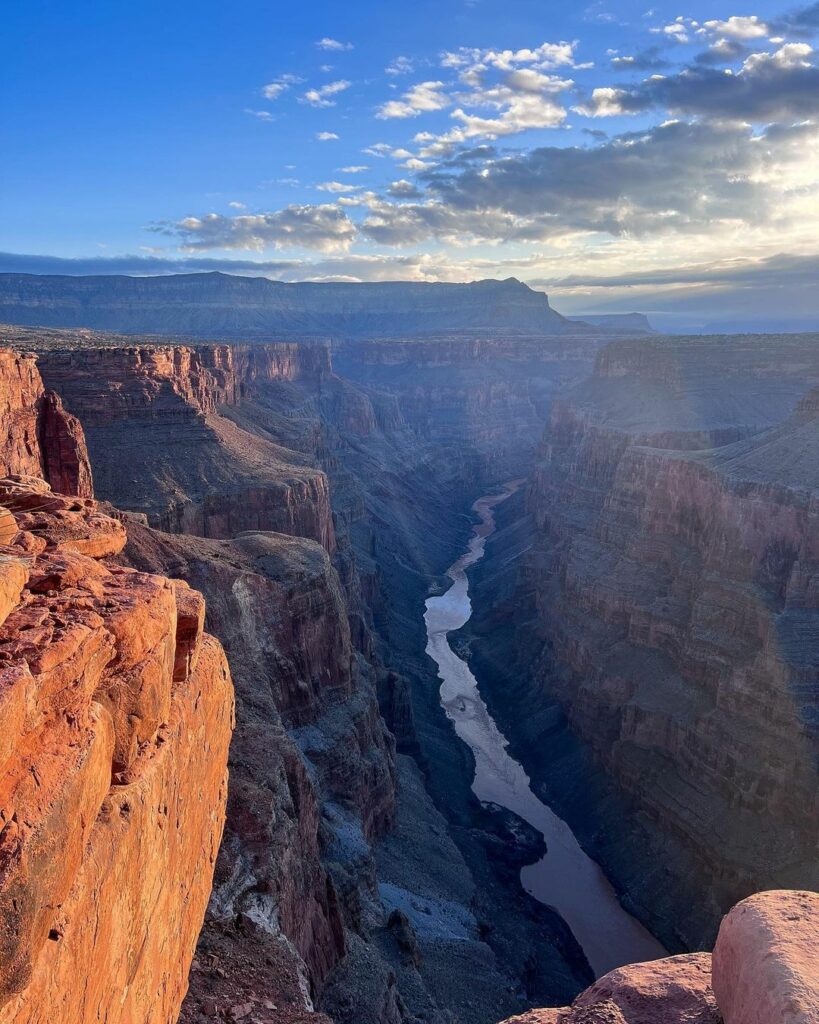 When it comes to natural wonders, the United States certainly has a treasure trove to boast about, and the Grand Canyon might just be the crowning jewel. This colossal, fiery brick-hued chasm features mesmerizing 6-million-year-old rock formations lining its sides. You've undoubtedly glimpsed this awe-inspiring landscape in Western films featuring intrepid cowboys.
The mighty Colorado River bisects the canyon into two distinct sections: the South Rim and the North Rim. The South Rim is considerably more accessible, offering a multitude of activities.
You can snap breathtaking photos from Mather Point and Hopi Point, embark on a hike (starting from the Mather Point Overlook after capturing memories), stroll leisurely, or even camp overnight to fully immerse yourself in the experience.
If you do not feel like making longer stops, head to the East Entrance (State Route 64) to feast your eyes upon the pristine Desert View.
Tip #1 If you're yearning to explore the North Rim's vistas, bear in mind that it's open seasonally, from May 15 to October 15.
Tip #2 For the most enjoyable Grand Canyon visit, opt for spring or fall when the crowds are thinner and the temperatures more agreeable.
2. Sedona, Arizona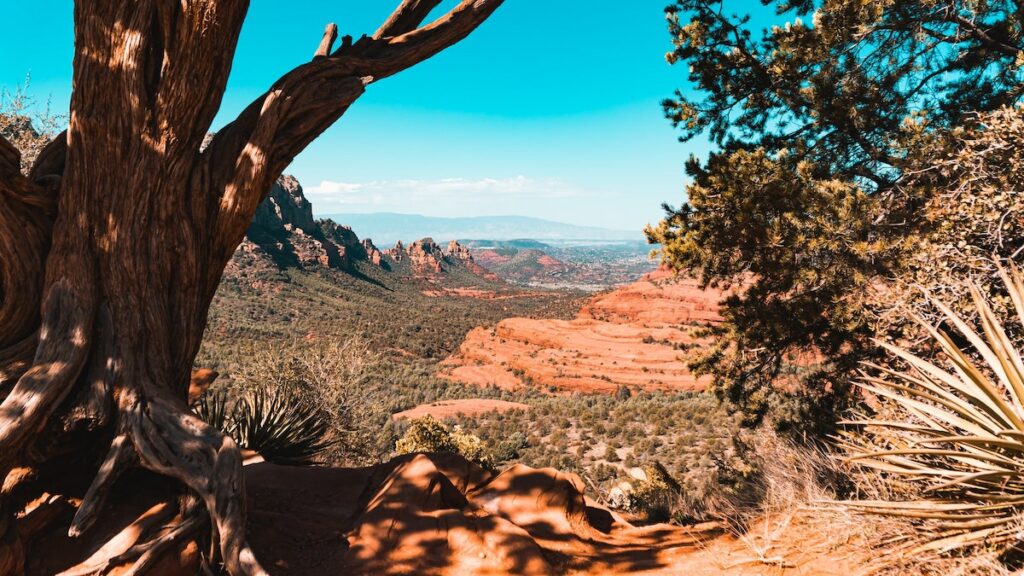 A slightly off-the-beaten-path gem you won't want to miss is Sedona, a desert oasis nestled amid a geological wonderland.
Here, red stratified rocks evoke images of cascading wax from melting candles, while stately pines at their base exude beauty and grandeur.
Read also: 15 Best Day Trips from Phoenix, Arizona
Beyond the awe-inspiring landscape, the town itself boasts exceptional art and one-of-a-kind shops at the Mexican-style arts and crafts haven, Tlaquepaque (pronounced T-la-keh-pah-keh).
Departing Phoenix in the morning and spending the night in Sedona is an ideal plan, as this allows you to venture further north to the enchanting Oak Creek area for a delightful hike along the West Fork trail or to leisurely explore the town.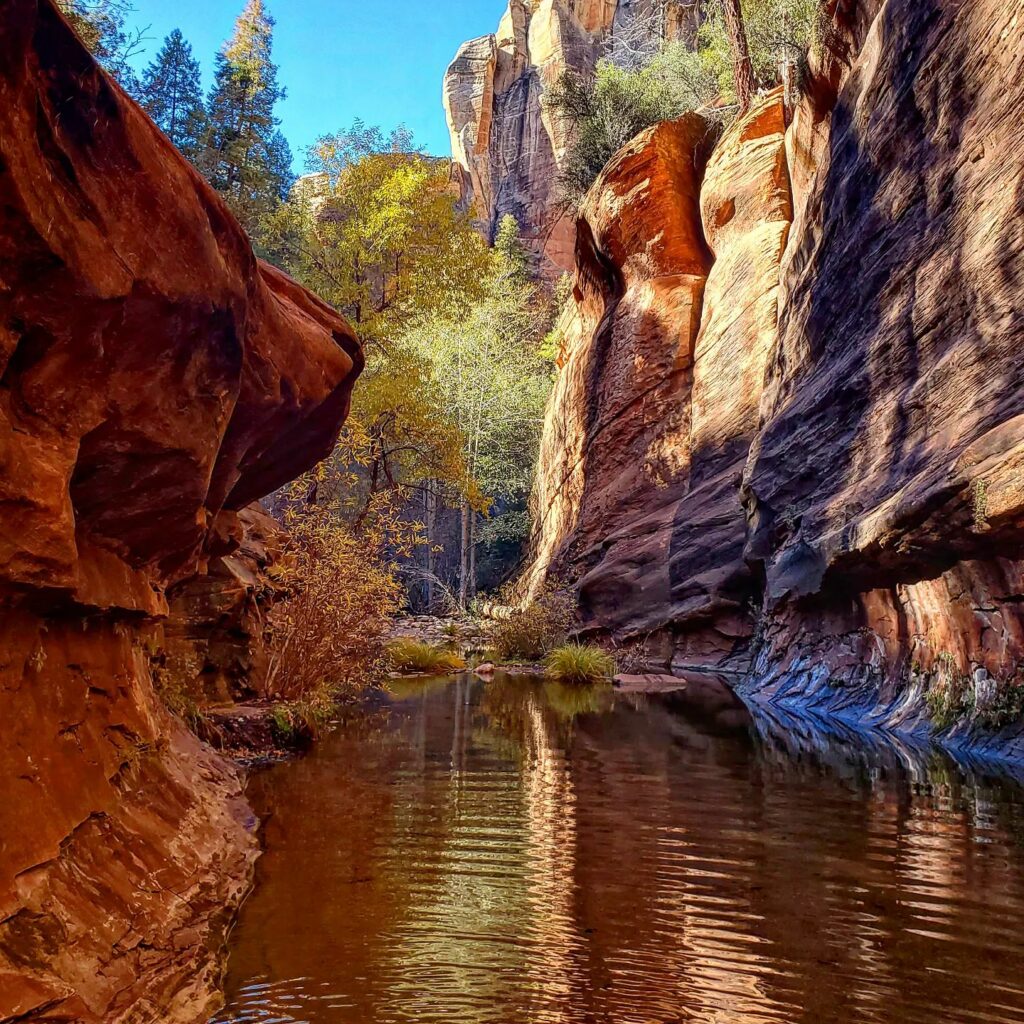 Tip #1 For the adventure seekers, consider ATV (guided all-terrain vehicle tours) or kayaking from Cottonwood, a mere 25-minute drive from Sedona.
Tip #2 Immerse yourself in the local attractions, such as the Chapel of the Holy Cross, Cathedral Rock, Bell Rock, Devil's Bridge, and others, to fully experience Sedona's charm.
3. Slide Rock State Park, Arizona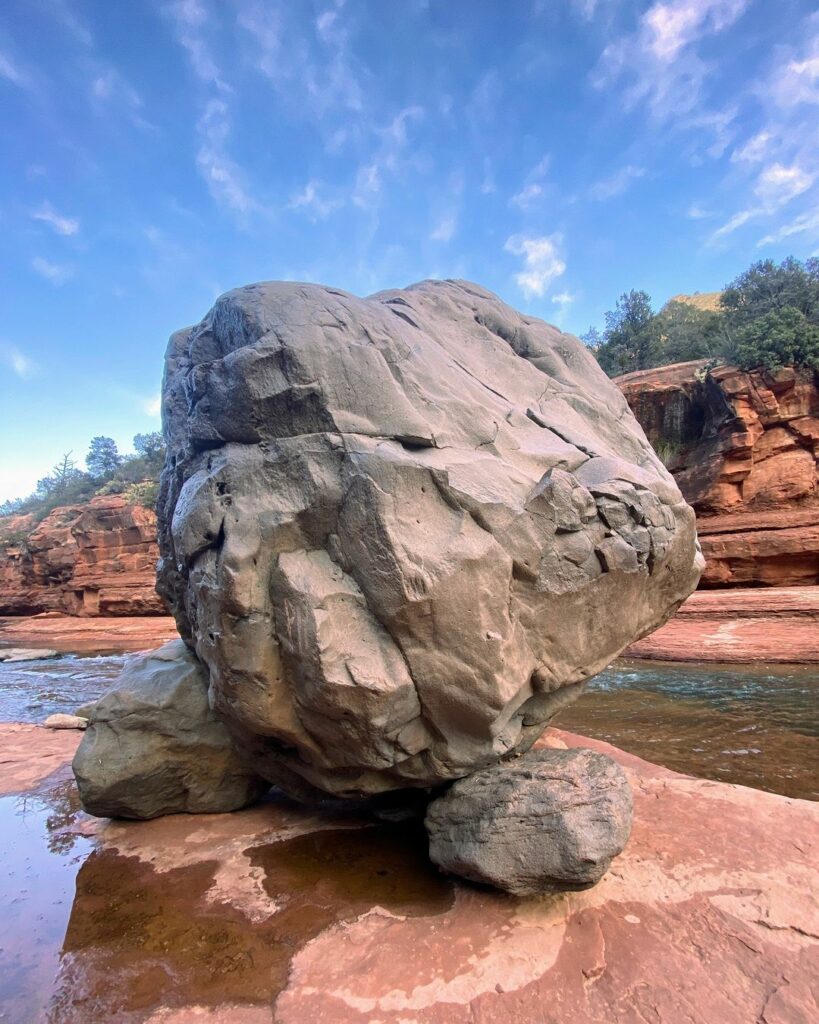 Drive 13 minutes north of Sedona, and you will find a spot that deserves special mention. Slide Rock State Park is a perfect opportunity to cool down, as it provides a half-mile area with the clear mountain Oak Creek River.
Not only can you plunge into the cold waters, but you can also slide on the red rocks! Over thousands of years, the edgy, rocky surface became smooth under the streams, making it a perfect slippery chute to please your inner child. So, stopping by Slide Rock State Park is one of the best ideas for recharging on the way to Las Vegas!
Tip The river's bottom is very slippery, so be careful when crossing on foot.
4. Flagstaff, Arizona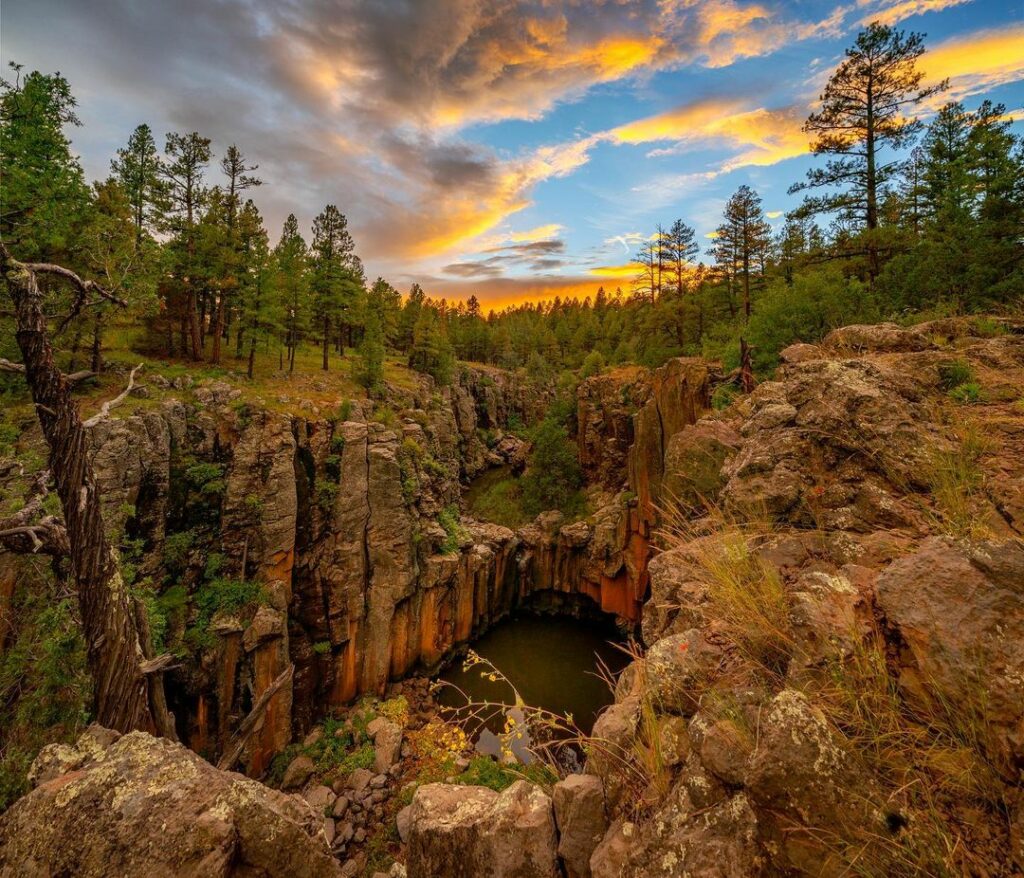 Just 50 minutes from Sedona, you'll find the same red rock canyons, but here they are often blanketed with snow.
Flagstaff is a small city with a fascinating history. Since Arizona remained a part of Mexico until 1863, there was nothing here except for forests. After joining the US, Boston immigrants discovered this place was well-suited for settling down and raised an American flag to celebrate the centennial of independence—hence the name. Railroad construction began in the 1880s, bringing a workforce and creating communities. In the 1920s, the famous Route 66 was laid here, attracting more tourists, and in 1926, the official city of Flagstaff was finally established.
For sightseeing, visit the Museum of Northern Arizona to explore preserved pieces of Indigenous materials and historical exhibits dedicated to the Colorado Plateau.
However, it's the various outdoor activities that truly deserve your attention. Traveling during the spring-fall season? Go boating, hiking, or rock climbing. Planning to visit Arizona in winter? Flagstaff offers skiing and snowboarding options.
Overall, this spot is perfect for either a 2-3-day vacation or a brief stop for pictures and a little hiking.
Helpful tip Be prepared to adapt to weather changes when climbing the mountains and remember to drink plenty of water!
5. Montezuma Castle, Camp Verde, Arizona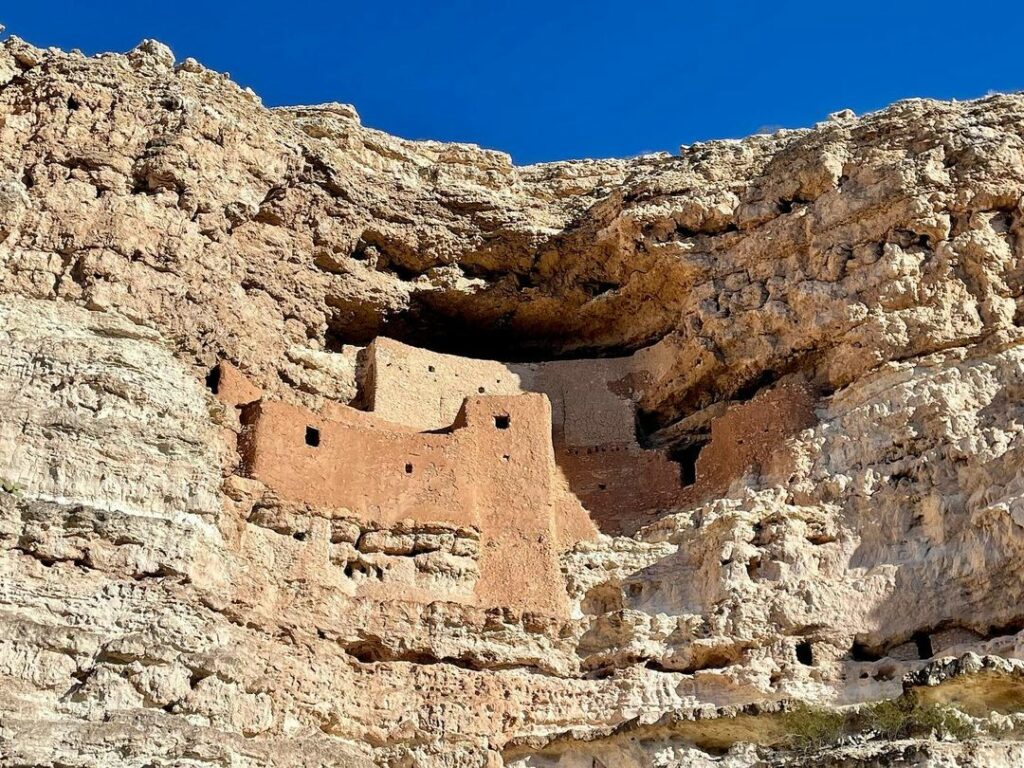 Montezuma Castle is one of the few preserved wonders built by indigenous people around one thousand years ago.This high-rise apartment structure, with its solid 20 rooms, is organically nestled into a cliff.
The monument is truly remarkable and provides a glimpse into what early buildings looked like.
6. Navajo Bridge, Utah/Arizona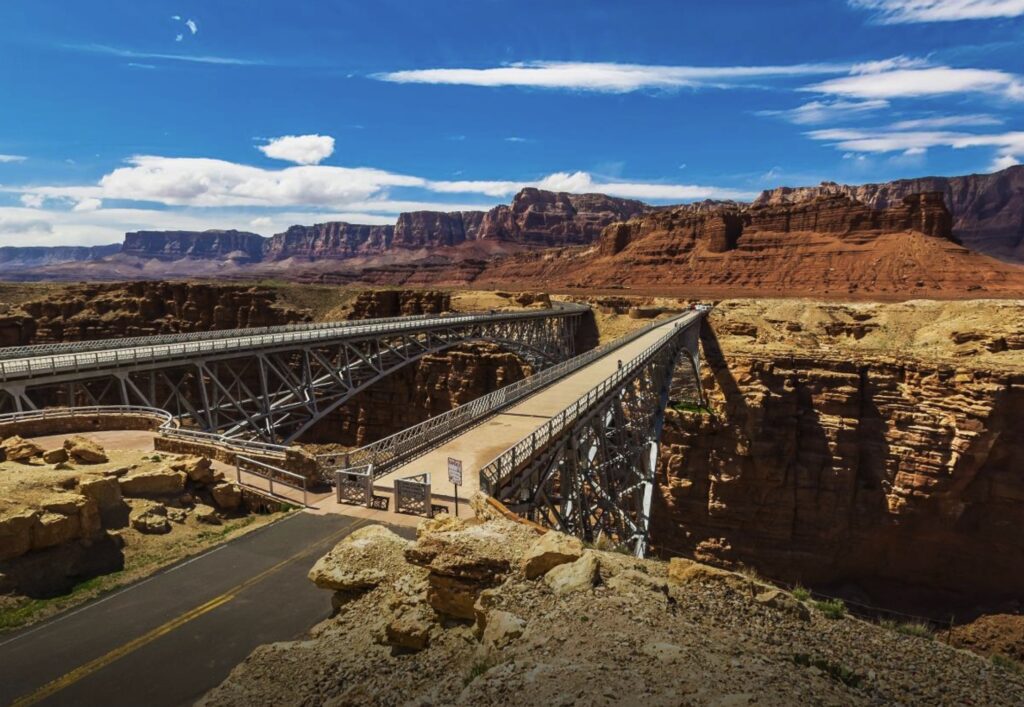 Did you know that the Colorado River only has seven land crossings? Crazy, right? And one of them is the Navajo Bridge, but actually, there are two bridges. The old one is for pedestrians to walk on and it's super historic, while the new one is for cars and stuff.
Back in 1929, they built the first bridge to replace a ferry that used to transport supplies, but one day it just collapsed. And the Navajo Bridge used to be the highest steel arch bridge in the world! So many people started traveling across it, but over time, cars got bigger and heavier, so in the 90s, they built a new one.
Nowadays, both bridges are chillin' side-by-side, giving you some epic views of the Colorado River and the canyon. Now the old bridge shows off the engineering from way back when, while the new one shows off modern engineering techniques. It's like a little piece of history and the future all in one spot!
7. Jerome, Arizona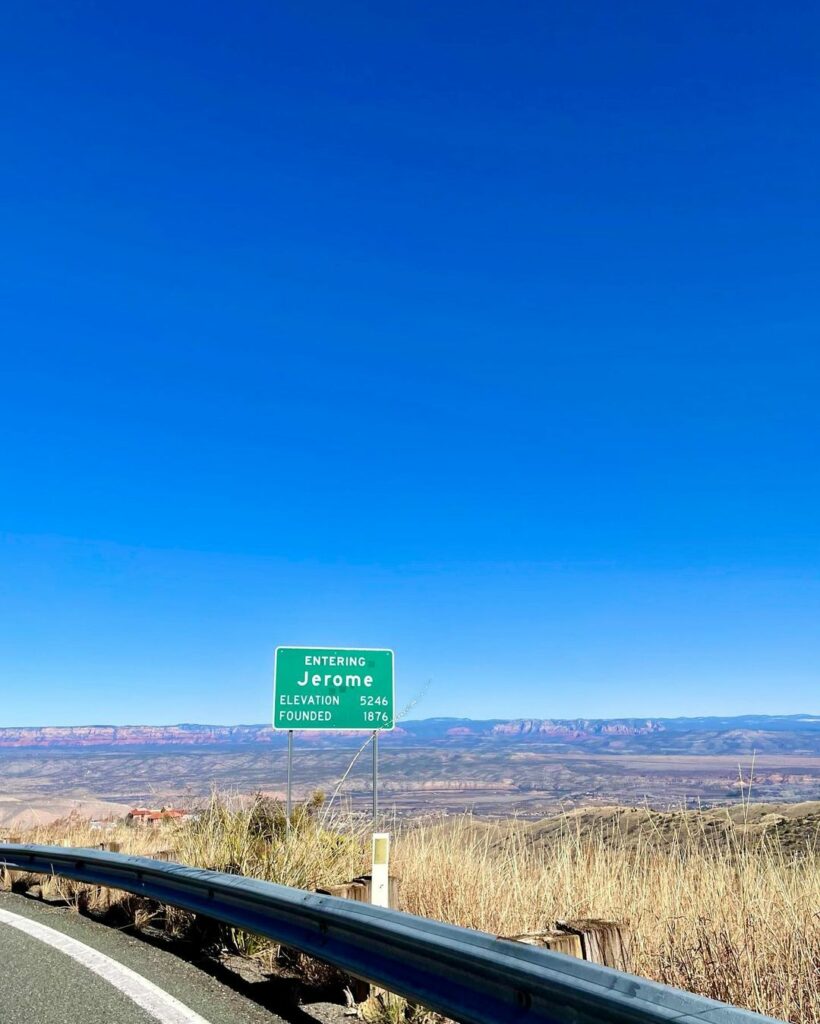 Do you enjoy mysterious cities where the mere rustle of a falling leaf captures your attention? Welcome to Jerome, a ghost town perched atop Cleopatra Hill near Sedona!
Founded in 1876, this city's primary source of income was copper mining. As more and more people arrived to work in the mines, Jerome grew to become Arizona's fourth-largest city. However, copper production declined during the Great Depression in the 1930s, peaked during World War II, and then experienced a dramatic downturn, ultimately leading to the mine's closure.
Check out Cadeuceus Cellars bar if you like wine
The remaining citizens (50-100 people) began promoting Jerome as a ghost town, which successfully earned it the title of "Wickedest Town in the West." Back in the day, the town was populated by miners, prostitutes, and gamblers, whose ghosts are said to still follow tourists wherever they go!
And if you want to spend a night in Jerome, consider staying at the Jerome Grand Hotel
8. Prescott, Arizona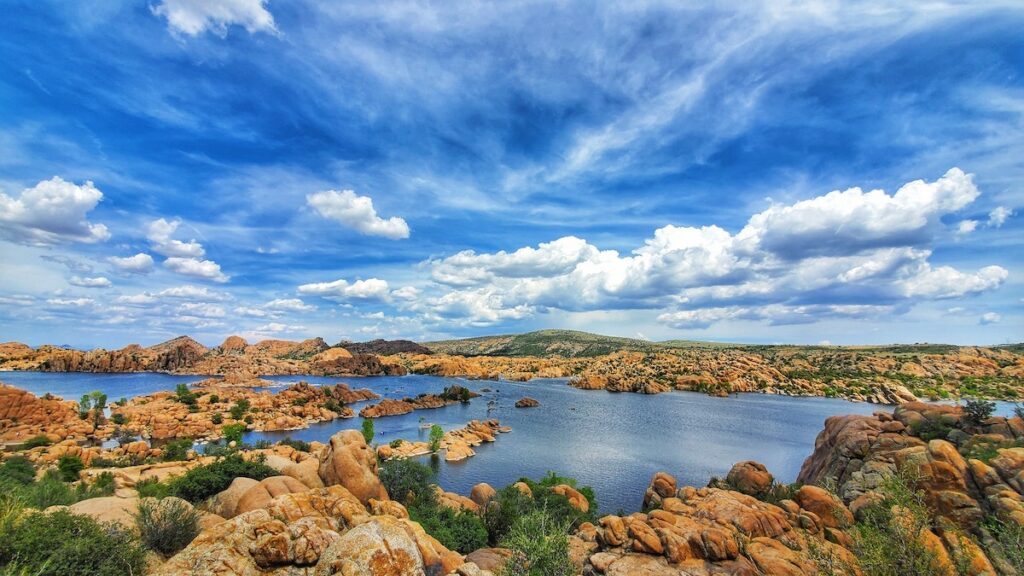 Another stop you might consider is Prescott, the perfect place to immerse yourself in the quintessential Western cowboy past. With a current population of about 47,000, the town maintains an authentic and cozy atmosphere.
Prescott is situated amid Arizona's stunning beauty. Towering mountains, crystal-clear lakes, and expansive forests create breathtaking scenery.
What can you do here? Plenty of activities are available, such as rock climbing, hiking, biking, horseback riding, and kayaking.
Also, remember to visit Whiskey Row, a historic area with Old West saloons from the gold rush era.
9. Lake Mead Recreational Area, Arizona/Nevada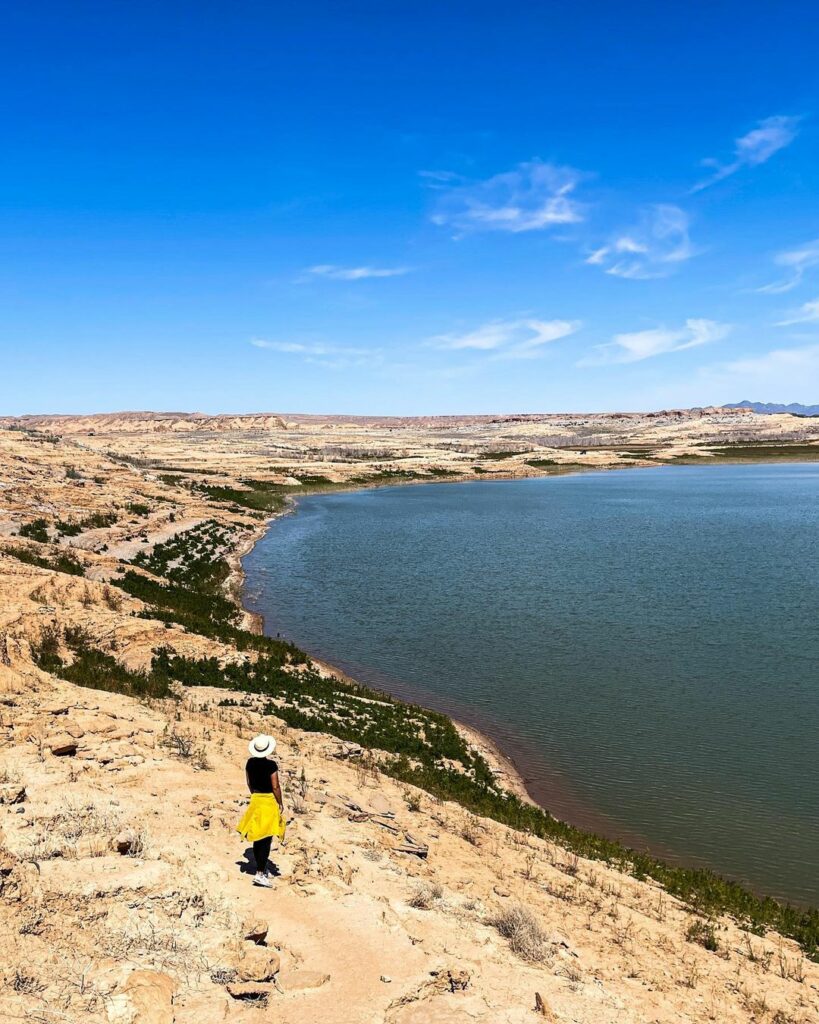 Can you imagine a state border drawn across the water? That's precisely what happened to the Nevada-Arizona border, which bisects Lake Mead, the largest reservoir in the US. Created by the famous Hoover Dam, the landscape appears like a piece of classical art when the weather is just right—water, hills, mountains, billowing clouds, and crystal blue skies.
Lake Mead offers dozens of recreational options along its entire 750-mile shoreline, including hiking, cycling, and water activities. Rent a boat at Temple Bar, go fishing at Echo Bay, or camp under a star-filled sky at Las Vegas Bay. The duration of your stay here depends on your preferences—whether you want to simply enjoy the scenery or fully embrace the active tourist experience.
Helpful tip Visit the official website for the best hiking routes and other activities.
10. Grandpa's Kitchen, Arizona
Why not try some cafes and restaurants on the way to Las Vegas? About two-thirds of the way there, you'll find yourself in a small town called Kingman, where travelers enjoy lunch at Grandpa's Kitchen after a long drive.
Read also: Best Michelin-star Worthy Restaurants in Phoenix, Arizona
The place might seem old-fashioned, but people return for a different reason. Grandpa's Kitchen offers generous portions of delicious American food, creating a warm, homey feeling.
Try the egg scrambles with sausages, corned beef with bacon, pumpkin pancakes, and amazing fried chicken. If you're following Route 66, don't hesitate to stop here for a meal!
11. Mojave National Preserve, California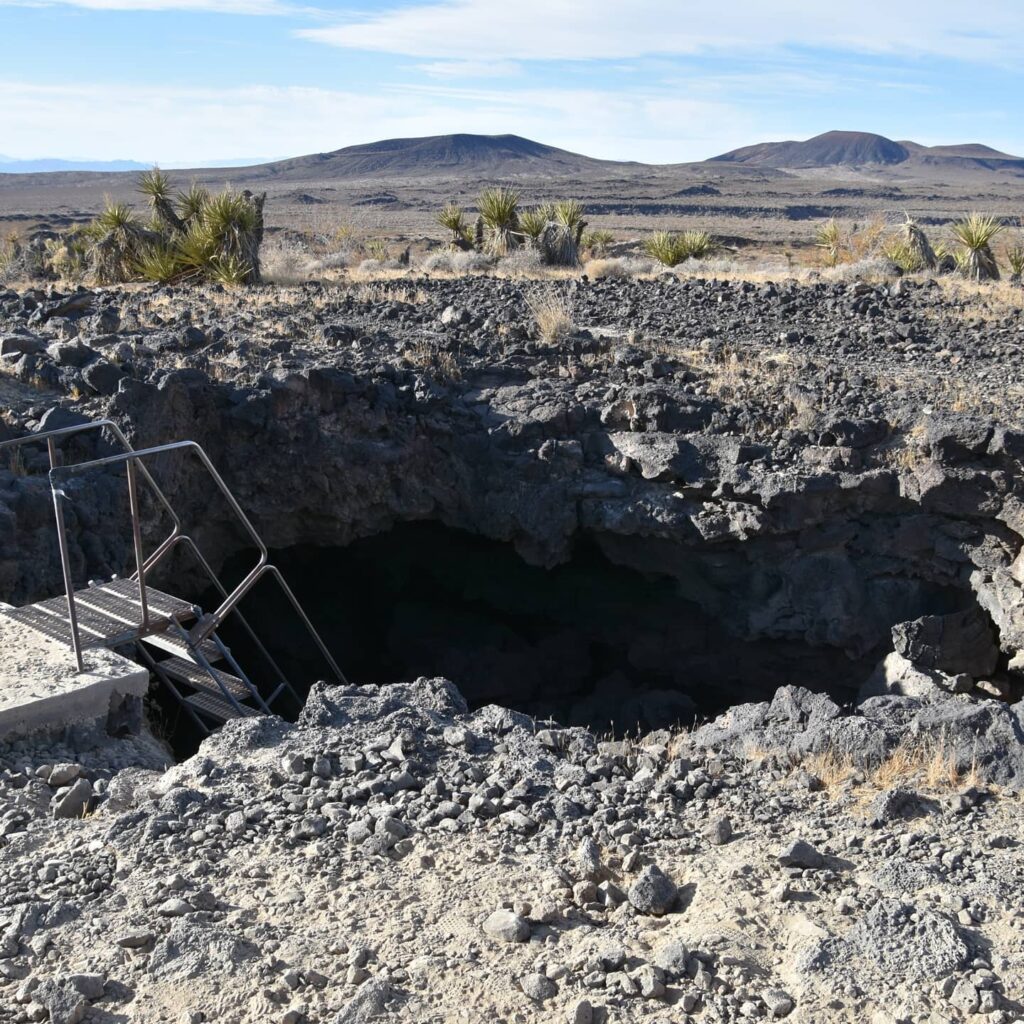 Do you like tortoises? Mojave National Preserve is home to one of the largest tortoise habitats in the country. These threatened, shy creatures spend 95% of their time hiding in their burrows. However, if luck is on your side, you might spot one casually moving at a leisurely pace.
Even if you don't get a chance to befriend a tortoise, there are still dozens of things to do in Mojave. For instance, it's an excellent destination for hiking. The official website features an extensive table with routes and the time needed to complete each trail. You can also take a horseback riding tour or drive around by car.
As for the highlight sites, check out Kelso Dunes to see the biggest dunes in the US and the Lava Tube, a cave formed by lava flows over the mountain. It reminds me of a scene from Pirates of the Caribbean: Curse of the Black Pearl, with tons of treasures in a pirate cave.
Tip To get to the Lava Tube, you'll need a specific heavy-duty vehicle, as the roads are very rough.
12. Hoover Dam, Nevada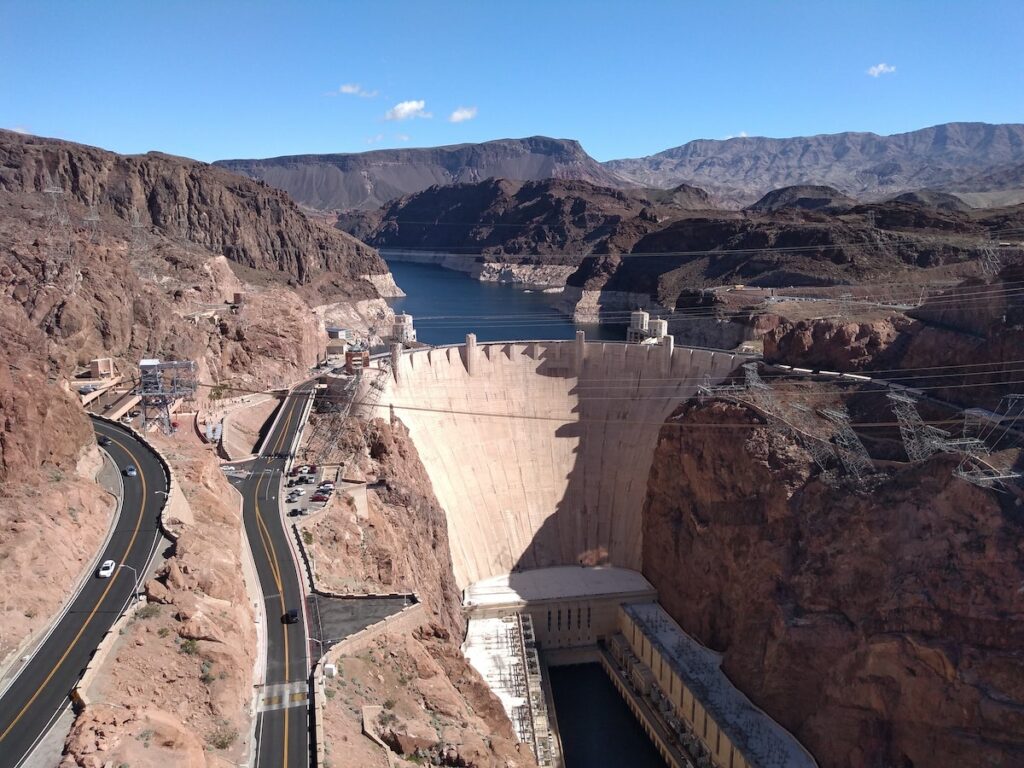 Another activity Lake Mead offers is a cruise to our next stop – Hoover Dam, the highest concrete arch dam in the country. Not only does this construction play an essential role in the domestic water supply and power production for Nevada, Arizona, and California, but it also attracts millions of tourists every year.
Hoover Dam is a 726-foot (221-meter) reservoir supported by four concrete towers that help the water flow and fall through pipes. It was built during the Great Depression between 1931 and 1936 by thousands of workers, resulting in 96 fatalities. You can find more information about the historical background at the Visitor Center.
I recommend taking a tour directly on site or traveling to the Hoover Dam by boat through Lake Mead. Spending 2-3 hours there is more than enough.
Tip The tours are relatively inexpensive, and tickets for children aged 0 to 3 are free.
13. Valley of Fire State Park, Nevada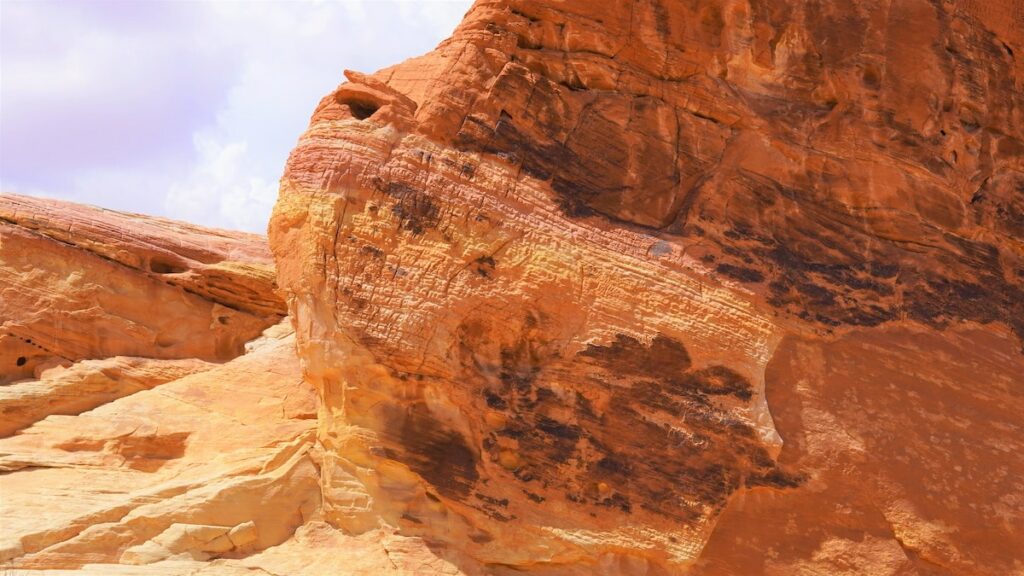 Valley of Fire State Park is another example of a well-known, beautiful, preserved area in the US.
The Valley is unique in how its red Aztec stones are covered with layers of grayish-brown limestone. The park provides campsites equipped with grills, tables, and restrooms, so having a barbecue while watching the sun go down is an excellent idea for a stop.
Hiking for a couple of hours in such a gorgeous area is a fantastic experience.
Tip Contact the Visitor Center for all additional information and fees.
14. Henderson, Nevada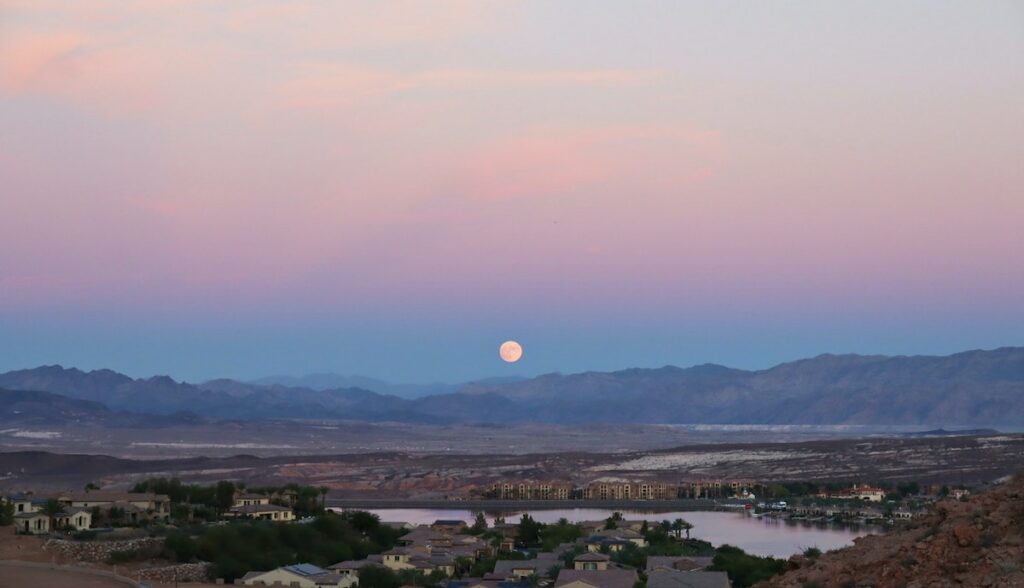 Just before entering Las Vegas, if you still have the energy to look around, you will see Henderson, Nevada's second-largest city. Apart from being located a short distance from Lake Mead and Hoover Dam, it offers some unique activities.
For instance, have you ever been to a Bird Viewing Preserve? Henderson is home to more than 270 species of gorgeous birds. Are you into flora? Ethel M Botanical Cactus Garden is said to offer one of the best collections of plants, boasting more than 300 specimens.
Also, the Lake Las Vegas Golf & Food Festival dates are about to be released on the official website. It is famous for golf competitions, big live events, and a legendary cocktail party at the very end!
And, of course, you can always check out the outstanding Henderson suburb areas while staying in Las Vegas.
15. Las Vegas Strip, Nevada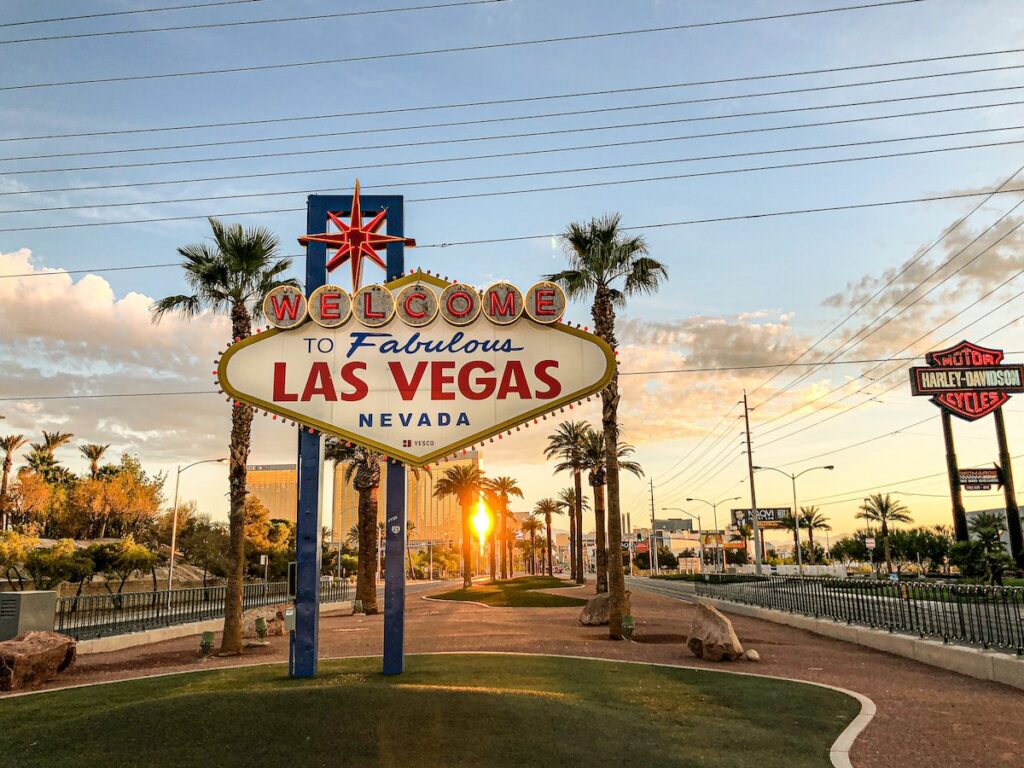 Casinos, whiskey, huge neon signs, and vintage Mustangs – the Las Vegas Strip screams "PARTY." It is a 4.2-mile (6.4-kilometer) section of Las Vegas Boulevard South, beckoning tourists with high-class restaurants, light shows, museums, pool decks, and other attractions.
The Strip is easily recognizable in countless movies and series; it might be even more in demand among directors than Hollywood Boulevard in Los Angeles.
An ultimate must-do is taking a picture in front of the "Welcome to Fabulous Las Vegas" sign. Then explore this entertainment mecca by visiting the Fremont Street light show or a Cirque du Soleil performance, attending a music concert at the gigantic Michelob ULTRA Arena, diving into science at Bodies: The Exhibition Museum, hopping on the Big Apple Coaster, or gorging on chocolate at Hershey's Chocolate World. O
verall, there are plenty of things to do, so estimating the recommended amount of time to spend is impossible. Keep in mind that in a casino, you lose track of time thanks to the absence of clocks inside!
Tip Plan your visit so as not to get overwhelmed with options and spend too much money.
Bonus: Death Valley National Park, California/Nevada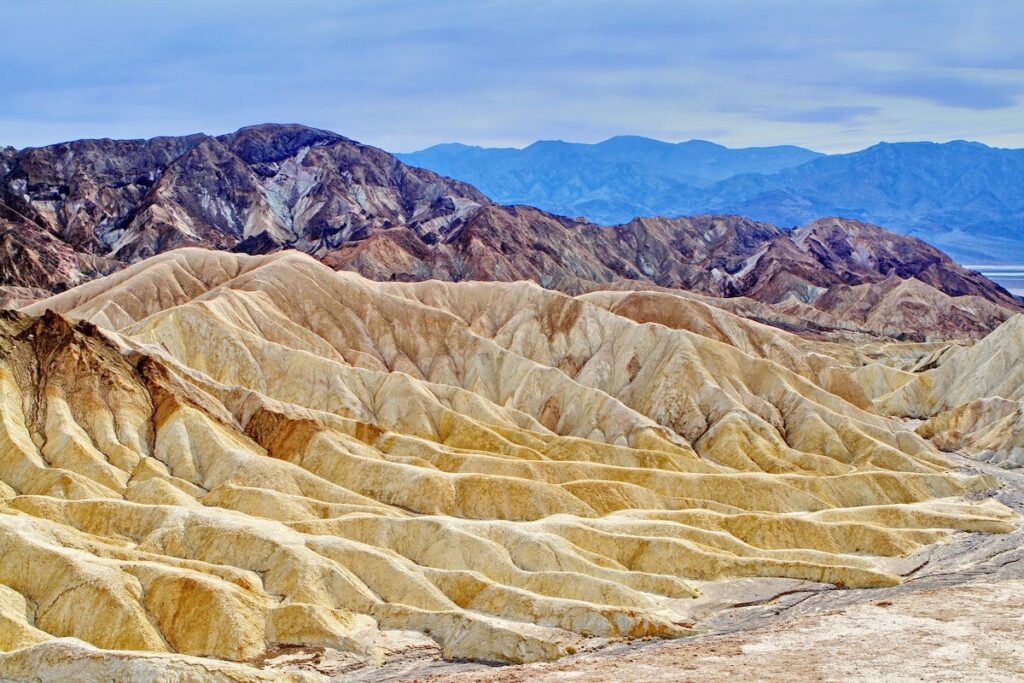 I've discussed some charming preserved areas, but there's another one called Death Valley, the largest National Park outside Alaska in the United States. Three million acres of wilderness are populated with wildlife and flora and feature numerous backcountry roads.
For a quick 1-3 hour visit, check out Artists Palette, which offers a glimpse of fascinating colorful patches from volcanic times; the frequently photographed Zabriskie Point, boasting great views of endless striped hills and mountains; and Badwater Basin, which is the lowest point in North America with miles of surreal salt flats.
Tip Visit the official website to plan your trip thoroughly.
Road trip to Las Vegas from Phoenix FAQ
Is there a bus/shuttle from Phoenix to Las Vegas?
Yes, buses for $35-$55 will take you to Las Vegas from Phoenix within 5-5,5 hours.
How long does it take to drive from Phoenix to Las Vegas?
The drive from Phoenix to Las Vegas takes around 5 hours.
When to take a Phoenix to Las Vegas road trip?
Arizona and Nevada are super hot in summer, so if you cannot bear the average temperatures of 107°F (42°C), choose a more comfortable season, such as early spring or late fall. Traveling here in winter might have its own zest, but it reduces the number of activities available.
Where to stay on a road trip from Phoenix to Las Vegas?
The choice is broad, from booking hotel rooms in Jerome (Jerome Grand Hotel, Ghost City Inn Bed & Breakfast) and Prescott (Holiday Inn Express Prescott, an IHG Hotel; Days Inn by Wyndham Prescott; Hampton Inn Prescott) to more exotic options, such as camping in one of the beautiful reserved areas under the stars.
What are some cool places to visit with kids along the way?
Check out Bearizona and Bedrock City in Williams, Route 66 Museum in Kingman,
Boulder City-Hoover Dam Museum, and Clark County Museum in Henderson, Nevada.