19 Best & Easy Waterfall Hikes in Arizona
Nadia Podrabinek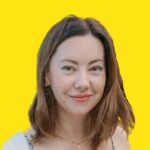 Written by Nadia Podrabinek
Hello, my name is Nadia. I usually write about traveling (there are so many places to fit all the lifestyles), relocation, and living in a foreign country (adapting to a different culture). My travels stretch beyond Spain, with journeys to the US, Italy, Norway, Portugal, and France. Relocating to Spain in 2018, I lived in cities from Barcelona to Madrid, currently calling Valencia home.  Follow me on Twitter, Facebook, Instagram, or LinkedIn! ... show more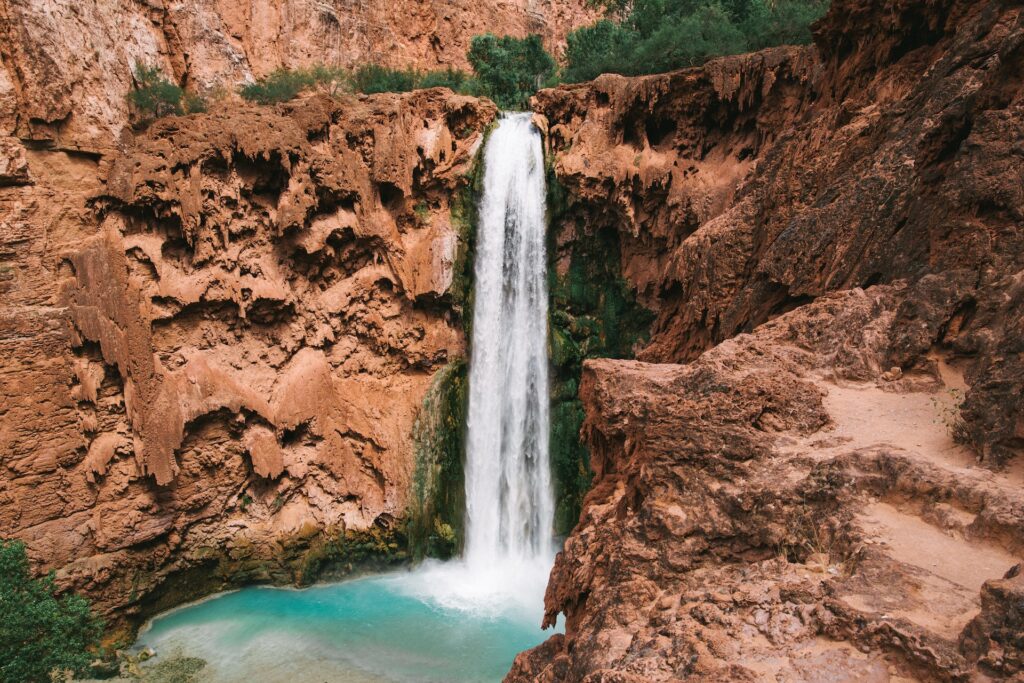 Arizona is a land where parched earth and sun-soaked terrain dominate, right? Not always!
This is the misconception that Arizona is simply a dry, dusty expanse.
Prepare to be amazed and inspired, as I explore the natural beauty of the state's best waterfall hikes.
What people say on Reddit
That's Beaver Falls in the Havasupai Reservation. Hard to get a permit, hard to get to (a ten mile hike to the campground and no day hiking permitted and these falls requires going down this cliff. another angle. And then it's another 3 mile hike from there to Beaver Falls.

Totally worth the trip as there's other falls, including Havasu which is posted here a lot. Beaver is the most difficult to get to though. It was a 3 night/4 day camping trip and worth every penny. I don't picture your average Instagram model (who just wants a picture) to go through the hassle to get there.

evilmonkey2
My sister went. Her friend got a permit the night before, they left for AZ (from CA) at 4am. Said the hike was brutal, and that one of her friends almost wanted to get heli'd out of there lmao. They thought it was just gonna be that instagram illusion of beautiful waters set in those canyons, but lol.

Other group of friends went, two of the people in that group ended up losing a toenail each from the hike. Brutal.

Also, thanks for putting the reality of the hike in perspective, as people think it's a brisk 10-miler

dont_wear_a_C
I am new to reddit and just got a message from a bot asking me to include details on Gold Canyon 🙂 Well, it is a very short and easy hike. I think 3 miles round trip. VERY packed, it was hard to get photos without other people in it. But overall I LOVED this hike, especially going early morning and watching the sun wake the canyon up <3 It is a dog and kid friendly hike too. Great for beginners or anyone just wanting a bit of connection with nature!

kaityfeather
This is one of the falls at Havasu, a very popular hiking destination. I was planning a trip there this year but ended up not following through after I learned about the ongoing concerns about the Havasu tribes treatment of their pack animals I haven't read into this issue in a while so maybe big changes have been made. But please be aware that if you hike into this area and pay the ~$350 or so dollars for permits that the tribe you are paying has a less than stellar record of animal treatment.

Organicissexy
Best & Easy Waterfall Hikes in Arizona Map
Beaver Falls, Havasupai Reservation
The trip to Beaver Falls is absolutely worth it, as there are other waterfalls like Havasu and Mooney Falls to explore. To me, Beaver Falls stands out as a true hidden gem in the area.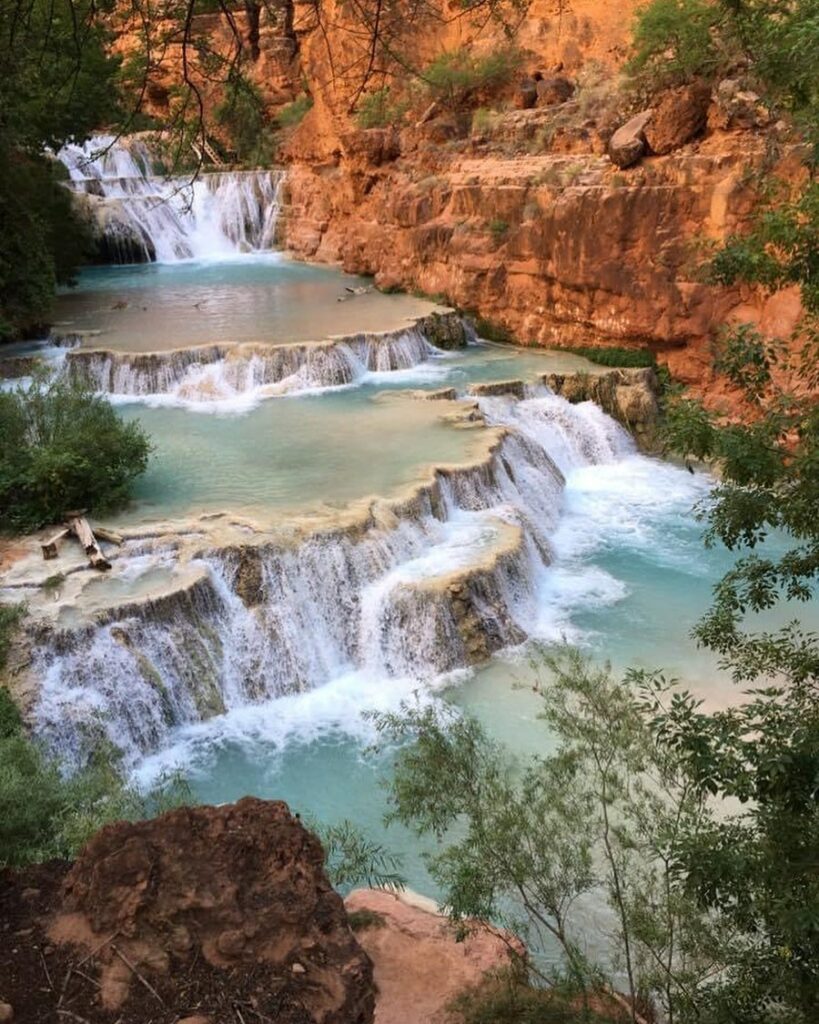 You will find Beaver Falls in insanely beautiful place called the Havasupai Indian Reservation, which located at the bottom of the Grand Canyon, and is home to the Havasupai Tribe.
After getting to Phoenix and driving to the Hualapai trailhead, hike 11 miles into the Grand Canyon, pass through Supai village, and reach the Havasupai campground. Continue 3.5 miles to Beaver Falls for a more secluded experience in beautiful waters. The swimming is allowed. It's worth the effort!
Also, consider taking a 3-day hike to Beaver Falls, with day 1 focusing on reaching the campground, day 2 exploring Beaver Falls and the Reservation's end, and day 3 for hiking out. Obviously, the main attraction is the blue-green waters, providing a strong connection to Havasu Canyon's beauty, particularly downstream from Mooney Falls. Here, you can explore Havasu Creek and witness Bighorns in their natural habitat.
Comparisons to Hawaii or the Caribbean don't do justice to Havasu Canyon, as its unique appeal lies in the stark contrast between its lush waterfalls, pools, and blue-green waters, and the surrounding barren, dusty, dry landscape.
Difficulty: 3.5 of 5
Preferred months: Mar, Apr, Jul, Aug
Distance Round Trip: 6 miles
Avg Time Round Trip: 3-4 hours
Read also: 15 Best Day Trips from Phoenix, AZ and 31 Best National Parks & Monuments to Visit in Arizona
Havasu Falls, Havasupai Reservation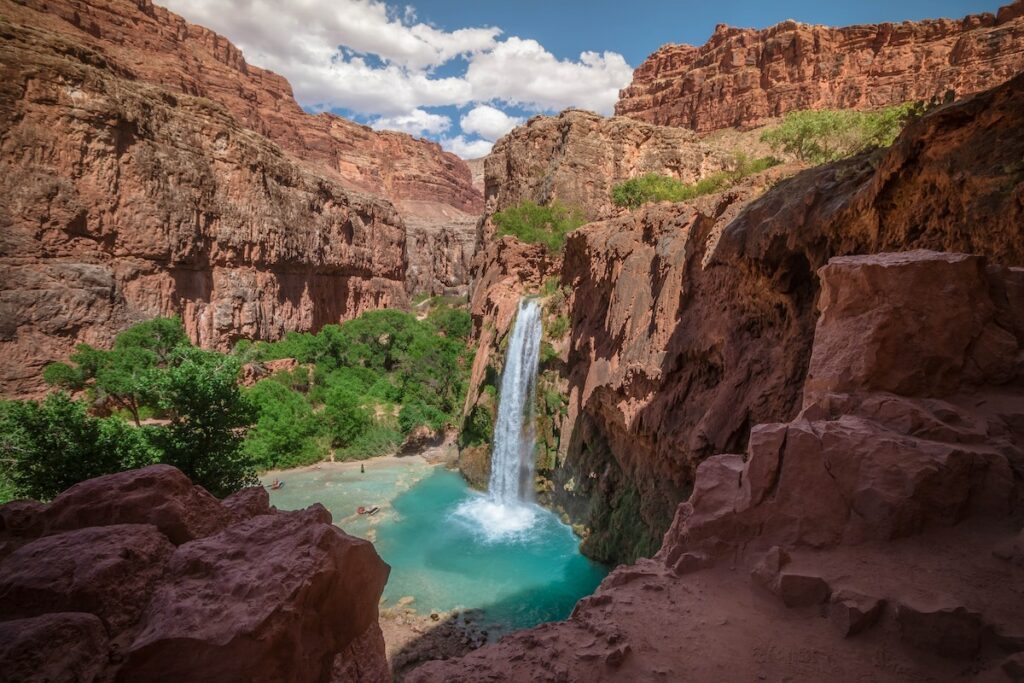 Havasu Falls, a renowned oasis within Arizona's arid landscape, is globally recognized for its striking beauty in Havasu Canyon, part of the iconic Grand Canyon. The breathtaking waterfall, considered the most picturesque in the Grand Canyon, boasts a large sandy beach and numerous shady trees, providing an idyllic spot for hammock relaxation.
The vibrant blue waters of the mini lakes create a striking contrast with the surrounding steep red cliffs and canyon walls. Havasu Falls cascades from approximately 100 feet (30 m) into a crystal-clear blue-green pool, with water temperatures consistently around 70°F (21°C) year-round. The color intensity varies throughout, making some areas appear more vivid than others.
Read also: Best Waterfalls in California
Accessing this paradise involves a challenging hike, starting at Hualapai Mountain's peak and situated about 99 miles (160 km) from the nearest town, Seligman. Many travelers opt for an overnight stay in Seligman before embarking on the 10 mile (16 km) trek to Havasu Falls the following morning. While the hike can be demanding, the awe-inspiring experience makes it worthwhile.
Here is the 4k video of Havasu Falls Hike:
The trail along the canyon floor, flanked by red sandstone rocks, promises an exhilarating adventure. Just 2.5 km (1.5 miles) before arriving in the village of Supai, the path crosses the picturesque Havasu Creek.
You can choose between two overnight accommodation options: lodges or tent camping situated a few miles from Supai village.
Difficulty: 4 of 5
Preferred months: Apr, May, Sep, Oct
Distance Round Trip: 19 miles
Mooney Falls, Havasupai Reservation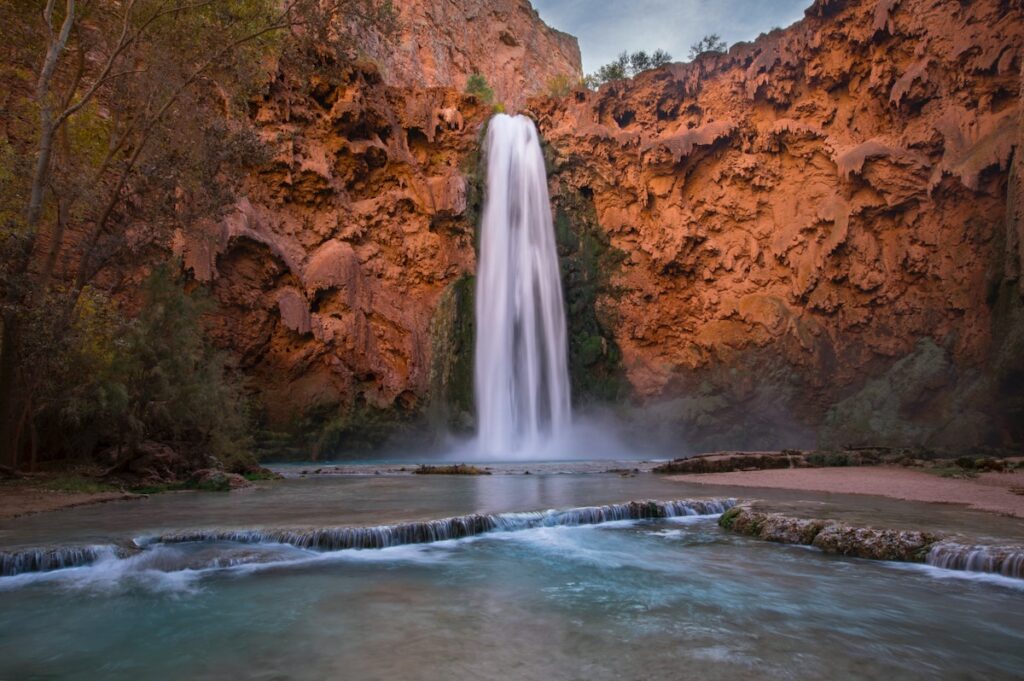 Mooney Falls, situated about a mile from the campground, is a must-see destination with its 200 ft drop and challenging descent, involving chains, bolts, and narrow tunnels.
The Mooney Falls trail is notably steep, causing panic attacks for some hikers. With windy, cold, and wet conditions, the descent can be challenging, but the climb up proves easier than expected, as the trail is not as slippery as it appears.
You can also continuing two miles further to Beaver Falls, and experience a mix of terrain, including travertine reefs, pools, small waterfalls, and a field of Canyon Grape vines.
The traditional route to the end of the Reservation and the Grand Canyon National Park requires scaling a canyon wall, but caution is advised, as the rope conditions can be unpredictable. The journey is made even more rewarding by the occasional sightings of Bighorn Sheep, known to frequent the area, and the stunning views of the falls and the "blue hole" pool.
Difficulty: 4.5 of 5
Preferred months: Apr, May, Sep, Oct
Distance Round Trip: 19 miles
Fifty Foots Falls, Havasupai Reservation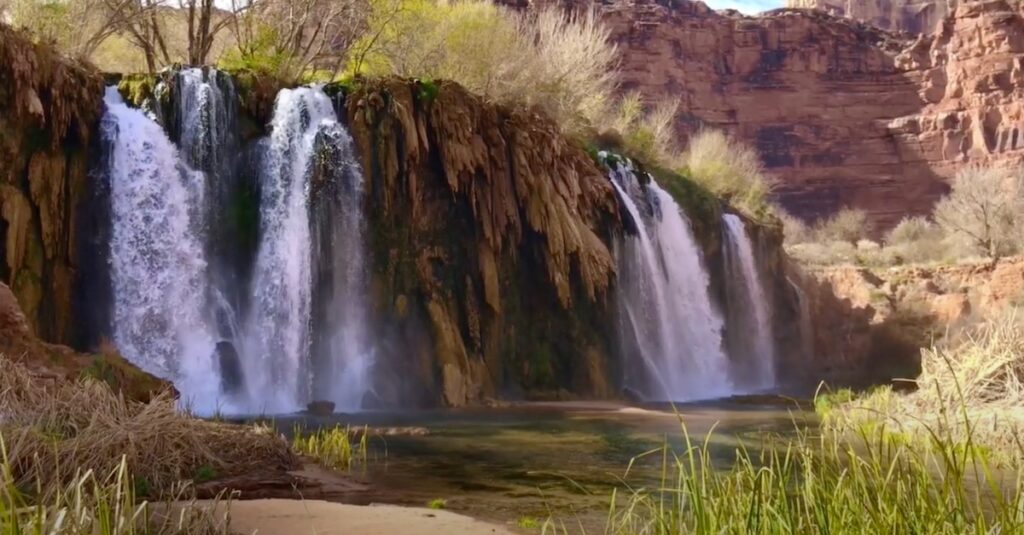 Fifty Foot Falls, situated about 8.5 miles from the trailhead and a mile past Supai village, is the first highly visible waterfall as you approach the campground. Visitors can either enjoy a distant view from above or take the left-heading trails to the creek and swim in the stunning turquoise pool below the falls.
Although it may seem tempting for cliff jumping, it is strongly advised against it due to the sharp travertine at the bottom of the creek.
Difficulty: 2 of 5
Preferred months: Apr, May, Sep, Oct
Distance Round Trip: 4 miles
Little Navajo Falls, Havasupai Reservation
The "new" Navajo Falls in Havasu Canyon refer to the waterfalls created during the August 2008 flood when the water course diverted from Old Navajo Falls.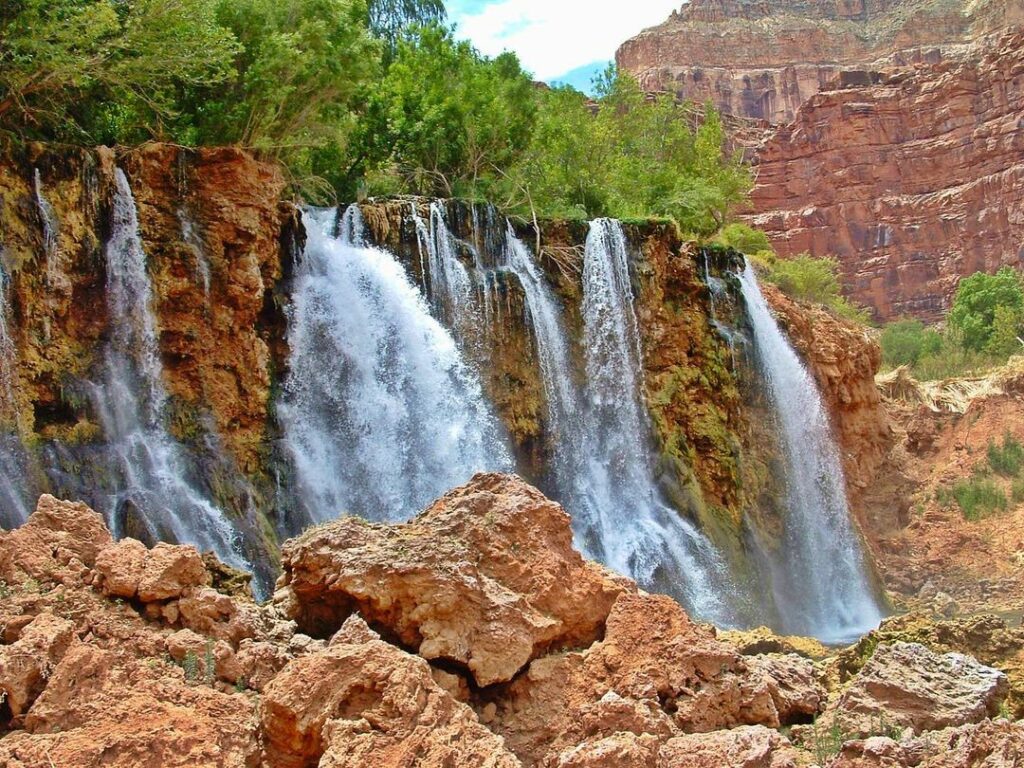 Located about a mile from both the Village of Supai and the Havasupai Campground, you can now see the 30-foot Rock Falls and New Navajo Falls (or, Little Navajo Falls). Geologically, it is believed that these falls were initially present, but covered during large floods, with the creek now returning to its original course.
Exploring New Navajo cascades and swimming holes provides a true Grand Canyon paradise experience.
Difficulty: 3 of 5
Preferred months: Apr, May, Sep, Oct
Distance Round Trip: 4 miles
Tanque Verde Falls, Tucson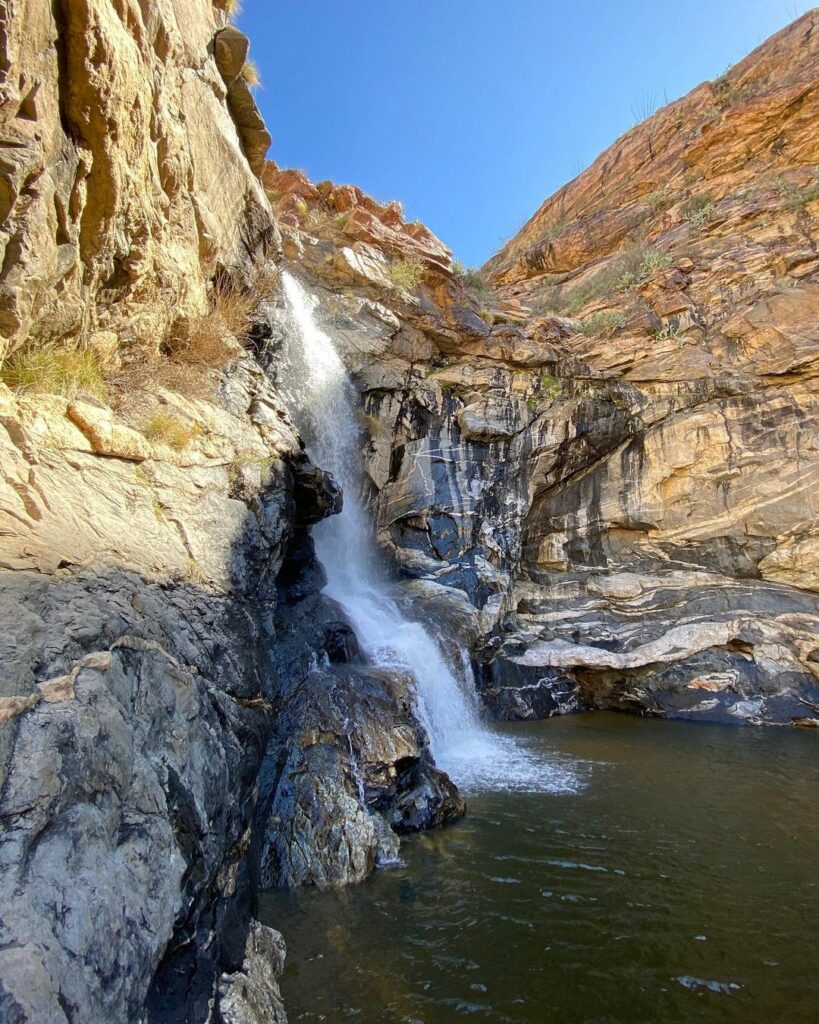 Tucson is a haven for waterfall enthusiasts, with Tanque Verde Falls being a standout destination.
The trail, maintained by the Southern Arizona Hiking Club, leads through harsh desert terrain to a hidden paradise reminiscent of Hawaii.
Hikers must take the warning signs about the area's dangers seriously, as it has a high number of fatalities. The easy half-mile trail to the canyon floor is followed by an undefined path upstream, featuring small waterfalls and boulders to climb.
A 30-foot waterfall awaits around a narrow corner, but the real prize is the 75-foot Lower Tanque Verde Falls, hidden in a grotto. The challenging climb up the rock wall is rewarded by the stunning waterfall, after which you can return the same way.
Driving directions: To reach Tanque Verde Falls, drive east from Tucson on Tanque Verde Road, which turns into Reddington Road and then becomes a dirt road. Within 2 miles, look for a "Tanque Verde Falls" sign on the right and a "Parking" sign on the left. Turn left and be aware that the parking lot often fills up after 10 am on weekends.
Difficulty: 2.5 of 5
Preferred months: Mar, Apr, Jul, Aug
Distance Round Trip: 2 miles
Avg Time Round Trip: 2 hours
Deer Creek Falls, Grand Canyon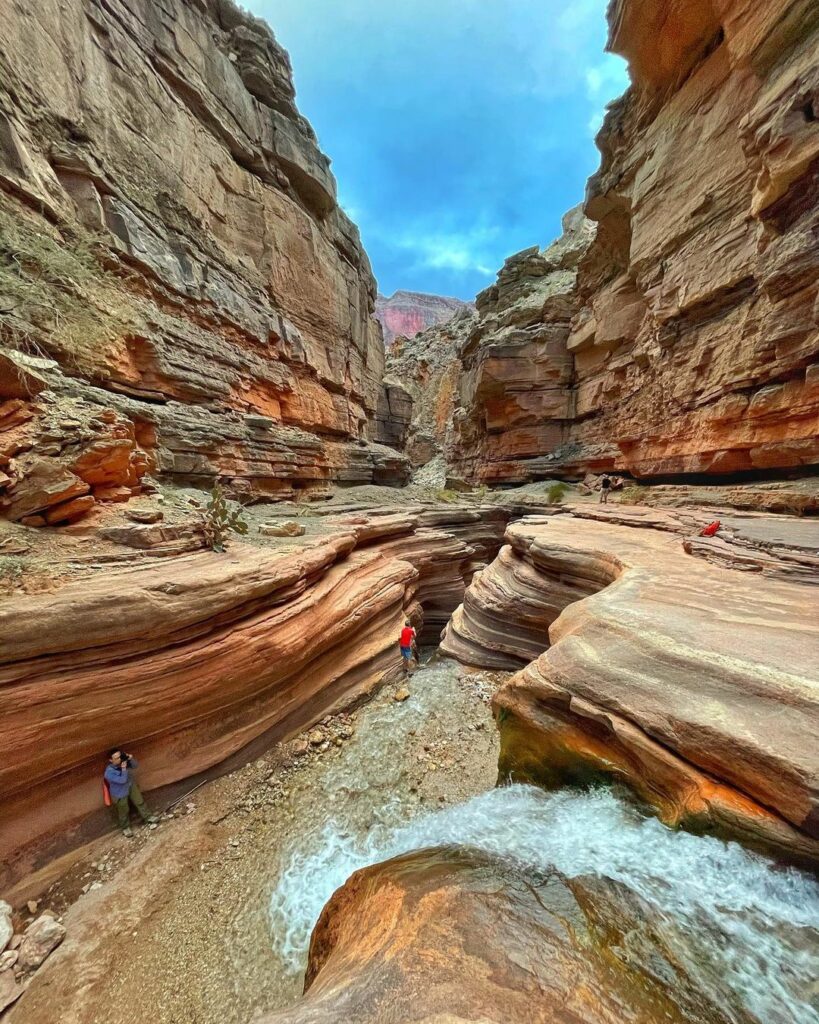 Deer Creek Falls is a remote, 180-foot waterfall where Deer Creek meets the Colorado River in the Grand Canyon. It can be accessed by backpacking or rafting and is popular for a backcountry attraction. To reach it via backpacking, obtain a backcountry camping permit from Grand Canyon National Park.
The scenic beauty of this spring-fed tributary of the Colorado River is due to the Deer Creek Landslide, which dammed both the creek and the river. The Colorado River breached the dam and shifted slightly south, while Deer Creek was rerouted to its current location along the eastern edge of the blockage.
You can also take a 5-day itinerary which includes hiking the Bill Hall Trail to the Esplanade, continuing to Deer Creek Campsite, day hiking to Deer Creek Falls and the Colorado River, and returning to the North Rim. The total hike covers 24 miles over five days.
Difficulty: 3 of 5
Preferred months: Oct, Apr, May, Sep
Distance Round Trip: 3.1 miles
Seven Falls, Sabino Canyon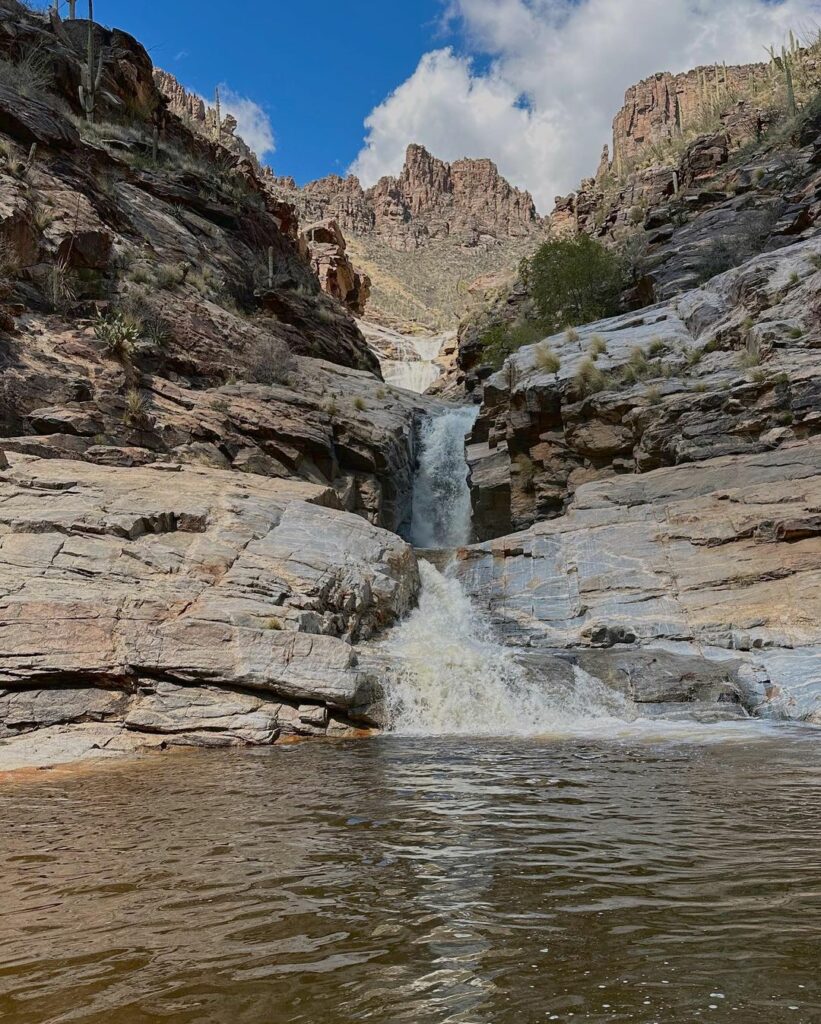 Seven Falls is a popular out-and-back hike with the option to save 3.6 miles by taking a tram. The trail can be crowded, and distances on signs may be off.
Start at the visitor center, and follow the wide, muddy tram road for 1.8 miles, taking rights at two intersections.
The actual trail begins here and continues 2 miles to Seven Falls, crossing a boulder-lined creek bed multiple times. After the seventh crossing and a switchback, you'll see the falls. A short side trail leads to the pools at the falls.
While the hike may not be completely Insta-worthy without running water, it is still very beautiful and easy, I highly recommend going there.
Hike distances for out-and-back hikes include both directions, while point-to-point hikes list the full length; mileages are based on GPS tracks and are generally accurate.
Difficulty: 2.5 of 5
Preferred months: Oct, Nov, Mar, Apr
Distance Round Trip: 8.6 miles
Avg Time Round Trip: 3-4 hours
Admission fee: $8 per day per vehicle
Fossil Creek Falls, Camp Verde, Sedona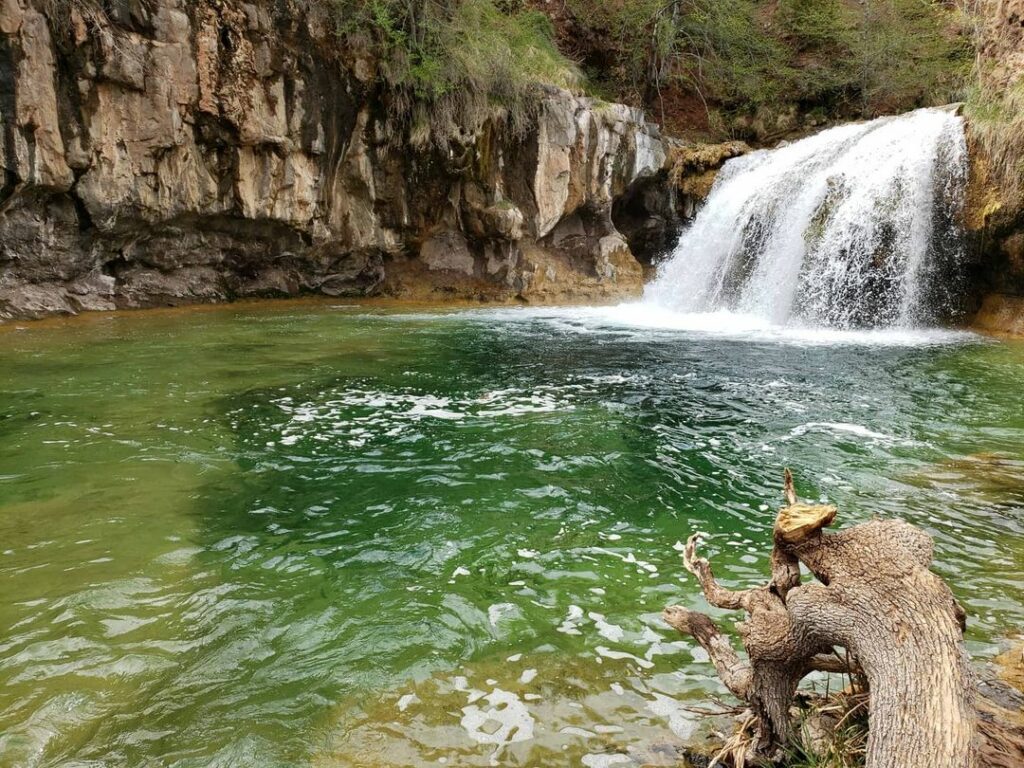 Fossil Creek offers a scenic, relatively easy hike with numerous campsites and swimming holes, perfect for day trips or weekend getaways. However, be prepared for creek crossings, wet conditions, and some route-finding as there is no defined trail.
Waterfall Trail at Fossil Creek is a popular one-mile hike leading to a natural waterfall, but swimming and cliff diving near the falls are extremely dangerous due to drowning and injury risks. Also, access to the trailhead, creek, and waterfall is not available from Strawberry, Arizona.
Driving directions: Fossil Creek, 22 miles southeast of Camp Verde, is accessed via steep, rough dirt roads (FR 708 and FR 502), which can become muddy and slippery after rainfall.
Difficulty: 3.5 of 5
Preferred months: May, Jun, Jul, Sep
Distance Round Trip: 7 miles
Avg Time Round Trip: 5 hours
Admission fee: From April 1 to October 1, a $10 reserved, printed permit is required for Fossil Creek access. During this season, the area is day-use only, and camping is prohibited.
Ribbon Falls, Grand Canyon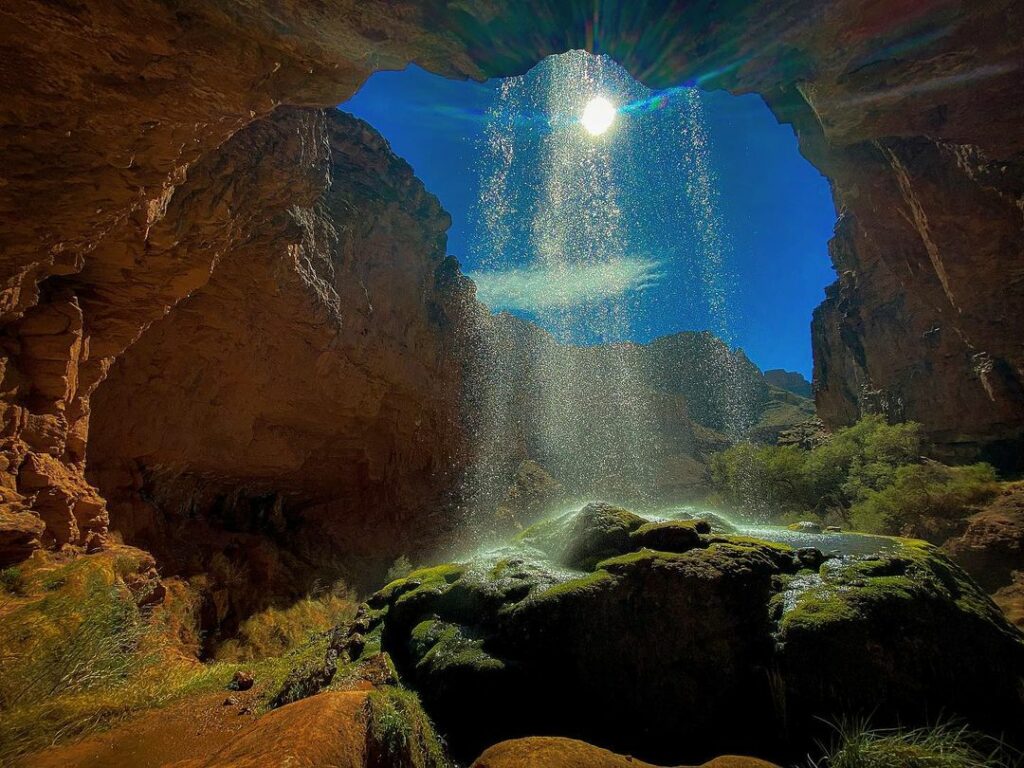 Ribbon Falls in Arizona is a 5.6-mile hike up the North Kaibab Trail from Phantom Ranch. Upon reaching the trail split, follow the left path, marked as Ribbon Falls, and continue for less than a half-mile through some wet and muddy terrain.
Once at the falls, you can choose between two activities: following a small trail on the left side to go behind the waterfall and experience a powerful shower, or climbing the 60-100 feet canyon wall on the left side to reach a breathtaking viewpoint.
The latter option involves navigating without a trail along the canyon wall, but offers stunning views at the end.
Difficulty: 3 of 5
Preferred months: Mar, Nov, Feb, Apr
Distance Round Trip: 12.4 miles
Avg Time Round Trip: 6-7 hours
Pacheta Falls, Whiteriver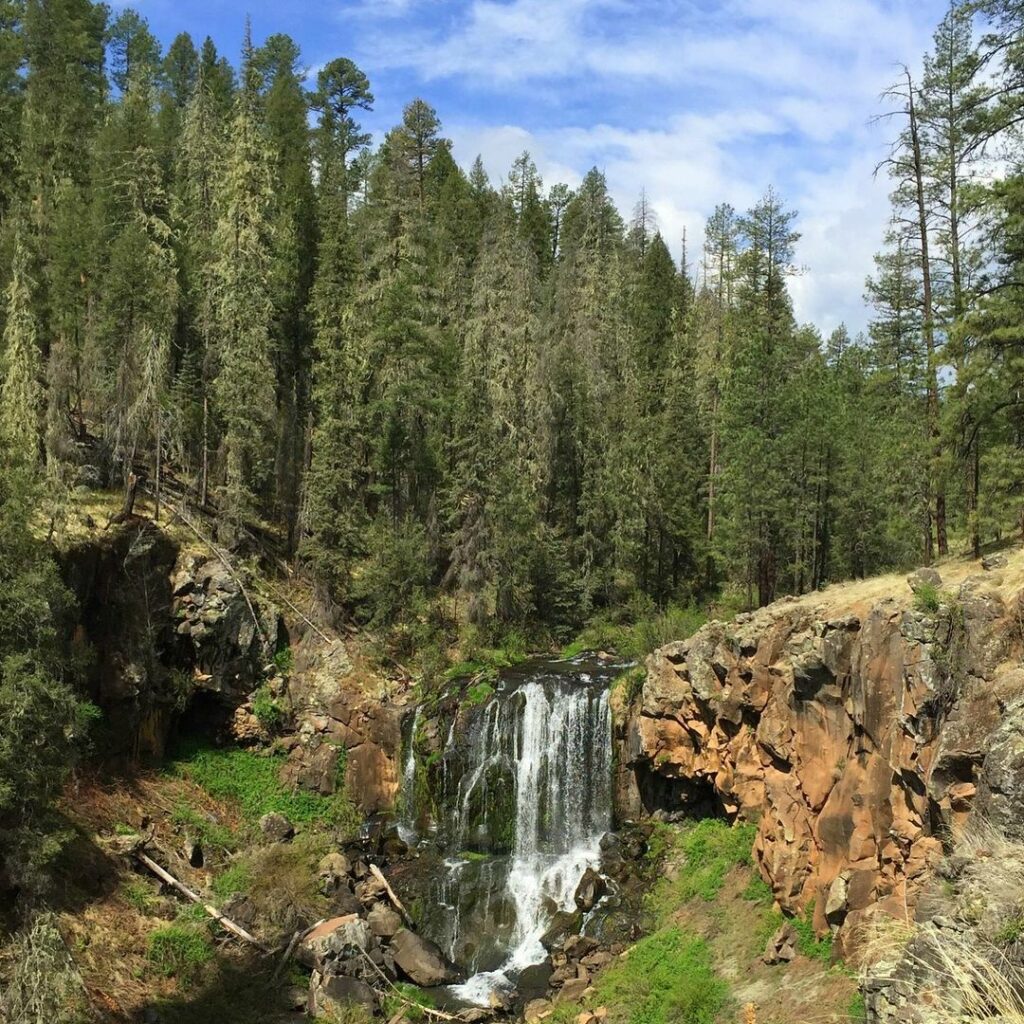 Pacheta Falls, located in the White Mountains, is a hidden gem offering a peaceful, crowd-free experience. The falls can be accessed through three different approaches: a short 0.1-mile hike requiring a 4×4 during the rainy season, a 1.25-mile creekside hike that involves getting your feet wet, or a 1.25-1.5 mile hike from Rattlesnake Point down Milk Creek and back up Pacheta.
Pacheta Falls is a stunning sight, boasting an impressive width for a tributary creek and surrounded by lush, moss-covered tree-lined slopes.
However, swimming is prohibited in all reservation waters, and a Special Use: Black/Salt River permit is required to visit the area. Additionally, the "Easy" and "Desired" approaches are closed from Labor Day through Memorial Day.
The journey to Pacheta Falls may be a solid day trip for many, with an opportunity to explore the natural beauty of Arizona's White Mountains.
Difficulty: 1.5 of 5
Preferred months: Jun, Jul, Aug
Distance Round Trip: 2.5 miles
Avg Time Round Trip: 2 hours
Admission fee: $9 per vehicle
Romero Canyon Pools & Waterfalls, Tucson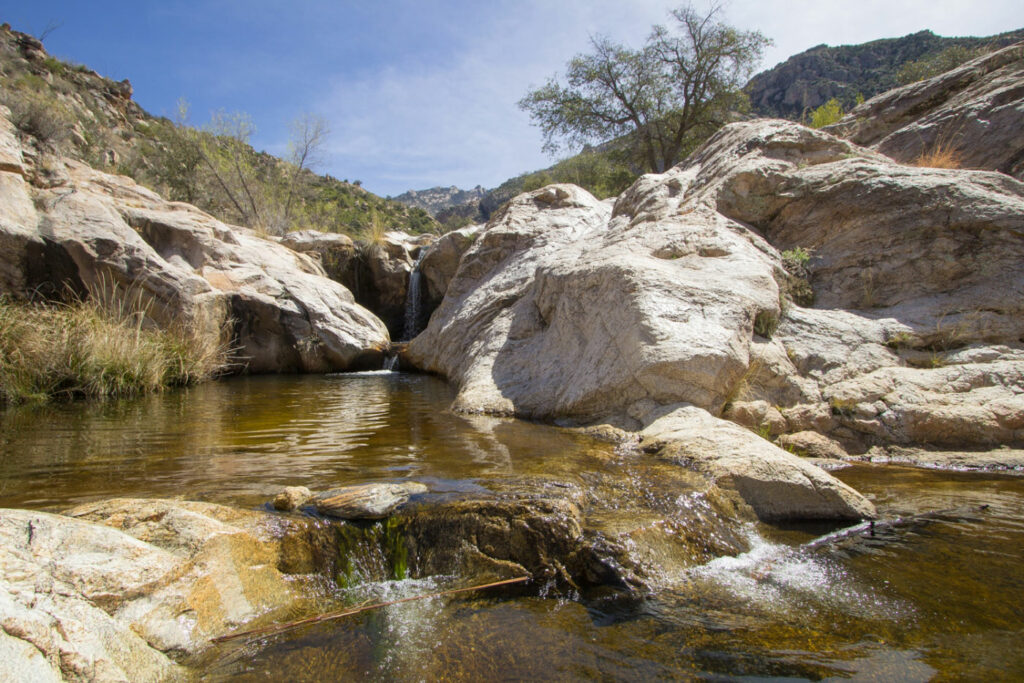 Romero Canyon Trail in the Pusch Ridge Wilderness offers a spectacular day trip to the picturesque Romero Pools, located within Catalina State Park near Tucson.
The trailhead is easily accessible and offers ample parking, restrooms, and a picnic area. The 2.3-mile hike to the pools features beautiful Sonoran desert vegetation, diverse rock formations, and gradual elevation gains.
Upon reaching the pools, you can enjoy the serene wilderness area and the standing water that is typically present. The main trail continues past these pools towards Romero Pass for those who wish to extend their hike.
On the return journey, pay attention to the trail markers to stay on the correct path, and enjoy the mostly downhill trek back to the parking area.
Driving directions: To reach the trails at Catalina State Park from Tucson, take Oracle Road (Highway 77) north past Pusch Ridge for around 15-20 miles. The park entrance will be on your right, and an admission fee is required. Follow the signs to the "trailhead" parking area to access the trails.
Difficulty: 3 of 5
Preferred months: Jun, Jul, Aug
Distance Round Trip: 6 miles
Avg Time Round Trip: 3.5 hours
Admission fee: $8 per vehicle
Cibecue Creek Falls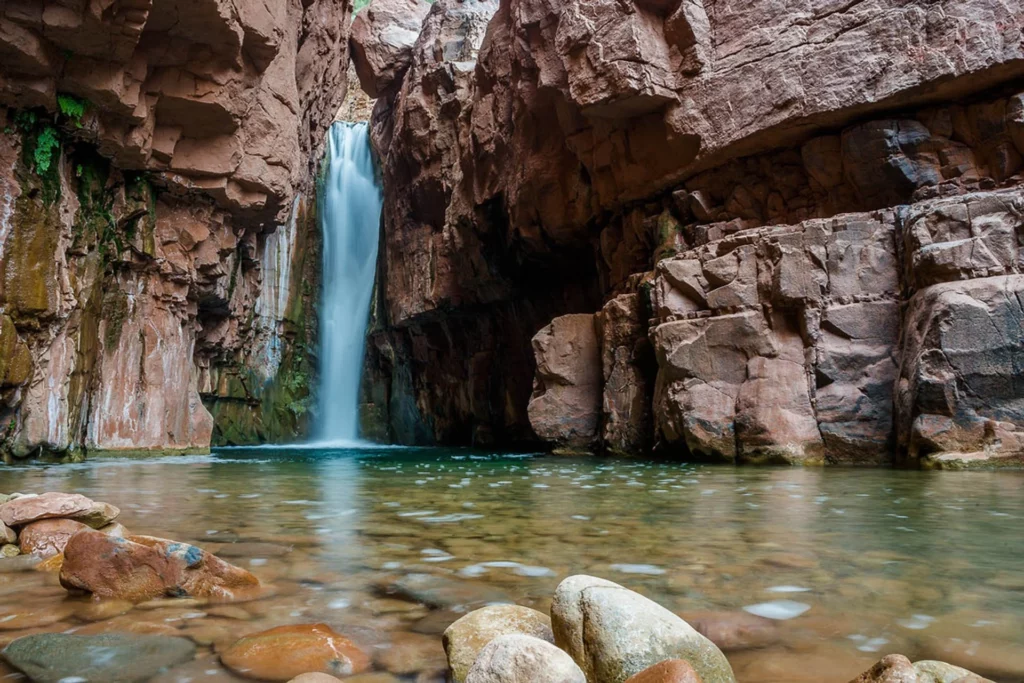 This adventure along Cibecue Creek is easy, memorable and enjoyable.
To find the trail, drive four miles down the river road until you reach a creek crossing from a side canyon. Keep in mind that swimming is prohibited in reservation waters.
Following the creek upstream for 1.5 miles, you will encounter a waterfall. As you travel, the creek alternates banks and the canyon narrows, offering clear blue-green pools, cascades, and boulders.
While swimming and exploring beyond the falls are not allowed without a guide, the mile-long section you are permitted to explore is impressive and worth the trip.
Driving directions: To reach the trailhead from Globe, drive north on US60, cross the Salt River, and take the dirt road on the left. Follow the right fork at the cattle guards and continue for about 4 miles to Cibecue Canyon. Be cautious of the road conditions, which include sheer cliffs and falling boulders. Cibecue Creek flows over the road, marking the beginning of the canyon hike.
Difficulty: 2 of 5
Preferred months: Jun, Jul, Aug
Distance Round Trip: 3 miles
Avg Time Round Trip: 2-3 hours
Apache Falls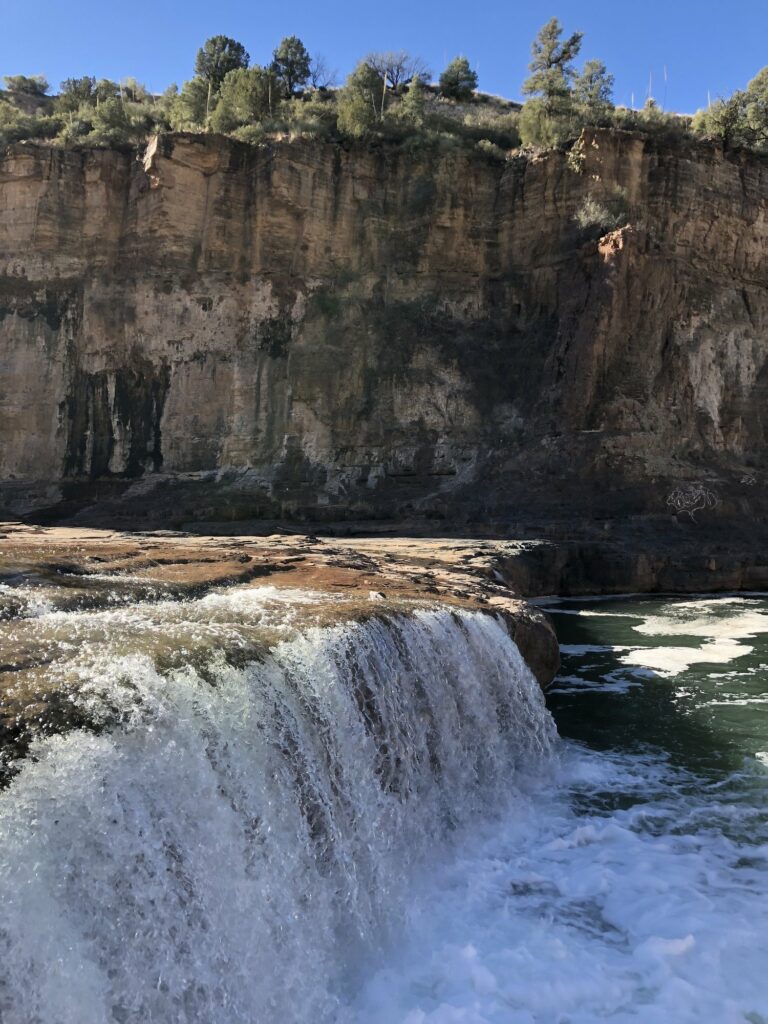 Apache Falls, located within the scenic Salt River Canyon, are easily accessible and not far from the highway. These impressive falls stand out in Arizona due to their size and the volume of water flowing over them, particularly after snowmelt. They are one of the few waterfalls in the state found in a river rather than a creek. Feel free to explore the area as much as you wish.
Difficulty: 1 of 5
Preferred months: Any
Grand Falls (Chocolate Falls), Flagstaff
UPDATE: The site is now closed since March, 2023. The people of Navajo nation decided to restrict the falls of being visited by tourists. The closure is in effect until further notice. 😭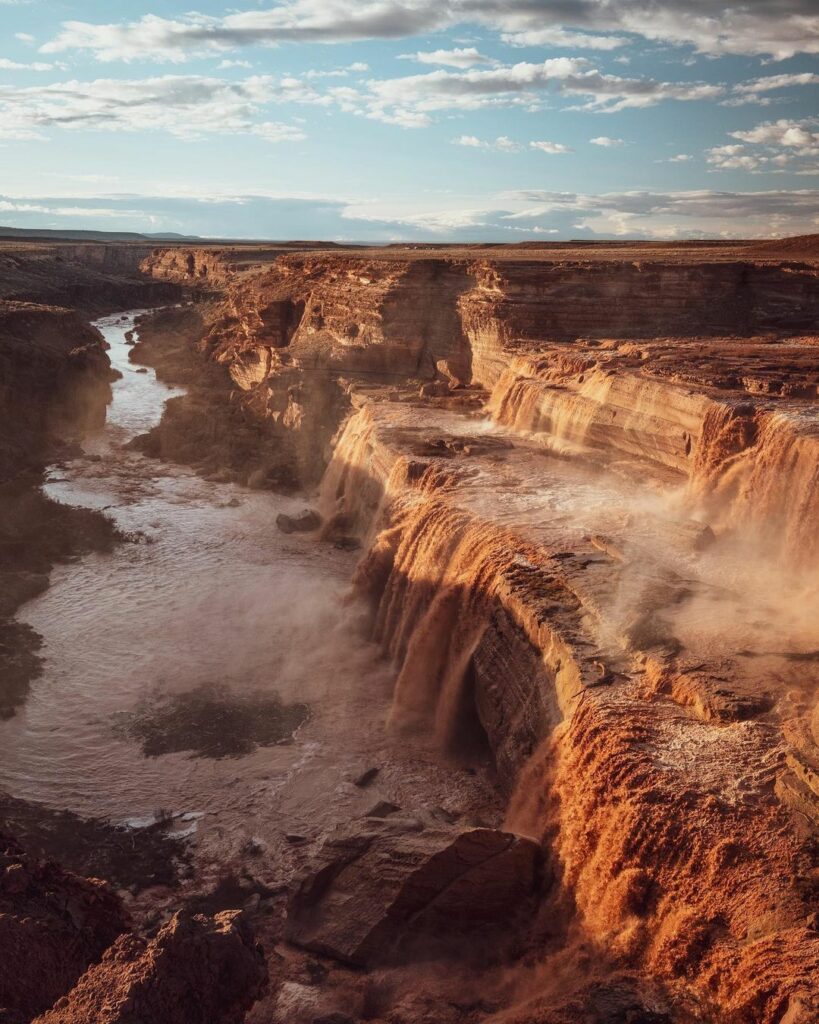 Grand Falls, also known as Chocolate Falls, can be reached after driving over a challenging surface. The canyon suddenly appears, with an easy-to-spot trail near the highest lookout hut.
The hike down is short and relatively uneventful, with little growth in the area, but be cautious as the trail can be steep and slippery. It's safest to hike when the trail is dry, but visiting during a dry spell might not be as appealing. W
hen spring rains are in full force, the Little Colorado River runs rapidly, creating a mini Niagara Falls in the middle of nowhere. Note that there is conflicting information regarding permits for visiting the area, so it's best to verify the requirements before your visit.
Ellison Creek Cascades, Payson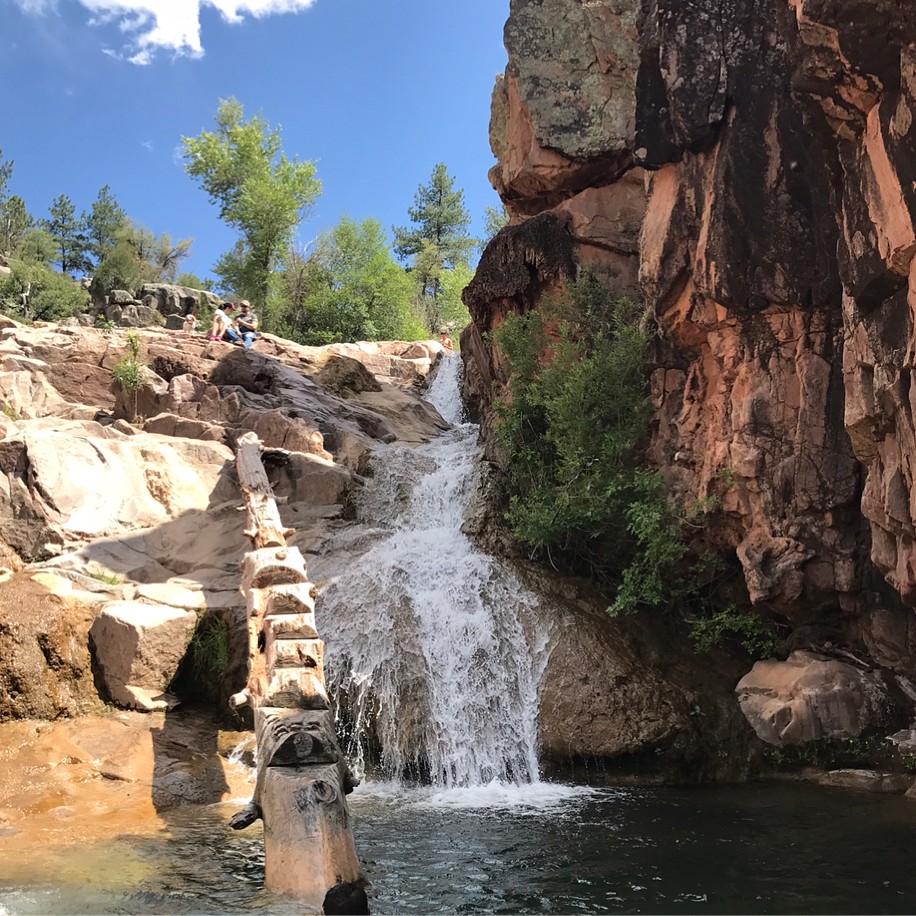 Ellison Creek Cascades is a popular swimming hole in Arizona and a personal favorite for many. There is no official trail, but the area is frequently visited.
Starting from Cold Springs Camp Grounds, walk past the gate on FR420, enjoying the views of pine-covered rolling hills. Keep an eye and ear out for the sound of cascading water from Ellison Falls on your right as you hike. Look for one of the several user-created trails leading down to the swimming hole. If you reach a fence with a private property sign, backtrack to find the correct path down. Exercise caution as it can be steep.
Although the area is somewhat littered, its appeal is undeniable. The water is usually crystal clear, barring recent rain, and is reliably flowing even in dry years. However, be aware that it can be crowded with party-goers on hot weekends.
Pro tip For a more peaceful experience, visit during the week to enjoy this hidden oasis.
Difficulty: 1.5 of 5
Preferred months: May, Jun, Jul, Sep
Distance Round Trip: 2 miles
Avg Time Round Trip: 1.5 hours
Sycamore Falls, Williams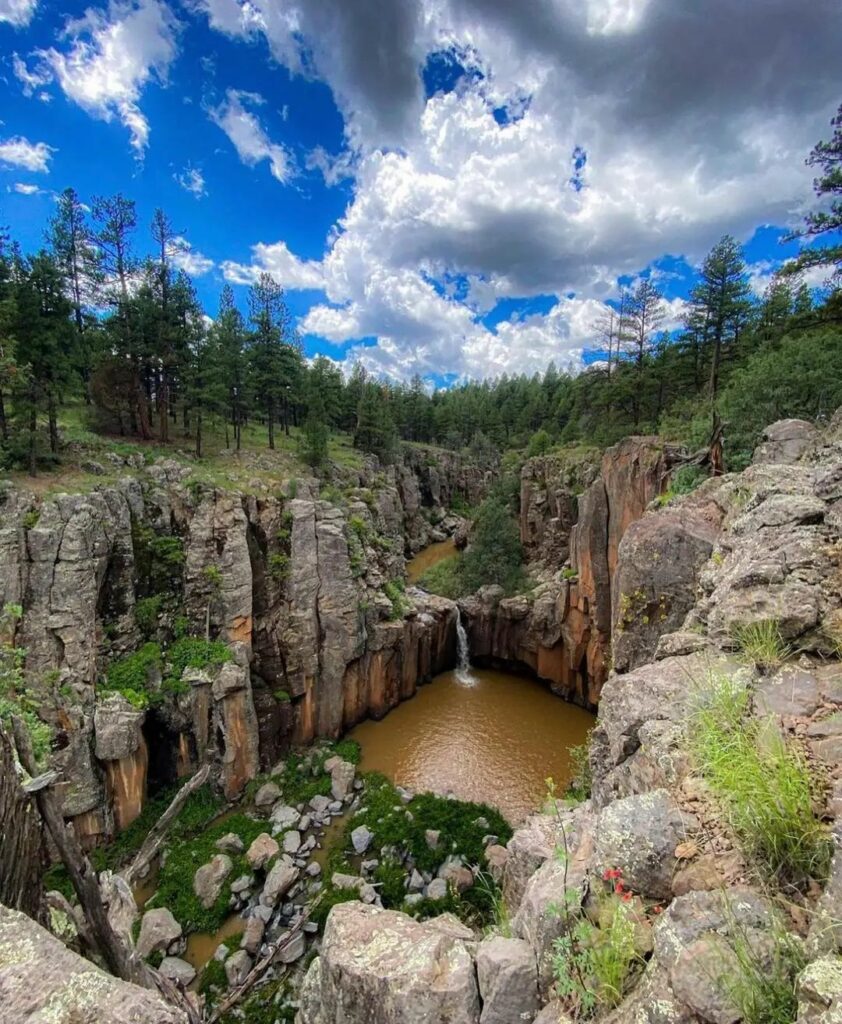 Sycamore Falls hike offers stunning views and a lush riparian area near the reservoir. Starting at the old Prison Camp campground, follow the trail signs for Sycamore Canyon/Reservoir. Pass through remains of the old prison sites and burnt areas from the Aspen fire, witnessing the ongoing recovery of the Catalinas. The trail leads to a saddle with breathtaking views, revealing that it is part of the Arizona Trail.
The Sycamore Reservoir Trail continues down the left ridge of Sycamore Canyon, offering magnificent views. Upon reaching ground level, cross the wash and proceed towards the dense greenery around the reservoir.
Explore the shaded area, marvel at the concrete dam with waterfalls, and then choose to either return or continue along the trail. Following the trail for another mile leads to the West Fork Trail, with a series of cairns marking the way. Pay attention to the trail markers to avoid losing your way.
Difficulty: 2 of 5
Preferred months: May, Jun, Jul, Sep
Distance Round Trip: 3 miles
Avg Time Round Trip: 1.5-2 hours
Tonto Natural Bridge (with Waterfall)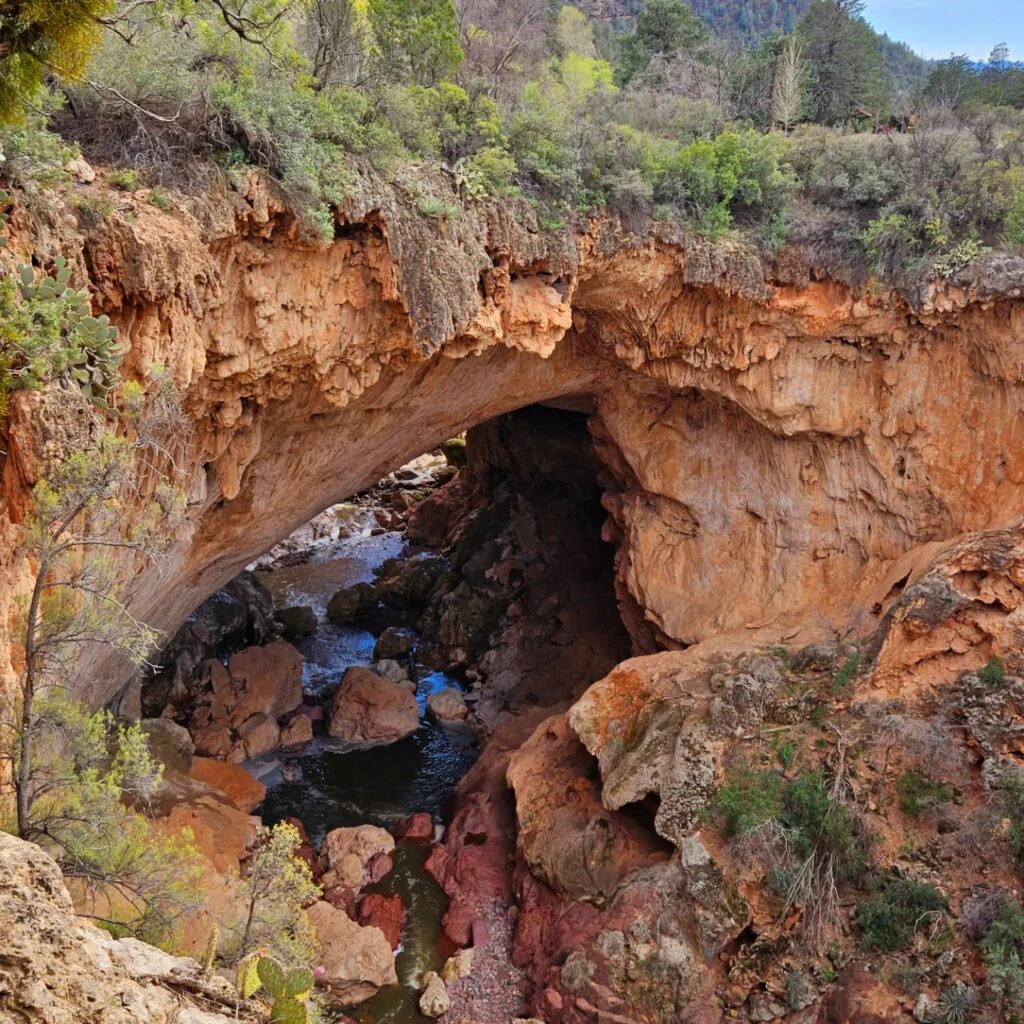 Tonto Natural Bridge is a geological wonder and the largest natural travertine bridge in the world.
Discovered in 1877 by David Gowan, the bridge stands 183 feet high over a 400-foot tunnel. The formation of Tonto Natural Bridge involved multiple stages, including volcanic eruptions, erosion, and the deposition of limestone.
Today, you can marvel at the bridge from above or hike below to fully appreciate its size and beauty.
There are several trails available for exploration, including the Ana Mae Trail, Pine Creek Trail, and Waterfall Trail. These trails are steep and strenuous, leading down into Pine Canyon. Hiking shoes and drinking water are recommended for all trails.
The Waterfall Trail ends at a waterfall cave, offering stunning views of lush vegetation, natural spring water, and caves overlooking Pine Creek.
Difficulty: 2 of 5
Preferred months: Apr, May, Oct
Distance Round Trip: 1.5 miles
Avg Time Round Trip: 2 hours
Secret Canyon, Sedona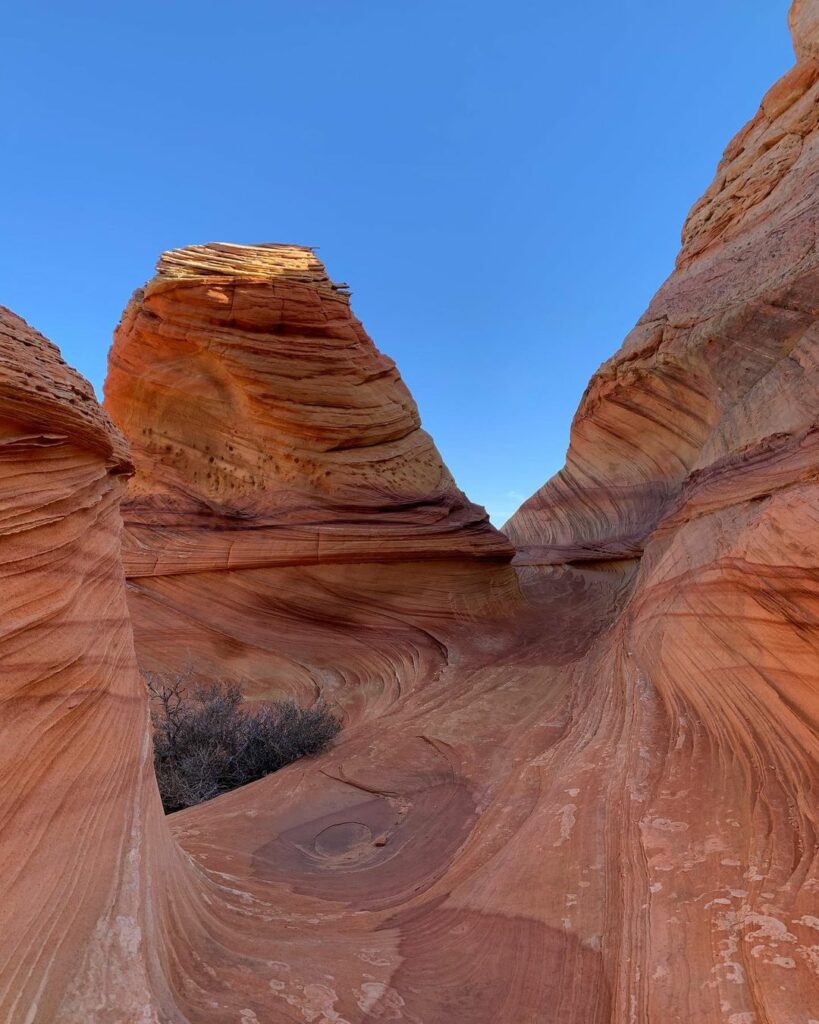 Secret Canyon Falls hike takes you through diverse landscapes including open spaces, small and big pines, oaks, ferns, wildflowers, and red-rock canyons. The 2.9-mile trail is well-maintained, mostly flat, and easy to follow. Bring water, as available water sources may not be ideal for drinking. The hike can feel hotter during the day and cooler at night, so plan accordingly.
Good campsites can be found at around 2.3 miles and near the waterfall. Even if there is no water, the waterfall still remains an appealing photo spot, offering captivating images of curvy rock formations and slot canyons.
Difficulty: 2.5 of 5
Preferred months: Mar, Apr, Sep, Oct
Distance Round Trip: 10 miles
Avg Time Round Trip: 4-5 hours
Waterfall Hikes in Arizona FAQ
What are the best waterfall hikes in Arizona?
Havasu Falls, Beaver Falls, Deer Creek Falls, and Ribbon Falls are the best waterfalls in AZ.
Are there any waterfall hikes in Sedona?
Yes, but not that many – Fossil Creek and Secret Canyon. Although some travel blogs claim that there are other waterfalls in Sedona, like Oak Creek Falls or Munds Wagon Trail, you will not find anything close to Havasu Falls or something like this
Isn't there a water shortage in Arizona?
No. Arizona doesn't have the same water shortage or rationing issues like some places in California, thanks to the Colorado river, the Salt and Rio Verde systems.
Is Havasu Falls Arizona open now?
Yes, it is now open (since February, 2023). Previously, the Havasupai Indian Reservation, including its famous waterfalls, has been closed to visitors since March 2020 due to the COVID-19 pandemic.
Does the Grand Canyon have a waterfall?
Yes, apart from famous Havasupai Reservation waterfalls, there are at least 5 well-known waterfalls in Grand Canyon: Deer Creek Falls, Thunder Falls, Ribbon Falls, Chevaya Falls (when snow is melting) in the North Rim, and Elves Chasm (Southern Rim).