15 Best Beaches in Arizona in 2023: A Locals' Guide
Nadia Podrabinek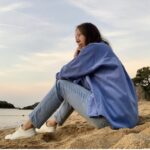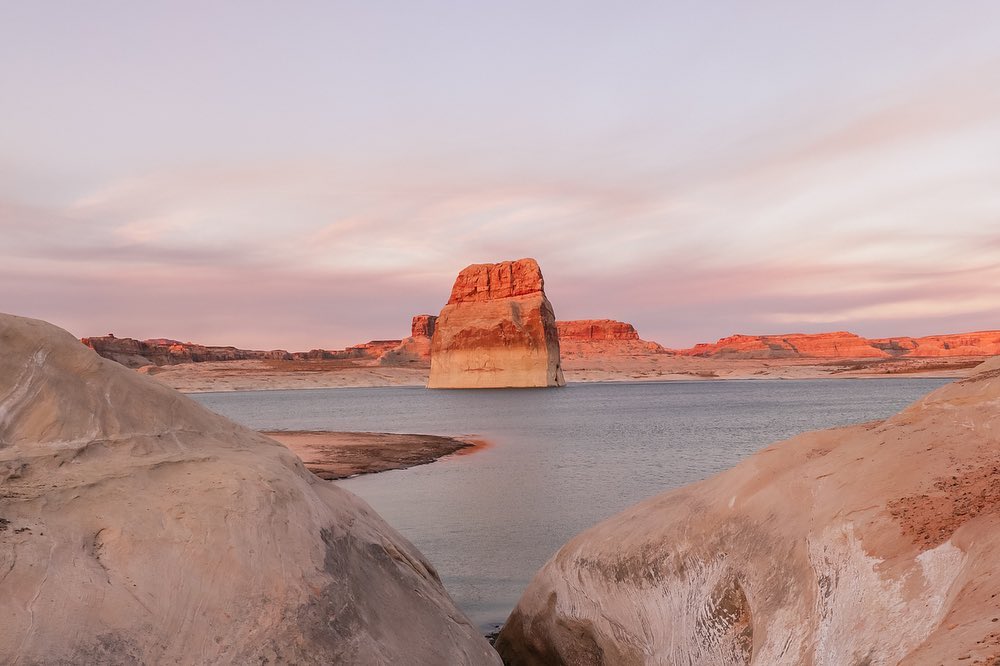 Arizona is one of the most beautiful states in terms of natural scenery, boasting the Grand Canyon, Sedona, countless deserts, and other wonders that attract millions of tourists annually.
Although Arizona does not have access to the ocean, you can find some excellent beaches at various spots within the state.
Reservoirs such as the Colorado River, Lake Havasu, Salt River, and Lake Powell offer sandy beaches with numerous water activities and camping options. Let's explore these hidden gems.
---
Key Takeaways
Best for swimming: Lake Havasu, Lone Rock Beach, Roosevelt Lake Beach.
Family-friendly beaches: River Island State Park, Gateway Park.
Water sports (Jet ski): Body Beach at Lake Havasu.
The best views: Lone Rock Beach, Patagonia State Park, Buckskin Mountain State Park, Wahweap Beach.
---
1. Buckskin Mountain State Park, Parker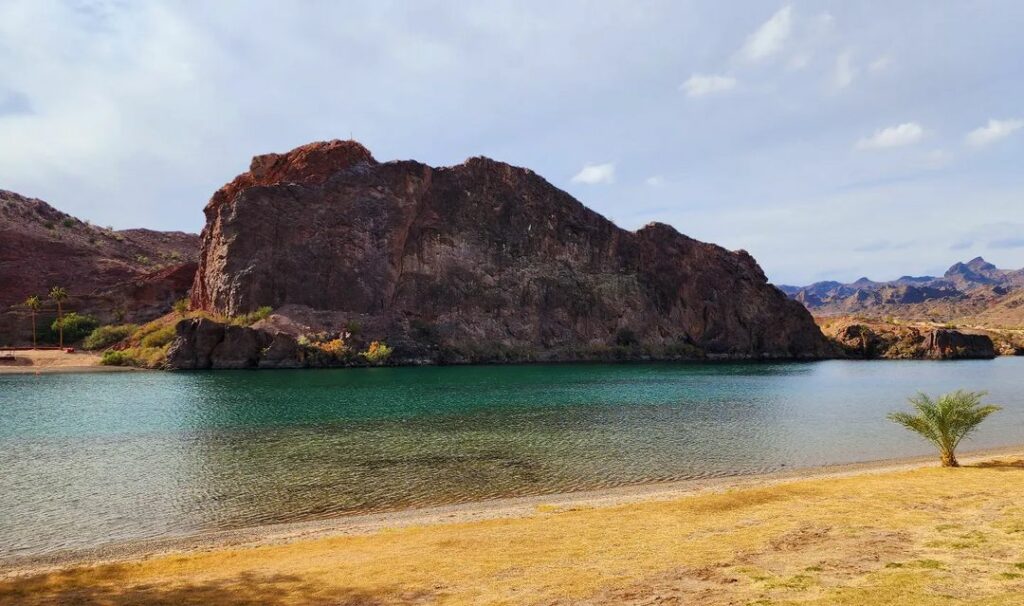 As you travel along the winding California-Arizona border, you'll eventually discover a beautiful area in the middle of nowhere – the preserved Buckskin Mountain State Park. Reserve a spot to drive in and spend a magical weekend surrounded by the rugged mountainous range.
The local beach is one of the best fishing areas. By renting a boat, you can access a vast portion of the Colorado River and catch various types of fish, such as catfish, bass, and sunfish. Cook your catch on the grill and enjoy a picnic by the water. Many people go hiking or visit the Visitor Center, which features exhibits about Arizona's flora and fauna. Finally, swim along the shore as the stunning sunset paints the sky or under the star-filled night.
Helpful tip Keep an eye out for wildlife inhabitants, such as ringtail cats, snakes, coyotes, and owls.
Helpful tip #2 There is no lifeguard on duty, so swim cautiously and watch over any toddlers.
Map of Beaches in Arizona
2. London Bridge Beach, Lake Havasu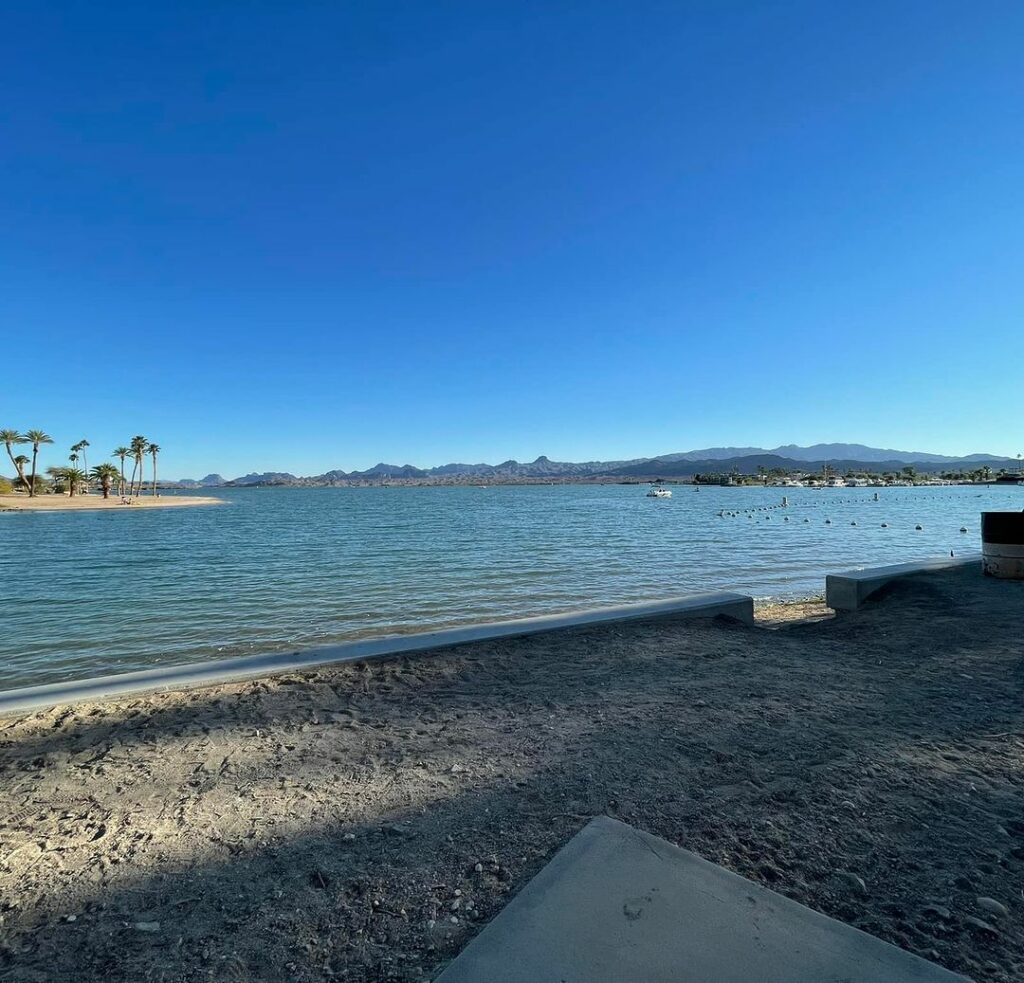 Lake Havasu is a massive reservoir on the Colorado River, serving as a water border between Arizona and California. It may be the top spot in the state for beautiful beaches, such as London Bridge Beach.
Why is an Arizona beach named after a famous landmark in the English capital? In the 1960s, the British government decided to reconstruct London Bridge due to the increasing size and weight of cars. Robert McCulloch seized the opportunity to purchase the entire old structure and transferred the stones to the shore of Lake Havasu. The new "London Bridge" opened here in 1971.
Read also: 15 Best Day Trips from Phoenix, Arizona
The local landscape is very picturesque, so enjoy your time on the shore with clear water, golden sand, and tall palm trees. The beach is great for swimming since large waves are uncommon, as well as boating and fishing. Try to catch largemouth bass, Havasu catfish, or striped bass!
Helpful tip If you're traveling with dogs, check out Lions Dog Park, a paradise for furry friends!
3. Rotary Community Park, Lake Havasu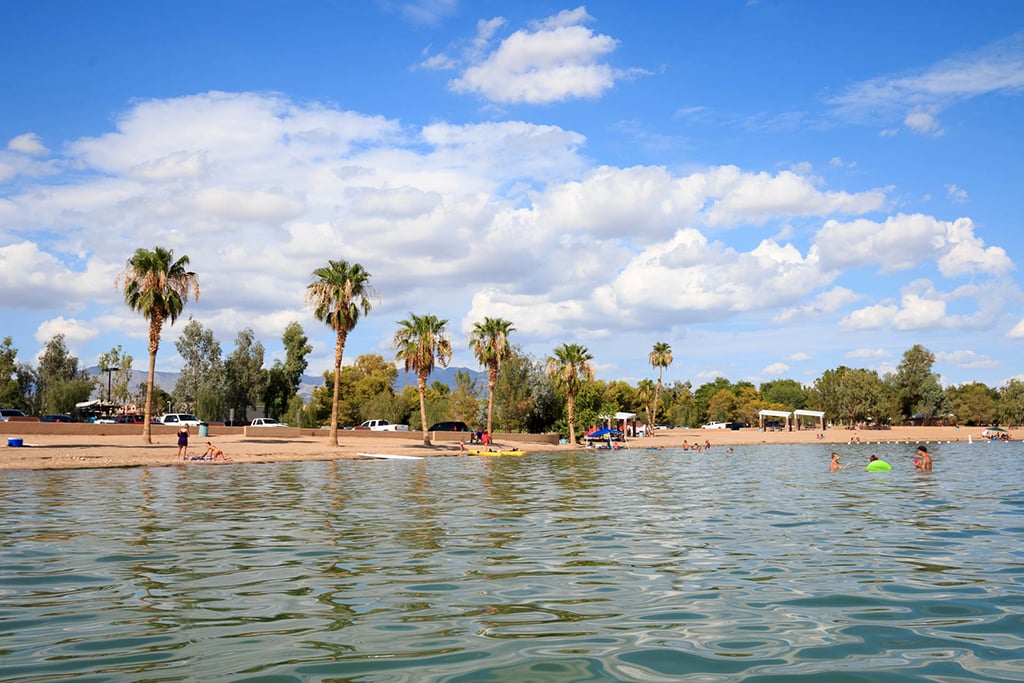 While London Bridge Beach is located on Lake Havasu's island, the mainland hosts other beaches, such as the one at Rotary Community Park.
This spot is popular with both tourists and locals, especially sports enthusiasts. The beach offers six volleyball and bocce ball courts. As the sun starts to set, visitors gather to play a few matches before diving into the cool waters of Thompson Bay.
The beach also features a jogging trail, playgrounds for kids, and a free skating park. So, if you prefer active recreation, Rotary Community Park is the place for you!
Helpful tip If you're traveling with pets, consider another beach, as Rotary Community Park does not permit pets.
4. Body Beach, Lake Havasu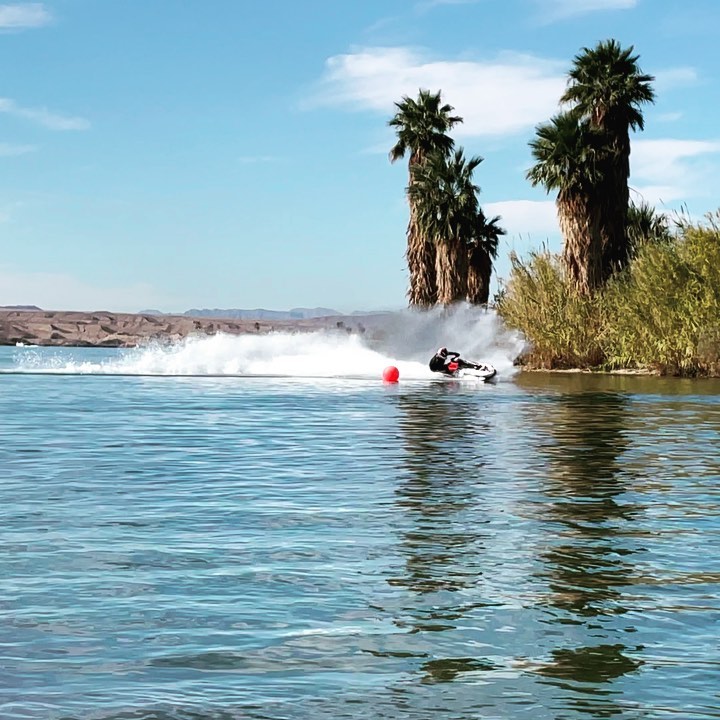 Just a 15-minute walk south from Rotary Community Park, you'll find Body Beach, a half-mile stretch of shoreline located on the east side of the Havasu Lake.
This beach is perfect for jet skiing! On any given day, you can spot some of the world's top personal watercraft riders honing their skills and testing their equipment as they prepare for upcoming competitions.
Helpful tip Given the number of Jet ski professionals training here, exercise caution and check the regulations on the website.
5. Windsor Beach, Lake Havasu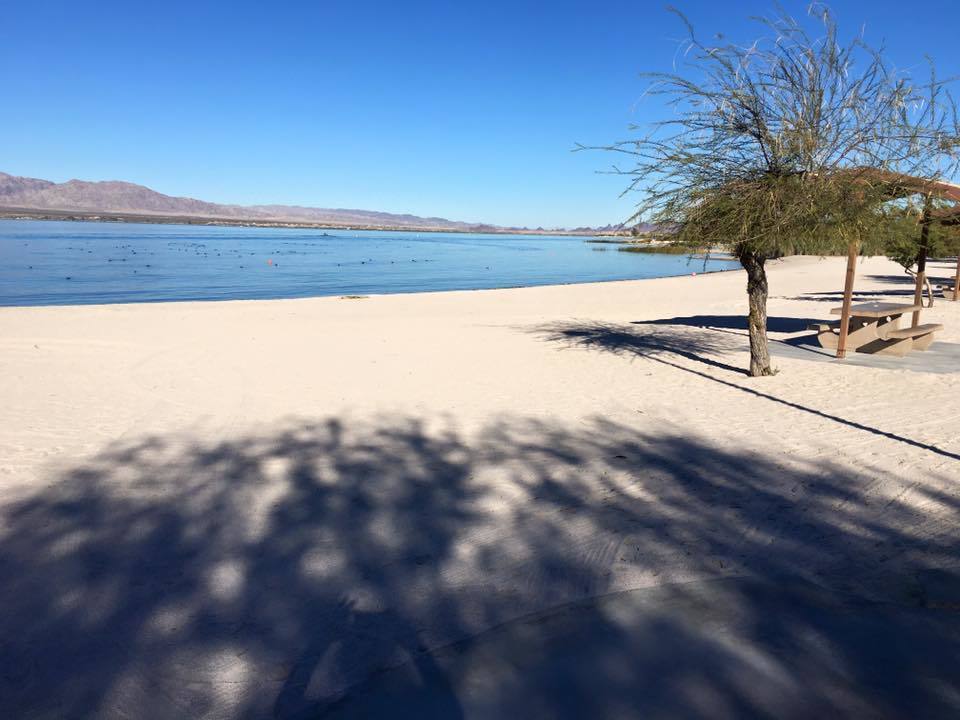 Another beach that Lake Havasu offers is Windsor Beach. Located a 10-minute drive north of London Bridge, this tropical paradise is perfect for diving into the refreshing water after an intense hike along the Mohave Sunset Trail.
Venturing deeper into the mainland, you'll find Lake Havasu State Park picnic areas, gardens, and camping cabins equipped with comfortable beds, air conditioning, heating, and barbecues, making them ideal for family trips. Head a bit north from Windsor Beach to rent a boat and explore the lake.
Helpful tip Check the picnic spots and cabins on the official Lake Havasu State Park website.
Helpful tip #2 The beach is not pet friendly!
6. Cattail Cove State Park, Lake Havasu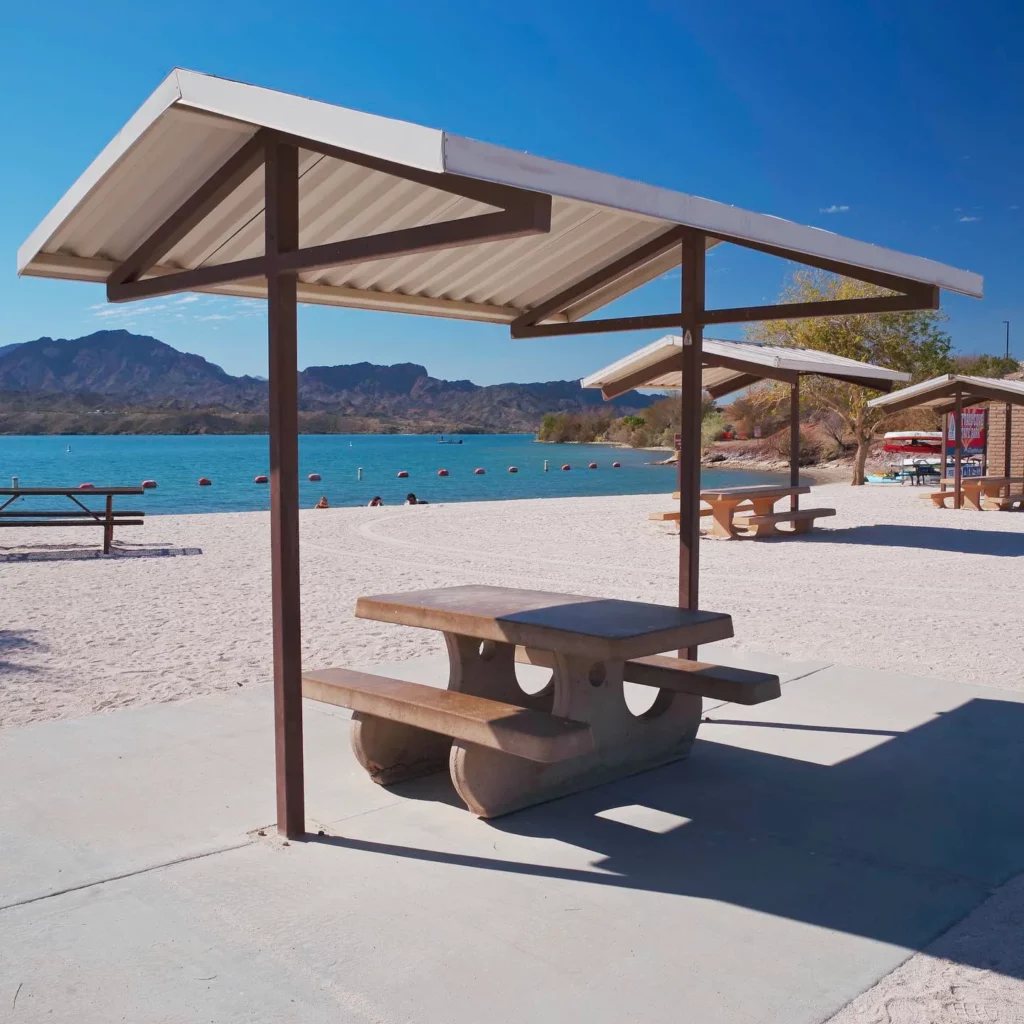 The last, but not least, beach on Lake Havasu is the one at Cattail Cove State Park. This spot is farther from the other three (about a 25-minute drive) and is perfect for a relaxing getaway.
Cattail Cove State Park is less crowded but still offers all the facilities needed for a fun time with family or friends, making it a hidden gem of Arizona. The beach lies along the part of the shore near the hills, creating a fantastic landscape and opportunities for hiking. Enjoy a lovely picnic by fishing and grilling your catch. And, of course, the water is perfect for swimming!
Helpful tip Cattail Cove State Park features a fantastic dog park for your canine companions!
7. Patagonia Lake State Park, Nogales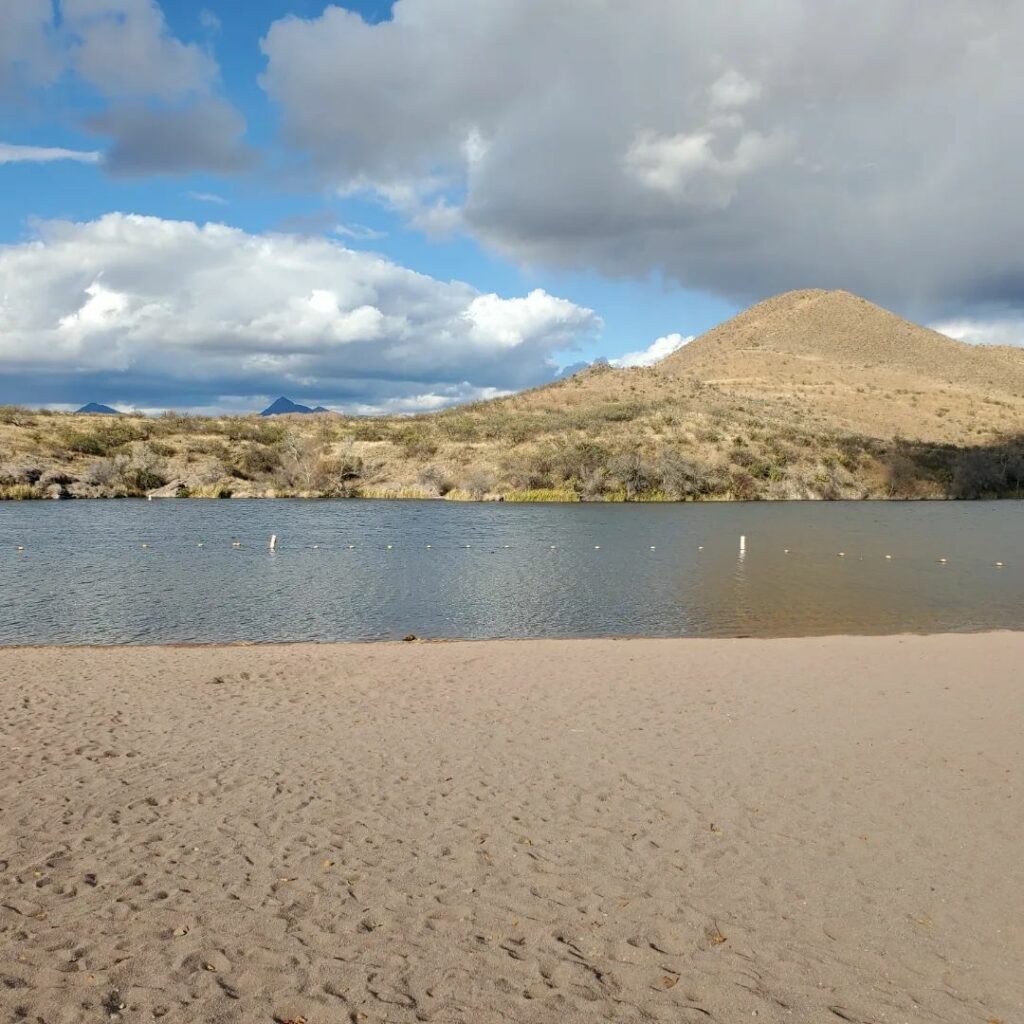 Moving southeast, close to the Mexican border, you'll find Patagonia Lake State Park. This earthly paradise boasts the clearest blue water in the state, fascinating hiking trails, and a lush green area that's home to an abundance of Arizona's birds and flowers.
For a fun weekend with friends or family, rent one of the furnished cabins on the southwest end of the lake. To enjoy a breathtaking 360-degree view of the lake, follow the Overlook Trail, which is challenging but doable with some experience. Consider waking up early to fish, swimming after lunch, or taking a boat trip while watching the spectacular sunset.
It is also a dog friendly area!
Overall, this is a 10/10 experience far away from civilization!
Helpful tip Keep in mind the park's opening hours. The gates open at 4 AM and close at 11 PM.
8. Tempe Beach Park, Tempe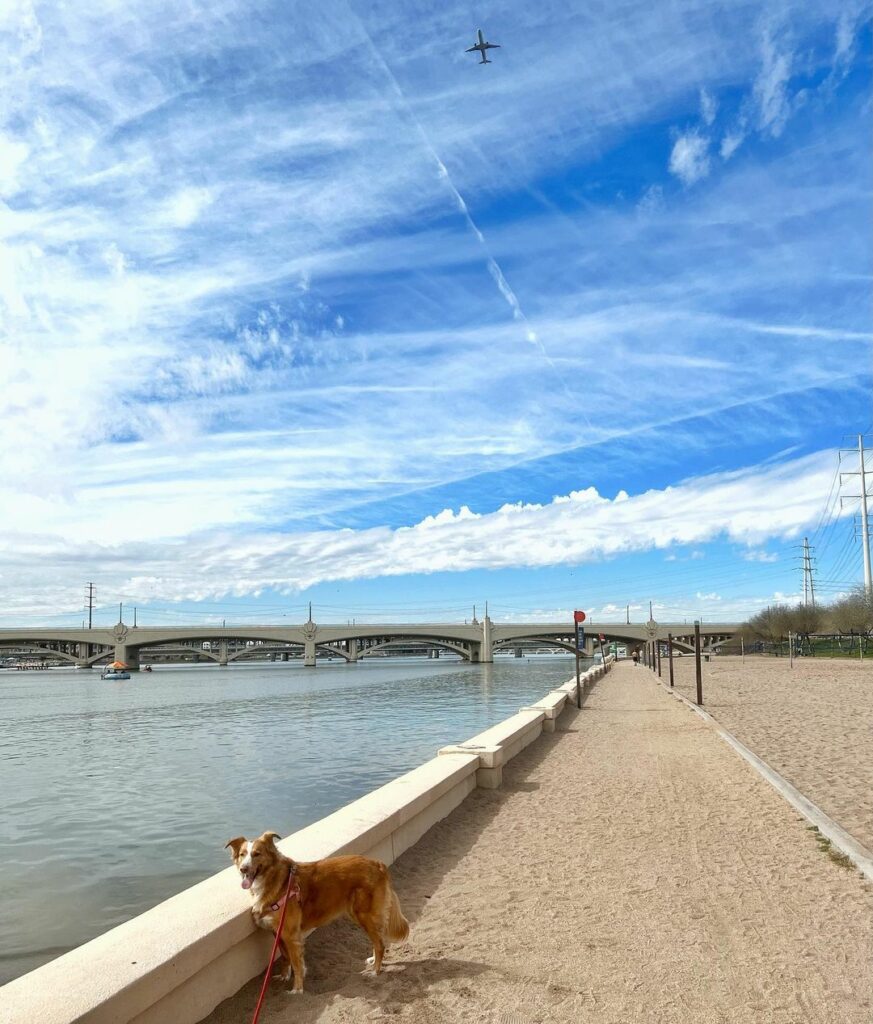 Tempe Beach Park is quite different from Patagonia in terms of atmosphere. It's lively, full of people, and located in the City of Tempe, making it an excellent spot for an active vacation.
One great advantage of Tempe Beach Park is the variety of sports and equipment available. Use the five-mile route for biking or jogging, and then rent a kayak or paddleboard to leisurely float on the lake's waters while enjoying the impressive city skyline view.
Additionally, attending major events like Oktoberfest, New Year's Eve, and Innings Music Fest is a fantastic idea, as the atmosphere is electrifying!
Helpful tip Besides beach activities, check out excellent shops and fine dining nearby, such as Culinary Dropout or the British restaurant Cornish Pasty Co.
9. Lone Rock Beach, Lake Powell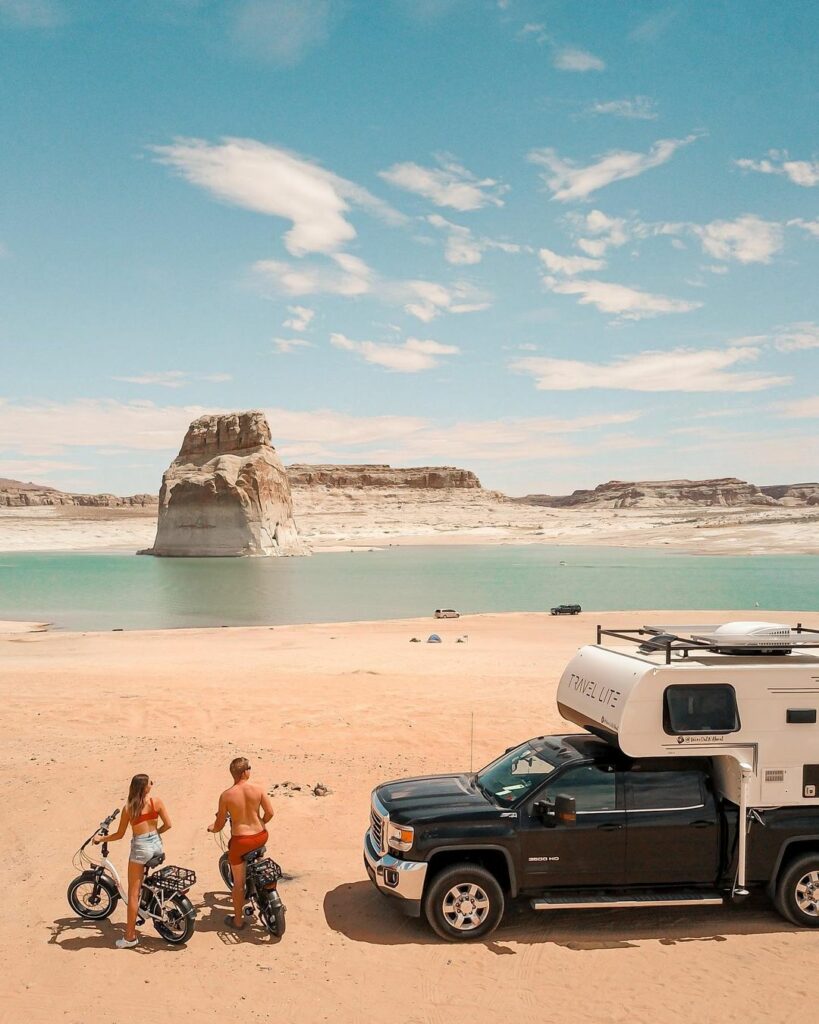 Lone Rock Beach on Lake Powell is known for its soft sand, refreshing waters, and stunning night sky views. The beach is really spacious, offering plenty of room for camping and other activities.
Located on the Arizona side of the lake, you can easily access the beach from nearby marinas or the city of Page.
With basic amenities such as pit toilets and outdoor showers, Lone Rock Beach is ideal for camping trips, sunbathing, or leisurely strolls. The entrance fee is $14 per vehicle per night, and dogs are allowed.
Helpful tip The sand is deep! Prepare to get stuck with your vehicle
10. Gateway Park, Yuma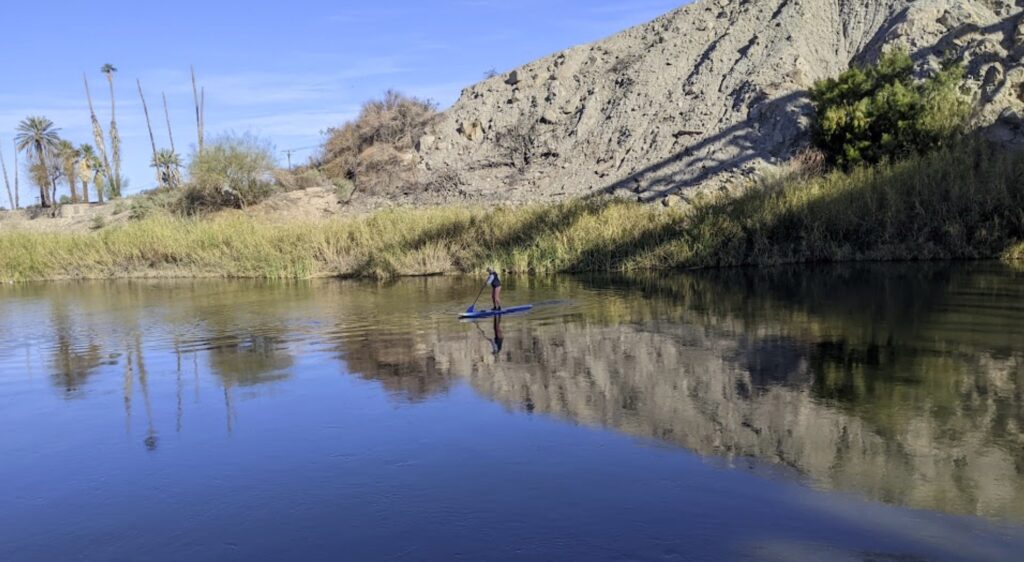 If you want to swim but struggle with the intense Arizona heat, Gateway Park is your perfect oasis. Located near the Ocean-to-Ocean Highway Bridge, the swimming area invites you to cool down in the shade and avoid direct sunlight.
Another benefit the shore offers is a gradual, soft entry to the water, reducing the risk of injuries and making swimming easy with kids. Various amenities are available, including fishing docks, playgrounds, grills, and picnic ramadas.
Helpful tip Consult the outdoor activities brochure to make your trip stress-free.
11. Roper Lake State Park, Safford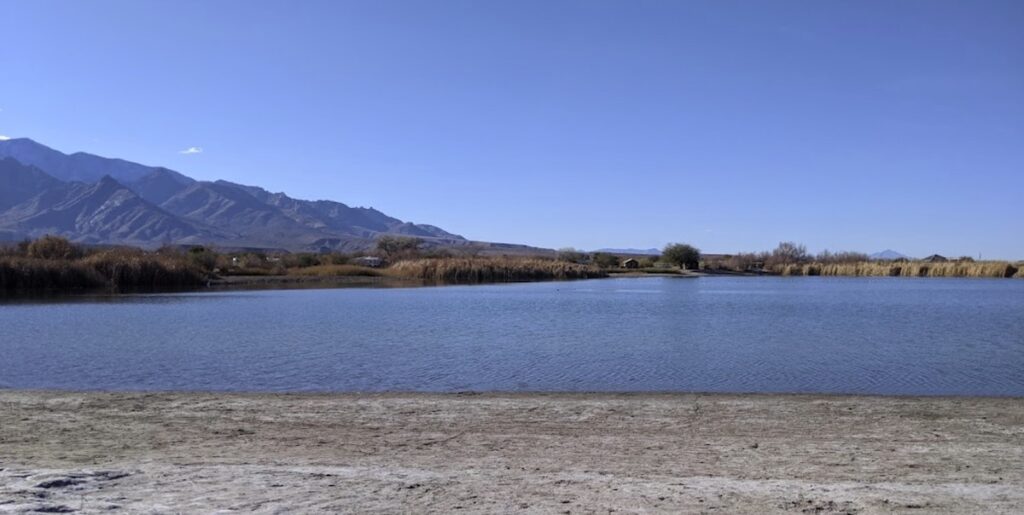 Are you looking to escape crowds and find a peaceful beach with calm, still waters? Then Roper Lake is for you.
The area has everything you need to relax, float on the surface, and enjoy the views of majestic Mount Graham. Facilities here are minimal, so bring everything you need for swimming, picnics, and campfires.
A few hours of walking and relaxing should suffice, but if you want to stay overnight, consider camping or booking a hotel in Safford.
This park is fantastic, featuring ample restrooms for changing into swimwear. The lake is not only refreshing but also immaculately clean. Picnic tables are surrounded by shade covers and trees, creating a comfortable atmosphere. The day-use island is an ideal spot, with a soft lake bottom that eliminates the need for water shoes.

Janet H.
Helpful tip Although the shore is shallow, there are no lifeguards. Be careful!
12. River Island State Park, Parker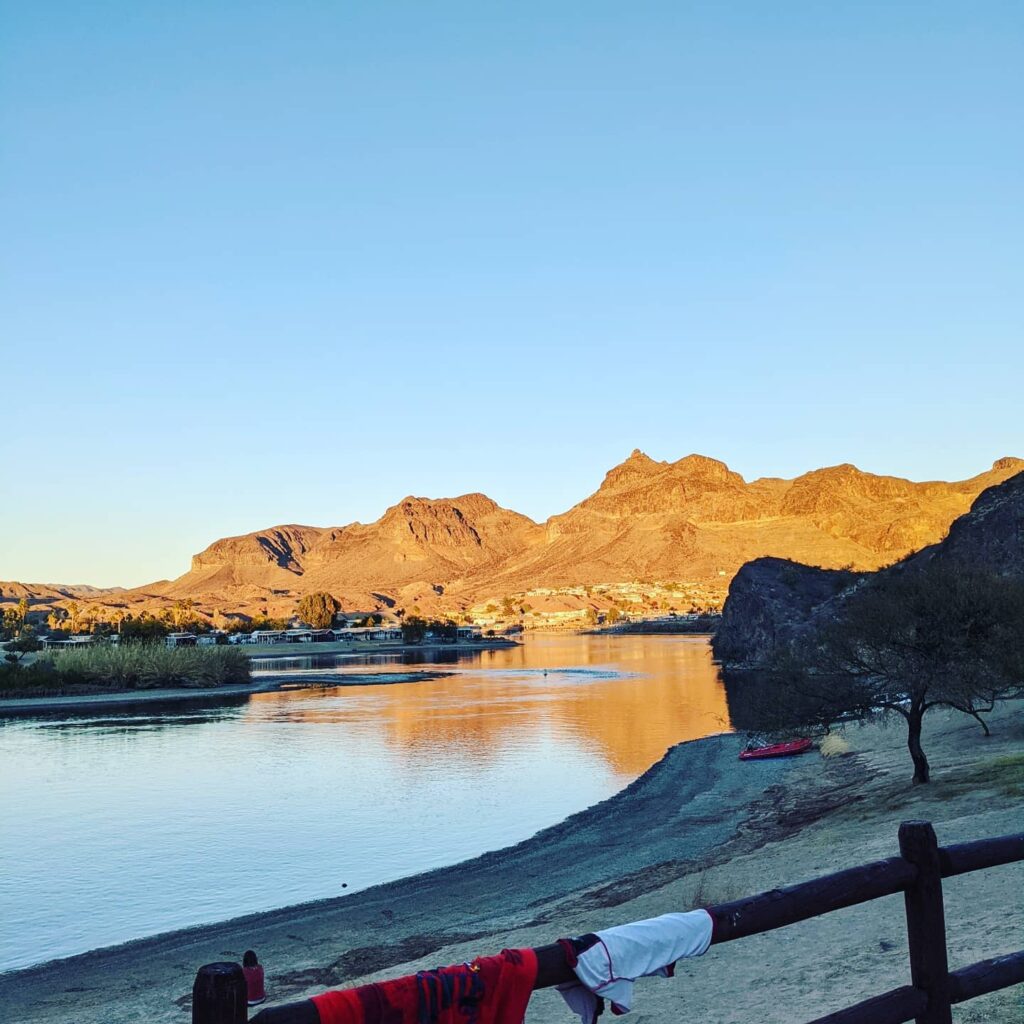 If you're into proper camping with a tent sleepover, fishing, and cooking breakfast on a campfire, River Island State Park is the perfect destination! Come here alone to reflect and relax your mind or with friends/family to have the most authentic weekend!
Choose between RV camping and staying in a smaller camper/tent. Don't worry about safety – the park has 37 campsites, so you'll always be surrounded by other travelers. It's also a great opportunity to make new friends!
The area allows boating and fishing and provides beautiful hiking trails. If you need groceries or souvenirs, River Island Market is right outside the park!
Helpful tip From April 1 to September 30, visitors must stay for a minimum of two nights. Find information about reservations on the official website.
13. Pebble Beach, Mesa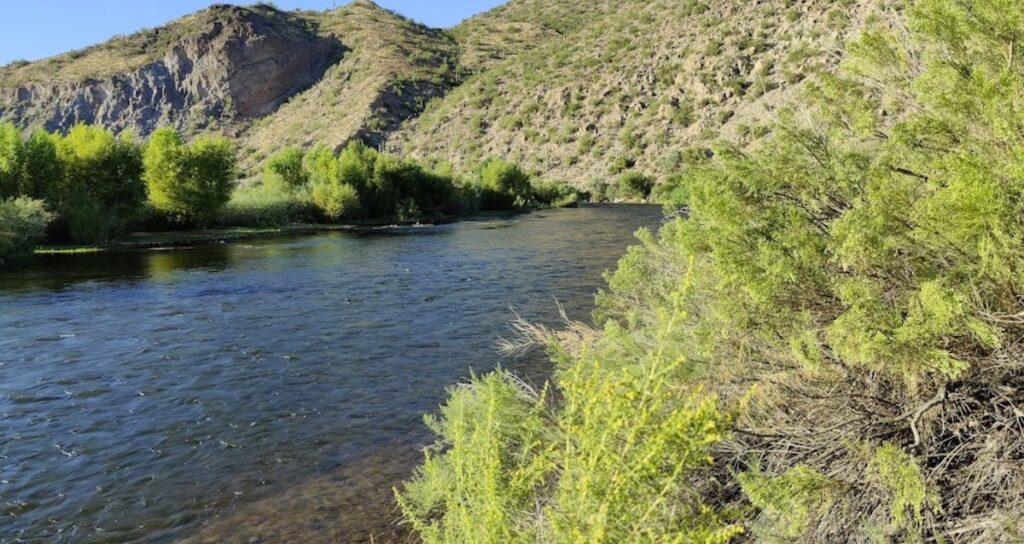 Pebble Beach is one of the best swimming areas near Phoenix. Drive 40 minutes from the city center and find yourself in a tranquil spot with little Arizona birds flying around.
Although the area gets a bit crowded in summer, it remains relatively quiet since motorized watercraft are prohibited. The shallow waters are framed by willows, perfect for cooling off on a hot day. Bring sandwiches, fruits, and berries for a lovely picnic, or bask in the sun while reading a book or listening to your favorite playlist. You can also walk along the shore, taking in the breathtaking views, or venture into the surrounding areas for a hike.
Helpful tip Bring water shoes or sandals to protect your feet.
14. Wahweap Beach, Lake Powell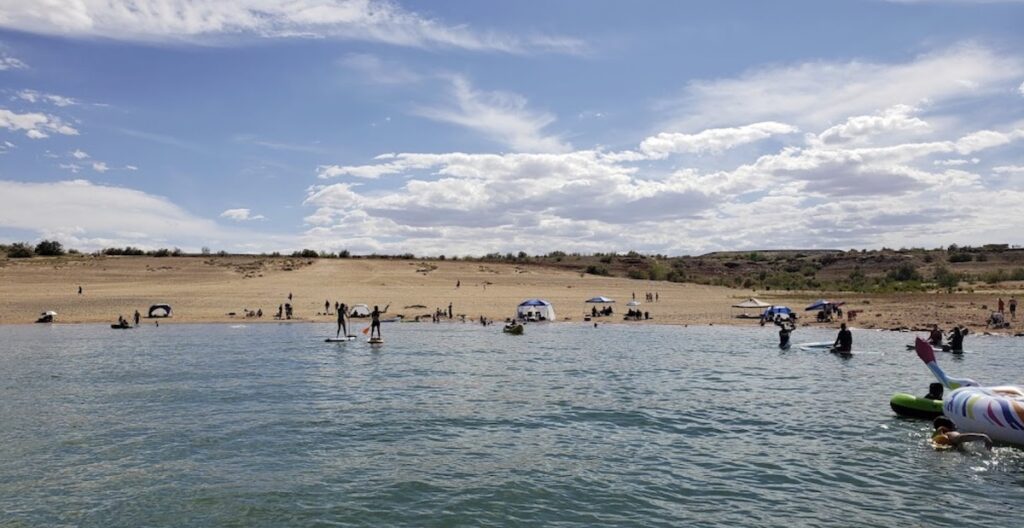 For a fantastic and almost dreamy scenery, drive to the border with Utah and look for Wahweap Bay. Layers of stone formations reflect in the still greenish-blue waters of Lake Powell, creating a hidden paradise in Arizona. In addition to calmly floating on the surface, you can rent a boat or jet ski at Wahweap Marina.
Helpful tip The beach has recently been relocated due to its proximity to a boat ramp, so pay attention to signs and only swim within the areas marked by swim buoys.
15. Roosevelt Lake Beach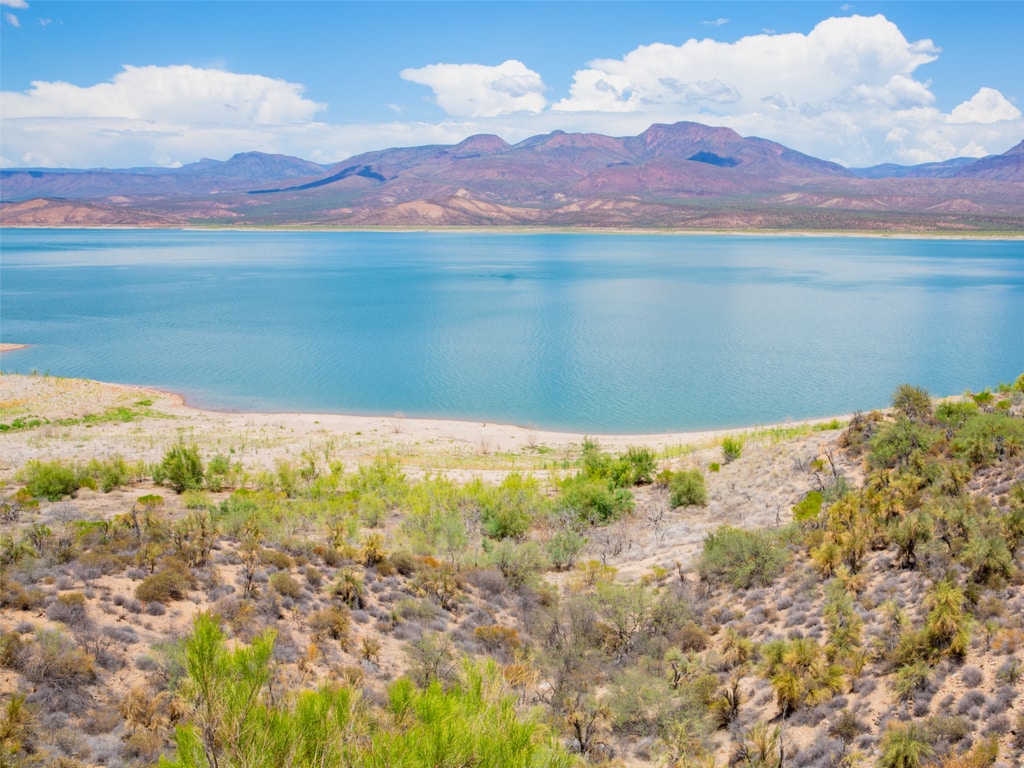 Amid the deserts of Central Arizona, a two-hour drive from Phoenix, you will find a shimmering oasis called Roosevelt Lake. This reservoir is so vast that you can spend hours exploring the shoreline by boat. Renting a kayak or paddleboard is another way to discover the lake.
As for accommodations, you can either reserve cabins or a room at Roosevelt Resort Park, or opt for a full-on camping experience by pitching a tent under the star-filled sky.
Helpful tip To access the beach, you will need to purchase a Tonto National Forest Pass, also known as a Tonto Pass, which costs $8.
Beaches in Arizona FAQ
Does Arizona have good beaches?
Yes! You do not need to cross a Californian or Mexican border to find fantastic beaches; luckily, more and more people discover the beautiful shores of Arizona's reservoirs. Try visiting London Bridge Beach in Lake Havasu or a beach in the Buckskin Mountain State Park.
What is the best beach in Lake Havasu?
The must-visit beach of Lake Havasu is definitely London Bridge Beach. Not only does it boast intriguing historical background, but it also offers stunning scenery, as well as fishing, boating, and swimming options. 
Does Arizona have any ocean beaches?
No. Arizona does not have access to the ocean.
What is the best beach closest to Phoenix?
The best closest beach to Phoenix is Pebble Beach in Mesa, in the Salt River Recreation Tonto National Forest. No motorized watercraft are permitted here, so enjoy alternative water activities and swimming in the chill waters of Salt River.
What city in Arizona is closest to the ocean?
Yuma might be the closest point to the northern bay of the Gulf of California.
Now that you have a list of Arizona beaches, it's time to start planning your perfect getaway! Remember to check each park's or beach's official website for current information on hours, fees, and regulations, as these may change.
Pack sunscreen, water, and necessary equipment, and don't forget to take a camera to capture the stunning Arizona landscapes.
Enjoy your time at these beautiful Arizona beaches!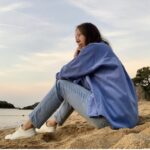 Hello, my name is Nadia.
I usually write about traveling (there are so many places to fit all the lifestyles), relocation (finding a job overseas or moving without losing an income), and living in a foreign country (adapting to a different culture and mentality). Follow me on Twitter, Facebook, Instagram, or LinkedIn!
This post might include some affiliate links. If you make a purchase through these links, I may earn a small commission at no additional cost to you. I appreciate it when you use my links to make purchases.