Currency in Argentina: What You Should Know in 2023
Olga Sukhorukova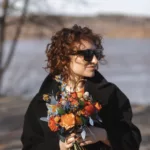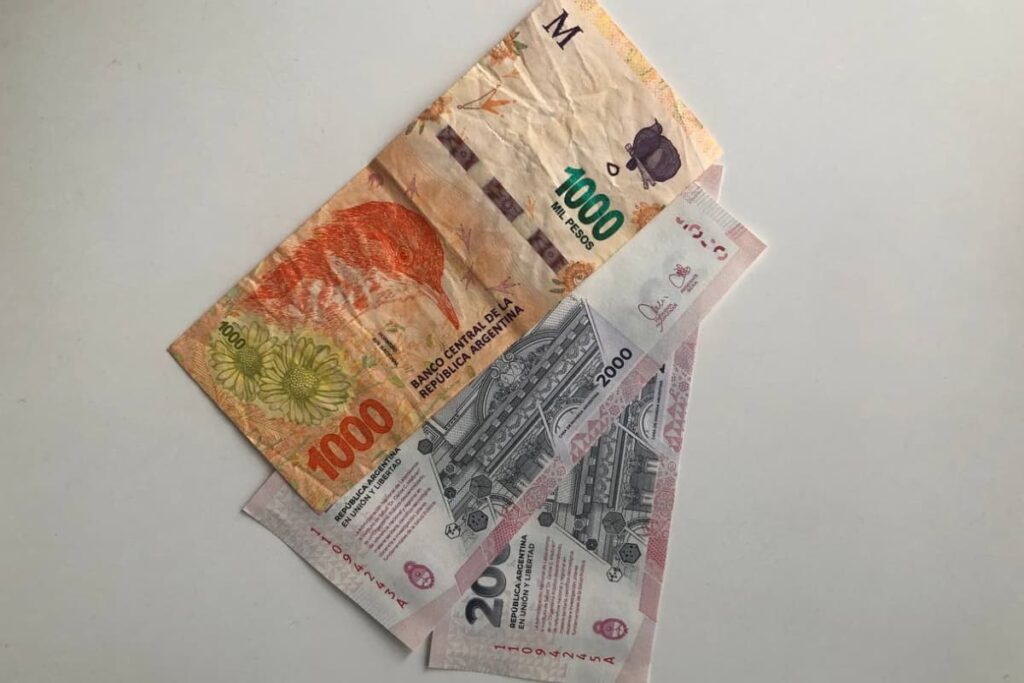 In this blog post I have collected the most frequently asked questions related to money in Argentina, and I have broken down the main situations that you can encounter.
What currency does Argentina use?
The official currency of Argentina is the Argentine peso, represented by the symbol $ or the code ARS.
USD $ to Argentine Peso Online Converter (Calculator)
With this calculator, you can swiftly convert US Dollars (USD) to Argentine Pesos (ARS) at the click of a button. It uses real-time exchange rates to provide the most accurate conversions possible. If you're planning a trip to Argentina, add this blog post to favorites!
USD to ARS Currency Calculator
From USD
To ARS
What does "blue dollar" mean in Argentina?
In Argentina, the term "blue dollar" or "dólar blue" refers to the unofficial exchange rate for the US dollar to the Argentine peso.
This rate differs from the official exchange rate set by the government. The existence of the "blue dollar" rate is largely a response to the country's history of economic instability, inflation, and government restrictions on currency exchange that have led to the emergence of a black market, offering a more favorable "blue" rate for exchanging money unofficially.
Finding this blue rate often involves local contacts or recommendations from hotels for a "cueva," an unofficial exchange business. Some tourists also find opportunities for exchange on central shopping streets.
Also, many businesses in Argentina, including hotels and restaurants, accept US dollars in day-to-day transactions. While some use the illegal blue rate or a rate close to it, others will offer tourists a preset exchange rate.
TL;DR The "blue dollar" rate is typically higher than the official rate, meaning it costs more pesos to buy a dollar on the unofficial market.
How to use Visa and MasterCard in Argentina 💳
Until recently, foreign bank cardholders making purchases in Argentina paid at an exchange rate for pesos that was close to the official rate (as of January 15, it was approximately 180 pesos to 1 US dollar). However, in the fall of 2022, the Argentine government agreed with the two main card payment systems, Visa and MasterCard, to switch to a near-market exchange rate (the blue dollar, or "blue rate").
About a month after the announcement, the mechanism began to operate, and today you can expect a rate of around 310-320 pesos per 1 US dollar when paying with Visa or MasterCard. The card can be in any foreign currency, and the transactions will still process at a favorable rate, albeit with a minor loss due to the double conversion first into US dollars and then into pesos.
Nevertheless, there are significant differences between Visa and MasterCard.
Visa operates quite straightforwardly. When you purchase items priced in pesos with a card in U.S. dollars, the charges are processed in dollars at the rate listed on the payment system's website (321 pesos per dollar as of January 15).
MasterCard's process is more complex. When making a purchase, the system deducts dollars at a rate close to the official rate (which today is 181 pesos per dollar). Following this, there is a partial refund within a few business days, which adjusts the final rate to roughly parity with the rate offered by Visa.
If your card balance is in a rare local currency, such as the Georgian lari, the conversion will first occur from lari to dollar, and then from dollar to peso at the rate of the payment system.
All rates can be found at the previously mentioned links and you can use them to check your calculations. Also, when paying by card in a store or restaurant, you should be prepared to present a DNI or foreign passport, as this is a common practice here.
In terms of differences, it's possible that both payment systems will operate in the same manner in the near future. For now, it seems that Visa is generally more convenient.
Transferring Money to Argentina and Receiving Pesos via Western Union
One of the most popular ways to transfer money to Argentina, and incidentally exchange currency for pesos at a favorable rate, is through the Western Union (WU) system.
To use this service, you will need an account in your home country's section of the WU portal.
The process for transferring money is as follows:
In your personal account (or in the WU app), you create a request for a transfer and specify the amount to be sent (which must be in the your home country's currency).
You then indicate the recipient and their country of residence, Argentina. It's optimal if you're sending money not to yourself, but to a relative.
The system will then automatically identify the recipient country's currency (for Argentina, it's peso) and calculate the exchange rate, which is set at the time the money will be issued. Today, the rate is 348 pesos per dollar. This rate is more favorable than card payment system rates, but less advantageous than the "black market" (blue rate). You can always refer to Western Union currency converter for the latest U.S. dollar/peso rate.
You then choose the method for sending and receiving the money. Typically, sending is done with a Visa or MasterCard, and receiving is carried out in cash pesos at any WU operator branch, such as Pago Fácil. Check your card transaction limits because, according to WU, the sending operation is technically considered a cash withdrawal.
Your card can be in any currency, even if it differs from the sending currency, as the card payment system will automatically convert it.
It's important that the name on the card matches the sender's name. It's also preferable, but not necessary, that the card's issuing country matches the sender's country.
Next, you'll be asked to state the purpose of the payment (for instance, "Assistance to a relative") and the source of the funds (such as "Savings").
After several confirmations, if the transaction is successful, the system will generate a digital code. This code must be given to the recipient to provide to the operator in the office when receiving the money (the recipient's ID card is also required). The code will be stored in your personal account. The money is issued at the rate set at the time of the transaction.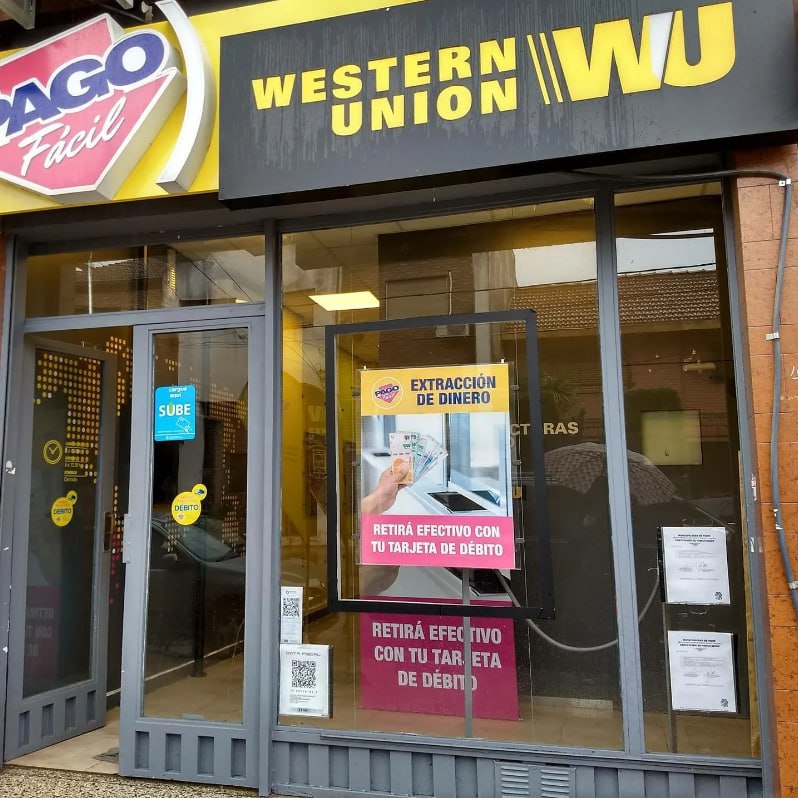 This is what the Pago Facil/Western Union branches in Buenos Aires look like. For larger amounts of money (equivalent to over $1,000), I recommend you to opt for the larger branches where they're more likely to have sufficient liquidity.
Sending money to Argentina via Western Union step-by-step
Step 1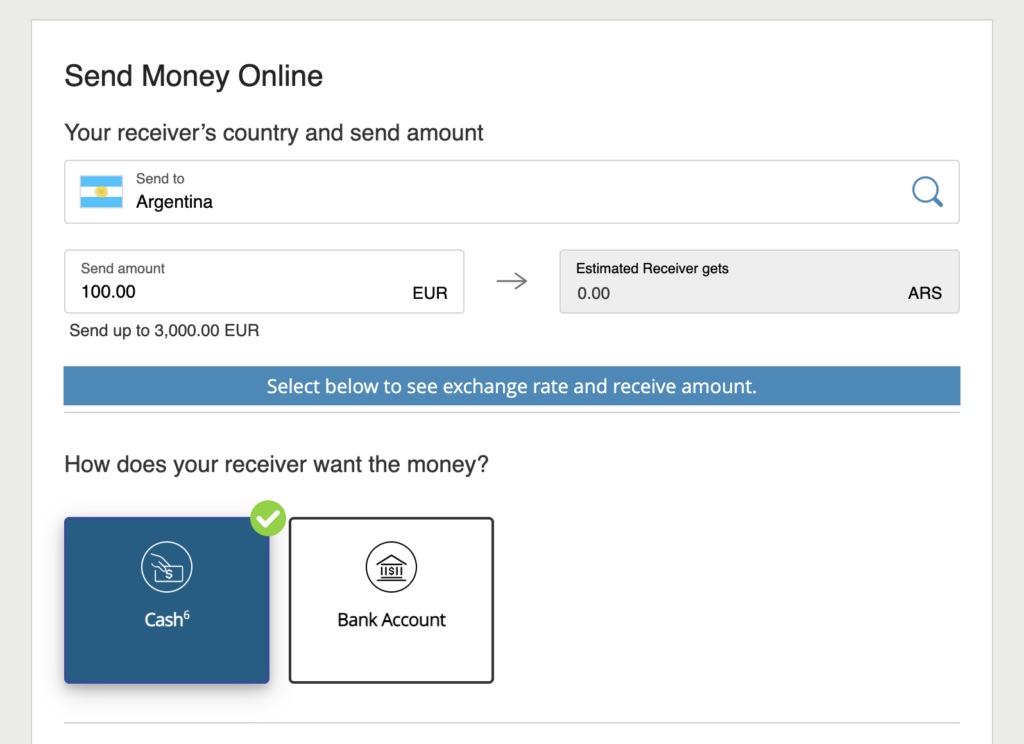 Step 2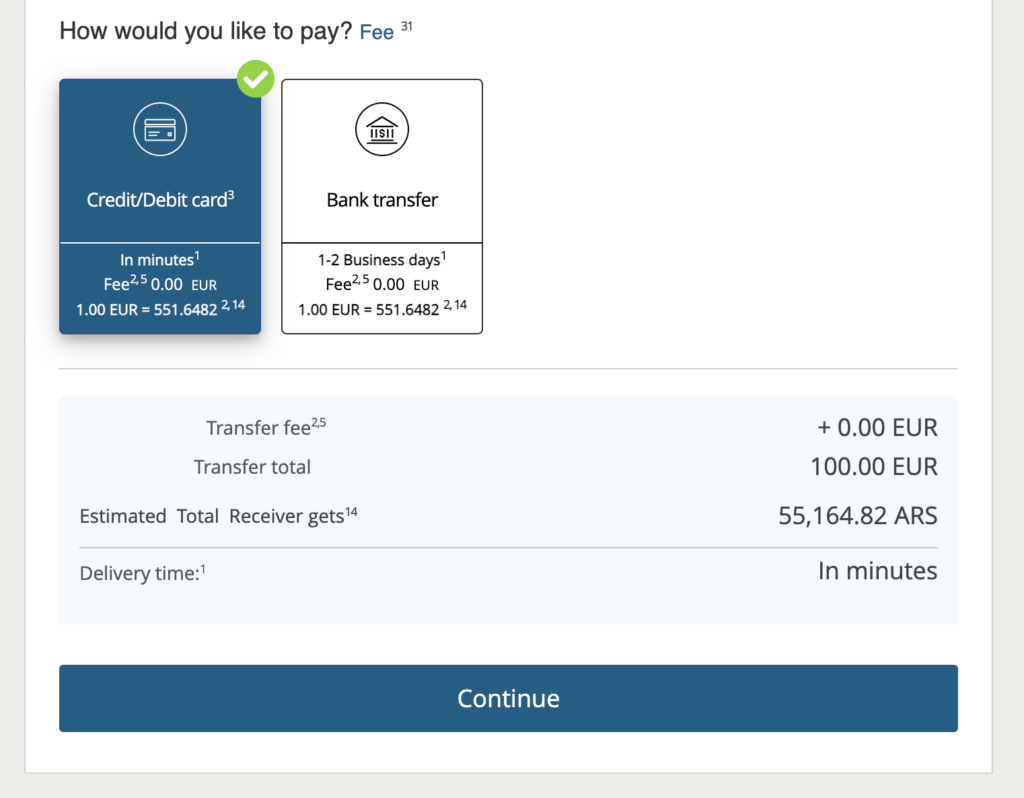 Step 3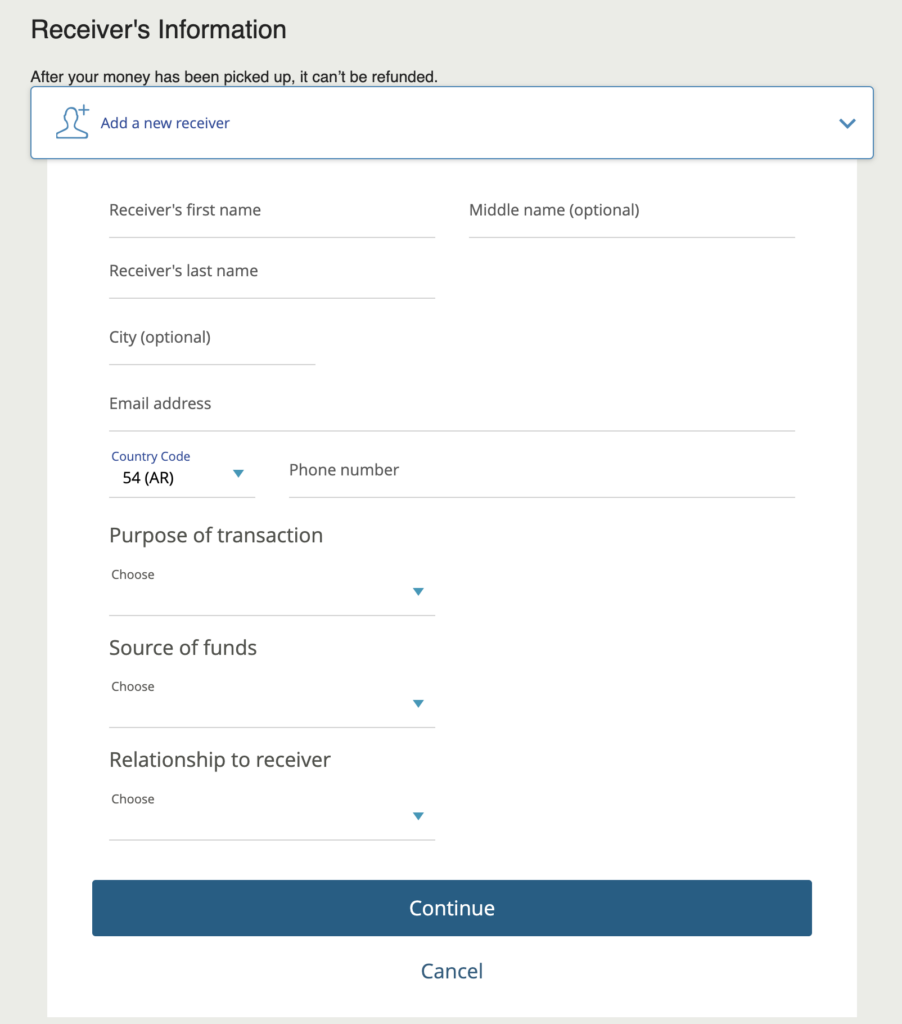 Step 4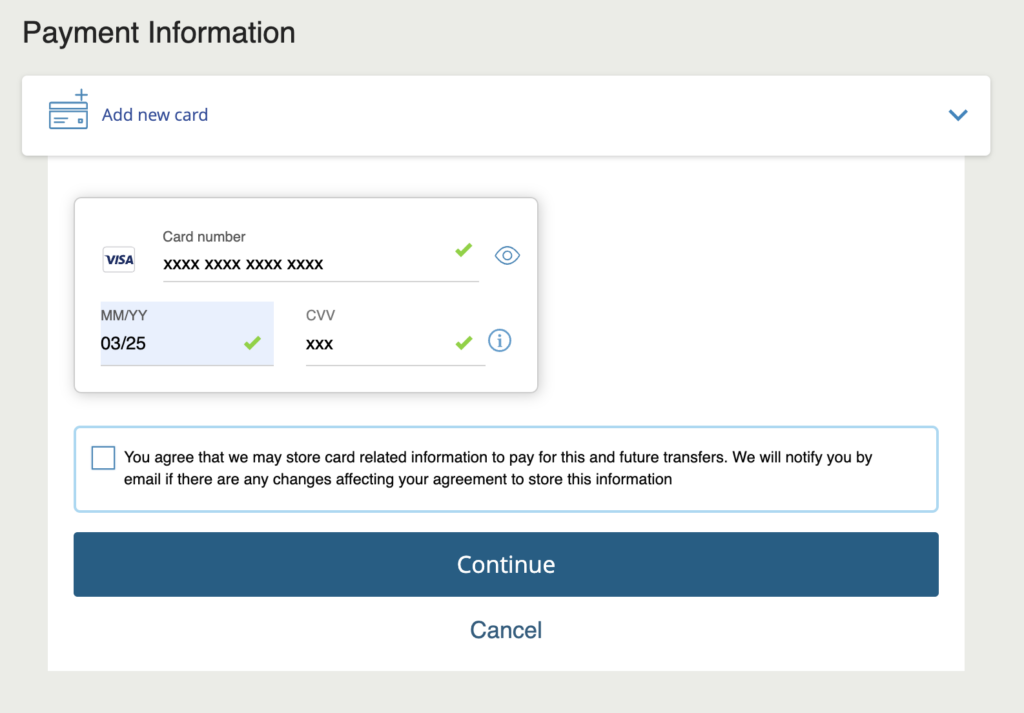 Step 5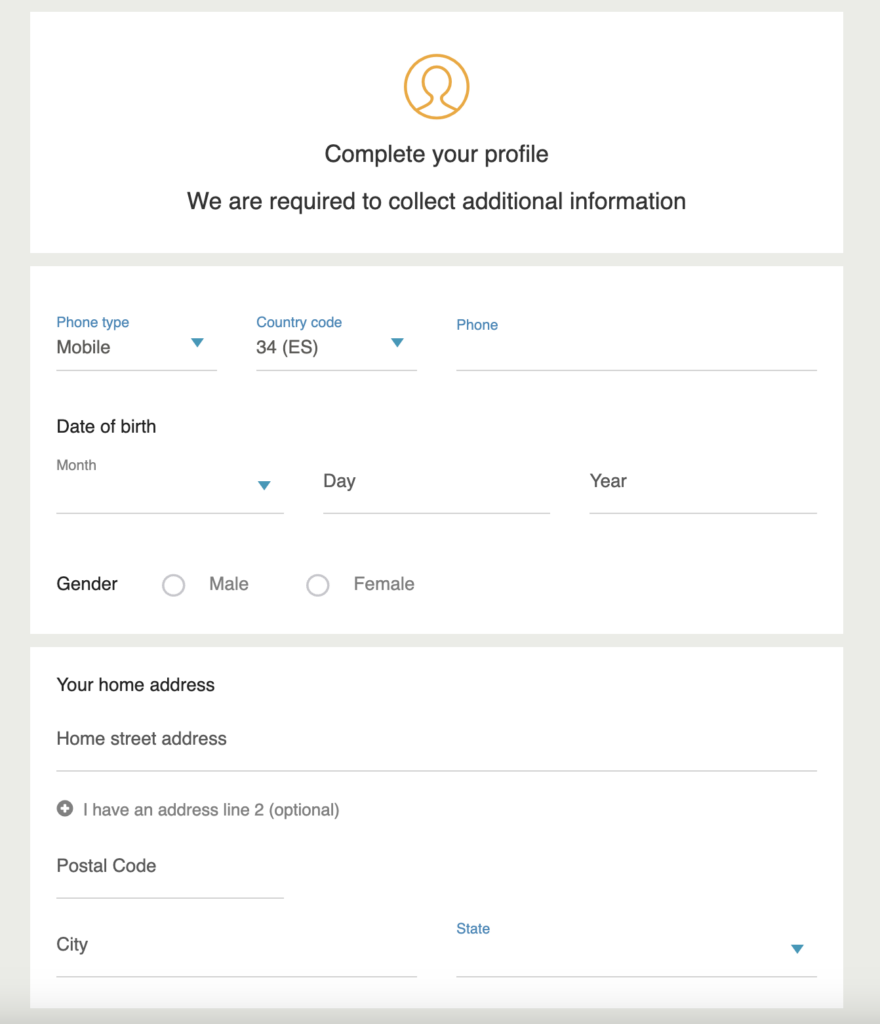 How to transfer USD/EUR from foreign cards to receive pesos in Argentina
To do this, you can utilize the WU website (not the app!) from any EU country or the United States. For registration, you'll need an address and phone number in the country of your choice (if you are there, provide a temporary address and your local mobile number, or ask friends for these details).
Be prepared to call your country's WU Support office to confirm your identity and unblock transactions.
As a side note, Western Union also advertises that they will provide you with "the best rates plus $0 fee on your first transfer." However, remember that there's fine print stating "FX gains apply." This means that instead of charging you a fee or commission, they establish an exchange rate that guarantees them a profit on every transaction. So, don't be overly optimistic about this offer.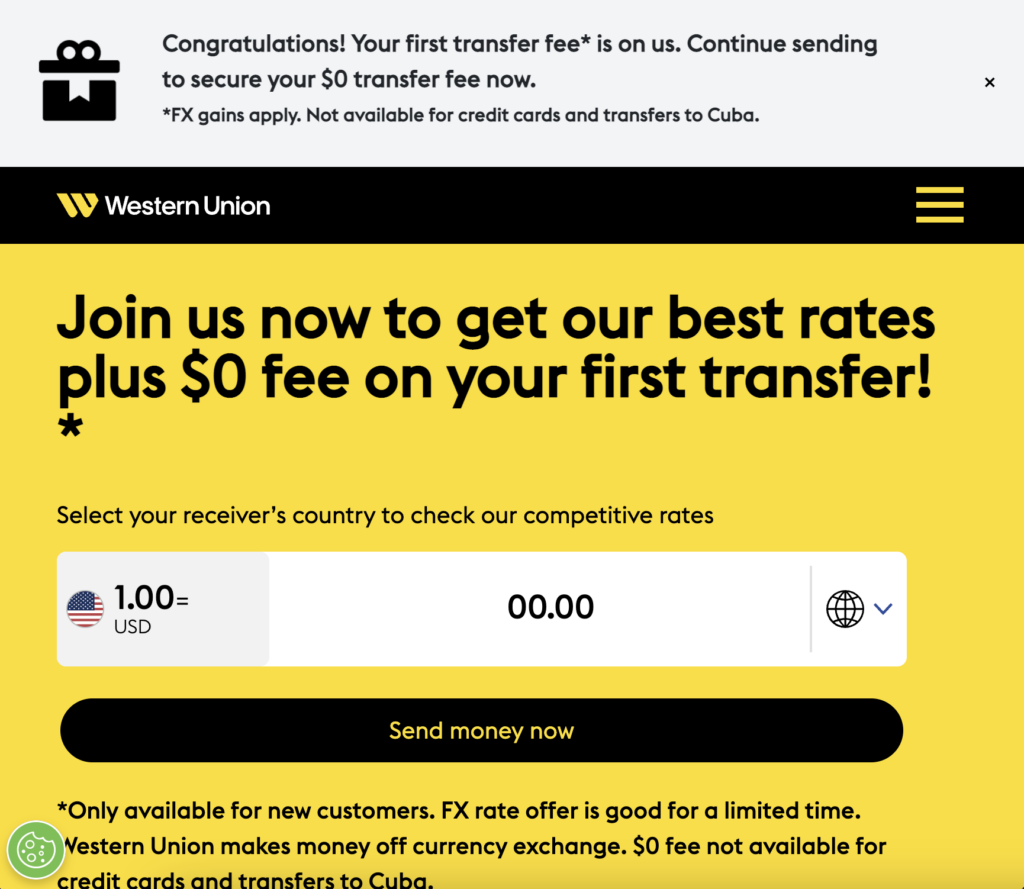 And good luck with your transfers!
How much money should I bring with me to Argentina?
This is the most challenging question. Here are some prices accurate as of 2023. For hotels, expect to pay a minimum of $30 per day for a double room in a 2-3 star establishment. A decent 4-star hotel will cost at least $100 per night. Prices for 5-star accommodations (the ones that are at least moderately comparable) start from $250.
Top-tier hotels will cost at least $400-$450 per night. You can find cheaper options, but I wouldn't recommend them. Hostels are also an option, but there's hardly any price difference between an average hostel and a simple hotel.
In Patagonia, northern Argentina, and Mendoza, prices for good hotels are approximately twice as high, with prices being especially steep in Patagonia. In Iguazu, hotel costs are about the same as in Buenos Aires.
In Buenos Aires, the average check at a restaurant, complete with wine and possibly dessert, is about $40 for a lunch for two and about $50 for dinner for two. We're talking about good restaurants that are worth visiting. There are cheaper options available, and I will definitely provide more details about them. However, don't count on substantial savings – at least not a 50% discount.
Public transportation in Argentina is quite inexpensive – less than 50 US cents per trip. Taxi fares usually range from $5-$7 for trips within the city.
Admission to most of the city's museums is free. Even when there's an admission fee, it's always less than $5 per person.
For souvenirs, you should budget from $30-$40 at most.
Currency in Argentina FAQ
What is the best currency to use in Argentina?
You should use Argentine Peso (ARS). It is the most widely accepted and often the best currency to use in the country for day-to-day transactions. However, it's worth noting that Argentina is experiencing a period of economic instability and high inflation, which affects the value of the peso. Because of this, some businesses in tourist areas may also accept US dollars, which are sometimes preferred due to their stability. For travel purposes, I recommend carrying a combination of some local currency (for small businesses, markets, or places that don't accept cards), a credit/debit card (preferably one with no foreign transaction fees), and possibly some US dollars in cash as a backup.
I have arrived in Buenos Aires and I don't have any pesos in cash. How do I pay for a taxi and how do I even acquire Argentine currency?
To begin with, at the airport, you can pay for everything using a card or cash, including dollars and euros. Furthermore, the airport offers a currency exchange office (clearly signposted) where you can exchange a modest sum, say $50 or $100, to get you started until you reach the city.
Can I withdraw pesos or dollars from my card at ATMs?
In Argentina, you won't be able to withdraw dollars, only pesos. You can withdraw dollars in Uruguay, however. When withdrawing pesos, be prepared to pay a cash withdrawal fee (about 10% of the withdrawal amount), in addition to dealing with the discrepancy between the official and black market dollar rates. The most efficient way to withdraw money from your card is through Western Union transfers.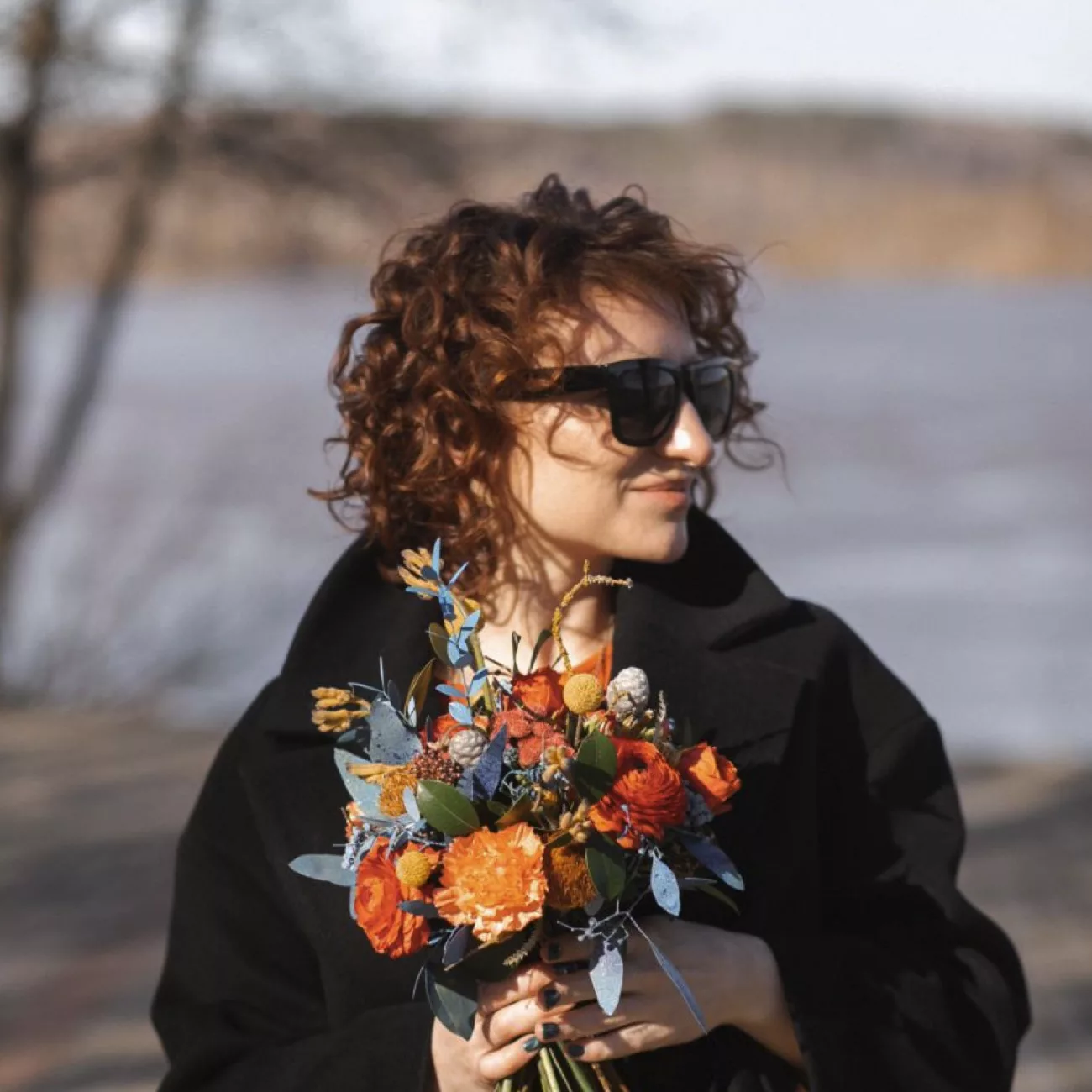 I live in Buenos Aires and write about Argentina and other places I like. For me, traveling is a great possibility not only for discovering new destinations but also for learning about myself (that is usually hidden behind everyday life).
In other words, you discover new landscapes of your soul when traveling!
This post might include some affiliate links. If you make a purchase through these links, I may earn a small commission at no additional cost to you. I appreciate it when you use my links to make purchases.