13 Best Places to Eat in Buenos Aires
Olga Sukhorukova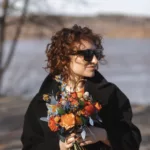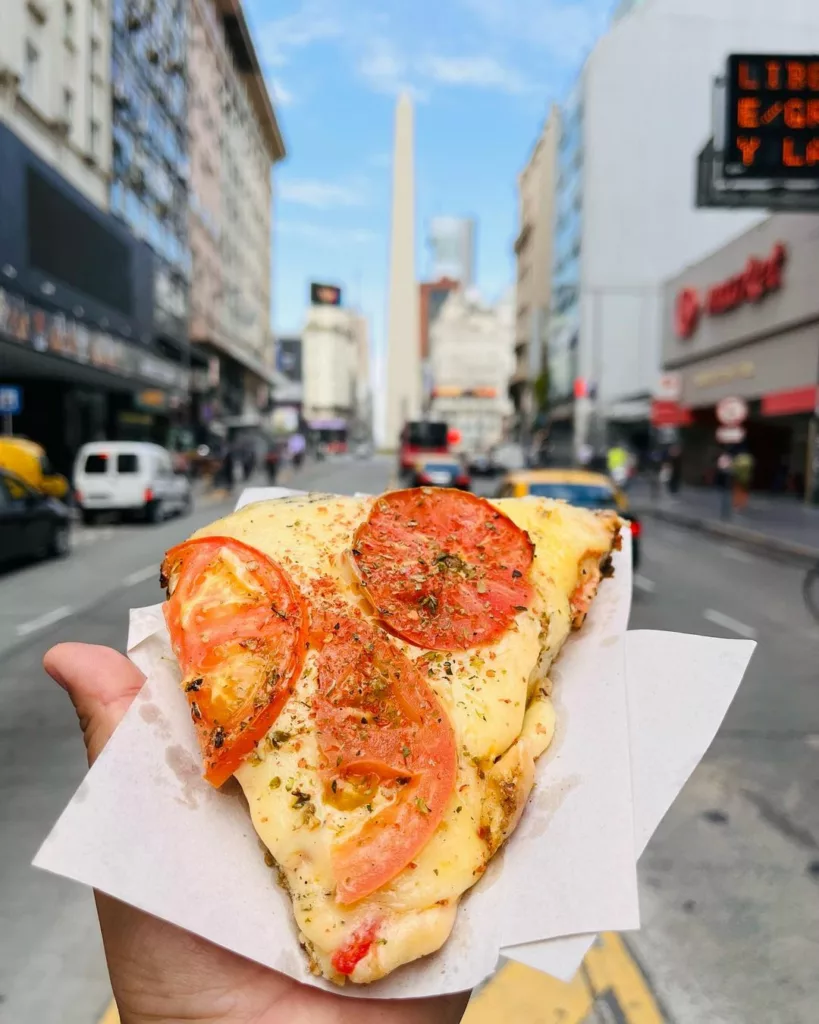 If you plan a trip to Argentina, do not deny yourself the pleasure of exploring the delicious local cuisine.
And it is not only about the meat! The local cuisine is quite diverse and includes dishes of indigenous peoples, mixed with eating habits of Spanish and Italian immigrants, as well as immigrants from other countries.
In fact, Argentina is the second country in the world with the most immigrants after the USA and was home to the largest foreign-born population in the region (with over 2 million migrants) in 2020.
So, what to eat in Buenos Aires? You can taste Argentinian steaks in numerous Parrillas (steakhouses), Italian pasta and pizza (quite different here), Spanish alfajores, French croissants, Berliner donuts, and even Jewish ravioli!
---
Key takeaways
Best breakfast in Buenos Aires: Birkin, Cuervo, and Gibraltar.
Best lunch: Pizzería Güerrin and El Preferido de Palermo.
Best dinner: Aramburu and Don Julio are a must.
---
Eating out is also a part of the national culture here, so there is plenty of restaurants in Buenos Aires, ranging from cheap eateries to fine-dining establishments.
Here are my top picks on the places to eat in Buenos Aires.
Best breakfast places in Buenos Aires
Breakfast in Spanish-speaking countries is always straightforward and humble, and Argentina is no exception.
In contrast to a hearty dinner, a standard Argentinian breakfast is very light: a cup of coffee or juice and some bread or small pastries. And cafes usually open from 11 or 12 in the morning. Therefore, good spots for a more or less early breakfast are in short supply.
I would recommend taking a closer look at the following places:
Birkin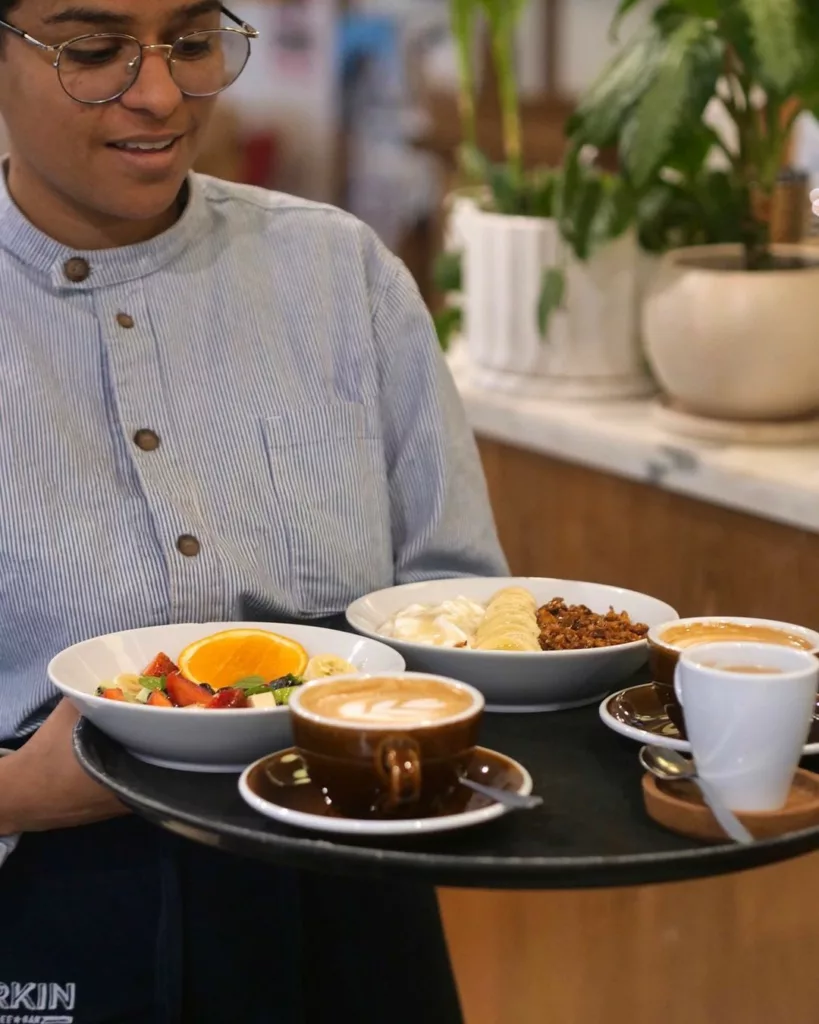 Opens at 9 am, from Tuesday to Sunday. Here you can find everything you need for a good breakfast – ham, scrambled eggs, toasted bread, cheese, excellent coffee, and desserts. There is also a good selection of vegan breakfasts.
It is located next to Palermo's parks; you can go for a morning walk after a meal.
A humble Argentinian breakfast for two will cost approximately $10.
What people say on Google: 4.1 stars, 2,100 reviews
República Árabe Siria 3061, C1425 CABA
Cuervo Café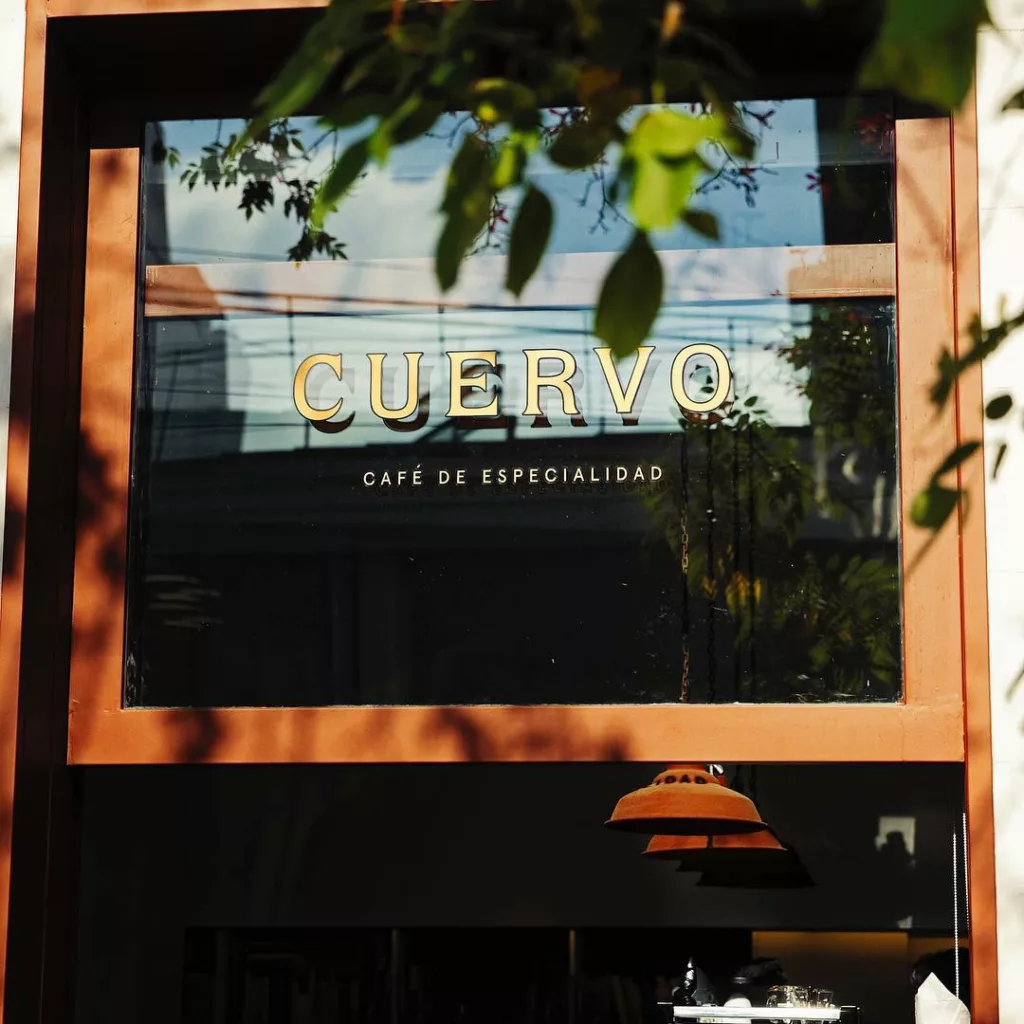 Like the Birkin Cafe, it is open from 9 am every day except Mondays.
The cafe is suitable for those very sensitive to the quality of coffee (like me, for example). And there is a good selection of coffee beans, too!
Try avocado toast; it is delicious and goes well with a morning cappuccino. Breakfast will cost you $8-$10.
What people say on Google: 4.6 stars, 2,460 reviews
El Salvador 4580, C1414 CABA, Argentina
Havanna cafe
Havanna is a brand that produces the most delicious alfajores and a chain of coffee shops.
What people say on Google: 4.2 stars, 1,372 reviews
Av. Callao 199, C1022 AAB, Buenos Aires, Argentina
Other worthwhile breakfast places: Casa Cavia, Gibraltar, Salvaje, and Jay's.
Best lunch in Buenos Aires
Many restaurants in Buenos Aires have a time slot from 12 pm to 4 pm for lunch. After 4 pm, they close to reopening for dinner at 8 pm.
El Preferido de Palermo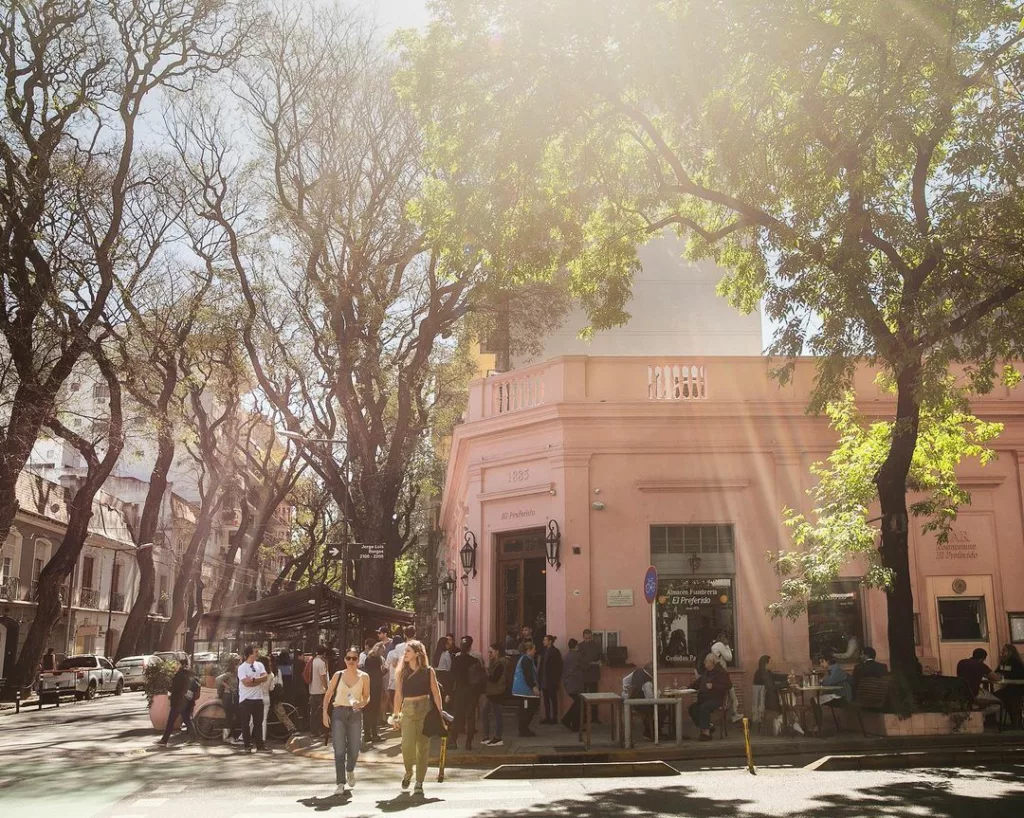 The restaurant is suitable for both lunch and dinner. If you are coming for dinner, booking a table in advance is better. If you are in the waiting line on the street, the wait staff will bring small Argentinian pies and Empanadas, which is very nice of them. For lunch, there are usually fewer people.
El Preferido de Palermo offers dishes from Italian and Spanish immigrants and a large selection of dishes for vegetarians (which is not often found in Buenos Aires). But if you like meat and have not tried the local milanesa (beef cordon bleu) yet, feel free to order; it is excellent here!
And do not forget to leave some room for dessert (choosing one will be difficult). You should definitely try homemade flan and papaya with Lincoln cheese.
A visit for two will cost $30.
What people say on Google: 4.3 stars, 5,105 reviews
Jorge Luis Borges 2108, C1425 FFD, Buenos Aires
Anafe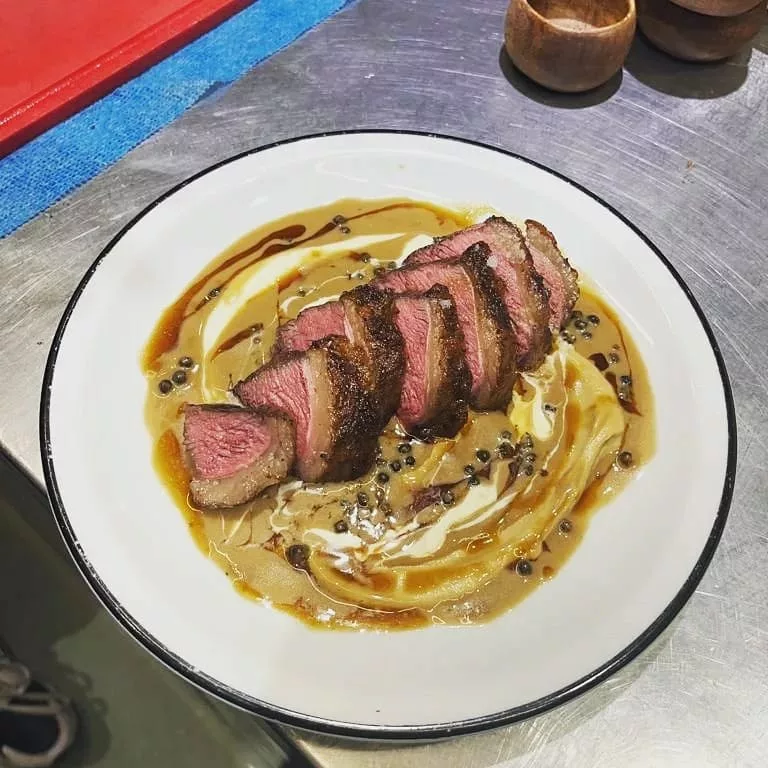 It is a trendy restaurant with a creative menu in the Colegiales district.
It is impossible to determine whether it is Argentine cuisine, Spanish, or others. Each dish is prepared in a very unusual way. If you are not a fan of experiments, looking for a more traditional place is better. But if you are looking for something new, this spot is for you!
The restaurant is open for lunch only on weekends, and on all other days of the week, it offers only dinner (from 8 pm).
Lunch or dinner will be about $25 for two.
What people say on Google: 4.3 stars, 1,367 reviews
Virrey Avilés 3216, C1426 CABA
Pizzería Güerrin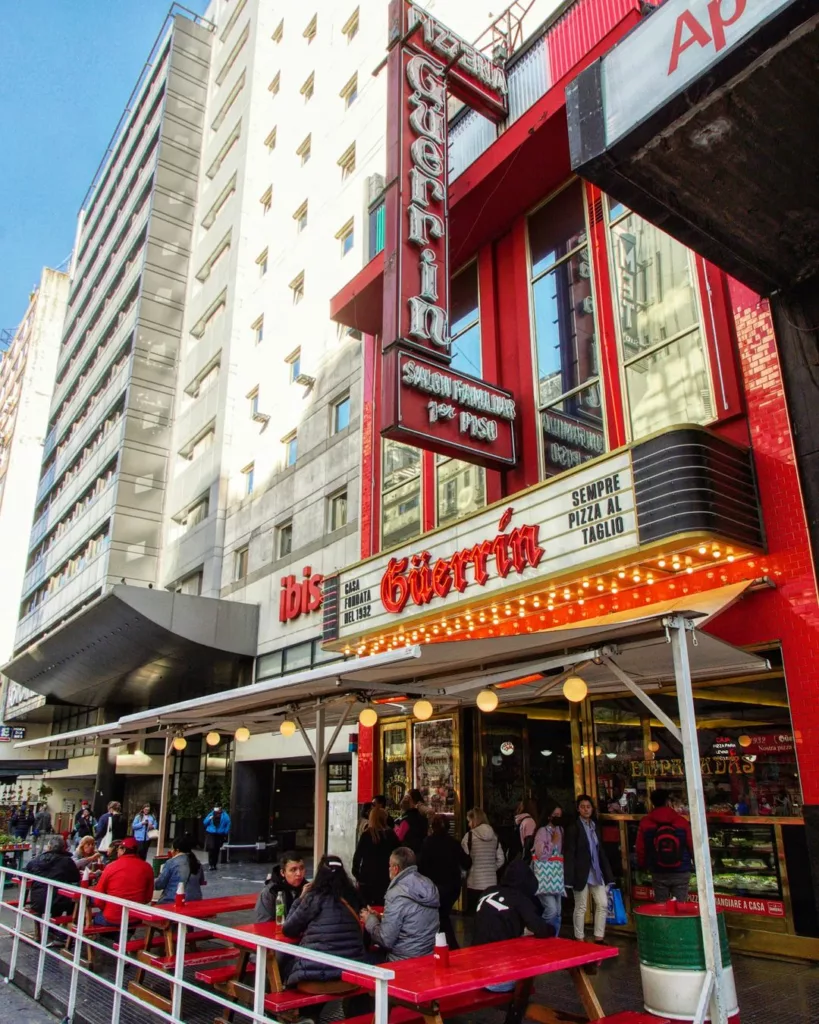 The oldest and the most pizzeria in the city – it recently turned 90 years and now is a popular tourist attraction. You will find it next to the Obelisk and the Colón Theater.
Pizza in Buenos Aires is slightly different from traditional Italian pizza. Although Italians initially opened all pizzerias, the recipes have transformed over time. The dough of the Argentinian pizza is quite lush, not as thin and crispy as it is in Italy, and usually contains much more filling.
If you prefer a traditional Italian pizza, you can choose the dough yourself; ask for a thin one.
The place is inexpensive; $15 will be enough for two.
What people say on Google: 4.5 stars, 80k+ reviews!
Av. Corrientes 1368, C1043 CABA, Argentina
Other notable spots: La Mezzetta and El Cuartito (for pizza), Iñaki (for Basque cuisine and seafood), and the Federal Bar (decent food and cocktails).
Best restaurants in Buenos Aires
Argentinians like to have a late dinner. Restaurants often close in the afternoon and reopen around 7-8 pm. It is better to book tables in advance; otherwise, you will have to wait for a free table.
And here are some restaurants worth waiting for:
La Cabrera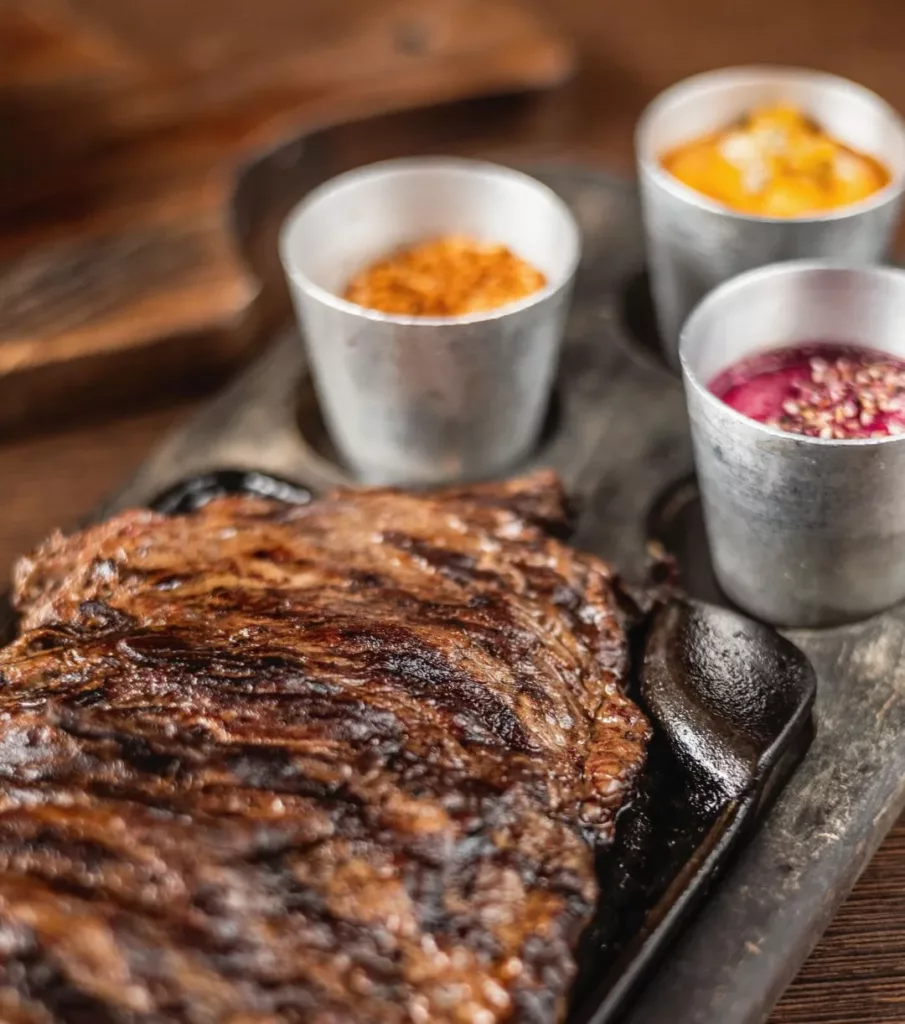 It is one of the best parrillas (steakhouses) in Buenos Aires. Located in Palermo, the area that has the most tourists, it offers excellent Argentinian grilled meat, various wines, and a large selection of side dishes. The portions are really huge; one plate may be enough for two.
The chef and owner of the restaurant, Senor Gastón Riveira, got a gastronomic education in France and Italy and returned to Buenos Aires to cook such meat that you want to eat it with a plate! La Cabrera's cuisine was appreciated by many celebrities, including football player David Beckham and musician Perry Farrell.
Try beef steak, pork grilled in bacon, and parrilla (various cuts of meat and sausages). And do not forget to ask for one of the traditional Argentine desserts – volcán de chocolate.
The dinner will cost at least $40 for two, but there is a happy hour: 40% off from 6:30 pm to 8:00 pm if you come until 7:15 pm and reserve a table in advance.
What people say on Google: 4.3 stars, 16k+ reviews
José A. Cabrera 5127, C1414BGQ CABA
BERNA by Jakub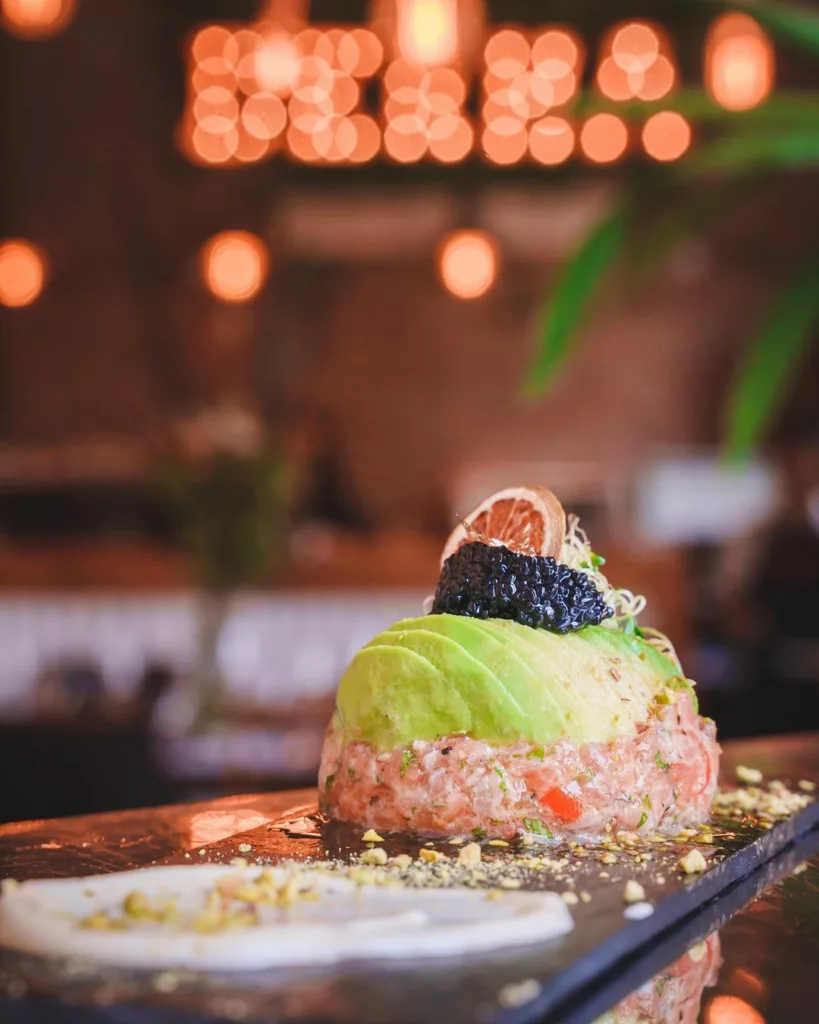 This is a less-known restaurant in Buenos Aires, but still worthwhile.
Opened not so long ago, it is located in Colegiales, where tourists rarely find it by chance, only on a recommendation. Still, the tables are usually occupied (it is necessary to book in advance), as the restaurant is becoming increasingly popular.
In addition to authentic Argentinian and Italian cuisine, you can choose European dishes, such as goulash and dumplings, as the restaurant's chef is from Central Europe (Slovakia).
Overall, a solid spot with delicious cuisine and a cozy atmosphere with live jazz music.
The dinner for two will cost about $30.
What people say on Google: 4.4 stars, 1,296 reviews
Zapiola 1502, C1426AUF CABA, Argentina
Las Pizarras bistro
Small but lovely cafe in Palermo, near Plaza Italia metro station. Pretty simple but stylish interior and the menu is written on large slate boards hung on the walls. This creates a uniquely artistic atmosphere.
In addition to meat, you can order delicious grilled fish (if you do not want to eat steak every day). And fish with a glass of Argentinean white wine is an unforgettable combination!
The dinner for two will cost $20-30.
What people say on Google: 4.4 stars, 908 reviews
Thames 2296, C1425 CABA, Argentina
Don Julio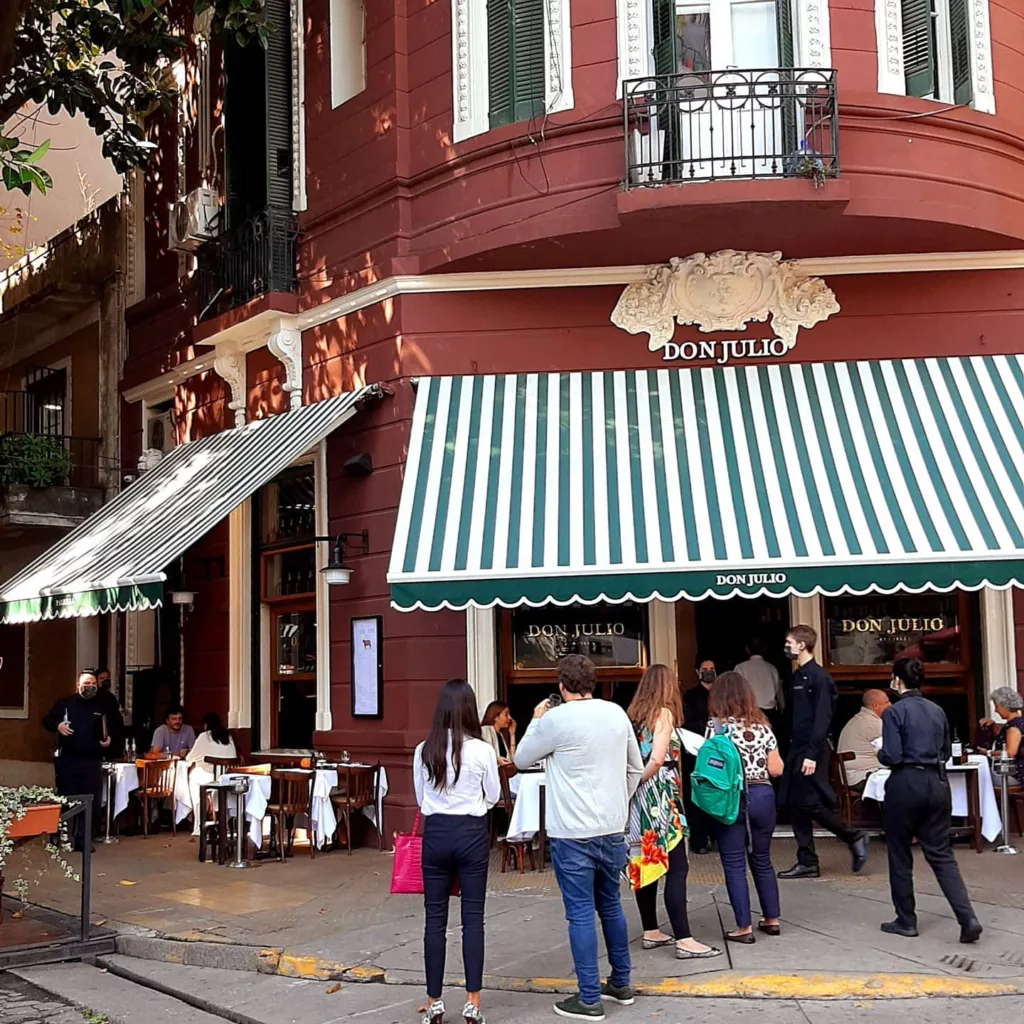 It is considered the best Parilla in the Palermo neighborhood and maybe in the whole city. Locals say that going to another place for an Argentinian steak makes sense only if Don Julio is closed.
This restaurant is more expensive than the previous ones but still has an excellent price-quality ratio.
The wine list here is also outstanding; the restaurant directly cooperates with many wineries in Argentina. It is also possible to buy a couple of bottles if you really liked the wine.
The dinner will cost $50-60 for two.
What people say on Google: 4.5 stars, 12k+ reviews
Guatemala 4699, C1425 CABA
Aramburu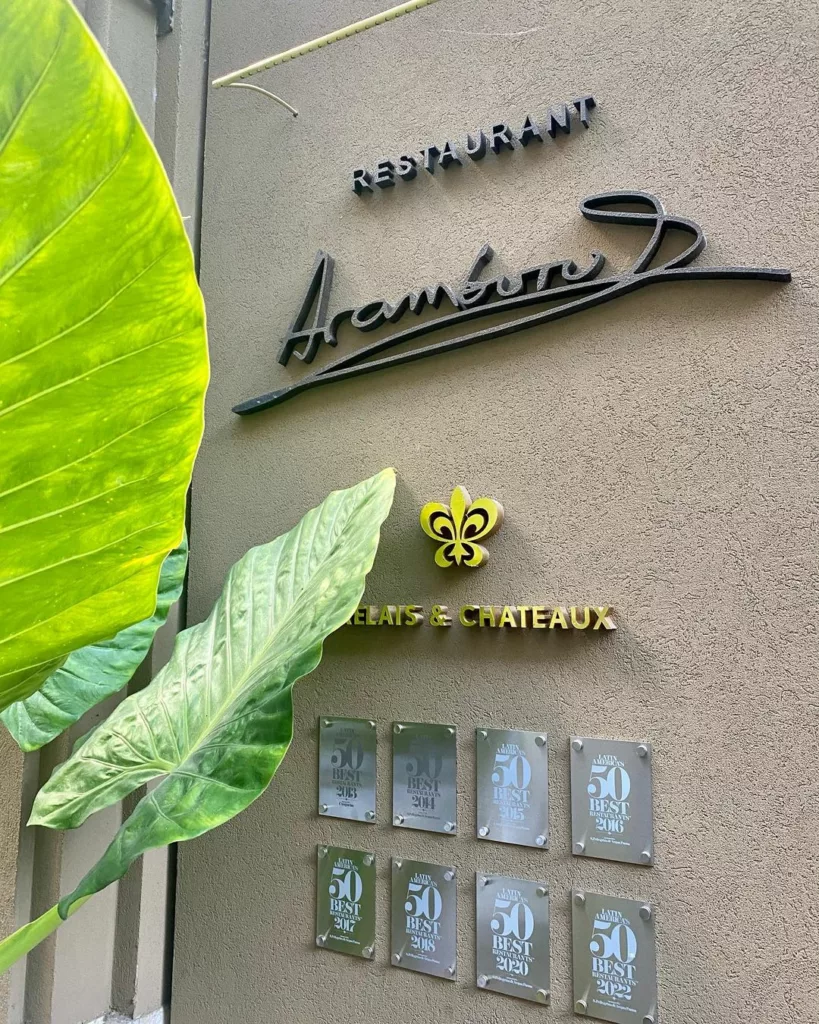 Aramburu is one of the 50 best restaurants in Latin America, and it will probably be your most memorable experience.
If you are searching for fine dining in Buenos Aires: It definitely deserves to be credited with at least 2 Michelin stars (if the Michelin guide ever comes to Argentina).
It offers an exceptional 18-course menu, including wine pairing, for $78 per person.
What people say on Google: 4.6 stars, 684 reviews
Pasaje del Correo, Vicente López 1661, C1103ACY CABA
Other upscale places: Osaka, Casa Cruz, Chila, Le Sud, Mishiguene (classic Jewish recipes with a gourmet twist), and Astrid y Gastón (Peruvian cuisine).
Wine bars
Argentina is one of the largest wine exporters. As of 2023, the country is the fifth-largest wine producer in the world and the first in Latin America.
Malbec is the most famous Argentine wine. It was cultivated in the 19th century by French botanist and winemaker Michel Pouget. Malbec was not widely recognized in its homeland, France, but it became a favorite wine for the Argentine people.
Another must-try is Torrontés, Argentina's signature white wine, which is never exported due to high demand inside the country.
Lo de Joaquin Alberdi
This is a wine store offering wine-tasting sessions. And bilingual staff who will explain a lot about wine to you. Better contact them through WhatsApp if you want to book the wine-tasting session.
Prices are reasonable but vary depending on your wine preferences. The lower limit for a bottle is about $10.
What people say on Google: 4.8 stars, 516 reviews
Jorge Luis Borges 1772, C1414 CABA
Pain et Vin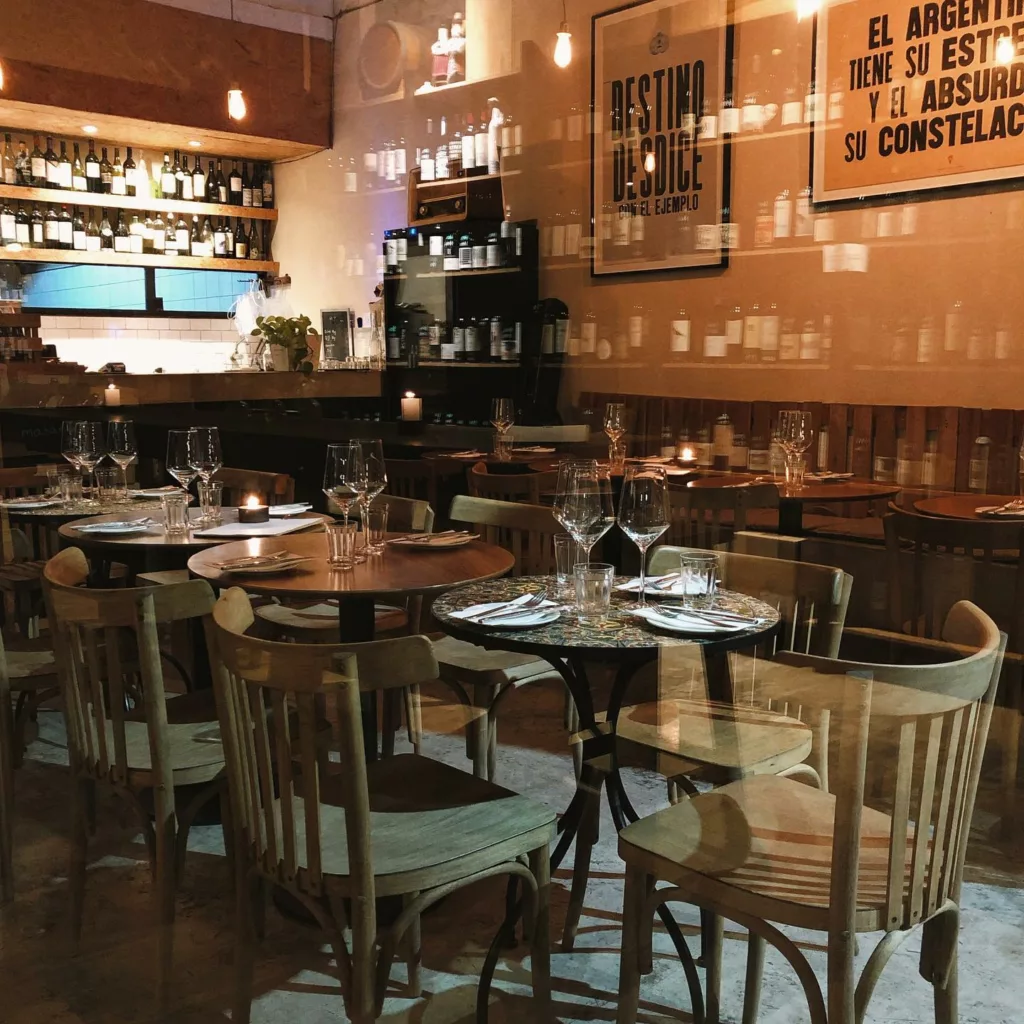 This is a wine shop, a bar, and a place for wine tastings. Unlike the previous location, there is some choice of food here.
A tasting session of 4 wines will cost you $35.
What people say on Google: 4.5 stars, 355 reviews
Gorriti 5132, C1414 BJT, Buenos Aires
Gran Bar Danzon
This is certainly a romantic spot in the heart of Barrio Norte. There is a good wine list, cocktails, an excellent food selection, and pleasant music. In general, it is an ideal place not only for wine tasting but also for a date.
Depending on the selected wines or the number of cocktails, prepare $30-$60 for two.
What people say on Google: 4.4 stars, 3,468 reviews
Libertad 1161, C1012AAW CABA
Conclusion
Argentines love to eat, and for good reasons! Their cuisine is a bright mixture of local recipes and dishes brought by Europeans during the conquest of South America.
After all, the food culture here is closely intertwined with the identity of the Argentine people. It is so natural for them to slow down, let everything go, and have a nice meal in pleasant company.
And you can do that too!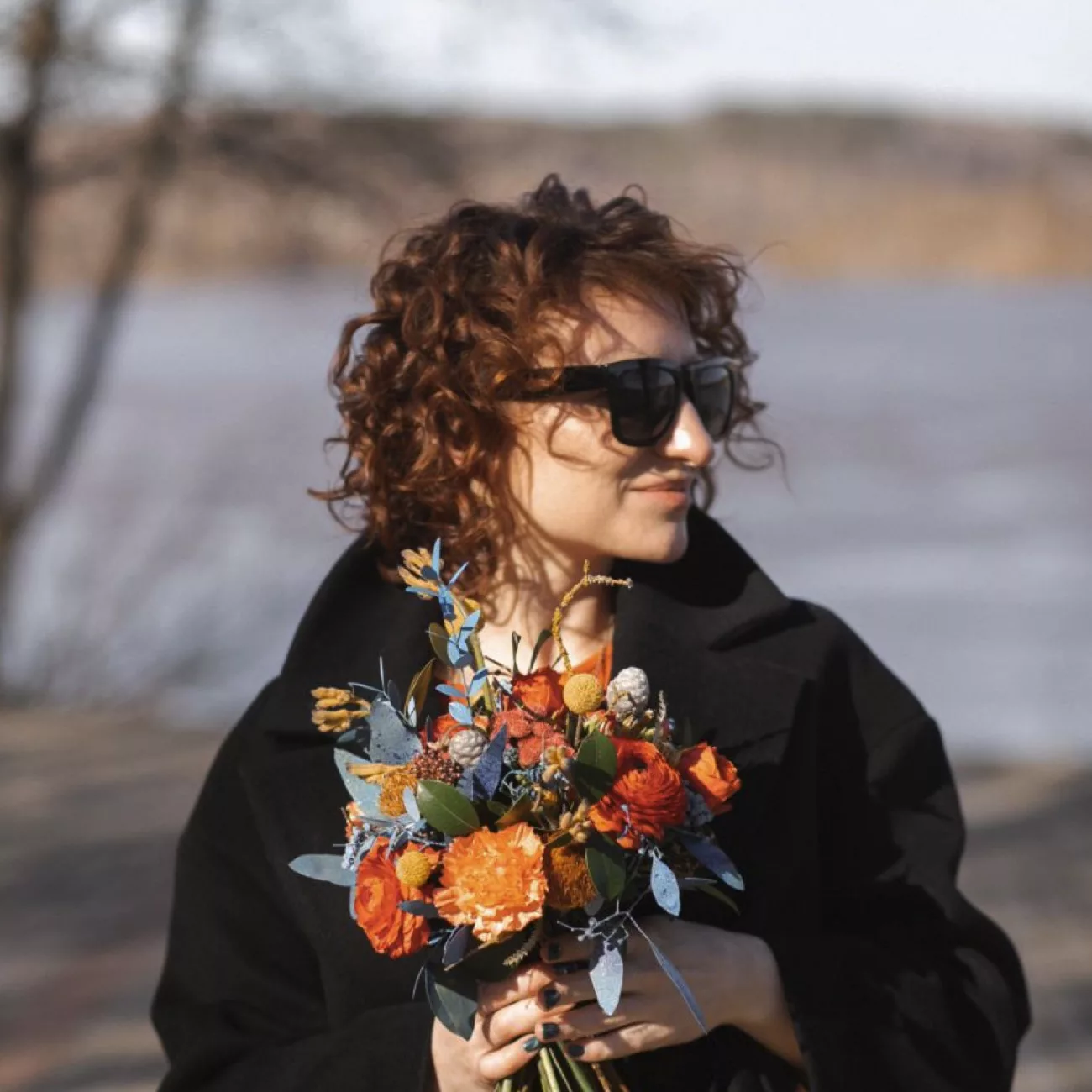 I live in Buenos Aires and write about Argentina and other places I like. For me, traveling is a great possibility not only for discovering new destinations but also for learning about myself (that is usually hidden behind everyday life).
In other words, you discover new landscapes of your soul when traveling!
This post might include some affiliate links. If you make a purchase through these links, I may earn a small commission at no additional cost to you. I appreciate it when you use my links to make purchases.