13+ Houston Restaurants That Qualify for Michelin Stars
Nadia Podrabinek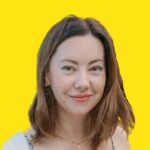 Written by Nadia Podrabinek
Hello, my name is Nadia. I usually write about traveling (there are so many places to fit all the lifestyles), relocation, and living in a foreign country (adapting to a different culture). My travels stretch beyond Spain, with journeys to the US, Italy, Norway, Portugal, and France. Relocating to Spain in 2018, I lived in cities from Barcelona to Madrid, currently calling Valencia home.  Follow me on Twitter, Facebook, Instagram, or LinkedIn! ... show more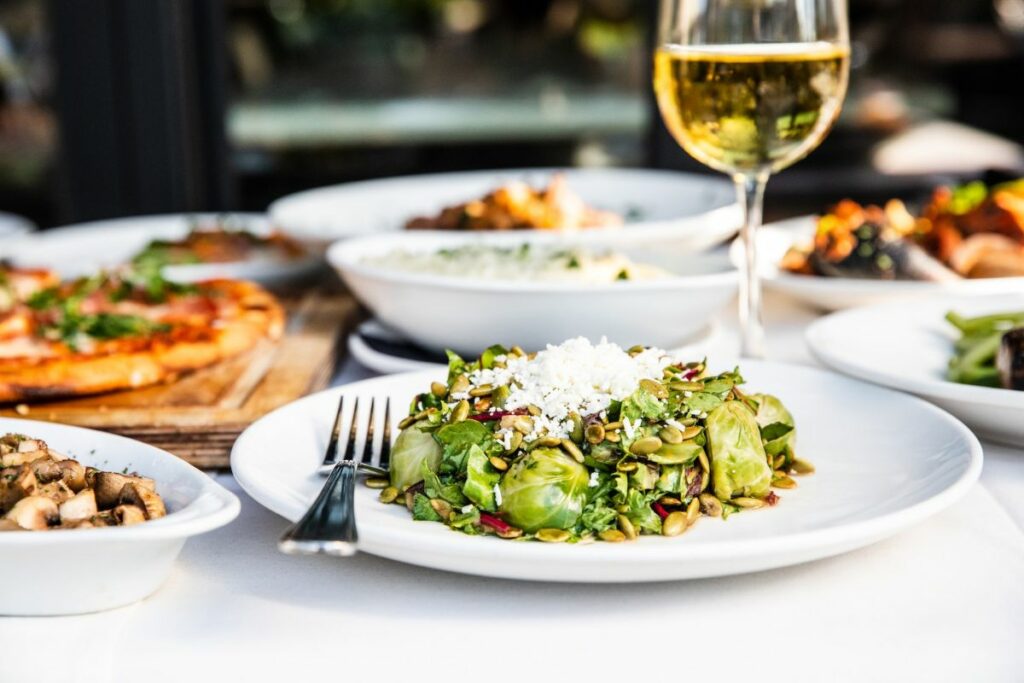 We are well into 2023 and there are still no Michelin-star restaurants in Houston! While the Michelin Guide has not officially rated restaurants in Houston, there are a few restaurants that are so amazing that they should receive their stars.
First things first: What makes a "Michelin-worthy" restaurant?
Michelin stars are awarded to establishments that offer the best dining experiences. The award is largely based on the quality and distinctiveness of the cuisine. So, if restaurants use the best ingredients and serve food that hugely expresses their uniqueness and flair, they could be awarded a Michelin star.
There are five criteria that are applied in their assessment:
The quality of the ingredients
Culinary expertise
The harmony of flavors
The cuisine's unique attributes as expressed through its dishes
Daily consistency in quality and in the dishes on the menu
Some things that are not taken into consideration are the service, table arrangement, or atmosphere. It is literally all about dining delights.
---
Key Takeaways
The Michelin Guide should be brought to Houston, as there are restaurants that could meet the criteria and consistently serve amazing food.
The cuisine scene is highly diverse in Houston.
Many restaurants in Houston have award-winning chefs from diverse backgrounds.
If you want a unique and creative dinner, Houston is the place to be.
---
What people say on Reddit
Nancy's was responsible for probably the single best meal i've ever had, and we've eaten around a lot. Also agree on La Lucha, love their frozen margaritas. I haven't been to Rosie Cannonball yet, but my wife says its also incredible.

402C5
I have a friend who manages a bar, the other day I asked for recommendations on where to take my wife for a date, he told me Nancy's Hustle is the best place in Houston right now. Seeing the comments here, I can't wait to go.

uoenoy
I have tried most of the restaurants that was mentioned above. Every restaurant has their best dish on the menu. Bludorn : Lobster pot pie with a bottle of light to med red wine. Ask the Sommelier. She is good. Nancy has the best Lamb tartar. Don't pass up the wine. Justin is the guru of wine. Go down the street to Tiny Champion for desert and night cap. Nobies has the most fun named food. Winner winner chicken dinner is my go to. Again wine list is super fun. Georgia James has very good Cajun Viet oyster with sourdough bread. Psst Krug is below retail. Xochi's Barbacoa is the most pleasing steak dish to the eye I have ever tasted. La Lucha for fried chicken and biscuit. Giocomo has the best Italian food in town. Sage butter chicken can tickles all your 5 senses. I can go on but I must go out for my happy hour at Squabbles where all wine and spirits are 50% off till 6

chigisaru
Truth & Roegels for BBQ

Nancy's Hustle, Lucille's (upscale southern), Maize (Mexican), Coltivaire, Theodore Rex, Nobie. Rainbow Lodge (great for happy hour and their Sunday Suppers but anytime is a wonderful experience.

In Asia town, my favorites are One Dragon, Mein, Mala Sichuan and FuFu Cafe,

Asian in other areas of town is Sao Lao Thai Cafe (Boat noodle soup is amazing), Xin Chao and I'm looking forward to trying Street to Kitchen.

Old School Houston that still serve great food: Lankford's (breakfast & lunch only) for great breakfast, burgers or their enchilada specials, Barbecue Inn (great fried chicken), Christie's Seafood (been around since early 1900's), This is It Soulfood, Huyn for Vietnamese and Backstreet Cafe.

Odd_Mathematician654
Top 13 "Michelin-worthy" Restaurants in Houston
These are the top establishments that should be Michelin-star restaurants in Houston.
Georgia James is an award-winning steakhouse that prides itself on serving quality food with exceptional execution. They have even been listed as one of the best steakhouses in America!
Dine in an elegant and upscale ambiance. Just make sure that you come hungry to enjoy the utterly delicious food and generous portions! The steaks are prepared in cast-iron pans, adding to the distinctive flavors. The ribeye steak is a must-try dish, but if you really want to take it up a notch the long-bone ribeye is even better.
The dining room area is elegantly ambient, featuring both modern and sophisticated styles. However, the highlight here is definitely the meal. Something that is a little different is that there is a raw bar serving East Coast oysters and lump crab. Yes, this is a steakhouse that serves seafood too – the best of both worlds!
Price range: The average cost of dinner for two is around $340.
Address: 3503 W. Dallas St., Houston
Bookings: You can book your table on their website or on Resy.
Why it's Michelin-worthy: With Executive Chef Greg Peters in the kitchen, this is definitely a Michelin-star-worthy restaurant in Houston. Georgia James offers an incredible dining experience with a quality steak range and impeccable service.
2. Xochi – Oaxacan Cusine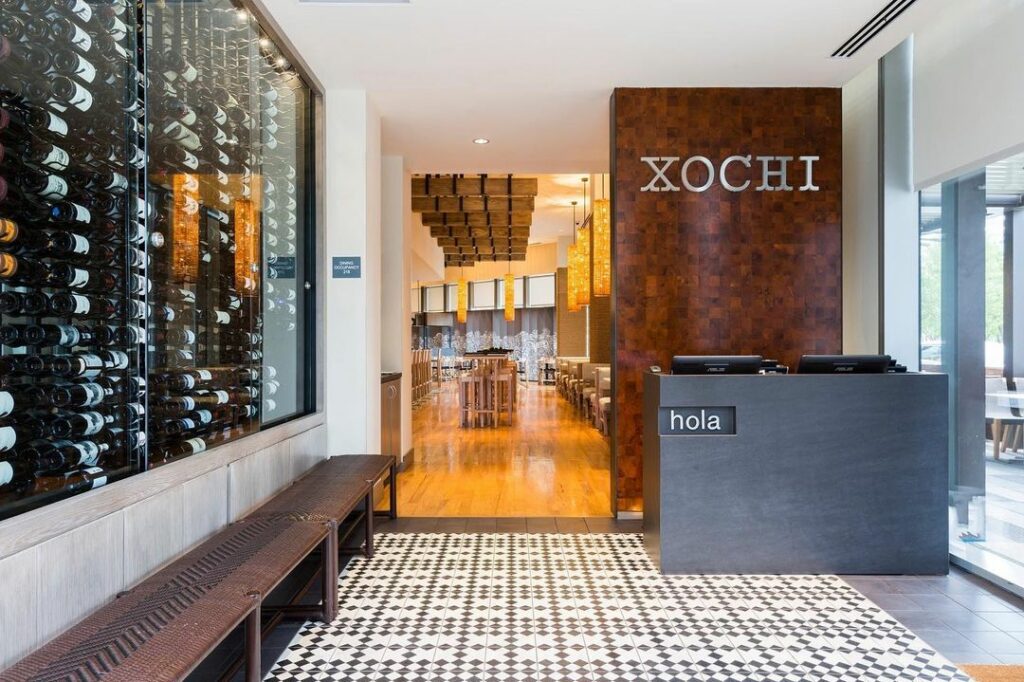 The three Ortega brothers, Hugo, Ruben, and Jose Luis, come together at Xochi to give you an Oaxacan-inspired dining experience.
The Barbacoa de Res de Zaachila is a signature dish that I highly recommend. Alternatively, you can eat to your heart's content with their Sunday brunch buffet. If you're an adventurous eater looking for something a little different, then a definite delicacy would be the grasshoppers.
You also need to try out the Mexican craft beers here, which are a part of their theme offering.
Dining at Xochi gives you an authentic taste of the flavors of Oaxaca. Located in downtown Houston in a beautiful historic building, the walls are decorated with Oaxacan artwork. You will immediately feel immersed in the warm, inviting atmosphere. As a bonus, you also can take advantage of the valet parking.
Price range: The average cost of dinner for two is around $170.
Address: 1777 Walker Street, Suite A, Houston
Bookings: You can book your table on SevenRooms. For larger reservations, contact the restaurant at (713) 400-3330.
Why it's Michelin-worthy: Xochi is a delight, and guests rave about the delicious food and excellent service. The flavors of Oaxaca sing out from each beautifully prepared dish.
Le Jardinier is the epitome of luxurious fine dining. This contemporary French Houston restaurant ranks high on the list of Michelin star-worthy restaurants in Houston. This is not surprising when you find out that their sister restaurant in Manhattan is already a Michelin-star restaurant!
Their cuisine is all about seasonality and nature. Le Jardinier gives a dining experience of incredible flavors, which is matched by their presentation and service.
The refined ambiance lends itself to the elegant charm of the restaurant. Located in the Nancy and Rich Kinder Building, the full-glass windows give guests views of the Sculpted Garden.
Chef Alain Verzeroli has set the bar high with masterpiece dishes that suit the restaurant's museum location. With a focus on seasonal vegetables and locally sourced meats, dining at Le Jardinier is a special affair. One of the signature dishes is the heirloom tomato and fig tatin – it's to die for!
Price range: The average cost of dinner for two is around $300.
Address: The Nancy and Rich Kinder Building, MFAH, 5500 Main Street, Houston
Why it's Michelin-worthy: Le Jardinier makes it to my list of Michelin-star-worthy restaurants simply because this Houston restaurant offers a modern take on haute cuisine with artistic dishes.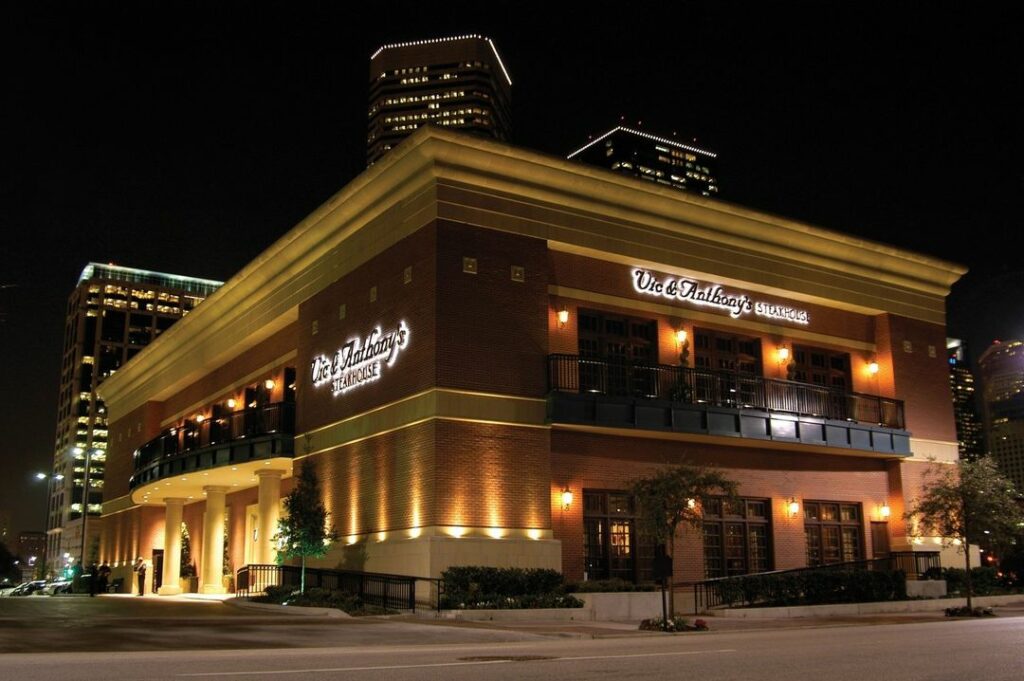 Voted Best Steakhouse and Best Downtown Restaurant in Houston, Vic And Anthony's Steakhouse continually receives high praise from guests.
Vic and Anthony's Steakhouse is a mixture of elegant and classic styles. It's the perfect upscale dining experience for any special occasion.
Imported Wagyu beef, USDA Prime grain-fed beef, and HeartBrand beef make up the impressive steak range on the menu. If you're looking for a treat, include a salad with your meal and add the house-cured bacon – I highly recommend this deliciousness.
A nice bonus is that you can also collect your loyalty rewards through Landry's Select Club when you dine at Vic and Anthony's Steakhouse.
Price range: The average cost of dinner for two is around $200.
Address: 1510 Texas Ave., Houston
Bookings: You can make your reservations on their website
Why it's Michelin-worthy: The innovative dishes and exceptional steak range, in conjunction with incredible services, certainly fit the Michelin criteria.
5. Bludorn – New American/French-Inspired Cuisine
Bludorn restaurant has an elegant but relaxed atmosphere that is perfect for fine dining. Diners can enjoy a drink at the bar before settling down to enjoy a fusion of flavors. The New American meals with a French flair are a refreshing change to the Houston dining scene.
Chef Aaron Bludorn is the head chef behind, what I consider, to be one of the best restaurants in Houston. The menu is filled with innovative Texas dishes, such as the popular creamy shrimp and grits, and the roasted duck with cherry sauce.
Some of my highlights of this restaurant include the raw bar for seafood lovers and the outdoor seating area – perfect for enjoying craft cocktails on warm summer evenings!
While the dishes rotate seasonally, the high-quality meals remain consistent. The immense selection of drinks also creates the perfect wine pairings with each meal.
Price range: The average cost of dinner for two is around $200.
Address: 807 Taft St., Houston
Bookings: Reserve your special dining experience with Chef Aaron Bludorn on Resy
Why it's Michelin-worthy: The fresh take on fusion cooking with delightfully divine dishes would make this a contender amongst Michelin-starred restaurants in Houston.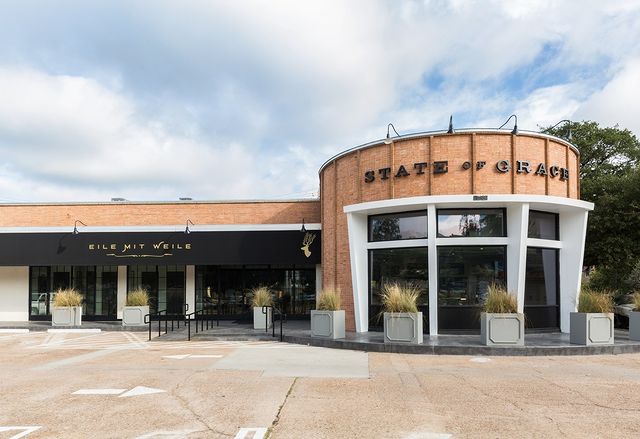 State of Grace is situated in the Lamar-River Oaks Shopping Center. You're in for a treat at this one because dining here is like stepping back in time; time stands still but the food keeps coming. The restaurant serves innovative Texas dishes that give a fresh taste to old favorites.
Executive Chef Bobby Matos invites you to take a seat surrounded by leather, wood, and wild decor on the walls.
Make your way straight to the oyster bar – it will tantalize and delight your appetite. If you're not a fan of oysters, try the chef's signature dish: cheese enchilada a la Felix. This is one of his re-imagined innovative Texas dishes, hailed as the greatest take on Tex-Mex in America – a bold statement but wholeheartedly true.
Price range: The average cost of dinner for two is around $150.
Address: 3258 Westheimer Rd, Houston
Bookings: Reservations can be booked on OpenTable or through their website.
Why it's Michelin-worthy: State of Grace should be a Michelin-star restaurant simply because of its creative take on food. I can promise you that you've never eaten food like this before.
Brennan's is a lavish American restaurant that always deserves a spot on my list of restaurants that should receive a Michelin star. Each meal is full of character and made with the finest ingredients.
Jose Arevalo is the Creole chef who creates all the magic in his kitchen. His passion for food comes through in every dish. From shrimp rémoulade to snapping turtle soup, every dish is a masterful culinary creation.
Join Brennan's for Sunday brunch as the sounds of jazz will fill the air. Or, if you're having a special night out at the theater, dinner at Brennan's afterward can be arranged with a shuttle service between the two. Now, that's what I call top-tier service!
Price range: The average cost of dinner for two is around $200. A special wine-and-dine experience with wine pairings costs $123 per couple.
Address: 3300 Smith St., Houston
Booking details: You can book on SevenRoom or call 713-522-9711 to reserve your table.
Why it's Michelin-worthy: Brennan's uses only the highest quality ingredients, and the meals are consistently praised by patrons. The ambiance and elegant surroundings, topped by mouthwatering delights and great service, put Brennan's on my Michelin-star list.
8. Musaafar – Modern Indian Cuisine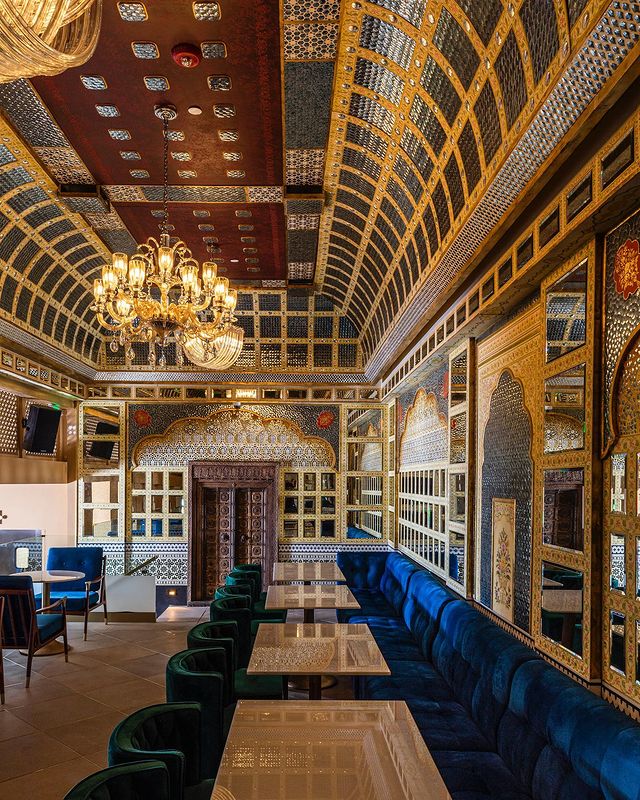 The opulent decor, tapestries, carvings, plush seating, and aromatic meals take you into the heart of India at Musaafar.
Be prepared for a journey, with Executive Chef Mayank Istwal as your guide through the tastes of India.
Musaafar literally gives new life to traditional recipes collected from across India, right in good old Houston. They offer an eclectic menu of spicy food with aromas from the Far East and meats from the West.
For the indecisive who want to try everything, the tasting menu is for you. However, if I can give you one piece of advice it would be to try their signature biryani that dish embodies Indian flavors.
Price range: The average cost of dinner for two is around $200.
Address: 5115 Westheimer Rd Suite C-3500, Houston
Booking details: You can book on Resy or send an email to [email protected].
Why it's Michelin-worthy: Musaafar offers high-end Indian cuisine that is a journey of the senses. They give you an authentic taste of modern India, created with Chef Istwal's spicy flair.
9. Tony's – Italian Cuisine
Tony's has been serving up delicious Italian cuisine for over 50 years, so it's no wonder that it's highly popular in Houston.
The walls are decorated with beautiful artwork, and the tables have pristine white tablecloths. The meals are sophisticated, and the ambiance is warm and inviting. Eating at Tony's is like visiting the home of a nonna in Italy.
Chef Kate McLean is also a partner at Tony's, and each meal is prepared with the finest, freshest ingredients, mixed with her passion for cuisine. The souffle is a must-have on the menu, but for a true Italian treat, you cannot miss out on the tiramisu.
Price range: The average cost of dinner for two is around $200.
Address: 3755 Richmond Ave., Houston
Booking details: You can book directly on the website.
Why it's Michelin-worthy: Tony's consistently meets the criteria to be considered one of the Michelin star-worthy restaurants in Houston. Their true-to-taste Italian cuisine and impeccable service put it high on my list.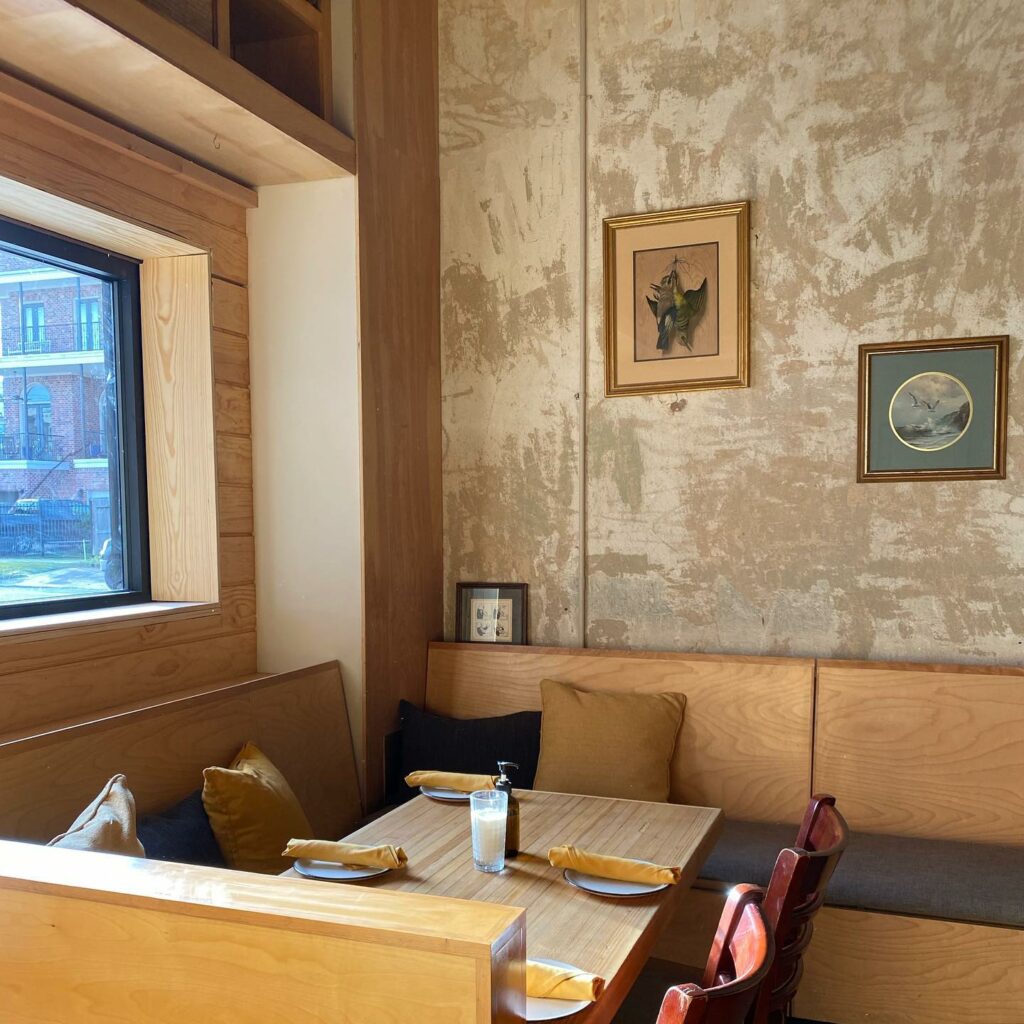 Situated on the east side of downtown Houston is one of the best restaurants around. Nancy's Hustle is a staunch contender as one of the Michelin-star-worthy restaurants in Houston. The restaurant is intimate, warm, and inviting, and the ambiance is relaxed but still upscale.
Executive Chef Jason Vaughan is renowned for his creativity in the kitchen, serving innovative Texas dishes that create a fusion of flavors to savor. You have to try out their signature Nancy cakes, made with cultured butter, smoked trout roe, and chives. The parmesan cheesecake with black pepper honey will also have you coming back for more!
This is the place to visit if you are looking for a sensory explosion. Long praised for unusual taste combinations, Chef Jason Vaughan always provides an exciting meal.
Price range: The average cost of dinner for two is around $100.
Address: 2704 Polk St. A., Houston
Bookings: You can book on Resy.
Why it's Michelin-worthy: This delightful eatery never fails to dish up innovative cuisine that is a delight to the senses. The experience here is always unforgettable.
11. Kata Robata – Japanese Cuisine
Kata Robata is a must on my list of Michelin star-worthy restaurants in Houston. The decor is clean and simple, with wood and dark accents that adequately portray Japanese minimalism. The atmosphere is warm and inviting, and the meals are flavorful.
Manabu "Hori" Horiuchi's has the freshest fish flown in from Japan, which makes the meals even more authentic. Their grilled specialties (Robata), where the food is grilled over charcoal, is definitely my go-to order here.
If you love sushi and sashimi, Kata Robata is the place to be for a fine dining experience with true Japanese hospitality and elegance. For a real treat, you can even experience the omakase (the chef's tasting menu).
Price range: The average cost of dinner for two is around $200.
Address: 3600 Kirby Dr., Suite H, Houston
Booking details: You can book on Resy.
Why it's Michelin-worthy: Kata Robata is one of the best restaurants in Houston that could easily stand a chance to receive a Michelin star. Literally bringing the best of Japan to Houston, they serve delicious food with the freshest ingredients, served in an elegant setting.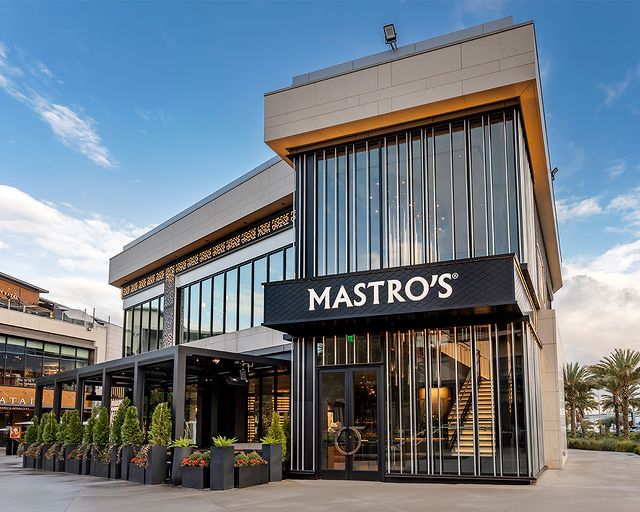 The ambiance at Matro's Steakhouse is warm, and the decor consists of dark wood, plush seats, and spacious surroundings. As you step in, you are welcomed with luxurious comfort.
Michael Colbert is the executive chef at Mastro's Steakhouse in Houston and brings his years of expertise and passion for food to the table. Your steaks are cooked on an open-flame grill and timed to perfection. This steakhouse serves great steak, Texan dishes, and even seafood! For the steak lovers, their grilled specialties of Kobe beef and Japanese A5 Wagyu are the best of the best.
Price range: The average cost of dinner for two is around $300.
Address: 1650 W Loop S, Houston
Booking details: You can complete your reservations on their website.
Why it's Michelin-worthy: At Mastro's Steakhouse, you are guaranteed consistency and scrumptiousness in each meal. The ambiance, next-level service, and luxurious experience are all reasons that make this restaurant Michelin star-worthy.
13. Squable – Modern European
Squable is a stylish and airy restaurant that serves Americanized European dishes. They make it to my list of Michelin star-worthy restaurants in Houston because of their incredible cuisine and impressive selection of drinks for the perfect wine pairing.
Partner chefs Mark Clayton and Drew Gimma create contemporary magic on a plate with unique and creative dishes. They have a range of popular dishes on offer, from caviar to French cheeseburgers. Their menu is as distinctive as their fusion of ingredients.
Price range: The average cost of dinner for two is around $200.
Address: 632 W 19th St., Houston
Booking details: Book your dinner reservations at Resy.
Why it's Michelin-worthy: Squable deserves to be a Michelin-starred restaurant in Houston for many reasons. The exhaustive wine menu, the culmination of flavors with every meal, and the attention to detail in their presentation are unmatched.
The Gastronomic Scene in Houston
Houston, Texas, has a diverse population, and the array of restaurants clearly displays this eclectic mix. From Tex-Mex and barbecue to Asian and European, Houston has a lot going for it in terms of its gastronomic scene.
You can explore the foods of the world all in one city. In fact, if you travel down Westheimer Rd., you will be particularly spoilt for choice with the number of eateries on one road.
Locally sourced produce is at the heart of cuisine in Houston and it's incredibly important to the restaurant industry to support local businesses. The ingredients are fresher and ripe for picking, which translates to more flavorful dishes.
There are some notable restaurants that have recently opened their doors in Houston. These include world-famous Nandos, an Afro-Portuguese chain restaurant serving flame-frilled peri-peri chicken, and Patis and Toyo, bringing you the rich flavors of the Philippines.
Soon-to-come restaurants include Auden, which is scheduled to open in October 2023. This one I would definitely keep my eye on if I were you!
Why Houston Deserves a Michelin Guide
Houston has a thriving food scene where chefs can explore their creativity. Perhaps this is why so many award-winning chefs have found a home in Houston.
The population here is also super supportive of local businesses, which includes dining out. In turn, the restaurants are also supportive of local suppliers and farms. This full-circle experience lends to a perfectly sustainable food industry in Houston.
Award-winning Chef Justin Yu had this to say: "Houston is one of the most exciting food cities in the country. There's so much diversity and creativity here, and it's reflected in the restaurants. You can find everything from world-class barbecue to innovative fine dining." I certainly couldn't agree more Yu!
But, what do the critics have to say?
Alison Cook, two-time winner of the James Beard Award for her restaurant criticism, said: "Houston's food scene is a melting pot of cultures, and it's reflected in the restaurants. You can find everything from traditional Tex-Mex to authentic Vietnamese cuisine. And the quality is consistently high."
Honorable Mentions
Sadly, not all restaurants could have made it on my list of restaurants that should be considered to hold the honor of a Michelin star – there are just too many! However, here are some of my other honorable mentions that are still worth checking out:
Tips for Dining in Houston
If there is a valet service, use it. It will add to your fine dining experience.
If the restaurant has happy hour, time your meals around this for great discounts.
Always check the dress code before visiting any of these restaurants – there are quite a few establishments that only accept a minimum of business attire.
Always make a reservation well in advance. Not all restaurants in Houston can accommodate walk-ins because of their popularity, especially the ones on my list.
Look out for restaurants that serve Tex-Mex or Mexican craft beers – you cannot go wrong with those choices.
Choose to dine at restaurants that suit your preferences. If you're not the biggest fan of seafood, it wouldn't be a good idea to go to a seafood restaurant. With the variety of amazing restaurants that Houston has to offer, try out one that serves the food you love to eat.
My Fav Restaurant in Houston
Degust may not have made it to my list of the top 13 restaurants in Houston that deserve a Michelin star, but it is definitely one of my favorite restaurants in the area. Situated at 7202 Long Point Road, Degust is all about an elegant dining experience with delicious, mouthwatering dishes.
Headed by Executive Chef Micah Rideout, this 20-seat restaurant is intimate, and the food is divine. One of my favorite things about it is that the menu is always changing, but the food is always outstanding. I absolutely love their new take on a traditional tasting menu.
Conclusion
Without a doubt, there should at least be one (or 13) Michelin-star restaurant in Houston. Receiving a Michelin star is a prestigious award, and this city has diverse restaurants that meet the criteria, especially when it comes to consistency and serving the finest ingredients for the best dining experience.
Praised by food critics and guests, Houston restaurants deserve a chance to reach for the stars.
Frequently Asked Questions
Are there Michelin-star restaurants in Texas?
Unfortunately, there are no Michelin-star restaurants in Texas. However, many restaurants in Houston could qualify as Michelin star-worthy restaurants due to their gastronomic delights.
Which US cities have Michelin star restaurants?
There are currently five US cities that have Michelin-starred restaurants. These cities are New York City, Chicago, Los Angeles, San Francisco, and Washington, D.C.
How many 3-star Michelin restaurants are there in the world?
There are only around 140 3-star restaurants worldwide. It is a huge honor to receive this prestigious award.
What food is famous in Houston?
Tex-Mex, which is basically Mexican-Texan cuisine, is hugely popular in Houston restaurants.