Best Beautiful Miami Rooftop Restaurants & Bars With Breathtaking Views in 2023
Nadia Podrabinek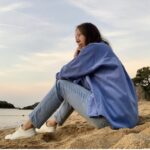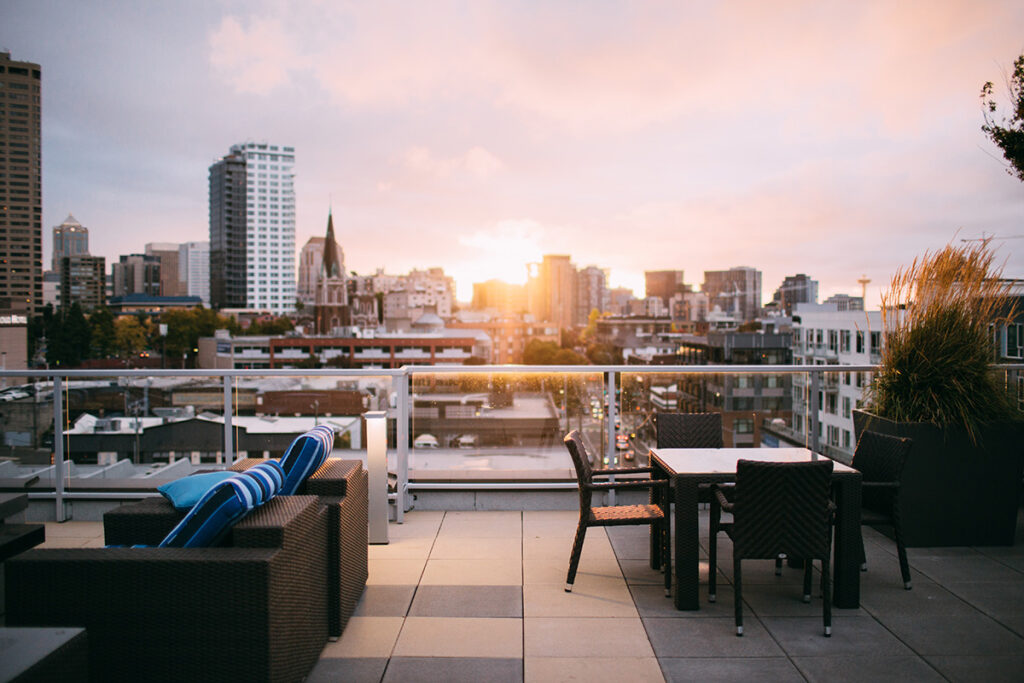 Between Biscayne Bay and the Atlantic Ocean is one of the best skylines you could ever see. Yep, you guessed it; we're talking about Magic City, aka Miami.
Miami is famous for its sunny mornings, non-stop nightlife, and breathtaking skyline. So, it only makes sense that the best places to go out for some fun are the rooftop restaurants all over Miami.
Let me walk you through the best rooftop restaurants in Miami so you can choose where to hang out when you visit.
---
Key Takeaways
Miami is overflowing with gorgeous views, so don't miss out on the rooftop experience.
You don't have to break the bank to enjoy the view of rooftop restaurants.
Always remember to make a reservation to secure your spot at the restaurant.
Almost every place on this list is super crowded on weekends, so it's best to visit on weeknights.
---
Best Beautiful Miami Rooftop Restaurants & Bars Map
Upscale dining in Miami
A Luxurious night out in Miami isn't something to miss out on. So, put on a hot outfit and get ready; we're having some fun tonight!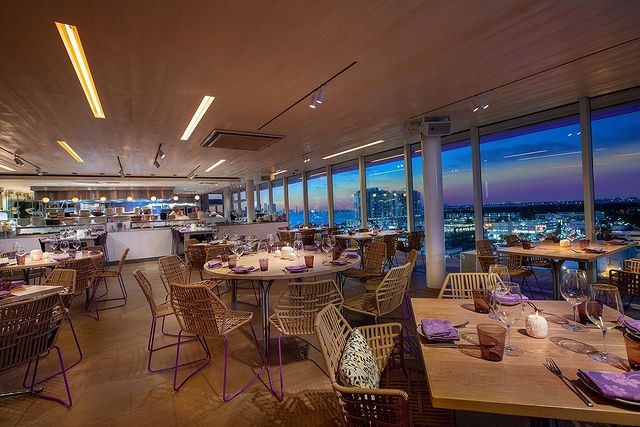 Located at the Herzog & de Meuron building on 1111 Lincoln Road, Juvia is one of the most popular rooftop restaurants in Miami Beach.
They're open almost every day from 5:30 PM to 10 PM, except on Mondays and Tuesdays. You could also go for a Sunday brunch from 11:30 AM to 2:30 PM
However, this place is usually crowded, so it's best to make a reservation by emailing them at [email protected]. I also recommend you go on a weeknight because the place tends to be as busy as it gets on weekends.
The next step is to prepare a Miami chic outfit for a night full of magnificent South Beach views and delicious dishes from French, Japanese, and Peruvian cuisines.
When you arrive, park your car behind the building at 1111 Parking on Alton Rd, and take the private elevator on Lenox Avenue.
As for the food, you can't miss out on their Tuna or Salmon Tartare, or Wagyu Short Rib Gyoza. Then, go for Chilean Sea Bass or Short Ribs for the main course. If you're not into that, their risotto is absolutely superb. And for dessert, their key lime pie is a work of art.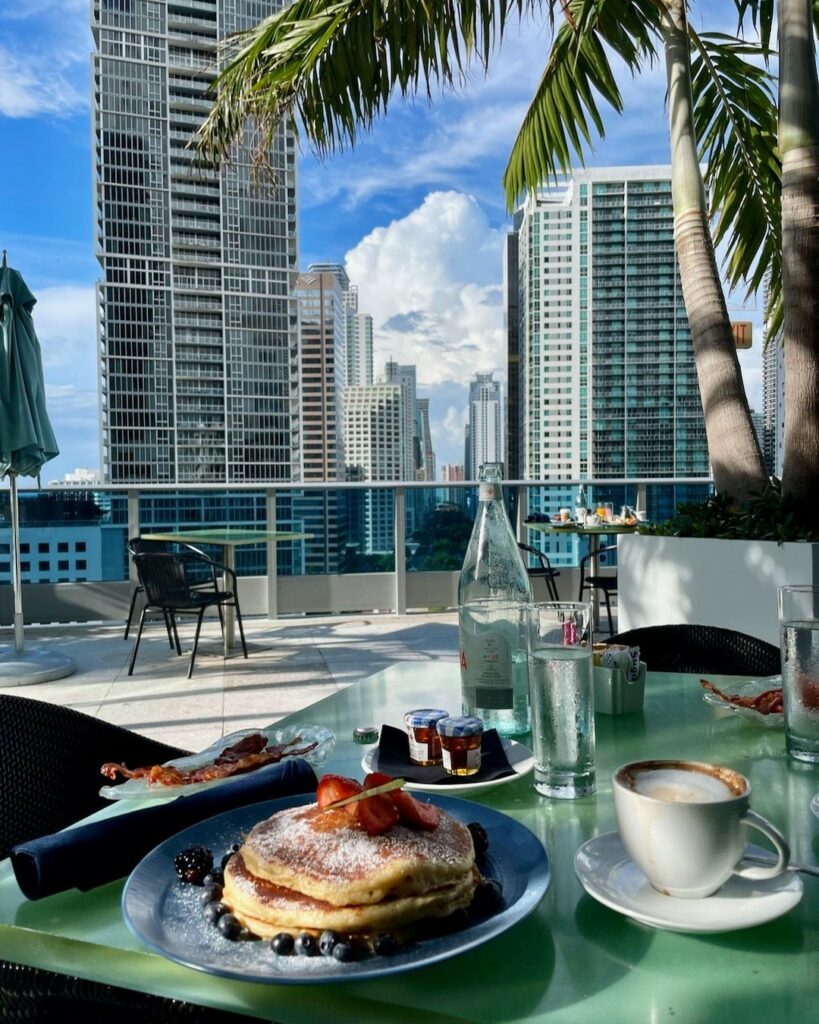 Area 31 is a seafood restaurant on the 16th floor of Kimpton EPIC Hotel, which means it has an EPIC panoramic view of the skyscrapers downtown and the glimmering water of Miami River and the Biscayne Bay.
You could drop by for breakfast, a weekend brunch, or dinner. And for some extra fun, visit Area 31 any time on a weekday from 5 PM to 8 PM for social hour and enjoy the perfect tapas! Also, I recommend you go on a Monday or Tuesday when the place isn't as crowded as it usually is.
As for their spectacular food, you must try their lobster pasta or salmon risotto because both plates are an absolute chef's kiss.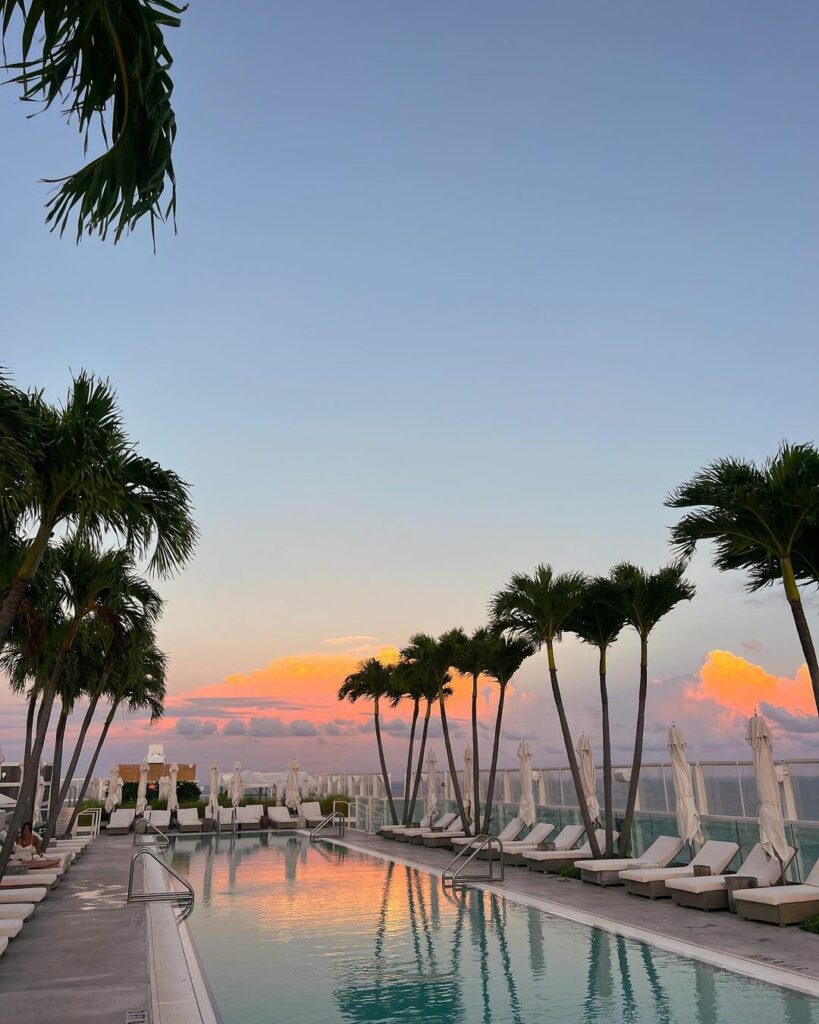 Imagine soaking up Miami's gorgeous waterfront view with exquisite Peruvian-Japanese cuisine and refreshing frosé on tap. Now hold that thought, and make a reservation at Watr at the 1 Rooftop to live that dream!
Watr at the 1 is known for its top-notch sushi rolls and its Yuzu Raspberry Orb for dessert. So, whenever you decide to visit, remember to give these dishes a try.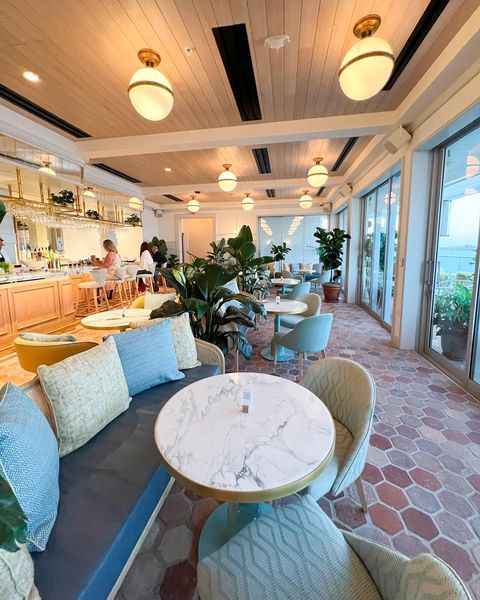 As the only rooftop restaurant in Edgewater, Klaw is famous for its Spanish Renaissance aesthetic, Norwegian king crab, and high-quality meat brought to you from the restaurant's cattle rearing program. Together, you get the ultimate surf and turf experience.
Doors open at 6 PM, just in time for you to enjoy a picturesque sunset before the skyline starts glittering with city lights.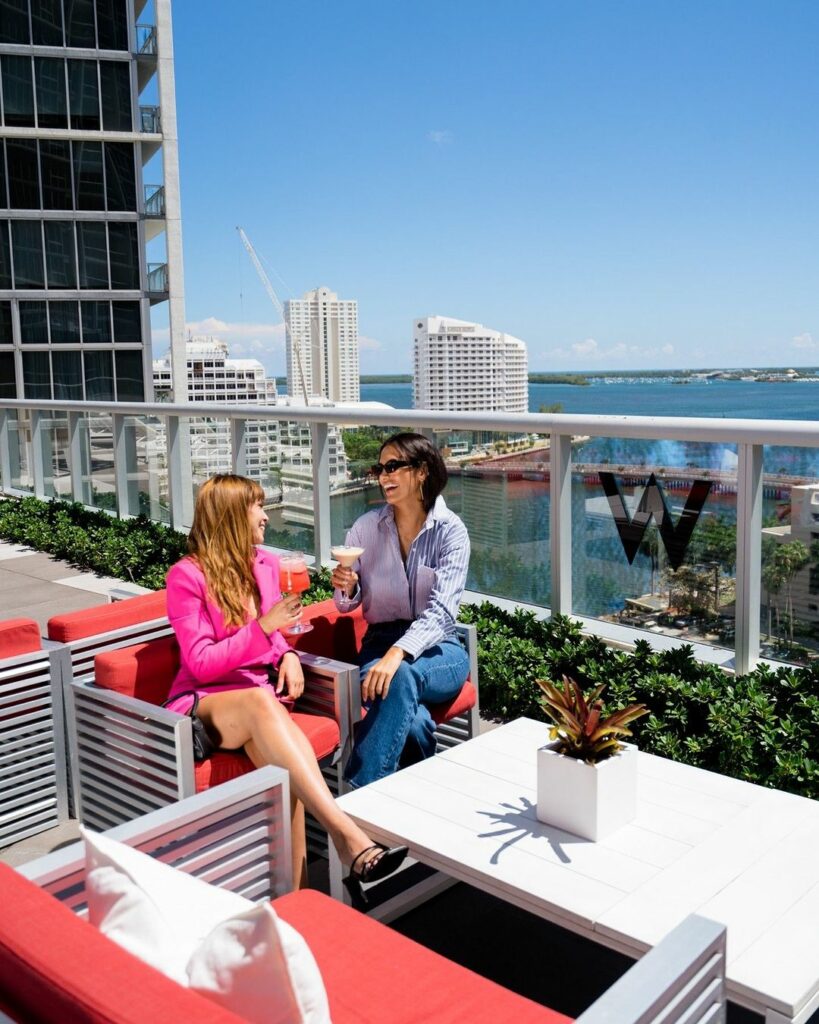 On the 15th floor of W Miami, you'll find the ultimate spot for an outdoor brunch at ADDiKT Modern Kitchen. With an internationally diverse menu and a 360° view of Brickell, you're sure to have a one-of-a-kind experience.
Their chicken tandoori tacos were a delight for my taste buds, and the steak was cooked to perfection. As for dessert, their chocolate mousse had an incredible texture and a hint of coffee to give its flavor more depth.
The roof at Esmé doubles as a poolside spot in the morning and a sexy European terrace in the evening. So, you could visit them while the sun's out to work on your tan or go there in the evening to catch up with friends over drinks and a quick bite.
Just remember to get your name on their list before stopping by. You don't want to kill your vibe by waiting by the door for an open spot, do you?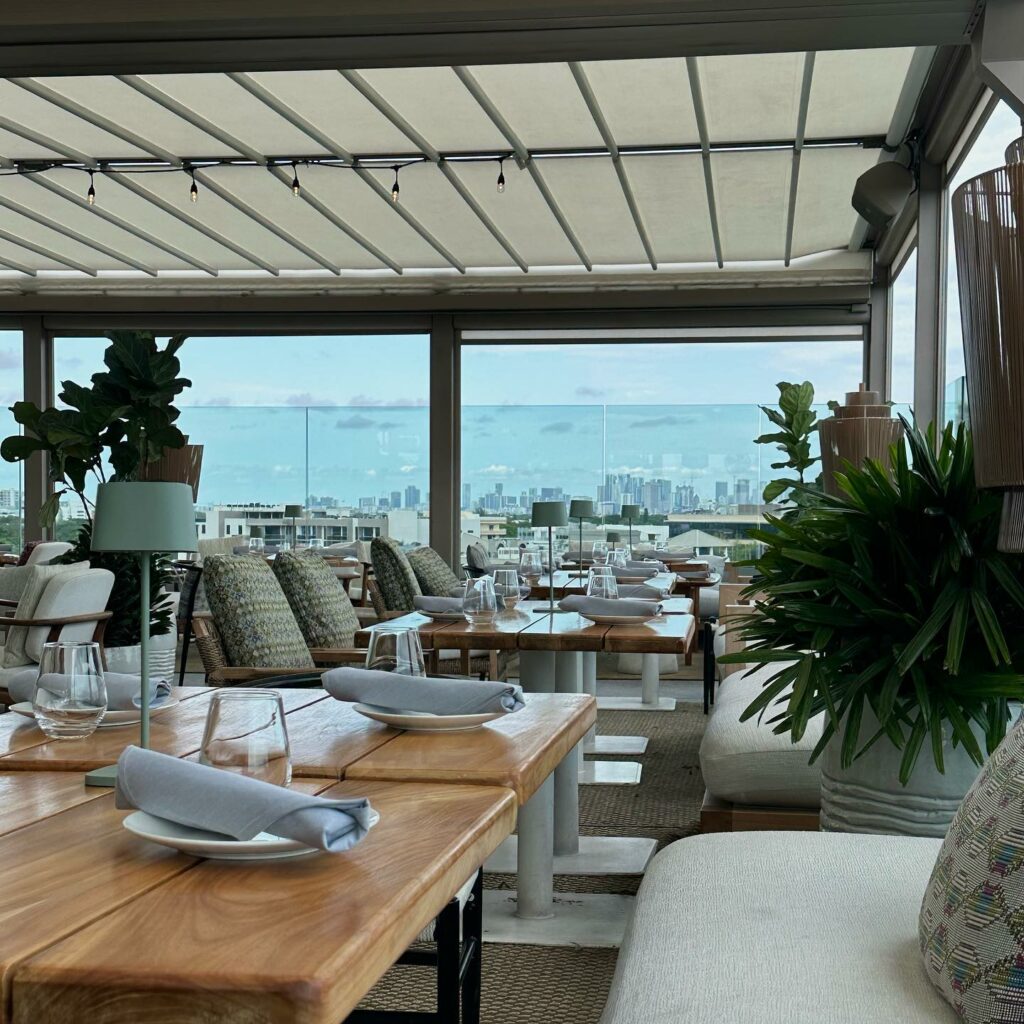 If you're craving Spanish cuisine, but with a modern twist, and you're a fan of an artistic sunset view by the Biscayne Bay in the heart of Coconut Grove, then Level 6 by Amal is your go-to.
As a reflection of the Spanish culture, guests start with tapas — especially the Pan Con Anchovy — for the entire group, then move on to the larger plates that are made for sharing.
They're available every day from 5 PM to 12 AM, and they stay open for an extra hour past midnight on weekends. However, we recommend you visit on a weekday if you want to avoid the crowds.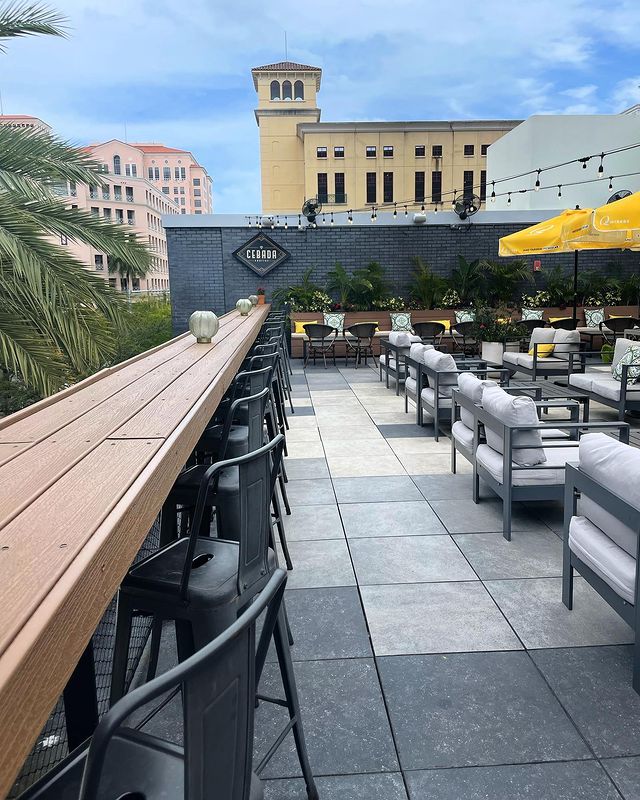 Set in the heart of Coral Gables, Cebada Rooftop is the first rooftop restaurant to open in the neighborhood. The Cuban-American rooftop restaurant offers a fresh concept of a raw bar, serving raw oysters and ahi tuna on the side of your drink.
But don't worry, it's not all raw. They also have tapas, sandwiches, and pasta dishes to choose from. I recommend you try the raw oysters experience. It's truly like no other.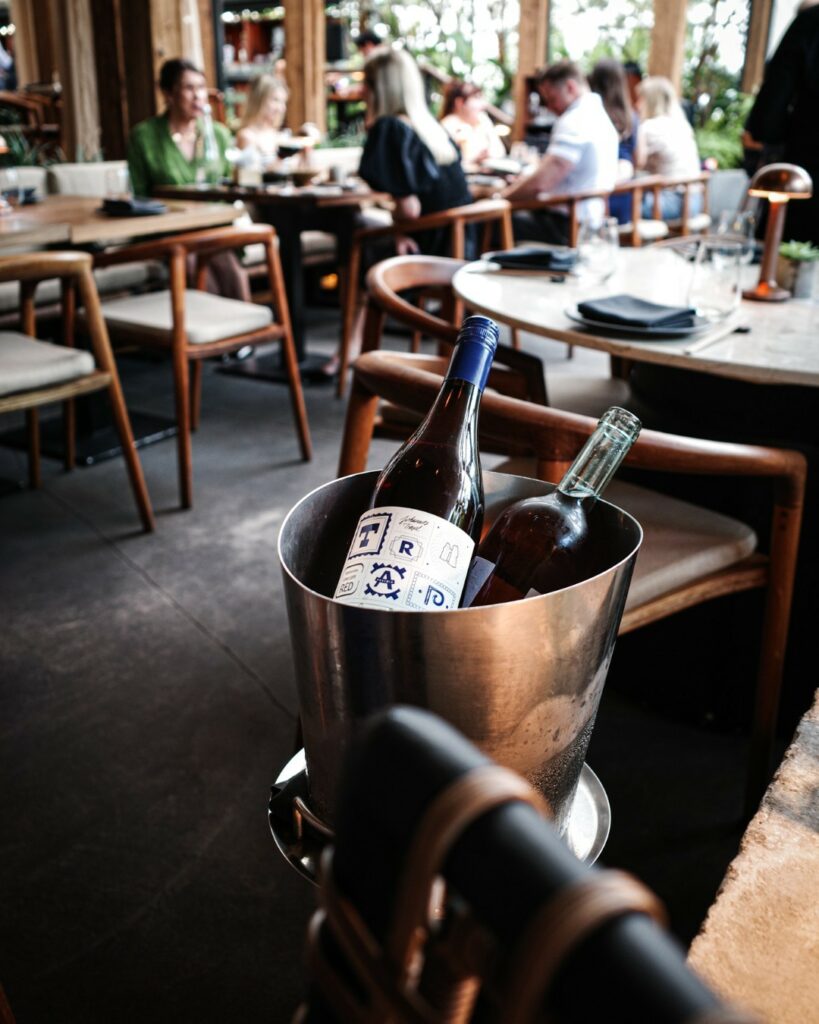 Mila offers you a multisensory culinary sanctuary experience in the heart of Lincoln Road. Their ambient light, wooden tables, natural textiles, and overall sleek design complete the sanctuary aesthetic of the restaurant.
Their food is influenced by both Mediterranean and Japanese cuisines, or "MediterrAsian," as they'd like to call it. All of their dishes are served in Izakaya style, which means that they're all perfect for sharing.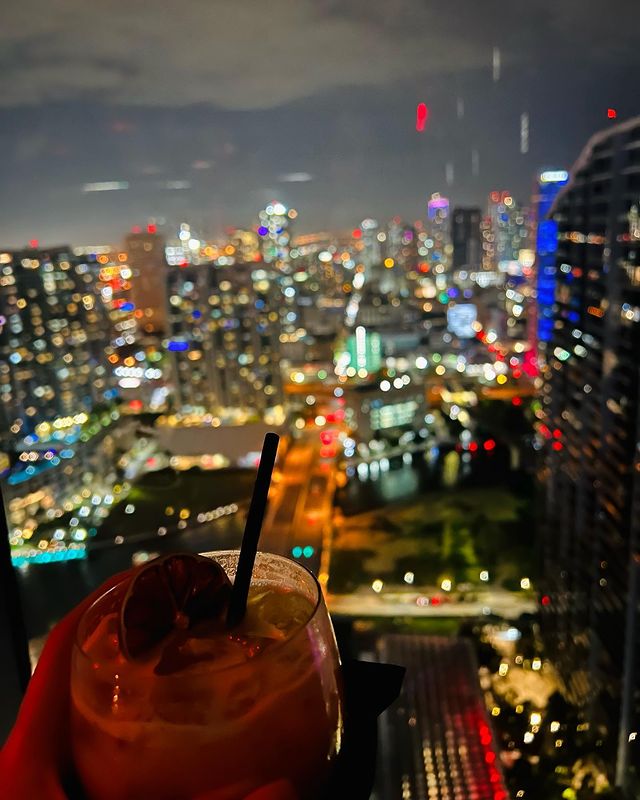 On the 40th floor of the EAST, Miami Hotel sits the highest rooftop restaurant, Sugar, with all its Balinese flair. The tiki-style lounges and the hand-carved wooden bar add to the restaurant's rich aesthetic.
However, Sugar is quite popular, and the place is almost always fully booked. So, if you plan on going there for some pan-Asian bites with friends, you need to make a reservation ahead of time. Otherwise, you won't be able to get past the velvet ropes by the entrance.
Casual dining
Don't want an upscale restaurant? No worries! There are plenty of casual dining options for you to enjoy the rooftop experience in a casual atmosphere.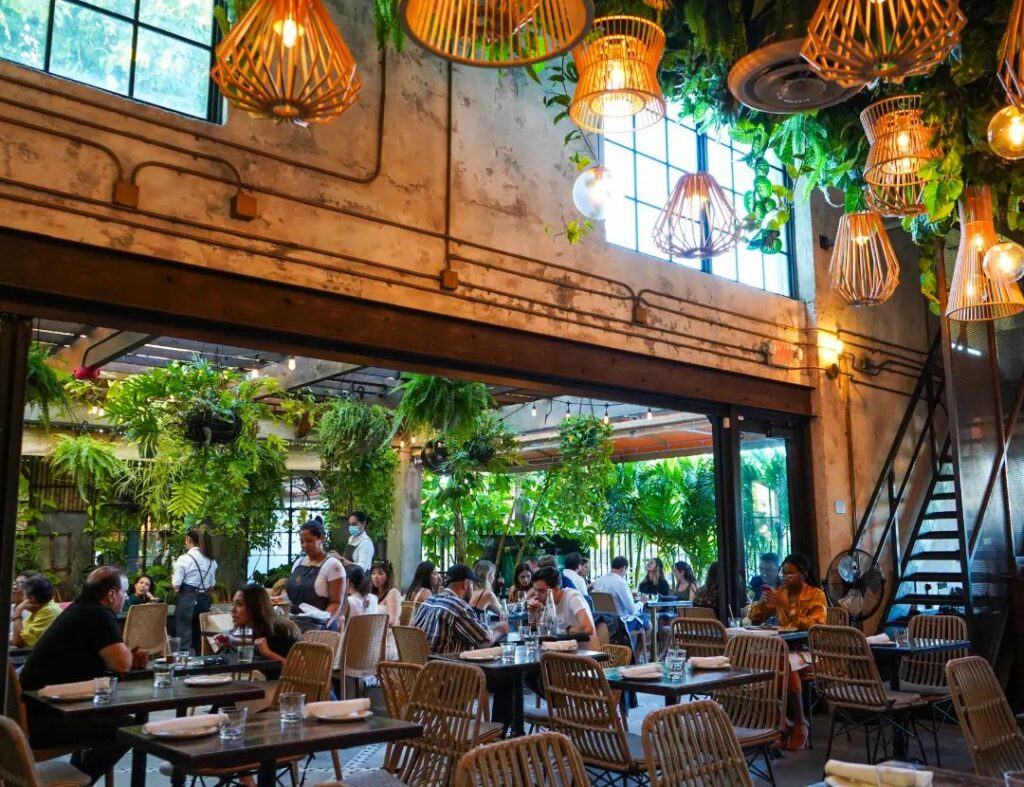 Named after its neighborhood, this gorgeous rooftop restaurant serves mouth-watering Italian cuisine with a side of lush greenery and chic ambiance. The entire place is designed to make you feel nice and cozy.
Now while you're there, don't forget to order their house-cut fries with raclette cheese or anything off their house-made pasta menu. Any Vista regular knows that no order is complete without them.
Better yet, order both! Indulge in that delicious Italian goodness. You can thank me later.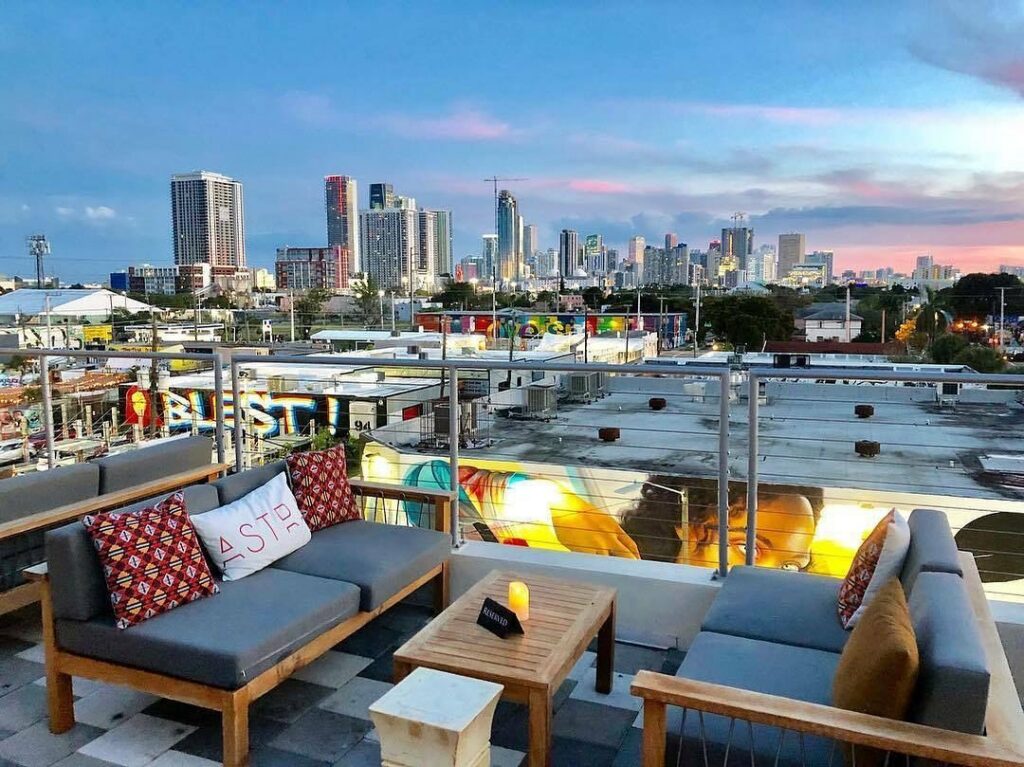 Astra's Mediterranean/Greek-inspired decor and cuisine create a unique getaway in Wynwood from your regular daily routine. The fun, laid-back vibe of the place is just what you need after a long day.
Now as for the food, you can't go to Astra without trying their Greek-inspired Calamari, lobster pasta, or their homemade lamb meatballs with a side of tzatziki sauce and pita.
I think if Zeus and the rest of the Mount Olymp population were around, they'd definitely want to hang out here.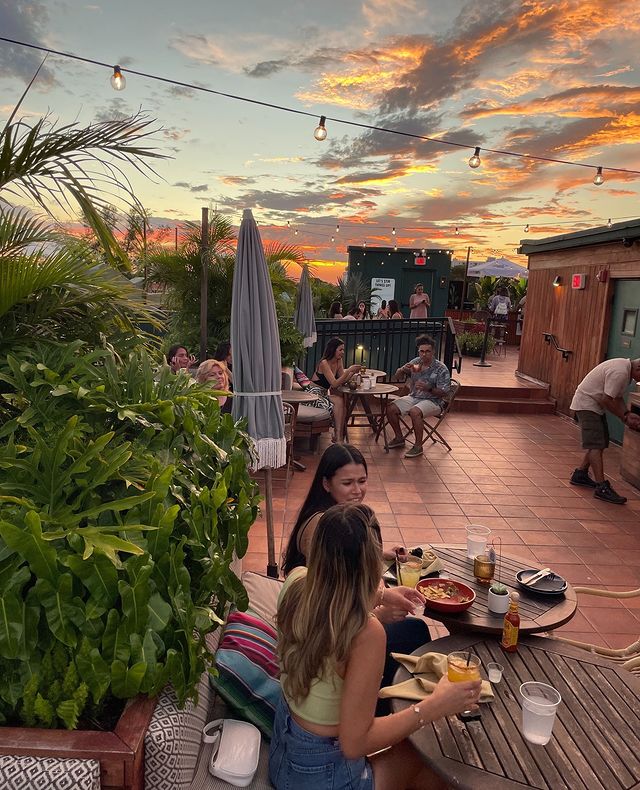 Terras is a lushly landscaped rooftop restaurant crowning the Life House boutique hotel in Little Havana. The whole place is tropical-themed and decorated all over with plants and herbs.
They serve Latin-inspired dishes, so if you're craving some fried plantain tostones or shrimp ceviche with a gorgeous view and fresh air, this is the place to go for sure.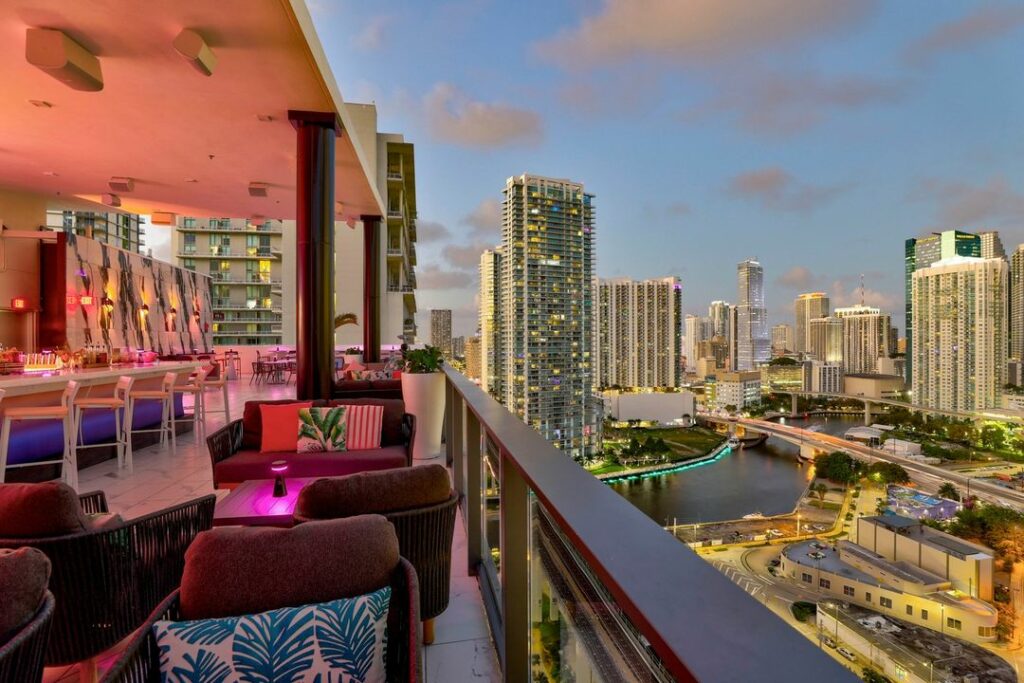 Rosa Sky is considered one of the best rooftop restaurants in all of Miami. The pink-covered restaurant is a chic, indoor-outdoor lounge that has the best views of the Downtown Miami skyline.
They're famous for adding a playful twist to the classics. You should try their Cuban cigars, which are made from ham, cheese, relish, and mustard, all fried up in a crispy shell. It is so good, I can already hear its crispiness.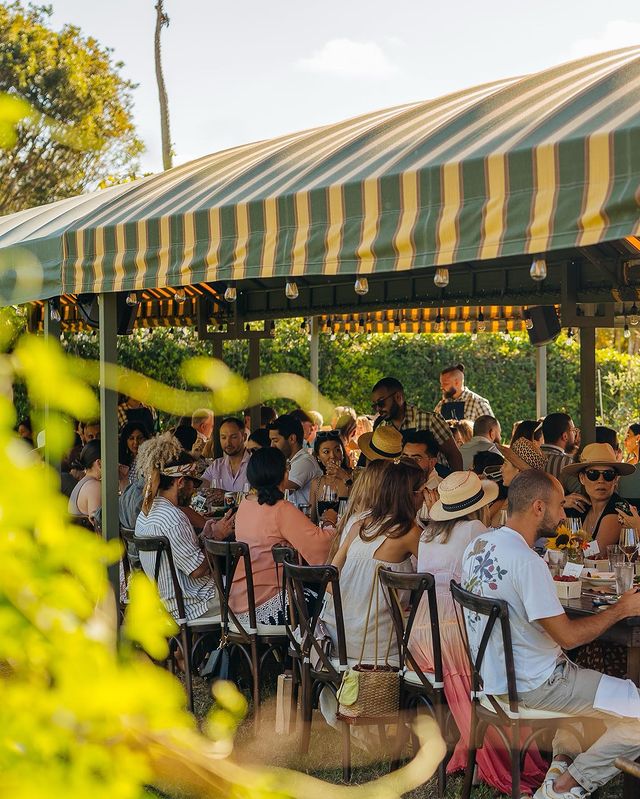 The daily live music at Mamey is one of the main reasons that I love this place. There's just something about live music that instantly puts you in a good mood.
Additionally, their menu is rich with brilliant dishes that you'll have a hard time choosing your order every single time. Whatever you choose to eat, don't forget to leave room for dessert. Their Florida Mango Custard is a must-try!
The colors and Art Deco architecture of this place are extremely uplifting. By far, this is the prettiest place you could enjoy your oysters and huevos rancheros with a gorgeous view of Miami's sunset.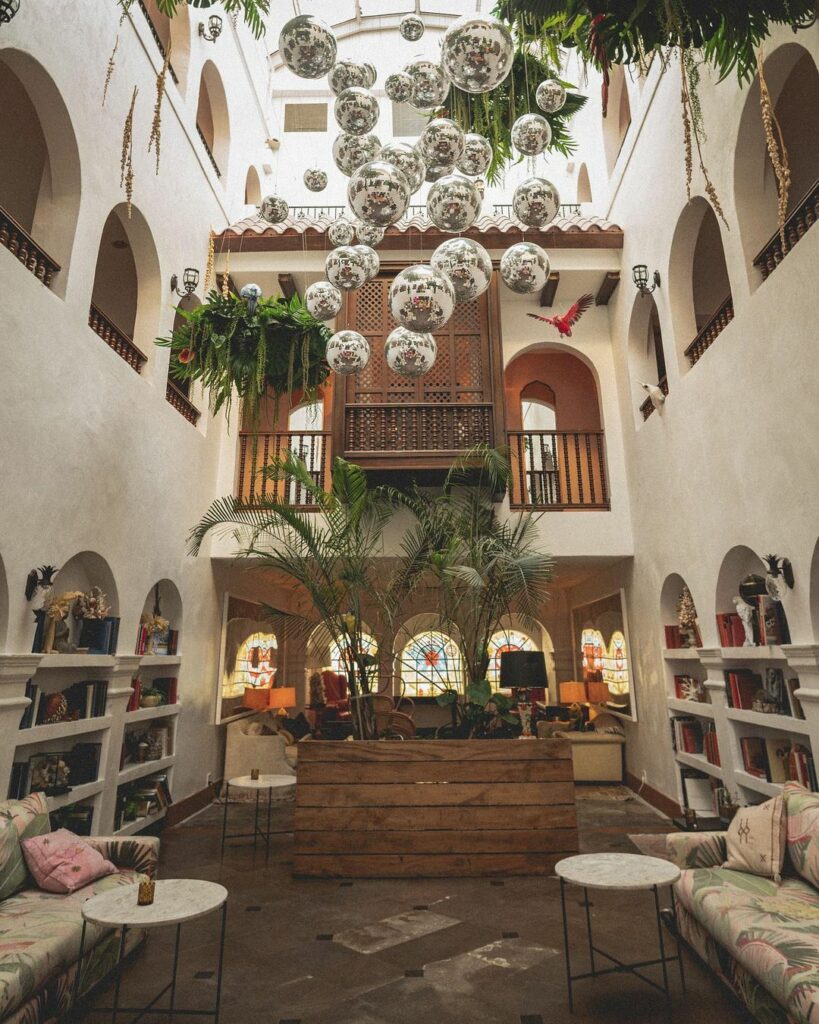 A modern take on the jungles of Mexico. Gitano is a great place to lounge and relax during the day and break out your dance moves in the evening under the sparkly disco ball.
They say food tastes better when you're happy. And I don't think I ever saw someone unhappy while dancing. So clearly, Gitano are geniuses who figured out the secret to happiness!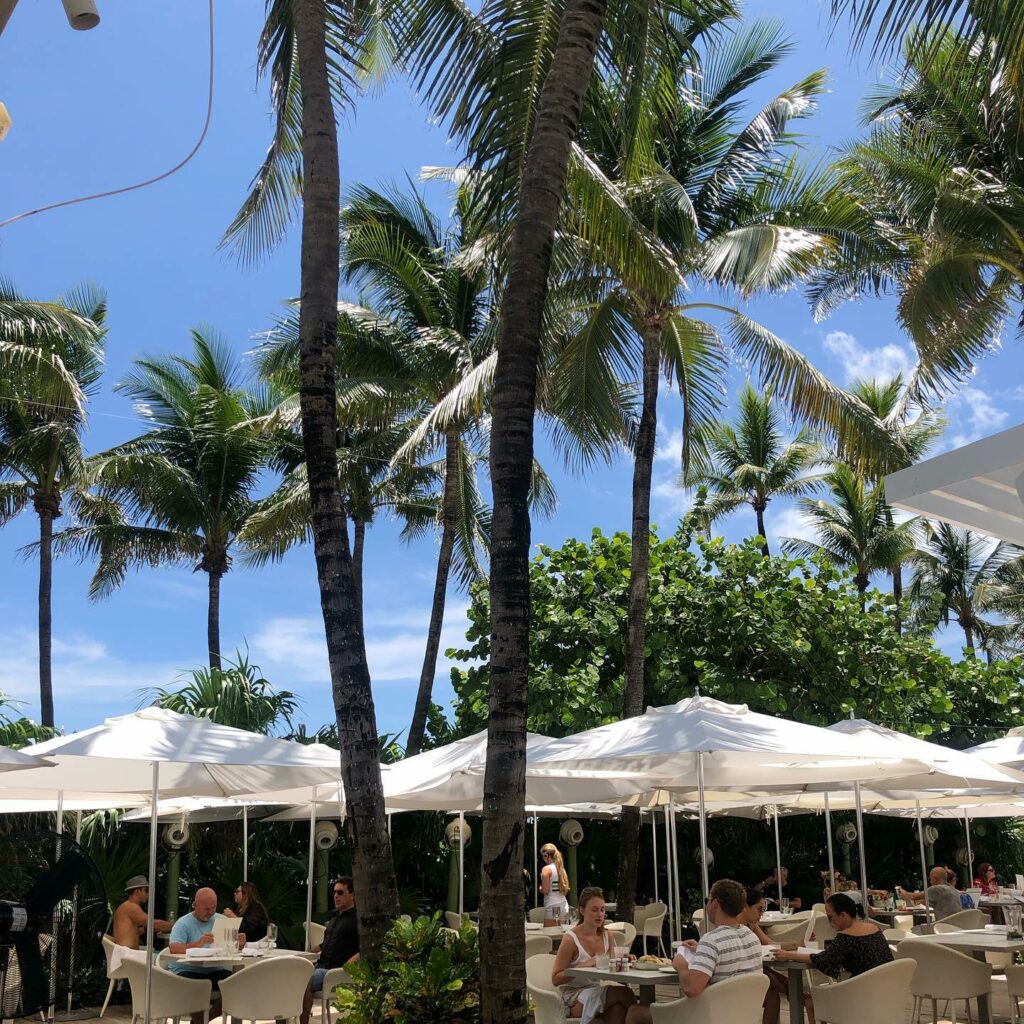 La Cote rooftop restaurant at Fontainebleau Hotel brings you the picture-perfect scenery of Southern France to Miami.
Right here, you can indulge in some Mediterranean cuisine by the pool as you gaze upon the Miami coast and enjoy the gentle breeze. Just like those moments where you pause and think to yourself "Life's good!".
But don't leave right away! Stick around till the evening for an epic night of dancing and fun.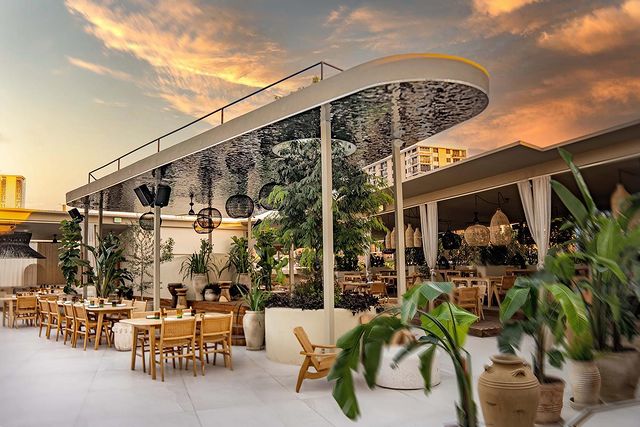 Imagine walking into a land of fairytales where you get to live your own enchanted story. That's exactly what it feels like walking into Fabel; a fabulous clubstaurant at the top of Wynwood Jungle.
They serve Mediterranean dishes from almost every Mediterranean culture. It almost feels like cruising along the Mediterranean countries and getting to taste each country's cuisine.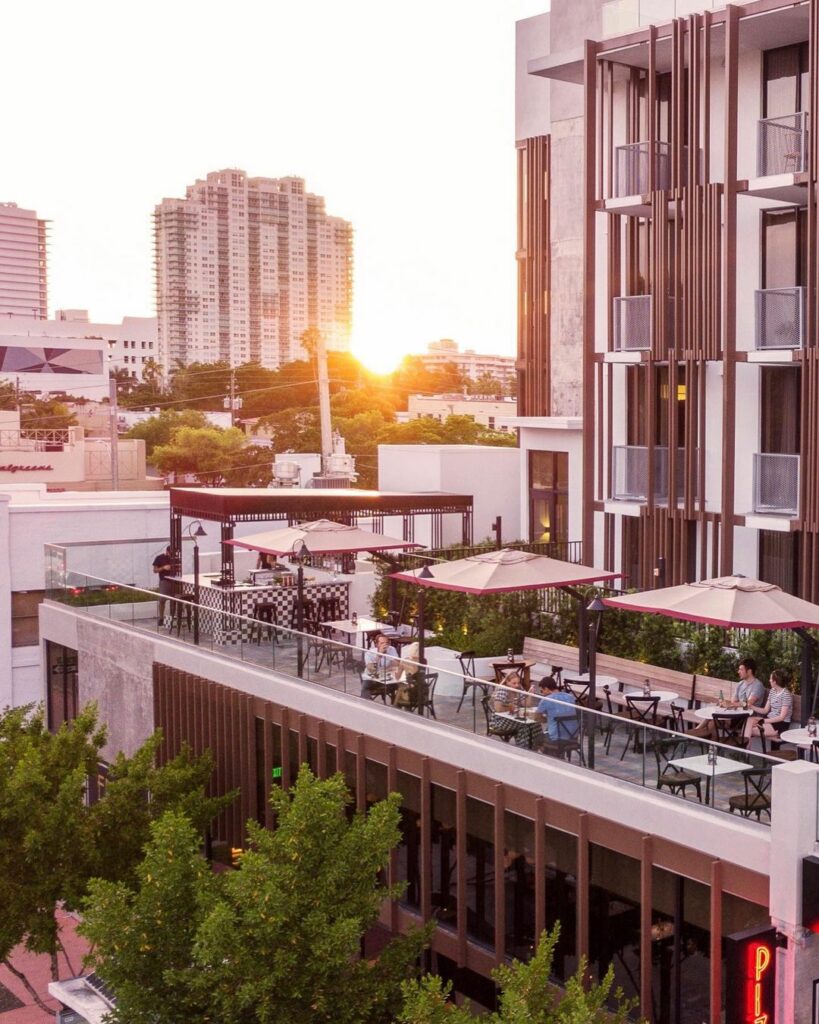 Do you know what happens when you mix your favorite food with your favorite view? Exactly. You become the happiest person on the planet. That's exactly how I feel about dining at Editor Pizza.
Incredible pizza with an incredible view? Yes, please!
You'll find it on the second floor of the Urbanica Fifth Hotel. So give them a go whenever you're craving some crispy, light Italian pizza.
New places in Miami in 2023
Of course, I wouldn't leave you without knowing the newest rooftop restaurants that just opened in Miami. Here are the top places that are all the craze right now.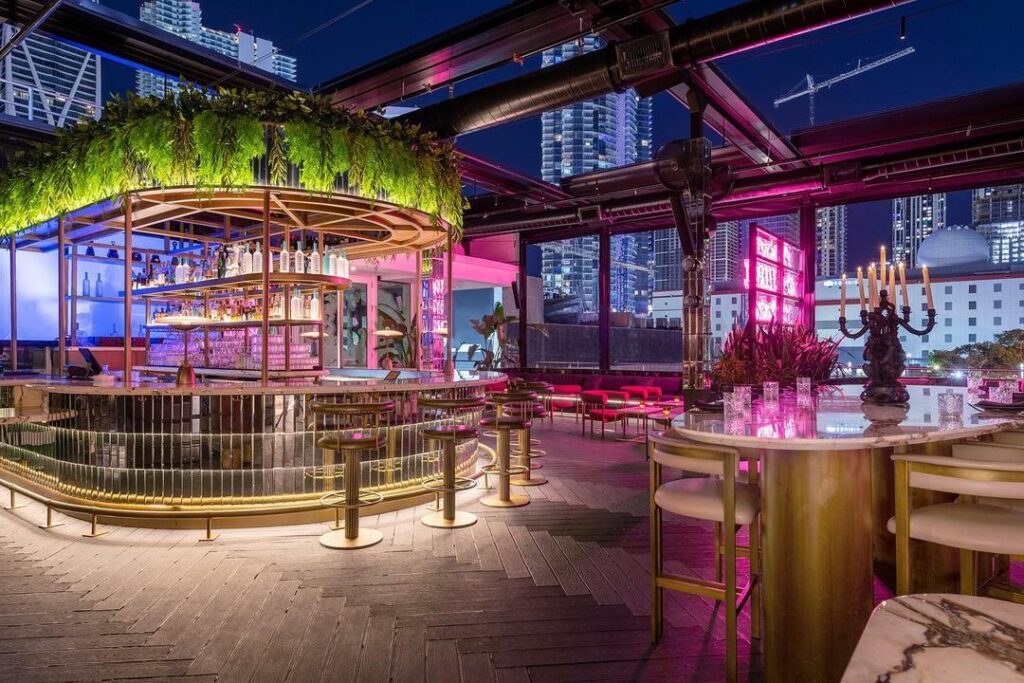 This new rooftop restaurant will be the next hotspot in no time. Giselle is right above the 24-hour nightclub E11EVEN, and has its own private elevator. At Giselle, they merged Asian, Mediterranean, and French cuisine to give us many unique flavors.
So whether you sit in the main dining room or lounge on the terrace, you'll find everything at Giselle to be picture-perfect.
La Terrazza is a new restaurant that offers the perfect al fresco Sunday brunch. Additionally, they have music every Friday night, and people gather every Thursday for cigar night.
Their bespoke menu is inspired by the Amalfi coast to introduce new flavors to your palette.
FAQ
What is the best seafood rooftop restaurant?
Many rooftop restaurants offer seafood that's cooked in multiple ways. From my experience, you'll love the seafood at Giselle and Klaw rooftop restaurants.
What is the best cheap rooftop restaurant?
There are multiple cheap rooftop restaurant options in Miami. I'd recommend you check out the Chica Miami restaurant or The Wharf Miami.
Do these rooftop establishments have any age restrictions?
Unfortunately, yes. Most rooftop restaurants and bars are intended for adults only. Any minor won't be allowed in.
Are any of these restaurants pet-friendly?
Yes! You could take your pet to Vista, Klaw, Cebada, Astra, or Serena. Any of these rooftop restaurants would be glad to serve you and your pet.
Final Thoughts
Now you know all the cool places for a fun night out in Miami. Whether you're looking for a fancy restaurant for a nice date, or you just want a fun, laid-back place for a night out with your friends you'll find whatever you need in the Magic City.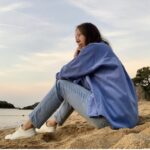 Hello, my name is Nadia.
I usually write about traveling (there are so many places to fit all the lifestyles), relocation (finding a job overseas or moving without losing an income), and living in a foreign country (adapting to a different culture and mentality). Follow me on Twitter, Facebook, Instagram, or LinkedIn!
This post might include some affiliate links. If you make a purchase through these links, I may earn a small commission at no additional cost to you. I appreciate it when you use my links to make purchases.