13 Best Spanish Restaurants in NYC
Nadia Podrabinek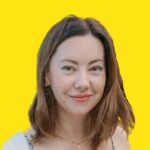 Written by Nadia Podrabinek
Hello, my name is Nadia. I usually write about traveling (there are so many places to fit all the lifestyles), relocation, and living in a foreign country (adapting to a different culture). My travels stretch beyond Spain, with journeys to the US, Italy, Norway, Portugal, and France. Relocating to Spain in 2018, I lived in cities from Barcelona to Madrid, currently calling Valencia home.  Follow me on Twitter, Facebook, Instagram, or LinkedIn! ... show more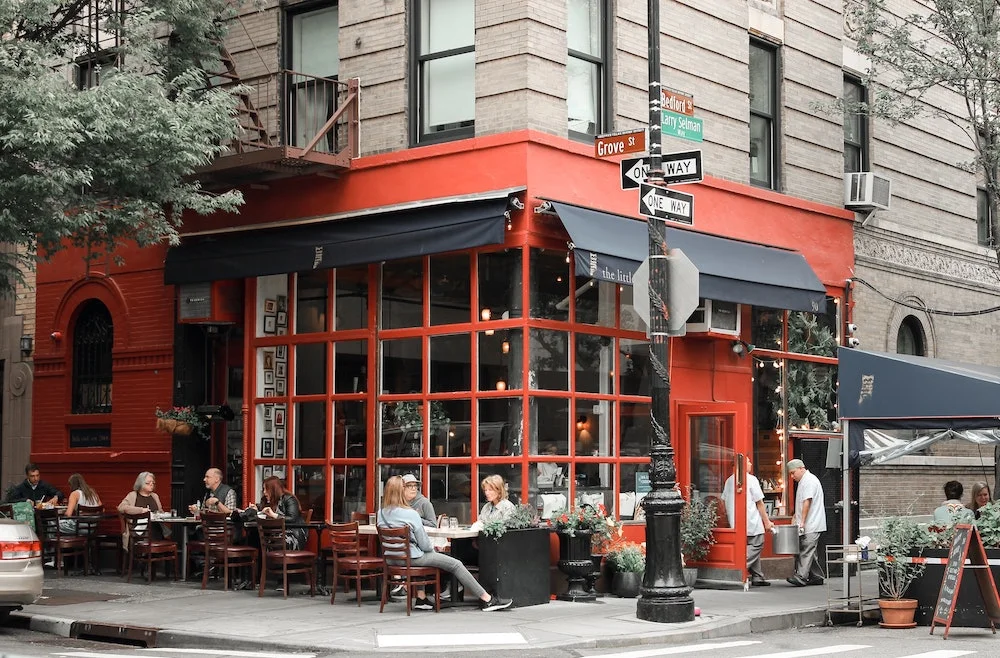 Spanish cuisine has a wide and plentiful pallet ranging from Catalan and Galician to Basque and Valencian gastronomy.
Thanks to NYC's growing Spanish diaspora (according to the US Census Bureau, approximately 2.3 million people in the NYC area speak Spanish as their primary language), the best Mediterranean can be found just around the corner.
This brings us to the article's main topic, the best Spanish restaurants in NYC. These restaurants can be found spread all over the region, whether it's Brooklyn, Queens, or Manhattan.
What people say on Reddit
Tomiño Taberna Gallega in SoHo. It's a Galacian restaurant run entirely by Spanish people. I've been three times and I'm usually the only non Spanish person there. The tapas are not inexpensive, but they are sizable portions, more like what you would get in Spain. They are not this elevated tapas crap made by some dude from Jersey that visited Spain once. Almost everyone that works there is from Spain.

independent_hustler
Huertas during happy hour is one of the cheaper price options for Basque pintxos and other tapas, and there are some surprising gems at Mercado Little Spain, but yeah it's tough trying to find great Spanish food at Spain prices

vagrantwastrel
Ive been on the look out for a tapas restaurant since Ive been here last year. Unfortunately you wont find any tapas place that offers tapas under $10. Theres a new one that opened called Rincon 50 but their tapas are $15+ which is insane for what it is

nomascusgabriellae
Check out pilpil on UES. Not sure on how authentic it is as I'm not spanish but the patatas bravas are $10. Addictive nyc in queens also opened up a new spot in Manhattan and they seem to be popular.

Nightimesadnesss
Here are top rated Spanish restaurants in New York:
1. Tomiño Taberna Gallega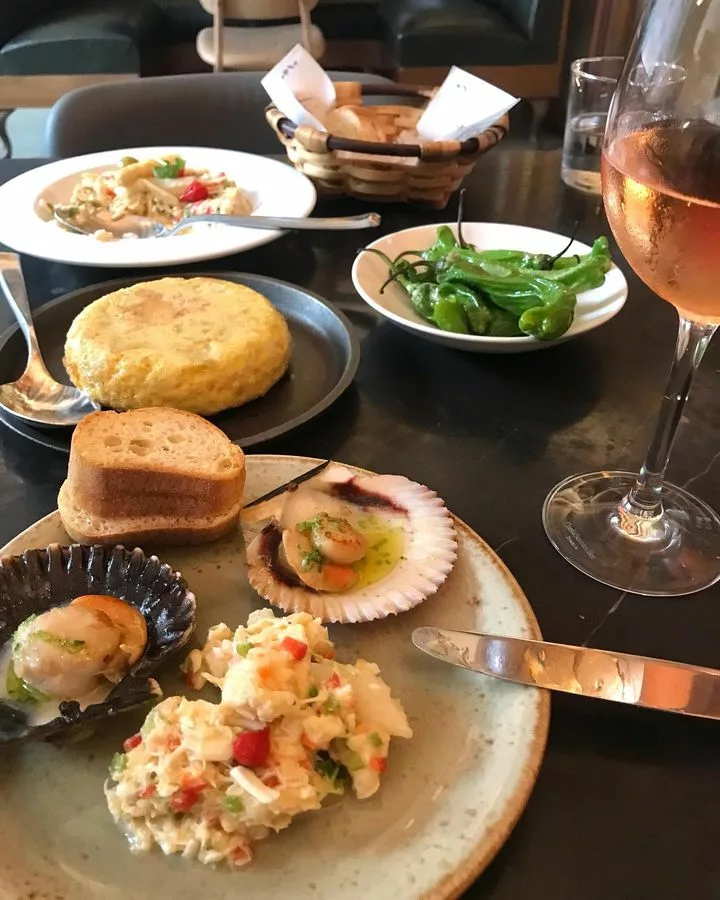 Located on Grand Street, Tomiño Taberna Gallega is one of the best Spanish restaurants in Brooklyn. Tomiño aims to take your taste buds to Northwestern Spain, in the autonomous Galician region.
To begin your meal, you can't go wrong with their Michelin-recommended croquetas. The Chorizos al Infierno is a perfect flambe dish for a spicier kick.
Suppose you're looking to satiate your appetite with a hearty meal for two. In that case, I recommend looking at their Dry-aged Angus tomahawk ribeye meal with hand-cut fries.
Alternatively, if you're leaning more into a seafood mood, then the Arroz Caldoso should hit the sweet spot. The meal serves lobster, monkfish, bomba rice, and seafood broth.
Besides that, you can treat yourself to some flavorful cheeses with Tomiño's delectable Tabla de Quesos. When it comes to the restaurant's mise-en-scène, you are met with elegant wooden tables, neutral lighting, and multiple seating options upon entrance.
Read also: What is Wrong with Tipping in the US
2. Salinas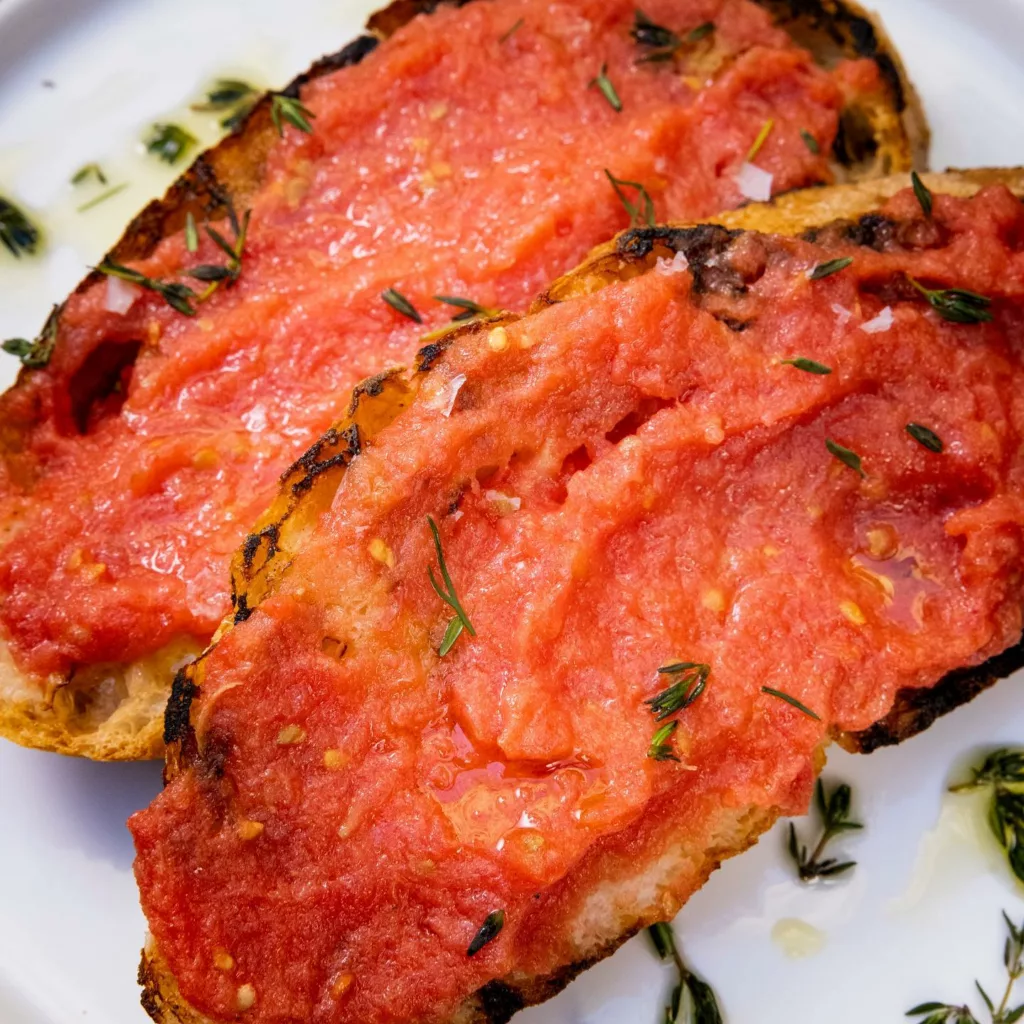 Five minutes from Madison Square Garden, you can indulge in some award-winning Spanish Mediterranean meals. Salinas' owners have traveled all over Spain in hopes of capturing the country's culinary essence in their menu.
That being said, the restaurant serves lesser-popular Spanish Mediterranean dishes that set itself apart from other dining experiences.
One of their coastal dishes includes "Lubina en Costra de sal." The dish serves a sea-encrusted European bass and an array of greens and saffron-citrus infusion.
Besides that, you can also choose between several tapas options, such as a tasteful Jamón Iberico. Alternatively, if you're looking for a gluten-free choice, you can go with a fresh Arugula Salvaje y Rabanos.
In terms of ambiance, Salinas is divided into three areas. You can sit at the tapas bar, lounge, main dining room, or enchanting garden area. The latter offers a unique al fresco dining place with a fireplace and a retractable glass roof.
On top of that, the restaurant is decorated with an ornamental collection of flowers, primarily roses.
3. Centro Español de Queens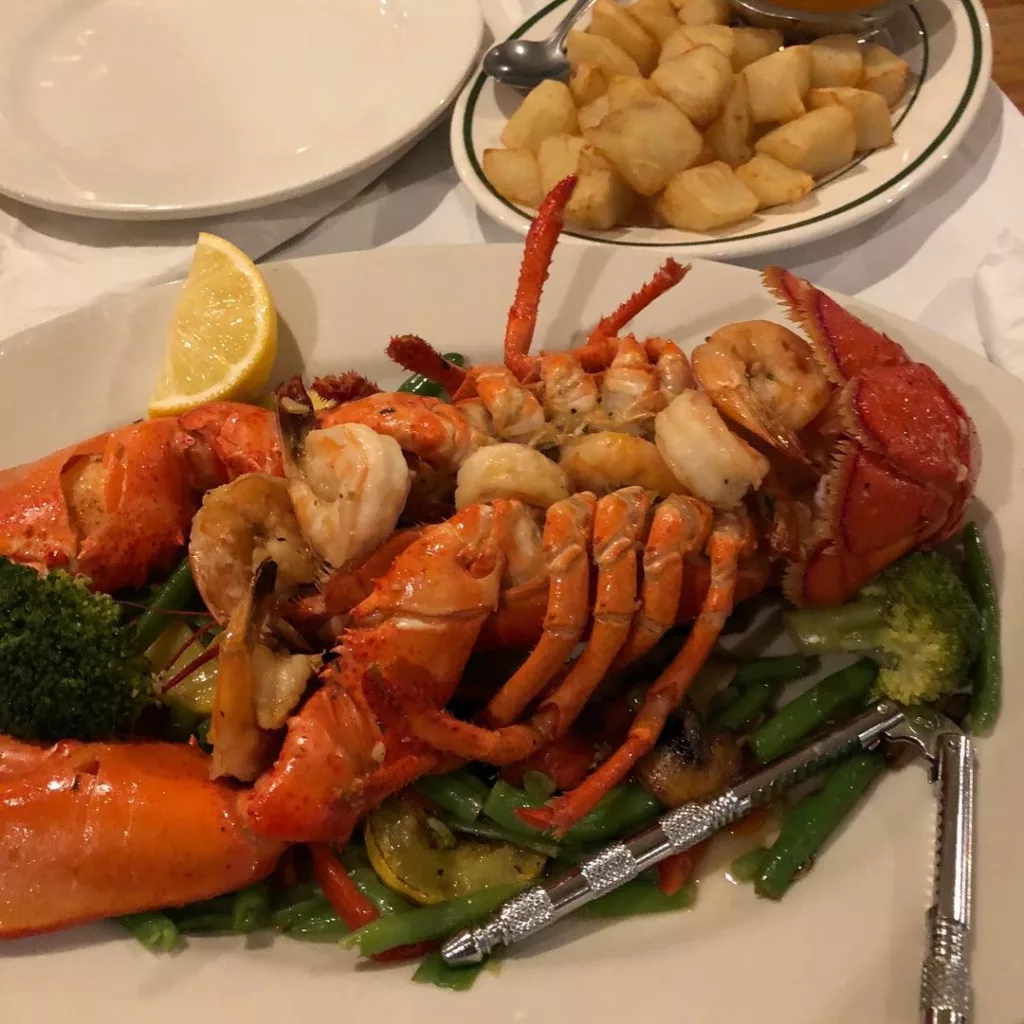 Not only does Centro Español de Queens offer one of the best Spanish restaurants in Queens, but a cultural hub as well. The place offers events, classes, and services to bring you an all-around Spanish experience.
For a no-fuss appetizer, you have multiple choices ranging from anchovies doused in garlic and olive oil to a Spanish tortilla omelet.
Other easy picks include the restaurant's Serrano ham and Manchego cheese. Their Madrid stew made with tripe, pork, and chickpeas will make for an interesting gastronomical taste.
Aside from that, the restaurant serves several well-known dishes, such as paellas. They have three paella options, including Paella de Carne, Valenciana, and seafood only. If you're not a fan of rice, you can opt for their Fideuá Seafood, which is similarly seasoned to paella, but instead of rice, it's made with pasta.
After all the savory meals, there's always room for dessert. This would be a wonderful opportunity to try the restaurant's Spanish Tres Leches. The desert is a cake soaked in three kinds: condensed, evaporated, and whole milk.
4. Boqueria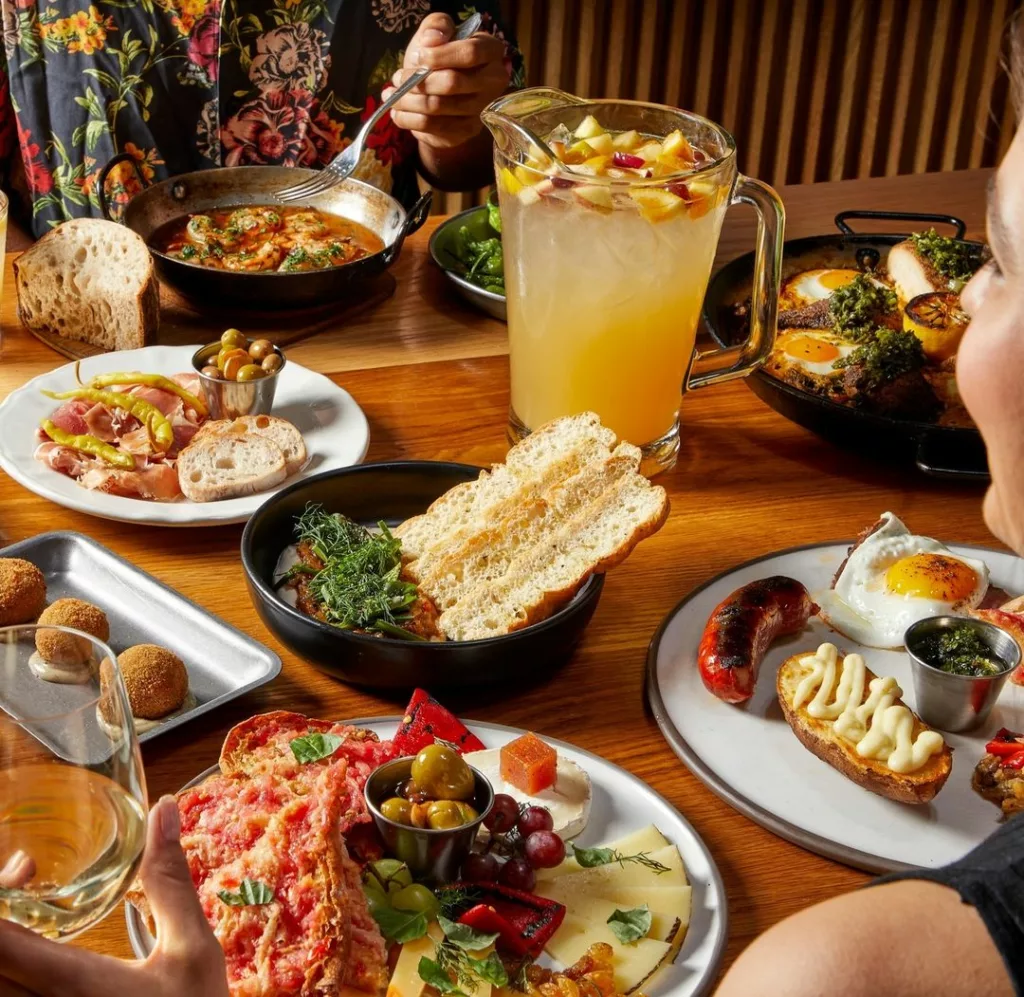 While browsing for Spanish restaurants in Brooklyn, you're bound to prance upon Boqueria. Located on the upper east side, this Spanish restaurant can offer you the authentic taste you're searching for.
For a savory start, I suggest the Pimientos de Padrón, which are
Herbon peppers flavored with sea salt. Boqueria offers an eclectic option of cheeses and sausages. You can order the restaurant-recommended Jamón Iberico de Bellota, comprised of acorn-fed ham aged up to 36 months.
On the other hand, for a vegetarian, dairy-rich platter, the Tabla de Quesos can provide you with several cheese options. The platter includes Cana de Cabra, aged Mahon, and Manchego, as well as "pan con tomate" with olives.
Aside from the tapas, Boqueria's Paella de Mariscos may give you the best paella NYC experience.
5. Ernesto's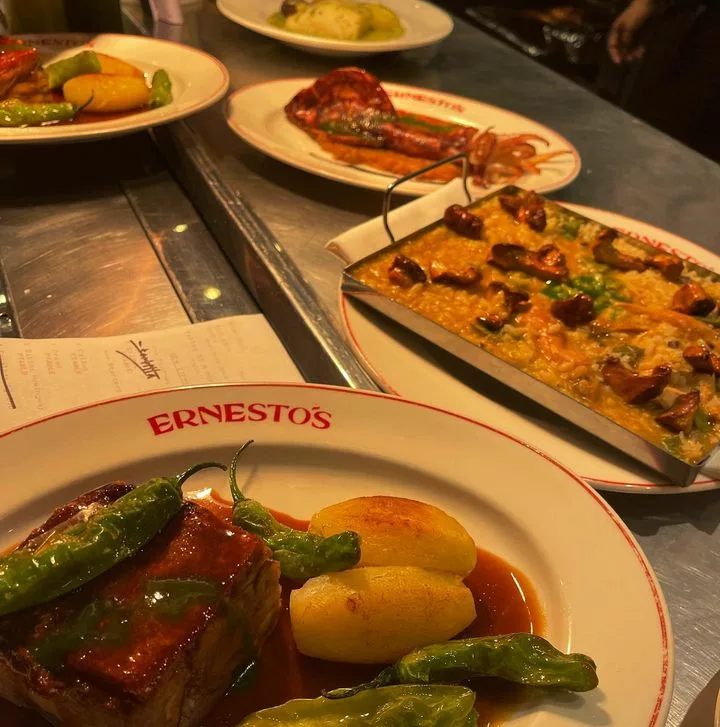 For a more Spanish café setting, Ernesto's could be your best bet. The authentic coffee options over at Ernesto's offer Cafe Con Leche, Cafe Bombon, and a "cut coffee" Cortada.
The café changes its pastry option daily for a small bite to eat. Nevertheless, some of the delicious baked goods may include their Spanish Bocadillo. This is a sandwich made of Spanish bread or baguette filled with cuts of meat such as Serrano ham.
During the evening, Ernesto becomes a classic dinner restaurant offering a series of entrees and main dishes. Some of their entrees are mouth-watering Callos de Joan, Madrid-style tripe, Ensalada Igeldo, or beefsteak tomatoes.
Meanwhile, Ernesto's principal meals can serve succulent Alcachofas y Pulpo en Salsa Verde or braised artichoke with octopus. For a vegetarian alternative, you can go for the Menestra de Verduras or turnips, kabocha squash, carrots, and romano beans dish.
6. Casa Mono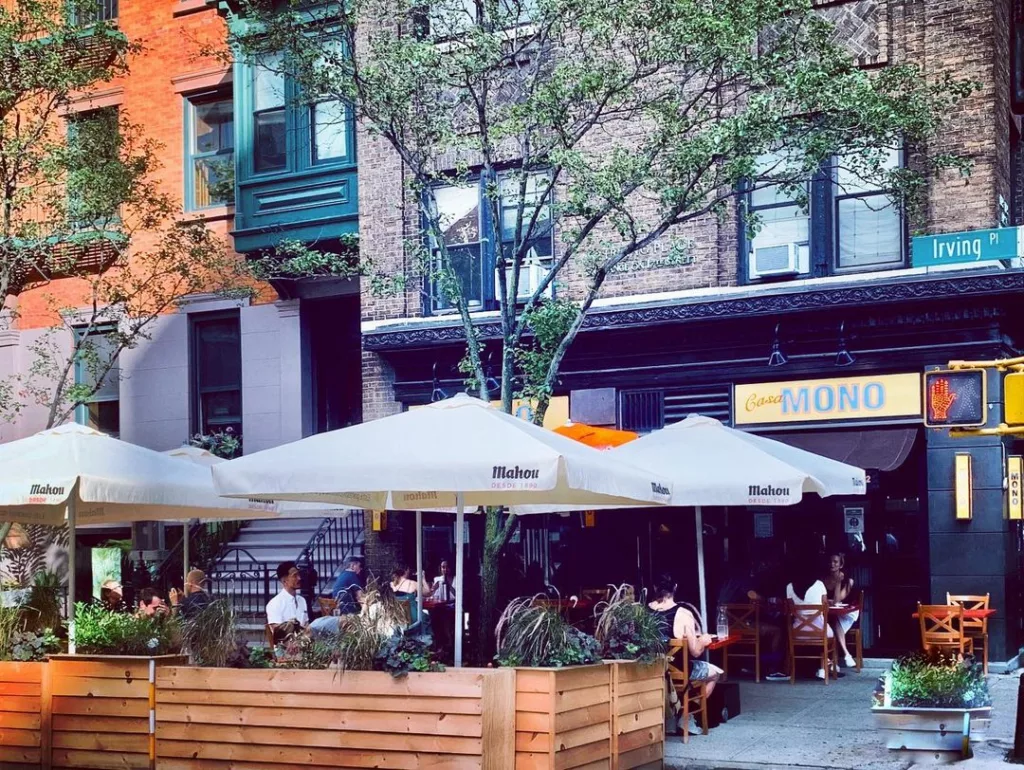 For a more prestigious outing, you may be looking at some Michelin-star Spanish restaurants in NYC. Look no further because one of those highly-rated experiences can be found in Casa Mono.
With cuisine reminiscent of Spain's Costa Brava, you can taste the restaurant's bone marrow with tomato jam. Their menu includes other delicacies such as oxtail-stuffed piquillo peppers and Razor Clams a la Plancha.
Now, what's unique about Casa Mono is its sustainability effort. The restaurant composts all of its customers' waste. In addition, their food's grease byproduct is recycled into biodiesel or energy.
Casa Mono is also a haven for vegans and vegetarians. Over 39% and 12.25% of its monthly food purchases are vegan and vegetarian, respectively.
7. Casa Dani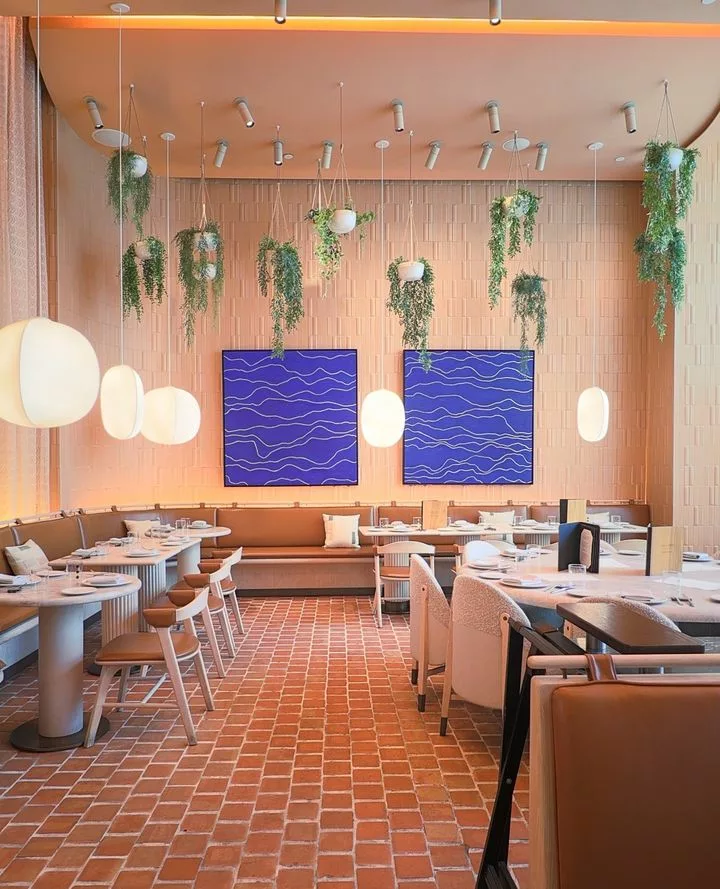 Named after the restaurant's chef Dani Garcia, Casa Dani is famed for its traditional Spanish dishes. The menu is divided into six parts: lunch, dinner, dessert, wine list, executive menu, and cocktails & spirits.
The Andalusian chef pays homage to her background with the Tuna Porterhouse Carpaccio. If you're looking for Malagan cuisine, the menu also serves delicious Fritura Malagueña, which contains an array of fried seafood.
For dinner, you can opt for a tapas Chorizo Brioche made with spicy chorizo meat and quail egg on top of buttery brioche bread.
If you're feeling more adventurous, I recommend trying the Oxtail Brioche. The tapas dish is made of pulled oxtail, DG sauce, arugula, and mushrooms served on a buttered Brioche.
8. Huertas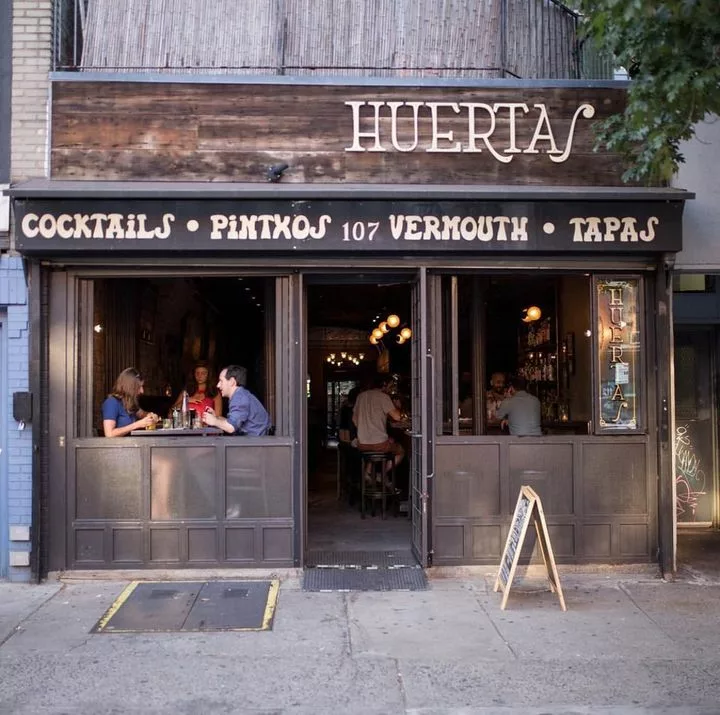 On your Spanish gastronomy journey, you can venture to the Basque region in the famed Huertas restaurant. Huertas gives you more of a bar and lounge setting than a restaurant.
The place serves many pintxos (tapas) options like traditional croquetas, Stuffed Piquillos, and Whipped Fat Toast with Tomato Jam. Additionally, you have to try their signature Basque Dog made of Chistorra sausage, Piquillo Mostarda, and Aioli. It's an indulgent mix of Spanish and New York cuisine.
You can collectively order the Jamon Serrano or Iberico, Manchego, and Shishitos for group outings. If you want to add seafood into the mix, the Gambas al Ajilo and Pulpo, made of shrimp and Galician octopus, are ideal choices.
All the umami calls for a little sweetness. Huertas serves a dense Basque cheesecake. This dessert is the definition of crispy on the outside and gooey on the inside. You can then wash down your meal with your choice of cocktails and wines, such as the bar's Adonis cocktail and Huertas Vermouth red or white wine.
9. Emilia By Nai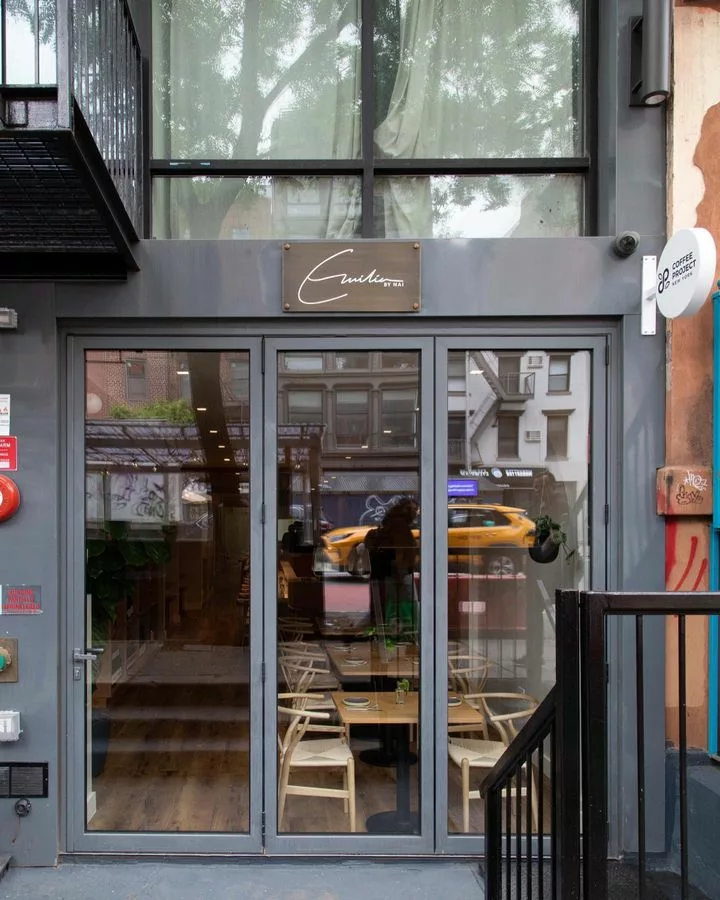 While most Spanish restaurants offer traditionally-made dishes, Emilia By Nai chooses to step out and inject Japanese and Korean fusion into its menu.
For an eccentric food experience, you'll want to visit this restaurant located at 1st Avenue. For starters, you can try Emilia's monkfish liver Mousse. It comprises Oloroso sherry wine, sourdough, pickled Korean daikon, and Kalamata marmalade.
In the menu's 'Garden' section, you can try the Asian fusion dish Maitake. It includes maitake-bomba rice, squid ink, and aromatic saffron aioli. Another Japanese-Spanish dish is the Shiitake, composed of shiitake katsu, curried onion, garlic aioli, and brioche.
You can splurge on the lobster dish made with baby fennel, flavorful bisque, and saffron in the seafood section. On the other hand, if seafood isn't your cup of tea, you can move on to the 'Land' section of the menu and try out Emilia's Wagyu meal.
The dish is a delectable Wagyu burger infused with Bayley Hazen blue cheese, spicy tomato, and caramelized onion. It's all served with a side of french fries.
Now, if the Asian fusion isn't suiting your taste, you can always resort to the traditional Iberico ham or trout dish offered instead.
10. Mercado Little Spain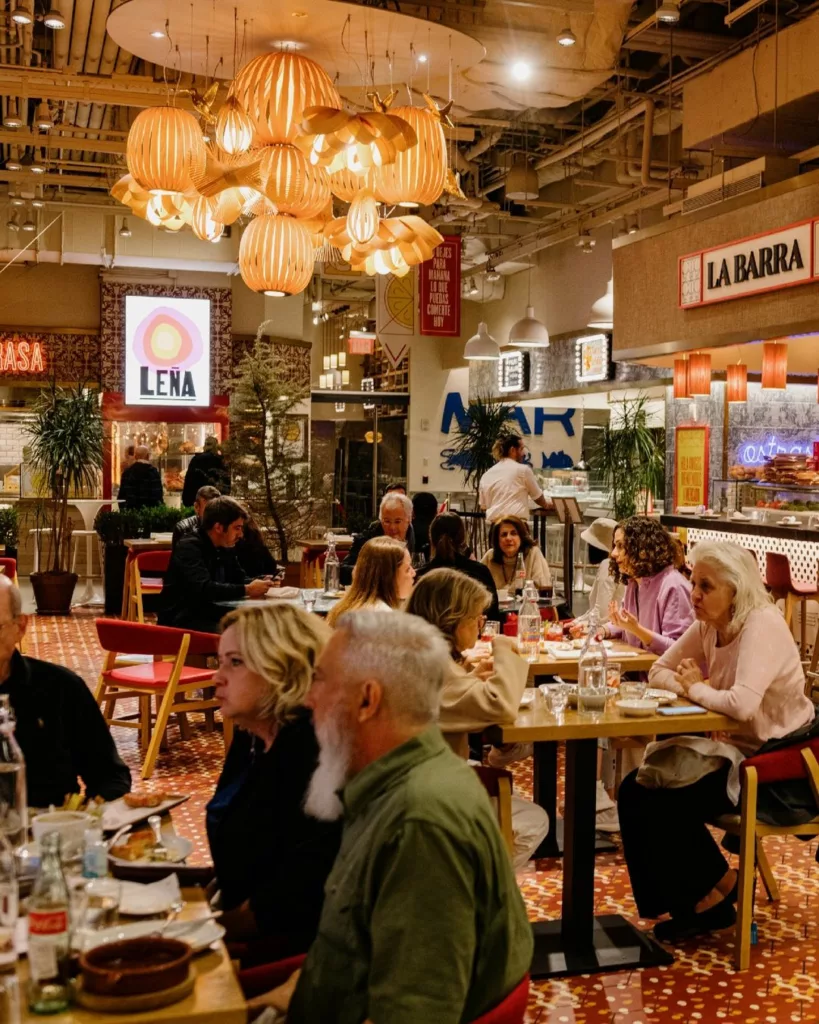 The popular Mercado Little Spain was founded by the chef José Andrés. Actually, it is a Spanish food market split into several service sections. The area has restaurants named "Spanish Diner," Leña," "Mar," and "La Barra."
Also, José Andrés is considered a pioneer in introducing Spanish tapas in the US.
Spanish Diner
In Spanish Diner, you can feast on all the comfort food to your heart's content. You can start your meal with a Patatas Bravas. Next, I recommend trying out their special pan con tomate and moving on to their Pollo Guisado Con Arroz.
The latter is a stewed chicken meal with caramelized onions served with a portion of rice. If that's not making you salivate, I don't know what will.
Leña
When you visit Leña, you'll be met with a delicious smell of grilled meats and vegetables. As a starter, you can go for the sweet and savory Sobrasada Iberica. The appetizer is spreadable Iberico chorizo paste with honey from Asturias and toasted Pan de cristal.
Meanwhile, for your main meal, charcoal-roasted red peppers, eggplant, and onions drizzled with EVOO and sherry vinegar ought to make you feel warm on the inside.
Mar
If you are into seafood, you will want to order from Mar. The restaurant's main dishes offer all sorts of coastal options, from shrimp, cod, octopus, hake, tuna, clams, salmon, lobster, and more.
You can take your pick between cold and hot seafood meals at Mar. In addition, the restaurant offers exceptional group-shared meals such as the Ibiza-style lobster served with potatoes and other sides.
La Barra
Of the choices in Mercado Little Spain, La Barra offers one of the best options in terms of tapas. The restaurant serves all the classics, from Chorizo Iberico de Bellota to Queso Payoyo.
That being said, Mercado Little Spain has several kiosks serving churros, Bocatas, Empanadas, Bravas, Jamon, Queso, Paella al Plato, and pastries. Mercado Little Spain has multiple bar options, such as cocktails, wine, and tapas.
11. El Quijote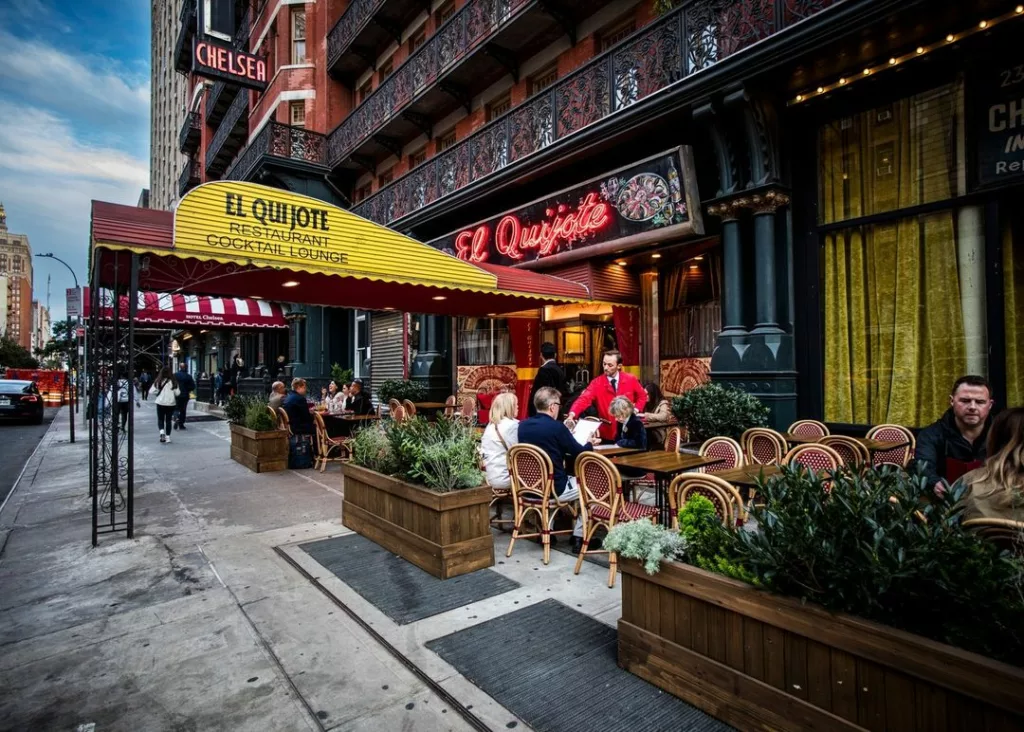 El Quijote is an old-fashioned Spanish restaurant featuring a wood-style vintage interior design ideal for romantic getaways.
My recommendations include the succulent shrimp Gambas al Ajillo dish splashed with arbequiña olive oil. You may also want to give the Pollo Asado Al Andaluz a try.
If you're looking for a more daring dish, then the Crudo de Atun could be ideal. The meal comprises raw tuna, Cara cara orange, pimenton, and pickled chilies. You can pair your meal with your choice of cocktail, sangria, wine, beer, or cider.
12. Ella Social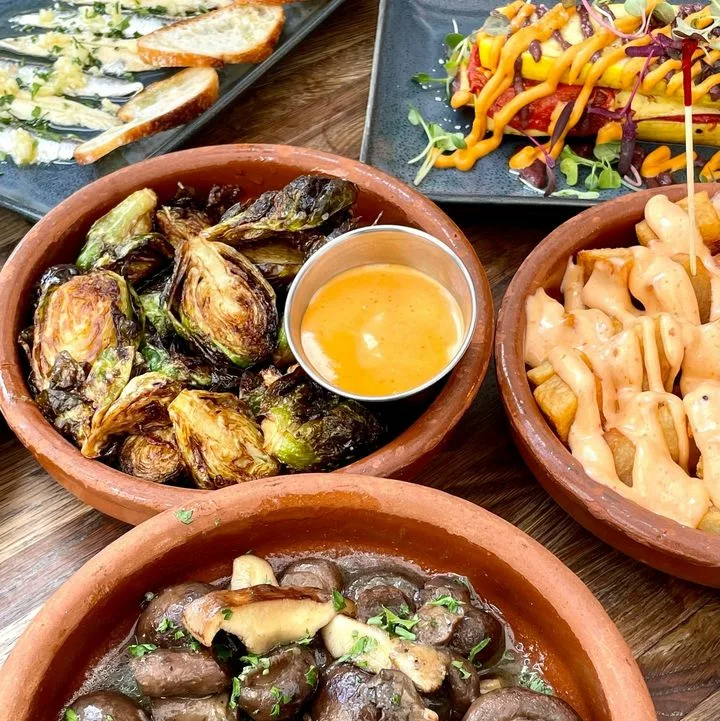 Ella Social is a wine bar, that also offers an artisanal take on Mediterranean cuisine. The place's ambiance is rustic and elegant, making it ideal for group outings. With over 20 tapas options, you'll see lots of variety on the menu.
Some of their tapas include vegetarian choices like the Coliflor Con Almendras, which is roasted cauliflower. Contrastingly, you can go for Boquerones, otherwise known as cured white sardines seasoned with garlic, parsley, and EVOO.
Unlike other Spanish restaurants, Ella Social serves several soup options, such as its Chicken Soup for the Soul.
Aside from that, the main dishes offer heartwarming seafood and garden paella. You'll also want to look at Ella Social's signature "Mother of all burgers," consisting of 100% Organic Grass-Fed Sirloin, Cognac sauteed mushrooms, sumac, grilled red onions, and mozzarella.
13. Haizea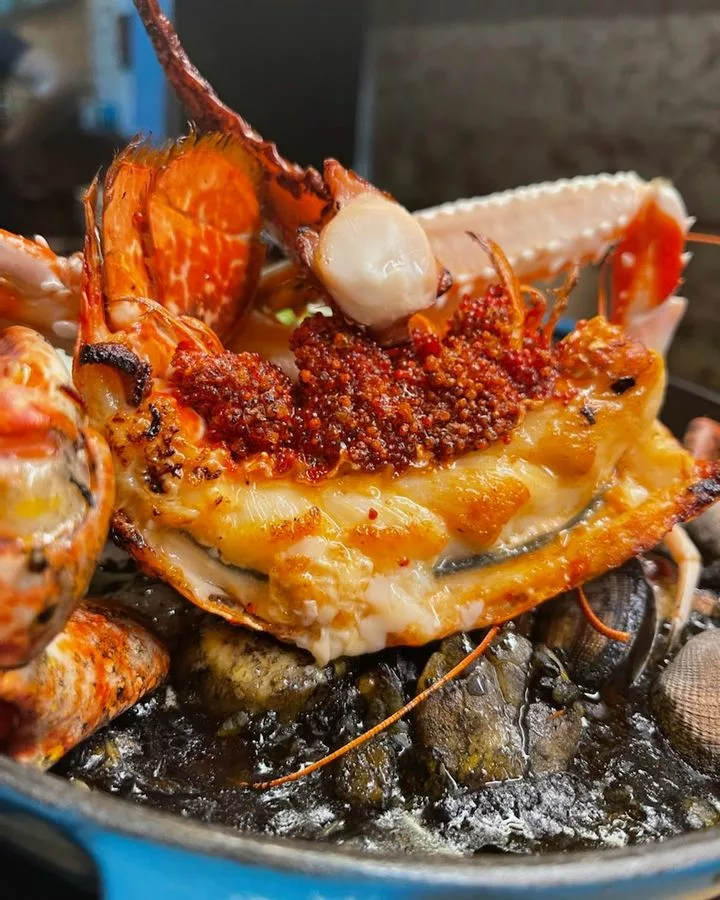 Haizea fuses Catalan and Basque cuisines to form some flavor-complex dishes worth trying. That being so, the restaurant is modernly decorated and divided into an indoor and outdoor seating area.
In the starters section, you'll be met with several contrasting choices, such as the Caracoles, Salsa Bizkaina & Pane di Musica. The dish ultimately serves oven-roasted snails served with garlic butter and flatbread.
You can choose between multiple platters of seafood and meat for the main dish. I'd recommend trying the Coquinas Con Angulas y Refrito Santurce.
As for the dessert, a warm rice pudding with caramelized walnuts and cinnamon, and mint is the perfect conclusion to a flavorous meal.
Frequently Asked Questions
What is a typical Spanish dinner?
A Spanish dinner usually consists of a main dish: seafood, roasted meat, or vegetable platter. The meat could either be in a sandwich or served with rice. Additionally, you can add sides such as fried potatoes, grilled vegetables, or a green salad.
What is the most popular Spanish food?
The most popular Spanish food is paella, a traditional rice dish made with saffron-flavored broth and various meats, seafood, and vegetables. Other popular dishes include gazpacho (a cold soup), tapas (an assortment of small plates), tortilla española (Spanish omelet), and jamón serrano (cured ham).
What makes Spanish cuisine so special?
Spanish cuisine is unique because of its rich history and diverse influences. It has been heavily influenced by French, Italian, Moorish, and Jewish cultures. Spanish dishes often include abundant fresh ingredients, including garlic, olive oil, tomatoes, and herbs (like saffron). Additionally, the traditional tapas-style dining experience allows for food to be shared among friends creating a unique atmosphere where people can socialize while enjoying delicious meals.