13 Best Michelin Star Restaurants in Orlando, Florida
Nadia Podrabinek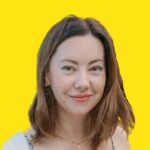 Written by Nadia Podrabinek
Hello, my name is Nadia. I usually write about traveling (there are so many places to fit all the lifestyles), relocation, and living in a foreign country (adapting to a different culture). My travels stretch beyond Spain, with journeys to the US, Italy, Norway, Portugal, and France. Relocating to Spain in 2018, I lived in cities from Barcelona to Madrid, currently calling Valencia home.  Follow me on Twitter, Facebook, Instagram, or LinkedIn! ... show more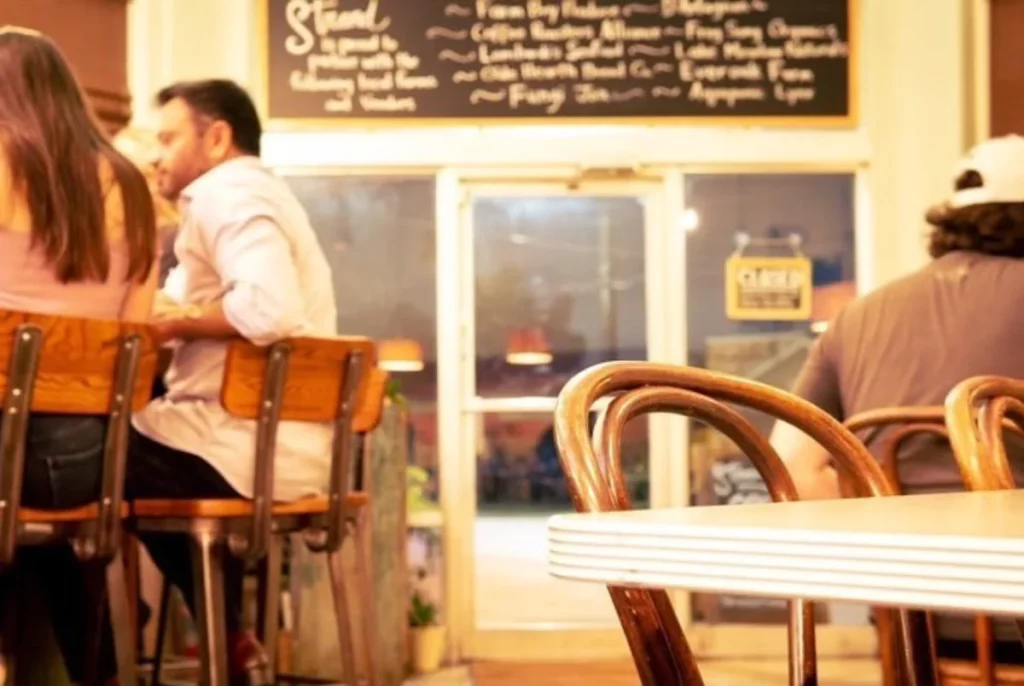 Warning: This article may cause some serious cravings and a sudden urge to make reservations ASAP. 😋
Welcome foodies and gourmands! If you're in search of the best dining experiences in Orlando, you're in for a real treat. The city boasts a diverse culinary landscape that goes way beyond your typical theme park snacks.
From trendy counter-service restaurants and hip gastropubs to high-end fine dining, Orlando has it all. And with the recent addition of Michelin-starred restaurants, the city has positioned itself as a top foodie destination.
After all, a Michelin star is synonymous with quality cuisine and just one star is enough for a restaurant to be considered among the best in the world.
So without further ado, here are the top 13 restaurants in Orlando that you must add to your foodie bucket list.
---
Key takeaways
There are four 1-star Michelin restaurants in Orlando: Capa (Steakhouse), Kadence (Japanese), Soseki (Fusion), and Knife & Spoon (Steakhouse).
Don't forget to check out Bib Gourmands (another Michelin rating) restaurants in Orlando, for much cheaper price they offer almost the same level of gastronomy.
There are some exciting spots that have to be on the Michelin guide list too – Toledo and Bacán.
---
What people say on Reddit
Domu is on this list. They're good, but not quite worth the hype. Also last time I went I had a huge shard of glass in my water and a chunk of plastic in my ramen. Won't be going back or putting much stock in this Michelin star stuff.

kummerspect
Four Orlando restaurants received one Michelin star: Capa, Soseki, Kadence, and Knife & Spoon. Seven Orlando restaurants received a Bib Gourmand, the Michelin appellation for "good food at a moderate price": Bombay Street Kitchen, Domu, Papa Llama, the Ravenous Pig, the Strand, Swine and Sons, and Z Asian Vietnamese Kitchen.

Theburbsnxt
Kadence dinner is the best dining experience in Orlando imo and the best "treat yoself" food thing you can do imo

I've also done soseki dinner. It is very good and more of a global tasting menu than a pure Japanese omakase. It is Japanese forward but there are French and American inspired elements in their seating as well.

Proximity_Intel
I'm surprised about Capa tbh. It was good but ultimately forgettable. The only reason I remember it was because we sat next to that famous Nascar guy Tony whatever his name is. Food was good but I didn't remember being like "omg I gotta tell people about this place". Kadence is certainly deserving and a place you tell people about however now I'm sure the Facebook warriors will bitch about it in the comments sections when they realize Kadence is almost $200 per person lol. And like someone said, good luck getting in now with their 8 seats.

bummedout1492
Best Michelin Star Restaurants in Orlando, Florida Map
Best Michelin Star Restaurants in Orlando, Florida
Before I get into the best Orlando restaurants with a Michelin star, let's take a moment to appreciate the significance of this culinary honor. The Michelin Guide has been a symbol of fine dining excellence for over a century, with anonymous inspectors scouring the globe for the next best foodie spot.
Receiving a Michelin star is like winning an Olympic gold medal – except for food! So, here are four of the top Orlando restaurants that proudly hold one Michelin star.
1. Capa Steakhouse & Bar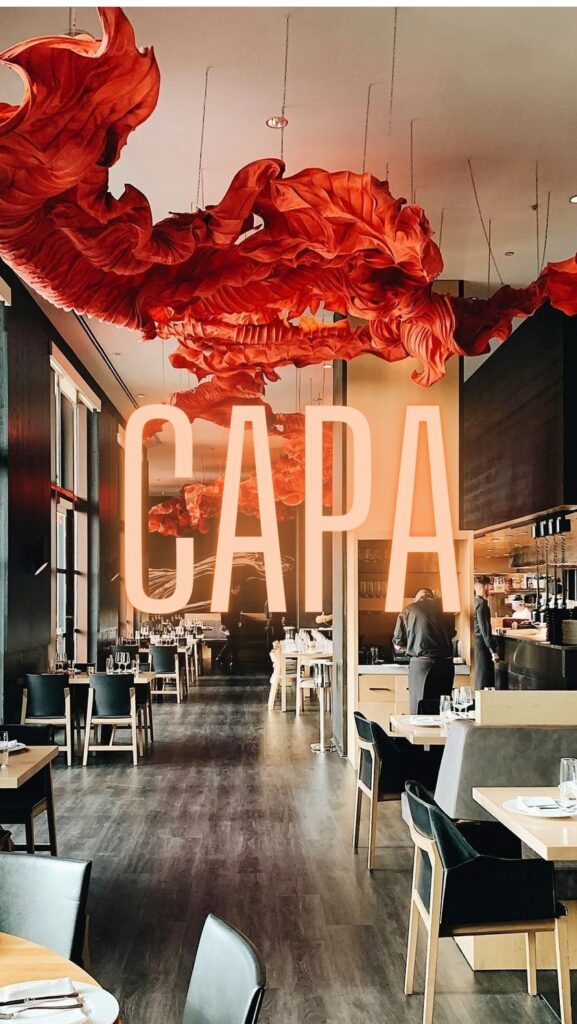 Get ready to be wowed by Capa, the Spanish-style steakhouse and tapas bar that's turning heads with its stunning ambiance and mouth-watering menu. As the signature rooftop restaurant at the Four Seasons Resort Orlando at Walt Disney World Resort, Capa is recognized as one of the top dining destinations in the region with one Michelin star.
The food here cements the restaurant's status as a must-visit restaurant for foodies and gourmands, with offerings ranging from fresh Florida seafood to perfectly grilled cuts.
Michelin stars: ⭐
Prices: $$$
What people say on Google: 4.6 stars, 572 reviews
10100 Dream Tree Blvd, Lake Buena Vista, FL 32836
2. Kadence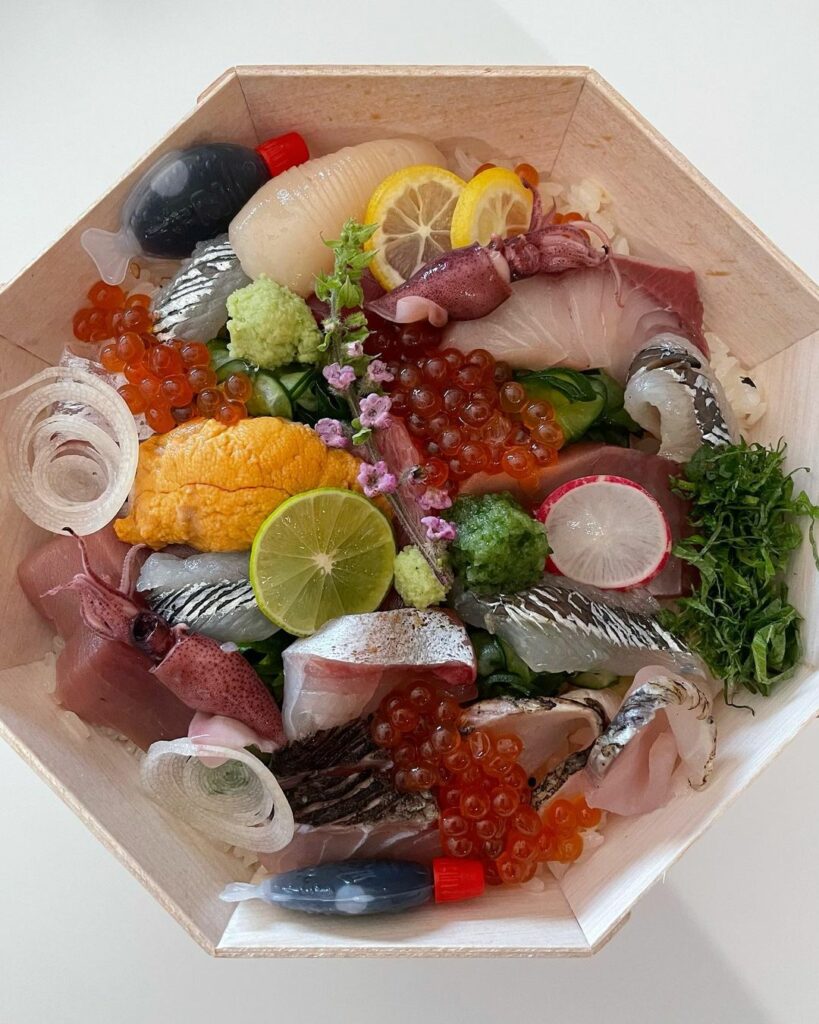 From a humble sushi stand to a Michelin-star restaurant, Kadence boasts an incredible menu and sake selection that will have you coming back for more. The menu is a celebration of the highest-quality ingredients from both land and sea, with each dish crafted to perfection in an intimate dining scene.
Know that getting a seat at this exclusive eight-seat restaurant can be a challenge. But trust me, it's worth the effort. Not only do owners Mark and Jennifer plate up insanely inviting dishes, but they're also advanced sake professionals. From hot dishes to cool sashimi, you know you'll taste only the best pairings here.
Michelin stars: ⭐
Prices: $$$$
What people say on Google: 4.8 stars, 277 reviews
1809 Winter Park Rd, Orlando, FL 32803, United States
3. Soseki Modern Omakase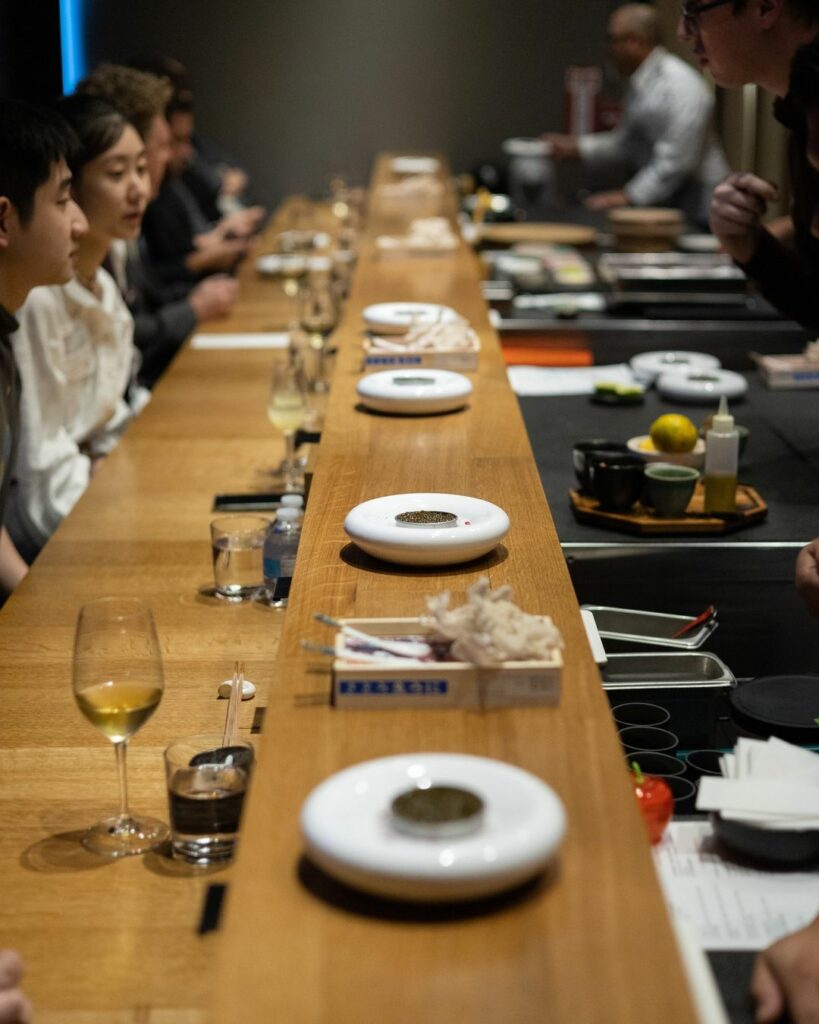 Soseki is a Michelin-starred gem where Filipino Chef Mike Collantes takes you on an intimate dining journey with modern omakase. The one-Michelin-star restaurant works closely with local farmers, fishermen, and artisans to create a multi-course dining experience that highlights the best of Florida's offerings.
Collantes' menu changes monthly, so you'll never get bored with what's on offer. Diners may experience globally inspired dishes from Scandinavia, Japan, or Thailand. Reservations are a must with only 10 seats available for up to 120 minutes. And while dietary restrictions may be challenging, you won't want to miss this omakase experience.
Michelin stars: ⭐
Prices: $$$$
What people say on Google: 4.9 stars, 126 reviews
955 W Fairbanks Ave, Winter Park, FL 32789, United States
4. Knife & Spoon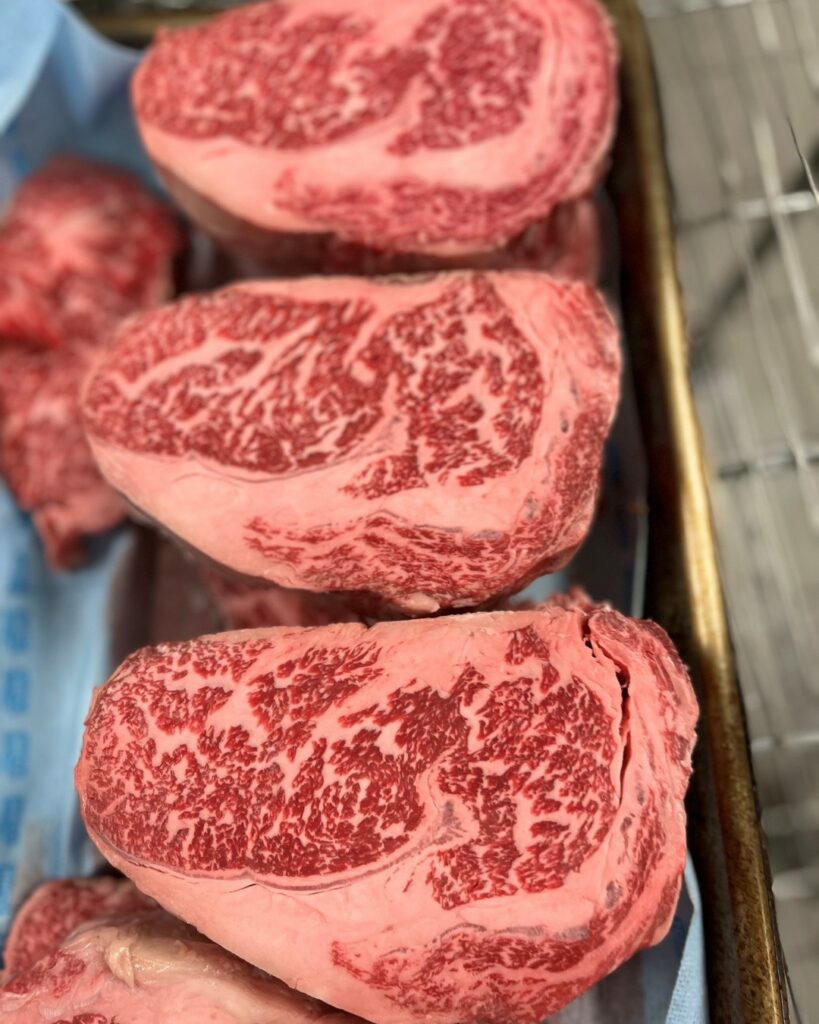 Housed within the luxurious Ritz-Carlton, Orlando Grande Lakes, this one-starred Michelin restaurant is led by celebrity chef John Tesar and has a menu that equals the grandeur of its dining setting. The culinary team led by chef de cuisine Gerald Somebright turns out contemporary steakhouse fare woven with seafood.
When you find yourself at this establishment, the jumbo lump crab Creole and the signature dry-aged cuts (aged anywhere from 45 to 240 days) are a must-try.
Michelin stars: ⭐
Prices: $$$$
What people say on Google: 4.2 stars, 202 reviews
4012 Central Florida Pkwy, Orlando, FL 32837
Best "Could Be" Michelin Star Restaurants in Orlando
While Orlando doesn't boast a huge range of Michelin-starred restaurants (they're a hard thing to achieve, after all), there are a few places that are definitely worthy of the recognition.
These seven restaurants in Orlando proudly hold a Bib Gourmand – a just-as-esteemed rating that recognizes restaurants that go beyond just serving up tasty dishes but also prioritize being approachable and welcoming to finers.
5. Bombay Street Kitchen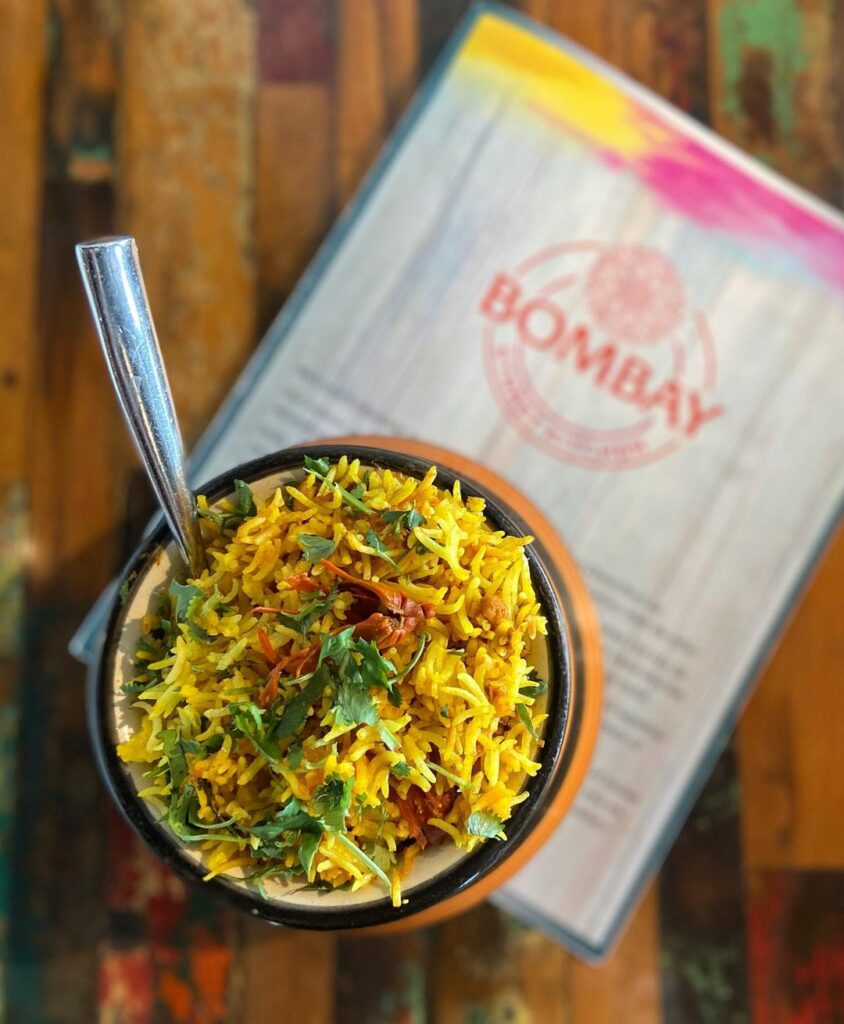 At Bombay Street Kitchen, Chef Amit Kumar seamlessly blends traditional and modern Indian cuisine into a lively and flavorful dining experience. As a Michelin Bib Gourmand restaurant, they proudly showcase the vibrant heritage and culture of India through their dishes.
From the sizzling Tandoor items to the aromatic Biriyani, and everything in between, the menu boasts a diverse range of dishes that cater to both vegetarian and non-vegetarian palates. And don't worry about reservations – this place is all about the casual, welcoming vibe.
Michelin rating: Bib Gourmand
Prices: $$
What people say on Google: 4.5 stars, 1,846 reviews
6215 S Orange Blossom Trl, Orlando, FL
6. The Ravenous Pig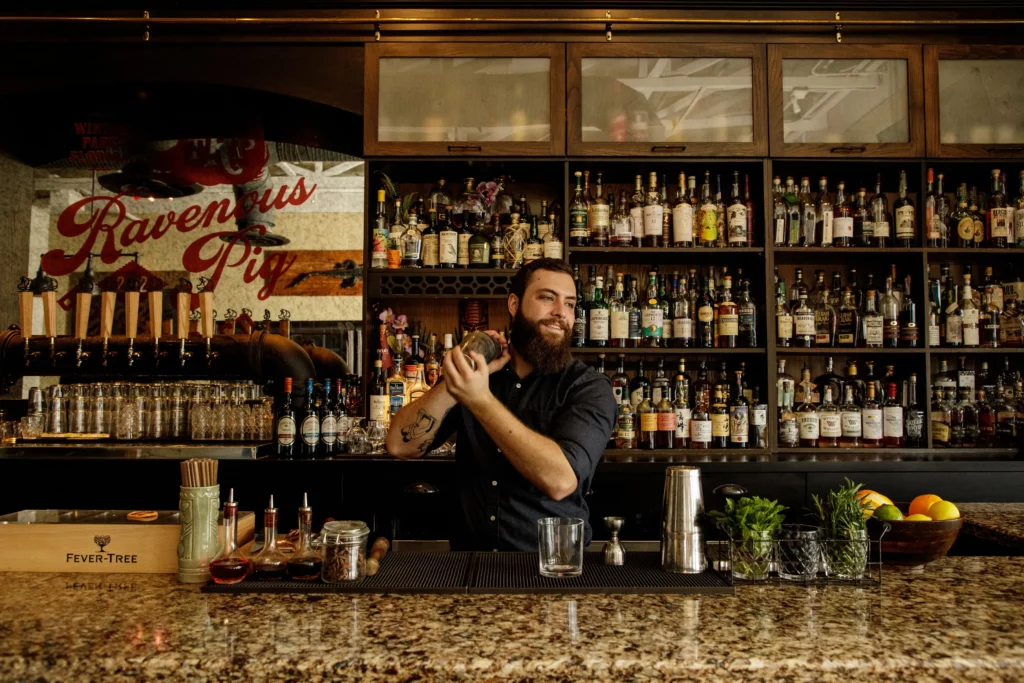 Established and run by husband-and-wife duo James and Julie Petrakis, the Ravenous Pig is where you go when you want some good American food. The star of the show at this modern gastropub is the wood-fired, smoked barbeque, with their namesake brews stealing the spotlight.
The culinary team brings their A-game to the menu, offering a range of classic pub fare with creative Southern twists. Like many other Michelin restaurants, the Ravenous Pig offers seasonal cuisine with menus that change daily. Boasting their own brewery on-site, you can expect a real treat when it comes to pairing your meal with an all-American microbrew.
Michelin rating: Bib Gourmand
Prices: $$
What people say on Google: 4.5 stars, 2,400 reviews
565 W Fairbanks Ave, Winter Park, FL
7. Papa Llama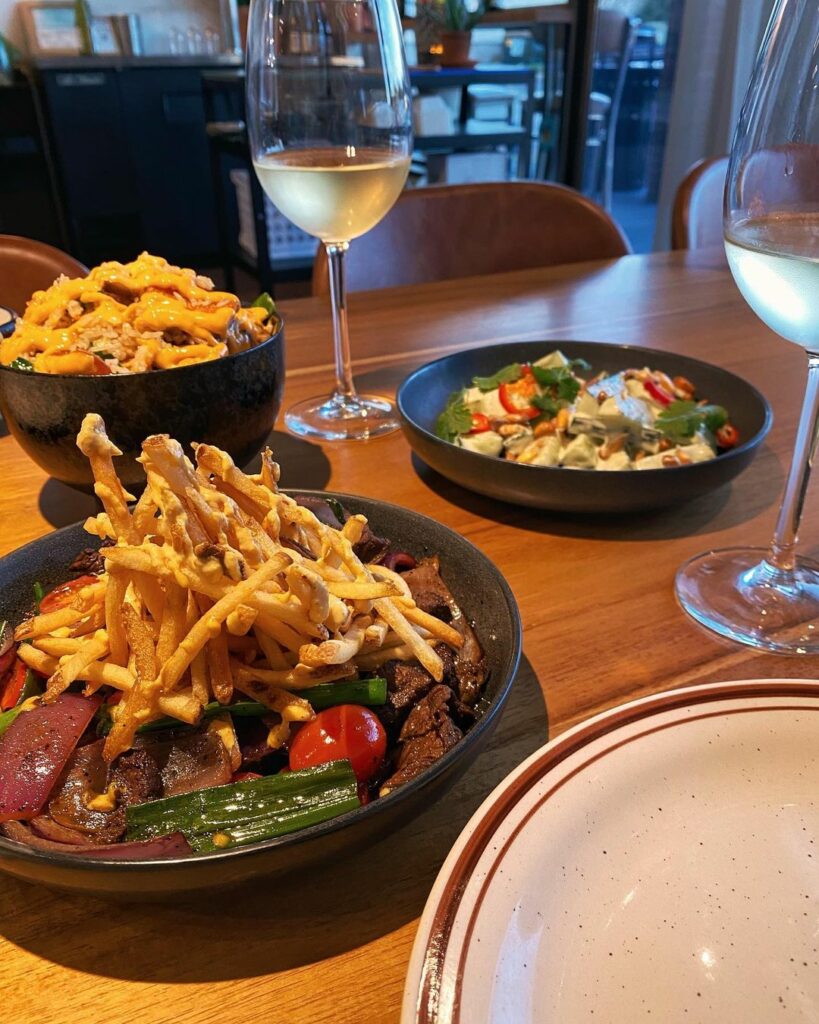 Having started as a pop-up in 2016, Papa Llama has now evolved into a chic diner that offers a fusion of American and Latin flavors. The restaurant's quaint yet stylish modern space lends itself to an inviting atmosphere, while the shareable menu is packed with Peruvian-inspired dishes that are bursting with flavor.
Besides its delicious Peruvian fare, Papa Llama also offers a natural wine selection sourced from organic and biodynamic vineyards around the world, as well as an impressive selection of craft beers. Keep in mind that this food joint is cashless, substitutions or modifications are not accepted, and reservations are encouraged (but not required).
Michelin rating: Bib Gourmand
Prices: $$
What people say on Google: 4.7 stars, 87 reviews
2840 Curry Ford Road, Orlando, FL
8. Swine & Sons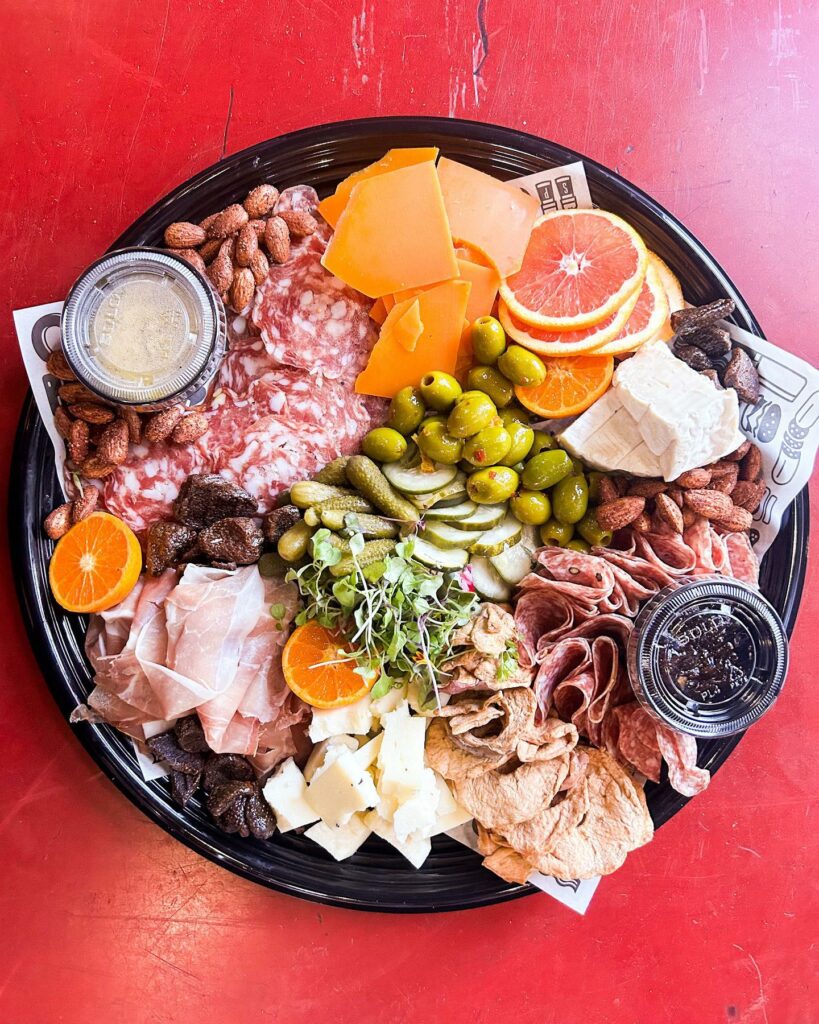 Bringing a fun twist to this list of highly-regarded Orlando restaurants is Swine & Sons, a counter service restaurant and caterer that's quickly climbed in fame. It's run by Alexia and Rhys Gawlak, a dynamic husband-and-wife team that has been part of the Orlando culinary community for two decades.
The menu is small but mighty, offering everything from Southern-inspired bites made from scratch to mouth-watering sandwiches and burgers. One bite of the signature fried chicken sandwich, complete with pimento cheese, bacon, and an array of tasty sauces, and you'll see why this local favorite earned a Bib Gourmand.
Michelin rating: Bib Gourmand
Prices: $
What people say on Google: 4.6 stars, 421 reviews
1280 N Orange Ave, Winter Park, FL 32789, United States
9. Domu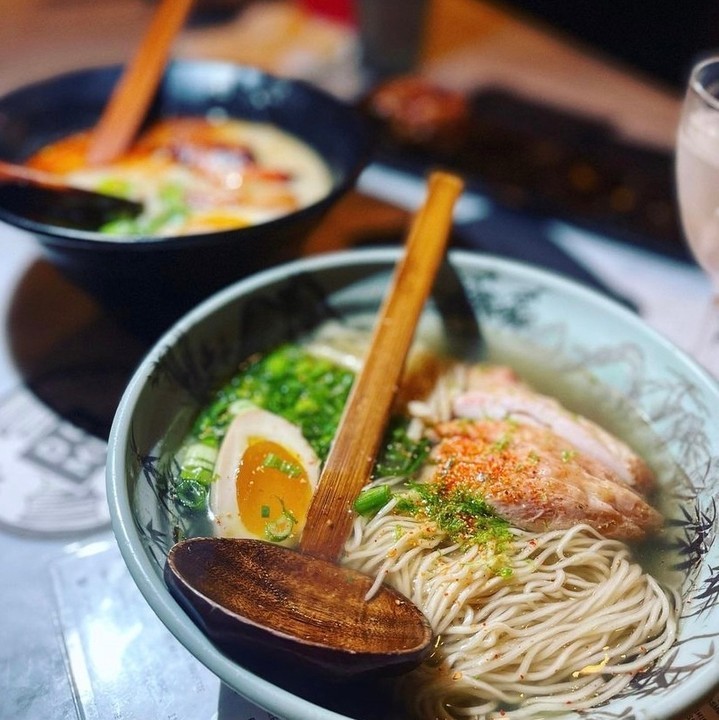 Domu is a modern restaurant and bar that brings a fresh perspective to traditional Japanese cuisine. Chef/Owner Sean "Sonny" Nguyen has perfected the art of blending traditional cooking techniques with modern twists, resulting in a menu that's flavorful and diverse.
While the Asian small plates are outstanding, the star attraction is undoubtedly the ramen dishes – it's what got Domu a Bib Gourmand. With dishes like Yuzu Chicken, Spicy Tonkotsu, and the signature Tokyo ramen, it's a must-try spot when you find yourself in Orlando.
Michelin rating: Bib Gourmand
Prices: $$
What people say on Google: 4.5 stars, 2,326 reviews
3201 Corrine Dr., Orlando, FL
10. Z Asian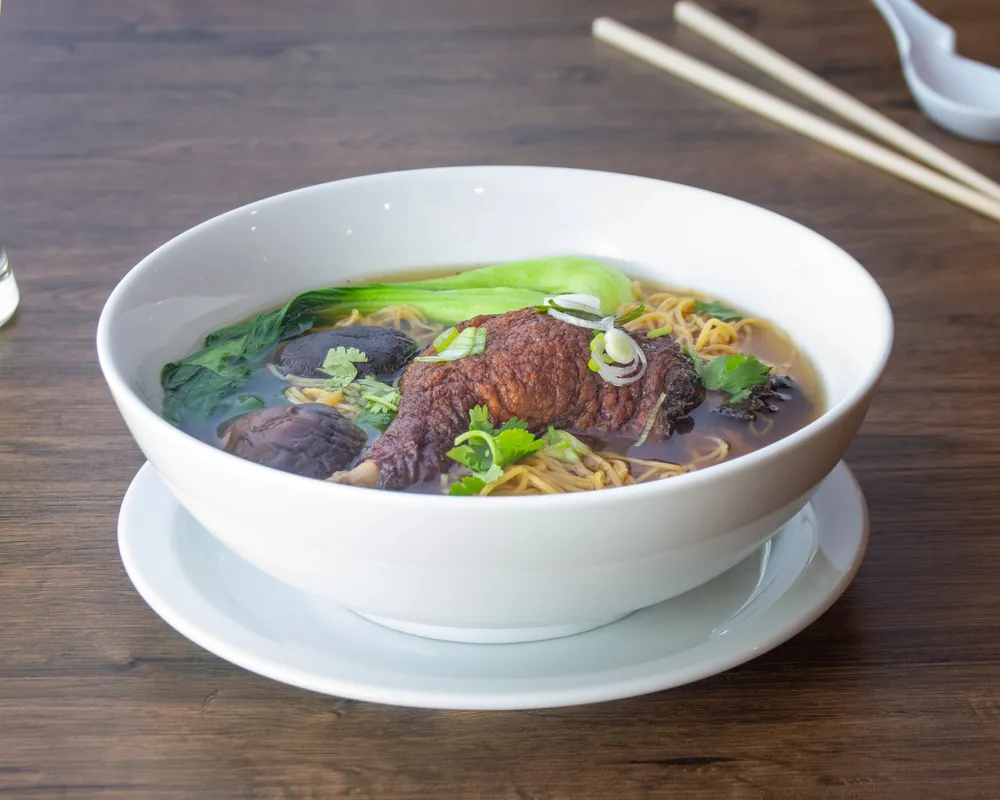 Step into Z Asian and experience a vibrant and authentic taste of Vietnam. With an outdoor patio, boba and slush drinks, and a liquor bar, the ambiance of the restaurant is as refreshing as the menu.
Speaking of the menu, it's packed with a variety of dishes that will transport you straight to the streets of Vietnam. From street food and appetizers to entrees, desserts, and even a kid's menu, Z Asian has something for everyone. Plus, their prices are affordable, making it the perfect spot for a casual lunch or dinner.
Michelin rating: Bib Gourmand
Prices: $$
What people say on Google: 4.4 stars, 279 reviews
1830 E. Colonial Dr., Orlando, FL
11. The Strand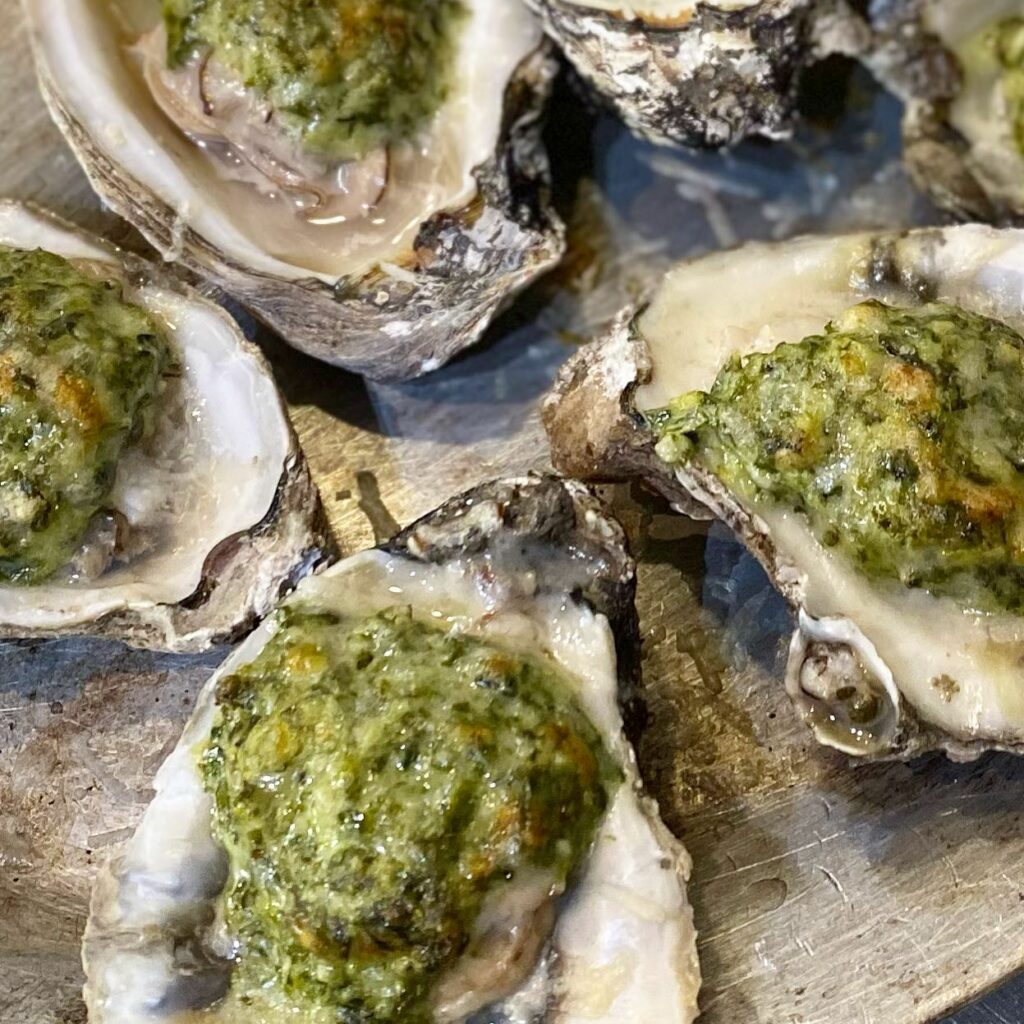 The final Bib Gourmand restaurant on my list is The Strand, a cozy neighborhood restaurant that soon turned into an everyday tradition in Orlando. With a space that may be small in size but big in charm, this restaurant is a feast for the eyes as well as the stomach.
The Strand's seasonal American menu is busting with Southern-inspired flavors, and a focus on local Florida produce results in a comforting home-cooked feel in every bite. From the chilled shrimp with hot fried green tomatoes to the fried fish and O.G. Burger, it's no wonder the Michelin Guide gave Strand a Bib Gourmand.
Michelin rating: Bib Gourmand
Prices: $$
What people say on Google: 4.6 stars, 438 reviews
807 N Mills Ave, Orlando, FL
12. Toledo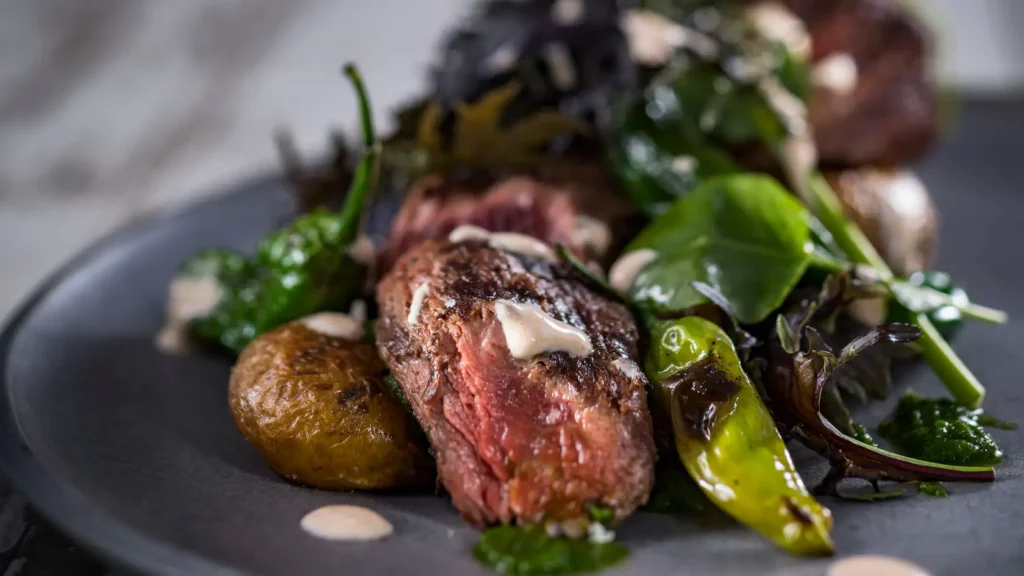 While not granted Michelin star or Bib Gourmand status, Michelin Guide still highly recommends Toledo. Located on the 16th floor of the Coronado Springs Resort in Walt Disney World Resort, Toledo is a Spanish haven serving tapas, seafood, and steak in style. The decor is a sight to behold but let's talk about the star of the show – the Spanish cuisine.
With an extensive tapas and appetizer menu, you're sure to find something to tantalize your taste buds. While the entree and dessert options may be limited, the selection of Spanish wines chosen by a Master Sommelier will leave you wanting more.
Michelin rating: not yet
Prices: $$
What people say on Google: 4.2 stars, 193 reviews
1000 W Buena Vista Dr, Lake Buena Vista, FL 32830, United States
13. Bacán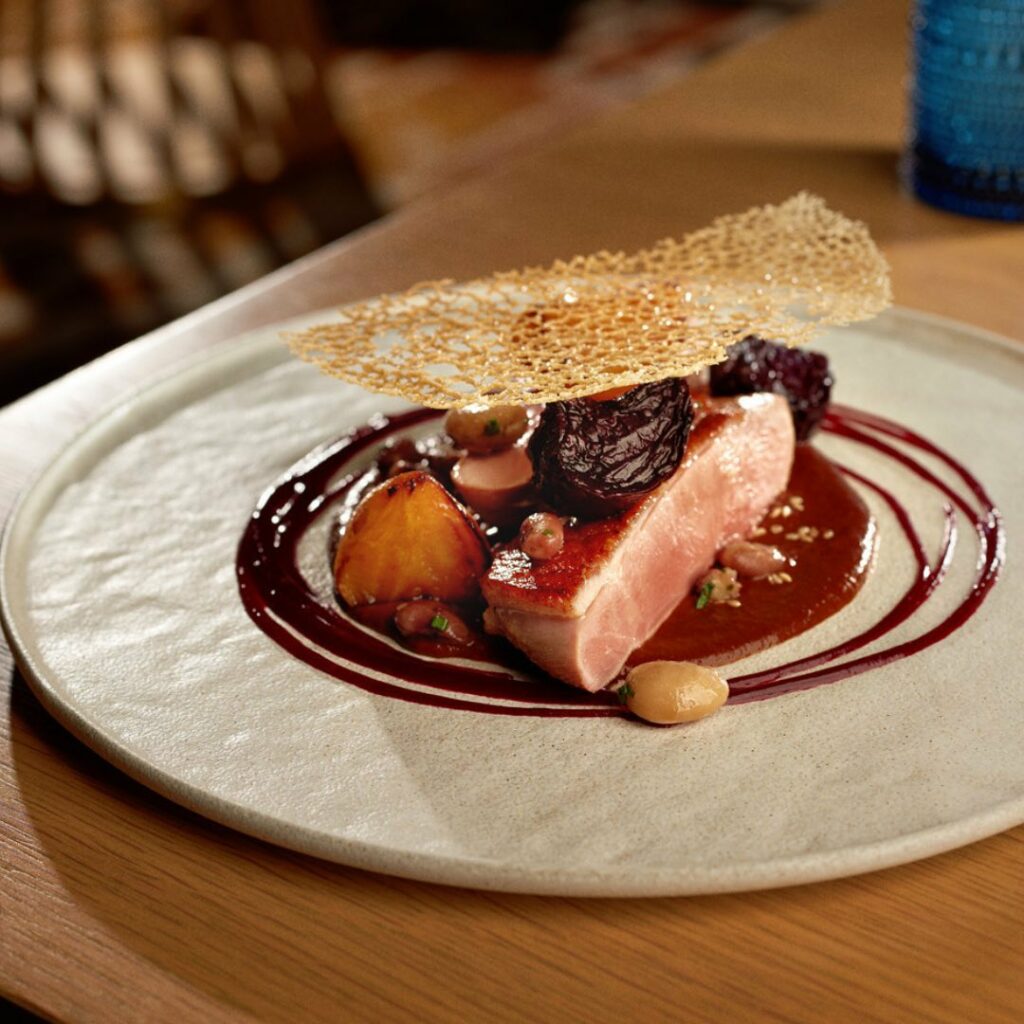 Get ready to be wowed by Bacán, the last fine dining and highly recommended restaurant by the Michelin Guide on this list. Don't mistake the name for the beloved breakfast favorite – bacán actually means 'cool' in Spanish, which is exactly what this Latin American restaurant is.
Nestled inside the Lake Nona Wave Hotel, Bacán's contemporary menu showcases Central and South American cuisine with a tropical twist. But the cool part is the expo robot that helps with service! Dishes like the Bacán Burger, Lobster and Burrata Tostada, and Whole Truffle Chicken Two Ways are just a few reasons why this is a "could be" Michelin star restaurant.
Michelin rating: not yet
Prices: $$$
What people say on Google: 4.7 stars, 264 reviews
6100 Wave Hotel Dr, Orlando, FL
What does Michelin star mean?
Michelin star is a world-renowned award for excellent cooking given to restaurants that the Michelin company believes are exceptional and worthy after an anonymous dining experience. The awarded restaurant usually gains massive recognition and praise, increasing the number of patrons as well as the chef's reputation. The maximum rating is 3 stars.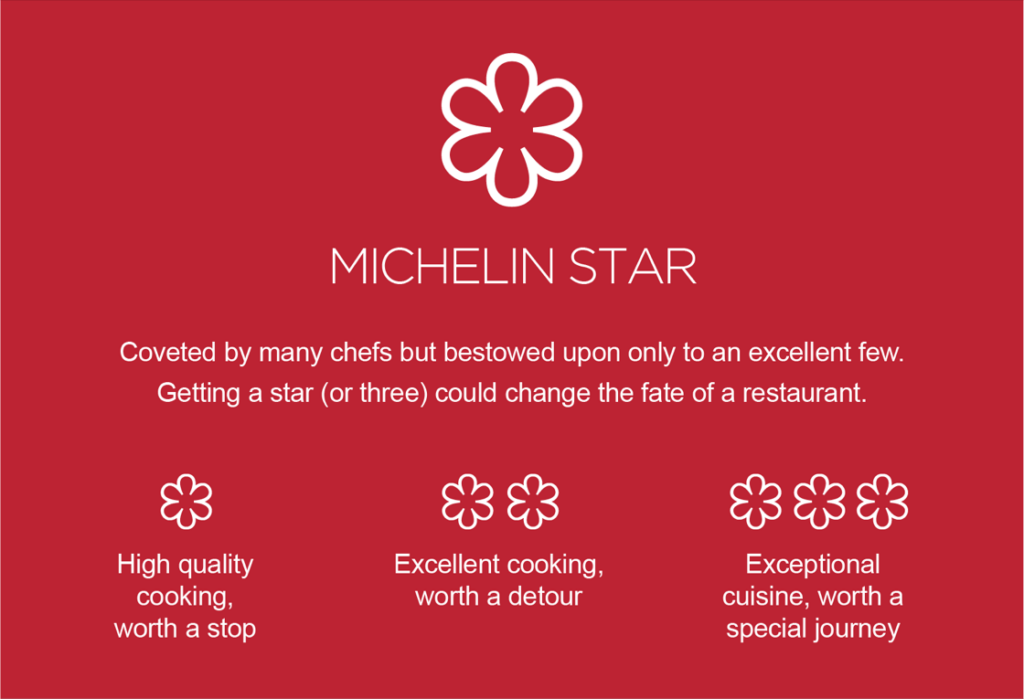 Some people believe that the Michelin guide examines and selects only top restaurants with fine dining, however, that is not the case. The Michelin selection includes a variety of establishments, from luxurious to mid-range restaurants for every budget.
Michelin inspectors distinguish 1, 2, and 3-star restaurants by these characteristics:
1-star restaurants represent a high quality of cooking and are worth a stop if you happen to be in this particular city.
2-star restaurants represent excellent cooking and you should go out of your way to visit.
3-star restaurants provide exceptional cuisine and you can plan your travels around a visit to such an establishment.
Bib Gourmand restaurants in Orlando
As I mentioned earlier, Bib Gourmand is a special award for restaurants with great food at a relatively low price. They serve an appetizer, first course, second course, and a dessert for around €20-50.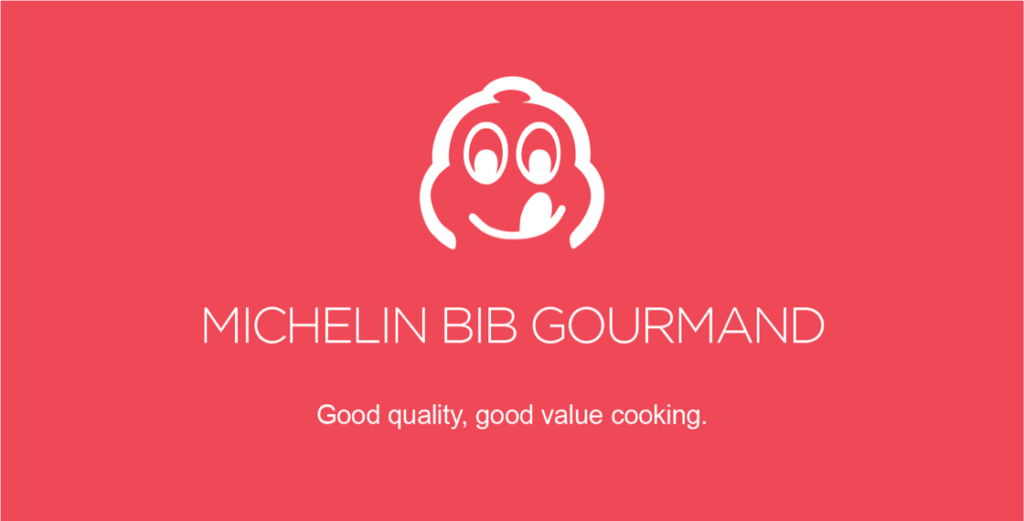 Final Thoughts
Orlando's culinary scene is nothing short of spectacular, and this list of the city's 13 best restaurants with Michelin stars and Bib Gourmands are a testament to that. From Japanese and Fusion dishes to Southern and Spanish fare, there's something sure to satisfy any palate.
But don't stop at the Michelin restaurants. Orlando has a thriving dining culture that extends far beyond these 13 restaurants. So take some time to explore the city's many neighborhoods. You may just find your new favorite dish or spot!