Vienna Metro Map: Info and Travel tips
Nadia Podrabinek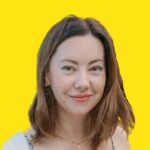 Written by Nadia Podrabinek
Hello, my name is Nadia. I usually write about traveling (there are so many places to fit all the lifestyles), relocation, and living in a foreign country (adapting to a different culture). My travels stretch beyond Spain, with journeys to the US, Italy, Norway, Portugal, and France. Relocating to Spain in 2018, I lived in cities from Barcelona to Madrid, currently calling Valencia home.  Follow me on Twitter, Facebook, Instagram, or LinkedIn! ... show more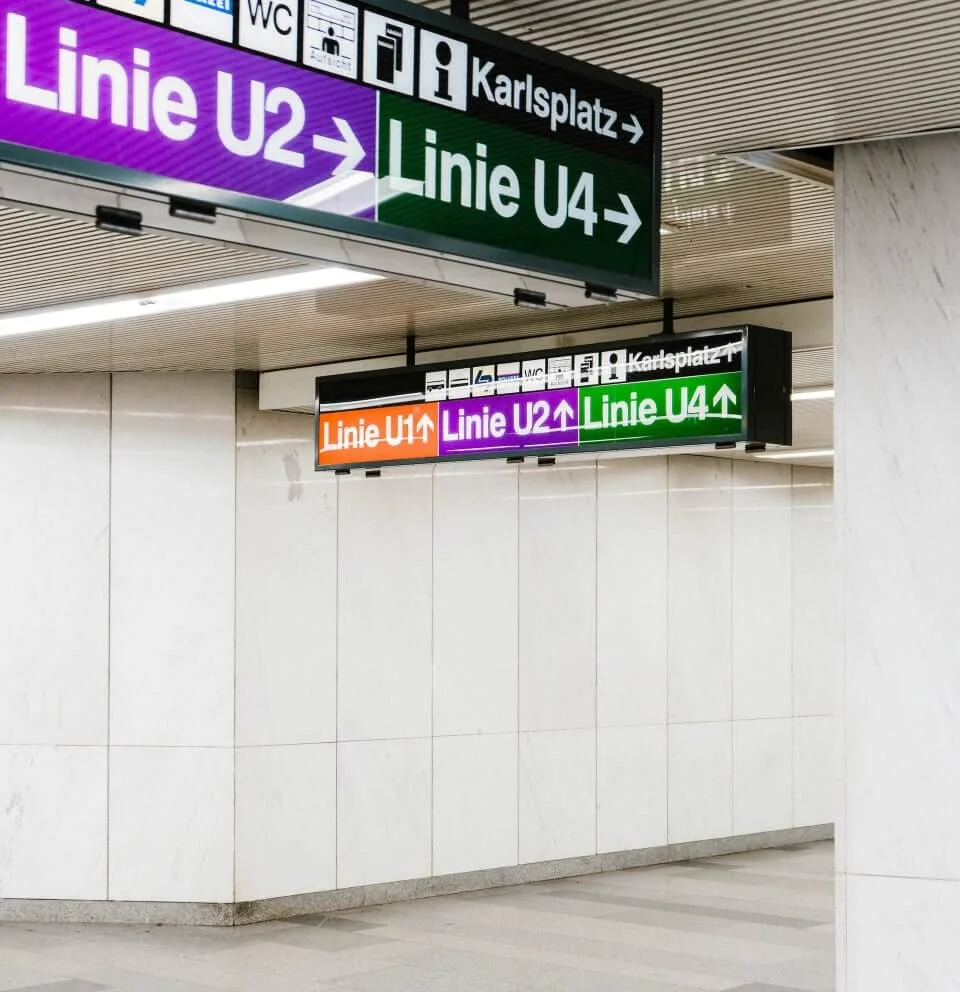 The metro in Vienna is a convenient, easy way to travel around the city. It is also called U-Bahn (from "Untergrundbahn", meaning underground railway in German).
The metro was opened in 1978, making it one of the youngest in Europe. It is 53 miles (83 km) long, has five lines, and serves 109 stations. Thus, you can get from point A to point B pretty quickly. Metro is also the best way to get to the city center once you land at the airport.
The Vienna Metro and the airport
Vienna Airport is located quite far from the city center, so you can either take a taxi or use two types of public transportation.
Take an S7 train from the airport to Wien Mitte station. It takes up to 25 minutes, and the trains run from 5:00 am to 12:00 am. The ride is €4.40 for adults and €2.10 for kids aged 6-14. From Wien Mitte, take the U-Bahn line U3, which connects to Stephansplatz station, situated in the very heart of gorgeous Vienna.
Another option is to take CAT (City Airport Train), which is faster (16 minutes) but more expensive (€11). Get off at Wien Mitte station and then choose U3.
Vienna Metro map
Here is the map of the Vienna Metro system (click to open in a new tab):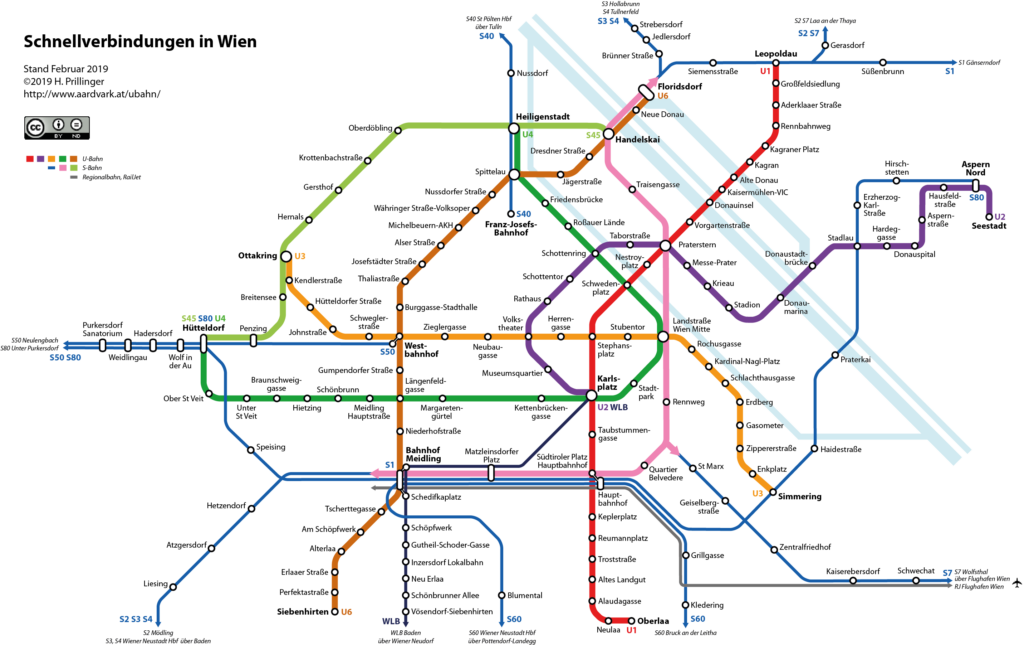 You can also download Vienna Center Metro Map with attractions (PDF, printable) or the Complete Map of Public Transport in Vienna (PDF).
Vienna Metro Timetable
The metro has only a 4,5-hour break at night, working from 05:00 am to 12:30 am. The average interval of departures is 2-5 minutes till 8 pm; after that time, the trains run less frequently – once every 7-8 minutes. On Friday night, Saturday night, and the nights before holidays, the Viennese metro works 24/7.
Vienna Metro Tickets & Cards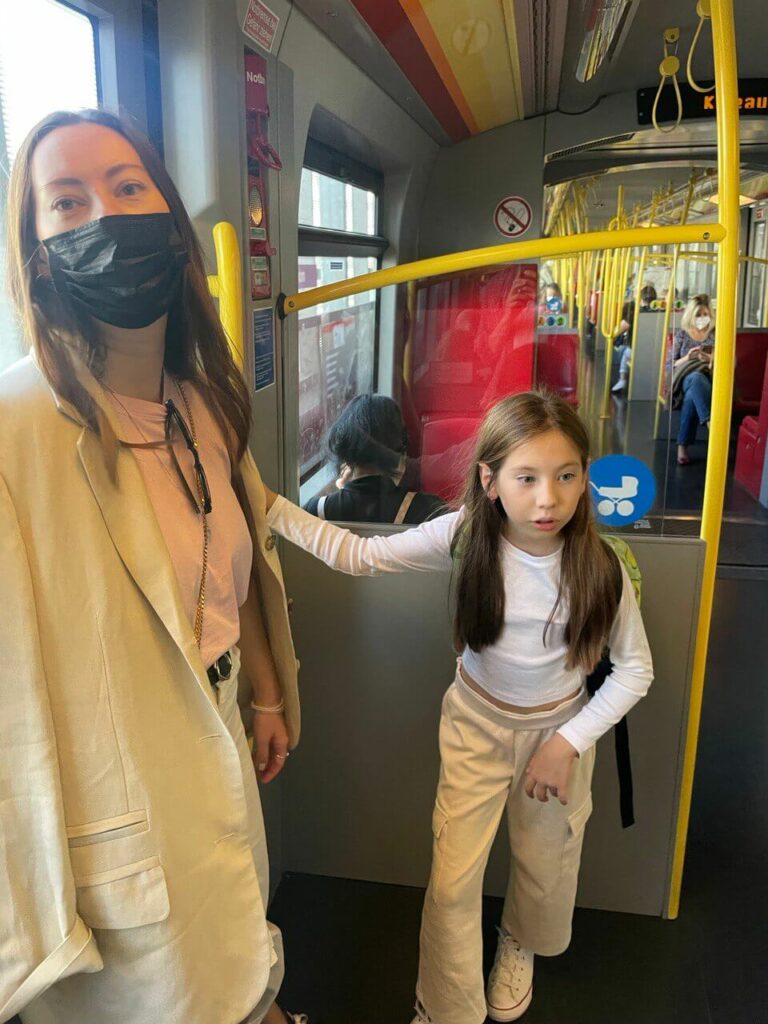 Vienna offers various public transport passes and cards, including the subway. If you only need one ride, a single metro ticket costs €2.40. However, I recommend more advantageous options, such as:
1-day pass, valid from the moment of the purchase till 1 am of the following day, for €5.80
24/48/72-hour passes for €8, €14.10, and €17.10, respectively, which allow you to use several types of public transportation during a specific period.
8-day ticket with unlimited trips for one person on the day of validation until 1:00 am of the following day.
Vienna City Card
Another, even more beneficial option is a Vienna City Card. Not only does it provide free travel around the city by metro, bus, and tram, but also seven days of various discounts and add-ons. You can get €1.5 off the museum ticket, up to 20% discounts at cafes, or 10% off tickets to Konzerthaus, a classical music venue – there are approximately 210 discounts available.
Choose between four types of city cards:
Standard Vienna City Card includes free public transport and access to discounts. Prices: €17/€25/€29 for 24/48/72-hour options, respectively.
Vienna City Card Transfer includes all of the above + an airport transfer. Prices: €34/€42/€46.
Vienna City Card Tour includes free public transport, access to discounts, and a hop-on/hop-off tour around the city. Prices: €44/€52/€56.
Vienna City Card Transfer+Tour includes all of the above. Prices: €61/€69/€73.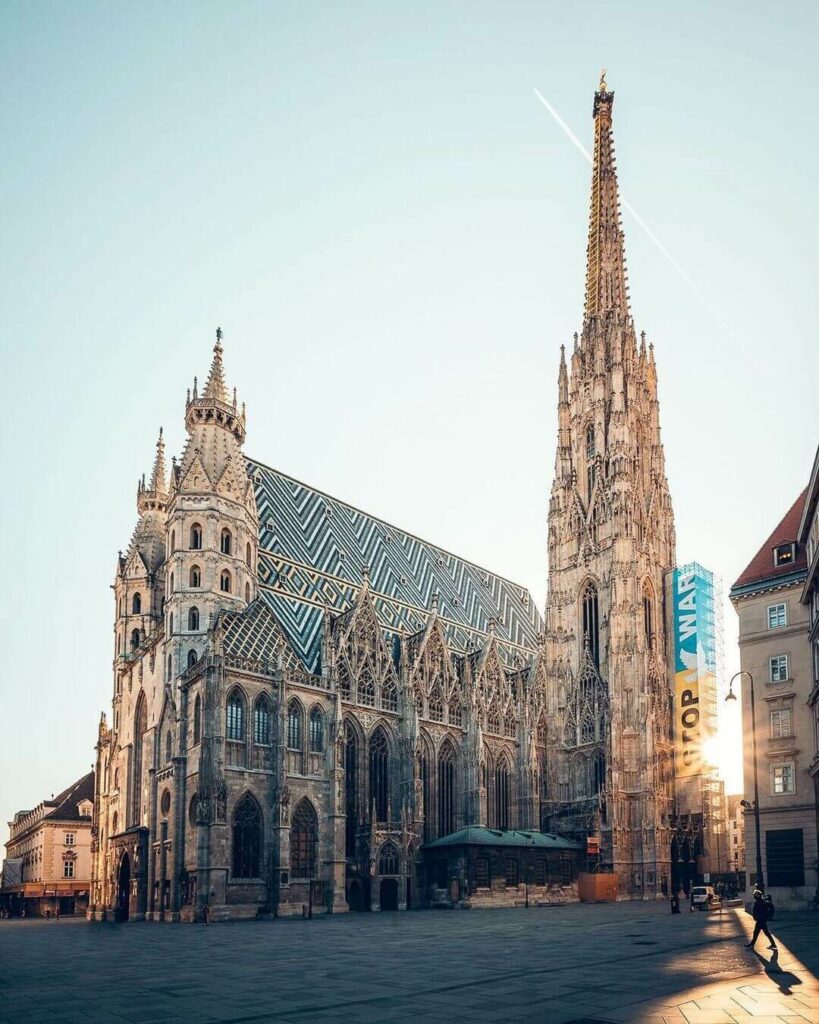 Vienna Metro Zones
U-Bahn has five lines:
U1 (Red): links the south and north of the city, from Leopoldau station to Reumannplatz.
U2 (Purple): goes all around the city center and connects the Stadion metro stop with Karlsplatz.
U3 (Orange): passes through some sights in the center (Stephansplatz, for example), heading from northwest to southeast.
U4 (Green): connects Heiligendtadt in the north and Hutteldorf in the west.
U6 (Brown): runs through the suburban areas in the north and the south.
As for the missing U5 line, the construction is not completed yet.
What is S-Bahn?
S-Bahn is an abbreviation for "Stadtschnellbahn" ("city rapid railway" in German). It is a hybrid rail system that combines urban and suburban routes in German-speaking countries, extending beyond the city's borders.
Vienna S-Bahn provides ten lines that follow different directions. Some of the routes flock in the urban area and form two lines, green and pink, which serve as an underground. Tourists hop on the train in the city center and head in any direction they want to see the lovely countryside and little Austrian towns – no need to rush to the train station anymore.
The travel time intervals differ depending on the line. The train running the popular Floridsdorf-Meidling direction comes every 4 minutes, and the railway between Handelskai and Hütteldorf railway takes up to 10 minutes.
Trams in Vienna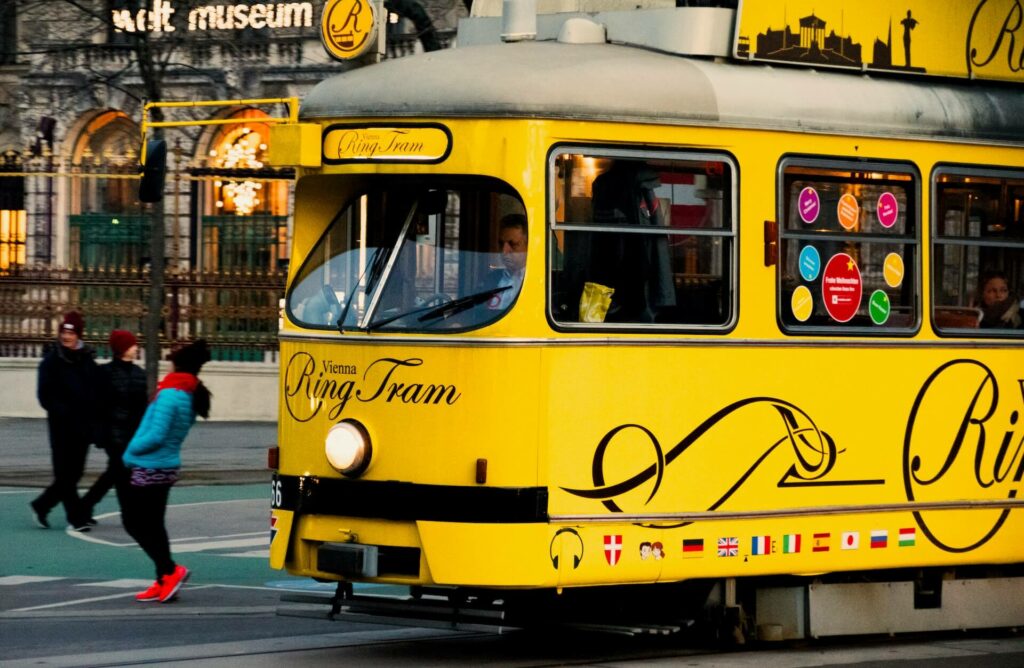 My personal favorite among Viennese public transportation is a tram because I love cinematic and romantic trips!
The first Viennese tram started operating in 1865, and now the city's tram network is included in the top-5 largest in the world. There are 29 tram lines in the city, so locals use this type of transport pretty much every day.
Until recently, tourists could enjoy a fancy Vienna Ring Tram, reminding Lisbon's famous yellow train. It passed by the most outstanding sights, such as Parliament, Kunsthistorisches Museum, Vienna State Opera, City Hall, and others. Unfortunately, the famous Vienna Ring Tram is temporarily closed until further notice – keep this idea in mind till the next trip to Vienna.
Additional Tips for Using the Vienna Metro
These are a few tips for you to consider before using the Vienna metro network:
Keep in mind that the airport is outside the city area, so some metro passes may not work for you.
The public transport in Vienna is operated by the only company, Wiener Linien. The tickets you buy cover the metro, the tram, the train, and the bus rides.
You can buy a ticket using a vending machine at the metro station (lower prices and easy to buy a pass) and directly on buses and trams (more expensive and only single rides are available). Tobacco shops sell tickets as well.
Validate the ticket using a stamp machine. The machines are located at subway stations, on buses and trams. Whether you need to do so should be clear from your ticket.
Frequently asked questions
How to get from Vienna airport to Vienna?
There are several options:
1. Catch an S-Bahn S7 train bound for Floridsdorf, get off at Wien-Mitte station, and take the U-Bahn line U3, which connects to Stephansplatz station.
2. Take a Vienna AirportLines Bus for €8, which goes directly to the city center.
3. Take a City Airport Train (CAT) for €11, which goes directly to the city center as well (Wien Mitte). It takes only 16 minutes. 
What is the cheapest way to get from Vienna airport to the city?
It is an S-Bahn + U-Bahn route. It will cost you only €6.80 (€4.40+€2.40).
How to get to Vienna airport early in the morning?
If you plan to leave an apartment/hotel after 5:00 am, use a reverse S-Bahn + U-
Bahn scheme: take a U3 or U4 line (the metro opens at 5:00 am) and hop off at Wien Mitte, take an S7 to the airport at 5:37 am. You will be there by 5:53.
Choose a taxi if you need to leave earlier or prefer a more comfortable ride. Keep in mind that it is much more expensive (up to €40).
How to get from Vienna to the airport?
1. Order a taxi.
2. Take a metro ride towards Wien Mitte and then catch a CAT train.
3. Take a metro ride towards Wien Mitte and then catch S7 train.
How many metro lines are in Vienna?
At the moment, Vienna metro network has five lines and 109 stations.
Is there an App for Vienna Metro?
Yes, and it also allows you to buy a ticket! Use the official Wiener Linien app – WienMobil (find the download link below). There are also some unofficial apps, such as Vienna Metro and Subway, Vienna Metro Map, and Vienna U-Bahn.
Useful inks:
Vienna public transport is indeed super convenient to use. However, I recommend walking as much as possible – that is the best way to explore this breathtaking city!