Uncovering Vienna: 15 Best Things to Do
Nadia Podrabinek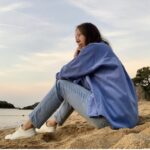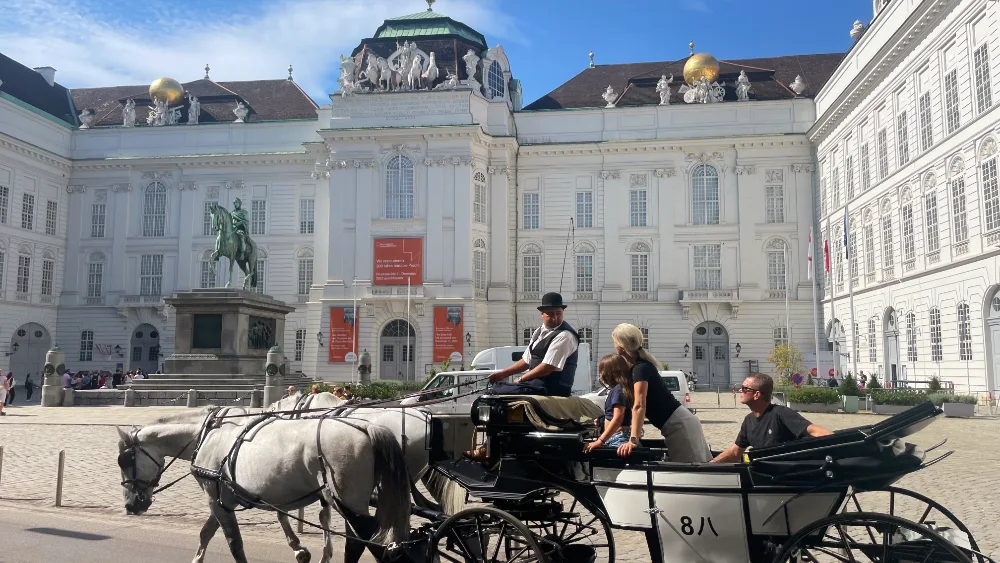 The birthplace of strudel, the cradle of Classical music, and the best example of ornate European architecture – Vienna, the capital of Austria, exudes luxury and boasts splendid culture formed over hundreds of years.
The service is excellent here, the food is top-notch, and the variety of museums, cultural hubs, and theaters is bountiful, so the impression of a city with an exceptionally high standard of living hits you from the first minute.
Although Vienna is indeed very expensive for tourists, it rather makes you want to move here than feel out of place.
Best things to do in Vienna
Vienna's historical and cultural heritage is enormous, so plan your visit thoroughly, especially if you only stay for a couple of days. Here is my list of must-see spots and sightseeing activities.
Saint Stephen's Cathedral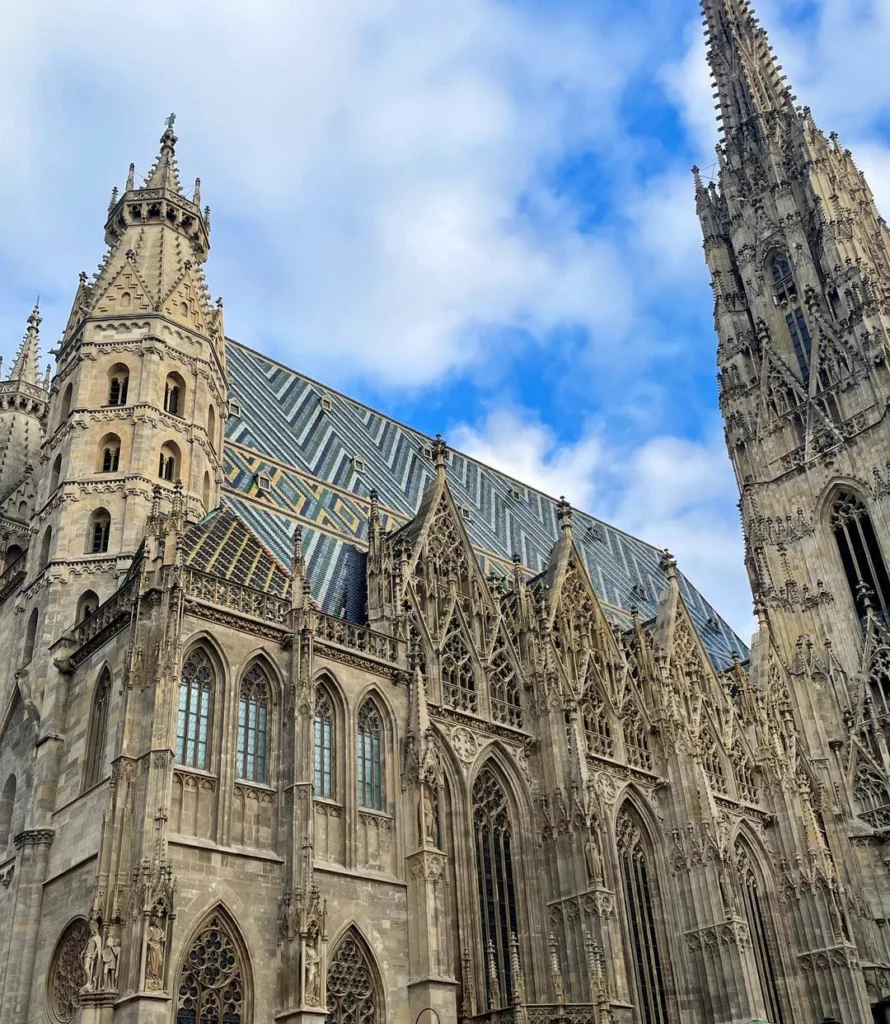 It is a Romanesque/Gothic church dating back to the 12th century. It was reconstructed many times, including after World War II, when the cathedral was damaged considerably and repaired within a few years.
Now it is the prominent landmark of Vienna, and you cannot prepare yourself enough for this architectural wonder. My jaw dropped when I saw the cathedral for the first time.
Also, I highly recommend visiting the catacombs and climbing to the top of the south tower. After taking 343 steps, you will be rewarded with amazing views of central Vienna.
Here is a high-quality 4k+ drone video of Vienna:
The Hofburg Imperial Palace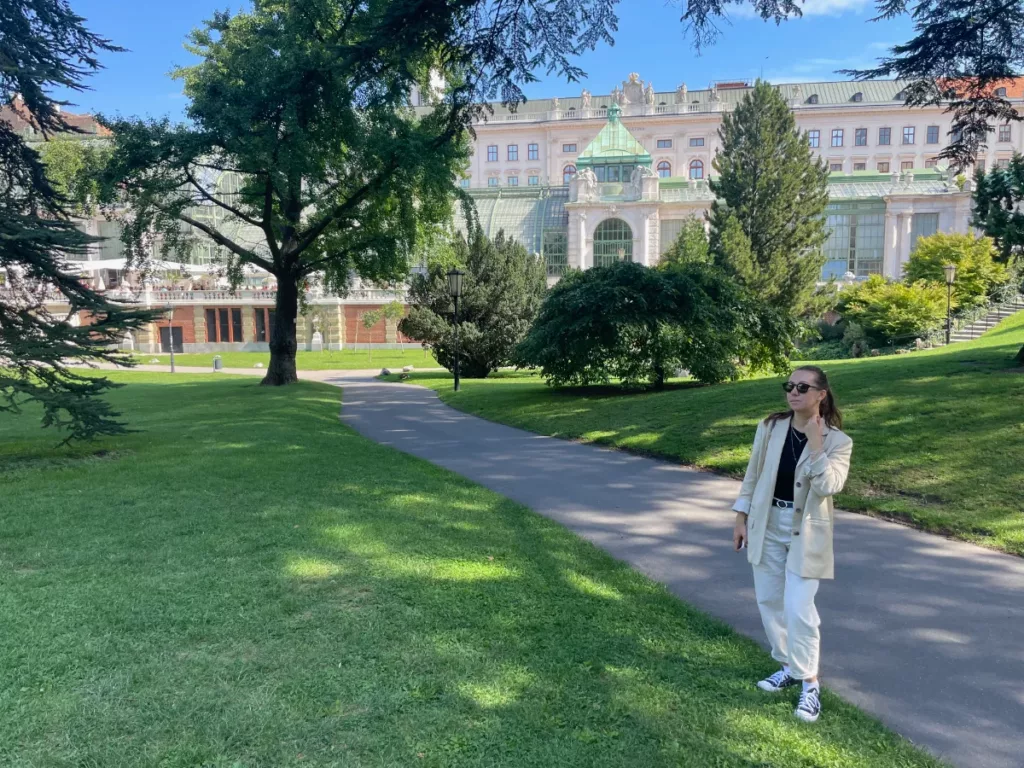 A former residence of the Habsburg dynasty, it was built in the 13th century and then expanded substantially; today it is a huge complex with several "wings."
Visit the luxurious Imperial Apartments with private chambers of the imperial family, including the Sisi Museum. It is devoted to the life of Empress Elisabeth, known as "Sisi." If you are fond of horse performances, check out Spanish Riding School, which preserves classical training of Lipizzaner horses.
Belvedere Palace and Museum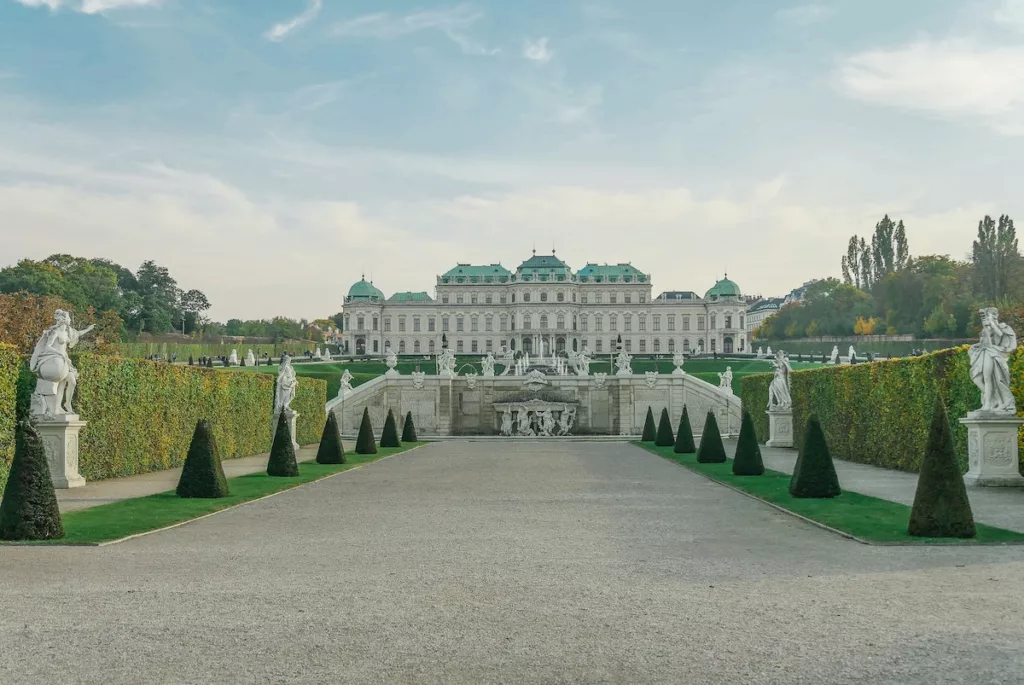 This architectural complex consists of two palaces (Lower and Upper Belvedere) with extensive collections of Austrian art, including the famous Klimt's "The Kiss," the Virtual Middle Ages exhibition, and many temporary displays.
Rathaus City Hall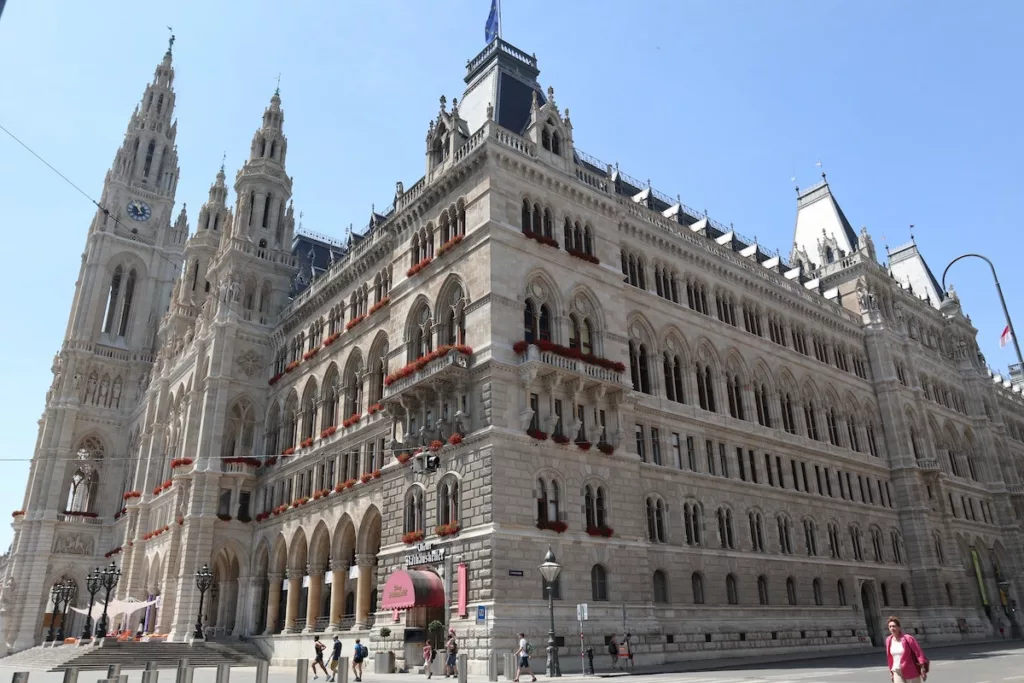 This spot is known for its splendid gothic tower. If you visit Vienna during winter, do not miss a chance to go ice skating right in front of the Rathaus.
Walking tour
Even if you hate such a mainstream way to explore a new location, Vienna is too big and gorgeous not to have at least one excursion around the city center.
Vienna's hop-on/hop-off bus
To save some time, take this sightseeing bus that will show you the most monumental landmarks of the city. Check the availability here.
Schönbrunn Palace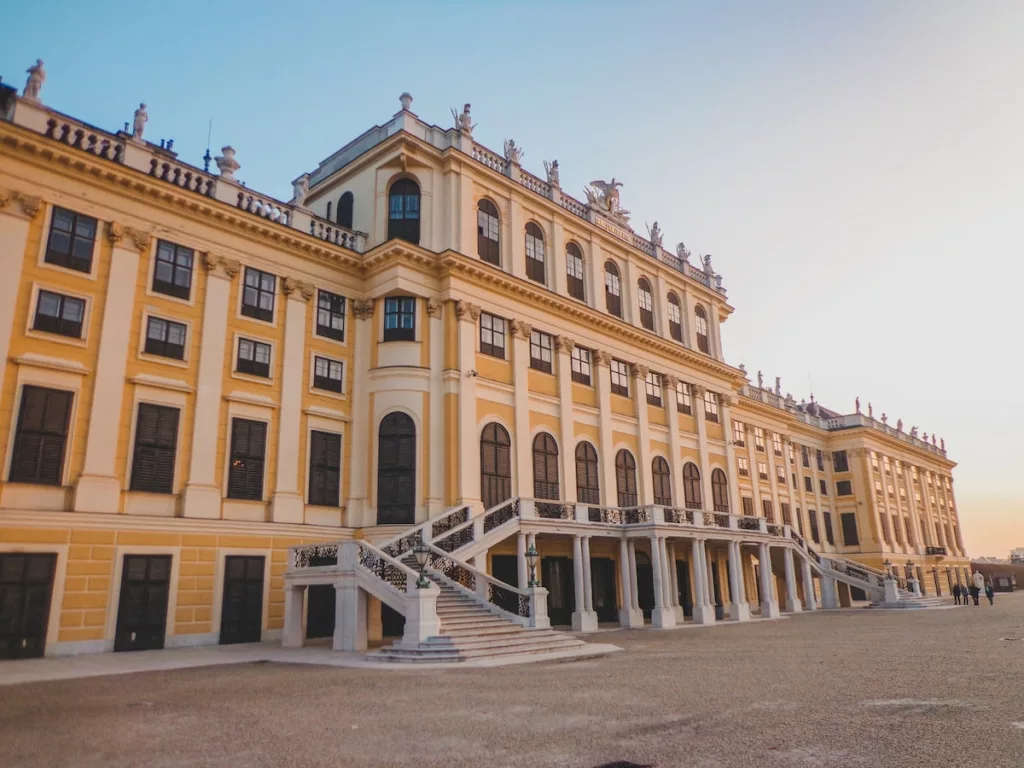 This is a site a bit outside of the city. If you stay in Vienna for more than 4-5 days, this is an ideal chance to unwind and explore a beautiful Rococo residence of Habsburg rulers. Both the palace and stunning gardens were founded in the 17th century and then redesigned under Maria Theresa.
On the official website, you will find several tour options, such as Imperial and Grand guided tours that show 18th-century interiors and private rooms of Franz Joseph and Sisi.
Explore the Art in Vienna
If you are fond of art and music or, on the contrary, do not know how to approach it, Vienna is your top priority option. The city boasts around 100 museums, so you will definitely need to do research before the trip.
The Kunsthistorisches Museum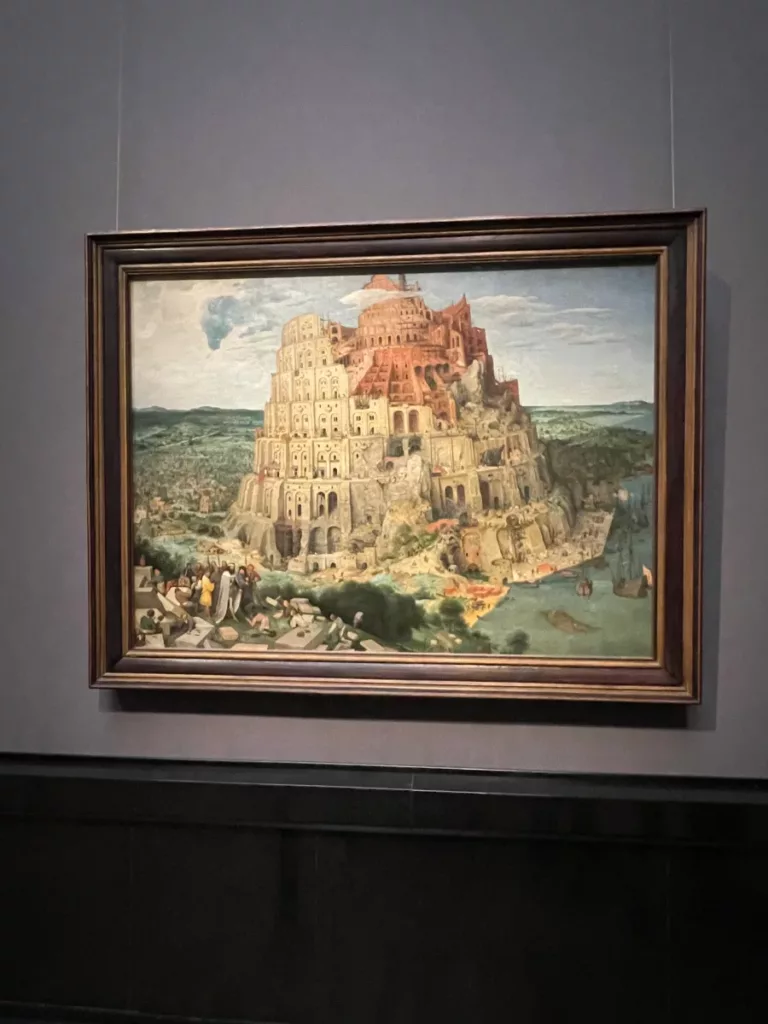 For me, it was the apotheosis of pure beauty. The interior leaves you in awe, and the collections include works by the greatest masters, such as Titian, Rubens, Anthony Van Dyck, Raphael, Rembrandt, Caravaggio, and others.
Keep in mind that the museum is closed on Mondays and is open until 9 PM on Thursdays. I visited it on Thursday the last time, and the atmosphere in the evening is particularly charming and mysterious.
Albertina Museum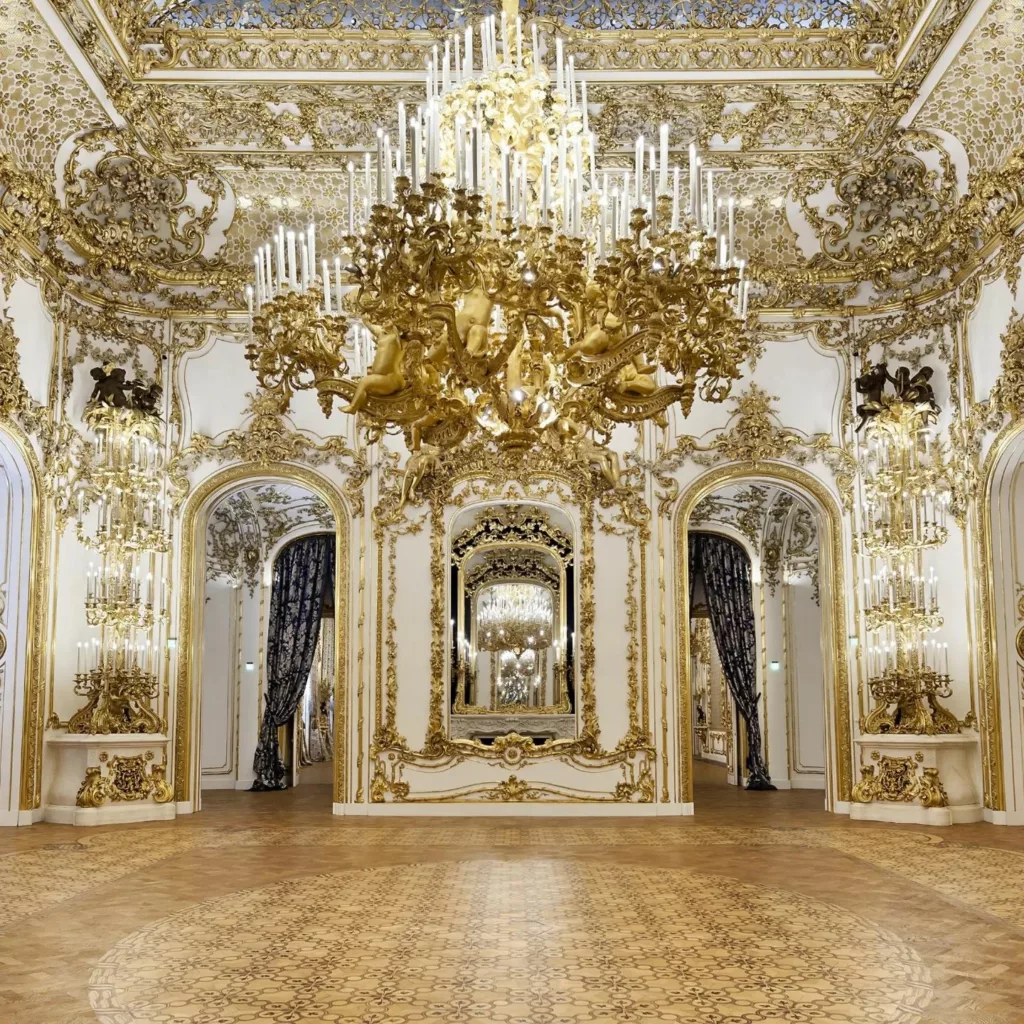 This museum has a classical art collection and a separate Albertina Modern exhibition with contemporary works. Check out works by Picasso, Chagall, Magritte, and Monet. Both halls are open every day from 10 AM to 6 PM (Albertina Museum is open until 9 PM on Wednesdays and Fridays).
The Vienna State Opera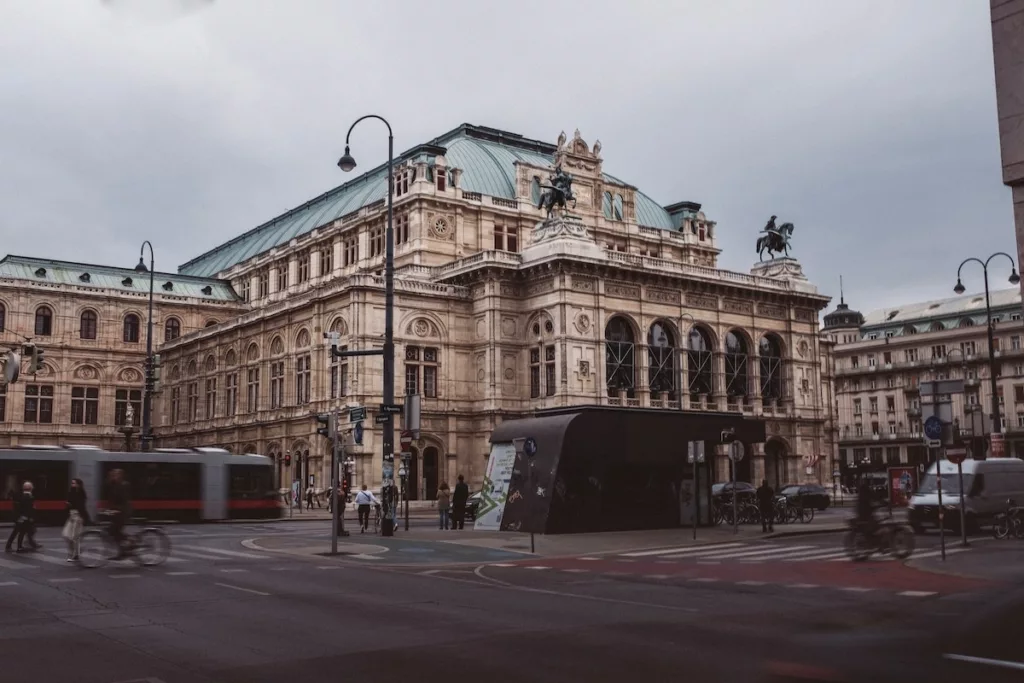 Obviously, this is the best place to listen to classical music in Vienna. Austrian architects built this Neo-Renaissance masterpiece based on the Polish designer's sketches in the 19th century. The Opera House looks particularly impressive at night.
I highly recommend buying tickets a few months before the trip. However, even if you do not get a chance to see a performance, a screen broadcasts the shows online next to the building.
Sample Austrian Food and Drinks
Austrian cuisine is similar to German because of the countries' common historical background. Nonetheless, there are dishes invented here that Austrians are very proud of.
Read also: The best breakfast places in Vienna
Strudel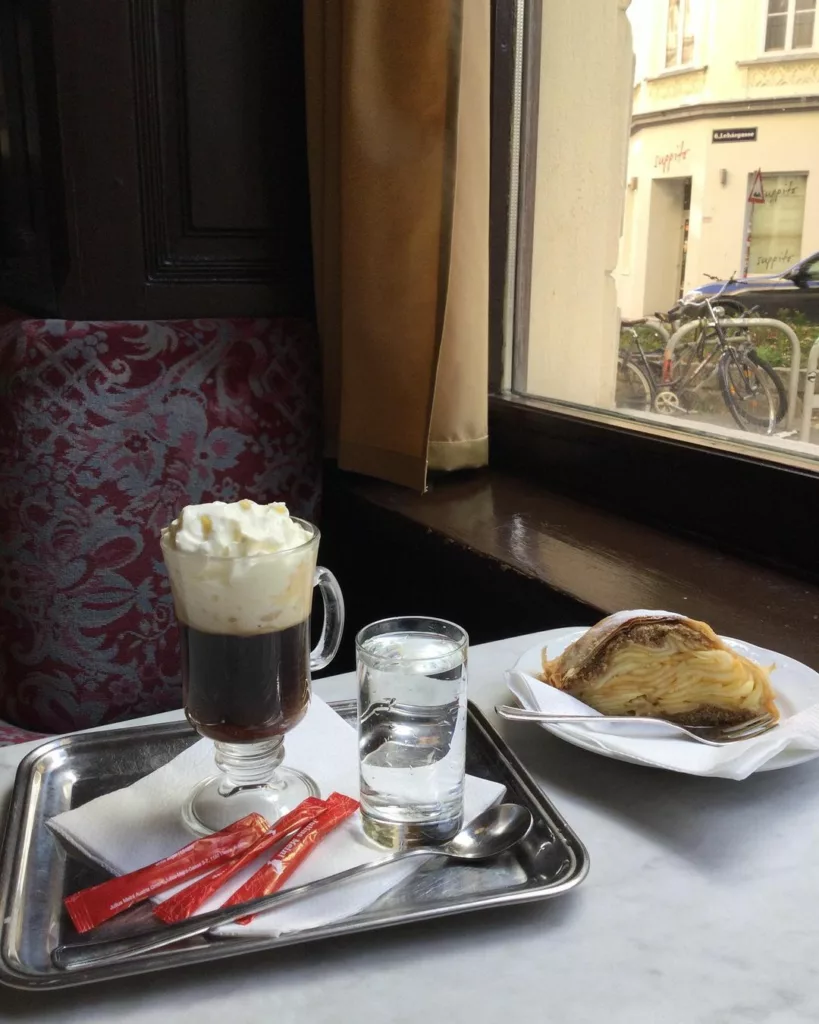 This dessert is so popular here that you can even visit a Shtrudel show at Café Restaurant Residenz (included in the Vienna Pass, by the way).
Strudel is a layered pastry with a filling, usually apples with cinnamon. The dough is rolled out to become just around one-tenth of an inch thick. Then the apples, sugar, and cinnamon are added on top and the dough is wrapped tightly. The roll is then baked and served with whipped cream, sugar powder, or ice cream.
I have tried Strudel in Café Landtmann, and it was insanely tasty. Sacher, an Austrian chocolate cake, was another dessert I loved there. People also recommend Kaffee Alt Wien and Conditorei Sluka Kärntner Straße to try apple Strudel.
Schnitzel
Schnitzel is a large, thin piece of meat (pork, chicken, mutton, veal) that is pounded, breaded, and then fried. The meat is usually garnished with potatoes or red cabbage and lemon.
Regarding which spots to visit – Schnitzelwirt, Lugeck, Wiener Wiaz Haus, and Alt Wiener Gaststätte Beim Czaak were on my list. Also, there is a fancier place called Restaurant Meissl & Schadn Wien.
Vienna Sausages
Coming to Austria or Germany and passing up the chance to try sausages is a crime. Vienna is home to a specific type of sausage; it is thin, made of beef and pork, and smoked in low temperatures for a while. Locals love eating so-called Frankfurters in a Hot Dog with ketchup and mustard.
You can find sausages anywhere, but the most authentic experience is to stop by sausage stands, such as Kaiserzeit Sausage Stand, The Bitzinger Sausage Stands, and Würstelstand am Hohen Markt.
Coffee in Vienna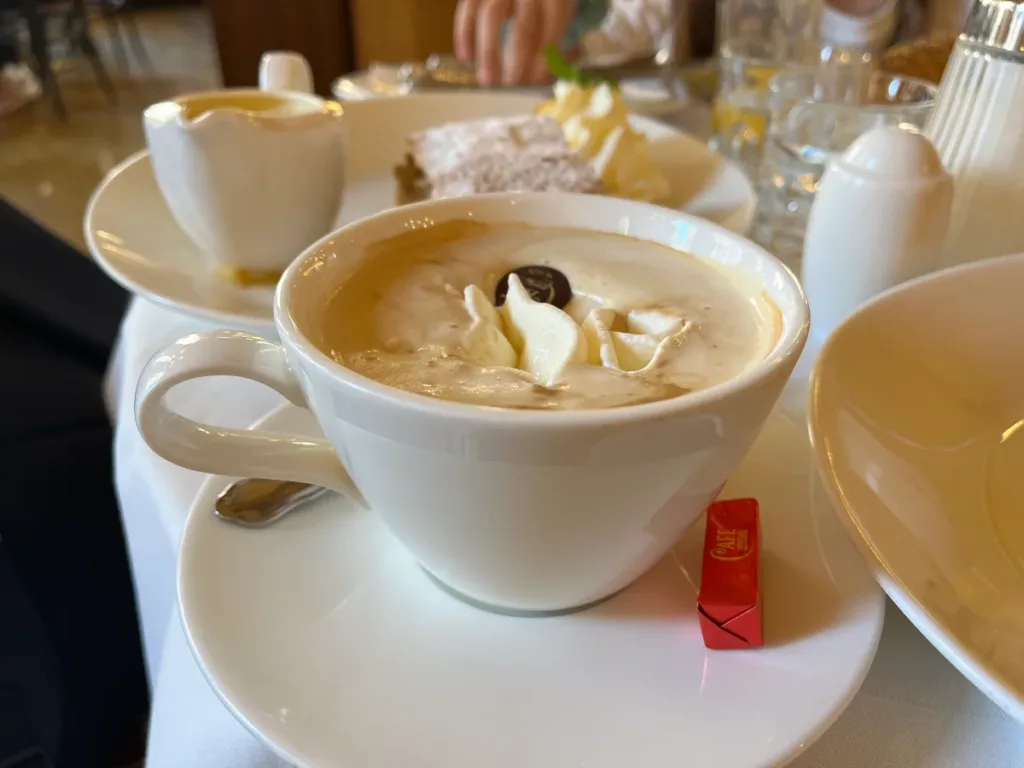 Coffee culture is exceptionally well-developed in Vienna. Do not miss the chance to sample Melange coffee (a kind of Viennese Latte), Sachertorte, and Apple Strudel altogether!
The best coffee can be found at local cafes. Here are some recommendations:
Cafe Hawelka. Opened in 1939, it was a hot spot for local intellectuals in the 1960s and 1970s.
Cafe Prückel is a very cozy place established in 1903 and redesigned in the 1950s. The furniture and decor distinctly resemble those times. 
Cafe Central is a legendary place where Sigmund Freud had lunch from time to time. The restaurant offers delicious desserts and main courses, besides a high-quality coffee selection.
Aida Cafe Konditorei is a franchise of pink-facade coffee houses around the city. This spot charges reasonably and overall is loved by locals.
Wines
As a fancy, chic city, Vienna boasts dozens of places to try top-notch wine. Most vineyards are located outside of Vienna within a short distance and offer wine tastings. To get there, you can take public transport or purchase a tour that provides transportation.
Among the most visited vineyards, you will find the ones in Wachau Valley, Weinviertel, and Wagram. There are also wine cellars within the city that offer guided tours with wine experts, such as Schlumberger Cellars, Haas & Haas Wine and Delicatessen, Palais Coburg, and Artner Restaurant on Franziskanerplatz.
Shopping in Vienna
Some tourists come to Vienna specifically for shopping, and the reason is the number of top-tier, glamourous shops around every corner. If shopping is your thing, check out the following locations:
Mariahilfer Straße is the longest shopping street in Vienna. Here tourists find the best souvenirs, jewelry, clothing stores, and perfumeries. Try to reach this street on foot because the traffic here is insane.
Naschmarkt is an excellent spot to explore, if only for the sights and smells. It is an open-air market where sellers offer farm dairy products, fruits, vegetables, meat, and much more.
Kärntner Straße is a high-end shopping street with luxury brands, including a lavish Swarovski flagship store. While strolling along the street, you will also see many gorgeous historical buildings.
Off-the-beaten-track things to do
Here is my list of some underrated activities you can do when in Vienna:
Take a tour to learn about ghost stories and legends. You can walk with a guide around the city center or along underground paths. Watch out, as it might be a bit creepy!
Visit the Haus des Meeres, an aquarium located in a former World War II flak tower. The building looks futuristic and provides a great view of Vienna from the rooftop.
Check out the Sigmund Freud Museum, dedicated to the life and work of the famous psychoanalyst. Photographs, biography, historical manuscripts, and private rooms enable one to get to know such a controversial yet prominent figure of the twentieth century.
Stop by the House of Music, an interactive museum where you can compose your own music, conduct an orchestra, and create 3D shapes. If you travel with children, this is your must-visit!
Go to Kaisergruft Museum to see ornate black coffins and bronze skulls and learn more about Habsburg monarchs.
If you have time, take a car and go to Salzburg. It is a fantastic small city, the birthplace of Mozart, situated three hours away by car from Vienna.
Vienna Pass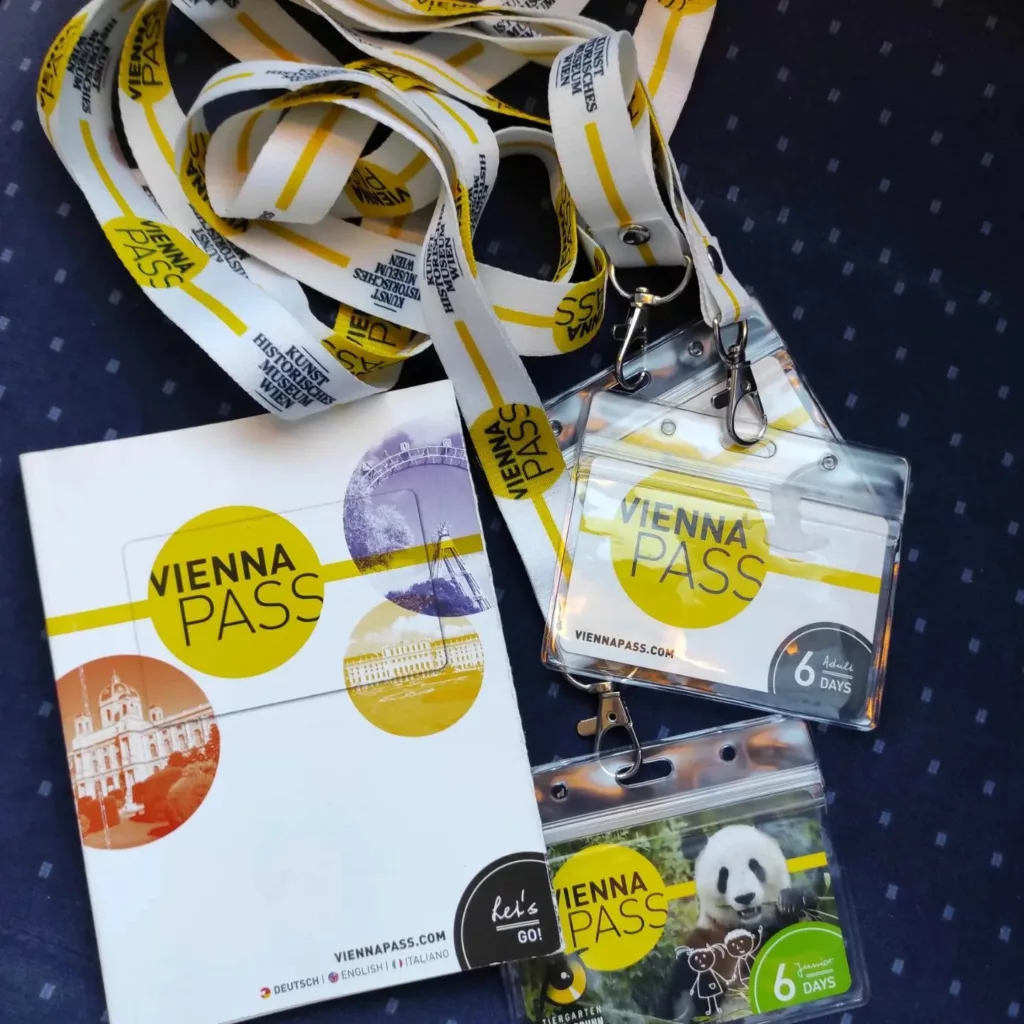 If you have a case of FOMO and tend to visit as many sites as possible, the best recommendation is to buy a Vienna pass, and save some money since events here tend to be expensive. Tourists tend to spend a lot of money in Vienna, but at least there is a way to offset that, even if just a bit.
Vienna Pass is a card that allows you to check out up to 70 attractions for free, gives access to unlimited hop-on-hop-off buses, enables you to skip the line at top museums, and provides a free guidebook. It is not cheap (€81 for one day, €113 for two, €139 for three, and €169 for six days) but works perfectly for those who strive to visit 5-10 places during a visit.
Also, you can optionally add a travel card that offers free public transportation. However, if you prefer light track trips, do not waste your money because it will not recoup the cost.
Vienna Attractions Map
Public Transportation
Transportation in Vienna is very clean and comfortable, and even the mayor of Vienna uses local buses from time to time. However, it is pricey (€2.40 for a bus ride, for instance).
Read also: Vienna Metro Map and Travel tips
To save here, check out the Vienna City Card, which provides unlimited use of buses, metro, and trams. You can choose between these options: 24 hours for €17, 48 for €25, and 72 for €29. Moreover, it offers discounts at museums, bars, shops, and attractions for seven days. You can also add hop-on-hop-off buses to your plan as well as transfer to and from the airport (which is very beneficial as it is located far from the city center).
Regarding the public transportation system, there are four types of transportation in Vienna: U-Bahn, Schnellbahn or S-Bahn, Straßenbahn, and Autobus. The system may seem confusing, but everything is in order:
U-Bahn is a rapid metro running throughout Vienna's central areas.
S-Bahn is a rail system serving suburban towns and the airport.
Straßenbahn is a tram network.
Autobus, as you might have guessed, are buses. 
Pro tip: Since the Google Maps app does not provide U-Bahn routes, use the WienMobil app (iOS, Android).
Final Thoughts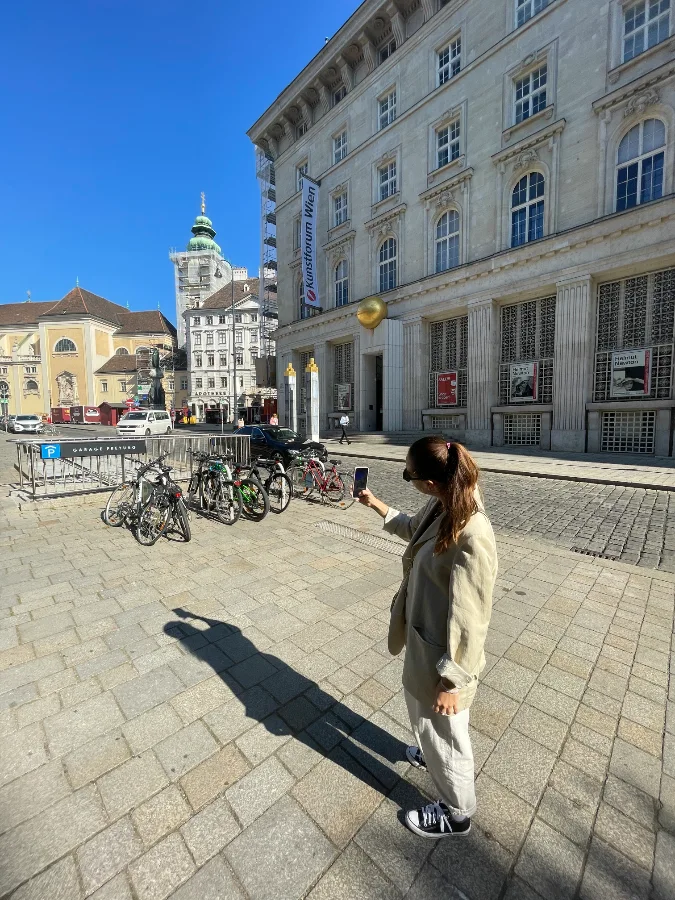 Vienna is an all-in-one representation of luxury, classical art, and a high standard of living. The city is fancy in a good way and makes you want to stay for a little bit longer.
To make the most of your visit, buy a Vienna Card or Vienna Pass, which are helpful and worth the money.
Dive into classical art and music by visiting the main landmarks, such as the Vienna Opera House, Albertina Museum, The Kunsthistorisches Museum, and Belvedere Palace. While strolling along the streets of Vienna, do not miss Saint Stephen's Cathedral and the Hofburg Imperial Palace.
Proceed to Rathaus City Hall and have the best apple strudel 5 minutes away from the tower at Café Landtmann; and do not forget to try Austrian coffee.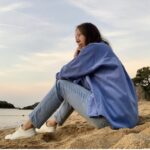 Hello, my name is Nadia.
I usually write about traveling (there are so many places to fit all the lifestyles), relocation (finding a job overseas or moving without losing an income), and living in a foreign country (adapting to a different culture and mentality). Follow me on Twitter, Facebook, Instagram, or LinkedIn!
This post might include some affiliate links. If you make a purchase through these links, I may earn a small commission at no additional cost to you. I appreciate it when you use my links to make purchases.