Valencia vs Barcelona: Which is Better to Visit?
Nadia Podrabinek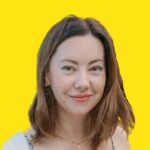 Written by Nadia Podrabinek
Hello, my name is Nadia. I usually write about traveling (there are so many places to fit all the lifestyles), relocation, and living in a foreign country (adapting to a different culture). My travels stretch beyond Spain, with journeys to the US, Italy, Norway, Portugal, and France. Relocating to Spain in 2018, I lived in cities from Barcelona to Madrid, currently calling Valencia home.  Follow me on Twitter, Facebook, Instagram, or LinkedIn! ... show more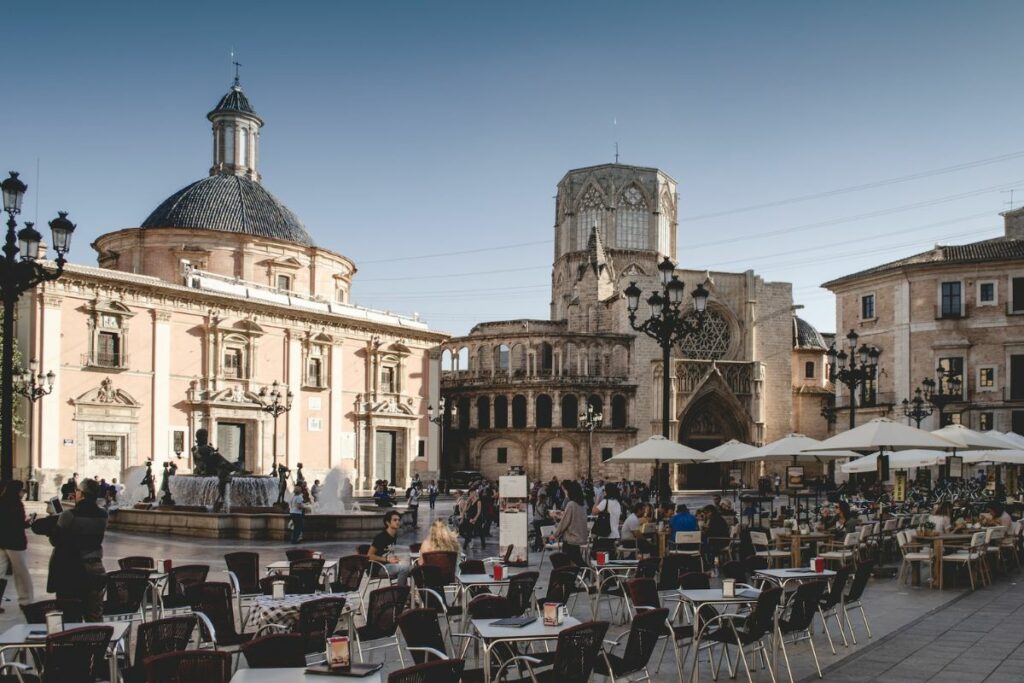 Hi there! Here is my little rundown on Valencia and Barcelona to nudge you in the right direction for your next visit.
Traveling to a new country can often feel like stepping into a whole new world, with every city and its people seeming to blend into one cultural blur.
I was no different. Spain, to me, was a land of paella and flamenco dances. But oh, how that changed when I began my Spanish escapades about 15 years ago. Slowly but surely, the cities started showcasing their own unique flavors, each revealing a personality of its own.
Torn between Barcelona or Valencia? Or maybe contemplating which one to call home for a while? This post is for you. I hope you find it useful in making the choice.
---
Key Takeaways
Barcelona is the second most populous city in Spain (approx. 2 million people), with Valencia coming in third (approx. 1 million).
Barcelona is a lively multicultural hub with lots of tourists.
Valencia offers a relaxed atmosphere and fewer visitors.
Barcelona is also the most visited! The only time Barcelona experienced fewer crowds was during the Covid-19 pandemic.
Barcelona experiences slightly cooler summers and a bit colder winters.
Both cities have nice beaches.
If you're after the bustling nightlife, forget about Valencia.
---
What people say on Reddit
Barcelona Barcelona Barcelona! Been to both, Barcelona has so much to do, easy to get around, you've got LOADS of museums and great architecture. Its a bit more expensive in the popular places like La Rambla and the beach is a bit shit unless you're willing to travel north to find a quiet spot. I'm actually considering moving there for a year or so. By far my favourite city in Europe!

Zzoof
Barcelona is more crowded but has a lot more to offer. Personally, I find it gorgeous – the Gothic neighborhood, the Parc Guell (or anything Gaudi for that matter), etc. Barceloneta (the beach) is OK but can be packed and not relaxing at all. There are other beaches further away from Barcelona, but you'd probably have to take public transportation. Valencia has a more laid-back atmosphere, much less touristy stuff (and tourists) and a pleasant enough beach. The paella is magnificent. Whatever choice you make, I'm sure you'll have a lovely time.

Lunaguava
Valencia is a lovely city. It's just…more of a lovely place to live than visit. I like going there for a weekend, but I live in Madrid. I really don't want to say anything negative about it, but with limited time and wanting to see new and interesting things especially with your list, Barcelona wins.

LupineChemist
barcelona will definitely keep you busy for 3 days. in fact, you'll have so many options of things to do that you'll get to pick and choose. i can't speak about valencia but…

barcelona beach is lovely

you can go hiking up to montjuic or take a short train ride and hike in montserrat (highly recommend) to sant jeroni peak

barcelona city activities: tour camp nou, sagrada familia, walk on las ramblas, parc guell, other gaudi houses, shop on passeig de gracia, etc. etc. etc. the list goes on and on and on haha

doughnut_fetish
A Short Overview of Valencia
I'll start off with my impressions of Valencia, having called it home for over five years.
Valencia, nestled on the eastern coast of Spain, stands as the country's third-largest city, housing approximately one million residents.
This city is somewhat of a universal sweet spot: not too hot in the summer, not too cold in the winter, featuring beaches, the Old Town, modern architecture, Turia Park, a marina, port, biking lanes are everywhere, restaurants, quality food, grocery stores, perfect transportation, and an airport just a 15-minute drive away, along with intercity trains. It's got literally everything you need.
The only downside? The city didn't have the privilege of hosting legends like Gaudí and Picasso.
Why Visit Valencia?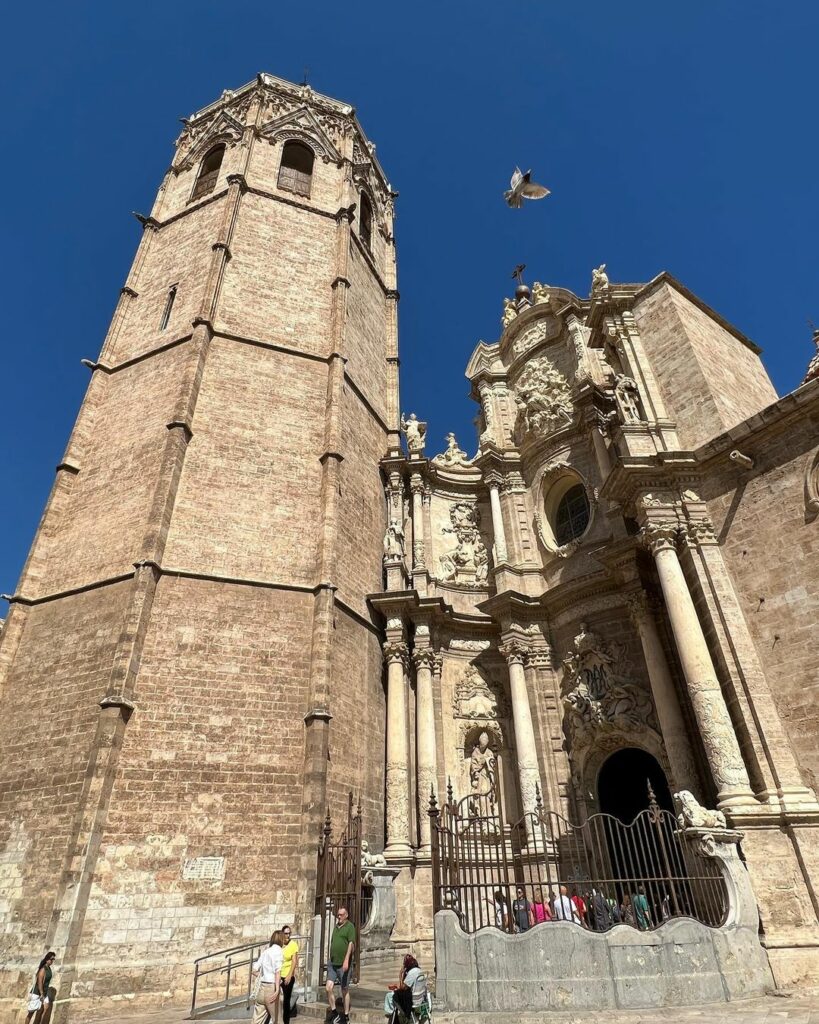 There are certain sights in Valencia that are an absolute must-see!
First off, walk through the Old Town, the city's historical heart with quaint streets, squares, and lots of unique spots to explore.
Then, within the Old Town, proceed to the Cathedral, which is said to house the Holy Grail, the fabled cup Jesus used at the Last Supper. Admire the art within this ancient church and visit the unique chapel that showcases the Holy Grail.
A stone's throw away is The Silk Exchange, a spectacular relic from yesteryears where silk and other goods were traded. Its stunning architecture, featuring columns, a tower, and a courtyard, is sure to captivate you.
Opposite The Silk Exchange stands The Central Market, a vibrant, old market where a cornucopia of fresh foods awaits. You can try local dishes like paella amidst the market's colorful ambiance.
Next, continue to the expansive Turia Gardens beckons. Once a river bed, now a sprawling park, it's a perfect spot to relax and slowly walk down to the City of Arts and Sciences.
City of Arts and Sciences is a symbol of Valencia. Its futuristic buildings house a science museum, an opera house, an aquarium, and more.
Pro tip Walk around, make some Insta-worthy shots, take a moment to sneak into the Science museum, and head to the beach.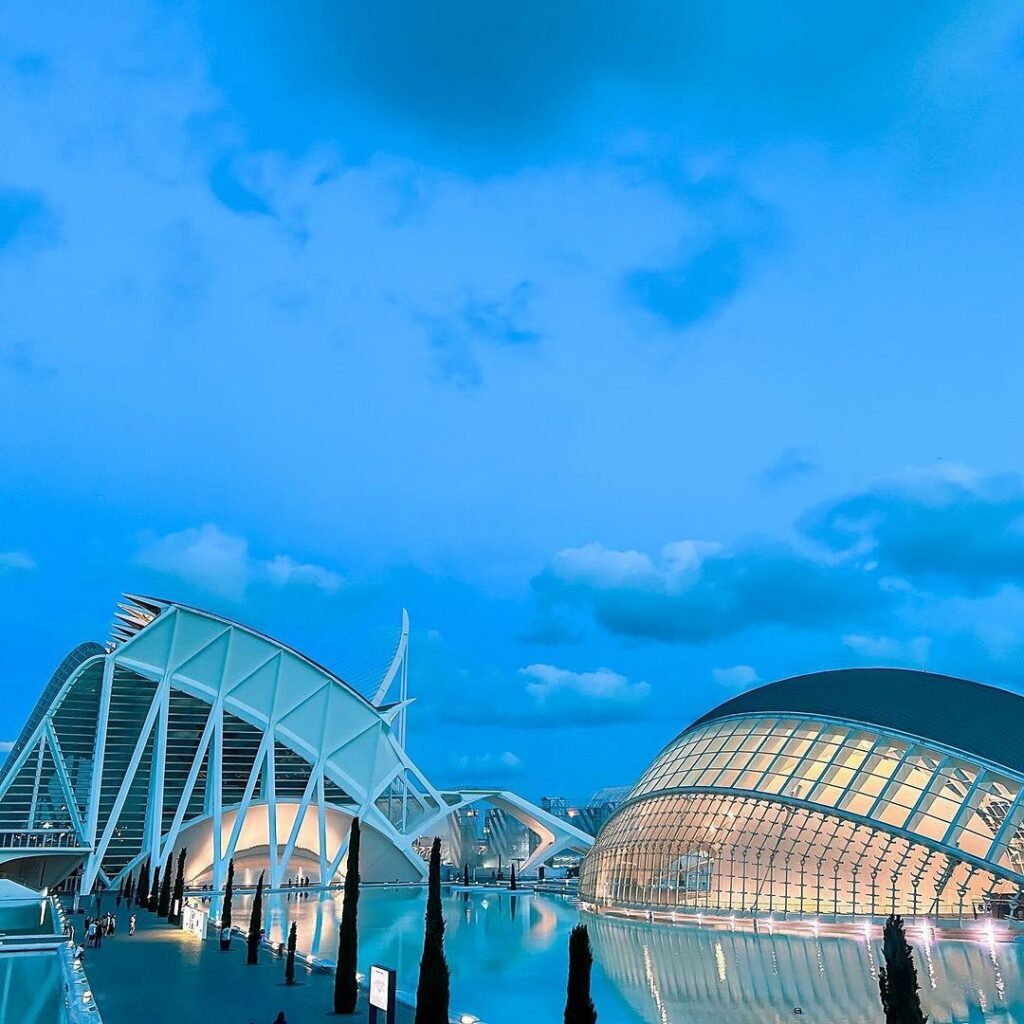 Venture a tad out of town to the serene Albufera Natural Park, a natural haven near the city. Enjoy a tranquil boat ride, explore quaint villages, and catch a mesmerizing sunset. It's also a renowned spot for savoring paella.
Valencians harbor a deep love for festivities, with the famous Fallas Festival held in March being a highlight. You can marvel at huge artistic figures paraded around the city, culminating in a grand finale where they are set ablaze amidst jubilant celebrations.
Indulge in local delicacies like sweet horchata, pastries known as fartons, and the iconic Valencian paella.
Discover the city on two wheels with bike. Valencia's abundant bike routes and rental options make exploring a breeze.
Get lost in Valencia's street art, especially in the El Carmen neighborhood, where walls come alive with vibrant colors and designs.
Valencia caters to all tastes, whether you're an aficionado of art, history, nature, or gastronomy.
Lastly, delve into Valencia's lesser-known treasures, like the Casa de Los Gatos in Barrio El Carmen. This quirky feline abode is rooted in a legend from the 11th century when El Cid conquered the city and ordered the extermination of all cats, deemed bad omens. A few cats survived thanks to this unique dwelling, which features a tiny door solely for feline access. Discover the House of the Cats at 11, Calle del Museo, and unveil a slice of Valencia's whimsical history.
Accommodation
Valencia offers accommodations catering to all preferences and budgets, ranging from boutique hotels equipped with amenities like spas and rooftop bars with pools, to more economical choices.
For budget vacations, affordable accommodations are available, with several hostels dotting the city. These often provide either shared or private rooms at reasonable rates. If you're inclined towards more space and the convenience of a kitchen, renting an apartment or a country house through platforms like Airbnb is a viable option.
Transportation
Valencia is served by an efficient metro and tram network, Metrovalencia, covering a significant portion of the city, and providing a convenient mode of transport to various areas including the beach.
The bus system nicely complements the metro, with express buses available from the city center to the beach. A single integrated ticket for both bus and metro enhances convenience. A Suma ticket, good for ten journeys, is priced at 8 euros within central zone A.
By the way, this year, all city transport is offering a 50% discount on fares.
Also, the city is just perfect for bikes, featuring lots of dedicated bike lanes and bike rental services everywhere. Additionally, there's a city bike rental service named Valenbisi. An annual subscription is around 30 euros, while a two-week rental costs around 15 euros.
As for taxis (Uber is almost non-existent though), it's quite convenient for shorter distances.
Prices
Food in Valencia is reasonably priced, especially in local markets and modest restaurants.
On average, a bill for a main course, appetizer, and drinks rounds out to about 25-30 euros per person. Don't skip on trying the city's signature dish, paella, which is often available at a fair price. Just a heads up, this dry rice stew is prepared for at least two people.
Many attractions in Valencia come with free or low-cost admission. However, some museums and special events do have separate entrance fees, with prices generally ranging from about 5 to 20 euros for an adult.
As for shopping in Valencia, it is not that great. You'll find some designer boutiques in areas like the Colon Market and more budget-friendly shops in the city center. But overall, Valencia is not for shopping enthusiasts.
Cons of Visiting Valencia
Valencia has its share of drawbacks to consider (not to mention lack of shopping options).
Indeed, it has fewer world-renowned attractions compared to cities like Barcelona or Madrid.
Though Valencia has its own unique attractions, some might find other Spanish cities more appealing. On the bright side, Valencia tends to have fewer tourists, which could be a plus for some but a downside for others seeking the vibrant and energetic atmosphere of more popular tourist hubs.
Also, language barriers might pop up, especially in more remote areas of Valencia's suburbs, so having a few Spanish phrases up your sleeve could come in handy.
During summer, Valencia gets pretty hot and humid, which might not sit well with those fond of milder weather. For a cooler climate, Barcelona, being a bit more to the north, tends to be about 5 degrees cooler.
The nightlife in Valencia isn't as lively as in Barcelona too. If it's a bustling nightlife you're after, Barcelona might be a better fit for you. If you opt to rent a car, be warned, parking spots in the city center are hard to come by. Public transportation often turns out to be a more convenient choice.
It's important to note that opinions vary and what some people see as a downside, others might view as a perk.
To sum it up, Valencia's unique culture, exceptional authentic cuisine, and relaxed ambiance do draw in those in search of a genuine Spanish experience.
A Short Overview of Barcelona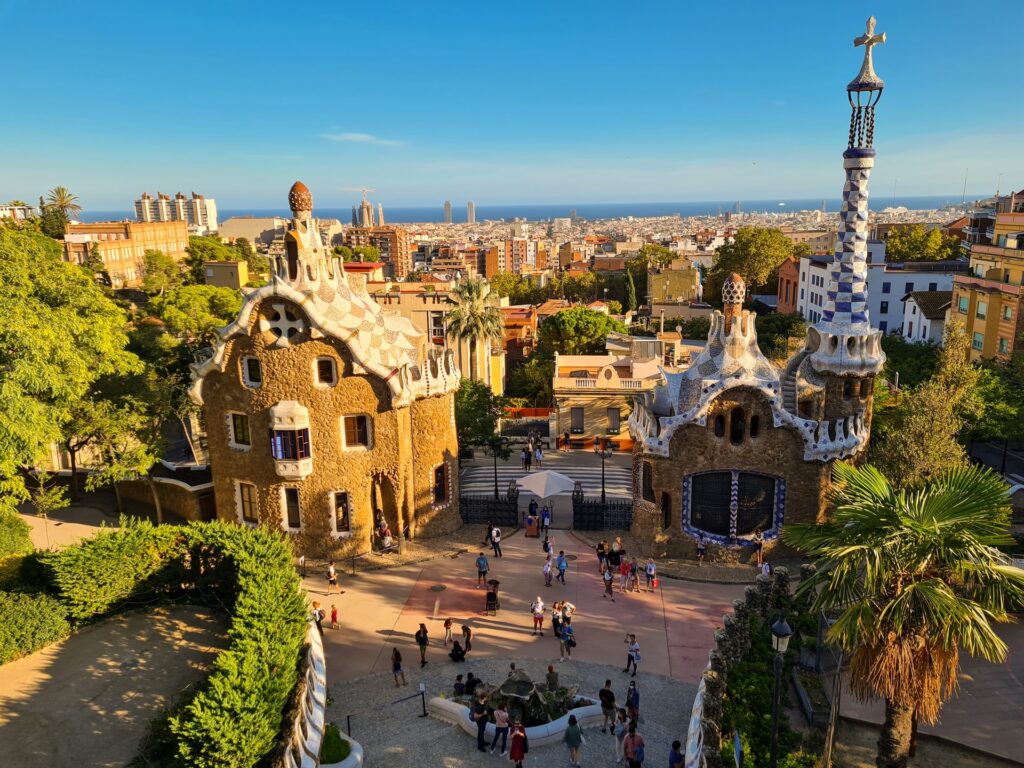 Barcelona is the capital of Catalonia and one of the most popular tourist destinations in Spain.
It's the second most populous city in Spain after Madrid, with a population of approximately 1.6 million people.
Barcelona has a rich history and boasts a unique Catalan culture. The city has its own language, Catalan, in addition to Spanish. Catalans don't usually identify as Spaniards but believe that Catalonia deserves to become a separate country.
This issue has long been debated, and more than one attempt has been made to separate Catalonia from Spain. Therefore, it's better to avoid starting political debates on the topic of Catalonia's separation while in Spain.
Barcelona is known for its stunning architecture, much of which was created by the famous architect Antoni Gaudí. His masterpieces, such as the Sagrada Familia, Park Güell, and Casa Batlló, are 3 must-see attractions.
The city also houses world-class museums like the Picasso Museum and the Joan Miro Foundation, where you can explore the works of famous artists, along with many other interesting museums of different styles.
I recommend visiting Museo Marítimo de Barcelona and Museo de Historia de Barcelona.
Enough for the architecture!
Barcelona has beautiful beaches along the coast. Barceloneta Beach is one of the most popular places where you can relax and enjoy water sports.
You're sure to enjoy the Catalan cuisine and tapas in the local restaurants and markets. Also try "paella," a Spanish rice dish from Valencia, and compare it with paella from Valencia, as well as "Catalan cream" – a delicious dessert. Barcelona offers luxury boutiques on Paseo de Gracia, and fresh local produce at the lively La Boqueria market on La Rambla street.
Why Visit Barcelona?
I will now list some things to do in this lively city so you can decide if this fits your interests.
First and foremost, you should visit Barcelona for the iconic Sagrada Família cathedral. It's a UNESCO World Heritage Site and is definitely a must-see.
Pro tip If you are going to see it inside, buy tickets in advance.
The picturesque Park Güell, also designed by Gaudí, has colorful mosaics, playful sculptures, and stunning views of the city. Casa Batlló is an Art Nouveau building designed by Gaudi, known for its original architecture and charming interiors.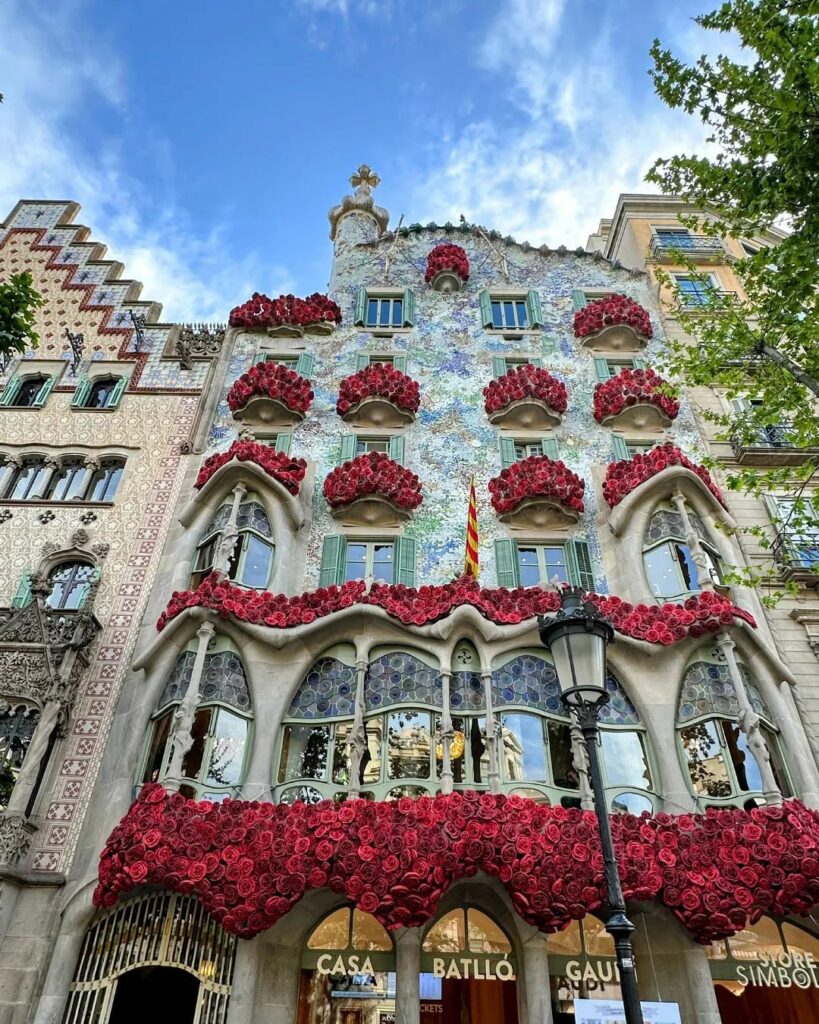 You can walk down, shop for souvenirs, and enjoy street performances on La Rambla in the city center, which will take you to the Gothic Quarter. Here, you'll explore narrow medieval streets, historic buildings, and the impressive Cathedral of Barcelona.
Gothic Quarter is a lovely area to get lost in, so grab a seat in a cafe and take a break from the hustle and bustle of La Rambla.
When it gets dark, I suggest heading to the Montjuïc fountain, where you'll witness a fascinating light and music show at this illuminated fountain
Tibidabo Park, located on a hill overlooking the city, offers rides and panoramic views of Barcelona.
The beaches: Barceloneta, Bogatell, and Nova Icaria are waiting for you.
Also, Barcelona is a hub of vibrant nightlife. It all begins with a late dinner around 9 or 10 p.m. Then you can move on to the bars and clubs, which are open until the early hours of the morning. You can hop from one tapas bar to another, tasting small, fragrant dishes of tapas and pintxos with wine or cocktails.
In the Gothic Quarter and El Raval, you can find cozy bars and places with live music, and in the Port Olympic area, you can hang out in beach clubs.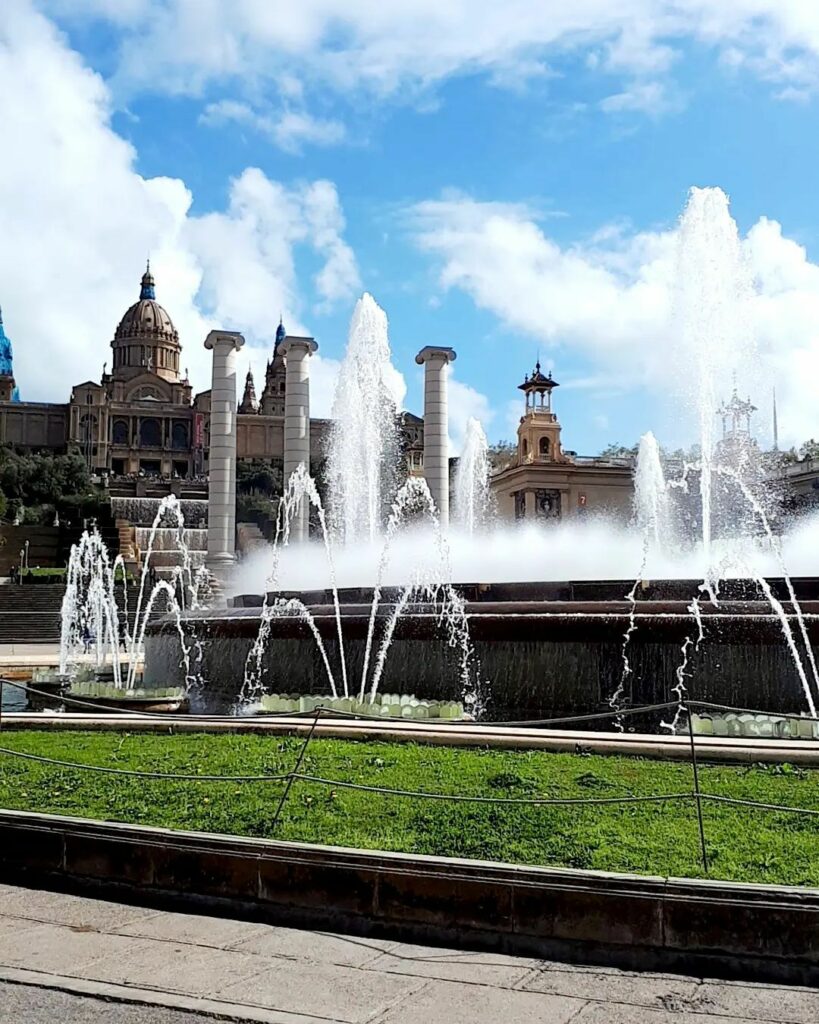 Barcelona's nightclubs cater to all musical tastes, from electronic and techno to salsa and flamenco.
Barcelona has an exciting food scene. The culture of making tapas is emblematic of Barcelona so it's almost impossible not to try patatas bravas (fried potatoes with spicy sauce), jamón ibérico (Spanish ham), and croquettes.
Fresh seafood is also abundant.
Catalan cream (dessert), botifarra (raw pork and spices sausage), and calcots (grilled spring onions) are often included in Catalan cuisine.
Barcelona houses several Michelin-starred restaurants offering innovative and haute cuisine. Be sure to reserve a table at one of these restaurants in advance. It's impossible to visit Barcelona and not taste the local wines.
As for drinks, you will find wine bars and bodegas to enjoy local wines and Cava (Spanish sparkling wine).
Pro tip It's not all limited to La Boqueria market, there are many other food markets in Barcelona where you can taste local specialties: Don't miss the Mercat de Sant Antoni and the Mercat de Santa Caterina.
In a few words: Barcelona surely has something for everyone.
Accommodation Options
In Barcelona, you have a range of accommodation options from luxury hotels with stunning views to budget-friendly choices. Some of the best places to stay include the Gothic Quarter, the Eixample (my favorite!), and the coastal areas.
Hostels are a great choice if you're looking to meet other travelers and save on accommodation. In my opinion, booking an apartment or villa through Airbnb is a great option, especially if you enjoy the comforts of home. Barcelona has a plethora of boutique hotels, certainly more than Valencia.
Pro tip Many people flock to Barcelona to enjoy its nightlife, so things might get noisy at night, even in a 5-star hotel. During our last visit to Barcelona, my husband ended up having an argument with some folks attempting to throw a party in their hotel room at 2 am. Fortunately, they decided to move the party to a bar, but it was quite disappointing.
Transportation
Barcelona's metro system is extensive and covers most of the city. For convenience, you can buy single tickets or multi-day passes. Single metro tickets are priced around 2-2.50 euros while multi-day passes provide a cost-saving option.
Additionally, the city boasts an extensive bus network that complements the subway system, with buses running around the clock.
Like Valencia, Barcelona is cyclist-friendly with dedicated lanes. Renting a bike is a fantastic way to explore the city.
Prices
Restaurants in Barcelona cater to all budgets, ranging from inexpensive tapas bars to upscale dining establishments.
A regular meal at a mid-range restaurant will cost around 15-30 euros per person, while tapas can be even cheaper.
Hotel prices vary widely based on location and class. Hostels and economy hotels start at around 80-120 euros per night, while mid-range hotels usually charge between 120-250 euros per night.
Pro tip Yeah, it's wild how pricey staying in Barcelona has become. I guess there's a surge in demand now.
Cons of Visiting Barcelona
Barcelona has its share of drawbacks:
During the high season, Barcelona gets crowded with tourists, and you may find yourself waiting for the view to clear while trying to take a photo at popular spots like Sagrada Familia and Park Güell.
It also has a reputation for pickpocketing. Minor crimes such as street scams or theft are common in tourist areas, so it's essential to stay alert. Consider using anti-theft bags as a precaution.
Compared to other Spanish cities, including Valencia, Barcelona is more expensive – accommodation, dining, and attractions in popular areas tend to cost more.
Some areas of Barcelona, especially those with a lively nightlife, can get noisy late into the night. I once stayed in the Eixample district with a bar right under my window and had to endure the noise from bar patrons until 2 a.m. If you're looking for a more relaxing vacation, consider staying in areas further from the center.
Riding a taxi might take more time than you expect due to traffic jams and lots of intersections/traffic lights.
Decider: Barcelona or Valencia?
Barcelona caters to the cosmopolitan traveler, while Valencia caters to those looking for a more intimate, local, and relaxing getaway.
Seeing both Cities in One Trip
If you have 7-10 days, you can combine Barcelona and Valencia in one trip and get a variety of impressions of Spain.
I'd suggest the following itinerary:
Day 1. Arrive in Barcelona, check into your accommodation, and explore the city by walking along La Rambla. Stroll through the Gothic Quarter and have dinner at a local tapas bar.
Day 2. Visit iconic landmarks such as the Sagrada Familia, Park Güell, and Casa Batlló. Spend the afternoon exploring the historic Gothic Quarter and perhaps visiting the Picasso Museum.
Day 3. Explore Montjuic Hill, including Montjuic Castle and Montjuic Fountain. Visit the Montjuic Gardens. In the evening, enjoy Barcelona's nightlife.
Day 4. Take a day trip to Montserrat, a stunning mountain range and spiritual center with a famous monastery. Walk along the mountain trails and visit the Black Madonna.
Day 5. Explore the coastal town of Sitges with its beautiful beaches, historic sites, and vibrant art scene. If you happen to be there in August or September, be aware that you may be able to attend Gay Pride and related events. Be mindful if this is outside the scope of your interests!
Day 6. Head to Tarragona to explore the Roman ruins, including the amphitheater and aqueduct, and relax on the beaches.
Day 7. Visit Girona, a charming city with a medieval old town and a well-preserved Jewish quarter.
Day 8. Head to Valencia by train. Check into your accommodations and take a leisurely stroll through the historic old town. Don't forget to visit the Cathedral to see the Holy Grail.
Day 9. Explore the City of Arts and Sciences, including the Oceanographic and Hemispheric museums. In the afternoon, visit the beautiful gardens of Turia.
Day 10. Spend your last day in the Albufera Natural Park, taking a boat ride on the lake and enjoying a traditional paella lunch.
How to travel between Barcelona and Valencia?
There are several options.
By train: The train (AVE) is a convenient and fast way to travel between Barcelona and Valencia. It takes about 3.5 hours.
By bus: Several bus companies offer services between the cities. Although buses are usually cheaper, the trip takes a bit longer (about 4.5 hours). However, ticket prices can be much lower; for example, ALSA offers prepaid, non-refundable tickets for as little as 5 euros each way!
Also, there are flights between Barcelona and Valencia by Vueling, but given the time needed for airport security and transfers, the train is just better.
Visiting Barcelona vs Valencia FAQs
Is Barcelona or Valencia better for surfing?
Between the two cities, Valencia is often the preferred choice for surfing opportunities. However, honestly, neither Barcelona nor Valencia are considered top surfing spots in Europe, as I didn't notice big and consistent waves here like on ocean coasts. For better surfing experiences, places like Portugal or the Canary Islands are recommended due to their beach conditions.
Which city is better for American expats – Barcelona or Valencia?
Both Barcelona and Valencia attract American expats. Being a larger city, Barcelona tends to have a bigger expat community and more work opportunities. It also offers a more vibrant social and cultural life. On the other hand, Valencia is a quieter, more economically affordable choice with a slower pace of life, a stronger Spanish cultural presence, and a growing expat community.
Your preference between the two would depend on your work requirements, lifestyle goals, and personal preferences. If you're working remotely or retiring, Valencia might be the more appealing choice.
Which place is cheaper, Barcelona or Valencia?
When it comes to costs, Valencia is usually the more budget-friendly option. This applies to accommodations, dining out, and entertainment. In Valencia, these categories tend to be cheaper compared to the larger and more tourist-centric Barcelona.
Final Thoughts
When I was taking notes for this post, I reflected on my many years of traveling around Spain and staying in Barcelona. I was drawn to its spirit and energy, the size of the city, and the nightlife.
However, when it came to choosing a place to settle down in Spain, I opted for cozy Valencia.
My decision also was driven by economic considerations regarding housing.
So, it's now your turn to make a decision, good luck!