Guide to Patagonia, Argentina: Know Before You Go
Olga Sukhorukova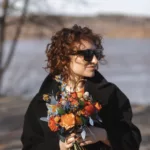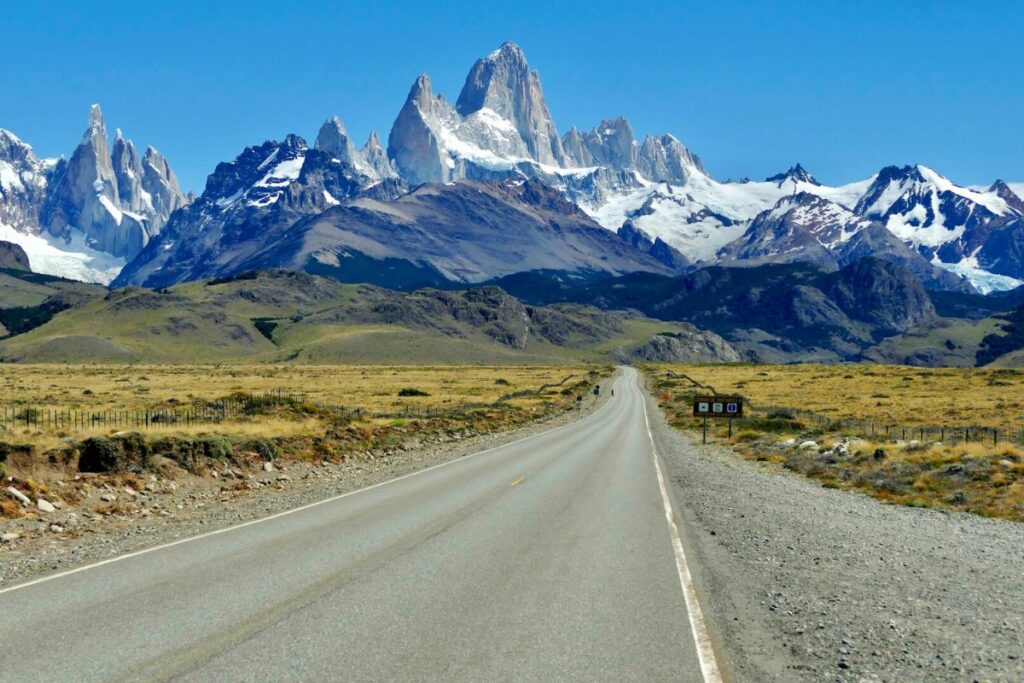 Patagonia, a huge region at the southernmost tip of South America, is where Argentina and Chile seamlessly blend together. It boasts some ridiculously good views – picture snow-capped mountains, glaciers, fjords, and forests. If you're into hiking, camping, fishing, or kayaking, you're gonna absolutely adore it here!
In this post, you will find everything you need to plan your trip, from the best time to visit, the sites that are worth your time, to all the practical stuff like transportation, lodging, and packing essentials.
---
Key takeaways
Patagonia is a gigantic geographical area. Take your time to learn about the region before traveling.
Despite the size, 3-4 days may be enough to see the top sites.
Patagonia offers one-of-a-kind landscape and diversity, and is a dream destination for outdoorsy stuff.
November to March is the best time to visit Patagonia (aligns with summer in the southern hemisphere).
Exploring Patagonia can be quite expensive due to its remoteness and the vast distances to cover.
Patagonia is incredibly beautiful! It's definitely a place not to miss when you're in Argentina.
---
Guide to Patagonia, Argentina Map
Now, onto my personal experience:
I embarked on a journey to Patagonia back in January 2015. I had just turned 29 and had a list of things I wanted to experience before hitting 30. So, I thought, why not kick off with a hiking adventure?
So, if you're seeking a total escape – no McDonald's, no Starbucks, no cars, no crowds – Patagonia has you covered! And even getting there is an adventure – think army trucks, crossing rivers, and hiking through some seriously stunning scenery.
Now, keep scrolling for more tips on the best times to visit, things to see, and personal stories from my trip to give you a real sense of what Patagonia is all about.
Where is Patagonia?
Patagonia in Argentina is divided into several provinces which include:
Río Negro: Known for the resort town of San Carlos de Bariloche, which is situated amidst the stunning Andes and is famous for its Swiss-style architecture and its chocolate.
Neuquén: This province is home to part of the Andean Patagonia and it also has the largest oil and gas reserves in Argentina.
Chubut: This province is home to the Valdes Peninsula, a wildlife sanctuary for birds and marine species, including whales, sea elephants, and penguins.
Santa Cruz: The province is known for its glaciers, especially the Perito Moreno Glacier in the Los Glaciares National Park, a UNESCO World Heritage site. The city of El Calafate serves as the gateway to this stunning national park.
Tierra del Fuego: This archipelago province is at the southernmost tip of South America, known as "the end of the world". Ushuaia, its capital, is the southernmost city in the world.
These provinces, each with their own unique landscapes and attractions, make up the Argentine part of Patagonia.
How to Get to Patagonia
Patagonia can be reached in several ways:
By Plane
International flights to Patagonia are available from major cities like Santiago, Chile, and Buenos Aires, Argentina. Upon arrival in either of these cities, you can take a domestic flight to smaller airports in Patagonia, such as El Calafate, Ushuaia, and Puerto Natales.
By Bus
Buses from Buenos Aires to Bariloche, the northernmost city in Argentinian Patagonia, are available at rates ranging from $135 to $190. The journey typically lasts around 23 to 24 hours. Tickets can be purchased either online or at bus terminals, with departures often from the Retiro station in Buenos Aires.
Booking through Omnilineas and Plataforma10 offers cheaper rates without commission fees. Reputable bus companies are Andesmar, Condor Estrella, Tramat, Viatac, and Don Otto.
Pro tip #1 Look for semi-sleeper or sleeper class seats, that way you will be spending your time on the bus with comfort.
Pro tip #2 Book tickets at least a month ahead to secure a spot.
By Car
Driving from Buenos Aires to Patagonia may not be the best idea due to the long distance of over 1,200 miles (approximately 2,000 km), which could take more than 20 hours excluding rest stops. You should definitely opt for flying or taking an overnight bus.
By Train
There's no direct train service from Buenos Aires to Bariloche. However, you can take a train to Viedma from Buenos Aires and then switch to the Tren Patagonico to Bariloche, which departs only on Fridays and returns on Mondays. This route allows for a stopover near Viedma to visit Peninsula Valdes/Puerto Madryn before catching the Tren Patagonico. Alternatively, any of these train segments can be replaced by bus or air travel.
Do I need a visa for Argentina?
Travelers from the USA, EU, UK (and many other countries) intending to stay in Patagonia for less than 90 days do not need a visa. You'll only need a passport (valid for a minimum of 6 months after your travel dates), and a return travel ticket.
Pro tip Always, always, always get travel insurance. It's your safety net for medical expenses, lost luggage, and any travel emergencies.
Currency Tips for Visiting Argentina
Bear in mind the "double" exchange rate of the US dollar. This exchange rate can be one thing at the bank and quite another on the streets – about twice as high.
Moreover, different denominations of the dollar have their own cost. The one-hundred-dollar bill is the most expensive (that means that you will get more pesos for one hundred-dollar note than for two fifty-dollar notes).
Therefore, if you arrive in Argentina with dollars in cash and exchange them for pesos in the street kiosk, you can feel like a rich person – everything becomes twice as affordable.
Read also: What You Should Know about Currency in Argentina
Seasons in Patagonia
Here's a quick rundown of Patagonia's seasons:
Summer (December-February): This is the warmest season with temperatures ranging from 50°F to 70°F. Long, sunny days make it excellent for outdoor activities like hiking, camping, and kayaking.
Fall (March-May): A shoulder season in Patagonia, the weather remains quite favorable, but with fewer tourists around.
Winter (June-August): Patagonia becomes cold and snowy, with temperatures hovering between 20°F to 40°F.
Spring (September – November):The weather is usually chilly and unpredictable. It ranges from 40°F in early spring to around 60°F by late November.
The ideal time for various activities in Patagonia varies. Your optimal time to visit will depend on where you are in Patagonia, what you plan to do, and your personal preferences.
What to Pack for Patagonia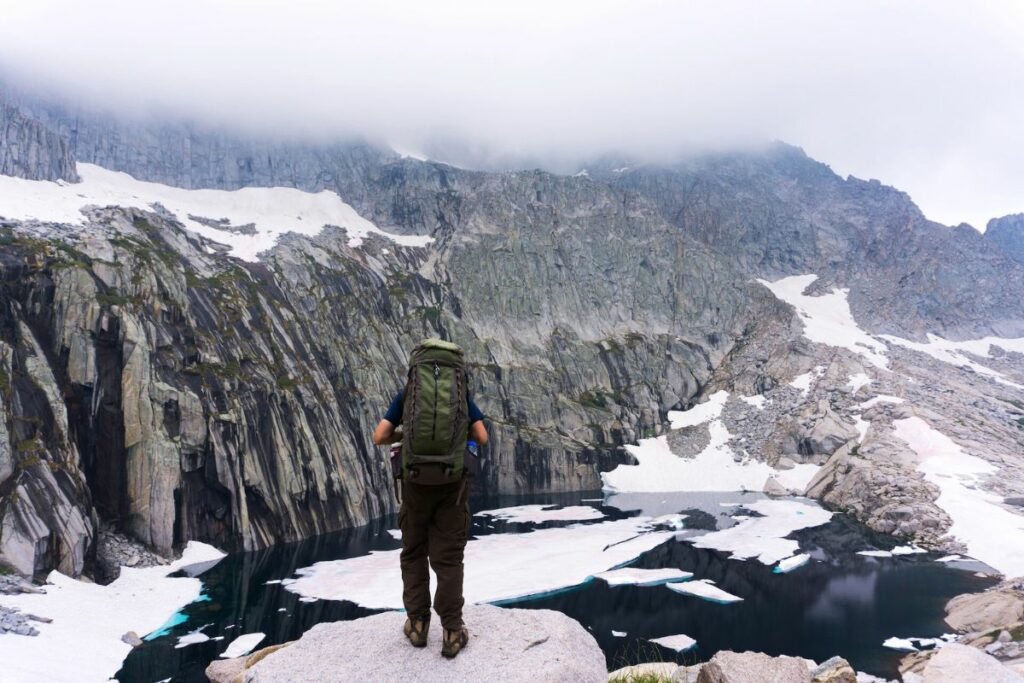 Pack light and be prepared for all weather conditions. It is also important to have comfortable footwear and sleeping arrangements.
If you are into hiking, packing food that is easy to prepare and doesn't require a lot of cooking equipment.
If you are NOT into hiking, I suggest bringing a small day pack for shorter walks.
Here is the short breakdown of things to pack for Patagonia (Yes, I'm sure you are into hiking!):
Clothing: Lightweight hiking pants, a sweater, and undergarments. Then, three-five pairs of socks and underwear, and a pair of shorts for the "refugios" (a type of mountain shelter typically found along popular hiking routes).
Outerwear: Given Patagonia's unpredictable weather, I recommend a good layering system. This includes a shirt, a sweater, a micro puff jacket, and a rain jacket. I also suggest packing a buff, a beanie, and gloves.
Footwear: You should invest in a good pair of hiking boots (consider lightweight boots) and break them in before the trip. Also, bring flip-flops for showers and camp shoes for comfort.
Shelter and Sleep System: You can buy a tent from MSR and sleeping bags rated for -7 degrees Celsius. Don't forget about inflatable sleeping mats, silk and cotton liners, and a camping pillow.
Cooking Equipment: Bring a jet boil for boiling water, collapsible bowls, a collapsible spork, foldable knife, a lighter, and a bag for carrying food and cooking equipment.
Food: Whatever you prefer. I packed instant oatmeal, granola bars, cheese, crackers, sausages, dehydrated dinner packs, couscous, beans, tortilla wraps, instant pasta, and instant soup packs. Could also be dried fruit and granola bars.
Health and Hygiene: Sunscreen, bug spray, hand sanitizer, wilderness wash, a first aid kit, a razor, toothbrush, shampoo, soap, lip balm, pack towels, and toilet paper.
Electronics: Headlamps, phones, a Garmin inReach Mini (for GPS and SOS signals), and battery banks for charging.
Other stuff: Carabiners, a clothesline, an extra battery, and passports.
Backpacks: Could be Osprey Aether 55 Backpack or Prior Season Osprey Porter 46L Travel Backpack and a backpack rain cover.
Patagonia Road Trip Itinerary
Please note, this is merely one of the countless ways to explore the wonders of Patagonia. You are always free to create your own unique itinerary. Fellow travelers you meet along the way are often happy to suggest new destinations.
Additionally, time is truly the only constraint when it comes to exploring Patagonia. Here's a common itinerary that you can modify to match your schedule:
Day 1: Fly into El Calafate from Buenos Aires. This area offers numerous activities, such as visiting the Perito Moreno Glacier, kayaking on Lago Argentino, and hiking in the national park.
Day 2: Dedicate your day to the Perito Moreno Glacier. You can walk on the glacier, take a boat tour, or simply marvel at its majesty.
Day 3: Travel to El Chaltén, which serves as your gateway to the Fitz Roy National Park, known for its spectacular hikes.
Day 4: Undertake the challenging yet rewarding hike to Laguna de los Tres.
Day 5: Trek to Laguna Torre, which is a shorter hike compared to Laguna de los Tres, but equally demanding.
Day 6: Proceed to Puerto Natales in Chile. Here, you can roam around the national park, visit the Grey Glacier, or embark on a boat tour of the fjords.
Day 7: Attempt the W Trek in Torres del Paine National Park. This multi-day hike offers views of some of the park's most stunning landscapes.
Day 8: Return to El Calafate to relax or board a flight to Buenos Aires.
Things to Do & See in Patagonia
Perito Moreno Glacier – An Icy Natural Wonder
The Perito Moreno Glacier is nothing short of breathtaking. It's an icy colossus that continually changes and makes for an unforgettable spectacle.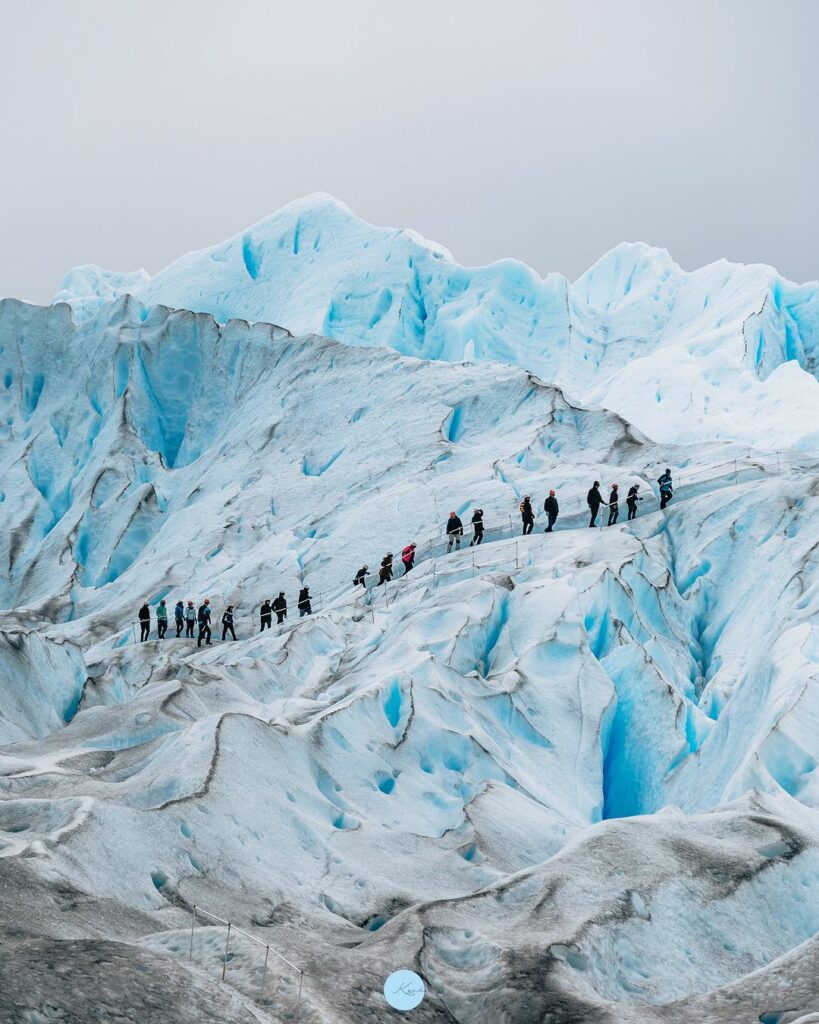 Located in Argentina's Los Glaciares National Park, the Perito Moreno Glacier is a star attraction in Patagonia. Its sheer size and dynamic nature are a sight to behold. The glacier is always moving, and witnessing large chunks of ice calving off into the water is an unparalleled experience.
What to see
To get the best view of this glacial titan, embark on a boat tour on Lago Argentino. During this remarkable journey, you will witness the glacier's grandeur up close. Additionally, you can watch the breathtaking spectacle of calving events right before your eyes.
Tips
Summer Visits: The ideal time to visit is during the summer (December-March), but the glacier also attracts crowds during the shoulder seasons (October-November and April-May).
Stay Warm: Even in summer, it can get chilly around the glacier. So, pack warm clothes, a hat, gloves, and a scarf.
Binoculars: Bring a pair to get a close-up view of the glacier and the local wildlife.
El Chaltén – The Hiking Capital
Located in Argentina's Los Glaciares National Park, the small town of El Chaltén is often referred to as the "Hiking Capital of Patagonia." Surrounded by iconic peaks like Cerro Fitz Roy and Cerro Torre, it's a dream destination for hikers.
Hiking in Patagonia is most enjoyable during the southern hemisphere's summer, from December through February, thanks to pleasant weather conditions and clear skies. However, since it's a popular season, trails can get quite crowded.
If you prefer a quieter trekking experience, consider visiting during the shoulder seasons, specifically from March to mid-April or in November.
What to see
Hiking is the best way to explore El Chaltén. With a wide variety of trails available, from easy strolls to more challenging treks, there's a trail suitable for every hiking preference and ability level.
Laguna de los Tres: A moderately challenging hike leading to a serene lake with panoramic views of Cerro Fitz Roy.
Mirador de los Condores: A leisurely trail leading to a viewpoint offering stunning vistas of the town and surrounding mountains.
Fitz Roy Circuit: An extensive multi-day hike encircling the Cerro Fitz Roy.
Tips
Summer visit: Like most places in Patagonia, summer (December-March) is the best time to visit, although shoulder seasons (October-November and April-May) also attract visitors.
All-Weather Packing: Weather in El Chaltén can be quite unpredictable. Be prepared for all conditions – rain, snow, and wind.
Ushuaia – The Southernmost City in the World
Ushuaia, situated on the southernmost tip of Argentina's Tierra del Fuego Island, is surrounded by breathtaking glaciers, majestic mountains, and the stunning Beagle Channel.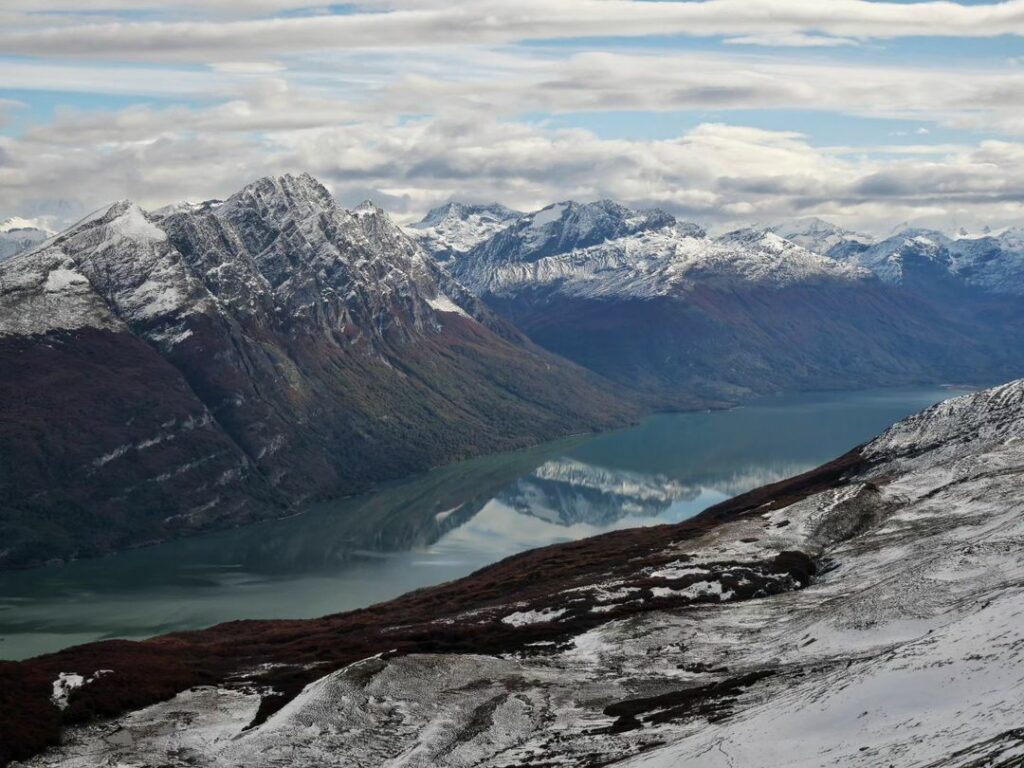 This destination offers everything from adrenaline-pumping activities like hiking and kayaking to more relaxed ones such as wildlife watching and sightseeing.
Here are some fantastic activities you can enjoy in Ushuaia:
Martial Glacier Hike: This hike might be somewhat challenging, but the breathtaking views from the top, extending to the Beagle Channel, are well worth the effort.
Kayaking in the Beagle Channel: Can't get enough of wildlife? How about paddling alongside penguins, seals, and even dolphins? I did it, and it was delightful!
Ushuaia Museum of the End of the World: This popular tourist destination is truly fascinating.
Boat tour of the Beagle Channel: Next time, I'm definitely joining one of these tours. I've heard they're fantastic for whale spotting.
Useful Tips
Dress warmly: Ushuaia can be quite chilly, even in summer. Don't forget to pack warm clothing.
Nahuel Huapi National Park
A UNESCO World Heritage Site nestled in the heart of Patagonia, Nahuel Huapi is where mountains meet forests and lakes flirt with glaciers. As you might guess, this place is a haven for nature and adventure lovers.
What to see
Nahuel Huapi Lake: Serving as a giant mirror reflecting the sky, this lake is the largest in Patagonia. Picture yourself paddling among penguins, ducks, and swans or gliding across the lake on a tour boat with glaciers as your backdrop.
Perito Moreno Glacier
Villa La Angostura: A quaint town on the shores of Nahuel Huapi Lake, this place is perfect for resting your weary feet. The local hospitality is sure to warm your heart.
Tips
While the park is a joy to visit at any time of year, it's most vibrant in the summer (December-March). However, remember that the weather here can be as unpredictable as a teenager's mood. So pack for all eventualities – be it rain, wind, or snow.
What to eat in Patagonia
Patagonian cuisine is an enticing blend of European and indigenous flavors, informed by the region's rich history and diverse landscape.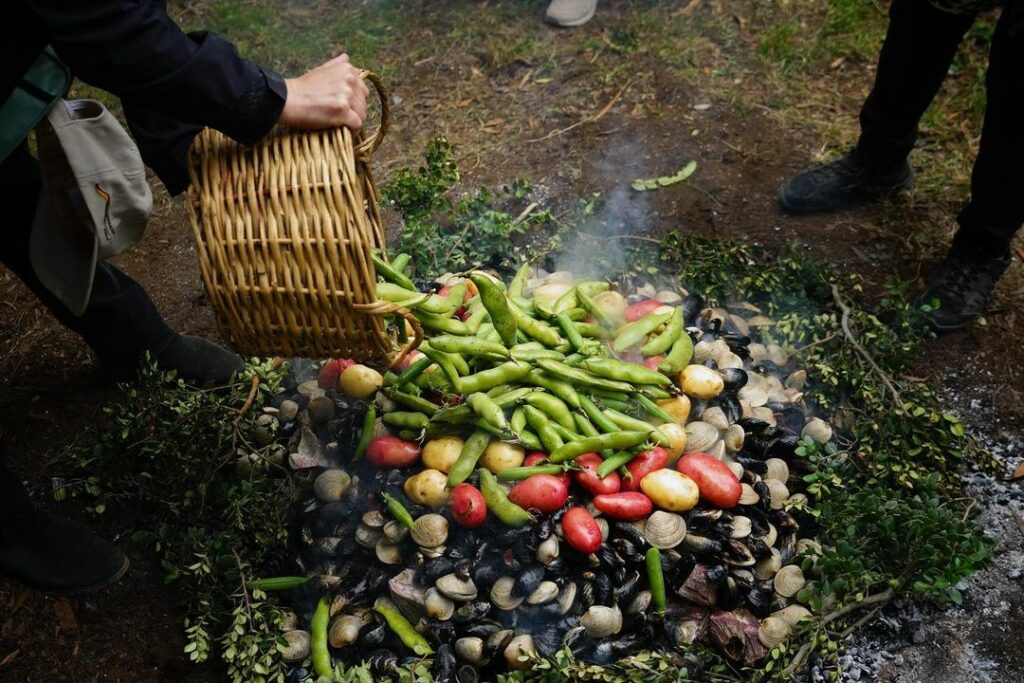 Here are some delectable dishes you should try:
Asado: A traditional cookout where lamb, beef, or pork are grilled and served with chimichurri, a tangy sauce brimming with garlic and herbs.
Curanto: This dish is a mix of meats, seafood, and vegetables cooked in a hole in the ground.
Trucha a la Parilla: This popular Patagonian fish dish is usually served with lemon, parsley, and a light vinaigrette.
Pastel de Choclo: This delectable corn pie is filled with meat, vegetables, and cheese. It's incredibly popular in Chile as a main dish or a tasty snack. For me, pastel de choclo holds a special place in my heart, particularly when it's prepared with fresh, seasonal ingredients – sweet and tender corn, juicy, flavor-packed meat, and crispy, fresh vegetables.
Recommended Restaurants and Cafes
La Tapera in El Calafate: This rustic, cozy spot serves up fantastic Patagonian dishes, including asado, curanto, and trucha a la parrilla. The service is top-notch, too!
El Mesón de Luis in Puerto Madryn: This is where you go for your seafood fix. Try their grilled Patagonian salmon and king crab. Also, they offer a wide selection of wines from Patagonia and Argentina.
Cafe del Bosque in Ushuaia: This charming café is the perfect spot for coffee or tea, complete with a tasty selection of pastries and cakes.
Choripan del Abuelo in Bariloche: There's no better place for a traditional Patagonian choripan, a grilled sausage sandwich. Their sandwiches, served on crusty bread, are amazing.
La Creperie in El Bolson: If you love sweet or savory crepes, this is your spot. Their crepes are delicious, and the service is quick and friendly.
La Burguesa in Bariloche: This is your go-to place for an affordable, delicious burger. The burgers are exceptional, and they offer an excellent selection of toppings.
Cerveceria Patagonia in Bariloche: Head here for local beers and pub grub. They brew the beers on site, using top-quality ingredients and traditional methods. These delicious brews pair perfectly with the mouthwatering dishes they serve.
Where to Stay
Regardless of your budget or specific needs, there are many fantastic hotels to consider. Here are some of the top picks in Patagonia, including options for various price points, family accommodations, and pet-friendly options:
Premium Hotels
Explora Patagonia, Torres del Paine National Park: This hotel boasts breathtaking mountain views. Prices start from $1,500 per night.
Awasi Patagonia, Los Glaciares National Park: This place provides private cabins with balconies that showcase the glaciers. Prices start from $2,000 per night.
The Singular Patagonia, Puerto Natales: This hotel features a contemporary take on the Patagonian style. Prices start from $1,000 per night.
Mid-tier Hotels
Hotel Los Notros, El Calafate: It offers comfortable rooms with balconies that overlook the lake. Prices start from $500 per night.
Cabañas del Sur, Bariloche: This place features snug cabins with fireplaces. Prices start from $200 per night.
Budget-friendly stays
Hostel Patagonia Sur, El Chaltén: This hostel provides both dormitory and private rooms with shared bathrooms. Prices start from $100 per night.
Hostel Los Amigos, Ushuaia: This hostel offers both dormitory and private rooms with shared bathrooms. Prices start from $50 per night.
Camping Rio Mitre, El Bolson: This location features campsites with shower and bathroom facilities. Prices start from $25 per night.
Note The prices above are just an estimate and can vary depending on the time of year and the particular hotel or resort you choose.
Final Thoughts
Patagonia, with its diverse landscapes and abundant wildlife, is genuinely a unique and picturesque region.
Patagonia has stirred my imagination for years, serving as a potent reminder of nature's power and the importance of preserving our planet.
My trip to Patagonia left a profound impact on me, filling me with a sense of wonder and inspiration, so I hope you will be impressed too!
Visiting Patagonia FAQ
Is Patagonia worth traveling to?
Yes! Patagonia is an incredibly beautiful and unique place with diverse landscapes and wildlife. With opportunities for hiking, camping, fishing, kayaking, and rafting, it's a destination worth considering if you're seeking an adventure in a remote and breathtaking setting.
Is Patagonia better in Chile or Argentina?
It is hard to tell. Both Chile and Argentina offer their own distinct experiences in Patagonia. Chile boasts impressive glaciers and fjords, while Argentina showcases magnificent mountains and deserts. Ultimately, deciding whether to visit Chile or Argentina in Patagonia depends on your personal preferences and budget.
Is Patagonia expensive?
Yes, it is quite expensive to travel through Patagonia. Firstly, its remote location and challenging accessibility contribute to increased transportation costs. Secondly, Patagonia's popularity as a tourist destination drives up prices. Lastly, the cost of living in Patagonia is higher compared to other regions in South America.
How much time do you need in Patagonia (Argentina part)?
To fully embrace the region, you will need at least 7-10 days. And two weeks will be a much safer choice due to potential weather delays. (2 days to visit El Calafate and the Perito Moreno Glacier, 3 days in El Chaltén and Mount Fitz Roy, 2-3 days in Ushuaia and Tierra del Fuego). Also, keep in mind that Patagonia is huge and traveling between destinations can take lots of time.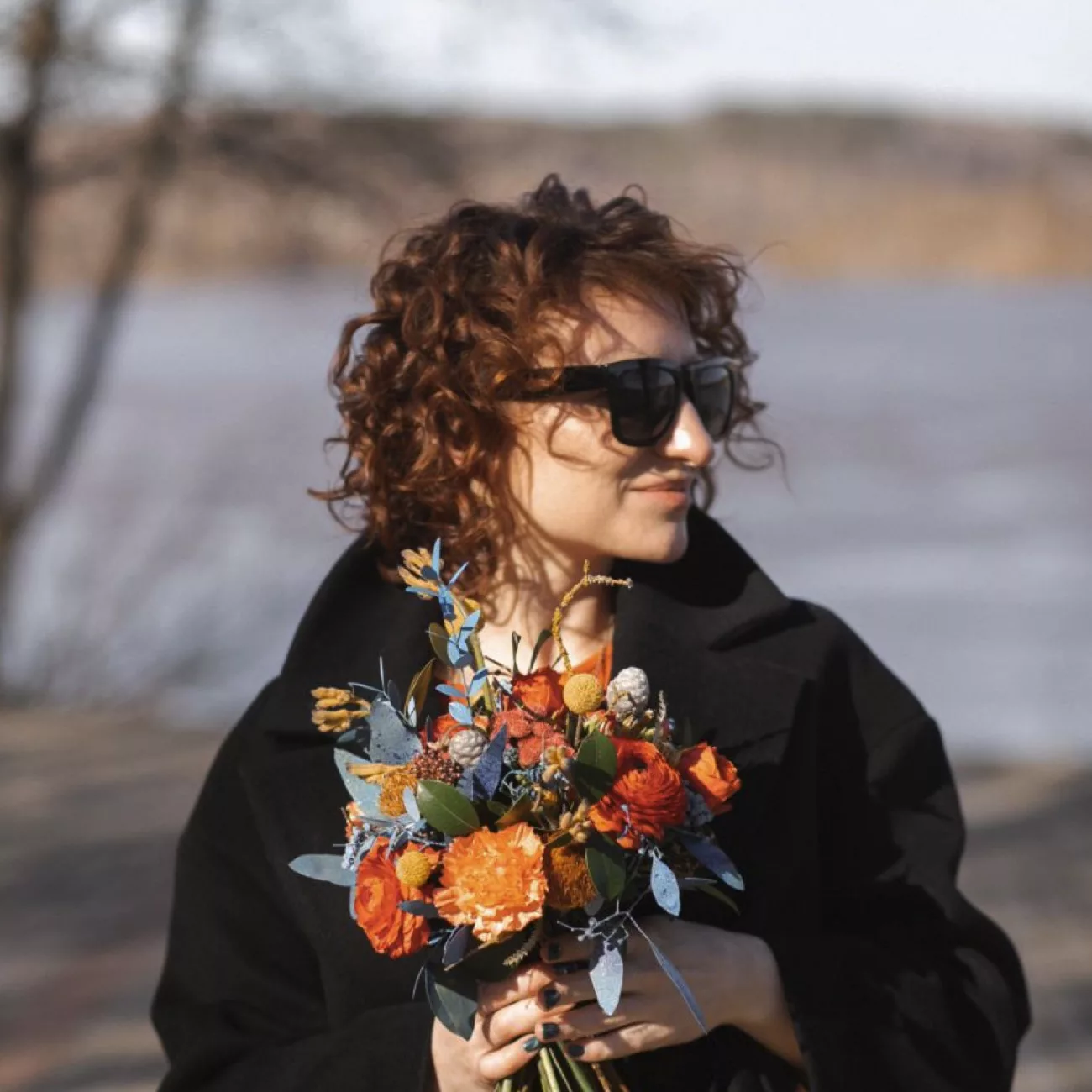 I live in Buenos Aires and write about Argentina and other places I like. For me, traveling is a great possibility not only for discovering new destinations but also for learning about myself (that is usually hidden behind everyday life).
In other words, you discover new landscapes of your soul when traveling!
This post might include some affiliate links. If you make a purchase through these links, I may earn a small commission at no additional cost to you. I appreciate it when you use my links to make purchases.