25 Fun and Quirky Facts about Spain You Should Know
Nadia Podrabinek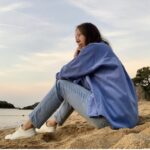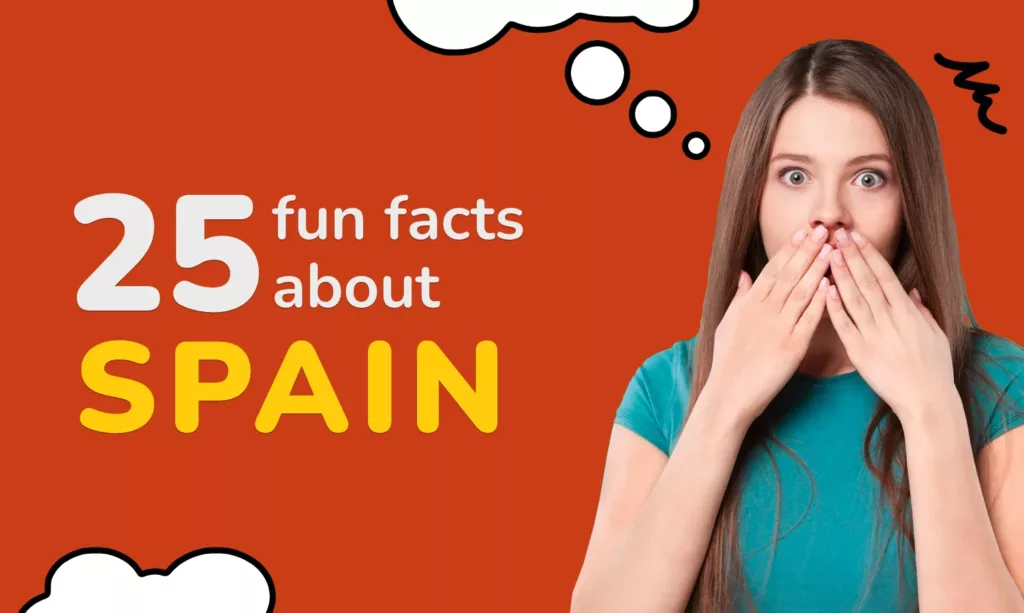 ¡Hola! Think you know everything there is to know about Spain? Think again!
A famous destination for travelers in search of the sun, Spain is a country with an off-beat style. This stunning European country is full of surprises and boasts a diverse culture that goes beyond siestas, summer living, and sangria.
Given the quirkiness and uniqueness of Spain, it's no wonder you're so intrigued to learn more about this beautiful country! Luckily for you, we're here to dish out all the fun facts about Spain that are sure to leave you in awe.
Here are 25 fascinating facts that will make you fall in love with this amazing country even more!
1. You'll Hear No Singing in the Spanish National Anthem
If you find yourself attending an international sporting event in Spain and can't wait to belt out the national anthem, you might be in for a surprise!
Spain's national anthem "La Marcha Real" has no lyrics – just a sweeping melody that is both grand and powerful. It's one of only four anthems with no words, making it incredibly unique.
The anthem is also one of the oldest in the world, composed in 1761!
Read also: What is Spain Famous For?
2. Spanish is the World's Second-Most-Spoken Native Language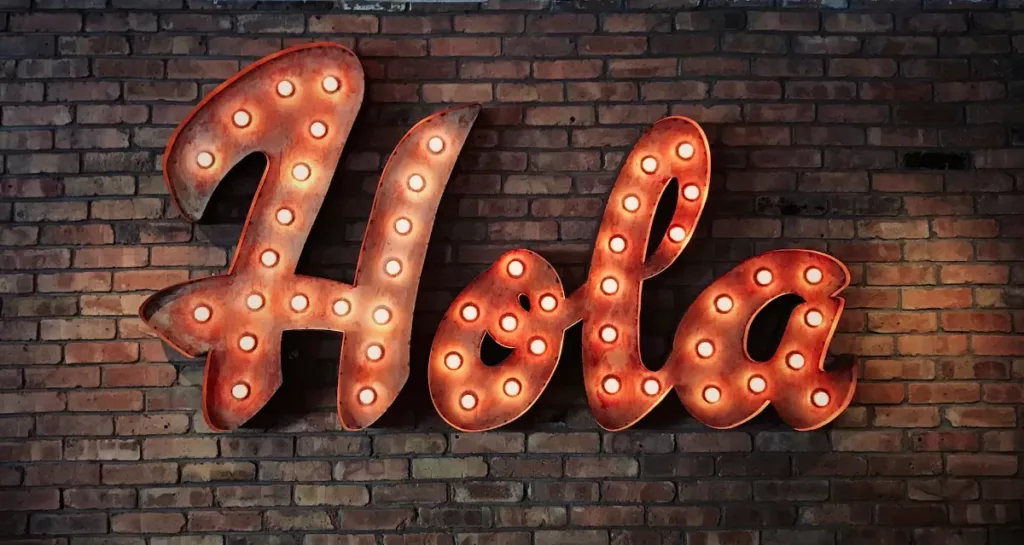 Sure the national anthem may not have lyrics, but people are speaking Spanish nearly everywhere!
Spanish is not only a romantic and melodious language but also the second most spoken language in the world, after Mandarin. Around 488 million people speak Spanish as their first language. Given Spain's colonial past, Spanish is the official language in 18 countries, including Mexico, Colombia, and Argentina.
Spanish also has regional variations that add to the diversity of the language. For example, Catalan in Catalonia, Galician in Galicia, and Basque in the Basque Country.
3. The Spanish are Serious about their Siestas
Speaking of a different pace of life, the Spanish take their naps seriously.
In Spain, taking a siesta is a time-honored tradition that dates back centuries. With the Mediterranean heat and a busy work schedule, the midday nap (usually taken after lunch) is a much-needed respite for the Spanish.
In fact, most businesses close their doors between 2 pm and 5 pm during siesta time.
4. In Spain, Life Moves to a Different Beat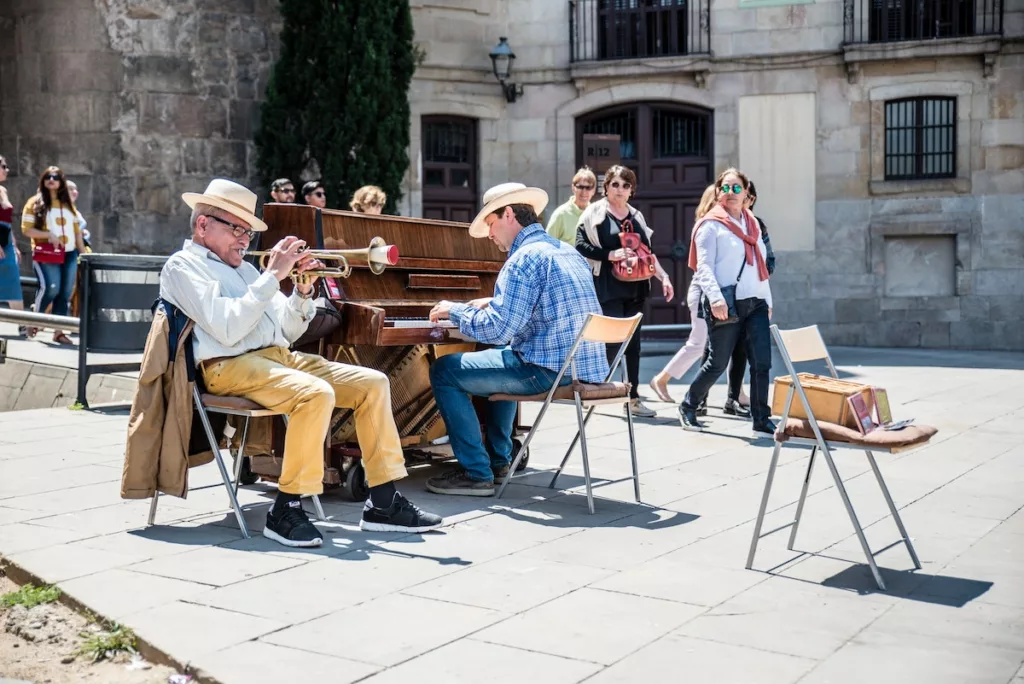 If you're planning to visit Spain, be ready to adjust your schedule!
The rhythm of life of the Spanish people is completely different from that of other European countries. They mostly have lunch between 1 and 3 pm, dinner around 10 pm, and rarely go to bed before the early hours of the night.
This lifestyle is reflected in the activity of television viewers. The peak viewing time for Spanish TV begins at 10 pm and lasts until after 1 am.
5. It's a Home to the 4th-highest Number Of UNESCO World Heritage Sites
This fascinating country is a true treasure trove, home to an impressive 49 UNESCO World Heritage sites.
From the historic city of Toledo to the stunning Alhambra Palace in Granada to the unfinished La Sagrada Familia in Barcelona, Spain's architectural and cultural heritage is nothing short of spellbinding.
The list of sites also includes beautiful national parks like the Pyrénées – Mont Perdu and Doñana National Park.
6. Eating 12 Grapes to Ring in a Lucky New Year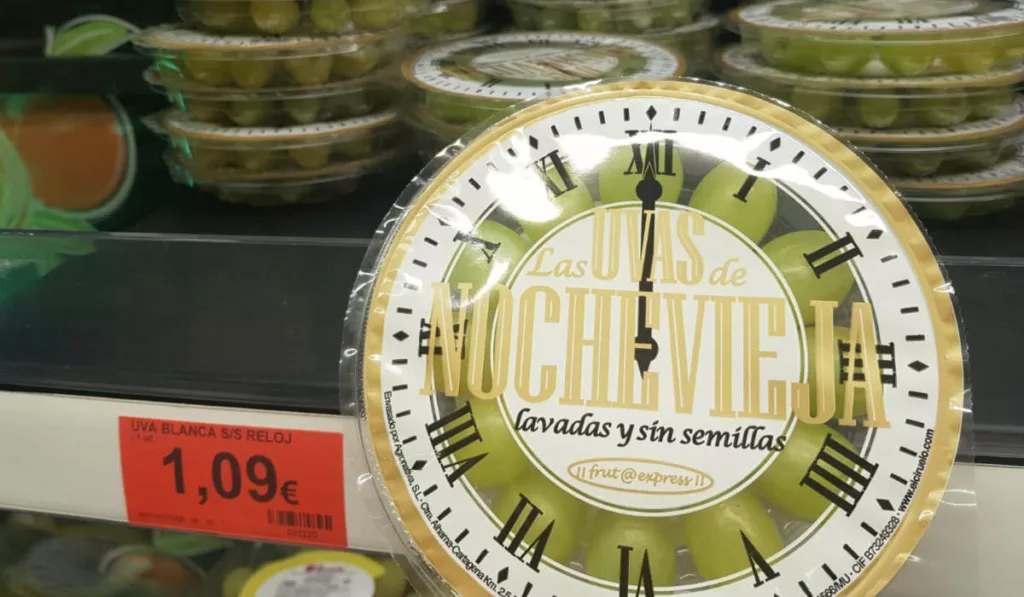 Perhaps one of the quirkiest facts about Spain is this one. "Las doce uvas de la suerte" (the twelve grapes of luck) is a New Year's Eve tradition where folks eat a grape with each of the twelve chimes of the clock at midnight.
This fun custom is believed to bring good luck and prosperity in the coming year. It might sound easy, but it takes some serious grape-eating skills to chew and swallow all 12 in time. If you succeed, all the luck will come your way!
After doing that several times, I'd say it is quite hard and even dangerous – I was afraid of choking!
7. You'll Never Go Thirsty Thanks to Spain having the Highest Number of Bars in Europe
You'd be forgiven for thinking this accolade would go to Prague or Dublin, but it's actually neither.
While there has been much debate over which country is home to the most bars per inhabitant, many figures point towards Spain.
With a vibrant bar culture deeply embedded in Spanish culture, it's no surprise that it holds the European record for the most bars per inhabitant.
The southern region of Andalusia alone has as many bars – including pubs and cafés – as Ireland, Denmark, and Norway combined!
8. La Tomatina Brings on the Largest (and Juiciest) Battle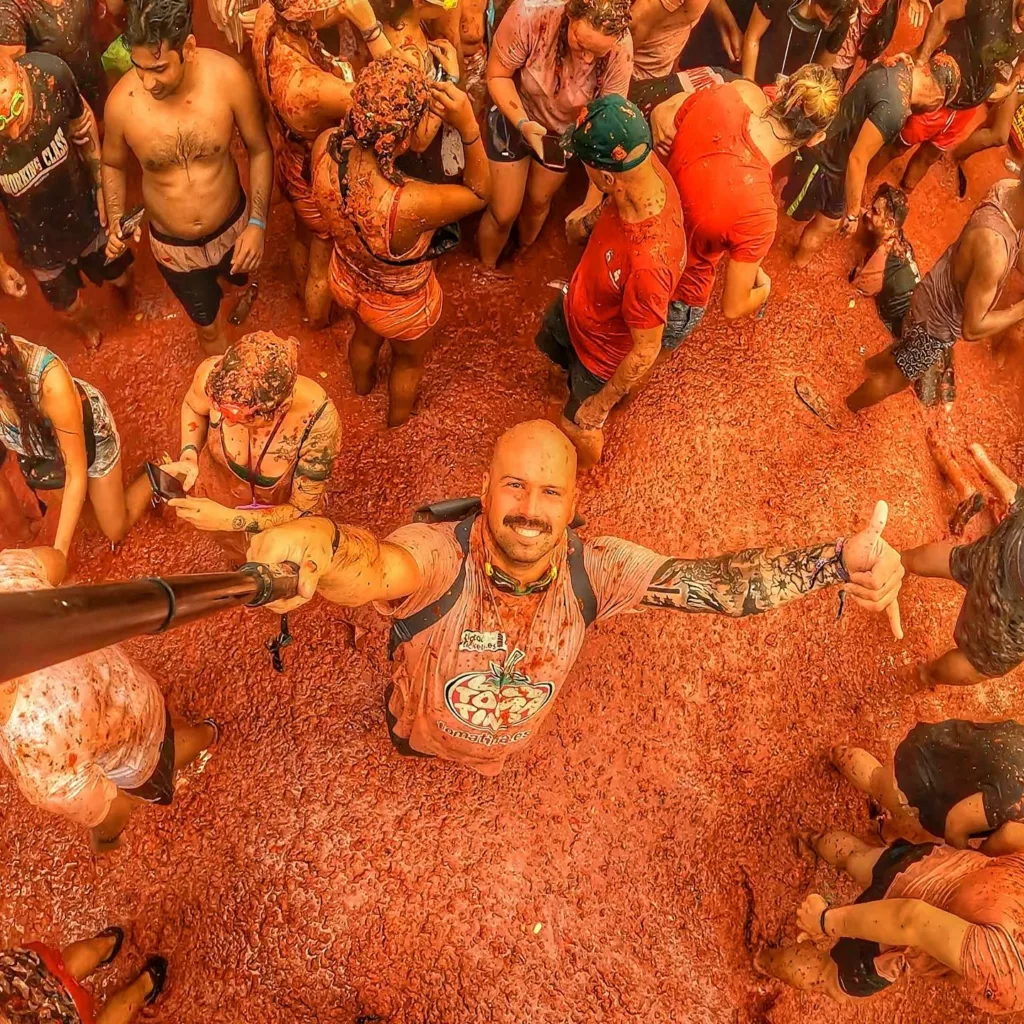 Once a year, the town of Buñol in Valencia turns into a giant red food fight arena for one of the wildest festivals in the world – La Tomatina.
Held every August, visitors from all over the globe flock to this legendary event to participate in the ultimate tomato battle. With nearly 20,000 attendees, over 100 tons of overripe tomatoes are hurled through the air – just about anyone is a target.
The tradition has roots dating back to 1945 when a local quarrel sparked the first tomato fight. They repeated this on purpose the following year and a tradition was born!
9. In Spain, Nude is Not Rude
Spain is a sun-soaked paradise with a Mediterranean climate that boasts hot, dry summers. With 3,000 hours of sunshine a year, there are plenty of opportunities to top up your tan.
For those that don't mind going au naturel, you'll be surprised to learn that maybe you can. Non-sexual nudity is technically legal in Spain, but some regions have their rules on what's appropriate when it comes to stripping down. For instance, you'll need to keep your clothes on in Barcelona or risk a fine of up to €500.
Funnily enough, while clothes may be optional, shoes are mandatory while driving!
10. Spain is Large and Proud as the Second-Largest Country in the EU
Spain isn't just larger than life with its culture, festivals, and sports – the country is also really big!
Spain ranks as the second-largest country in the European Union, measuring over 500,000 square kilometers (around 194,000 square miles) if you include the Canary Islands and the Spanish territories along the North African coastline.
11. The Birthplace of Some of the Greatest Painters Who Ever Lived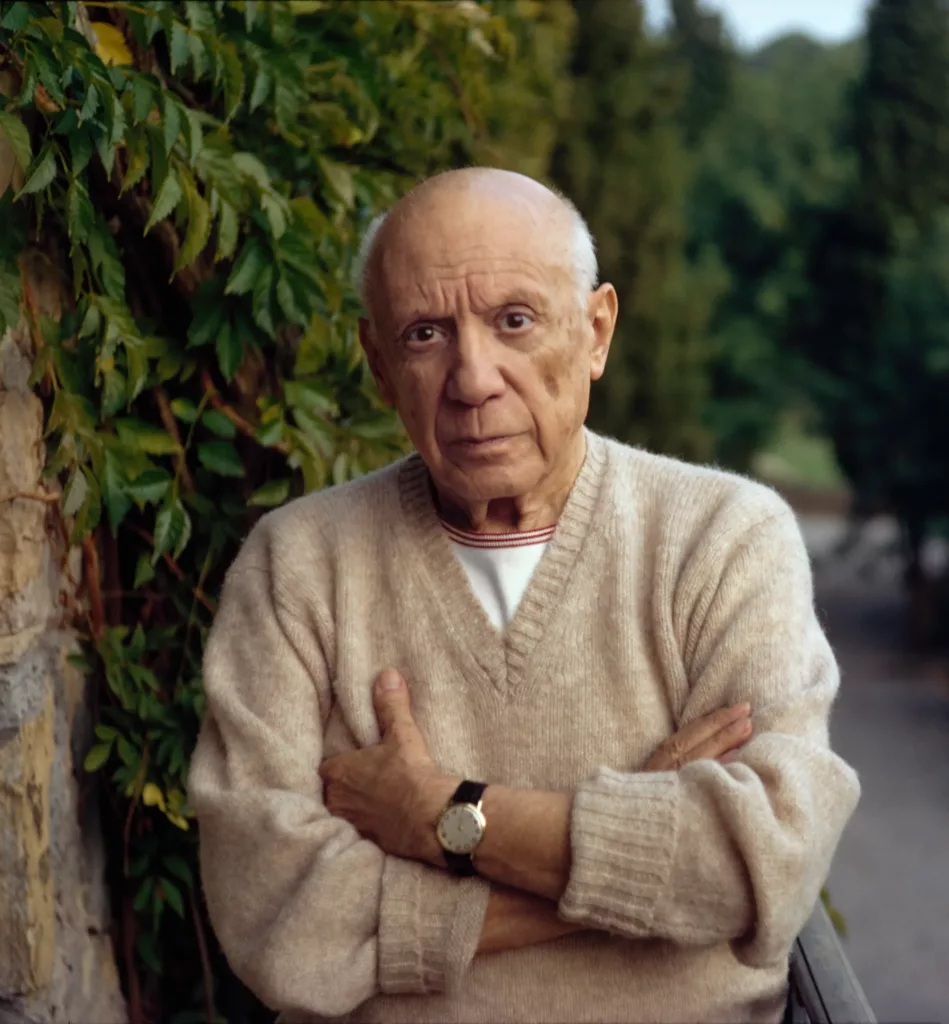 With the likes of Pablo Picasso, Francisco Goya, and Salvador Dalí, Spain has been the birthplace of many legendary artists. This culture-rich country is also home to many of the works that pushed boundaries, challenged norms, and continue to inspire us today.
From the classic beauty of Velázquez's "Las Meninas" to the first modern painting "Third of May 1808" by Goya, Spanish painters have left their mark on the art world.
Read also: The best paintings at Prado Museum
12. Viva España – Home to One of the World's Highest Life Expectancies
One of the more interesting facts about Spain is the fact that its inhabitants live long and prosperously. With a life expectancy of 83 years, the country is the second-highest among the OECD countries, just behind Japan.
The country's Mediterranean diet, active lifestyle, and excellent healthcare system seem to be paying off! It's no wonder why so many people dream of retiring in this beautiful country.
13. The Land of Fiestas and Celebrations Any Day, Any Time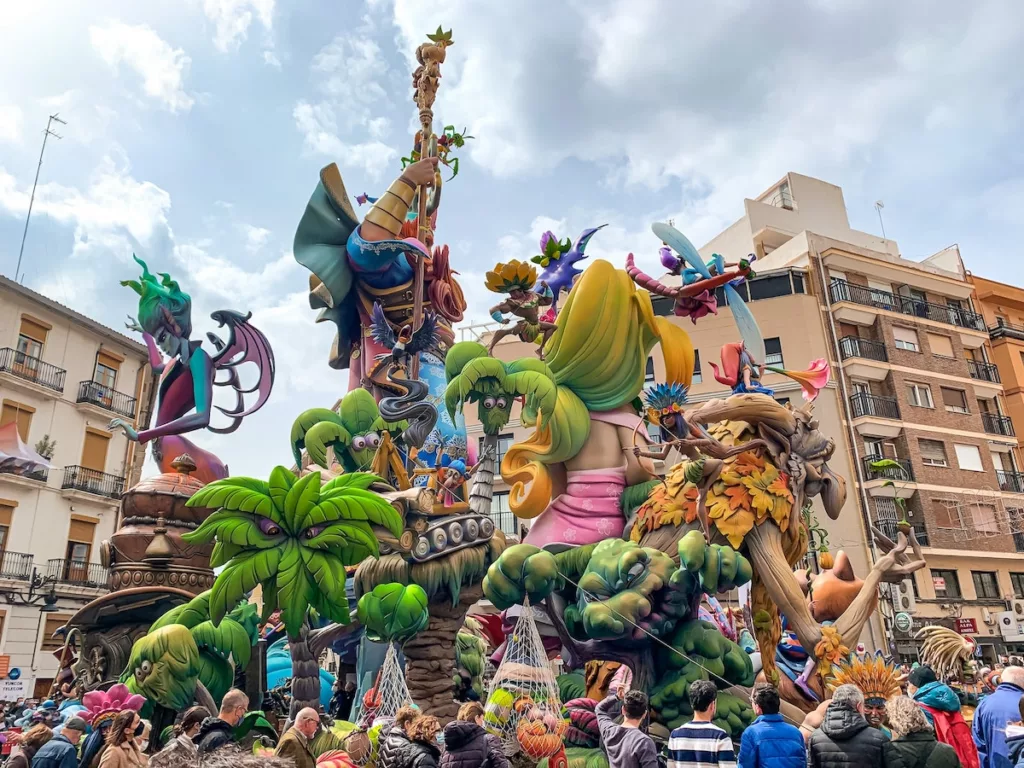 The atmosphere of the country corresponds well to its warm climate – there is no more festive country than Spain. You could go there any time of year and be sure that there's a celebration of some kind taking place somewhere in the country.
Each municipality is associated with its own patron saint, which inhabitants celebrate with festivities that can sometimes last several days. Thus, there are more festivals in Spain than there are days in the year!
From the running bulls madness of San Fermin in Pamplona to the almost-daily Carnival celebrations, there's always something going on in this vibrant country.
14. There's a Baby Jumping Festival
You read that right! Jumping over babies is a real festival in Spain. Every year in mid-June, a unique festival takes place in the Spanish village of Castrillo de Murcia.
Known as El Colacho, the festival is a blend of Catholic and pagan rituals that celebrates the triumph of good over evil. The festival dates back to the 1620s and takes place on the Sunday after the Feast of Corpus Christi.
During El Colacho, costumed "devils" jump over mattresses with recently born babies in a baptism of sorts. This leaping is believed to cleanse them of sin and protect them from harm.
15. Spain Introduced Modern Literature to the World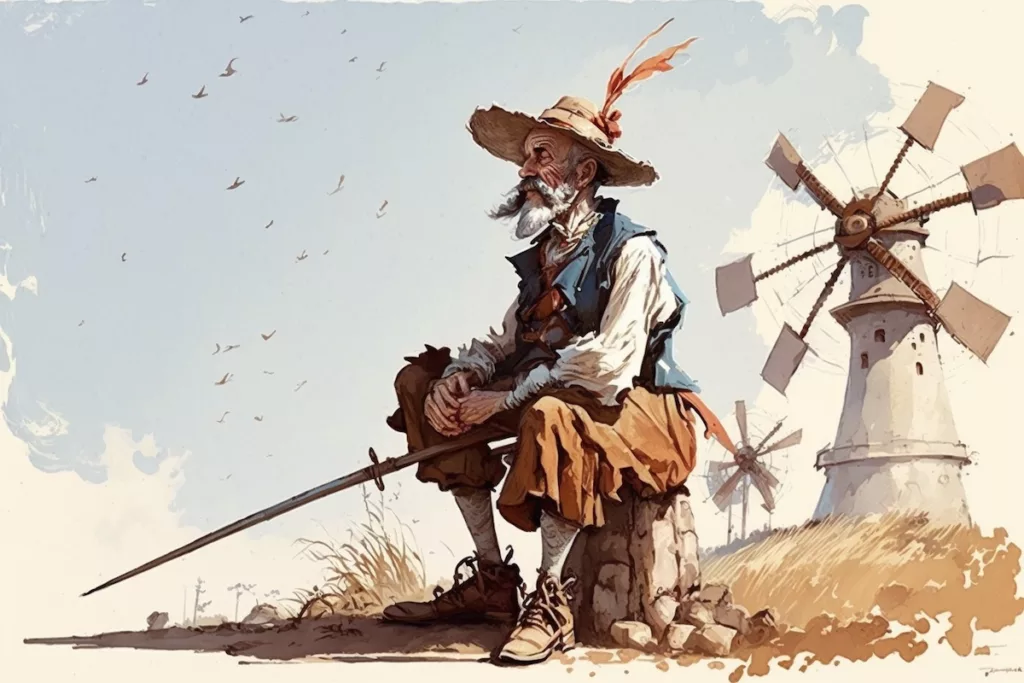 When it comes to fun and interesting facts about Spain, none is more fascinating than the fact that the world's first modern novel came from the country.
Don Quixote, the magnum opus of Miguel de Cervantes, is widely regarded as one of the most influential literary works of all time and the first modern novel.
First published in 1605, Don Quixote tells the story of a man who becomes so enamored with chivalric romances that he loses his mind and sets out on a series of adventures as a knight-errant.
16. Spain Dishes out Christmas Joy with a Hefty Prize Pot
In Spain, the Christmas spirit comes in the form of the biggest lottery draw worldwide. Known as El Gordo, the Spanish Christmas Lottery offers a massive payout of €4 million ($4.2 million).
The draw takes place annually on December 22nd, and the lucky winners can expect a truly Feliz Navidad! But El Gordo is not just about the prize money, it's also about the festive atmosphere that surrounds it.
17. Spain is the Most Fruitful Place for Olive Oil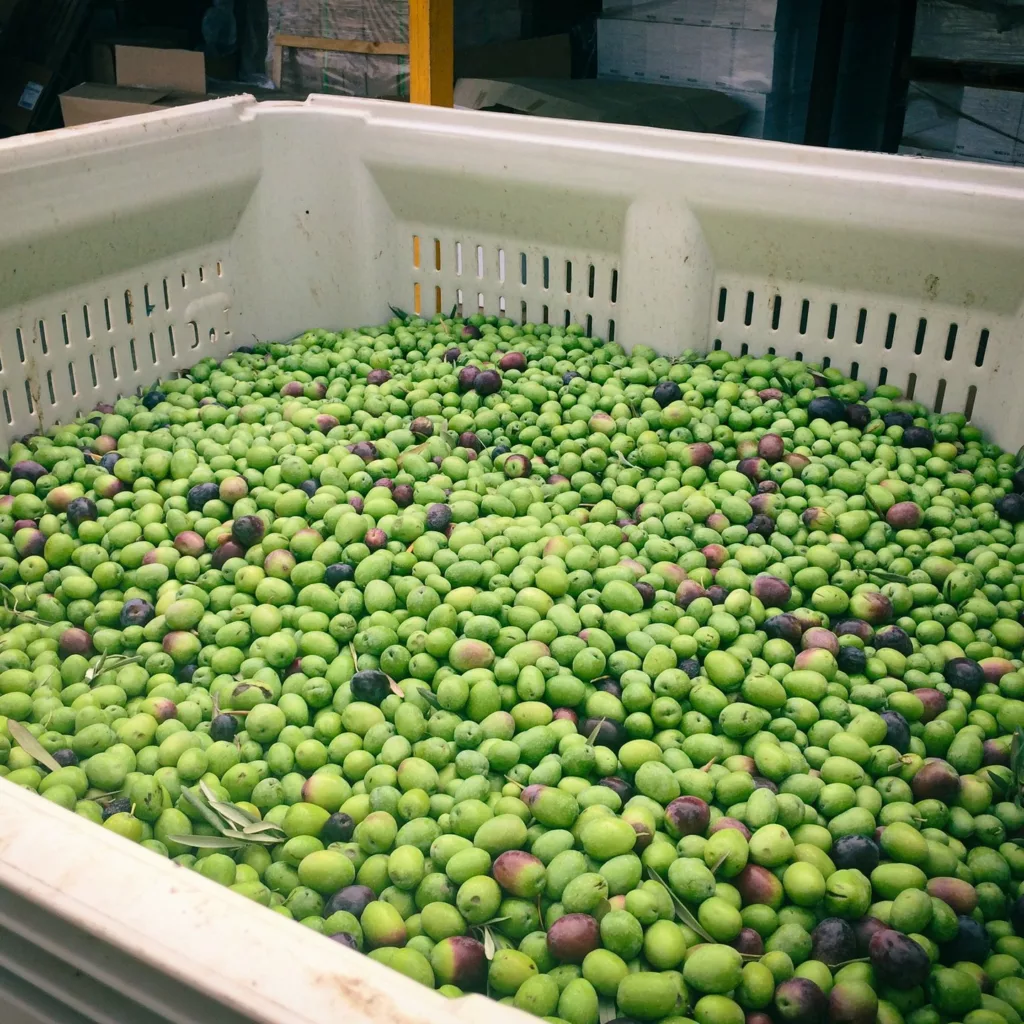 In general, Mediterranean countries have extremely rich and fruitful olive yields, which they use to make oil. But Spain really stands out when it comes to olive oil production!
In fact, the country produces over 40% of the world's olive oil. That's a lot of dipping and drizzling!
The olive oil industry has a long and storied history in Spain, dating back thousands of years. The warm, sunny climate is perfect for olives – the majority of which come from Andalusia.
18. One of Spain's Dining Customs is to Drop Olive Pits and Napkins on the Floor
When you walk into a Spanish bar, don't be surprised to see the floor littered with a few napkins or olive pits. In Spain, it is totally acceptable to throw things on the ground in certain places. In fact, most times a dirty floor means a good bar!
In more upscale establishments, you'll usually be given a bowl for olive pits and a cloth napkin for your lap. In more casual spots, the floor is where they go.
If you ever find yourself in a bar in Spain and don't know what to do, take cues from the locals!
19. Spain is the Only EU Nation with an African Neighbor
Spain has the unique distinction of being the only EU country that shares a land border with an African country – Morocco.
The physical border doesn't exist on the Spanish mainland, but rather in the autonomous city of Ceuta, which is located in North Africa but is considered a part of Spain's territory.
20. Madrid is Home to the Oldest Restaurant in the World – Where Goya Was Once A Waiter!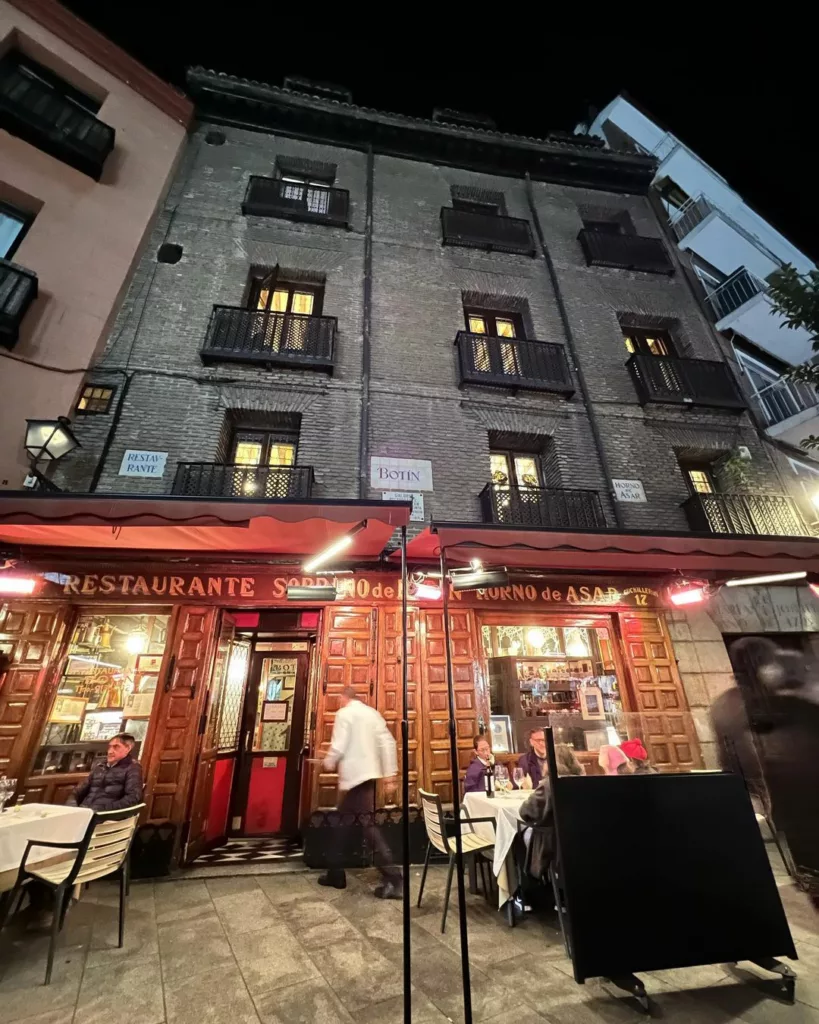 This fun fact is for the foodies! The oldest operating restaurant in the world can be found in Spain's capital, Madrid.
Sobrino de Botín, established in 1725 by a French couple, Jean Botin and his wife, has been serving up their specialty, cochinillo asado (roast suckling pig), for almost 300 years!
Fancy another interesting fact about the world's oldest restaurant? The renowned artist Francisco de Goya worked as a waiter at Café Botín while waiting to get accepted into the Royal Academy of Fine Arts.
The restaurant is also mentioned in the closing pages of Ernest Hemingway's novel The Sun Also Rises.
21. Running with Bulls, a Centuries-Old Tradition in Spain
When it comes to fun facts about Spain, non is more wacky and wild than this one. You probably already know that the bull is Spain's national animal and are also familiar with bullfighting. But have you heard of the bull running festival?
San Fermin is a weeklong celebration held annually in the city of Pamplona where the most famous event, bull running, takes place. The event, which dates back to the 14th century, sees thousands of people take to the cobbled streets to literally run for their lives with fighting bulls.
It's an adrenaline-fueled event that has seen its fair share of injuries and even deaths, but that hasn't stopped people from participating in this time-honored event.
22. Football is Spain's National Sport and Greatest Love Affair
"Goooooool!" This may be one of the most important (and widely screamed) words related to Spanish culture. From the numerous football fields to the heated conversations in cafes, Spain's love for the sport is unmatched.
Spain boasts two of the most successful teams in European football, and locals treat each match like a holy event. Over the years, the country has produced some of the world's most celebrated football players, such as Andres Iniesta, Xavi, and Iker Casillas.
23. Home to the Third-Largest Volcano in The World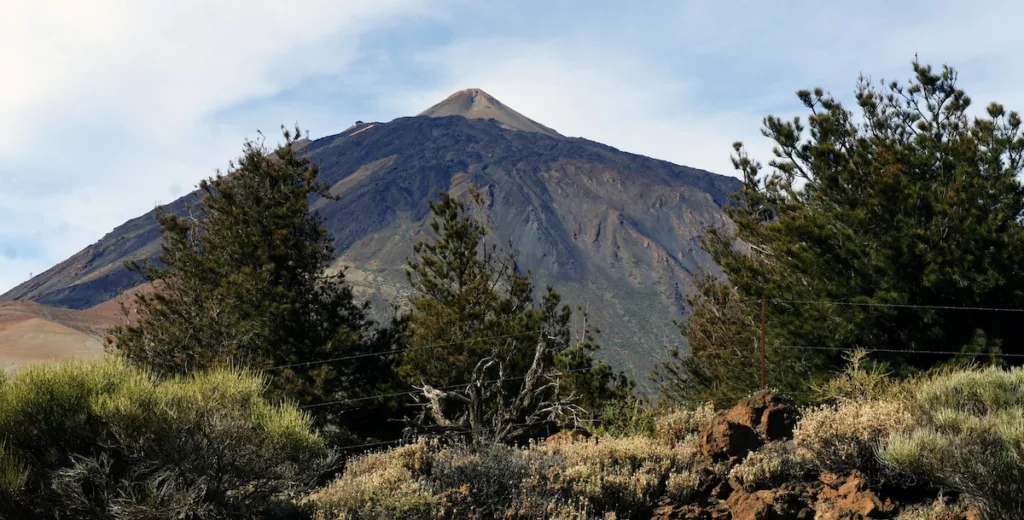 Spain is well-known for its beaches, boasting around 8,000. But did you know it's also one of the most mountainous? The country is home to some of the most famous mountain ranges, including the Sierra Nevada in Andalusia and the Pyrenees that border the country from France.
Yet, that's not all, Spain's highest mountain, Mount Teide, is actually not even on the mainland but rather on the Canary Islands. This mountain is the third-highest volcanic structure in the world, standing at 3,718m (12, 198 ft).
24. Spain was Meant to Be the Original Home of the Eiffel Tower
When the idea of building the Eiffel Tower came to Gustave Eiffel, Barcelona was where he originally wanted to build it. However, the Spanish government rejected the idea, as they were worried it would be a hefty eyesore.
Gustave was then able to convince the French government to allow him to build the tower in Paris and the rest is history!
Can you imagine strolling the streets of Barcelona and seeing the Eiffel Tower? It would've been a sight to behold but today it would seem out of place.
25. Spaniards Have Been Major Pioneers – from the Humble Stapler to the Space Suit!
The Spanish have been pioneers in many fields, including inventions that have revolutionized daily life.
For starters, it was a Spaniard who invented the first version of the stapler. King Louis XVII of France commissioned a Basque company, El Casco, to invent something to ease the daily tasks of European monarchs.
Perhaps one of the most significant Spanish inventions is the space suit. As early as 1935, the ahead-of-his-time inventor, Emilio Herrera, presented the first Stratonautical Diving Suit, considered the first prototype of the space suit.
This invention allowed for safe travel through the stratosphere and led to the design of pressurized models used for missions in orbit. Now that's what we call an out-of-this-world fact!
Fun facts about Spain for kids
Here are some fun facts about this country for kids:
Spanish children don't have a Tooth Fairy. Instead, their Tooth Fairy is a Tooth Mouse named Ratoncito Pérez that takes the tooth away and leaves a small gift in return.
The official name of Spain is the Kingdom of Spain. It is a Parliamentary Monarchy, which means the country has both a King or Queen as head of state and a parliament that runs the government.
The town of Coria del Rio carries a unique Japanese legacy. Nearly 700 of the 30,000 residents have the surname "Japón" and are believed to be descendants of samurai who settled in the town in the early 17th century.
One unusual but quirky Christmas tradition in Spain is the pooping log. Called Tió de Nadal, the log is decorated with a smiling face and is "fed" and taken care of until Christmas. On the day of Christmas, children will then hit the logs with sticks to get them to "poop" out gifts and treats.
The 5 most important facts about Spain
Here are my five cents facts about Spain:
To this day, Catalonia continues to struggle for independence from Spain. Although it gained autonomy during the Spanish Civil War, the fight for independence has been an ongoing challenge since the 19th century.
Until the 18th century, the Spanish Empire was the largest in the world. Spain played a leading role in European exploration and colonization during the 15th and 16th centuries, conquering vast territories in North and South America.
Spain is a diverse country with varying ethnic background influences. There are Iberian, Celtic, European, and African influences from early inhabitants. The origins of the Basque people remain unknown, while recent immigrants have added to the diversity.
From 711-1492, Islamic rule in Spain led to many advancements. Muslim rule introduced agriculture, irrigation, and trading. During the golden age of Islamic rule (10th century) mathematics, medicine, and philosophy became more advanced.
The country known as Spain today wasn't referred to as such until the late 14th century. Instead, it was referred to as The Spains, denoting all the lands across the Iberian Peninsula and beyond. It wasn't until Queen Isabella II became Queen of Castile and Aragon that the name España was used.
What is Spain famous for?
From its rich history and festive culture to its delicious cuisine and architectural wonders, Spain is famous for a number of things. Besides the fiestas, siestas, food, and beaches, Spain is well-known as a hub for football. Football fanatics run rampant in the country.
What's more, Spain is one of the most popular tourist destinations. The country received an astounding 82.8 million visitors in 2018 (nearly double its inhabitants), making it the world's second most popular tourist destination after France.
Read more about famous things that represent Spain.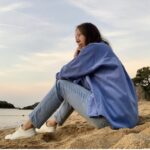 Hello, my name is Nadia.
I usually write about traveling (there are so many places to fit all the lifestyles), relocation (finding a job overseas or moving without losing an income), and living in a foreign country (adapting to a different culture and mentality). Follow me on Twitter, Facebook, Instagram, or LinkedIn!
This post might include some affiliate links. If you make a purchase through these links, I may earn a small commission at no additional cost to you. I appreciate it when you use my links to make purchases.