Canary Islands vs. Azores: A Definitive Guide
Nadia Podrabinek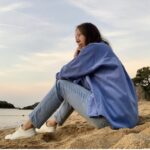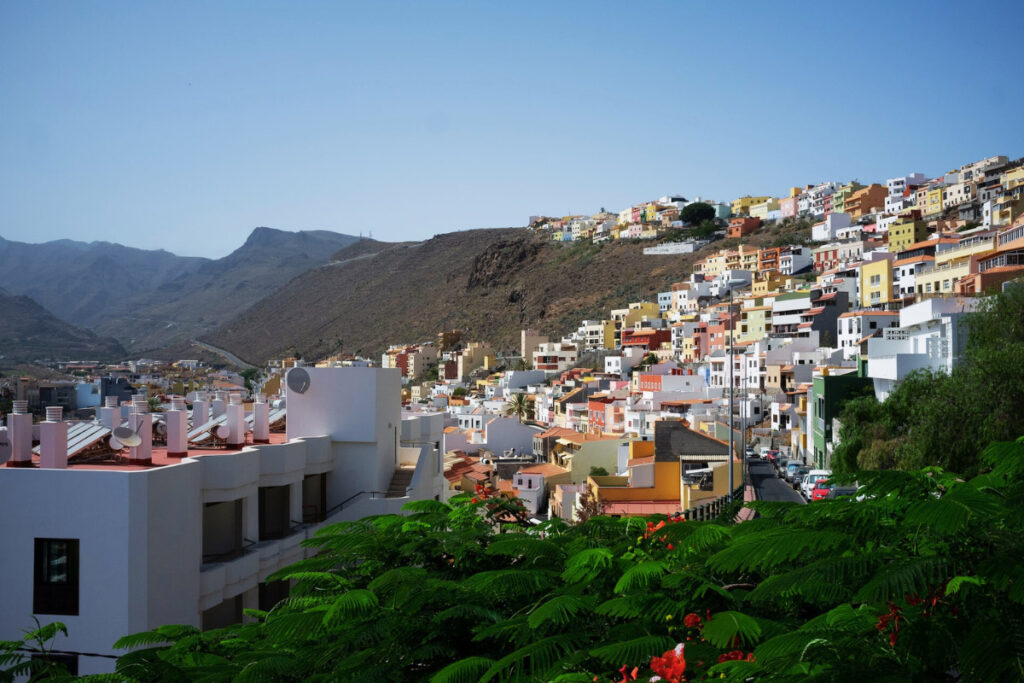 The Canary Islands, aka the Canaries, have gained a reputation of being a tourist's paradise because of their lush vegetation, soft sandy beaches that go on for miles, and beautiful year-round weather.
Towards the northwest of the Canaries lie nine small islands that make up the Azores archipelago. This island chain is part of Portugal and is best known for its stunning nature and dolphin and whale watching.
It's also known for producing some of the highest-quality wines in all of Europe. It's even been recognized as one of UNESCO's World Heritage Sites since 2004.
In this post, I'll walk you through the different things to do and see on both island chains. The good news is that they're pretty close to one another. So, you can include them both in your itinerary for a truly spectacular vacation.
---
Key Takeaways
The Canary Islands and the Azores offer breathtaking panoramas, but the Canaries are better known for their beaches while the Azores are known for their lush topography and volcanic terrain.
The Canaries offer a more bustling feel and more stay options, whereas the Azores are more tranquil, providing the perfect getaway for nature lovers and adventurers of the great outdoors.
Being more to the north, the Azores have a cooler, milder climate, and more rainfall, while the Canaries are sunnier and more agreeable, making them a popular year-round destination.
Both the Azores and the Canaries offer distinctive local cuisines, but the former have a wider selection of sweet and savory thanks to their larger size and population.
You can enter both island chains without a tourist visa as long as you're staying for 30 days or less in the Azores and no more than 90 days in the Canaries.
---
Geography and how to get there
Both the Canary Islands and the Azores are two of the four Atlantic archipelagos that make up Macaronesia. The other two are Madeira and Cape Verde.
Let's look at their geography to get a better understanding of the history and culture of these stunning volcanic islands.
About the Canaries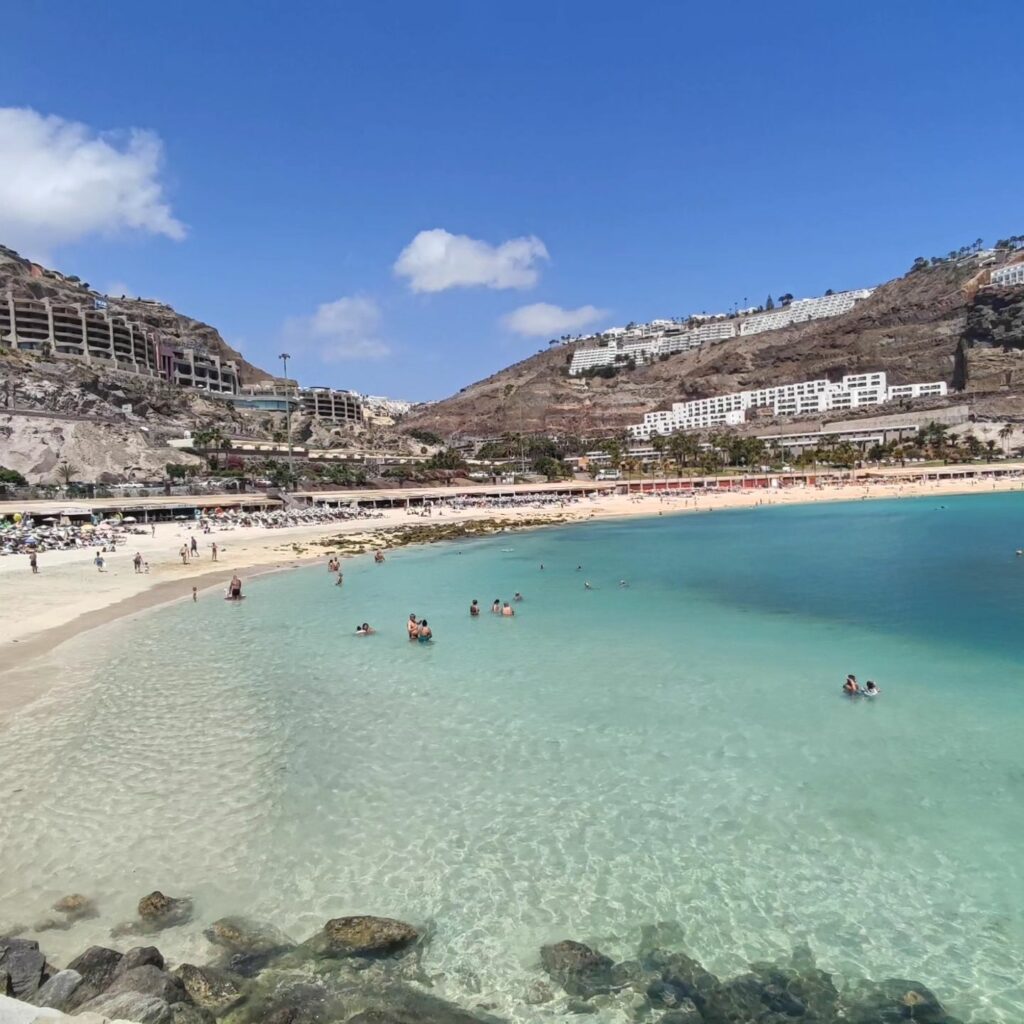 Located southwest of Spain, the Canary Islands are the largest and most populated archipelago of the Macaronesian Islands, which technically belong to three countries: Spain and Portugal in Europe and Cabo Verde off the coast of West Africa.
While the Canary Islands are geographically part of Spain, they're located closer to Morocco's coast. For example, Fuerteventura is about 920 miles (1,482 km) from mainland Spain and approximately 62 miles (100 km) from the Moroccan coast.
All the locals speak Spanish. Yet, there are areas where you'll notice the locals speaking using slight variations from that spoken on the mainland, which is largely due to Portuguese and Caribbean influences.
The Canaries are recognized as an autonomous community. This means they're free to make their own laws and have a different capital city from that of Spain.
This may sound odd to non-natives, but there are 17 different autonomous communities, or regions, in Spain as well as two independent cities.
Not only that, but they have two capital cities: Las Palmas in Gran Canaria and Santa Cruz in Tenerife.
Collectively, they consist of eight islands scattered in the Atlantic Ocean. Together, they've been considered a link between four continents: Africa, Europe, North America, and South America.
Here they are from largest to smallest:
About the Azores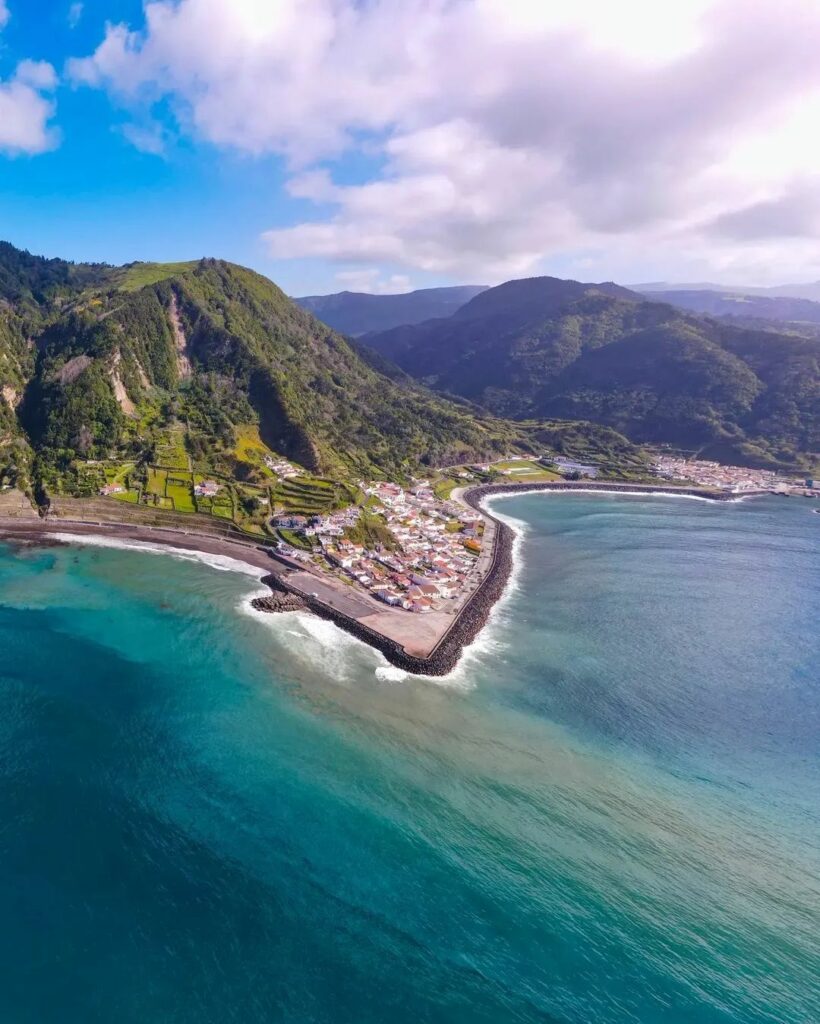 Believe it or not, the Azores also belong to the massive Macaronesia archipelago but to the Portugal section. This collection of volcanic islands is situated in the North Atlantic Ocean slightly northwest of the Canaries.
Sitting directly on top of the Mid-Atlantic Ridge at a triple junction, this island chain is actually a mountain range. Because of its unique geographical location, it's been shaped and reshaped over the years by numerous volcanic eruptions and earthquakes.
As on the mainland, Portuguese is the main language of the Azores. Yet, don't be surprised to come across a distinct dialect spoken by the locals made up of a mix of Portuguese and Spanish.
The nine Azorean Islands are spread over an area that covers approximately 373 miles (600 km). They're divided into three autonomous regions: east, west, and central.
The eastern group comprises the Formigas Islets, Santa Maria, and São Miguel, home to the capital and largest city Ponta Delgada. Then there are Corvo and Flores to the west, while the central part includes:
How to get to the Canary Islands vs. the Azores
The shortest distance between the Canary Islands and the Azores is about 832 miles (1,3400 km). The quickest way to get from one to the other is by plane, which costs between €240 – €700 depending on the carrier and flight time.
Now, let's look at how you can get to these island chains from anywhere in the world.
Getting to the Canaries
All the Canary Islands have airports, and provide quality air transport connections to almost anywhere in Europe.
Coming in from countries outside of Europe is just as easy. The islands with the most international air traffic are Gran Canaria, Fuerteventura, Lanzarote, and Tenerife.
It's worth noting that Tenerife is the only island that has not one, but two, airports. A small airport is typically used by locals and a second larger airport reserved for tourists because of its proximity to most of the island's resorts.
El Hierro and La Graciosa are the only islands without airports. To get to these smaller islands, you can island hop, take a ferry, or fly using regional airlines like Binter Canarias.
On the islands themselves, the most suitable way to get around is by renting a car. You can find car rental companies at airports, hotels, or in resort towns.
Keep in mind that most rentals are manual transmissions. You can also find automatic cars but you'll likely pay more.
You can also take a taxi, which can be expensive. For a cheaper alternative, you can take the bus, but that's not always the fastest way to get around or the most convenient.
Helpful tip You probably know that the Spanish term for 'bus' is autobús. However, Canary locals refer to buses as guaguas.
Getting to the Azores
To reach the Azores, you have three options.
The first is to fly into the archipelago's largest airport, Ponta Delgada, located on the island of São Miguel. It's also one of Portugal's busiest airports, offering flights to many domestic and international destinations and catering to over 1.5 million passengers a year.
A second option is to fly into Terceira Airport. It's a bit smaller than the one in Ponta Delgada, so it's usually not as busy. However, it does provide international flights to and from Canada and the US.
Because of the island's remote location, direct flights to the Azores are limited. So, if you're flying in from outside Portugal, expect to take at least one connecting flight.
The final option is to take a ferry to any of the islands from Portugal or mainland Europe.
The climate and what to pack
Knowing what the weather will be like can help you pack accordingly. Take a look.
Canaries
Situated between mainland Europe and Africa, you can expect nothing but the best weather in the Canary Islands. They're categorized as sub-tropical and are known for their mild, pleasant weather throughout the year with average temperatures ranging between 86℉ and 59℉ (30℃–15℃).
The eastern islands are more arid than their western counterparts, which receive more rain during the colder months. In winter, the islands of La Palma and El Hierro, as well as the northern coasts of Gran Canaria and Tenerife, are typically colder than the other islands. Yet, temperatures rarely drop below 59℉ (15℃), making it the perfect year-round destination.
Because of their breathtaking beaches, beachwear is a must. You can also bring some flip-flops, a sunhat, and sunscreen to make the most of these stunning beaches.
Other additional gear includes a pair of jeans, a couple of shorts and light tops, and walking shoes. You can also bring a light jacket or two in case it gets chilly at night.
Azores
The weather in the Azores is generally mild with an oceanic, subtropical climate. Temperatures throughout the year range from 59℉ (15℃) to 80℉ (27℃) with the average temperature being 64℉ (18℃).
The driest month is July and the wettest is usually November.
When packing for the Azores, all you'll need is a selection of light clothes year-round. Since it's not a beach destination like the Canaries, you won't be needing beachwear.
I recommend adding a couple of light jackets, sweaters, or sweatshirts for nighttime excursions when temperatures drop slightly.
If you're going in winter, you'll need warmer clothes and preferably a light raincoat as well.
Things to do in the Canary Islands vs. the Azores
Check out the diverse attractions and sightseeing adventures you can find in both of these exotic volcanic island chains.
Canary Islands
Compared to the Azorean islands, the Canaries are much larger in size and population. They're also more popular among tourists for multiple reasons.
The most obvious is that they offer a more varied and diverse landscape to explore. The first place I suggest you visit is the underground lava caves in Lanzarote.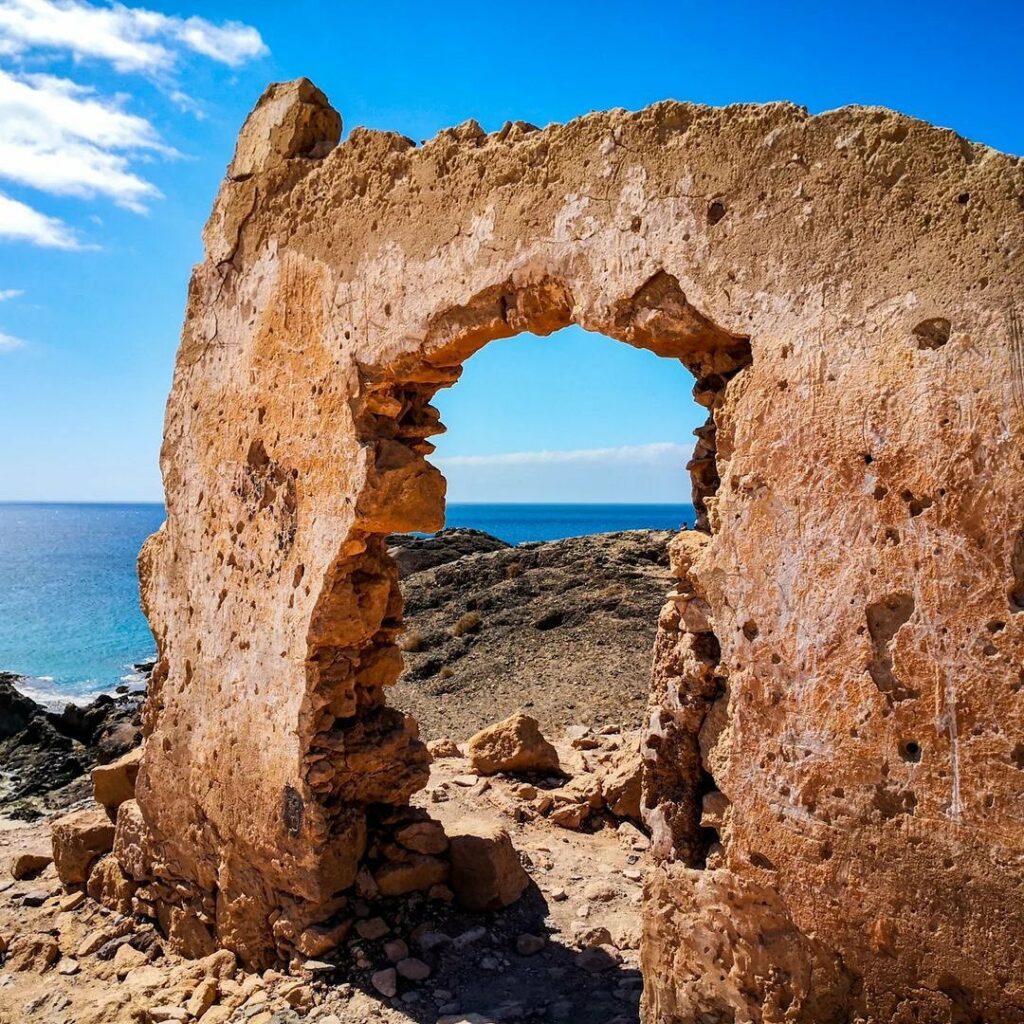 Then, there's the tallest mountain in Spain that towers over the lush vegetation of Tenerife's Teide National Park. I should also mention that it's the third-tallest volcano in the world, which is pretty exhilarating.
Another reason is that they boast a much warmer climate. This makes them more suitable for doing all sorts of sun, sand, and surf-related activities.
While all beaches are mesmerizing, I especially love Maspalomas Beach on Gran Canaria. Soft dunes spread out for miles and the water is relatively shallow throughout.
Next to the lighthouse is a beachside promenade lined with bustling restaurants, shops, and beach bars.
However, if you're looking for something a bit more secluded, you'll find a handful of private beach areas if you walk past the lighthouse. There are also a couple of natural reserves with hardly any human intervention.
Azores
In comparison, the Azores are smaller than the Canaries. They're also more secluded, which means they have a fewer population and, as a result, are more laid back.
If you're looking for a place to party and enjoy a bustling nightlife, then you'll be disappointed. However, I guarantee you won't find a shortage of outdoor sports and activities like sailing, hiking, and camping.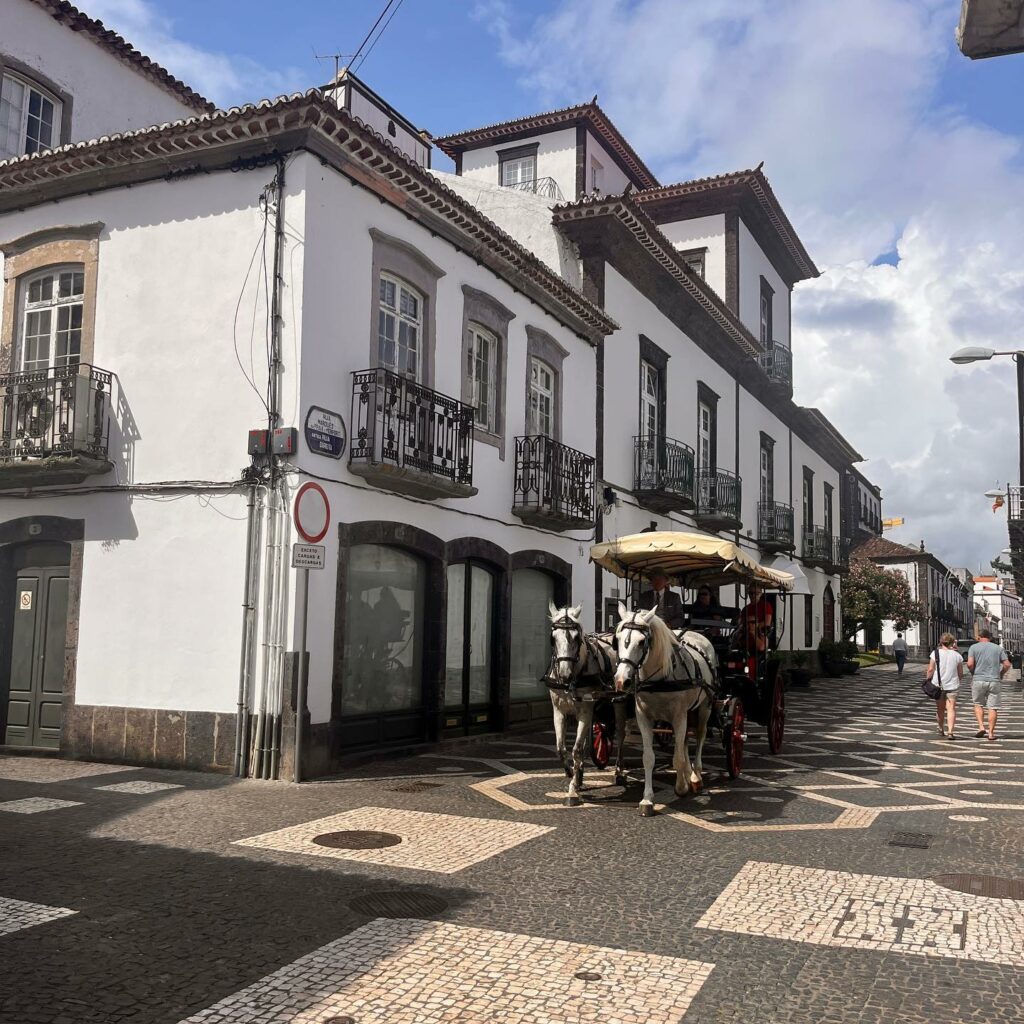 Most cities, like the port city of Ponta Delgada, are known for their centuries-old architecture and fascinating cobblestone streets lined with cafes, shops, and street vendors.
As such, the Azores doesn't have much of a nightlife. Yet, it does have a rich landscape filled with stunning vegetation and breathtaking panoramas.
If you're into surfing, head to Ribeira Grande in São Miguel for some of the best surfable waves in the Atlantic.
There are also some great hot pools as well as a few rough cliff pools. There's one spot where the hot water from the hot pool mixes in with the cold water from the cliff pool. It's super intense!
Other fun outdoor activities include:
Diving at Rosais Reef
Kayaking
Canyoning
Sailing
Bathe in a hot spring
Accommodation and dining
Get an idea of where to stay and what to eat during your island vacation.
The Canaries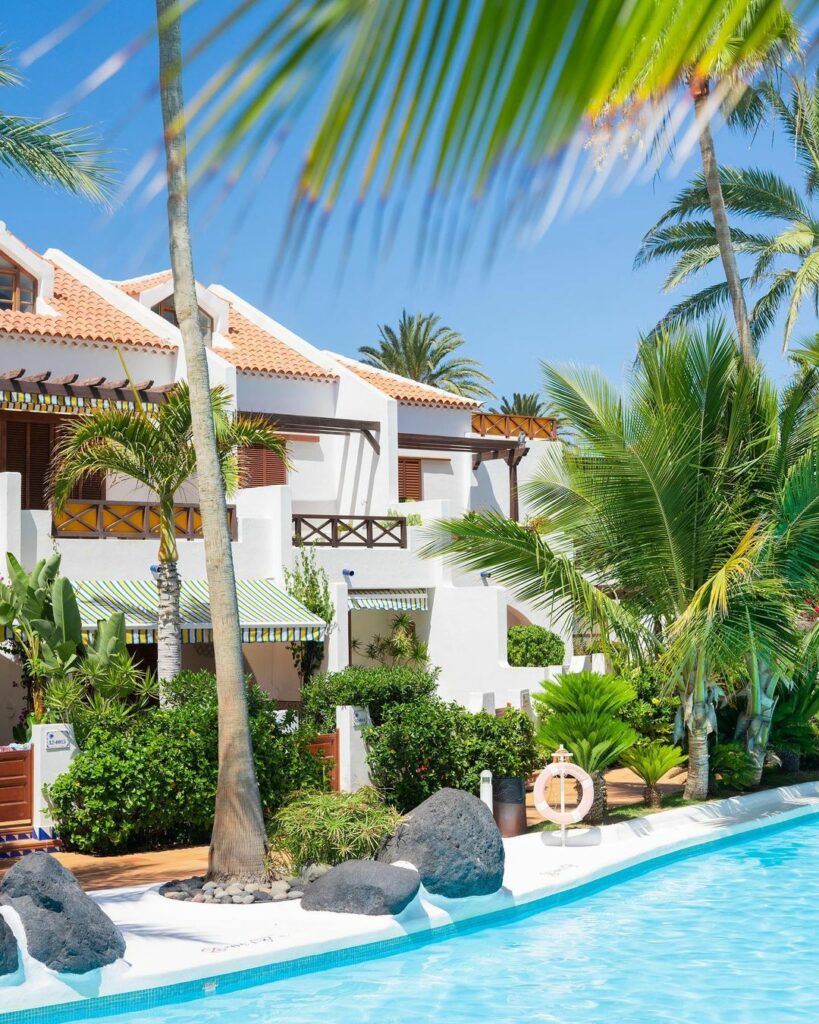 The Canary Islands have accommodations that cater to all tastes and budgets. If you're looking for a family-friendly stay, I recommend one of the resort hotels in Tenerife, El Hierro, or Gran Canaria.
For a more laid-back, budget-friendly stay, La Graciosa has a nice collection of traditional guest houses. La Palmas and Lanzarote are also good options for a good-value stay.
The same goes for the dining. Whichever island you're on, you won't have trouble finding delicious food to satisfy every palette.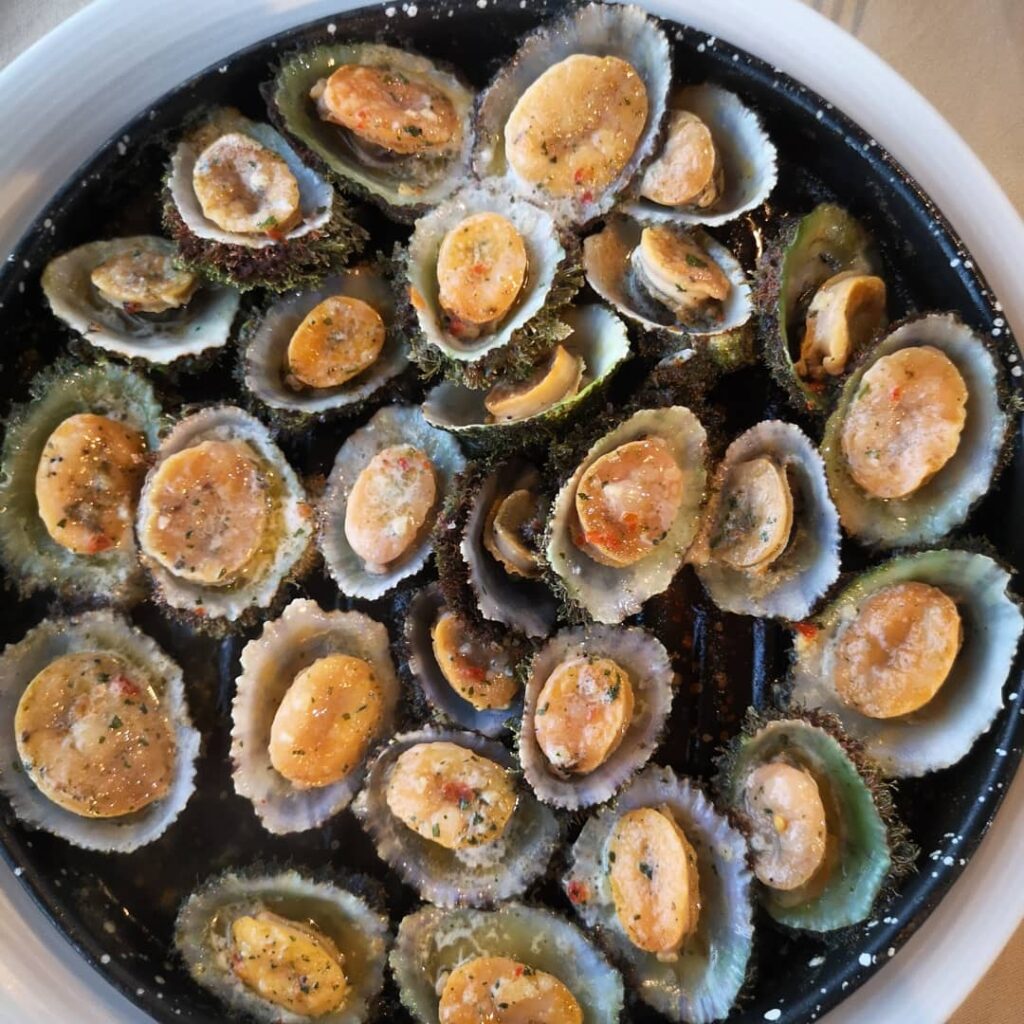 The staples are traditional, rustic dishes that reflect the bounty of nature. There's always an abundance of fresh fish, often served with papas arugadas and the Canaries' signature mojo sauce.
Another staple is lapas, or grilled limpets, and flavorful stews like the popular conejo el salmorejo and ropa vieja.
Helpful tip Canarian desserts tend to be super sweet like the mouthwatering bienmesabe. So proceed with caution.
The Azores
Staying in the Azores means you have to get used to limited services. There are, however, a wide variety of vacation homes and Airbnbs on the islands, which range in price from moderate to expensive.
If you prefer a hotel, you can find luxury accommodations. The good news is that they come in a reasonable price range to fit almost every budget.
The food is one of the top reasons to visit the Azores. Their cuisine is based largely on a healthy Mediterranean diet, the portions are generous, and the dishes are budget-friendly.
Their staple dish is cozida das furnas, which is a meat stew cooked for about five hours underground. I also recommend you try the alcatra, the traditional queijadas, and of course, the iconic Azorean pineapple, which symbolizes the culture and customs of the region.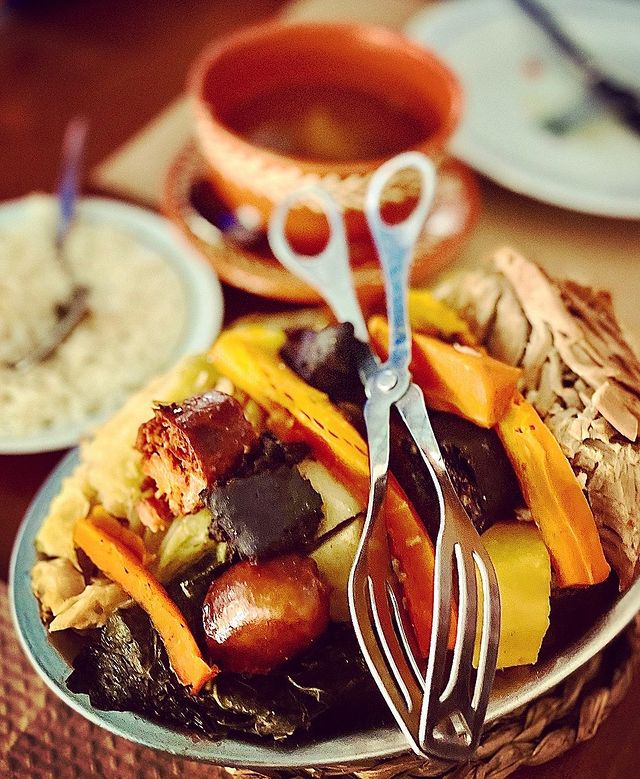 You also have to try the bife, or steak. I've never tasted a juicier, more tender steak anywhere in the world.
Travel tips & tricks
For citizens of many Western nations, including the US, Canada, and Australia, all you need to enter both island chains is a passport valid for at least six months upon arrival. There's no need for a tourist visa as long as you plan on staying in the Azores for less than 30 days and up to 90 days in the Canaries.
In both the Canaries and the Azores, the currency is the Euro like in their respective mainland countries.
Most major credit and debit cards are accepted almost anywhere. However, if you prefer to have a bit of cash on you, the best place to exchange currency is at local banks.
Euro banknotes include 500, 2200, 100, 50, 20, 10, and 5, while coins include 2 and 1 Euro, and 50, 20, 10, 5, 2, and 1 cent.
Keep in mind that, unlike the custom in the US, periods are used to separate thousands, whereas commas are used to separate the Euros from the cents. For example, 1.000,50 means one thousand Euros and 50 cents.
Helpful tip When traveling to the Azores and Canaries from the US, it's important to know the time difference so you can plan accordingly. The Canary Islands and continental Portugal are on Greenwich time (GMT). This means they're five hours ahead of US Eastern Time and eight hours ahead of Pacific Time.
The Azores, however, are one hour behind GMT.
Both archipelagos observe daylight savings. On the last Sunday in March, they turn the clock one hour ahead, then turn it back one hour on the last Sunday in October.
FAQs
Which is cheaper to visit: the Canary Islands or the Azores?
The Azores are more expensive compared to visiting mainland Portugal. A week on the island chain costs around $1,750 (€1,631) per person while in Portugal, it costs between $1,200–$1,500 (€1,118–€1,400).
They're also more expensive than the Canaries where there are more stay options and prices vary greatly.
For example, a cheap stay in any of the Canary Islands costs around $450–$800 (€419–€745). A budget traveler can expect to pay around $1,000–$1,500 (€932–€1,400), while a luxury stay costs about $3,000 (€2,800) for one person for the week.
Which is better for a family vacation: the Canary Islands or the Azores?
The Canaries are popular for their beautiful beaches, theme parks, and plenty of things to do for visitors of all ages. The resorts are bustling with entertainment and activities, which makes them more suitable for families.
Alternatively, the Azores have a real focus on the natural landscape of the islands. This makes them a better choice for those looking for outdoor-related activities, like hiking, kayaking, and whale watching.
What is the best time of year to visit the Canary Islands and the Azores?
I've been to the Canaries at various times during the year and I can say for certain that the mild weather makes them ideal to visit in both the summer and winter.
However, if you're looking for the ultimate touristic vacation, then try to schedule your trip any time between April and September. This is when tourists of all ages and nationalities flock to the islands.
As for the Azores, the best time to visit is from June to September. These are the warmest months and definitely the busiest, even though the warmth and sunshine usually last up until late November.
After that, temperatures tend to drop. The islands, especially those on the western side, are prone to heavy rainfall from September until March.
Are the Canary Islands and the Azores safe for tourists?
Fortunately, the Canary and Azores Islands are among the safest tourist destinations in the world. As long as you use common sense and follow the rules and regulations of your resort, you shouldn't have any cause for concern.
What are the must-see sights in the Canary Islands and the Azores?
What are the local cuisines like in the Canary Islands and the Azores?
Local cuisine in the Canaries includes fresh fish like vieja, swordfish, sea bass, and tuna. You can also enjoy a delicious assortment of vegetables, grilled meats, and stews.
As for its northwestern neighbor, the most famous dish is a hearty stew known as cozido on the island of São Miguel. It consists of cuts of pork, chicken, beef, sausages, and a mix of various vegetables. This mix of ingredients is cooked together in underground holes called 'fumaroles' that give the dish a rich, unique flavor.
Conclusion
There you have it: my personal take on the Canary Islands vs. the Azores.
As you can see, the Canaries are larger and have a more touristy vibe. In contrast, the Azores have a more laid-back feel with tons of outdoor activities that take advantage of the region's unique and lush landscape.
Each cluster of these picturesque volcanic islands has something to offer everyone. That's what I like most about them, and I know you will too
Happy traveling!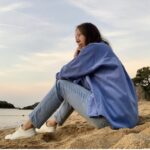 Hello, my name is Nadia.
I usually write about traveling (there are so many places to fit all the lifestyles), relocation (finding a job overseas or moving without losing an income), and living in a foreign country (adapting to a different culture and mentality). Follow me on Twitter, Facebook, Instagram, or LinkedIn!
This post might include some affiliate links. If you make a purchase through these links, I may earn a small commission at no additional cost to you. I appreciate it when you use my links to make purchases.