15 Best Spanish Beers & Brands You Should Try
Nadia Podrabinek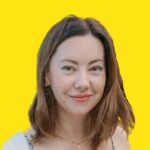 Written by Nadia Podrabinek
Hello, my name is Nadia. I usually write about traveling (there are so many places to fit all the lifestyles), relocation, and living in a foreign country (adapting to a different culture). My travels stretch beyond Spain, with journeys to the US, Italy, Norway, Portugal, and France. Relocating to Spain in 2018, I lived in cities from Barcelona to Madrid, currently calling Valencia home.  Follow me on Twitter, Facebook, Instagram, or LinkedIn! ... show more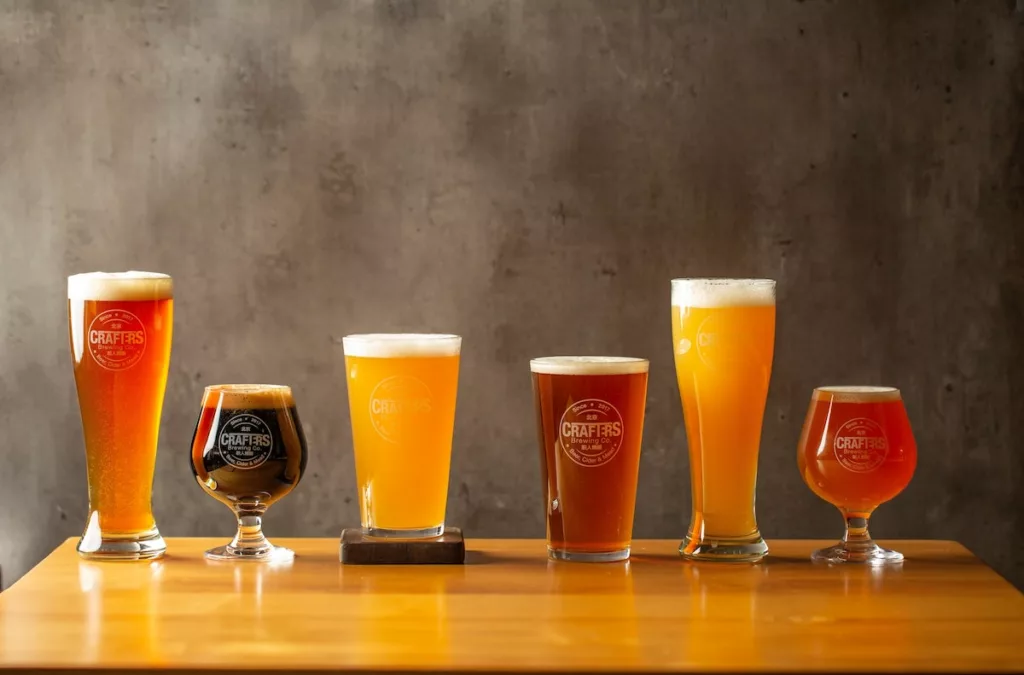 Spanish people aren't just passionate about their siestas, soccer, and sangria. They're incredibly passionate about their beer – and for good reason! With a warm climate all year round, beer is the perfect refreshing beverage to enjoy under the Mediterranean sun.
Some may say drinking beer in Spain is a true art form, and it's hard to disagree! If you're a beer aficionado, you'll love the Spanish beer culture. It's a country renowned for producing some truly exceptional brews, which is no surprise given it has the largest bar scene in the world!
We spill the hops on the best Spanish beers around, where to find them in the US, and how to order them like a local – "salud"!
The 15 Best Spanish Beer Brands
Looking for an ice-cold, forthy Spanish beer to enjoy? Whether you prefer a light and refreshing lager or a full-bodied ale, we've got something for you!
Here are 15 of the best Spanish beers to try on your next trip to this beautiful and vibrant country.
1. Mahou Cinco Estrellas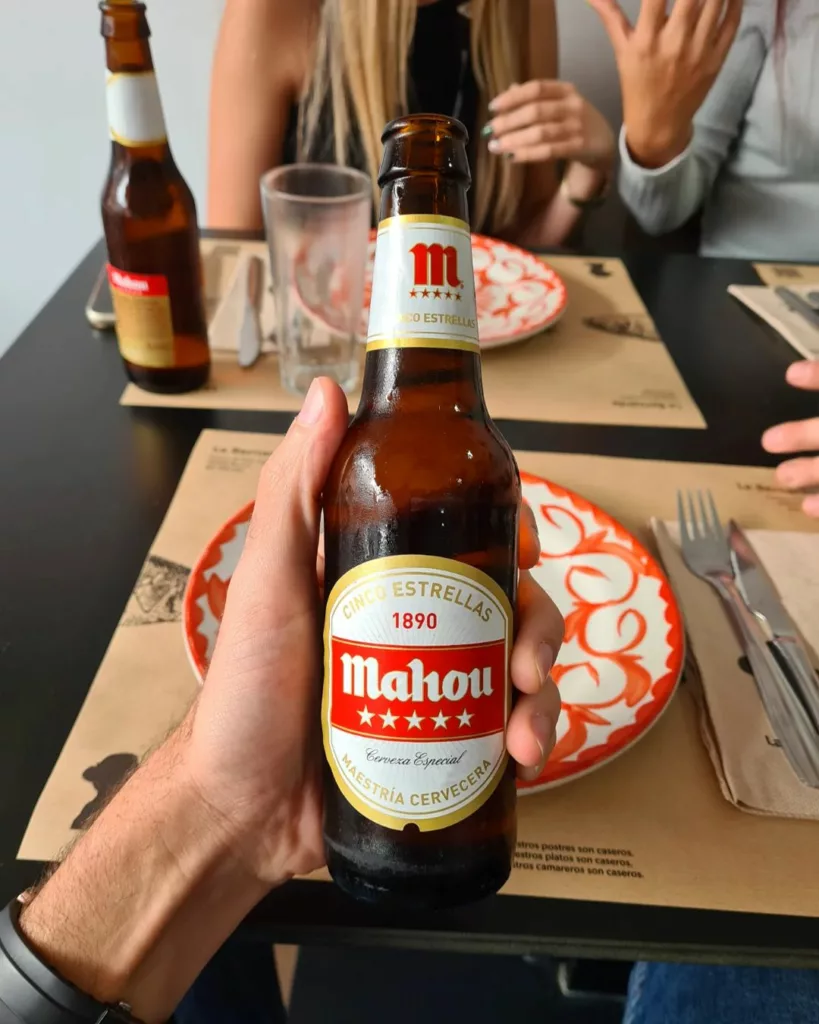 Mahou Cinco Estrellas is a high-quality lager that has been quenching the thirst of Spaniards since the 19th century. Step inside any watering hole in Madrid, and you'll likely see this beer stacked alongside other popular local beers like San Miguel 1516 and Estrella Galicia 1906.
Brewed with yeast, standing water, soda water, and malted hops, this deep blonde Pils-style lager beer has a distinct aroma that's hoppy and zesty.
Dating back to 1890, the Mahou beer brand is a true Madrid original and has been synonymous with the city's beer and tapas culture for decades. The smooth and well-balanced taste pairs perfectly with Spanish food and will leave you ordering another!
Read also: The Best Spanish Red Wines You Should Try
2. Estrella Galicia 1906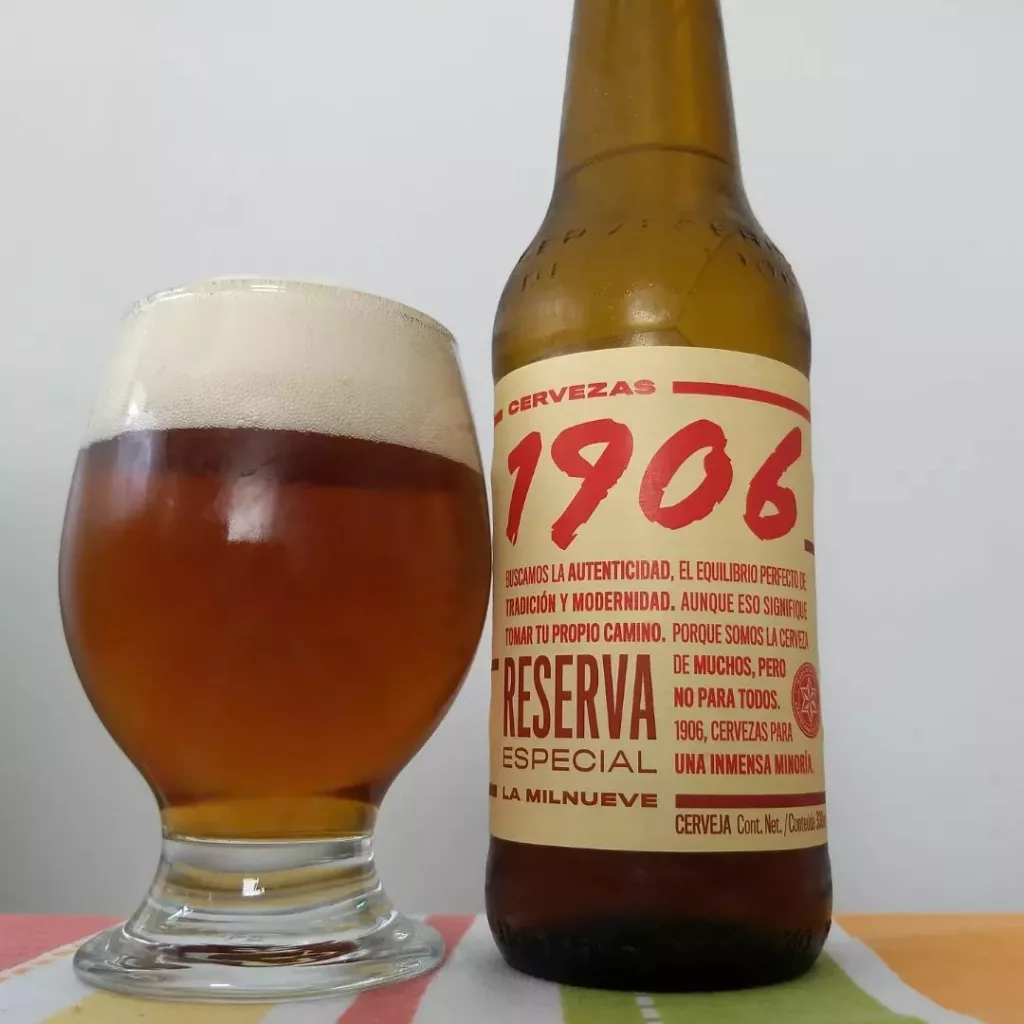 Brewed by the talented folks at Hijos de Rivera brewery in Spain, Estrella Galicia is a beloved beer that has won the hearts of many. This neutral beer is a dark amber lager that is as elegant as it is perfectly balanced.
Crafted with only the finest hops, malts, and barley, the Estrella Galicia 1906 provides you with a full-bodied, bitter taste. The deep, alluring amber color beckons you to take a sip. And when you do, you'll be greeted with the rich, satisfying taste of roasted malt.
3. San Miguel 1516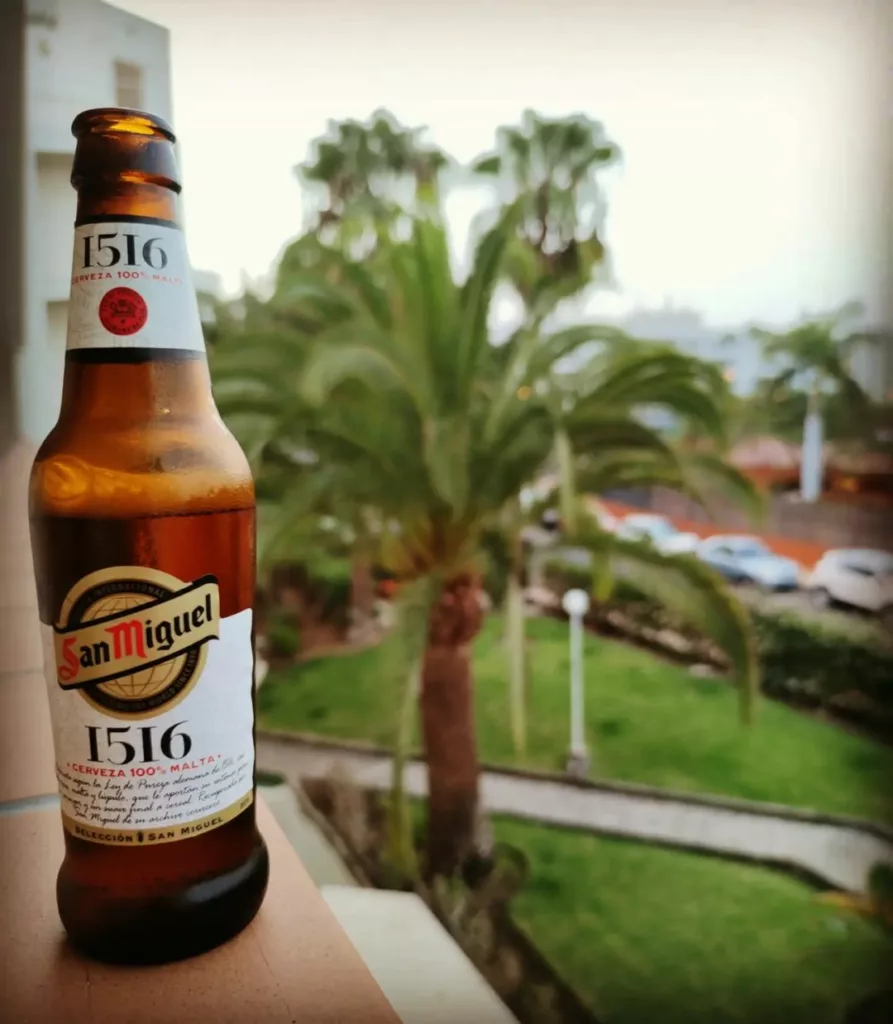 If you happen to find yourself in Spain, you'll likely find San Miguel 1516 in just about every bar. San Miguel is one of the most popular beer brands in Spain, offering a variety of flavors including a non-alcoholic option.
Among their selection is the San Miguel 1516, a shiny golden pilsner made with only three ingredients: malted barley, hops, and water. This light brew has traces of botanicals and cereal, finishing with a bitterness that always follows a well-made lager.
4. Moritz Epidor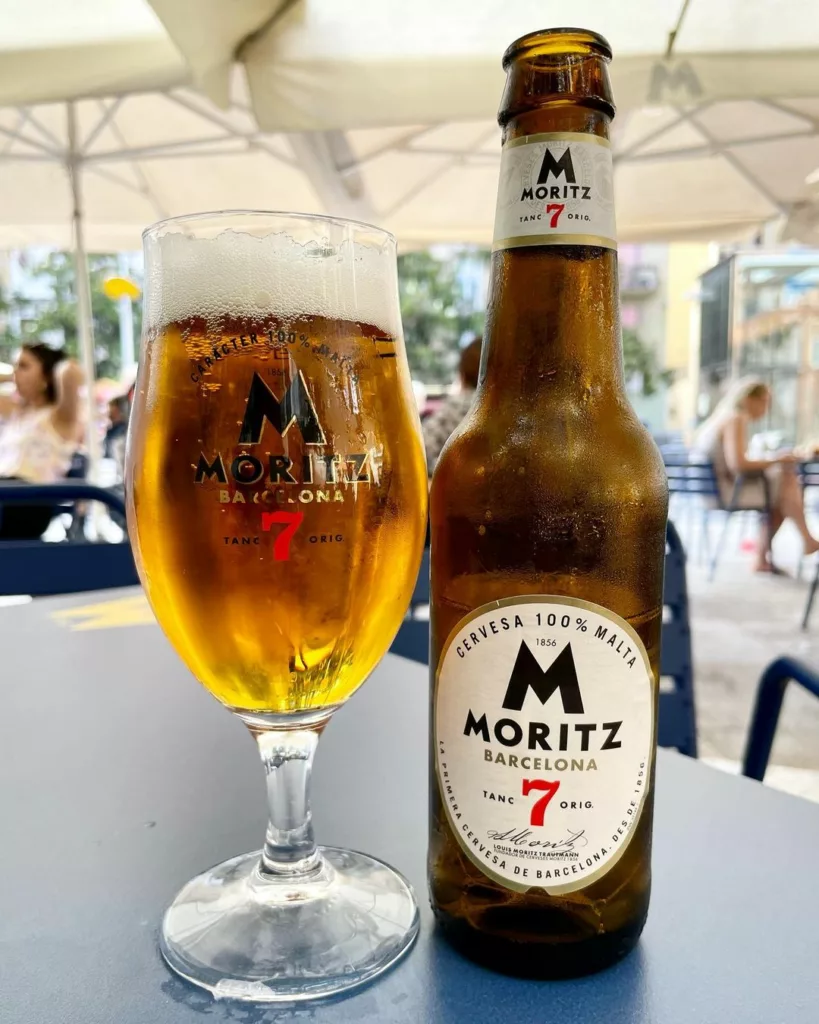 First crafted in Barcelona in 1923, and reinvented in 2009, this triple malt beer boasts a unique body, taste, and color. Another Spanish beer of high-quality and rich ingredients, you'll taste flavors of caramelized malt and a hint of fruitiness when you sip and savor a Moritz Epidor.
Brewed with mineral water and floral hops, this Spanish beer packs a delicious punch with a strong finish, thanks to its extended fermentation process. Besides the taste, another unique feature of this beer is that the entire label is only in Catalan.
5. Alhambra Reserva 1925
Alhambra Reserva 1925 is not just a beer, it's a synonym for quality, class, and elegance. A strong European Premium Lager, this pale lager has achieved cult status in Spain thanks to its finely-tuned brewing process that dates back to 1925.
With a golden amber color and stimulating, full-bodied flavor, Alhambra Reserva 1925 is considered one of the most highly-regarded Spanish beers. The first sip is a pleasant and refreshing experience that awakens your taste buds with sweet malts, the bitterness of hops, and subtle hints of caramel.
6. Rosita Negra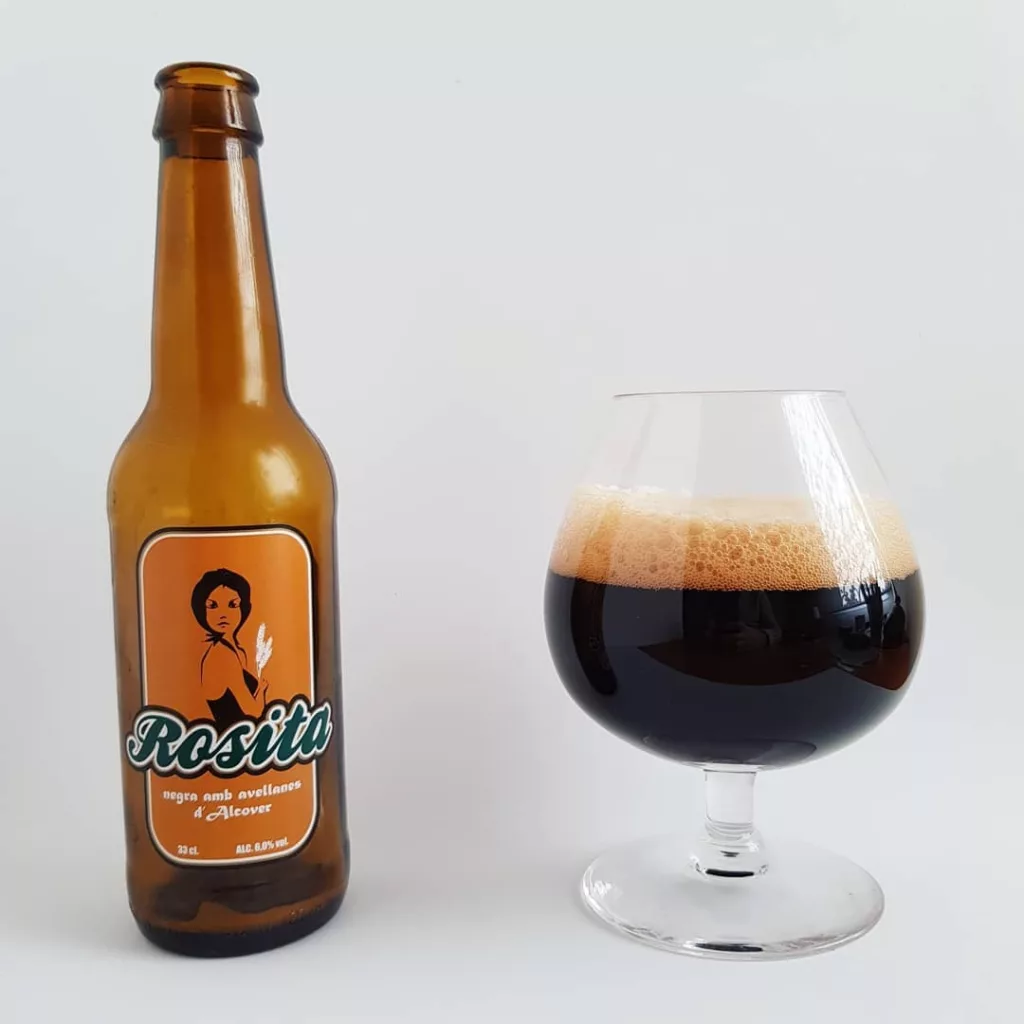 An American Porter-style beer brewed in Spain by Cerveses La Gardenia, Rosita Negra is a renowned addition to Spain's craft beer scene. It's a fruity brew with a blend of banana, red apple, and molasses.
The Rosita Negra is darker black color with an off-white head that doesn't stick around for long. But, what it lacks in head retention, it makes up for in aroma. This Spanish beer has a delightful aroma of roasted malts with hints of earthy hops, dark chocolate, and hazelnuts.
The beer has a medium body and excellent carbonation, making it a must-try for craft beer enthusiasts in Spain.
7. Ambar Especial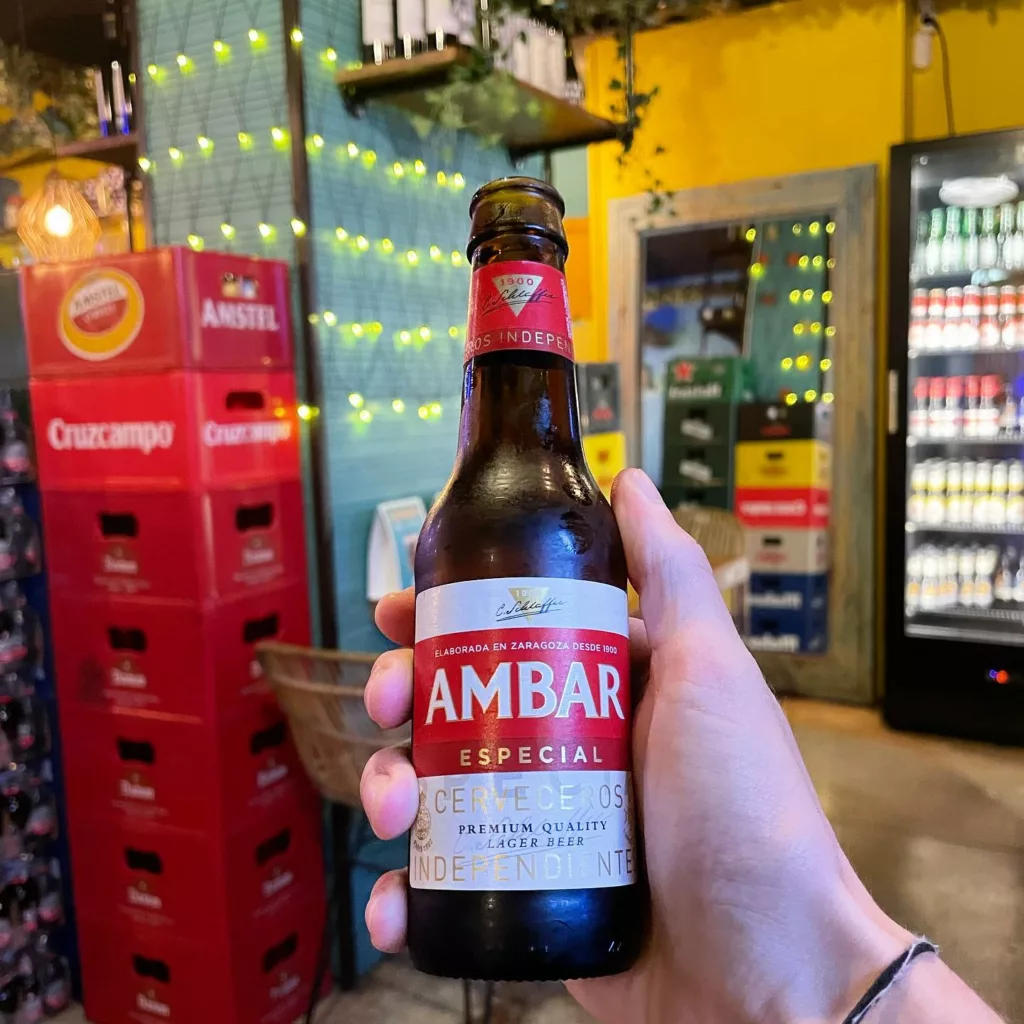 Ambar is one of the oldest breweries in Spain, offering a small line of Spanish beers that includes the widely popular Ambar Especial. Hailing from Zaragoza, this medium-roasted beer is versatile enough to complement anything from a backyard BBQ to a casual sit-down meal.
What sets Ambar apart from other Spanish beers is its unique roasting technique that gives their beer a balanced flavor profile of sweet and bitter. The Ambar Especial is brewed from roasted malt, giving it a depth of flavor that's best served at room temperature.
8. La Pirata Tremenda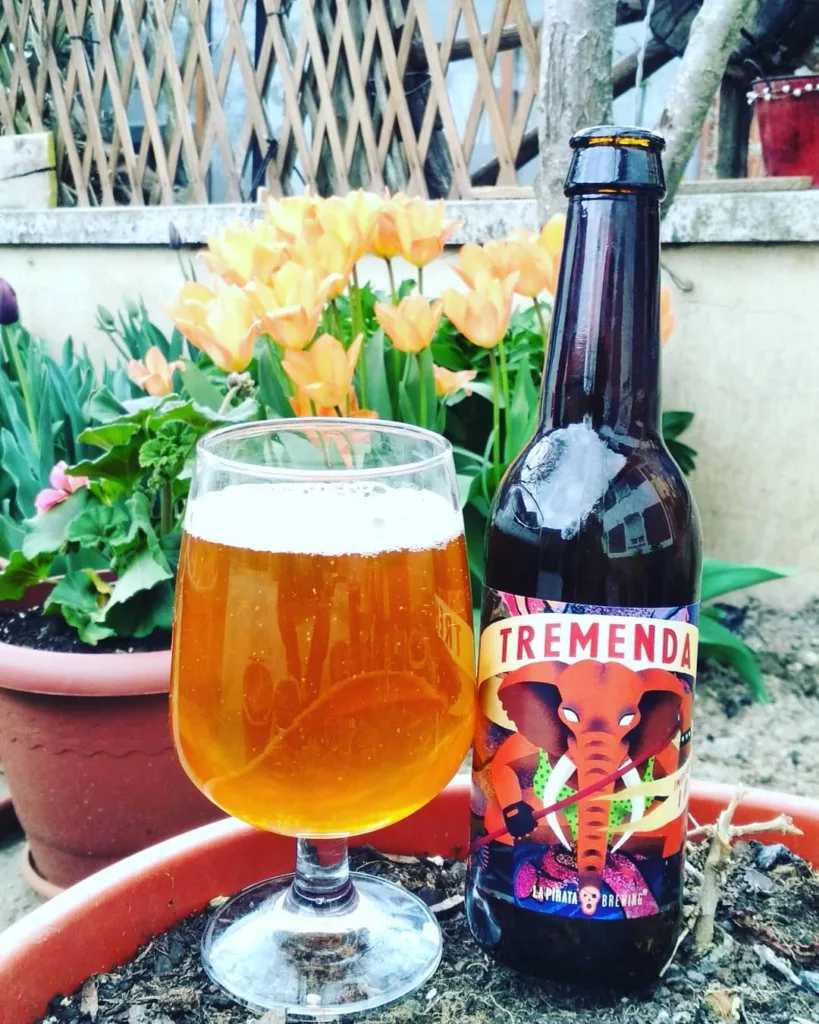 La Pirata Tremenda is the best Spanish beer for those looking for a creative and experimental beer from a trendy craft beer brand. This Spanish beer brand was ahead of the curve with their India Pale Ale well before IPAs became mainstream.
The dark amber color of this brew is just a glimpse of what's to come. With a toasted malty flavor, fruity finish, and bittersweet aftertaste, Tremenda is a treat for your taste buds. The strong malt taste is perfectly balanced by subtle hints of fruit, making it a crowd-pleaser across the country.
9. Cruzcampo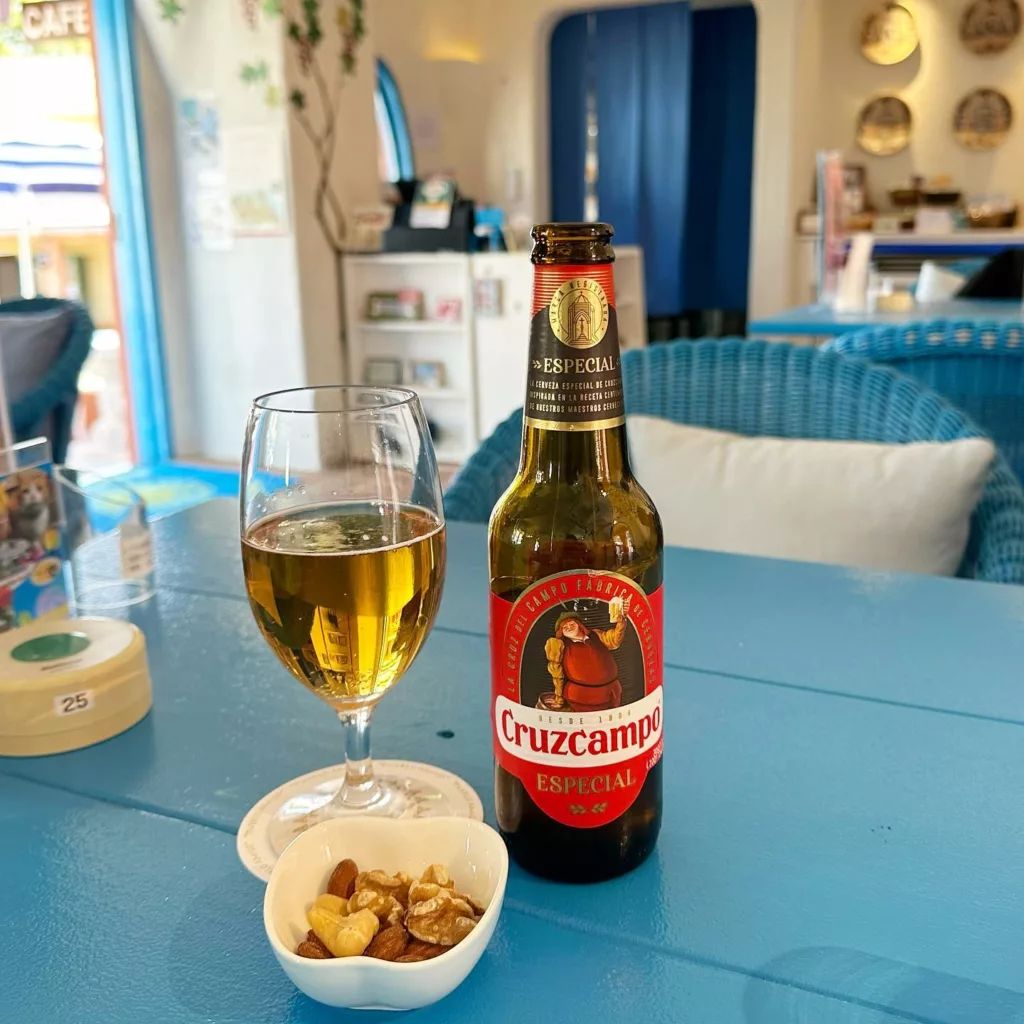 Founded in Seville by two brothers from the Osborne sherry family in 1904, Cruzcampo is a household name in Spain and a refreshing choice for any occasion. The brewery produces several different types of beer, but this Pilsner Lager is the most popular in Spain, especially in Andalusia.
Now owned by the Dutch brewing behemoth, Heineken, this classic beer is a golden-colored brew with a fruity and malty aroma. The taste is a subtle blend of earthy hops and bready malts that leave a dry but slightly bitter aftertaste.
Overall, it's a light beer that's perfect and easy to drink on a hot summer day.
10. Estrella Damm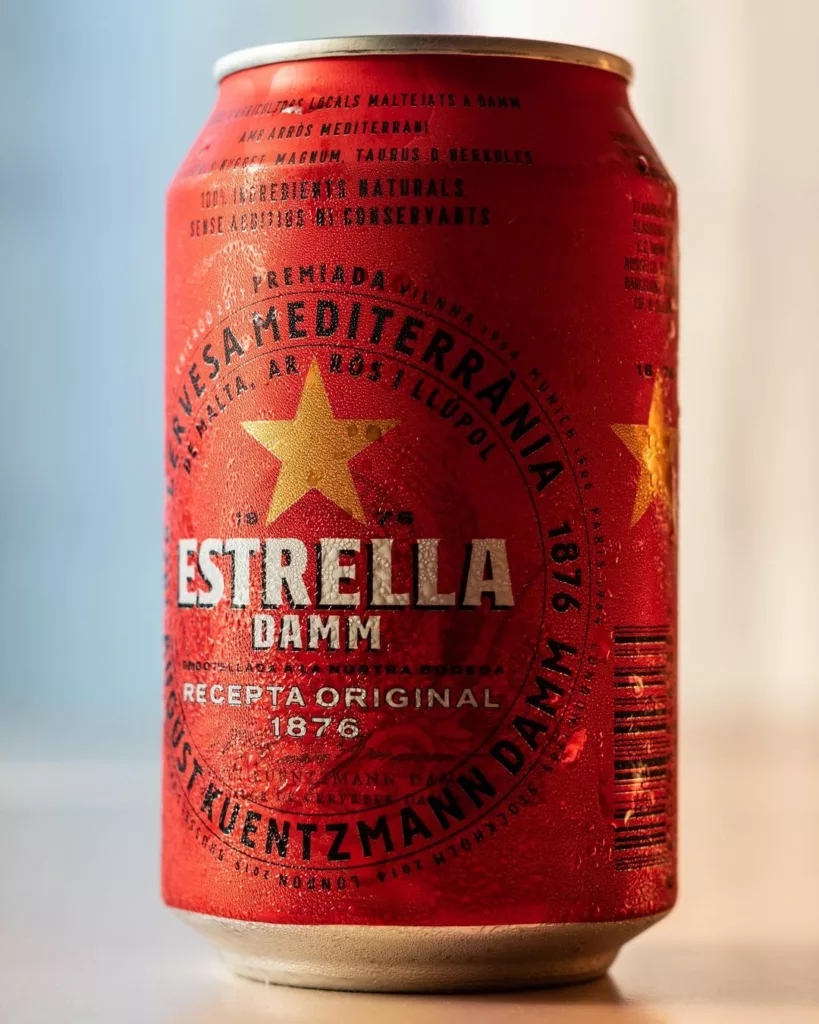 Estrella Damm is a refreshing Spanish beer inspired by the Mediterranean culture, with a recipe dating back to 1876. The blend of barley malt, rice, and hops is all-natural and the delicate bubbles bring the aroma of fresh spices directly to your nose.
On the palate, notes of toasted grains are prominent but the carbonation leaves a smooth mouthfeel. With its lively acidity and long-lasting bitter finish, Estrella Damm is still a refreshing and flavorful beer. In fact, it was recognized as the "best Spanish beer of the year" in 2015 by the New York International Beer Competition jury, winning the Spain Brewery Awards.
11. La Virgen Madrid Lager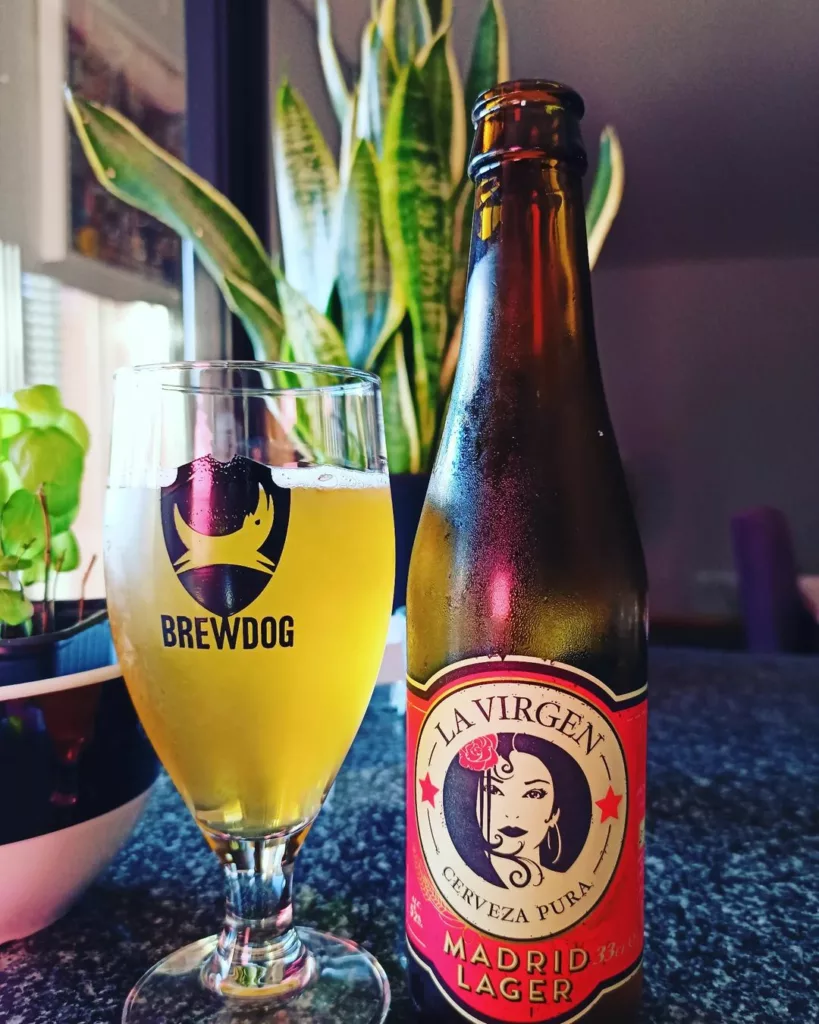 La Virgen prides itself on being a premium beer brand that uses only natural ingredients in a pure and sustainable way – hence the name. It's a fan favorite among craft beers and a refreshing go-to on hot summer days.
This craft beer only includes barley malt, hops, yeast, and freshwater sourced from Madrid, with a recipe that doesn't rely on complex techniques or flavors. You'll notice a hint of mild bitterness on the tongue due to the high amount of hops, making it an incredibly easy-drinking light beer.
If you're a fan of lighter beers, you might compare it to Mexico's well-known Corona beer.
12. Libre or Libre Trigo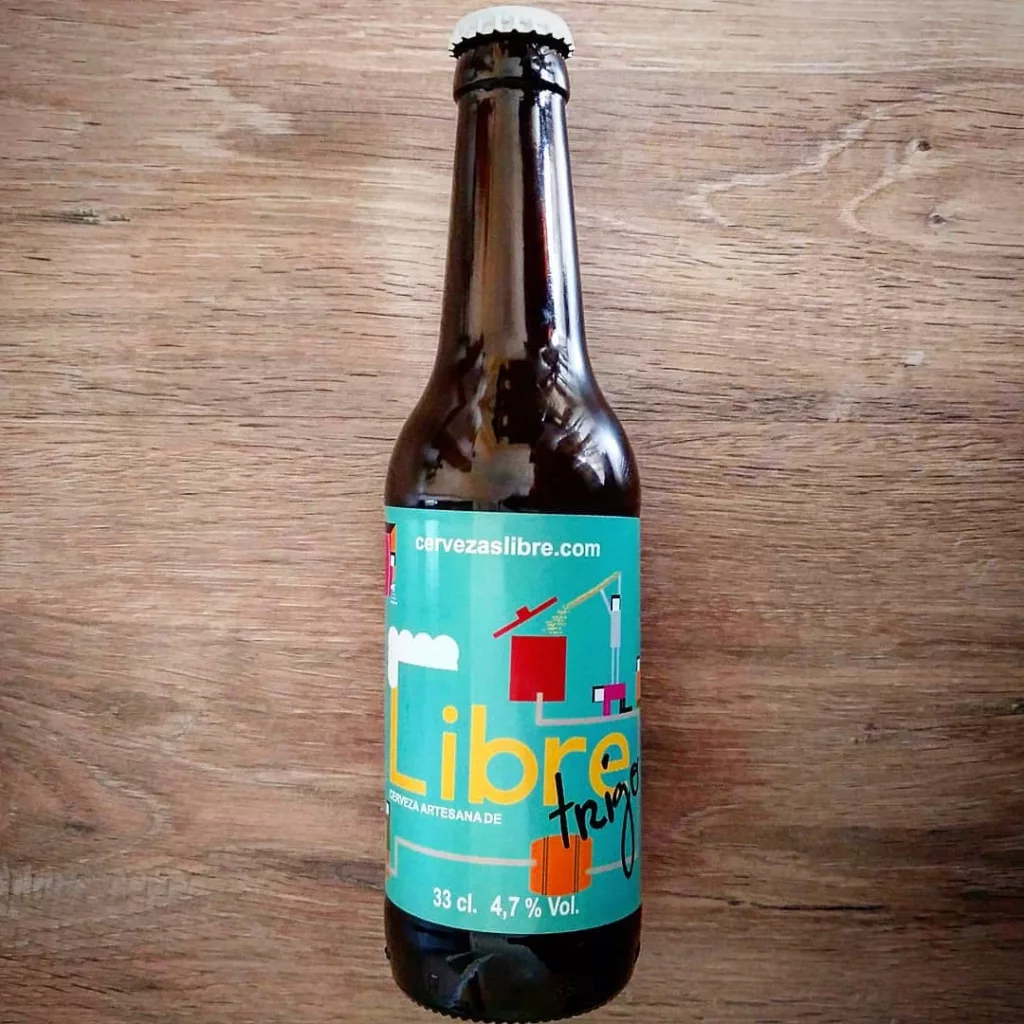 Brewed by Cervezas Libre S.C. in sunny Sevilla, Libre is an American pale wheat beer that's perfect for anyone looking for a light and citrusy beer. Despite being a lesser-known brand, it gives tough competition to some of the well-established beer brands in the region.
While sipping this beer, you'll be greeted with a citrusy and soft flavor profile balanced by an increasing bitterness and a refreshing flavor with hints of orange. What's more, if you're gluten-sensitive, you can opt for the Libre Trigo – the gluten-free option of the Libre beer.
13. Turia Märzen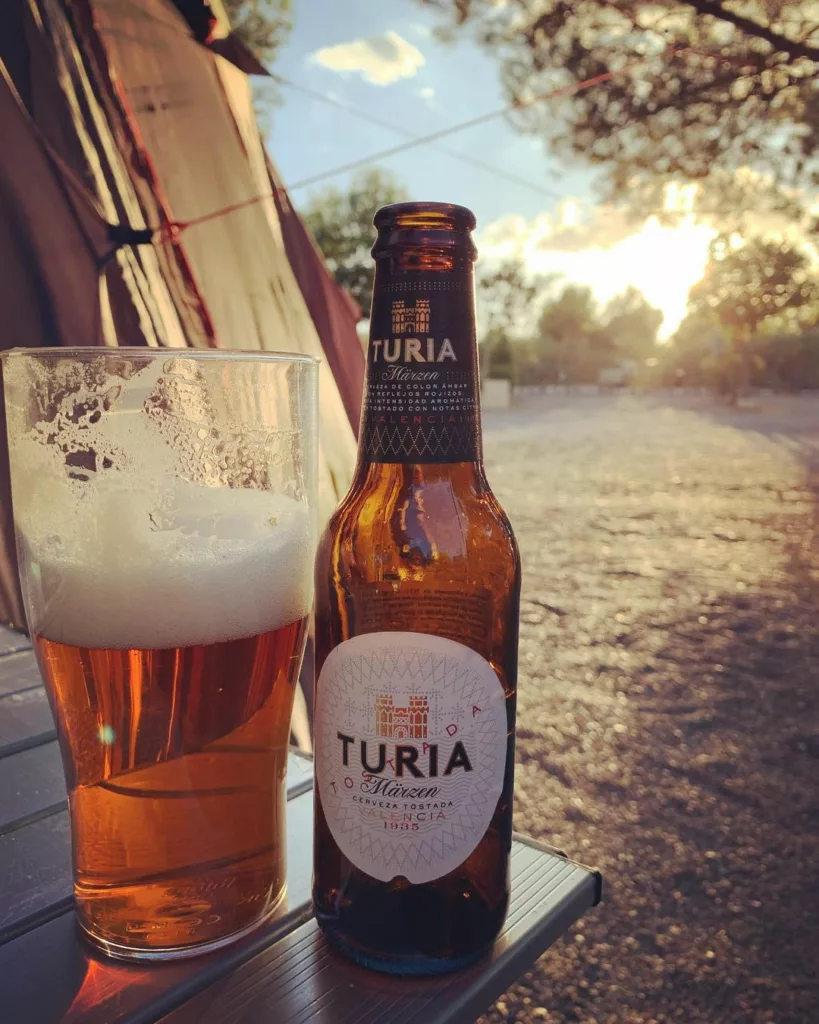 Turia is the pride of Valencia's beer brewing industry and has quickly become the most popular local beer. This Valencian beer was first made in 1935 but only hit the market after the Spanish Civil War. Having survived for nearly 80 years in the taps of some Valencian bars, the history only adds to the character of the beer.
With a rich amber color and reddish reflections, Turia is one of the most highly toasted Spanish beers. A sip brings a unique and balanced flavor profile, coupled with citrus notes and an overall refreshing taste. The foam is persistent and highly aromatic, exactly what you would expect from a Märzen-style beer.
14. Cervecera de Canarias Tropical Premium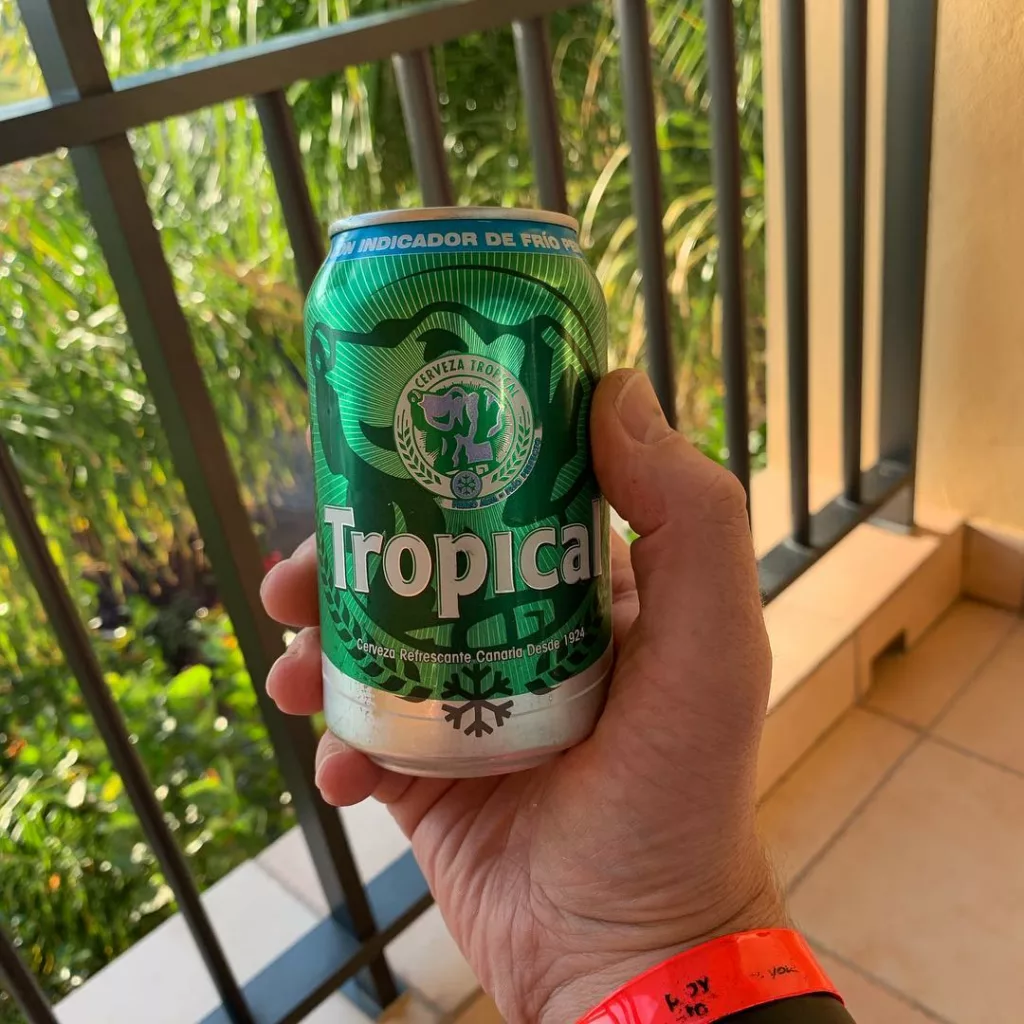 Hailing from Santa Cruz de Tenerife, Cervecera de Canarias Tropical Premium is a type of "European Pale Lager" and is considered one of the best Spanish beers of the archipelago.
When poured, the beer exhibits a lovely golden color and gives off a scent of sweet malt and fading citrus notes. On the palate, the beer is refreshing and well-balanced, with a creamy and bitter finish that lingers with a long-lasting hops flavor.
Although it's not one of the locals' go-to beers, it's still worth trying out!
15. Montseny Mala Vida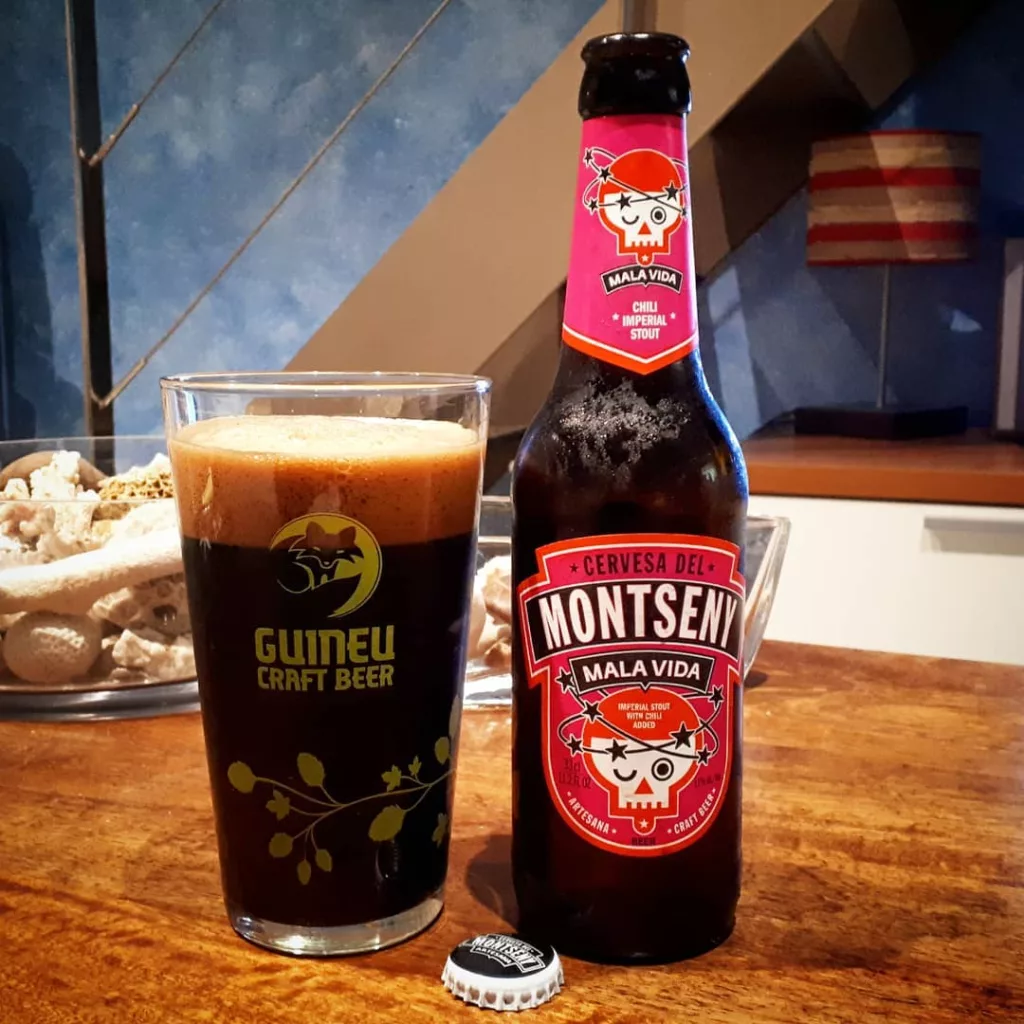 If you're interested in exploring the expanding Spanish craft beer market and are willing to try a truly unique beer, a must-try is Montseny Mala Vida. This experimental Imperial Stout hails from Barcelona and is brewed with six different malts, including smoked malts, three hop varieties, and local "El Montseny" mountain water.
The name "Mala Vida" translates to "bad life," but it's a playful nod to the fact that this beer is meant to be enjoyed in moderation as a special treat. In addition to their flagship version, there are three other variations of Mala Vida, including Mala Vida Chilli, Mala Vida Bourbon, and Mala Vida Brandy.
It's one of few beers that have an intense flavor profile and a whopping 11% alcohol content. This beer is certainly not for the faint of heart!
Spanish Lager & Draught Beers
Spain is known for its diverse beer culture, and lagers and draught beers are among the most popular styles in the country. Although they share similar brewing methods, there are significant distinctions between them.
A light lager – or rubia, as the locals call it – is the most widely consumed type of beer in Spain, with a light and refreshing taste that is perfect for warm weather.
On the other hand, Spanish draught beers are typically served at bars and restaurants and offer a fuller flavor experience.
Draught beer is often more vibrant in flavor than lager beer, and it is also less carbonated, making it more pleasant to drink. A lager, on the other hand, typically has a more subdued flavor and is highly carbonated, which some beer drinkers find appealing.
One of the most popular Spanish lagers is Mahou, which is brewed in Madrid and has been a staple in the country since 1890. A Mahou Spanish beer has a light and refreshing taste with a subtle sweetness. It is often served as a perfect complement to tapas or other small Spanish platters.
Another great Spanish lager is Estrella Damm, which has been enjoyed since 1876 and quickly become the most popular beer in Barcelona. It's crisp and clean with a slight bitterness and hints of toasted grains, making it a versatile choice.
As for draught beers, one of the most famous Spanish beer brands is San Miguel. San Miguel is a pale lager that is brewed using a blend of European and Asian hops, giving it a unique flavor profile.
So, which is the superior choice? It ultimately comes down to personal preference. If you enjoy fresh, complex, and more flavorful beer, a draught is the best choice. A lager is perfect for you if you prefer a crisp and more carbonated beer.
Best Spanish Artisan Beers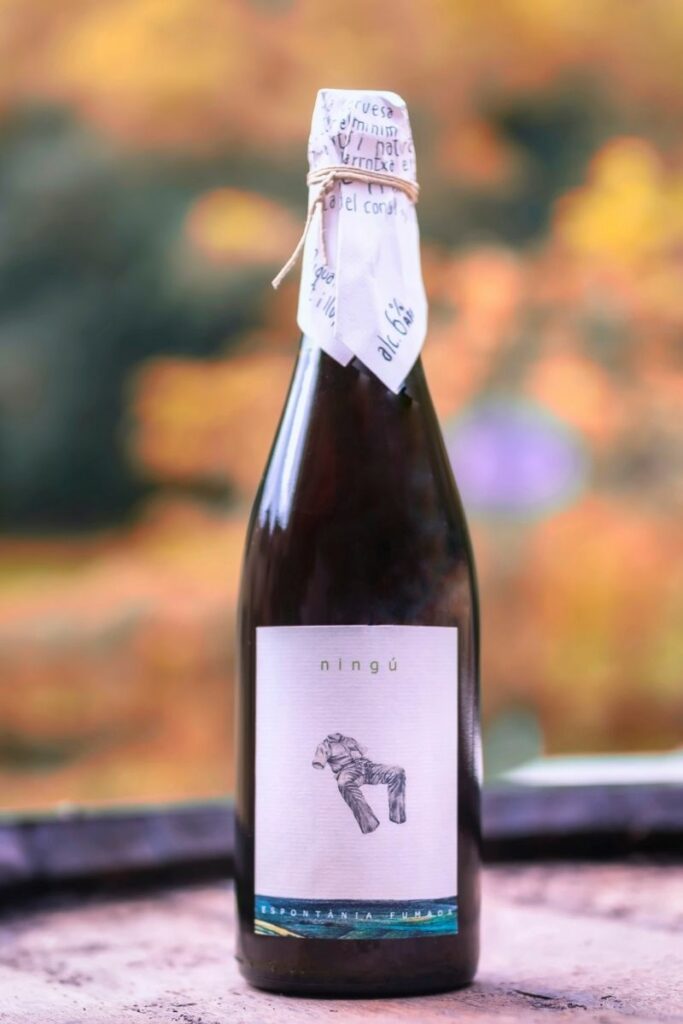 Spanish Words for Beer
Ready to quench your thirst with a cold cerveza in Spain? Don't let the language barrier stop you! You probably already know that cerveza is Spanish for "beer" but there's more to it than that.
When it comes to ordering beer in Spain, there are three things you need to know: the size of the beer you're ordering, whether it's on tap or in a bottle, and how to order it.
We've put together a handy guide to help you order the perfect brew.
First things first, let's talk size:
Caña Kah-nyah: This term refers to a small glass of beer (around 200ml or 6.7oz), typically served on tap. It's the most popular size to order in Spain, perfect for a quick drink on a hot summer's day.
Doble Doh-bleh: This is usually twice the size of a caña, equivalent to 400ml or 13.5oz.
Jarra Hah-rrah: This is a large mug or jar of beer, which can vary in size depending on the establishment. If you're accustomed to ordering a British or American pint, this is the size for you.
Bottela de cerveza / tercio Boh-teh-yah deh thehr-veh-thah / Tehr-thyoh: This is a standard glass bottle of beer. Sizes may vary depending on the brand but it's typically around 330ml or 11oz.
Pinta Peen-tah: This term refers to a standard pint of draught beer. Measurements aren't set for this size, so you may be given just a large beer instead.
Here are some handy Spanish phrases to use when you order beer in Spain:
Quiero una cerveza por favor Kee-eh-roh oo-nah thehr-veh-thah pohr fah-bohr: "I want a beer please"
Una [size] de [brand] por favor Oo-nah [size] deh [brand] pohr fah-bohr: One [size] of [brand] please. For example: Una caña de Mahou Cinco Estrella por favor. Put simply: you're asking for a small glass of Mahou Cinco Estrella.
¿Tienen cerveza sin alcohol? Tee-eh-nen thehr-veh-thah sin ahl-kohl: Do you have non-alcoholic beer? Same as asking for gluten-free, you just replace alcohol with gluten: Glu-ten
¿Tienen [brand]? Tee-eh-nen [brand]: Do you have [brand]?
¿Qué cerveza de grifo tienen? Keh thehr-veh-thah deh gree-foh tee-eh-nen: What beer do you have on tap?
¿Puedo tener otro? Pweh-doh teh-nehr oh-troh: Can I have another?
Now that you have these size options and handy phrases, you're ready to order some delicious beers (or deliciosas cervezas) in Spain!
Where to Buy Spanish Beers in the USA
Spanish beers are becoming increasingly popular in the United States. Luckily, there are several places you can find and buy them!
One option is to check your local liquor stores or specialty beer shops. Many of these stores carry a variety of imported beers including Spanish brands.
Your local liquor store may carry popular Spanish beers like Estrella Galicia or Mahou. But if you're looking for a wider variety of options, specialty shops that specialize in beer or international foods may be the way to go.
Another option is to search for Spanish beer online. Many online retailers offer a wide selection of Spanish beers that can be shipped directly to your doorstep. Some popular online retailers you can find Spanish beer from include:
If you're looking for a specific Spanish beer brand and can't find it through an online store, it may be helpful to use a distributor that specializes in importing international beers.
Overall, there are many options for finding Spanish beer in the USA. Whether you're looking for a classic lager or a complex draught beer, you're sure to find something that suits your tastes!
What people say on Reddit
You've opened a Pandora's box of beers! Hahahaha

I was a Mahou (green classic) hardcore fan before I met Alhambra and Estrella Galicia. Now my heart is divided

Also, from time to time, the blended moritz (half blonde, half epidor) at their restaurant, and Inedit.

Extra points to Estrella Galicia because their 0,0 is great

notdancingQueen
Looks like most are agreeing on 1906 (by Estrella Galicia – their normal beer is great too!) and Alhambra Reserva (green bottles), and they are at the top of the list for me too. Stay away from Cruzcampo and Estrella de Levante..the worst ones IMO.

DonViaje
Like Spanish macros? They're def better than American macros like Bud and Coors…

Mahou or Alhambra for those.

Victoria from Malaga is actually real good and is a small brewery but being carried by Aldi and Dia now at least around here.

Spain is not exactly known for good beer tho, especially when you've lived in Germany or Belgium… That is not to say that some don't really hit the spot tho.

Tots2Hots
I have a preference for Mahou 5 estrellas in 33cl bottles, but that is admittedly not very gourmet on my part. It is a bit as if you asked about food and someone recommended Foster's Hollywood: edible, but hardly the best on anything. Still, I think you will find it quite an acceptable lager at least.

QuevedoDeMalVino
What is the difference between artisan and craft beer?
The terms "artisan" and "craft beer" are often used interchangeably, but they have some subtle differences in meaning. While craft and artisan beers are both high-quality, small-scale brews, craft beer prioritizes traditional methods and independence, while artisan beer highlights brewing artistry and skill.
Final Thoughts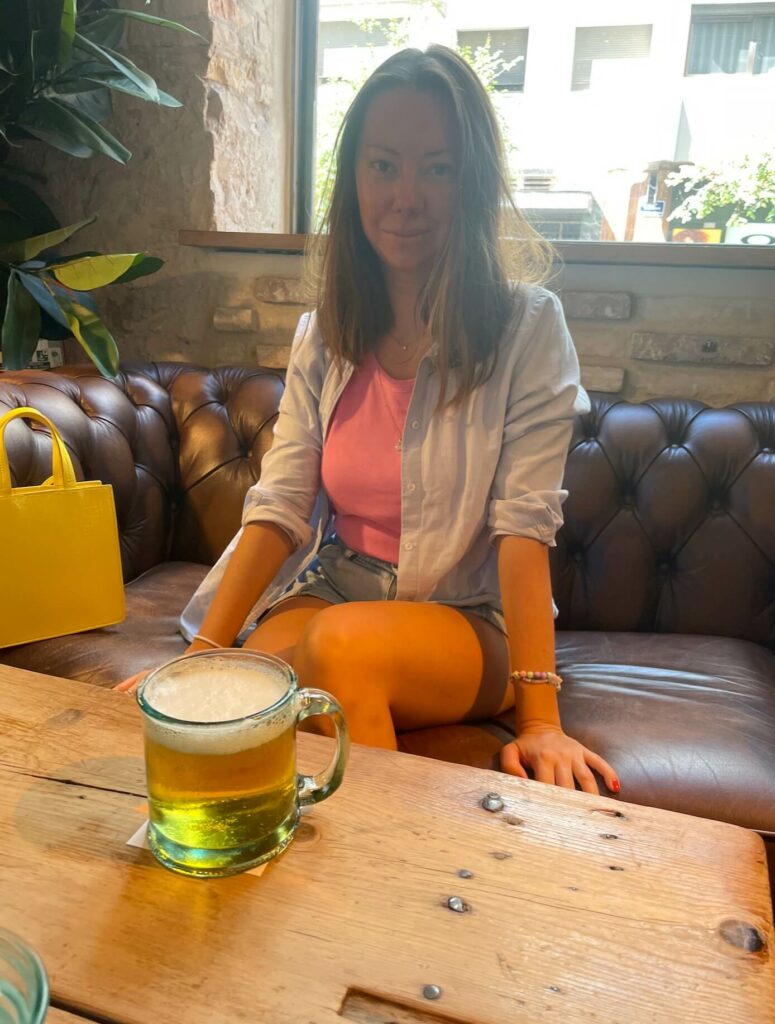 The Spanish beer scene is full of unique and delicious flavors, from fruity and light to rich and complex. My list of Spanish beers showcases some of the best brews the country has to offer. And if you don't believe us – just ask a local! You'll likely hear the same opinion.
Whether you're a beer aficionado or just looking to try something new, there's a Spanish beer out there for you! And if you ever find yourself in Spain, be sure to order a cerveza and explore the local bars and breweries.
One thing is for sure, nothing tastes better than an original Spanish brew under the Mediterranean sun – salud!