Best Accommodations in Sri Lanka for Island Escapes
Nadia Podrabinek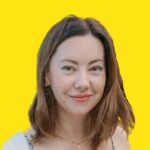 Written by Nadia Podrabinek
Hello, my name is Nadia. I usually write about traveling (there are so many places to fit all the lifestyles), relocation, and living in a foreign country (adapting to a different culture). My travels stretch beyond Spain, with journeys to the US, Italy, Norway, Portugal, and France. Relocating to Spain in 2018, I lived in cities from Barcelona to Madrid, currently calling Valencia home.  Follow me on Twitter, Facebook, Instagram, or LinkedIn! ... show more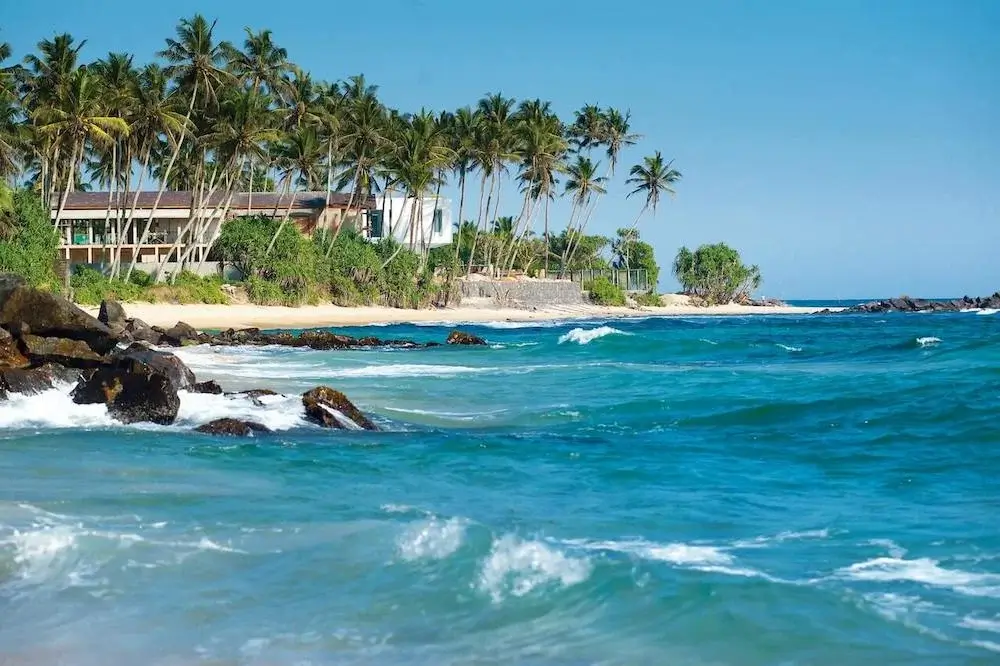 Sri Lanka – the pearl of the Indian Ocean, has become one of the most visited tourist destinations in the past decade, making it the perfect getaway spot for escaping from the maddening rush of regular life. For me, packing my bags to explore this hidden gem was the ultimate healer, which is why I'm sharing a life-changing experience from my Sri Lankan trip.
Did you know that Sri Lanka was formerly called "Ceylon," which was named after the famous tea brand of the island nation?
The history, culture, people, and way of life have truly inspired me. If your travel plan allows you to hop from one city to another, you're sure to experience life through a different lens and a whole-hearted one.
Here's my take on the best places to stay in Sri Lanka, city-wise!
---
Key takeaways
Excellent beaches of Arugam bay and Negombo, best to begin with surfing.
Many ancient monuments to see.
The crisis is almost gone.
The food is spicy, but you will be fine if you're not eating in the local rice&curry restaurants.
Beautiful forests, waterfalls, and scenic roads.
Avoid tuk-tuks; they charge you exorbitantly. Take trains or buses.
---
What people say on Reddit
5-Star: Cape Weligama. Each "room" is a huge chalet, world class food and very warm, attentive service.

Boutique Hotel: W15 Hanthana Estate. The whole property is stunning, from the view to the décor to their vintage Land Rover. Each room has a dedicated personal butler who attends to your needs throughout your stay, and the food is exquisite.

Honourable mentions: ANI Sri Lanka, Nine Skies, and Goatfell by Teardrop Hotels.

chayan4400
Marriott Weligama, beautiful spacious room, bathroom that opens up and awesome view from balcony. Decent food spread for buffer, breakfast nothing special, but staff go out of their way to help you and make your stay pleasant.

SinkingRubberDucky
I would recommend Amethyst Resort Pasikudah if u want to enjoy the sea. Weligama and Mirissa is meh. It's dirty at certain places and bloated with locals and will not be peaceful. If u go to a 4 or 5 star hotel most locals will know English as well so feel free to talk with them. If it was me, I would be more than willing. I think most locals are extremely friendly with tourists, it's in our blood ig lmao

During the evenings many fishermen catch fish so stay on the beach and you can take a good picture holding one of the big fishes. You can also buy the fresh fish and ask the chefs at the hotel to cook it for you and most often they will be very willing. Fresh fish taste like nothing else.

SomewhereMajestic642
Negombo is closest to the airport but I'm not really a fan – there are nice hotels by the beach but the ocean isn't always swimmable and it's expensive compared to down south. My recommendation would be Mirissa. There's no 5-star hotels there, so not sure if that's a deal breaker, but plenty of nice guesthouses by the beach and it's a fantastic chill out spot. Now the highway is in place, it'd take just a couple of hours to bus to Matara and get a trishaw from there.

escapingthewife
Top 7 places for an enjoyable stay
Luckily, I explored Sri Lanka to my heart's content over several trips. Before my first trip ended, I knew I had to go back for more. So, from my experience, I have put together a list of cities you must include in your holiday plan and accommodation options to suit your budget as well.
1. Kandy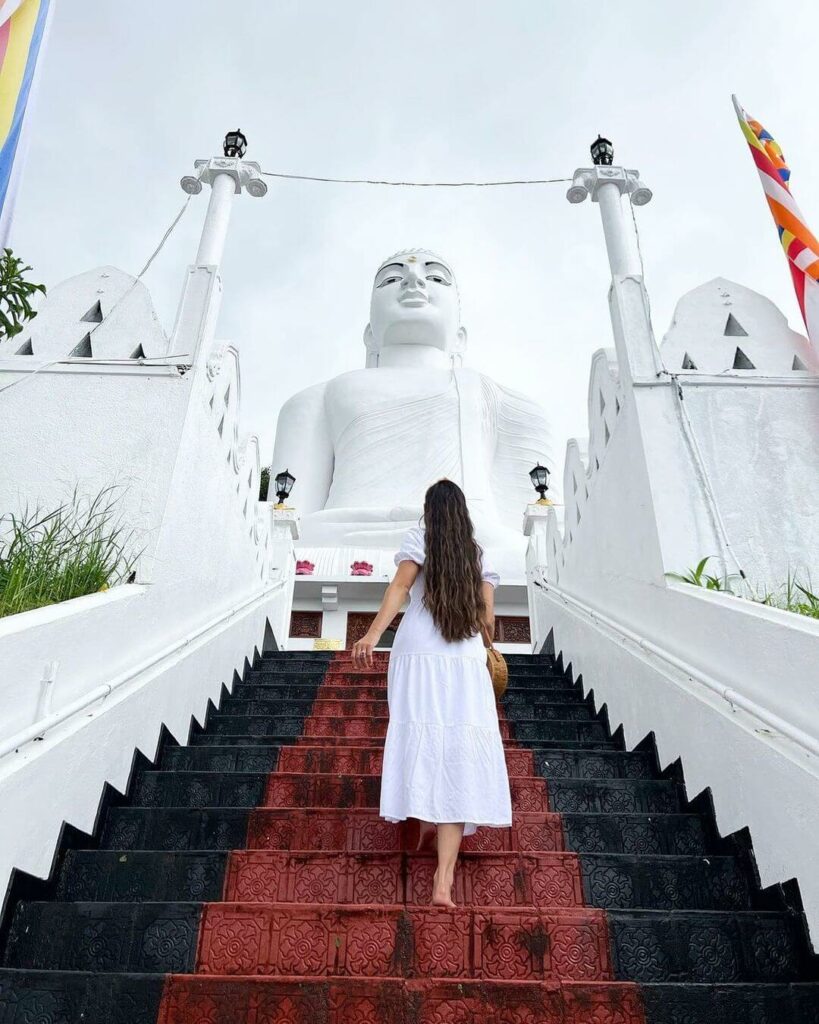 Kandy definitely earned their place at the top of this list with their cultural and regional attractions, including the sacred Buddhist Temple known as Tooth Relic Temple. Kandy is called Maha Nuwara in Sinhala, which means the great capital city. This city is also famous for its scenic mountain peak views.
Besides temples, Kandy offers interesting cultural sites and is becoming a hub for adventure lovers due to its hiking and trekking zones near mountains. Once you're in Kandy, you'll never run out of things to do. It's worth spending 2 days and 1 night exclusively in Kandy to explore the beauty of it, of course, if your budget permits you.
A budget-friendly stay, about a mile from the Bogambara Station, with a terrace, garden, breakfast services, and 24 hours WiFi inside the premises for their guests, makes it one of the best places to stay in Sri Lanka for tourists.
One of the best places to stay in Sri Lanka, Kandy – is The Flame Tree Estate and Hotel. It is a charming jungle boutique hotel with international-grade interiors with a touch of European and modern art that never fails to offer its guests a luxurious time in Kandy. Located 10 miles from Kandy Botanical gardens.
2. Colombo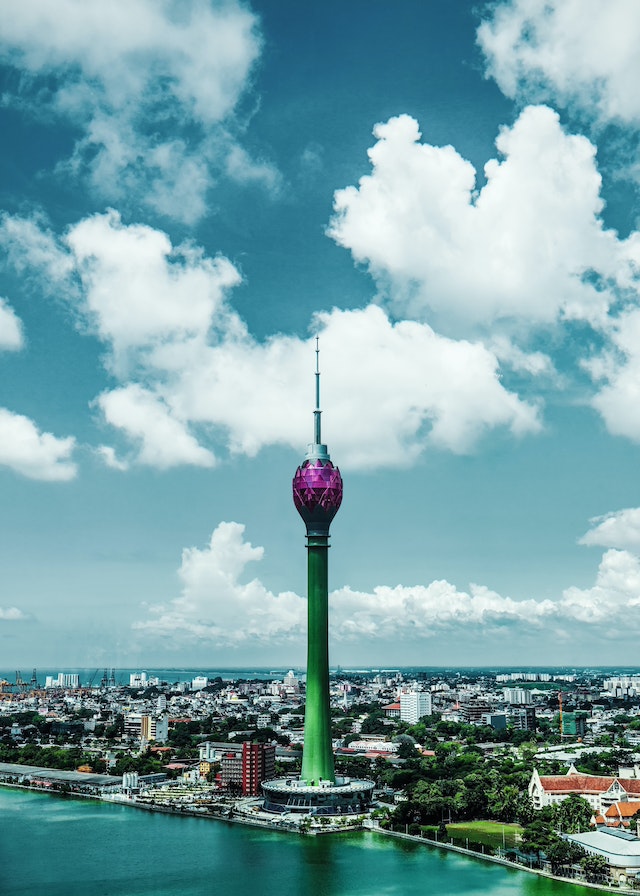 Colombo is home to one of the oldest seaports in the country, as well as Bandaranaike International Airport. It is filled with historical preservations with the presence of Colonial businesses that enabled the country to trade goods with the rest of the world. Colombo was chosen as the capital city up until 1978; however, it still remains to get hold of its power in the commercial sector of Sri Lanka.
During my visit, Colombo was the first city I stopped over back in 2018. I bought an all-day bus ticket to roam around the city of Colombo and immerse myself in its culture, people, food, and history.
Numerous beaches surround the city of Colombo, with touristy places to visit, such as zoos, museums, botanical gardens, and much more.
Located on a commercial premise, which is only 4km away from the famous Gangaramaya Buddhist Temple of Galle. Sasha City Hotel is a family-friendly accommodation that is a great choice for budget travelers.
Shangri La, Colombo, a five-star accommodation, is one of the finest hotels in the country, offering you a panoramic view of the Indian Ocean from your giant hotel room. Located at the heart of the city, commuting to famous tourist entertainment spots in Colombo is definitely easier for its guests, making it one of the best places to stay in Sri Lanka.
Read also: Is Sri Lanka safe for female travelers?
3. Arugam Bay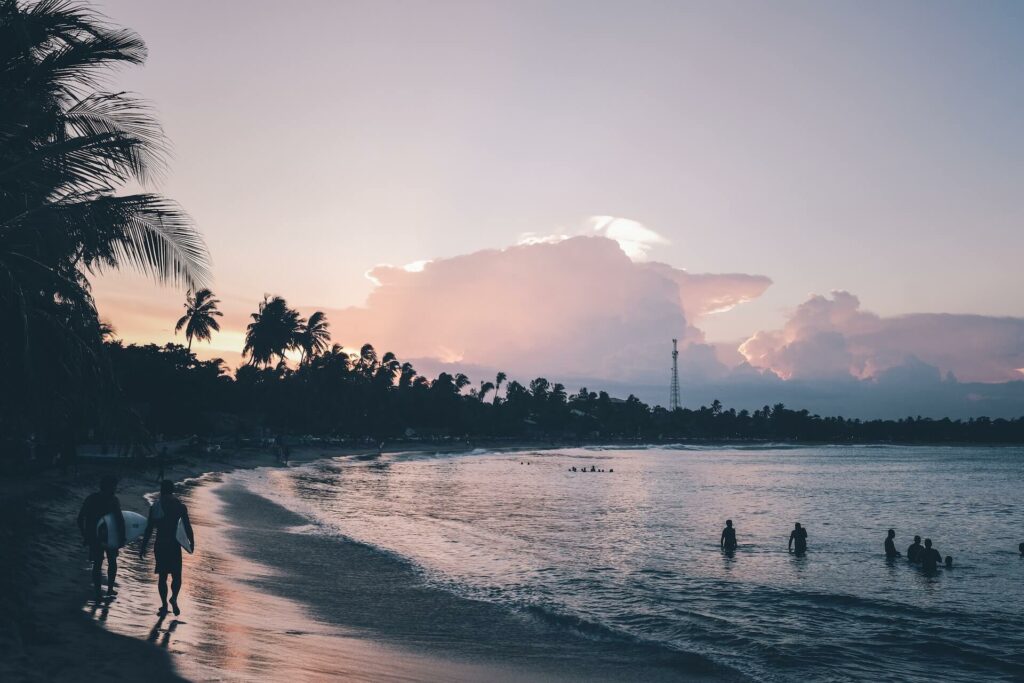 Get your beach essentials ready for this one. You can't miss this breathtaking coastline in Arugam Bay once you have entered the country. It has the longest surfing waves, attracting surfers from all over the world. You may find the beach a bit crowded if you visit during peak season. To my surprise, I experienced a full-on surfing party, and for first-timers, stopping over was totally worth it. You must include Arugam Bay to see raving sea waves tamed by hundreds of surfers – it's quite a seascape.
Surf n Sun is an impressive guest house for families, as well as solo travelers. It is located near the beach, offering private beaches and cute outdoor pools for its guests, overlooking the beautiful waves of Arugam Bay.
For a grand adventurous holiday in Arugam Bay, there's no better option than checking in at Whiskey Point Resort. Located right in front of the Quathiaski Cove, with trekking, biking, and hiking options, this luxurious hotel is ideal for spending your time in Arugam Bay.
4. Negombo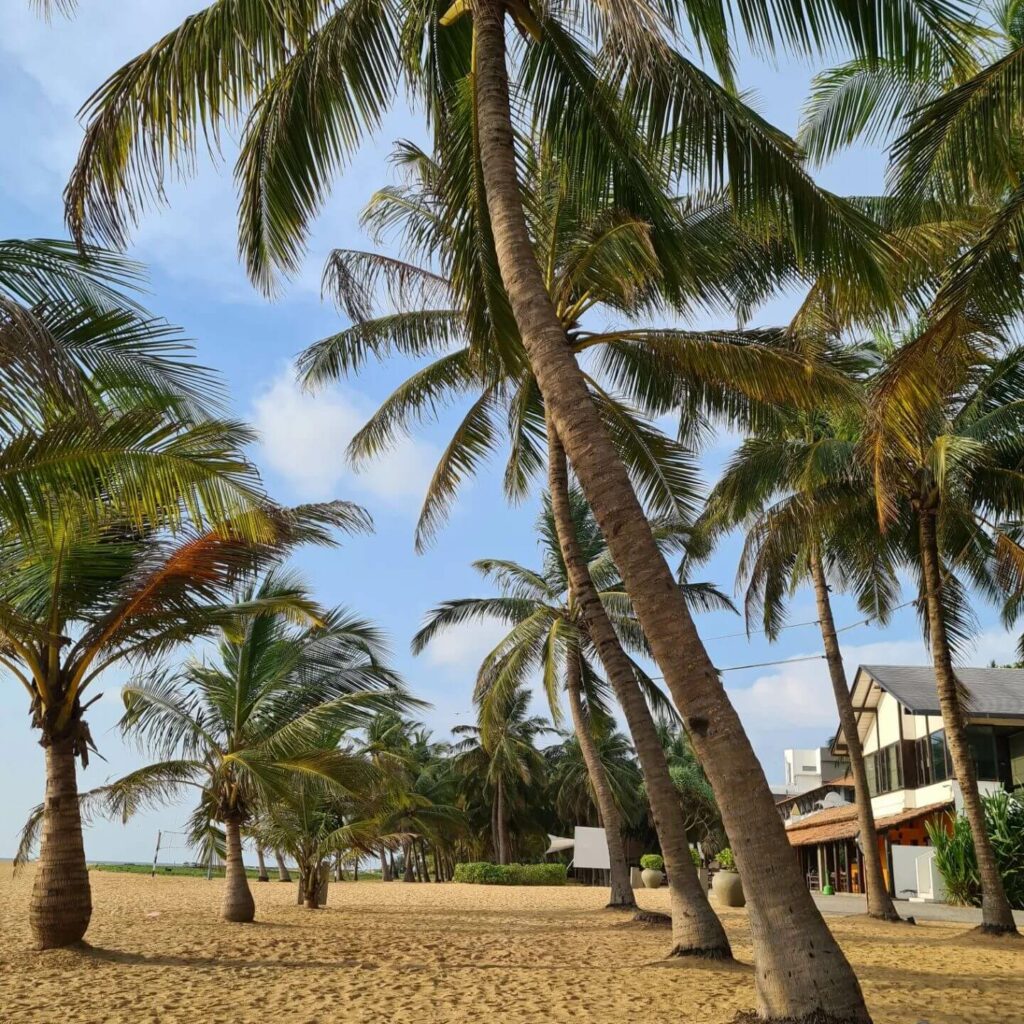 Negombo is known for the prettiest beach background in Sri Lanka, and when I visited Sri Lanka for the first time, this was the last city I had traveled to before I got on a plane back home. It was my 9th day in the country, and I instantly regretted not extending my stay there. The warm and salty air, and cute little boutique restaurants on both sides of the streets, leading you to the beach is my kind of heaven.
The famous fish market and the variety of gorgeous holiday resorts make Negombo a must place to visit in Sri Lanka. You'd be able to keep yourself occupied relaxing at the beach and visiting pubs to end your night.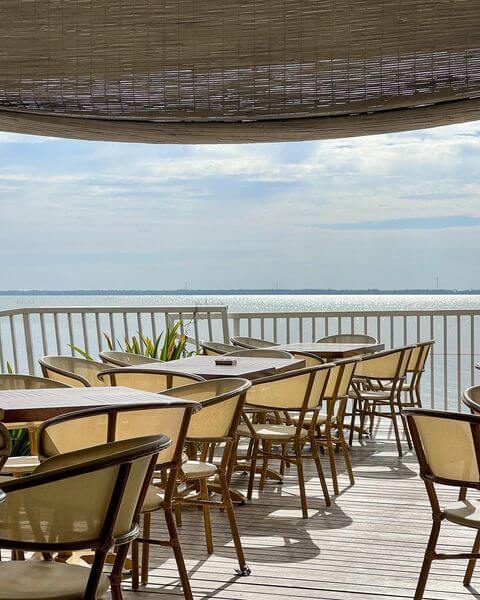 A highly affordable option, with just a 13-minute walk away from the beach, Hotel Silver Sands is a nice little place for tourists. Although, you may have to pay extra to reserve an AC room. Note: All the rooms in the hotel don't offer air-conditioning facilities.
This beautiful hotel is located on the outskirts of Negombo, with beachfront resort-style villas. It is situated exactly at the center of the lagoon and the sea, overlooking the Indian Ocean, a true treat for its guests, with world-class hotel facilities.
5. Sinharaja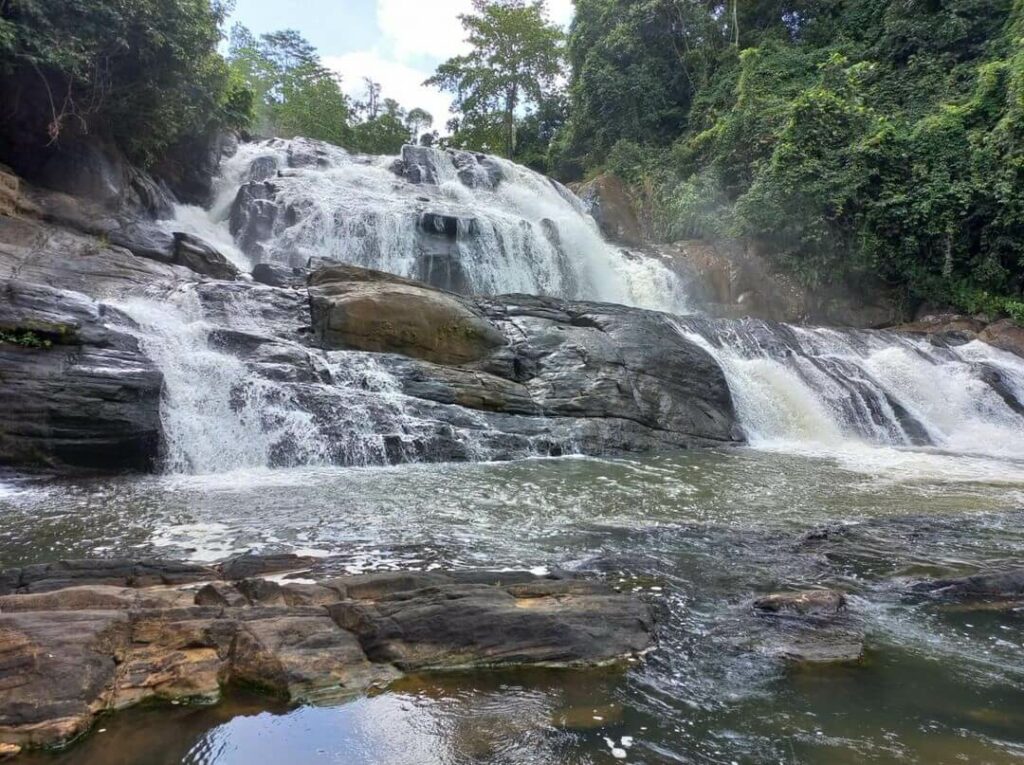 Sinharaja means rain forest in Sinhala – a biodiversity hotspot, and a base for lowland rainforest, recognized as a World Heritage Site by UNESCO. You have to explore Sinharaja by foot, and if you're a national geographic channel buff like me, it's like escaping into nature, where you hear the relaxing sounds of water streams.
You will also be able to view animal life from a close range. If you choose to extend your stay here, you might want to consider signing up for an Elephant Safari in Udawalawe National Park. Not stopping over to see herds of wild elephants passing by makes your Sri Lankan trip incomplete.
360 Rainforest is a sweet blend of luxury and affordable accommodation, with very interesting in-hotel dining options. It is a perfectly reasonable choice for tourists willing to stay at a 3-star hotel during their visit to Sinharaja.
Luxury Option: The Rainforest Village
This is an epic location for tourists whose holiday itinerary includes visiting the Sinharaja rainforest. The Rainforest village is located at the entrance of the rainforest itself, making it convenient for their guests to enjoy the attractions of Sinharaja.
6. Sigiriya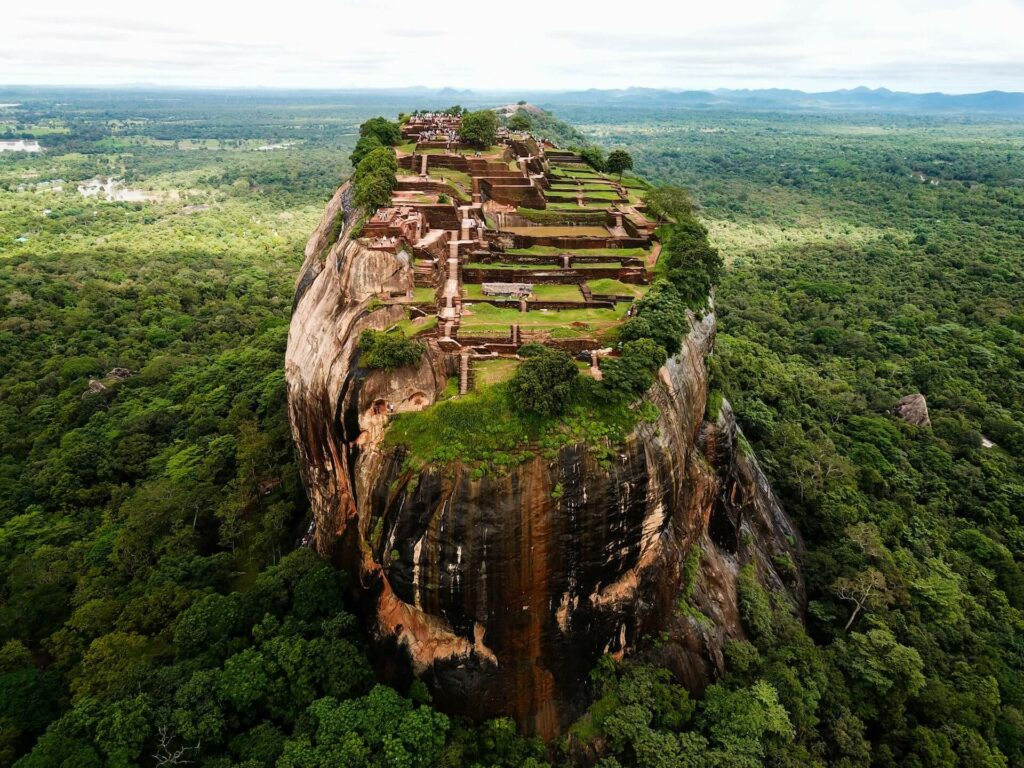 Sigiriya, or what they call the mount of remembrance, is yet again a remarkable World Heritage site that one must visit when in Sri Lanka. It is a huge monument of rocks stacked on each other, forming a giant tower which you can climb, and witness a view of a lifetime. Although I would only personally recommend it to trekking enthusiasts, the rocky walkway could seem like an endless journey to many.
It indeed is a gem for tourists to explore the Sigiriya fort and its surroundings up from the highest point of the rock fortress.
La Dolce Vita provides affordable and comfortable accommodations with a cute little private garden and terrace to spend your leisure time in. It is a convenient property within closer proximity to the famous tourist attractions in Sigiriya.
Sigiriya's King's Resort is an eco-friendly hotel chain that offers lavish accommodations to suit its guests. They have a wide variety of hotels, villas, serviced apartments, and much more for their guests to make the most of their stay on the ancient lake of Halmilla, Sigiriya.
7. Nuwara Eliya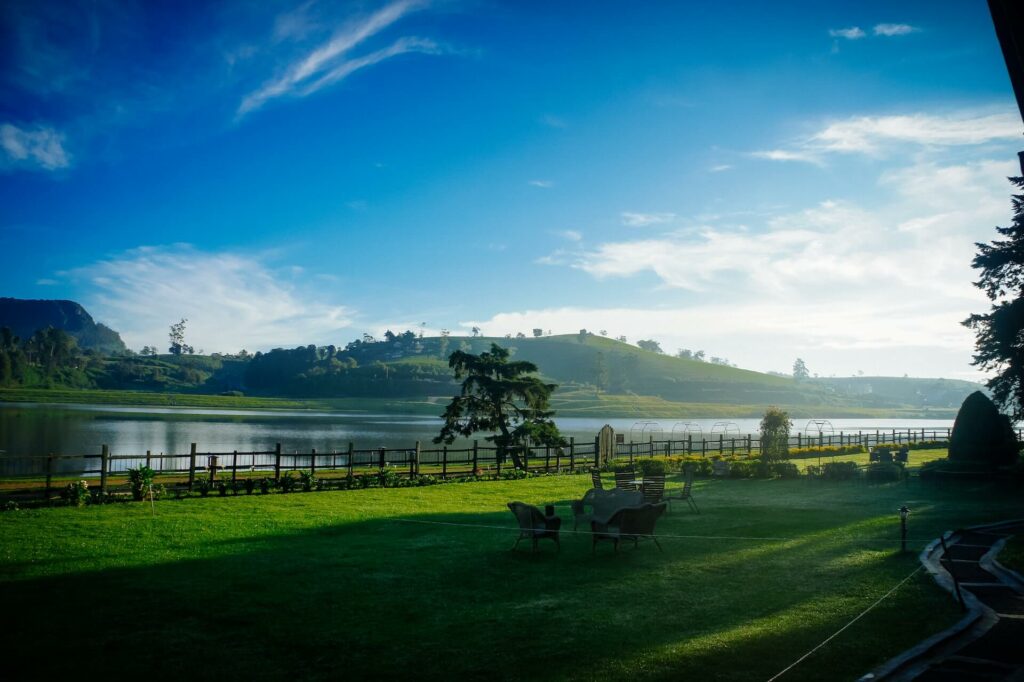 "The Little England" of Sri Lanka is what the locals prefer to call Nuwara Eliya, renowned for acres of tea gardens and its panoramic view, attracting tourists from all over the world to experience a quiet and serene holiday. Nuwara Eliya is like a set from a Harry Potter film with antique trains- a hillside paradise with misty clouds in the background. Some of the touristy spots in Nuwara Eliya include Bale Bazaar, Moon Plains, Victoria Park, and Ramboda Falls.
A super affordable, rustic style walk-in hotel for people visiting Nuwara Eliya. While the rooms are literally hut-shaped cottages inspired by Scottish architecture, this cute little place is a great option for families and solo travelers.
Situated on top of Nuwara Eliya hills, offering breathtaking hillside views for their guests, makes Langdale Boutique Hotel by Amaya a top accommodation choice for their guests. They are famous for their Ayurvedic Spa facilities, a must-do activity to relax and rejuvenate yourself.
Some of the Best Things to Do in Sri Lanka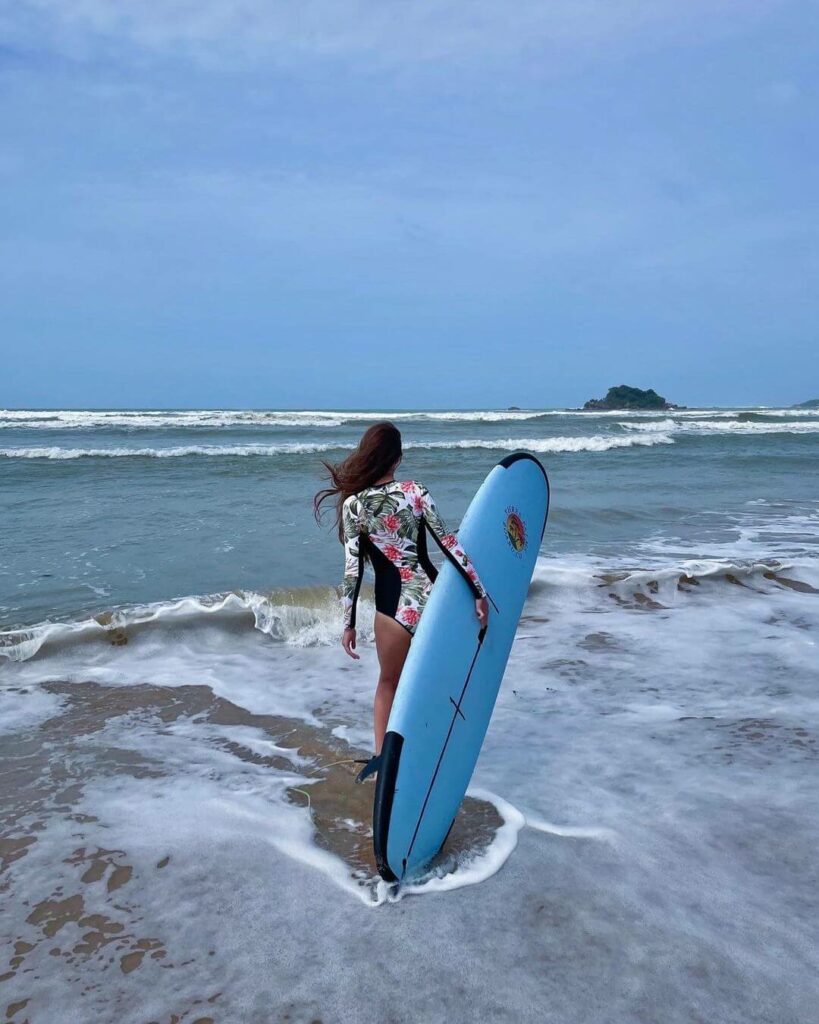 Learn Surfing
As mentioned earlier, Sri Lanka has earned its title as "the surfer's paradise" of South Asia. If you're an adventure lover who wants to return home with a new set of skills, simply learn how to surf from the wave experts. Arugam Bay is definitely the ultimate surfing destination, offering surfing classes too.
Go Snorkeling
Sri Lanka is known for incredible sea life, with coral reefs, which makes most of their beaches ideal for snorkeling. Put on your diving suit and experience life under the blue waters of the Indian Ocean. Note: don't touch the corals or fish that cross your way, as you could damage their habitat.
Take Traditional Cooking Lessons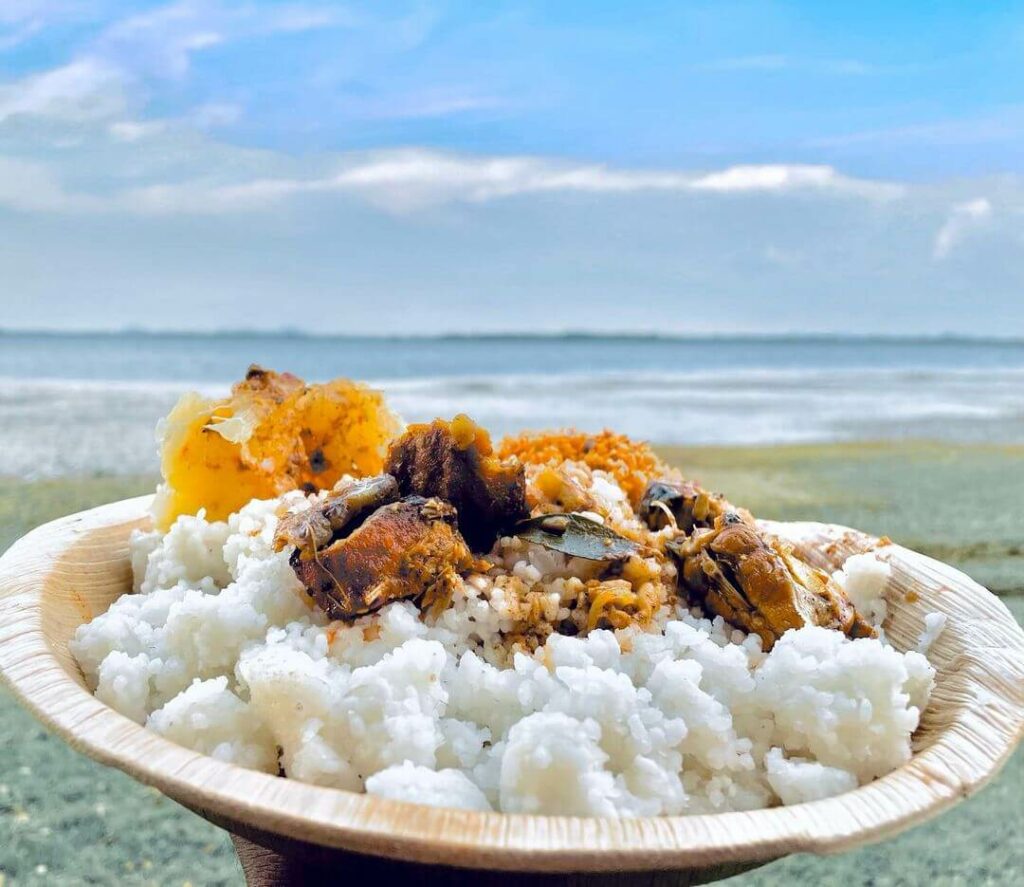 Sri Lanka's food flavors are interesting, with a unique blend of spices, and you must try the local flavors of a traditional meal. They use tricky food techniques that are rather an attraction for tourists, and guess what – you can sign up for a traditional cooking class to bring the Lankan cuisine back home. They will show and teach you the kitchen secrets of mouthwatering homemade meals.
This was the highlight of my time in Sri Lanka. I was so inspired by some of their traditional meals that I had taken notes to buy spice mixes from the local markets too.
Go on a Food Tour
Sri Lankan food is a taste of paradise for spice lovers. To give you a hint of their spice level, for breakfast, they eat a chili paste (sambol) with coconut rice or an egg hopper (a popular breakfast item), and it tastes really good. In fact, I thoroughly enjoyed eating it quite often for breakfast. They enjoy eating sea fish, and if I could rate it, I would give all of them an 11 out of 10 – they were that good!
Tip: You must take the time to try Sri Lankan street food. A list of items you cannot skip are Kottu, Biryanis, Curries, and Ambulthiyal served with yellow turmeric rice.
Explore the Ancient Ruins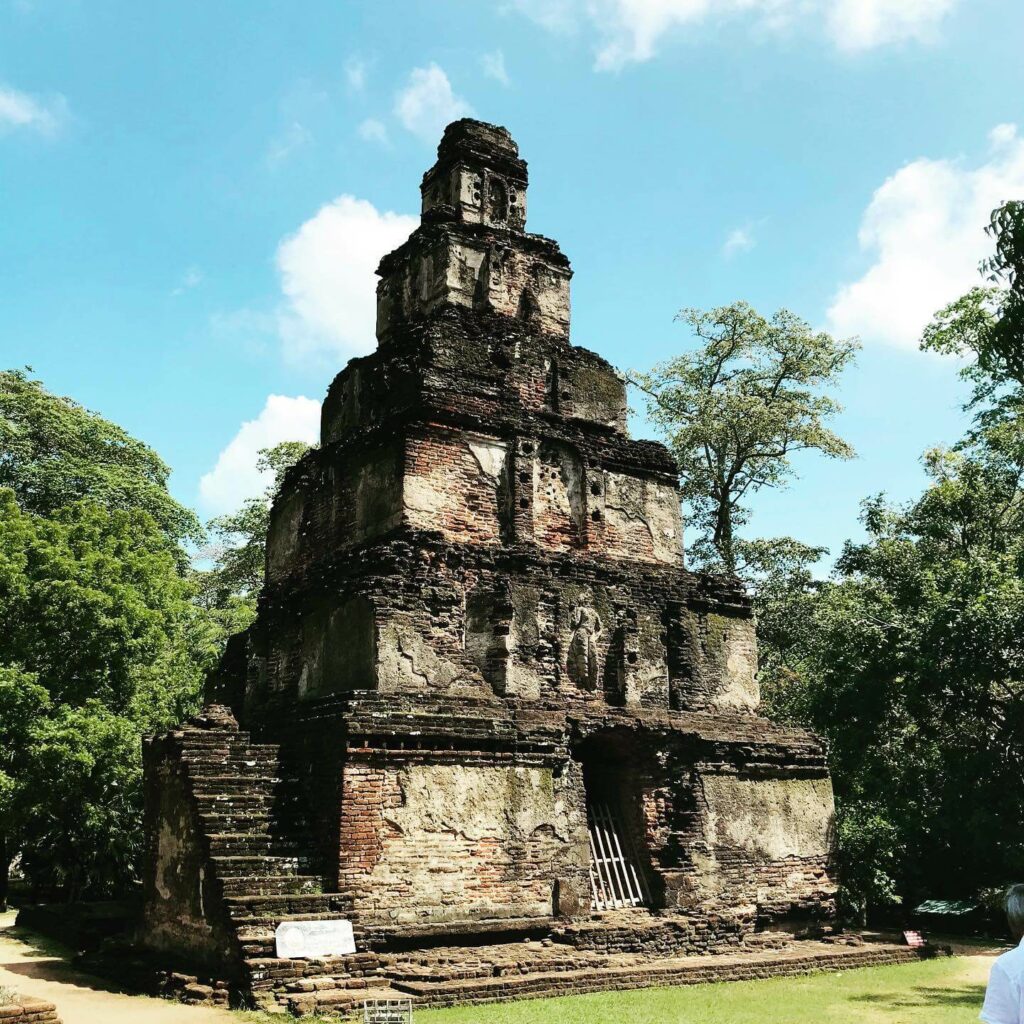 For history buffs, visiting Northern Sri Lanka for its ancient ruins, historical preserves, and Buddhist structures will take you time traveling for sure. I remember my guide, who also happened to be our bus driver, storytelling while driving near giant rocks in Sigiriya, and the statues of Buddha. Understanding their beliefs of humanity, peace, and strong connections with ancient times added so much value to my trip to Sri Lanka.
6 Fun Facts About Sri Lanka
It has two nicknames
Sri Lanka is referred to as the "pearl of the Indian ocean" and "teardrop of India." The pearl of the ocean simply because of its gorgeous landscapes and beauty, and teardrop because if you look at it on the map, you'll notice that it's shaped like a teardrop next to India, hence "teardrop of India."
It has the highest literacy rate in South Asia
It stands at a 92% literacy rate, which is the highest in all of South Asia. The Lankans truly encourage the power of education and literacy for their people and set a great example for the rest of the world.
The National flag is one of the oldest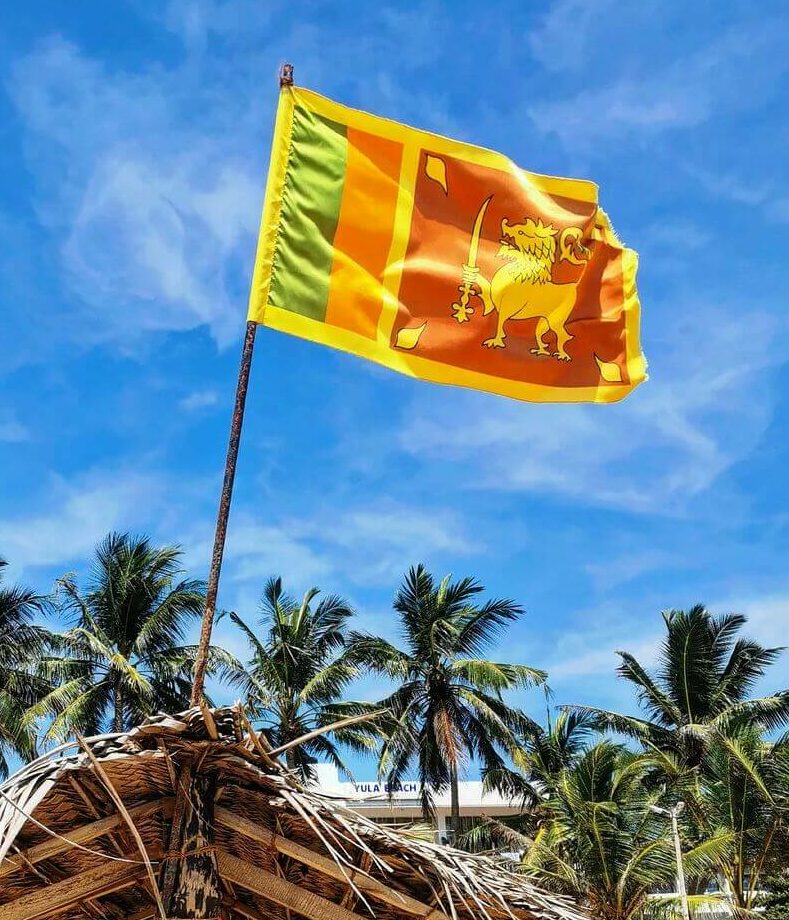 Yes, the Sri Lankan flag is one of the oldest flags in the world, which is also known as the Lion Glad. Apart from being the oldest, the flag proudly recognizes various religious beliefs, which indeed is rare and praiseworthy. It welcomes Buddhism, Hinduism, and Islam.
Sri Lanka has the oldest human-planted tree
Anuradhapura, an old city in Sri Lanka is home to a 2,300 years old tree, which humans seeded in 288 BC. The name of this human-planted tree is Sri Maha Bodhiya.
The country is free of malaria
Yes, for three consecutive years, they were certified by WHO to be a malaria-free nation. Kudos to the government for incorporating programs to eliminate Malaria successfully.
Cinnamon came from Sri Lanka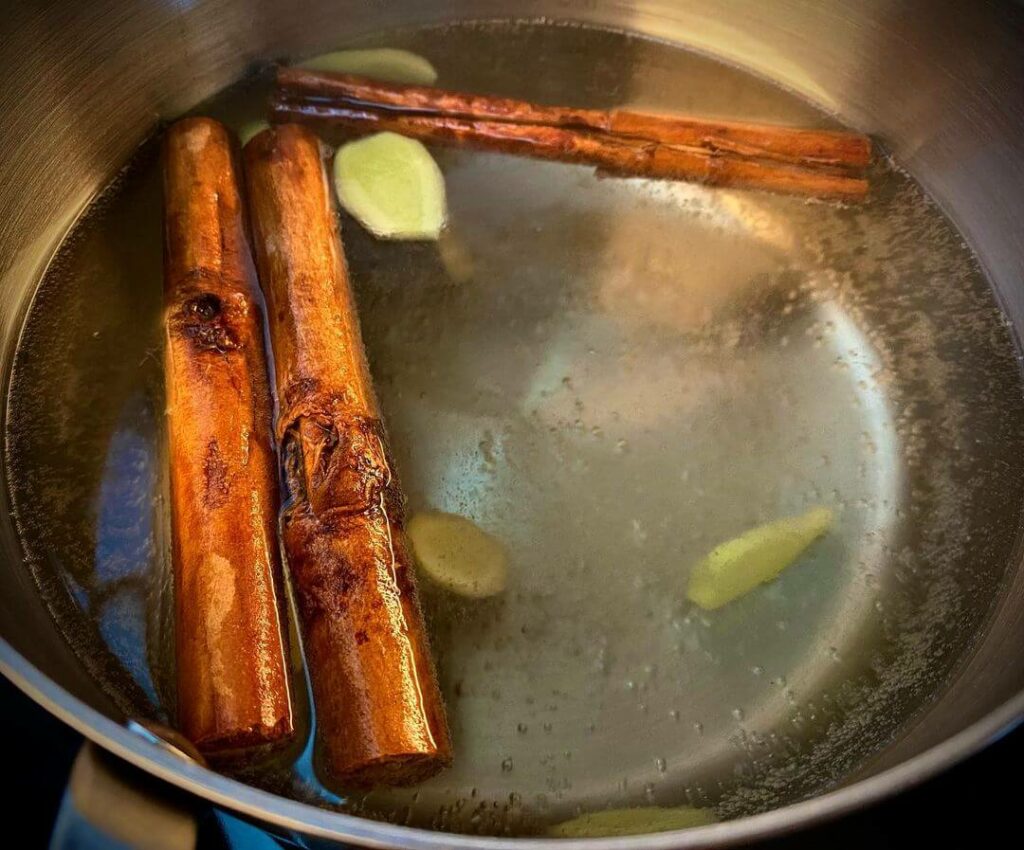 Cinnamon was originally discovered by Egyptians back in 2000 BC, and even now, Sri Lanka remains the prime exporter of cinnamon in the world.
The Best Time to Visit Sri Lanka
Before you look up the best places to stay in Sri Lanka, find out when it's the best time to visit as well. Good weather can make your experience much more pleasant.
Sri Lanka is warm for most of the year, however, it can get extremely hot during summer. The best time to plan your Sri Lankan trip would be the end of the year or the beginning of the year. Sri Lanka experiences its best weather from December to March.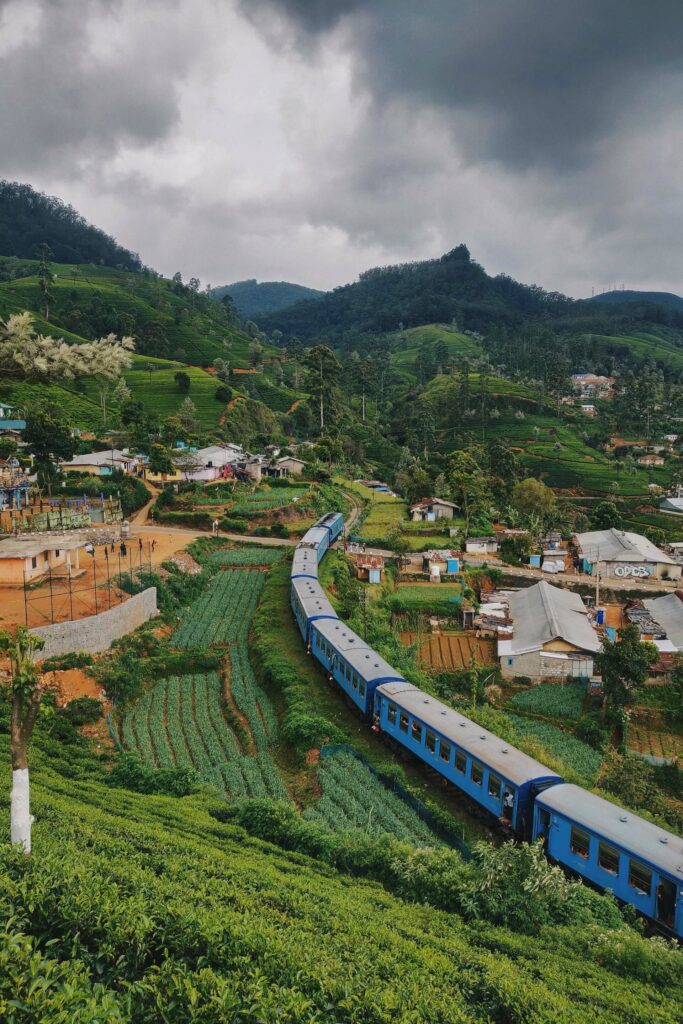 Conclusion
To summarize my travel guide on Sri Lanka, I recommend travelers to plan a 7day getaway to Sri Lanka. This is because there are so many cities to visit, and every single one of them is unique, unlike most of the other top places to visit in the world.
During my second visit, I planned a road trip where I city hopped to five different cities, enjoying the outskirts and their views. I remember stopping over at a roadside restaurant for lunch, and it was the most hospitable experience of my life. It was totally worth the money and time. The best places to stay in Sri Lanka depend on your budget and time – and if you have time up your sleeves, craft your travel plans wisely!