11 Best European Cities to Visit in December 2023
Nadia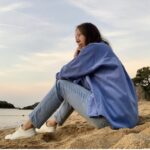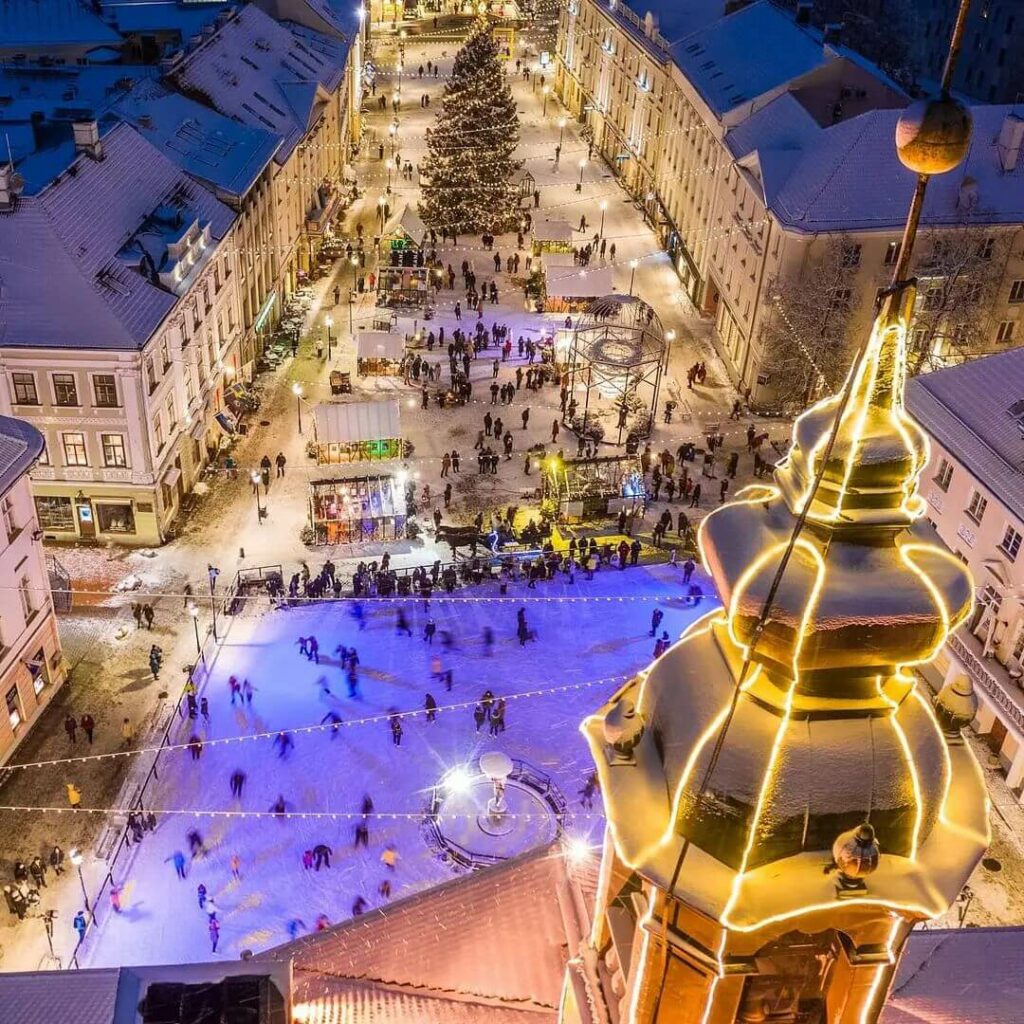 There are many reasons to travel to Europe in the wintertime, mainly because Christmas time transforms its cities into magical and atmospheric places.
You will find Christmas markets everywhere, which are a great travel experience. There is hot wine, Christmas food, hand-made crafts, and attentive service (because it's low season). If you have not traveled to Europe in winter, you've got to come before Christmas (mid-December) to enjoy the festive ambiance.
See also 9 best day trips from Paris in winter.
The second reason to visit European cities in December is fewer tourists; many people don't take a vacation in December. So, that means shorter lines to go to the sights. You can walk in the Louvre in under 5 minutes in December (compared to a 1-hour wait in the summer). And with shorter lines, you can squeeze more things in, so that's cool!
Assuming you're not chasing the warm weather and beach leisure, let's dive into some issues that can occur while you travel in Europe in the winter.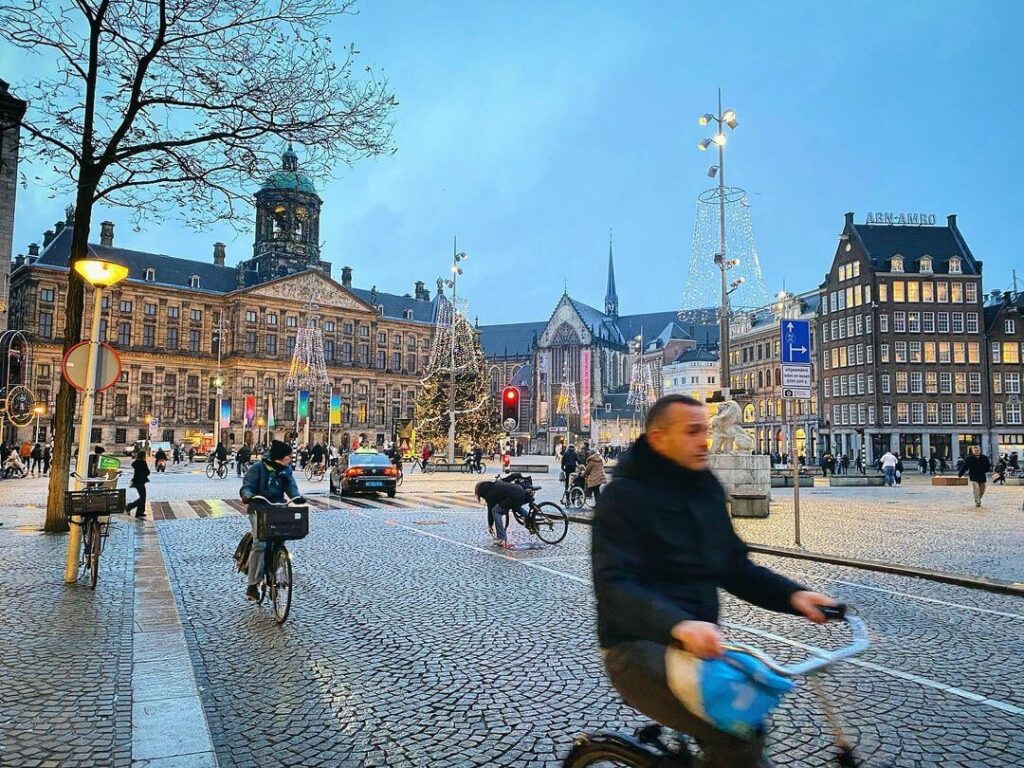 Why traveling to Europe cities in December might not be a good idea
The weather is kind of "bad." It's cold. It rains. It snows. It's usually not freezing, but staying on the streets might be very uncomfortable. So you got to deal with that and pack more stuff like winter coats, long underwear, jeans, and all those things.
Many places close in the winter or have shorter winter hours.
Europe is a walking continent. You want to walk around, see the architecture, the palaces, etc. So you're going to be outside, and it is often wet in the winter in Europe. Beware of slick cobblestones, and bring good shoes that don't slip and slide.
It gets dark early. Sometimes you want to go sightseeing, and you will feel slightly uncomfortable walking around Paris at 6 p.m. when it's all dark. Get up early and do your sightseeing program as fast as you can.
If those issues are not a problem for you, let's finally see the best cities!
The Best European cities in December 2023
There are many beautiful cities across Europe to visit in December, and picking the best ones is tough. So I decided to list the old proven European cities with some unexpected ones. Prepare for lots of different countries!
1. Prague, Czech Republic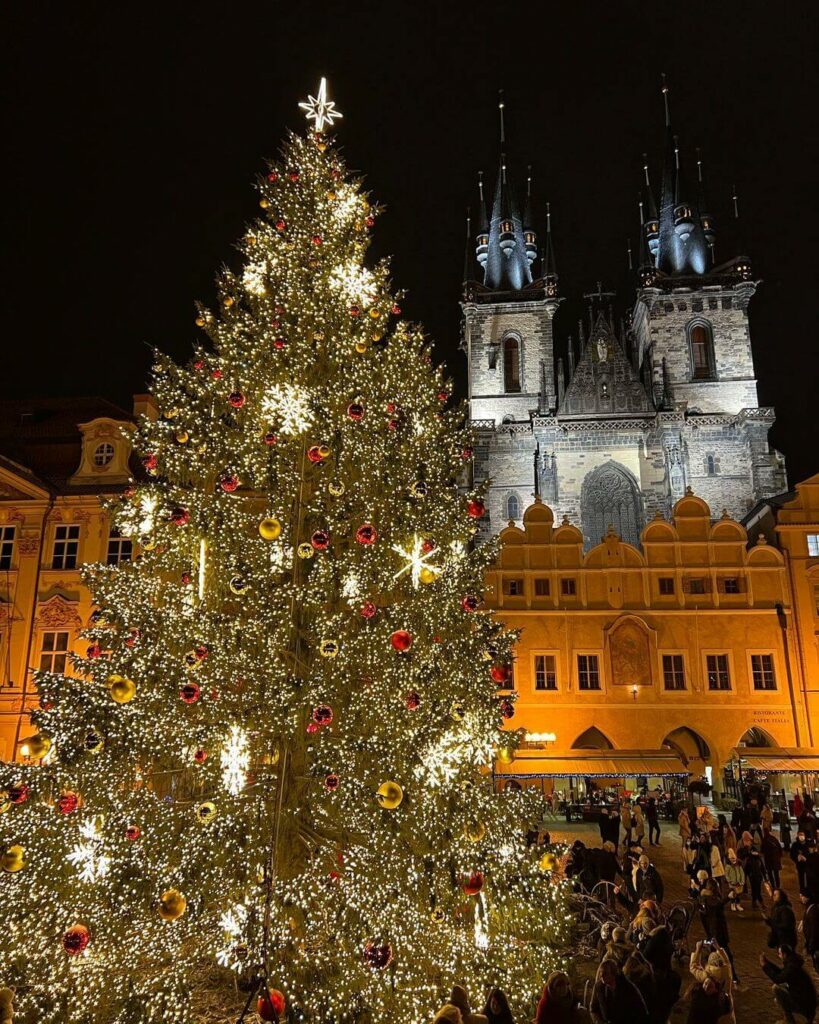 Christmas is a magical time, and Prague, with its beautiful architecture and picturesque view, seems like a perfect place to celebrate this holiday.
Why visiting Prague in December is a good idea
The city is usually very beautifully decorated for the Christmas holidays
Christmas markets are great and add up a festive mood
Czech food is what you need for winter! Filling and delicious
Hot wine that you buy on the streets. A perfect decision if you're too cold walking around.
See the snowy Charles Bridge, Prague Castle, and St. Vitus Cathedral.
The medieval atmosphere. I sometimes felt like I was on the streets of an old and little gloomy medieval town.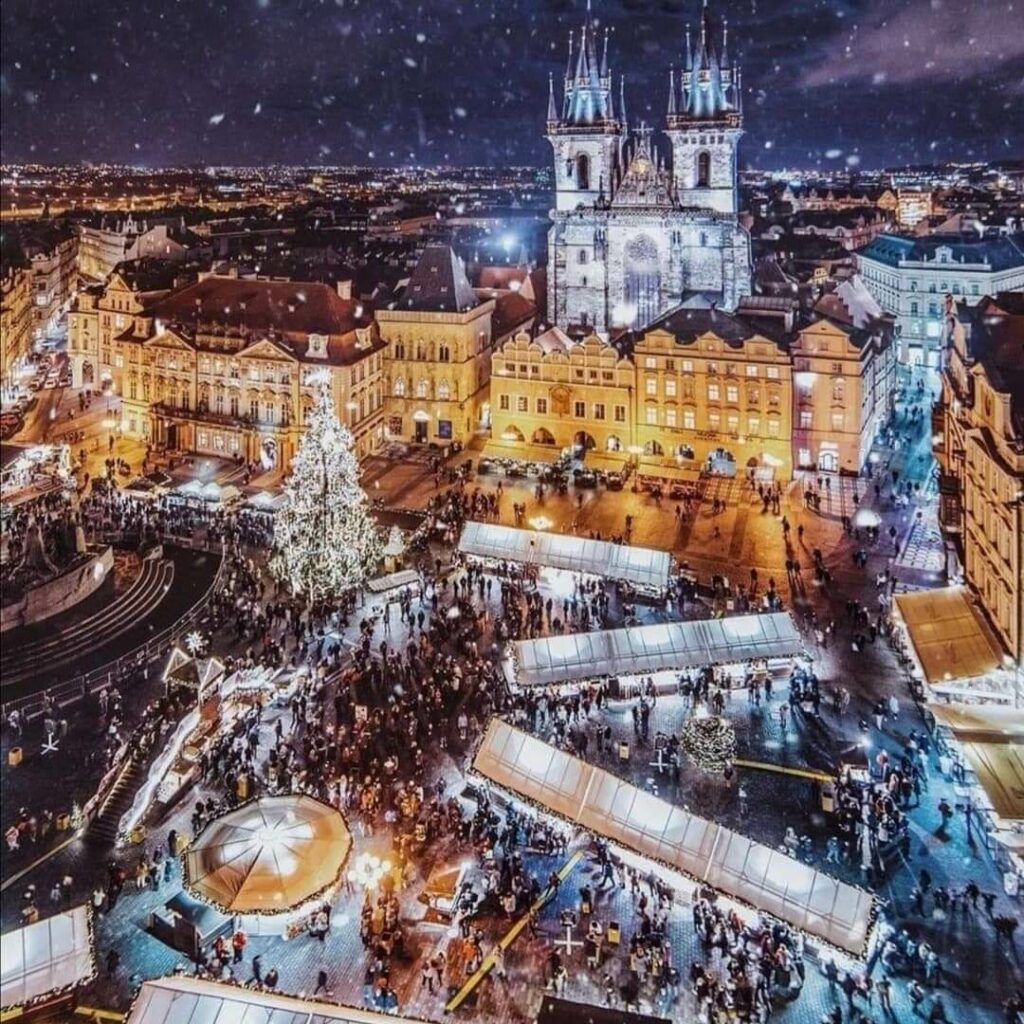 Why visiting Prague in December might not be a good idea
Tourists experience this holiday in Prague very differently. What things should you as a tourist be prepared for when visiting Prague in December?
Prague gets super busy. Everyone runs around like headless chickens trying to do their last-minute Christmas shopping. That might interfere with your touristy stuff.
Everything closes early on December 24. Yes, everything—restaurants, cafes, shopping malls. So make sure you have something to eat that day, and make a dinner reservation in advance in places open on the 24th. And it will be expensive! Otherwise, you will join crowds of tourists knocking on restaurants' closed doors.
Public transport switches to a night schedule early in the evening
Everything is still closed on December 25. Usually, this day feels very strange for tourists because you go from very busy to post-apocalyptic in less than 24 hours. You go out of your hotel, and everything is closed. You might not find a good place to have breakfast or lunch. The sites that are going to be opened will have lots of people there.
The opened public places such as museums, galleries, and skating rinks will be very crowdy on December 25.
2. Innsbruck, Austria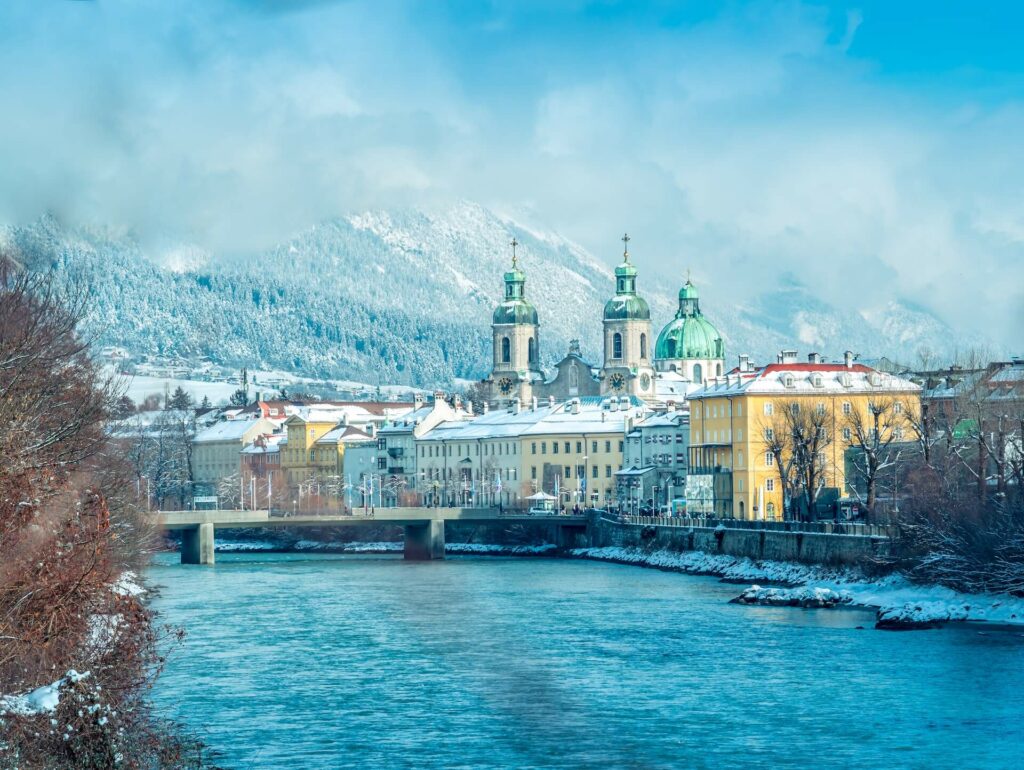 Innsbruck is the fifth biggest city in Austria, surrounded by beautiful snowy mountains, making it an excellent destination for skiing. It also has the cutest Christmas market I've ever seen in my life. And it's only a 20-minute drive from Swarovski headquarters.
Christmas time in Innsbruck
As with many European cities in December, walking around Innsbruck at Christmas time is just magical. From November 15, the city transforms to host its annual Christmas market featuring a variety of little shops. You will find home decor, hand-made ornaments, souvenirs, and delicious Austrian food. If you're a Christmas obsession shopaholic, you will have trouble leaving this city empty-handed.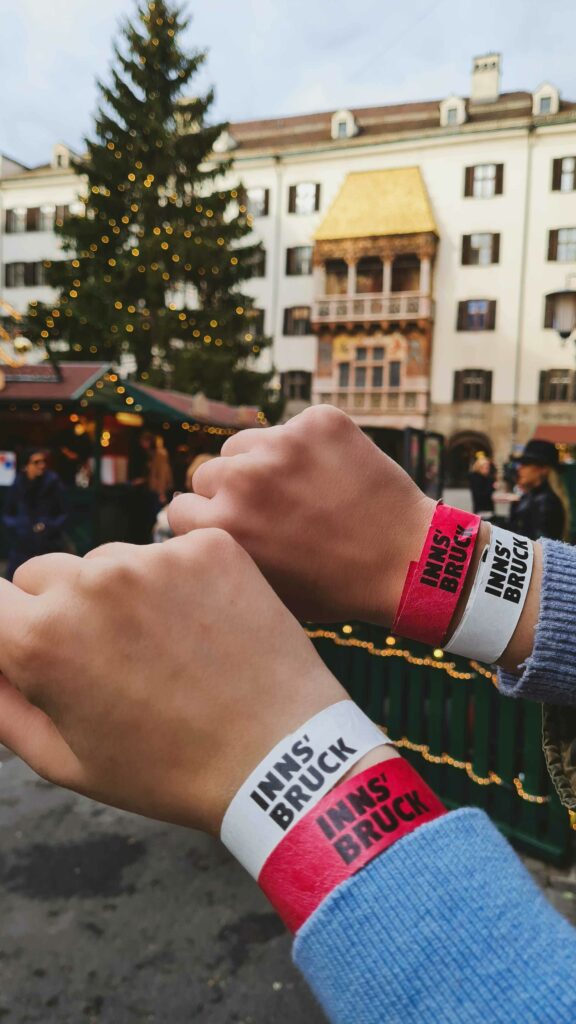 Skiing in Innsbruck
In terms of skiing, there are many options in the area. It's only a 20-50 minutes drive to any of the nearest ski resorts. If you've skied in the US before, Austrian winter sightseeing will take your breath away.
The majestic snowy mountains just make you respect "mother nature" in a completely new way.
There are also many little resting stops on the slopes of the mountains, where you can just sit down and get warm and maybe have a hot chocolate cup before hopping back onto the hills.
Tip If it's your first time skiing ever, I would NOT recommend Austria because the trails are much more difficult and more in the "intermediate" level zone.
Swarovski Museum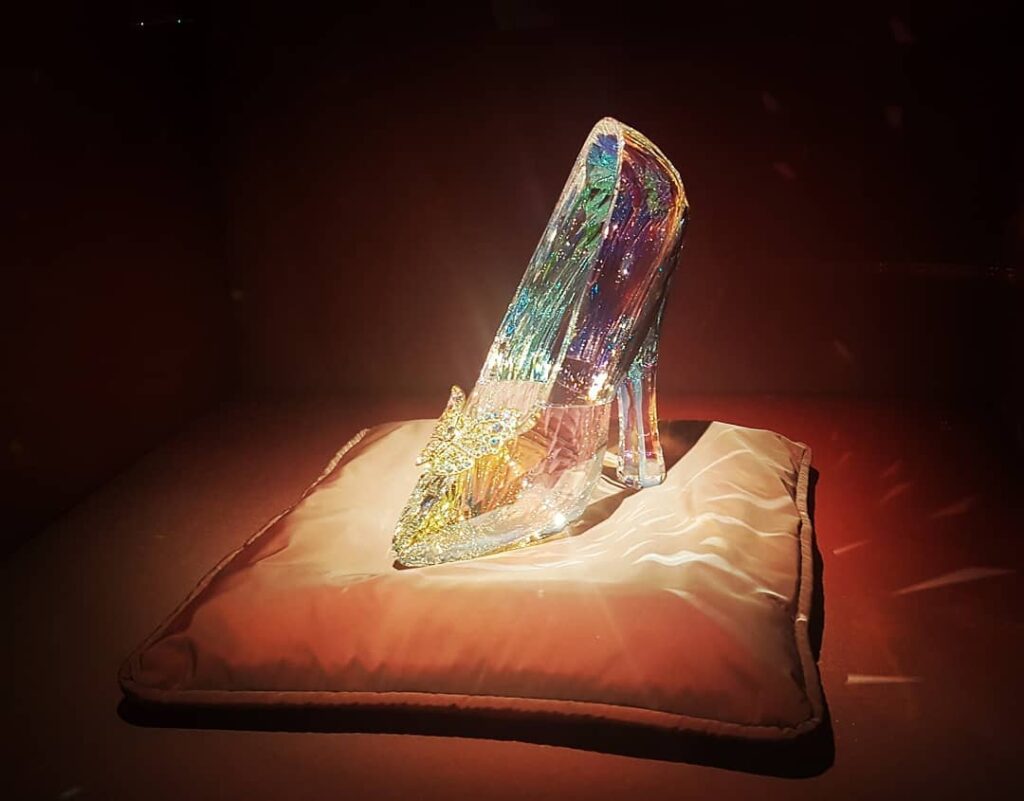 Just a 20-minute drive from the center of Innsbruck, there are "Swarovski Crystal Worlds." You'll see the headquarters and the museum of the world-famous jewelry and accessory brand Swarovski. The entire visit is magical, and there's always something unexpected in each room.
Interesting facts about Innsbruck
Innsbruck means "bridge over the river" in German.
You can even go skiing in May in Innsbruck.
3. Budapest, Hungary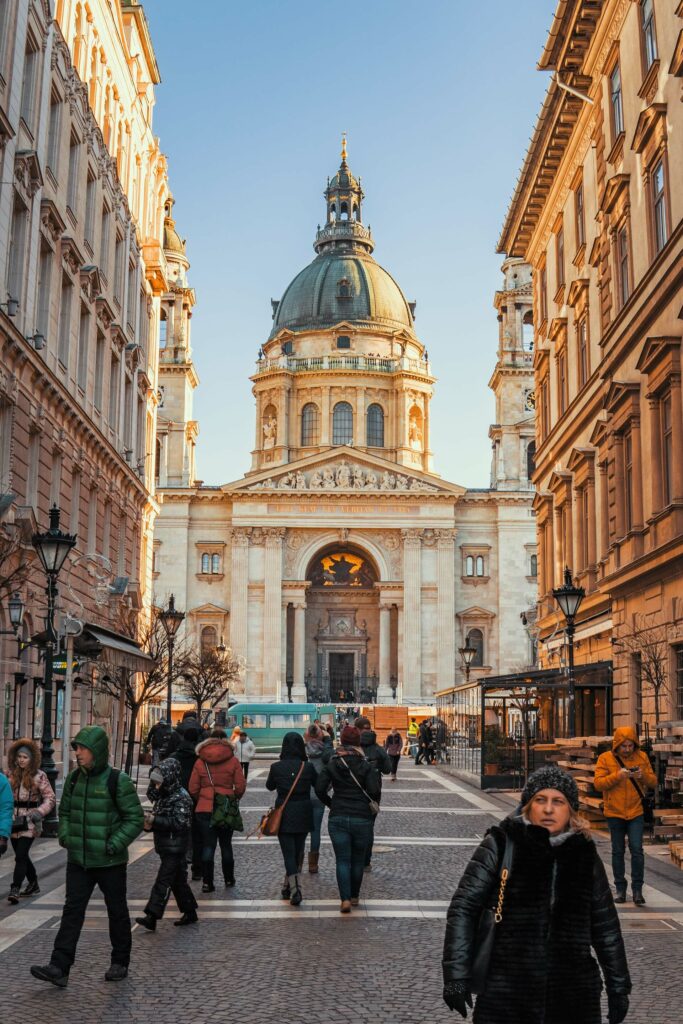 December is a perfect month to go to Budapest. Christmas markets are amazing, and there's a lot to see in Budapest. Buda Castle, the Fisherman's Bastion, the Hungarian Parliament building, churches, views, the river Danube and the rest of the city are gorgeous.
I would also recommend a river boat cruise at sunset, which is a magical experience.
My other favorite thing to do in Budapest is to climb up to the top of the Basilica at sunset. The views are literally insane over the city, a remarkable spot for some Instagram selfies.
Things to do in Budapest in December
Christmas markets. No comment, amazing and atmospheric places
See the city's highlights.
Go for a river boat cruise (choose the short one).
Climb up the Basilica.
Stay at a beautiful luxurious hotel.
Check out some ruin bars. These are quite cool and a bit quirky establishments.
Visit bath SPAs. Budapest is famous for its open bath SPAs, and it's getting more interesting in the wintertime when it's really cold outside, and you're in a nice warm bath, and the steam is everywhere, adding to the ambiance.
4. Krakow, Poland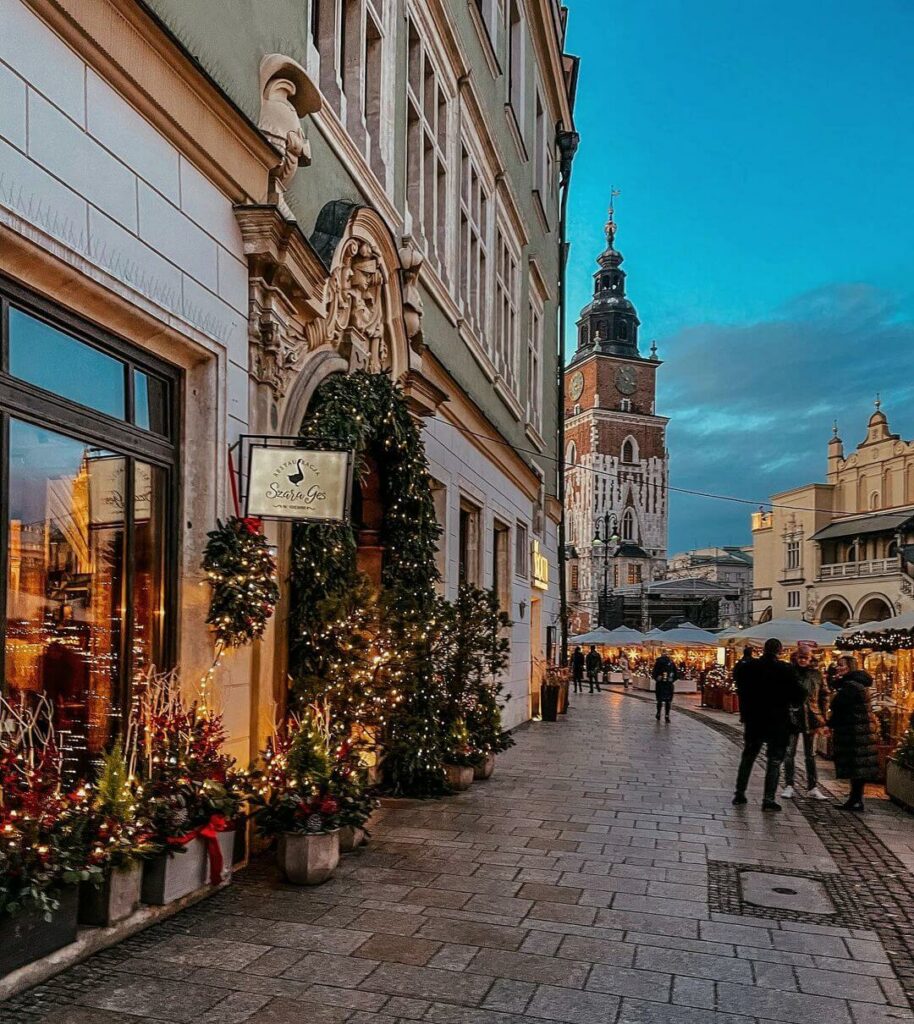 Krakow is not always on the travelers' list of things to do in Europe in winter, but it's a lovely and very inexpensive city to visit in December. There is a gorgeous main square with horses and carts, beautiful buildings, churches, the Krakow castle, and many different restaurants.
Where to eat in Krakow
Wesele Restaurant, delicious Polish dumplings
Amalia Brasserie for breakfast
Bulldog Bar for the sunset
Charlotte. You will find pastries, croissants, coffee, and stuff like this. Highly recommend it for breakfast as well.
Bubble Toast. Very instagrammable and fancy spot to have some drinks at night
Tip Visit some of the little vodka bars and try different vodka flavors. Remember to stop at 300 ml as it's a very insidious drink.
Interesting fact You can have a 2-hour train ride from Krakow to Auschwitz. If you choose to go there, read "Yes To Life In Spite of Everything" by Viktor E Frankl, one of the Auschwitz survivors. It is a small but very transformative book.
5. Vienna, Austria
Vienna is the absolutely beautiful capital of Austria. Period. I was lucky to get a trip to Vienna in December 2020 before the pandemic and explore the city without any unnecessary limitations.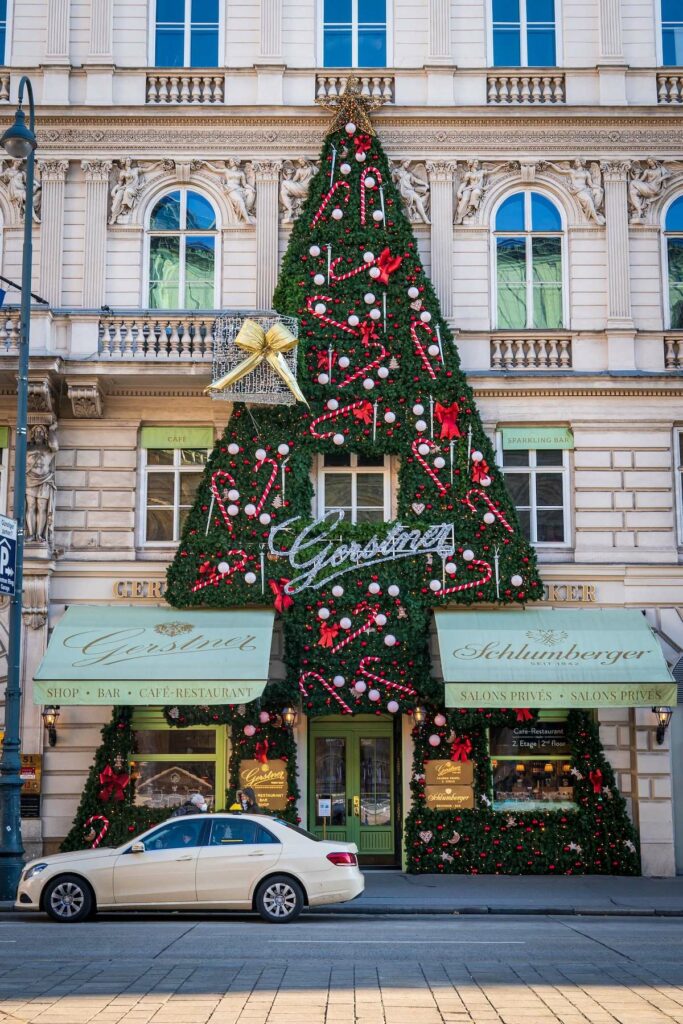 What to do in Vienna in winter
Get a City Pass (€20 for a 24h card and €25 for 48h) to jump on any bus and get free entry to many places in Vienna;
See the palaces. The palaces in Vienna are magnificent. See the Schönbrunn Palace with its gardens and beautiful city views;
Soak a little bit of atmosphere by walking down the city's streets;
Enjoy coffee and cakes at Café Mozart;
Go to Lindt chocolate shop. They have every little flavor you could imagine
Lunch at Ribelli Wien restaurant. Their meals are delicious! Or, you can eat at a very traditional Austrian restaurant. I can hardly spell its name though – Heurigen Restaurant zur alten Weinpresse. Try garlic soup, it's insane!
Enjoy European Christmas markets.
Tip Get a CityMapper app to travel around like a local. It also shows the exact spot where to be on the road to get the bus or train.
Overall, Vienna is a lovely city with a lot of architecture, history, culture, and winter vibes!
Read also: What to do in Vienna in November
6. Rome, Italy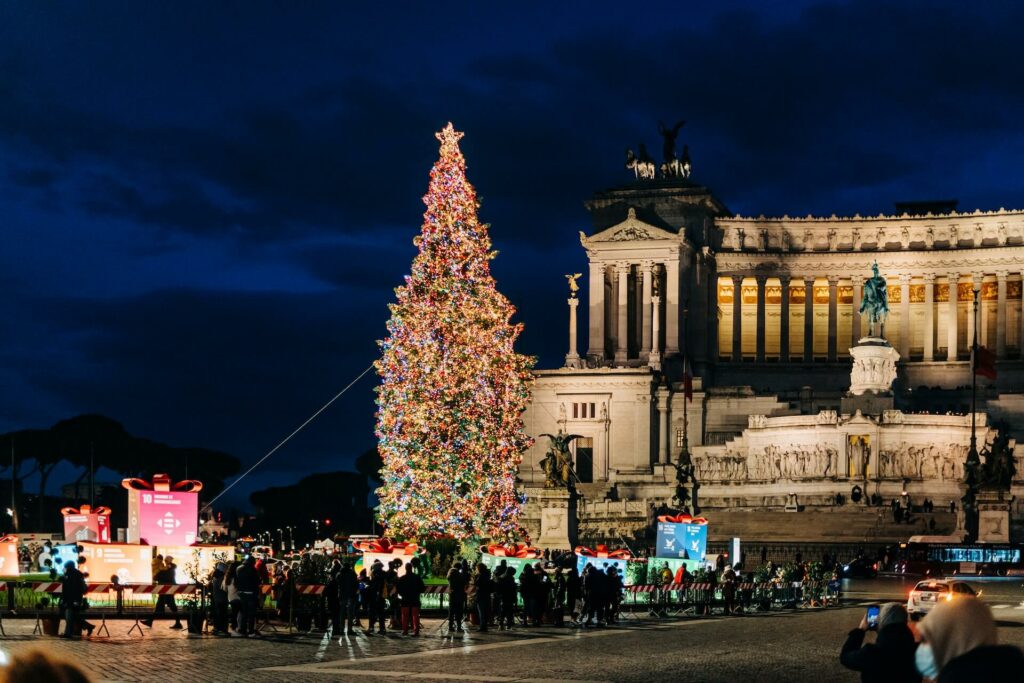 Rome is one of the top European cities to visit in December. Obviously, the summer in Italy is gorgeous, but it is really cool to see Rome in winter.
The city is not as busy as in summer, and you can easily see all the historical places in Rome without many people around you.
So, beat the crowds, go to Rome in the winter!
Read also: Best time to visit Italy
7. Verona, Italy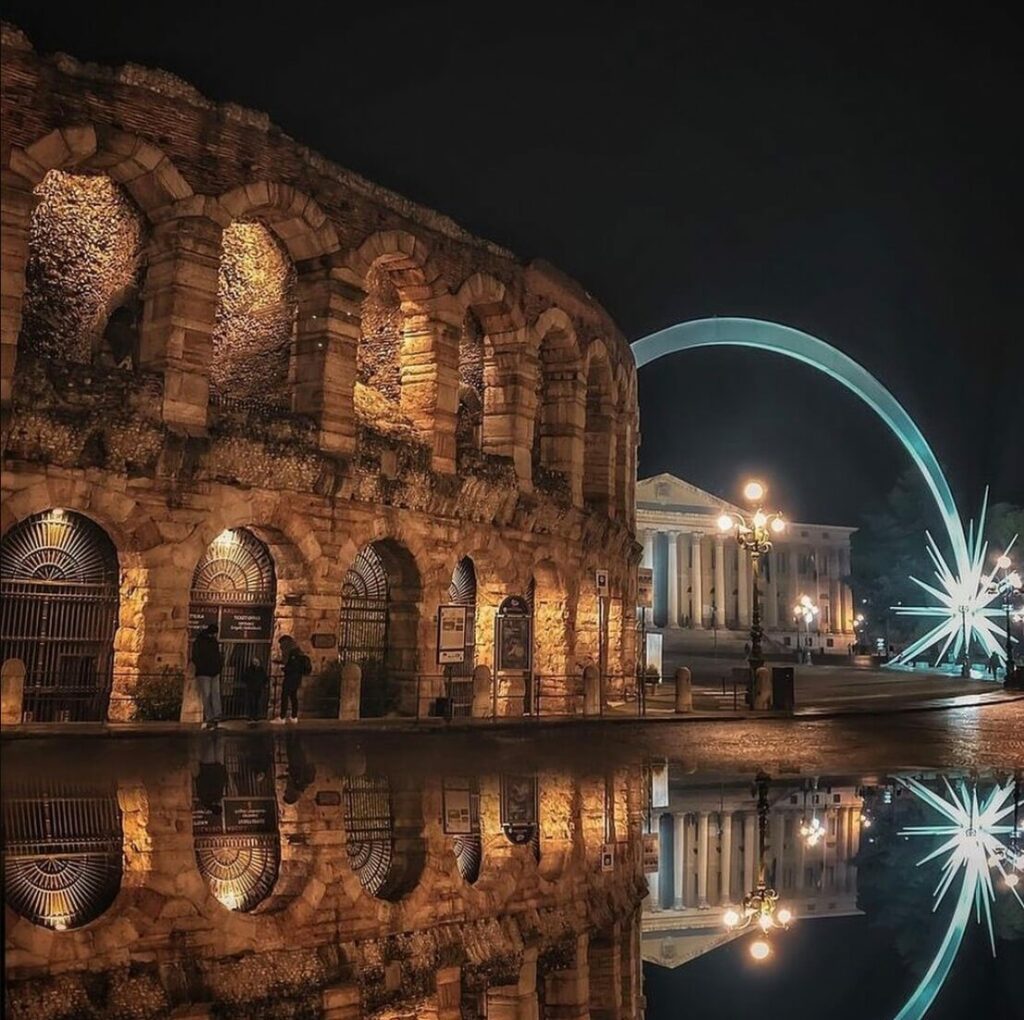 Verona is a fabulous city in Northern Italy, near the lake Garda. If you're heading to Verona in December or over the winter in general, be sure you make a day trip to lake Garda. Verona has a lot of history, and it is where Shakespeare's Romeo and Juliet were set.
What to do in Verona in December
Go to the authentic German Christmas market because the city of Nuremberg has paired with the city of Verona to create one of the most fantastic Christmas markets in Europe;
Walk around the beautiful streets and squares;
Visit Verona Arena. The entrance to the Arena is included in Verona city pass along with many other beautiful sites and bus rides;
Enjoy lots of pizza, pasta, and Aperol spritzes;
Stay at the lovely Hotel Leon D'Oro;
Walk down the Adige River path;
Grab lunch at Queen's Chips;
Visit Thermal Baths.
8. Helsinki, Finland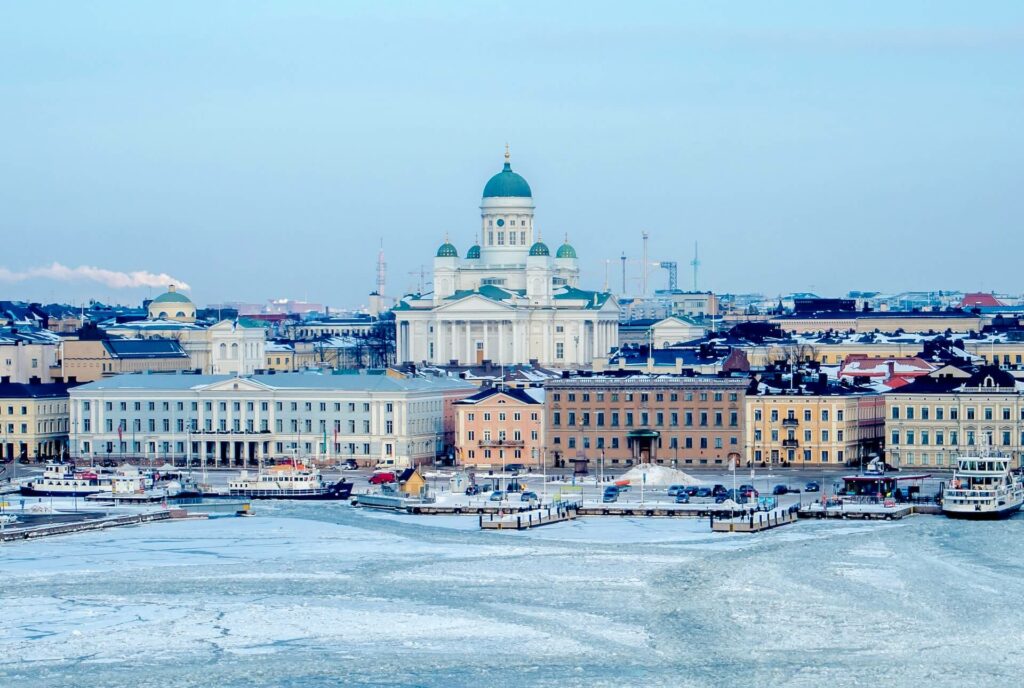 Helsinki is the beautiful capital of Finland. It's very snowy here in December and not far from Lapland, the Motherland of Santa Klaus.
Head to the delightful Christmas market, of course. You will find many traditional foods and drinks, some crafts, gifts, and all sorts of goodies.
See the Winter Garden.
Get into the Moomin shop (The Moomins are white trolls with large snouts, the main characters in a series of books by Swedish illustrator Tove Jansson).
Try ice-fishing with locals.
Go to the top of the Olympic Stadium tower for stunning views.
Visit Karl Fazer Café for some Finnish sweets.
Have a traditional meal at Juuri restaurant.
What else to see in Helsinki in December?
Cathedral of Saint Nicholas.
The Assumption Cathedral (the largest church in Western Europe).
The Suomenlinna Fortress.
Kiasma Museum.
Design quarter.
Ateneum Art Museum.
Linnanmᾃki Amusement Park.
See also https://www.myhelsinki.fi/ for the general tourist information.
9. Copenhagen, Denmark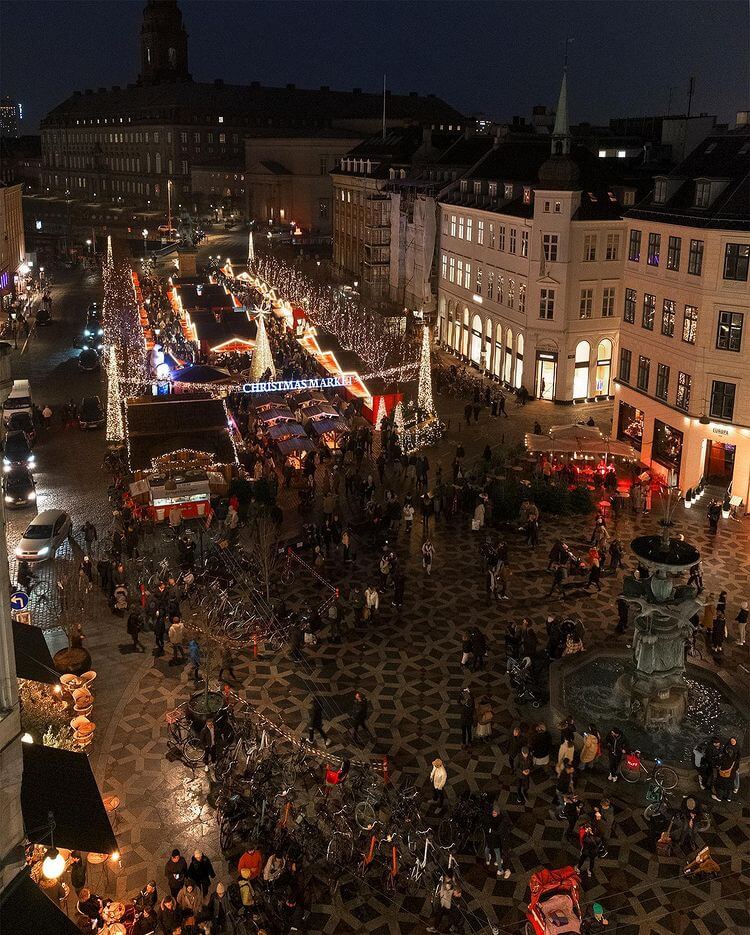 Obviously, the first and the best thing to do in Copenhagen in winter is to soak up holiday cheer at Christmas markets. It's so much fun to visit such markets in December, and I recommend going to Julemarked.
Please note that Christmas markets in Denmark are closed from the 24th to the 25th of December. Plan an excursion for these days and visit one of the great restaurants in Copenhagen. I recommend you to come a week before the New Year: the most exciting things happen before December 24 and after December 27.
Christmas in Copenhagen is usually cold: frosty, snowy weather. Therefore, it is best to make a route in such a way as to see not only the sights but also, for example, museums where you can get warm.
What else to do in Copenhagen in December?
Order a local drink "gleg" in one of the restaurants or cafes. They make this warm drink from red wine and spices. There is also a non-alcoholic option (with juice).
Try cinnamon rice pudding.
Learn about the royal and historical Copenhagen.
Walk down Strøget street, the central pedestrian zone in Copenhagen, which has turned into a realm of boutiques and souvenir shops. By the way, this is the longest shopping street in Europe!
Visit the Tivoli amusement park, one of the oldest in the world. In the winter, it's open only on Christmas!
Make a day trip to the Vikings' Roskilde town, which is only 35 minutes from the city. It was Denmark's capital long ago.
Try some of the famous Danish sandwiches.
10. Paris, France
Paris, also known as a city of lights, is lit up even better in December by the thousands of twinkling Christmas lights.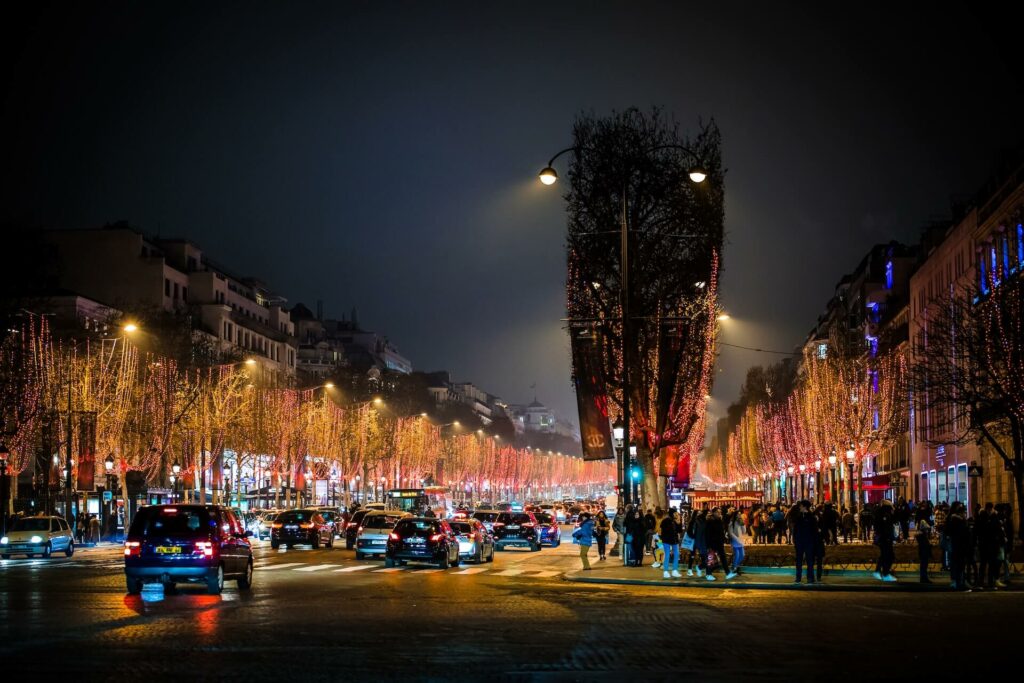 And as I've already mentioned, December is great for skipping lines and squeezing in more sightseeing spots like Louvre, D'Orsay Museum, Picasso Museum, and many others.
To make the best of your December trip to Paris, visit all the famous tourist places such as the Louvre Museum, Arch de Triomphe, and Eiffel Tower in the morning. Explore Christmas markets and city streets in the evening. I recommend going to the Tuileries Garden first, then the Montmartre Christmas market.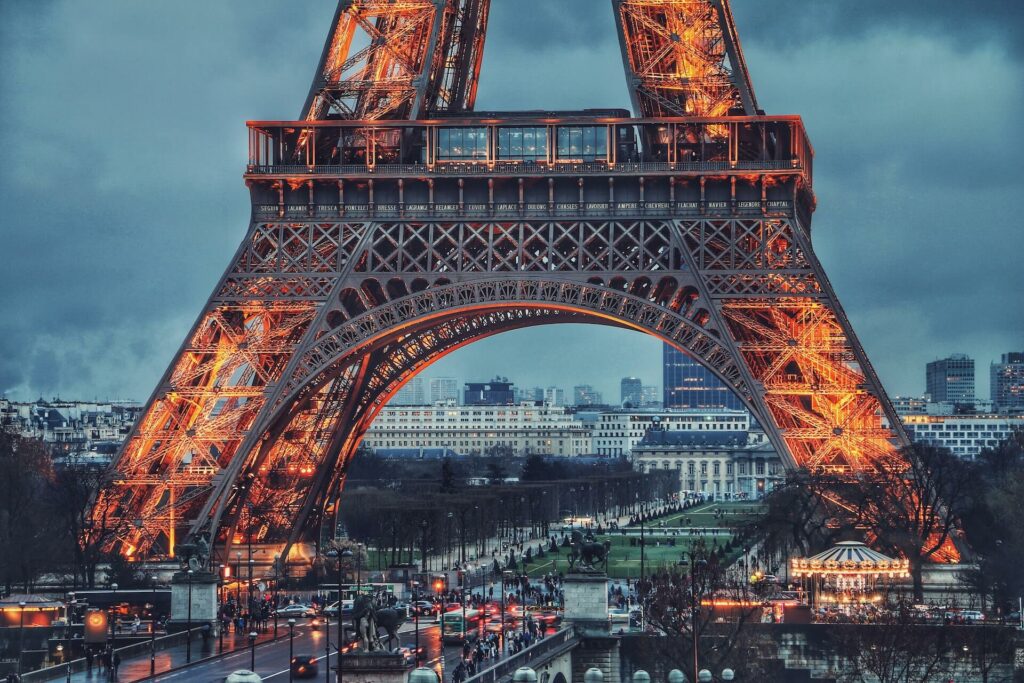 Things to do in Paris in December
See the touristy stuff.
See the Eiffel Tower in the morning.
See the sparkling Eiffel Tower at night.
Eat delicious pastry at breakfast.
Wander around the city and embrace its beauty.
Explore Christmas markets at Tuileries Garden, Montmartre, and La Defense.
Visit shopping malls (My recommendation is Galleries Lafayette, it's just a magical place in December)
Try some Parisian street food. It's delicious!
See the most beautiful avenue, Champs-Élysées, known for its cafés and luxury shops.
If you want to get into Christmas vibes, Paris is a fantastic city to visit in December!
11. Berlin, Germany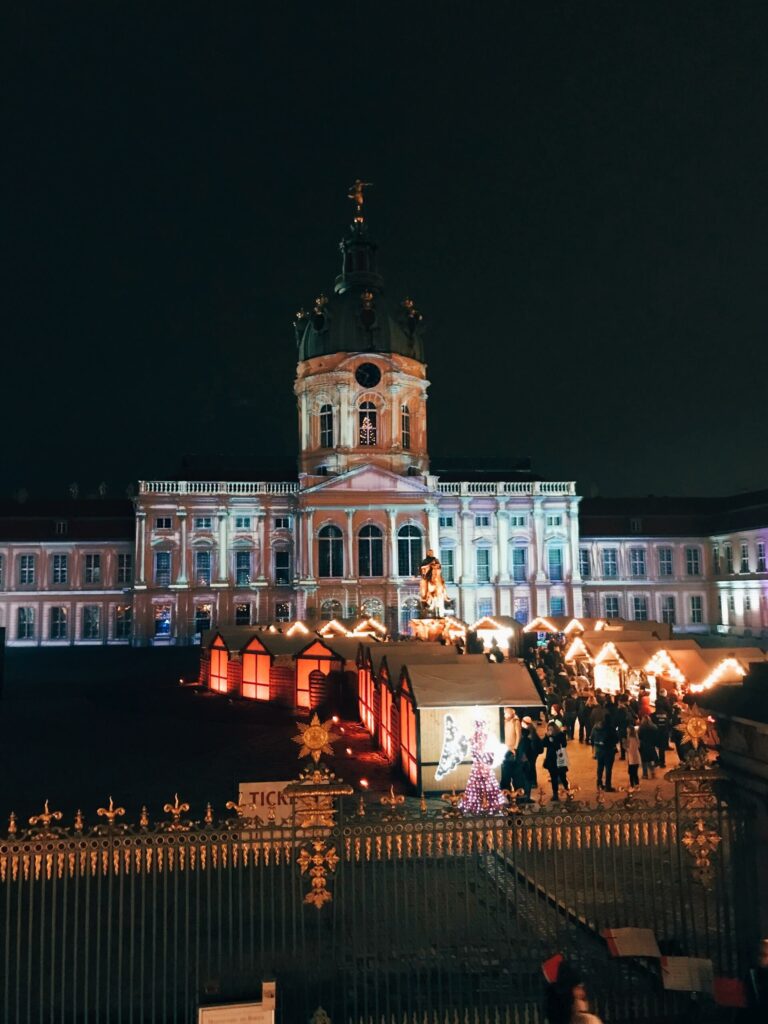 In winter, Berlin is not that different from many other European cities—it's cold, wet, and dark in December. So here are some tips to look at the city from the bright side and get the most out of your winter trip.
What to do in Berlin in December
Attend a massive snowball battle
Get blown away by art at Urban Center. They show some of Berlin's finest contemporary art. It's one of the best museums in Berlin, take my word for it. And it's totally free!
Escape life and spend the day at Vabali SPA, one of the largest SPAs in Germany
Christmas markets. See the one at Britz Castle.
If you're lucky and it's cold enough, the Rummelsburger Bucht is frozen, and you can go ice skating on it. If not, you can still go to many artificial skating rinks (at Potsdamer Platz or Wilmersdorf).
Take a drink at one of the coolest places in all of Berlin, literally. The Berlin Icebar is completely made up of ice and hosts some pretty ice sculptures.
Grab some food at Markthalle Neun, the motherland of all street food events in Berlin
Visit some fleamarkets. Most of the fleamarkets in Berlin are open every Sunday, even in winter, and it's the best time to go bargain hunting there.
Explore the fairytale Palace of Charlottenburg. It has an outstanding interior and is full of world-class art collections.
Visit one of the museums on Museum island in the center of Berlin.
Join the nightlife of Berlin, one of the best in the world. And it's very different from what you are probably used to.
What are best romantic winter getaways in Europe?
This is purely my opinion, but still, it might be useful to you.
Paris, France
Lapland, Sweden-Finland
Belgrade, Serbia
Transylvania, Romania
Salzburg, Austria
Amsterdam, Netherlands
Tallinn, Estonia
Bruges, Belgium
Best European cities to visit in December for Christmas markets
Lapland, Sweden-Finland
Berlin, Germany
Zurich, Switzerland
Prague, Czech Republic
Stockholm, Sweden
Best places to visit in Europe in December with family
Vienna is the best city to see this time of the year. According to the The Global Liveability Index 2022 by The Economist Intelligence Unit, Vienna is top-1 city around the world in terms of providing the best living conditions. That means, the travel experience is also one of the best.
Final thoughts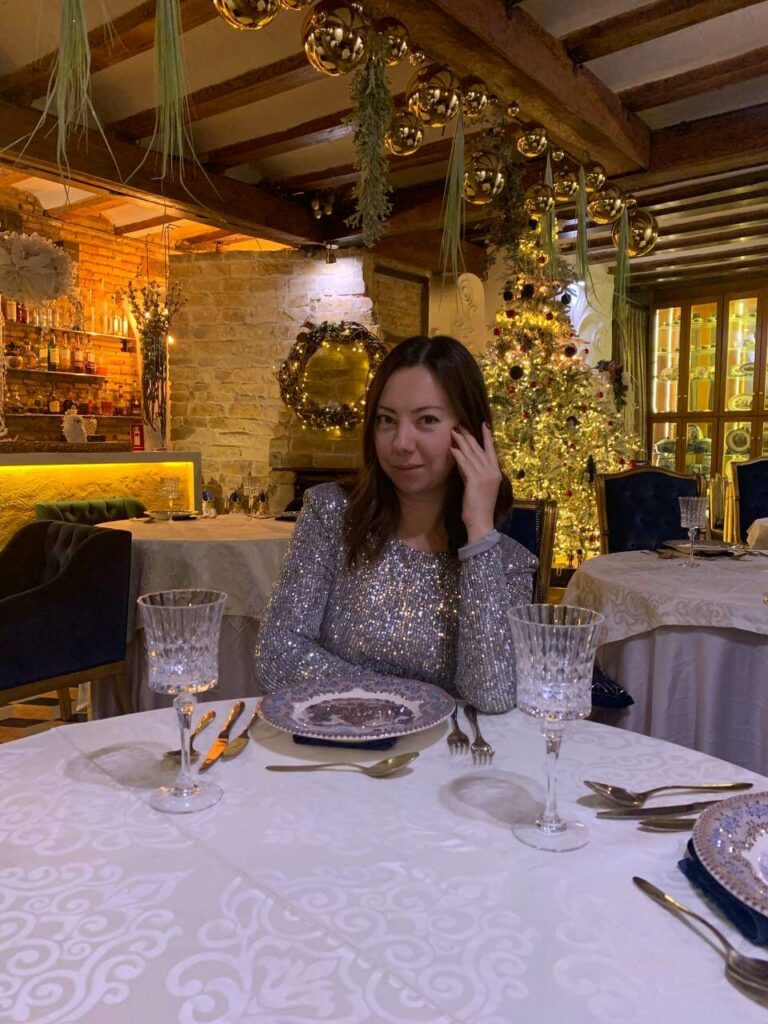 Just a quick recap of this article—the weather in Europe might be uncomfortable in the winter, and it gets dark early.
But there are many places to visit in Europe in December 2023, and it is easier too because of fewer tourists (the travel market is still recovering from the pandemic). See Christmas markets, try local winter foods, drink hot wine, do winter activities, go for shopping, and enjoy the festive vibes!
Read also: The Best European Cities to Visit in March
This post might include some affiliate links. If you make a purchase through these links, I may earn a small commission at no additional cost to you. I appreciate it when you use my links to make purchases.