15 Best Breakfast & Brunch Spots in St. Augustine, Florida
Nadia Podrabinek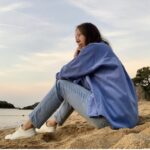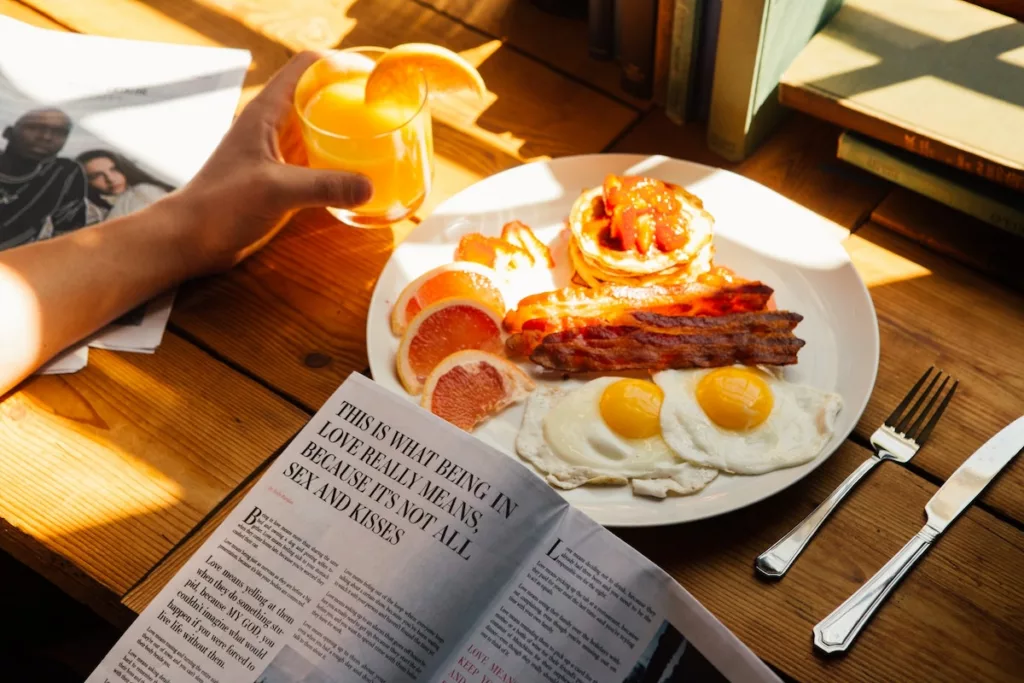 Looking for the perfect spot to start your day with a mouthwatering meal in St. Augustine, Florida? Stop your search – because I have you covered ☕️
I've rounded up 15 of the best spots for a morning bite in this sunny city, based on local recommendations and popularity. From classic diner fare to creative twists on brunch favorites, you're sure to find something to satisfy your cravings at one of these eateries.
In the mood for a plate of fluffy pancakes? Savory eggs benedict? Or a delicious breakfast sandwich? You'll find all this and more!
So, whether you're a tourist or a local looking to mix up your breakfast routine, here's what's for breakfast and brunch near you in St. Augustine!
Read also: Romantic Things to Do in St Augustine
---
Key takeaways
Schmagel's Bagels for the bagels. Be sure to arrive early, as they tend to run out quickly.
Blue Hen for the biscuits and Sunday brunch.
Preserve & Ice Plant for the brunch.
Reef Restaurant for the lunch and gorgeous water views.
---
St. Augustine's Breakfast Spots Map
Top Breakfast Places in St Augustine
1. Ancient City Brunch Bar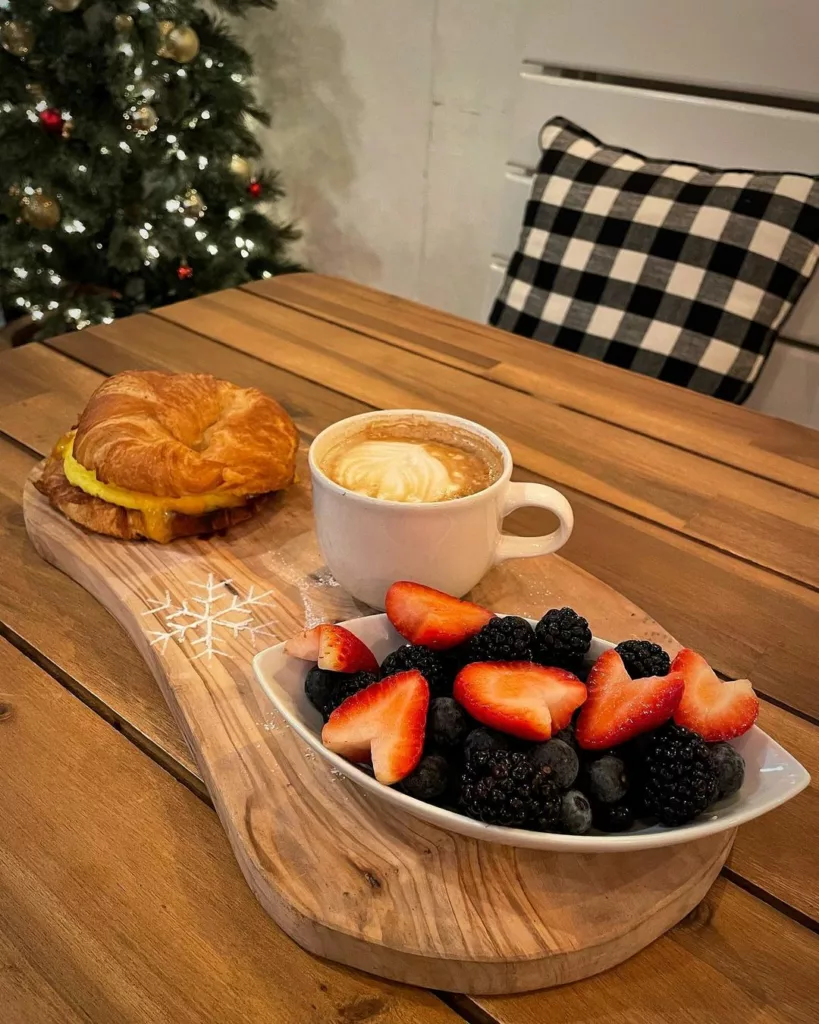 Situated in the heart of the historic district, Ancient City Brunch Bar is a chic eatery that offers a fun twist on brunch. A popular spot for tourists and locals, this breakfast restaurant still provides a serene atmosphere to savor your meal.
The menu boasts a variety of delectable options such as signature breakfast sandwiches, french toast sticks, and a pastry case filled with delicious baked treats. Your tastebuds and belly are sure to be satisfied here!
This brunch spot allows you to make a customized breakfast buffet on their signature 'bruncharcuterie' boards. Some must-haves on your board include the french toast sticks, the curry turkey empanada, and a yogurt parfait.
What people say on Google: 4.3 stars, 146 reviews
210 St. George Street, Unit C3, St. Augustine, FL 32084, United States
2. Blue Hen Café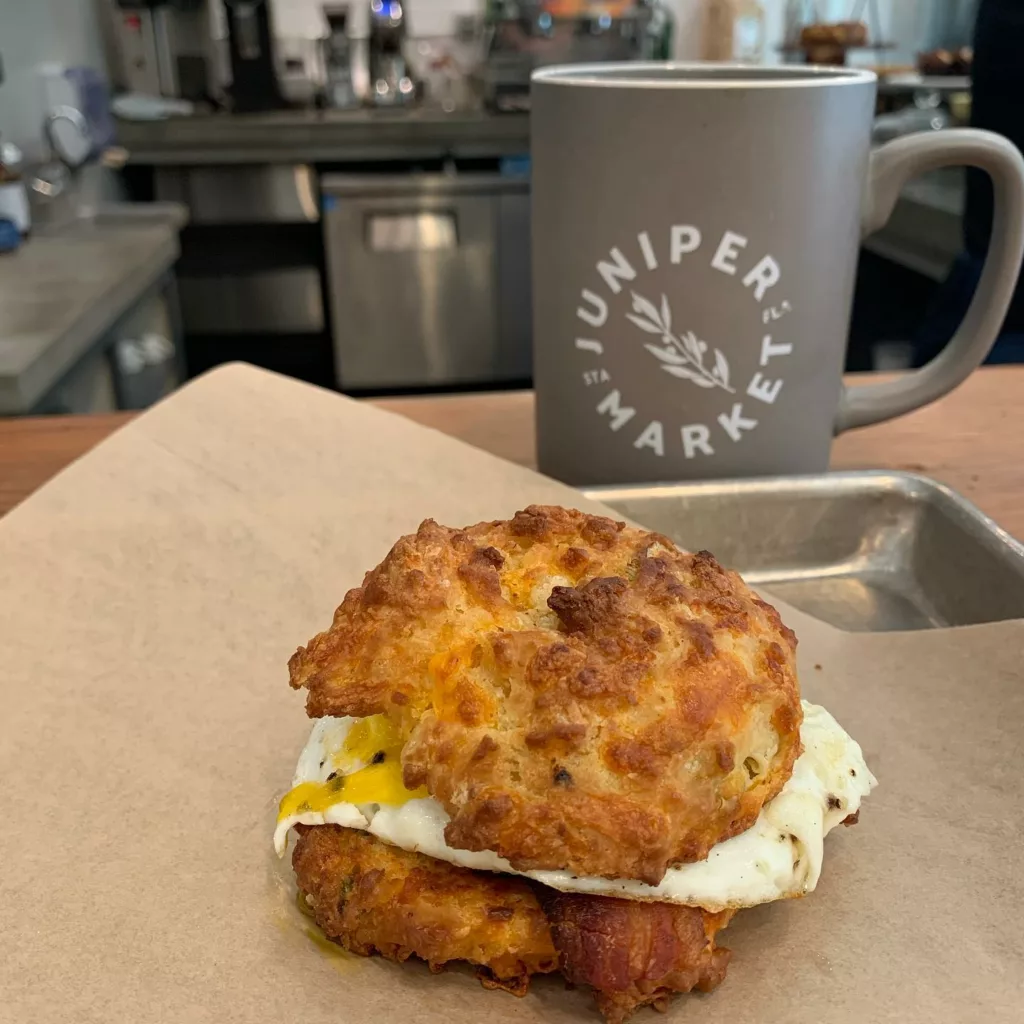 If you're looking for a homey atmosphere combined with real from-scratch food at great prices, then head to Blue Hen Cafe! This beloved neighborhood staple is known for its Southern comfort cuisine, delicious coffee, and warm atmosphere. This all lends itself to the perfect breakfast experience!
The cafe's short-but-sweet menu uses fresh, gourmet ingredients to create mouthwatering dishes. Some must-try dishes include the barbequed pulled pork and grits, the King's french toast, and the blue crab quiche. Plus, the hefty breakfast burrito served here is sure to have you popping a jean button or two!
Given that the Blue Hen Cafe is a local favorite, don't be surprised to see a line forming outside!
What people say on Google: 4.7 stars, 1,351 reviews
117 M L King Ave, St. Augustine, FL 32084, United States
3. Cousteau's Waffle and Milkshake Bar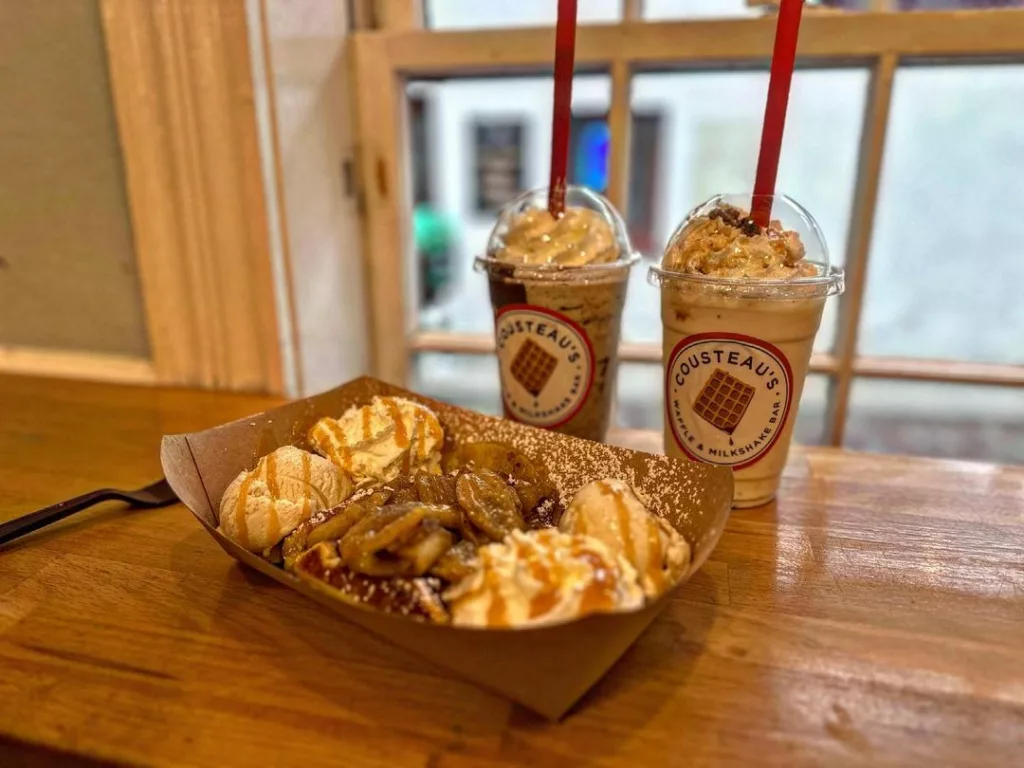 If you're a fan of all things sweet for breakfast and brunch, you won't want to miss Cousteau's Waffle and Milkshake Bar. Located in Downtown St. Augustine, this cozy eatery's Belgian Liege waffles and hand-spun milkshakes will have you on a sugar high!
The menu includes classic favorites like Belgian waffles topped with fresh fruit, Nutella, and whipped cream, as well as unique creations like a Creme Brulee waffle and a waffle sandwich.
Their thick and creamy milkshakes are hand-spun to perfection using homemade soft-serve ice cream and a variety of in-house goodies. You can load your waffle and milkshake with almost anything here, from candied bacon to homemade marshmallow fluff.
What people say on Google: 4.5 stars, 919 reviews
15 Hypolita St, St. Augustine, FL 32084, United States
4. Creative Juices Natural Café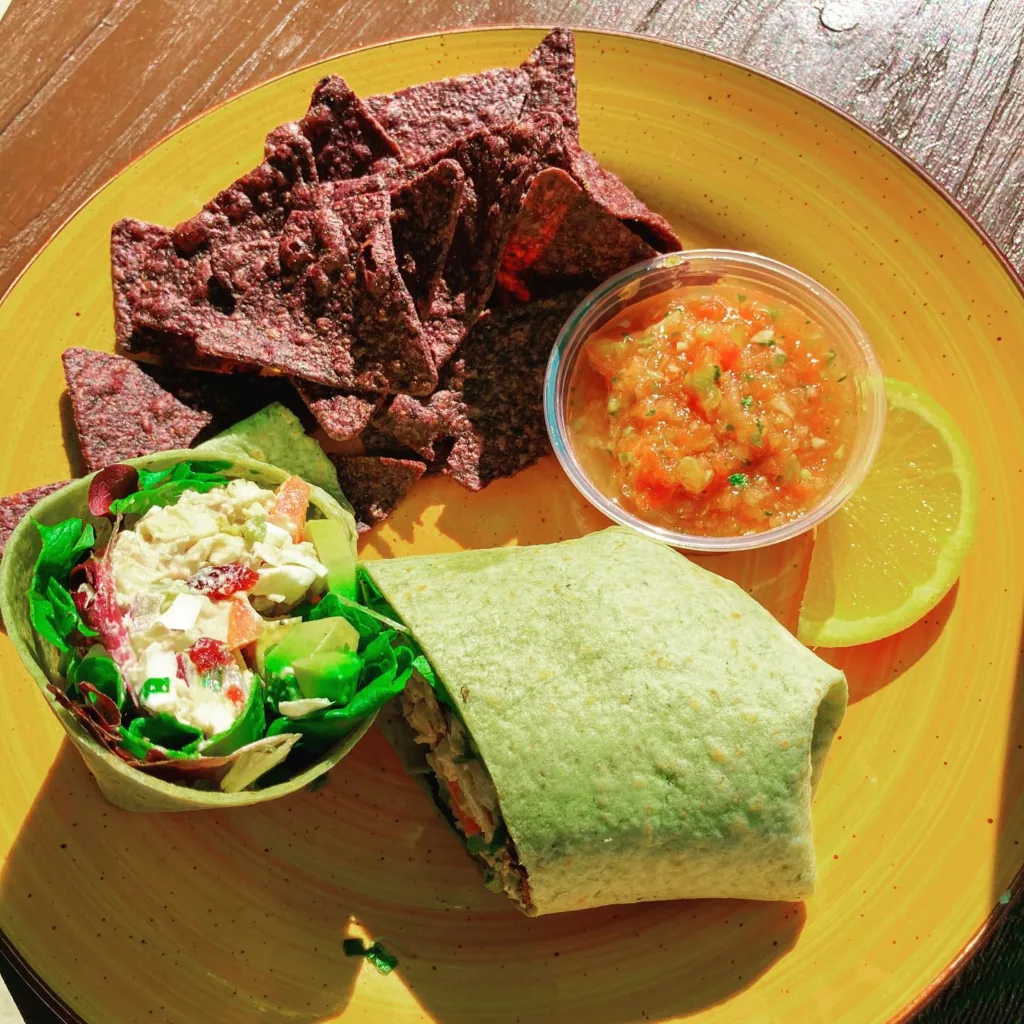 If you're on the lookout for a delicious, ultra-healthy breakfast in St. Augustine, look no further than Creative Juices Natural Café! This trendy cafe offers the perfect fuel for a busy day out in the city, from yummy breakfast fare to fresh fruit smoothies.
Energize your morning with The Elvis – a delicious peanut butter, banana, spinach, and chocolate protein smoothie. Or go fruity with the Tropical Dream smoothie.
The breakfast menu makes it easy to satisfy your cravings thanks to its wide variety. Some must-try meals include the Acai Fruit Bowl, the Breakfast Burrito with a Seasonal Fruit Cup, and the Gluten-Free Shrimp and Grits. Plus, there are a host of vegan breakfast options and substitutes too!
What people say on Google: 4.7 stars, 264 reviews
846 Anastasia Blvd, St. Augustine, FL 32080, United States
5. Ice Plant Bar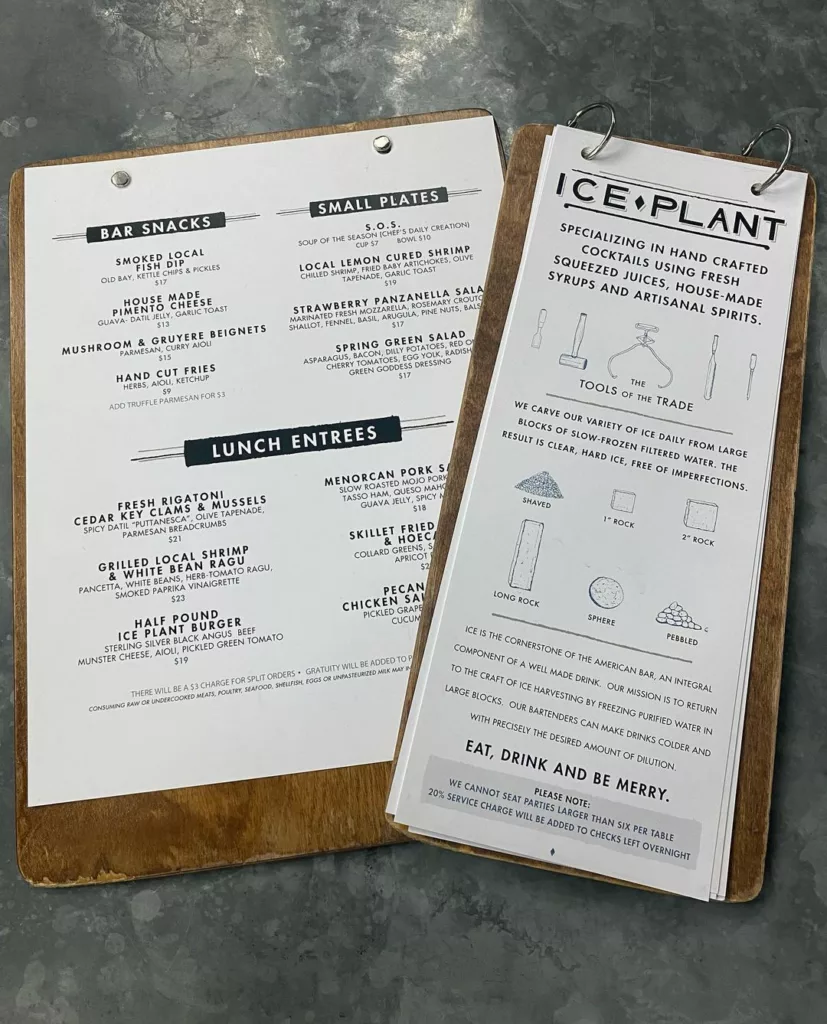 Prepare to be wowed by the food and atmosphere at Ice Plant Bar, where a boozy brunch is encouraged. Housed in a historic building dating back to 1927, this farm-to-table restaurant and bar offers a unique experience in St. Augustine.
The brunch menu is limited, but that means each meal is prepared with close attention to detail. For something simple and light, try the Rock Shrimp Beignets with pepper remoulade. If you're looking to fill your belly, consider the Menorcan Pork Sandwich or the Loaded Beet and Avocado Salad.
Those with a sweet tooth will love the Pineapple Upsidedown "Dutch Baby" Pancake, served with macadamia nuts, brown butter, maple syrup, and toasted coconut whipped cream. All of these meals pair perfectly with one of the signature cocktails.
What people say on Google: 4.7 stars, 3,164 reviews
110 Riberia St, St. Augustine, FL 32084, United States
6. Maple Street Biscuit Company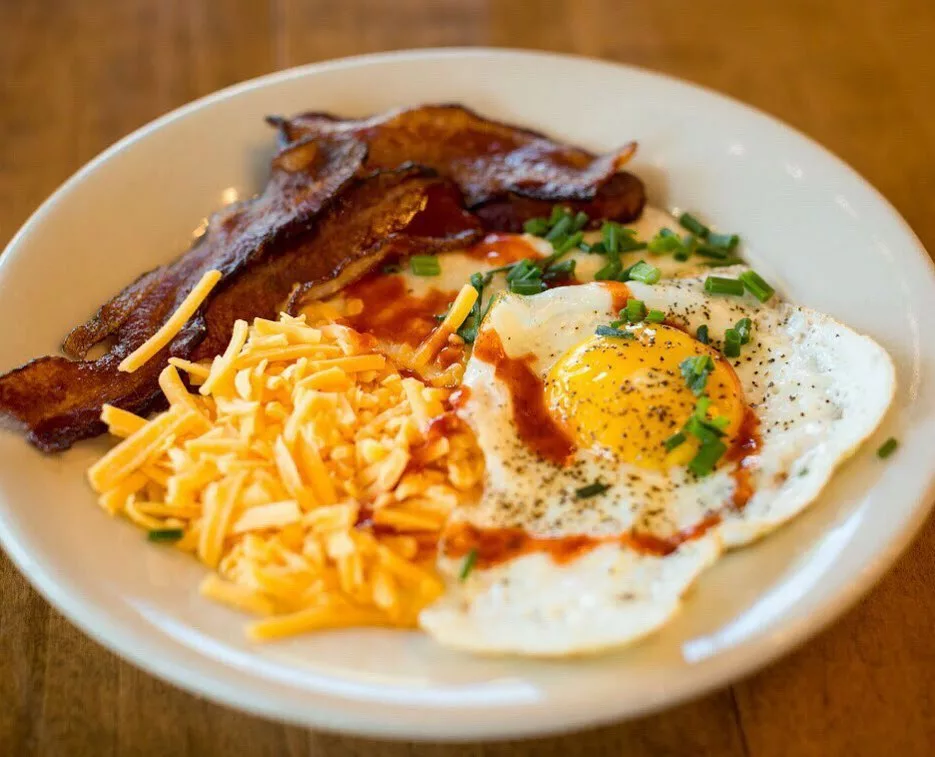 It doesn't get more Southern than biscuits and gravy for brunch and breakfast! Maple Street Biscuit Company serves up farm-to-table interpretations of this classic dish, including fun twists on Southern comfort food.
A biscuit that "wows" is the Squawking Goat, served with fried chicken breast, a fried goat cheese medallion, and house-made pepper jelly. Another option is the Sticky Maple served with pecan wood-smoked bacon and maple syrup on a freshly baked biscuit.
Looking for a classic breakfast option? Try out the Bluegrass Grits Bowl. The dish is served with stone-ground grits, topped with pecan wood-smoked bacon, a sunny-side-up egg, cheddar cheese, and a splash of hot sauce. Talk about yummy!
What people say on Google: 4.6 stars, 2,497 reviews
39 Cordova St, St. Augustine, FL 32084, United States
7. Mary's Harbor View Cafe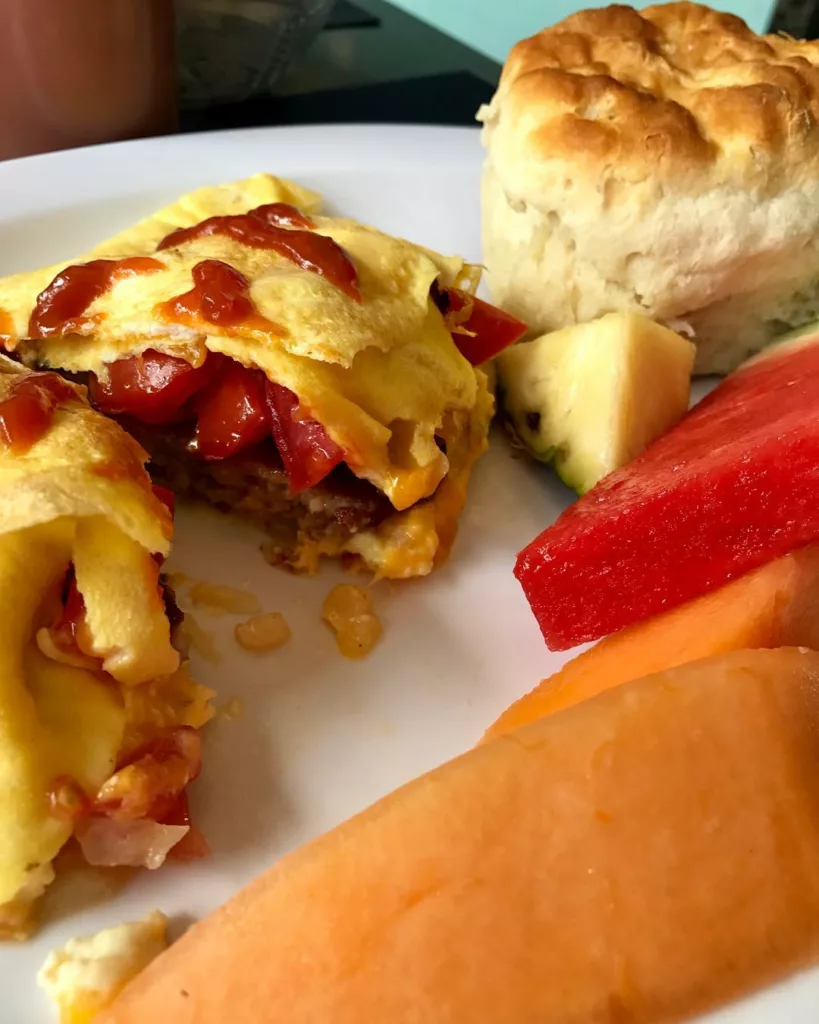 If there's one thing that will have you up and at 'em for a day in St. Augustine, it's the all-American breakfast fare at Harbor View Cafe. It's no wonder this spot is considered one of the best breakfast restaurants in St. Augustine – it offers both great food and views.
Located on the bayfront, near the historic Castillo de San Marcos, you'll be savoring delicious family-style food while taking in the scenic views of the Matanzas Bay.
The tall, flaky biscuits are generously doused with classic Southern gravy and are a must-order! The eggs benedict, offered in two forms, is also a major hit here.
What people say on Google: 4.4 stars, 668 reviews
16 Avenida Menendez, St. Augustine, FL 32084, United States
8. Metro Diner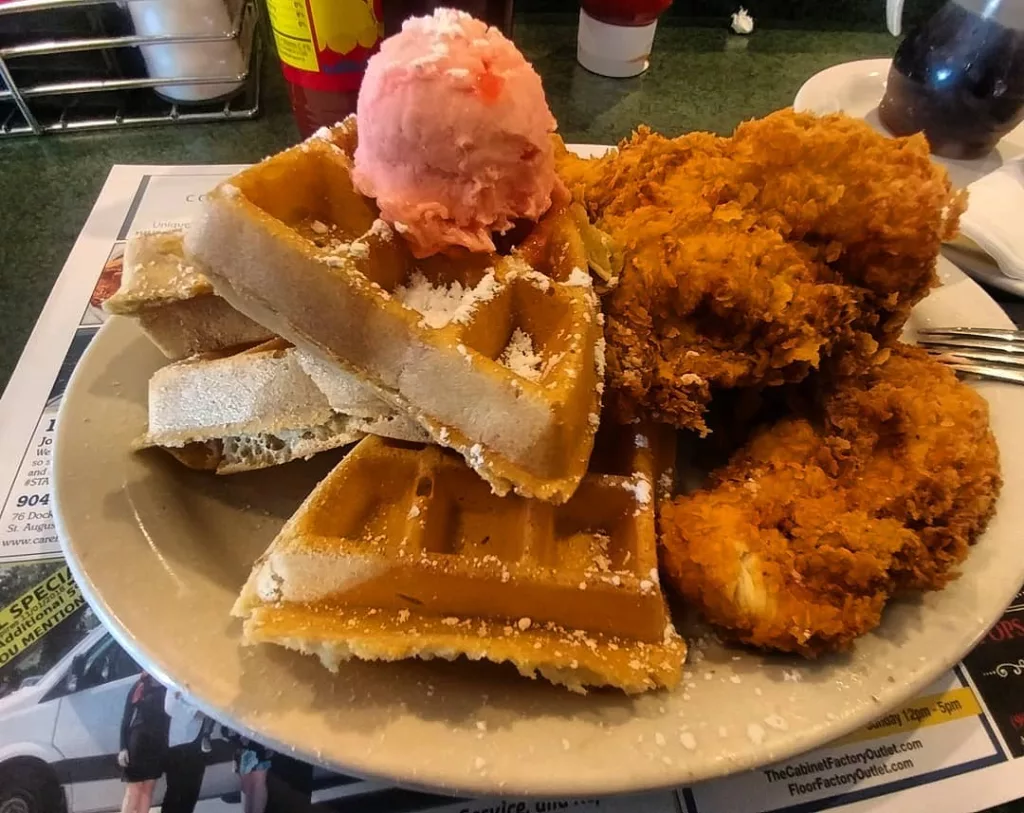 If you're seeking bold twists on classic diner dishes and the best breakfast in town, Metro Diner is a must-visit spot. This classic American diner has rave reviews for a reason, from its menu items to its staff and Southern hospitality.
You'll find all your favorite comfort food staples here, including the famous fried chicken and waffles and the biscuits with sausage gravy. A must-try is the famous Iron City Meatloaf, which made an appearance on Guy Fieri's Drive-ins and Dives!
While the diner has delectable breakfast dishes, their lunch and dinner menu is equally delicious.
What people say on Google: 4.5 stars, 3,527 reviews
1000 S Ponce De Leon Blvd, St. Augustine, FL 32084, United States
9. O.C. White's Restaurant
Founded in 1790, O.C. White's has a rich history in St. Augustine – one that includes tales of hauntings! But don't let this leave a bad taste in your mouth, because this charming restaurant's menu certainly won't!
Although short, the Sunday Brunch Menu has everything you need to get a taste of authentic Southern cuisine. Choose between the Queen's or King's breakfast, both served with scrambled eggs and bacon. The Queen's breakfast features a Belgian waffle topped with strawberry sauce, and the King's comes with a blueberry pancake!
You can also enjoy some shrimp and grits or the house biscuit and gravy bowl as you lounge on the outdoor tropical garden patio. The dinner menu is spectacular too, so be sure to head back in the evening!
What people say on Google: 4.2 stars, 3,189 reviews
118 Avenida Menendez, St. Augustine, FL 32084, United States
10. PK's Roosevelt Room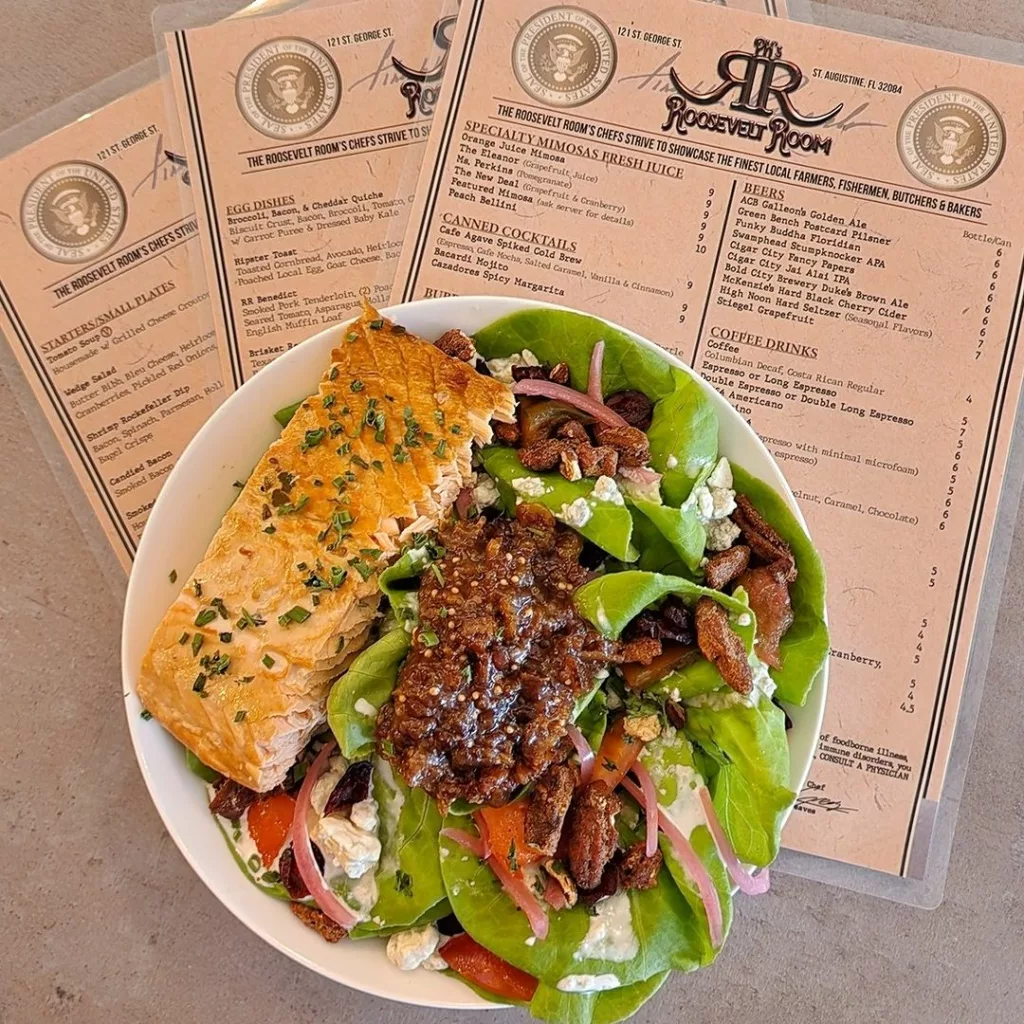 For those looking for a fancy breakfast place, head over to Prohibition Kitchen's Roosevelt Room for refined versions of classics. Boasting an extensive breakfast and brunch menu, from egg dishes to yummy sides, this is one of the best breakfast restaurants in St. Augustine.
The Hipster Toast is a favorite among locals, tantalizing tastebuds with avocado, heirloom tomatoes, goat cheese, bacon, toasted pecans, and a poached egg. Equally toothsome is the RR Benedict with smoked pork tenderloin, poached eggs, asparagus, hollandaise, and seared tomato on an English muffin loaf.
Walk-in parties are definitely welcome here, but it's best to make a reservation for brunch if you want to avoid long wait times.
What people say on Google: 4.9 stars, 337 reviews
121 St George Street, St. Augustine, FL 32084, United States
11. Preserved Restaurant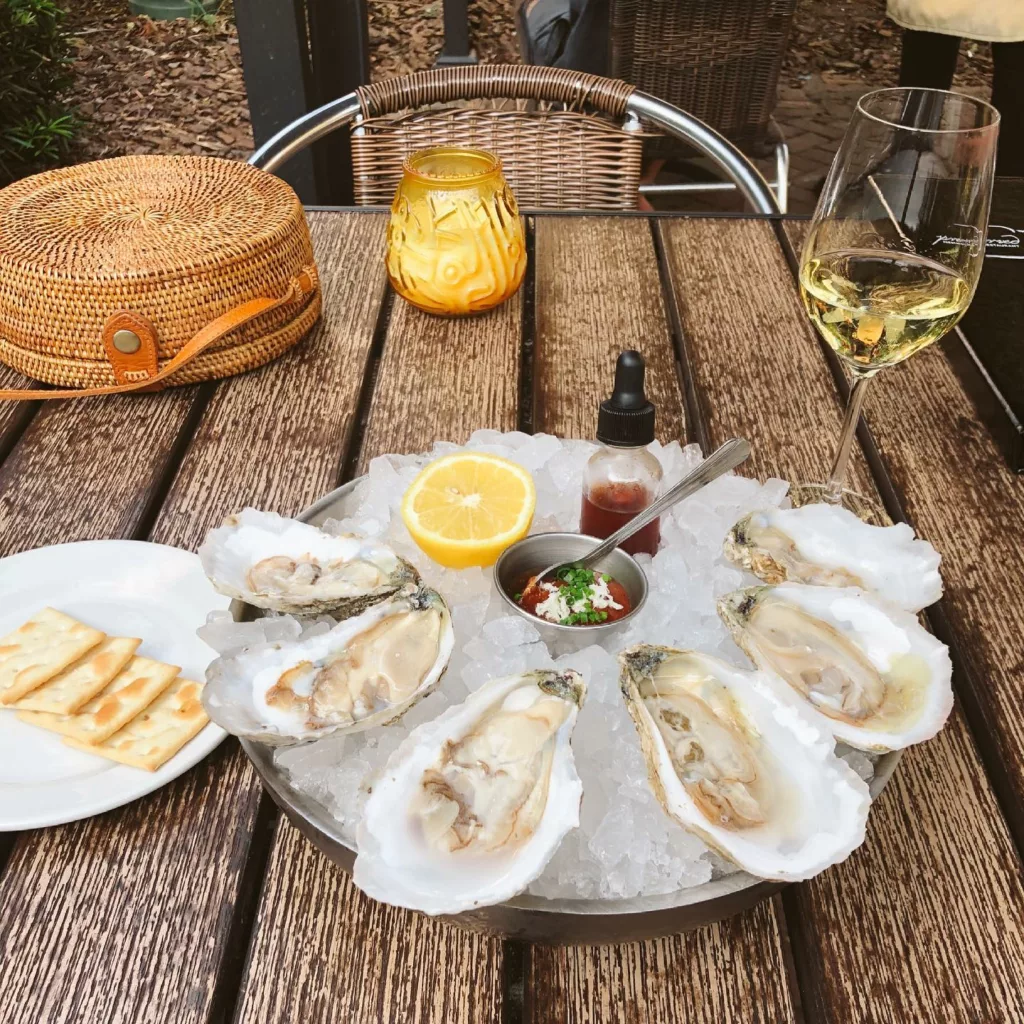 Located in the historic Lincolnville neighborhood in St. Augustine, Preserved is the place to be to feel like royalty. The restaurant boasts a refined, upscale atmosphere and serves award-winning Southern cuisine crafted by Master Chef Brian Whittington.
Housed in a charming Victorian mansion, the ambiance is as captivating as the food is exceptional. Whether you're going there for a romantic brunch date or a gathering with friends, Preserved is the perfect spot to savor delicious meals.
When it comes to ordering, try the Roasted East Coast Oysters with garlic cream, bacon lardons, and a parmesan-herb crust. End it on a sweet note with the Creme Brulee or Apple Bread Pudding.
What people say on Google: 4.6 stars, 944 reviews
102 Bridge St, St. Augustine, FL 32084, United States
12. Sainte-George Restaurant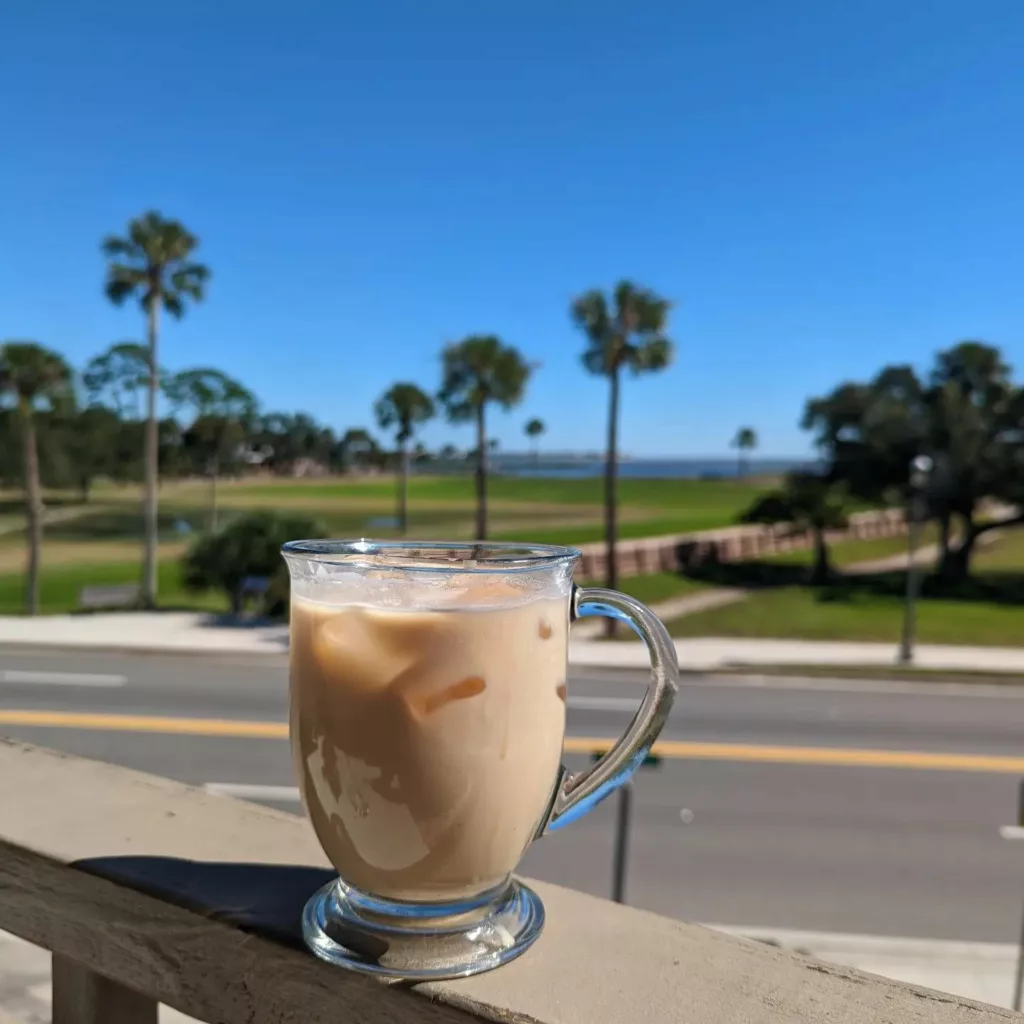 Since its establishment in the Spring of 2021, Sainte-George Restaurant has been making its mark as one of the best restaurants in Downtown St. Augustine. With award-winning chefs creating gourmet dishes from scratch every day, this is an eatery not to be missed!
The menu boasts an array of fresh sea and farm-to-table cuisine, guaranteed to put you in a good food mood. The Short Rib Hash is deliciously loaded, and the Pecan Bacon Waffle is sure to leave you wanting more.
If that's not enough to get you excited, they also serve delicious specialty coffees and cocktails. You can spice up your brunch with the Cherry Bomb Mimosa or keep it laid-back with a Lavender Honey Latte. Plus, the incredible views of Castillo de San Marcos only make this breakfast spot even better!
What people say on Google: 4.7 stars, 613 reviews
1 St George Street, St. Augustine, FL 32084, United States
13. Schmagel's Bagels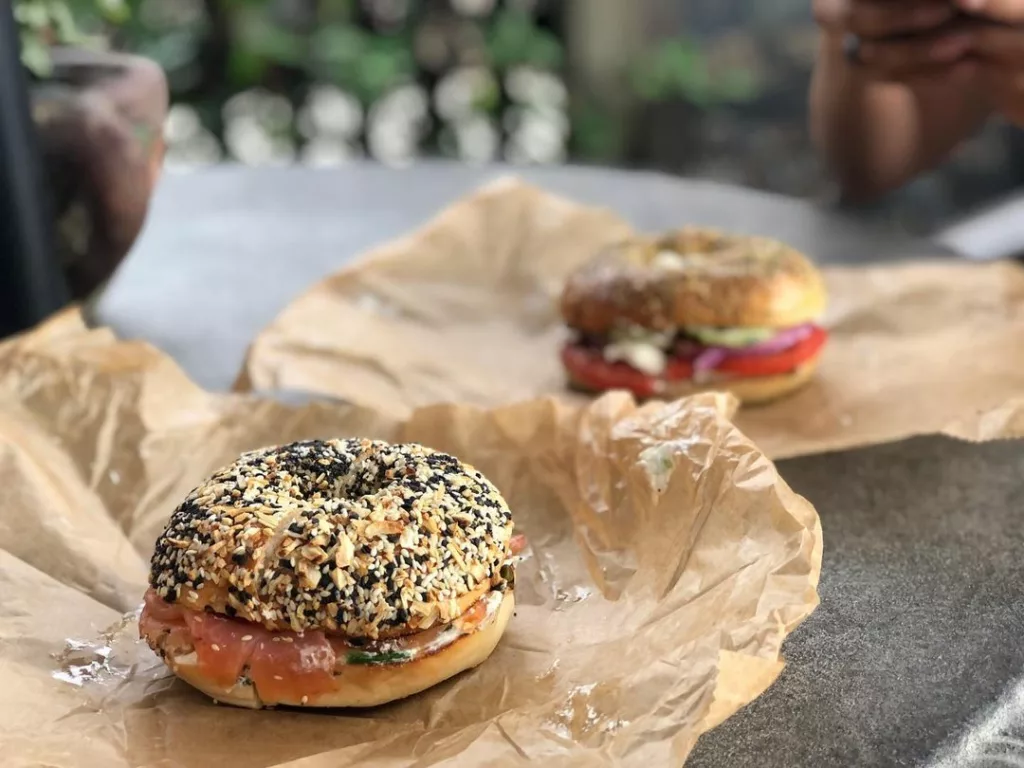 If you're a serious bagel enthusiast, you're about to get a hole lot of your fill at Schmagel's Bagels. For over three decades, this beloved eatery has been serving up freshly baked Brooklyn-style bagels and handcrafted cream cheeses in downtown St. Augustine.
With 15 varieties of bagels, from fan favorites like the Everything Bagel to the Cheddar Jalapeno Bagel and French Toast Bagel, there is something to satisfy every taste bud! But it's not only the bagels that make Schmagel's an essential brunch destination. Their 10 varieties of homemade cream cheese are the perfect complement to any bagel.
Plus, the outdoor courtyard with views of the Old Town's historic sights only adds to your brunch experience!
What people say on Google: 4.4 stars, 465 reviews
69 Hypolita St #3656, St. Augustine, FL 32084, United States
14. Sunday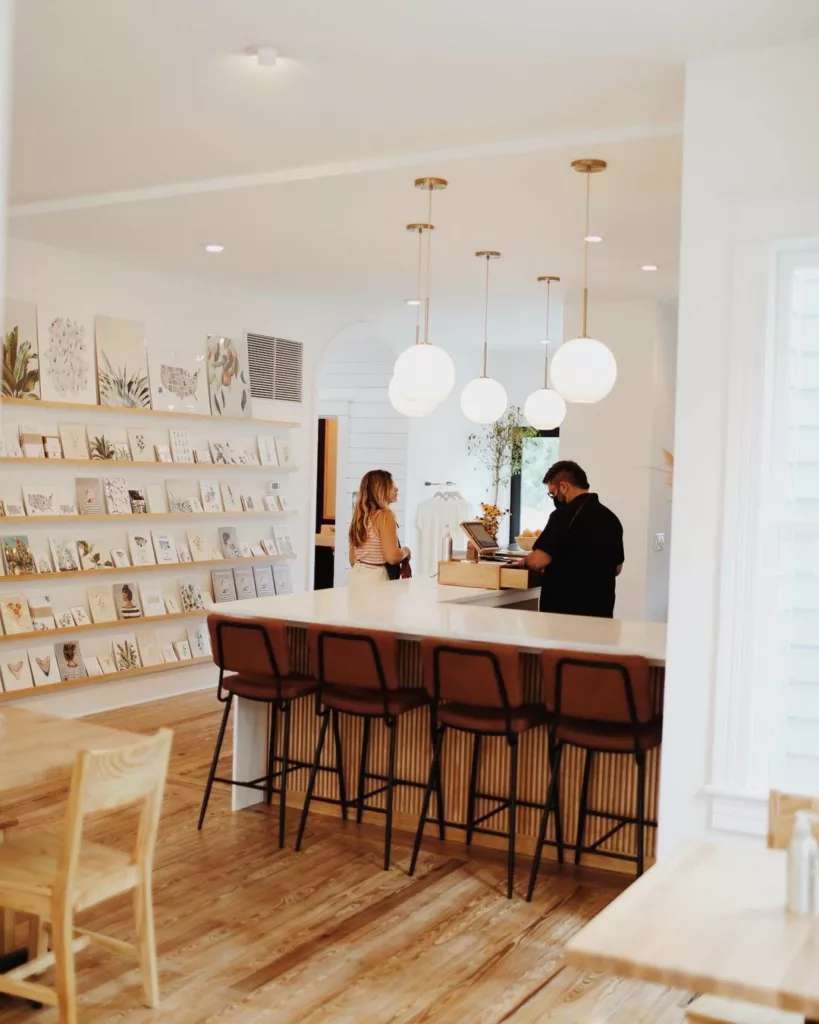 As far as brunch and breakfast restaurants in St. Augustine go, Sunday is definitely the most picturesque. Yet, people don't flock to this new modern establishment for its aesthetics, it's all in the dough – the sourdough!
Sunday is known for its homemade loaves of sourdough, which are served with all its menu items. Food options are limited but boast delicious modern twists and beautiful presentation. Their roasted shiitake and oyster mushroom toast is out-of-this-world delicious, as are their eggs benedict with smoked pork and a zesty hollandaise sauce.
After you've enjoyed your delicious brunch, you can express your gratitude by sending a beer to the kitchen!
What people say on Google: 4.6 stars, 293 reviews
73 San Marco Ave, St. Augustine, FL 32084, United States
15. The Reef Restaurant (for the lunch with a view)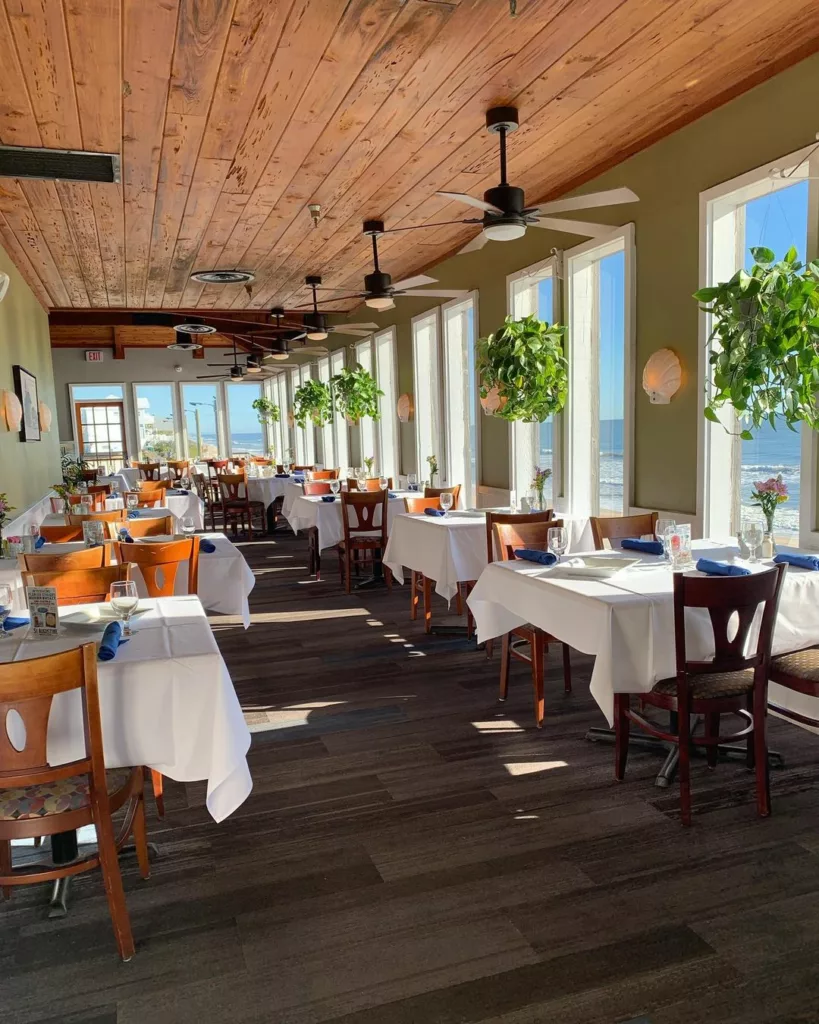 A tasty breakfast meal with a glass of bubbles awaits you at the Reef Restaurant, where stunning views serve as the perfect backdrop. Although the restaurant has an extensive menu of seafood dishes, its brunch menu is fairly limited but still tasty.
A perfect late-breakfast dish is the Crab Florentine Benedict, served with two poached eggs, wilted spinach, mixed lump and claw crabmeat, and house-made hollandaise. If you're feeling adventurous, consider the Seafood Omelet – loaded with fish, shrimp, clams, shallots, garlic, and a delicious seafood cream sauce.
More of a sweet breakfast person? The Strawberry Cream Cheese Waffle Stack is sure to satisfy your cravings! Even better, every brunch dish is served with a yummy baked pastry, fresh fruit, and a glass of champagne to enhance your dining experience.
What people say on Google: 4.2 stars, 2,4803 reviews
4100 Coastal Hwy, St. Augustine, FL 32084, United States
Breakfast in St Augustine FAQ
What are the best coffee shops in St. Augustine?
The following coffee shops worth stopping: Gypsy Cab Company Restaurant, Alms + Fare, The Kookaburra Downtown (try their Aussie pies!), Growers Alliance (best donuts in town), and Relámpago Coffee Lab.
What are the best lunch spots in St. Augustine, Florida?
Preserved, Columbia Restaurant, Spanish bakery, Osprey Tacos, The Floridian, Back 40, Neds Southside Kitchen, Bonos, and Funkadelic Food Truck.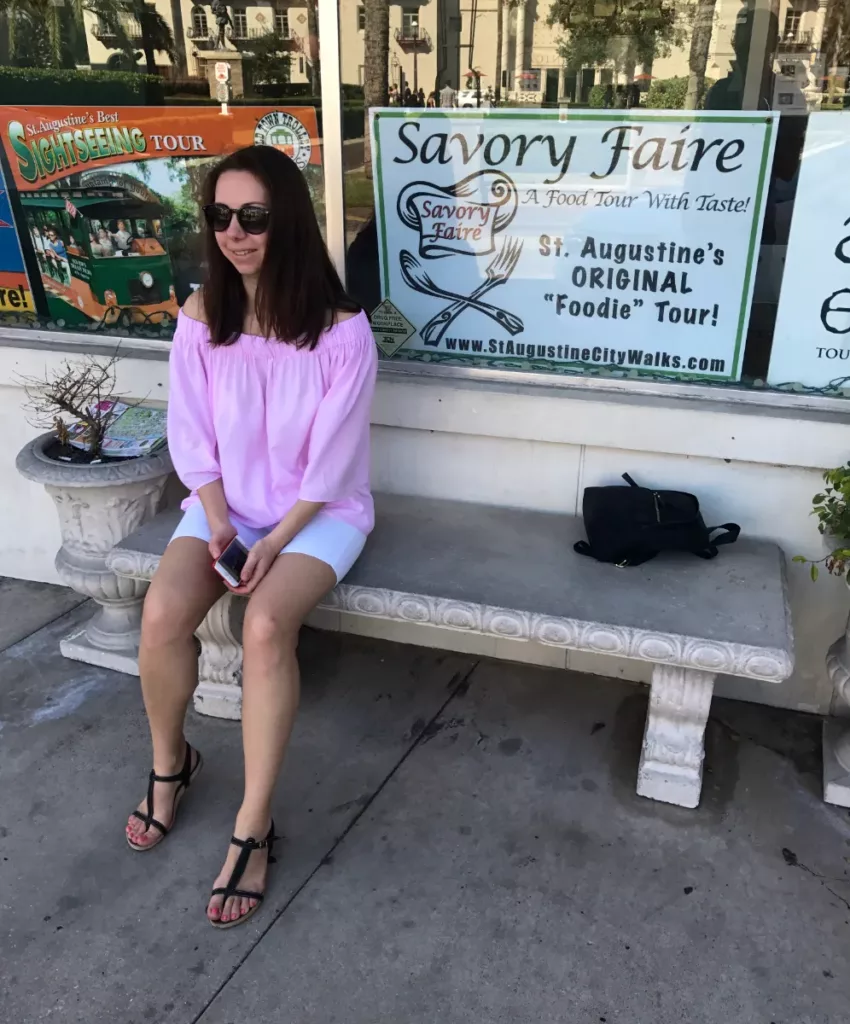 The bottom line
St. Augustine will take your tastebuds on a journey with its variety of breakfast and brunch spots.
From the seafood brunch dishes to the chewy Belgian waffles and fanciful twists on breakfast favorites, be sure to try these top spots to get your fill of Southern goodness!
Let me know how your experience goes and if you have any new breakfast places in St. Augustine 😋 🍳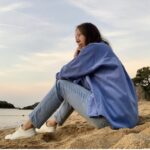 Hello, my name is Nadia.
I usually write about traveling (there are so many places to fit all the lifestyles), relocation (finding a job overseas or moving without losing an income), and living in a foreign country (adapting to a different culture and mentality). Follow me on Twitter, Facebook, Instagram, or LinkedIn!
This post might include some affiliate links. If you make a purchase through these links, I may earn a small commission at no additional cost to you. I appreciate it when you use my links to make purchases.