A Romantic Getaway in St Augustine, Florida: Things to Do
Nadia Podrabinek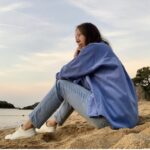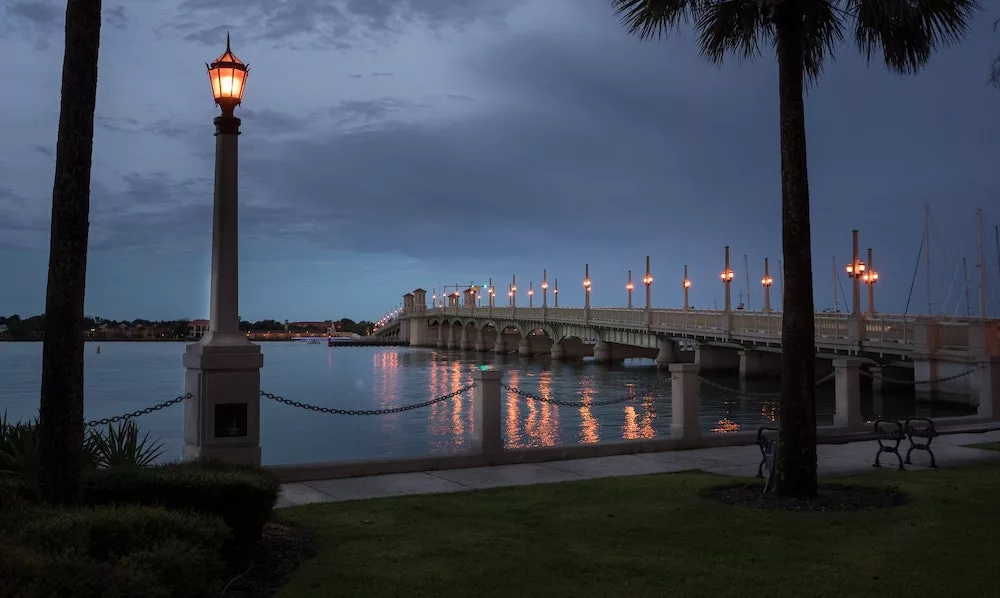 St. Augustine, America's oldest city, is a fantastic romantic getaway for couples.
Founded in 1565, this laid-back town with a population of 15,000 attracts history buffs and romance-seekers to bask in colonial history and enjoy an idyllic setting.
With its warm weather year-round, stunning beaches, quaint cobblestone streets, historic buildings, and attractions like the Castillo de San Marcos, St. Augustine is a no-brainer!
Read also: Best Breakfast Places in St. Augustine and 15 Day Trips from St Augustine
How to get to St Augustine
St. Augustine is easily accessible by car: It takes approximately 55 minutes from Jacksonville International Airport (JAX), about an hour from Daytona Beach International Airport (DAB), and two hours from Orlando International Airport (MCO) to get here.
Helpful tip Do not drive downtown unless you have a reserved space at a hotel. The traffic can be a pain, and there are a limited number of parking lots. Instead, get a taxi or walk. If you are staying far from downtown, navigate to the outskirts of downtown and take a stroll.
Anyways, St. Augustine is a lovely city for pedestrians.
Here is a 4k walking tour of St. Augustine and its surroundings:
Romantic Things to Do for Couples
Take the trolley tour
This is the first thing you must do upon arrival, as it is the best way to get around downtown and learn about the city.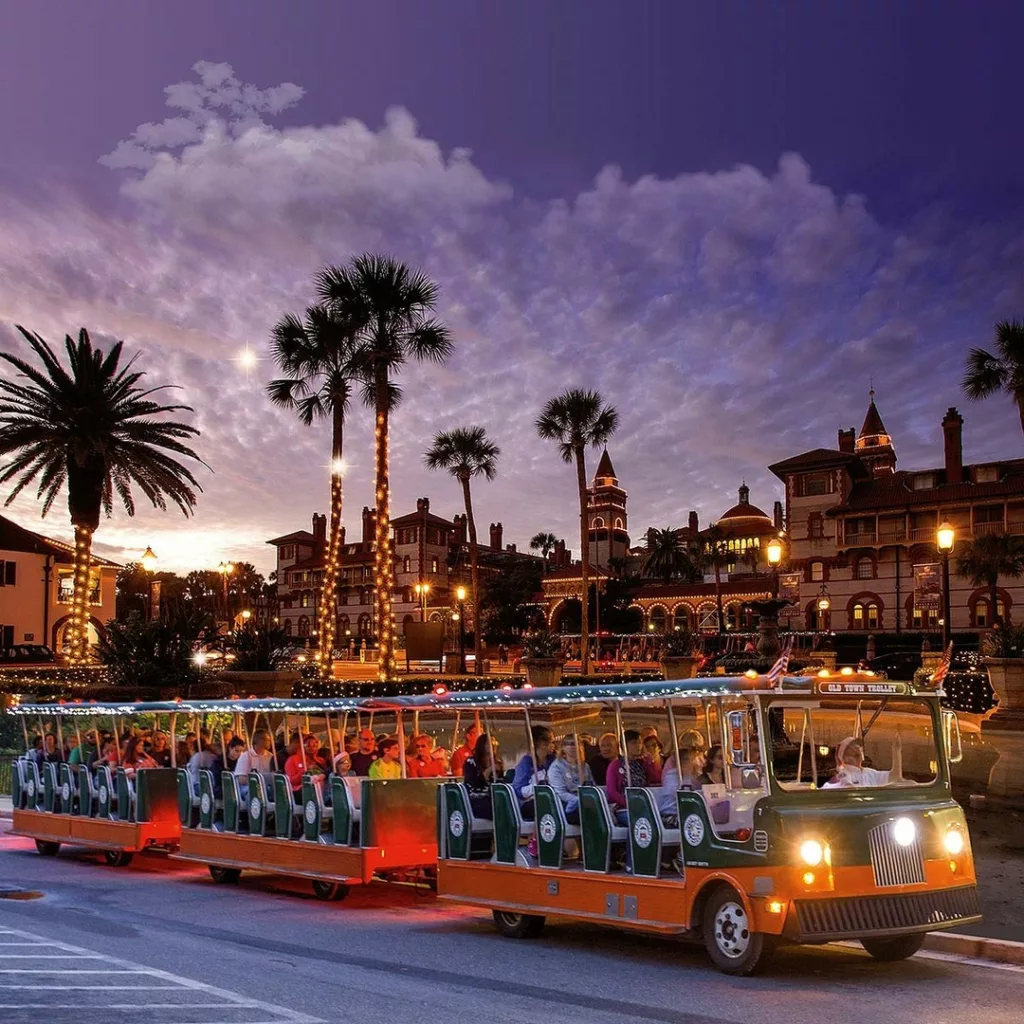 The trolleys will give you a basic overview and historical background as they make frequent stops around town. You can quickly hop on and off, take pictures, or even visit the award-winning San Sebastian Winery on one of the stops.
If you are really into that kind of adventure ("I Drink Therefore I Am"), you can start with the San Sebastian Winery, continue to the St. Augustine Distillery, and follow to City Gate Spirits. They all have free tasting tours. Finally, complete the drinking experience with the Ice Plant Bar (they have the best crafted cocktails!)
Walk down St. George street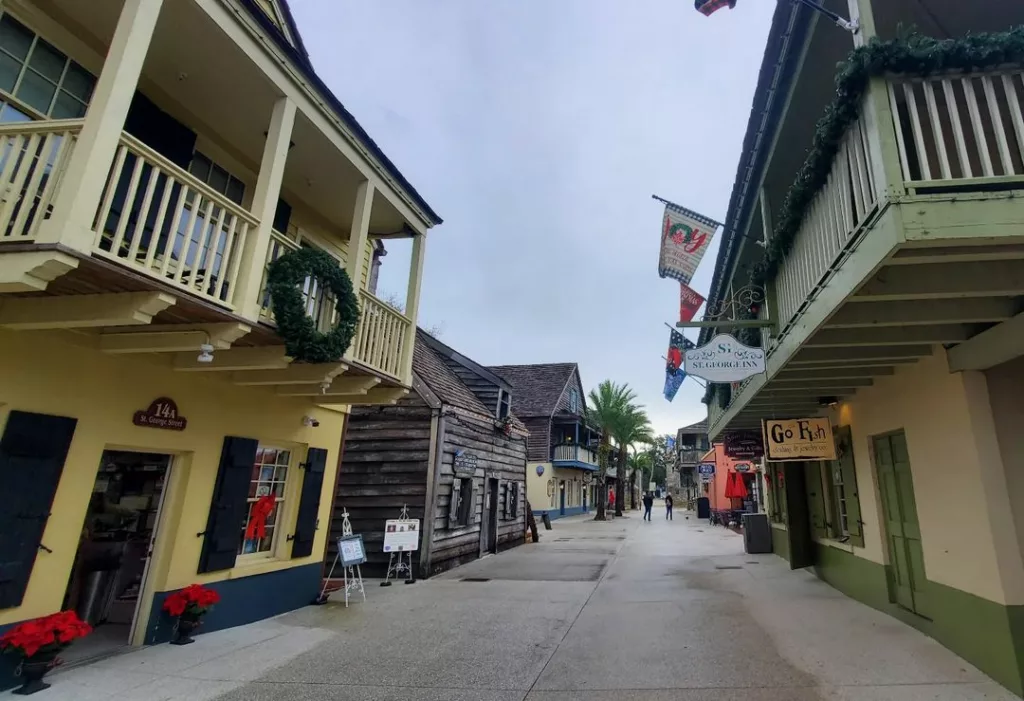 This mile-long colonial street in the center of St. Augustine is now a happening area for shopping, food and drink, with lots of great bars and restaurants.
Taste the best ice cream in town, coconut or butter pecan, mix the flavors, and prepare for generous portions at local eateries. There are several art galleries, plenty of unique stores in well-restored historical buildings, and an antique shop selling Mexican pottery.
It is a must-visit, no matter if you are on a romantic trip, going with a group, or just a solo female traveler.
Visit Ripley's Believe It or Not
If you like trivia or bizarre and unusual artifacts, there is some cool stuff to see at Ripley's Believe It or Not Museum. They also have guided "Red Train" tours around the city, so you can skip the trolley tour and have the train tour + museum combo, which is the best deal.
Head to Anastasia Island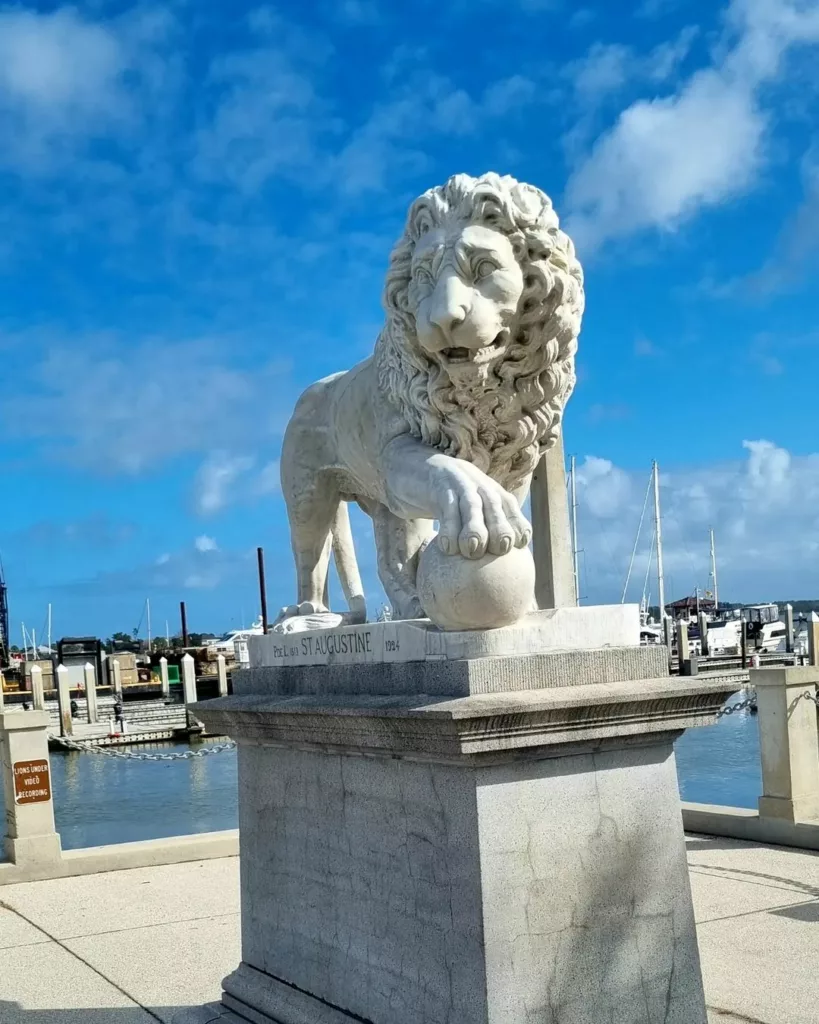 Visit the St. Augustine Lighthouse & Maritime Museum, take in a concert at the St. Augustine Amphitheatre, or dine at one of many oceanside or riverfront restaurants.
You can also climb up the lighthouse (roughly 200 steps) and check out the views from the top. Anastasia State Park is well worth a visit; there is a spot to rent kayaks inside the park.
The most romantic part of visiting Anastasia Island should be walking over the Bridge of Lions during sunset.
The Alligator Farm
Believe it or not, it is absolutely worth the money. This 100-year-old alligator farm is incredible, and they have a ziplining adventure too, for those who are adamant on trying their luck!
Hit the beach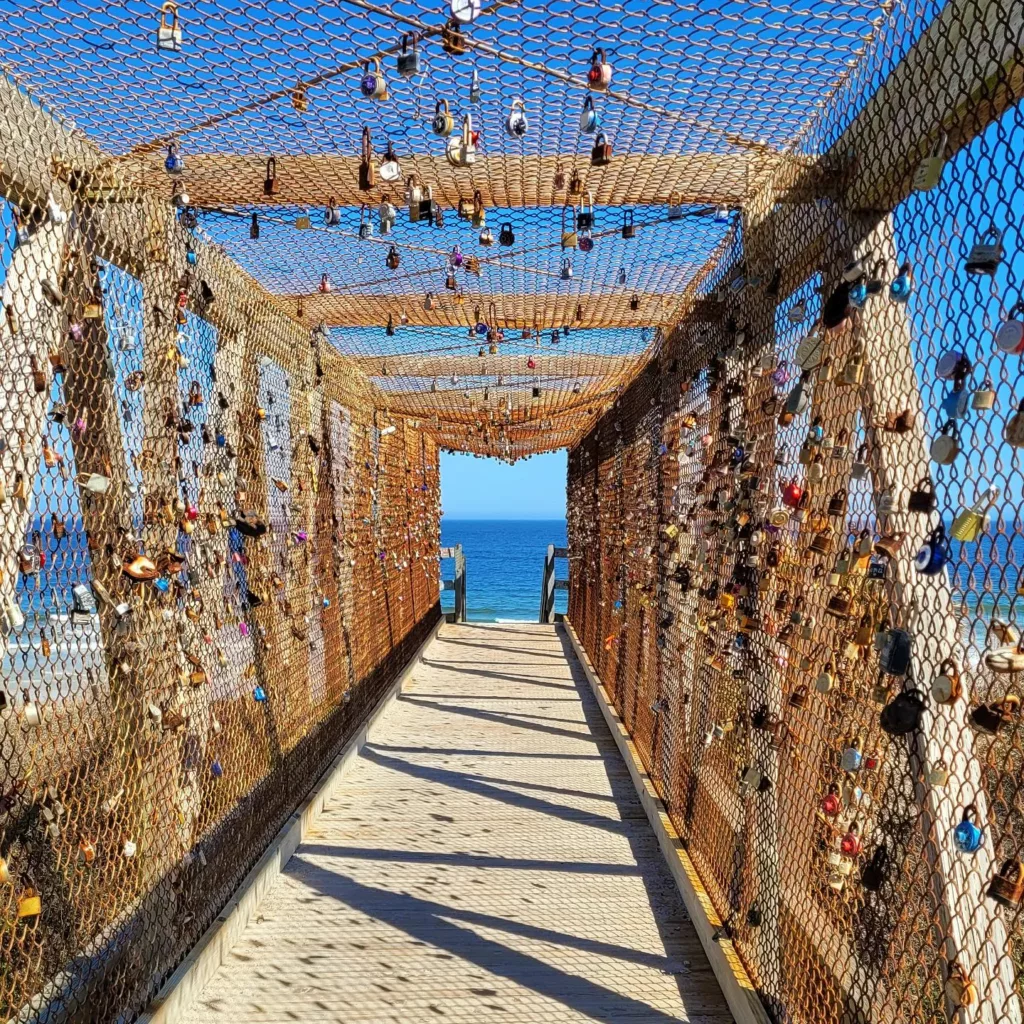 Vilano Beach and St. Augustine Beach are the best beach areas in the city. Sadly, the other beaches were damaged during the past few years' hurricanes.
Visit Fountain of Youth
This is a 16th-century archaeological park to mark Spanish explorer Juan Ponce de Leon's search for the natural springs that grant eternal youth. It features Spanish villages, some cool historical artifacts, and gorgeous coastal views.
You may not expect much from it, but it is a fun experience with a half dozen different shows and demonstrations.
Take romantic photos on Magnolia Avenue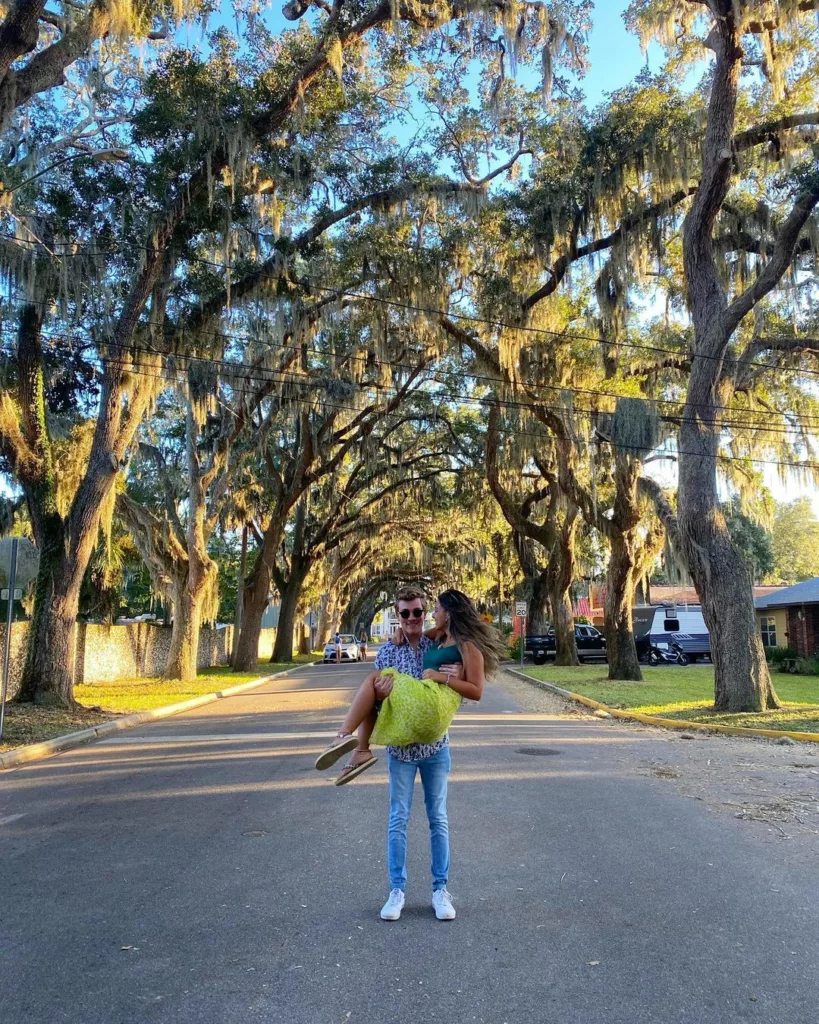 Magnolia Avenue was once called one of the most photographed streets in America by National Geographic. It is an excellent location for taking engagement photos, and it is also close to the Fountain of Youth. The street has older oak trees that form arches and canopies over the road.
Here is the exact location.
Visit Flagler College and the Lighter Museum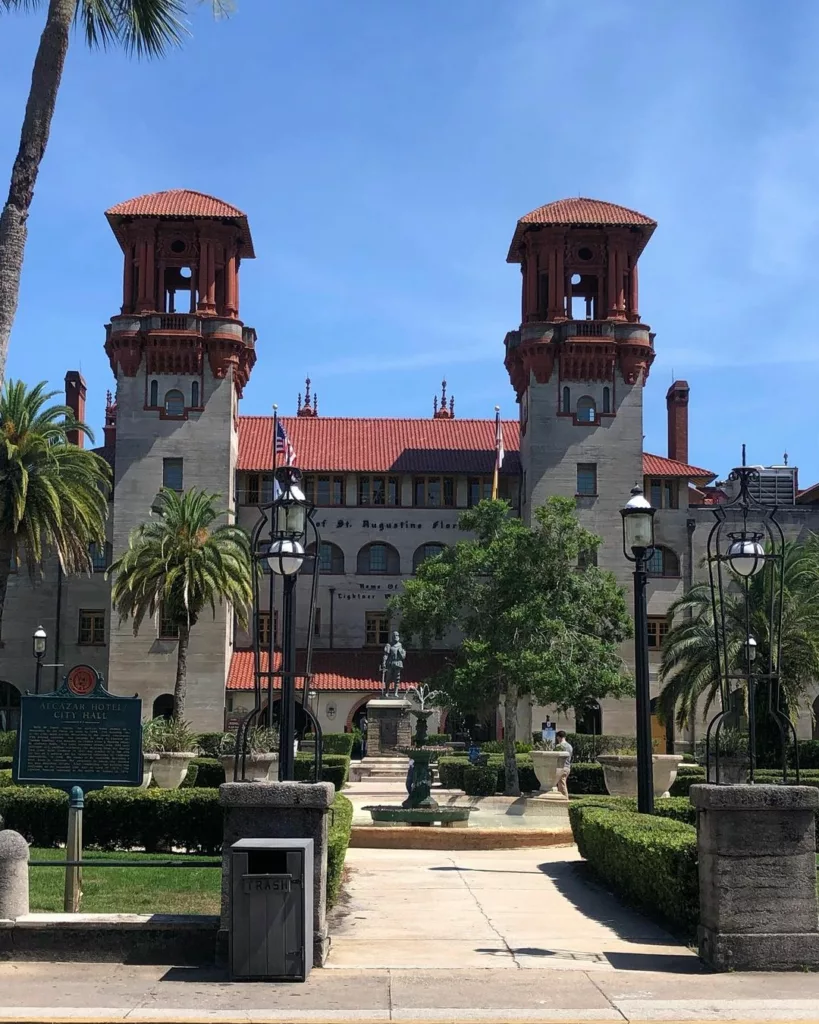 They both have gorgeous architecture and are located right across from each other downtown.
The Lightner Museum is the heart of the historical heritage of the city and the former classy hotel Alcázar, with a steam room, massage parlor, sulfur bath, gymnasium, three-story ballroom, and a giant indoor swimming pool (now transformed into a restaurant). Walking through the museum is so much fun.
Flagler College, originally the Flagler Hotel and then a women's educational institution, became co-educational in 1971. It is an incredible historical monument with the original Louis Comfort Tiffany stained glass windows. Jaw-droppingly amazing!
Take a sunset sail on a St Augustine's Freedom schooner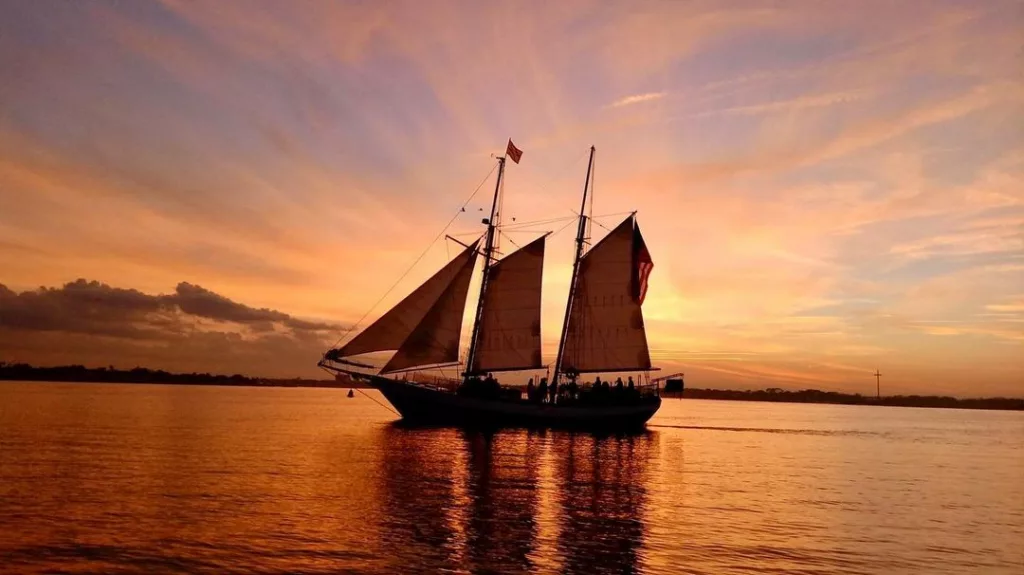 The lovely family that owns the schooner imparts their respect for sailing tradition while guests aboard are treated to a history of the ship and St. Augustine itself.
The schooner is an actual sailing ship, and the family crew rarely uses the engine, so you can volunteer and raise the sails. Cruise staff will guide you through safety procedures similar to the ones on airplanes. Blankets and complimentary drinks, including beer and wine, are offered, and you can bring snacks.
Just make sure you book in advance.
Helpful tip They also offer a special Valentine's Day sail. 
Visit St. Augustine's Fort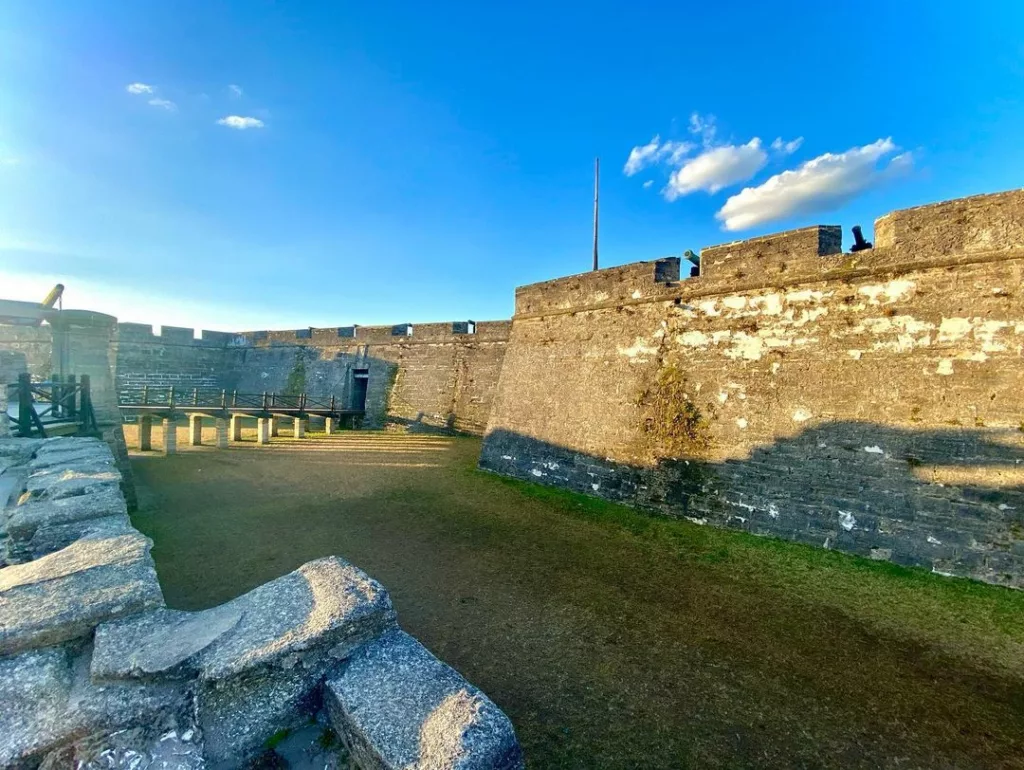 Castillo de San Marcos showcases the city's history and resilience in times of strife.
Constructed from shell-packed coquina limestone quarried on nearby Anastasia Island, it was initially destroyed twice by Sir Francis Drake and Robert Searle before being rebuilt with more substantial fortifications in 1672.
The exterior walls bear signs indicating battles fought, cannon fire exchanged, and lives lost during this period.
Hike on the outskirts
If you are outdoorsy, Anastasia State Park, Fort Matanzas, and Washington Oaks all have stunning hiking trails and lots of historical information.
Not recommended: Horse-drawn carriages tours
It might seem romantic, but it is an absolute abuse of the animals, with the strain and lousy treatment they put on these creatures. Also, the horse's smell and the drivers' hate are not worth it.
Where to eat in St. Augustine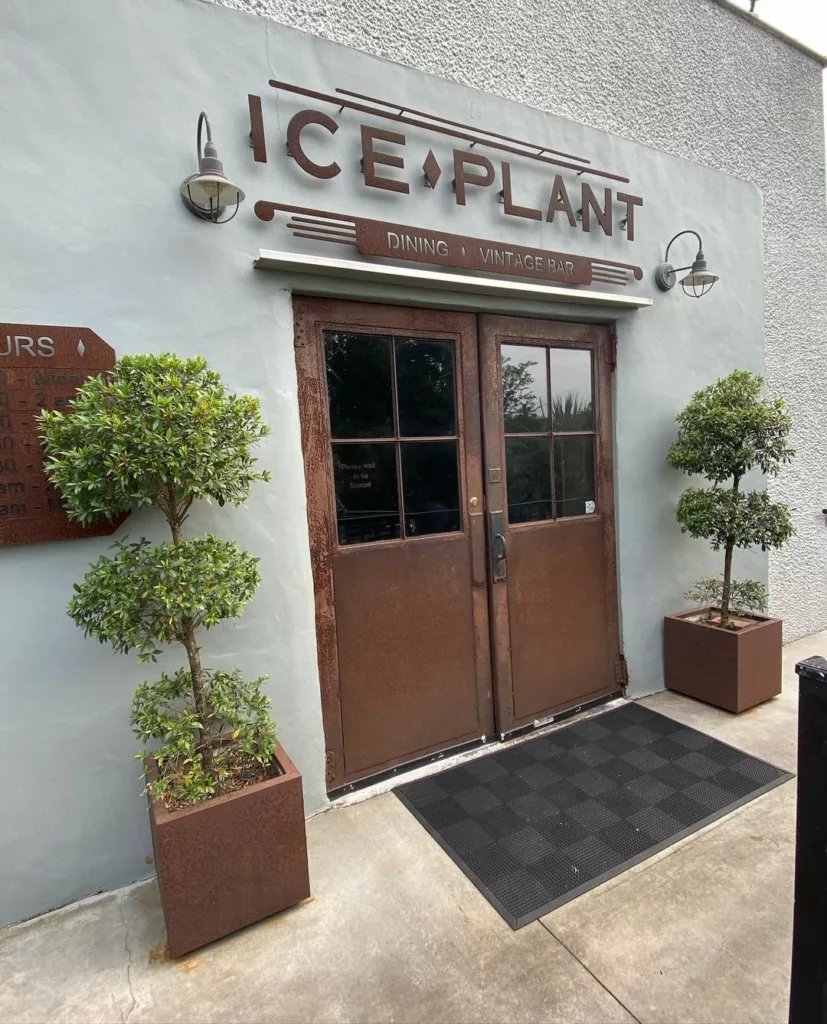 There is definitely no shortage of restaurants and bars all over St. Augustine, and each place tries to lure you in.
Before getting overwhelmed by the array of dining choices, back off from the touristy area and follow my recommendations:
Breakfast / Lunch
Blue Hen
Maple Street
Pizza Time
Beachcomber (Anastasia island). You can sit outside next to the sand dunes with a slight view of the water.
For dinner
The Floridian. Try the meatloaf sandwich, and they also have the best veggies in town.
Back 40 Urban Cafe (non-touristy and cozy)
Harry's Seafood Bar and Grill. Try the crusted redfish and ask for ghost stories.
Cap's on the Water
Conch House
Meehan's Irish Pub & Seafood House
For drink
Ice Plant Bar. They offer a free tour through their distillery; this place can get very crowded due to its popularity.
Prohibition Kitchen gastropub
No Name Bar
Bog Brewing Company
Anne O'malley's Bar
Tini Martini
The map of attractions in St. Augustine
Where to stay in St Augustine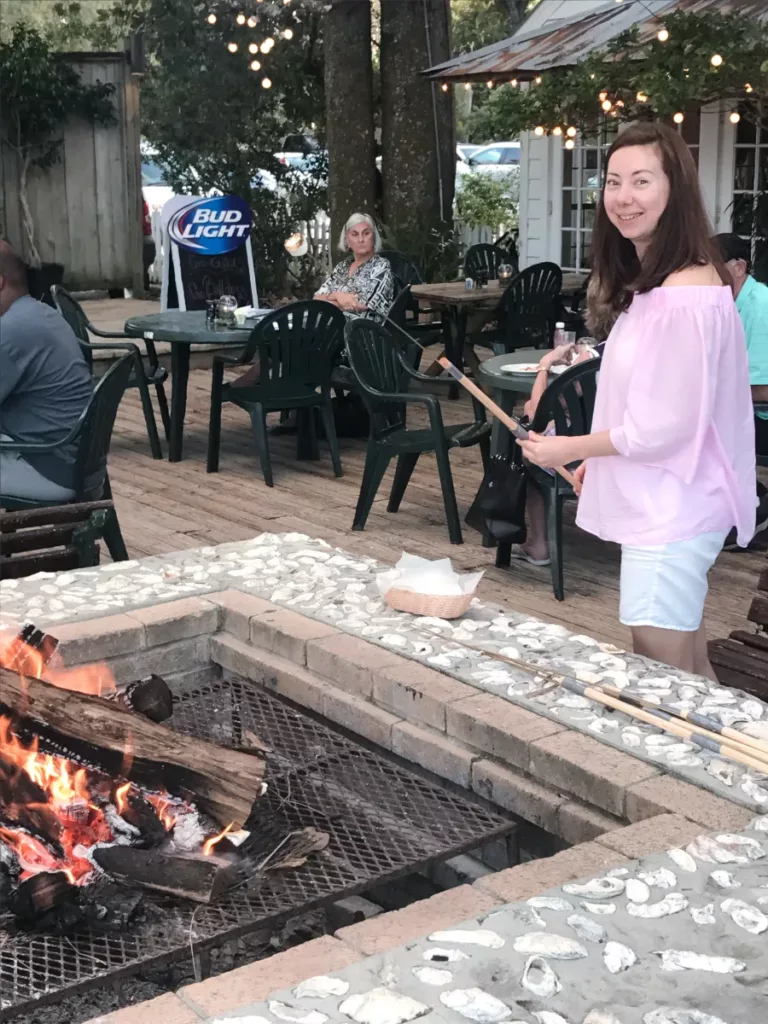 There are many hotels as well as B&Bs in downtown St. Augustine and some accommodations on the waterfront, as well as the southern and western parts of town.
My recommendations include the following:
Some other noticeable stays
The Collector Luxury Inn & Gardens boutique hotel occupies restored 18th-century buildings with modern amenities. Book a room with a balcony or rooftop terrace.
Originally built in 1888, Casa Monica Resort & Spa is another historic landmark and the most luxurious beach resort in the area. In addition to fascinating suites, you can enjoy the pool area and hot tub, and get a soothing massage at Poseidon Spa.
For magnificent views of Matanzas Bay and eclectic Mediterranean cuisine, book a room at the Hilton St. Augustine Historic Bayfront.
Frequently asked questions
What is the best month to go to St. Augustine?
The best time to visit St. Augustine, Florida, is between March and May when the temperatures are mild and comfortable for sightseeing. The summer can be hot and humid, so it may not be as enjoyable. The autumn months are similar to the spring, so it makes sense to visit then. December-February offers cooler weather, however, St. Augustine is a treat during the winter as well.
Is St. Augustine a good honeymoon destination?
Yes! St. Augustine provides a charming historical setting perfect for capturing memorable moments.
How many days should we spend as a couple in St. Augustine?
Plan ahead for a long weekend. Three days is enough to do and see most things and not feel bored. Just be sure your significant other is worth the trip, otherwise a three-day weekend anywhere with the wrong person can seem like an eternity.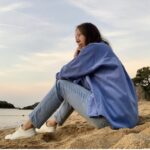 Hello, my name is Nadia.
I usually write about traveling (there are so many places to fit all the lifestyles), relocation (finding a job overseas or moving without losing an income), and living in a foreign country (adapting to a different culture and mentality). Follow me on Twitter, Facebook, Instagram, or LinkedIn!
This post might include some affiliate links. If you make a purchase through these links, I may earn a small commission at no additional cost to you. I appreciate it when you use my links to make purchases.