11 Best European Cities to Visit in July 2023
Nadia Podrabinek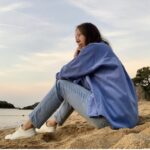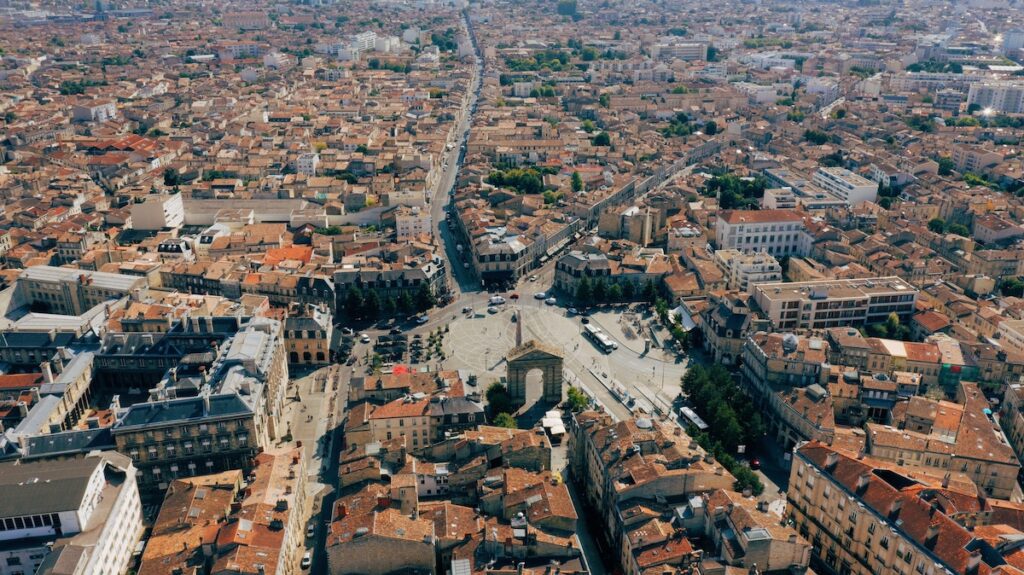 Europe is an exceptional year-round destination, boasting captivating cities, magnificent mountains, and gorgeous beaches.
However, Europe experiences distinct seasonal changes, and its countries can have either a northern or southern climate. So, what are the best cities in Europe to visit during quite a busy month of July?
Your preferences will guide the ideal choice, but here are a few recommendations of mine to consider:
Why you should visit Europe in July
Enjoy swimming in the sea
Experience hiking in the summer mountains
Visit the northernmost cities without freezing in the cold
Take pleasant strolls while enjoying ice cream in the cities during the summer
Why you should NOT be visiting Europe in July
Sweltering weather in southern European countries (although this can be a plus for those who enjoy the heat)
Crowds and lines, increased prices, limited availability of accommodations
Read also: Best European Cities to Visit in October
The Best European Cities to Visit in July 2023
1. Dubrovnik, Croatia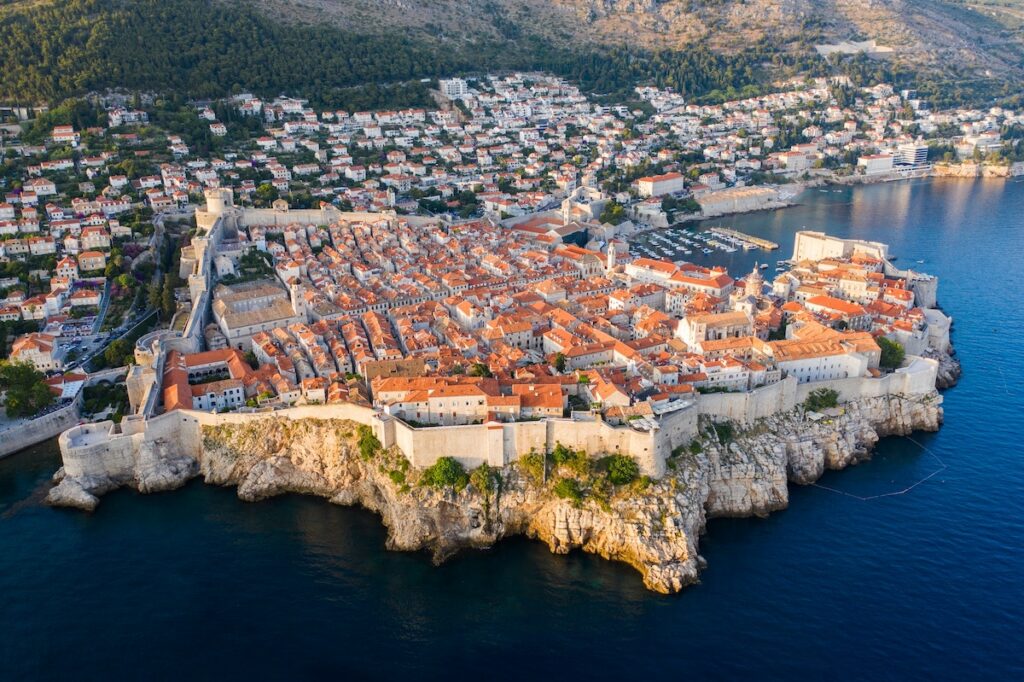 Dubrovnik, often referred to as the "Pearl of the Adriatic," is a remarkable destination that combines a Mediterranean climate, crystal-clear waters of a stunning hue, and an ancient city. Hayao Miyazaki's animated film "Porco Rosso" was inspired by Dubrovnik and even featured scenes set in the city. Furthermore, the popular TV series "Game of Thrones" was filmed there, sparking a surge in tourist interest.
The main drawback of visiting Dubrovnik in July is that it coincides with the peak of the tourist season. So, why do I still recommend this city? The fact is that the Adriatic Sea in this area only reaches a pleasant 25 degrees Celsius during the summer. By September, the swimming season is already over. To truly enjoy everything this destination has to offer, summer is the ideal time. Of course, Dubrovnik remains a charming and atmospheric Balkan city in other months, but why not take the opportunity to swim in the Adriatic Sea?
What to do and see in Dubrovnik in July
Apart from the beaches (which can be found both within the city and its surroundings), Dubrovnik offers plenty of attractions. There are numerous museums and ancient churches to explore, but if you're short on time, here are the essential sites:
Walk through the Old Town
Take a tour to Mount Srđ (yes, that's the actual name of the mountain)
Visit Lokrum Island, wander through a botanical garden and see an old Benedictine monastery.
2. Amsterdam, the Netherlands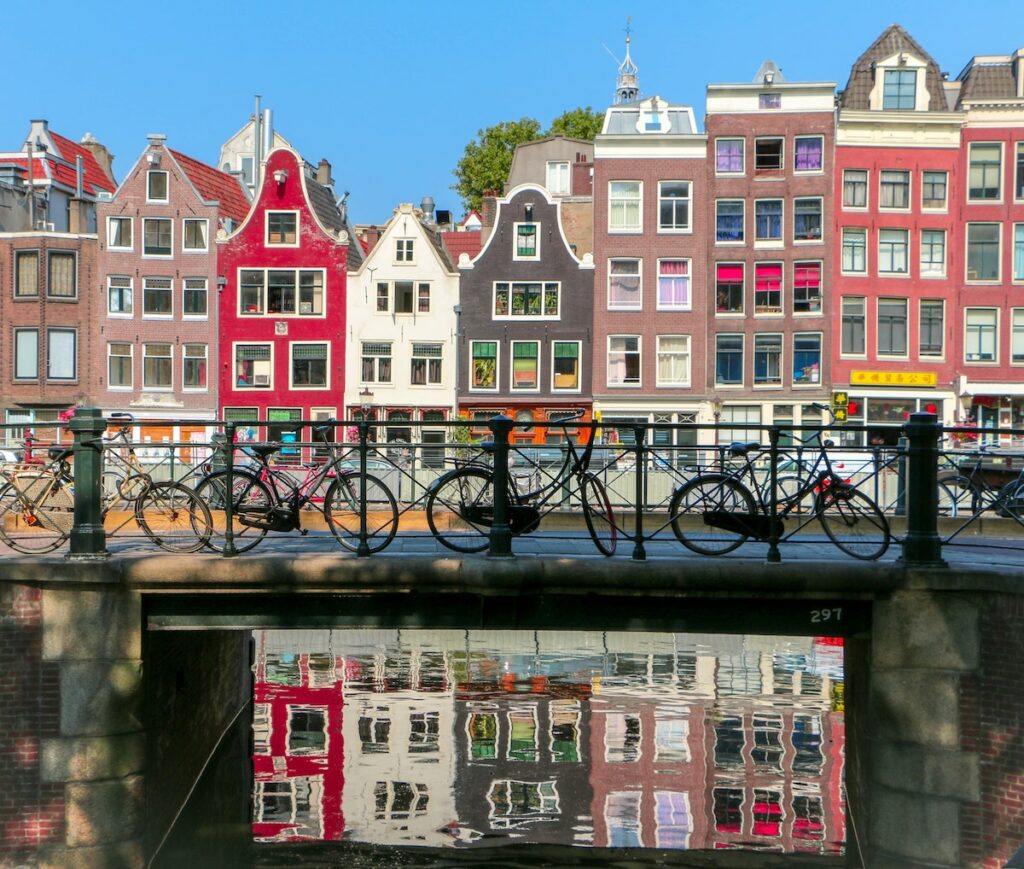 Amsterdam is a city known for its freedom, bicycles, and amazing architecture with numerous bridges. With museums showcasing Dutch Golden Age paintings, canal boat tours, the Van Gogh Museum, the Red Light District, and coffee shops, there is always something to see in Amsterdam, regardless of the month.
Even though the unpredictable climate of Netherlands is the only thing that makes this place less enjoyable, July brings quite a pleasant weather with high temperatures around 22-24ºC (72-74ºF). Anyways, don't forget to pack an umbrella, and you're good to go.
Also, be sure to visit Amsterdam's floating flower market, where you can purchase Dutch tulip bulbs for planting – such a beautiful souvenir!
What are the top museums to visit in Amsterdam?
Rijksmuseum: This national museum of art and history features masterpieces by Rembrandt, Vermeer, Frans Hals, and other Dutch Golden Age painters.
Anne Frank House: This historic home is where Jewish teenager Anne Frank and her family hid from the Nazis. Here, she wrote her now-famous diary, which has been translated into many languages.
Sexmuseum: This intriguing museum offers a unique experience and a variety of interesting souvenirs from Amsterdam. Children are only permitted to enter when accompanied by an adult.
Van Gogh Museum: Boasting the largest collection of Van Gogh's paintings, this museum showcases his early works to his final pieces before his death. Visitors can witness the evolution of his style and artistic perspective.
Helpful tip Keep in mind that not everything legally purchased in Amsterdam can be legally transported across borders. 😉
Helpful tip #2 If you have some spare time, take a day trip to Zaanse Schans, a beautiful windmill village with chocolate scent in the air!
3. Hamburg, Germany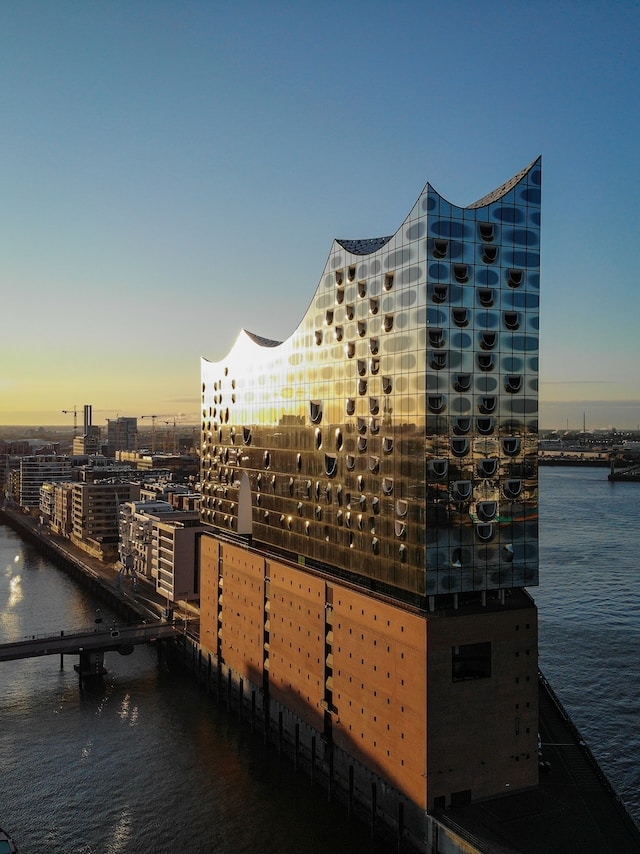 Hamburg, a port city situated on the banks of the Elbe River, which flows into the North Sea, is Germany's second-largest city after Berlin. Germans refer to it as "Tor zur Welt" or "Gateway to the World." Port cities have a unique spirit of freedom and evoke the promise of new adventures.
While the weather can be cold and windy during the winter, July offers Hamburg experiences mild and pleasant summer weather. The average high temperature is around 21 ºC (70 ºF), while the average low is around 12 ºC (54 ºF). There are also winds along the sea in the summer, making it an ideal location for kite and windsurfing enthusiasts, with many beautiful spots near Hamburg.
To make your stay in Hamburg unforgettable, attend a concert at the Elbphilharmonie! Completed in 2017, this striking concert hall resembles a ship. Its main allure, however, is the acoustics of its halls, designed by Japanese acoustician and engineer Yasuhisa Toyota. The blend of Japanese professionalism, European musicality, and German resources (the building cost 789 million euros) has created an extraordinary result: the Elbphilharmonie is now one of the world's best concert halls!
Other than that, there are other great things to do in Hamburg in July:
Roam Speicherstadt district: Marvel at city's historic warehouse complex, UNESCO World Heritage site.
Discover Miniatur Wunderland: Delight in world's largest model railway, intricate miniature displays.
Sail Hamburg's waterways: Experience the bustling harbor, scenic canals on a boat tour.
Explore Reeperbahn (a street and entertainment district in Hamburg).
4. Trondheim, Norway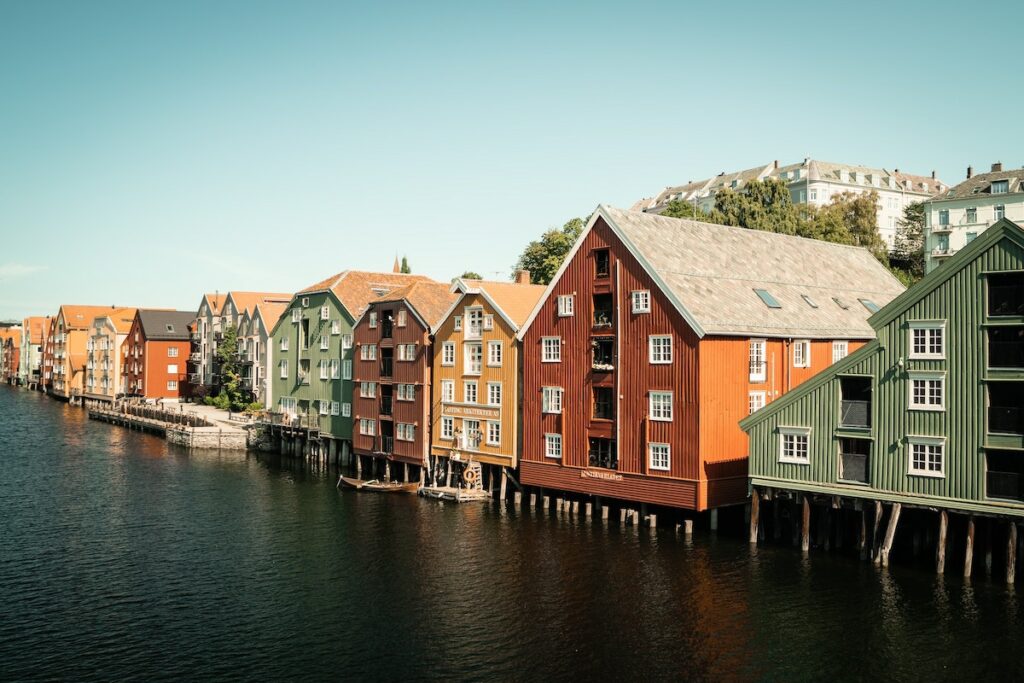 Trondheim, Norway's third-largest city, is accessible from Oslo and Bergen via air or a day's journey by car, public transport, or train, offering stunning landscapes along the way.
With its northern charm, cool Norwegian summer – the warmest month, July, has average temperatures from 10°C (50ºF) to 18°C (64.4ºF) – and colorful houses along the Nidelva River, it is one of the most enchanting cities in Norway. The city's cool, calming atmosphere makes it the perfect place to relax and unwind.
Be sure to visit the Rockheim museum and take an interactive journey through modern Norwegian music and cultural history. You will explore exhibits like The Time Tunnel, Rockheim Temporær, and the Rockheim Gallery, which focus on various aspects of music history and visual expressions. Also, you can play drums, electric guitars, and also play together with famous Norwegian musicians (although they will be on big screens). The museum also features a restaurant on the 5th floor with stunning views.
Visit Nidaros Cathedral: Admire the stunning Gothic edifice, pilgrimage site of Saint Olav's tomb.
Explore Bakklandet district: Wander cobblestone streets, picturesque wooden houses, cozy cafés, and shops.
Discover Ringve – yet another music museum!
Embrace Trondheim's street vibes: Try local craft beers, mingle with friendly Norwegians.
Stroll Old Town Bridge: Relish panoramic views, iconic colorful wharves lining Nidelva River.
5. Braunwald, Switzerland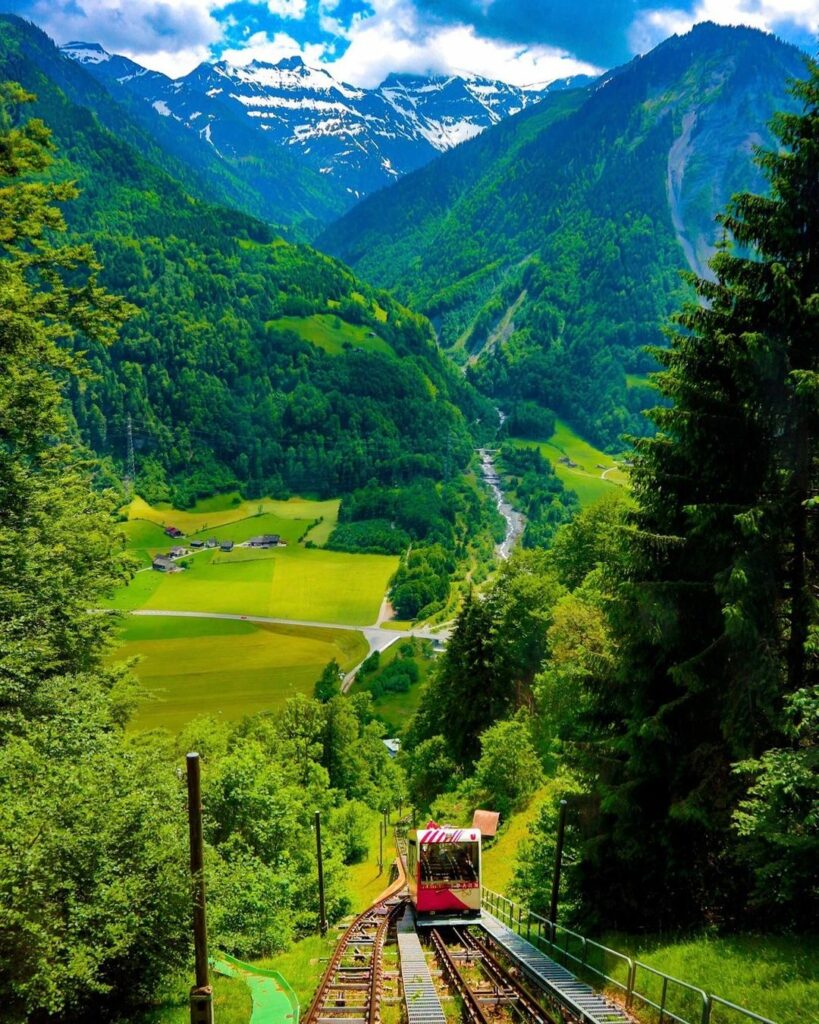 Braunwald is a tiny but unique town that you must visit if given the chance. Situated in the Alps at an altitude of 5,000 feet, this car-free town maintains a pristine environment due to its elevation and lack of harmful emissions. Visitors leave their cars at the parking lot at the base of the mountains and use a cable car to reach the town (you can also arrive by train, for example, from Zurich, with the station located right next to the cable car starting point). Within the town, walking is the only mode of transportation.
In winter, tourists flock to Braunwald for winter sports, while in summer, they come for hiking and trekking, paragliding, or just leisurely strolls.
Braunwald is also great for families with kids, as some hiking trails are specifically designed to keep kids engaged. For example, one path through the forest features hidden gnome figurines for children to discover.
The Märchenhotel is the most extraordinary hotel in the area. Run by a family, the hotel owner gathers the children of guests each evening and reads them a fairy tale, allowing parents to enjoy a peaceful dinner. However, the cost of staying at this remarkable hotel is fittingly high.
6. Venice, Italy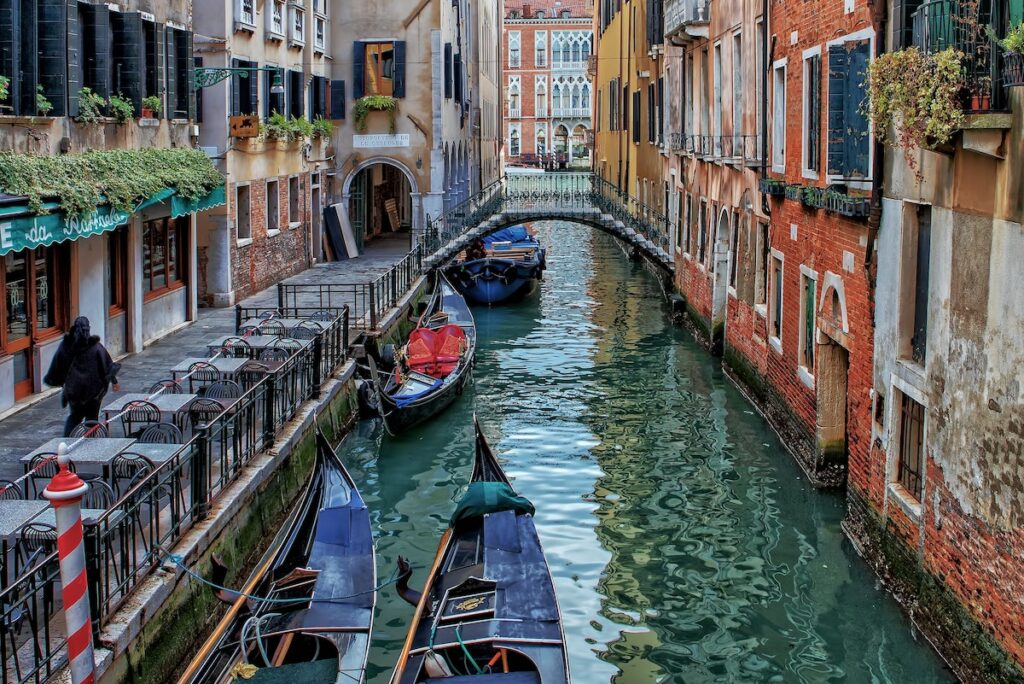 In my opinion, Venice is the most beautiful city in the world. Its charm lies in every imperfection, with cracks in buildings and peeling paint adding to its photogenic and artistic appeal.
Visiting Venice in July means facing hot temperatures and large crowds; other months, like spring, may offer a more comfortable experience. However, if you haven't visited Venice and can only go in July, don't hesitate, as this stunning city is gradually sinking. The most pessimistic scientific predictions suggest Venice may become uninhabitable by 2030, so don't waste any time.
Listen to Antonio Vivaldi's music, who was born in this beautiful city in 1678, as it perfectly complements the Venetian atmosphere.
7. Bamberg, Germany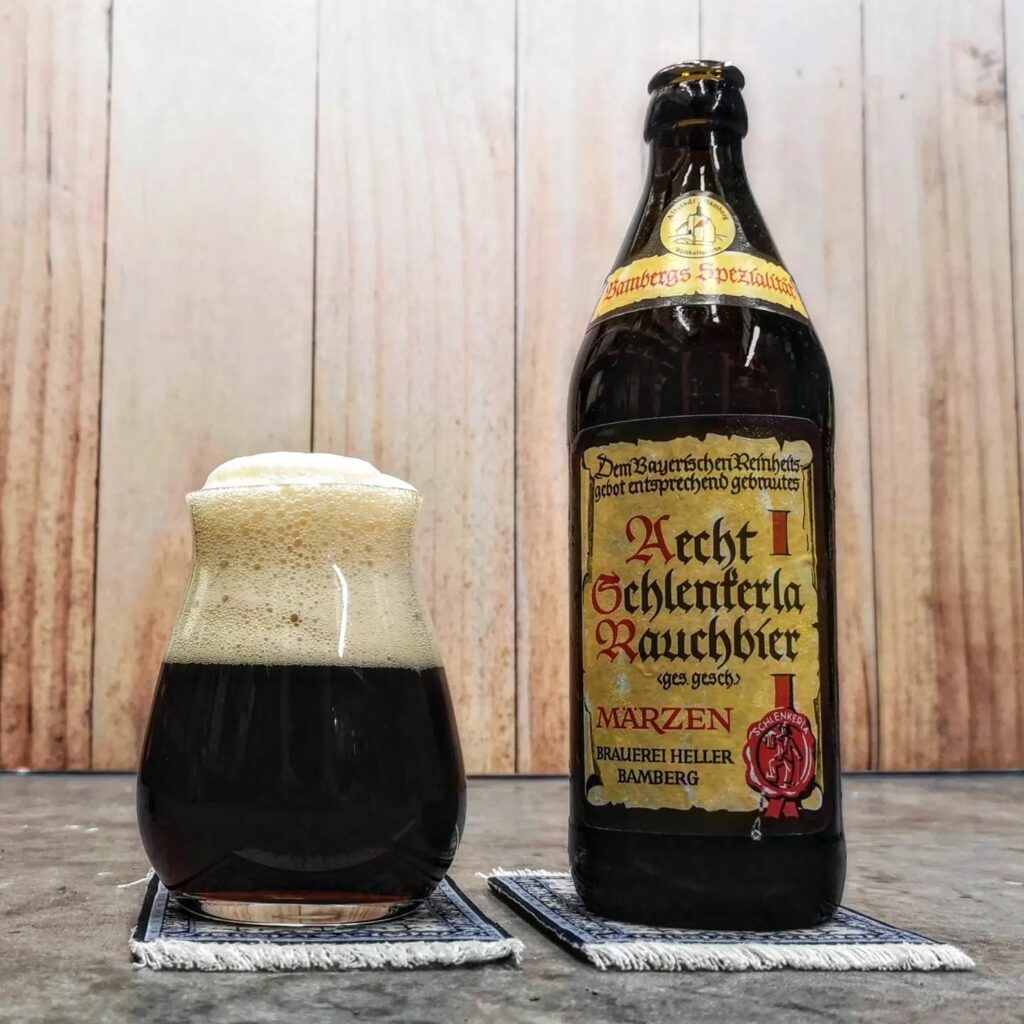 Bamberg is a small town in Bavaria, southern Germany, with a history dating back to 902. The entire city center is protected by UNESCO, as it miraculously remained undamaged during wars. The town hall, cathedrals, and castles retain their original appearance, just as they did centuries ago.
I recommend visiting Bamberg in July because the warm weather pairs perfectly with tasting Rauchbier, the town's signature smoked beer. Brewed by all local breweries, this distinctively smoky beer is a Bamberg staple.
Check out this guided beer tasting tour.
The historic Schlenkerla Brewery is the best place to enjoy a beer in Bamberg. You can purchase bottled beer to take home or savor it on-site with a delicious traditional German meal at the brewery's restaurant.
Other things to do and see in Bamberg in July
Explore UNESCO-listed Old Town: Traverse cobbled streets, admire half-timbered houses, and historic architecture.
Marvel at Bamberg Cathedral: See the 13th-century Gothic masterpiece with opulent tombs and sculptures.
Cruise along the Regnitz River: Embrace picturesque views from a leisurely boat tour.
Unwind in serene Rose Garden: Inhale fragrant blooms, enjoy baroque garden's tranquility.
8. Nice, France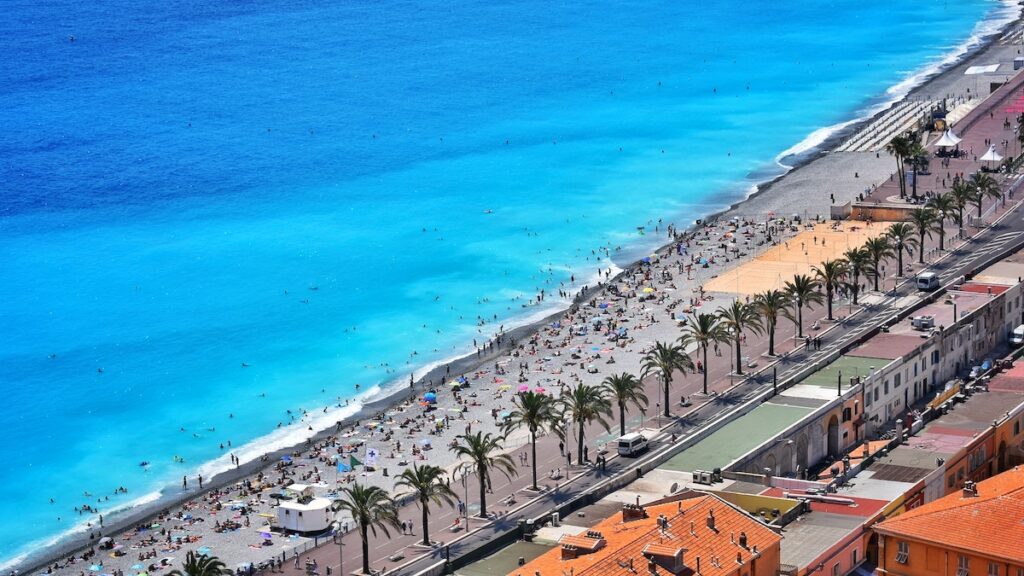 Nice, a picturesque resort city on the French Riviera, offers a one-of-a-kind beach vacation with an aristocratic French flair. In July, you can stroll along the Promenade des Anglais, explore the flower market in the Old Town, and dine at restaurants serving French cuisine, all while taking breaks to swim in the crystal-clear waters of the Mediterranean Sea. Doesn't that sound like the perfect combination?
To add an extra touch of "Frenchness" to your Nice experience, visit the Molinard perfumery. There, you can discover the history of this renowned company and create your own fragrances under the guidance of expert perfumers. Additionally, you can purchase their most famous perfumes and exceptional soaps (a personal recommendation).
Other top things to do and see in Nice during July
Stroll the Promenade des Anglais: Bask in azure views along Nice's iconic seafront promenade.
Explore the Old Town: Meander through vibrant alleyways, shops, and markets.
Lounge on pristine beaches: Rejuvenate on sun-kissed pebbles along the Mediterranean.
Ascend Castle Hill: Witness panoramic vistas atop Nice's verdant, historic summit.
Indulge in local gastronomy.
Visit the Matisse Museum: Explore the renowned artist's captivating masterpieces.
9. Athens, Greece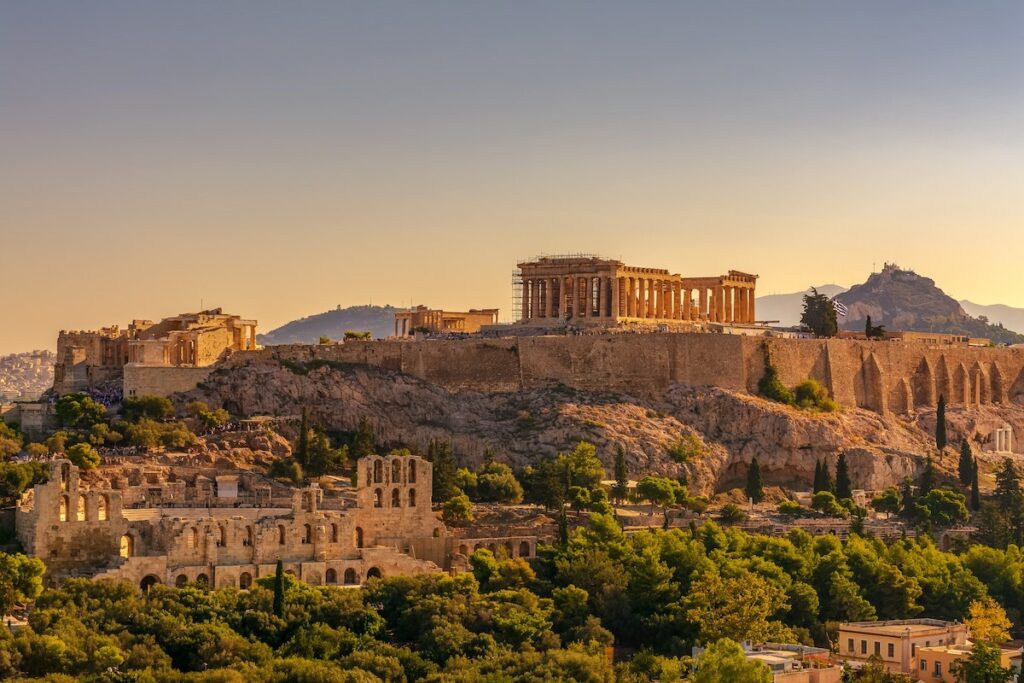 Athens is among the world's oldest continuously inhabited cities. The city is so rich in antiquities that many valuable artifacts cannot even fit into museums; they are practically underfoot.
What to do and see in Athens during July
Explore the Acropolis, the Parthenon, and other significant sites, as your energy permits.
Take a swim in the sea! Just a 30-minute bus ride from the center of Athens will bring you to stunning Greek beaches.
Visit the National Archaeological Museum: Delve into the mysteries of antiquity as you explore this treasure trove, brimming with artifacts that whisper tales of Greece's rich heritage.
Explore Plaka: Wander through the labyrinthine alleys of Athens' oldest neighborhood, full of colorful houses, lively tavernas, and charming boutiques.
Savor traditional Greek cuisine at local restaurants or at Varvakios Agora market.
10. Stockholm, Sweden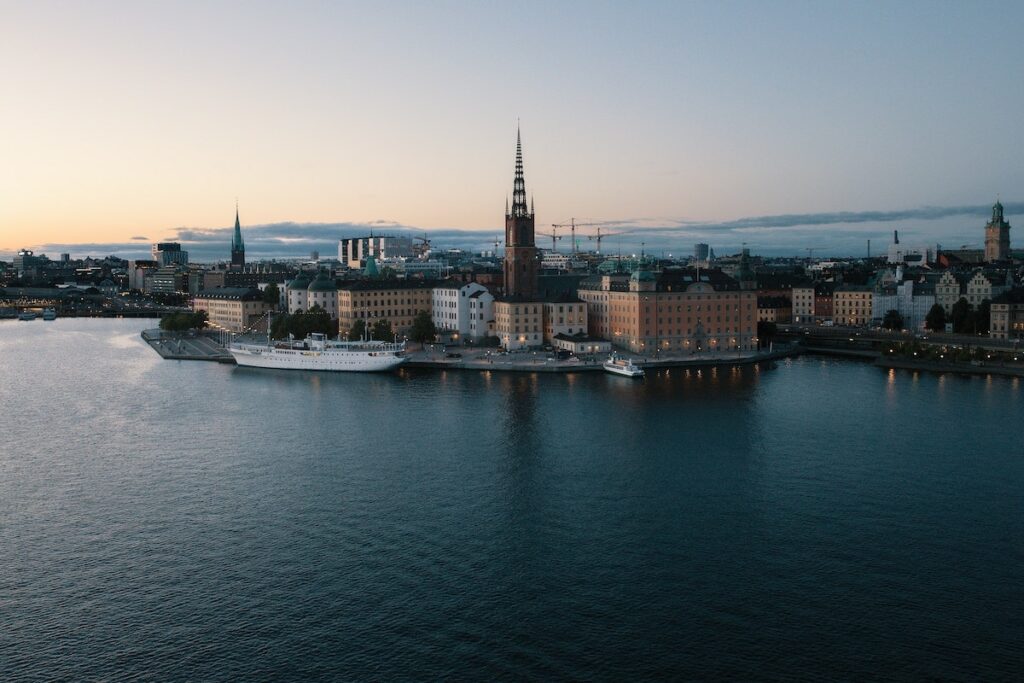 For a cooler July destination, consider Stockholm – temperatures generally don't exceed a pleasant 77°F (25ºC).
Although Stockholm lacked proper sewage systems in the 19th century, making it one of Europe's dirtiest cities, it's now considered the greenest capital, with Swedes' reverence for ecology and nature renowned worldwide.
In July, Stockholm offers an abundance of museums, art galleries, and exhibitions, but don't miss the chance to ride the Stockholm metro – it's not only a public transportation but also a genuine art gallery!
Other great things to do in Stockholm in July
Traverse the labyrinth of Gamla Stan: Meander through the cobblestone streets of Stockholm's Old Town, where the colors of the buildings dance in harmony with the historic architecture and enchanting boutiques.
Visit the Vasa Museum: Dive into the story of the Vasa ship, which plunged beneath the waves in 1628 and emerged remarkably well-preserved in 1961.
Immerse yourself in the living tapestry of Skansen: This open-air museum and zoo weaves together Swedish culture, history, and wildlife in a mesmerizing outdoor setting.
Embark on a royal journey through the Royal Palace: Traverse the opulent rooms of the Swedish Royal Family's official residence on a guided tour, uncovering the regal history along the way.
Lose yourself in Djurgården's verdant wonderland: This idyllic island offers a mosaic of museums, parks, and gardens, perfect for leisurely strolls or picnics beneath the sun-kissed skies.
Navigate Stockholm's breathtaking archipelago on a boat tour, ranging from fleeting excursions to day-long voyages.
Delight your taste buds with traditional dishes such as gravlax, meatballs, and herring at local eateries.
July's long summer days and balmy weather set the stage for a kaleidoscope of open-air concerts, festivals, and cultural events in Stockholm.
Pedal your way through Stockholm's picturesque canvas: Rent a bike and explore the city's extensive network of bike lanes.
Embrace the visual poetry of Fotografiska: This contemporary photography museum showcases the works of illustrious artists, as well as emerging talents from around the globe.
11. Bordeaux, France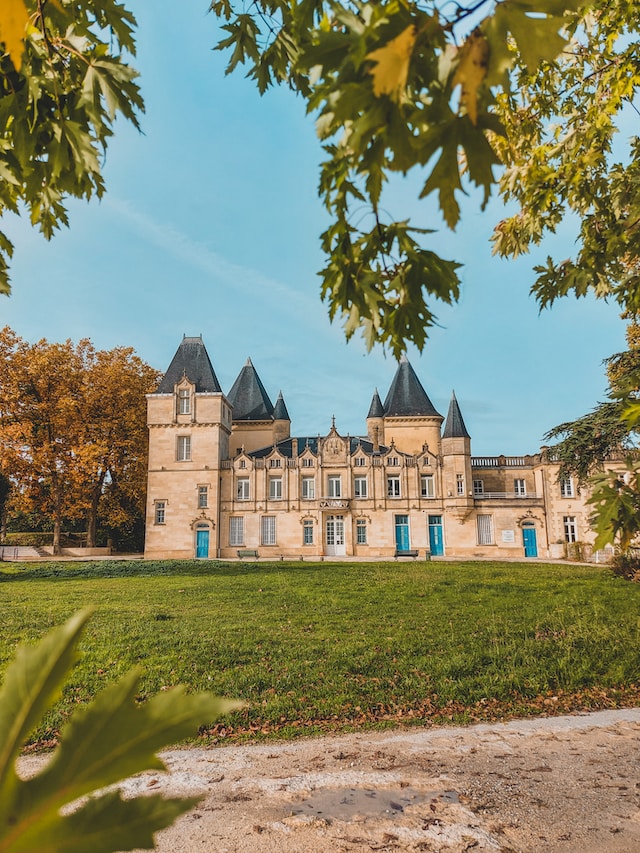 Bordeaux, a beautiful French city on the banks of the Garonne River, boasts an abundance of early classicism-era buildings, numerous art museums, and parks. These attractions alone are excellent reasons to visit the city. However, tourists also flock to Bordeaux for its world-renowned wines.
As the wine capital of the world and birthplace of Château Margaux and other top-tier wines, Bordeaux offers a wealth of winemaking knowledge, tastings of the finest French wines, and opportunities to purchase bottles at the Cité du Vin winemaking museum.
Below is a list of recommended Michelin-star restaurants in Bordeaux:
Le Chicoula, bistrot d'Art
Ishikawa
La Fine Bouche
L'Observatoire du Gabriel
Cromagnon
Top things to do in Bordeaux in July
Savor the city's liquid gold: Indulge in exquisite tastings and unravel the mysteries of winemaking.
Delight in architectural marvels: Walk through Bordeaux's historic city center, a UNESCO World Heritage site, where you can enjoy splendid buildings, monuments, and plazas.
Immerse yourself in La Fête le Vin (Bordeaux's Wine Festival): In July, the city hosts a biennial wine festival, a four-day marathon of tastings, workshops, and live music along the Garonne River.
Chill at the Jardin Public and explore its botanical garden, museum, and picturesque lake.
Visit CAPC: The contemporary art museum, housed in a repurposed warehouse, showcases an eclectic mix of thought-provoking exhibits, igniting the imagination with each captivating piece.
Conclusion
There are so many beautiful places in Europe that you want to visit at any time of the year that it will not be difficult to find something for your vacation in July. After all, summer is a great time to travel: lots of sun, light colored clothes, a camera and new adventure! I wish you a great trip!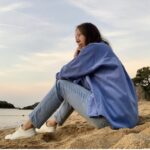 Hello, my name is Nadia.
I usually write about traveling (there are so many places to fit all the lifestyles), relocation (finding a job overseas or moving without losing an income), and living in a foreign country (adapting to a different culture and mentality). Follow me on Twitter, Facebook, Instagram, or LinkedIn!
This post might include some affiliate links. If you make a purchase through these links, I may earn a small commission at no additional cost to you. I appreciate it when you use my links to make purchases.