Where to Stay in Gran Canaria in 2023: 13 Best Areas & Hotels
Sergio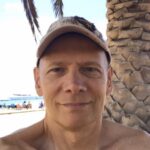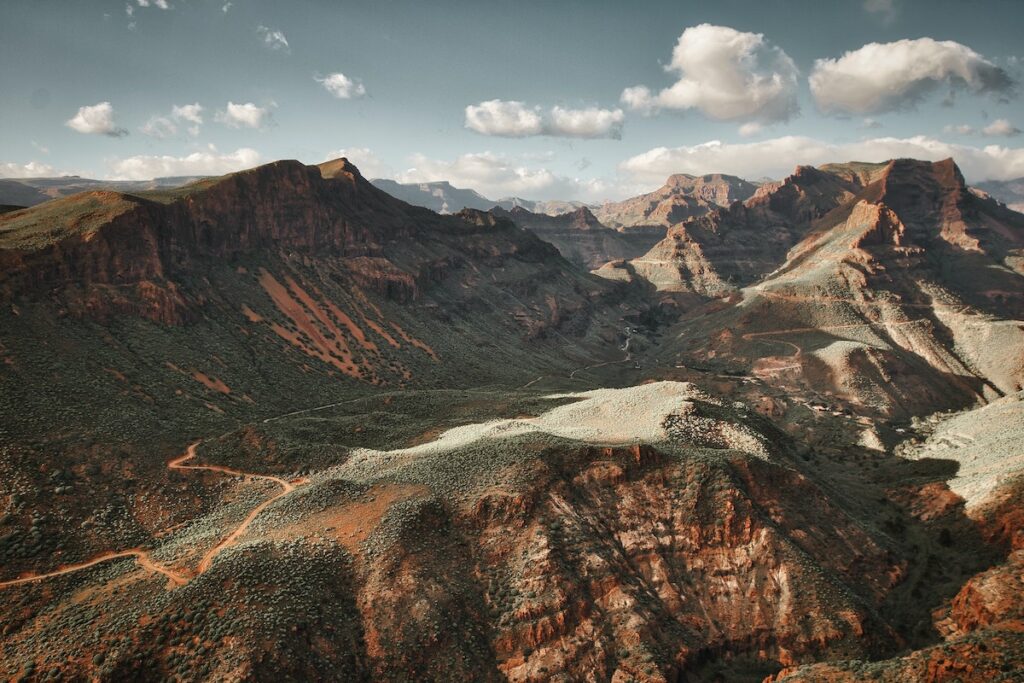 Gran Canaria, an island I've been drawn to repeatedly over the past decade, offers diverse experiences and caters to various tastes.
From famous attractions to hidden gems, this popular vacation destination has something for everyone: excellent scenery, hotels, delicious food, places to shop, and great beaches.
---
Top 3 Places on Gran Canaria
---
Location and Geography
Gran Canaria is the southernmost and warmest of all the Canary Islands. It is the third largest island in the Canarian Archipelago, after Tenerife and Fuerteventura.
In 2005, nearly half of the island's area was designated as a Biosphere Reserve by UNESCO, due to its 14.5-million-year-old geological history that has led to a diverse landscape.
The reserve boasts high biodiversity, featuring unique invertebrates, birds, reptiles, and wide array of flora, spanning ecosystems from peaks to beaches and marine areas. Additionally, it includes agricultural valleys, steep ravines, and fascinating geological landmarks.
Climate and Best Time to Visit
The island generally experiences warm temperatures, with an average of 25°C (77°F). However, high-altitude areas can see temperatures dip as low as 9°C (48.2°F). The best time to visit Gran Canaria is between April and October, when daytime temperatures range between 22°C (71.6°F) and 26°C (78.8°F). This allows visitors to enjoy spring, summer, and even autumn vacations, with a variety of activities available in each season.
Read also: Best Time to Visit the Canary Islands
Enough with the introduction! Having visited the island many times, I can now guide you like a local on where to stay in Gran Canaria.
Best Places to Stay in Gran Canaria
1. Maspalomas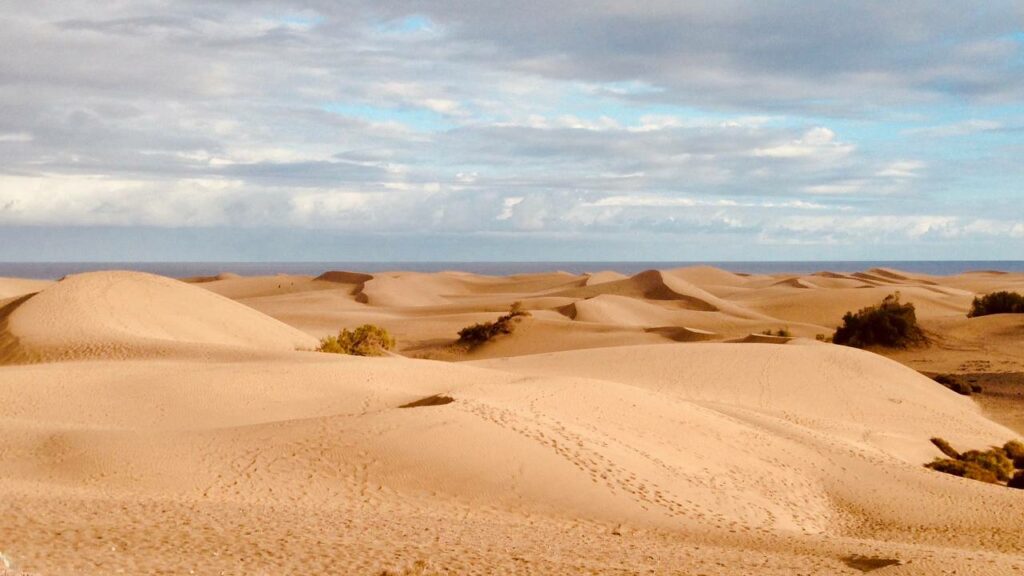 Maspalomas, located in the municipality of San Bartolome de Tirajana, is the main tourist area on the island of Gran Canaria. Situated in the south of the island, it is about 18.6 miles (30 km) from the airport, taking 40-50 minutes by bus or 30 minutes by car. Maspalomas extends along the coast for 17 km and encompasses five resorts: Bahia Feliz, San Agustin, Playa del Ingles, Campo Internacional, and Meloneras.
The central highlight of Maspalomas is a picturesque beach with dunes, bordered by Playa del Ingles on one side and Campo Internacional on the other. Although these resorts are only a few kilometers apart, they are quite distinct. To the west of Campo Internacional lies Meloneras, a new resort on the coast where Gran Canaria's most fashionable hotels have been built. San Agustin and Bahia Feliz, in the east, are smaller, quieter resorts that continue to attract tourists' attention.
Recommended hotels
Budget-friendly options
2. Playa del Inglés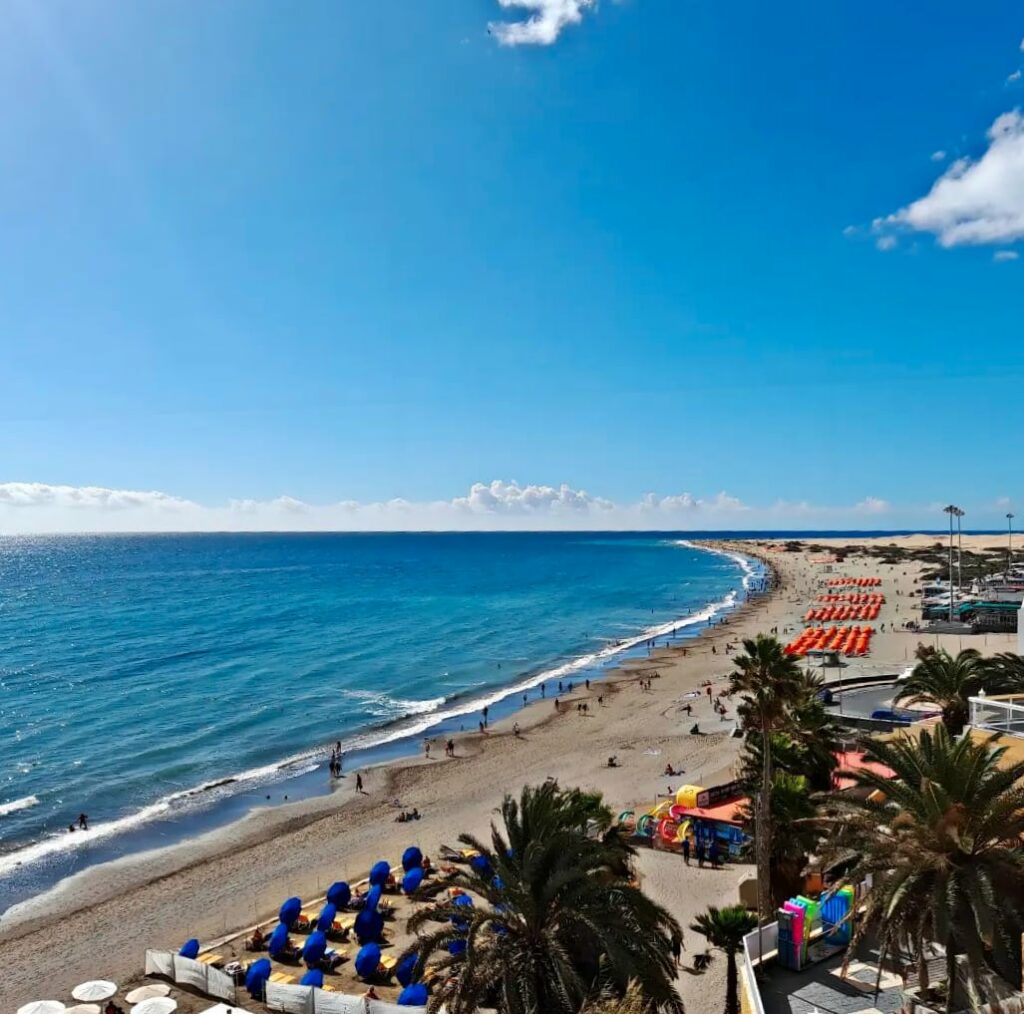 Playa del Inglés, meaning "the beach of the English," is considered the heart of Maspalomas. This tourist city forms a triangle, consisting exclusively of hotels, restaurants, discos, and shops.
Playa del Inglés is a destination for those seeking city vibes. Indeed, life bustles here day and night. In the summer, this resort, second only to Benidorm in scope, is particularly popular among European youth aged 18-30. However, labeling Playa del Inglés solely as a "youth hangout" would be inaccurate: tourists "over thirty" will also find some spots, such as Hard Rock Cafes and Sunset Boulevard. After dark, the epicenters of resort life in Playa del Inglés become the large commercial centers.
Playa del Inglés offers several times more hotels and apartments than the other coastal resorts combined. Most belong to a more affordable price group and are located some distance from the ocean.
This is also a popular vacation spot for the gay community. You will find a designated gay beach between Maspalomas and Playa del Inglés (at the Kiosk No. 7), and at night, there is also a commercial center that transforms into one big gay party. Several dozen themed bars and clubs open here after 10 PM.
Recommended hotels
3. Campo Internacional
Campo Internacional is a residential area situated near the golf course, stretching along the west coast of Playa del Inglés. This is definitely a right spot for a more relaxing and upscale vacation.
This green and prestigious resort in Maspalomas, particularly the area called "Oasis" near the ocean, features a natural palm oasis, the island's most expensive hotels, and the symbol of Maspalomas, a giant 120-year-old lighthouse.
Recommended hotels
4. Meloneras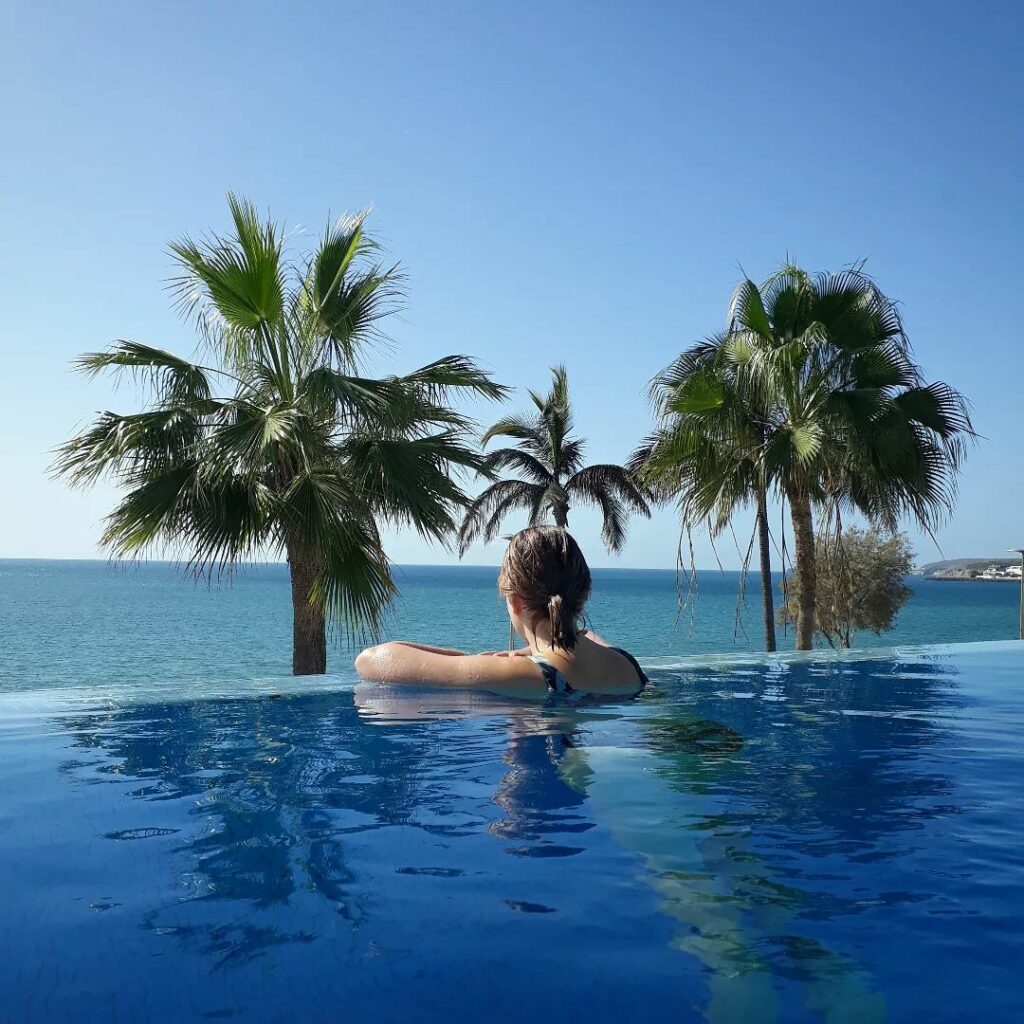 To the right of the lighthouse and Pasito Blanco sports port, facing the ocean, lies the relatively new but promising resort area of Meloneras. The name Meloneras is derived from the word "melon."
Even though it is quite new, Meloneras already features a long pedestrian promenade, the Varadero commercial center, a golf course, and several recently built hotels with impressive gardens and constructions. Among these, the Gran Hotel Costa Meloneras stands out with its turrets.
If you are into gambling, the Gran Casino Costa Meloneras awaits you.
Recommended hotels
5. San Agustin & Bahia Feliz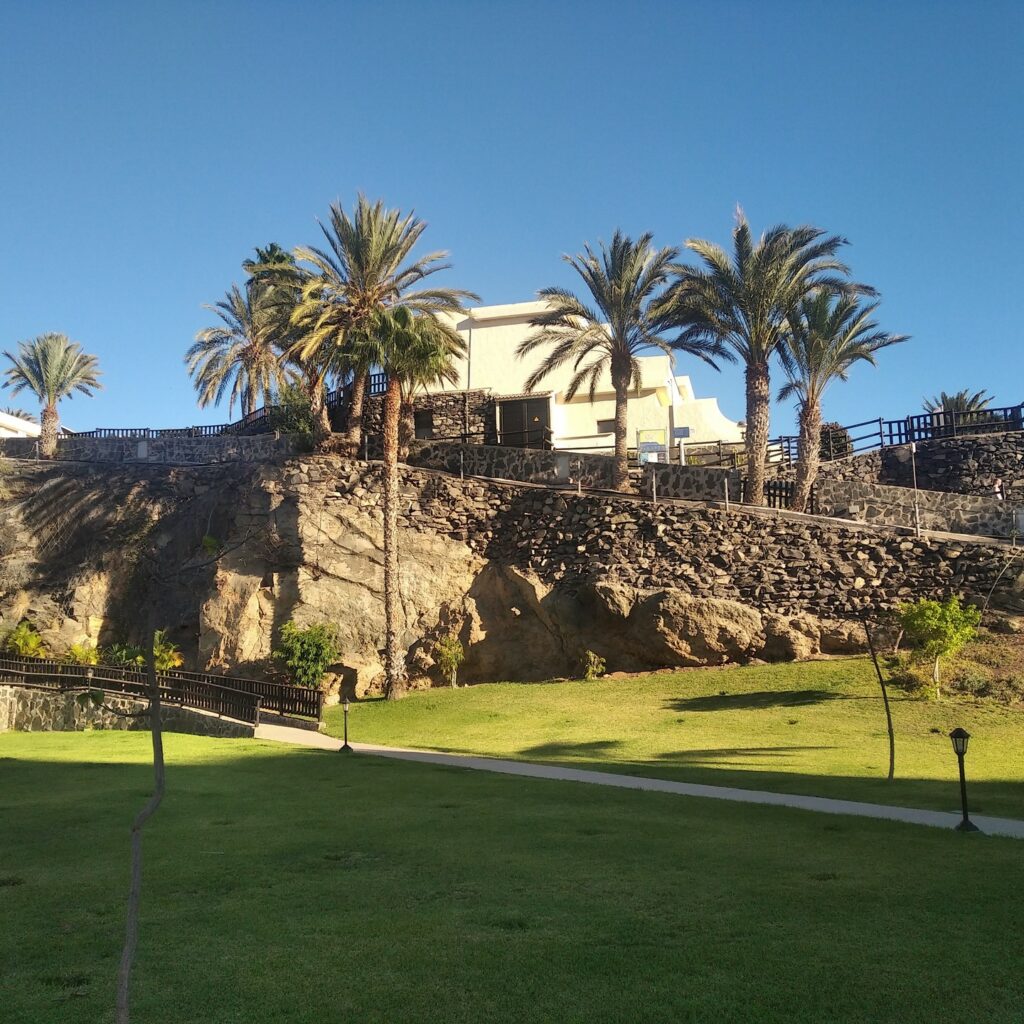 At the opposite end of the Maspalomas coast from Meloneras, two resorts are situated a little apart – Bahia Feliz and San Agustin.
San Agustin is a quiet town featuring hotels on the first line and a good gray-sand beach, which is particularly loved by locals. San Agustin has the best private medical clinics in the Canary Islands and one of the largest thalassotherapy centers in Europe. In general, if you need to improve your health, this is the place to be.
Bahia Feliz is a popular destination for windsurfing enthusiasts and professionals, with two surf centers available. This windswept resort may not be of much interest to tourists who aren't keen on windsurfing, although it is the closest resort to the airport.
In addition to their beaches, there is another beach between these towns, Playa del Aguila. San Agustin may also appeal if you find Playa del Inglés too crowded and Campo Internacional too expensive.
Recommended hotels:
6. Puerto Rico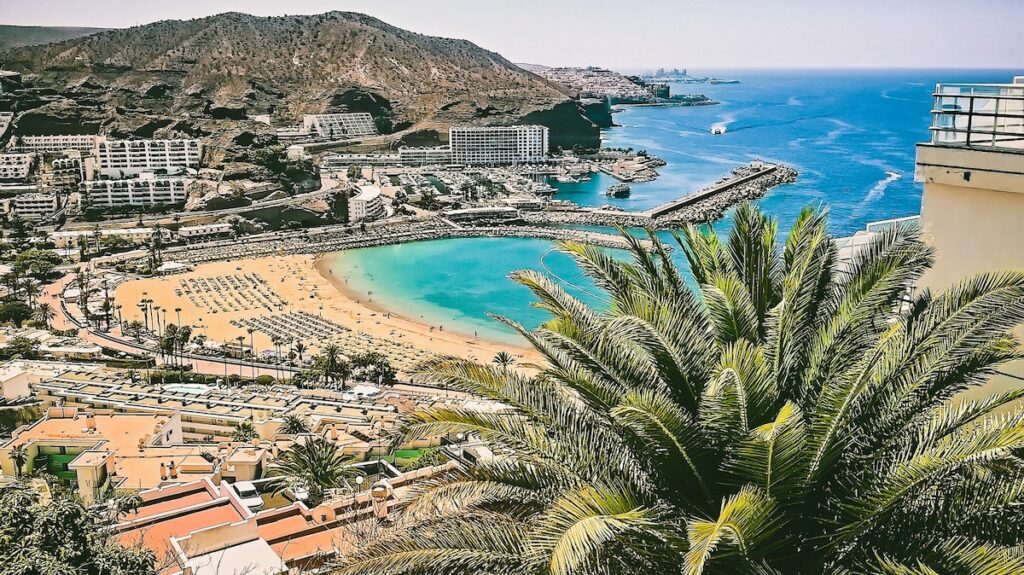 Puerto Rico de Gran Canaria is a small resort town in the southwest part of the island that used to be a fishing village. Now its entire infrastructure is focused on accommodating and serving tourists, with only the presence of the port as a reminder of the past. The port now caters to pleasure boats, yachts, and catamarans. The resort town surprises and amazes with the beauty of nature, the gentle ocean waters, and excellent weather.
The distance between Gran Canaria Airport and Puerto Rico is 39.7 miles (64 km). There are two beaches in Puerto Rico: Playa de Puerto Rico and Playa de Amadores. Both coasts are artificially created and are located in bays.
The resort is also known as the center of water sports and entertainment in Gran Canaria, with surfing and diving clubs on the beach, kayak rentals, and jet skis. Nearby is the Atlantis Water Park. Boat trips on catamarans and yachts are organized, and sports fishing competitions are regularly held.
Recommended hotels
7. Puerto Mogán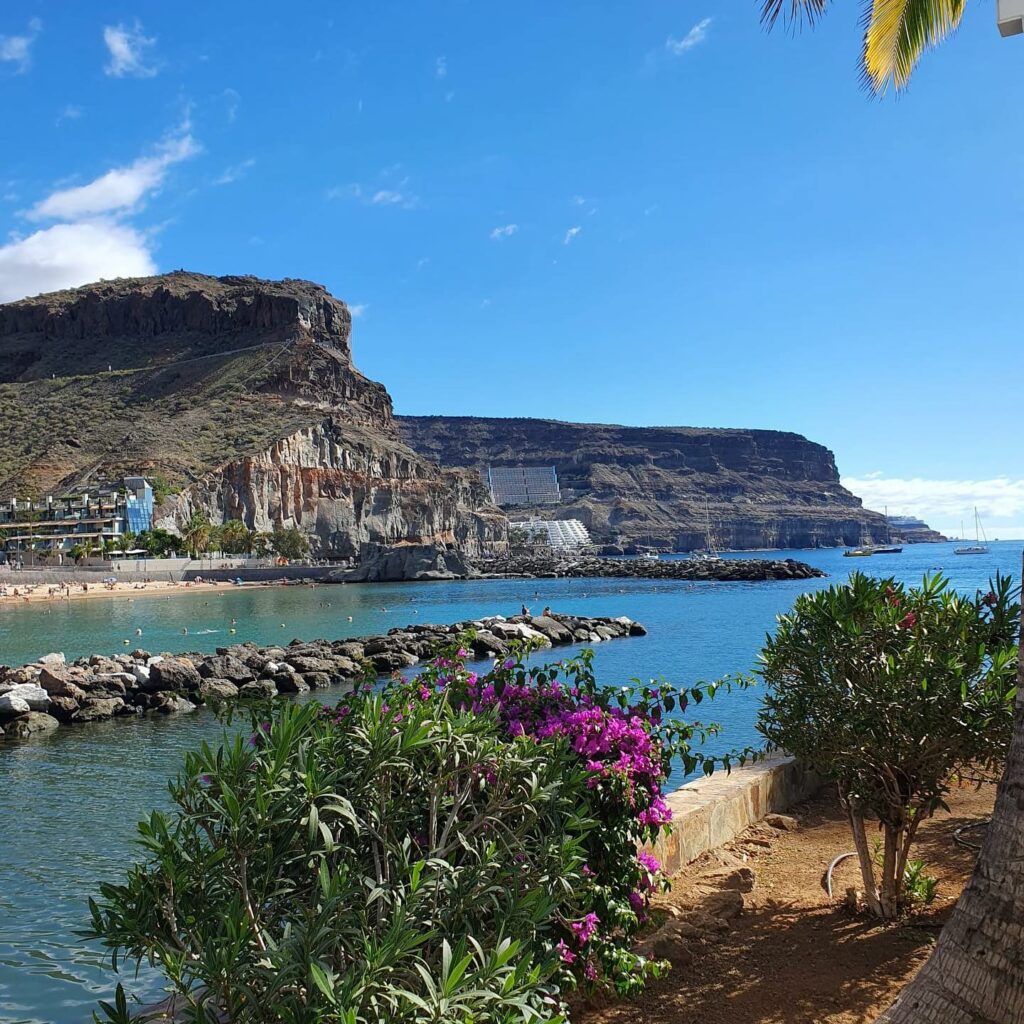 Puerto Mogán is located in the southwestern part of Gran Canaria, but the town maintains a relaxed atmosphere, as it is not as crowded as neighboring cities. Visually, it consists of two parts: an old, unsightly fishing village situated by the rocks, and a newer section with a port, hotels, and restaurants. The distance between the capital, Las Palmas, and Puerto de Mogán is 59 miles (95 km), with the drive taking approximately an hour and a half.
One of the local attractions of Puerto de Mogán is the port, where yachts are moored on their journey from the Adriatic to the Caribbean Sea, alongside pleasure boats and ferries. From here, you can embark on a boat tour along the southern coast of Gran Canaria or even ride in a yellow submarine.
Mogán Beach (Playa de Mogán) is one of the resort's main highlights. It was created artificially, with golden sand imported from the Sahara, and is protected from wind and waves by piers, breakwaters, and rocks. The ocean in this area is consistently calm, making it great for children. Diving equipment can be rented on the beach, and boats, kayaks, and windsurfing boards are also available for rent.
Recommended hotels
8. Teror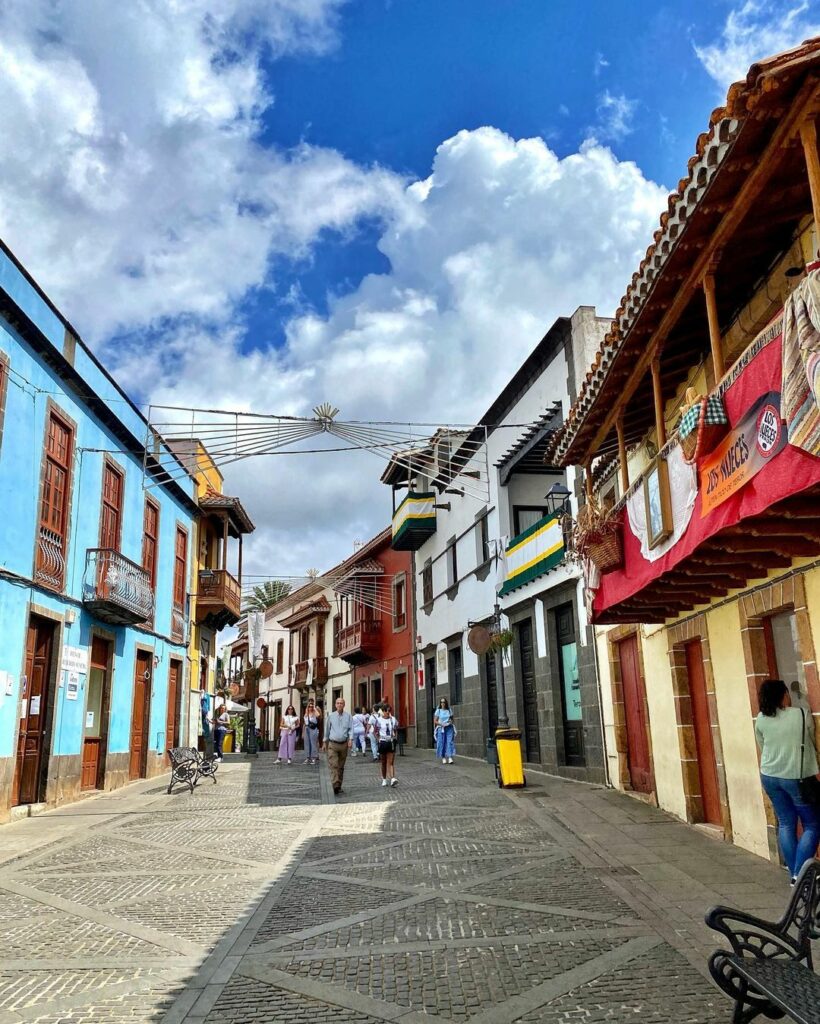 Don't be "terrified" by its name; Teror is actually a charming town!
Teror is a city and municipality in the north of the island of Gran Canaria, located 20.6 km (12.8 miles) from the capital. This charming resort town is worth a visit to stroll along its ancient streets and imagine what life was like in Gran Canaria 200-300 years ago. The well-preserved old buildings from the 17th and 19th centuries can be admired throughout the city. Teror is also considered one of the main religious centers of the Canary Islands, ensuring that a visit will leave you with only pleasant memories.
I recommend visiting the city's main temple, the Cathedral of Our Lady of the Pine. The Palacio Episcopal de Teror was built around the same time as the basilica and was restored in 1982. Although the building is no longer used for its original purpose, it often hosts parish religious events. The Casa Museo de los Patrons de la Virgen is housed in an old mansion located in Plaza de Nuestra Señora del Pino.
Teror is also a place where you can feel at ease, leisurely walk along the cobbled streets, browse souvenir and handicraft shops, and relax in street cafes, bars, and taverns.
Recommended accommodations
9. Agüimes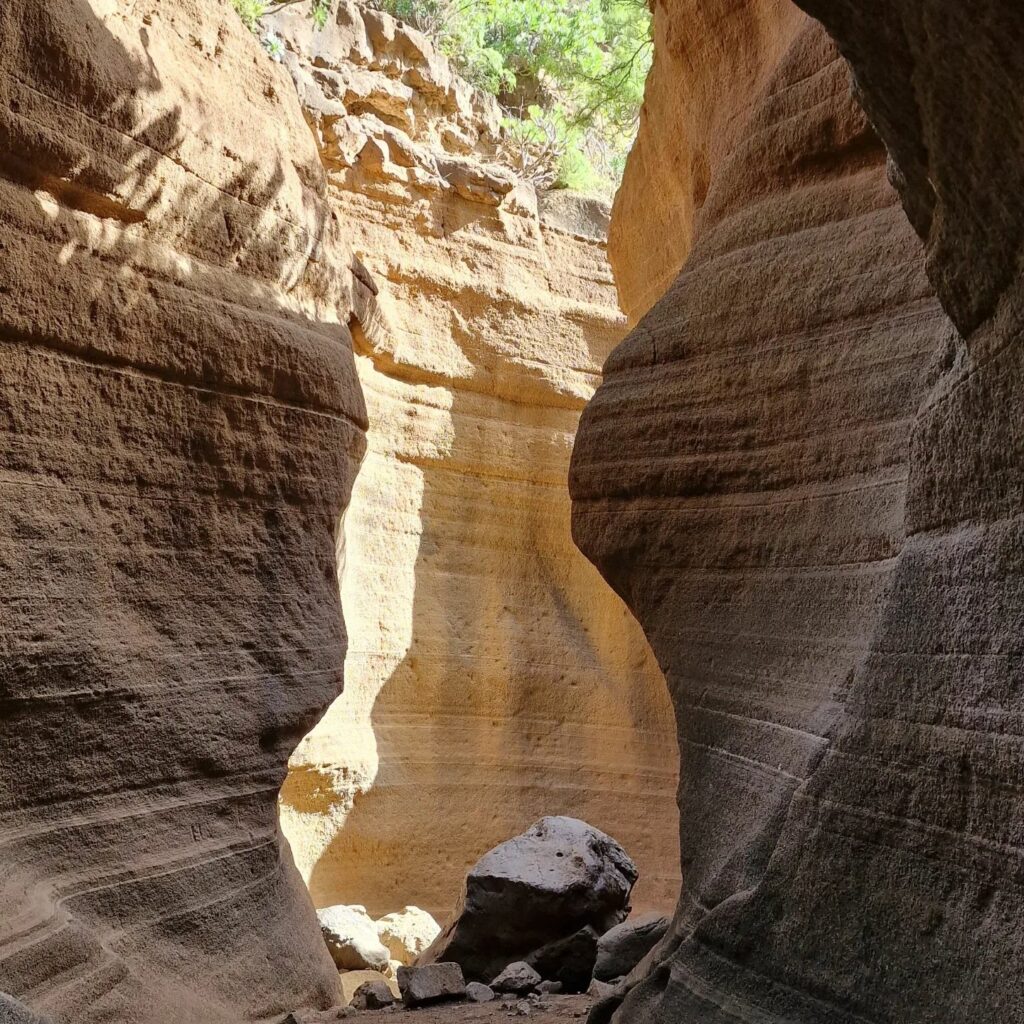 The municipality of Agüimes is located in the southeast of the island, offering several attractions for visitors. In the historical center of Villa Agüimes, there are numerous country houses, and tourist activity in the municipality is well-developed. The Church of Agüimes and the Hermitage of San Sebastian have been declared National Artistic and Historical Monuments.
In Guayadeque Gorge, you can see several cave houses carved into the slopes of the mountains, where people still live today.
In the Costa area, there is Arinaga Beach, which has transformed from a summer zone into a residential area. The well-groomed promenade along this beach is particularly noteworthy.
Recommended accommodations
10. Santa Lucía, Vecindario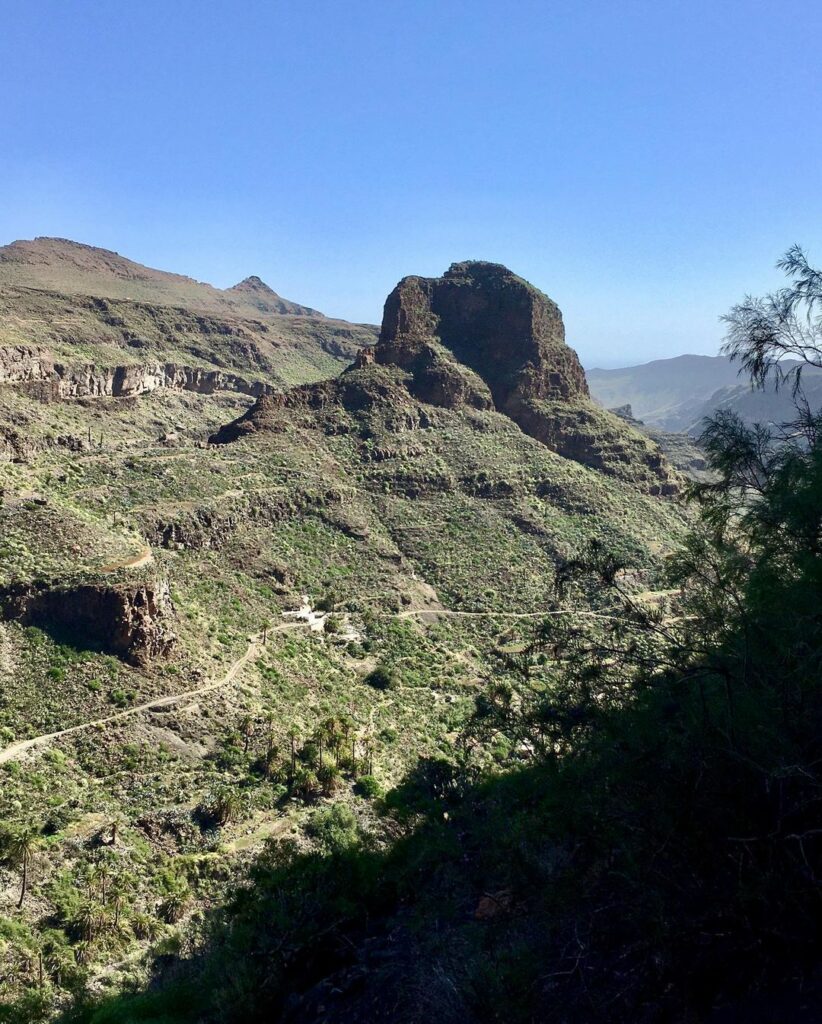 The municipality of Santa Lucía de Tirajana is located in the southeast of Gran Canaria, with Vecindario village as its central part. This municipality is also home to the Fortress of Ansite, the last stronghold of the pre-Hispanic resistance during the Conquest.
Visitors can explore other interesting sites such as Ansite Fortress, San Nicolás de Bari Hermitage in Sardina del Sur, Santa Lucía Church, Pozo Izquierdo Beach, La Sorrueda Dam, Hao Fortress Museum, and various viewpoints in the municipality: Guriete, Las Tederas, Ingenio, and La Sorrueda Dam viewpoint.
Pozo Izquierdo Beach, located on the coast of the municipality near Vecindario, is renowned as one of the best beaches in the world for windsurfing. Every year around July, the Windsurfing World Championship is held in Pozo Izquierdo.
Recommended hotel
11. Gáldar
The municipality of Gáldar, located in the north of the island, is also known as the Royal City and was once the capital of the island. Sardina del Norte Beach is a notable coastal feature. The city lies at the foot of the Pico de Galdar volcano, which rises to 1,443 feet (440 meters) and is jokingly referred to as "Teide Gran Canaria" due to its resemblance to the volcano in Tenerife. The Archaeological Park of the Painted Cave is one of the main discoveries of rock art in the Atlantic region.
Los Pinos de Gáldar is a nearly essential excursion due to the grandeur of the views and the extraordinary geological and botanical interest of the surroundings. Sardina del Norte Beach stands out on the coast, with a small fishing port nearby. Sardina is a charming small fishing village. One of the main attractions for divers in this area is the night dive near the fishing port dock.
Recommended accommodations
12. Telde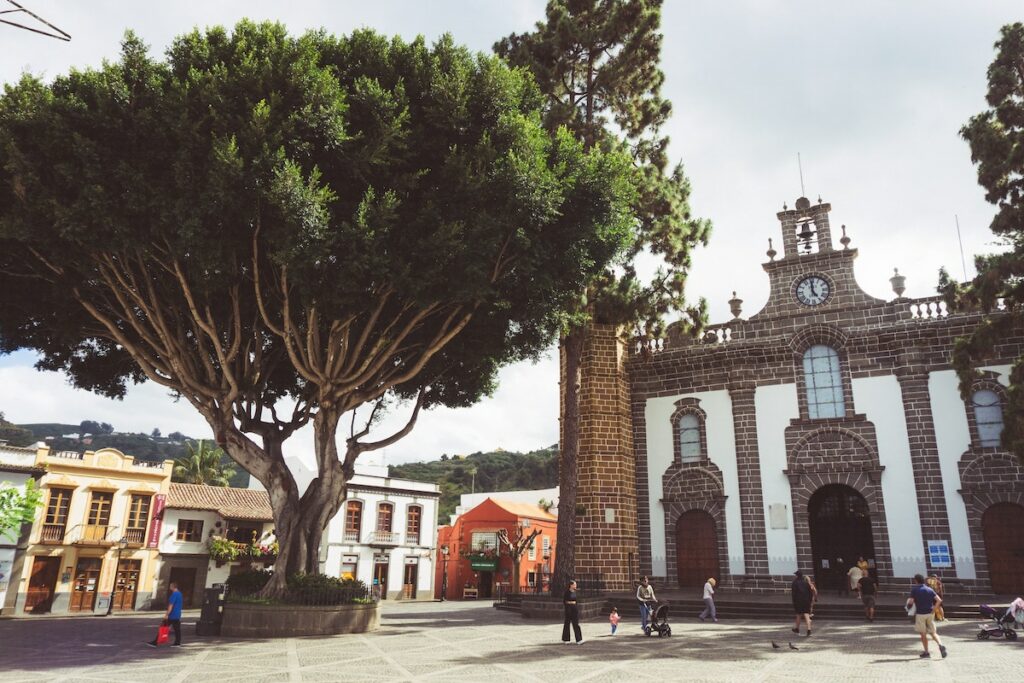 Located on the eastern side of the island, Telde is the second most populous municipality after the capital, Las Palmas. The tremendous archaeological wealth of Telde, which includes around a hundred monuments, a rich historical and artistic heritage, and valuable ethnographic values, makes this city a must-visit destination for those interested in culture.
Attractions in the municipality of Telde include the beaches of Costa de Telde, Playa de Melenara, La Garita, Playa de Salinas, Playa de la Bahia de Gando, Playa de Ojos de Garza, Tufia, St. John's Church, and three beautiful volcanoes: Mount Las Palmas, Mount Four Gates, and Mount Holiness.
Now I want to tell you about one of Telde's fantastic places: Tufia village and its secret beach. This is one of those places that you may unexpectedly discover while traveling to another destination, and suddenly you fall in love at first sight. The same thing happened to me in Gran Canaria once, and it appeared as if by magic, forever remaining in my memory.
Tufia is one of those hidden gems in Gran Canaria where you can swim, take a short walk around the village, and ultimately spend the day. A remote village in the municipality of Telde, it is the perfect place to discover another piece of the true Gran Canaria.
Recommended accommodations
13. Las Palmas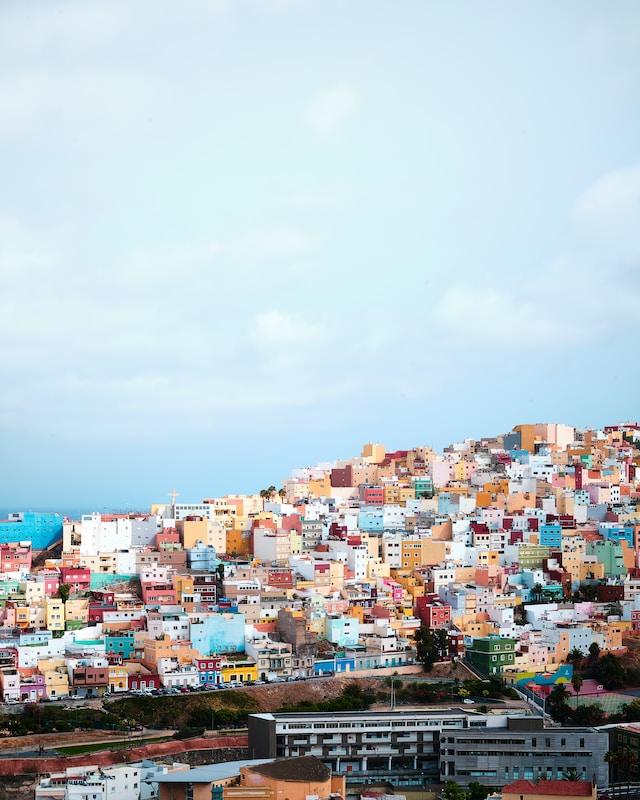 Las Palmas de Gran Canaria is the island's capital, located in the northeast of the island, 15.5 miles (25 km) or 30 minutes by car from the only airport on the island. The city has a population of 370,000 people.
The city offers a wide variety of hotels, restaurants, concert halls, nightclubs, and picturesque beaches. For history and architecture enthusiasts, there are also many historical monuments dating back to the 15th century, museums, parks, buildings, and squares.
Life in Las Palmas is full of cultural events; spectacular events and various festivals are held here all year round.
I have already told you about the capital, so I refer you to my previous story, and here I will give you practical advice that will save you time: take an exciting sightseeing tour around the city with a guide. This service is provided from Monday to Saturday and starts at 9:30 AM and ends at 5:45 PM. Every 30 minutes, a unit departs from Santa Catalina Park. The ticket, which can be purchased on the bus, is valid for the entire day and allows you to get on and off freely at the stops.
Recommended hotels
Best Places in Gran Canaria FAQ
What are the best places to stay in Gran Canaria for young couples?
Choose one of the island's resorts; the choice depends on your tastes. Some people prefer active and lively evening and nighttime activities, while others enjoy admiring nature and waking up early for hiking. I provided an overview of these resorts above in the text; you can stay in one place and rent a car to explore the island. Gáldar, Puerto Rico, or San Agustin & Bahia Feliz are the best options and are less crowded, too!
Which places to avoid in Gran Canaria?
There are no such places on the island, except if you're not a fan of noisy parties, then Playa del Ingles in Maspalomas may not be for you, especially if you stay in areas close to night bars and discos. Many hotels have adult-only warnings. Choose Campo Internacional, Meloneras, or San Agustin & Bahia Feliz for a relaxing pastime. Note that remote areas of Maspalomas beaches in the dunes are designated for nudists. If you enjoy solitude with nature, then these places are for you.
What are the best resorts in Gran Canaria?
In my humble opinion, based on extensive experience, Maspalomas is the best place to stay on the island. It stretches along the coast for 12 miles and is divided into five resorts: Playa del Ingles, Campo Internacional, Meloneras, Bahia Feliz, and San Agustin. For a relaxing and upscale vacation, I recommend Campo Internacional and Meloneras. Playa del Ingles in Maspalomas is not a quiet place, especially at night, despite the natural beauty of its dunes and beaches. This resort is more suitable for active and young people, particularly popular with those aged 18-30.
What is the most beautiful part of Gran Canaria?
The most beautiful part is Maspalomas, with its resorts Playa del Inglés and Meloneras, due to their proximity to the Maspalomas dunes.
Final thoughts
As you've learned, there is a vast selection of hotels in different price categories on the island, from luxury hotels to budget options, apartments, private villas, and vacation homes. Consider what suits you best, choose a resort, time of year, and dates, and set off to discover the stunning island of Gran Canaria. I hope it will become a lifelong love, as it has for me.
For those who want to combine a year-round beach vacation with an average temperature of 25°C (77°F) and visits to nature parks, mountain trails, volcanoes, mountain peaks, and bustling city life, Gran Canaria is an ideal place to relax.
I may seem repetitive to some, but for the 10th year in a row, I return to this incredible island and continue to discover and enjoy all its corners. I am amazed by the nature and tranquility of these places, especially the Maspalomas dunes.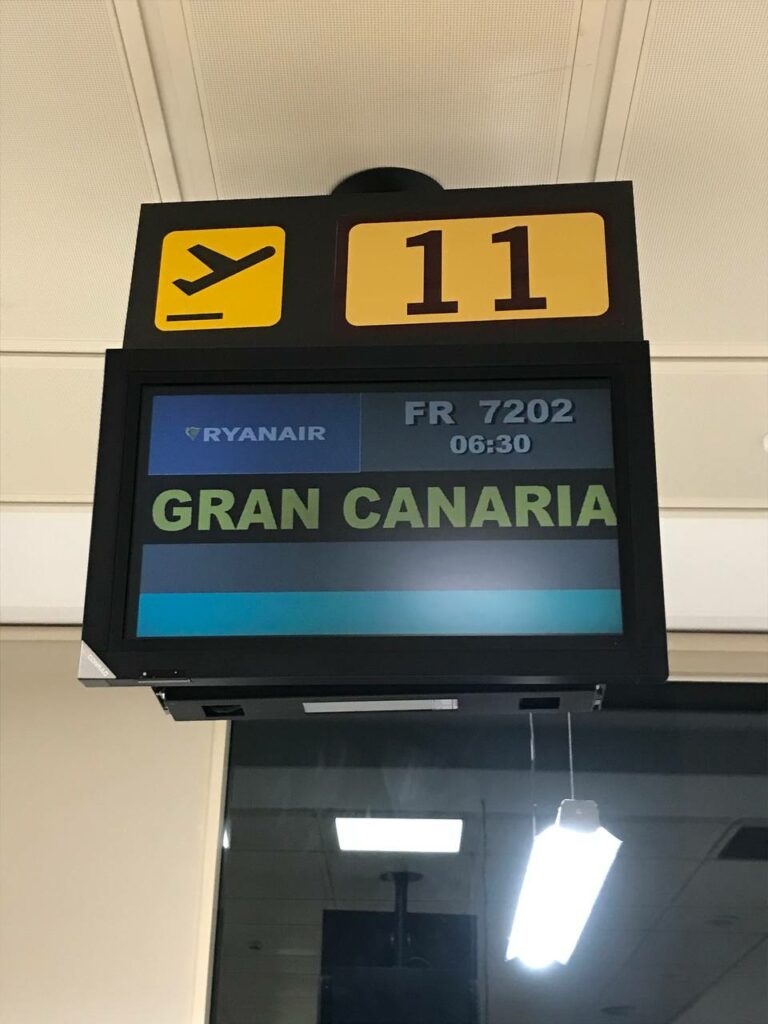 Gran Canaria has many beaches, with white or black sand, including gentle ones, where you can walk or run in the morning. There are also many other entertainment options, such as Holiday World, water park, Poema del Mar aquarium, and Crocodile Park, as well as authentic villages, ancient churches, historical buildings, and more.
So, why wait? Enjoy Gran Canaria and have fun!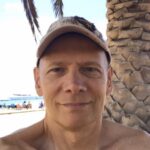 Meet Sergio! A travel enthusiast with a zest for exploration, he's all about discovering Spain's beauty, especially the Canary Islands! 🏝️
As a true Canary Islands lover, Sergio dedicates his time to uncovering hidden gems  and capturing stunning landscapes  that make this paradise so unique. He combines his love for adventure and in-depth knowledge of the region to inspire fellow travelers and help them create unforgettable memories on their journeys through the Canary Islands and beyond!
Follow Sergio on Instagram.
This post might include some affiliate links. If you make a purchase through these links, I may earn a small commission at no additional cost to you. I appreciate it when you use my links to make purchases.