What to Do in Ocho Rios Jamaica? A definitive guide
Nadia Podrabinek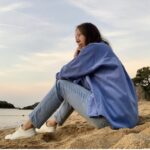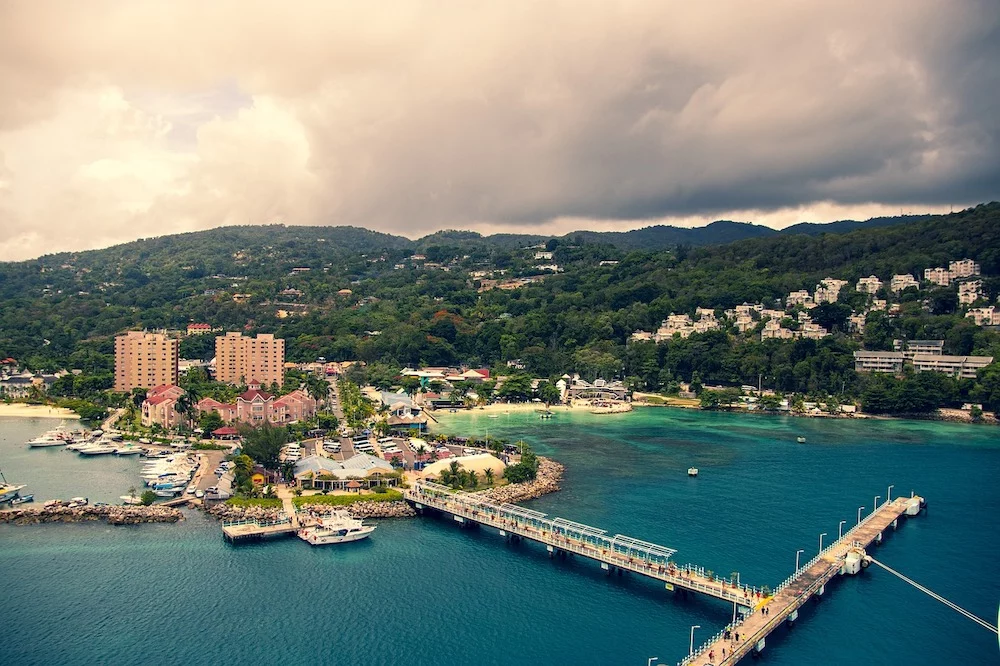 The best thing about Jamaica is that it is full of beautiful places to experience. One such place is Ocho Rios, where you can enjoy various fun activities in scenic places and get in touch with Jamaican culture.
It is also a must-go destination for adventurous ones, from ziplining above the trees to snorkeling in the sea. Now, let's continue with the exciting activities you can enjoy in Ocho Rios and make many fun memories.
---
Key takeaways
There are plenty of attractions in Ocho Rios.
Do not miss Island Gully Falls, Dunn's River Falls, and Mystic Mountain.
See the Bob Marley's museum.
Enjoy beaches, rainforests, and bamboo rafting on a river.
---
Map of attractions in Ocho Rios
15 exciting things to do in Ocho Rios
Ocho Rios is one of the perfect places in the Caribbean for people who love to have adventurous trips. Let's look at some places in Ocho Rios that you can visit if you seek adventure. You can also bring your kids here so they can make beautiful memories to look back at.
Read also: Where to stay in Ocho Rios
Dive Into Luminous Lagoon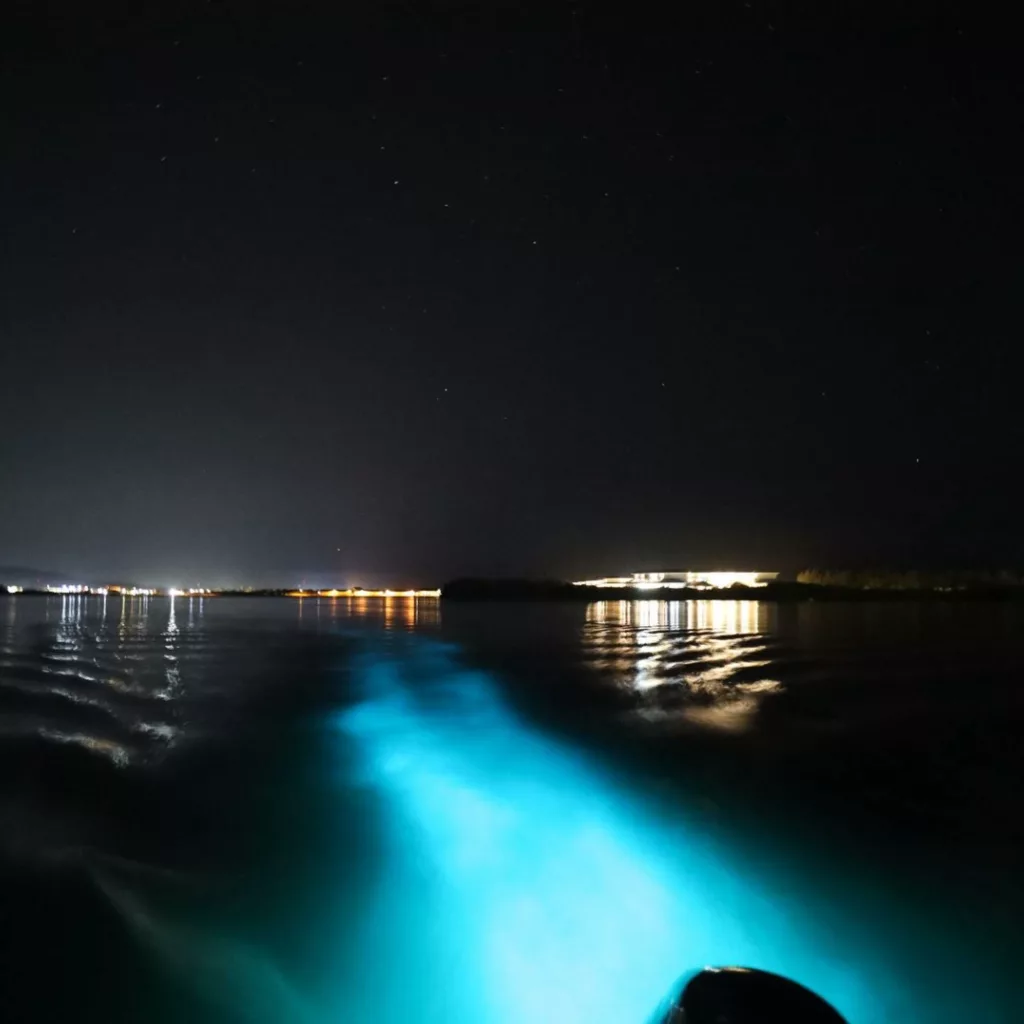 One of the few places in Jamaica that is a nighttime attraction is the Luminous Lagoon, which you can tour by boat and even swim in the lagoon.
It is one of the four glowing places in the world, with the brightest blue glow.
What gives this water the blue glow? Luminous lagoon has bioluminescent organisms which start glowing when they get agitated. Try splashing the water a little, and you will see the magical luminescence.
You can find the Luminous Lagoona little outside Falmouth, between Ocho Rios and Montego Bay. Remember, setting foot on the lagoon's ground can feel weird because the mangrove makes the ground jelly-like. But you will get used to it soon.
Go for a Swamp Safari Tour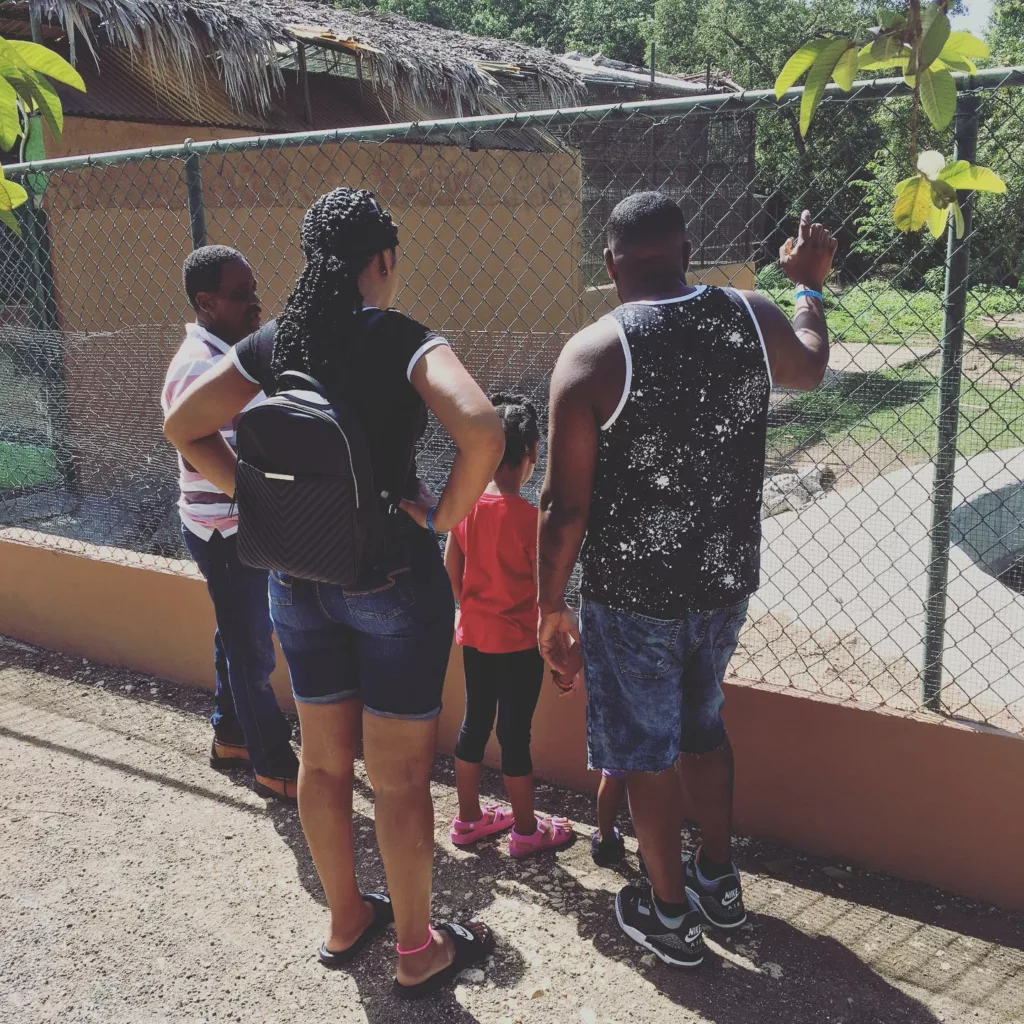 Are you looking for something exciting and unusual from the mundane trip activities and tours? Then it would be best if you visited the Swamp Safari Village for a thrilling experience with crocodiles. Sounds exciting, huh?
Swamp Safari Village was established in 1969 as a farm for crocodiles and went on to be used for a crocodile stunt in a famous James Bond movie in 1972. The resident crocodile expert will show you crocodiles in every stage of their development. You can also get to hold a baby crocodile!
After touring the crocodile pens, you will get a tour of the aviary, watch the almost extinct Jamaican Coney, and see the only Green Anaconda that was found in Jamaica.
Visit Yaaman Park for a Camel or Mud Buggy Ride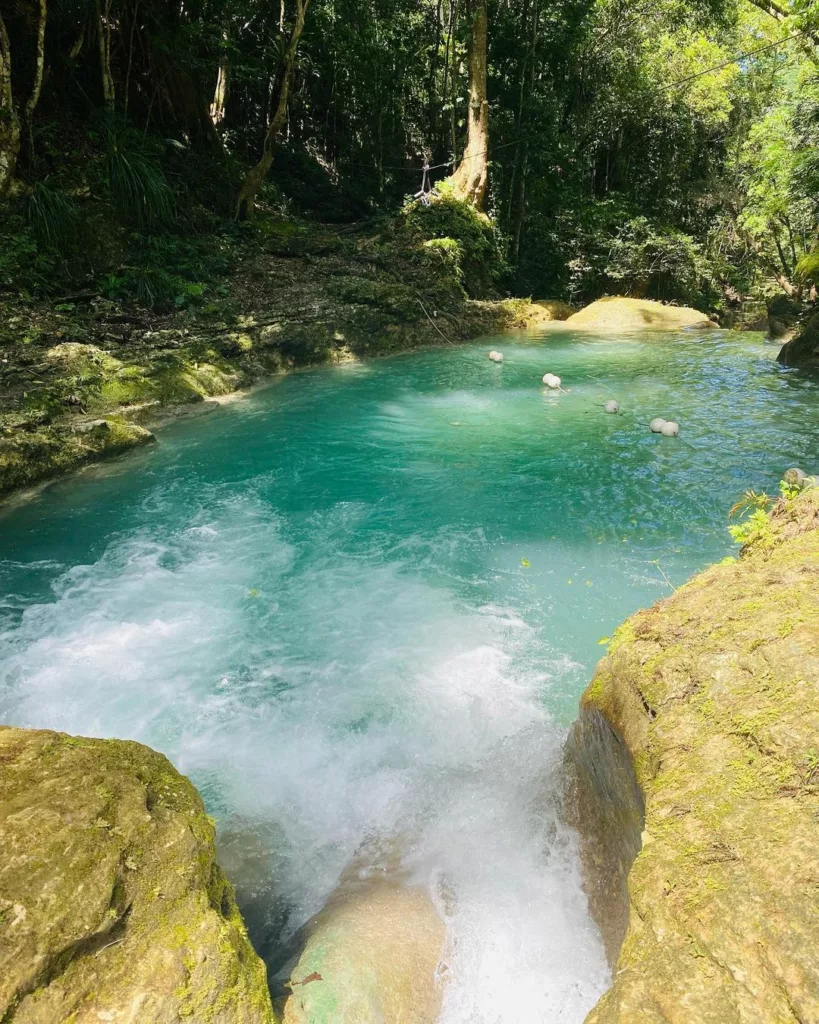 Camels are not creatures you would typically associate with a place like Jamaica. You might even wonder, how can camels be in Jamaica without deserts? Well, you can find them in only one place, in Yaaman Adventure Park.
From Yaaman Park, you can enjoy a safari trekking experience by riding on a camel. You can enjoy the Jamaican countryside on their back and experience their culture and lifestyle.
Do you know what makes this experience complete? You will get a license as a camel driver once you have completed the camelback safari trekking.
Explore Green Grotto Caves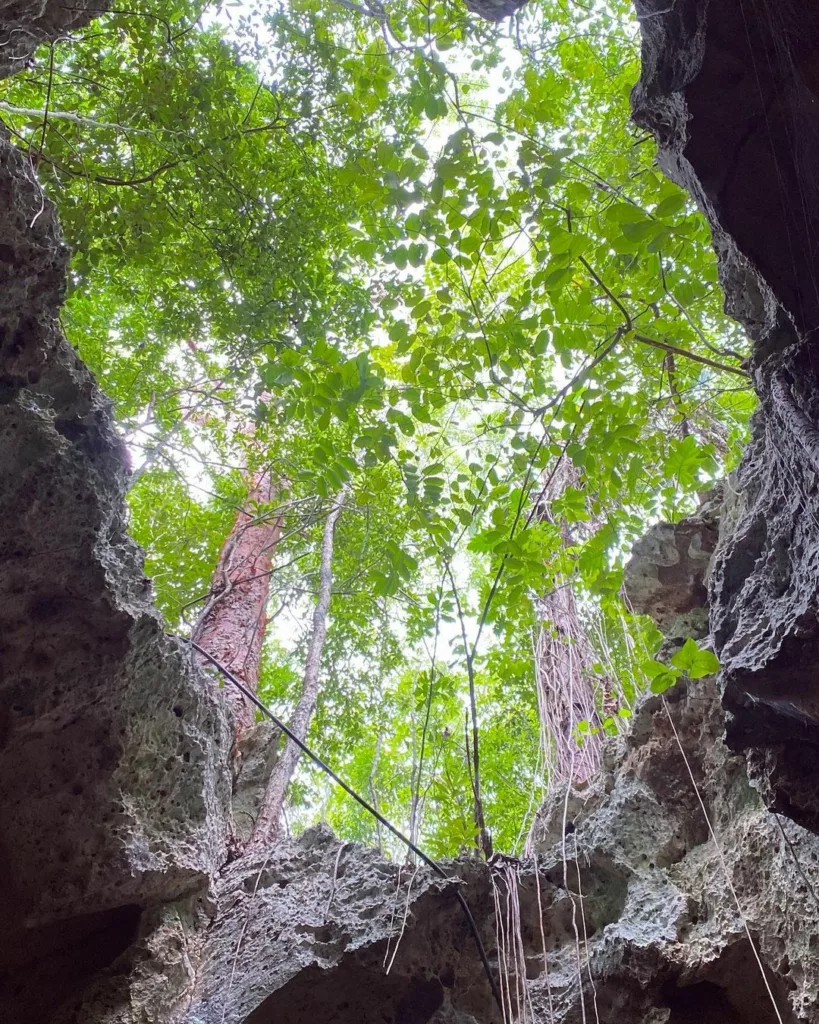 As if caves are not deep enough, Green Grotto Caves embody depth literally and in terms of their long history. Due to their historical significance, they have been given the Runaway Caves nickname.
The Arawak Indians used to inhabit these caves and are known to be the first to stay here. Also, did you know that a James Bond movie was shot in these caves?
Green Grotto Caves get their name from algae that cover the caves entirely and give them the characteristic green color. These limestone caves were once home to bondslaves who escaped and took refuge in them. You can also tour the underground river with your guide.
Visit the Nine Mile Village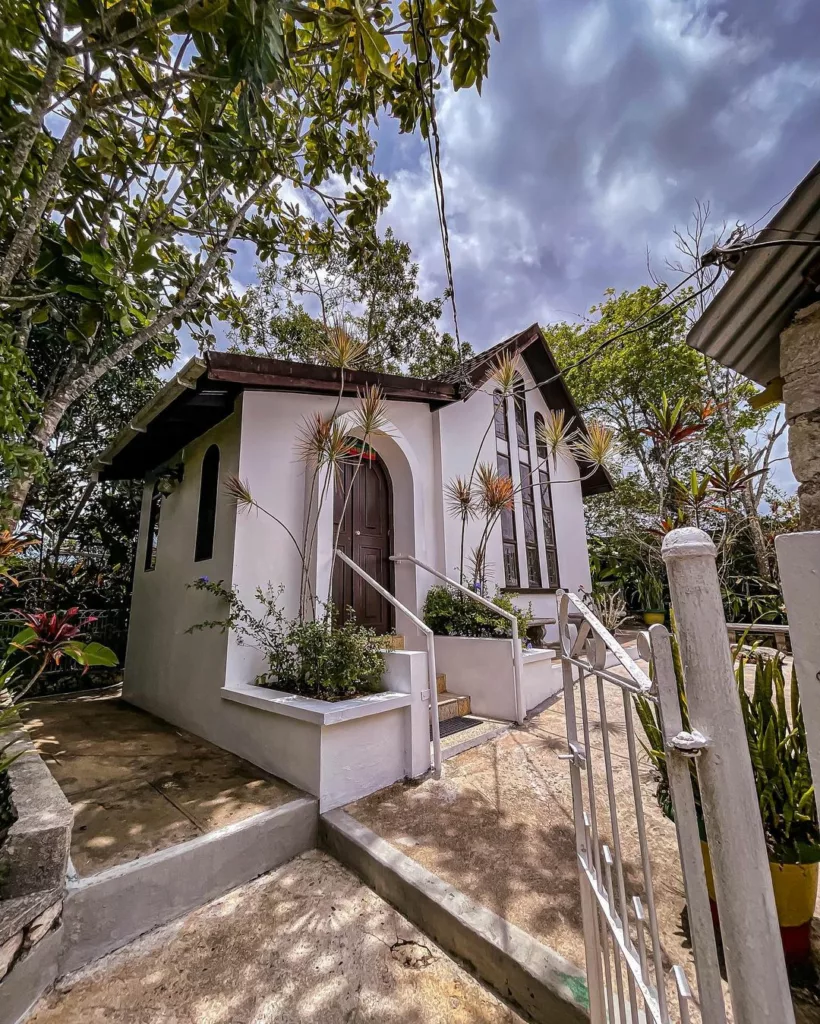 You have probably heard of Robert Nesta Marley, more commonly known as Bob Marley. If you are a fan of this reggae icon for his music or philosophy, then you should keep Nine Mile Village on your must-visit list.
Nine Mile Village is where this icon was born and was finally laid to rest. It is a small, modest village where you'll see the influence of the Rastafarian religion.
The ride to this village is challenging, given the road conditions. However, it is worth that trouble, as this part of the Jamaican countryside is breathtaking.
Your tour guide will take you to Bob Marley's mausoleum, where you will find two tombs and some belongings that gave him inspiration for his songs. You may want to visit a museum that has exhibitions on Bob Marley's life.
River Tubing Along the White River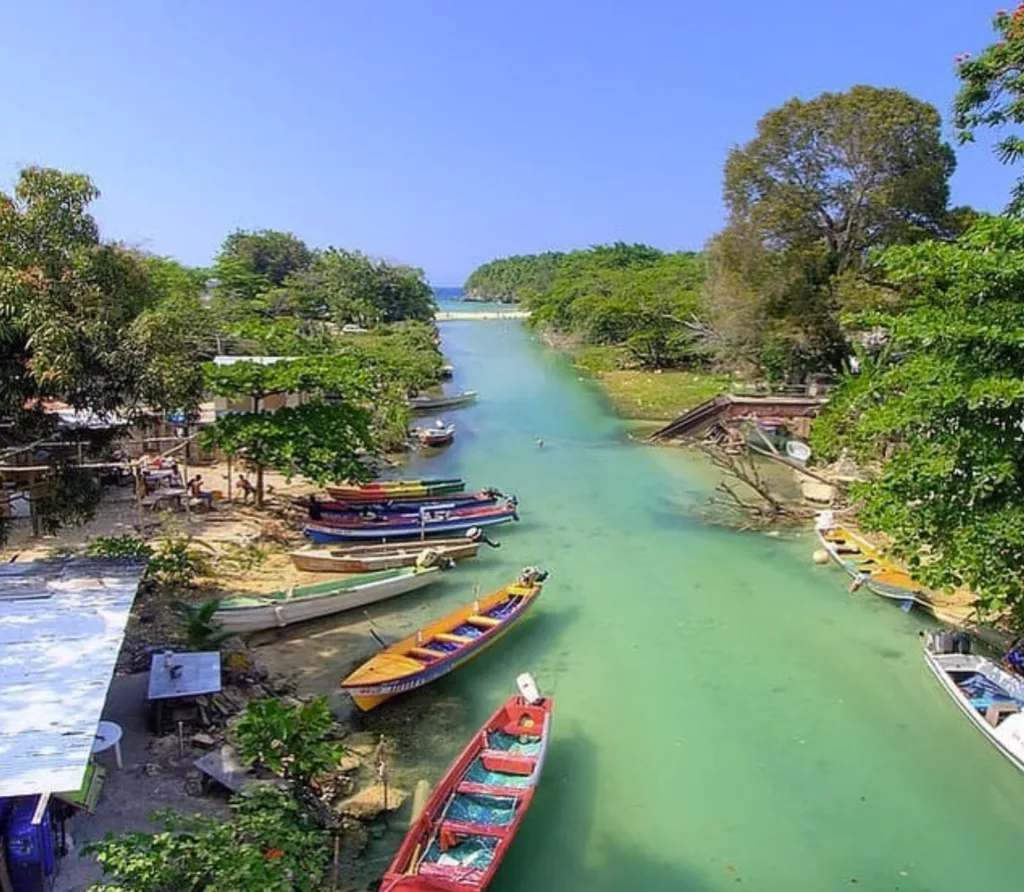 I suppose you may want to unwind with your family or friends in a delightful experience in Ocho Rios. In that case, you can go river tubing along the White River.
Tubing on this river is a serene experience for most nature lovers. You can enjoy the different parts of Jamaican nature here while lying on a tube and drifting with the gentle rapids. Besides, people who are always fascinated by birds can spot many bird species here.
The singing guides will add more pleasure to the experience. Also, you will receive safety training and other essentials before starting this tubing ride.
Visit Mystic Mountain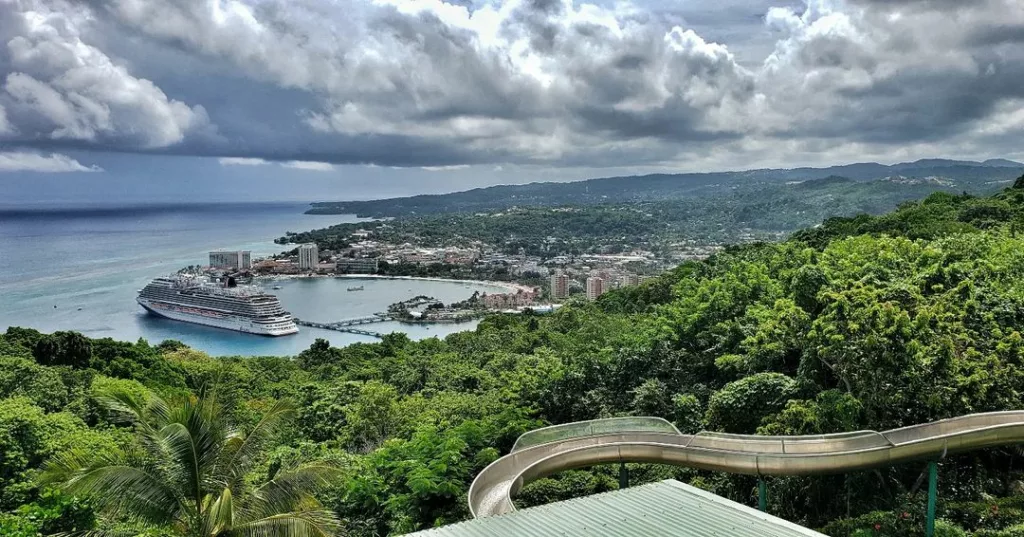 When you hear the name, you may feel like you will have a mystical experience. But how mysterious is it really? Well, my experience here was no less than magical, and you do not need to hike your way up to the mountain on foot. As soon as you reach the base, you can get on the Sky Explorer, a chair that will take you up to the rainforest by cruising you through eye-pleasing views.
But that's not all. The magic starts when you get on top. Once you reach the peak of Mystic Mountain, your guide will take you on a rainforest walk. You can also slide to the infinity pool on a water slide, get a rope sliding course, or can climb a wall as well.
Getting down the mountain is easy – you can zipline down or slide down a bobsled.
Visit Dunn's River Falls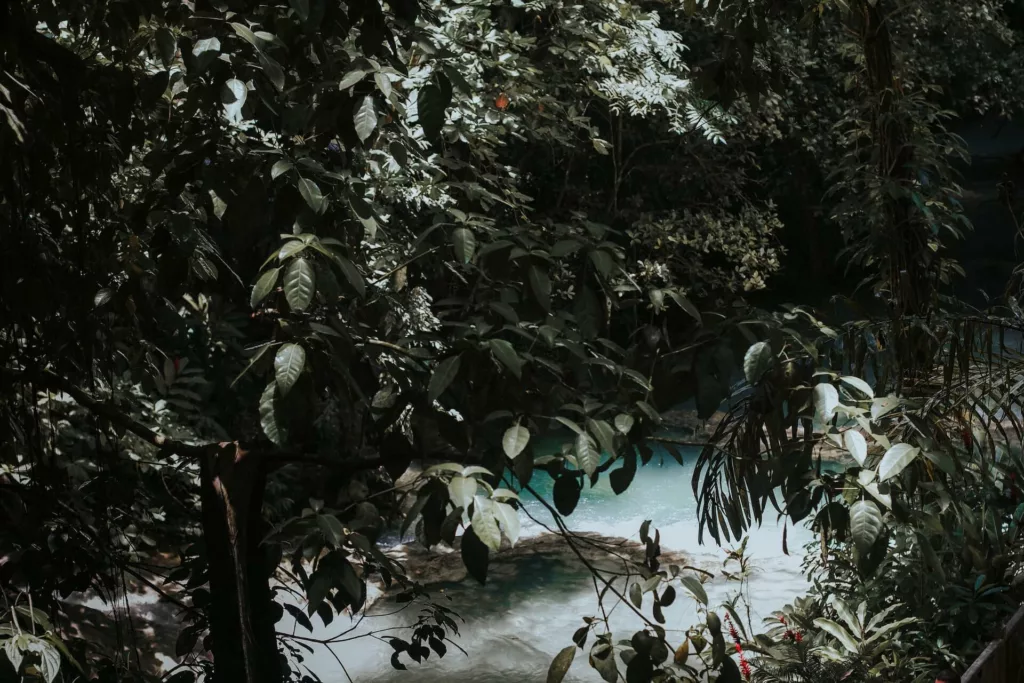 Dunn's River Falls is one of the most visited spots in Jamaica, and rightfully so. The falls cover hundreds of feet in length and have quite a few natural pools where you can take a dip. Besides, there is a beautiful beach just as you get down from the falls.
There are several tourist attractions from Dunn's River Falls, such as Dolphin Cove, a marine park where you can play with the creatures, snorkel, kayak, etc. All of these make Dunn's River Falls a special spot for everyone.
Helpful tip: I visited this place once when it was filled with tourists. After talking to a few people who visited this place various times, I learned that you need to see the falls on a day and time when cruise ships do not harbor on the port. So take that into account when planning to visit this location.
Have a Ziplining Adventure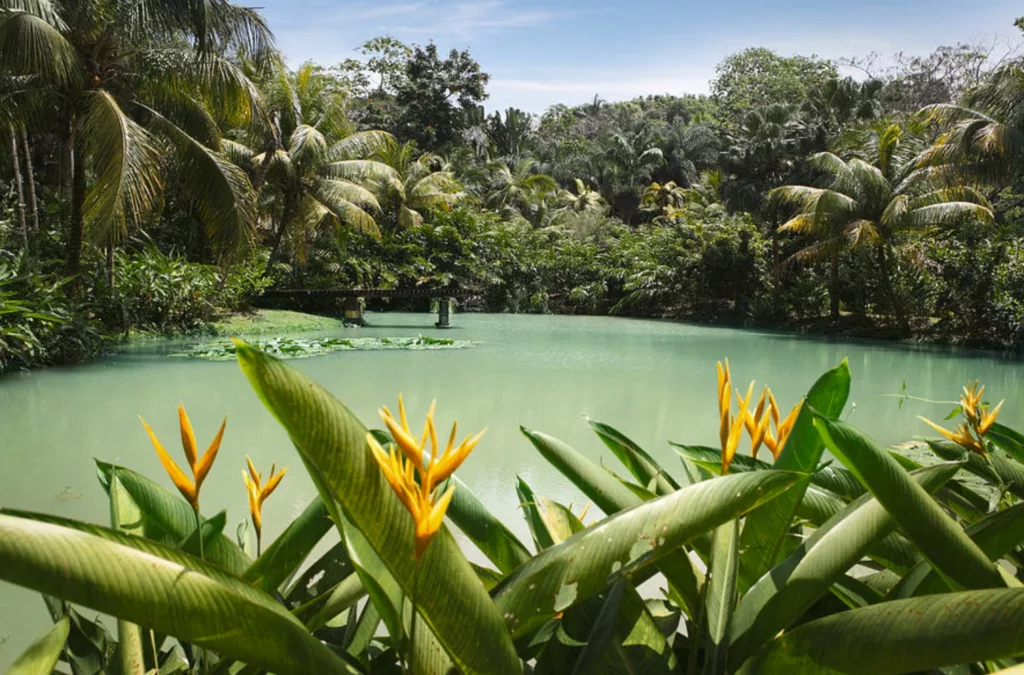 Just a little away from Ocho Rios lies another mysterious place, the Cranbrook Flower Forest. You can enjoy an excursion here, but there are, perhaps, more extraordinary adventures for you to enjoy, one of which is the zip line canopy.
This will surely give you one of the most incredible adrenaline rushes that you will ever experience in your life.
You can also bathe in the river, watch the peacocks parading, and see a lot of beautiful tropical flowers that you may not have seen anywhere else.
Everything looks fabulous if you see all this beauty while ziplining above the flower forest trees.
There will definitely be an instructor who will guide you through the entire experience. Besides, there are different lengths you can cross through according to your comfort, ultimately landing on the white river.
Dive into Island Gully Falls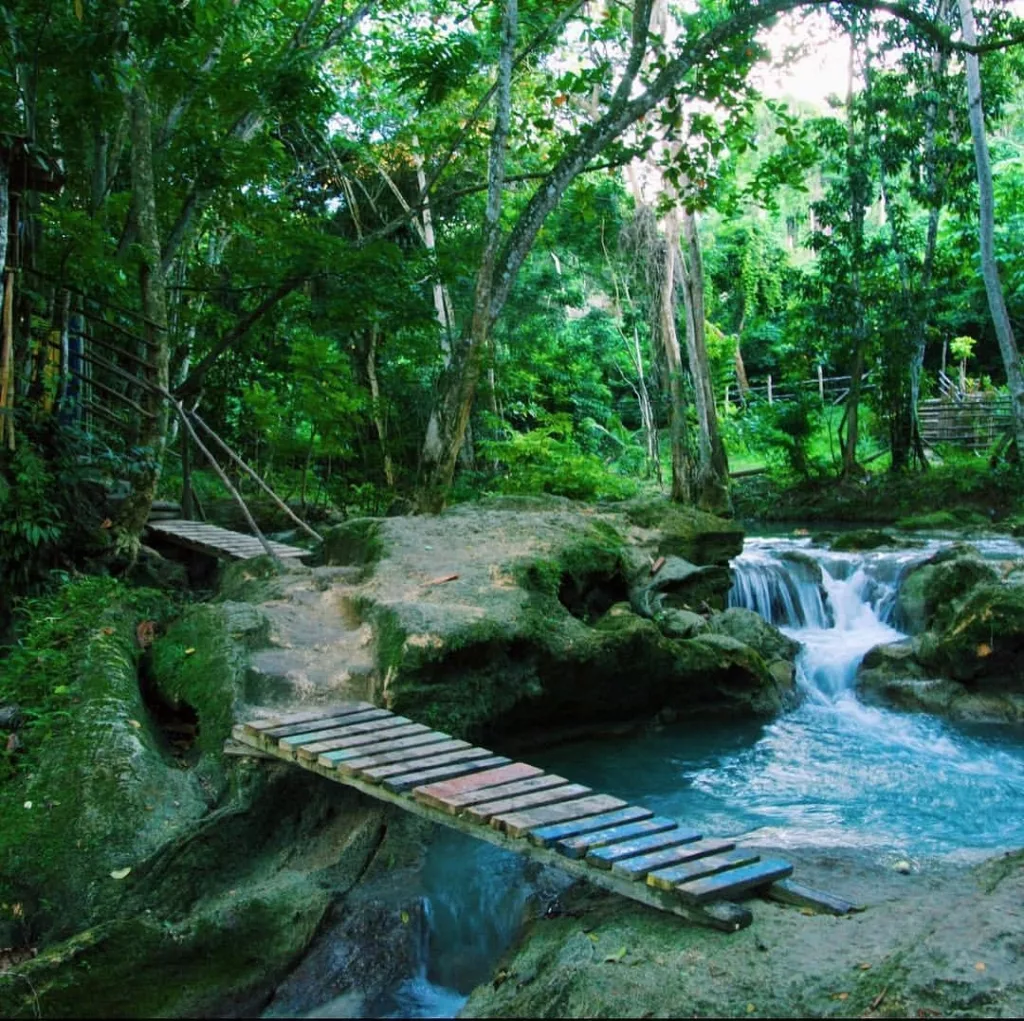 A relatively quiet tourist spot, Island Gully Falls is even more beautiful upfront.
You may ask, why is it quiet if it is a tourist spot? The answer is simple: Not everyone gets there, as the road is quite tricky. It is slippery and rocky, so many people skip visiting this place. But the journey to these falls is absolutely worth it, in my opinion, once you see the turquoise pools.
Go for a Bamboo River Rafting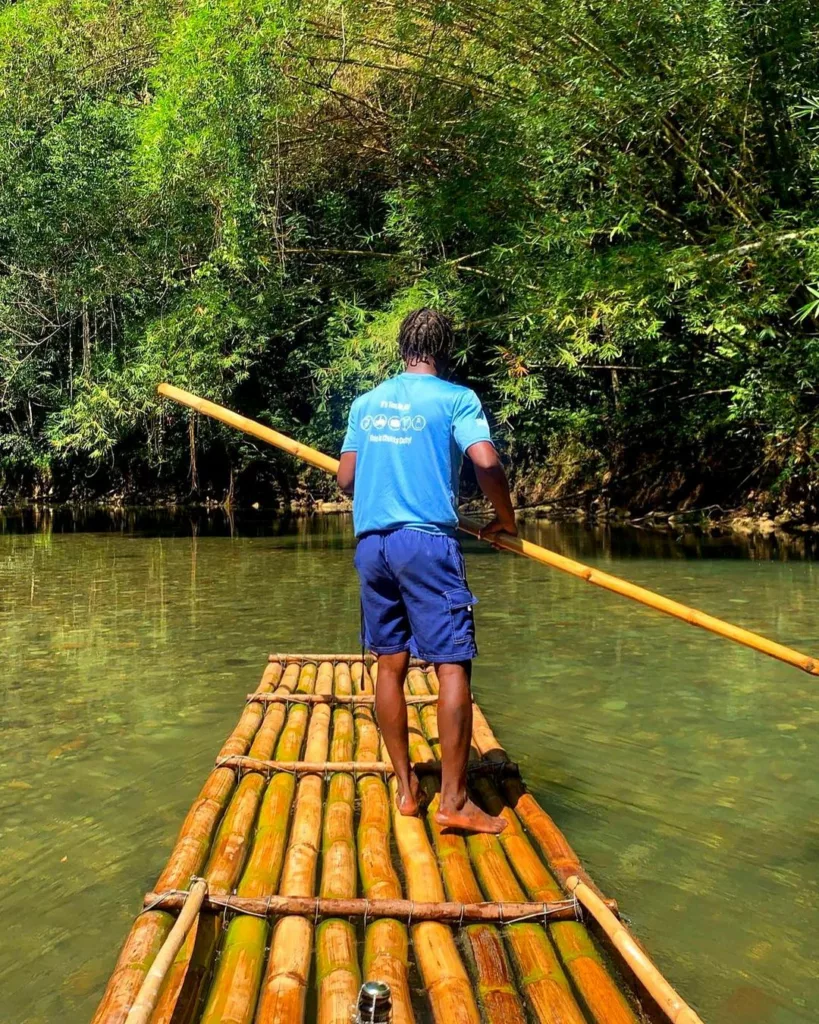 If you want a romantic Jamaican experience, you should try river rafting on a bamboo raft. To have one of the best rafting experiences, I recommend visiting Rafter's Village.
The villagers greet you with a cold drink, after which you can explore the village, especially the fabulous Miss Martha's Herb Garden. You can learn about all the herbs and their medicinal and healing properties.
After the greeting ceremony, your local guide takes you on a 30-feet long bamboo raft floating across Martha Brae River.
Go for Snorkeling and Scuba Diving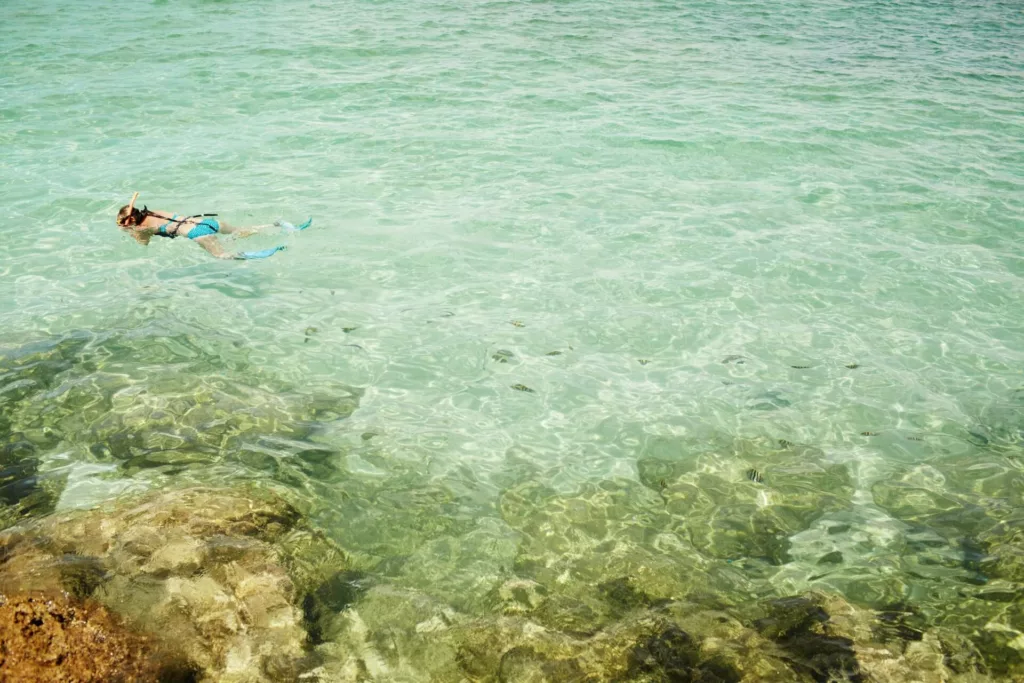 Ocho Rios has some great places where you can go snorkeling, whether traveling solo or in a group. One of the best spots for snorkeling in Ocho Rios is the beach by Dunn's River Falls.
You do not have to go there all by yourself. There is some snorkeling cruise that you can contact that will take you to the falls. You can also enjoy beach hopping if you book a private cruise.
And suppose you are interested in scuba diving and trying it as a first-timer. In that case, Ocho Rios has a scuba diving instruction center where you can learn all the basics.
Helpful tip: Scuba diving in most Ocho Rios places is kid-friendly! There are places where kids can go scuba diving safely within twenty feet of the water.
Trek Through a Rainforest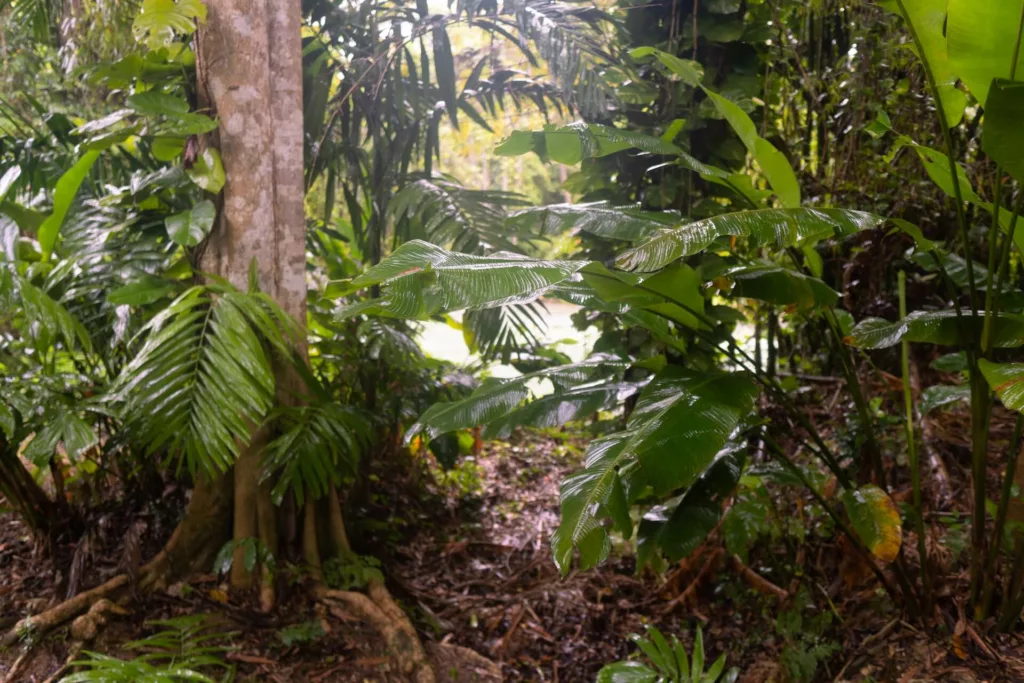 Exploring a rainforest is a one-of-a-kind experience, as you will experience various ecosystems within a concentrated space. There are a lot of rainforests that you can choose from, especially if you want to go hiking.
I personally loved Konoko Falls and Park, which is in a rainforest. Two other beautiful places are the Cranbrook Flower Forest and the Mystic Mountains, where you can enjoy other activities too.
A tour guide may help you pick up a few items from the rainforest, which you can later use to learn Jamaican cooking in any cooking school. This way, you can learn about foraging and know better about the culture through cooking their dishes.
Tour in an ATV or a Swamp Buggy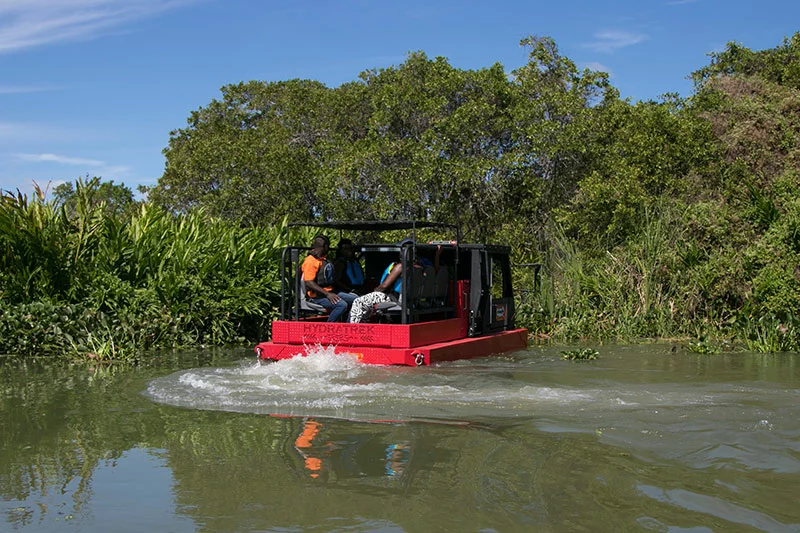 There is an exciting option to wrap up the entire Ocho Rios tour – you should go riding in a swamp buggy or an ATV!
There are a few places on the North Coast where you can do this, such as Yaaman Adventure Park, Sandy Bay, and around the ruins of a sugar estate.
The best place to start your tour will be Yaaman Adventure Park. If you are riding alone, an ATV will be the best option. And for a pair, a swamp buggy is the only safest option.
Where to stay in Ocho Rios
What to Pack for Jamaica
Jamaica is a tropical country, making it a hot and humid place almost throughout the year. So it is wise to pack light-colored breathable clothes, medicines, and comfortable shoes.
The list of things to take for your trip
short
tank tops
cotton t-shirts
swimsuits
anti-allergy medicines
bug spray
water shoes
sandals
snorkeling stuff (if you do not have them, no worries)
Negril vs. Ocho Rios: which is the better place?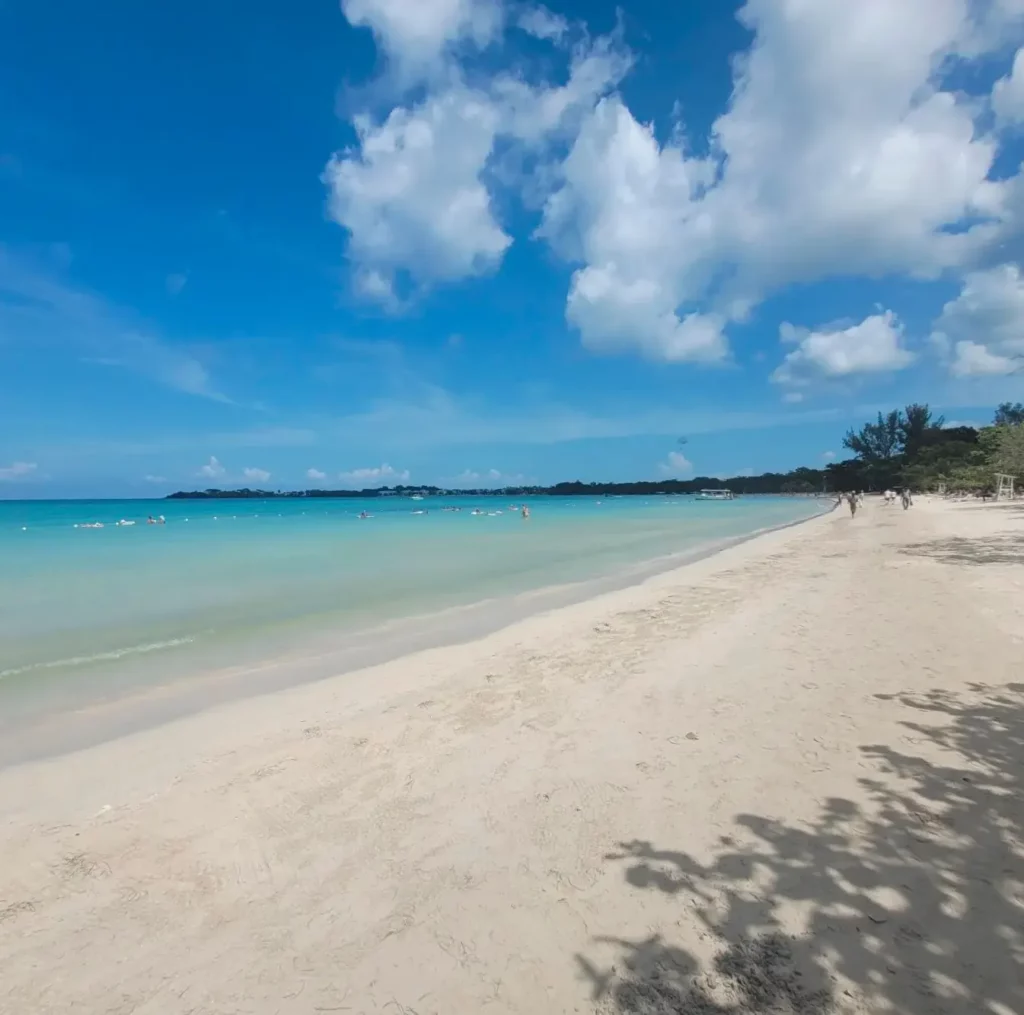 Ocho Rios is one of the top honeymoon destinations in the Caribbean for newly married couples. But so is Negril. So which one is better?
Let's quickly compare Ocho Rios and Negril and see how they stack up across several benchmarks.
The Beaches
If you envision a trip on white-washed beaches from where you can enjoy scenic views of endless turquoise water, then you must visit Negril. This place is full of awe-inspiring beaches. Besides, most of the beaches in Negril have rocky cliffs, adding more layers to the already beautiful site.
Ocho Rios also has several beaches that can easily stand toe-to-toe with the beaches in Negril. Two of the most popular beaches are James Bond beach and the beach by Dunn's River Falls.
Another attraction of the beaches in Negril is the dreamy sunsets. Every sunset here presents a different picture of the sky every day. But Ocho Rios doesn't disappoint in this regard as well. One of the best locations in Ocho Rios for sunsets is Ocho Rios Bay Beach, which also has the blue beach flag.
The Food
The food is amazing in both locations. You can try the villagers' food in Ocho Rios, which is a more authentic experience.
The nightlife
You will enjoy Negril immensely if you enjoy the nightlife in beautiful beachside locations. The beaches are filled with people dancing to reggae music as the sun sets.
In Ocho Rios, plenty of nightclubs and bars remain open into the wee hours of the night. Besides, you can enjoy cruise parties which can often be some of the liveliest events you will ever have the opportunity to experience!
Tours and activities
Negril has, no doubt, some of the best beaches in Jamaica.
However, Ocho Rios is the better destination for you if you are more adventurous. For instance, you can go snorkeling, scuba diving, ATV tour, camelback ride, and whatnot! You can also go on nature tours and cultural tours in Ocho Rios.
Affordability
Regarding the overall cost (which includes accommodation, transportation, activities, etc.), Ocho Rios is much more affordable than Negril.
In Negril, prices of everything are a bit more marked up, even when it comes to local transportation.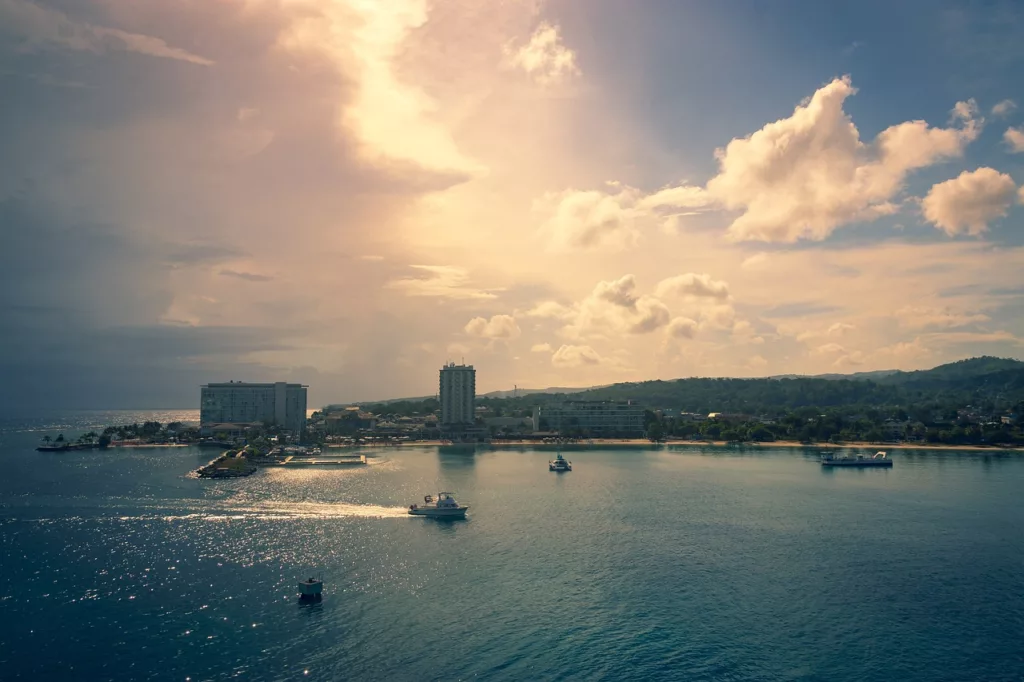 Final Thoughts
Ocho Rios is a beautiful and affordable place in the Caribbean where you can easily exceed your emotional budget. It is perfect for travelers of all kinds, but adventure-seeking souls especially. You can enjoy electric blue waters, experience life in the rainforest, and do many other beautiful things.
I hope you found this article helpful and can now plan and execute a wonderful trip to Ocho Rios, Jamaica. I wish you a happy journey!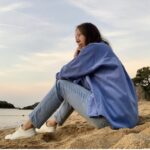 Hello, my name is Nadia.
I usually write about traveling (there are so many places to fit all the lifestyles), relocation (finding a job overseas or moving without losing an income), and living in a foreign country (adapting to a different culture and mentality). Follow me on Twitter, Facebook, Instagram, or LinkedIn!
This post might include some affiliate links. If you make a purchase through these links, I may earn a small commission at no additional cost to you. I appreciate it when you use my links to make purchases.