Lucca, Italy: My Pesonal Guide
Nadia Podrabinek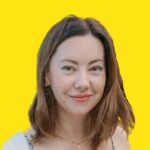 Written by Nadia Podrabinek
Hello, my name is Nadia. I usually write about traveling (there are so many places to fit all the lifestyles), relocation, and living in a foreign country (adapting to a different culture). My travels stretch beyond Spain, with journeys to the US, Italy, Norway, Portugal, and France. Relocating to Spain in 2018, I lived in cities from Barcelona to Madrid, currently calling Valencia home.  Follow me on Twitter, Facebook, Instagram, or LinkedIn! ... show more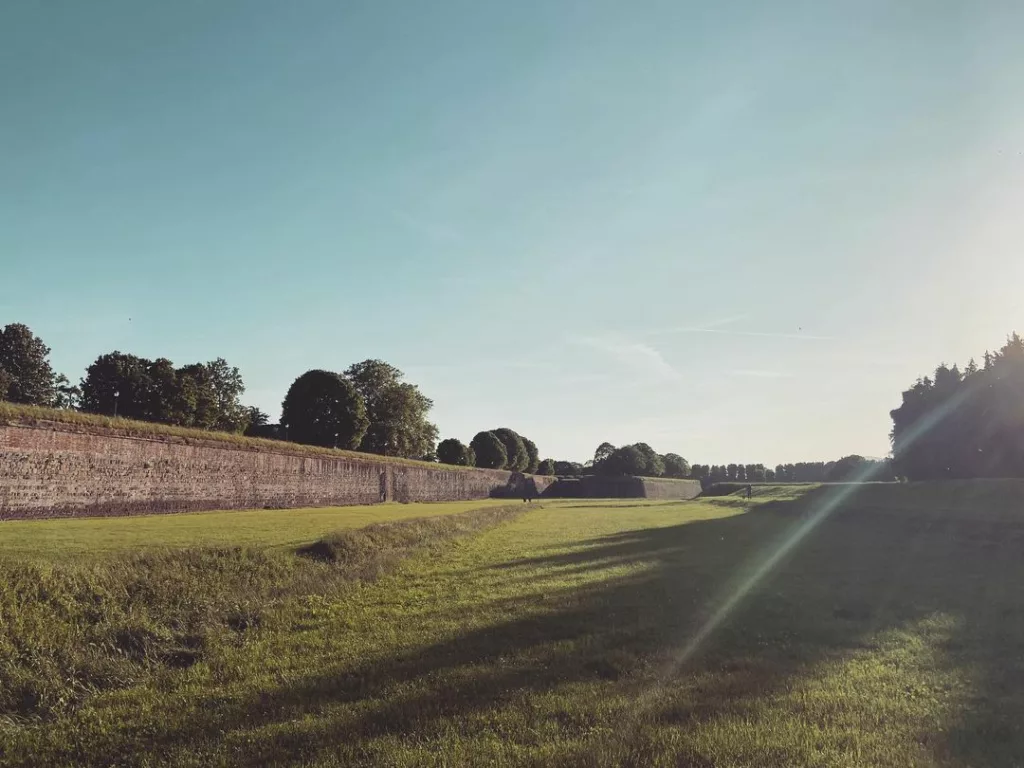 If you have been thinking about a European vacation focusing on history and culture, consider visiting Lucca, Italy.
When you think of Italy, you may think of cobbled, narrow streets, delicious local cuisine, and history and culture galore. Lucca has it all, so if you have been thinking about exploring Tuscany, then visiting this cool city should be high on your list of priorities.
Read also: Cheapest Places to Live in Italy
Also, this renaissance-era city is surrounded by magnificent historic walls that were once used as fortifications but are now an excellent fixture to observe.
In this post, I will explore 15 of the best things you can see and do in "The City of 100 Churches."
---
Key takeaways
Lucca is a small city, close to everything, not too busy, and very pretty.
Perfect for a day trip from Florence.
You can ride a bike on top of the city's walls.
The most underrated city in Italy
Not touristy at all, even in peak-season
---
What people say on Reddit
Viareggio would work, it's 20 minutes away from Lucca, you can just walk to the beach from the station, but, the shore is mostly all resorts, there are only a couple of tiny tiny free beaches which are not really enjoyable. Same thing for the other coastal places like Lido di Camaiore and Forte di Marmi. You could go to one of the resorts, it won't be difficult on early June. Otherwise if you're looking for a free beach you could go to Torre del Lago, but you might need to take a bus from the station.

l_uke_mt
City of Lucca: plenty of tourist attractions, easy to found.
The main attraction though is overlooked and it's the city walls, it's basically a huge park that goes around the city. Rent a bike (or just walk, it's not that long) and just enjoy it. From it you can see many things that are easily reachable from the wall.

As other said, Florence and Pisa are close. But also Versilia (Viareggio) if you want the beach.
And in the north there's mediavalle and Garfagnana with the mountains and plenty of trekking opportunities and rivers to bathe in.

But it all comes down to what you are attracted to: historical monuments? Science stuff? Theater? Etc

Fottavio
Make sure to go bike riding on the walls.

One of the finest weeks of my life was a holiday in Lucca. Absolutely charming city with a notable lack of tourists compared to the rest of Tuscany.

VinceCully
Monterosso al Mare is where I stayed, and then I did the hike to the other villages. I think there is more to do for a whole day in Monterosso and the fish soup at restaurant Ristorante Belvedere Di Santina Moggia E C.Snc is amazing!

foodie512
Where is Lucca?
Lucca lies in the Tuscany region of north-central Italy and is around 13 miles (20 km) away from the west coast and a 1-hour drive from Florence or 30-minute drive from Pisa.
How to get to Lucca
Your ways and means of getting to Lucca will differ quite a lot, depending on where you are departing from. There are three methods you can use to travel to Lucca.
If you are coming from America, or a far-off corner of Europe, then you should consider flying there. Three major airports are relatively close to the city.
the Pisa Gal Galilei is the closest airport
Florence Peretola
Bologna Guglielmo Marconi
If you have a choice, it would be best to fly to Pisa Gal Galilei, as it will only take a short bus, car, or train trip to get there.
If you travel through Europe by car, it is quite easy to get to Lucca from Florence.
Read also: Don't make these mistakes when driving in Italy
However, the catch is that the city's old center is a no-go zone for cars, and the areas that allow cars to enter are strictly reserved for Lucca residents.
There are some parking areas in some sections of the old town, but they will charge you around $30 per day to keep your car there. This is why it is often better to travel to Lucca by train or bus if possible, as Lucca features an excellent train station.
Getting to Lucca from Florence:
By train
Departs: Florence Santa Maria Novella station
Arrives: Lucca
Shortest travel time: 1 hour 20 minutes
By bus (Autolinee Toscane – Linee Regionali)
Departs: Via Delle Porte Nuove, 10, Florence
Arrives: Piazzale Verdi, Lucca
Shortest travel time: 1 hour 15 minutes
Best Things To Do In Lucca, Italy
While Lucca might seem like a small city, it is incredibly dense, and there are a wide variety of things to see and do. Below, I will list some of my favorite sights and activities in Lucca.
Stroll along the city walls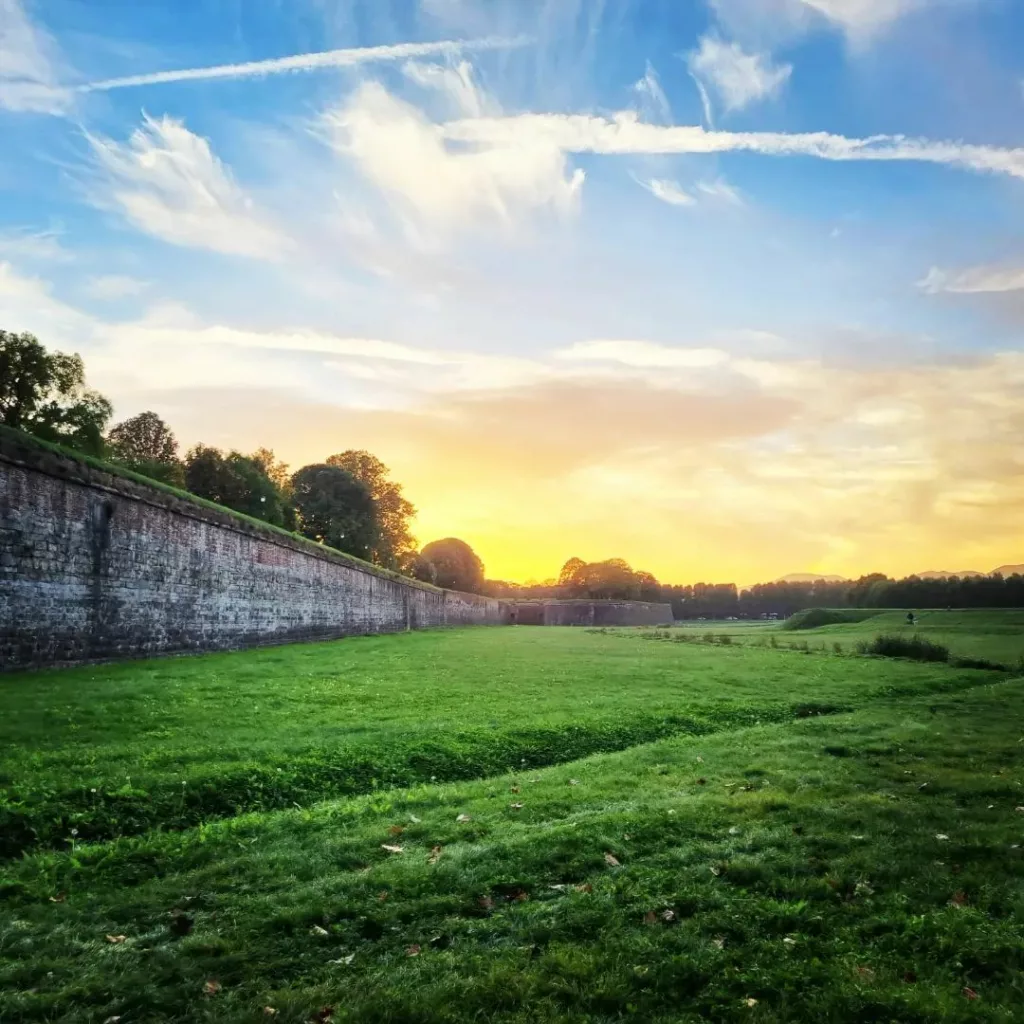 One of the most exciting and noteworthy things about Lucca is its historic city walls that border the old town. They were originally constructed in the Renaissance era and still stand in their glory today.
The city walls aren't just for show; you can stroll atop them as they feature a connected series of promenades. The old city walls have 11 bastions that are placed at strategic intervals. While they were likely once used as points to defend the city, they are now great spots to view the surroundings.
A footpath known as the Via delle Mura Urbane connects the bastions. The path is around 2.5 miles long and is lined with trees. You can even stop and picnic in the shade of these trees if you wish, and honestly, this sounds like a good idea.
If you decide to make your way along the city walls, you should also stop to admire some other attractions. The city gates, such as Porta Santa Maria, Porta San Pietro, and Porta San Donato, are sights to behold in their own right.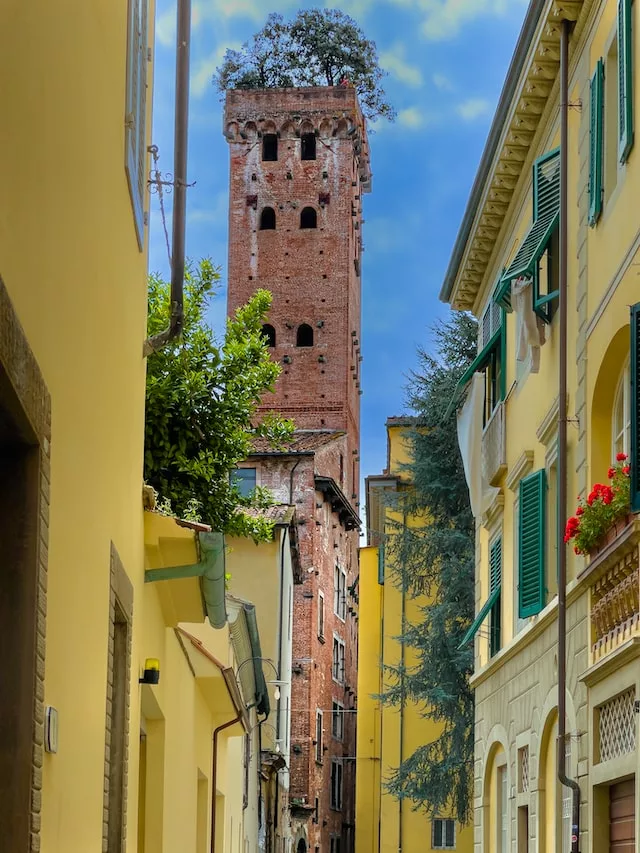 Another sight to be noticed is Guinigi Tower. It is 150 feet tall and can be seen in many areas around the city. You can also make your way to the top of Guinigi Tower and visit a spectacular rooftop garden with some Holm Oak Trees (also known as Quercus ilex).
Visit Lucca Cathedral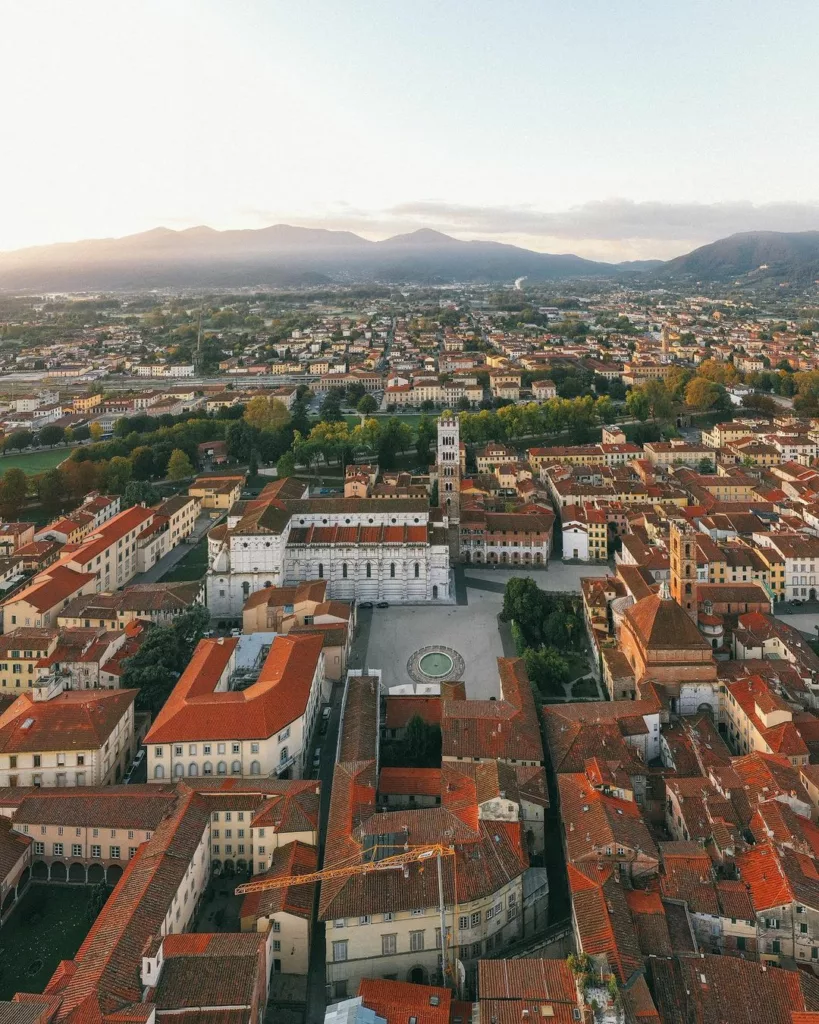 The Lucca Cathedral is also known as the San Martino Cathedral or Duomo di Lucca. It can easily be found in the city's old town section, in the Piazza San Martino.
The beautiful architecture is renowned throughout Italy, featuring magnificent arches and columns. Construction on the cathedral began in the 11th century, but changes were last made to it during the Renaissance era in the 14th century.
At the entrance to the building, you can gawk at four scenes that were delicately carved by Nicola Pisano around the main doorway. They depict the life of Saint Martin in various stages. Next to the cathedral lies a bell tower with exposed brick on the bottom and white walls on the top.
This was different from the original plan for the building, as it is technically half-finished, but this is the way it still stands today. It is possible to climb this bell tower to get better city views.
When you enter the church, you will meet with several famous artworks and sculptures. However, the centerpiece of the cathedral has to be the Volto Santo, an effigy of Jesus Christ on the cross. It was allegedly carved by Nicodemus and carried through Lucca streets on September 13th.
Explore the city's piazzas (squares)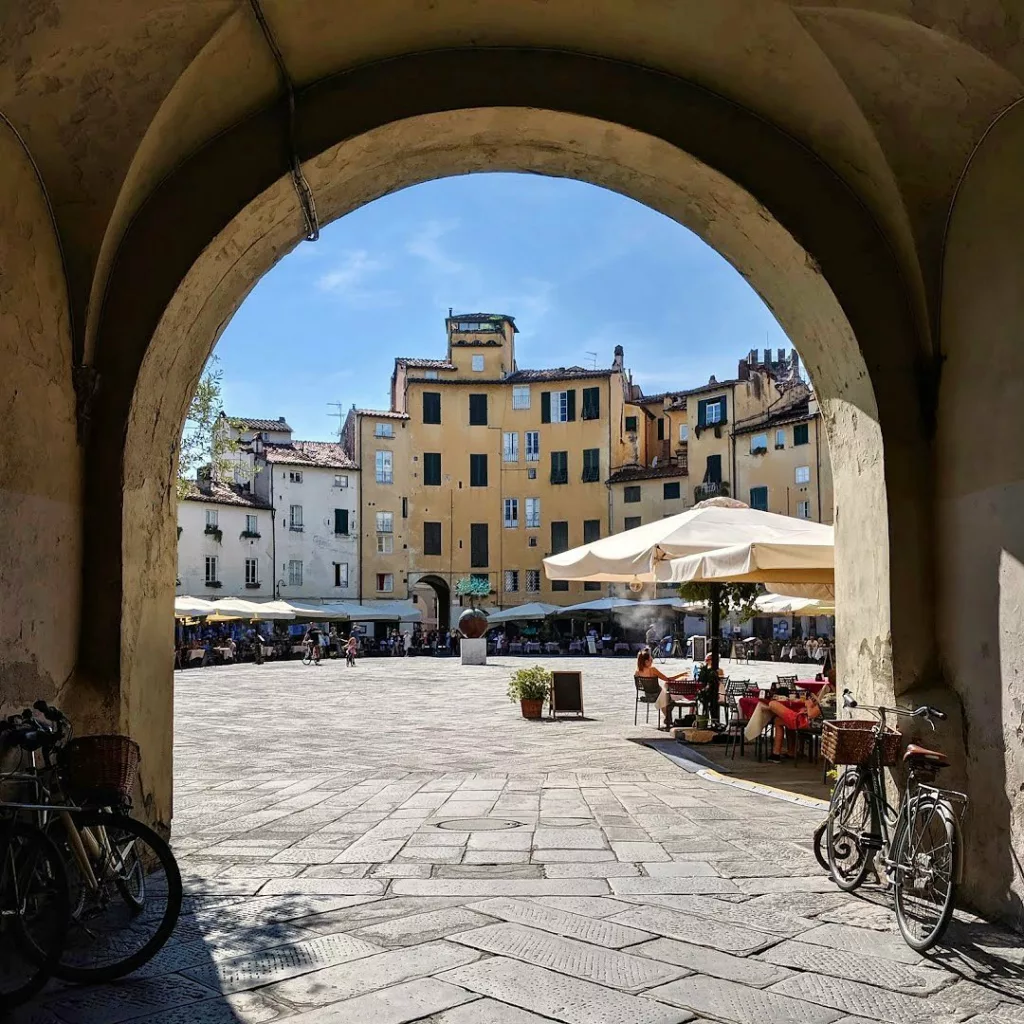 No trip to Lucca would be complete without touring and exploring the various piazzas here and there. The most famous of these is likely the Piazza dell Anfiteatro in the historic center of Lucca, as it was once a Roman Amphitheater.
While the Roman Amphitheater is no longer standing, the oval shape of Piazza dell Anfiteatro gives its Roman colony history away, and all of the buildings surrounding the piazza have a curve to them as a result.
Not far from Piazza dell Anfiteatro lies Piazza Napoleone. Confusingly, the locals also refer to the square as Piazza Grande.
Piazza Napoleone is also located in the historic center of Lucca and hosts many important landmarks and buildings. Ducale Palace, also known as Palazzo della Provincia, is the most impressive building in Piazza Napoleone.
Another square you should notice in the city is Piazza San Michele. It is smack bang in the center of Lucca and is home to the Basilica di San Michele in Foro. The Basilica di San Michele in Foro was first noted in the 8th century but gained its current form in the 13th century.
The Basilica di San Michele in Foro doesn't only astound visitors with its lengthy name but also with its rows of beautiful arches, columns, and carvings. The interior section of the basilica features famous artworks by Luca della Robbia and Filippno Lippi, so it is definitely worth a visit if you're near Piazza San Michele.
Take a cooking class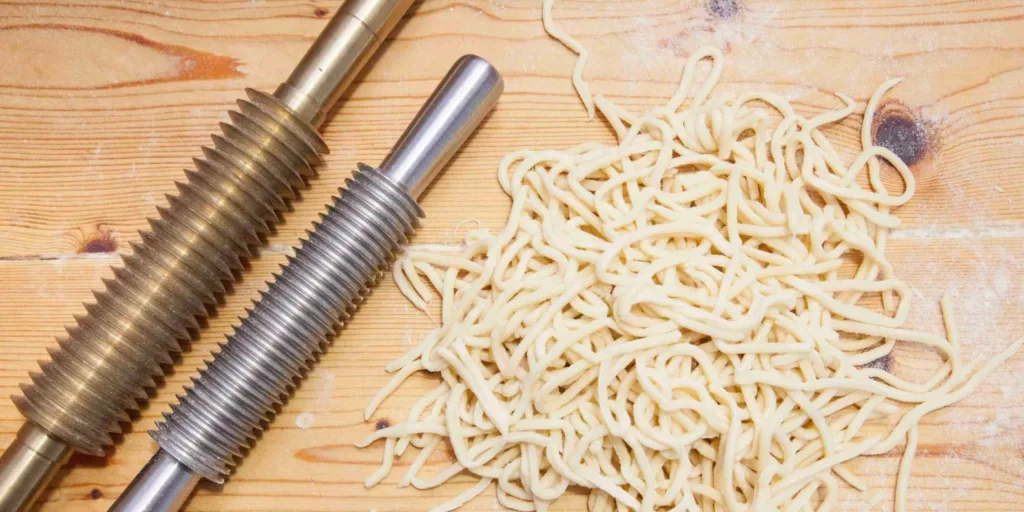 Italy is known for having some of the best cuisines in the world, and the city of Lucca is no slouch in this regard either. While tasting this delicious food is great, it is even better to learn how to make it.
This is exactly what you can do when you decide to visit Lucca. There are many small or even private cooking classes you can reserve around Lucca, with many of them taking place at the homes of local chefs.
If you don't have that much to spend, it is best not to opt for a private cooking class, as it could cost you quite a lot.
Go wine tasting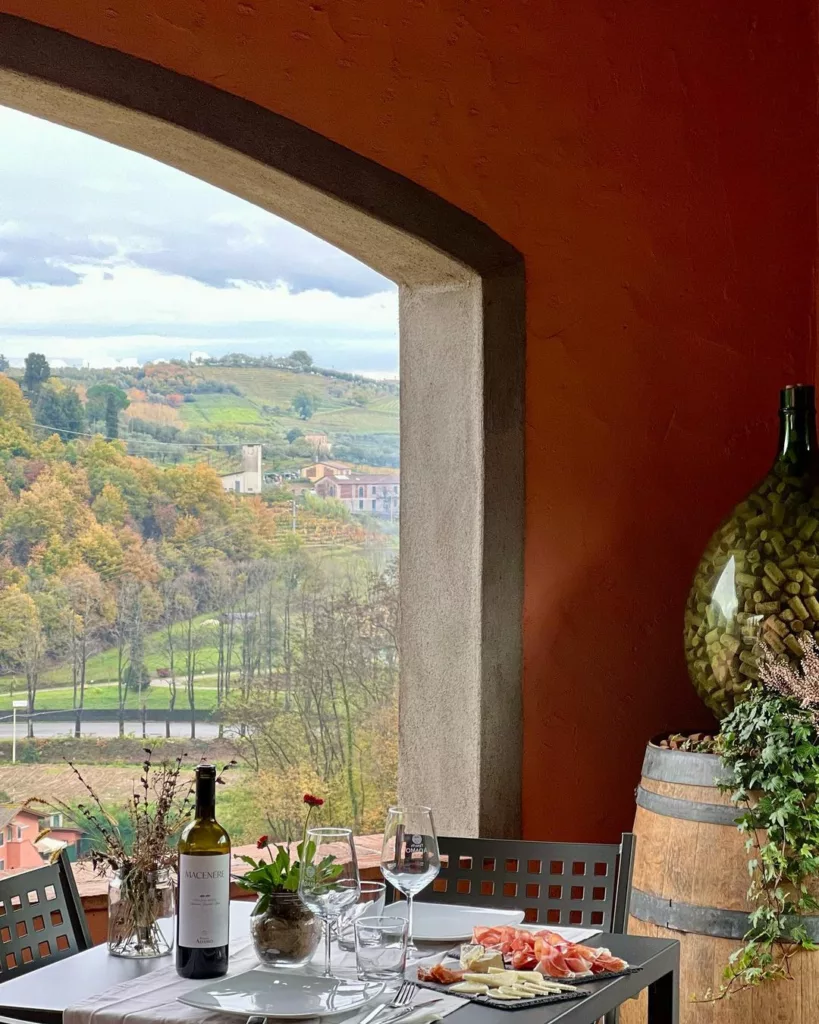 Italy is known for some of the best wines in the world. The fact that Lucca, Italy, is in the Tuscany region doesn't hurt either, as it is well-known for its vineyards.
There are numerous wineries near Lucca, but I recommend Tenuta Adamo Winery. The establishment is based in the rolling hills surrounding the city, and you can tour the vineyard and some of the cellars. On tour, you can taste four different wines and olive oil, but you will also be treated with taralli and breadsticks. Any of your questions will also be answered by your tour guide.
Visit the Puccini Museum
Giacomo Puccini is one of the most famous composers of all time. Luckily, he happened to call Lucca, Italy, his hometown.
The little museum is filled with many remembrances relating to Giacomo Puccini, his works, and his life. Some things on show at the museum include the composer's preserved furnishings, letters, musical scores, and even some posters used to advertise his operas.
Suppose you need more than just looking at Puccini's personal belongings. In that case, you can even experience some of his music being played live. A local church regularly holds Puccini concerts, so you can hear some of the composer's work for yourself.
Bike around the top of the city walls
Lucca is bike-friendly, so plenty of thrilling bike tours will take you around and along the city walls. The most fun is riding on top of the city's walls.
The Lucca Bikes and Bites tour allows you to tour the city's best parts and taste some of the excellent wine and cuisine the city has to offer along the way.
For more experienced and fitter riders, a self-guided tour goes to Pisa. It should take between three to six hours to get there, but you will be able to take in the sights and sounds of the Italian countryside.
Walk, chill, repeat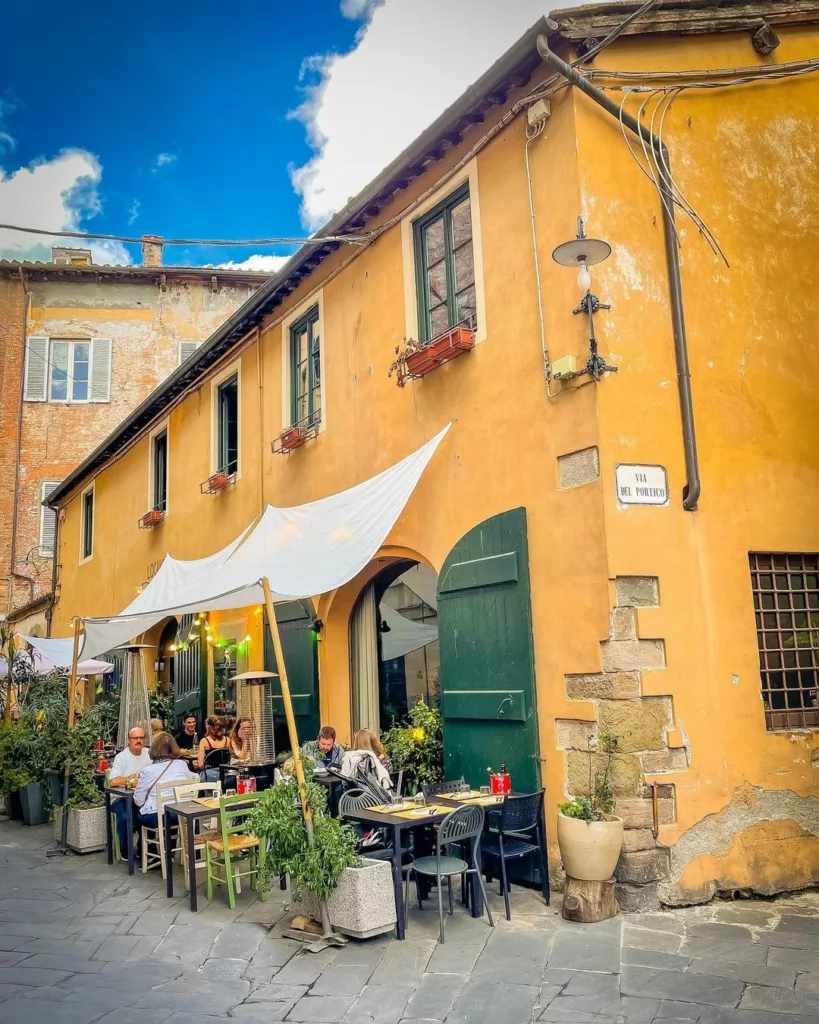 If a bike tour is not your thing, many walking tours will allow you to explore Lucca even better.
One of the best has to be the two-hour city center walking tour, which takes you through the city center and all of the famous piazzas. Your tour guide will also provide you with the necessary history and information.
There are even some tours that allow you to stop and try some local food along the way. Just be sure to bring comfortable shoes, as you could walk for a while!
Go shopping
You may want to pick up a souvenir or two during your Lucca vacation. If this is the case, you'll be spoiled for choice, as there are several local markets and boutiques.
Many Italian towns have weekly or bi-weekly street markets, and Lucca is no different. Street markets are usually held on Wednesdays and Saturdays, so ensure you are around when they occur.
One of the city's best markets is the Farmer's Market. The products on sale at the market often include wines, leather goods, ceramic goods, fresh fruit and vegetables, and some delicious food.
If you cannot make it to a market, you can still pick up a souvenir at one of the many boutiques in Lucca. If you want to bring home some olive oil, pasta, or wine, I recommend heading to La Boutique dei Golosi. While small, it has a large number of great products available.
Visit the Basilica of San Frediano
The Basilica of San Frediano is one of the many churches that call Lucca home. However, this church is one of the most spectacular, as it features a beautiful mosaic that was added in the 14th century.
The mosaic depicts the Ascension of Christ, and the level of detail is still incredible, despite being hundreds of years old. You should consider attending Mass or other church services here if you are religious.
Another great thing to do is to explore the crypt, as it houses the relics of San Frediano. If you're visiting Lucca, you should take advantage of the Basilica of San Frediano.
Eat Pizza & Gelato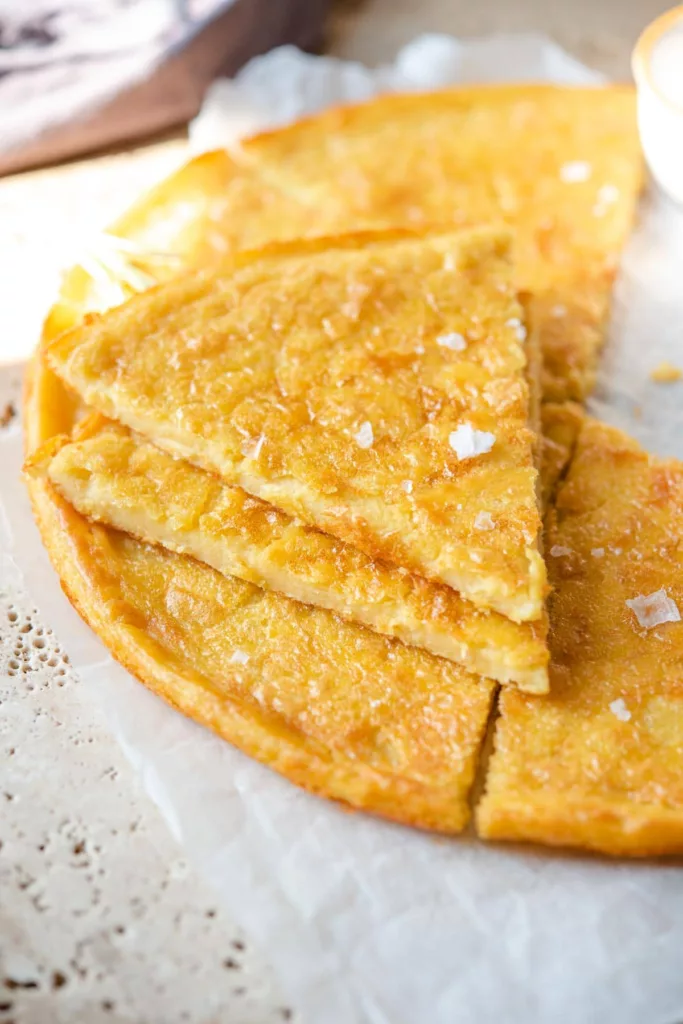 Try pizza, cecina (traditional Italian chickpea flour flatbread), and necci with ricotta cheese at Pizzeria da Felice. Indulge in Italian ice cream at Gelateria Veneta or I Gelati de Piero.
Relax in a park or garden
If you like to slow things down and take in some of the natural beauty of the place, visit one of the gardens or parks in and around Lucca.
The Communal Botanical Garden of Lucca (reopens on March 21, 2023) will be a great place to relax for the day and have a picnic. It was created in 1820 by the Duchess of Parma and is home to a number of both indigenous and exotic trees, plants, and flowers. There are also plenty of places where you can set up a picnic blanket and read a book for the day.
If you'd prefer some natural beauty away from the city, then the Apuane Alpine Park will be an excellent choice. It is a one-hour drive from Lucca and contains a section of the Apuan Alps mountain range. The park is better for hiking, but there are definitely some excellent picnic spots as well.
See Torre delle Ore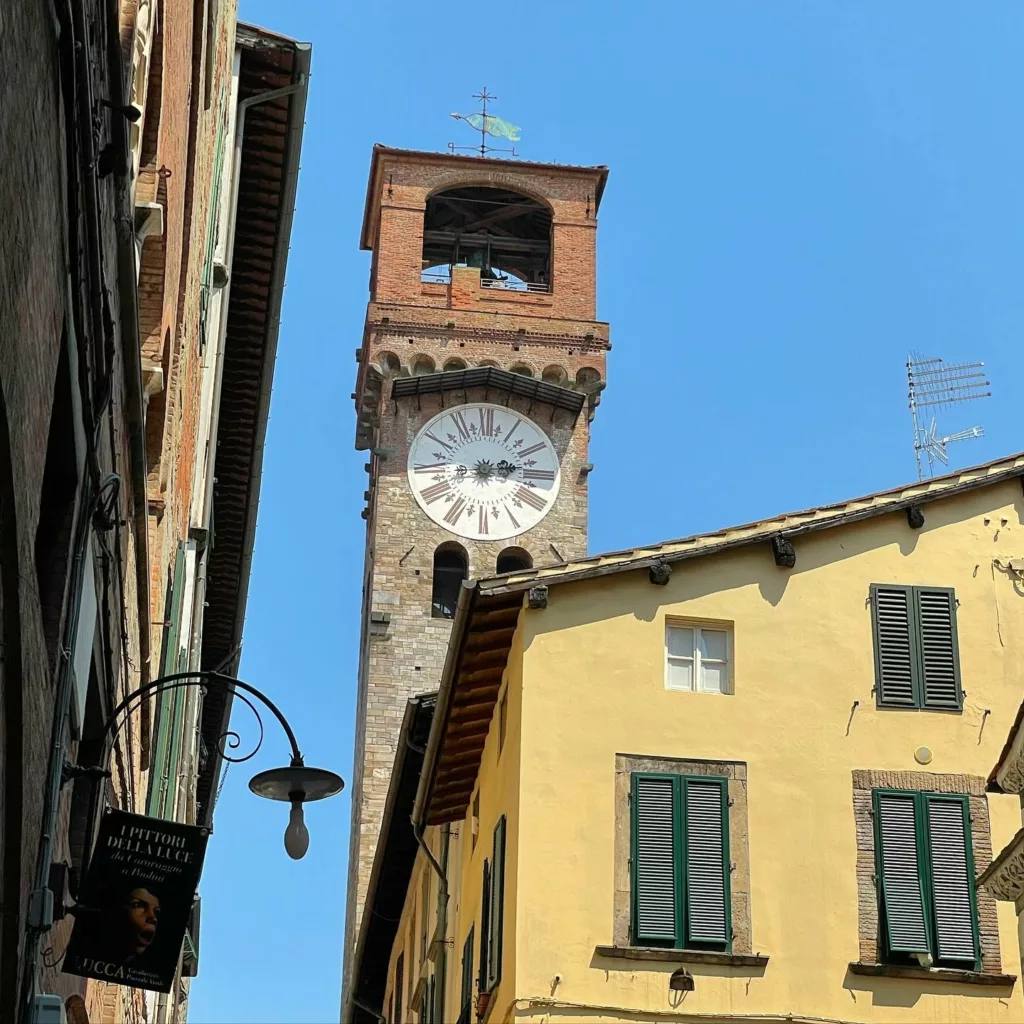 Torre delle Ore is a clock tower that is one of the tallest buildings in the city of Lucca. The construction was also used as a defensive fortification, but it has been a clock tower since the 14th century.
You can climb the 200 steps to get to the top and will be greeted by one of the best views in all of Lucca. Just try not to be at the top when the bell tolls, as it is deafening and can be pretty harsh on the ears.
Visit a museum
Many churches and landmarks around Lucca often feature small museums, but there are also some excellent standalone museums.
The Palazzo Mansi National Museum in the Baroque Palace has a beautiful interior that features a variety of tapestry and post-19th-century art collections. You can tour the museum yourself or go on a guided tour to hear more about the museum's history and works.
The Cathedral Museum, which is close to the Cathedral of San Martino and Guinigi Tower, is also an excellent option. You will find a number of artifacts like sculptures, manuscripts, and artworks. The museum's centerpiece must be the Holy Face of Lucca, an 8-foot-tall wooden carving of Christ.
Take a day trip to nearby towns and villages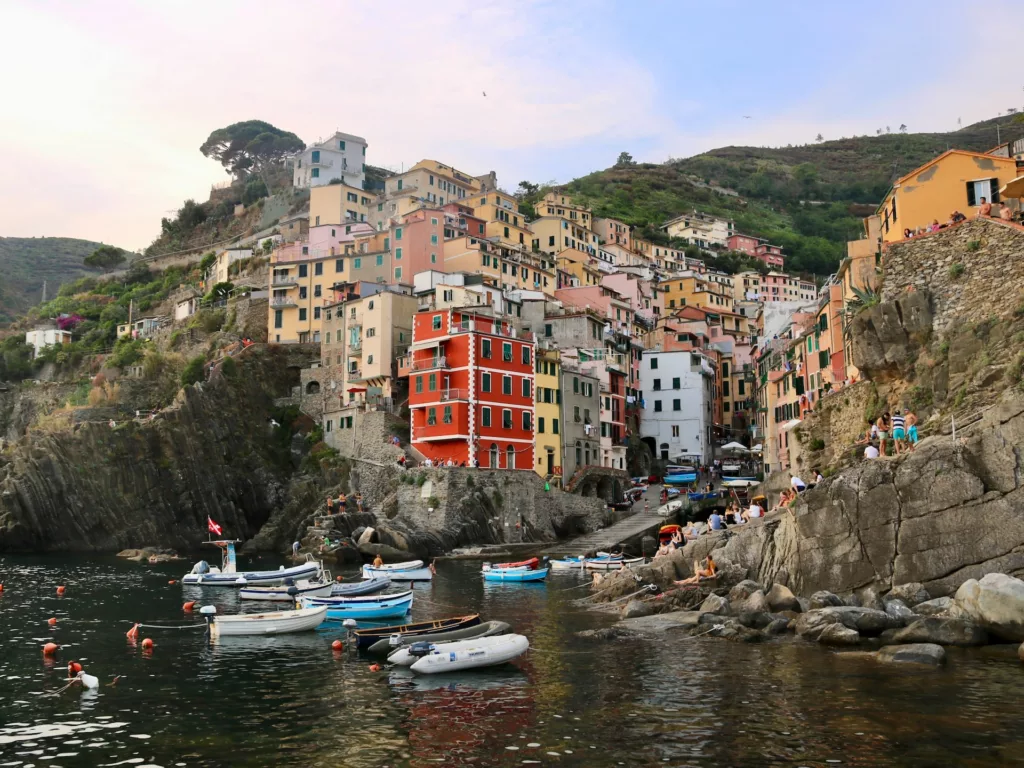 One of the best things about Lucca is its location. It is only 30 minutes from the city of Pisa and two hours away from Cinque Terre, which means it is possible to visit the attractions in these cities as well.
Of course, Pisa offers the Leaning Tower of Pisa, but it is so much more than that. There are also many other incredible landmarks to see and activities to do. Some of my favorite sights in the area are the Baptistery and the massive Cathedral of Santa Maria Assunta, which is right next to the famous tower.
Cinque Terre is regarded by many to be one of the world's most beautiful places. It comprises five fishing villages that host colorful homes, vineyards, and some of the prettiest sections of the coastline you'll find in the world.
The close proximity of these cities means that you can easily plan a day trip and be back at your hotel by the evening.
Frequently Asked Questions
What is the best time to visit Lucca?
The best time to visit Lucca is between late spring and early fall. The mild weather during this period makes it the perfect time to explore the city, take in the sights, and enjoy the surroundings. The days are warm and sunny from May to June, making it ideal for sightseeing. July and August are the hottest months, with temperatures reaching 86ºF (30ºC) during the day. Still, the evenings are cooler, making it perfect for romantic walks. The days are still warm in September, and there are fewer crowds. 
Is Lucca worth visiting?
Yes, absolutely! If you really want to get a feel for a picture-perfect Italian city, then Lucca is definitely worth a visit. It has history, culture, and great food in spades!
What are the best restaurants in Lucca?
Many visitors and locals consider Ristorante Giglio, In Pasta, Osteria Miranda, and Pizzeria Da Felice to be the best restaurants in the city.
Siena vs. Lucca, which one is better?
It depends on what you are after. Lucca is smaller, quieter, and has a much more quaint feel. On the other hand, Siena is more central and makes it easier to view many other parts of Tuscany. It also has many districts (17, actually, each with a unique character) and more things to do than Lucca.