17 Stunning Beaches On The French Riviera: Your Ultimate Guide
Nadia Podrabinek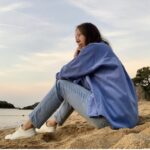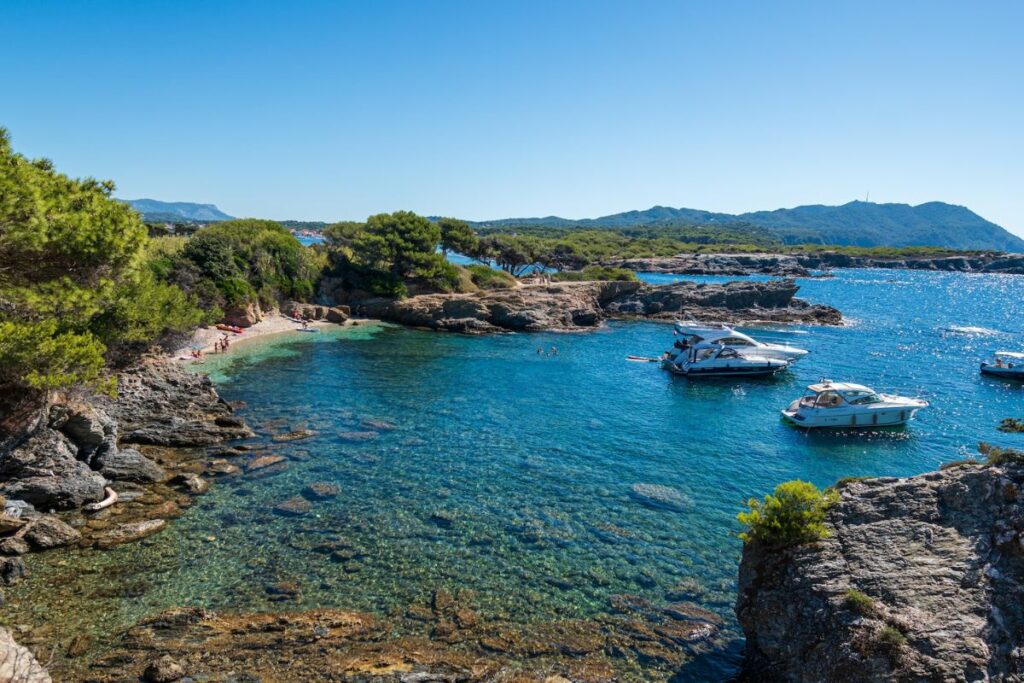 Bonjour my fellow travelers! I've had my sun-soaked adventure along the French Riviera, where I discovered the most stunning beaches you could ever imagine.
So, it's time for me to share my experiences, along with some handy tips. From secluded coves to vibrant hotspots, each beach offered a unique charm that left me spellbound.
So, grab your sunhat, and let's embark on this journey together, exploring the 17 most breathtaking French Riviera beaches that will make your heart yearn for the Mediterranean Sea's azure embrace.
---
Key Takeaways
The French Riviera is known for its stunning beaches and glamorous lifestyle. It offers a mix of famous beaches, each with its unique charm.
The region is home to renowned cities like Nice, Cannes, and Monaco, and offers a range of activities beyond the beach, including visiting historic towns, museums, and casinos.
The best time to visit French Riviera beaches for activities is from late May to early October.
Safety precautions, such as checking for lifeguard presence are necessary at these beaches.
The French Riviera is a pet-friendly and family-friendly destination, with certain beaches known for their calm waters and welcoming atmosphere.
---
How I Spent A Vacation on the French Riviera
My vacation on the French Riviera was a dream come true! From the moment I stepped onto the soft beach sand, I felt a great sense of ease and relaxation. The blue waters of the Mediterranean Sea, the warm sun, and the gentle sea breeze all worked together in harmony to create an atmosphere of pure bliss.
I loved most of the beaches that I visited but Larvotto Beach stole my heart. Look, I'm a sucker for Hollywood movies like Golden Eye, so when I'm in a place like Monaco, I can't help but feel like I'm in a movie of my own. Larvotto became my favorite French Riviera beach because of its stunning beauty, coupled with the glamorous backdrop of the city, which made me feel like I was part of a movie scene.
Beyond the beach, I found myself indulging in a variety of activities. I tried parasailing in the heart of Cannes Bay, an experience that was both scary and exhilarating. Soaring above the water, sharing the thrill with a couple of strangers since my friends were too scared, was a memory I'll cherish forever.
A friend recommended a diving excursion in Bormes-Les-Mimosas, and I was pleasantly surprised. The underwater world was teeming with wildlife that I had never seen on previous diving trips. It was a sight to behold. I also tried my luck at the Casino de Monte-Carlo. Although I didn't win big, the experience was worth it. All these experiences are why I hold the French Riviera close to my heart.
About the French Riviera
The French Riviera, or as the locals call it, the Côte d'Azur, is a sun-drenched stretch of the Mediterranean coastline in Southeast France – and in my opinion, a true slice of heaven! It's been captivating travelers for decades, from the Italian border to the east, all the way to the glamorous city of Saint-Tropez in the west, the French Riviera spans approximately 550 miles (885 km) of stunning coastline.
What I really love about the region is that it's blessed with a Mediterranean climate, so you'll typically experience warm, dry summers and mild winters. This perfect weather, combined with the Riviera's azure waters and sandy beaches, are the reasons it makes for the ideal beach holiday.
Besides the beautiful French Riviera beaches, the region is also home to some world-renowned cities like Nice, Cannes, and the independent microstate of Monaco. Each city offers something different and special, from the glitz and glamour of Cannes, famous for its annual film festival, to the rich history and vibrant culture of Nice and the luxury of Monaco.
But the French Riviera isn't just about beautiful beaches and luxury yachts. It's a place of cultural significance, where the laid-back Mediterranean lifestyle blends well with French sophistication. The region has inspired many artists, writers, and filmmakers, and continues to be a symbol of elegance, culture, and the good life.
All the Best Beaches of the French Riviera
1. Pampelonne Beach, Saint-Tropez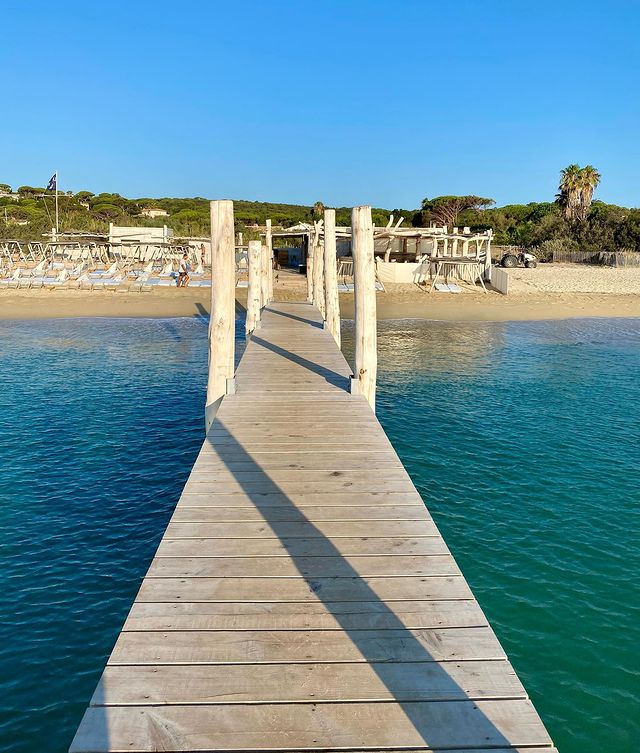 Pampelonne Beach is one of the best French Riviera beaches. It's located in the glamorous Saint-Tropez and truly symbolizes French Riviera charm. This sandy beach stretches over 4.5km, offering crystal-clear waters and a vibrant atmosphere. To reach it, take Route des Plages, just a short drive from Saint-Tropez town.
I'd recommend visiting early to secure a spot, as it's a very popular beach among locals and tourists. The beach also boasts several private clubs, restaurants, and water sports facilities. Plus, it's open all day, making it perfect for sunbathing, swimming, or simply enjoying the stunning views.
2. Paloma Beach, Saint-Jean-Cap-Ferrat
Nestled on the Saint-Jean-Cap-Ferrat peninsula, Paloma Beach is a tranquil haven away from the busier parts of the French Riviera. This pebble beach offers a serene atmosphere, azure waters, and stunning views of Beaulieu-sur-Mer and Eze.
To reach Paloma Beach, follow the coastal path from the port of Saint-Jean-Cap-Ferrat. Again, I would probably arrive early if I were you to enjoy the calm morning ambiance. Paloma Beach is also home to the renowned Paloma Beach restaurant, which is perfect for a seaside lunch.
Paloma Beach is open from sunrise to sunset and is also one of the best spots for a peaceful beach day amidst the beauty of the French Riviera.
3. Plage de la Garoupe, Antibes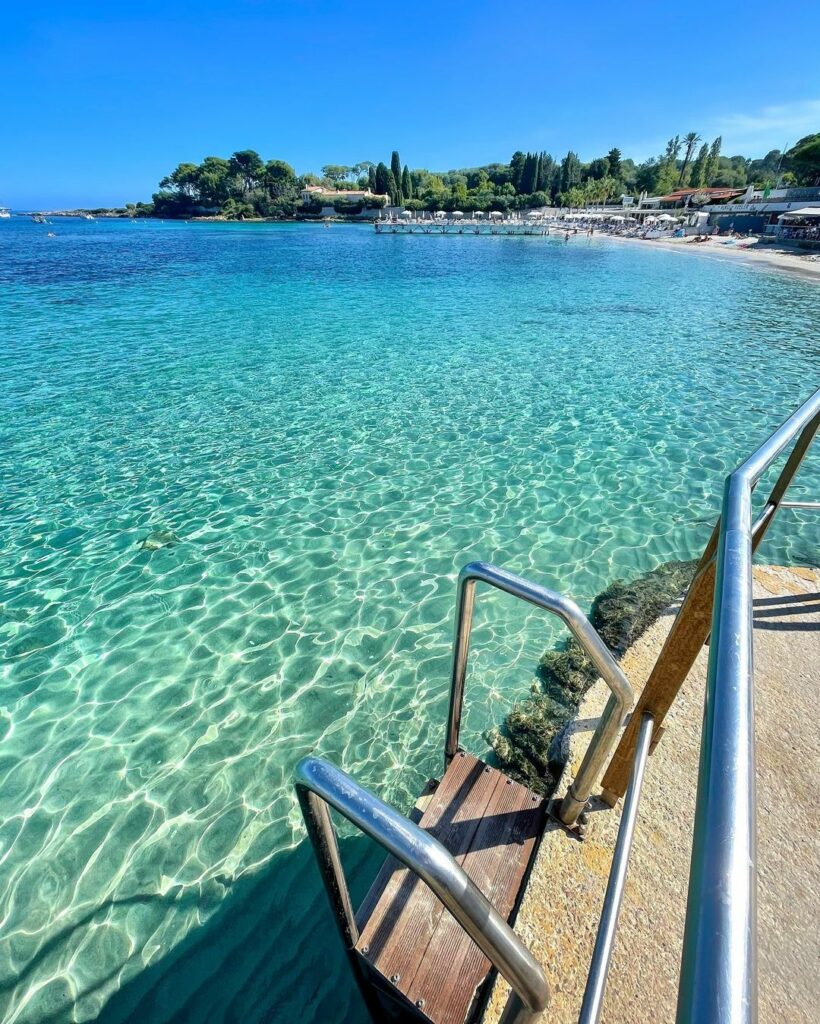 This charming beach in Antibes will give you a unique blend of natural beauty and local culture. It's also quite popular among families with small children because of its clear shallow waters. You can reach it pretty easily by car or bus from Antibes' city center.
Remember to bring your own sunshade as the beach gets quite sunny. Nearby, you'll find several beach clubs and restaurants offering local cuisine. I'd recommend visiting Plage Keller – Restaurant Le César, in particular, they have some of the best Mediterranean dishes on offer.
Plage de la Garoupe provides a quintessential French Riviera beach experience and is also open from sunrise to sunset.
4. Notre Dame Beach (Plage Notre Dame), Porquerolles Island
Plage Notre Dame is an absolute treasure on the beautiful Porquerolles Island. You'll find yourself snapping lots of pics on this stunning beach, with its perfectly contrasting white sand and turquoise waters. It's a picturesque setting for a beach day and you probably won't want to leave.
To reach it, take a ferry from Hyères to Porquerolles Island, then a relaxing bike ride or walk. The beach is unspoiled, so you have to pack your own food and drinks. Facilities are limited, but trust me, the natural beauty more than compensates. Plage Notre Dame is open all day, offering a serene slice of the French Riviera paradise.
5. Plage de la Mala (Mala Beach), Cap-d'Ail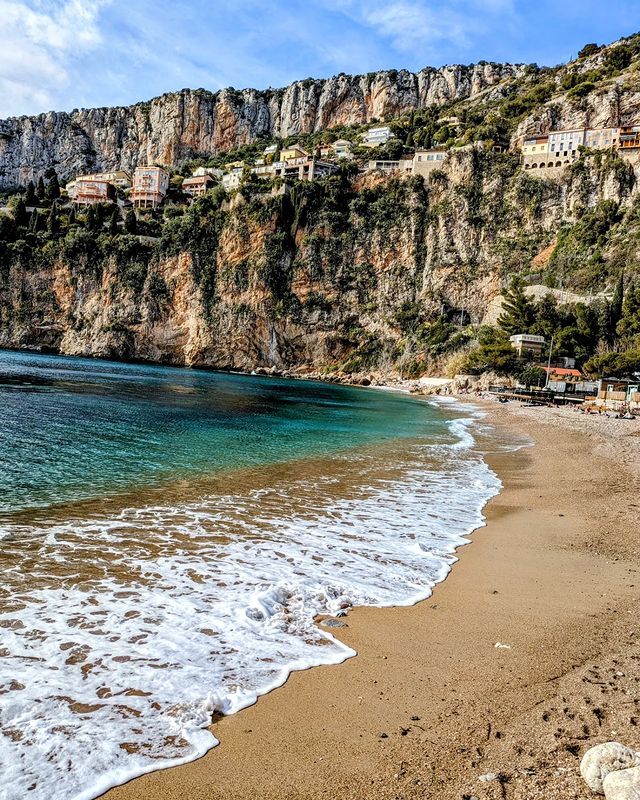 Tucked beneath Cap-d'Ail's cliffs, we have another serene pebble beach; Plage de la Mala. Its tranquil, clear waters and heavenly views are what make it a must-visit. Mala Beach is accessible via a scenic coastal walk from Cap d'Ail to Monaco and is usually less crowded in May and busier in July and August.
Don't be like me and forget to bring pebble-friendly footwear with you, because you'll need it. While there are local eateries nearby, it's wise to bring your own refreshments. Visit during daylight hours for safety.
6. Plage de la Bocca, Cannes
I pity the people who don't know much about or visit Plage de la Bocca because they're missing out. This hidden beach offers a nice escape from the busy city center. What's nice about it is that despite being hidden it's pretty easily accessible from the city center.
The beach is public, making it a budget-friendly option for beachgoers and facilities nearby include restaurants and shops. It's less crowded than other Cannes beaches, so I'd recommend Bocca Beach if you're really looking to kick back and relax.
7. Plage Petite Afrique (Little Africa Beach), Beaulieu Sur Mer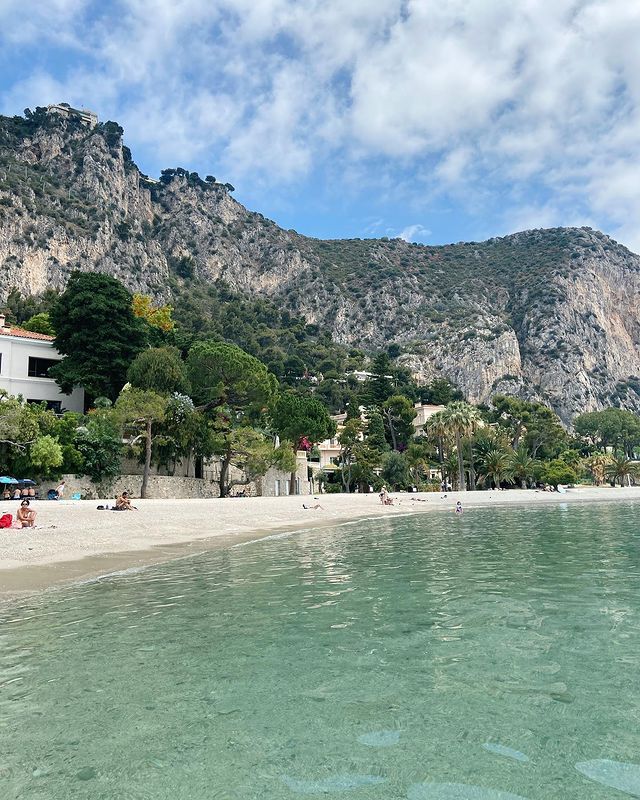 One reason why I like Little Africa Beach is because of the lush surroundings, which I must admit is relatively common among French Riviera beaches but not quite like this one. It just makes you feel safe and at ease when you're relaxing on Plage Petite Afrique. This beach gets its name from the warm microclimate there, which allows for lush vegetation to flourish.
You can get to Little Africa Beach easily via car or public transport and the facilities there include showers, toilets, and a nearby restaurant. It's also open year-round and has lifeguards on patrol. I'd suggest visiting during the summer months.
8. Larvotto Beach, Monaco
If you're visiting the glamorous city-state of Monaco, then you can't go without seeing one of its most famous beaches; Larvotto Beach. To me, this stretch of sand is easily one of the best beaches in the French Riviera. It has a scenic promenade that's lined with upscale restaurants and beach clubs, in addition to the beach itself being clean and well-managed. There's also a volleyball court there.
Larvotto is just a short walk from the city center or a quick bus ride from the Monaco train station. It's open year-round but the beach clubs typically operate from April to October. For a quieter experience, try visiting early in the morning or late in the afternoon.
9. Cap Taillat Beach, Saint-Tropez
Cap Taillat Beach is a secluded beach located in the iconic Saint-Tropez. Its unspoiled beauty is what makes it one of the best beaches for an old-school beach experience. I went there for a morning swim and only left after I'd taken in all its beauty, which took me more than a couple of hours.
It's the perfect getaway from the buzzing tourist spots and you can get there by a 30-minute walk from Escalet Beach. The beach itself is surrounded by a nature reserve, giving you a serene backdrop of thick greenery. There aren't any facilities there, so remember to bring the essentials. The clear, calm waters are perfect for swimming and snorkeling.
10. Plage de L'escalet, Ramatuelle
This beach nestled between rocky cliffs is the very definition of serenity. Its clear turquoise waters and peaceful atmosphere is honestly very hard to beat. Plus, it's also one of the most beautiful beaches I've ever laid my eyes upon. But, the downside with it is that it also doesn't have much in terms of facilities, so you'll have to come prepared.
Plage de L'escalet is located a short 18-minute drive from Saint-Tropez and is accessible via the D93 road. Also, if you can, try to get there quickly, as parking is available but can fill up quickly during peak season. Other than that, the beach is free to access and is open throughout the year.
11. Plage des Marinieres, Villefranche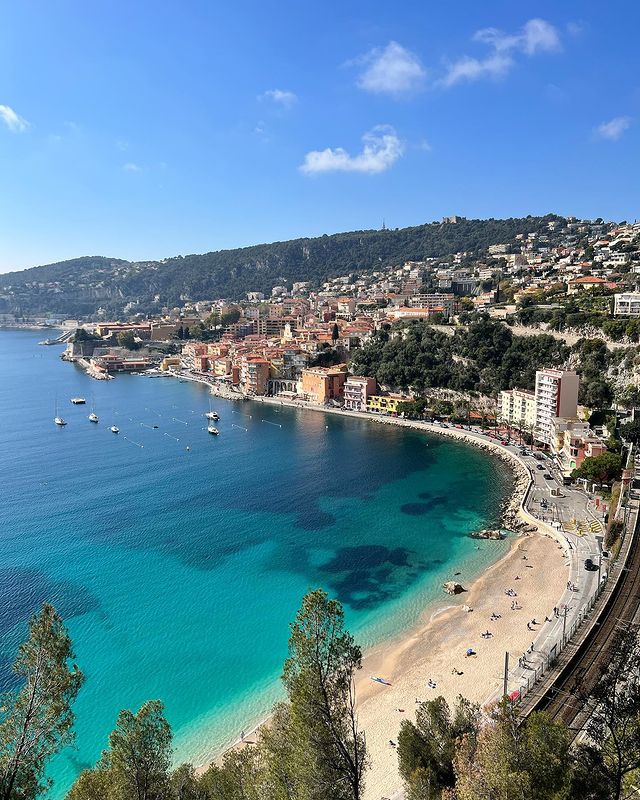 Plage des Marinieres in Villefranche is a stunning beach in a beautiful bay. It's the main public beach of Villefranche-sur-Mer and is easily accessible by train or bus from Nice. The beach is a long stretch of pebble shore, offering calm waters that are nice for a cool, relaxing dip. There are also several restaurants and cafes nearby for when you need a break from the beating sun.
The beach is open year-round but lifeguards are only on duty from mid-June to mid-September. Remember to bring water shoes for comfort on the pebbles!
12. Plage de la Garoupe, Antibes
It's not uncommon to see locals sunbathing on the soft sands of Plage de la Garoupe. Locals love it and for good reason – it's beautiful, has plenty of space, unlike a lot of other beaches, and is easily accessible given that it's only a 45-minute walk from the city.
Nearby facilities include eateries and shops, adding to the convenience. Do note that Plage de la Garoupe becomes a private beach in the summer but is open to the public between October and April. Don't worry, though, as the weather will still be warm during this time.
13. Plage Blue Beach, Nice
Blue Beach is perfect if you're looking for a mix of relaxation and entertainment. It's a vibrant and lively spot in the heart of Nice, so it can also be accessed easily. Tourists are quite fond of this beach as it's surrounded by a bunch of amenities, like restaurants, shops, and hotels. I'd recommend checking out Blue Beach restaurant. The wait times aren't the best, but the food and amazing location are worth it.
When visiting, think about renting a lounge chair for maximum comfort. The beach is open throughout the day, but it's worth checking the local weather forecast before planning your visit.
14. Esclamandes Beach, Saint-Aygulf
Esclamendes is one of the longest sandy beaches on the French Riviera, as well as a haven for families and people who like water sports, such as jet skiing and paddle boarding. It's divided into four sections: family beach, naturist beach, dog beach, and kite surfing beach – so, there's something for everyone.
You won't have much trouble getting there by car and ample parking is available. One issue with this beach is that it's only supervised during the summer months, so you'll have to be extra careful if visiting during any other time.
15. Plage de Passable, Saint-Jean-Cap-Ferrat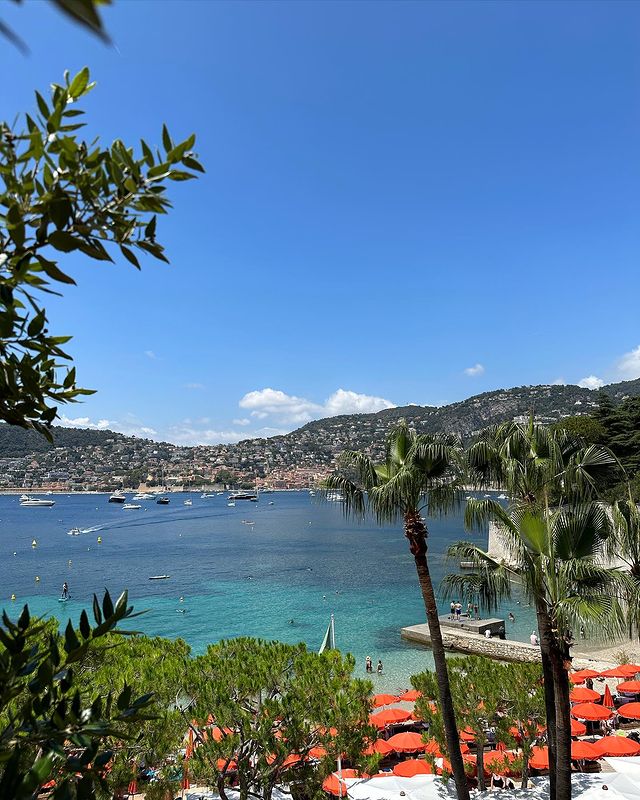 I have no complaints about Plage de Passable. It's certainly not my favorite beach on this list but it does everything relatively well. In hindsight, this could be why it's called "Passable Beach." But in all seriousness, it's got some great views of the bay and plenty of comfy loungers for you to relax on. What more can one ask for?
It's located on the west side of the peninsula and you can get there by foot or car. The shallow waters make it another great option for families with small children who love frolicking in the water. Be sure to arrive early during the peak season to secure a good spot.
16. Plage du Canadel, Rayol-Canadel-sur-Mer
Rayol-Canadel-sur-Mer is a charming commune that I'd highly recommend for nature lovers. As you might've guessed, Plage du Canadel is one of the main attractions there. It's a sandy oasis, enveloped by verdant greenery, providing breathtaking views of the Golden Islands.
Plage du Canadel is reachable by car via the D559 and parking spaces are conveniently located close by. The beach is open throughout the year and free to visit, so make sure you take advantage of this.
17. Plage de la Gravette, Antibes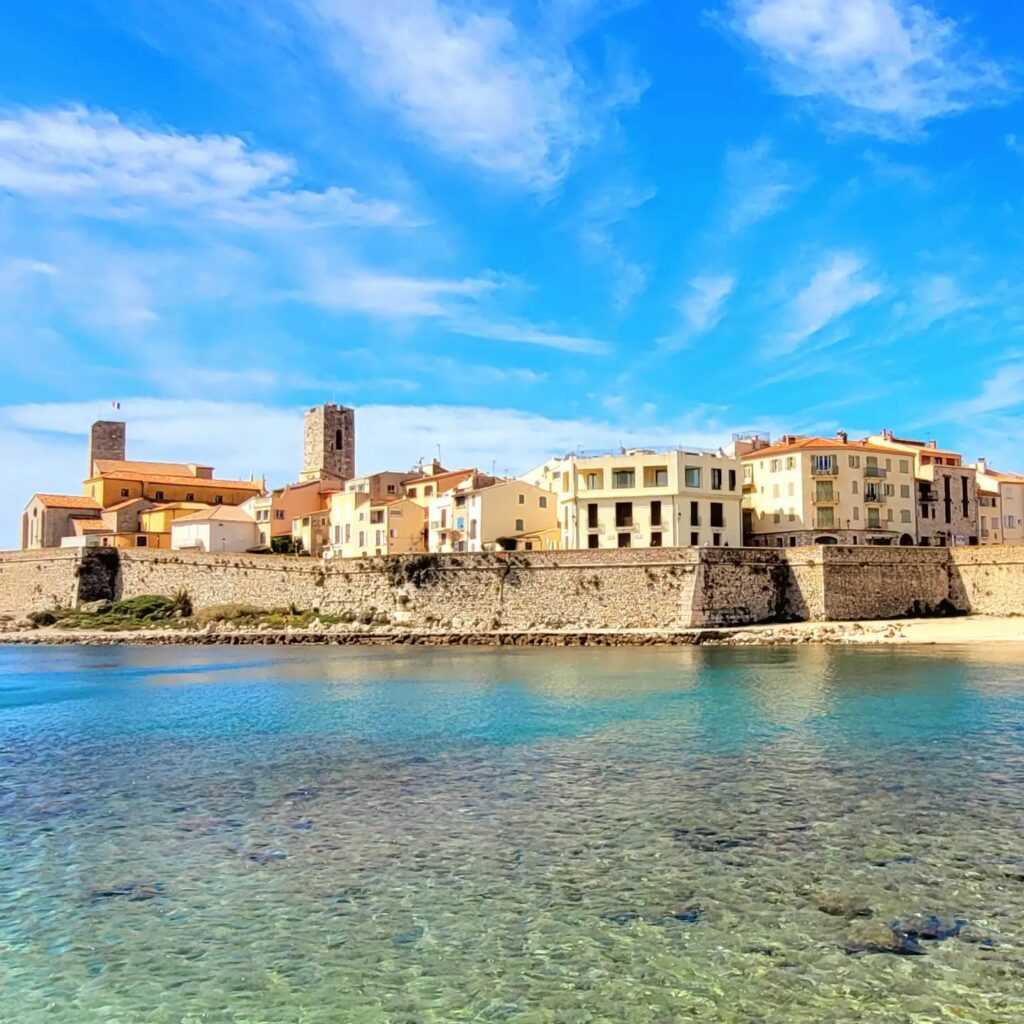 And last up we have a small sandy beach tucked away behind Antibes' old town walls, Plage de la Gravette. I wouldn't put it among the more secluded beaches on the French Riviera but it does have a pretty calm and relaxing vibe.
It's easily accessible on foot from the city center. The beach is free to access and open year-round. There are also public restrooms nearby and a variety of restaurants and cafes in the old town. One drawback of this beach is that it doesn't have the best water quality during the summer months. But don't worry, the water is regularly checked by local authorities to ensure its safety.
A Map of Best Beaches on the French Riviera
Tips for Beachgoers
Best times to visit: Thanks to the French Riviera's Mediterranean climate, it's pretty much a year-round destination for tourists. But, for beach activities, the best time to visit is from late May to early October when the weather is warm and the sea is inviting.
Safety: Although many French Riviera beaches have lifeguards, not all do. Always check for lifeguard presence and heed their advice. Public beaches will generally have lifeguards from 9 am to 6:30 pm. Remember, the Mediterranean Sea can be unpredictable, so never swim too far from the shore. If you're unsure of the swimming conditions, be on the lookout for a flag.
Sunbathing: The Mediterranean sun around the French Riviera can get intense, so always apply a high-SPF sunscreen, wear a hat, and take regular breaks in the shade to avoid sunburn. Stay hydrated too!
Local customs: Topless sunbathing is common on many French Riviera beaches, but nudity is usually reserved for designated naturist beaches. Always do your best to respect local customs and regulations, especially if you're on a private beach. Trust me, you don't want them re-opening the Bastille just for your accommodation.
Water sports: If you're planning on playing any water sports like jet skiing or paddle boarding, make sure you're aware of the safety guidelines. Always wear a life jacket and avoid crowded swimming areas.
Beach amenities: Some beaches on the French Riviera are private and may charge an entry fee, but they usually provide amenities like sun loungers, umbrellas, and restaurants. Public beaches are free but facilities can vary, so check what's available before rushing off for fun in the sun.
Activities Beyond the Beach
The French Riviera beaches are a lot of fun, but the region has a lot more to offer than the sun, sand, and sea. Here are some activities beyond the beach that I'd recommend you check out:
Old Town: Known as "Le Suquet" in Cannes and "Vieille Ville" in Nice, these historic districts in the French Riviera are a maze of narrow, winding streets filled with charming shops, restaurants, and stunning views. They're a perfect place to wander and soak up the local atmosphere.
Marc Chagall National Museum: This museum in Nice has the largest public collection of works by Marc Chagall, mainly his works inspired by biblical themes. They're truly amazing and a must-see in my opinion.
Colline du Château: Overlooking the city of Nice, this park gives nice panoramic views of the Bay of Angels. It's an ideal spot for a chilled picnic or a leisurely stroll.
Marineland in Antibes: This marine park is a hit with families. It has dolphin and orca shows, a shark tunnel, a polar bear exhibit, and much more.
Casino de Monte-Carlo: This iconic casino in Monaco is another must-visit, even if you're not a gambler. The opulent architecture and glamorous atmosphere make you feel like you're in a movie.
Promenade des Anglais: This famous promenade in Nice is perfect for sauntering around on foot, a bike ride, or a rollerblading session. The promenade is lined with palm trees and filled with street performers, so it's really what postcards are made of. It's also a cool spot to people-watch and enjoy the sea view.
Conclusion
The French Riviera is a treasure trove of stunning landscapes, rich culture, and some of the world's best beaches.
Whether you're a seasoned traveler or a first-time visitor, exploring the best beaches on the French Riviera will undoubtedly leave you with unforgettable memories and a strong yearning to book your next flight back!
Frequently Asked Questions
Are there any sandy beaches in the French Riviera?
Yes, the French Riviera has plenty of sandy beaches. Pampelonne Beach in Saint-Tropez and Plage de la Bocca in Cannes are among the most popular. These beaches offer soft sand, clear waters, and more than enough space for sunbathing and beach activities.
Is it worth going to the French Riviera?
Absolutely! I can give you way more reasons why you should go than why you shouldn't. To keep it short, it's a stunning destination with a well-balanced mix of beautiful beaches, rich culture, and a luxury lifestyle. From exploring the sandy beaches to visiting historic towns and gorging on fine cuisine, the French Riviera will give you a unique and memorable experience.
Which beaches on the French Riviera are most family-friendly?
Plage de la Mala (Mala Beach) in Cap-d'Ail and Paloma Beach in Saint-Jean-Cap-Ferrat are great options for family fun. They generally have calm waters, sandy shores, and ample amenities nearby. Also, the public beach in Villefranche-sur-Mer is known for its shallow waters, making it better for families with young children.
Are there any pet-friendly beaches on the French Riviera?
Yes, you'll find pet-friendly beaches on the French Riviera. Plage de l'Escalet in Ramatuelle and Plage de la Lanterne in Nice are known to be welcoming of dogs. But, it's always best to check the regulations of each beach as rules can vary.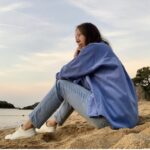 Hello, my name is Nadia.
I usually write about traveling (there are so many places to fit all the lifestyles), relocation (finding a job overseas or moving without losing an income), and living in a foreign country (adapting to a different culture and mentality). Follow me on Twitter, Facebook, Instagram, or LinkedIn!
This post might include some affiliate links. If you make a purchase through these links, I may earn a small commission at no additional cost to you. I appreciate it when you use my links to make purchases.