9 Cheapest Places To Live In France
Nadia Podrabinek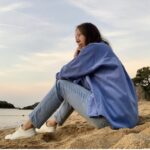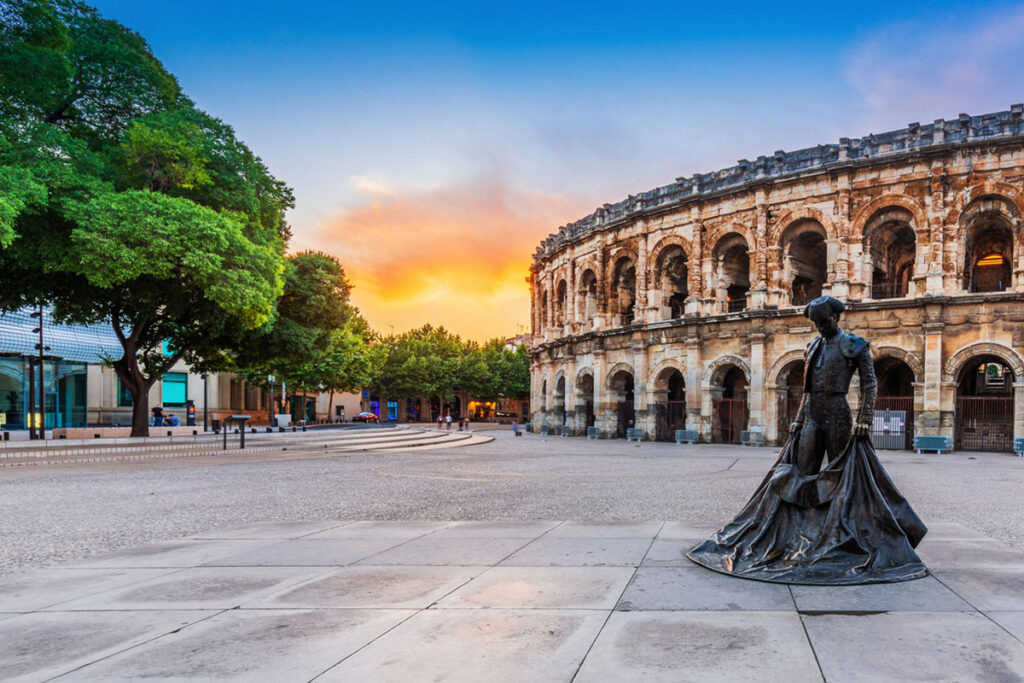 If you've been waiting a lifetime to live the French dream on a budget, this one's for you. You don't have to empty your pockets to live and breathe in the major French cities. Maybe you see yourself wandering the streets of a bustling city center, coffee in hand. Perhaps you're one of our nature lovers or history buffs, keen to dive into French history away from the big city vibe.
Either way, we've got some budget-friendly options so you can experience the joie de vivre of France without any financial worries.
---
Key Takeaways
Nîmes is the overall cheapest city to stay in.
Saint Étienne is the best option for students.
Dijon is the best city for cuisine.
Metz is a great spot for nature enthusiasts.
Lille is the friendliest city in France.
---
Breakdown of Your Monthly Expenses
| City | Expat costs / month | Family costs / month | 1 br studio / month | Dinner | Beer | Cappuccino |
| --- | --- | --- | --- | --- | --- | --- |
| Saint Étienne | $1,033 | $2,728 | $387,50 | $15.00 | $3.00 | $1.70 |
| Nîmes | $1,163 | $3,105 | $706,92 | $16.31 | $5.44 | $6.53 |
| Châteauroux | $1,171 | $2,779 | $353,46 | $16.31 | $7.61 | $4.14 |
| Le Havre | $1,222 | $2,972 | $761,30 | $16.31 | $7.61 | $2.99 |
| Grenoble | $1,658 | $3,522 | $547 | $14 | $6.53 | $3.10 |
| Versailles | $1,736 | $4,210 | $1,033.20 | $27.19 | $5.44 | $3.37 |
| Metz | $1,736 | $4,210 | $616,29 | $16.31 | $7.07 | $2.83 |
| Dijon | $1,926 | $3,920 | $563 | $16 | $6.26 | $3.81 |
| Lille | $1,999 | $4,283 | $808 | $14 | $6.53 | $3.12 |
Cost of living in France
Cheapest Places To Live In France Map
Factors Determining Living Costs in France
Accommodation
Housing costs in France can vary, depending on a few factors. If you're opting to live in a lively city, prepare to pay more! Housing costs go down depending on the size of your house, how long you are staying, and if you have a roommate or not.
The average price of a hotel in France is around $92 for one person, adding up to around $2,755 a month. The average rent for a one-bedroom in France is $470 per month, depending on the area.
Find a cozy studio apartment for one, or go for a two-bedroom with a friend. Keep it minimalist where you can. The average rent is $31 per square meter.
Groceries
You'd be surprised at how much groceries can contribute towards living costs. You're looking at an average of $45 per day. It's more expensive to eat at a sit-down restaurant than a fast-food establishment. Stick to making your own food or trying street food.
Utilities
If you're staying in a hotel, chances are that you won't have to pay for utilities. If you want to wander those French cobblestone streets for longer than a month or two, it'll be in your best interests to rent an apartment. The longer the stay, the longer you can live your best French life!
You're looking at a national average of $258 for utilities every month. This includes water, electricity, internet, gas, and waste collection. This cost can vary, depending on your rental prices and landlord agreement.
Transportation
The amount you spend on transportation in France changes depending on your chosen mode of transportation. Taxi rides are super expensive, so stay clear!
The cheapest mode of transportation in France is by using a local bus or metro pass, if you're staying in a metropolitan area. These prices range between $1.20 and $3.24. If you're planning on traveling a lot between different cities, expect to pay $62.
Leisure activities
Entertainment and leisurely activities in France cost around $35.66 per person, per day. This covers entry prices, day trips, and other sightseeing costs. This depends on the different sites you visit.
If you go for a one-bedroom rental including utilities, shop modestly, use budget-friendly traveling methods, and keep leisurely activities to a realistic level, you can look at paying a national average of $1,945 – $2,377 a month to live in France.
1. Cheapest Overall: Nîmes
Nîmes is one of the cheapest cities in France. You can find this beautiful city in Southern France; it stands as a powerful cheap alternative to France's capital city, Paris. Although Paris seems like the go-to, it's an incredibly expensive city to live in!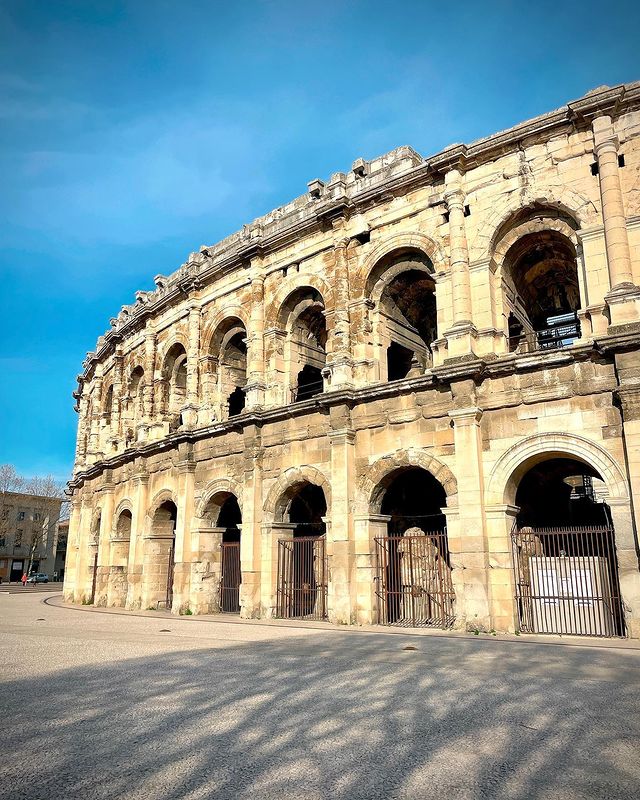 You can find decent apartments or even gorgeous houses for a fraction of the price. Everyday costs like groceries, dining out, and transportation are also less expensive.
Nîmes' distinctive Roman past is one of its main charms. It has prominent landmarks such as the breathtaking Arena of Nimes and the majestic Maison Carrée.
There's a vibrant atmosphere around every corner in this southern city. It's known for its bullfights and the world-famous Feria de Nimes festival.
The average overall cost of living is around $1,297 per month, depending on your personal preferences.
If you decide Nîmes is your chosen place to live in France, there are a few things to keep in mind:
Public transportation generally stops at around 8 PM.
The city center is the safest (and most fun) area to live in.
2. Best For Mountain Views: Grenoble
Grenoble is one of the cheapest cities in Southeastern France due to its lower rental and utility costs.
The magnificent mountain ranges that surround the city offer endless opportunities for fun. During the winter months, skiing takes center stage!
It's a perfect spot for learning how to conquer slopes of any level.
If skiing isn't your thing, Grenoble offers a wide range of other outdoor activities. You can try hiking, rock climbing, or even paragliding if you're feeling daring.
Grenoble also has a vibrant city life, a thriving cultural scene, and renowned universities. The average overall cost of living is around $1,620 per month.
Keep these in mind if you decide Grenoble is your new home:
A bicycle is a great go-to transport method.
The winter weather can drop to as cold as 17°F (-8°C) so pack warm clothes!
3. Best For History: Châteauroux
Châteauroux is the capital city of Indreis. It's one of the most affordable French cities because of its low apartment rental costs. You could snag a one-bedroom in this charming city for as little as $454 a month!
This small city sits beside the gorgeous Indre River. Its name derives from a castle built in the late 10th century by Raoul le Large, prince of Déols. It adds a feeling of mystery to the medieval town.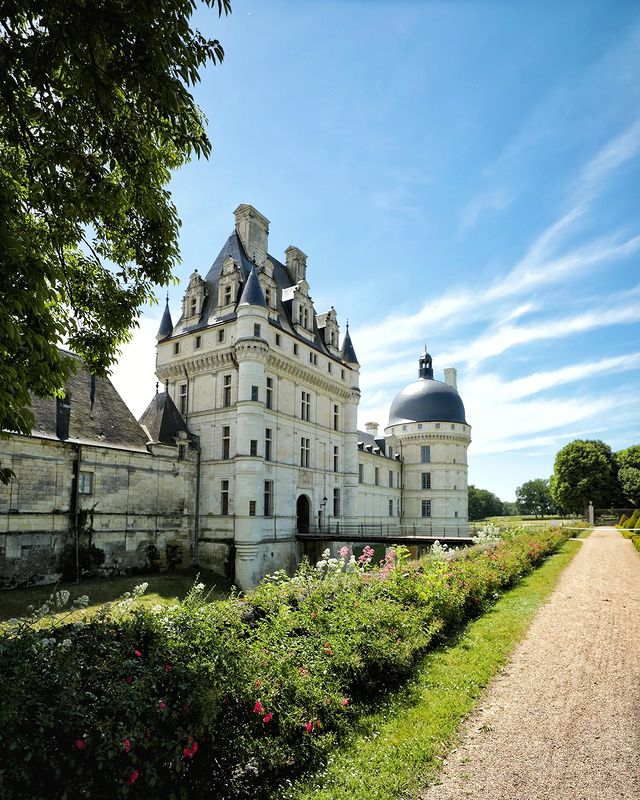 Châteauroux's Gallo-Roman past is one of its charms. The city's history is interlaced with medieval buildings from this era, offering an insight into its unique historical beginnings. Châteauroux has a spectacular collection of castles dotting the landscape.
Living here will set you back around $1,297 per month, depending on where you stay and what you do.
Here are some top tips if you decide to live in Châteauroux:
The best time to visit Châteauroux is in June-August, so get ready for some price increases and more tourists.
There is a city-wide bike scheme called Vélo'fil, so you can easily get a bike to explore your new home.
4. Best for Nightlife: Versailles
Although Versailles is not the cheapest place to stay in France, it's definitely less expensive than many other major cities.
Versailles is a terrific nightlife destination, with a bustling and diverse atmosphere. There's something for everyone with a variety of vibey restaurants, pubs, clubs, and entertainment spots.
Its proximity to Paris (just a 50-minute drive) allows for quick access to the capital's famed tourist spots. Versailles is the place to go if you want a spectacular and interesting nightlife experience on a budget. You can easily visit other popular nearby cities. Make sure you catch the Electro Night Fountains Show!
The average overall cost of living is around $1,730 per month.
Here are some helpful hints for those living in Versailles:
If you plan on only staying a few months, it's best to go in spring or summer when the gardens are blooming.
The Palace is closed Mondays.
5. Best for Students: Saint Étienne
Saint Étienne is one of the best cities to live in if you're a student! It's a cheap and beautiful choice, and you can find tons of student deals for accommodation.
It has the honor of being France's only UNESCO Creative City of Design. This honor celebrates the city's dedication to encouraging creativity, innovation, and design in a variety of disciplines.
Saint-Étienne is now undertaking a major urban renovation initiative to change it from an old industrial city to the "design capital" of the 21st century. This enormous project aims to promote sustainable growth.
The city is home to prestigious educational institutions, such as the University of Jean Monnet. The culture among the students creates a bright and active atmosphere. There are many cultural and social activities to attend.
Students (and other residents) can expect to spend around $1,297 per month on living expenses.
Want to move to Saint Étienne? Here are some things to consider:
Buying a 1-3 day pass on a tram at the tourist office will cover public transport costs, as well as entry to specific tourist spots.
Apply for student benefits to drop living costs.
6. Friendliest City: Lille
Lille offers a welcoming attitude and is noted for its powerful art scene. It is unquestionably one of the most affordable cities in France, as well as one of the friendliest!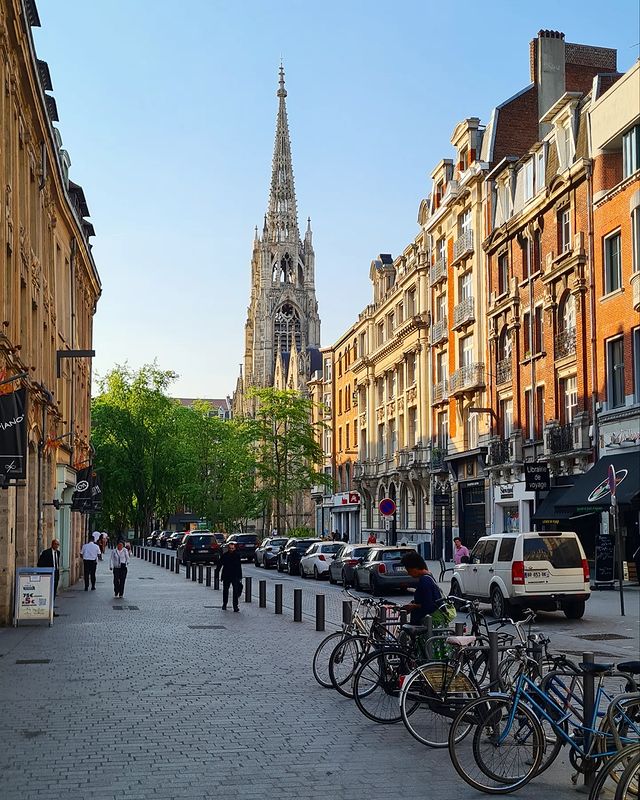 Its skyline is highlighted by beautiful bell towers. The Palais des Beaux-Arts, France's second biggest general-interest museum, houses an excellent art collection that will thrill art connoisseurs. Lille captures the hearts of those who visit its lovely streets with its delightful friendliness.
The average overall cost of living in Lille is around $1,297 per month.
Here are our helpful hints for future Lille residents:
Public transport generally runs from 5 AM until 11 PM every day, except for May 1st.
If you are only planning on staying there short term as a digital nomad, visit in September if you can – they host an annual street fair called La Braderie.
7. Best for Architecture: Le Havre
Le Havre is one of the most cost-effective areas to live in France, with reasonable real estate and living expenses. This port city stands out for its architectural story. It's also a UNESCO world heritage site.
After much of the town was destroyed during WWII, it experienced a transformational reconstruction effort. Perret's breakthrough contemporary architectural style breathed fresh life into its urban landscape.
The architecture of Le Havre features clean lines and stunning half-timbered houses. The city's contemporary style, created from the ashes of war, is a tribute to human perseverance. It transforms Le Havre into an architectural treasure with an enthralling tale to tell.
One of the cheapest cities to live in France, you can expect to spend an average of $1,188 per month.
Want some helpful hints before you arrive? Here you go:
This is a walkable city, so pack comfortable shoes.
Try some Norman cheese; it's famous for a reason!
8. Best for Cuisine: Dijon
You can find Dijon among the beautiful vineyards in Burgundy. It's famous for its – you guessed it – mustard!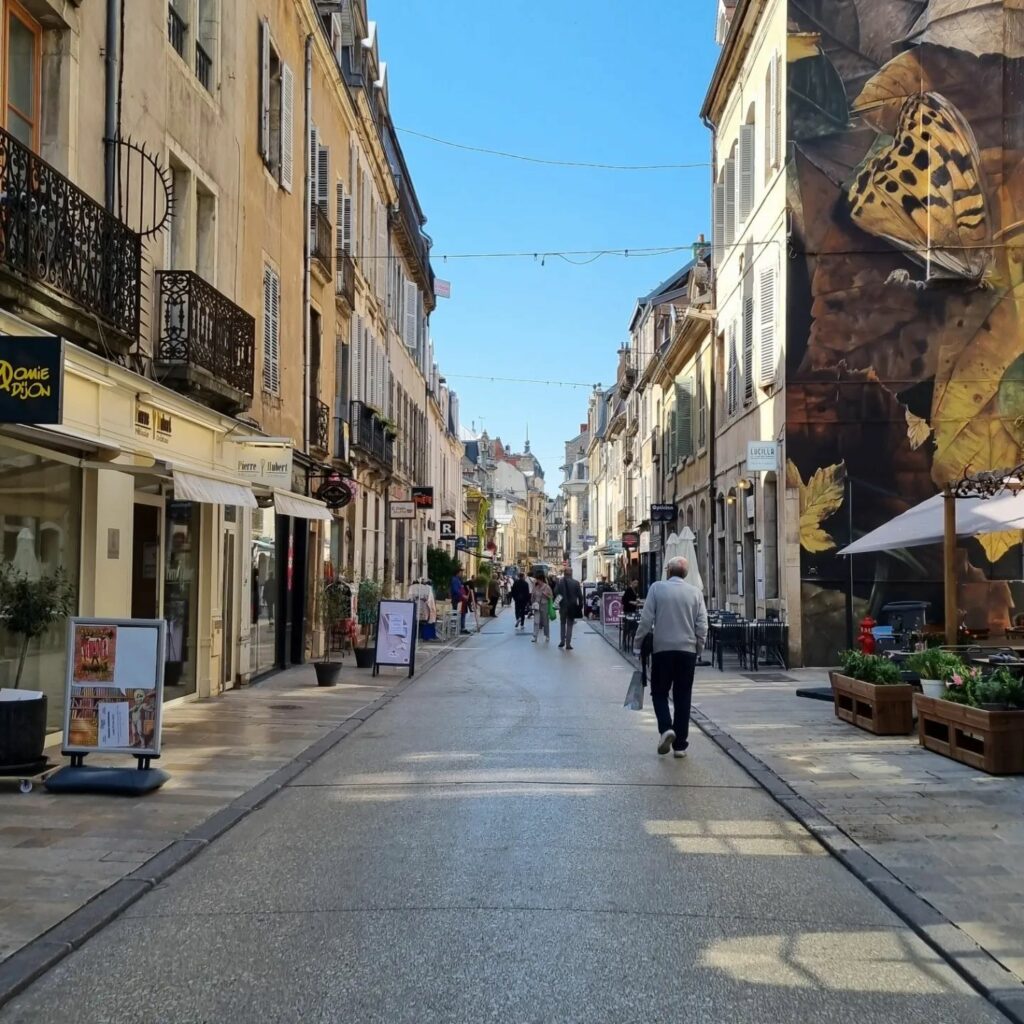 Dijon is also famous for its traditional Burgundian cuisine, which includes dishes like Coq au Vin (red wine-braised chicken), Boeuf Bourguignon (red wine-braised beef), and Escargots de Bourgogne (garlic butter-braised snails).
The lush plains and vines of the region also produce renowned wines. These include prominent reds like Pinot Noir and nuanced whites like Chardonnay. Dijon is a foodie's paradise.
Want to sample all these delights yourself? You will have to spend an average of $1,189 per month.
If you decide Dijon is where you want to live in France, keep these tips in mind:
This is another great walking town, so keep comfortable sneakers on standby.
University meals are a cheap alternative for students; dining out can be expensive.
9. Best for Nature Lovers: Metz
Metz is the hidden treasure of France. Its gothic architecture and wonderful natural beauty are a must-see.
The city is blessed with an abundance of gorgeous parks, gardens, and nature reserves that draw people from all over the world. With its stunning landscapes and water features, the renowned Parc de la Seille provides a calm getaway inside the city.
The expansive Metz Botanical Gardens exhibit a rich assortment of plants and flowers. The beautiful Plan d'Eau de Metz offers an idyllic setting for outdoor sports and leisure. Metz has become a popular destination for nature enthusiasts seeking refuge and rejuvenation in its gorgeous surroundings.
The average overall cost of living is around $1,350 per month, depending on the size of your house and what you do.
If you decide Metz is your chosen place to live in France, there are a few things to keep in mind:
The riverside routes are great for long walks to explore the city.
Avoid long walks at night.
What You Are Saving On In France
France is a wealthy country. It provides universal healthcare, which allows you to save money on medical expenses. The strong labor market in France offers solid work and competitive pay, allowing you to build financial security. The country also has a well-developed transport structure, which reduces the need for car ownership.
Living Cheap as a Digital Nomad in France
France is an excellent spot for digital nomads. There are several cheap accommodation options as well as a large network of coworking spaces. The availability of fast internet connections across the country means that remote work can be completed at a low cost.
The Cheapest Place To Retire In France
The city of Montpellier in southern France is a great place to retire on a budget. It's one of the most beautiful beach towns on the Mediterranean coast.
The city provides a variety of economical living options, such as apartments and retirement homes, allowing retirees to maximize their savings. The Botanical Gardens is certainly a site to see. It's been around since 1593!
With great weather, tons of beaches and marinas to explore, and a large international ex-pat community, this city is the ultimate location for retirement. Retirees can expect to pay approximately $750-$1,100 a month.
What About Paris?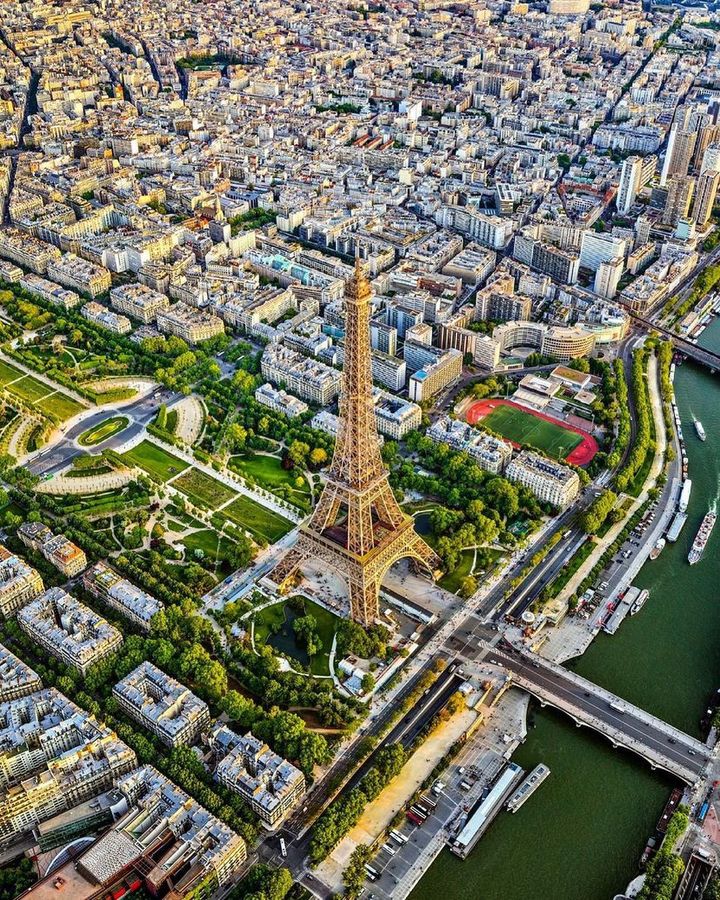 Paris is unquestionably an iconic place to live, with world-famous sites (did someone say Eiffel Tower?) and interesting culture. However, it comes with the reality of being one of the world's most costly cities.
Accommodation, food, and entertainment are much more expensive than in other cities, with an average cost of living of $3,915. Living in Paris may need cautious budgeting, but the city's unmistakable charm continues to draw people from all over the world.
Cheapest Places to Retire in France
We will explore a selection of destinations in France that not only provide expatriates and retirees with excellent value for their money but also deliver a superior quality of life.
From bustling urban centers to quaint rural communities, I present my top picks for the most affordable cities in France to call home:
Nîmes
Nîmes exudes charm and boasts a rich cultural and historical heritage. The city is renowned for its Roman landmarks such as the Maison Carrée and the Arena of Nîmes. It offers an ideal blend of culture, natural beauty, and entertainment options.
Grenoble
Grenoble stands as a dynamic and contemporary urban center, brimming with attractions for its inhabitants. The city boasts an abundance of green areas, encompassing parks and gardens, and hosts a wealth of cultural activities and year-round events.
Le Havre
Le Havre provides a multitude of offerings for its residents, including a diverse range of cultural activities, events, and tourist attractions. Among these delights is a picturesque harbor district adorned with waterfront restaurants and cafes.
Châteauroux
Châteauroux is an ideal option for individuals seeking an urban lifestyle without breaking the bank. While it may not be at the forefront of the most thrilling cities to reside in within France, there are still a number of activities to engage in that will keep you occupied.
Metz
Metz is a concealed treasure among the selection of budget-friendly French cities. Situated in the northeastern part of France, it's celebrated for its breathtaking Gothic-style architecture.
Frequently Asked Questions
How much money do I need to live comfortably in France?
Depending on the city, the average monthly cost of living in France for one person is roughly $1,950.
In which area of France do most ex-pats live?
Most ex-pats live in Paris or Brittany. There are amazing international schools here, lots of job opportunities for internationals, and amazing international cuisine.
What is the cost of living in France compared to the US?
The living cost in France is around 4% higher than in the US.
Conclusion
France has a wide range of affordable places to live to suit a variety of tastes and lifestyles. Cities like Nimes and Le Havre stand out as cheap options, with reduced living costs when compared to bigger cities. The nine cities on our list allow you to live in France and soak in the amazing French culture without breaking the bank.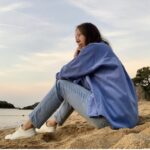 Hello, my name is Nadia.
I usually write about traveling (there are so many places to fit all the lifestyles), relocation (finding a job overseas or moving without losing an income), and living in a foreign country (adapting to a different culture and mentality). Follow me on Twitter, Facebook, Instagram, or LinkedIn!
This post might include some affiliate links. If you make a purchase through these links, I may earn a small commission at no additional cost to you. I appreciate it when you use my links to make purchases.