Yes, It Does Snow in Spain – Here's What You Need to Know
Nadia Podrabinek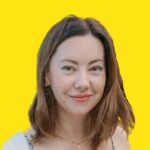 Written by Nadia Podrabinek
Hello, my name is Nadia. I usually write about traveling (there are so many places to fit all the lifestyles), relocation, and living in a foreign country (adapting to a different culture). My travels stretch beyond Spain, with journeys to the US, Italy, Norway, Portugal, and France. Relocating to Spain in 2018, I lived in cities from Barcelona to Madrid, currently calling Valencia home.  Follow me on Twitter, Facebook, Instagram, or LinkedIn! ... show more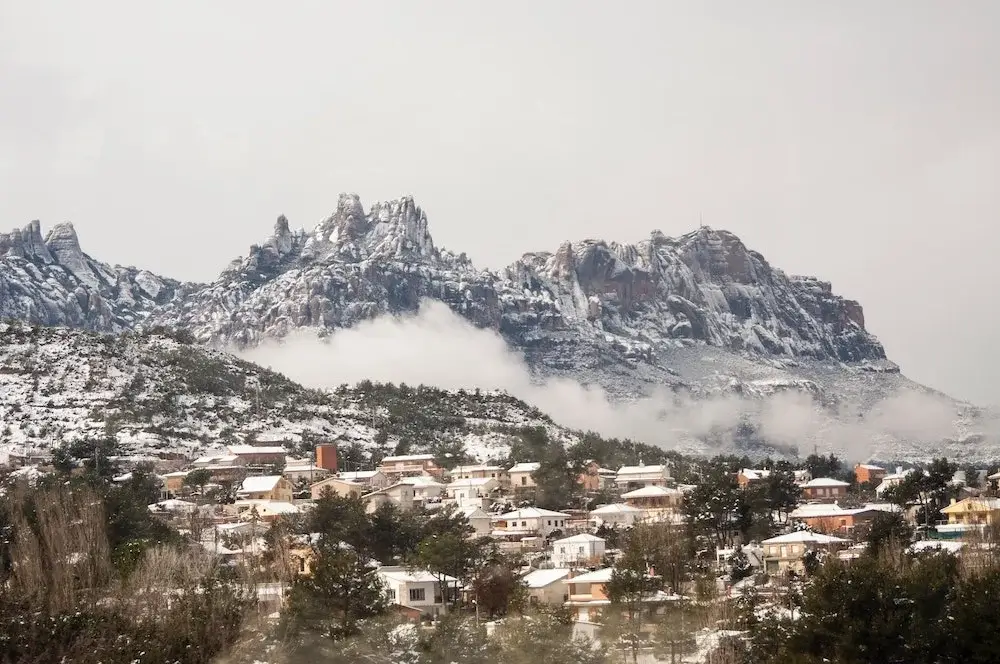 Spain is a country in southern Europe known for its beautiful beaches, sunny days, and tanned people. However, did you know that it also snows in Spain? In this blog post, we will look at the snowfall in Spain – including which cities typically see the most snow and the most recent winter anomalies.
Why does it snow in Spain?
There are numerous mountains in Spain (Mulhacén is the tallest, with 3,479 m in height). In winter, they have stable sub-zero temperatures and thick snow on the slopes.
Weather anomalies occur quite often (as in many other places on Earth) – cyclones sometimes bring wet snow to Madrid, Valencia province, etc.
Sometimes, a deep polar trough forms and provokes a snowfall (such as in Madrid in 2021, which happens only once every 10-15 years). The cold air from high latitudes penetrated the subtropics. In this situation, the snow can also reach North Africa.
What people say on Reddit
I was under the impression there wasn't snow in Spain and it would be tolerable. Thank god someone insisted I bring a winter coat. It was cold and rainy for the majority of my time spent there. It only snowed one day from what I can recall but it put a stop to the city.

InstantMedication
Most of the interior of Spain, in the Meseta, has actually more extreme temperatures and winters can be quite cold. Not as cold as Germany, but definitely colder than in areas of the Peninsula with more climactic inffluence from the sea like most of Portugal. Now it's 10°C where I live, but at this time of the day and years the usual is around 3°C. But, yeah, it doesn't usually snow in most of Spain. It's both sunny and cold.

wxsted
We've had a massive snow storm mostly all over the country for several days and it's both amazing and annoying. I live in Madrid and no one has seen something like this. It only snows once every few years, and the snow melts right away. But this time it kept snowing and the snow kept piling. I had never seen so much snow before. For those of you used to snow, it's probably not much (50cm or so where I am, up to 1m in other places) but honestly, I felt like a kid being able to have a snow fight and making snow angels for the first time in my life.

BooksCatsnStuff
The southernmost areas of mainland Spain can be quite chilly in the winter, and the insulation of most houses are far from being good. The belief that it is always hot here is a common mistake among northern europeans. It's a way milder winter than most places in Europe tho, and if there is a good weather forecast you will not freeze your ass at all.

Heresiarca
Read also: The best time to visit Spain
Snowstorm in Spain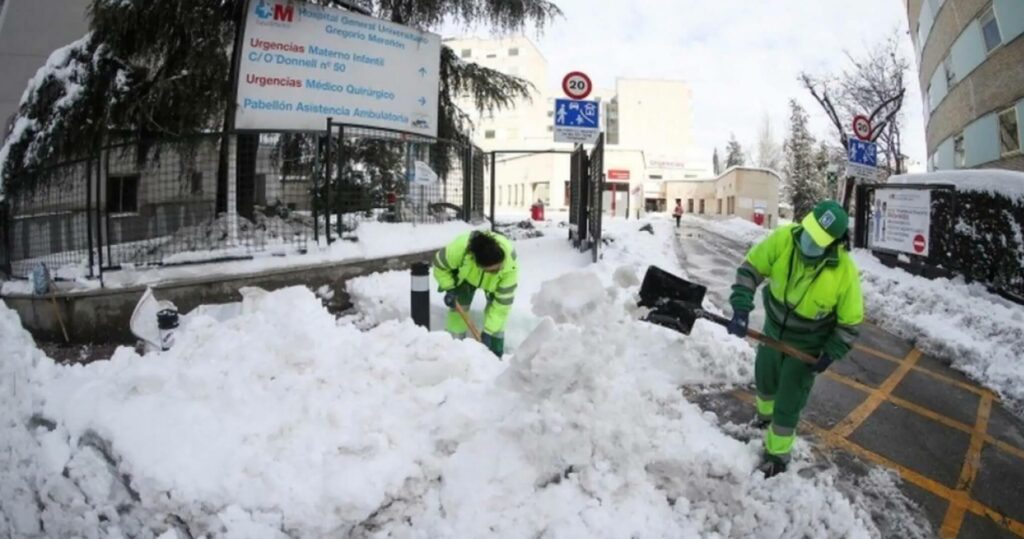 In January 2021, the Philomena storm hit many Spanish regions. The most affected by Philomena was Madrid. It snowed in the Spanish capital for several days, and the snow cover thickness reached 50 cm. Temperatures in some parts of the country dropped to -8ºC.
Residents of Madrid welcomed the snow with delight, and they skied and played with snowballs on the city streets. The next day the transport system collapsed due to ice, and it was impossible to drive.
8 places in Spain with snow in the winter
Contrary to stereotypes, snow and cold weather is not such a gimmick for this country. So yes, it normally does snow in some spots in Spain.
1. Torre de Cabdella, Lérida
Here the lowest temperature of minus 32 degrees was recorded in the winter of 1956. This Catalan municipality consists of 19 villages, among which stands out Estavill – the town best preserved since the Middle Ages.
2. Calamocha, Teruel
The area is as famous for its cold winters as for the excellent jamón it produces. The temperature record is only slightly lower than that of Lérida when on December 17, 1963, the thermometer plummeted to minus 30 degrees. However, the beauty of this place is worth a visit, even in winter, so you can still explore the beauty of the old quarter and the medieval bridge over the Jiloca.
3. Molina de Aragón, Guadalajara
Molina de Aragón also distinguished itself in the 1960s with its -28.2ºC, ranking third. If you are a history lover, you must go there anyways to see one of the largest fortresses in Spain, the Castillo-Alcázar. Along the way, you can explore the Moorish and Jewish quarters.
4. Albacete
In 1971, at Los Llanos airport, the thermometer dropped to an "astonishing" minus 24ºC. Albacete is famous for the Plaza de Toros, which became the model for the Plaza de Las Ventas in Madrid, the largest bullfighting arena in the country.
5. Burgos
Burgos is undoubtedly one of the coldest but also one of the most charming cities in Spain. You can come here to explore this medieval town's streets, squares, and small corners. Be prepared that the temperature here can get as low as -20ºC in the winter.
6. Teruel
Teruel is famous for its Mudejar-style architecture, a beautiful story of lovesick Diego and Isabel, and the winter of 1945, when the temperature was lower -20ºC.
7. Vitoria-Gasteiz
Vitoria-Gasteiz is the capital of the Basque country in northern Spain, with temperature averages of -5ºC on the coldest nights in the winter. It dropped to -11°C (11 °F) in December 2001.
8. Salamanca
Salamanca, too, experienced -20ºC in February 1963. The city is worth visiting anyway. See Spain's oldest university or the famous Plaza Mayor, built in the Baroque style.
The record-low temperature was recorded in Torre de Cabdella (-32ºC), Calamoca (-30ºC), Molina de Aragon (-28ºC), Reynosa (-24ºC) and Albacete (-24ºC).
The average temperature in Madrid, ºF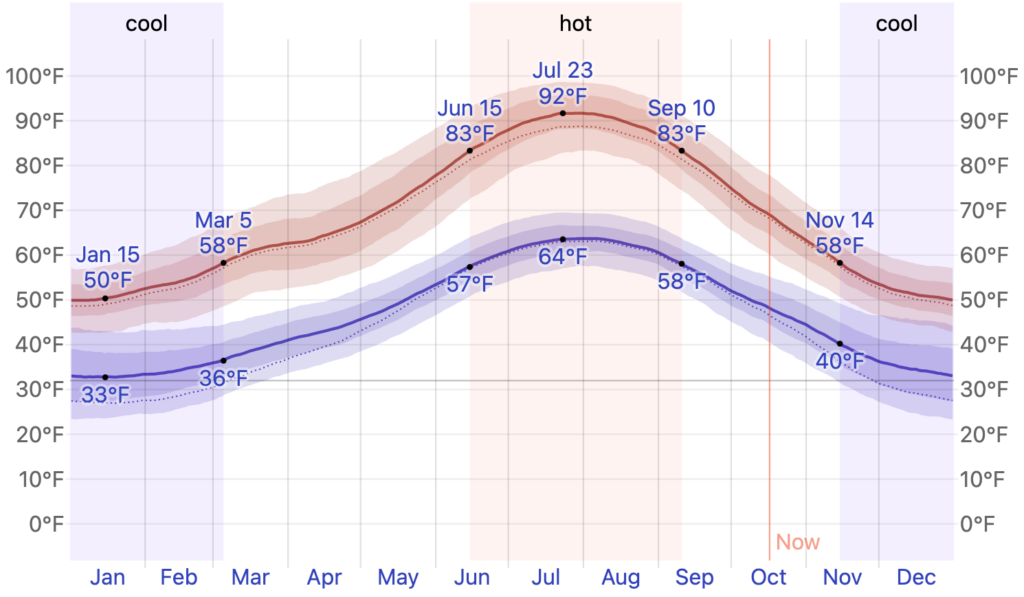 Frequently Asked Questions
Does it snow in Madrid?
No, it usually doesn't snow in Madrid due to its altitude and lack of cloud cover. It is crispy and sunny in the Winter in Madrid, with the lowest averages of 3ºC-10ºC.
Does it snow in Valencia?
No, it does o t snow in the city of Valencia, but it may snow in some areas in the Province of Valencia.
Does it snow in Seville, Spain?
No, you will not see any snow in Seville. The lowest averages are 5ºC, with strong winds and rain, not the perfect Winter getaway (such as the Canary Islands).
Helpful links: