If You Can Do These 7 Exercises, You'll Be Prepared For Any Hikes: How To Train For Hiking
Nadia Podrabinek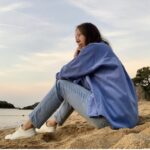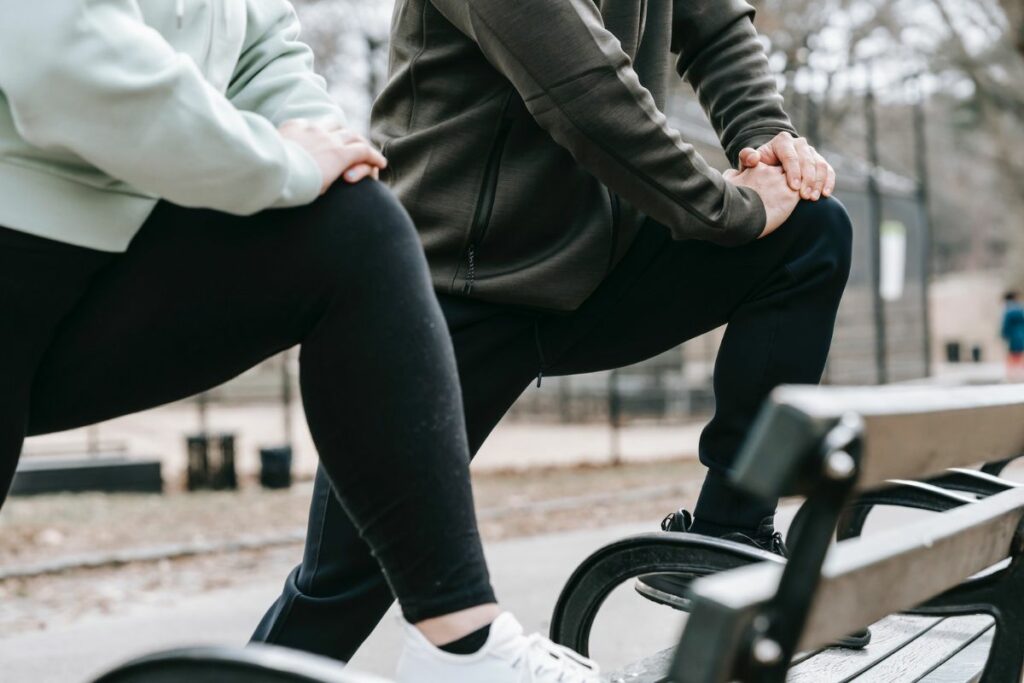 If you're wondering how to train for a hike and conquer challenging trails with nothing but confidence, I'm here to be your trail guide! I've put together a helpful list of seven essential exercises to prepare you for any hiking adventure. Get ready to hit the trails with me and enjoy the great outdoors like never before.
---
Key takeaways
Training for a hike can help to reduce your risk of injury.
Always consult a healthcare professional before switching up your training regime.
In addition to physical training, make sure to get adequate nutrition and hydration.
Set yourself up for success with the right exercise equipment.
---
The Importance of Training for Hiking
If you've ever wanted to go hiking, you may have heard more experienced hikers tell you to train well before heading out. Besides learning how to physically prepare for a hike to help you tackle the trails, it's important to understand why this training comes in handy.
Firstly, hiking can sometimes involve long hours on a trail with plenty of ascents and descents. Proper hiking exercises increase your cardiovascular endurance. This allows you to sustain a steady pace and cover more ground without feeling too much fatigue.
Additionally, training can help condition your body to withstand the stress of hiking. This reduces the risk of injury like sprains, strains, and overuse. This also means you're better prepared for your overall safety and well-being on the trails.
Note You always have to consult a healthcare professional before starting a new exercise regime. What works for me may not work for you, so be sure to ask your doctor for advice before incorporating any of the following exercises into your usual routine.
The 7 Essential Exercises to Train for Hikes
Exercise 1: Static lunges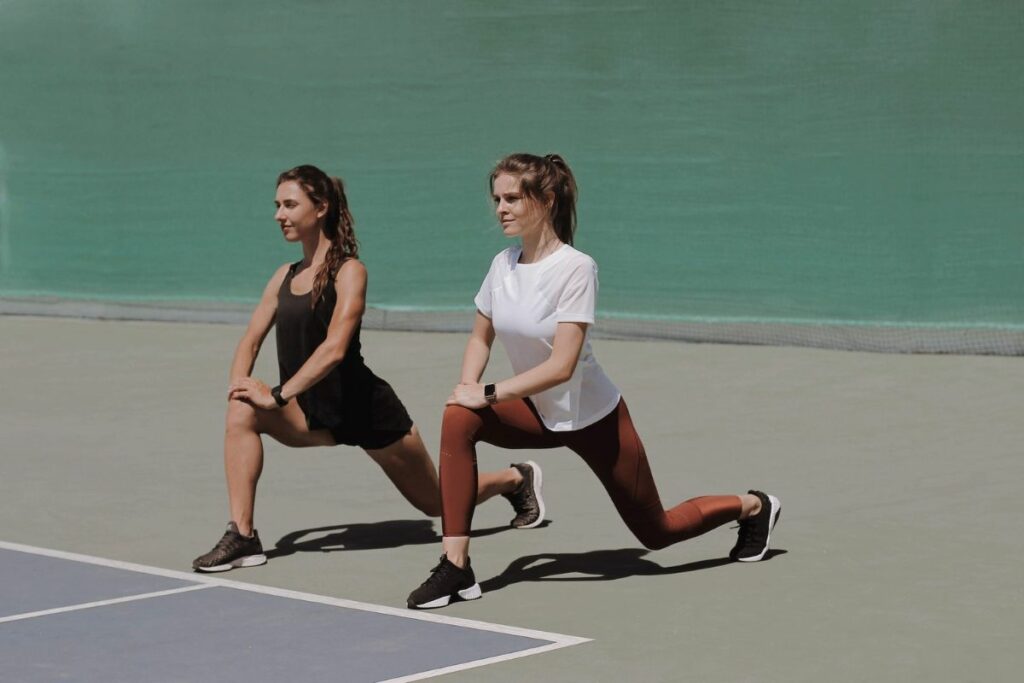 Lunges are fantastic exercises for hikes. This exercise targets the major muscles in the leg and enhances your overall balance and stability. Lunges help to strengthen your quads, hamstrings, and glutes.
How-to:
Stand tall with your feet hip-width apart. Make sure to engage your core muscles to maintain your posture.
Take one big step forward with one leg. When you step, your feet should still be around hip-width apart, with one foot in front of you.
As you step forward, slowly lower yourself into a lunge position by bending your front knee (for example, your left knee), keeping it aligned with your toes. You can also slowly bend the other knee. Ideally, your knees should both be bent at around 90 degrees, with your back shin parallel to the floor.
Hold your position, then return to your standing position.
Once you've completed your reps, repeat this with the opposite leg.
Variations for increased difficulty
Jumping lunges: Start in a regular lunge position with both feet on the floor and then jump.
Downhill lunges: To train for hiking downhill, try some walking lunges going downhill.
Exercise 2: Squats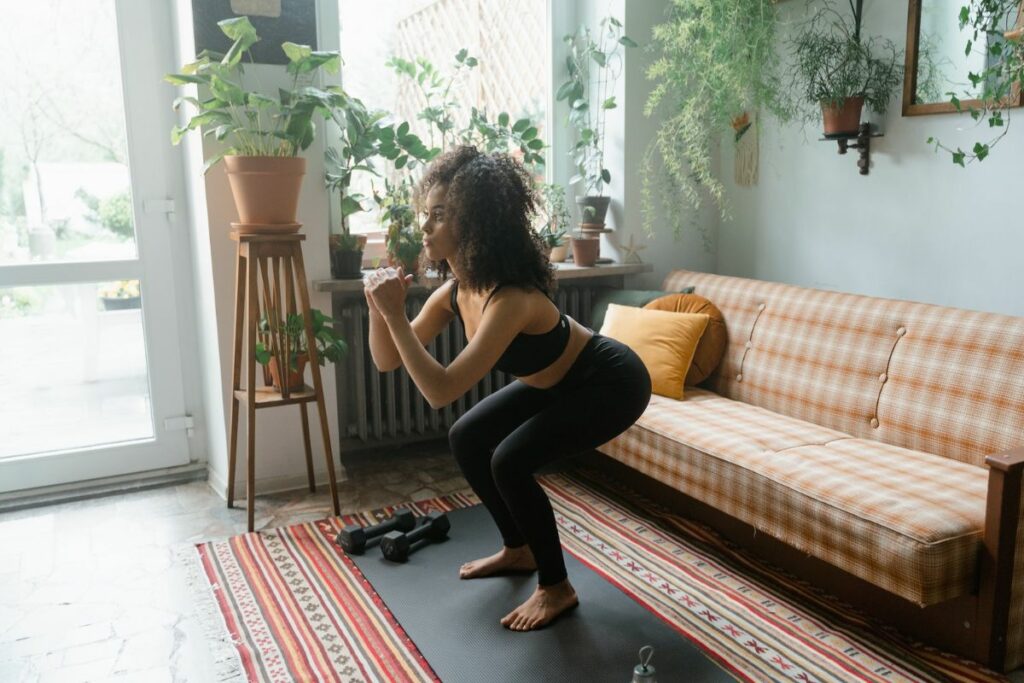 Squats are another great exercise for preparing for a hike since they also target your greatest hiking asset – your legs. Like lunges, they primarily focus on the glutes and leg muscles like your quads and hamstrings. And, when squats are done correctly, they can also engage your core muscles.
How-to:
Stand with your feet shoulder-width apart. Turn your feet slightly outward to help with your balance.
Extend your arms in a straight line in front of you, parallel to your shoulders. Remember to keep your chest up and your back straight.
Start the squat by bending your knees and pushing your hips back at the same time. Then, lower your body as if you were going to sit in a chair.
Go down until the backs of your thighs are parallel to the floor and pause.
Return to your starting position and repeat.
Variations for increased difficulty
Jump squats: Instead of coming up normally, jump up and then land back into the squat.
Resistance band squats: Place a resistance band just above your knees. This will engage your hip abductors as well.
Exercise 3: Step-Ups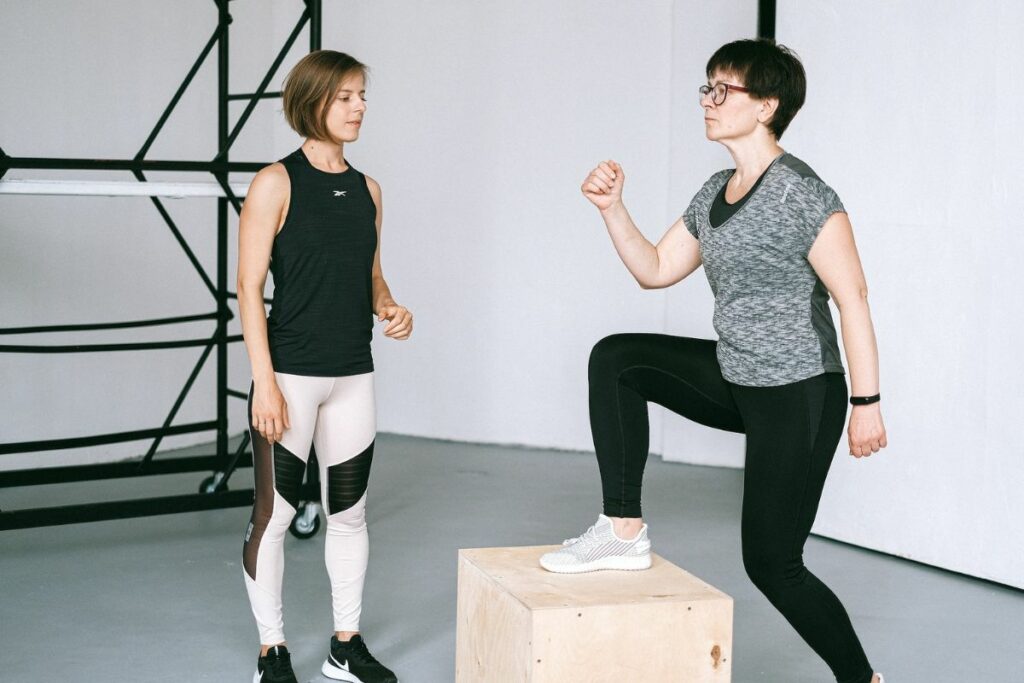 Step-ups are really effective for helping you prepare for a long hike. It targets essential muscle groups like your quadriceps and glutes. These muscles play a crucial role in ascending steep terrain during your hike.
How-to:
Find a platform, like a box, step, or training box, that is stable before getting into the starting position. Start with your feet shoulder-width apart.
Stand in front of the platform with one foot on the floor and the other on the platform. Keep your head up and maintain a straight back. Engage your core muscles for stability.
Using the leg that's on the platform, step up until your other leg is also on the training box. Then, step down using the same leg so that both of your feet are on the floor. If you start with your left foot on the platform, you'll want to push on your left leg to bring your right leg up to the platform.
Switch to the other leg and repeat.
Variations for increased difficulty
Weighted step-ups: Adding weights to each of your hands will help to create more resistance.
Higher platform: Using a higher platform can make this exercise more difficult for seasoned hikers.
Knee raise: When you step up, lift the opposite leg up so that the knee is at a 90-degree angle in front of your chest before lowering yourself back into a standing position.
Exercise 4: Planks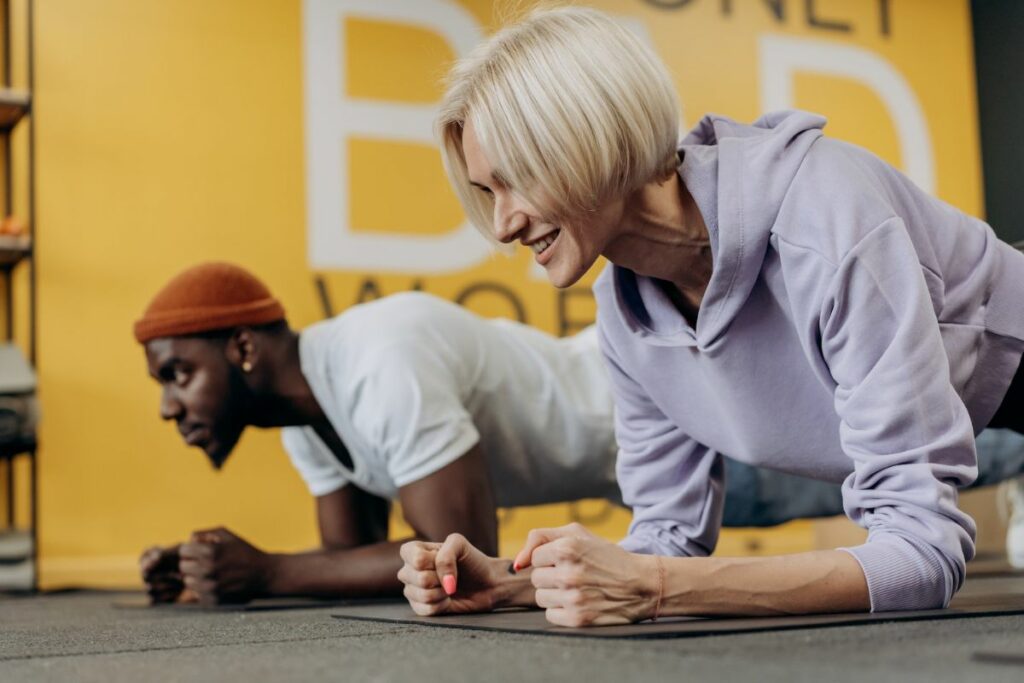 If you want to strengthen your core and upper body to prepare yourself for a challenging hike, then you may want to add planks to your exercise regime. Although they primarily target the core muscles, you'll also reap the benefits of stronger shoulders and leg muscles. With planks, you'll also reduce the risk of back pain on your hikes.
How-to:
Start in a forearm plank position with your feet hip-width apart and your elbows on the ground directly under your shoulders.
Ensure that your back, legs, and arms form a straight line. Don't drop your hips forward or arch your back.
Squeeze your core and hold the position for around 20 seconds, keeping your legs straight. You can increase the time as you become more comfortable with the exercise.
Variations for increased difficulty
Side plank: Begin with a regular plank starting position, then rotate onto one forearm. Stack one leg on top of the other and hold the pose before switching sides.
Plank with hip dip: For an extra core challenge, rotate your hips so that they almost touch the floor. Do this while holding a forearm plank position.
Exercise 5: Push-Ups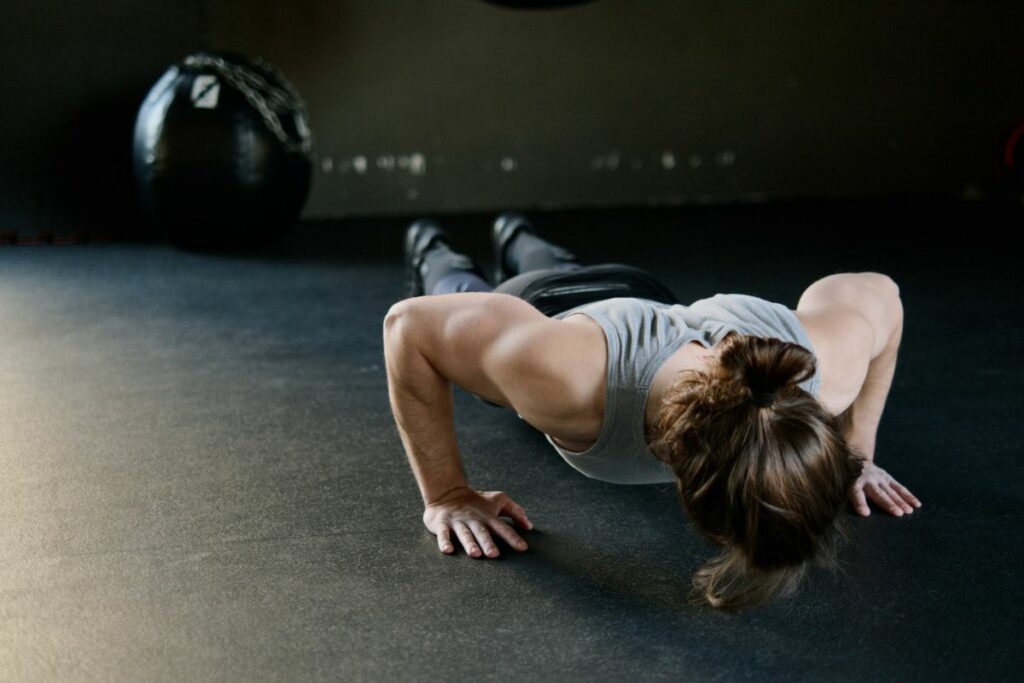 Push-ups may not be everyone's favorite exercise, but they can be really beneficial for hiking. Generally, they target the chest, shoulders, and triceps, while also engaging your upper back muscles and core. Building up strength in your upper body can help you navigate tricky terrains more easily.
How-to:
Start in a high plank position with your hands placed slightly wider than shoulder-width apart. Keep your back and legs extended in a line.
Begin by pushing into your hands, bending your elbows, and lowering your chest until it's above the floor.
After a short pause, push yourself back up. Make sure your arms are fully extended at the top of the push-up.
Variations for increased difficulty
Diamond push-ups: Bring your hands closer together, making a diamond shape with your index fingers and thumbs. This will put more emphasis on your triceps.
Elevated push-ups: Place your hands on a platform to increase your range of motion and give yourself more of a challenge.
Exercise 6: Mountain Climbers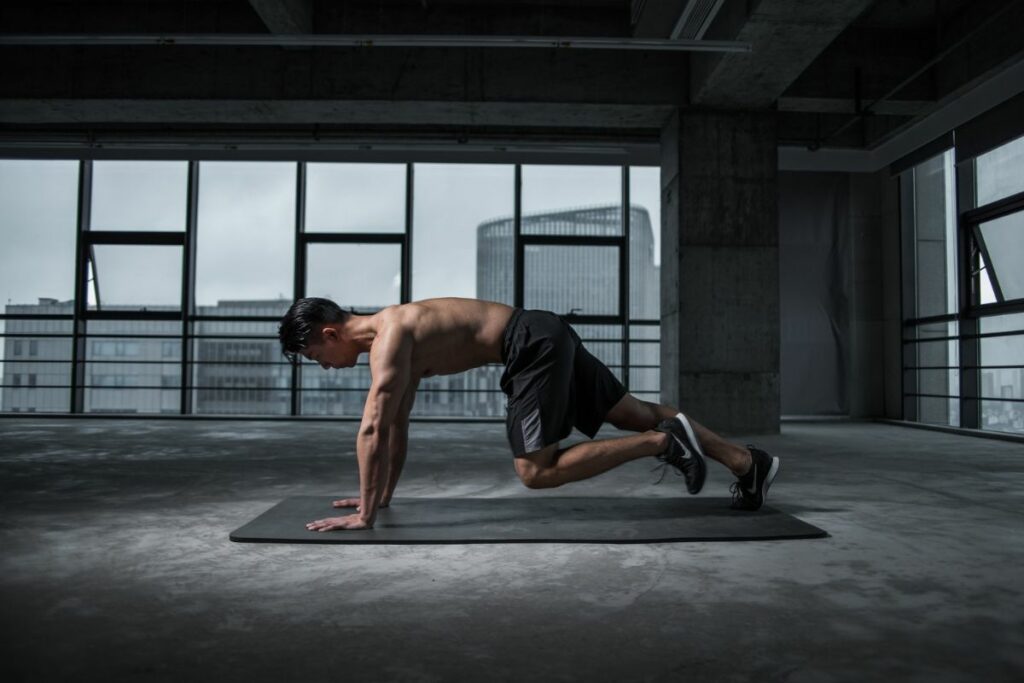 Mountain climbers are a dynamic and effective full-body workout that can significantly benefit hikers. This exercise targets various muscle groups, including your legs, core, and arms, while also enhancing your cardiovascular endurance. You can use mountain climbers for strength training in your legs, which is helpful for uphill hiking.
How-to:
Begin with your hands shoulder-width apart and your feet hip-width apart. Avoid letting your hips sag and bending your back.
Pull your right knee as far up into your chest as you can while keeping your left leg extended. When you push your right leg back, immediately pull your left leg up against your chest.
Keep alternating between your legs and mimic running in place while in a plank position.
Variations for increased difficulty
Knee hold: When you bring your knee up, hold it in place for a bit before switching legs. This will engage your core more effectively.
Knee to elbow: To target your obliques, bring your knees up to your elbows. You can either bring your right knee to your right arm or across your body by bringing it over to your left arm.
Exercise 7: High-Intensity Interval Training (HIIT)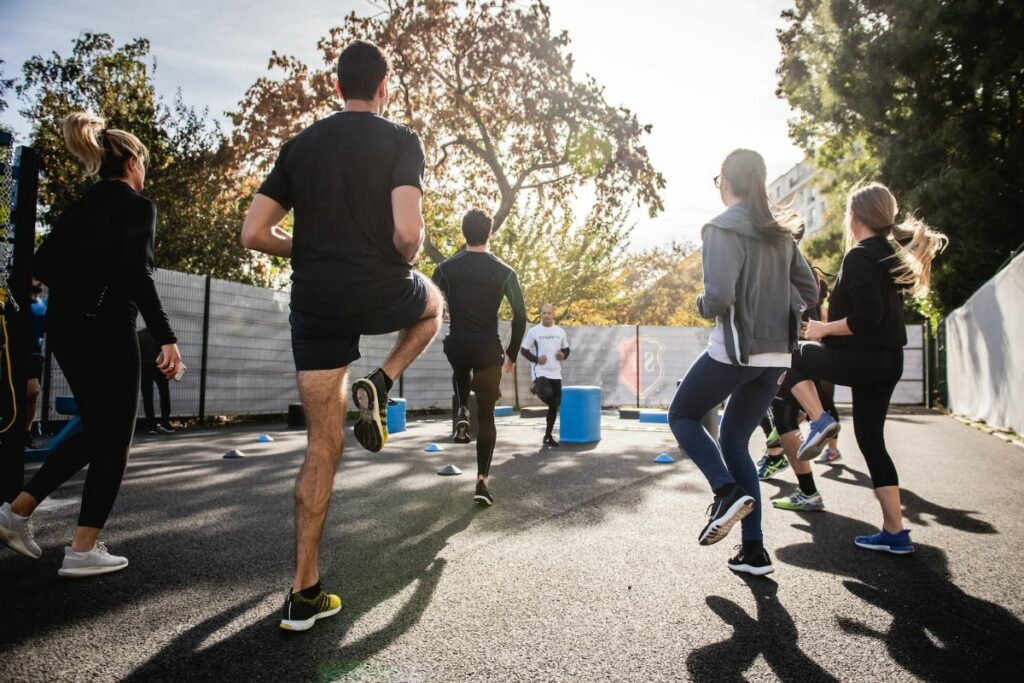 As a beginner, one of the biggest questions you may be asking yourself is how to train for a long hike. While shorter hikes can be fun, you may want to gradually increase the duration and intensity of your hikes over time. To do this, you can use HIIT, or high-intensity interval training, exercises. They're also fantastic for endurance and strength training, making it easier to tackle harder hiking routes.
How-to:
Start with a light warm-up of around 5 to 10 minutes. Try jogging in place, jumping jacks, or even dynamic stretching.
Choose a high-intensity exercise like sprints or mountain climbers and push yourself as hard as you're able to for 20 to 60 seconds.
Take a short rest for around 10 seconds, then repeat steps two and three for up to 10 cycles.
Finish your HIIT training exercises with a 5 to 10-minute cool-down session, like stretching.
Variations for increased difficulty
Types of exercises: Choose more intense exercises for your bursts of intensity to match your fitness level.
Incline training: Practice your HIIT training on an uphill surface to train for hiking uphill.
Exercise Routine Recommendations
Incorporating all of these exercises into your routine can be tough. Luckily, I've put together an easy seven-day workout routine for inspiration!
Day 1
Lunges (3 sets of 12 reps per leg)
Squats (3 sets of 12 reps)
Day 2
Mountain climbers (3 sets of 30 seconds)
Planks (3 sets for 45 seconds)
Cool down (10 minutes of stretching)
Day 3
Use this as a rest/recovery day
Day 4
Push-ups (3 sets of 10-15 reps)
Step-ups (3 sets of 12 reps per leg)
Day 5
Warm-up (10-minute brisk walk)
HIIT training (3 sets of 60 seconds of intense exercise followed by 30 seconds of rest)
Plank with hip dip (3 sets of 10 reps per side)
Cool down (10 minutes of deep breathing and light stretches)
Day 6
Day 6: Use this as a rest/recovery day
Day 7
Jumping lunges (3 sets of 12 reps per leg)
Weighted step-ups (3 sets of 12 reps per leg)
Nutrition and Hydration: How to Prepare for Hikes
Proper nutrition and hydration are absolutely essential when you're preparing for a hike since they can impact not only your hiking performance but your overall well-being as well.
A balanced diet that is rich in carbohydrates, proteins, and healthy fats can provide the necessary energy to sustain your body on long hikes. In particular, carbs are paramount since they serve as your main source of fuel. This can help you to tackle challenging and uneven terrain as well as super steep inclines.
Similarly, staying well-hydrated is crucial – even mild dehydration can lead to fatigue and decreased endurance. You should always prioritize your water intake before, during, and after your hike.
Equipment to Get in Shape for Hiking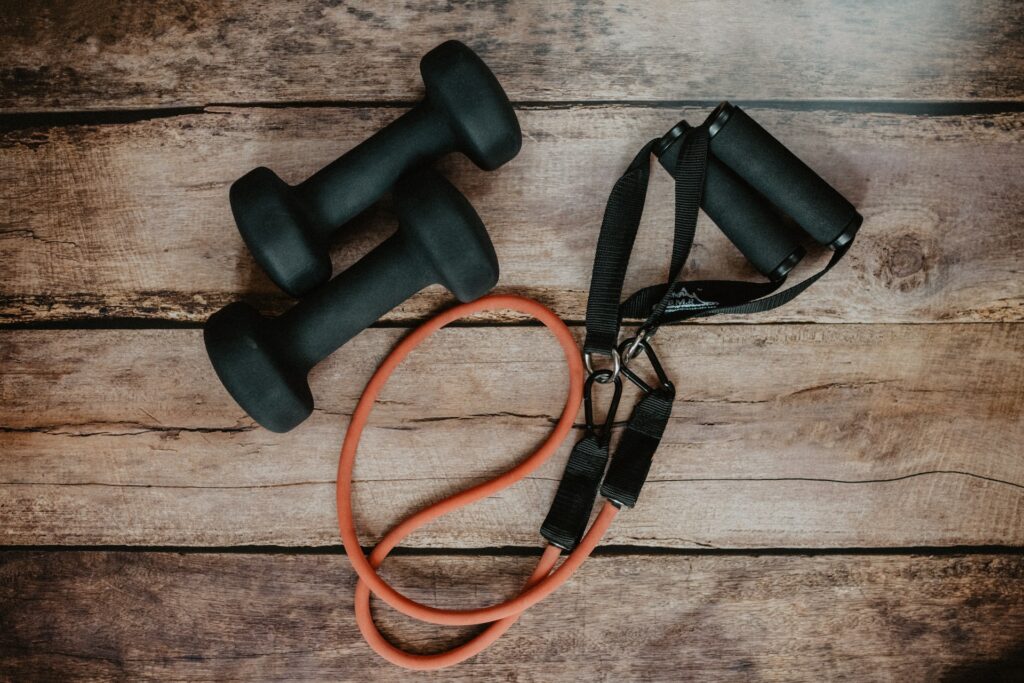 Resistance bands: These can add intensity to certain exercises like squats, lunges, and step-ups.
Yoga mat: A yoga mat can give you a more comfortable surface to train on – particularly for warming up and cooling down.
Dumbbells: For adding extra weight and resistance to your exercises.
Training box: Having a platform or training box can help with several hiking exercises, such as step-ups.
Weighted vest: This can help to simulate the weight of your backpack when it's full to the brim with your hiking gear.
Common Mistakes to Avoid when Preparing for Hikes
Preparing for your hike involves more than just exercises – it involves actively avoiding common training mistakes as well! Some of the most common mistakes include:
Skipping your warm-up can increase the risk of muscle strains and injuries.
Using improper form can potentially lead to injuries, so be sure to train carefully!
Pushing yourself too hard and too quickly can cause harm to your body. Take it easy and listen to your body's warning signs to help you find out where your limits are.
Always keep water on hand to avoid dehydration (both during training and on hikes).
Never ignore the importance of rest and recovery.
Conclusion
No matter whether you're an absolute novice or a skilled hiker, you can never underestimate the importance of training before a hike (even an 'easy' one). Part of getting ready for hitting the trails is strengthening your body so that you can hike safely and (most importantly) have fun. With this guide, you'll be able to prepare yourself and absolutely kill it on your next trek!
Frequently Asked Questions
How do I prepare for my first hike?
As a beginner, preparing for your first hike is essential. Here's how to prepare for a hike as a beginner:
– Start with easier trails and work your way up.
– Focus on building your fitness with a good exercise regime.
– Learn basic hiking skills and take an experienced hiker with you.
– Listen to your body and don't push past your limits.
How can I increase my stamina for hiking?
Want to know how to prepare for a long hike? The answer's easy! You need to increase your stamina! You can do this through strength training exercises, enhancing your cardiovascular fitness, and hiking regularly to get your body used to the challenges that come with this incredibly rewarding outdoor activity.
Should I work out before a hike?
Ideally, you should always train before going on a long or particularly demanding hike. This can help to ready your body and reduce the risk of injuries. You'll also be able to finish your hike with pride if you've trained your body for what's to come.
How can I hike without getting tired?
Hiking without getting tired requires a lot of physical fitness. Of course, this doesn't mean you won't get tired at all, but you may be less tired if you build up your strength through exercise. You can also start with easier trails and gradually increase the distance and difficulty to acclimatize your body to the strain of hiking.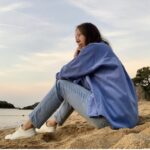 Hello, my name is Nadia.
I usually write about traveling (there are so many places to fit all the lifestyles), relocation (finding a job overseas or moving without losing an income), and living in a foreign country (adapting to a different culture and mentality). Follow me on Twitter, Facebook, Instagram, or LinkedIn!
This post might include some affiliate links. If you make a purchase through these links, I may earn a small commission at no additional cost to you. I appreciate it when you use my links to make purchases.