Best Time to Visit Netherlands
Nadia Podrabinek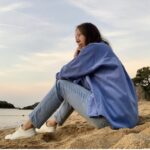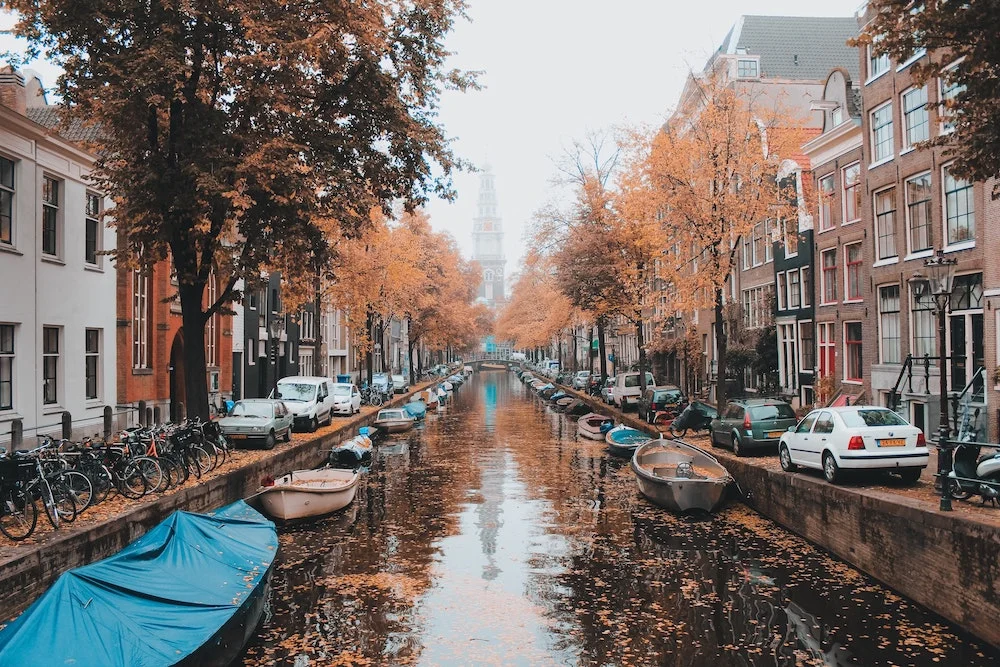 The Netherlands is a lovely country that will never cease to amaze you with something to offer all year round.
However, if you are looking for the best time to have on your Dutch getaway, look no further than summer (June-August). The warm temperatures and long days make it perfect for sightseeing and outdoor activities.
Is it worth visiting the Netherlands other than summertime? Yes! From the picturesque canals of Amsterdam and Rotterdam to the stunning tulip fields in North Holland, there is plenty to explore.
It is also worth visiting the Netherlands for its unique culture and architecture and the range of activities available – from cycling through cities and towns or taking boat trips along its many rivers and canals.
---
Key takeaways
Summer is perfect for exploring the beauty of the Netherlands.
Other than that, consider visiting in early Fall or late Spring.
---
Read also: 11 Day trips from Amsterdam to Belgium
Best time to travel to the Netherlands
Besides summer, there is not a particular season that is a one-size-fits-all option when you go to the Netherlands. There are different kinds of travelers who each have their preferences as they go on vacation.
So, instead of focusing on one, I will show you several choices you can make. That way, you will be able to gauge which season is more to your liking when visiting the Netherlands:
1. Late spring (April–June)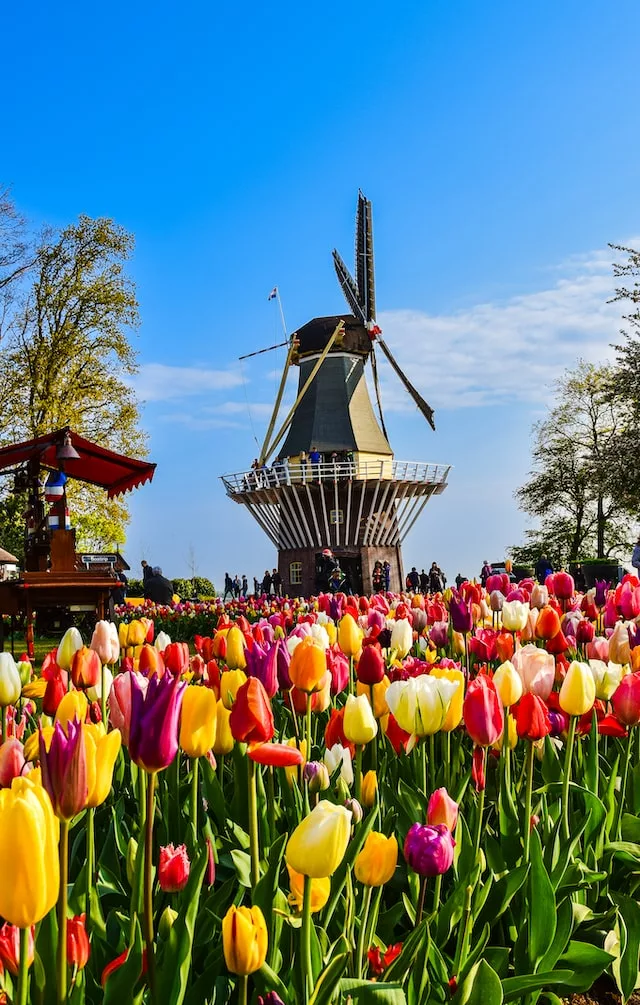 Springtime in the Netherlands brings unpredictable weather. You will be basking in the sun one day, and then you will be drenched in the rain the next.
Additionally, the temperature starts getting warmer as the country comes out of wintertime. It is going to range between 39.2–55.4°F (4–13°C).
Being prepared during this time is critical, so pack clothes you'd wear on both sunny and rainy days. I recommend you bring some short sleeve tops, a cardigan, and a pair of jeans.
What to do and see in the Netherlands in spring: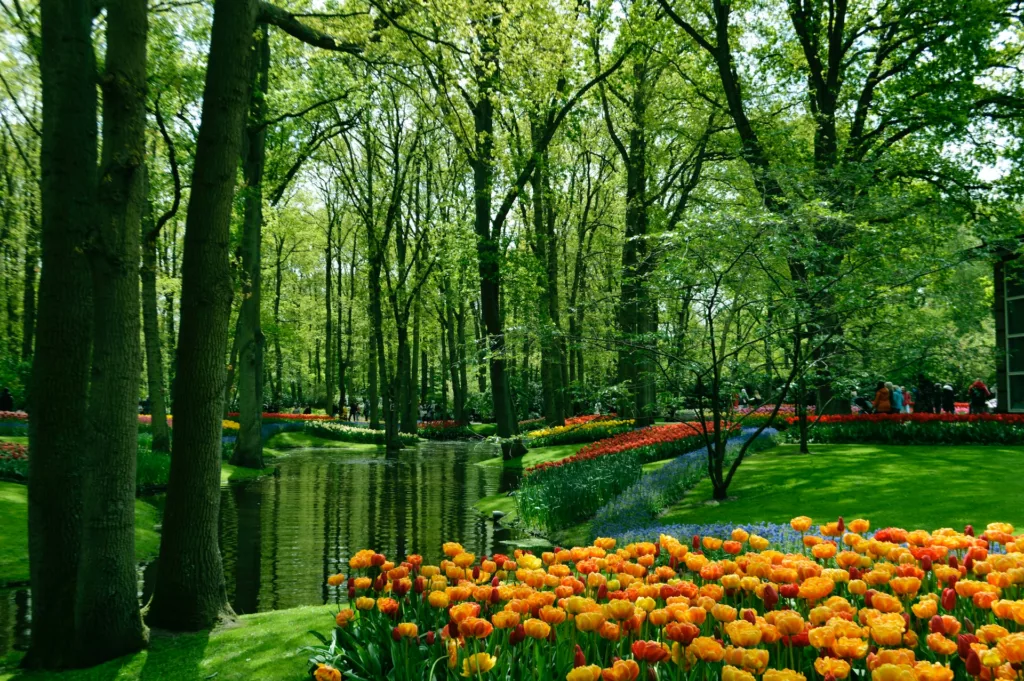 The Netherlands is known to be the ultimate "Flower Shop of the World." They're the most prominent global exporters of tulips, trading over two billion bulbs worldwide each year.
Visiting the Keukenhof Gardens will allow you to admire their world-class flowers up close and personal. They open their gates for tourists only in the springtime (March-May) when their massive tulip gardens bloom.
Helpful tip You can purchase your tickets on their website.
See windmills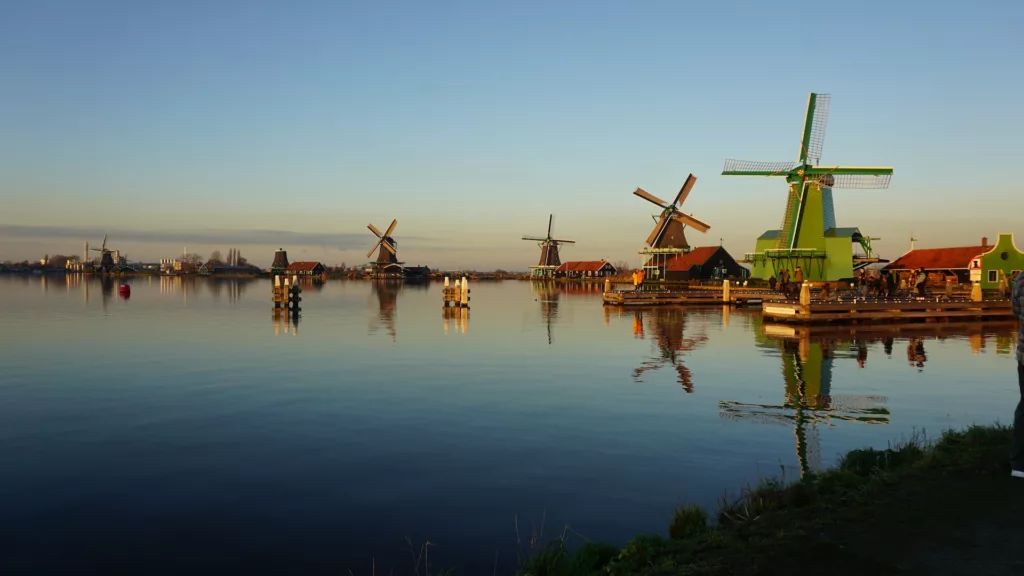 Historically, the Dutch began building windmills in the 11th century to grind grain and to help with the flooding issues in their country. They constructed around 10,000 windmills then, but only 1,200 exist today.
The Dutch declared the second Saturday and Sunday of May National Mill Day in honor of their important historical role. Over 900 windmills and watermills will open their doors to tourists during this time. It's the best time to learn about the mill's history and purpose.
If you visit Amsterdam, take a regional train to Zaanse Schans windmill village – it is a day trip which is well worth it!
2. Summer (June–September)
Pleasant weather welcomes you if you spend your summer vacation in the Netherlands. Most days will be warm and dry, with just a few light showers here and there.
The average temperature in this country during summer is 62.6°F (17°C). It's too warm for a light jacket but not too hot for shorts. I suggest you wear sunglasses and a hat when walking the Netherlands' sunny streets. It wouldn't hurt to bring a small umbrella, just in case.
Summertime is when the Netherlands is most colorful and alive. It is when millions of travelers visit the country to participate in lively festivals and adventurous activities.
What to do and see in the Netherlands in summer:
Attend Rotterdam summer carnival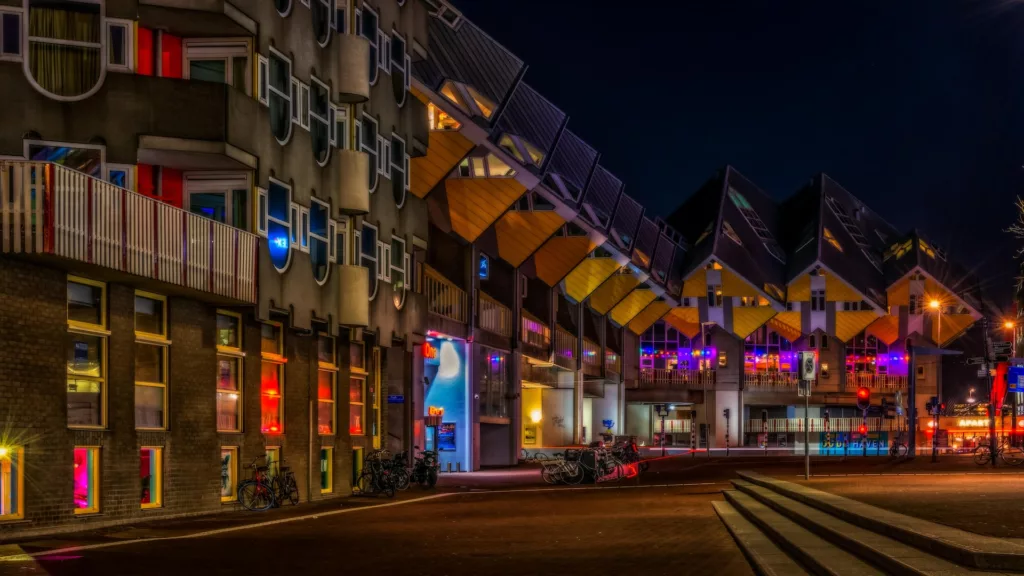 You will be blown away by the Zomercarnaval. It is an explosion of diverse cultures, all found in the largest Caribbean street party in Rotterdam.
You will witness the celebration of the Caribbean and Latin American traditions. Expect massive floats and strikingly dressed street dancers parading around the Rotterdam streets. Various delectable foods from different parts of the world also surround you.
Explore the Canals of Amsterdam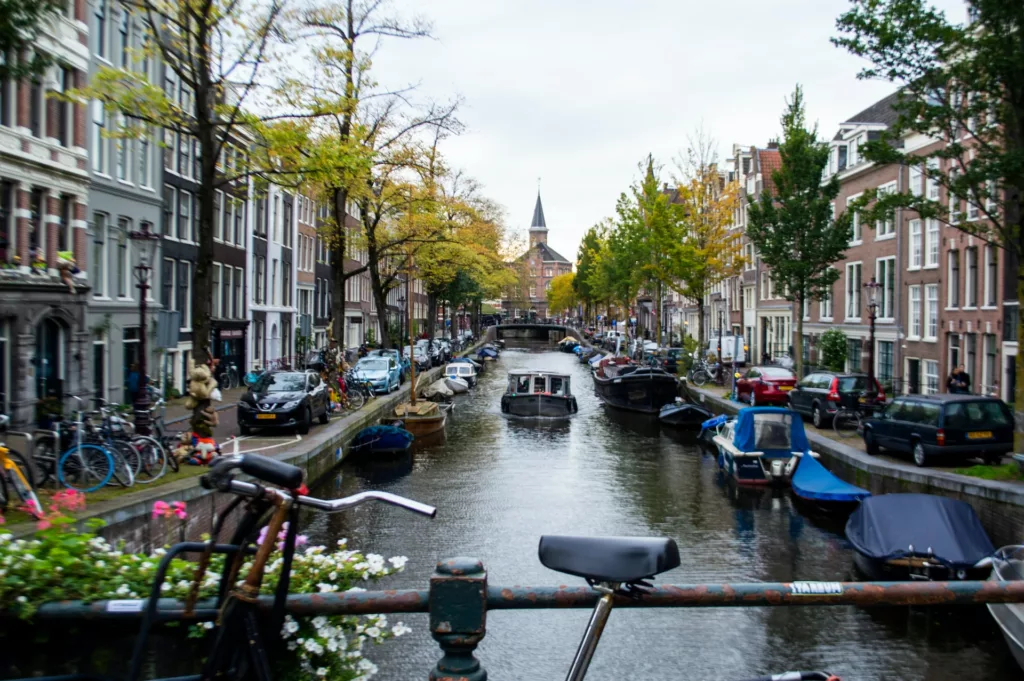 Indulge yourself in lovely sceneries as you explore Amsterdam by boat. Summer is the best time to stream along the famous canals of this city.
Cycle around the Dutch countryside
With endless cycle paths winding through quaint villages and scenic landscapes, take some time to get away from it all on two wheels
Relax at the beach
From sandy expanses along Zeeland's coast or taking in views over Lake Ijsselmeer, there are plenty of spots for swimming or simply soaking up some sun.
Enjoy local cuisine
Sample traditional dishes like stamppot (mashed potatoes) or cheese specialties made with Gouda & Edam cheeses served in cafés throughout towns of the Netherlands.
3. Fall (October–November)
The Netherlands in autumn is a rainy but still wonderful time to visit, with mild temperatures and beautiful colors. The days are cool, while the nights can be quite chilly, so it is best to bring layers and a raincoat.
The leaves have changed color, creating a stunning backdrop for exploring the canals and the countryside.
The average temperature these months is 51.8°F (10.6°C).
To enjoy this season in the Netherlands, here are some indoor activities you can include in your itinerary:
What to do and see in the Netherlands in the fall:
Explore the museums of Amsterdam
A perfect way to pass quiet, rainy days is to allow yourself to get lost in Dutch art and literature.
You can find the three most prominent museums in the country in the city of Amsterdam:
Rijksmuseum
Van Gogh Museum
Rembrandt House Museum
Spend a night in a Dutch castle in Leiden
Wouldn't it be rad if you could live like a royal for one night? You can make your regal fantasy come true by staying in a Dutch castle overnight. One of the many popular ones you can go to is the Kasteel Oud Poelgeest.
This 17th-century castle stands with its proud grandeur in the town of Oegstgeest, north of Leiden city.
It used to be owned by the Dutch scientist Herman Boerhaave. He made a remarkable contribution to science through one of his many published works, Elementa Chemise, in 1724.
You can explore the grounds and discover the old chapel and historical gardens. Additionally, in the evenings, you can dine like a king or queen with a splendid three-course meal at their restaurant.
4. Winter (December–March)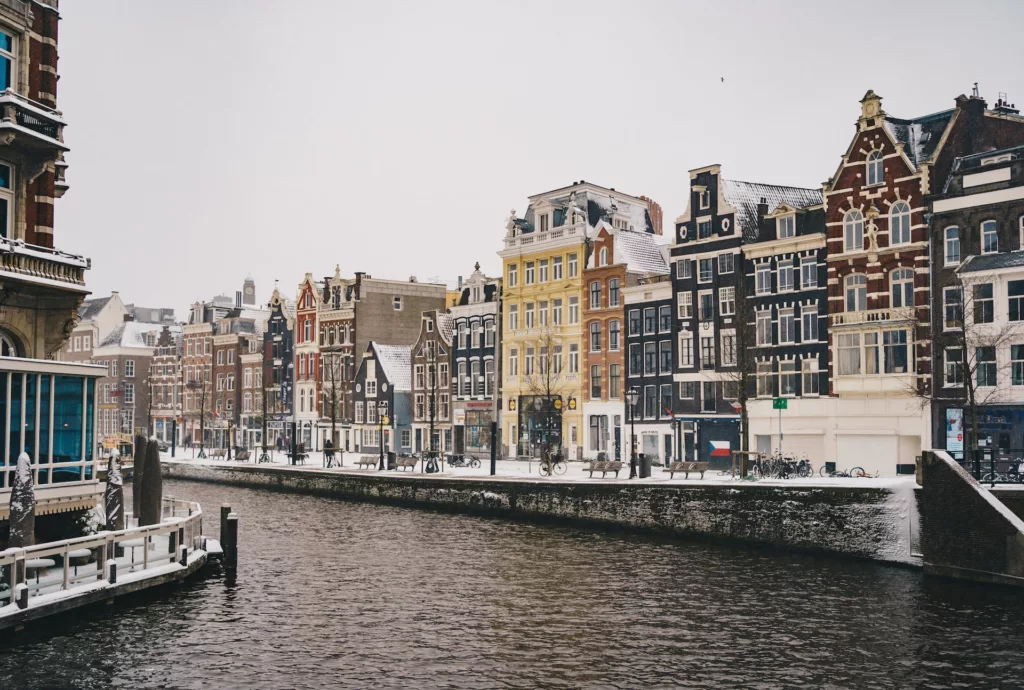 During these months, you will experience much shorter and very chilly days. Some parts of the country may experience snowfall, but it is not too heavy. Winter is the coldest season in the Netherlands, so the temperature drops to an average of 38.12°F (3.4°C).
It is time to bundle up in your winter jackets and gear yourself up with ear muffs and gloves. I also recommend you throw on a beanie and scarf for extra warmth.
Now that you are ready to face the cold, here is what you can do in the Netherlands in winter:
See Sinterklaas
I guarantee that you would want to experience this renowned Netherlands Christmas tradition.
If you don't already know, the Dutch celebrate their Christmas a little differently. Their age-old tradition involves American Santa Claus' Dutch counterpart, Sinterklaas.
Every year, Sinterklaas arrives in the Netherlands in mid-November on a Spanish boat. He gets off the vessel and rides his white horse to parade around the streets of Amsterdam.
Then, on the eve of December 5th, known as Sinterklaasavond, Sinterklaas visits homes to bring gifts to the children.
If you travel to the Netherlands during the holiday season, consider witnessing Sinterklaas time, a tourist's rite of passage.
Attend Charles Dickens festival, Deventer
The Dickens festival is held in the city of Deventer every winter.
Over 700 characters from Dickens' famed books come to life in this yearly festival to add some magic to the city's festivities.
Conclusion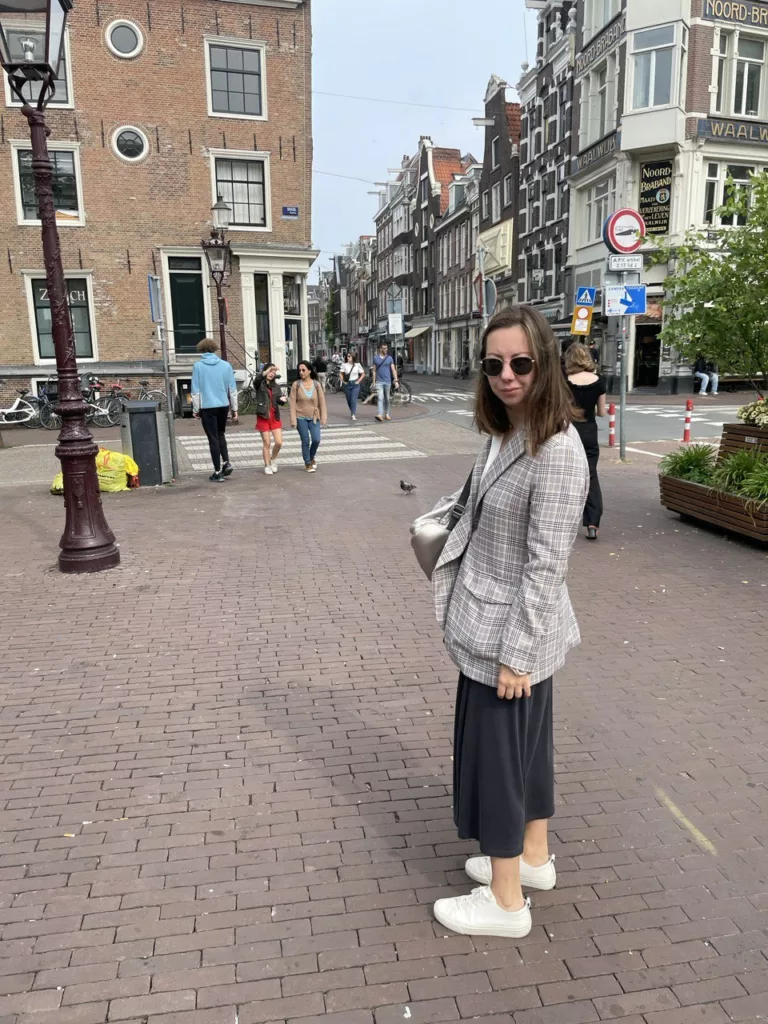 The Netherlands is a beautiful country to explore year-round. The best time to visit is during the summer (June-August) when the weather is warm and perfect for sightseeing and outdoor activities. Other than that, consider coming there in late Spring or early Fall. Winter is also a great time to explore the Netherlands. During the winter months, you can experience the Sinterklaas tradition, attend the Charles Dickens Festival in Deventer, or explore the museums of Amsterdam.
Frequently Asked Questions
Is it Holland or the Netherlands?
The Netherlands. Holland is the common name used to refer to two provinces in the Netherlands: North and South Holland. The Netherlands, or "Nederland" as it's called in Dutch, is officially the Kingdom of the Netherlands and includes 12 provinces.
What is the best time to visit the Netherlands for tulips? 
The best time to visit the Netherlands for tulips is spring, typically from mid-March until mid-May. This is when the tulips are in full bloom, and you can experience some of the most spectacular sights of colorful fields (and take some Instagram-worthy pictures, too!). It's also a great time to explore Dutch cities such as Amsterdam, Rotterdam, and Utrecht.
When is it better to see Amsterdam?
During the Holland Festival. The event features various performances from Dutch and international artists, including opera, theatre, dance, music, and visual arts. It's held every year between June 3rd and June 25th. 
Another option would be spring (April-May) or autumn (September-October). These seasons provide mild temperatures, fewer crowds, and lower hotel rates. The city's canals are charming during the springtime when flowers bloom, and there is a good chance of sunshine. Autumn also brings its own beauty with vibrant colors from changing leaves and cozy evenings spent enjoying traditional Dutch cuisine.
Is the weather the same in Belgium?
Yes. Belgium is located directly south of the Netherlands. So, both countries share almost the same oceanic climate. This results in pretty much the same weather in Belgium, with mild winters and cool summers.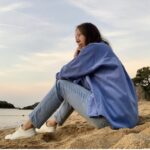 Hello, my name is Nadia.
I usually write about traveling (there are so many places to fit all the lifestyles), relocation (finding a job overseas or moving without losing an income), and living in a foreign country (adapting to a different culture and mentality). Follow me on Twitter, Facebook, Instagram, or LinkedIn!
This post might include some affiliate links. If you make a purchase through these links, I may earn a small commission at no additional cost to you. I appreciate it when you use my links to make purchases.