27 Must-Do Connecticut Hikes with Waterfalls
Nadia Podrabinek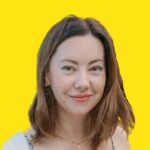 Written by Nadia Podrabinek
Hello, my name is Nadia. I usually write about traveling (there are so many places to fit all the lifestyles), relocation, and living in a foreign country (adapting to a different culture). My travels stretch beyond Spain, with journeys to the US, Italy, Norway, Portugal, and France. Relocating to Spain in 2018, I lived in cities from Barcelona to Madrid, currently calling Valencia home.  Follow me on Twitter, Facebook, Instagram, or LinkedIn! ... show more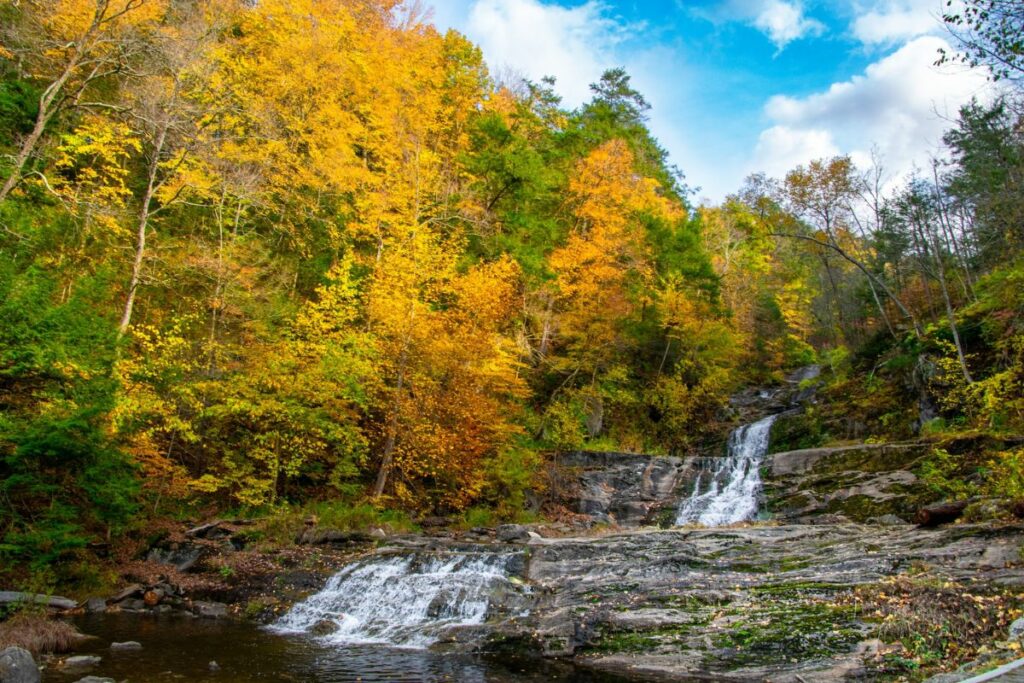 With its picturesque landscapes, terrific trails, and gorgeous views, Connecticut is a hiker's heaven. Hiking in Connecticut can mean anything from a gentle ramble through woodland to conquering the highest mountain peak.
The state is also graced with numerous waterfalls and family recreational areas. There are so many reasons to hit the trails and learn more about this exciting adventure destination. Let's jump in and explore the 27 best hikes in Connecticut. I'll also delve into hiking in CT with waterfalls because cascading water features are a popular part of the state's attraction.
---
Key Takeaways
There are hundreds of miles of hiking trails in Connecticut that cater to hikers of all experience levels.
Best hiking trails in Connecticut with waterfalls: Kent Falls, Hatch Brook Falls.
Best hikes in CT for families: Sleeping Giant State Park, White Memorial.
Best mountain hikes in CT: Bear Mountain, Appalachian Trail.
Preparation is key for a safe hike. Ensure you bring the right essential gear and always respect your hiking environment.
---
What people say on Reddit
Oxford Reservoir off Gunntown Rd in Oxford is a very pretty pine forest with a few lakes. I've taken some nice photos out there. It's small, probably less than 5-6 miles of trails but if you're feeling especially motivated it connects to the Naugatuck State Forest and there's about 13 acres up there.

lupistm
My go to hiking spots are Giuffrida Park in Meriden, Sleeping Giant in Hamden, Devil's Hopyard in East Haddam, and Wadsworth Falls in Middlefield.

Also, been to Gay City Park once, but hiked it in the winter, which was cool. Haven't been there in over a year.

yellowdyenumber5
This is kind of a local spot, so I'm a bit hesitant to post this, but the Tariffville Cliffs in East Granby are fantastic. I've spent many, many days camping out there…we've even built a pretty cool campsite up there. You have majestic views of the Farmington River Valley and the Tarrifville Gorge from up there, and the hike in is only about ten minutes.

Look up where Spoonville Street in East Granby is, take that, then your first right on Tunxis Ave Ext. (used to run across the river until the great flood in '55, I think). Anyways, park in front of the power lines on Tunxis Ave after you go under the bridge of 187. Hike up the power lines on a clear cut trail and take you first left down a ravine and back up. You'll now enter woods. Follow the path up, bearing left at the first intersection, and climbing some more. Walk on this path for maybe 7 or 8 minutes until it flattens out, then just walk left (should be well travelled), towards the cliff face. The majority of this hike follows the Metacommet Trail.

I've been living abroad for the year, and the campsite was immaculate last summer. Now there's graffiti around and broken glass all over the place…a bit of a bummer. Still, a great spot nonetheless, and within a 10/15 minute hike-in.

skaboss4493
There's four parks in Enfield along the Scantic River. Two of them have ruins, one with old canals, dams, and sluiceways, the other with raceways, foundations, and old dams of the old Hazard Powder Mill company.

Hikes are around 2-3 miles, if not more, depending which trails you hike. Not epic hikes by any means, but you can easily kill a couple hours.

There's some trails also being developed along the Scantic in East Windsor, but I have less info right now about those.

FattyMoo
Why Hike In Connecticut?
Connecticut boasts favorable weather and temperatures and plenty of fine state and national park facilities.
The most important ingredient is its thousands of miles of hiking and recreational trails. The best hiking trails in CT attract visitors from all over. Whatever your hiking fitness, experience, and preferences, you won't regret exploring some of the Constitution State's abundance of outdoor riches.
Best Hikes in Connecticut in 2023
1. Bear Mountain, Mount Riga State Park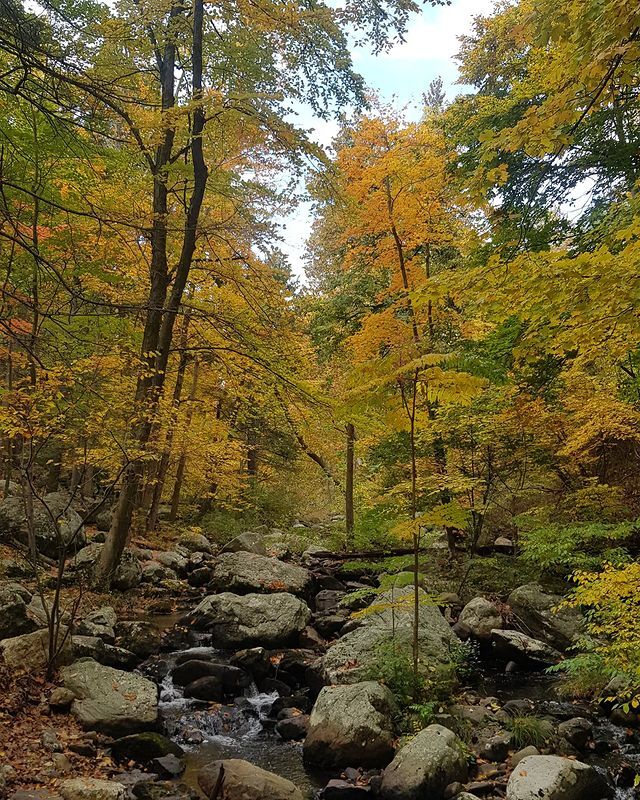 The highest peak in Connecticut, Bear Mountain located in Mount Riga State Park, is beloved by hikers from the state and beyond.
Difficulty level and trail length: There are several trails providing moderate to hard hikes.
Description of the trail: The most popular trail is the Bear Mountain Trail, which aims for the summit. After all, summiting is what it's all about, right? You will be gaining an elevation of almost 1,700 ft (518 m) along the way. The 6.1-mile (9.8 km) hike is a worthy challenge due to its steep and rocky inclines.
Location: Salisbury, CT
Travel tips and best time to go: I recommend you do the loop counter-clockwise for the fun rock scrambles on the way up and fantastic views on the way down. Just be aware that parts of the route may be precariously icy and possibly snow-covered between November and March.
2. Macedonia Ridge Trail, Macedonia Brook State Park
Any list of the best hiking in Connecticut has to include Macedonia Brook State Park for its well-maintained trails, prominent ridge lines, and awesome overlooks.
Difficulty level and trail length: Moderate. 6.5 miles (10.8 km).
Description of the trail: The Macedonia Ridge Trail is a very rewarding trek with several steep climbs and descents through lush greenery, crossing numerous streams. The route crosses Cobble Mountain at a height of nearly 1,400 ft (427 m). You'll want to rest here for a moment to soak in the majestic views of the Taconic Mountains and Catskill.
Location: Macedonia Brook State Park, East Haven, CT
Travel tips and best time to go: The hike is a good adventure all year round, but be prepared for some difficult water crossings in spring and ensure you have proper gear for the winter ice.
3. Mattatuck Trail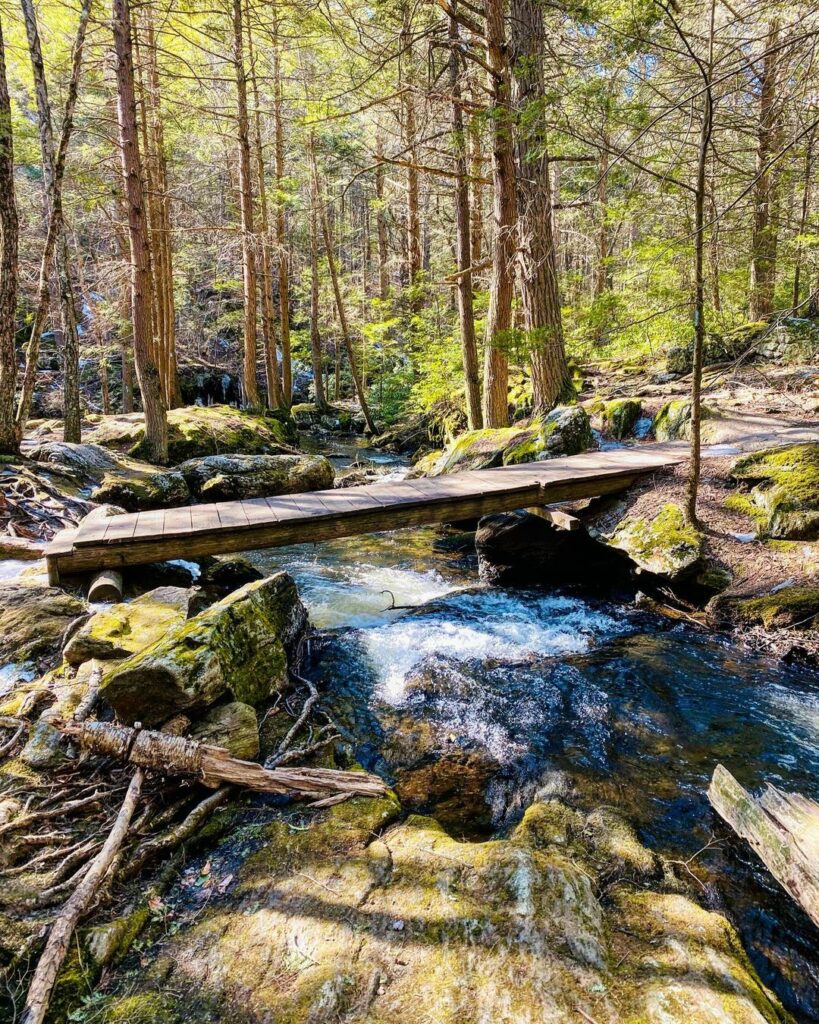 The Mattatuck is a compelling trail that has a lot to offer, including rock clambering and water features.
Difficulty level and trail length: Moderate. 15.7 miles (25.3) from Wolcott to Brophy Pond.
Description of the trail: The full trail is not super-exciting or well-marked along the entire route. However, there is a wonderful section near Wolcutt that accesses the Mad River. From a trailhead in Wolcott's Peterson Park, you disappear into an enchanting woodland of trees, ferns, hemlocks, and riverside boulders. This hike is about 5.6 miles (9 km).
Location: Peterson Park, Wolcott, CT
Travel tips and best time to go: With the river and waterfalls being a big part of the pleasure, be sure to visit after the rains and keep an eye out for beavers and beaver activity.
4. Gillette Castle State Park
Hidden away in the hills of Connecticut is an intriguing castle perched on an overlook with the most stunning views of the Connecticut River. The castle was designed by famous stage actor William Gillette and is now part of a state park.
Difficulty level and trail length: Several trails – easy to moderate.
Description of the trail: The Gillette Castle Loop tour is the best way to explore here. It's a 2.2-mile (3.5 km) loop through wild raspberry shrubs, over small gorges, along the riverbank, and past ponds with lilies and turtles, as well as an old railroad station. While the trail could be better marked, it's a happy ramble all the same.
Location: East Haddam, CT
Travel tips: It's definitely worth doing a tour of the castle ($6 for adults and teens), which looks like a forbidding fortress and has a treasure trove of nooks and crannies, secret doors, and intriguing lock systems.
5. Ragged Mountain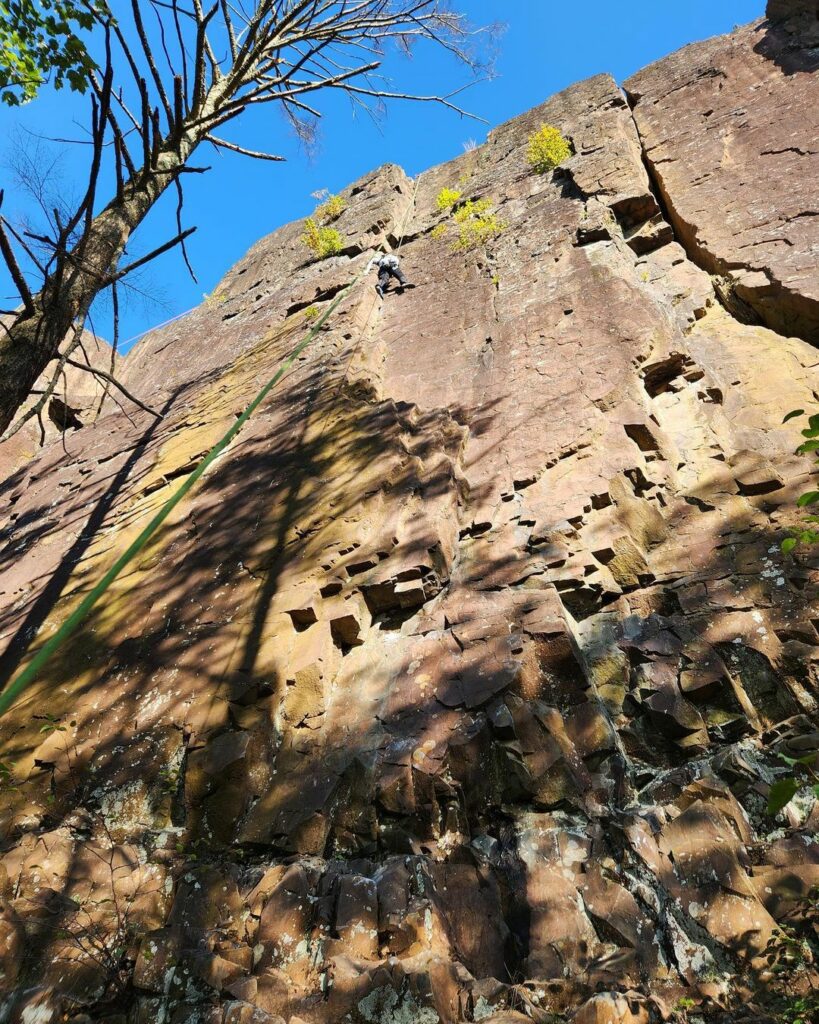 If you're into rock bashing, this is definitely one for you. Ragged Mountain delivers an excellent rugged trail with numerous interesting rock formations and small faces.
Difficulty level and trail length: Moderate. 5.6 miles (9 km).
Description of the trail: The 5.6-mile (9 km) Blue and Red Blazed trail loops around Ragged Mountain Memorial Preserve; the elevation gain is nearly 800 ft (244 m).It's super rocky with some nice elevation scrambles up and down boulder faces. There are also plenty of different terrains and some awesome vistas overlooking Wassel Reservoir. The loop winds through the forest past a waterfall, pools, and cliff-face views.
Location: Ragged Mountain Memorial Preserve, Berlin, CT
Travel tips and best time to go: The forest is lovely in the winter and I know people snowshoe on Ragged Mountain's easier trails in the white months.
6. Metacomet Trail
The Metcomet Trail is certainly among the biggest and baddest hiking trails in CT! The complete trail is 55.5 miles (89 km) and the cross-country route boasts an elevation gain of over 7,000 ft (2,134 m).
Difficulty level and trail length: Hard. 55.5 miles (89 km).
Description of the trail: The point-to-point trail starts near the Connecticut River in Talcott Mountain State Park and ends at the Connecticut-Massachusetts state line. It traverses the Metacomet ridge and passes through epic scenery, like Ragged Mountain, Penwood State Park, Lamentation Mountain (with views of Hanging Hills), Heublein Tower, and Farmington River Valley.
Location: Talcott Mountain State Park, Hartford Road, Simsbury, CT
Travel tips and best time to go: The trail is best tackled from May through to October. There are several adjacent trails that branch off the route and you may want to hike smaller chunks, such as the Pinnacle Rock trail in Farmington, rather than the full trek.
7. Metacomet, Castle Craig, and South Mountain Loop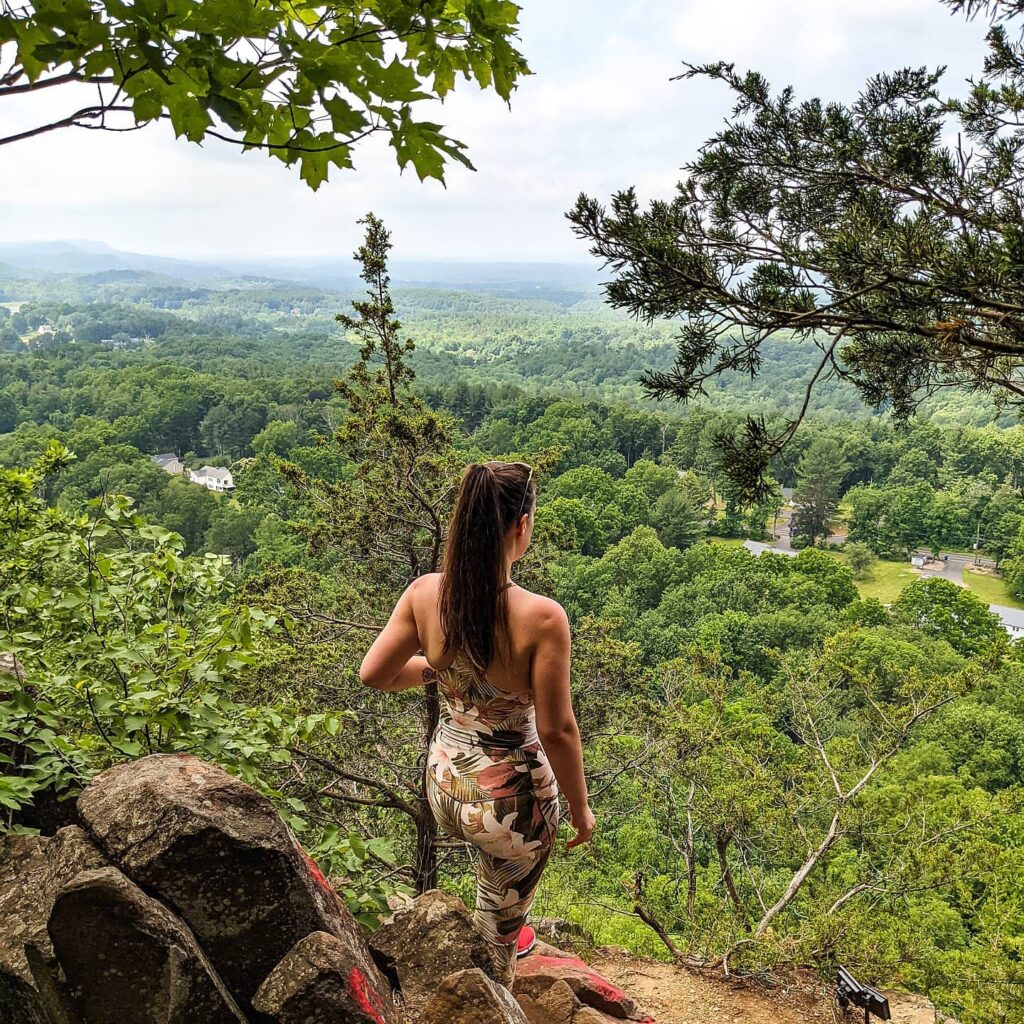 This 6.5 miles (10.5 km) loop – two loops actually- is a good example of a Metacomet adjacent trail. From Hubbard Park, it's a moderate hike featuring a few steep climbs, handsome ledges, good birdwatching, and fabulous views from the Castle Graig tower.
Tip In summer, you can often buy Italian ice cream near the impressive stone castle – a handsome reward for all your trekking!
8. Zoar Trail
The Zoar Trail combines a fair challenge with some amazing scenery and lovely water surroundings.
Difficulty level and trail length: Moderate to hard. 6.4 miles (10.2 km)loop – clockwise or counterclockwise.
Description of the trail: This trail takes in Lake Zoar, sweet waterfalls, babbling brooks, and large boulders. With an elevation of 1,000 ft (305 m), there are several steep sections and you may need to clamber over fallen trees.
Location: Zoar Trail, Paugussett State Forest, CT
Travel tips and best time to go: The Lake Zoar environment gets quite buggy in summer so wait until September or October when the air is more pleasant.
9. Appalachian Trail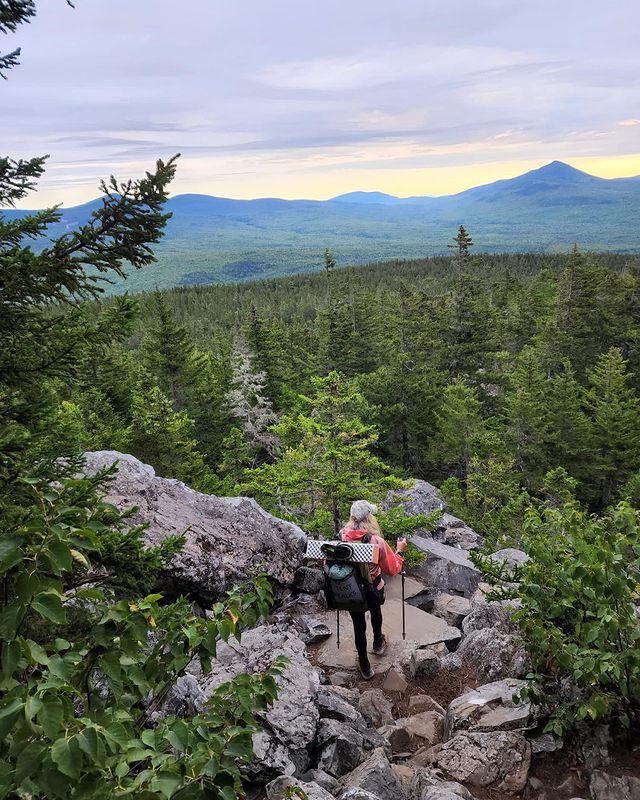 No list of best hiking trails in Connecticut is complete without the Appalachian Trail. Even though only 52 miles (83 km) of the Appalachian Trail's almost 2,200 miles (3,520) reside in Connecticut, this stretch is a must-do for many local hikers.
Difficulty level and trail length: Hard (with easier stretches). The 52 miles (83 km) is typically a 4- to 6-day hike.
Description of the trail: The CT portion of this trail starts near Sherman and ends in Salisbury, near Bear Mountain. Along the way, you'll encounter a mix of terrains from steep rocky climbs to riverside walks, hardwood forests, pitched pine trees, stone stairs, and slippery descents. There are plenty of stunning vistas, too, like Rand's View, St John's Ledge, and Bear Mountain.
Travel tips and best time to go: While completing a winter Appalachian Trail trek is a great sense of accomplishment, this quest is best left to the most experienced hikers. Also, keep in mind that there are many water crossings that might be difficult after heavy rains. Of course, you don't need to backpack the entire route in one hump; you could do a single section as a day hike.
10. Farm River State Park, East Haven
A small park with a relaxed vibe and plenty of water; Farm River State Park consists of short gentle trails near the shoreline.
Difficulty level and trail length: An easy 1-mile (1.6km) walk.
Description of the trail: The 61-acre park has a number of trails. The main one is an out-and-back route of about 1 mile. The area offers a nice slice of coastal diversity; you'll hike around marshes, tidal wetlands, and woods bordering the rocky shoreline. There are also plenty of ducks, gulls, and snowy egrets to be spotted along the way. Keen birdwatchers: look out for blue herons!
Location: East Haven, CT
Travel tips and best time to go: Don't forget to take in the beauty of the Farm River as it empties into the Long Island Sound, especially after the rains.
11. Mine Hill Preserve, Roxbury
Admittedly not one of the most beautiful hiking trails in Connecticut, Mine Hill Preserve, Roxbury is still an interesting excursion that recalls the iron mining and smelting history of the region.
This change of scenery introduces you to two abandoned mine tunnels, towering granite cliffs, an old quarry, and a reservoir. The moderate hike through Mine Hill Preserve is a little over 4 miles (6.4 km) and ends near the Shepaug River Valley.
Best Waterfall Hikes
1. Kent Falls, Kent Falls State Park
Kent Falls delivers a bunch of different waterfall experiences in a scenic state park.
Difficulty level and trail length: The Yellow and Red Loop Trail to the falls is a moderate hike of under 1 mile (1.6 km).
Details of the waterfall: After a short, interesting hike that most children can manage, you'll approach the falls via rock stairs or a neat pathway. Kent Falls consists of a series of cascades and drops along a steep hillside, totaling 250 ft (76 meters) in height. You'll also have a choice of cool vantage points from which to admire the cascades.
Location: Kent Falls State Park, Kent CT
Travel tips and best time to go: Get there early to avoid the crowds. Deviating right from the stairs at the top of the trailtakes you along an interesting and picturesque path to old retaining walls and river beds.
2. Wadsworth Falls Loop
Imagine peering through ferns and coming face to face with a deer, all while a waterfall tinkles just above you. That's Wadsworth Big Falls for you.
Difficulty level and trail length: Wadsworth Falls Loop is one of the trail systems that bring you to the wonderful falls in Wadsworth Falls State Park. The trail is an easy 3.6-mile (5.8 km) loop.
Details of the waterfall: WadsworthBig Falls is a 25 ft (7.6 meters) tall, one-tier block waterfall, which means it drops in one solid curtain. A short hike around the corner brings you to Wadsworth Little Falls, which is cute but less impactful.
Location: Middletown and Middlefield, CT
Travel tips and best time to go: It's great to experience the falls after decent rains, but the trail does have some ups and downs and will be muddy – be careful with your footing!
3. Enders Brook Falls, Enders State Forest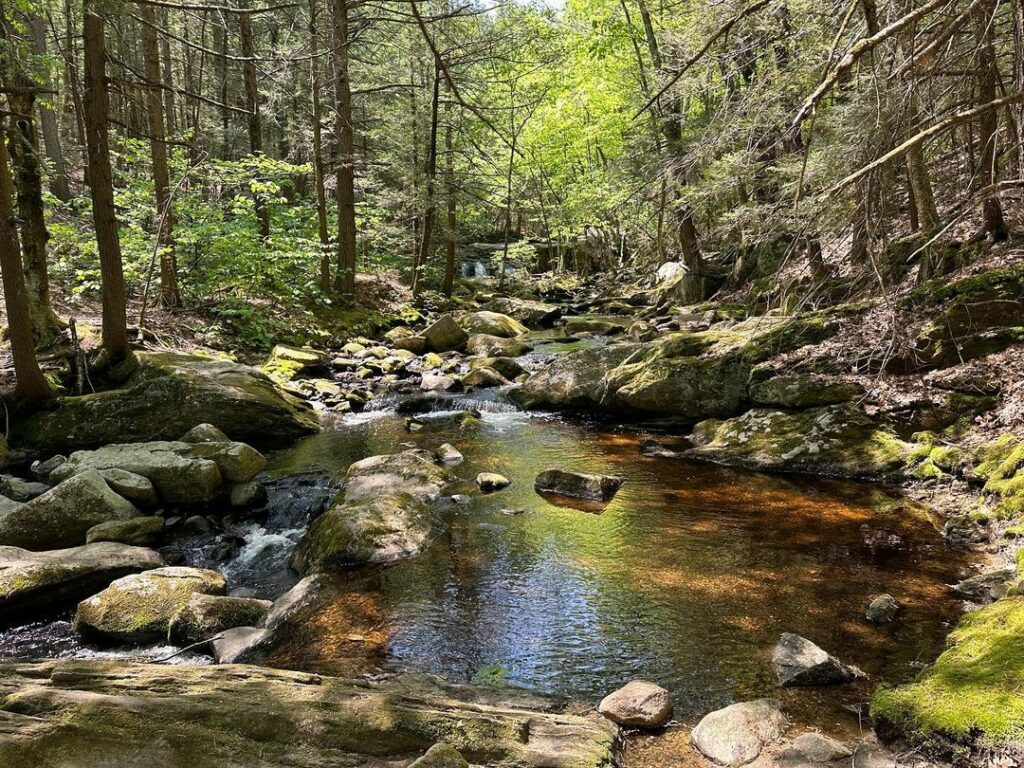 Enders Brooks Falls is the perfect place to escape the hustle and bustle of stressed modern lifestyles.
Difficulty level and trail length: Easy. 1 mile (1.6 km) out-and-back.
Details of the waterfall: You can appreciate this fabulous series of falls from the neat boardwalk that follows the river. After good rains, expect the falls to be in full cascade, sparkling in the morning sunlight. With some careful scrambling, you can access the river's mossy rocks and snap some awesome Instagram pics. A short side trail across the river is also worth checking out.
Location: Enders State Forest, Granby, CT
Travel tips and best time to go: The parking lot that leads to the trail is big enough for about 20 cars, so aim to get there early on weekends, which are often busy.
4. Dean's Ravine Falls
A perfect overlook gives you terrific views of the unique Dean's Ravine Falls.
Difficulty level and trail length: Easy 1.2-mile (1.9 km) loop
Details of the waterfall: Followa short trail that tracks the bubbling brook to this uniquely shaped waterfall. Dean's Ravine is a 50-ft (15.2 m) tall, two-tier cascade and slide waterfall. It's also called ahorsetail waterfall because of the way the falling water maintains contact with the rock as it descends.
Location: Falls Village, Canaan, CT
Travel tips and best time to go: Due to its small, manageable area,Dean's Ravine is an enchanting winter setting as well! However, you'll want to be careful if it's iced over.
5. Chapman Falls Loop
This sweet waterfall in Devil's Hopyard State Park is pure bliss. On a sunny day, you'll definitely want to get up close and personal will all this waterfall trek has to offer.
Difficulty level and trail length: Easy to moderate 0.5-mile (0.8 km) loop.
Details of the waterfall: Chapman Falls is a 60 ft (18.3 m), three-tier block waterfall that tumbles into a beautiful dark pool. Soak in the falls from a number of close-by rock outcroppings. Travel the short bridge over the top or savor a wide view from the nearby covered bridge. Just be careful because this short hike does feature steep sections, especially the bit to Devil's Oven.
Location: Devil's Hopyard State Park, East Haddam, CT
Travel tips and best time to go: You probably want to stay away if the trail is iced over. In good weather, however, you can get more hiking in by joining more trails in the state park.
6. Great Falls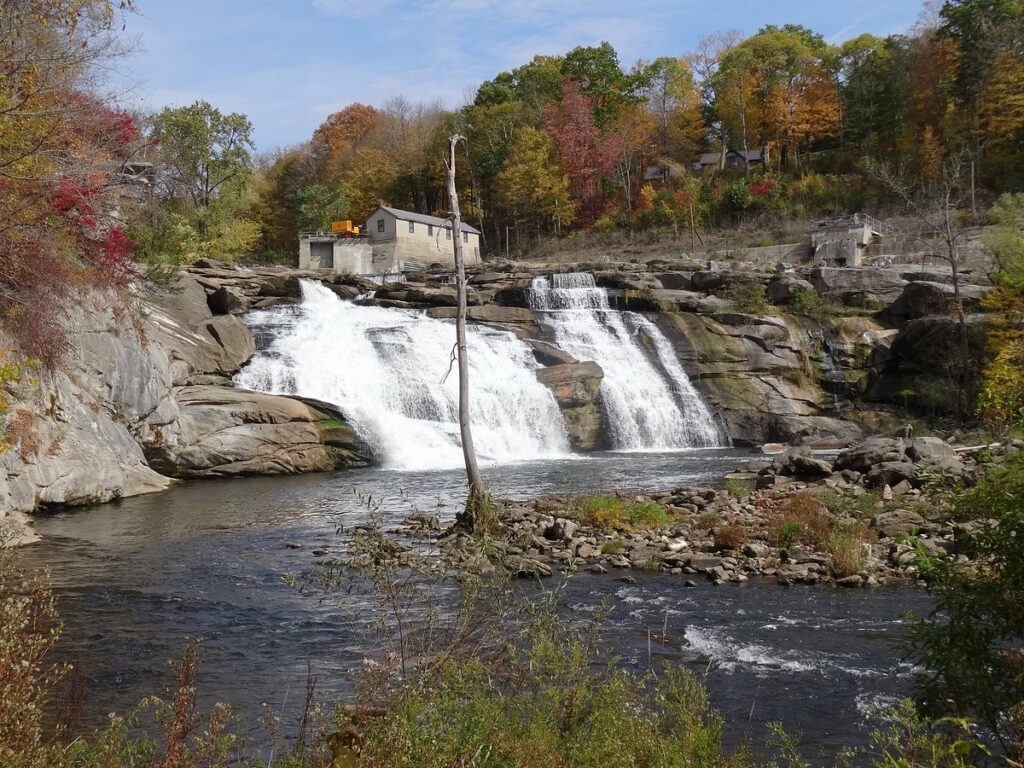 Often called the 'Niagara' of Connecticut, Great Falls is a lot smaller than that natural wonder but is still a spectacular sight in season.
Difficulty level and trail length: Easy. 0.6 miles (1 km).
Details of the waterfall: Great Falls is a 50 ft (15.2 m), one-tier block waterfall that carries the flow of the Housatonic River in a mighty surge. The basic trail is one of the shorterwaterfall hikes in CT and is not hugely exciting. But, the excitement kicks in when you reach the approximately 100 ft (31 m)-wide waterfall!
Location: Canaan, CT
Travel tips and best time to go: Great Falls is a seasonal waterfall that really wows after a dam release, usually during spring. During summer, the flow is often much less awesome.
7. Roaring Brook Falls Trail
The second-tallest waterfall in the state, Roaring Brooks is a fun and energetic trip.
Difficulty level and trail length: Moderate. 1.5-mile (2.4 km) loop.
Details of the waterfall: Roaring Brooks is an 80 ft (24.3 m), four-tier horsetail and cascade falls that'll leave you marveling at its impressive height as you get closer. The hike is steep at both ends and includes small bridge crossings, old ruins, and views of Mystic Reservoir. You can also follow the loop upstream to see another smaller fall.
Location Routing: Near Cheshire, CT
Travel tips and best time to go: Since Roaring Brooks is a narrow fall, it's a little underwhelming in the dry months. The loop can be done either clockwise or counterclockwise. Slippery muddy conditions after rains make the underfoot tricky in patches.
8. Hatch Brook Falls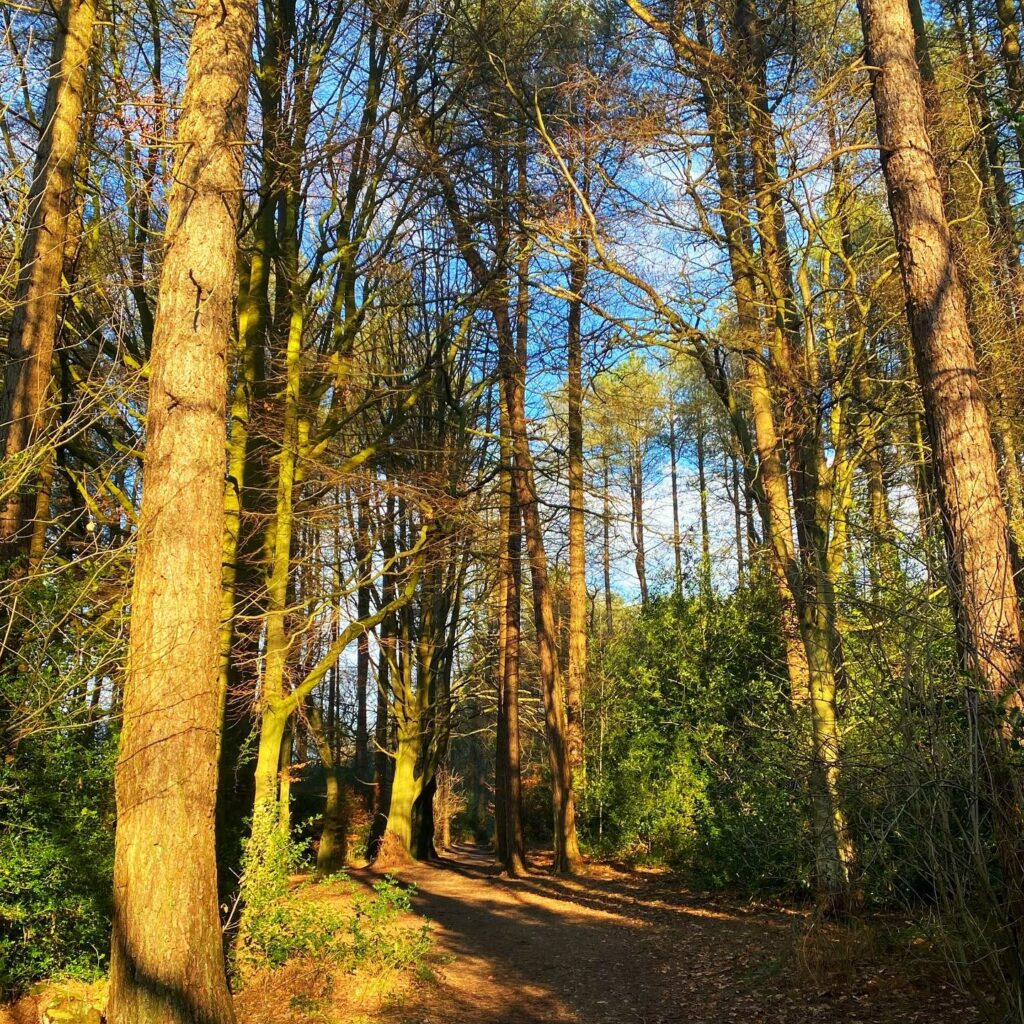 A delightful sliding waterfall, Hatch Brook provides a calm and tranquil stop on a pleasant hike.
Difficulty level and trail length: Easy to moderate. 2.5-mile (4 km) loop.
Details of the waterfall: Hatch Brooks is a 25 ft (7.6 m), one-tier horsetail fall. Located in a pretty part of the woods, it slides gently downwards over green-black rocks. This trail crosses streams and rocky outcrops and traverses Pine Knob, part of the Appalachian Trail.
Location: Sharon, CT
Travel tips and best time to go: You will enjoy this hike most from March through to October.Doing the loop clockwise gives you a nice view of the waterfall while you hike uphill.
9. Mt Carmel Spring Falls
Mt Carmel Spring Falls could be among the best waterfall hikes in CT. Located in Sleeping Giant State Park, there is plenty of great hiking in the surrounding parkland. This 76 ft (23.1 m) fall would be one of the tallest waterfalls in the state, but unfortunately, the fall itself is hardly more than a trickle.
If you are fortunate enough to catch Mt Carmel Spring Falls after strong rains, it's a special sight.
Helpful tip Be sure to snap pics while you're here to make your waterfall-chasing friends envious!
Family-Friendly Hikes
1. Talcott Mountain State Park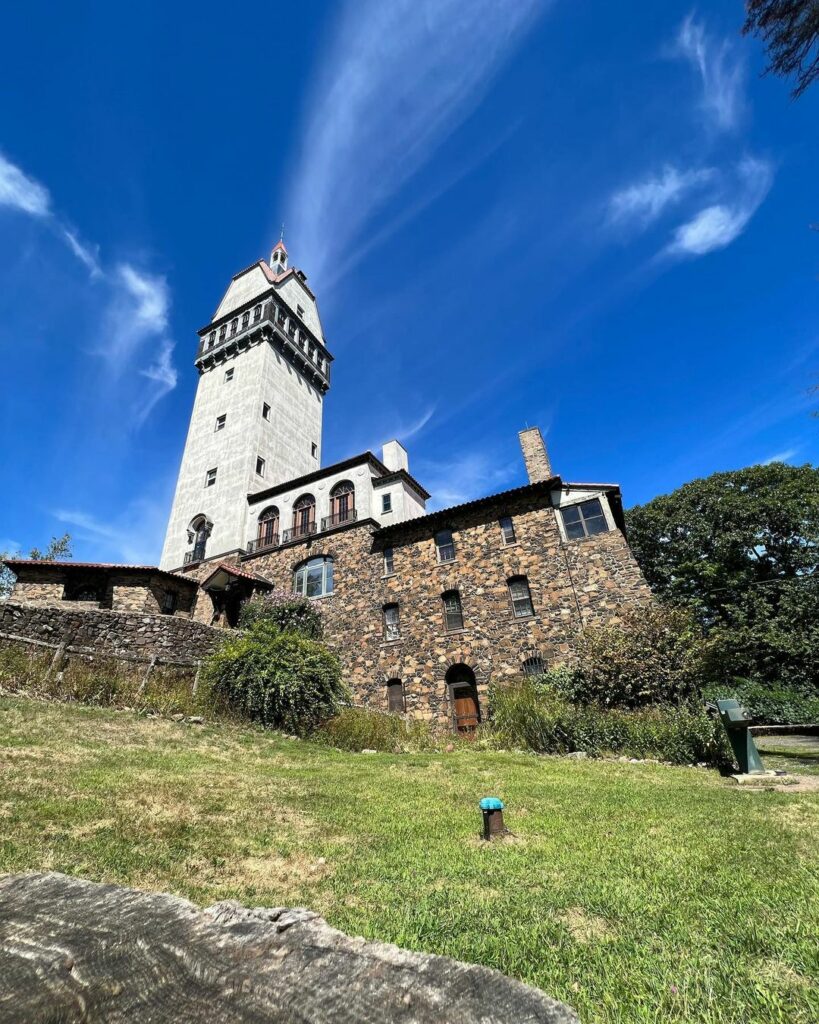 This state park is a super-inviting destination with several hikes catering to different experience levels.
Difficulty level and trail length: You and the family should definitely jump onto the easy Talcott Mountain Yellow Trail, which is a 2.2-mile(3.5 km) loop.
Why it's suitable for families: The trail starts slightly steep and rocky. But fear not! This short patch soon gives way to amazing views and a comfortable stroll. If the little ones are flagging, tell them about the awesome castle tower at the end. Heublein Tower offers sweeping views of the Hartford skyline and the Farmington River Valley.
Location: Simsbury, CT
Useful travel tips and best time to go: If the weather isn't ideal, you can always tour Heublein Tower and its fun museum. Talcott Mountain State Park is open throughout the year.
2. Sleeping Giant State Park
When discussing the best hikes in Connecticut for families, Sleeping Giant State Park is one of the first names mentioned. With over 30 miles (48 km) of trails, Sleeping Giant is a great excursion for all. The 'Giant' is a 2.5 mile (4 km)-long mountain that resembles a giant figure lying on its back.
Difficulty level and trail length: Easy to hard, depending on the trail
Why it's suitable for families: A favorite family hike is Sleeping Giant Tower Trail. This easy 3.1-mile (5 km) walk loops around a pond and through the forest to reach the giant's left hip. From the stone tower castle on the hip, you'll be able to look out over the surrounding greenery and see New Haven and Long Island Sound.
Location: Hamden, CT
Useful travel tips and best time to go: Sleeping Giant State Park is worth seeing all year round. Leashed dogs are also welcome here – they're a part of your family after all! For fitter and more experienced family members, a blue trail loop takes you over the head, chest, left hip, and leg of the giant.
3. Bigelow Hollow State Park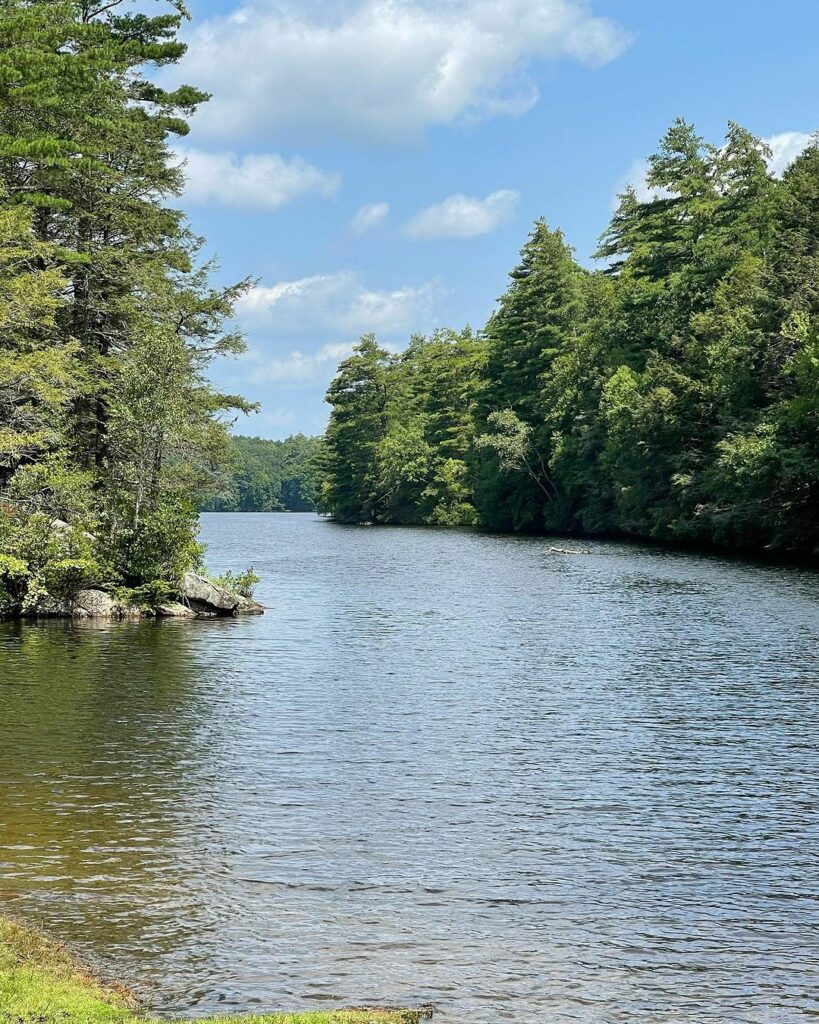 The pristine Bigelow Pond and the rich greenery of Nipmuck State Forest are reasons enough to visit this park.
Difficulty level and trail length: Moderate. There are a few trails but you want to get on the 6-mile (9.6 km) Breakneck Loop Trail.
Why it's suitable for families: Prepare to get your shoes wet while walking around the lake, scrambling occasionally, and crossing the different rocks and brooks while hanging onto overhead wires. The trail is a fantastic workout and good quality time for a family with older kids. Your dogs will love it too!
Location: Union, CT
Useful travel tips and best time to go: Early summer or late spring are ideal times to visit the park since it's not too wet or buggy.
4. Indian Council Caves Trail
The Indian Council Caves Trail leads through hardwood forests and streams and is mostly an easy hike despite an elevation gain of 900 feet (275 meters). The highlight is the caves named for the Native Americans who used to hold council meetings here. The route is part of the 34-mile (55km) Tunxis Trail.
Difficulty level and trail length: Moderate. 4.4 miles (7 km) – you can reach the caves in just over a mile.
Why it's suitable for families: The 'caves' are more like crevices in the rocks, so prepare the kids for this slight disappointment. That said, the rocky outcroppings and house-size boulders are still exciting to explore. Dogs are also welcome to join in on the fun.
Location: Barkhamsted, CT. The trailhead is on East Hartland Road across from Hillcrest Drive.
Useful travel tips and best time to go: Bring a flashlight to explore the caves. You can visit all year round but expect parts of the trail to be muddy and slippery in the wet months.
5. Bluff Point State Park and Coastal Reserve Trail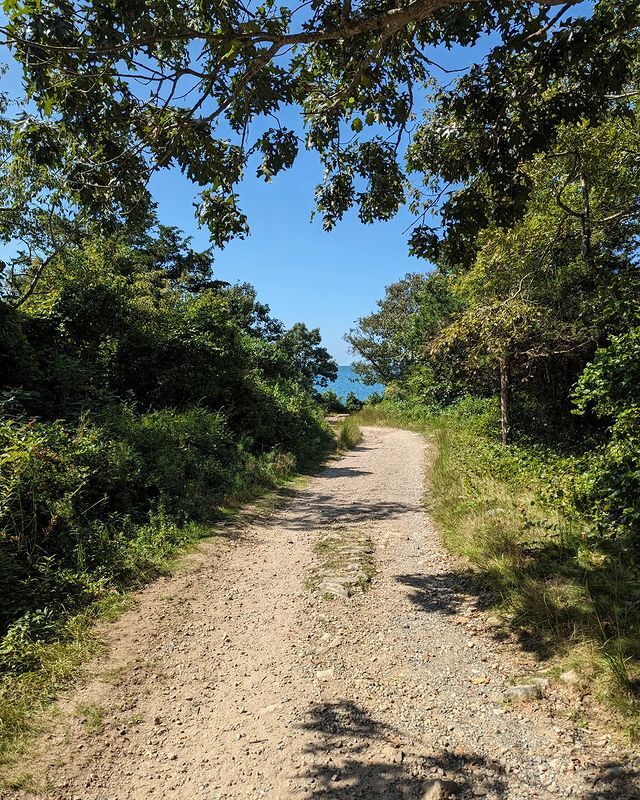 A chilled, wide, and easy trail for all to enjoy.
Difficulty level and trail length: Easy. 3.6 miles(5.8 km).
Why it's suitable for families: The trail features a nice blend of woods and water, as well as a pleasant stretch of beach at the bluff. Bring your best furry friend along for the jaunt; pups are part of the scene together with small local woodland animals. Horseback riding is also allowed.
Location: Depot Road, Groton, CT
Useful travel tips and best time to go: Check the tide tables before you venture out because high tides wash over parts of the trail.
6. White Memorial Conservation Center
With over 35 miles (56 km) of diverse trails and a commitment to environmental preservation, White Memorial Conservation Center is a delight to visit.
Difficulty level and trail length: Easy to moderate, depending on the trail.
Why it's suitable for families: A cool selection of well-maintained footpaths offers a rich experience for all ages, and dogs too. Enjoy forests, ponds, marshes, and streams. Plus, an array of birds, turtles, fish, and frogs all inhabit this wetland habitat. The Little Pond Boardwalk Trail and the Trail of the Senses/ Braille Trail are both lovely walks for children.
Location: Litchfield, CT
Useful travel tips and best time to go: You can visit the 4,000-acre preserve all year round. Take an interpretive nature trail to learn more about the plants, animals, and environment of the area – a great learning opportunity for the whole family.
7. Mianus River Park
Mianus River Park in Stamford is another wonderful family destination. The Park has over 14 miles (22.5 km) of trails, varying from 1.5 miles to 4 miles (2.4 km – 6.4 km). The walks are easy to moderate, and you can enjoy the Mianus River on trails such as Riverwalk Trail to Indian Mill Trail Loop and the Ridge Run Trail to River Road Loop.
General Safety Tips For Hiking
Preparation is key to a safe hike. Plan your route and check the latest trial conditions and weather forecast. Be sure your hiking boots fit comfortably and take some time to wear them in. When planning a backpacking trip, you also want to know about the availability of safe drinking water along the route.
It's best that you don't feed or approach any wildlife you encounter. And, if you're faced with an aggressive animal, don't turn your back or run (which is often your first instinct!). In this situation, pick up small children and make yourself big and noisy by shouting or clapping your hands to chase the animal off.
If you have to fight off the animal, use whatever weapons you can and aim for the eyes and nose. With brown grizzlies, the advice is to lie down and play dead; the bear will often lose interest and wander off.
Different seasons and varying weather change the complexion of a trail, so always hike in weather-appropriate clothing, boots, and gear.
Equipment and Preparation
For longer hikes or backpacking trips, your essential gear list should include:
Enough food and liquids
Extra clothing layers
Medical kit
Sun protection
Shelter and waterproofing
Tools (navigation, flashlight, knife or multi-tool, fire starter)
Bug spray and bear spray
To prepare physically, build your aerobic endurance through running, brisk walking, and cardio exercises. Find a steep incline near your home to walk or run up and down. It's also a good idea to get used to carrying a full backpack while you're walking.
You can strengthen your feet by walking barefoot as much as possible. Responsible weight and strength training is also a great way to develop your strength for a hike. For this, try to focus on building strength in your legs, shoulders, back, and core.
Connecticut's Trail Rating System
Common rating systems in Connecticut usually grade trails according to difficulty based on factors such as distance, elevation, terrain, and navigation. Trails are rated from easy to hard.
CT also operates a blue-blaze trail system, which is aimed at protecting and maintaining trail quality and safety.
When choosing a hiking trail, you should always take into consideration your fitness and experience. When considering a hike, you should also familiarize yourself with the trail map and understand the rating of the route.
Helpful tip Be realistic about your fitness level and capabilities when selecting a hiking trail to avoid getting in over your head.
Map of Best Hikes in CT
Conclusion
Whether you're seeking waterfalls, epic elevations, or a healthy family outing, there is a beautiful Connecticut hike waiting for you. As the mountains call and the trail beckons, remember to always go prepared and hike safely.
Frequently Asked Questions
Does Connecticut have good hiking?
Connecticut has excellent hiking. A combination of mountains, springs, rivers, coastal wetlands, and state preserves create an ideal setting for not only hiking, but also biking, kayaking, horseback riding, and other outdoor activities.
What is the most challenging hike in CT?
One of the most challenging hikes in CT is a section of the Appalachian Trail from Salisbury to Jug End Road, which crosses from Connecticut into Massachusetts. Bear Mountain is also considered one of the hardest hikes in the area.
What is the most popular hiking location in Connecticut?
Bear Mountain, Sleeping Giant State Park, Wadsworth Falls Park, Talcott Mountain State Park, and West Hartford Reservoir are among Connecticut's many popular hiking destinations.
Are Connecticut hiking trails dog-friendly?
Most of the trail and state parks in Connecticut welcome dogs, provided they are leashed and under their owner's control. It's a good idea to look up your chosen hiking trail beforehand to see if you can bring along your four-legged friend.