Best Android Hiking Apps (2023 Ultimate Review)
Nadia Podrabinek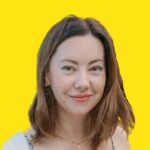 Written by Nadia Podrabinek
Hello, my name is Nadia. I usually write about traveling (there are so many places to fit all the lifestyles), relocation, and living in a foreign country (adapting to a different culture). My travels stretch beyond Spain, with journeys to the US, Italy, Norway, Portugal, and France. Relocating to Spain in 2018, I lived in cities from Barcelona to Madrid, currently calling Valencia home.  Follow me on Twitter, Facebook, Instagram, or LinkedIn! ... show more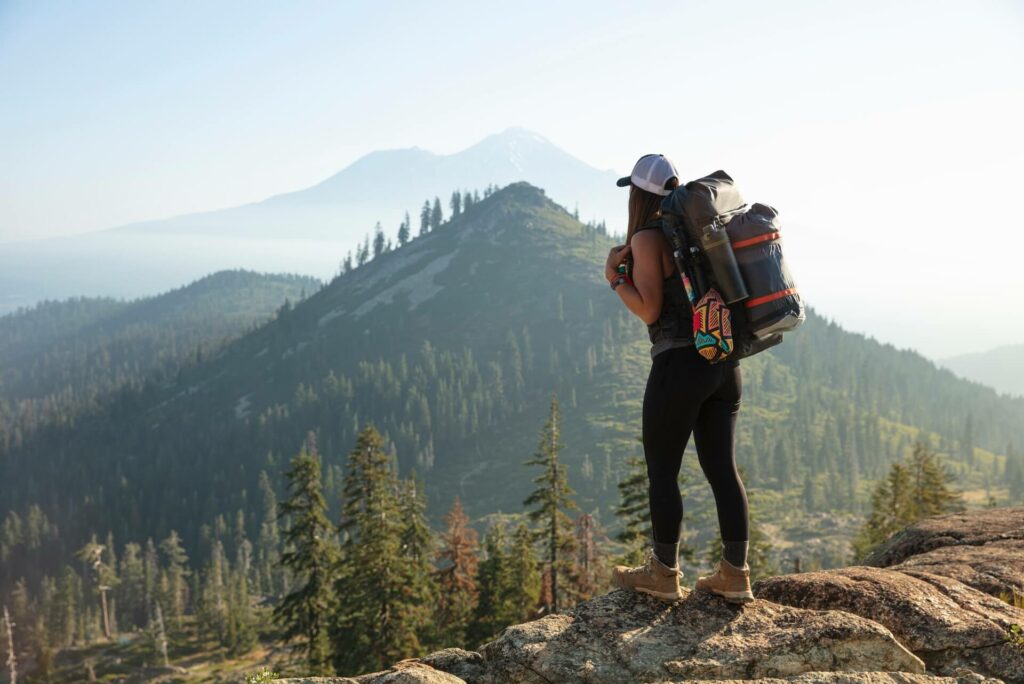 If you're reading this article, there is no need to explain the difference between hiking and walking and what hiking is all about. So let's get straight to the surface.
In this review, you will find the best Android apps for hiking, including:
Android GPS apps for hiking
Free hiking apps with offline maps
Gaia hiking app review
Best hiking app for Europe
Best hiking app for National Parks
Have iPhone? Read my Hiking apps for iPhone review.
What people say on Reddit
I've never had a problem using AllTrails myself, and I have used it extensively. Make sure to read a lot of the reviews and they will usually tell you if there's a problem with the marked trail on the map. Having said that though, I usually cross check with the Gaia GPS app, and I read other online reviews, especially if there's scrambling involved. For scrambles I also have a couple of books that I reference, and usually take photos of the pertinent pages so I can reference them on the trail.

Basically what I'm saying is AllTrails is fine, but don't use it as your only reference for longer or trickier trails.

Present-Tension9924
GaiaGPS. Especially with the subscription, which IIRC still includes the Backroads Mapbooks, really handy in Canada.

I also like Avenza Maps, an app that doesn't really have much in the way of navigation chops but is a front end for lots and lots of maps, like those for national and local parks, private maps, etc.

All Trails is fine, but it's really more of a trail guide that also has maps vs a true navigation app. And for that I prefer Avenza, and say getting a map for the area where I plan to hike.

211logos
I've settled on Fatmap for now, having been recommended it by a mountain guide in Chamonix this year. Useful 3D views, good planning support across devices and provides OS-equivalent maps for quite a few countries (including all those across the alps) in one subscription. Ability to save this all offline as well.

I don't use it for tracking or navigating though – I export the gpx routes to my garmin watch.

scott-the-penguin
Alltrails is not a replacement for knowledge and experience. I rarely rely on electronic means of navigation. In an unfamiliar area, I will have paper maps with me even if they are printed from something I download (or a CD from years ago). I may rely on trail markings for a distance, but every now and then I will refer to my maps.

I have been using a GPS of some fashion on many of my trips for about 20 years now, but most of the time it sits in the top of my pack and is just used to record the track.

WictImov
Why are Android smartphones perfect for hiking?
They have many high-quality hiking apps.
They have many sensors to measure such data as walking speed, length of steps, walking asymmetry, and even walking steadiness. The latest models of Android devices have a three-axis gyroscope, accelerometer, barometer, proximity sensor, ambient light sensor, LiDAR scanner, and GPS.
The third reason (and you don't need to be an expert in mobile phones here)—these are all-in-one devices. You have a lightweight camera onboard, and you can also grab videos with outstanding quality (up to 4k videos with the latest Android phones). In my opinion, any flagship Android phone can outperform many DSLR cameras.
Tip: you can have a zoom lens attached to your Android camera to get more far-distance shots. Also, you might want to use a wide-angle lens to capture much of the environment. The wide-angle lens doesn't distort that much, and it's fantastic.
Why use hiking apps in the first place?
The first reason to use a hiking app is that it's much cheaper than a dedicated hiking GPS device. The second important thing to notice is that you always have a multifunctional device at your disposal. It's obvious, but still, you can find and navigate trails with several taps, you can take pictures and videos, and you can call for some help. So, if you're planning on hitting the trails soon, read this review of the best hiking apps for your Android phone.
Read also: Hiking up to best waterfalls in California
Best Hiking Apps for Android
Finding the trails: Wikiloc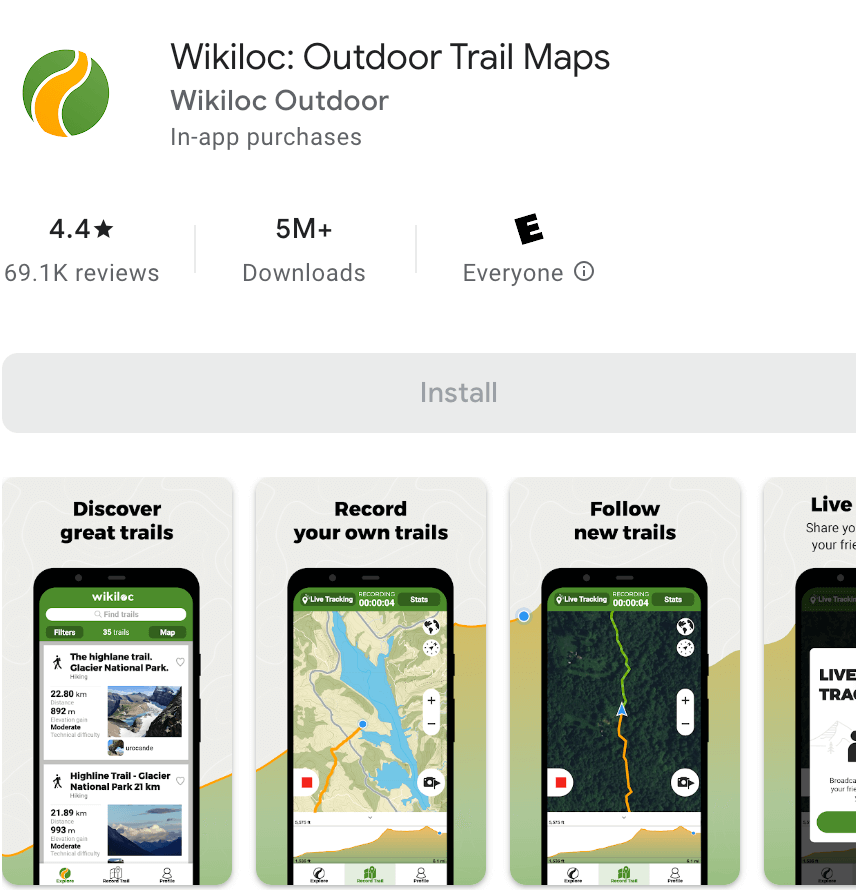 The free version of Wikiloc is useful for trail discovery and less for navigating. To navigate and follow the trail, you need to buy a premium package ($9.99 per year).
The app has offline maps, but I didn't like them. They don't show that much information compared to other hiking apps. Also, I wouldn't say I liked that Wikiloc offline maps are slow and unresponsive.
However, Wikiloc shines when you're finding hiking trails. It has many trails available worldwide (33+ million trails), and the app is especially popular in Europe and South America. You can send the trails directly to your Garmin or Suunto device. Also, the app has a weather forecast functionality.
You can also download the trail you liked from the official website to your Google device.
Google Play Rating: 4.4
Requires Android: 4.2 and up
Languages: English, Italian, Basque, Catalan, Simplified Chinese, Traditional Chinese, Korean, Danish, Finnish, French, Icelandic, Norwegian bokmål, Dutch, Portuguese, Russian, Spanish, Swedish, German, Turkish
In-App Purchases: $3.99 – $9.99 per item
Company HQ: Spain
Navigating offline: Gaia GPS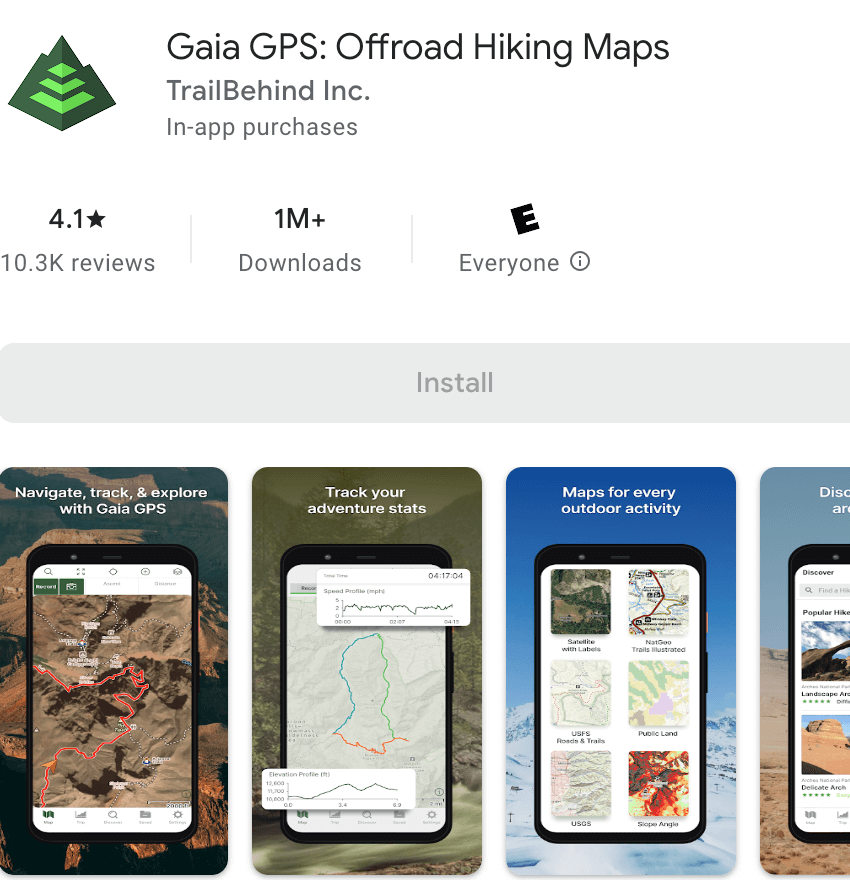 Among all these hiking apps, Gaia GPS has the best offline maps and is the easiest to use when navigating. You can also try using Gaia GPS Trail Discovery tool from their app, but they don't have that many trails (only a tiny fraction compared to Wikiloc).
The app is amazing not only for hiking and trail running—you can use it for camping, overlanding, backcountry skiing (getting the avalanche forecast), and mountain biking.
Theoretically, you need to buy their $17 year license for using offline maps. But you don't need to do that. You won't be able to download specific areas with the free version. But I have a trick that works for me. If you zoom into any location when you're connected to the internet, somehow the app downloads the area, and you will be able to use it offline. Another downside is that the app won't run on your old Android device, you will need an Android OS version 6+.
Gaia GPS is also great for printing backup maps on paper! It's only available with the paid version, and you can only do that from their website, not the app. I recommend doing that if you're hiking in a remote area with no cell service.
Google Play Rating: 4.1
Requires Android: 6.0 and up
Languages: English, Arabic, Czech, Dutch, French, German, Italian, Japanese, Korean, Polish, Portuguese, Russian, Simplified Chinese, Spanish, Swedish, Traditional Chinese, Turkish
In-App Purchases: $3.99 – $59.99 per item
Company HQ: United States
All-in-one hiking app: Outdooractive (previously ViewRanger)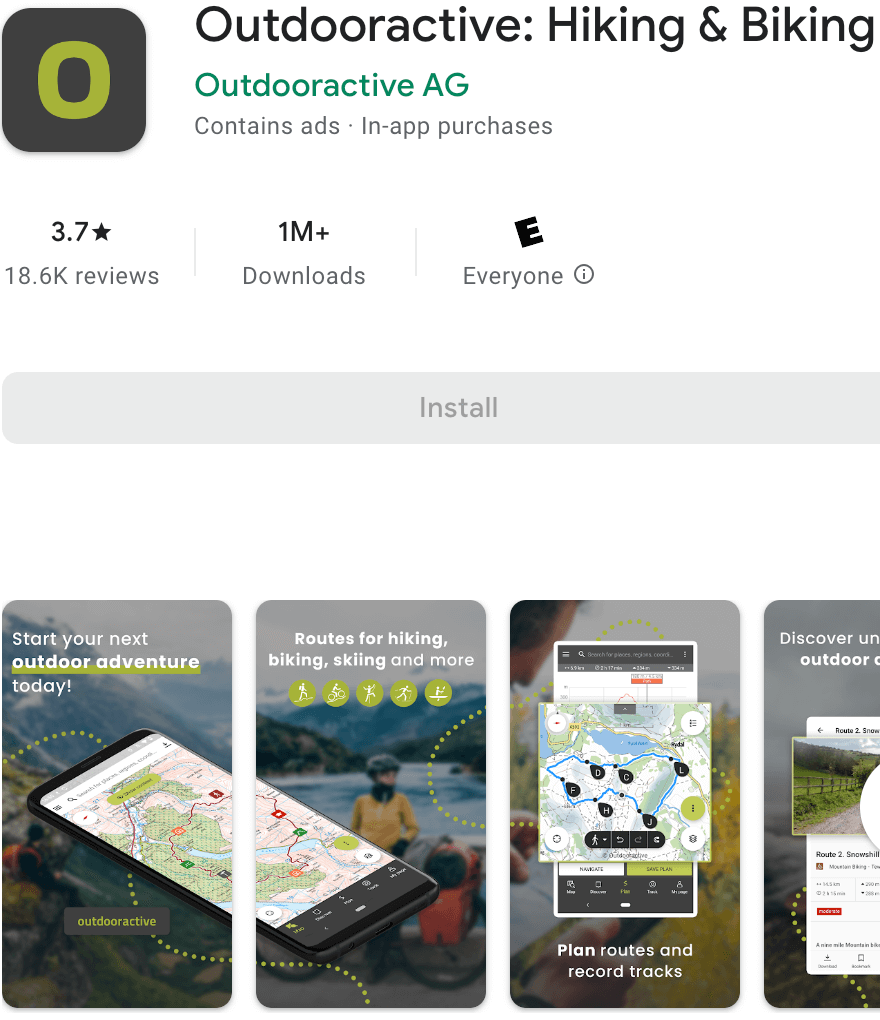 If you don't want to use Wikiloc in combination with Gaia GPS, another solid app is Outdooractive: Hiking & Biking, which has replaced the ViewRanger app. Previously, the app was quite good, but now some users note that transition to the new app has complicated the user experience, and you have to pay a yearly subscription of $29.99. You can try a 30-day free trial before and decide on your own.
The maps aren't as good as in Gaia GPS, but they're much better than Wikiloc's offline maps. They're fast, responsive, and contain a decent amount of information for regular hiking. The best part is that you can download them for offline use completely, and enable voice navigation. Also, Outdooractive does care about your battery usage and drains energy less than the other hiking apps.
Outdooractive also has many hiking trails that you can find through their Trail Discovery tool. You can import a gpx-trail you like (e.g., you've found a trail on the Wikiloc website and want to navigate it in View Ranger). The app also has a Pro version for $29.99, but in my opinion, it's not necessary.
Google Play Rating: 3.9
Supports: Wear OS
Requires Android: varies with device
Languages: English, Czech, French, German, Italian, Russian, Spanish, Swedish
In-App Purchases: $0.9 – $69.99 per item
Company HQ: United Kingdom
The most popular hiking app: AllTrails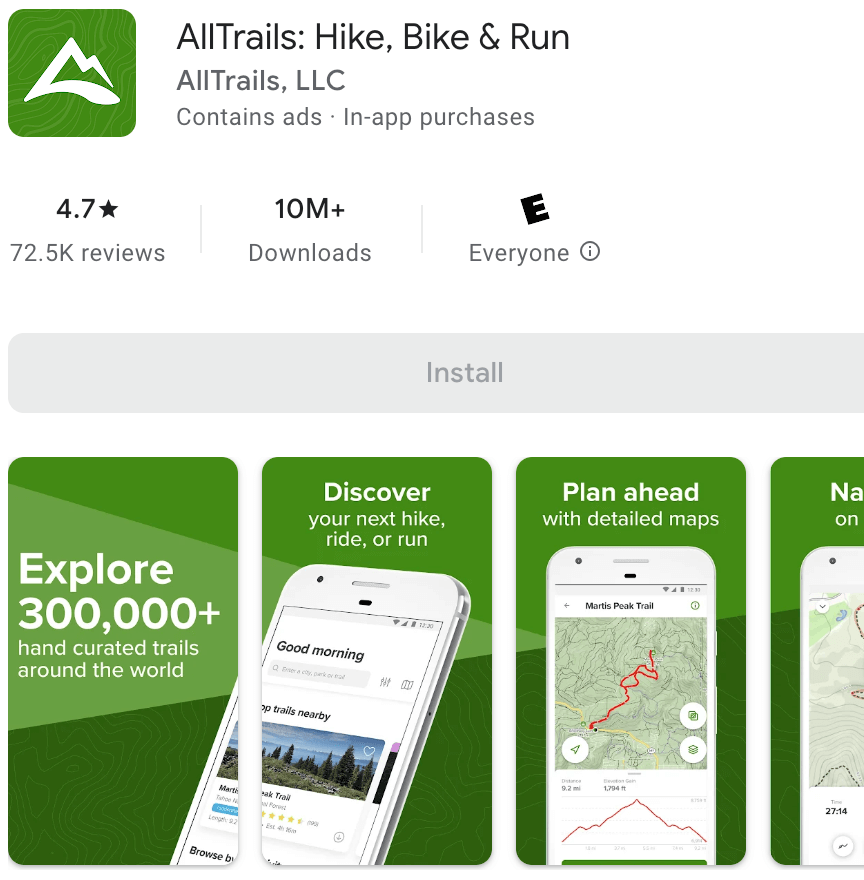 It is the most popular app among all the apps in this article. I wouldn't recommend the free version of this app because it's very limited, but if you can afford to pay €29.99 per year (or €60 per 3 years), it is the best all-in-one app that does everything. I only placed it after Wikiloc, Gaia, and Outdooractive because it's so expensive.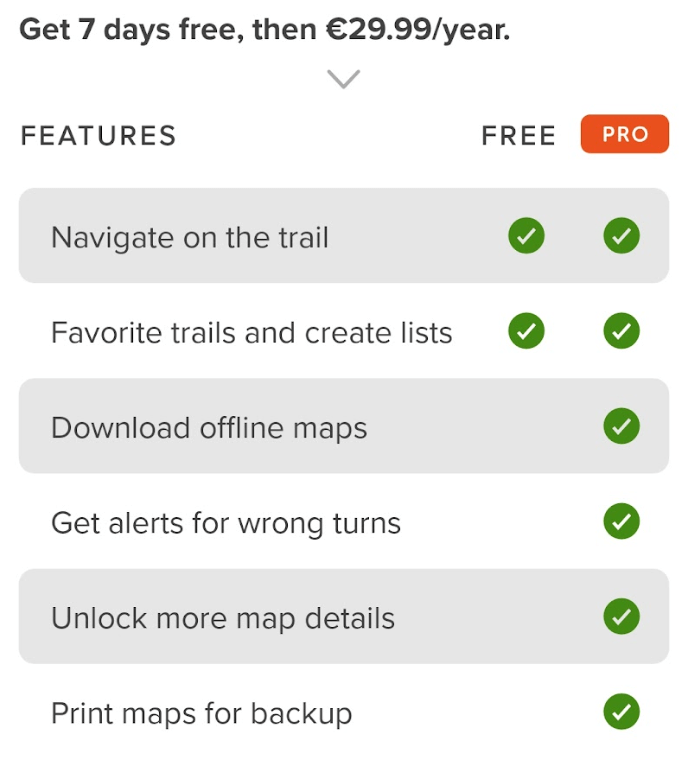 AllTrails has many trails to choose from, similar to Wikiloc. I learned that this app is especially relevant in the USA and Canada.
The only problem with AllTrail is that they've split official trails from community-made trails (which are only available from the website, so you need a laptop to see all the trails and save them to your device).
With the free version of AllTrails, you can follow only trails when connected to the internet. To download their offline maps, you have to purchase their paid version. They're better than ViewRanger but still not as good as Gaia GPS.
Another cool thing with the paid version is that you can download and print paper maps for your route. It's available only from the web version but has a decent layout.
Google Play Rating: 4.0
Requires Android: 8.0
Languages: English, French, German, Spanish
In-App Purchases: $1 – $129 per item
Company HQ: United States
The best app for creating your own trails: Komoot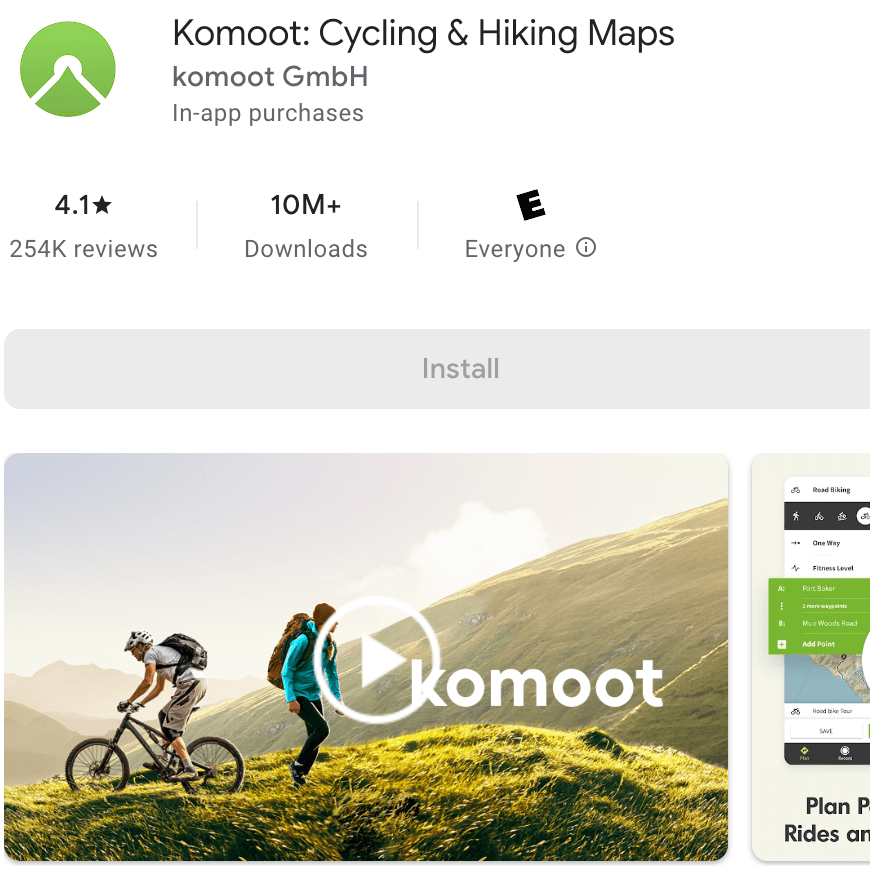 They offer two paid versions of the app:
Just offline maps for the whole world, which is a one-time payment of $29.99
A membership of $59.99 per year
You definitely don't need the expensive premium membership that offers a few extra features for multi-day trip planning, insurance, and discounts at some stores.
With Komoot, you won't find any pre-made trails. Instead, you open the map, and it's filled with landmarks, peaks, and other points of interest (POI). As a result, sometimes there is a path on the Komoot map, but you must make your way through thickets.
As a user of Komoot, you normally select the starting point, then all the landmarks you want to see, and the app will automatically calculate the optimal route to get there. It also shows the altitude, the time, and everything else.
With the paid version, you can download offline maps and print paper maps.
Overall, it is a really solid app with an interesting concept, where you can have more freedom in your trails and not just follow someone else's route. I think it offers a more interesting experience to a hiker.
Google Play Rating: 4.5
Supported devices: Garmin, Wahoo, Sigma, Bosch
Requires Android: varies with device
Languages: English, Dutch, French, German, Italian, Spanish
In-App Purchases: $0.99 – $59 per item
Company HQ: Germany
Best for hiking in hills: PeakFinder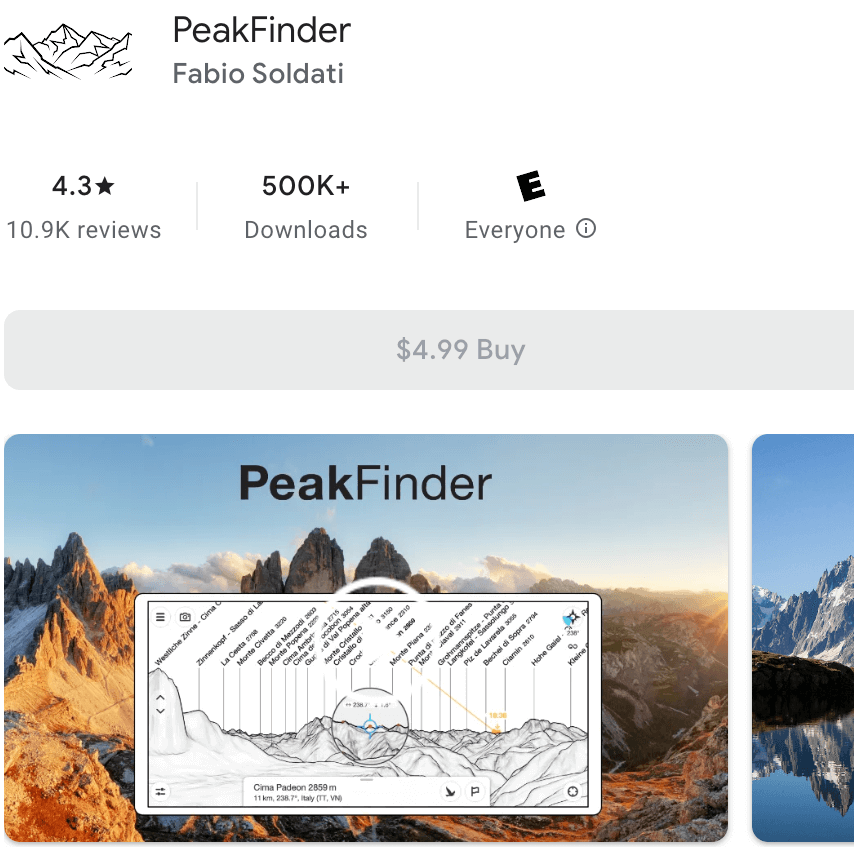 The app is $4.99, but it's worth the price. When you open the app, it shows you where you at, and then you can zoom in or out, and it'll show you the names of all the hills you're looking at.
It also shows the height of the mountain and how long it will take you to get to the hill from your exact location. It also shows when sunrise and sunset are.
It's just a fantastic app, and it's super fun to use at any viewpoint hike.
Google Play Rating: 4.7
Requires Android: 5.1 and up
Languages: English, Dutch, French, German, Italian, Spanish
Price: $4.99
Company HQ: Germany
Hiking in the US National Parks: National Park Service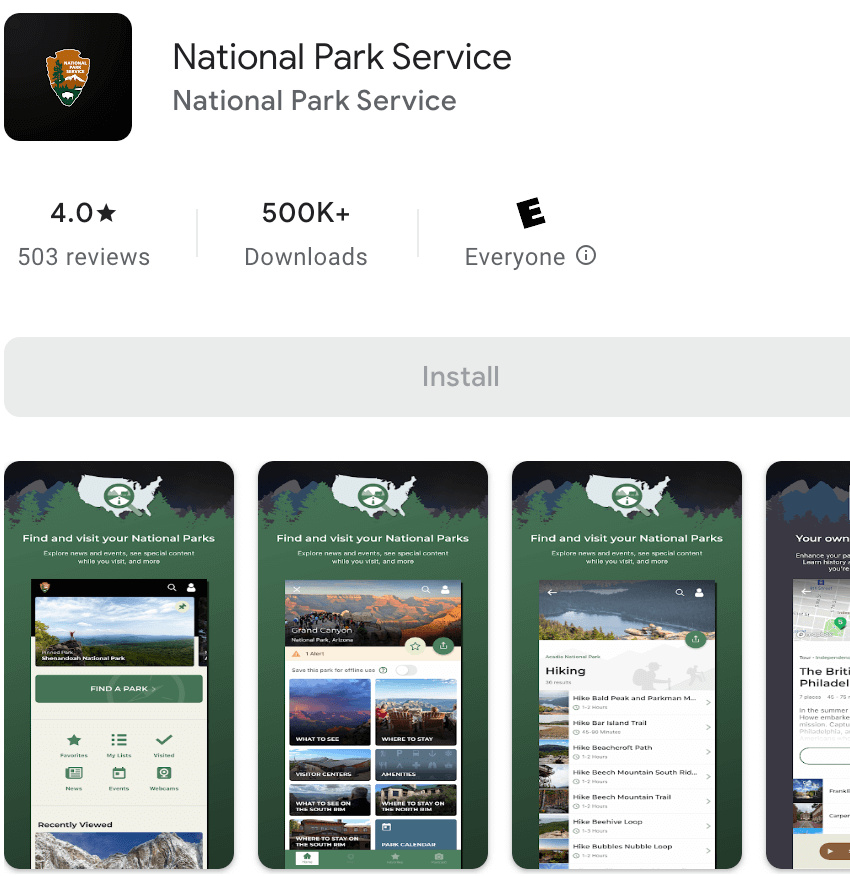 The app is very useful for hiking in national parks in the US. It has real-time alerts about closures and safety information for all 420+ parks. You can search for the best hikes, dining locations, trip planning information and campgrounds.
Google Play Rating: 4.0
Requires Android: 7.0 and up
Languages: English
Company HQ: United States
Best free hiking app with offline maps: Avenza Maps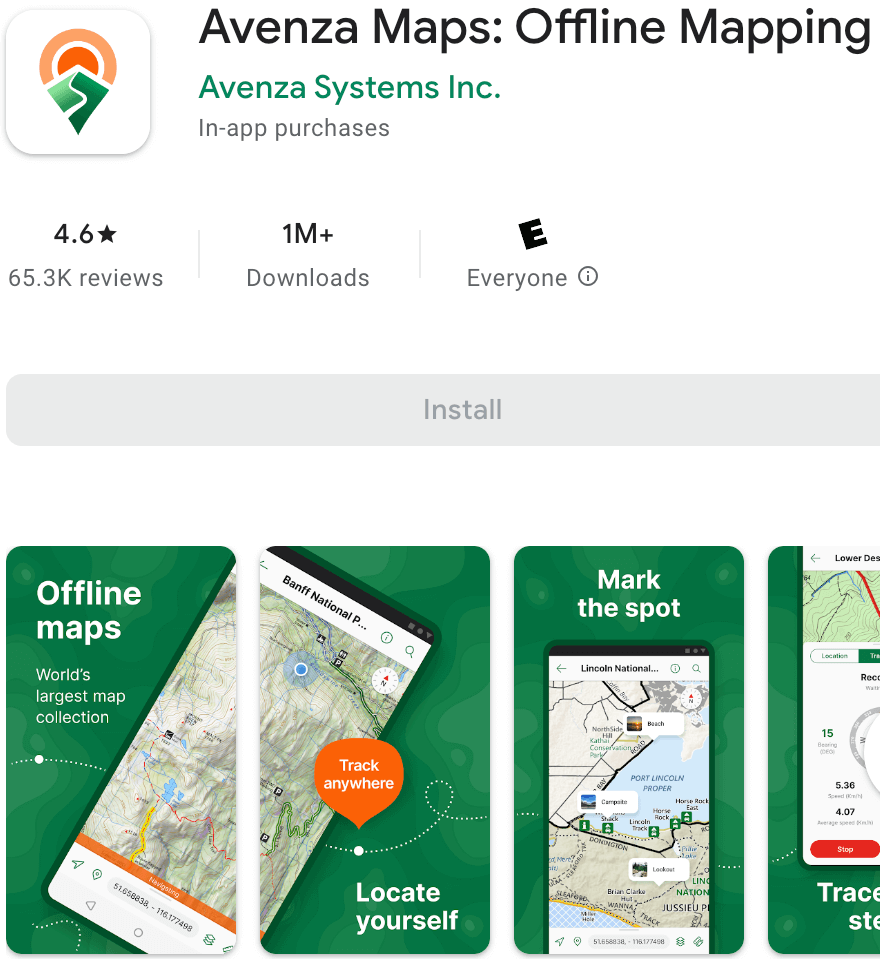 The app uses geospatial PDFs, geo PDFs, and GeoTIFFs. These are images that have GPS information embedded into them, and you can load them into your app. So, because these are images, you can use them offline, which is really cool. The free version allows the uploading of up to 3 images. You can also connect your high-accuracy GPS devices including Trimble, Bad Elf, and Dual via Bluetooth.
What's great about Avanza Maps is that they have a whole website where you can search for different maps and download them to your phone. You can also create your own maps with this app.
It's a pretty handy app if you go to the National parks. The only thing I didn't like is that Avenza Maps doesn't offer an easy way to sign up with the Google account, so I had to register manually, typing in my email, email confirmation, password, and password confirmation.
Google Play Rating: 4.6
Requires Android: 8.0 and up
Languages: English, Dutch, French, German, Italian, Spanish
In-App Purchases: $0.99 – $249.99 per item
Company HQ: United States
Best educational hiking app: Seek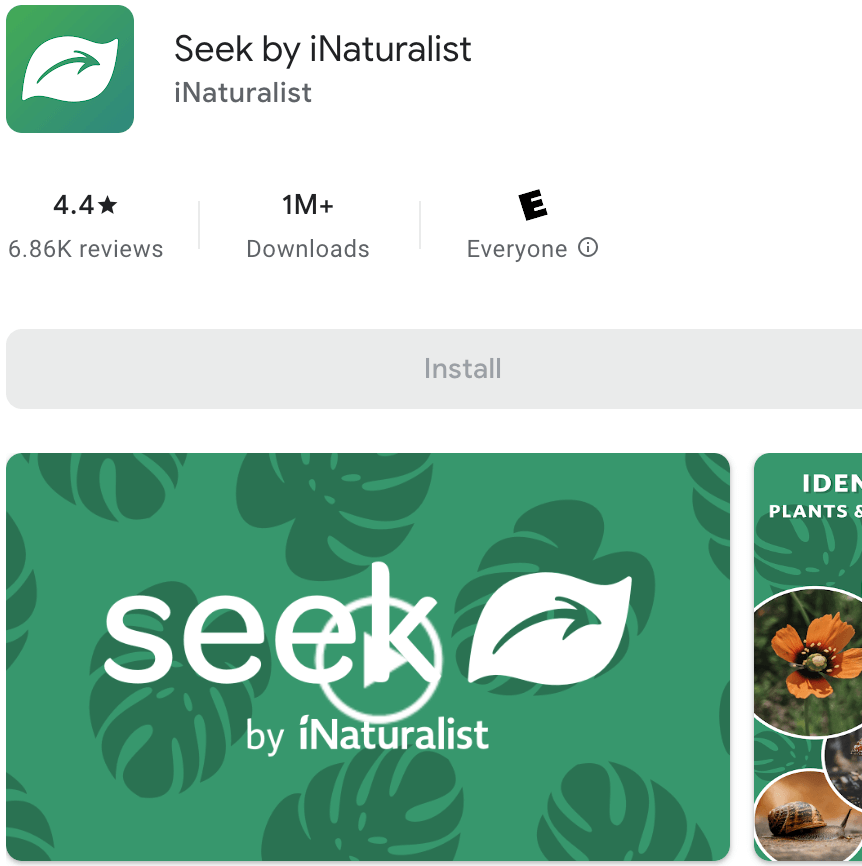 The Seek app can identify wildlife, plants, and fungi. It is fast and kid-friendly.
How it works: for example, you take a leaf picture, and the app identifies the tree.
The app will also record all the species that you captured. I really like the app's gamification—you get badges and achievements while using the app and participating in challenges (e.g., find a rare species).
Overall, this is a cool app everybody should have it on their phone.
Google Play Rating: 4.4
Requires Android: 6.0 and up
Languages: English
In-App Purchases: Free
Company HQ: United States
Hiking app with geocaching: Geocaching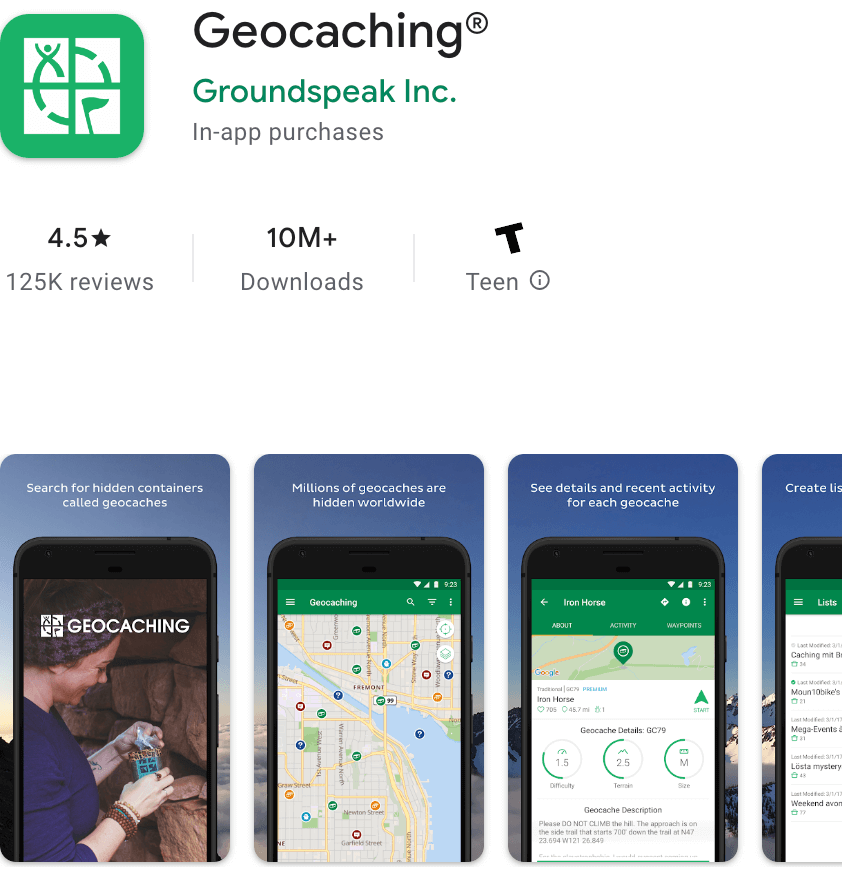 What is geocaching? Geocaching is a modern-day treasure hunting game in which participants use GPS units to locate hidden caches. The geocaches, which you can find across the world, often contain small trinkets or notes that you exchange for something of equal value. Geocaching is a great way to explore new places and meet new people.
It goes a bit against the 7 principles of "Leave no trace," but it's a great way to keep you and your kids engaged on the trail to find hidden treasures all over the place.
The app shows you geocaches near you with a description. It also keeps track of all your geocaches and you earn badges as you go along. It's a lot of fun finding geocaches on the trail, and often, it takes you to places you wouldn't have expected to go.
Google Play Rating: 4.5
Requires Android: 7.0 and up
Languages: English, Bulgarian, Catalan, Croatian, Czech, Danish, Dutch, Estonian, Finnish, French, German, Greek, Hungarian, Italian, Japanese, Korean, Latvian, Luxembourgish, Norwegian Bokmål, Polish, Portuguese, Slovak, Slovenian, Spanish, Swedish, Turkish
In-App Purchases: $5.99 – $29.99 per item
Company HQ: United States
Augmented Reality (AR) hiking app: Star Walk 2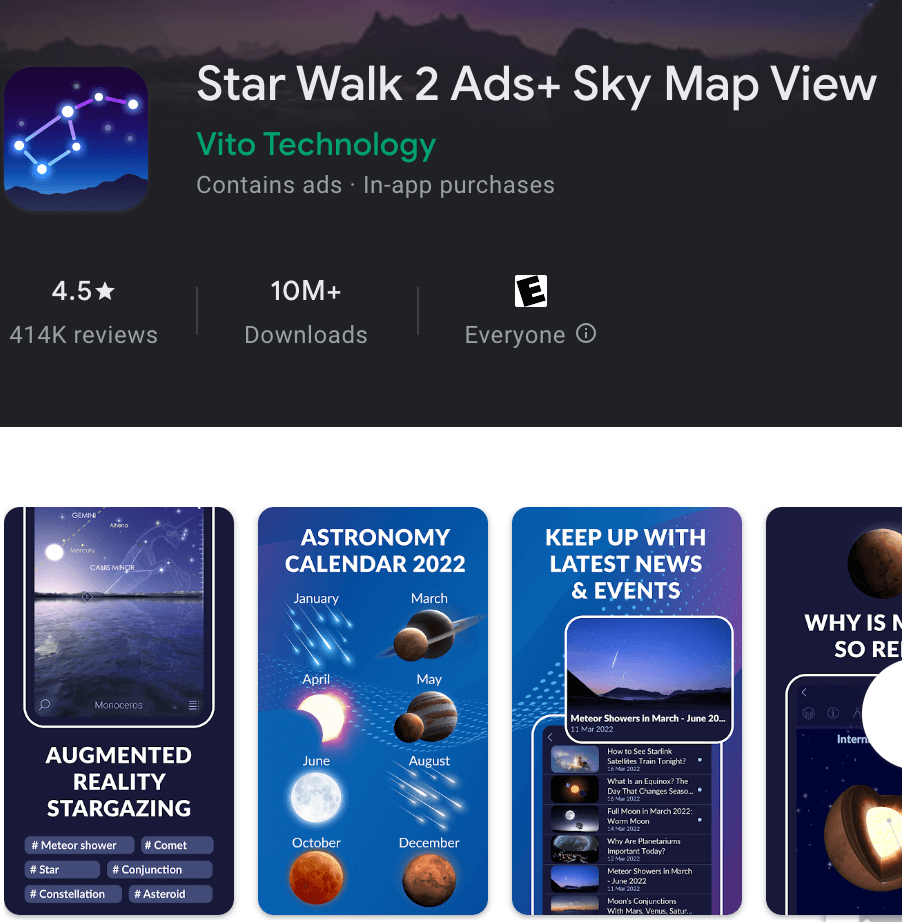 You launch the app, point your device at the sky, and it will tell you all the constellations are currently in view in front of you. It's a great way to figure out different stars and planets, and the app provides a lot of other information.
It also helps you plan your viewing because it shows you what will be visible tonight, where, and when.
If you're out on the trail in the dark or camping and want to figure out what the stars are, Skywalk is probably the best app to use.
Google Play Rating: 4.5
Requires Android: 4.4 and up
Languages: English, Dutch, French, German, Italian, Japanese, Korean, Portuguese, Russian, Simplified Chinese, Spanish, Traditional Chinese
In-App Purchases: $0.99 – $4.99 per item
Company HQ: United States
Weather app for hiking: AccuWeather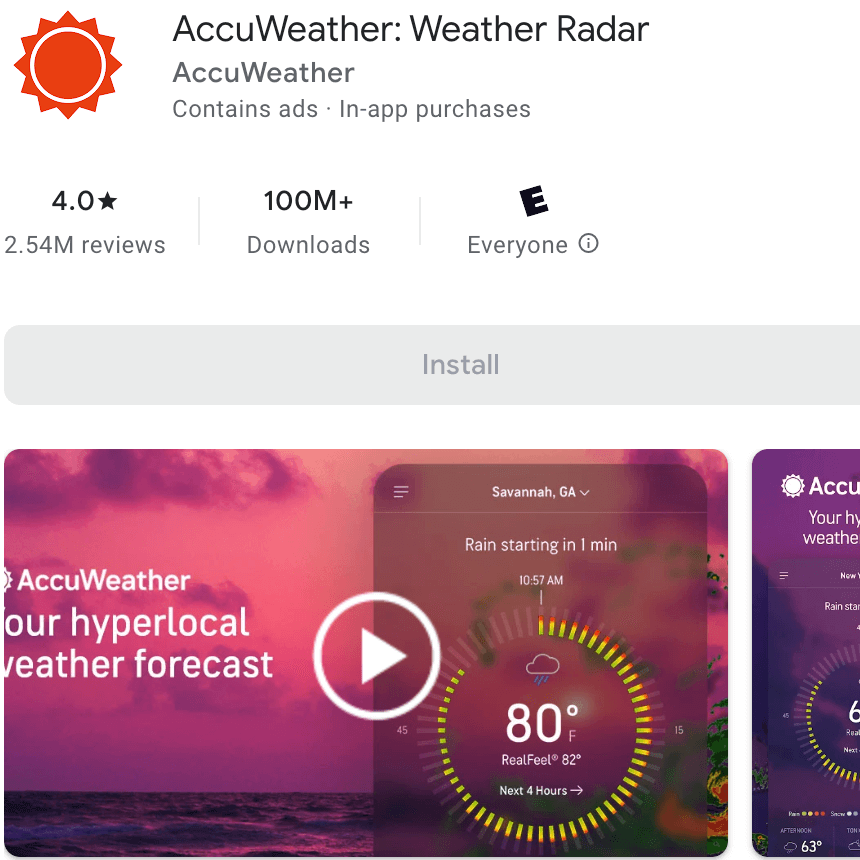 It is my favorite weather app. It gives accurate alerts and daily and hourly weather. It also gives accurate radar of past, present and future storm movements, and data like temperature, wind (including gusts), and "real feel," which tracks humidity on hot days or wind chill on cold days.
It also gives you cloud cover, so if you're a photographer looking for that perfect sunrise, you'll be able to check it out.
Google Play Rating: 4.0
Requires Android: varies with device
Languages: English and 35+ more
In-App Purchases: $0.99 – $19.99 per item
Company HQ: United States
Useful accessories for hiking with Android
Gimbal. Try Osmo Mobile 3. This gimbal is specifically used for phones and is very compact. It unfolds quickly when you use it and has a smooth gliding effect to capture some awesome videos with your phone. It also comes with a screw-on tripod. Imagine walking away from the camera shots, not holding the phone, and the tripod slowly rotates and follows you because it has an eye-tracking technology.
My final choice: Komoot + Gaia GPS apps
I think it is the best combination, but I will still use Wikiloc on some of my upcoming hikes. I will also continue using the additional apps like Seek, AccuWeather, and Star Walk 2.
I hope this review is useful to you. Did I forget about some worthy hiking apps for Android? Leave a comment below and tell which hiking app you have.
Read also