What is Belgium Known For?
Nadia Podrabinek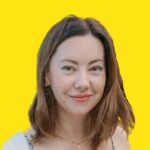 Written by Nadia Podrabinek
Hello, my name is Nadia. I usually write about traveling (there are so many places to fit all the lifestyles), relocation, and living in a foreign country (adapting to a different culture). My travels stretch beyond Spain, with journeys to the US, Italy, Norway, Portugal, and France. Relocating to Spain in 2018, I lived in cities from Barcelona to Madrid, currently calling Valencia home.  Follow me on Twitter, Facebook, Instagram, or LinkedIn! ... show more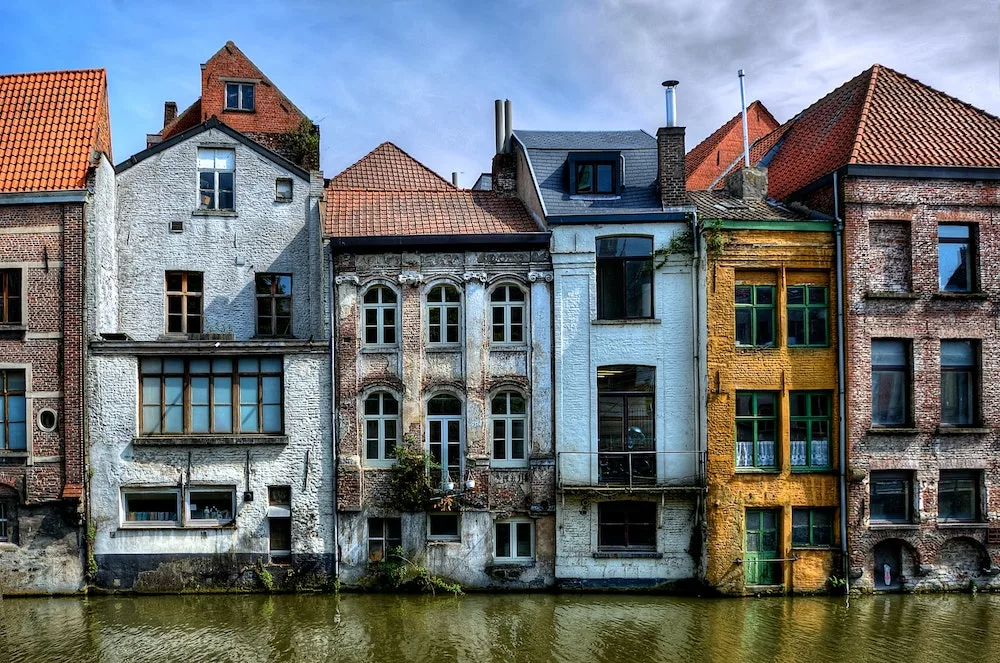 Being one of the tiniest countries in Western Europe, Belgium, nonetheless, significantly contributes to the EU's economy, history, tourism, and gastronomy.
Progressive, tolerant views and excellent education opportunities align with centuries-old architecture and breweries dated from the first half of the 19th century – no surprise this place is such a popular destination for expats.
Also, Belgium provides excellent entertaining attractions: castles, crazy music festivals, top-notch art exhibitions, theme parks, and kayaking, which makes the country very fun to visit as a tourist.
Read also: 11 Best Day Trips to Belgium from Amsterdam
What people say on Reddit
I live in Amsterdam, and one weekend my buddies and I did a trappist beer tour around Belgium. Westvleteren was also not just a good beer but also the best atmosphere of all the trappist breweries down there, for what it's worth!

Chimay was downright disappointing btw. They just built a restaurant away from the monastery and the people who worked there were in no way affiliated, and the service was so bad even the Frenchman with us was commenting on it.

Andromeda321
If you're in Bruges, you can actually cycle along the canals to the Dutch city of Sluis. It was one of my favourite experiences of the whole trip, when I went the whole region was covered in thick thick fog giving it a real ethereal look. Definitely try it! It's very nice to look at the countryside and just cycling along the canal can be a real joy.

beethovenshair
My recent Beer experience in Belgium was as such. If you are in Brussels you have an incredible selection of dedicated beer pubs like A La Mort Subite and Poechenellekelder. They have an incredible selection of beers to try. Which is great if you have a week to lay siege to the city. If you were like me and only had a few days to spend then I recommend you go to the Delerium bar. This is the only bar I found which allowed to to purchase small samples of beer. This allows you to try a wide variety of beers and not get black out drunk on 9% Trappist ales.

sweaty_sandals
If you like beer, you really have to visit Cantillon brewery.

I promise you've never seen another brewery like it, even if you've visited a hundred others. Be aware that the flavour of their beer will come as a surprise and the first mouthful will probably make you think it's gone off because it's so sour and woody. But by the time you get halfway through a glass of it, there's a good chance you'll have fallen in love.

beermad
Where is Belgium?
Belgium is a part of Western Europe and shares borders with four countries: France, Luxemburg, Germany, and Netherlands. The capital of Belgium is Brussels, and other big cities are Antwerp, Ghent, and Bruges.
Interesting facts about Belgium
Belgium holds the world record for the highest number of days spent without an actual government. After the nationalist party left the prime minister's coalition in 2018, there was no governing majority anymore, so it took 652 days to form a new government.
Antwerp is the Diamond Capital of the World. Around 84% of the world's rough gems and 50% of cut diamonds go through the second-largest Belgian city.
Jazz lovers must be thankful to Belgium for creating the saxophone. This majestic instrument was invented by Adolphe Sax back in the nineteenth century.
Belgium is famous for being the most traffic-jammed country in Europe – keep this in mind if you are about to rent a car. The main reason for that is the inconvenient public transportation system.
Belgium has three official languages: French (spoken in Wallonia), Dutch (spoken in the Flemish part of the country), and German (spoken in the small eastern Liège province).
Brussels is the unofficial Capital of the European Union and the second only to New York "international city." There are dozens of embassies and international governmental and non-governmental organizations in Belgium's capital.
Belgium is a "castle country" with the most significant number of castles per square mile in the world.
Driving outside the city in Belgium is an exceptional chance to check out illuminated highways. The roads are so bright that you can clearly follow them from the airplane. Do not hesitate to move between Belgian cities by car – get ready for the safest drive of your life.
Belgium is known for magnificent flower carpets. The central square of Brussels, called Grand Place, turns into a mosaic of beautiful, colorful buds every two years. The next one is scheduled for August 2024.
Belgium is a very progressive, liberal country. Not only was this country the second to legalize same-sex marriages in Europe, but it also allowed any homosexual relationships in the eighteenth century.
A little bit of history
Belgium is unique in its background: it belonged to many European Empires for thousands of years, starting with Julius Cesar conquering it in 57 BC. Throughout the next 18 centuries, the country was under Romans, Austrians, Franks, and Spanish. Also, the lands of Belgium were known as the major European battlefield.
For example, the famous Battle of Waterloo, where Napoleon was defeated, took place here in 1815. As a result, the coalition of great powers decided to unite Belgium and Holland. However, it never worked out, so in 1831, Belgium was recognized as an independent country after the rebellion.
Modern Belgium was first ruled by Leopold I, who significantly contributed to its development and industrialization. Then it was replaced by Leopold II in 1865. He is famous for colonizing Congo, located in Central Africa. Thus, Belgium controlled a territory 80 times bigger than its size. However, the exploitation of Congo's locals and resources was so ruthless and drastic that in 1908 Leopold II got kicked out by the government. Nonetheless, Belgium kept its control over Congo until 1960.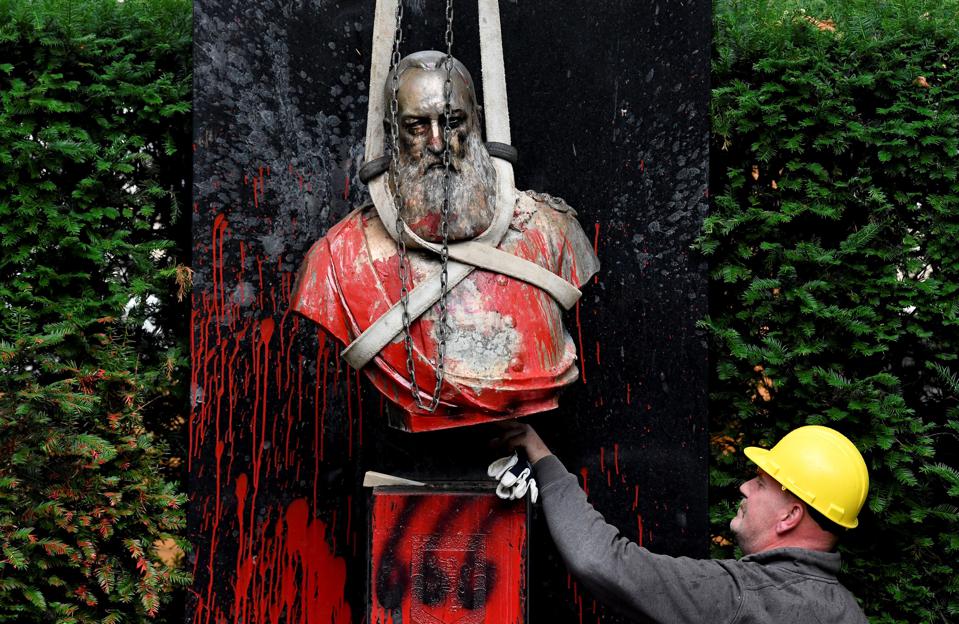 European countries are taking steps to address the legacies of colonialism and racism in response to worldwide anti-racism protests. Germany, France, The Netherlands, Belgium and Italy have all announced initiatives such as reparation funds for victims of colonial crimes or financial support for African nations impacted by their former colonies. It is hoped that these efforts will create meaningful change both within Europe and around the world.
During World War I, the Germans occupied Belgium. Even though the country held a neutral status back then, Belgians kept fighting for a long time – Albert I, the king of Belgium, earned respect for such a heroic defense. In 1940, history repeated itself: Germans invaded the country, but it could not resist for long this time. Most locals tried to make ends meet and survive, others cooperated with Nazis, and some families hid Jews in their basements.
After the war, Belgium was in a horrendous state but recovered pretty quickly. Later, in 1957, it became one of the European Union founders, explaining numerous European institutions.
Most Famous Landmarks in Belgium
Belgian cultural and historical heritage is beyond impressive. Here is the list of sights in the three most popular Belgian destinations that must be on your bucket list.
Brussels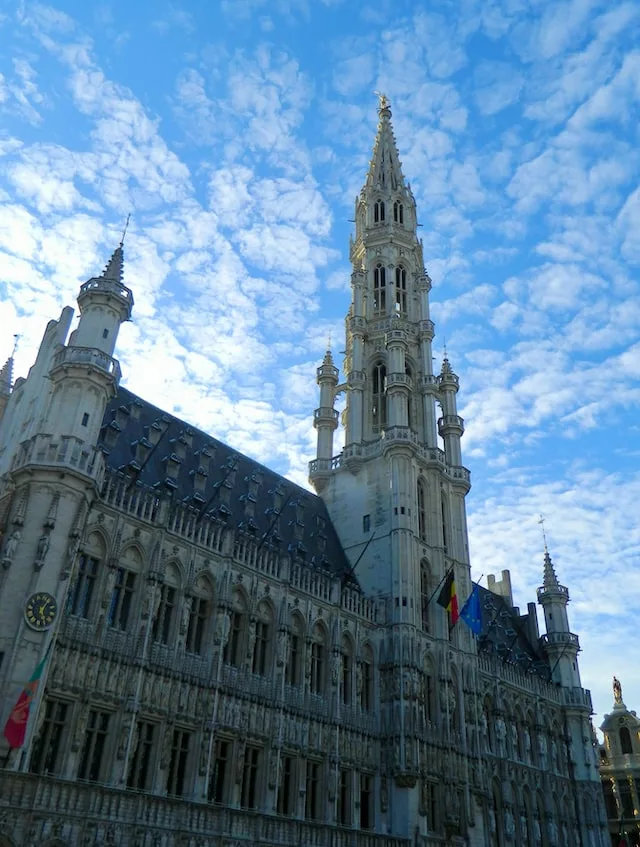 Grand Place, or Grote Market: A stunning square in the city center, surrounded by iconic architectural wonders, such as the gothic King's House that now serves as a museum and Brussels Town Hall. The Flower Carpet mentioned above takes place right here.
Mannekin Pis: A small fountain sculpture of a urinating boy made from bronze – a symbol of Brussels.
Royal Museum of Fine Arts: A complex of 6 art museums – Musée Old Masters, Musée Modern, Musée Magritte, Musée Fin de siècle, Musée Wiertz, and Musée Meunier. Do not try to cover all expositions, but plan the route based on your preferences.
Royal Palace, the official residence of the Royal family surrounded by Neoclassical facades and a picturesque garden.
Atomium: A surreal 102-meter-high aluminum and steel object a bit further from the city center. It represents a single iron unit and provides an educational exhibition and a fantastic viewpoint for beautiful photos.
Bruges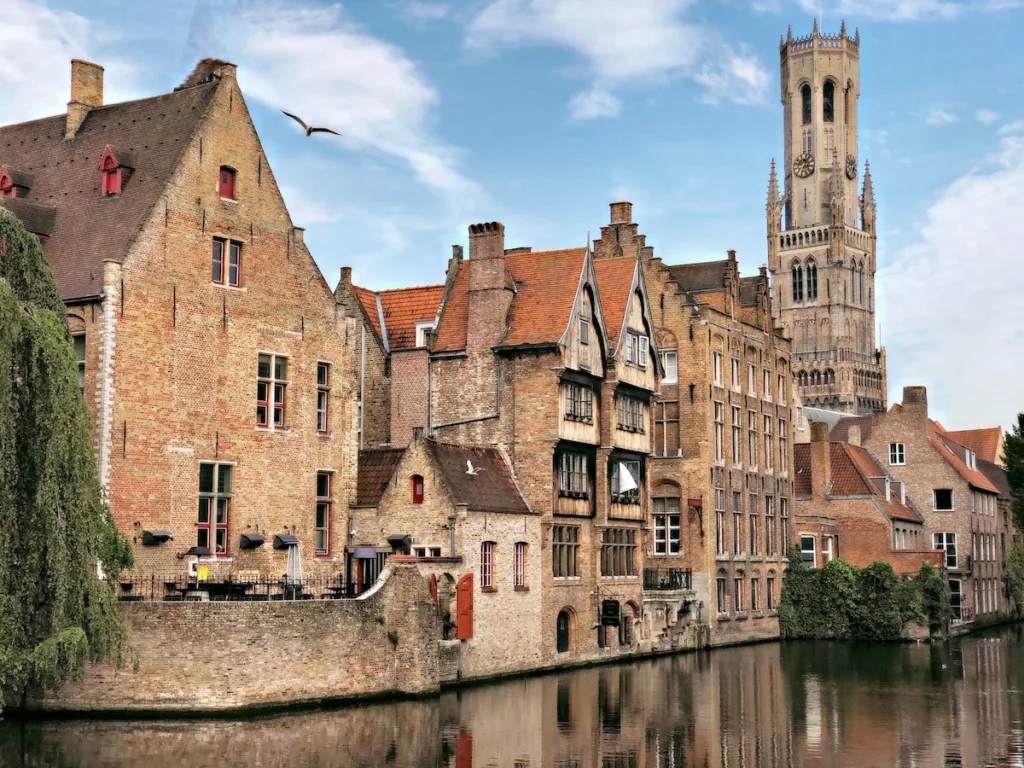 Basilica of the Holy Blood: The Romanesque/Gothic church with a crystal vial with a drop of Christ's blood inside.
Groeninge Museum: An art museum with collections of Flemish, baroque, renaissance, and modern masters.
Belfry: A bell tower situated on the main square. Climb to the top for a fantastic panoramic view!
Church of Our Lady: A tall brick church dated from the 13-15th centuries with a famous Michelangelo's Madonna and Child sculpture.
Minnewater, or Lake of Love: A lovely place with a tragic legend behind it. Cross the bridge over the water and then picnic in a beautiful park!
Ghent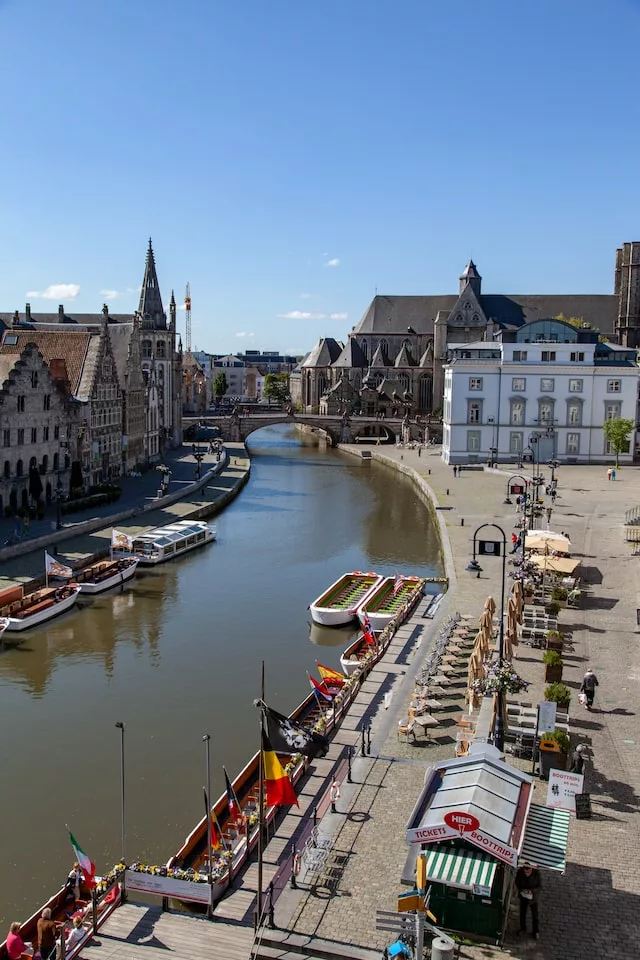 Belfry Tower: The sister of St. Nicholas Church and the St. Bavo Cathedral (also must-visit spots!). Besides the spectacular 360 degrees view on top, check out the ground floor to learn about the landmark's history and see historical relics.
Castle of the Counts: The ancient fortress in the center of Ghent, dated from the 12th century.
Confectionary Temmerman: A famous candy shop established in 1904. Chocolate, sweets, and biscuits are made according to the original recipes passed from one generation to another.
SMAK: A renowned museum with the most extensive collection of contemporary art in Belgium. It constantly updates the expositions and holds the status of a bold, up-to-date museum.
De Vooruit: A multifunctional complex with various activities, from movie screenings to dance classes. The place is adored by locals, which is always a good sign.
What food to try in Belgium?
You might have heard of delicious Belgian chocolate, but did you know you will also find the best French fries here? Let's review the best gastronomic experiences in Belgium.
French Fries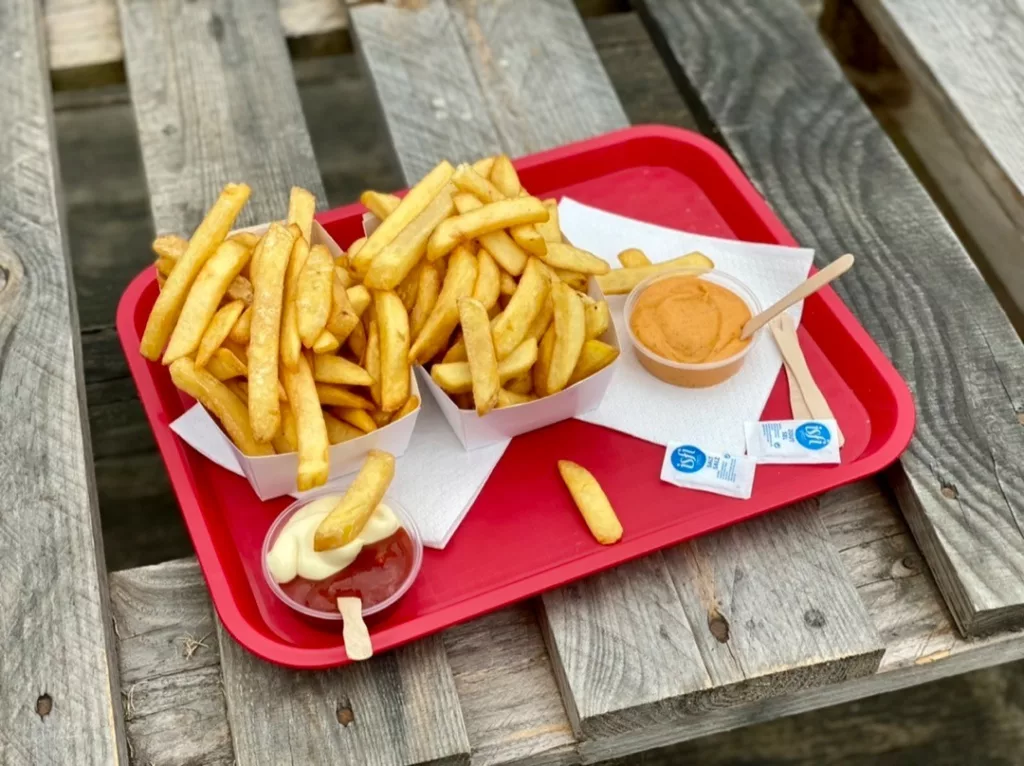 Despite how silly it sounds, this snack is not French at all – it was invented in Belgium. French fries here are bigger than usual, super crunchy, and delicious. The recipe is simple: cut potatoes are dried for a little bit and then fried in oil. In Belgium, French fries are served with mayo in a gigantic cone. As for spot recommendations in Brussels, Maison Antoine, Frit'Flagey, and Friterie de la Chapelle are considered the best to try.
Beer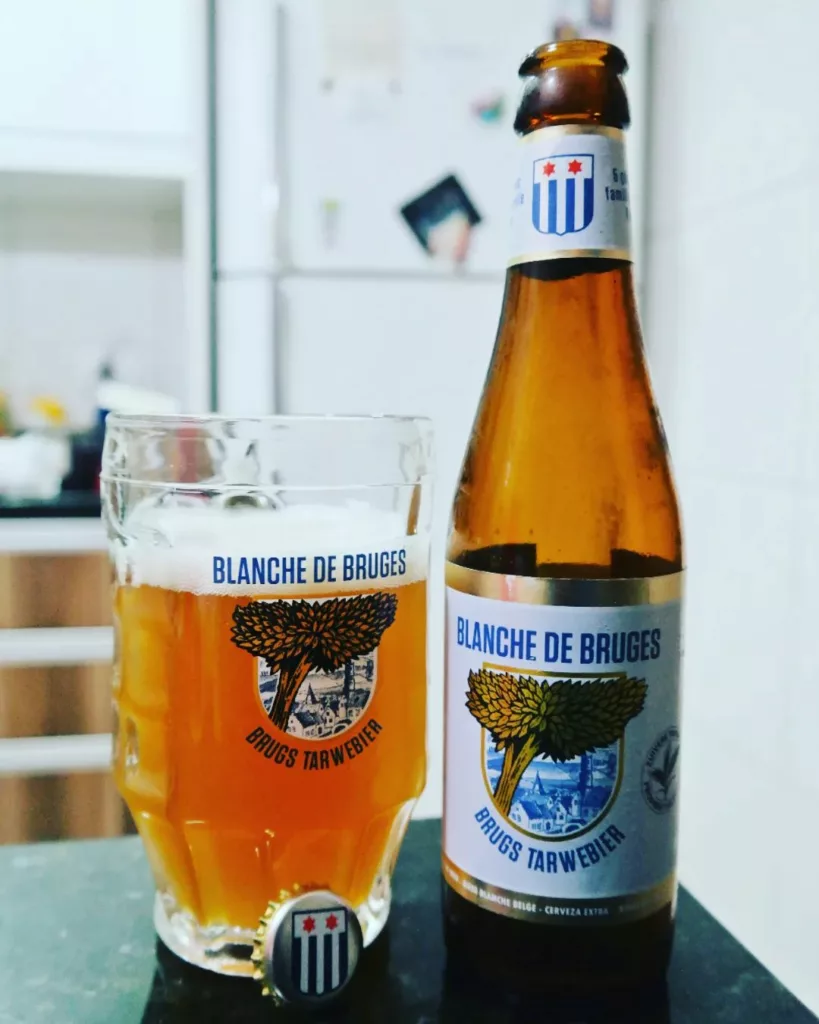 Belgium boasts a variety of excellent beers recognized all over the world. You do not have enough fingers to count the local brewing styles, colors, alcohol strengths, and even types of glasses. The country is mainly known for its various Trappist and Abbey beers made at old breweries, such as Rochefort, Westmalle, Rodenbach, Duvel, etc.
You can either try an amber drink at those breweries or go pub-hopping. For instance, you will find awesome bars around Grand Place – enjoy your beer at the very heart of Brussels!
Belgian chocolate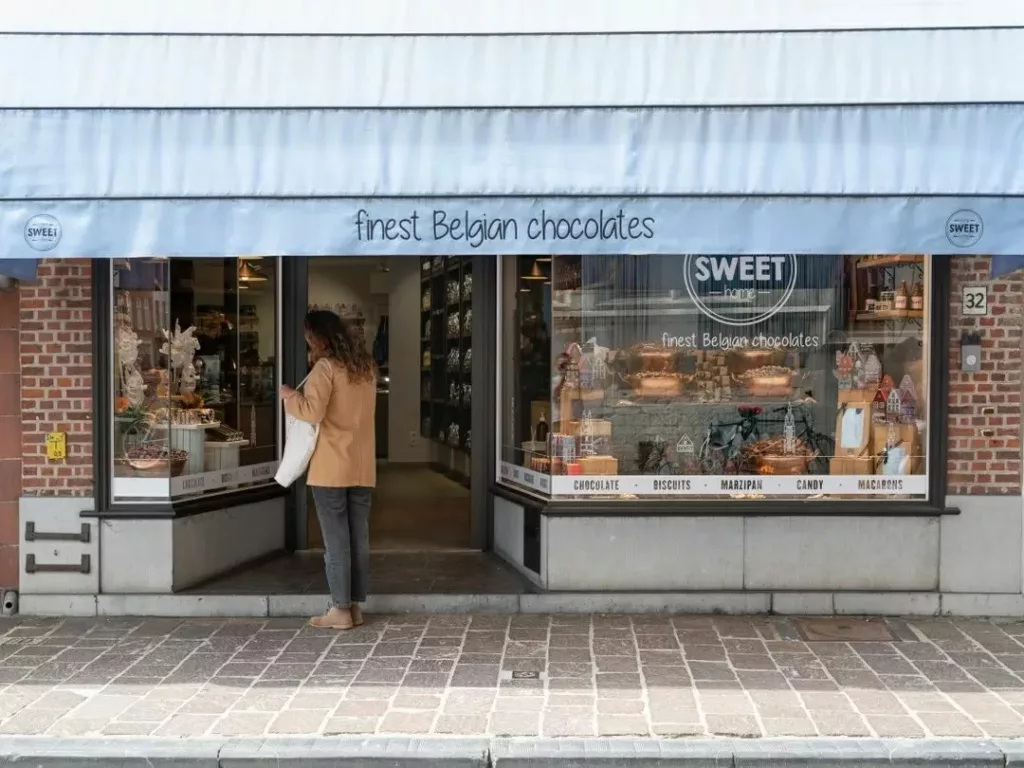 Smooth, moderately bitter, melt-in-the-mouth Belgian chocolate is the best dessert as it is (together with Belgian waffles, of course).
There are two secrets: high-quality ingredients and technologies proven over the years. Dried cocoa beans from Africa and Central and South America are roasted, winnowed (the shells are being cleaned off), and ground to get a chocolate mass.
Then, chocolate butter is squeezed out of the mass, and the resulting product is blended with other ingredients. In the last stage, the chocolate is either molded into regular bar form or gets filled with ganache.
Belgium is the homeland of praline, a cooked mixture of sugar, nuts, and vanilla – chocolate filled with praline is a Belgian trademark. You will find dozens of great chocolate brands, such as Leonidas, Côte d'Or, Neuhaus, Godiva, and others.
Belgian waffles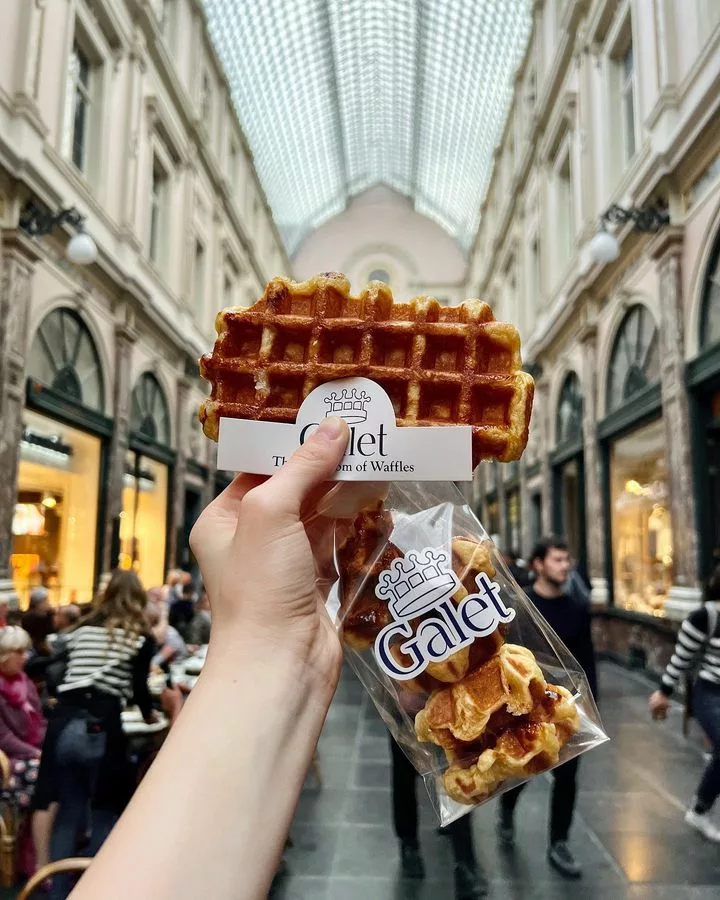 Fluffy square waffle, served with butter and maple syrup – not trying it in Belgium is a crime. This pastry was invented way earlier than you might expect – in the 13th century when the first waffle iron appeared.
The batter, made with flour, milk, butter, eggs, sugar, and salt, is poured between two hot plates with a distinctive pattern. Once it is cooked, choose the topping, and voila – enjoy! The recipes differ in proportions and additional ingredients, so I tried as many waffles as possible to compare.
I really liked waffles at The Smallest Waffleshop in the World, Maison Dandoy, and Wafelhuis Van Hecke.
Mussels
Mussels are another specialty Belgium is famous for. The secret of delicious delicacy is its freshness as the mussels are delivered from the western coast of the Netherlands, a perfect place for them to grow. If you want to try the classic recipe, order mussels with white wine, shallots, parsley, and butter.
If you are down for experiments, choose "moules à la bière" with beer instead of wine or mussels with mustard, mayo, and vinegar. You can try mussels at Grimbergen Cafe, Le Chou de Bruxelles, and The Lobster House.
Events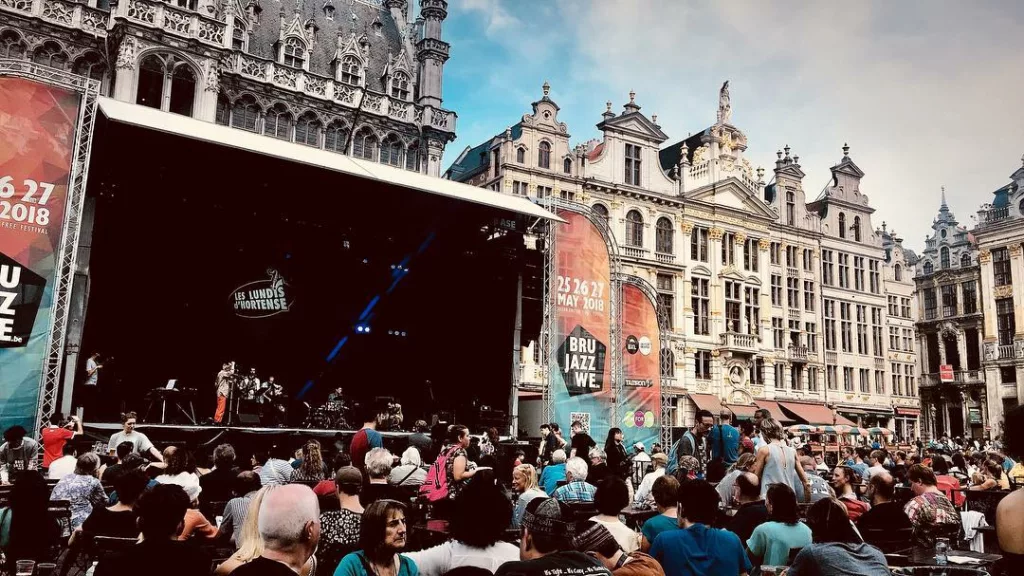 Whatever season you travel to Belgium, there is always something fun going on in the major cities. The country is famous for its numerous music events, film screenings, and food festivals.
Anima, the Brussels International Animation Film Festival
February 17th-26th
Brussels
Enjoy the screenings of international and Belgian animated short films at multiple Brussels venues, including the most prominent one – Flagey. The festival is a terrific opportunity for young artists to stand out. In 2023, there will be almost 150 contestants. If you love animation or travel with kids, do not hesitate to buy the tickets (on sale from January 24th).
Brussels Jazz Marathon
May 27th-28th (estimated)
Brussels
Do you like jazz? If the answer is yes, check out the local Jazz Marathon held in Brussels. The format implies the possibility for guests to do an actual venue-hopping. Listen to blues, jazz, and punk music at Grand Place, clubs, and bars, and pay absolutely nothing! This is one of the reasons to come to Belgium in May.
Bruges Beer Festival
June 10th-11th
Bruges
Talking of outstanding Belgian Beer, go to the Bruges Beer festival to try the best samples. Over 500 beers are presented by about 80 breweries! It is your chance to choose your drink of choice and procure a couple of bottles to bring home.
Brussels International Film Festival (BRIFF)
June 27th – July 5th
Brussels
Brussels also hosts the internationally recognized Brussels film festival held in the summer. Directors present their movies within one of three sections: International Competition (movies from all over the world), National Competition (Belgian movies), and Director's Week (featuring young talented directors). For a relatively low price ($30-$45), you get access to all screenings!
Tomorrowland
July 21st-23rd, 28th-30th
Boom
One of the world's hugest music festivals, Tomorrowland, is held in Belgium, between Antwerp and Brussels. The event implies camping to get fully absorbed by the interplay of nature and music. If you decide to buy the tickets, hurry up, as they are sold out quickly (pre-sale is on January 28th, and the worldwide sale is on February 4th).
Flanders Festival
September-October (TBA)
Ghent
This music festival in Ghent is one of the most diverse events I have ever attended. Tens of thousands of people come here yearly to enjoy free outdoor concerts, performances on the water in the city center, and other music shows conducted by well-known conductors. Whether you are fond of instrumental music or not, it is totally worth visiting!
Transportation and Accommodation
The most trampled touristic route is to visit the Netherlands and then go to Belgium or vice versa. Both countries are tiny and easy to travel around by buses, trains, and cars. For instance, the train from Amsterdam to Brussels takes 3,5 hours. So, if you end up in this part of Europe, take your chance to visit two capitals at once.
As for housing, Belgium is not the cheapest European country. However, you can find dozens of hostels and Airbnb apartments ranging from $37 per night.
Final thoughts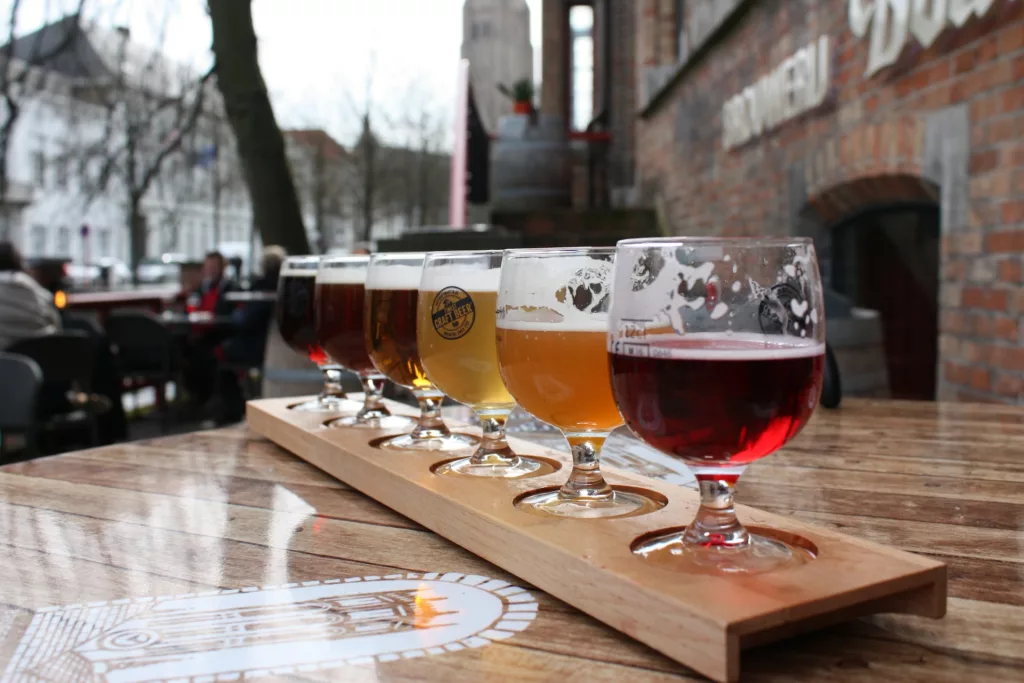 Belgium is one of my favorite countries to visit and explore. Everything is super close because of its small size, people are friendly and polite, and there are numerous things to do and see. Having been torn between the great powers of Europe for a long time, Belgium absorbed the features of different mentalities and created its own culture.
Big cities, such as Brussels, Ghent, Bruges, and Antwerp, are easily reachable and offer many wonderful sights and exciting events. The gastronomic side is top-tier: French fries, chocolate, mussels, waffles, and beer – Belgium is the best at producing those.
Overall, trips to this country are always 10/10!
Frequently Asked Questions
How many languages are spoken in Belgium?
Belgium has three official languages: French, Dutch, and German.
What are some famous Belgian things that represent the country?
I would say Grand Place, jazz festivals, Tomorrowland, beer, and food, such as French fries, mussels, waffles, and chocolate.
When is the best time to visit Belgium?
Belgium has a lot to offer throughout the whole year. Nevertheless, the best time to visit this place is the May-September season. The weather is perfect, flowers bloom, and the major film and music festivals occur in summer. 
Are there any recommended offbeat places to visit in Belgium?
If you are down to explore the hidden gems of Belgium, check out a peony farm Graefswinning, a pedestrian St Anna's Tunnel in Antwerp, hidden trolls in the forest of Boom (the same city where Tomorrowland takes place), the Royal Greenhouses of Laeken in Brussels, and Castle Ten Berghe in Bruges.