Cuenca Awaits: 15 Can't-Miss Things to See
Nadia Podrabinek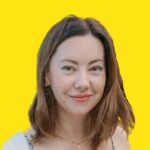 Written by Nadia Podrabinek
Hello, my name is Nadia. I usually write about traveling (there are so many places to fit all the lifestyles), relocation, and living in a foreign country (adapting to a different culture). My travels stretch beyond Spain, with journeys to the US, Italy, Norway, Portugal, and France. Relocating to Spain in 2018, I lived in cities from Barcelona to Madrid, currently calling Valencia home.  Follow me on Twitter, Facebook, Instagram, or LinkedIn! ... show more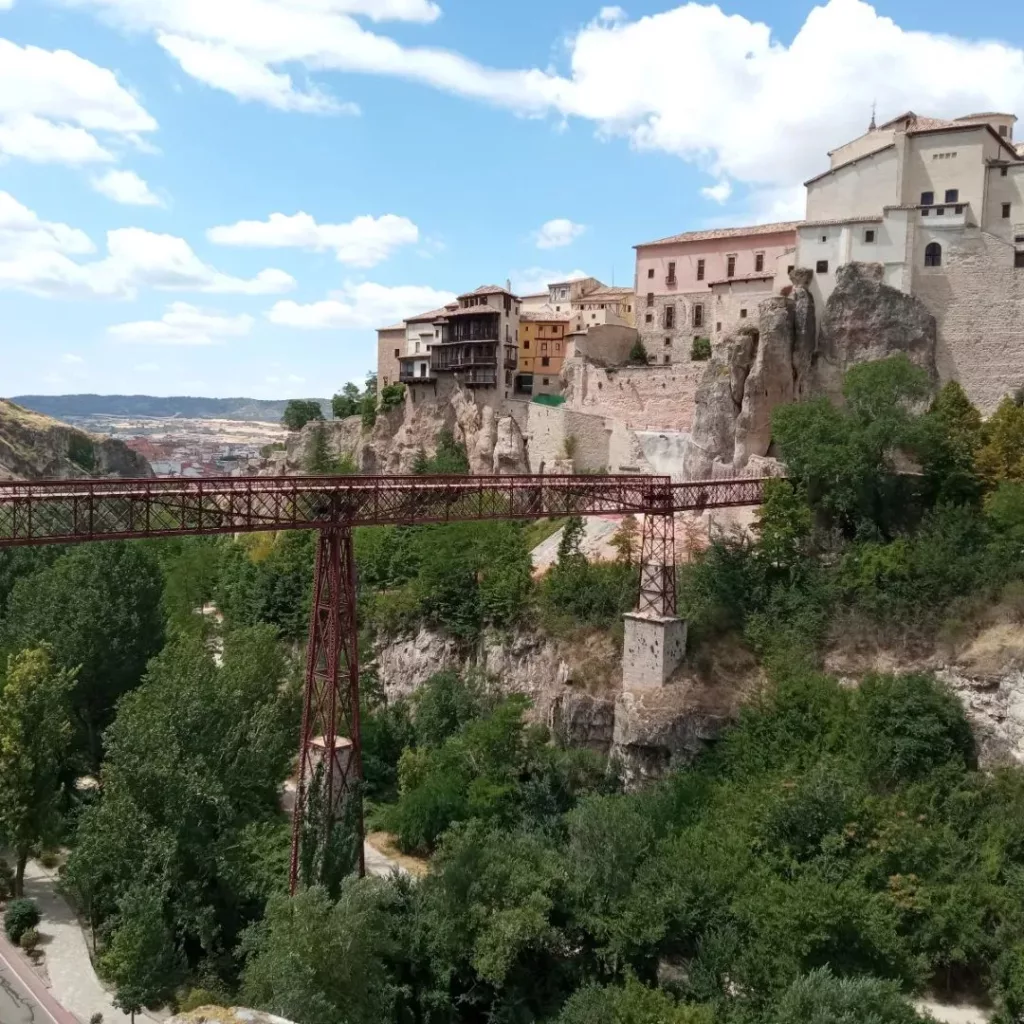 Cuenca is a lovely city in Central Spain, filled with culture and history. If you are looking for ideas on what to do there, you've come to a right place. Located in the autonomous community of Castilla-La Mancha, this Cuenca dates back to pre-Roman times.
Founded by Moors, it was once ruled by Visigoths and later became part of the Crown of Aragon, the monarchy of one king (14th-15th centuries). Cuenca enjoyed great prosperity during Medieval times due to its important textile industry, providing jobs for many citizens until well into modern-day society.
Today you can still enjoy some remnants from these periods, such as churches dating back hundreds of years ago or the Old Town Hall built between 1546 and 1680 in Renaissance-style architecture.
---
Key takeways
Cuenca is equally perfect for a day trip or a couple of days of exploration.
Getting to Cuenca: A high-speed train is a no-brainer.
See The Hanging Houses of Cuenca and the Old town.
Step on an iron & wood footbridge of San Pablo.
Stay at Parador de Cuenca.
---
Where is Cuenca?
Cuenca lies on the banks of the Júcar and Huécar rivers at an altitude of 3,000 feet (912 meters) above sea level in the Castile-La Mancha region of central Spain.
The map of Cuenca, Spain
How to get to Cuenca
From Madrid: The easiest way to get from Madrid to Cuenca is by bus or train, and the journey takes about two hours by bus, with direct lines operated by ALSA or Avanza Bus.
The train from Madrid to Cuenca will run for two hours and fifteen minutes, with one change at Atocha station (assuming you start from Sol). The fastest route is by car; it is a 1 hour and 45 minutes drive.
Read also: 15 perfect day trips from Madrid
From Valencia: Luckily, there is a direct train service between Valencia (Joaquin Sorolla station) and Cuenca. It runs every hour (except for the nights) and will take you there in around 1 hour. The ticket price is $30-$40 per person.
Besides that, you can drive there for roughly 2 hours, and enjoy the beautiful scenery of the Valencian countryside. I did it twice, and it was well worth it! The only "downside" was the perfect quality of the roads; I was falling asleep at the wheel after some time 🤷‍♀️
From Barcelona: I would not recommend going to Cuenca from Barcelona as it is a bit complicated trip, not to mention the distance.
Things to do in Cuenca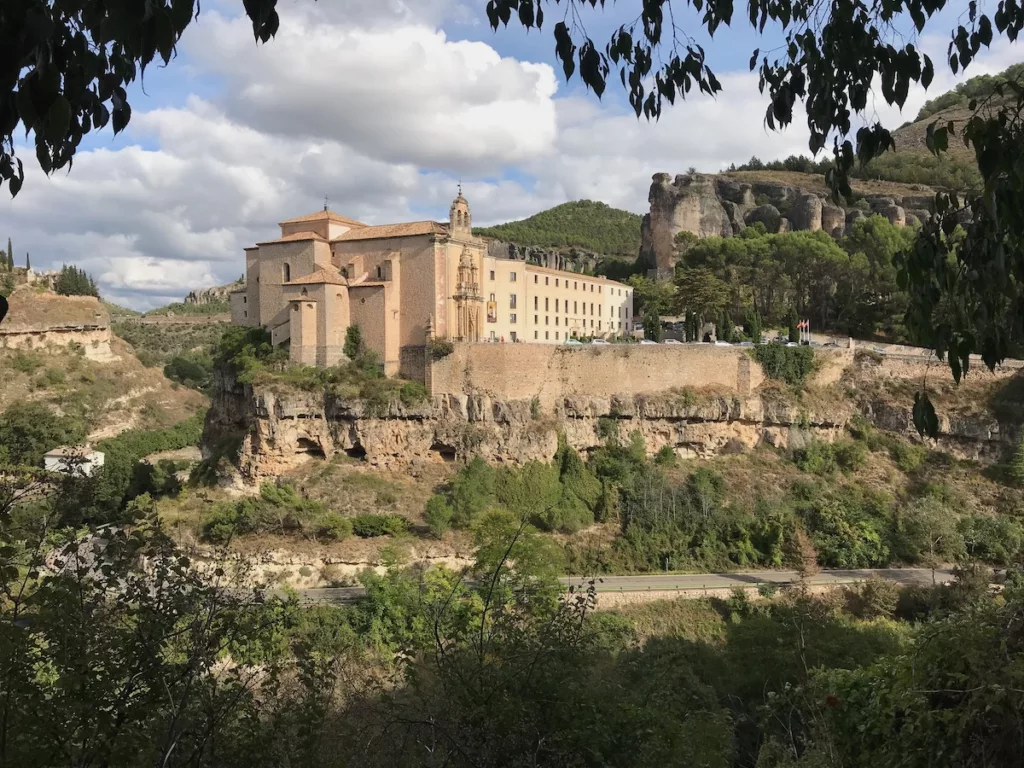 Sometimes it looks like there is little to do, especially when visiting a small Spanish town (pueblo).
This is not the case with Cuenca! I have spent some time making this extensive list so that you can cherry-pick anything you would like doing there:
See the iconic hanging houses of Cuenca, which hang over the Huécar River gorge.
Tour the Cuenca's old town, including Cuenca Cathedral, a church with stained glass and live music performances. Opening hours 10 am–7:30 pm (summer) and 10 am–5:30 pm (winter).
Wander through Plaza Mayor with its many restaurants and shops.
Explore El Castillo de Alfonso VIII to learn about Spanish military history.
Take a guided tour of the Júcar river canyons for spectacular views.
Appreciate art at Museo de Arte Abstracto.
Discover nature at Los Canónigos Natural Park with hiking trails and picnic areas.
Check out La Casa del Fumador cigar shop to sample some authentic Cuban cigars.
Enjoy live music performances at Teatro Principal Luis Escobar theater.
Visit Hoz del Huecar reservoir to take in panoramic views of Cuenca's landscape.
Go on an olive oil-tasting experience to understand more about the city's culture.
Sample local cuisine like "Migas con chorizo" (fried bread crumbs with chorizo sausage) or "Callos" (tripe stew) from Mercado de Abastos market.
Explore Las Negras caves by boat for unique sightseeing opportunities.
Visit El Palacio Condes De Oropesa stately palace for an afternoon of strolling among gardens.
Shop for traditional crafts such as pottery and jewelry around Calle Ancha street.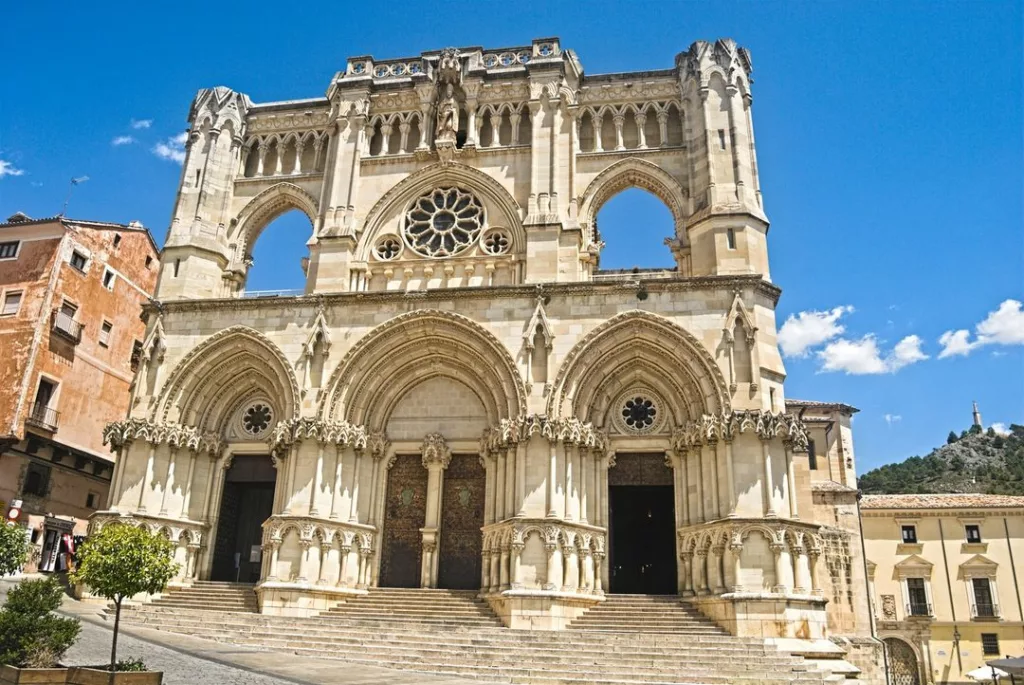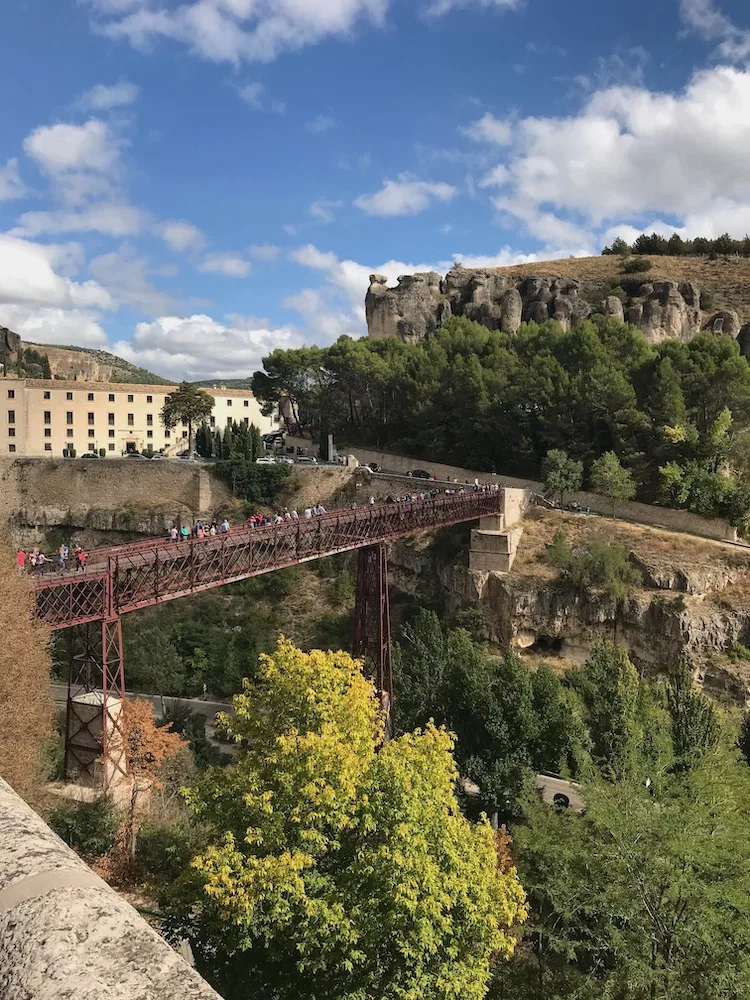 If you are an experienced traveler and you want to go off the beaten path, here are my suggestions on some of the underrated activities in the province of Cuenca:
See Espacio Torner, a beautiful building that houses a Museum of Contemporary Art. For only 3 euros, you can access the museum and view some unique abstract art from the 1960s. This visit pairs nicely with The Museum of Abstract Art on the other side of San Pablo Bridge, making your trip to Cuenca more worthwhile.
See the best of Cuenca on a night-time walking tour.
Attend one of the city's festivals, like the "Semana Santa" (Holy Week) festival, during Easter week.
Trek up Mount Cañete, where you can see stunning mountain landscapes and a Moorish-origin castle.
Sample wines from nearby Pago Calzadilla vineyard ("bodega" in Spanish).
Must see in Cuenca: The hanging houses
You will find the hanging houses on the edge of the sheer cliff face of Cuenca town. These unique dwellings are believed to have been built as far back as the 16th century and were used mainly by noble families.
The legend is that they were constructed after an earthquake destroyed much of Cuenca's town center centuries ago. Some say that rather than rebuild in a vulnerable spot, locals built their new homes against the solid rock wall facing them on one side. This allowed them protection from future earthquakes while enabling them access to stunning views across Cuenca's sprawling countryside below.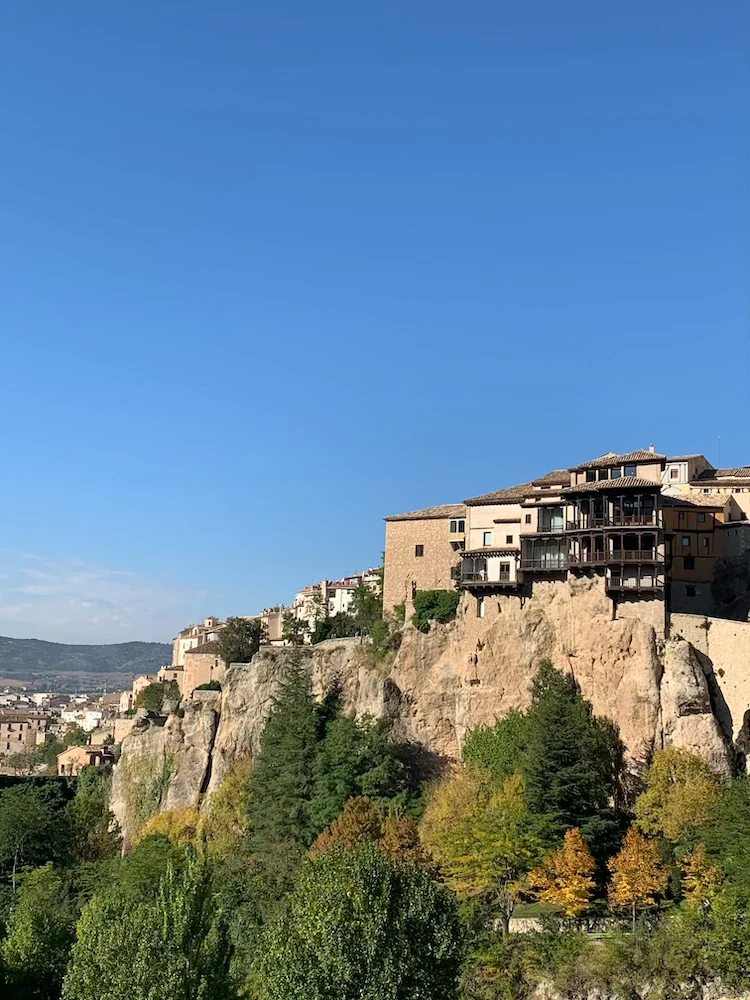 Today only three of the original hanging houses are still standing. One is called "La Casa de la Sirena," and the other is "Casas de Los Reyes."
The Casa de la Sirena was an emblematic inn in the 90s, although it finally closed its doors. Today, after a major remodeling, Michelin-starred chef Jesús Segura is trying to regain that recognition by opening two restaurants on its premises.
The other two houses, "Casas de Los Reyes," functioned as a hospital for poor and homeless people. However, their name comes from where the monarchs of the time stayed during their visits to Cuenca.
Since 1966 they have been the headquarters of the Museum of Spanish Abstract Art-Juan March Foundation, promoted by the artist Fernando Zóbel, who also gives his name to the modern high-speed train station in Cuenca. The museum was refurbished in 2016 to improve the facilities and thus expand the number of exhibitions.
The area opens daily from 10 am until 6 pm during summer months (April-September) and from 9 am until 5 pm during winter (October-March).
Where to stay in Cuenca
You should stay at Parador de Cuenca, definitely! I have been there, it was great!
The Parador de Cuenca is a 4-star hotel in a 16th-century monastery, which has been carefully restored to its former glory. It is just a short 5-minute walk away the Cuenca's old town. You can also proceed to the Antonio Pérez Foundation Museum afterwards.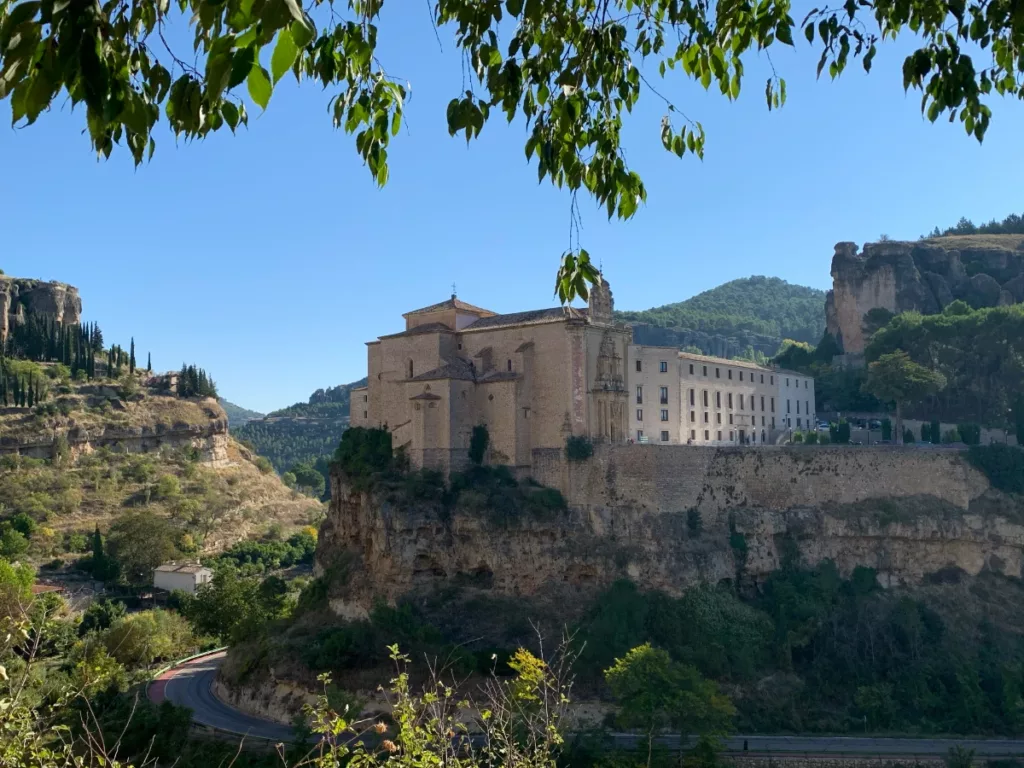 Spanish paradors are hotels built on the sites of historically and culturally significant buildings, such as castles or monasteries. Paradors are usually located in rural areas and offer guests an opportunity to experience the country's culture firsthand. The rooms often feature traditional decor and furnishings, though some may also provide modern amenities for comfort. Many Paradors serve local cuisine or specialties from their region as part of their dining service.
If you want to stay closer to the Old town, consider these accommodations:
Final thoughts on visiting Cuenca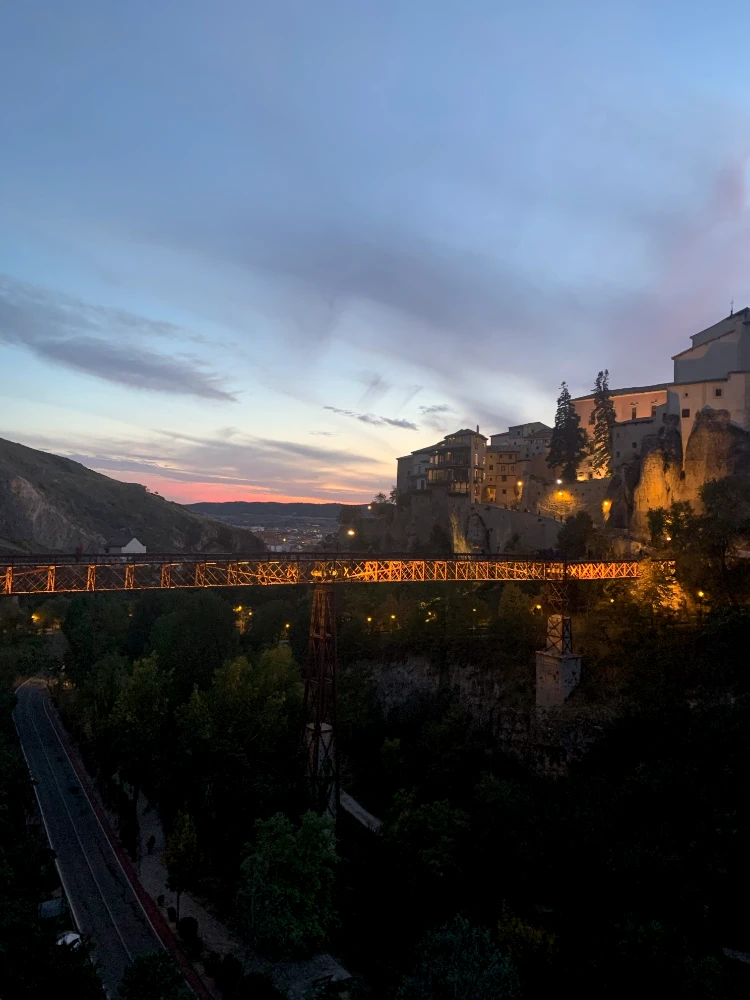 Cuenca is a town filled with culture and history, and I would gladly come back for another day or two to show the place to my friends or family members, even though I have been there twice!
So, if you have questions or suggestions, do not hesitate to comment below!