21 Off-the-Beaten-Path Spots in Paris: Hidden Gems and Secret Hideaways
Sergio Fomenkov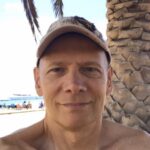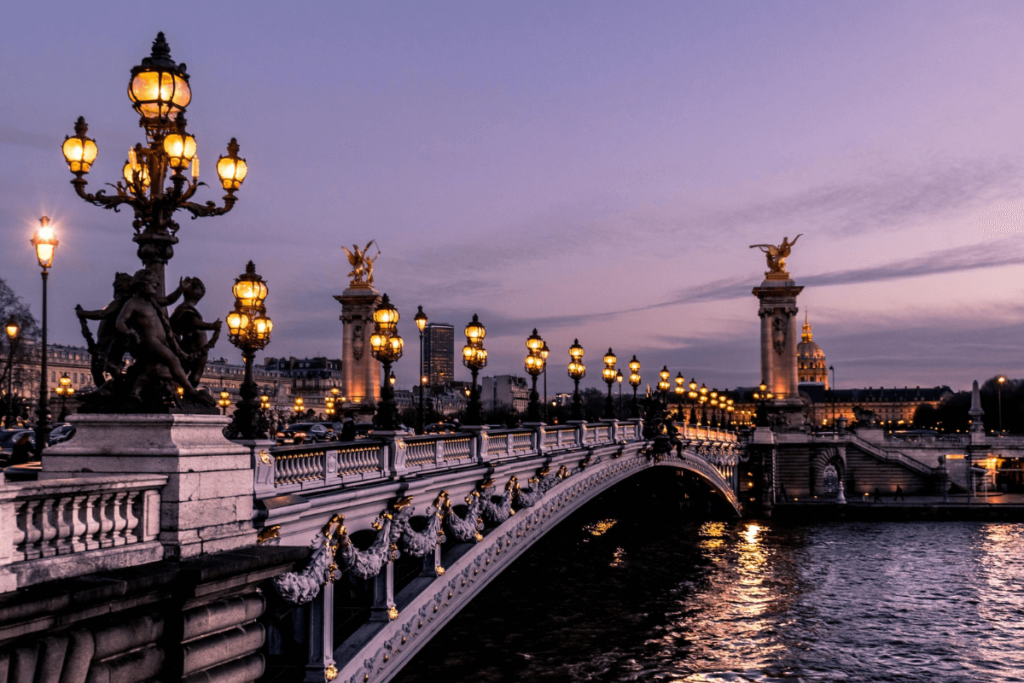 Paris is renowned for its iconic landmarks, such as the Eiffel Tower and the Louvre.
However, many of its hidden treasures are seldom mentioned in popular guides.
I've ventured into these less-visited locales, compiling a concise guide featuring secluded streets, quaint cafes, enchanting gardens, and overlooked historical attractions.
---
Key Takeaways
Nothing in Paris is truly 100% hidden, but there are many off-the-beaten-path places, streets, and courtyards that remain concealed from the masses.
Museums: Musée Cernushi (with the nearby Monceau Garden) / Musée Jacquemart André / Musée de la Vie Romantique / Musée Carnavalet / Musée de la Chasse et de la Nature / Conciergerie / Musée Bourdelle / Musée du Moyen Âge (Cluny) and the Roman Baths.
Walks: Take a stroll through the old "passages" of Paris. Start at Passage Verdeau, then move on to Passage Jouffroy and Passage des Panoramas. A bit further south, you'll find Galerie Vivienne & Passage Colbert.
Explore the Saint Germain des Prés area, especially Rue des Saint Peres, Rue de Verneuil, Rue Jacob, Rue de l'Université, and Rue des Beaux Arts. These streets offer many art galleries and wonderful antique shops, and fewer tourists venture beyond the streets surrounding the church.
Others: Cimetière du Père Lachaise / Parc des Buttes Chaumont / Jardin des Plantes.
---
Now let's explore the secret corners of Paris and discover the city's hidden treasures!
Top Hidden Gems and Secret Spots in Paris
1. La Campagne à Paris (Paris 20th)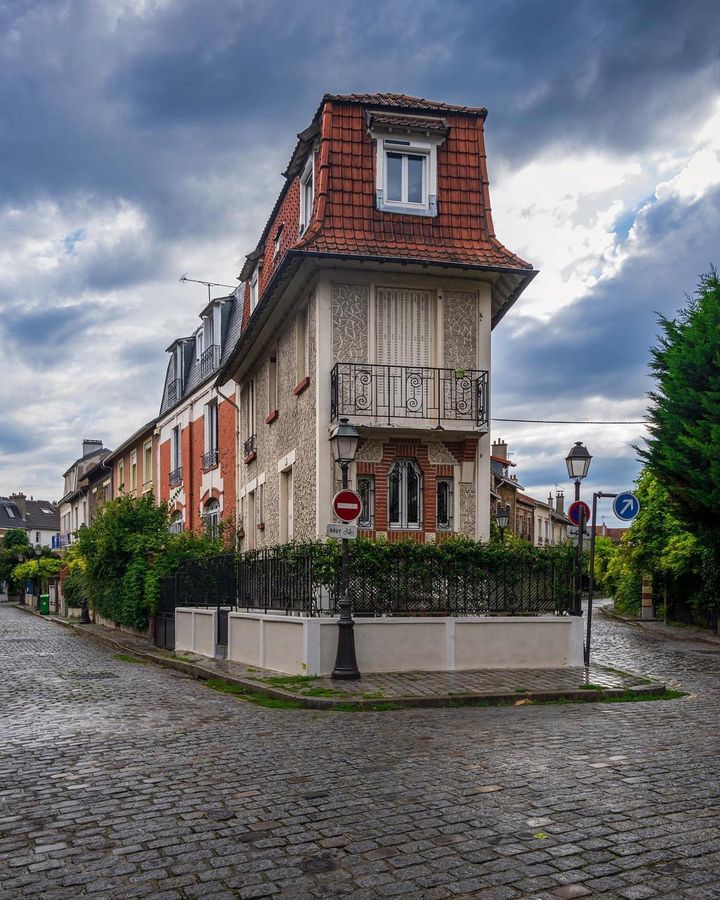 This neighborhood is in the 20th arrondissement ( administrative district) and is part of Belleville. It's like a small village in the city. It was once a housing area for workers. The place has old houses, streets, and is quiet. If you are into photography, you will certainly like it here.
Why visit: It's one of the few "rural" places in Paris.
How to get there: Go to the 20th arrondissement. Enter from Rue Irene Blanc or Rue de la Campagne à Paris. Use the "Porte de Bagnolet" metro station on Line 3.
2. Belleville
Belleville is in northeastern Paris and covers the 19th and 20th arrondissements. It has cafes, shops, and street art. You can also find products at the Belleville Market and Place des Fêtes Market. Also, the Belleville Cemetery has some notable graves.
How to get there: Use the "Belleville" (Lines 2 and 11) or "Couronnes" (Line 2) metro stations.
Places to see: Belleville Park offers a great view of the city. There's also the Petite Ceinture, a walking trail, Rue Denoyez with street art, and Le Chinois, a cinema with art-house movies on display.
3. Menilmontant
This area in the 20th arrondissement grew with Belleville. It has a mixed culture due to its immigrant history. Old factories have become cultural spots. Menilmontant Street has cafes and shops.
Places to see: Walk around the area. Pere Lachaise Cemetery is close by with graves of people like Oscar Wilde, Jim Morrison, Édith Piaf, and Frédéric Chopin. You can also go to Parc de Buttes-Chaumont.
4. Parc des Buttes–Chaumont
This park is in the 19th arrondissement of Paris. It has a temple on a cliff with great views. Inside, there are hills, a lake, bridges, and waterfalls. It's a good place for Insta-worthy shots.
How to get there: Metro station: "Butte-Chaumont" (Line 7bis).
5. Le Musée de la Chasse et de la Nature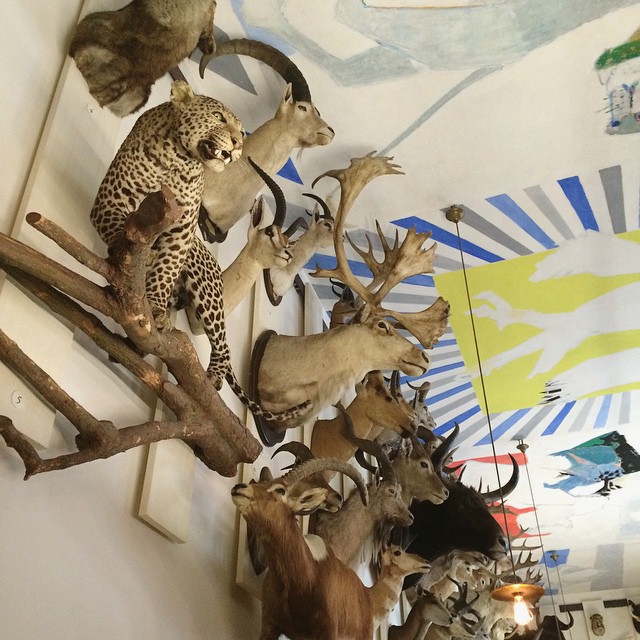 This museum, translating to "Museum of Hunting and Nature," displays art about hunting and animals. It talks about people's relationship with nature. Here is the museum's website for additional information.
How to get there: 62, Rue des Archives, 75003 Paris. Metro station: Rambuteau (Line 11)
Tip Check out the bookstore at the museum (you will not need an entrance ticket).
6. Rue Cremieux
This is a colorful street, popular on social media because of its vibrant houses. Remember, it's a living area, so respect residents' privacy.
How to get there: Metro station: "Quai de la Rapeé" (Line 5).
7. Promenade Plantée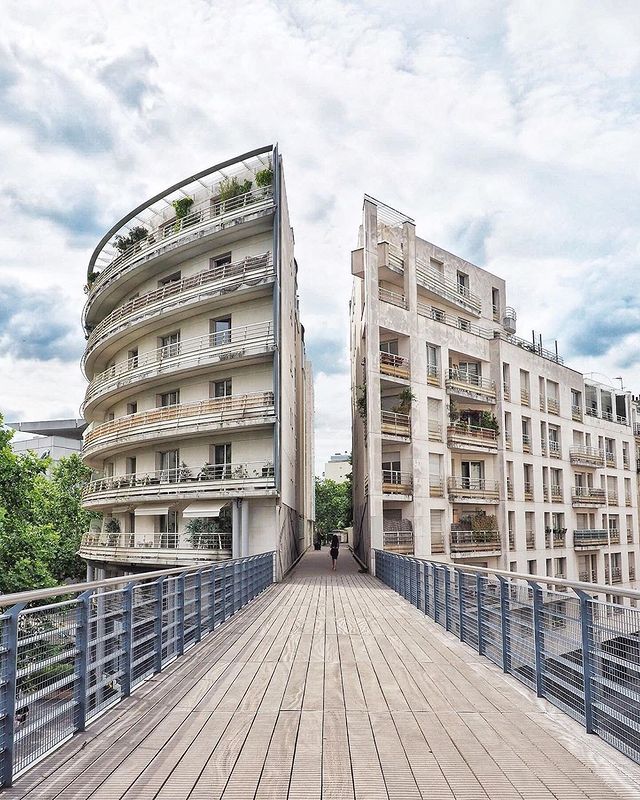 This elevated park inspired others to make similar parks, like the High Line in New York. It offers green spaces, flowers, and lovely views of the city.
How to get there: It starts near Place de la Bastille in the 12th arrondissement. Metro station: "Bastille" (Lines 1,5,8).
Tip To reach the park from Parc De Reuilly, use the elevators, including one at 17 Rue Hector Malo.
8. Canal de l'Ourcq
The Canal de l'Ourcq, commissioned by Napoleon Bonaparte, connects the Seine River to the Arc River, stretching through several districts of northeast Paris.
The Canal de l'Ourcq offers leisurely walks, picnics, boating, and a chance to escape the city's hustle. You'll find charming tearooms, breweries, electric boats, petanque players, and bars on barges along the way.
How to get there: Metro stations include "Laumiére" (Line 5), "Jaures" (Lines 2,5,7bis), "Stalingrad" (Lines 2,5,7), and "Riquet" (Line 7).
Tip In summer (from July 8th until August 27th), the canal offers water games and activities for kids.
9. Mouzaïa
Mouzaïa, located near the Butte Chaumont Park and the Belleville district, is a charming and lesser-known residential area. This true gem is a series of houses detached from the urban part.
There are several charming cafes where you can drink coffee and enjoy local vibes, and the Butte Chaumont Park, with hills, a lake, and walking paths where you can enjoy nature.
How to get there: The nearest metro station is "Botzaris" (Line 7bis), then on foot in just a few minutes.
10. Jourdain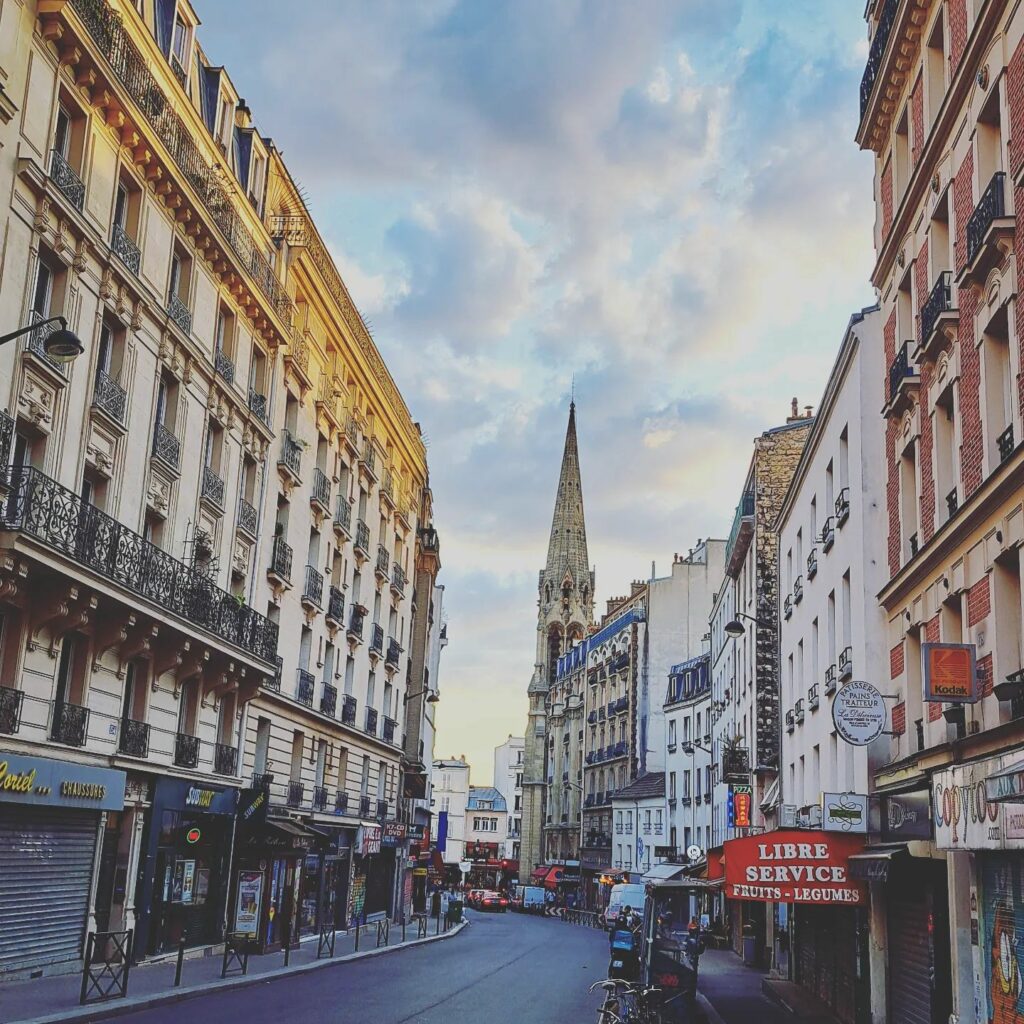 Jourdain is a lively residential area in the 20th arrondissement of Paris, which stands out for its laid-back rustic atmosphere.
You will find Belleville Park with panoramic city views not far from Jourdain.
How to get there: The nearest metro station to the Jourdain district is "Jourdain" (Line 11).
Tip Walk down Rue de Belleville and Rue des Pyrenées, the two main streets of Jourdain.
11. Nogent-sur-Marne
Nogent-sur-Marne is a charming French town east of Paris (20 minutes by train), along the picturesque Marne River.
The town's history dates back to Roman times, reflected in its architecture. You can enjoy boat excursions along the river and explore the local markets for fresh produce and artisanal goods.
How to get there: You can get to Nogent-sur-Marne in 15-20 minutes from the center of Paris via the RER line from Paris train stations, for example, Nation, Charles de Gaulle-Etoile, and Auber by going in the direction of Marne-la-Vallée-Chessy or Boissy-Saint-Léger.
12. La Butte -aux -Cailles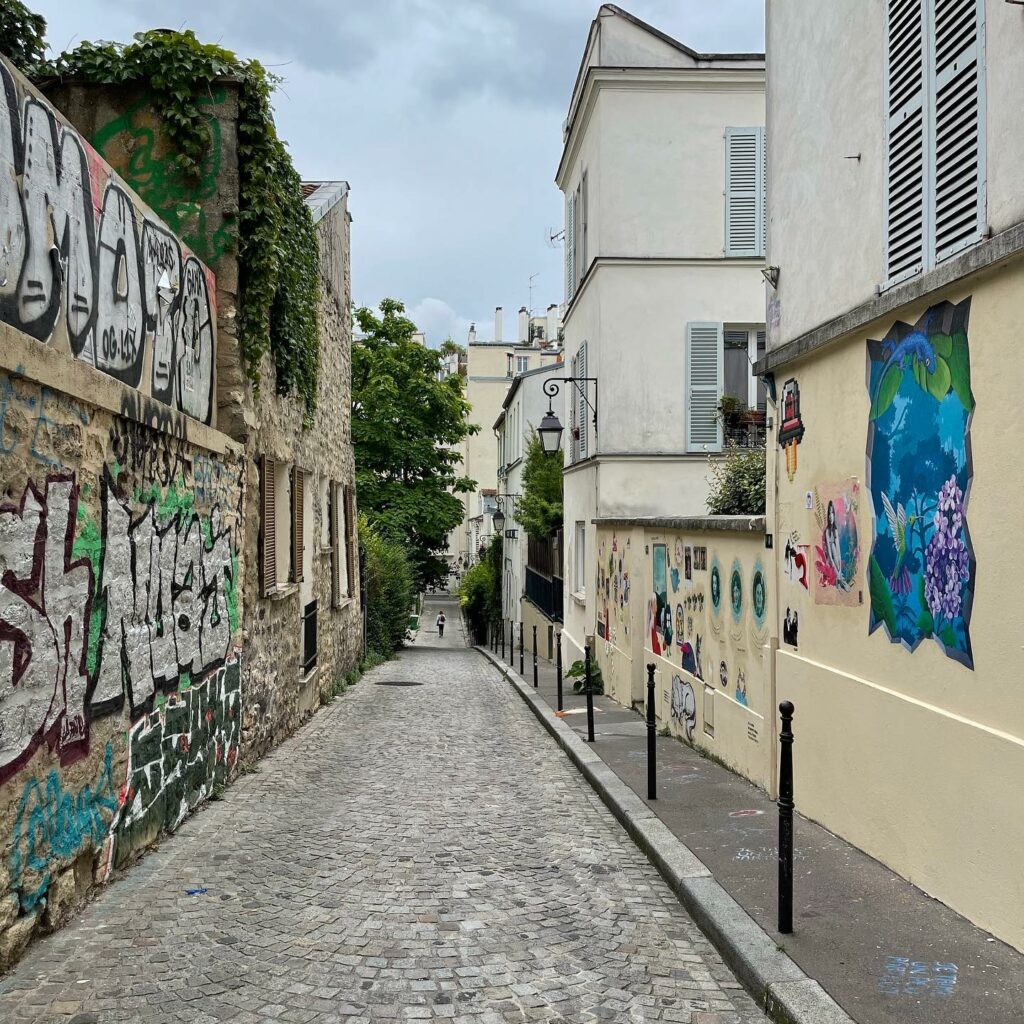 Located in the 13th arrondissement, this neighborhood has cobbled streets, unique shops, graffiti, and local restaurants and bars. It gives quite a different experience from the usual touristy areas.
How to get there: Metro station: "Corvisart" (Line 6).
Tip Check out Le Piscine des Amiraux, an Art Deco style gem.
13. Rue des Frigos
This street in the 3rd arrondissement, near the Seine and Francois Mitterrand Library, has turned old warehouses into artist studios. It's a hub for street art.
How to get there: Metro stations: "Quai de la Gare" and "Bibliothèque François Mitterrand" (Line 14 and RER C).
14. Bois de Vincennes
A large park to the east of Paris, Bois de Vincennes was once a king's hunting forest. Now, it has lakes, theaters, a zoo, and gardens. It's a break from the city's fast pace.
How to get there: Metro stations: "Château de Vincennes" (Line 1) and "Porte Dorée" (Line 8). Alternatively, take RER A to "Vincennes" station.
15. The Covered Passages in the 2nd arrondissement
These historic glass-roofed passages have shops, cafes, and a feel of old Paris. Some to visit are the Panorama Passage, Vivienne Gallery, and Choiseul Passage.
How to get there: Metro stations: "Grands Boulevards" (Lines 8 and 9) for Panoramas and Choiseul, and "Bourse" or "Palais Royal – Musée du Louvre" for Vivienne.
16. Coulée Verte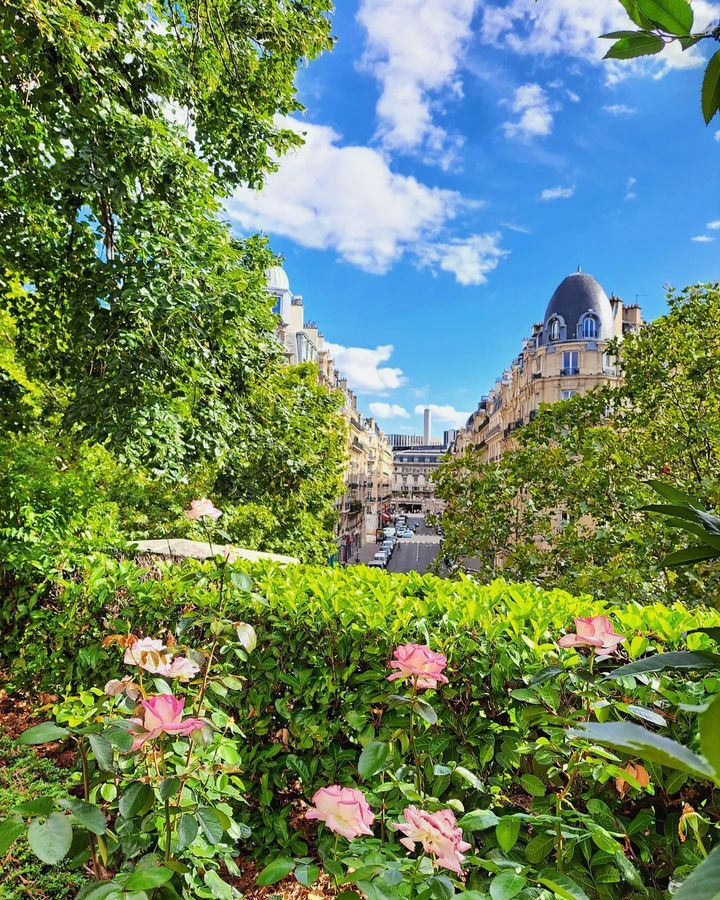 A park on an elevated railway in the 12th arrondissement. It stretches from Opera Bastille to Bois de Vincennes and offers greenery, art, and panoramic views of the city.
How to get there: Start near Opera Bastille. Metro stations: "Opéra Bastille" or "Bastille" (Line 1).
Don't miss out on visiting Parisian cemeteries. They might be off the typical tourist route, but places like Pere Lachaise, Montparnasse, and Montmartre cemeteries are worth seeing.
17. Montparnasse Cemetery
The Montparnasse Cemetery, established in 1824, houses the graves of famous figures like Samuel Beckett (Irish novelist) and Jean-Paul Sartre. It's more than just a cemetery with its art-like tombstones and serene atmosphere!
How to get there: "Montparnasse-Bienvenüe" (Lines 4, 6, 12, 13). Open from 8:00 am to 5:30 pm.
18. Montmartre Cemetery
Located in the 18th arrondissement, the Montmartre Cemetery founded in 1825 is the resting place for artists like Degas and Berlioz.
How to get there: Metro station: "Blanche" or "Place Clichy" (Line 2).
For more information, visit the City of Paris website.
19. Le Parc de Bagatelle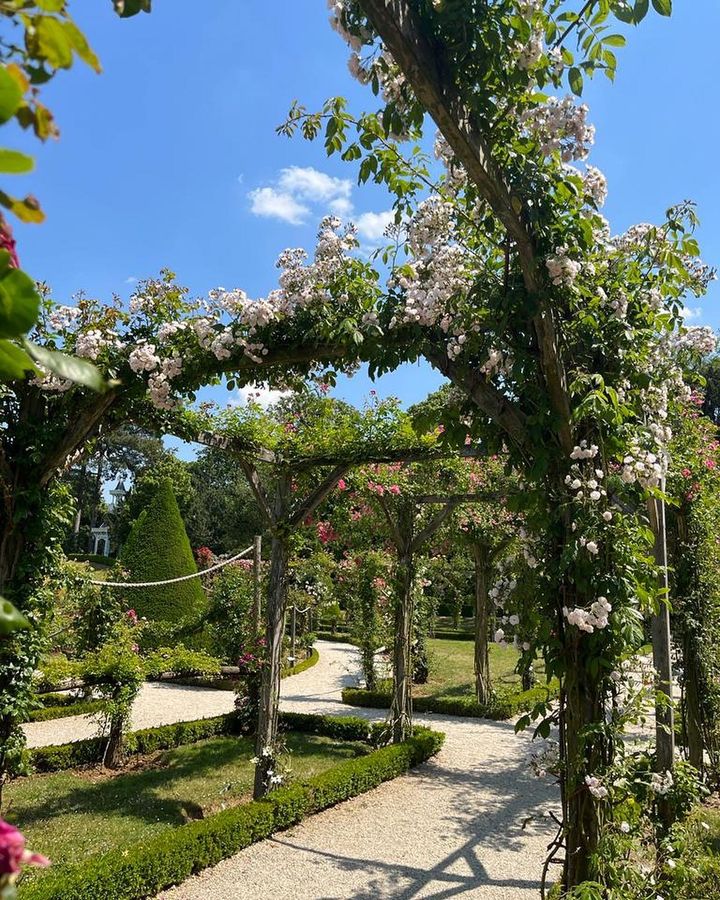 This botanical garden in the 16th arrondissement features themed gardens, a castle, and events. Founded in 1775, it's a serene spot in Paris for nature lovers.
How to get there: "Porte Maillot" (Line 1) or "Port d'Auteuil" (Line 10).
For more details, visit the French Gardens website.
20. Pouces de Saint-Ouen
The Saint-Ouen Flea Market, one of the largest in the world, offers antiques, art, and vintage items. It's a lively place for unique finds.
How to get there: "Porte de Clignancourt" (Line 4). Open on weekends and Mondays from 9 am to 5–6 pm.
21. Batignolles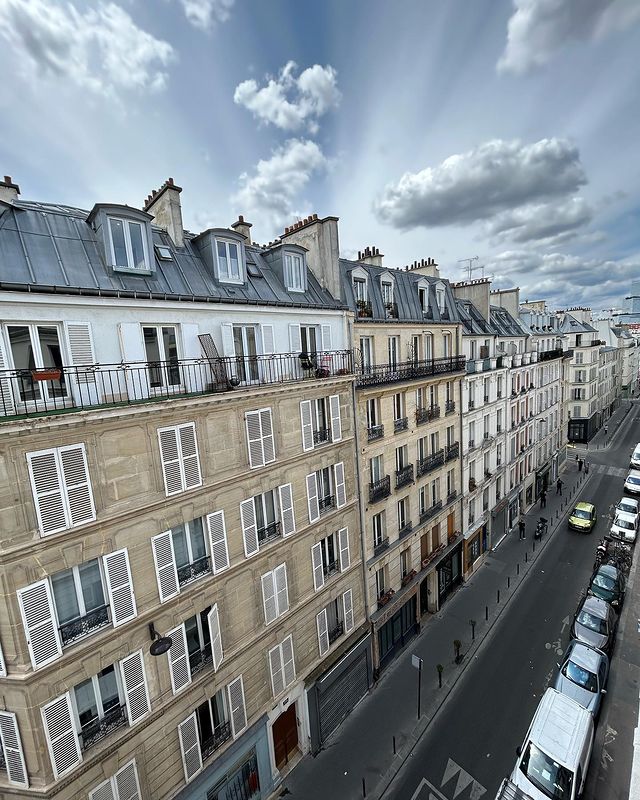 Batignolles, in the 17th arrondissement, is a blend of Parisian life, parks, and boutiques. Nearby attractions include Parc Martin Luther King and the Batignolles Flea Market.
How to get there: "Brochant" (Line 13) or "Rome" (Line 2).
Hidden Culinary Gems in Paris
Now let's talk about the food, which is always an important part of any itinerary 🙂
Here are some less well-known places where you can try unique and delicious dishes:
Marché des Enfants Rouges. This 17th-century covered market serves various international cuisines, including Moroccan, Lebanese, Japanese, and French, making it a fantastic place for lovers of delicious food.
Au Passage. For salads with cheese, smoked fish, and crispy greens. For those who are hungry, a fried shoulder of lamb is enough to feed an entire table.
Le Comptoir Général is a bar-restaurant and, at the same time, a gallery where African cuisine and unusual cocktails are served in an artistic setting.
Le Verre Volé. A charming wine bar and restaurant serving delicious French cuisine, primarily local.
Breizh Café. A cozy cafe where real pancakes and biscuits are prepared in the Breton style with original fillings.
Le Petit Cambodge offers Vietnamese cuisine famous for its fragrant traditional dishes.
Chez Casimir. This bistro offers hearty and classic French cuisine in a very cozy atmosphere.
Le Villaret. An unusual restaurant located on a quiet street serving traditional French cuisine.
Clamato. A seafood restaurant where you can taste fresh oysters!
Le Potager du Marais is a paradise for vegetarians, serving creative and delicious plant-based dishes.
Lesser-Known Museums and Galleries in Paris
Here are a few lesser-known museums and galleries in Paris that are worth a visit:
Museum of Romantic Life. Located in a charming courtyard, this museum is dedicated to the era of Romanticism and displays paintings, furniture, and memorabilia of the 19th century.
Museum of the Police Prefecture. This unusual museum offers an intriguing glimpse into the history of the Paris police, showcasing artifacts, old police uniforms, crime memorabilia, and criminal archives.
Jacmar-Andre Museum (opens in September 2024). This museum, located in a luxurious mansion, has an impressive collection of works of art, furniture, and decorative items collected by the Jacmar-Andre spouses.
Museum of Counterfeiting. In this unique museum, counterfeit products are exhibited, demonstrating the creative approach and problems that one has to face in the fight against counterfeit products.
Paris Sewer Museum. Visiting the sewers of Paris means diving into the city's bowels and exploring its hidden side. It is also the discovery of the history of this network, closely related to the evolution and architecture of the streets of the capital. Yes, you will feel an unpleasant smell, but this experience is exciting and unique.
How to Enjoy Off-the-Beaten-Path Paris
Talk with locals; they know all the secret spots and can provide the best recommendations
Stay away from the touristy areas.
Get lost! Seriously! You'll stumble upon hidden squares and charming gardens.
Shop at quaint boutiques and bookstores to find unique souvenirs and handcrafted treasures.
Seek out rooftop bars or terraces for breathtaking views of the city. It's an ideal way to wrap up an exciting day.
Use these social networks to discover local groups and events: Meetup, Socializus
Some Safety Tips for Visiting Paris
Paris is generally safe for tourists. While it has its issues like any large city, visitors from metro areas in the US should feel secure. Whether engaging in regular tourist activities or traveling by train, the risk of serious crime is very low.
Still, here is a couple of safety tips for exploring Paris:
Pickpocketing targeting tourists is quite common. Secure your valuables, use closed bags, and be vigilant in subway and touristy areas.
Avoid falling for common scams like signing petitions or accepting bracelets from street vendors.
Any secret shopping recommendations?
Another lesser-known department store, BHV Marais.
Passage des Panoramas is a haven for collectors, with antique shops, vintage postcard stores, and rare bookshops.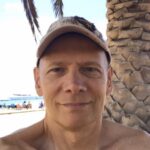 Meet Sergio! A travel enthusiast with a zest for exploration, he's all about discovering Spain's beauty, especially the Canary Islands! 🏝️
As a true Canary Islands lover, Sergio dedicates his time to uncovering hidden gems  and capturing stunning landscapes  that make this paradise so unique. He combines his love for adventure and in-depth knowledge of the region to inspire fellow travelers and help them create unforgettable memories on their journeys through the Canary Islands and beyond!
Follow Sergio on Instagram, Facebook, LinkedIn, and WikiData.
This post might include some affiliate links. If you make a purchase through these links, I may earn a small commission at no additional cost to you. I appreciate it when you use my links to make purchases.