Does It Snow in Arizona? Where, When, and Things to Do
Nadia Podrabinek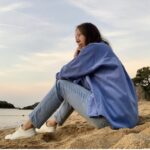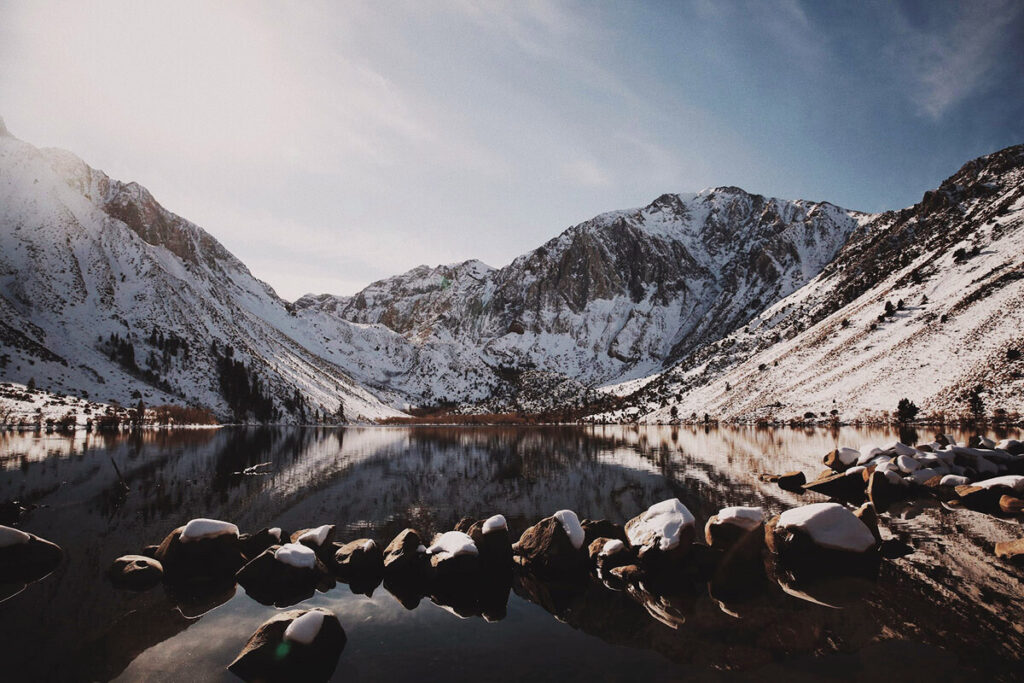 Are you planning to go on a winter escapade in Arizona but the first thought that came to your mind was: 'It's sunny in Arizona!' Indeed, Arizona is often dry and humid. But does it snow there? If so, where does it snow in Arizona?
Arizona is the land of beautiful sunsets yet, other features of Arizona are worth visiting, especially in winter.
Let me show you the places that snow in AZ.
---
Key Takeaways
Flagstaff, Arizona is the snowiest city in winter.
Sunrise Ski Park in Greer, Arizona is a popular ski resort.
The winter activities in Canyon Coaster Adventure Park, Williams, Arizona are exciting and thrilling.
The views in Grand Canyon South Rim are breathtaking in winter.
Oak Hill Snow Play Area is best for beginners for skiing.
---
A Map of Where To See Snow in Arizona
Where to see snow in Arizona
Here are several remarkable destinations where you can experience snow in Arizona:
Greer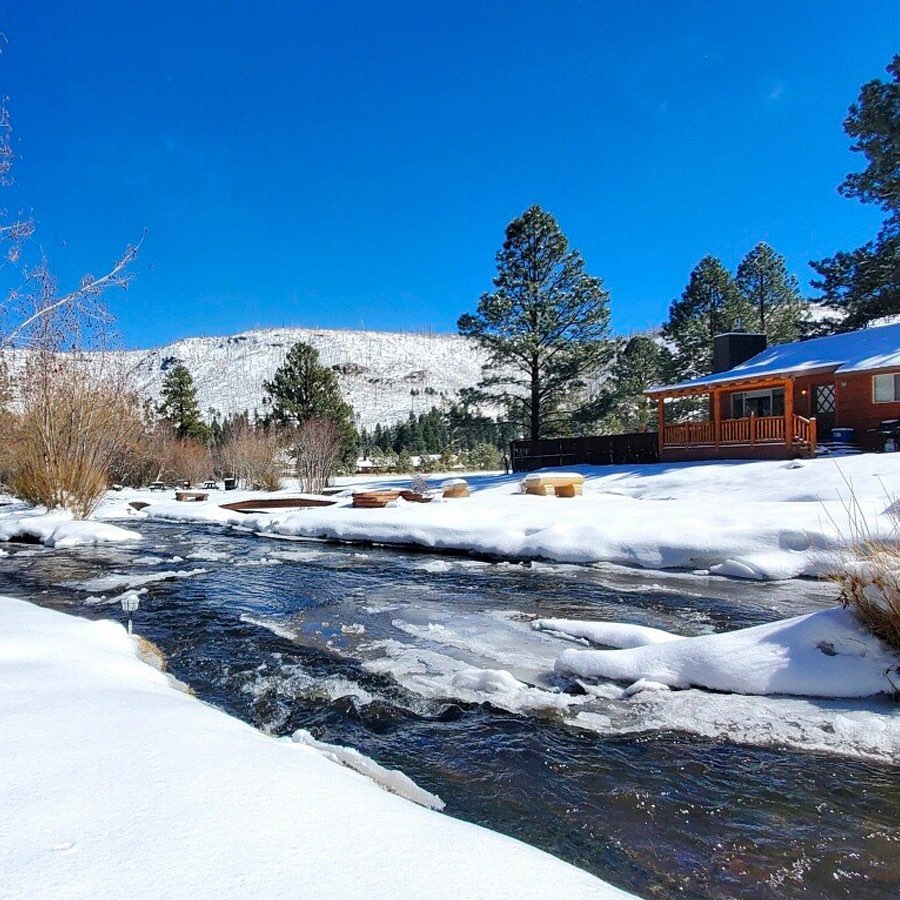 Believe it or not, Greer sits at a whopping elevation of around 1.5 miles (2.6 km), making it one of the highest towns in the entire state. The whole area is teeming with beauty, lush meadows, babbling brooks, and crystal-clear lakes that will make your jaw drop.
When winter comes, Greer becomes an absolute wonderland. The village and the surrounding mountains receive plenty of snowfalls, transforming Greer into this enchanting snowy paradise. I'm talking about a blanket of snow covering everything in sight!
There's a whole bunch of things to do here, like skiing, snowboarding, sledding, you name it. I recommend visiting Sunrise Ski Park if you love skiing.
Sunrise Ski Park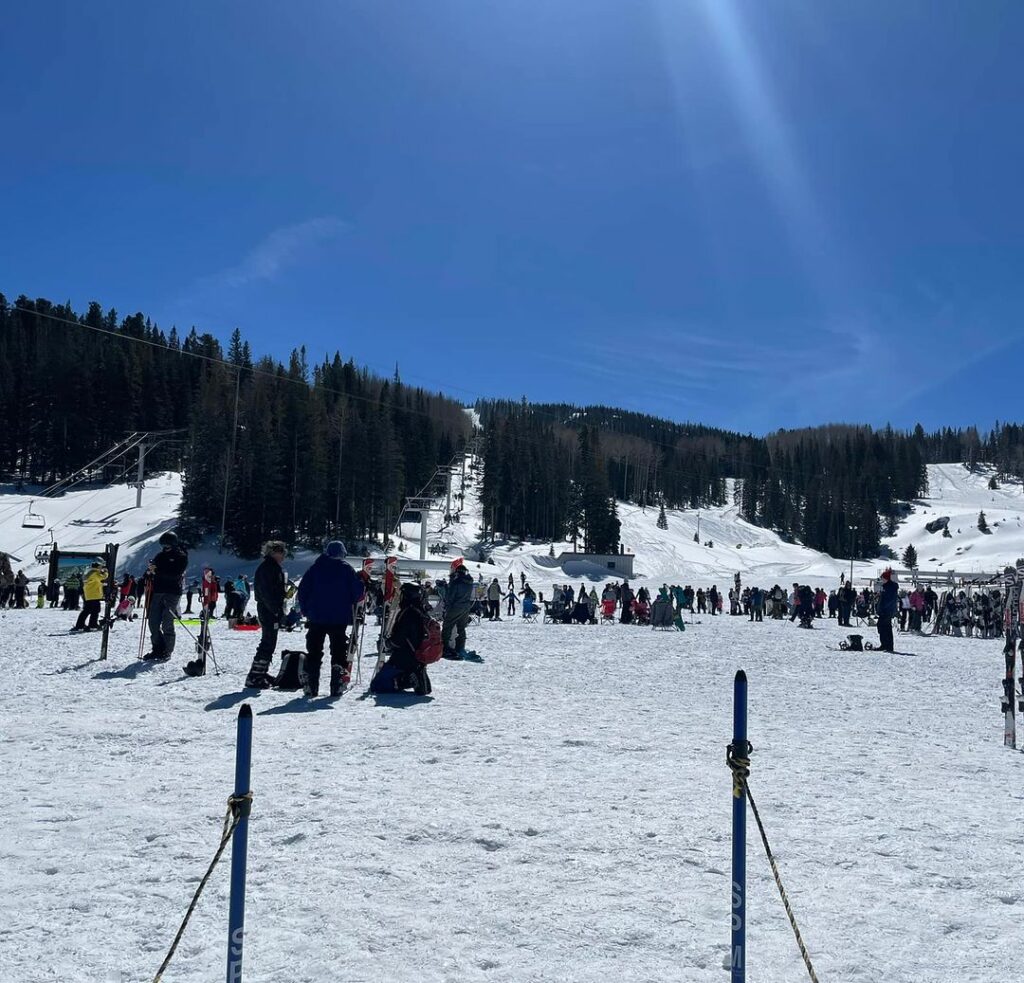 Sunrise Ski Park is a popular ski resort in Greer. The slopes and trails are all well-maintained and its terrain is for everyone!
They have gentle slopes for beginners, intermediate runs for those who want to improve their skills, and expert-level terrain for the more adventurous riders.
One more thing, I highly recommend trying snow tubing. Snow tubing is a popular option that lets you slide down the slopes in a giant inflatable tube.
It's like having the best of snowy adventures right at your fingertips.
Flagstaff
First things first, Flagstaff is surrounded by the most jaw-dropping landscapes you can imagine. Picture this: tall ponderosa pine forests, aspen tree groves, and majestic volcanic peaks dominating the skyline. It's like nature's own masterpiece!
Snowfall in Flagstaff is no joke. With an average annual snowfall of 100 inches, the whole city is covered in snow.
Point to the fact Flagstaff is around 1.30 miles (2.10km) above sea level. No wonder Flagstaff is one of the snowiest cities in the United States.
Not to mention the average daytime temperature from 30 to 40°F (-1 to 4°C) that drops when night comes. I suggest wearing multiple layers to stay warm.
Flagstaff has snowy terrain at an altitude of 2.20 miles (3.5km) which is a great place for skiers and snowboarders from beginner to advanced. You might also want to try snow tubing, snowshoeing, and cross-country skiing, which you can find throughout the town.
Williams
About 30 miles (48km) west of Flagstaff is Williams, Arizona which proudly sits on the famous Route 66. Williams has a rich history and has several attractions that extend beyond its snowy reputation.
With an elevation of approximately 1.30 miles (2km) above sea level, winter temperature can range from 30 to 40 °F( -1 to 4 °C). So, when the snow comes, Williams doesn't disappoint.
Everything from the streets, buildings, and surrounding landscapes gets blanketed in a beautiful thick layer of snow, creating a picturesque scene that will leave you mesmerized.
There are so many things you can do in Williams. If you're an outdoor enthusiast, this is your place to release the adrenaline.
Oak Hill Snow Play Area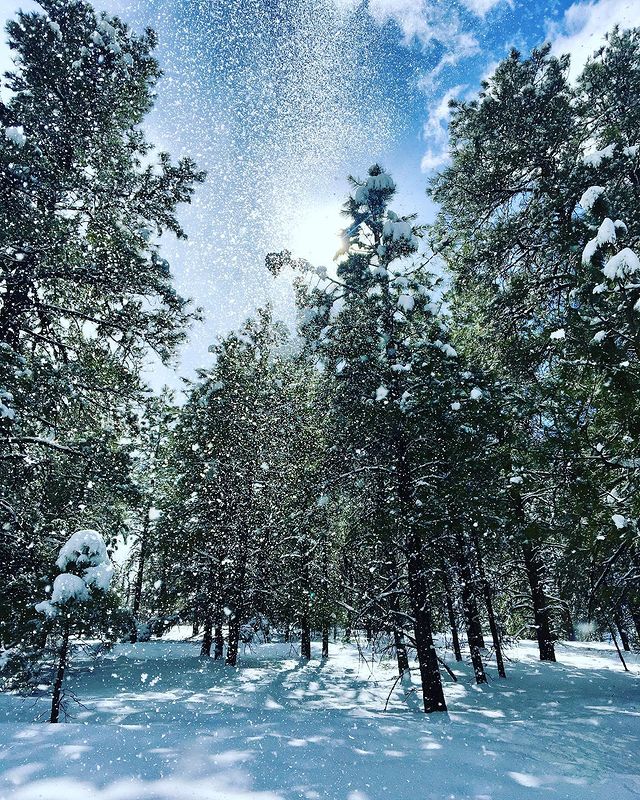 One of the best places in Williams where you can use up your adrenaline is in Oak Hill Snow Play Area. Located about 10 miles (16km) east of Williams on Route 66, you shouldn't miss this opportunity within the Kaibab National Forest.
Oak Hill Snow Play Area is the best terrain for beginner skiers and sledders. There's no ski lift, so you'll have to put more effort to enjoy the 900-foot run slope. They also have 400-foot and 600-foot tubing runs for snow tubing.
In addition, they have a special policy that inner tubings should be made out of flexible materials. Metal, wood, or hard plastic inner tubings aren't allowed inside.
Benham Snow Play Area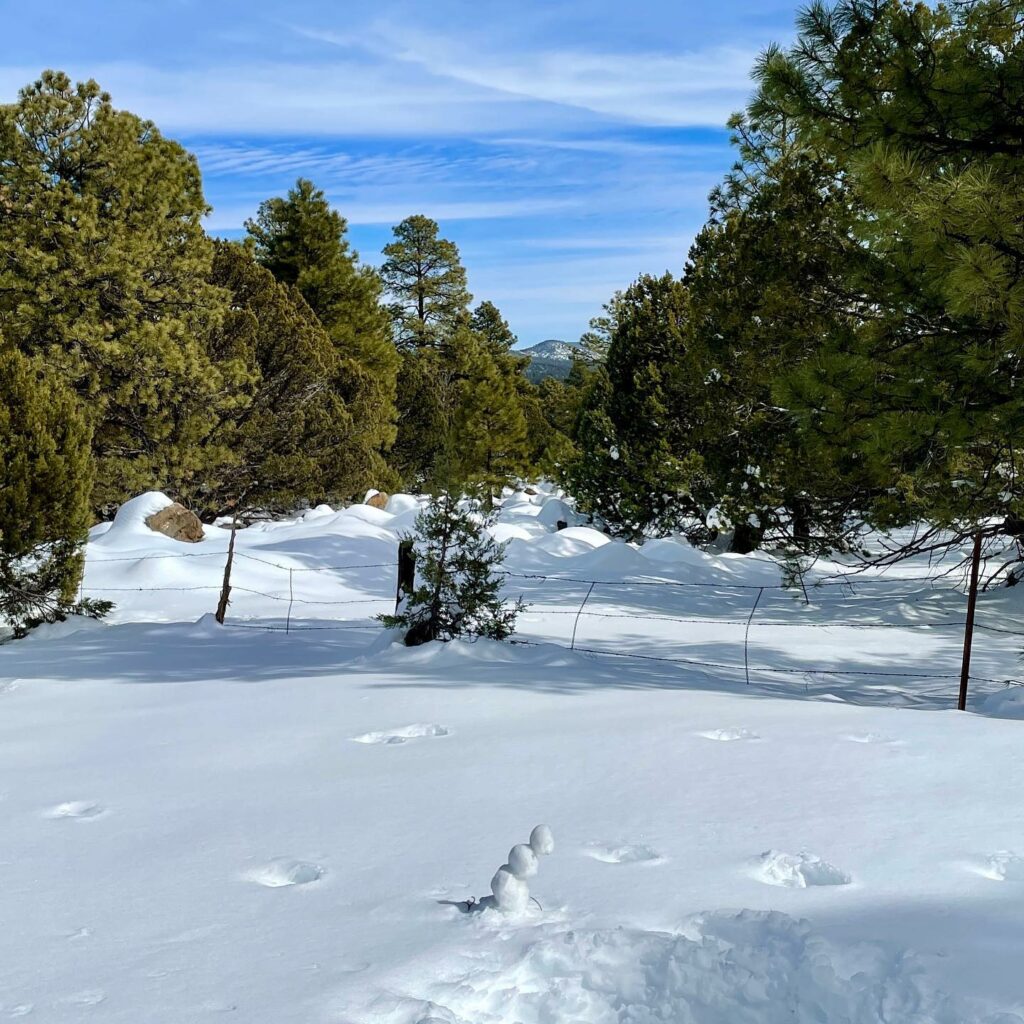 The Benham Snow Play Area is four miles (6km) south of Route 66. This is a perfect place for big families with lots of kids.
Benhan Snow Play Area has approximately 1.4 miles (2.20 km) elevation and is a great place for snowball fights and roughhousing.
Canyon Coaster Adventure Park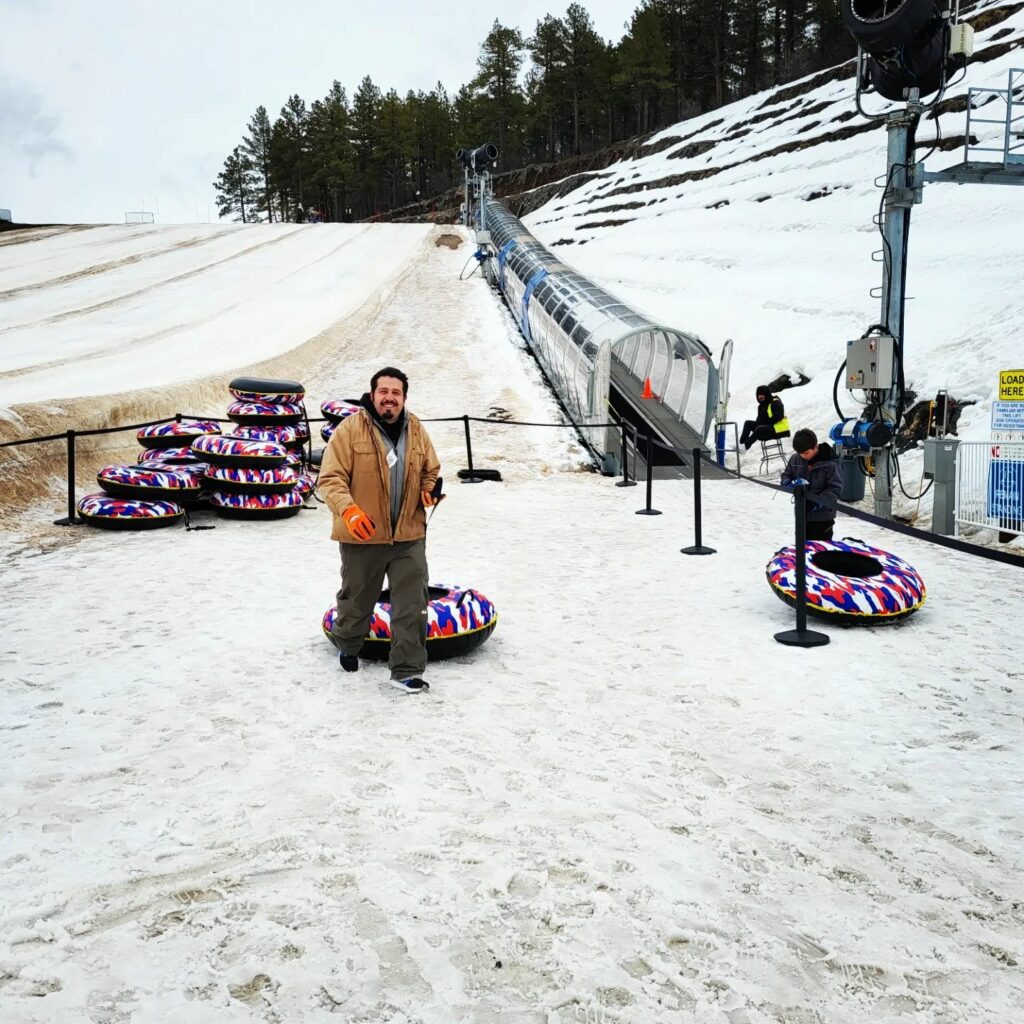 You have to check out the Canyon Coaster at Canyon Coaster Adventure Park! It's this awesome roller coaster that runs on pure gravity power.
The ride starts by pulling you to the top of a mountain then the coaster zooms down at a speed of 25 miles per hour! The track is one of the longest mountain coasters in North America measuring 1 mile long.
Canyon Coaster isn't the only attraction in this adventure park. Snow tubing is another fun winter activity. The adventure park has four snow-making machines and two conveyors for continuous and exciting tubing play.
Grand Canyon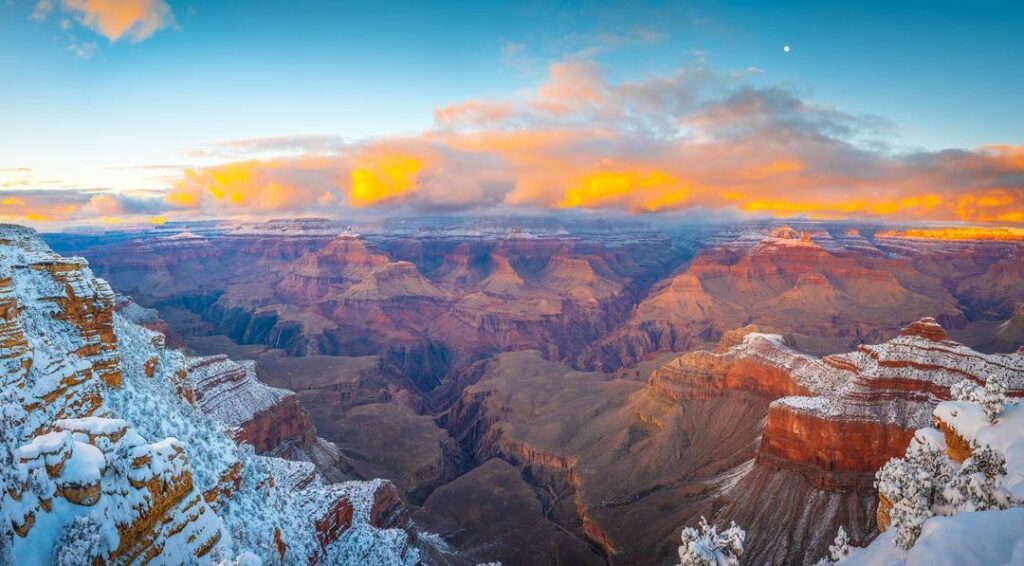 Who says the Grand Canyon is only for the exquisite landscape with rich evolutionary history? The Grand Canyon is also one of the great places for winter staycation.
There are three main areas that you can visit: Grand Canyon North, South, and West.
Grand Canyon North Rim
Sadly, this area is closed in winter. It's only open from mid-May to mid-November.
Grand Canyon West
Grand Canyon West is owned by the Hualapai Tribe and it's open in winter. When you get there, the Tribe will explain what and how you can see the area. You don't need to do any special preparation.
Grand Canyon South Rim
The Southern Rim is open in winter, and this is generally the best area in the Grand Canyon to visit.
It has an elevation of 1.32 miles (2.10 km) with an average winter temperature of 18°F to 45°F (-8°C to 8°C). I suggest you wear layers of winter clothes to stay warm.
There could be times when the weather in the Grand Canyon will be bad and you might need to stay indoors for a while before going sightseeing. Once the weather becomes calmer, what you do in summer, you can do the same things in winter.
You can try walking along the Southern Rim Trail and appreciate the majestic view of the landscape adorned with white sheets. You can also visit Grand Canyon Village's viewpoints to enjoy the various sights of the Park.
Mather Point
The most popular viewpoint is the Mather Point. This is where the main visitor center is located.
The Mather Point is where you could start your sightseeing in the Grand Canyon. The canyon walls at this point are often covered in snow, creating a stunning contrast against the deep red and orange hues of the rocks.
You can ride the park shuttle to see more of the canyon. I recommend taking the Orange Route because Yavapai Point is included in this route.
Yavapai Point
Yavapai Point has breathtaking panoramic views of the snow-capped canyon and the surrounding landscape. It's almost less crowded compared to peak tourist seasons. You'll fully enjoy the serene and peaceful experience.
Payson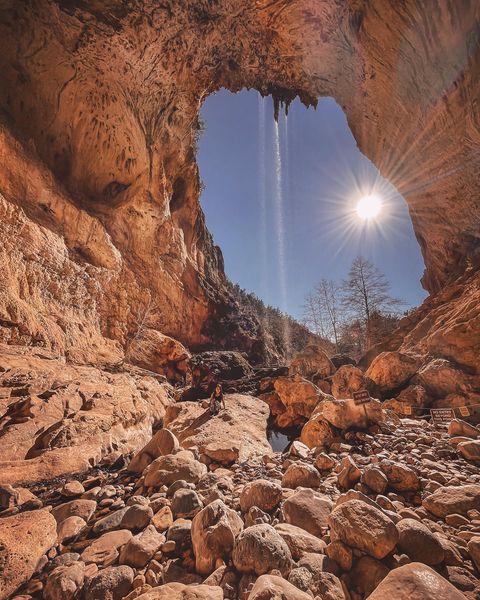 If you want to encounter the arrival of the golden hues of fall, try Payson, Arizona. Payson has an elevation of about 1 mile (1.5km) with average high temperatures from 28°F to 57°F (-2°C to -4°C).
There are several places you can visit when you're in Payson: Tonto Natural Bridge State Park, Mogollon Rim, Main Street, and Tonto National Forest.
Tonto Natural Bridge State Park
This is one of the best places to visit in winter. This place is a hidden gem! Imagine this: you're hiking through snow-dusted trails, and then you stumbled upon this massive naturally-sculpted bridge. It's awesome and the peace you'll find here is just magical.
Mogollon Rim
If you're into outdoor activities, head over to the Mogollon Rim. This rugged escarpment offers breathtaking views of the surrounding forests and valleys, especially when they're blanketed in snow.
You can go hiking, sledding, or find a cozy spot to enjoy a hot cup of cocoa while enjoying the winter beauty.
Main Street
Payson's Main Street is lined with quaint shops, cafes, and art galleries that you will surely enjoy. The town often gets decked out in festive decorations during winter, creating a cozy and welcoming atmosphere.
It's a perfect place to stroll around, shop, and grab a delicious meal.
Tonto National Forest
Winter is an excellent time to explore this vast wilderness. You can go on scenic drives, hike through snowy trails, or even try cross-country skiing or snowshoeing. The forest becomes a serene winter wonderland, and you might just spot some wildlife along the way.
Tucson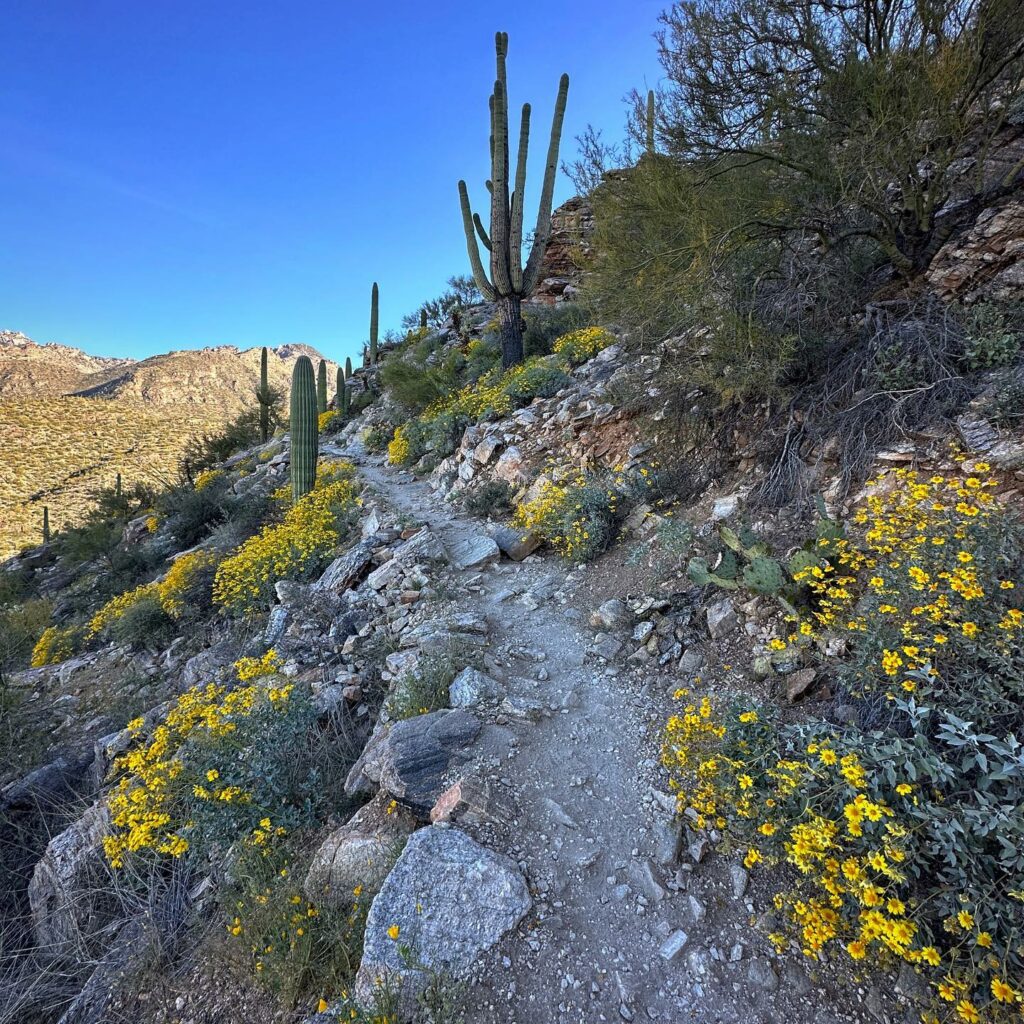 When the temperatures drop and the desert cools off, Tucson takes on a whole new vibe. It's the perfect time to explore this city and its stunning surroundings. However, Tucson rarely gets snow.
Most of the time, the snow will stay in the mountains or higher valleys east and southeast of the city.
Despite the rare occasion of snow in Tucson, there are still places you could enjoy during winter.
Sabino Canyon
This place is an outdoor lover's paradise. You can hike through the desert landscape and feel the crisp winter air refreshing your lungs. The trails are beautiful, and if you're lucky, you might catch a glimpse of some desert wildlife.
If you want an easy-peasy journey, I suggest taking the tram tour through the canyon.
Saguaro National Park
Those iconic saguaro cacti look even more majestic against a backdrop of clear blue skies and snow-capped mountains. You can hike or drive through the park, immersing yourself in the unique beauty of the Sonoran Desert.
Tucson Museum of Art
Tucson's downtown scene won't disappoint. If you're into art and culture, you can visit the Tucson Museum of Art and appreciate the diverse collections of local and international artwork.
You can also stroll along the historic El Presidio neighborhood which brims with galleries, shops, and cafes. You can spend hours wandering the streets, exploring the vibrant arts scene, and treating yourself to some delicious food.
Mount Lemmon
One short drive from Tucson, you can head out to Mt. Lemmon. You can go skiing or snowboarding, or enjoy the scenic drive with breathtaking views at every turn.
Tucson Botanical Garden
Even in winter, this oasis showcases an incredible variety of plants and flowers. Take a stroll through the gardens, bask in the peaceful atmosphere, and discover the beauty that nature has to offer, even during the cooler months.
When does it snow?
Here's an overview of the climate in different regions of Arizona, including the average annual snowfall and winter temperature range:
| | | | |
| --- | --- | --- | --- |
| City | Average Annual Snowfall | Month | Winter Temperature Range |
| Flagstaff | 100+ inches (254+ cm) | October to April | 15°F to 45°F (-9°C to 7°C) |
| Grand Canyon | 60 – 100 inches (152-254 cm) | November to May | 20°F to 45°F (-7°C to °7C) |
| Williams | 50 – 60 inches (127-152cm) | November to April | 20°F to 50F (-7°C to 10°C) |
| Payson | 20 – 25 inches (51-64cm) | November to March | 30°F to 60°F (-1°C to 15°C) |
| Tucson | Rare or trace amounts | December to January | 40°F to 70°F (4°C to 21°C) |
Tips and fun things to do when it snows
There are plenty of fun activities and things you can do to make the most of the winter staycation. Here are some tips and ideas for enjoying the snow: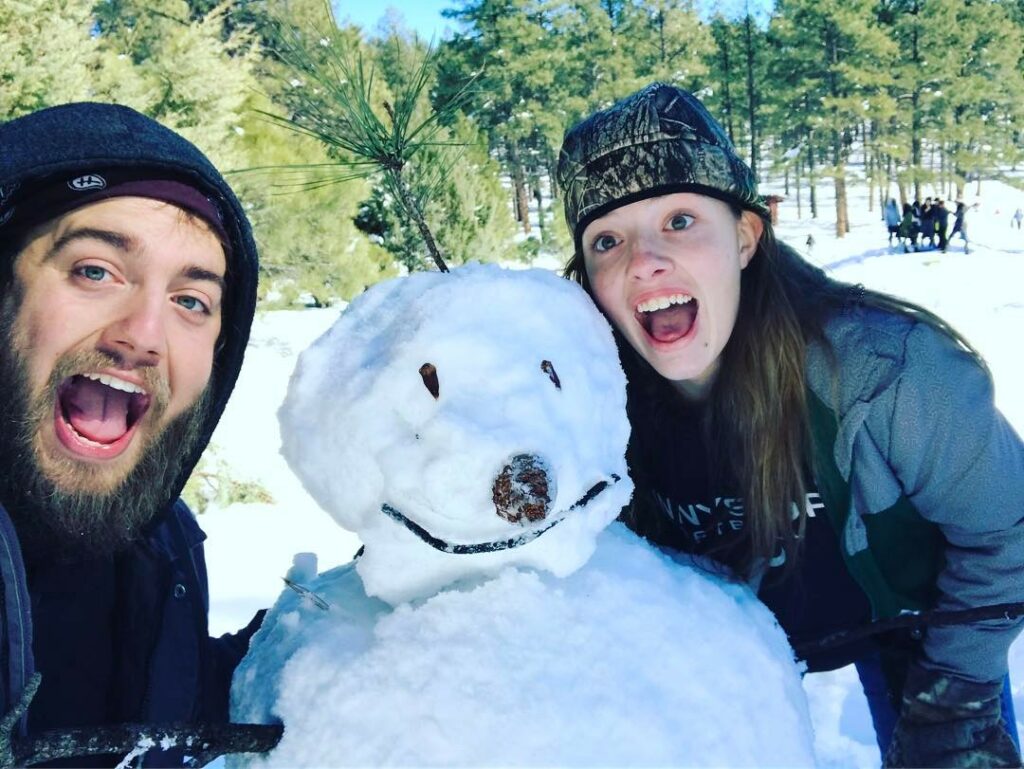 1. Build a snowman
I know this is quite childish but who doesn't want to build a snowman? It's alright to embrace your inner child! Get creative and you can enjoy building a snowman with your family!
2. Snow sledding and snow tubing
Find a nearby hill or slope and enjoy the thrill of sledding or tubing down the snow-covered terrain.
3. Snowball fights
Best to play with groups of friends or if you have a large family, have a friendly snowball fight and see whose side would win!
4. Snowshoeing
Explore nature and go snowshoeing on nearby trails. Strap on a pair of snowshoes and appreciate the nature walk through the winter landscape.
5. Skiing and snowboarding
If you like the thrill and adrenaline activities, try skiing and snowboarding! In Arizona, there are plenty of Snow Play Areas with enough elevation to quench your adrenaline!
6. Reading with hot cocoa
If you're not into the outdoors, you can always do something cozy inside. Lit up your fireplace, wear your camisole, and pull up your favorite book while enjoying a sweet hot cocoa.
FAQs
When does it snow in Flagstaff, Arizona?
Snow in Flagstaff, Arizona tends to come in late November and may last until June.
How often does it snow in Arizona?
Snow in Az State is not as often as in Flagstaff City. Flagstaff is the most common city in Arizona that snows. It can snow for about 34 days in Flagstaff and other cities with similar elevations.
How much snow in Pinetop, Arizona during Christmas?
Pinetop is known for its cooler temperature and the potential for snow during the winter season. Pinetop receives an average of 30 inches (76cm) of snowfall throughout the winter months.
Does it snow in Prescott, Arizona?
Yes, Prescott, Arizona does receive snowfall during the winter. It has an elevation of around one mile (1.5km) and receives about 20 to 25 inches of snowfall annually.
Conclusion
Arizona may be the land of sunsets but it has spectacular views and snow play areas during winter. The best place to visit is Flagstaff, where it's the most common for winter activities. But if you want just sightseeing and serenity, you can always visit the Grand Canyon South Rim.
You should also try the Canyon Coaster Adventure Park in Williams. I'm sure you'll get your money's worth with the fun and excitement you'll have there.
Grab those winter jackets and head on over to Arizona, where the land of sunset prepares for icy winter feels.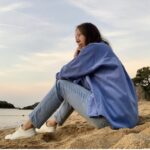 Hello, my name is Nadia.
I usually write about traveling (there are so many places to fit all the lifestyles), relocation (finding a job overseas or moving without losing an income), and living in a foreign country (adapting to a different culture and mentality). Follow me on Twitter, Facebook, Instagram, or LinkedIn!
This post might include some affiliate links. If you make a purchase through these links, I may earn a small commission at no additional cost to you. I appreciate it when you use my links to make purchases.