Best National Parks in Florida You Need To See in 2023: Local's Guide
Nadia Podrabinek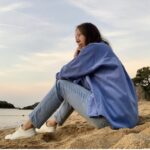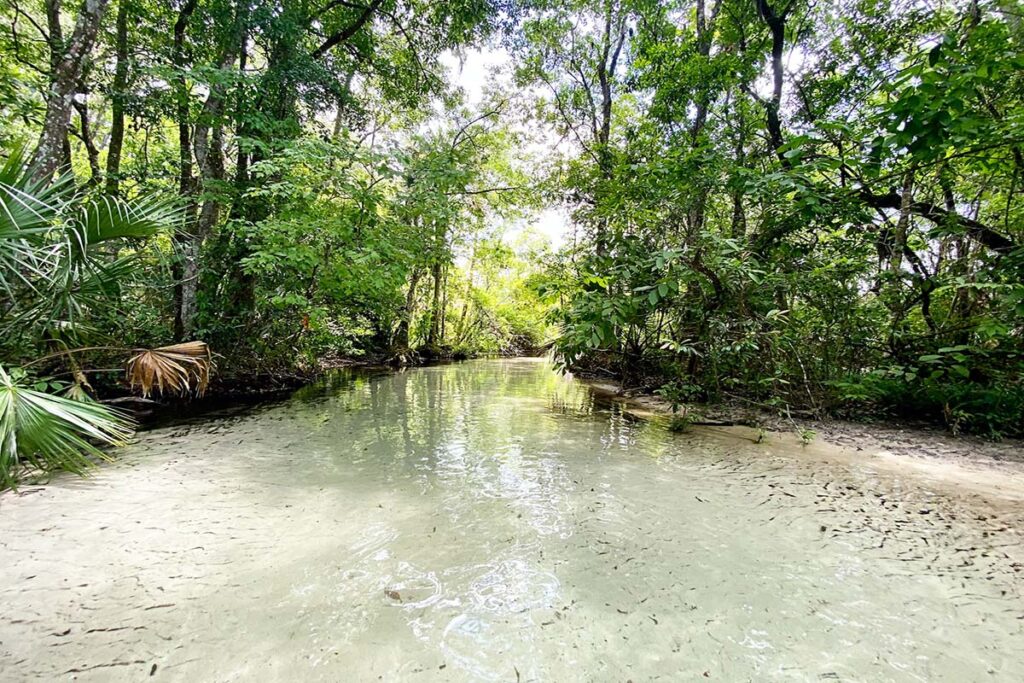 Florida has some of the most incredible national parks in the US. The Everglades National Park is a well-known experience, but what about the others?
Pack your bags and get ready to see the astounding natural beauty on display in Florida. In this article, I'm taking you through the best national parks in Florida, why you need to visit, and the fantastic array of things to do.
So, if you're ready to learn about stunning natural habitats and historic structures that made Florida what it is today, let's get into it.
---
Key Takeaways
Florida is home to 11 of the best national parks in the US.
The Everglades is the largest national park in Florida and is a must-visit!
There are national parks for everyone including hikers, history buffs, and thrill seekers.
Not every national park has National Park Service campgrounds, so keep an eye out.
---
Best National Parks in Florida Map
Why Visit National Parks in Florida?
There are so many reasons to visit Florida National Parks, including:
Seeing the protected and untouched natural habitats of Florida.
Meeting some of Florida's incredible wildlife.
Taking in the history of Florida and understanding where the state has come from.
Gaining insightful knowledge on the importance of conservation.
Exploring untouched areas that provide some of the most incredible views in the US.
Taking a break from the hustle and bustle, to enjoy all that nature has to offer.
Best National Parks in Florida You Must Visit
Everglades National Park
Situated in Southern Florida, the Everglades National Park is the third largest park in the Lower 48. It takes up more than 800 square miles (2,100 km).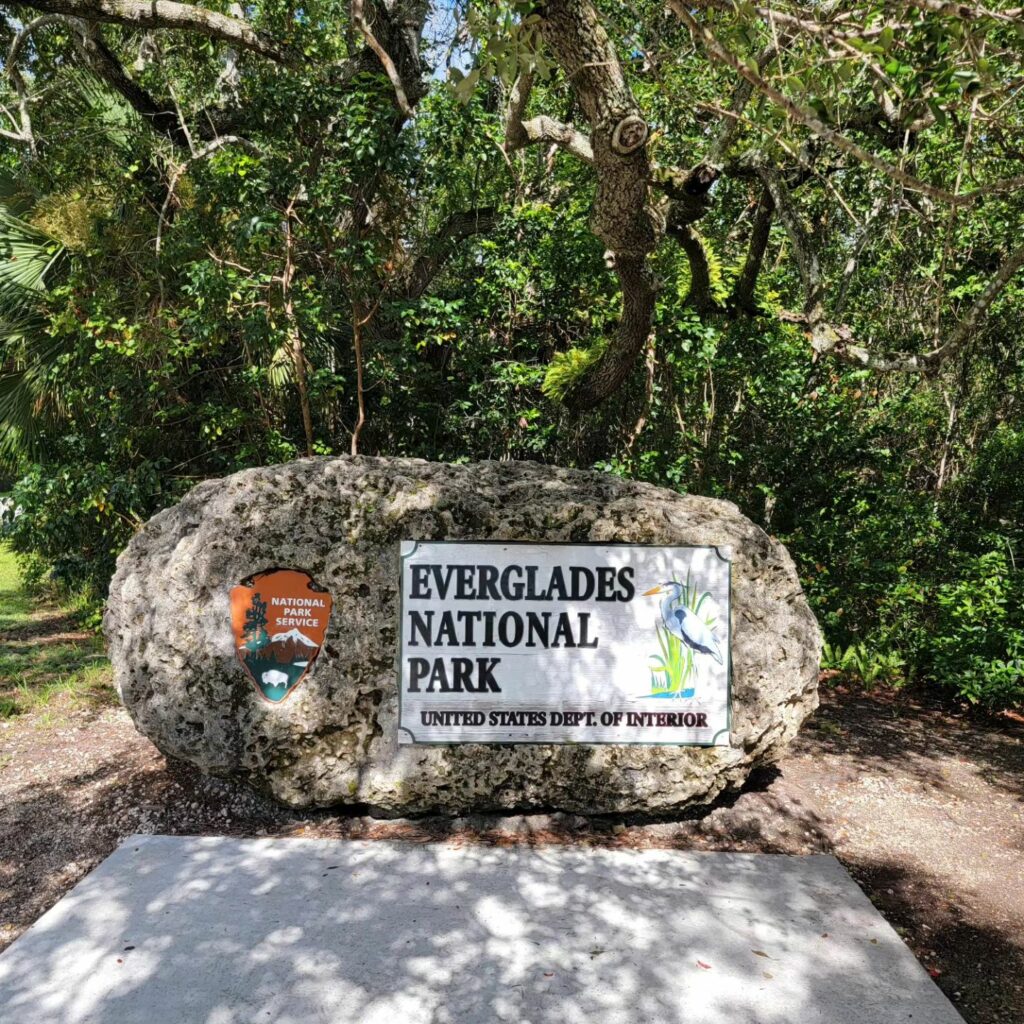 The Everglades National Park is a Florida tourist hotspot because of the expansive wetlands and the creatures that lie beneath them. If you're looking for gators, this is the place to do it!
Most visitors choose to explore the area by boat, the most popular being the fan boats which allow you to whip across the wetlands at high speeds.
If you want to go hiking in the Everglades National Park, your best bet is the Anhinga Trail. It is only eight miles long but has all the elements of an Everglades adventure, with gators and boardwalks included.
Alligator spotting is also a popular pastime in Everglades National Park.
Now, if you want to camp in the Everglades National Park you've got two options that allow you to drive in. You can reach them through the Homestead Entrance. They include:
Flamingo Campground: Here you have access to the entire campground throughout the year, including the grills, bathhouses, and amphitheater. Fees range from $33-$60, depending on the type of site you're looking for.
Long Pine Key Campground: The campground is open between November and April, you'll have access to the entire campsite including bathrooms and potable water stations. Rates range from $33-$60 per night.
Another option is wilderness camping where you kayak and camp through the Everglades National Park. But you'll need a wilderness permit before you can go.
Your best chance of staying dry and not getting bitten by mosquitos is in the dry season (November-April).
Biscayne National Park
Situated on the southeast tip of Florida, Biscayne National Park encompasses a large body of water and islands located on the northern part of the Florida Keys.
What makes Biscayne National Park so different is that most of it is underwater. So, not so great for the hikers, but for scuba enthusiasts, this is your time to shine.
Popular activities in Biscayne National Park include:
Island hopping
Camping
Fishing
Boating
Boat tours
Snorkeling tours
Scuba diving
Ecosystem exploration
The Biscayne National Park protects a vast array of marine ecosystems and marine life, you may be lucky enough to spot some:
Coral reefs
Shipwrecks
Archeological sites
Over 500 species of fish
Marine life habitats
Endangered species
Mangrove forests
Seagrass beds
An array of bird species
It's important to remember that the Biscayne National Park is a protected site, so be cautious about what you wear and bring into the water with you. Some sunscreens carry chemicals that are not suitable for the water here.
There are two campsites in Biscayne National Park on two islands that you need to travel by boat to get to. They include:
Boca Chita Key: Waterfront views and comfortable green grass to set up camp await. You'll have access to the onsite grills, tables, and toilets. But note, there are no shower facilities or clean drinking water, so pack accordingly.
Elliott Key: Located on the largest island in the park, Elliott Key features grills, picnic tables, and cold showers. You can also grab drinking water onsite, but it's best to come prepared with some just in case the system isn't working.
Both cost between $25-$35 per night, depending on if you dock on the island.
Dry Tortugas National Park
Located in the Florida Keys, Dry Tortugas National Park was once the functioning Fort Jefferson, built with over 16 million bricks. Today it's one of the newer national parks in Florida.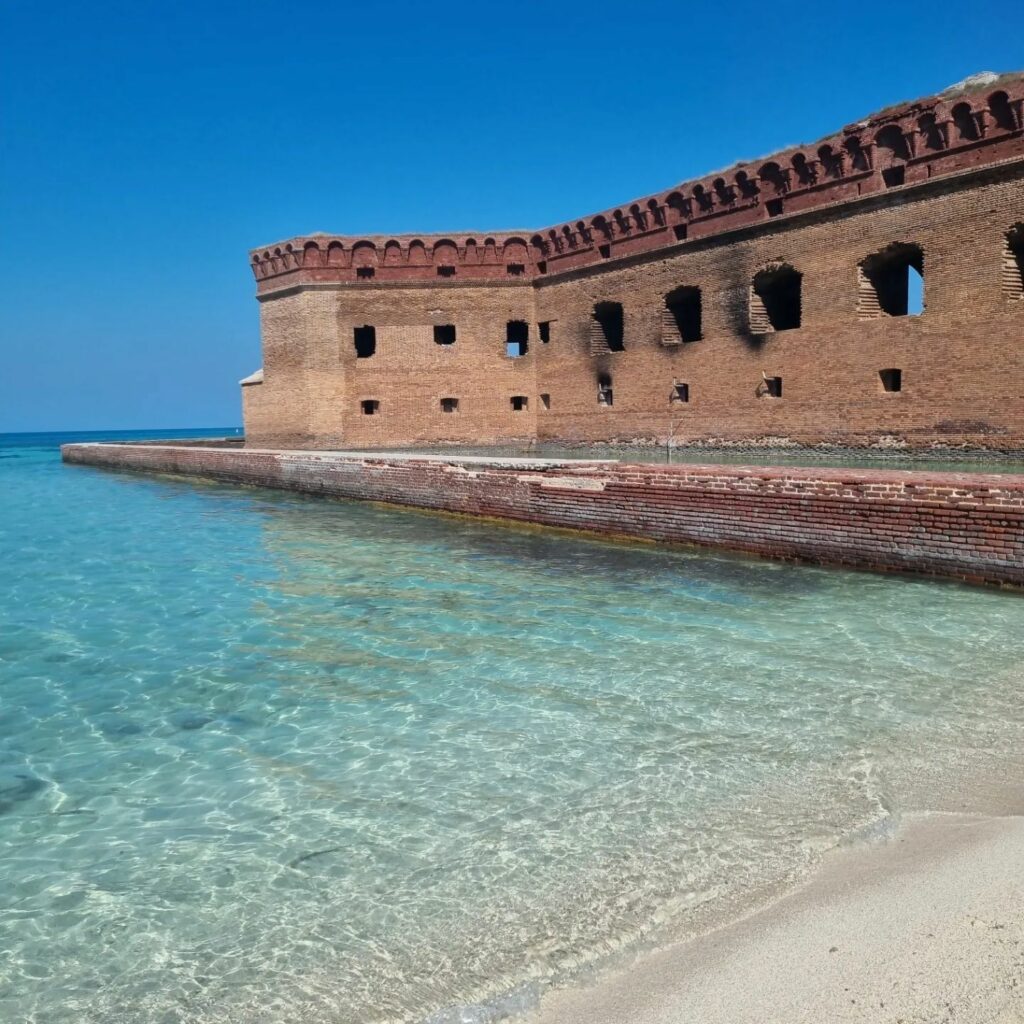 Getting to the Dry Tortugas National Park is one of the best parts of visiting this historic area. You need to catch a ferry or plane from Key West. The ferry is fun, but a plane gives a gorgeous bird's eye view of the Florida Keys, which is once in a lifetime.
Once you get there it's all about fun in the sun with swimming, snorkeling, and relaxing on the gorgeous sandy beaches. Seriously, Dry Tortugas National Park is a tropical paradise with palms included.
But when your toes aren't feeling the sand for the day, head over to Fort Jefferson. While it was never totally finished, it is still a fantastic site to see.
Camping is permitted in Dry Tortugas National Park but is heavily monitored to ensure everyone has a spot to stay, so be sure to get there early to secure your spot. Groups of more than ten will need to book in advance.
There aren't many facilities at Dry Tortugas National Park so packing the essentials is a must. Toilets are available from 3 pm-10 am, so if you need to go between then, you'll have to make your way to the ferry. There are also no showers, but nothing a swim in the ocean can't fix.
Camping fees are $15 per night (individual sites) or $30 per night (large group sites). The island is cash only.
Timucuan Ecological and Historic Preserve
Situated in Jacksonville, Florida, the Timucuan Ecological and Historic Preserve is a gorgeous coastal wetland with some one-of-a-kind ecological sites.
You can expect stunning white sand beaches, salt marshes, and hardwood forests throughout your visit to the preserve.
For the hikers, the Theodore Roosevelt area is a treat. It features 600 acres of nature with some of the most stunning hiking trails among the hardwood trees.
Now, for history enthusiasts, the Kingsley Plantation is a 19th-century plantation that tells visitors of a bygone era. You can hear both sides of the historic tale from slaves and those that enslaved people on the plantation.
That's not all, the Fort Caroline National Memorial will get history buffs' hearts racing with tales of survival, battles, and the very first meeting of Europeans and Native Americans.
But if you're in the mood for something a little more relaxing, there are various water activities at Timucuan Ecological and Historic Preserve, including:
Kayaking
Swimming
Fishing
Getting into the Timucuan Ecological and Historic Preserve is free, so no need to make reservations. There are also picnic table facilities for those that want to enjoy a packed snack on their adventure.
There aren't National Park Service campgrounds within the preserve, but there are two sites operated by local agencies, including:
Huguenot Memorial Park
Little Talbot Island State Park
Canaveral National Seashore
Situated on Florida's mid-Atlantic coast, Canaveral National Seashore features the longest undeveloped beach on the coast. It also has incredible wildlife, including sea turtle nests!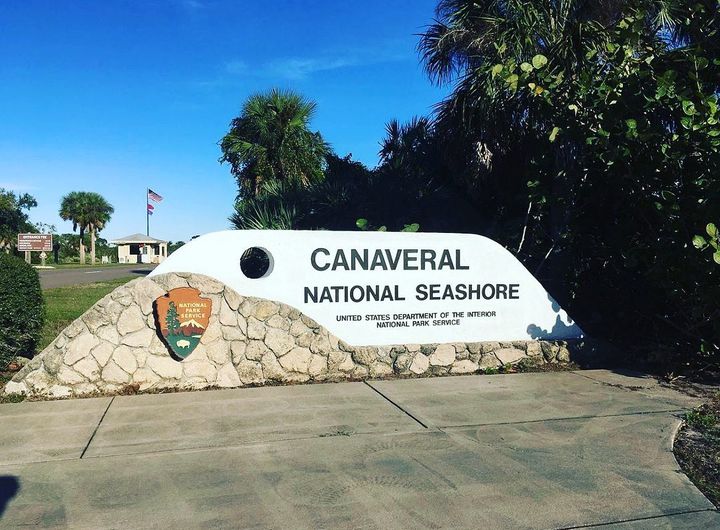 If you're looking for somewhere to feel secluded, Canaveral National Seashore is it. You can enjoy a day of relaxing in the sun and swimming in the crystal blue waters. Just try to avoid any of the natural habitats where you can.
You can enter via the North or South of Canaveral National Seashore. There is no road connecting the two, so where you came in, is where you're going out.
Prices vary between $10 per person (walk-ins)-$20 per vehicle.
Big Cypress National Preserve
Heading on down to the southwest, Big Cypress National Preserve takes up over 729,000 acres of swamp. It houses some of the most vital plant and wildlife species in the area, so conservation is rule number one!
The Big Cypress National Preserve gets its name from the number of cypress trees in the area, so get ready for lots of towering shade.
Now, onto things to do:
Hiking: There are a variety of hiking trails throughout the preserve. Take a look at which one fits your skill level. For example, The Kirby Storter Boardwalk is a quick and easy hike, so suitable for most.
Bird watching: Get ready for some spectacular bird watching. The Big Cypress National Preserve houses over 200 bird species, so keep those binoculars within arms reach.
Canoeing: Possibly the best way to immerse yourself in the immense greenery is in a canoe.
Swamp tours: If you want to learn about everything this preserve is providing the natural surroundings, a guided swamp tour is a must.
Now, if you're looking for somewhere to camp, The Big Cypress National Preserve has got you covered with eight campgrounds:
Pink Jeep
Midway
Mitchell Landing
Gator Head
Monument Lake
Burns Lake
Bear Island
Pinecrest
The fees for each vary between $10-$30 per night.
De Soto National Memorial
Situated in Bradenton, the De Soto National Memorial Park began in 1948, covering 27 acres. The memorial represents where Hernando de Soto, a Spanish conquistador, arrived in 1539.
Here you can get right into the action with a living history camp displaying volunteers in period clothing, presenting what life was like for Florida's Native Americans and the De Soto Expedition.
You can also enjoy the canoeing tours where you can take in the ocean and natural landscape.
Plus, if you enjoy walking, the nature trail along the shoreline will take you through a mangrove forest. The signs are great for learning about the expedition too.
There are no National Park Service campgrounds at De Soto National Memorial, but it's a great day out for the whole family. There are picnic tables available to enjoy a packed lunch.
Not to mention, visiting De Soto National Memorial Park is totally free!
Gulf Islands National Seashore
Located on the shores of the Gulf of Mexico in the Florida Panhandle, Gulf Islands National Seashore is situated close to the border of Mississippi and Florida. This makes the park a shared treasure between the two states.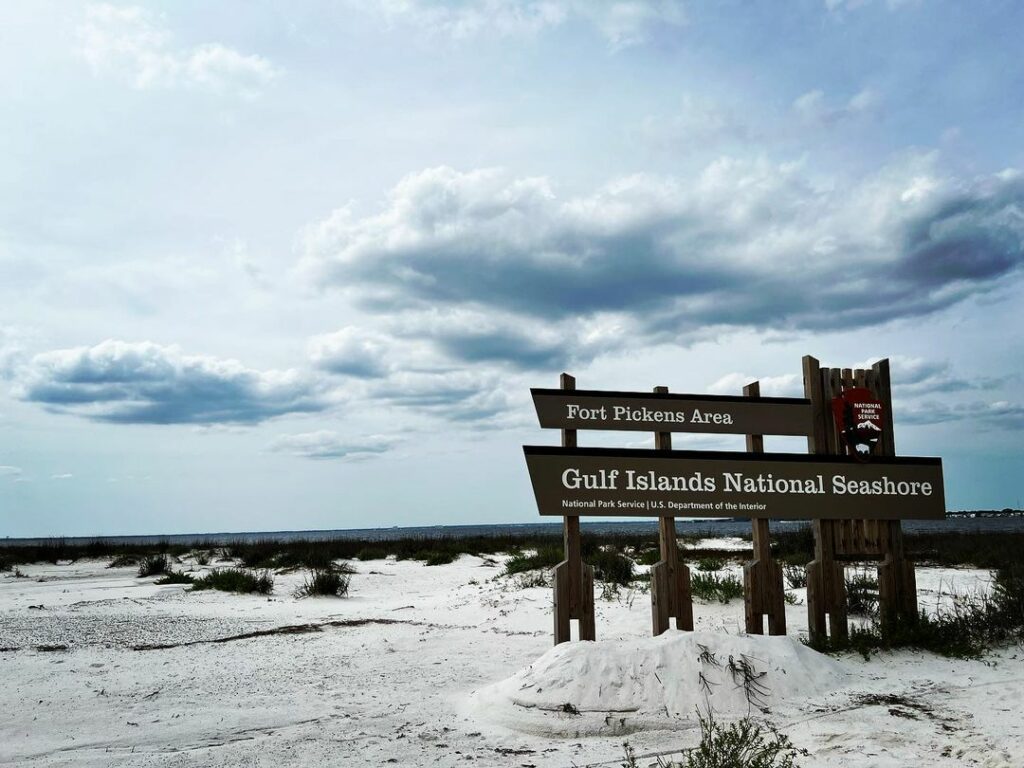 Gulf Islands National Seashore takes up over 137,000 acres, including parts of the Florida mainland, various islands, and exquisite marine environments.
The park is home to various wildlife, so you may get the chance to get up close and personal with sea turtles, a range of birds, and dolphins.
If you're a history fan, then Fort Barrancas and Fort Pickens within the park are well worth a visit.
The most popular reason for visiting Gulf Islands National Seashore is to sit and relax on the crisp white sands and dive into the clear blue waters. So, I highly recommend taking some downtime for:
Canoeing
Swimming
Fishing
This will be a fresh relief once you've taken on one of the various nature trails throughout the park.
The good news? You won't need to travel far for a place to rest as there are various camping spots on the Florida side of Gulf Islands National Seashore, including:
Perdido Key Area: Here you'll need to camp by vessel, so it's only available for those that have a boat. There are no facilities on land, meaning you need to ensure you have proper waste disposal available.
Fort Pickens Campground: This is one of the most popular camping spots in Florida. You can set up camp and enjoy access to the nature trails and white beaches within walking distance ($40.00 per night).
You'll need to bring everything you need to survive in the outback for the duration of your stay. There are no stores within the park.
Entrance fee: $15-$25 per person/vehicle for seven days
Fort Matanzas National Monument
Fort Matanzas National Monument is situated on the Northern Atlantic coast of Florida. Built in 1742, the fort was originally designed to protect St. Augustine from attack from the South.
The park itself covers over 300 acres. It is located on an island within the Matanzas River, so you'll need to catch a ferry to get there. It's free to board and runs from Wednesday to Sunday (9:30 pm-3:30 pm).
The island is full of marshes, dunes, and maritime forests that you can explore during your visit. While visiting the fort is by far the most popular attraction, there is a lot to do at Fort Matanzas National Monument, including:
Exploring the marsh trails
Learn from the park rangers
Relax at the picnic area
Take in the abundant bird life
Go fishing in the ocean and on the river
Chill out on the white sandy beaches
So, get ready for a day of fun in nature, exploring everything the park has to offer.
Castillo de San Marcos National Monument
Prepare to step back in time and immerse yourself in the rich history of Castillo de San Marcos National Monument. Nestled in the enchanting city of St. Augustine, Florida, this fortress simply has to be explored.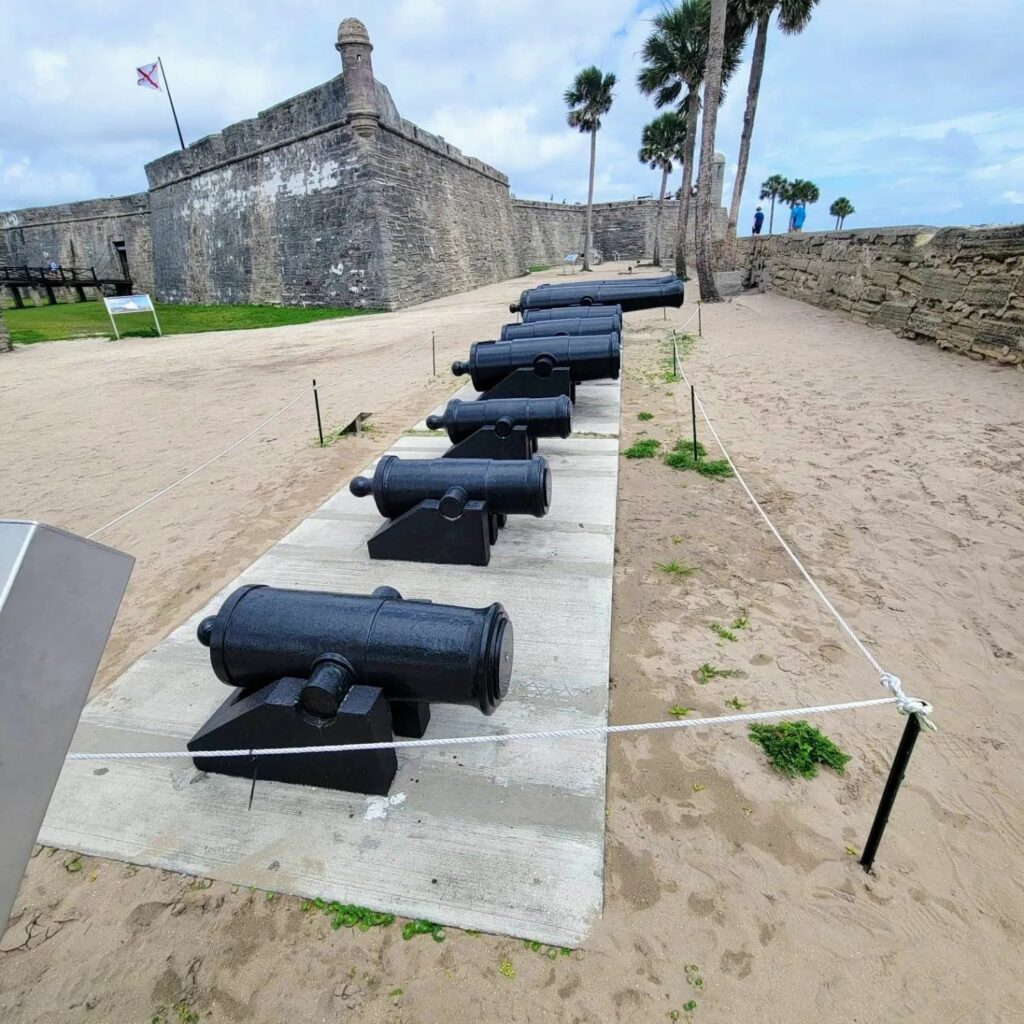 Castillo de San Marcos is the oldest stone fort in the United States. Within its weathered walls, secrets of a bygone era unfold, captivating visitors with its historical tales.
As you explore the grounds, you become part of a narrative that dates back to the 17th century, when the Spanish built this fortress to protect St. Augustine from potential invasions.
The exhibits and artifacts at Castillo de San Marcos tell great tales of battles fought and cultures intertwined. Enjoy the reenactments and guided tours that provide an immersive experience, allowing you to relive the past.
While the fort takes center stage, Castillo de San Marcos also grants breathtaking views of the Matanzas River and the city of St. Augustine.
Price: Free for children under 15 and $15 per adult.
Fort Caroline National Memorial
Located within the Timucuan Ecological and Historic Preserve (see above), the Fort Caroline National Memorial takes you on a trip back in time to the early settlers.
The memorial pays homage to the various cultures and people that called this area home, including the Timucua Indians, Spanish, and French.
Back in the 1500s, the French sought to take on Spanish dominion in North America, leaving an indelible mark on the region's history.
But it's not all about the European influence, as Fort Caroline National Memorial is a memorial to the indigenous people of the area that were there long before any invading explorers.
The memorial spans over 128 acres and is waiting for history lovers to learn more about what the area endured and overcame.
If history isn't your thing then nature trails are abundant for you to explore. Trust me, you're in for a treat in terms of seeing natural habitats for incredible creatures.
Not to mention the incredible views of the surrounding waters and areas – you don't want to miss it!
So, grab your picnic baskets and head to Fort Caroline National Memorial to enjoy a day of history, learning, and fun.
Price: Free
Ocala National Forest
Ocala National Forest boasts an astonishing collection of over 600 lakes and rivers, each whispering an invitation to embark on unforgettable adventures.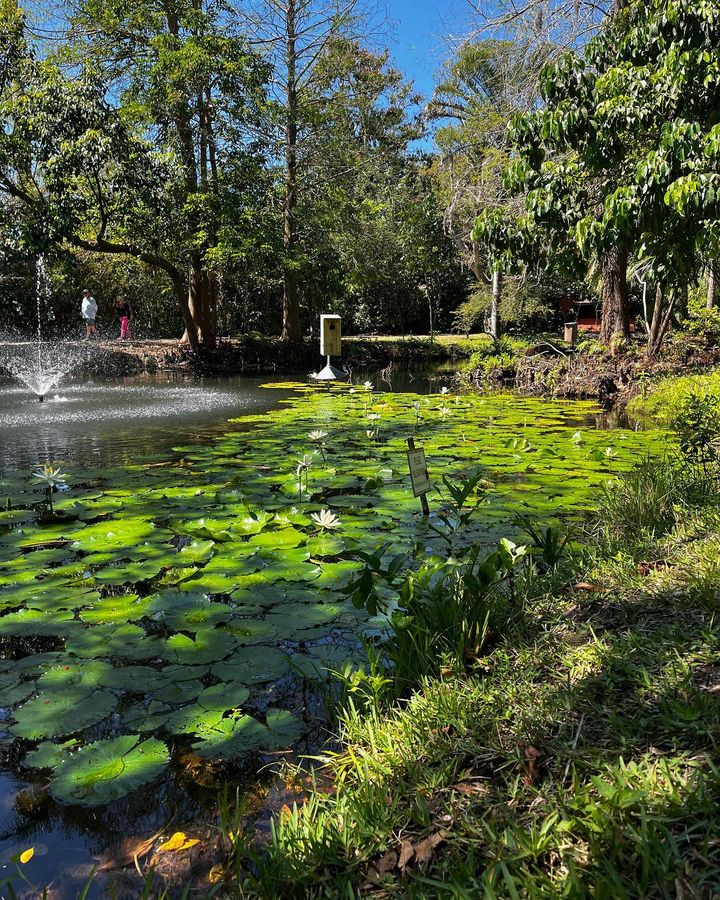 Visitors are invited to:
If you're a water baby, Ocala National Forest has everything you need to enjoy a fun day in the sun.
Along the way, you might spot some of the incredible bird species that call this area home, as well as the rare plant life on display. It's a true gem for nature lovers. The forest is tranquil and far away from prying eyes. So, this is your chance to really get in tune with nature.
This is one of the best national parks in Florida simply because of how much there is to do, including:
Nature Viewing
Horse Riding
Hiking
Hunting
Bicycling
Plus, if you're into hiking trails, Ocala National Forest is the place to be with various hiking trails throughout, including:
Timucuan Trail
Bear Swamp Trail
Davenport Landing Trail
Juniper Springs Nature Trail
Yearling Trail
Clearwater Lake Nature Trail
Lake Eaton Trail
Once you're all tuckered out, it's time to head back to one of the 14 onsite camping grounds. Most offer everything you need for a relaxed camping experience in the trees. Some have limited amenities so be sure to take a look before booking.
Practical Tips for Visiting National Parks in Florida
Get prepping
You need to pack your essentials at least one day before to ensure you're not in a huge rush. Some of the national parks are pretty far from civilization, so planning is essential. Make sure you have all the right clothing, sunscreen, walking shoes, towels, and water to stay hydrated for the duration of your visit.
Plan ahead of time
Before heading off into national parks in Florida make sure you check the information for each park. Government websites are great for keeping you up to date on any specific rules and operating hours.
Follow the rules
Unfortunately, when it comes to national parks, it's not uncommon for one to ruin the experience for all. So, don't be that one person. Follow the rules, pick up after yourself, and leave no trace of your visit. Most parks are protected, meaning there are natural habitats that will be affected if you start leaving trash everywhere.
Stay in your lane
Remember, these parks are home to many creatures that were there long before us. You must never approach a wild animal, no matter how small. The same goes for their habitats, stay away and don't disturb anything.
Weather can make or break your trip
Always look at what the weather conditions are like in the area you're heading to. Getting on a boat in the dead of winter with rough waves might be your worst nightmare. So, keep an eye on the weather forecasts for the duration of your trip.
Remain mindful of your environment
It's so easy to get swept up in the excitement of getting your Instagram-worthy pictures, but don't get distracted. Look at where you're walking and don't disturb other visitors or wildlife, it's not worth it.
Set a designated meeting point
If you've got little one's running around, pick a designated meeting spot in case anyone gets lost. There's nothing worse than losing a family member in a massive fort or forest. Try looking for something large that little ones can spot from far away.
Wrap Up
Florida is home to some of the most spectacular national parks in the US. They offer something for everyone. Whether you're a nature lover that wants to get down with the local gators in the wetlands, or a history buff in search of historic landmarks.
Many of the bigger national parks in Florida offer campgrounds which makes for an incredible Florida getaway. You can take in and enjoy everything nature has to offer while sleeping under the Florida stars.
So, pack your bags and get ready for the trip of a lifetime, exploring all the Florida national parks have to offer.
FAQs
How many national parks are in Florida?
As of 2023, there are 11 national parks in Florida. 
Is camping allowed at national parks in Florida?
Camping is allowed in many national parks in Florida. But you need to look at the rules and regulations to know how long you can stay, what is permitted, and how much it costs. Generally, smaller national parks in Florida with monuments don't allow camping, so it's always best to research before you go. 
What is Florida's largest National Park?
The Everglades National Park is the largest national park in Florida; it spans over a whopping 1.5 million acres. 
When is the best time of year to visit national parks in Florida?
It's usually better to visit Florida national parks in the dry season which falls between November and April.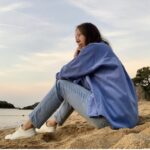 Hello, my name is Nadia.
I usually write about traveling (there are so many places to fit all the lifestyles), relocation (finding a job overseas or moving without losing an income), and living in a foreign country (adapting to a different culture and mentality). Follow me on Twitter, Facebook, Instagram, or LinkedIn!
This post might include some affiliate links. If you make a purchase through these links, I may earn a small commission at no additional cost to you. I appreciate it when you use my links to make purchases.