13 Best Michelin star restaurants in Lisbon
Nadia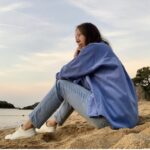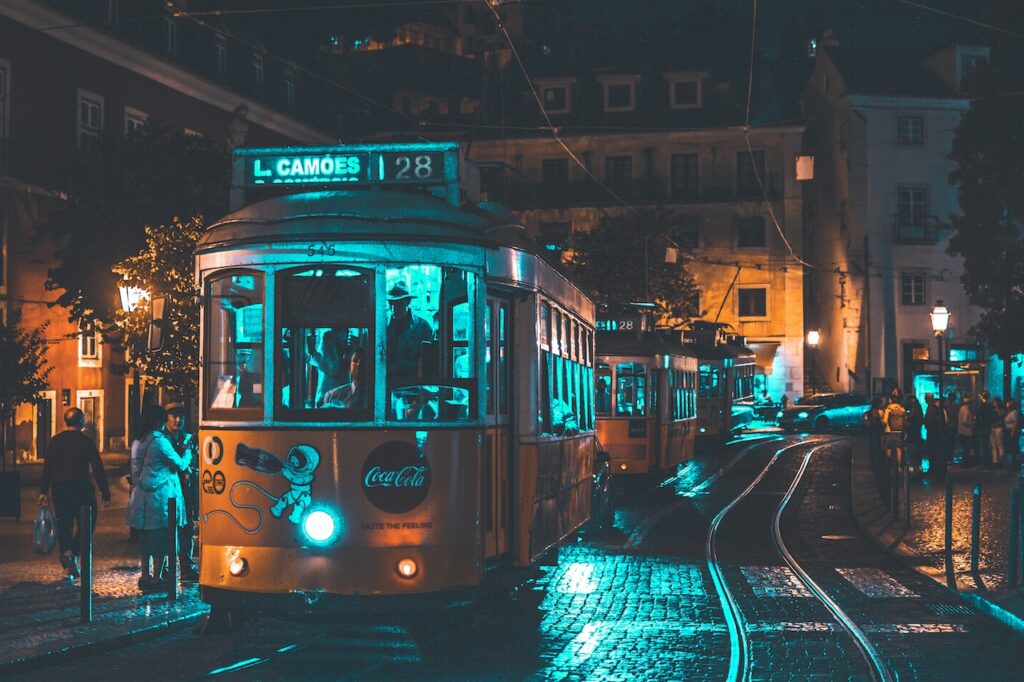 Lisbon is a must-see destination with many amazing things to do and see. You can ride a yellow tram, buy a piece of lovely azulejo (Portuguese ceramic tilework), learn the history behind beautiful buildings, bridges and squares, take several day trips to the nearest villages, and try an absolutely outstanding local cuisine.
There are many high-class gastronomy spots in Lisbon that surprise gourmets and those searching for unique flavors with groundbreaking dishes. So, if you want a sumptuous dinner or try something cheaper yet appreciated by professional critics, I highly recommend going to local Michelin-star restaurants.
Read also: Things to do in Lisbon [UPDATED]
What does Michelin star mean?
The concept of food as art rather than a source of energy spawned a large number of annual food awards, and the Michelin star is the most appreciated.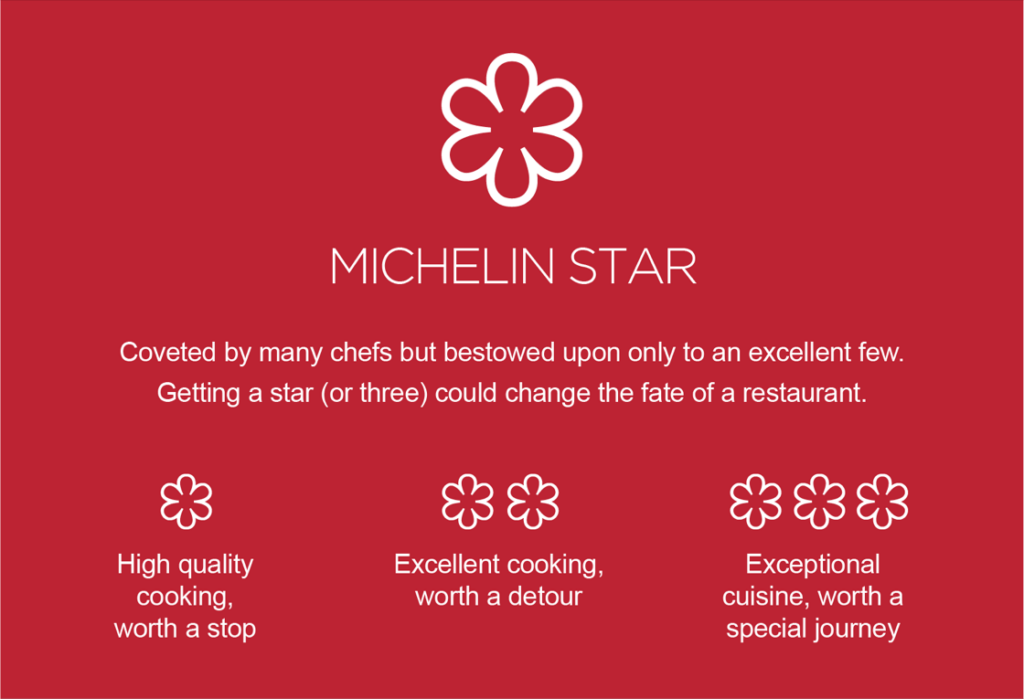 It all started with now famous French tire company. Michelin guides were supposed to provide drivers with tire replacement instructions and useful spots, like hotels and eateries. After a while, these books became "food guides" and now include the list of best restaurants in different parts of the world.
The restaurant may get from 1 to 3 stars based on several criteria: taste, quality of the ingredients, and techniques used in preparation.
Michelin inspectors secretly visit restaurants and try as many dishes as possible. Nobody knows who the inspectors are and when they come. The rating is awarded to the restaurant after the Michelin team collective decision. It doesn't matter what cuisine the restaurant offers and if the establishment is fancy or not, it's all about the dish and the flavor.
Top 13 Michelin Restaurants in Lisbon, Portugal
If you're fortunate enough to dine at any of these Michelin star restaurants in Lisbon, grab it, and hopefully, you'll remember that for the rest of your life.
1. Alma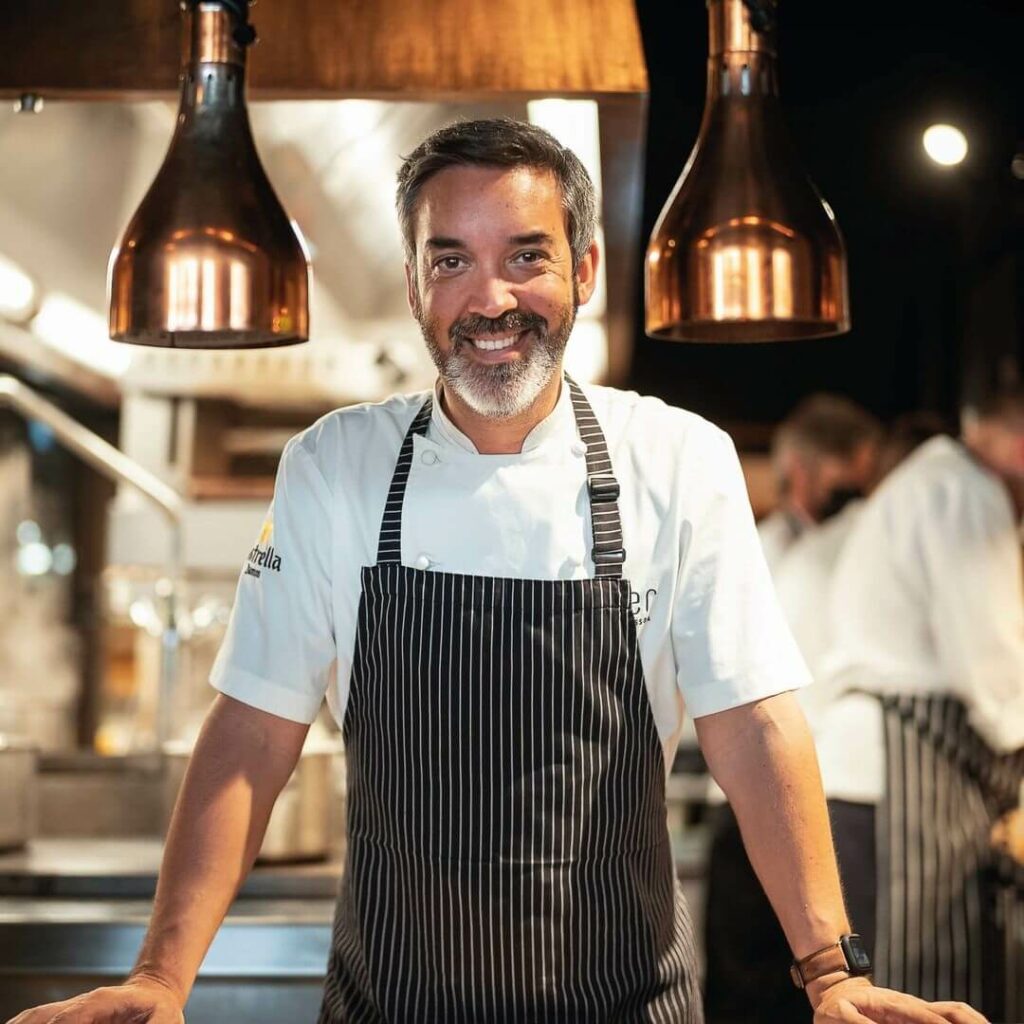 Alma is one of two Lisbon restaurants with 2 Michelin stars, meaning the chef's talent is undeniable, and the dishes are exceptionally delicious. The philosophy of Alma lies in respect for Portuguese traditions, exploration of passionate Asian cuisine, and the implementation of innovative technologies. An executive chef Henrique Sá Pessoa and head chef Daniel Costa have been developing the project since 2009 hand-in-hand.
The team designed a menu providing two options: you can either take a set of dishes or craft a dinner by yourself.
Costa set includes fish and seafood variations, such as shellfish and pasta broth with coriander or monkfish with peas, chorizo, and tomato. Alma set, inspired by traditional flavors of Portugal, presents meat, fish, and cutting-edge vegetable dishes all together: here, you'll find suckling pig confit, salted cod, foie gras (a delicacy made of the duck liver), and a combination of apricot puree and goat cheese. Each set consists of 5 courses, so it's the best way to make the most out of the restaurant. A la carte section will help if you prefer to try one meal to your taste.
Michelin stars: ⭐⭐
Prices: $100-145 for the tasting menu
What people say on Google: 4.8 stars, 1028 reviews
R. Anchieta 15, 1200-224 Lisbon, Portugal
2. Belcanto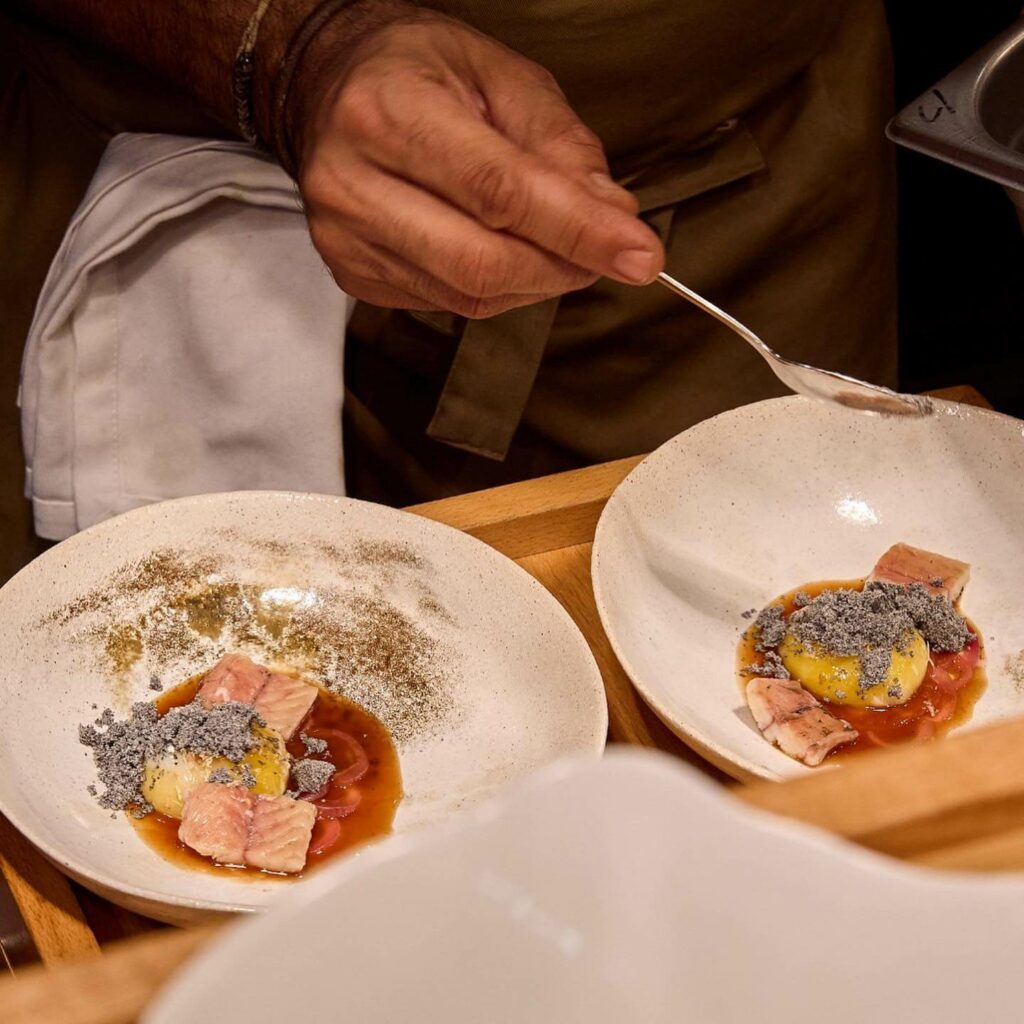 Belcanto is one of the best Michelin restaurants in Portugal and one of the best 50 restaurants in the world. It was rewarded with two stars and presents signature dishes by chef José Avillez. He suggests "an absolutely unique gastronomic and sensorial journey," which is no exaggeration.
In Belcanto, you will enjoy three tasting menus and various meals from A la carte. Chef's Table Menu offers his guests a unique experience of almost direct contact with the chef: the courses are served in the kitchen so that you can observe the cooking process. Only 8-10 people per day are honored to take advantage of this opportunity.
José Avillez loves experimenting with textures, so enjoy incredible Portuguese shore prawn with pine nut cream, iced lupine, and caviar or carrot in different textures with cashew milk, olive bonbons, and mandarin. Want to confine yourself to a dessert and cup of coffee? Try sweet egg cream and lemon or Apple and rhubarb pie. Belcanto also has a fantastic wine menu!
Michelin stars: ⭐⭐
Prices: $140-250 for the tasting menu
What people say on Google: 4.6 stars, 934 reviews
R. Serpa Pinto 10A, 1200-026 Lisbon, Portugal
3. Fifty Seconds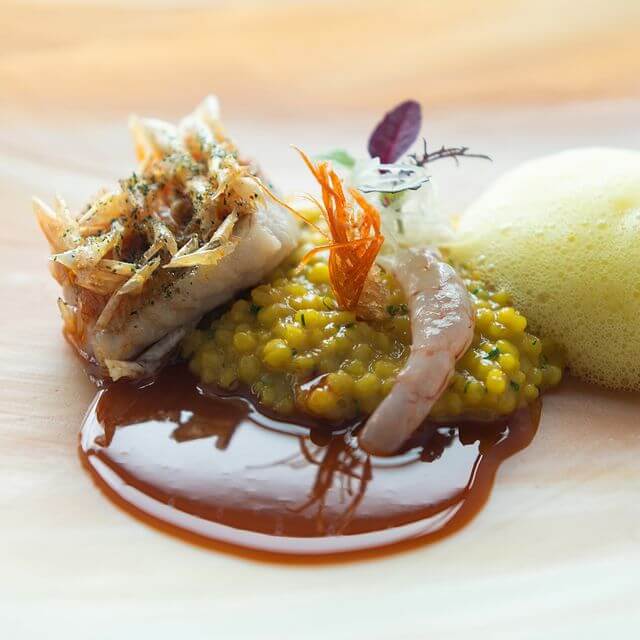 Proceeding to one-star establishments, Fifty Seconds is one of the best restaurants in Lisbon set in Vasco de Gama tower with a breathtaking panoramic view. Its chef Martín Berasategui is from Spain and is known for his passionate, dedicated approach to food.
As you may have already guessed, it takes 50 seconds to get to the top of the tower on lift.
Get hungry before arrival! The sets are quite impressive and contain around ten courses. Try caramelized foie gras, green apple, and eel mille-feuille from Menu Fifty Seconds or grilled prawns with black garlic and lemon puree from Menu Degustação. Apart from tasting sets, you will also find A la carte menu including lamb with parmesan, wild mushrooms, and smoked eggplant puree for 78€, incredible salads for 48-58€, and desserts for 25€. The sunset in front of you will serve as icing on the cake!
Michelin stars: ⭐
Prices: $175-195 for the tasting menu
What people say on Google: 4.8 stars, 165 reviews
R. Cais das Naus Lote 2.21.01, 1990-173 Lisbon, Portugal
4. Eleven Lisbon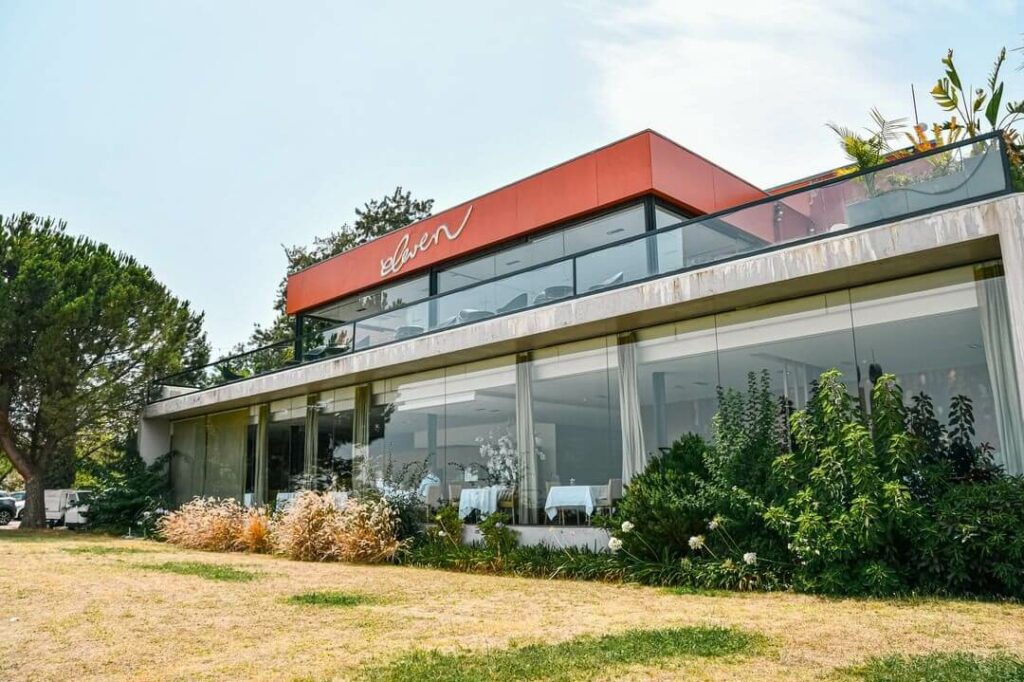 "Mediterranean cuisine, I work exclusively with products in season", that's how Joachim Koerper, chef of Eleven Lisbon, formulates his main principle. He only buys fresh ingredients from local markets and tailors the menu to the time of the year. So if you want to visit Eleven, be ready to try something absolutely unexpected.
Nevertheless, for those who plan to come here soon or want to estimate the elegance of the chef's taste, here are some examples: rack of lamb with octopus, citronella yogurt, romesco and eggplant from the Summer menu, grilled watermelon, peas, and "Madras" curry sauce for vegetarians, and lobster, "cravate" pastry with burrata, basil, and Beluga caviar from the special Lobster menu. Such an outstanding gastronomic experience definitely deserves your time and money!
Michelin stars: ⭐
Prices: $170 for the tasting menu plus $77 for wine pairing
What people say on Google: 4.4 stars, 726 reviews
Rua Marquês de Fronteira, Jardim Amália Rodrigues, Lisboa 1070 Portugal
Read also: Tipping rules in Portugal
5. Feitoria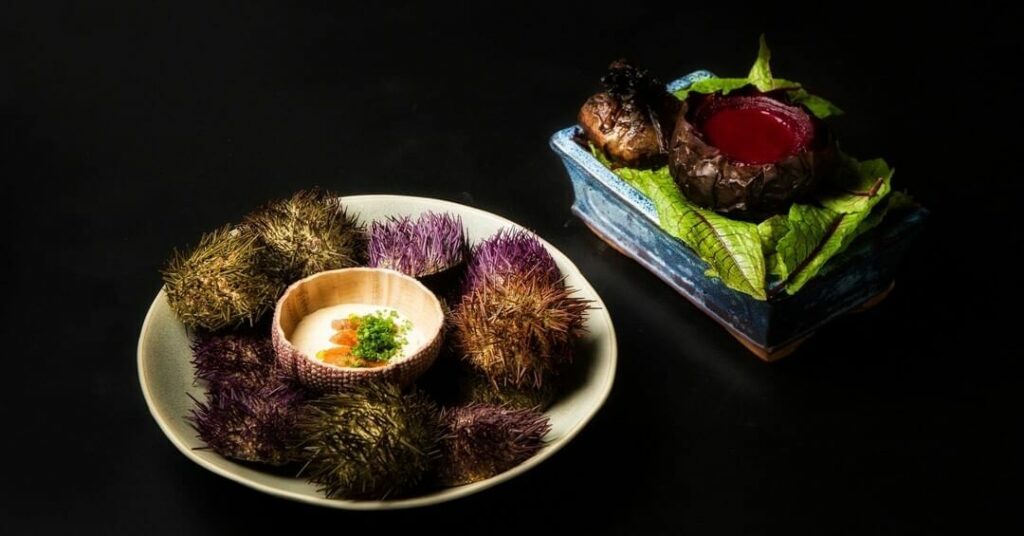 According to Michelin critic's review, Feitoria "is keen to champion the identity of Portuguese gastronomy," thanks to an incredibly high level of its chef's professionalism. André Cruz is exceptionally delicate with the products: he is fond of gathering fruits and vegetables himself and knows when the ingredients are ready to be cooked.
Feitoria offers two Seed Menus: 7 Steps or 9 Steps, depending on the number of courses. Try "National beef, seasonal leaves and jus*" and "Cod, green pepper and egg yolk". Finish the dinner with chocolate, red berries, and chili combination.
* jus (especially in French cuisine) — a thin gravy or sauce made from meat juices.
Tip Each menu is presented in a vegetarian version without loss of flavor and quality.
Michelin stars: ⭐
Prices: $145-165 for the tasting menu
What people say on Google: 4.8 stars, 371 reviews
Altis Belem Hotel & Spa, Doca do Bom Sucesso, 1400-038 Lisboa, Portugal
6. Epur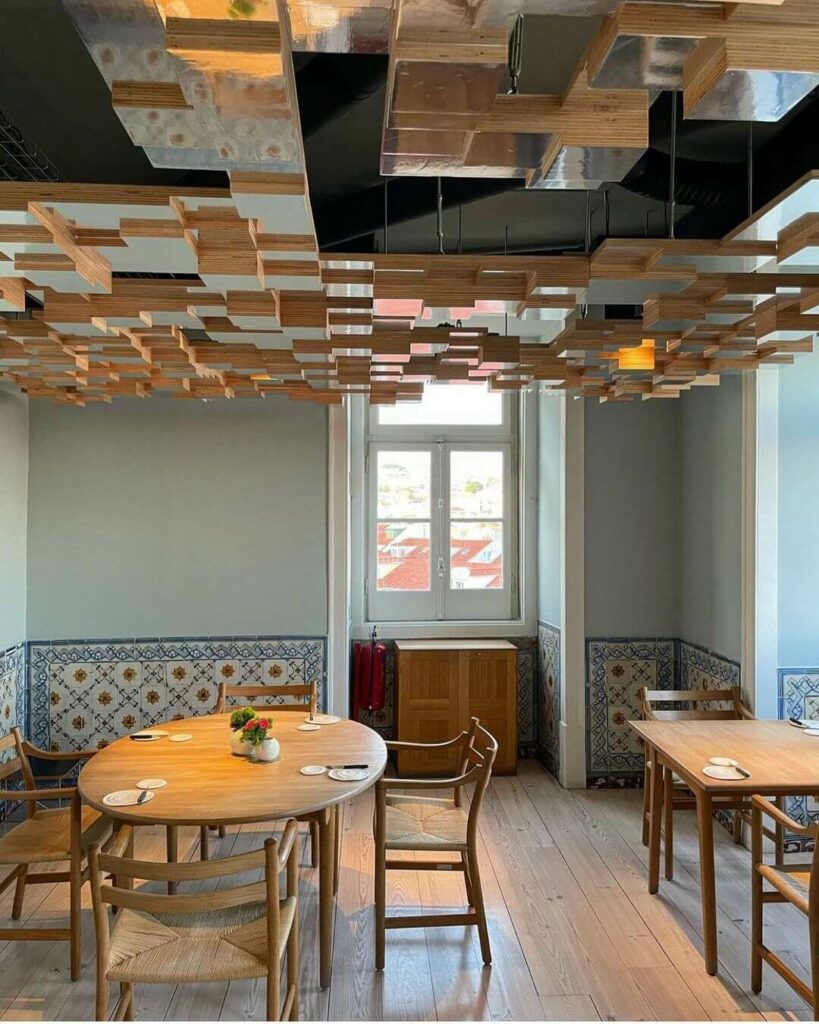 Vincent Farges, Epur's chef, is French and prefers to apply French techniques when modifying Portuguese, Asian, and many other traditional recipes. Inspired by his mom's cooking of fresh meat, fish, and vegetables picked from the garden, the chef is now quite meticulous when choosing the right products.
Two menus, Inspirações and Epurismo, differ just in few positions. Each course is self-sufficient and remarkably flavorous, so the most sophisticated gourmets strive to taste Vincent Farges's masterpieces.
Enjoy rabbit rillette with smoked pear and shitake, milk-fed lamb with fennel and olives, and a combination of tomatoes, vanilla, jalapeños, and raspberries. The restaurant is oozing with elegant dishes. Such dining will become one of the brightest experiences in Lisbon.
Michelin stars: ⭐
Prices: $70-125 for the tasting menu
What people say on Google: 4.8 stars, 163 reviews
Largo da Academia Nacional de Belas Artes 14, 1200-289 Lisbon, Portugal
7. Cura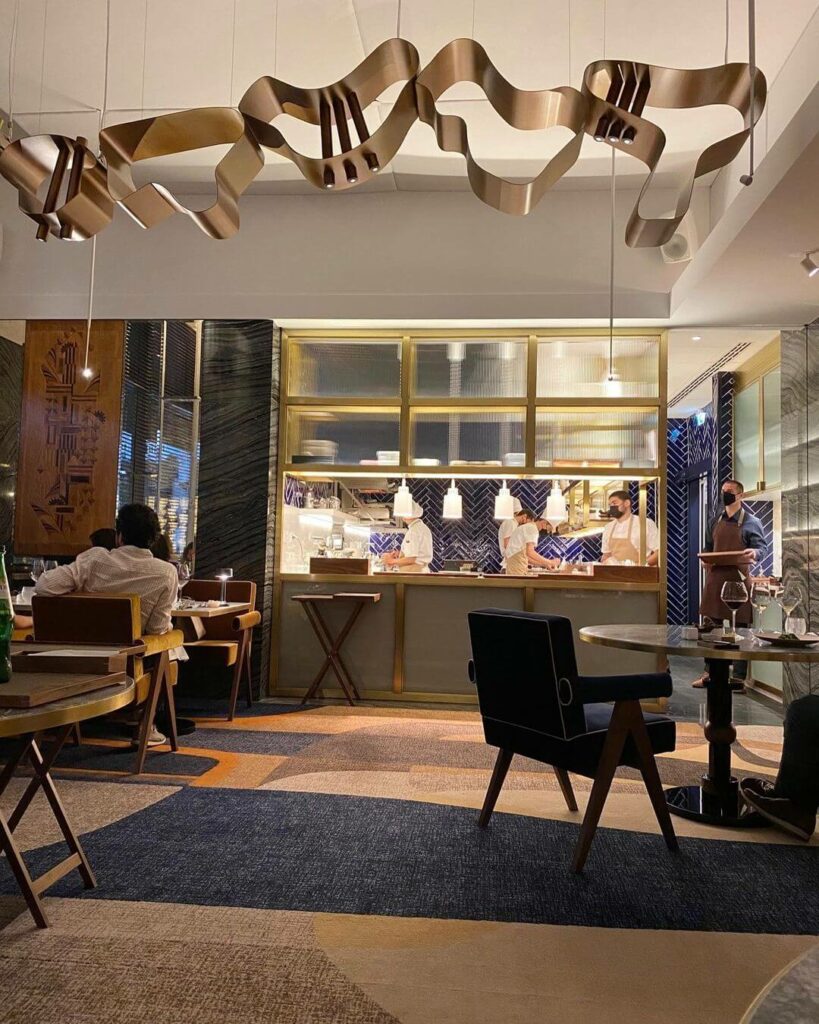 Cura is a fine dining restauraunt in Four Seasons Ritz Hotel, with an open kitchen, so you can follow every stage the dish goes through. Strict aesthetics, warm and cold color combinations in the interior, and the serving make the place one of the most elegant in Lisbon.
Many chefs grasp the immensity and mix 15, 20, 30 ingredients in one meal. But not Pedro Pena, Cura's chef. He focuses on quality rather than quantity and loves experimenting with combinations and textures. Chef offers three tasting menus (one is vegetarian) and a la carte.
The diversity of flavors is immaculate: eel with rose shrimp, green garlic custard, and broad beans sounds incongruous but certainly deserves your attention; minhota (a Portuguese breed of cattle) with turnip, cashew, orange, and bitter leaves is another unique masterpiece.
Michelin stars: ⭐
Prices: $85-130 for the tasting menu
What people say on Google: 4.9 stars, 59 reviews
R. Rodrigo da Fonseca 88, 1070-051 Lisbon, Portugal
8. Loco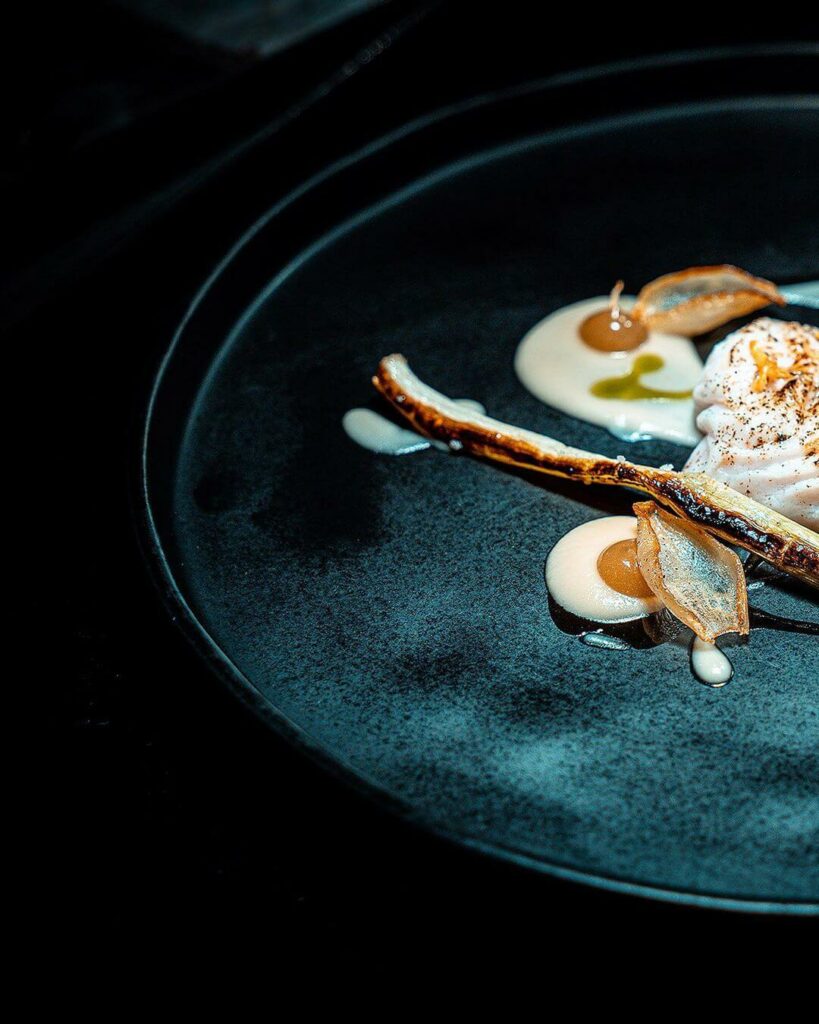 This restaurant's name is self-explanatory: loco means "in place", implying the open kitchen, the heart of the establishment. Here, Alexandre Silva and his team thoroughly create organic meals that, harmoniously combined, show the authentic tastes of vegetables, fruits, fish, and meat.
The chef created two tasting menus with 17 courses each, so set aside a few hours for this incredible gastronomic venture. Natural fermented juices, the best Portugal wines, herbal liquors, and craft beers accompany the meals, and the dark, sleek interior leaves space for bright flavors.
Loco's team loves surprising their guests with serving, so be ready to see your dish out of the blue!
Michelin stars: ⭐
Prices: $140-225 for the tasting menu
What people say on Google: 4.7 stars, 303 reviews
R. Navegantes nº53-B, 1200-731 Lisbon, Portugal
9. 100 Maneiras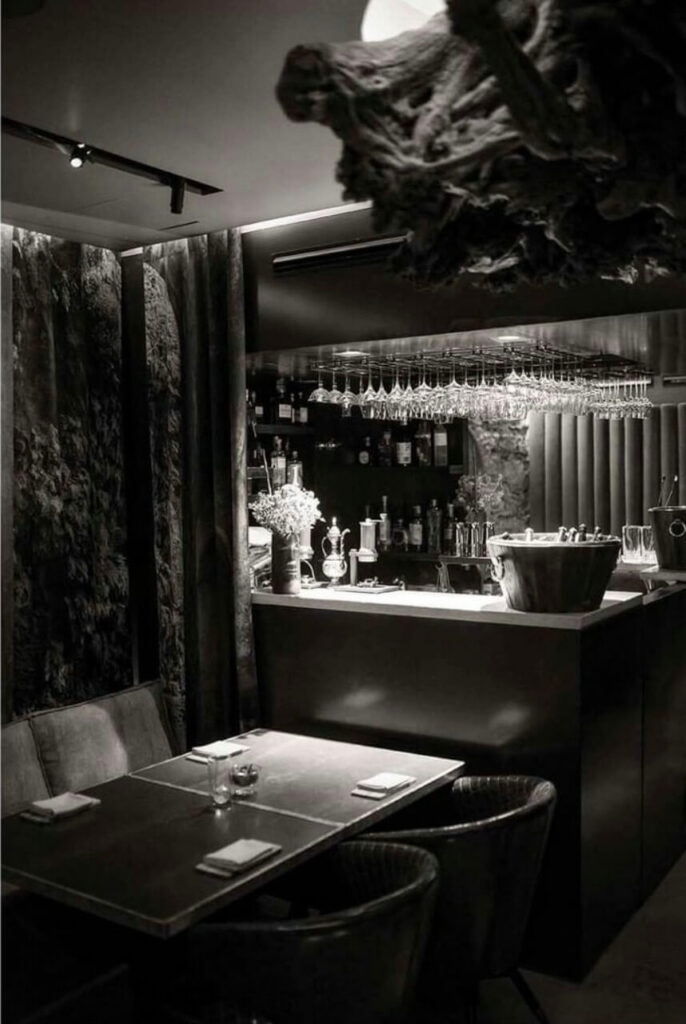 100 maneiras means 100 ways, so the idea of infinite gastronomic combinations and flavors lies here. Ljubomir Stanisic, the chef, was born in Serbia, and throughout his career, he has been elevating gourmet Portugal cuisine by paying tribute to Yugoslavian heritage.
Choose between three tasting menus and drink pairings. The Story menu embarks on the journey to Ljubomir Stanisic's childhood and the places he traveled to, making the meal immensely intimate and personal. It includes 17 moments, and other menus are a bit shorter. Minimalistic, ascetic plates contrast with colorful food – red berries, greens, flowers, golden caramel – which makes every course resemble an exhibit.
Michelin stars: ⭐
Prices: $130-160 for the tasting menu
What people say on Google: 4.7 stars, 269 reviews
R. do Teixeira 39, 1200-459 Lisbon, Portugal
10. Eneko Lisboa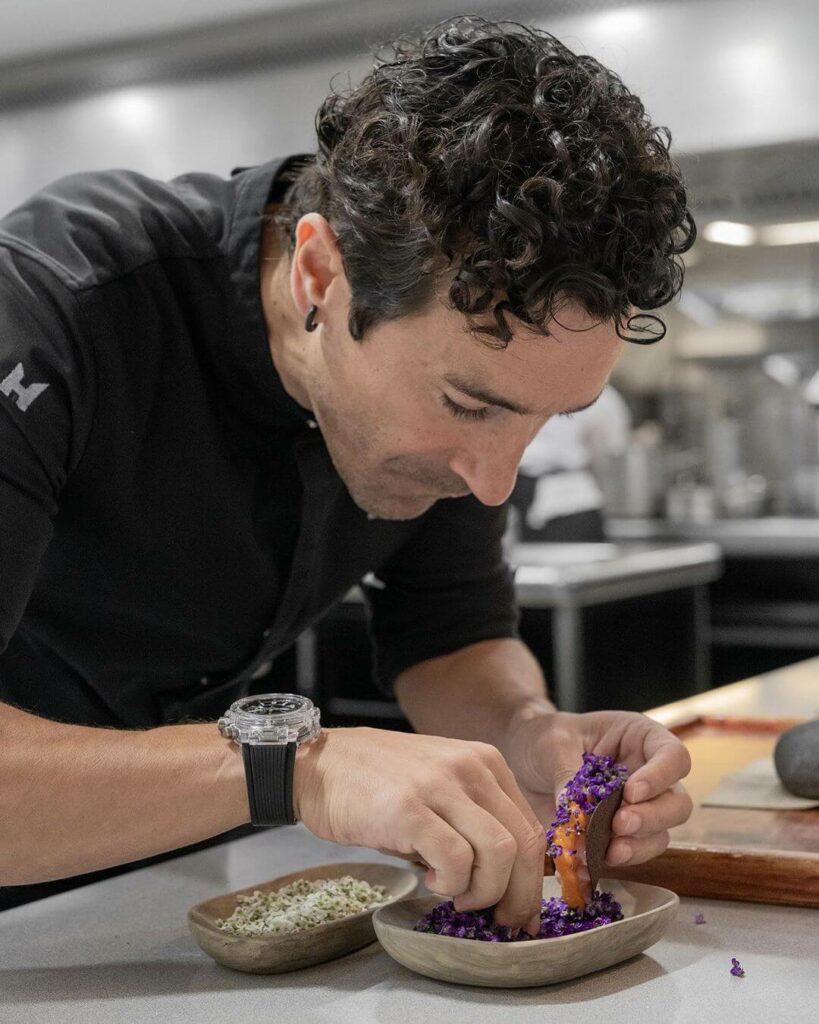 The last one-star restaurant on the list is Eneko Lisboa. Its chef Eneko Atxa holds 6 Michelin stars, so it's a well-known name in the world of culinary arts. Haute cuisine, outstanding serving, and the interior make it a must-visit place in Lisbon.
Eneko Atxa suggests two menus: Erroak is aimed to introduce the classics, and Adarrak lists the newest creations. In Eneko Lisboa you'll have a chance to try Iberian pork "castañeta" with pesto and truffle, shrimp with vegetable gel and frozen "old" tomato, and flame-roasted red mullet. I'm convinced you haven't experienced anything like that yet.
Also, Eneko Atxa created a project called Basque, located next to Eneko Lisboa. It is much cheaper, less pretentious, and still a nice place with various options as well.
Michelin stars: ⭐
Prices: $129 for the tasting menu, $214 with wine pairing
What people say on Google: 4.7 stars, 77 reviews
R. Maria Luísa Holstein 15, 1300-388 Lisbon, Portugal
Bib Gourmand Spots in Lisbon
Now let's look at less expensive spots, which Michelin critics also highly appreciated.
What is a Bib Gourmand in the Michelin guide?
Michelin Guides strive to choose great eateries for everyone, regardless of one's budget. So, the Bib Gourmand award is given to places with more reasonable prices and less complicated recipes. Nonetheless, these spots boast super delicious meals leaving you in awe.
11. O Frade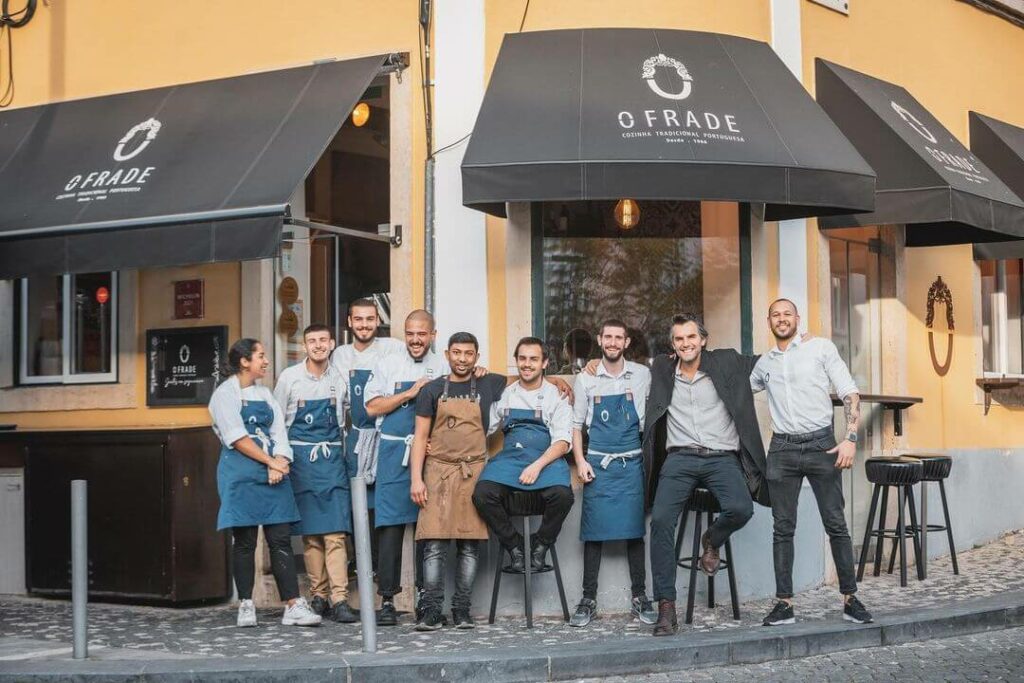 O Frade is a tiny, cute restaurant with a diverse a la carte menu. The interior is modest but stylish: a light room with a large table to gather and share experiences. You will find a number of meat dishes, various snacks, and vegetarian options on the menu. Rabbit with coriander, aged beef tartar, goat's milk cream – everyone will certainly find a meal to their taste. Chef Diogo Carvalho uses local ingredients only, so you enjoy simple, rich tastes and aromas.
Michelin stars: Bib Gourmand
Prices: from $35
What people say on Google: 4.5 stars, 440 reviews
Calçada da Ajuda 14, 1300-598 Lisbon, Portugal
12. Solar dos Nunes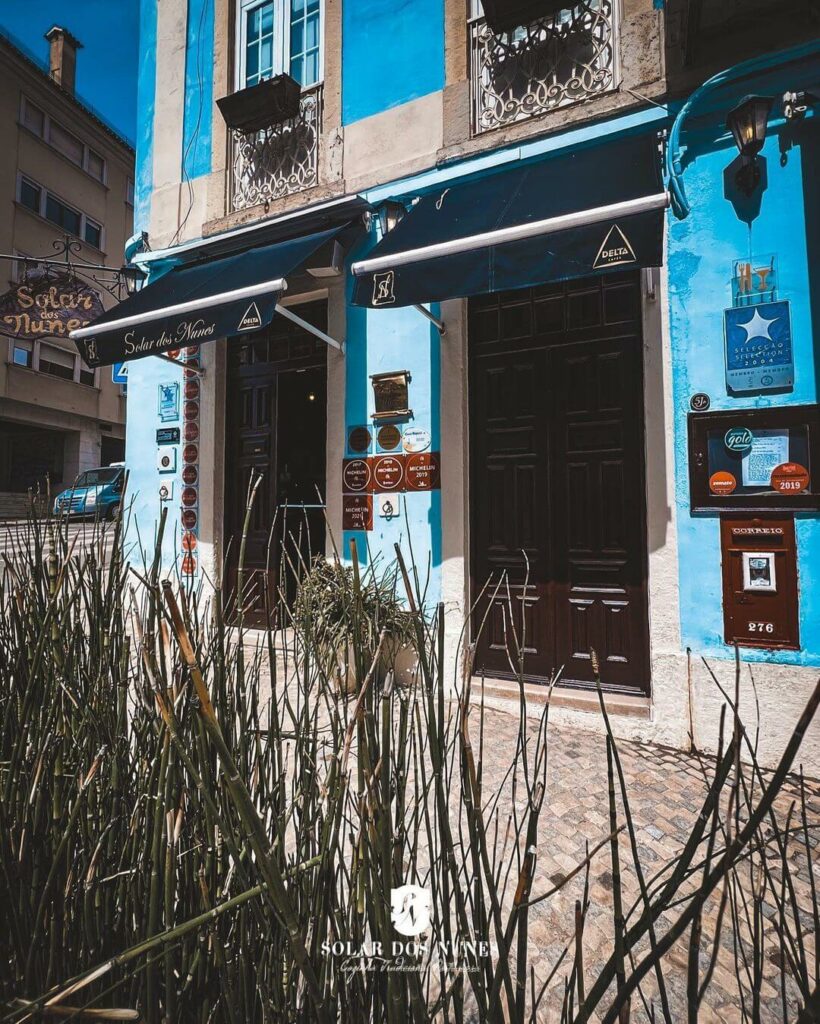 Critics describe this restaurant as "one of those not-to-be-missed family-run restaurants with lots of character." Solar dos Nunes has been offering its gourmet cuisine for 34 years so far, being a significant place for Lisbon. A la carte is comprised of finest Alentejo meals and offers numerous options, from solid ham and cheese selections to main courses like rabbit fried in garlic with açorda (a Portuguese national dish) and pork loin with bacon.
Michelin stars: Bib Gourmand
Prices: from $35
What people say on Google: 4.4 stars, 1044 reviews
R. dos Lusíadas 68, 1300-366 Lisbon, Portugal
13. Arkhe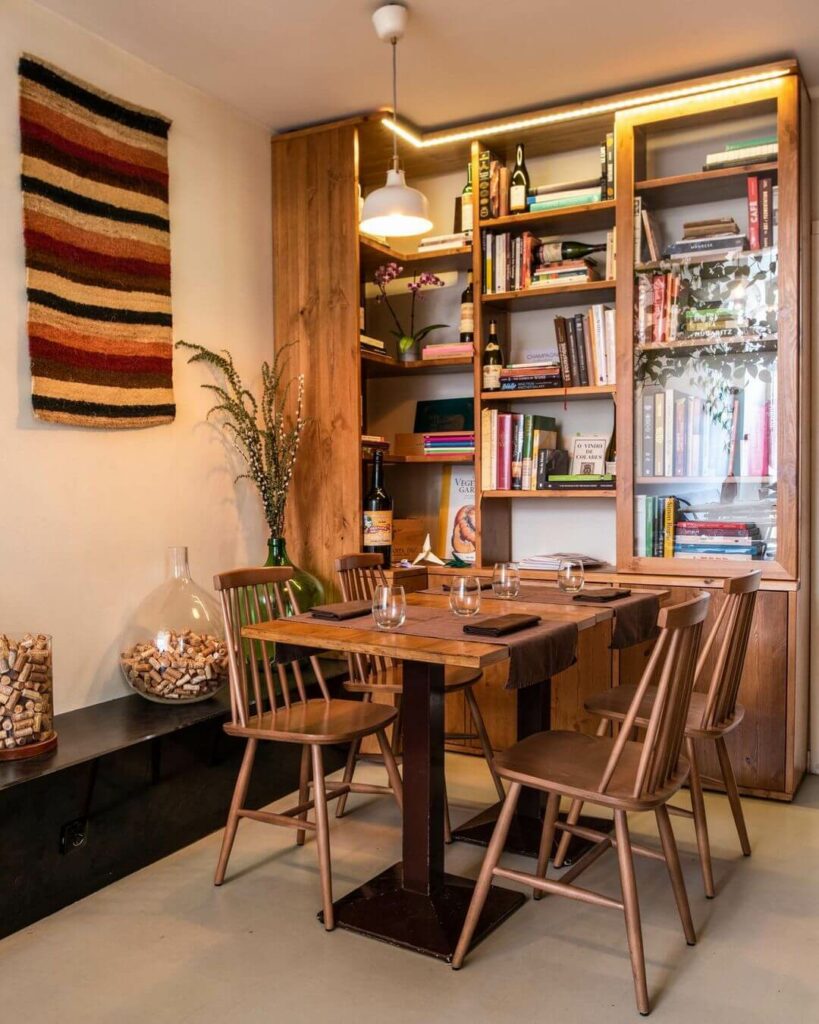 The last example of fine dining in Lisbon is Arkhe. After traveling worldwide, chef João Ricardo Alves returned home to cook in his homeland. Arkhe specializes in vegetarian and vegan cuisine: if you are a meat/fish lover and think of removing the spot from the checklist – don't jump to conclusions!
The restaurant manages to surprise everybody regardless of one's gastronomic preferences. Combinations of vegetables, mushrooms, cream, fruits, unexpected textures, and delicate aromas – Arkhe boasts the most outstanding vegetarian cuisine in the city!
Tip You will find some vegetarian meals here.
Michelin stars: Bib Gourmand
Prices: from $85
What people say on Google: 4.8 stars, 339 reviews
Boqueirão do Duro 46, 1200-163 Lisbon, Portugal
See also: best Michelin star restaurants in Barcelona
Is it worth it?
Yes, absolutely. Being acclaimed by professionals, Michelin restaurants are always the best establishments for a memorable dinner. They are not necessarily super expensive and are totally worth the money spent. And food is one of the best ways to discover the local culture and authenticity, so don't hesitate to explore Lisbon through exceptional gourmet cuisine!
Tip It's better to reserve a table as soon as possible, many establishments are already booked for the next months.
Michelin restaurants in Lisbon of my personal choice:
This post might include some affiliate links. If you make a purchase through these links, I may earn a small commission at no additional cost to you. I appreciate it when you use my links to make purchases.