17 Summer Must-Dos in Andorra: From Trails to Taverns
Nadia Podrabinek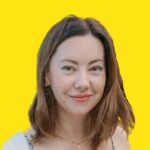 Written by Nadia Podrabinek
Hello, my name is Nadia. I usually write about traveling (there are so many places to fit all the lifestyles), relocation, and living in a foreign country (adapting to a different culture). My travels stretch beyond Spain, with journeys to the US, Italy, Norway, Portugal, and France. Relocating to Spain in 2018, I lived in cities from Barcelona to Madrid, currently calling Valencia home.  Follow me on Twitter, Facebook, Instagram, or LinkedIn! ... show more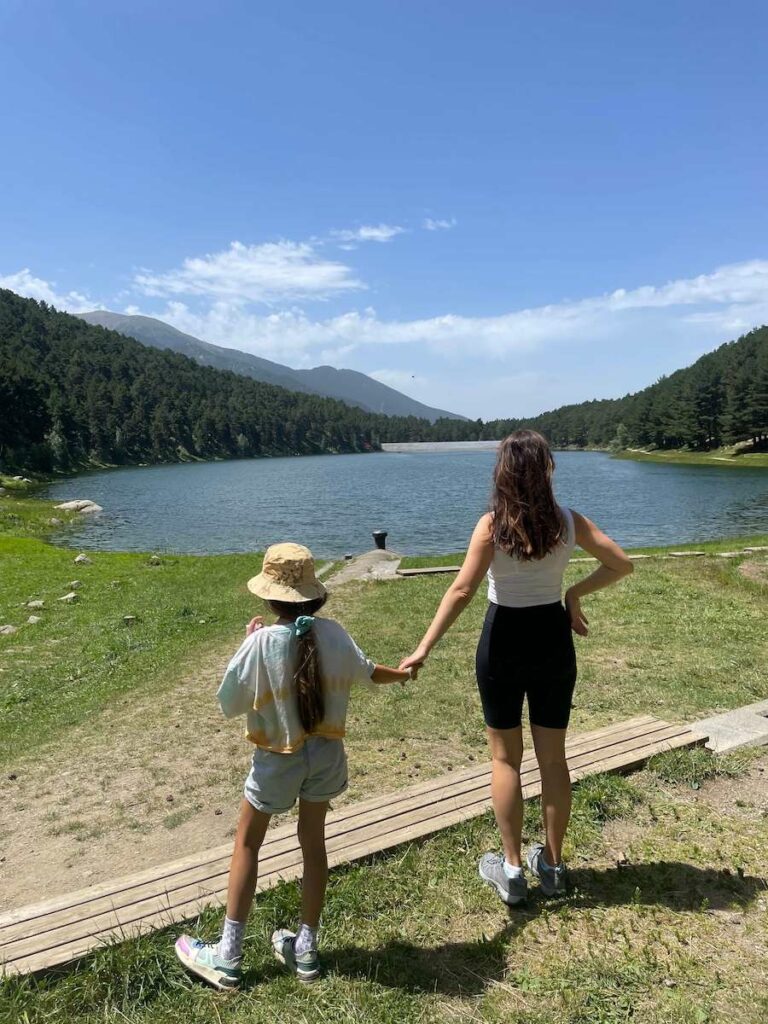 Andorra is one of the smallest countries in the world, known for its beautiful ski resorts with some of the most breathtaking views you will ever see in your life. Believe it or not, this country is even more attractive in the summer, and there are many things to do there!
I always wanted to come to Andorra because I have this fascination with micro-states: how do they survive challenging global economy, what is it like to live there, and what do people do for a living there.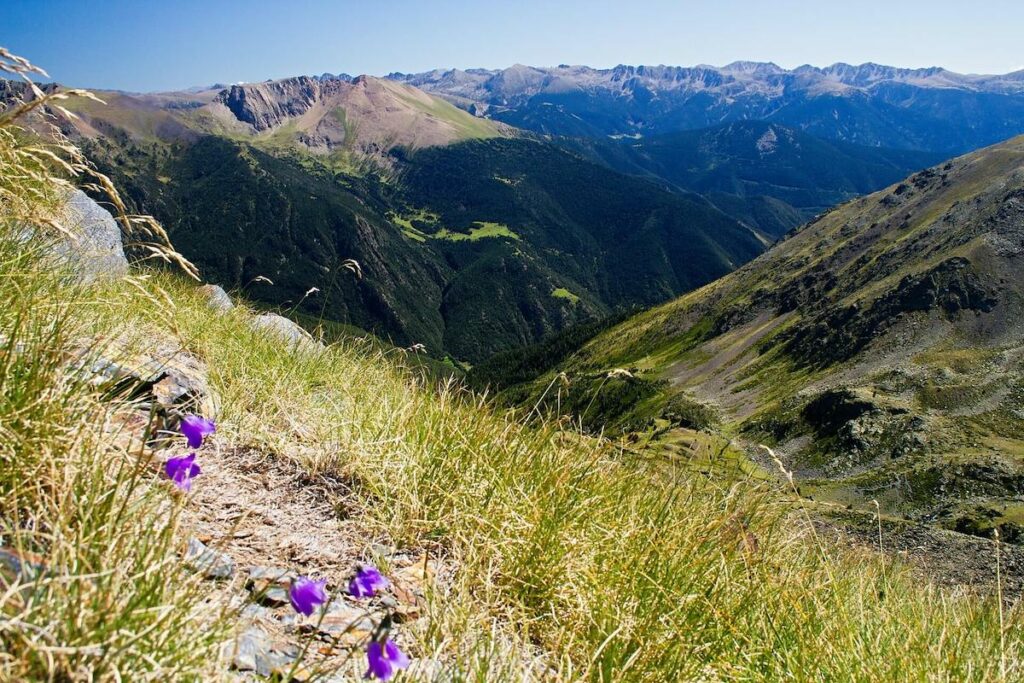 Andorra was the most accessible to me this summer because it's only a 3-hour journey from Barcelona, there were no Covid restrictions, and I had a car, and my friends went to Andorra. So, there was a perfect opportunity for me to get to know this promising little country with good company.
Things you should know before visiting Andorra
Andorra is not a member of the European Union
The euro is an official currency in Andorra
The country's border hasn't changed since the 11th century
They speak four languages in Andorra: Catalan, French, English, and Spanish
It's better to have the Andorra offline map pre-downloaded with you
European sim cards only work with roaming enabled
There is free wifi in the capital
Tax-free shopping is not for everyone in Andorra
The sun is very harsh. Protect yourself with sunscreens
Car owners: the gas is cheap in Andorra, but beware of speed cameras, they are everywhere
There is a tourist tax of €1.5-3 per day, depending on the star rating of the hotel
See also: A Perfect Day Trip From Barcelona to Andorra
What people say on Reddit
I really liked Andorra la Vella, really pretty and easily accessible stunning hikes even without a car, and tourism office was really helpful for finding them. And the shops are great if you're into that, I picked up a bunch of stuff for cold weather that I didn't plan for in my trip. Very limited on the vegetarian food though so I can't say much about that. But it was just a lovely place to walk around, there was live music dotted about randomly while I was there, and I really enjoyed the comic book museum.

Fewer people will understand English there if that's what you're used to, and Catalan is a tough one to pick up for a day. But I got by pretty easily on a mixture of limited Spanish and French. And I quite enjoyed being somewhere that wasn't overcrowded by British tourist if I'm honest!

mawonauincycle
I went there from France in August for a day trip, and headed up into the mountains past Arinsal, amazing views from up there but I completely missed going the Andorra La Vella and the south, and so missed out on many of the areas in your photos.

quentinnuk
While I did find my hike in Andorra amazing, I'm absolutely in love with Slovenia. I would pick Slovenia solely because you would be based in Ljubljana which is such a beautiful little capital. If you have the time you could add some daytrips as well (for example a walk around lake Bled) and it would make a more well rounded holiday than Andorra in my opinion.

kaykayjesp
I went hiking in Andorra one summer. Absolutely adored it! The scenery is unreal, and it's very special because it's not very well known and so photos aren't very common. Great shot!

Sciencetist
How to get to Andorra
The country doesn't have train stations or airports, although it does share a small airport with a Spanish city La Seu d'Urgell by its border, which operates seasonal flights in winter. But other than that, the best way to get to Andorra is by bus from Barcelona, which costs around €40-60 and you can also have your day trip from Barcelona to Andorra by car.
Along the way, you can also see some fantastic views of the Catalonian countryside, which makes the travel even more worthwhile.
You can also get to Andorra from Toulouse, France, and it will take about 3h30m to travel by train and then the 3-hour bus ride.
What to do in Andorra
Andorra is a beautiful place to leave your problems behind and enjoy the nature, so it's better to plan around some hiking trails and walks.
Go hiking
Go hiking even if you've never done that. Hiking in Andorra is just amazing! There are many beautiful hiking trails for everyone. The most famous one is Rec de Solá. It's only a short walk from the center of Andorra la Vella (the capital), and it takes about 10 minutes to get to the top. All you have to do is wear comfortable shoes, and you'll be there in no time.
I also went to another easy hiking path around the iconic Engolasters lake as I had a car. There is a car park and a bar to grab some drinks and snacks.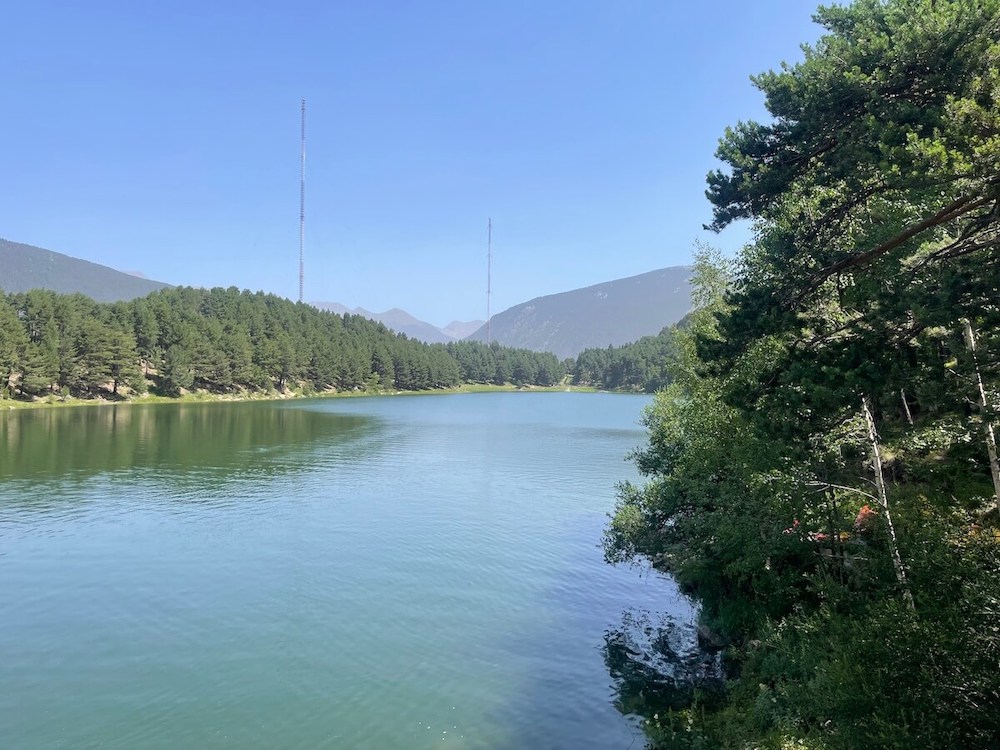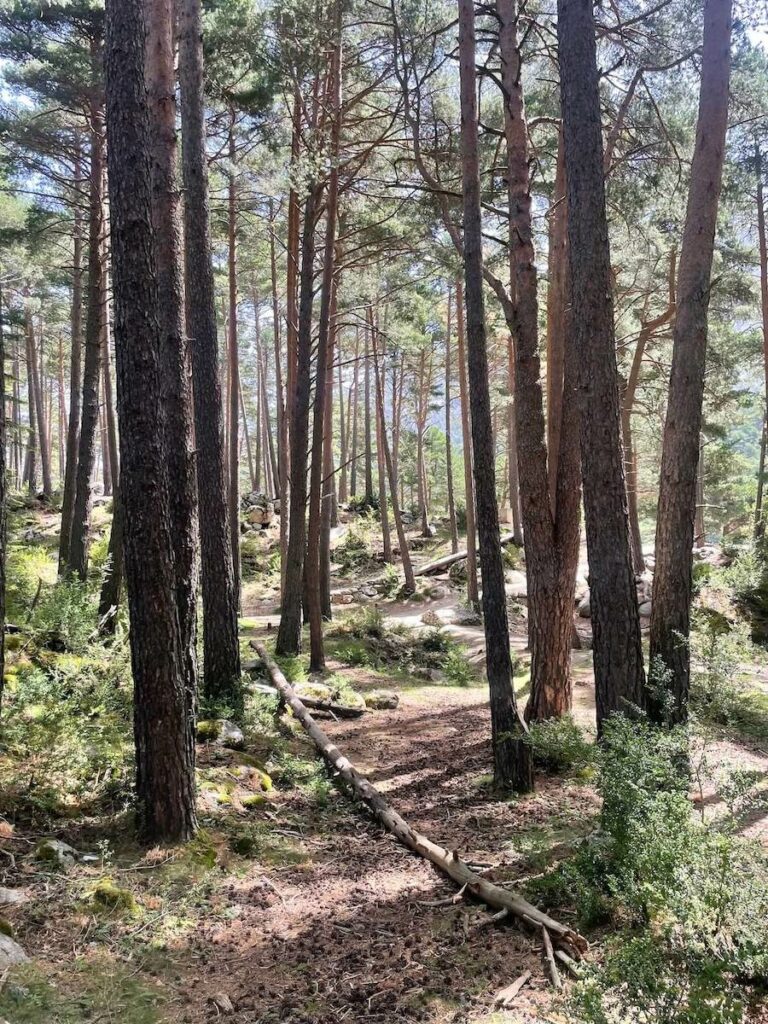 There are pine trees, boulders, and wild strawberries if you're lucky to find and identify these plants. The route is also perfect for walking with children as they usually don't get tired with a 1:30h trail. There is also a small picnic area near the water and a selfie standpoint. Swimming is prohibited, though.
See Cap del Roc del Quer
Andorra has many trails, but this route stands aside from all the hiking routes. It ends with an observation platform on top of the town of Canillo at an altitude of 1,913 meters and offers breathtaking views.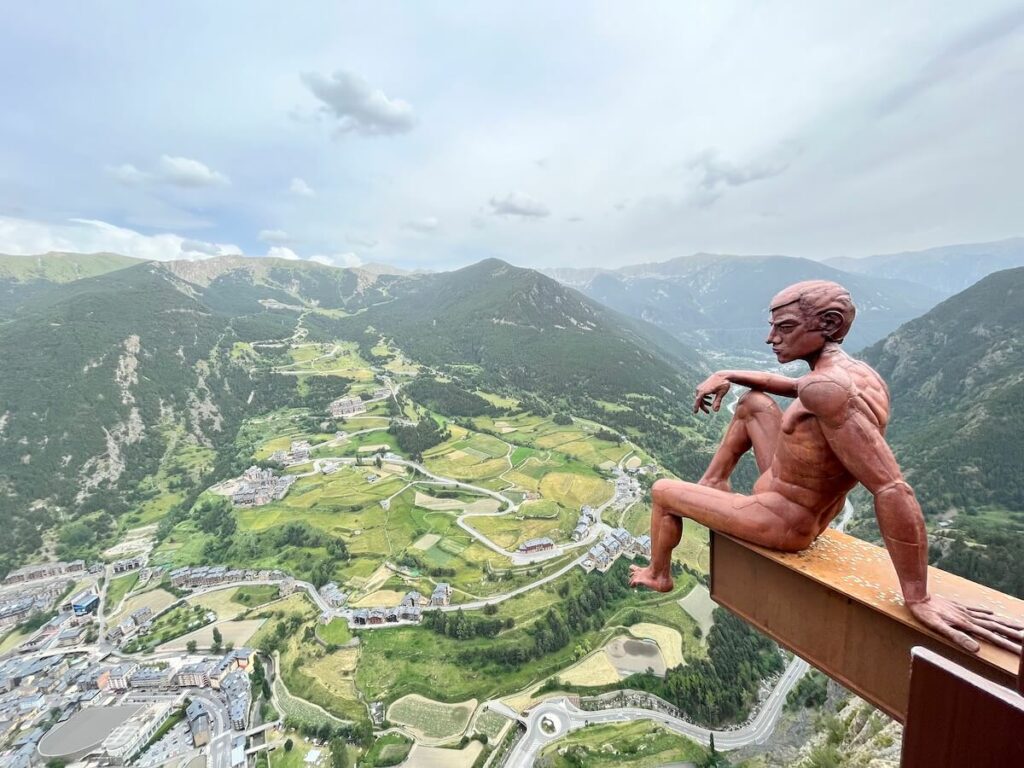 You might also want to tickle your nerves and step onto the platform, which has glass floor tiles and ends with a thematic sculpture. The entrance fee is €5.
It takes a walk of around 1 hour and 30 minutes, or if you want to skip that by car, it takes only 15 minutes to get there. I highly recommend hiking up to the Roc del Quer as you'll see the most stunning pieces of nature along the way.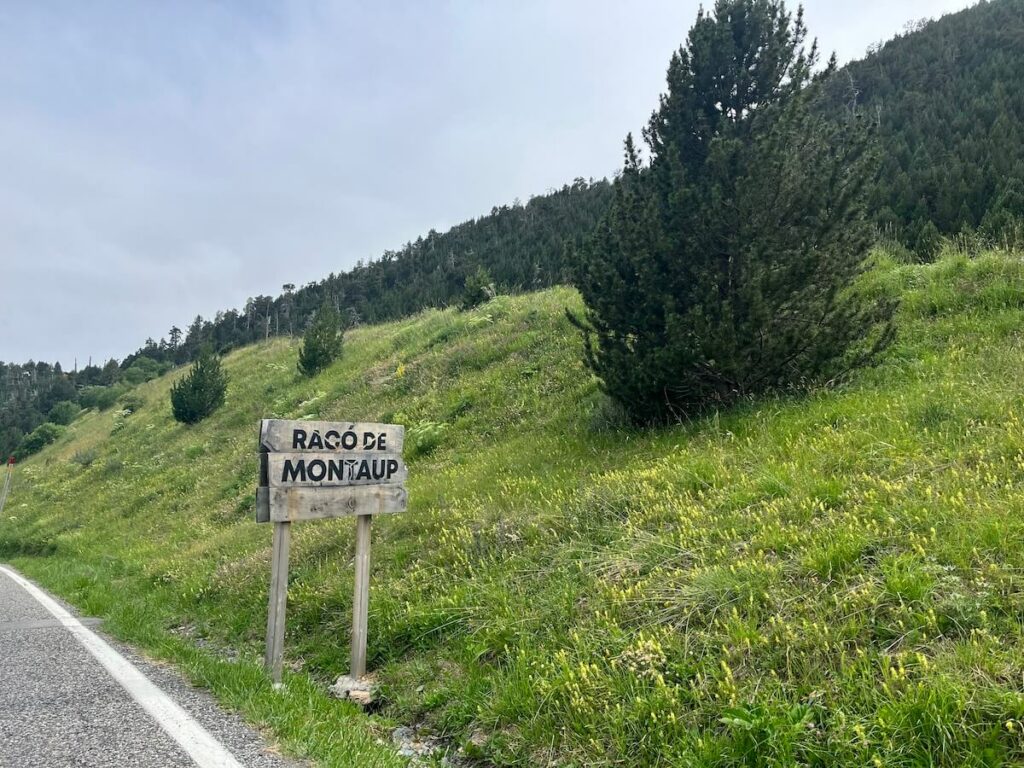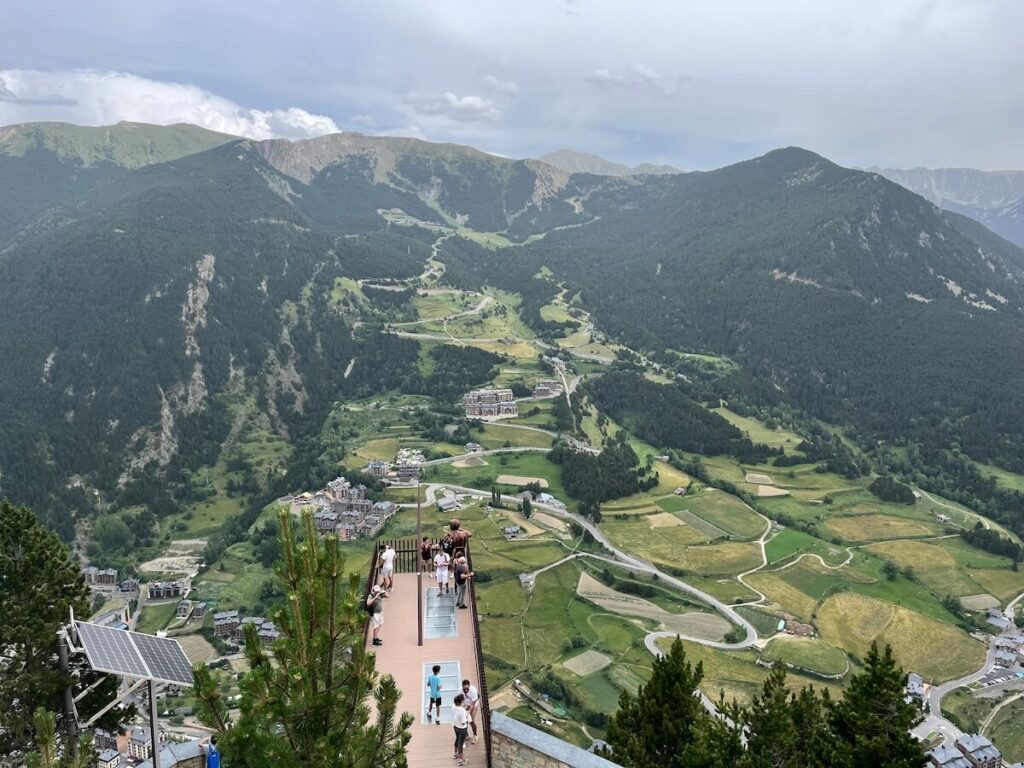 How to get to the viewpoint: take an L4 bus from Andorra la Vella and ride it for 20 minutes to the town of Canillo. Then all you need to do is follow the road signs up the mountain towards the observation point.
If you want to follow the hiking trail, you will notice there are rocks with yellow arrows. So if you follow them, you will also get to the top.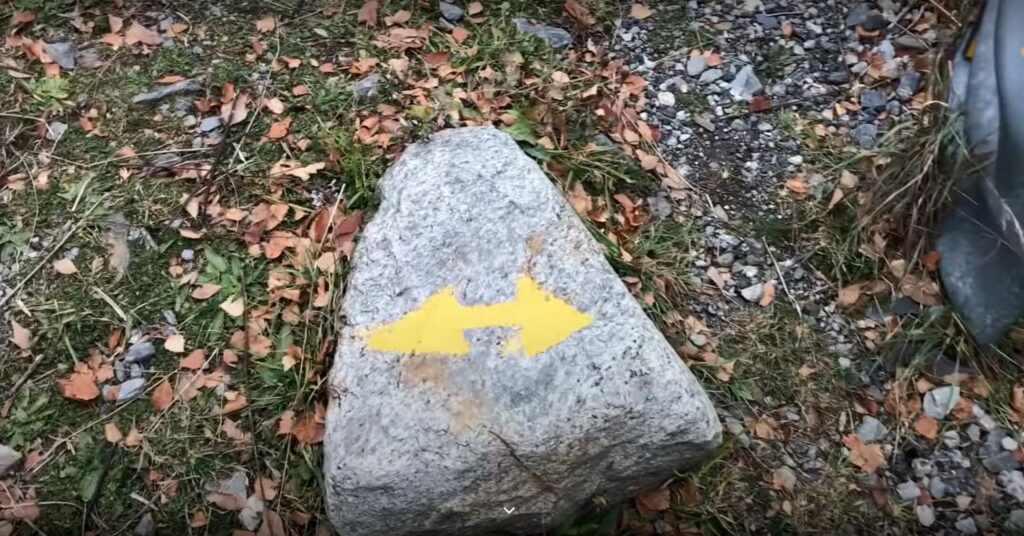 Eat at Borda del Pi restaurant
On the way to the Roc del Quer viewpoint, you will find Borda del Pi restaurant, which serves some delicious food and has an instagrammable patio with hay seats and cute swings.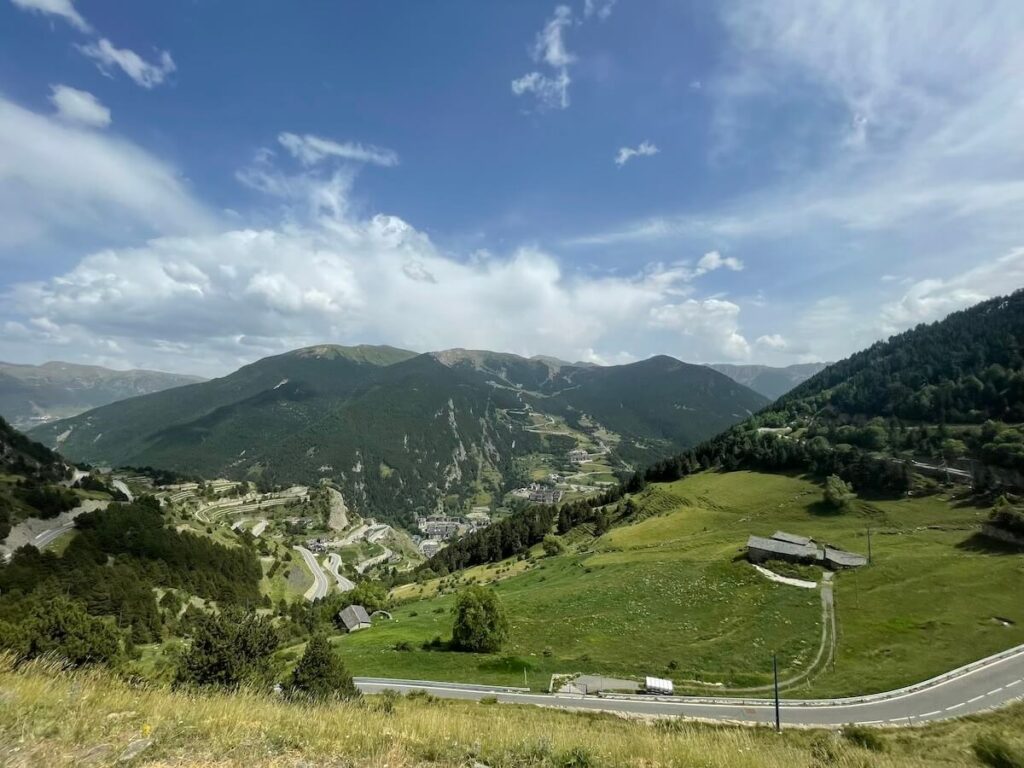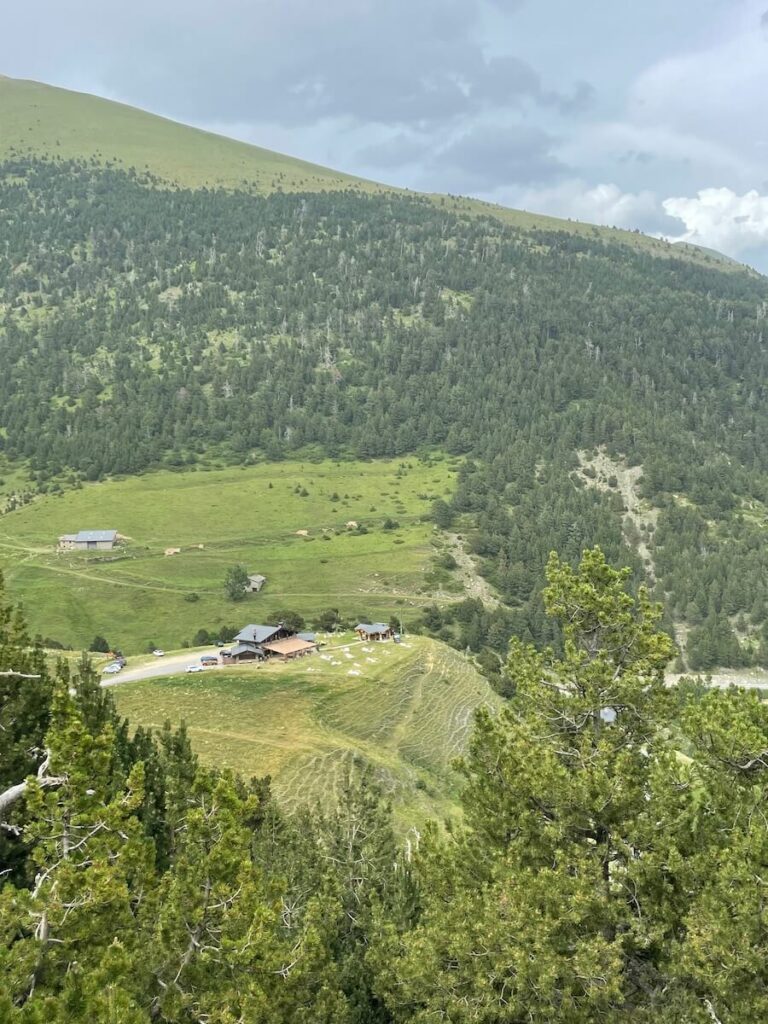 Tip it's better to make a reservation in advance as the opening hours are pretty short.
See Esglesia de Sant Esteve (Church of Saint Stephen)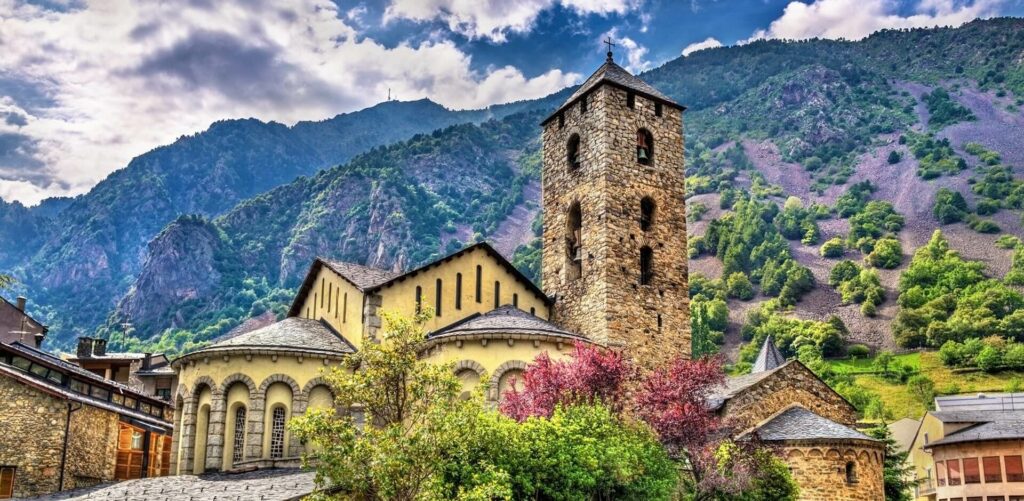 One of the most recognizable attractions in Andorra is the well-preserved catholic church Esglesia de Sant Esteve, which dates back to the 13th century, and you can always see it on Andorra's touristic prospects. It's a good starting point also if you're in the capital of Andorra.
I also recommend going to the small church of Sant Cristofol d'Anyos. You can find it in the Anyos village, 8 minutes by car from Andorra la Vella. It is a very calm and non-touristy place with a gorgeous viewpoint where you can take some selfies. There is a cozy hotel Abba Xalet on the opposite hill, with a pool, and two restaurants, which is a solid value-for-money option for a 2-day accommodation.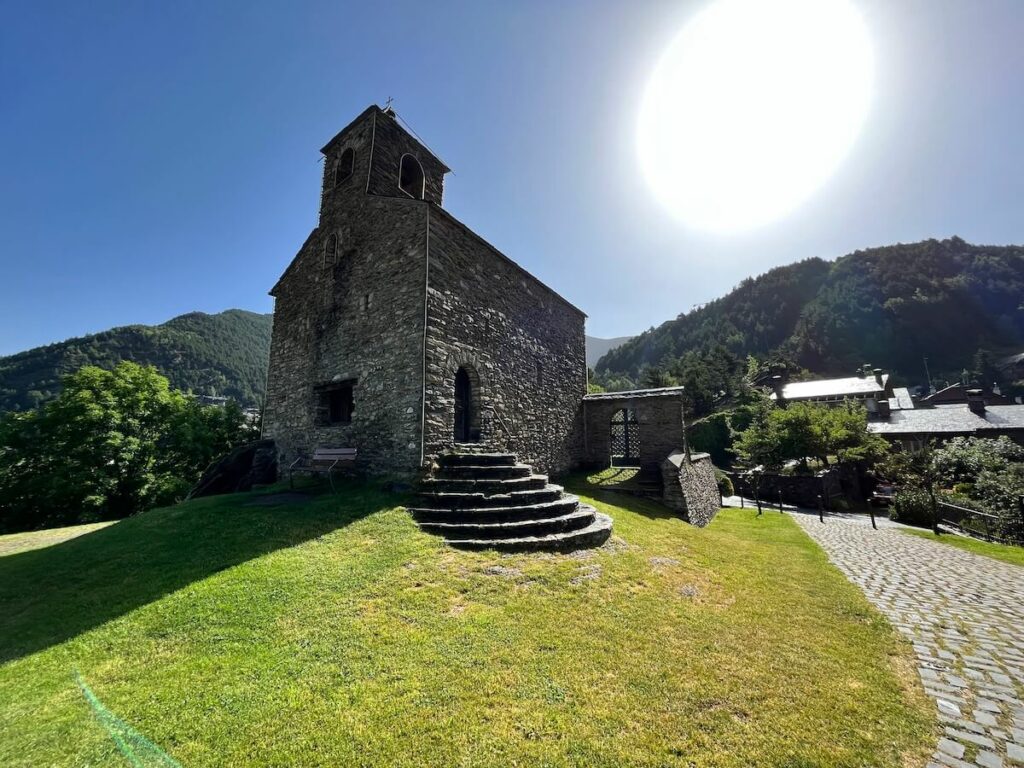 Enjoy Naturlandia Park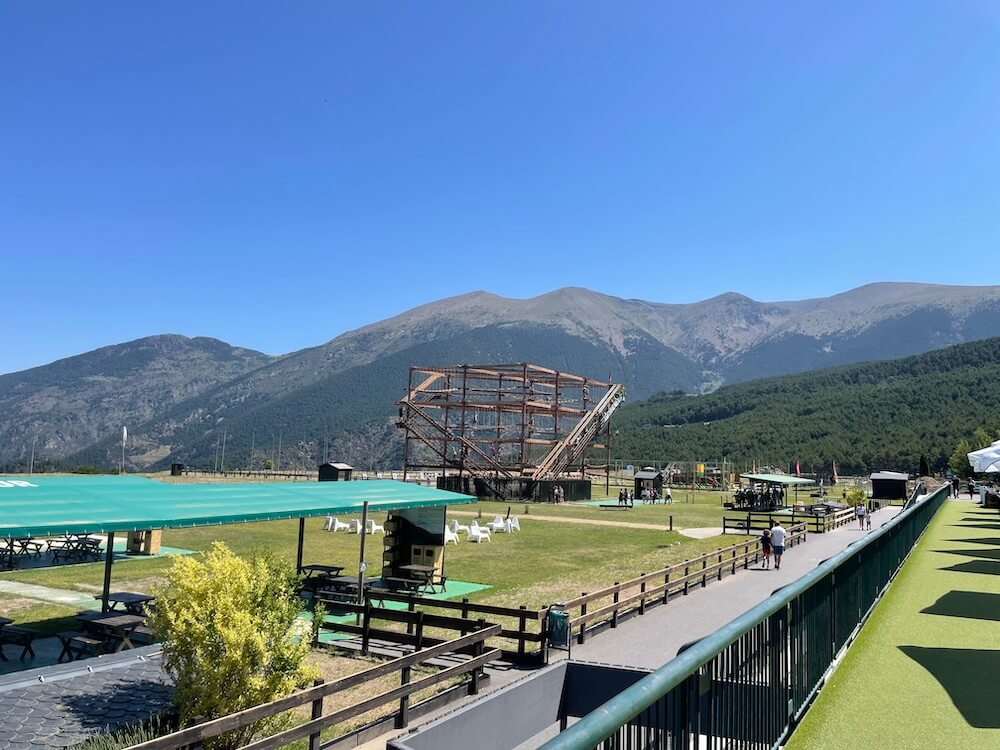 The park offers some great activities for kids and adults, including an amazing Toboggan ride (Tobotronc), the longest forest slide in the world. The ride is not as extreme as you might suppose while it slowly goes to the top of the hill.
We had a company of elderly people and 8-to-9-year-old children with us, and everyone was like, "I want to do that once again!" at the end of the slide.
Other attractions are worthy also, but you will need to queue a bit, and there is a lack of shade when waiting for some activities.
Tip #1 Take a €35 unlimited pass (€30 for children), and get the car because there is no public transport to the park. The only downside is that no pass allows more than one toboggan ride, but you can have unlimited visits to any other attraction in Naturlandia Park.
Tip #2 Don't buy the tickets too far in advance. The weather in Andorra is unpredictable, and they might cancel the Toboggan ride due to the weather conditions without a refund.
Tip #3 Don't follow some of the old reviews on Google. The queues are not that long these days, and the service is decent. 
Find Salvador Dali's sculpture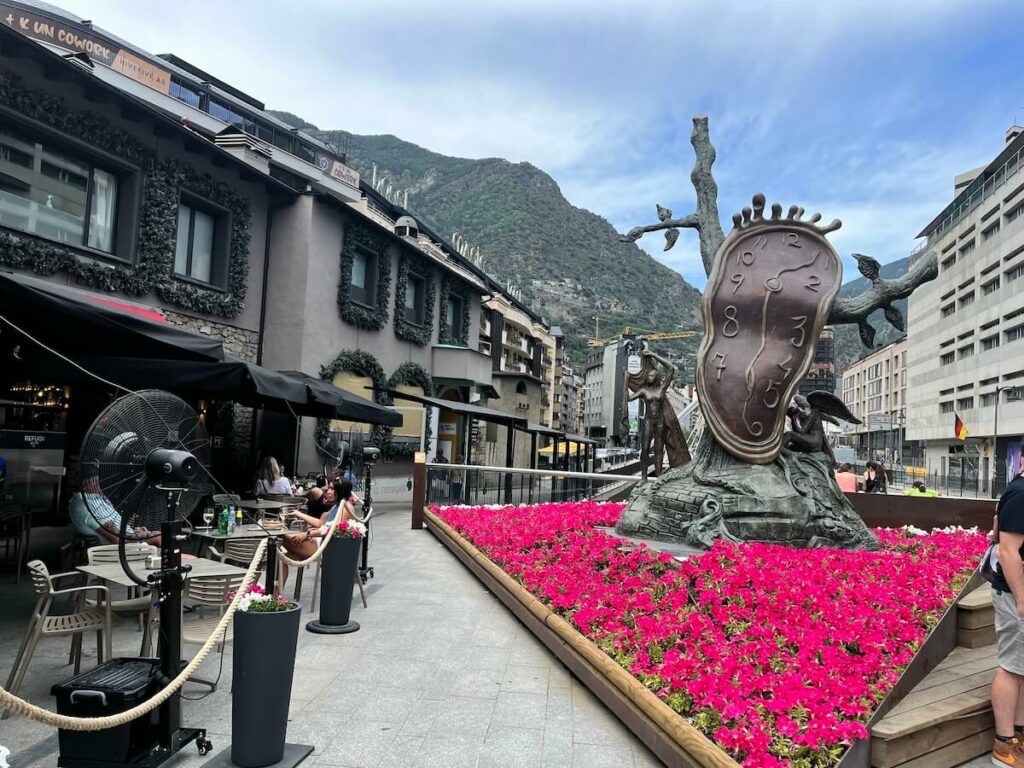 An original piece of work by Salvador Dali, who donated the statue of a melting clock to the city of Andorra la Vella, is now a slam-bang in the middle of the capital.
Tax-free shopping (actually, NOT worth it!)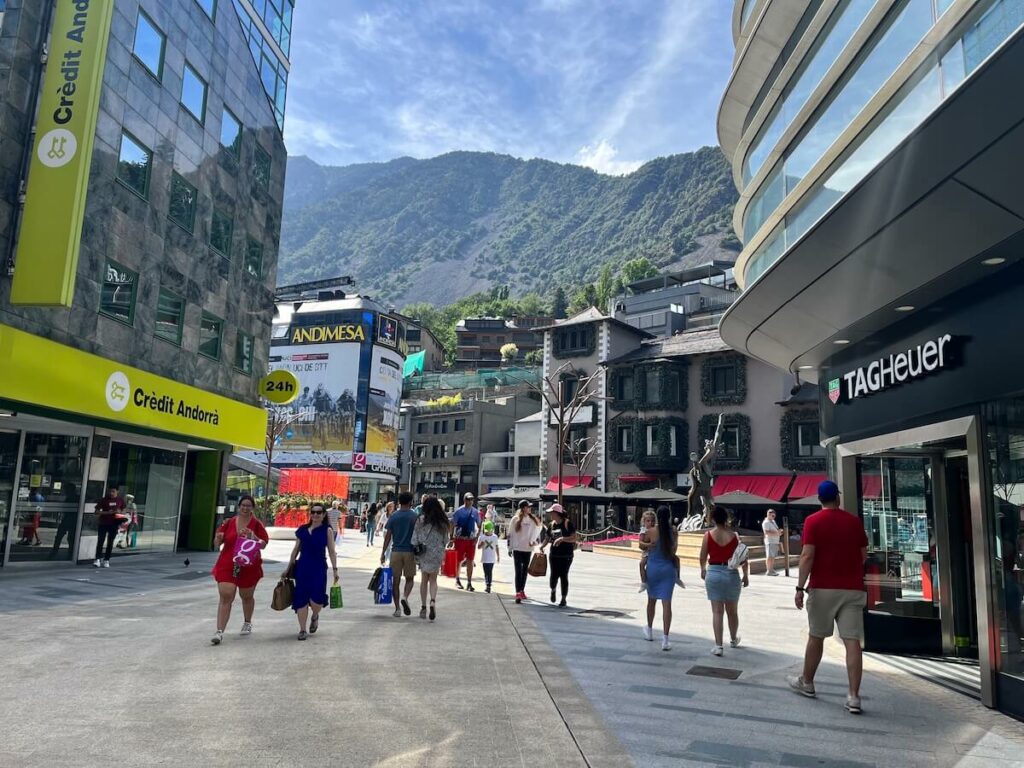 As I already mentioned, tax-free shopping is quite bad in Andorra. Aside from the lower prices (there is only a 4.5% tax), I wouldn't say I liked it. The shops are the same as in every other country, and there is no wide variety, and it often seems like shopping in some third-tier country, with cheap shop signs.
If you've been to some Egypt or Turkish resorts, there are always some cheap souvenir shops nearby. I felt the same on Andorra la Vella shopping streets. So, if someone tells you to go shopping in Andorra, that's a trap! The perfume and alcohol are cheap, though.
Relax at Caldea Spa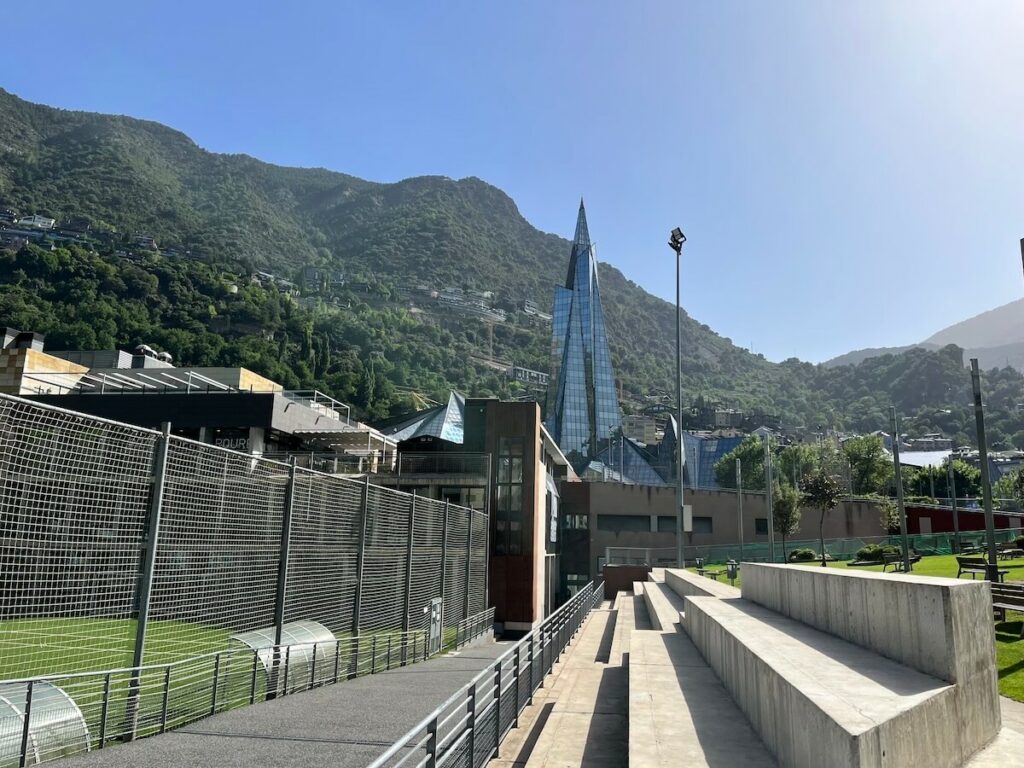 After hiking, there is no better way to recover than going straight to a Spa. Luckily, Andorra has one of the largest Spas in Europe, and no Andorra visit is complete without going there.
Actually, you can come to Andorra just for this Spa—the number of pools and the amount of treatment stays on top. There are Roman baths, Indian baths, ice baths, saunas, and steam rooms. It has everything!
See Casa de la Vall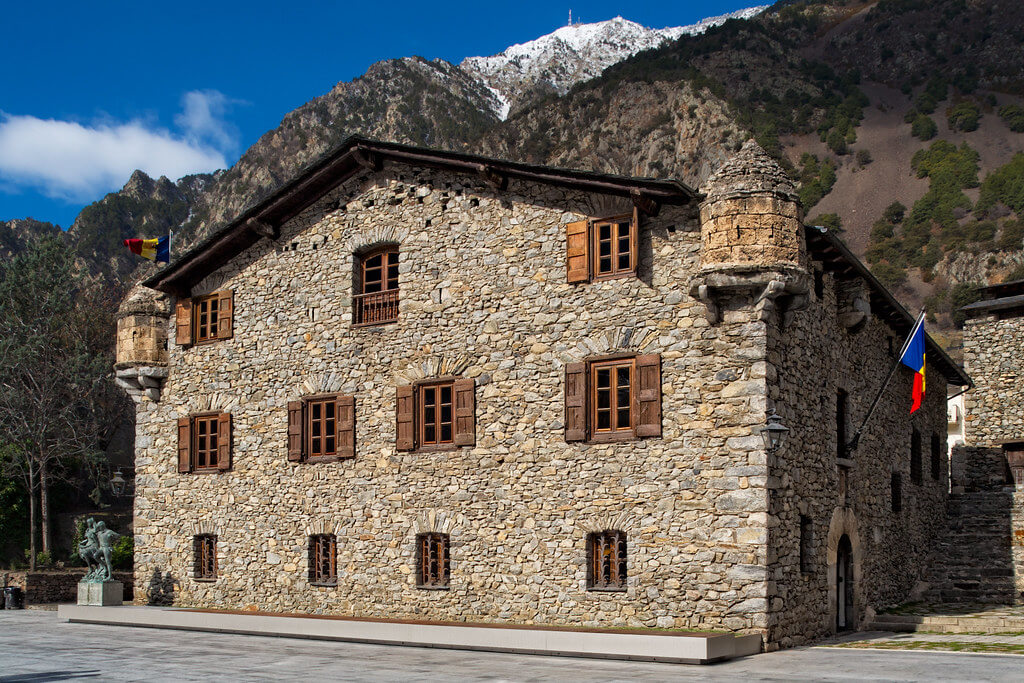 Casa de la Vall is a house-fort that belonged to the Busquets family and dates back to the 16th century. In 1702 it passed into the hands of the Council of the Valleys and was used as Andorran Parliament until 2011.
Despite being restored, it preserves the medieval architectural style and atmosphere. You can take a guided tour in which they explain how the Andorran government began and worked until today. Surprisingly, the tour was enjoyable and very well run. The entry cost was €5.
See the Museum Fabrica Reig (Reig Factory)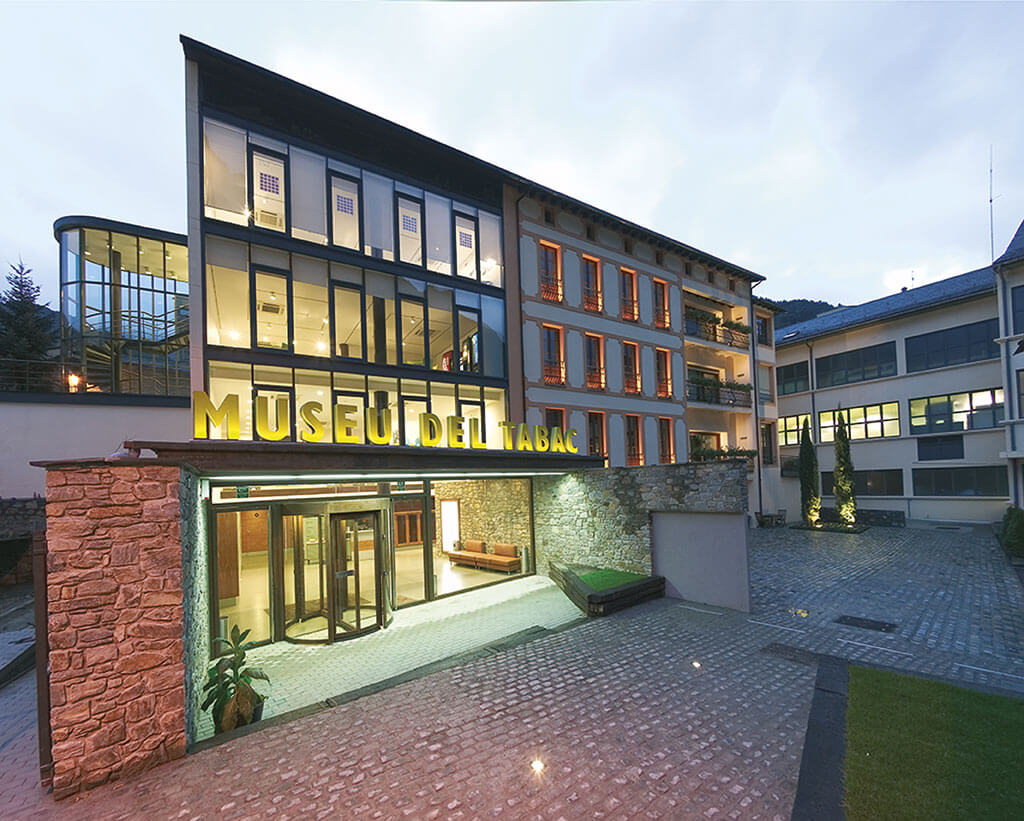 The Andorra Reig Museum is an iconic building from the early 20th century showcasing the brief history of the Andorran economy.
Seeing the tobacco exhibition and learning about the smuggling between Spain and Andorra was intriguing. The visit is interactive, with explanatory videos, and you navigate through the zones, watch short movies and see the different parts of the tobacco production process.
The entrance fee is €5 for a 40-minute tour.
https://www.museufabricareig.com/?lang=en
Explore the Church of Santa Coloma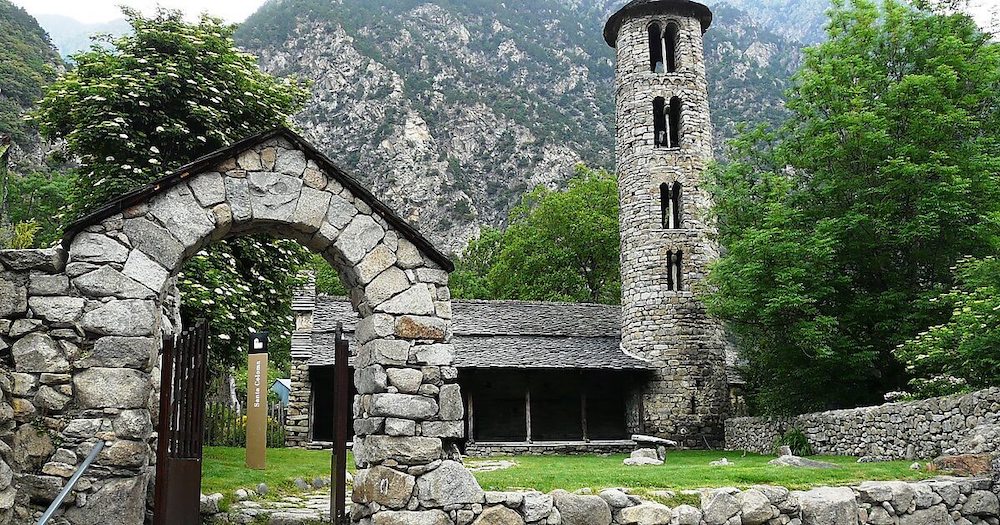 You can find this historic 9th-to-12th century church in an atmospheric old town of Santa Coloma, southwest of Andorra la Vella capital. It is old, super beautiful, and the only Andorran Romanesque church with a circular bell tower. It was even more interesting inside—the church guide told us a story about the looted and returned frescoes of the 12th century and conducted an outstanding 8-minute video projection.
Walk down the streets of Andorra la Vella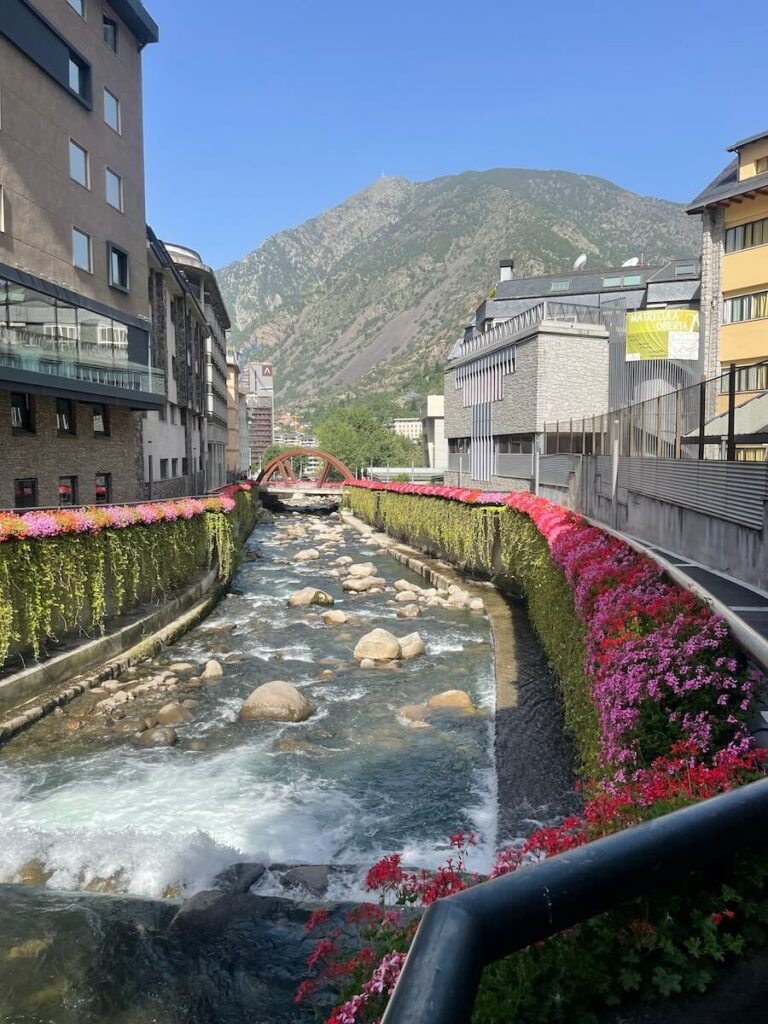 You will find many beautiful statues and art pieces scattered around the city of Andorra la Vella. There are amazing examples of art, sculptures, and buildings everywhere you stop. Walking down the clean and tidy streets of Andorra la Vella is a really enjoyable experience. There is a small mountain river crossing the city, tiny gardens, and flowers everywhere. Give it a try.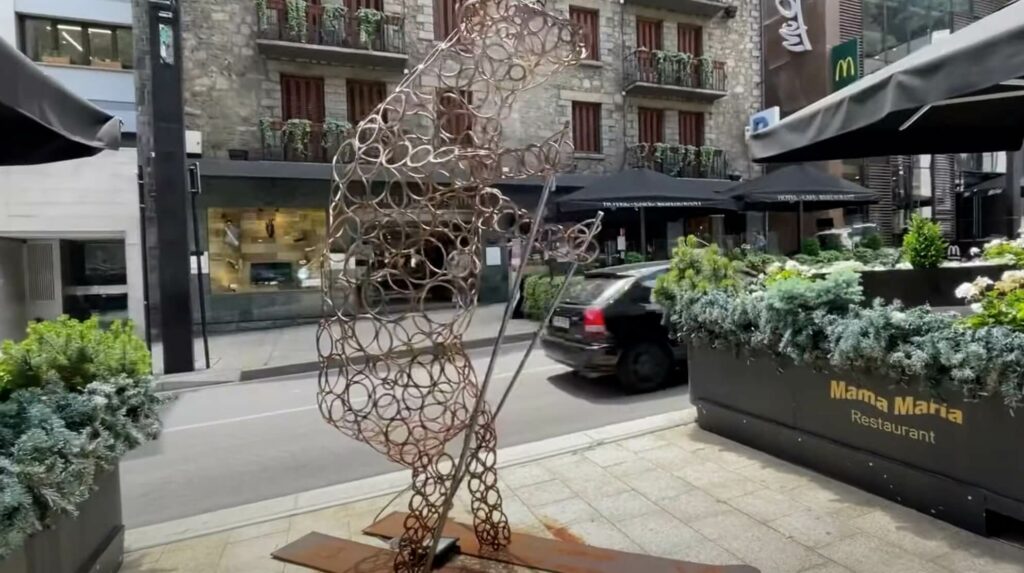 Where to Stay in Andorra: 10 Best Areas
Andorra la Vella, the capital
Les Escaldes
Encamp
Canillo (Cap del Roc del Quer)
El Tarter
Soldeu
Pas de la Casa
Ordino-Arcalis and Ordino
La Massana
Pal-Arinsal
Is Andorra Cheap to Visit?
Surprisingly, Andorra is not as expensive as you might think. There are many hotels with reasonable prices and restaurants with daily lunch menus for €20-25 per person.
On a 3-day trip, we spent €912 for two adults and a 9-year-old child (assuming we came from Valencia by car). Obviously, I didn't buy anything in the shopping malls.
| | |
| --- | --- |
| My Andorra expenses | |
| Gas | €32,15 |
| Snacks | €5,98 |
| Parking in Andorra la Vella | €3,05 |
| Dinner | €43,5 |
| Snacks | €18,9 |
| Hotel accommodation for 2 adults (2 nights) | €482,35 |
| Gas #2 | €97,52 |
| Starbucks | €7,2 |
| Naturlandia Park tickets | €100 |
| Borda de Pi restaurant | €117 |
| Cap del Roc del Quer | €5 |
| Total expenses | €912,65 |
Here you can see the menu prices in a cafe in the center of Andorra la Vella.
The Best Hiking Trails in Andorra
To explore the Engolasters lake route, I used the Komoot hiking app for iPhone (there is also a version for Android devices). It's pretty handy. Komoot allows you to plan the trail: search for hiking paths with different parameters (such as trail difficulty and length) and download the route you like for offline use before going to Andorra.
Some of the noticeable hiking trails in Andorra, with links:
Where to Stay in Andorra on a Budget
We stayed at a 4-star Abba Xalet Suites hotel, which is located not far from Andorra la Vella and offers quite a comfortable stay. The rooms are just enough to spend a couple of nights, and the staff is attentive and welcoming. There is a car park, a pool with a bar, and some lovely views (as always in Andorra).
The only downside was the occasional noise from the road, which came from the vehicles accelerating on the steep slopes. But it is the same everywhere in Andorra. So I highly recommend you to ask for a room looking into the inside area of the hotel.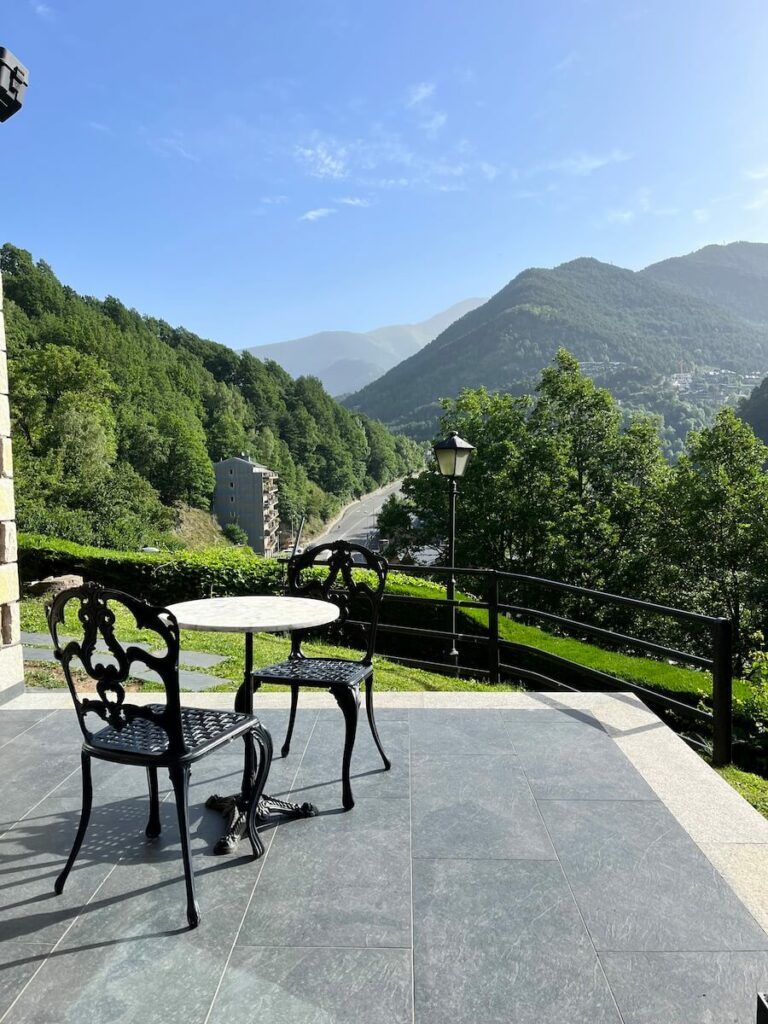 Tip ask the staff that you want to have breakfast on a terrace, and they will put the cutlery. Enjoy the morning views!
Where to eat in Andorra
1. Restaurant Pizzeria Venecia
Av. Verge de Canòlich, 20, AD600 Sant Julià de Lòria, +376841796
See on the map.
A lovely restaurant in the center of Sant Julià de Lòria. Quality food at a fair price. Even though it was a little slow in the beginning, they served the dishes very fast. To my surprise, the pizzas were delicious, with fine dough, even calzone. Other food was great too. Overall, it is a good place to eat home-style meals. We had a great time there.
2. Borda del Pi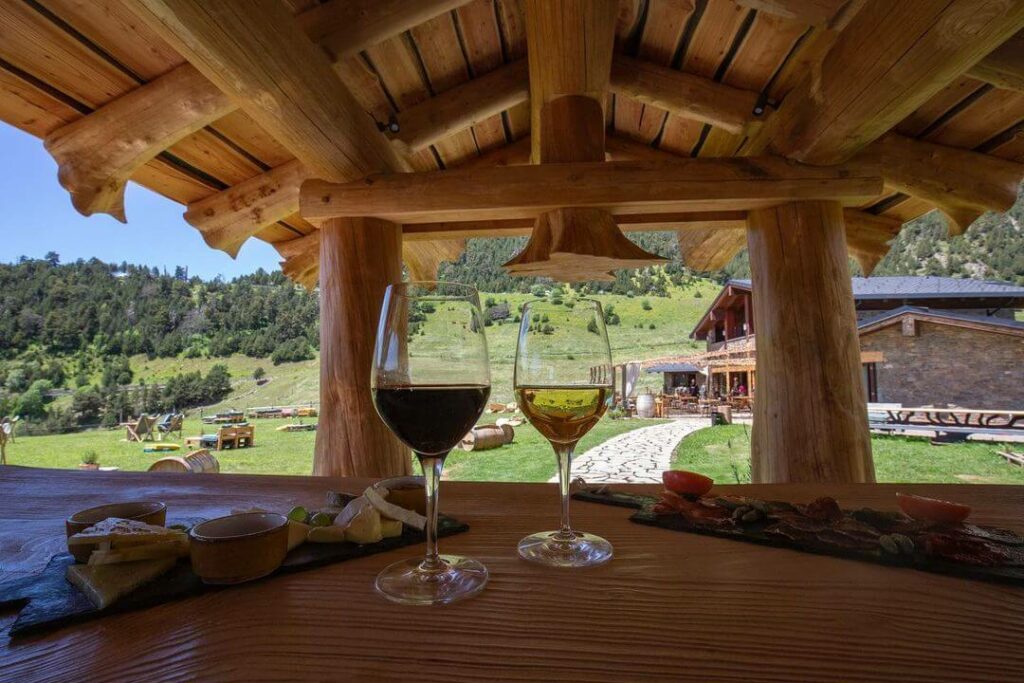 Carretera de Montaup km. 5,5, AD100 Canillo, +376343413
See on the map.
A superb spot to have a quality meal while enjoying spectacular views. The location is well known among the locals for the cool hipstery atmosphere and the magnificent views of the Canillo Valley.
The only downside was that the portions were quite meager considering the price but perhaps what you're paying for is both the experience itself and the process involved in bringing the food to your table. The staff was attentive and managed to seat us without any prior reservation.
3. Restaurant l'Ovella Negra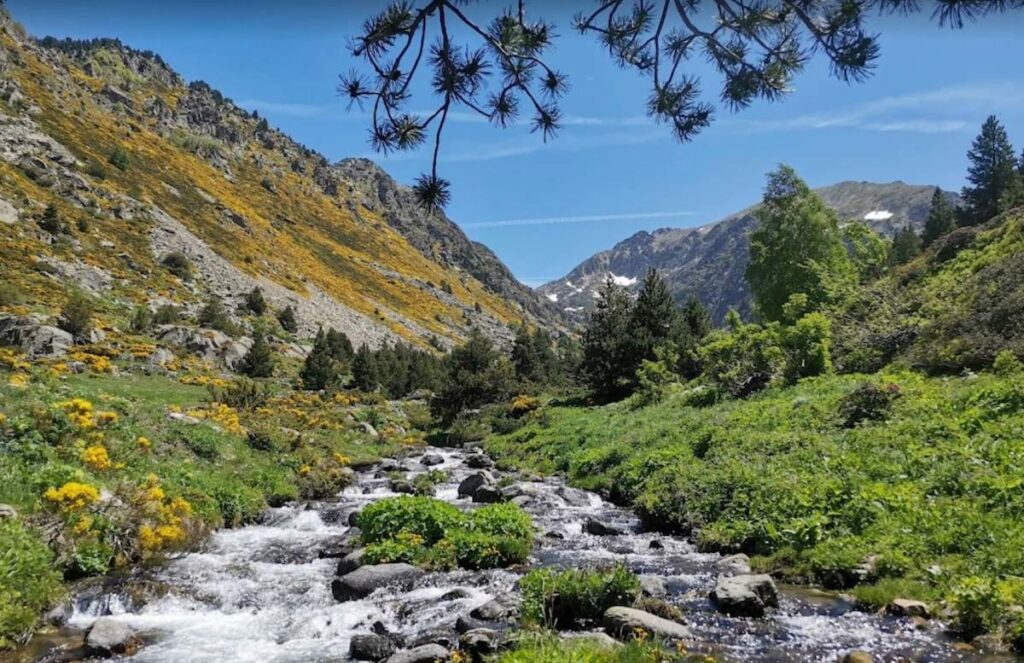 Ctra. de la Vall d'Incles, AD100, +376388784
See on the map.
A remote restaurant with a hiking area. Perfect place to eat and enjoy the Andorran scenery if you have enough time to travel that far. Oh, wait. You can cross the country in 40 minutes, so that's not that far. In summer, there is live music on the terrace, and they also have blankets and stoves.
4. Restaurant el Crostó
Cap del Carrer, 7, AD500 Andorra la Vella, +376862931
See on the map.
It's a small restaurant where the boss quotes you all the dishes (no cards) of the house. Everything is delicious from the starter to the dessert!
Final thoughts
I didn't expect much from Andorra, and the first impression was still quite lackluster. It is a small country of 77,000 people living in picturesque villages scattered tightly across narrow valleys in a mountain region, nothing else, I thought.
Bu on the third day, I really didn't want to leave, which sums up all my feelings about Andorra. Nature is just amazing, the air is super clean, and the mountains are so different every day. I absolutely loved Andorra!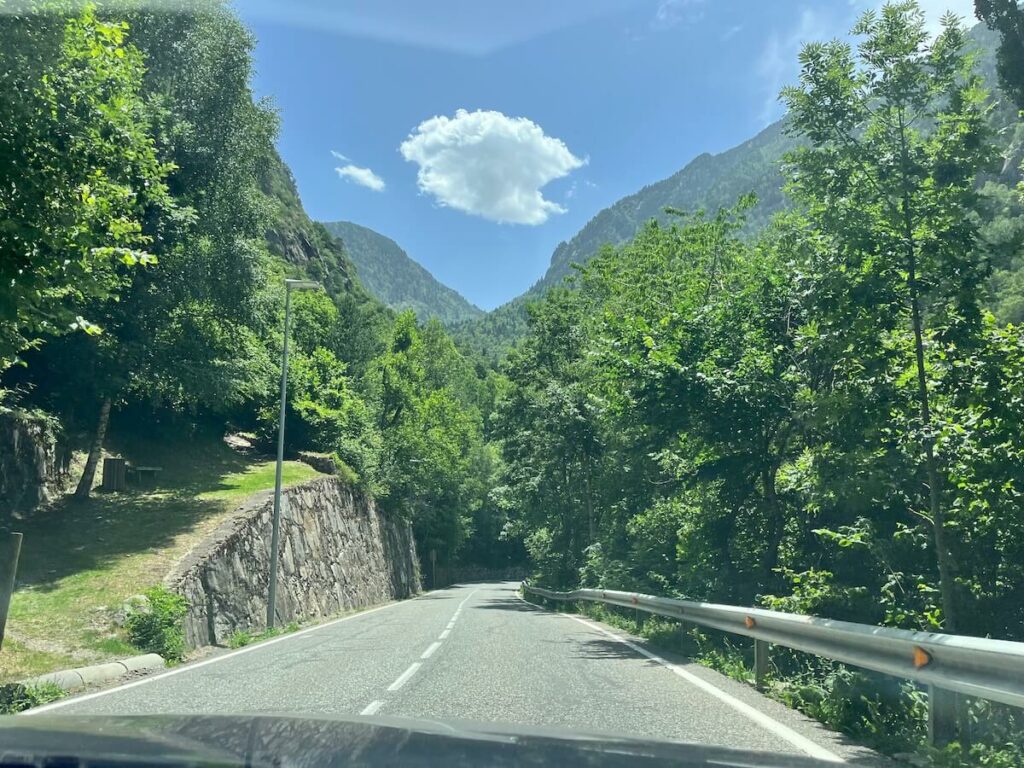 The next thing I want to do is to come here in October and the winter. Stay tuned and leave your comments below!