Where to Stay in Ibiza in 2023? Best Places & Hotels in Ibiza, Spain
Nadia Podrabinek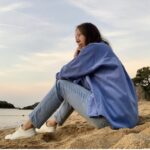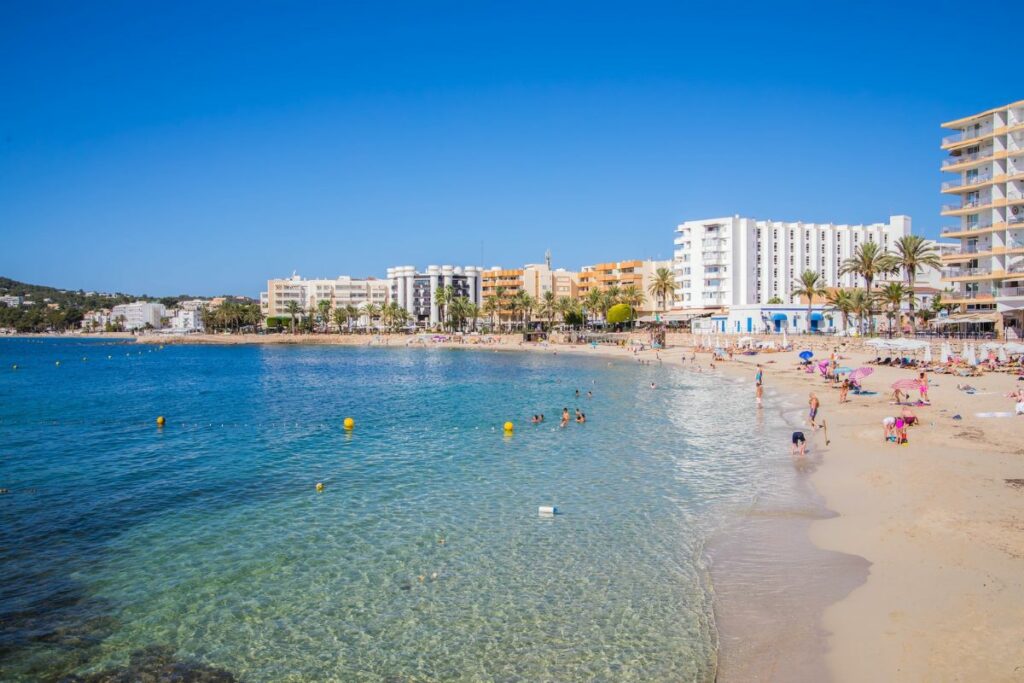 Hola, fellow thrill seekers! Planning a trip to soak up some sun and tall cocktails in Ibiza? You're in the right place.
Whenever you go on vacation, there's always the question of "Where to stay?". Luckily, Ibiza has a bunch of stay options, although all the options don't make settling on one any easier. That's where I come in. I'm going to give you the low down on the best places and hotels for a stay in Ibiza.
---
Key Takeaways
Ibiza has a variety of stay options from bustling towns like Ibiza Town to serene retreats like Santa Eulalia.
San Antonio is famous for its legendary nightlife.
Beach lovers will enjoy Playa D'en Bossa and Cala Llenya.
Es Cubells is best for an authentic Ibiza vibe.
Partygoers should visit between June and October. Visting from April to May or in late October provides a quieter experience.
Moving around Ibiza is easy with options like car rentals, buses, taxis, water taxis, and walking.
Ibiza caters to all types of travelers, including first-timers, party-goers, families, and couples.
---
A Map of Where to Stay in Ibiza
Where to Stay in Ibiza: Best Areas & Hotels
Ibiza Town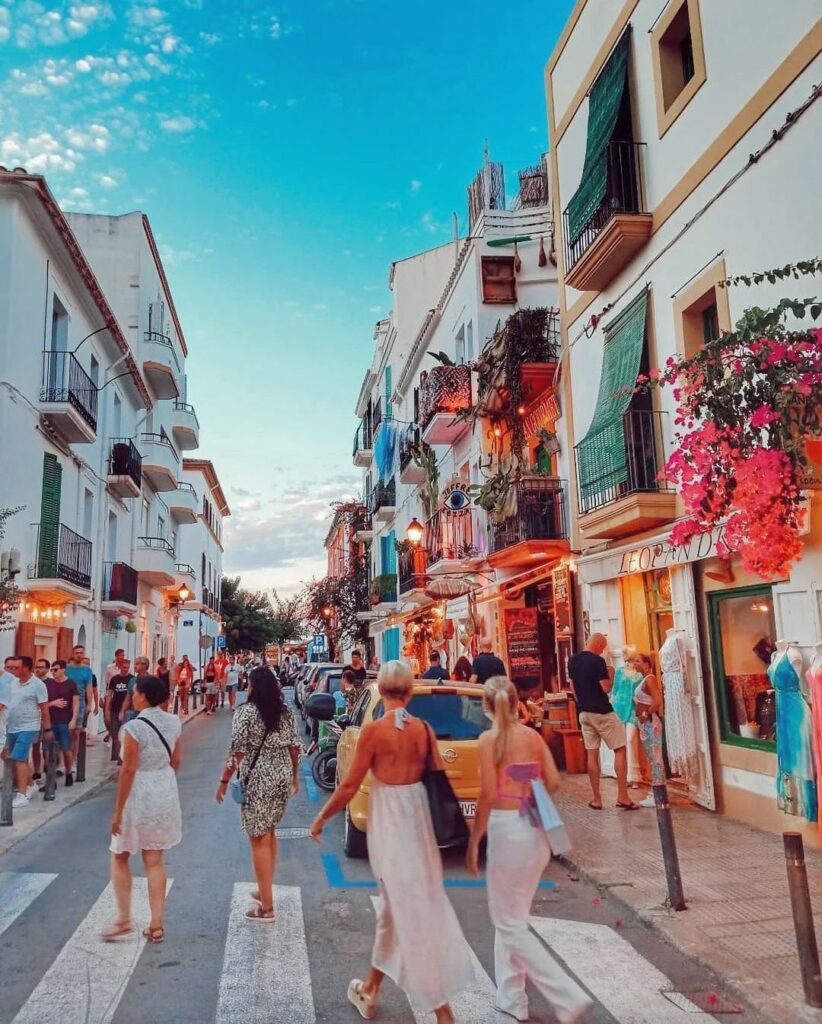 Unsurprisingly, Ibiza's capital is one of the best areas to stay on the island. I'd say it's probably because of how well Ibiza Town blends the old and the new. The Old Town, Dalt Vila is a UNESCO World Heritage site with a lot to offer. The narrow cobblestone streets of Old Town are lined with charming cafes and the area has some of the best views of the Mediterranean Sea.
The modern part of Ibiza town is where you'll find most of the action, with plenty of hotels, restaurants, and shops. And just wait until you catch a glimpse of the marina. All the yachts anchored in the sparkling waters make Ibiza Town feel like a true paradise. There's also a lively clubbing scene with famous clubs like Pacha.
What kind of sucks about Ibiza Town is that it's quite expensive and the nightlife there generates a lot of noise.
Average price: $735 per night
Average price: $488 per night
Average price: $174 per night
San Antonio
Sant Antoni de Portmany, or San Antonio for short, is an energetic resort town on the west coast of Ibiza. Most people know it for its legendary nightlife, being home to superclubs like Eden and the famous Ibiza Rocks Hotel.
But, San Antonio isn't just about partying. San Antonio Bay, for example, has beautiful sandy beaches and a bunch of water sports on offer. And then there's the Sunset Strip, where you can catch a picturesque sunset while relaxing at iconic venues like Cafe Mambo and Cafe Del Mar. So, party animal or sunset chaser, you'll find something for you in San Antonio.
This area can get crowded and noisy during peak season, so keep that in mind.
Average price: $306 per night
Average price: $217 per night
Average price: $117 per night
Portinatx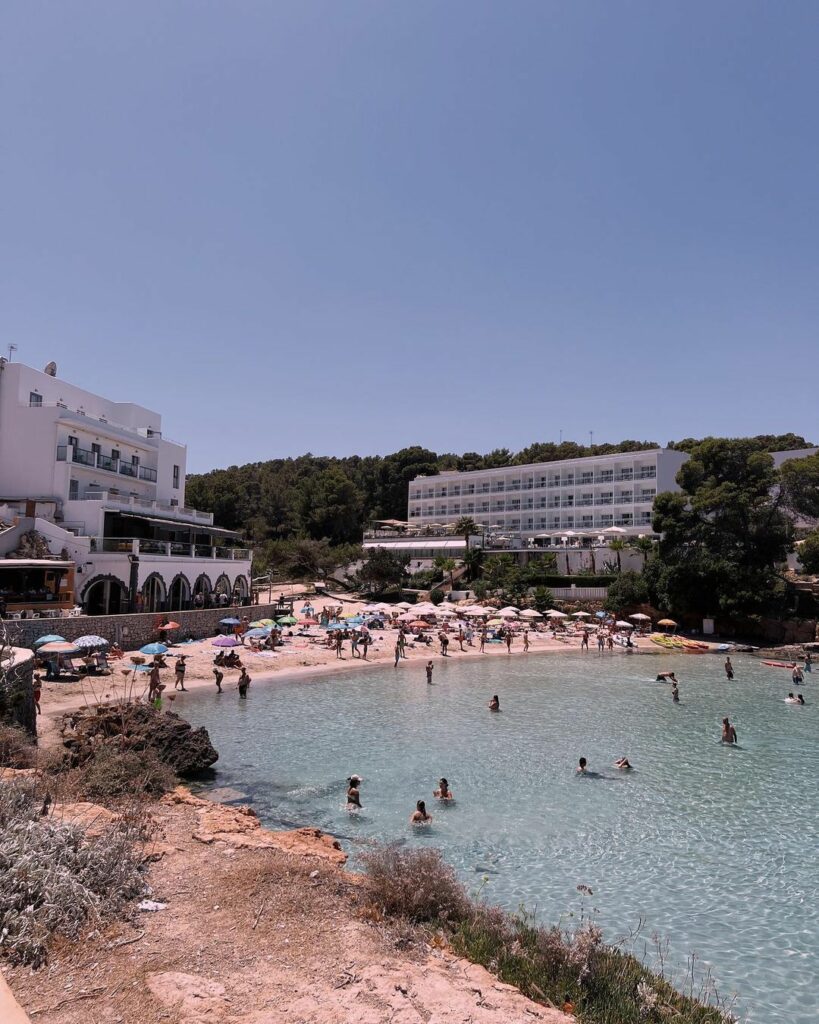 If you're looking to escape the raucous party towns, look no further than Portinax. This small town in northern Ibiza is known for its stunning natural beauty and crystal-clear waters. I'd highly recommend sauntering around S'Arenal Gros if you visit Portinatx, it has awe-inspiring views and is family-friendly.
Portinatx is also a paradise for snorkelers and divers because of just how clear the waters are there. The Portinatx lighthouse is a must-visit there, offering some brilliant panoramic views of the island. Relaxed vibe aside, nightlife and stay options are few and far between here.
Average price: $1,204 per night
Average price: $256 per night
Average price: $133 per night
Santa Eulalia
Once you touch down in Santa Eulalia, you'll immediately feel its undeniable charm. Like Portinatx, Santa Eulalia is a lot more laid-back compared to the rest of Ibiza. I think it would be a better option for families and people who love some good chow, thanks to the family-friendly accommodation available there and the many dining options.
Santa Eulalia has got a beautiful palm tree-lined promenade, a marina with luxury yachts, and plenty of restaurants and cafes to choose from. If you're an art lover, you could always pop into the Ibiza Conference Centre, which hosts different exhibitions. You might also want to see Puig de Missa; a church on top of a hill that offers a fabulous way to see the town.
Do note that the upmarket vibe does make Santa Eulalia more expensive and there isn't much of a nightlife there.
Average price: $673 per night
Average price: $189 per night
Average price: $64 per night
Talamanca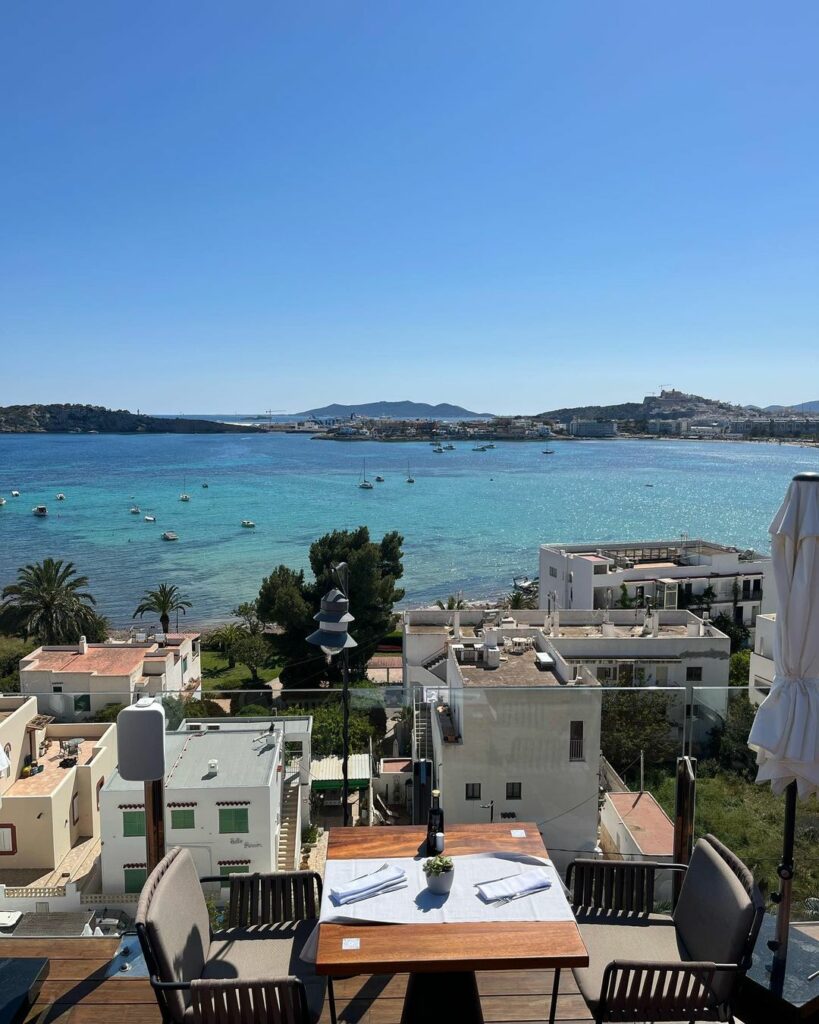 Talamanca has charming villas and a beachfront promenade with beach bars and restaurants, so you can quench your thirst and grab a delicious bite to eat. It's also only eight minutes away from Ibiza Town. Other than that, the beach is family-friendly, boasting calm waters that won't wash you away while you swim.
Talamanca Beach also has beguiling views of Ibiza Old Town but once you're tired of the sand you can always walk along the promenade until you reach Marina Botafoch, which has plenty of high-class beach bar restaurants and a backdrop of luxury yachts.
Average price: $1168 per night
Average price: $222 per night
Average price: $120 per night
Playa D'en Bossa
Beach lovers and partygoers adore Playa D'en Bossa. It has the longest beach on the island, which they made an appointment to line with trendy beach bars, sun loungers, and a bunch of water sports.
You'll find famous spots like Hard Rock Hotel Ibiza and Ushuaia Ibiza Beach Hotel, which are known to host some pretty big parties and music events.
Although it's quite a lively area, Playa D'en Bossa still offers some quieter areas for you to kick back and relax. Just head south if you want to hear less electronic music pumping.
Average price: $511 per night
Average price: $400 per night
Average price: $130 per night
Es Cubells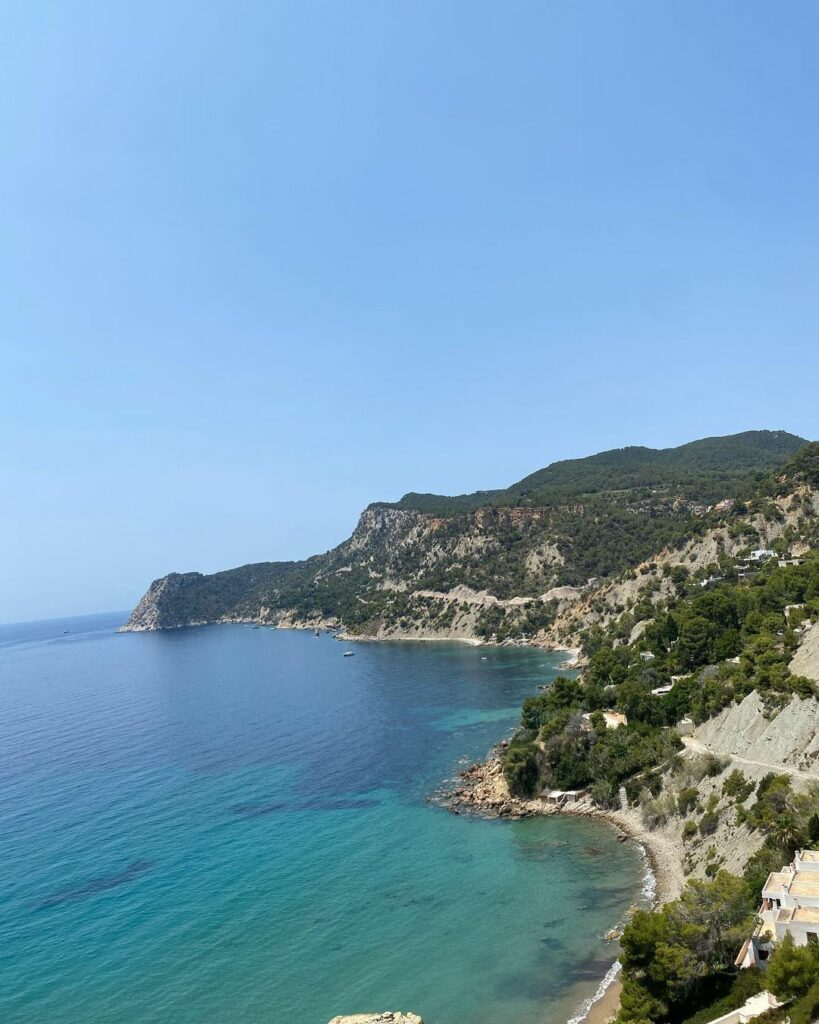 This is a small village on Ibiza's south coast. It offers what I like to call an "authentic" Ibiza experience, with its traditional charm.
Last time I checked, the village itself doesn't have that much except a pretty white church, a couple of bars, and a restaurant, although this may have changed. But, this is what makes Es Cubells appealing, it's away from the buzz.
The beaches there, like Cala Llentrisca, are peaceful and give you the best views of the famous Es Vedra rock. So you'll be getting a tranquil and authentic Ibiza vibe. Although, there aren't many choices in terms of accommodation. You also might want to rent a car because of its remote location.
Average price: $330
Cala San Vicente
Cala San Vicente is an easy-going spot nestled between lush hills. I like this area because it's less developed than the rest of the island. So, it's perfect for a peaceful getaway. Don't go to Cala San Vicente looking for a fast-paced experience.
The beach there is beautiful and you will feel incredibly relaxed but do bear in mind that Cala San Vicente is limited in terms of dining, nightlife, and accommodation options, plus you may need a car because of its remote location.
Average price: $505 per night
Average price: $402 per night
Average price: $142 per night
Cala Llenya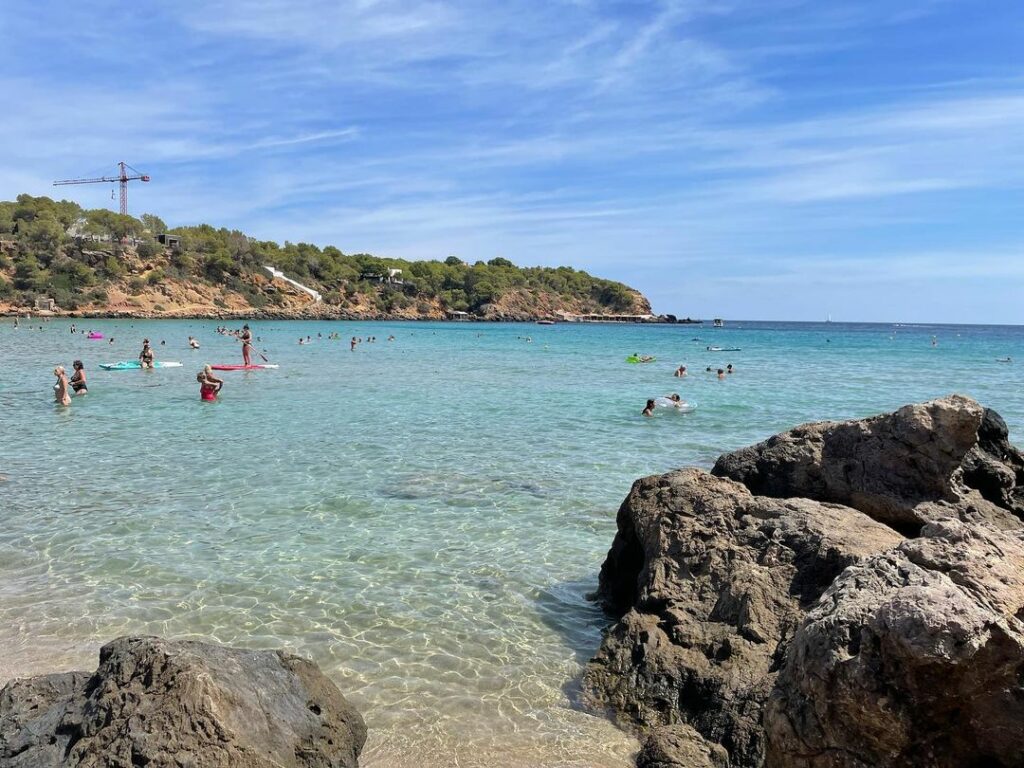 Cala Llenya is also a pretty good location for not having to contend with too many folks. Beach volleyball is popular on the white sands of Cala Llenya but other water sports like windsurfing and snorkeling are also on offer. You'll find enough loungers and parasols that you can rent out and momentarily escape the Ibiza sun.
The downside with Cala Llenya is that it doesn't have many entertainment options and it is a bit remote, so you might need a car to access it.
Average price: $288 per night
Best midrange stay – Cala Llenya Resort
Average price: $230 per night
Average price: $125 per night
Es Cana
The small resort town is best known for its famous hippy market at nearby Sant Carles de Peralta (San Carlos). The market is one of the biggest on the island and it has a lot to offer, like jewelry and culinary delights.
Es Cana also has a crescent-shaped beach that's great for snapping some pics to go along with your memories!
You won't find much nightlife here though and it can be crowded during market days. It also has much fewer luxury accommodation options.
Average price: $593 per night
Average price: $299 per night
Average price: $147 per night
Cala Tarida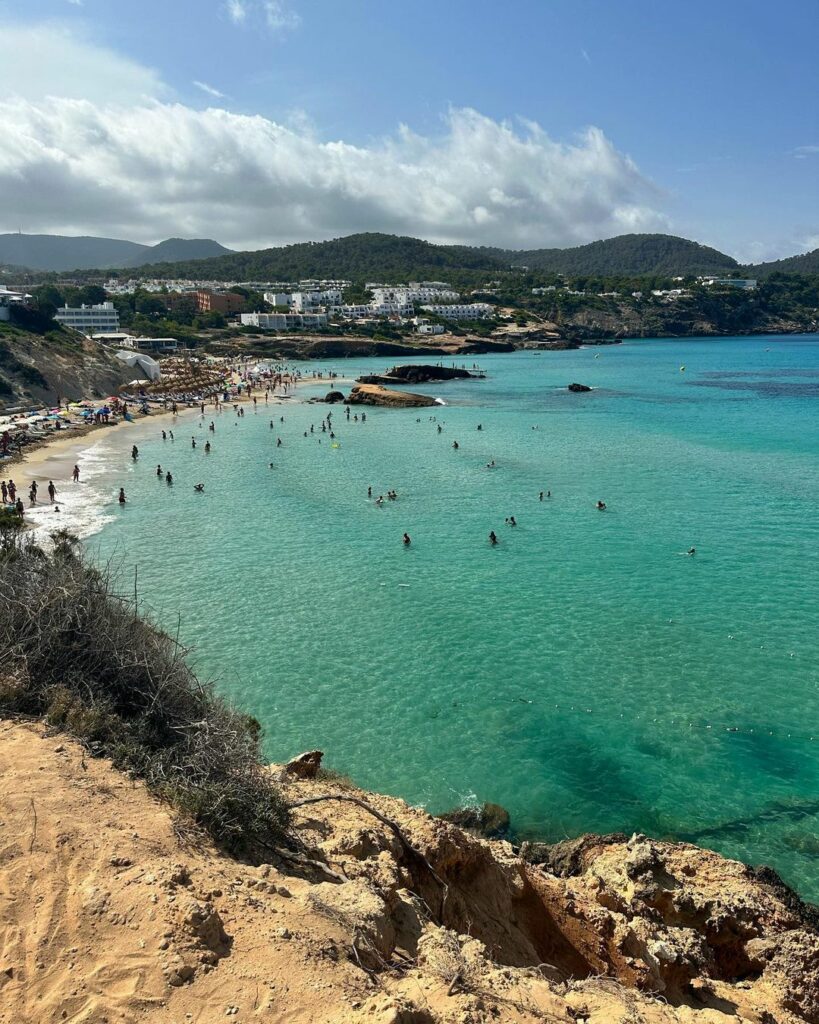 Carla Tarida is another solid option for your stay in Ibiza. This west coast gem has beautiful clear water and the Cotton Beach Club which is its very own definition of the word "luxurious." Thrill seekers are also able to enjoy some fun water sports at Cala Tarida.
There's also an upscale beach club there in the form of the Cotton Beach Club. The main issue with this location is that it can be expensive and there are limited dining options outside of the beach club.
Best luxury stay – Insotel Tarida Beach Resort & Spa
Average price: $323 per night
Average price: $300 per night
Average price: $98 per night
Cala Llonga
Cala Llonga is another gem on Ibiza's east coast. This popular resort town is known for its wide sandy beach, Cala Llonga Beach, and is quite close to the beautiful Cala Nova. Cala Llonga also has more than enough dining options and hotels for your stay in Ibiza.
It's a very family-friendly location with many accommodation options but you won't find luxury options like in Cala Nova, the nightlife is lacking, and it's certainly not as peaceful as the other areas.
Average price: $487 per night
Average price: $244 per night
Average price: $196 per night
Map of the Best Places to Stay in Ibiza
Top-Rated Places & Hotels for Different Traveler Types
Best places for families
Ibiza Town (Dalt Vila)
Ibiza Town is a total win for families! The blend of old and new is just perfect. Kids will love exploring the UNESCO-protected Old Town, with its cool cobblestone streets and cute cafes. And the views? Absolutely stunning! The modern part is buzzing with great hotels and shops. Plus, the marina's a sight to behold. Sure, it's a bit pricey and noisy at night, but the daytime charm totally makes up for it.
Eurostars Ibiza is one of the best hotels in Ibiza and a total family paradise! The rooms are spacious, perfect for the kiddos to run around. They've got activities, so you can sneak in some "alone" time. The beach is just a stone's throw away, there's a private pool, and the food? Simply delicious! Plus, the staff are super friendly and always ready to help.
Formentera
Trust me, you're gonna love Formentera! It's like a hidden gem for families. The beaches are pristine, perfect for building sandcastles and splashing around. There are loads of family-friendly activities, from bike rides to snorkeling and the locals are so welcoming, you'll feel like part of the community in no time. It's a chill, fun-filled spot that's just perfect for a family getaway. You won't regret it!
Best places for couples
This is one of the finest Ibiza hotels. Sir Joan offers stunning sea views and top-notch service in a prime location. It also has a stunning swimming pool, superb rooms with all your creature comforts, and a scrumptious breakfast. It's truly a haven for couples with a taste for opulence. But, do remember this sort of stay won't be easy on your wallet.
Cala San Vicente is a dream for couples. You'll feel completely at ease nestled between green hills. It's a romantic escape away from the hustle. The beach? Pure bliss. It's less developed, so it's all about that chill vibe.
Hostal La Torre in San Antonio, Ibiza, is a dreamy spot for couples. Imagine waking up to sea views, chilling on the sun terrace, or sipping drinks at the bar. The rooms are super cozy with flat-screen TVs and some even have a terrace or balcony. They've also got 24-hour front desk service, plus bike and car hire for romantic adventures.
And it's just a short hop to Café Mambo or Sant Josep de Sa Talaia. It's the perfect love nest!
Best places for nightlife
San Antonio
San Antonio is the ultimate spot for nightlife. It's buzzing with energy, home to legendary superclubs like Eden and Ibiza Rocks Hotel. Sure, it gets crowded, but for a night to remember? San Antonio's your place.
Dorado Ibiza
Dorado Ibiza is the best spot for nightlife lovers! It's an adults-only beachfront stay with a rock 'n roll vibe. Each suite is unique, decked out with cool finishes, a Marshall sound system, and epic sea views. There's a pool bar for daytime chilling and a rooftop terrace for sunset cocktails. But the real kicker? It's got its own nightclub with regular music events.
This adults-only hotspot is right on Playa d'en Bossa Beach, featuring a spa, three outdoor swimming pools, and a free entrance to live DJ performances. The rooms are sleek and have a terrace for pre-party drinks. It's split into two: The Ushuaia Club for epic parties and the exclusive Ushuaia Tower for 24/7 room service and poolside cocktails. Plus, it's right around the corner from Ibiza Old Town and Hi Ibiza.
Best places for relaxation
Tucked away in a small cove, Cala Xuclar is one of the last untouched beaches on the island and has crystal-clear water, making it the ultimate chill-out spot. It's also never too crowded, even in the peak season. You can explore, sunbathe, or just lose yourself in the tranquility. Fancy a walk? The surrounding area is perfect.
Santa Eulalia is another go-to for relaxation. It's laid-back, charming, and perfect for foodies with its array of dining options. You can stroll along the palm-lined promenade, check out luxury yachts, or visit art exhibitions.
Another haven for relaxation is Hotel Vibra Algarb, located on Playa d'en Bossa Beach. It has outdoor pools, a sun terrace, and rooms with private balconies, so it's perfect for unwinding. Enjoy international cuisine at the buffet, or grab a snack at the poolside bar. Plus, it's just a short bus ride from Ibiza Town.
Best places for first-timers
Amnesia
Amnesia Ibiza is a must-visit for any first-timer. This iconic superclub, once an 18th-century farmhouse, is a rite of passage for clubbers. With its two massive dance floors, VIP access, and a capacity of 5,000, it's the heart of Ibiza's nightlife. It also hosts legendary parties like Cream and Cocoon.
Talamanca
Talamanca is a first-timer's dream. It's got charming villas, a beachfront promenade lined with bars and restaurants, and it's just a stone's throw away from Ibiza Town. The beach is family-friendly with calm waters and stunning views of Ibiza Old Town.
One Ibiza Suites
One Ibiza Suites is a great option for enjoying a slice of paradise without having to take out a second mortgage. The suites are modern and spacious and the pool area is a thing of beauty. The downside with this stay is that its relatively affordable rates and popularity mean it's often booked out, so move quickly!
Best places for beach vacations
Cala Comte
Cala Comte is a beach lover's dream! Just a 15-minute drive from San Antonio, this 800-meter stretch of sand is decked out with loungers, day beds, and parasols. There are restaurants, bars, and even a beach boutique. Plus, you can easily get there by car, bus, taxi, or summer ferry. And don't worry about parking, there's a designated area.
Cala Bassa
Also located a mere 15 minutes from San Antonio, Cala Bassa is a magnet for both locals and tourists. Picture this: lounging on sunbeds, taking a refreshing shower, and even indulging in a beachside massage.
For the adventurous, there's a whole range of watersports. And the best part? The stunning turquoise waters and golden sand are lined by beautiful Sabina trees.
Playa D'en Bossa
Playa D'en Bossa is another beach vacation dream. It's got the longest beach on the island, decked out with trendy bars and loads of water sports. But if you're after some chill, just head south for some peace. It's the best of both worlds, really.
Best Time to Visit Ibiza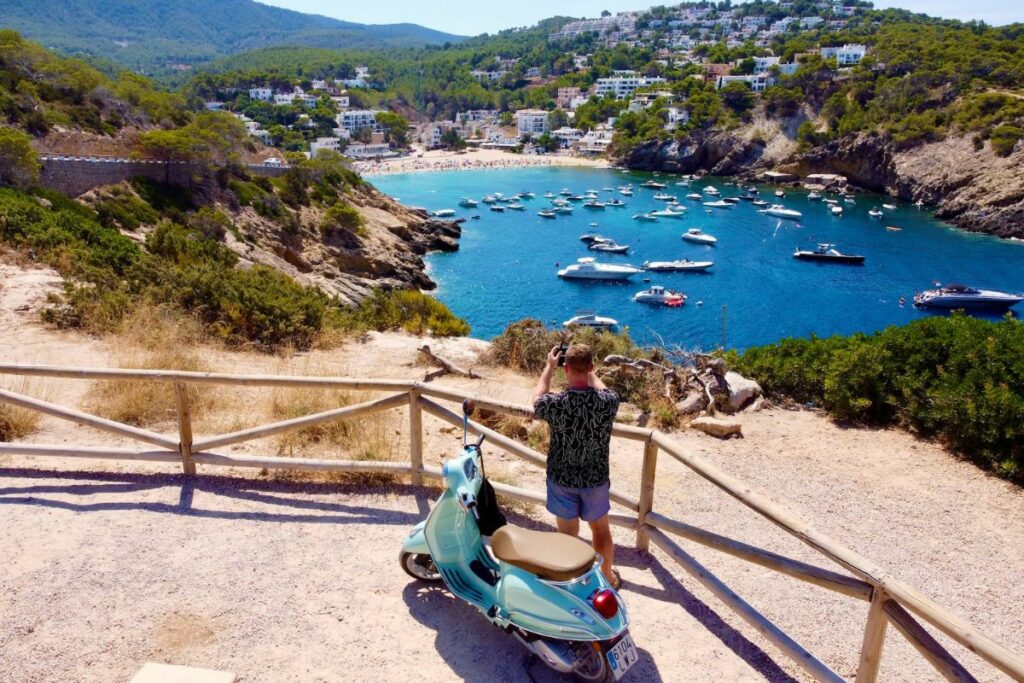 If you're a party animal, then the best time to visit Ibiza is probably June to early October, as these are the summer months. During this time, clubs will be in full swing and the island will be full of energy.
For those who like a quieter vacation and a laid-back vibe, visit during the shoulder seasons, April to early May, or just at the end of October. The best weather is usually between June and September. This is usually when the island is warm and perfect for lazing around on the golden sands.
Getting Around Ibiza
Rent – With your own vehicle, you'll be able to explore the island's trapping at your own pace.
Bus – The buses in Ibiza are a good option, as they connect major towns and beaches, and they're affordable.
Taxi – There are plenty of taxis in Ibiza, largely because there's a huge market for picking up those who've had one too many. There are also water taxis that give you easy access to nearby beaches and hotspots.
Walk – One of the best ways to discover Ibiza is on foot, as they're plenty of hotspots within walking distance of each other.
Frequently Asked Questions
What part of Ibiza is the best to stay?
If you're a first-timer, Ibiza Town is generally the best place to stay. It has a good balance of nightlife and history. If you're an Ibiza veteran, then San Antonio might offer a nice change of pace.
Is it better to stay in San Antonio or Ibiza Town?
Neither is "better" than the other. Ibiza Town is seen as more "Spanish" and has a buzzing nightlife with world-famous clubs. San Antonio on the other hand, is cheaper, has amazing sunsets, and hosts some of the best pool parties on the island. So, pick based on what aligns with your preferences.
How many days should you do in Ibiza?
The way I see it, the longer the better. There are many things to do in Ibiza, so even three days could be enough. But, I'd recommend spending five to seven days in Ibiza, as you'll have enough time to explore the island and relax. More days will also open up the possibility of exploring the nearby island of Formentera.
Where do celebs stay in Ibiza?
Celebrities generally opt for luxury and privacy when they visit Ibiza. You'll find many at high-end resorts such as the Ibiza Gran Hotel which is known for its stunning views and stellar service. Other popular stays among celebrities include:
– Six Senses Ibiza
– Hard Rock Hotel
– Nobu Hotel Ibiza Bay
Where is the cheapest place to stay in Ibiza?
For a budget-friendly experience, I would recommend areas like San Antonio and Playa d'en Bossa. They offer affordable accommodations such as hostels, budget hotels, and self-catering apartments. These areas also don't skimp on the beautiful views of Ibiza, so you won't feel like you're missing out. Remember that prices will vary according to the season and when you book.
Conclusion
And there you have it, people! You're now equipped with the best information on where to stay in Ibiza.
Whether you're an energetic party animal, a lazy beachcomber, or something in the middle, Ibiza truly has something for everyone.
So, book your flights, pack your bags, and get ready for a trip of a lifetime. Oh yeah and don't forget to pack some sunscreen, trust me, you'll need it!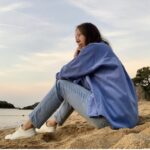 Hello, my name is Nadia.
I usually write about traveling (there are so many places to fit all the lifestyles), relocation (finding a job overseas or moving without losing an income), and living in a foreign country (adapting to a different culture and mentality). Follow me on Twitter, Facebook, Instagram, or LinkedIn!
This post might include some affiliate links. If you make a purchase through these links, I may earn a small commission at no additional cost to you. I appreciate it when you use my links to make purchases.