11 Most Stunning Fall Views on US Train Journeys in 2023
Nadia Podrabinek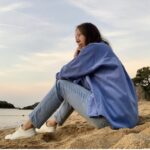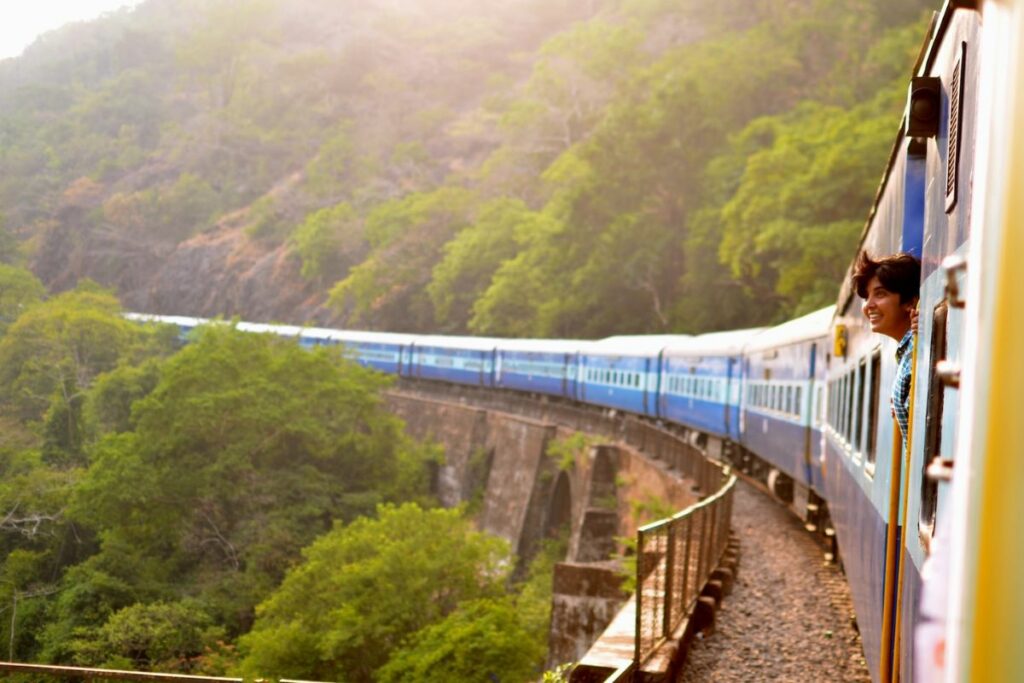 If you're looking for something magical and enchanting to do in the fall months, why not take a train trip across the US to immerse yourself in everything autumn has to offer? As the leaves start to change to incredible shades of yellow, orange, red, and gold, you'll want to start packing your bags and booking an exciting train trip to make the most of this gorgeous season.
From the landscapes of the Rocky Mountains to the serenity of the New England countryside, I'll introduce you to some of the most amazing train journeys that are worth more than their weight in gold.
---
Key takeaways
Start looking for train rides from mid-September to late October.
Pay attention to the amenities on the train to ensure you're comfortable.
Take your camera along for stunning fall pictures.
Always plan ahead to secure your perfect spot.
---
The 11 Train Journeys for Stunning Fall Views in 2023
Northeast: Amtrak's Downeaster (Boston to Brunswick, Maine)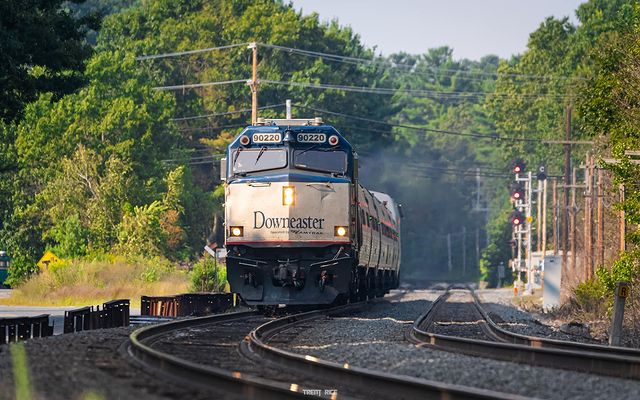 Price: Around $30 (one-way), $60 (round trip)
The Amtrak Downeaster offers passengers a 143-mile (230 km) route from Brunswick to Boston and passes through 12 communities across 3 states. On this train ride, you can enjoy comfortable seating and oversized windows for scenic views of the fall foliage. There's also an onboard cafe with plenty of snack and drink options.
The best time to see fall foliage is from early October until late November, but this train is delightful all year round! New England is particularly magical when it's dressed in fall colors.
Tips
The Downeaster allows you to travel with small pets. Just be sure to check out the pet policy before reserving your seat.
The Event Nite Train is a great, hassle-free transport option if you're traveling to an event.
Mid-Atlantic: The Capitol Limited (Washington D.C. to Chicago)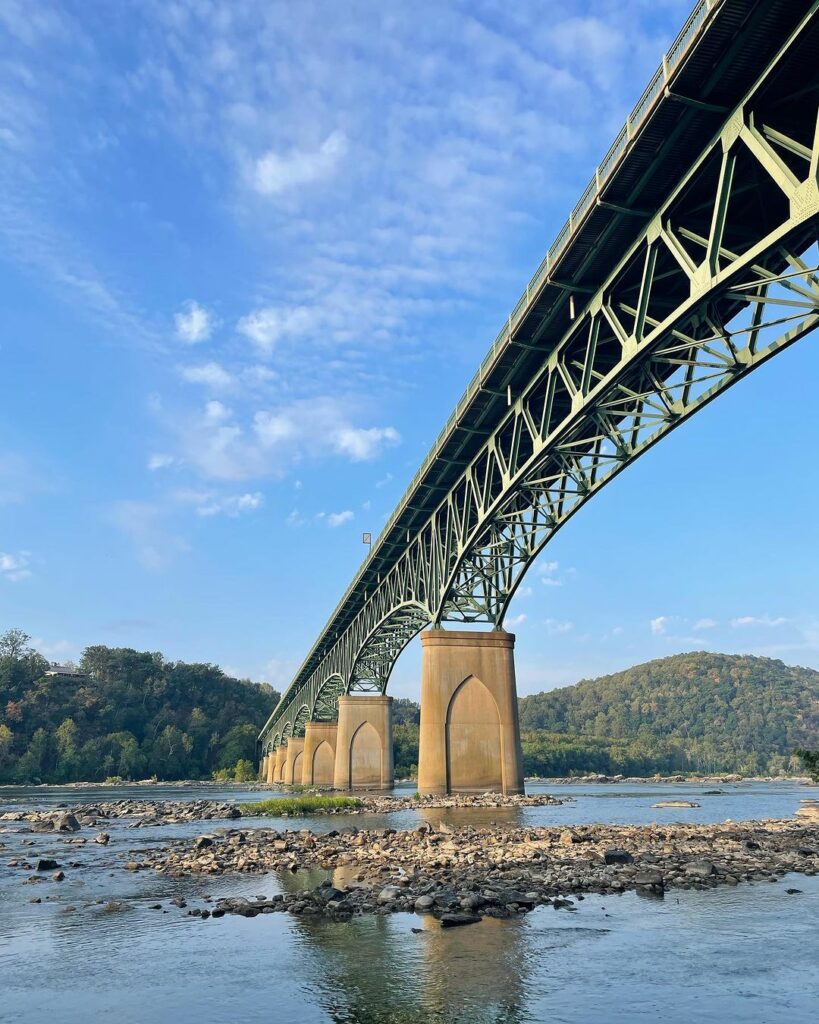 Another one of the most scenic train rides is the Capitol Limited, which is an 18-hour journey from Washington, D.C. to Chicago. The train passes through several scenic landscapes (which are gorgeous in late October and early November) and stops at the Harpers Ferry National Historical Park. Private rooms are also available at an additional cost, with the route operating year-round.
Tips
Keep in mind that there is no Wi-Fi or observation car on this route, so you'll want to plan accordingly for entertainment.
Take advantage of the scenic stops along the way, such as Harpers Ferry, Pittsburgh, Cleveland, and more.
South: Great Smoky Mountains Railroad (North Carolina)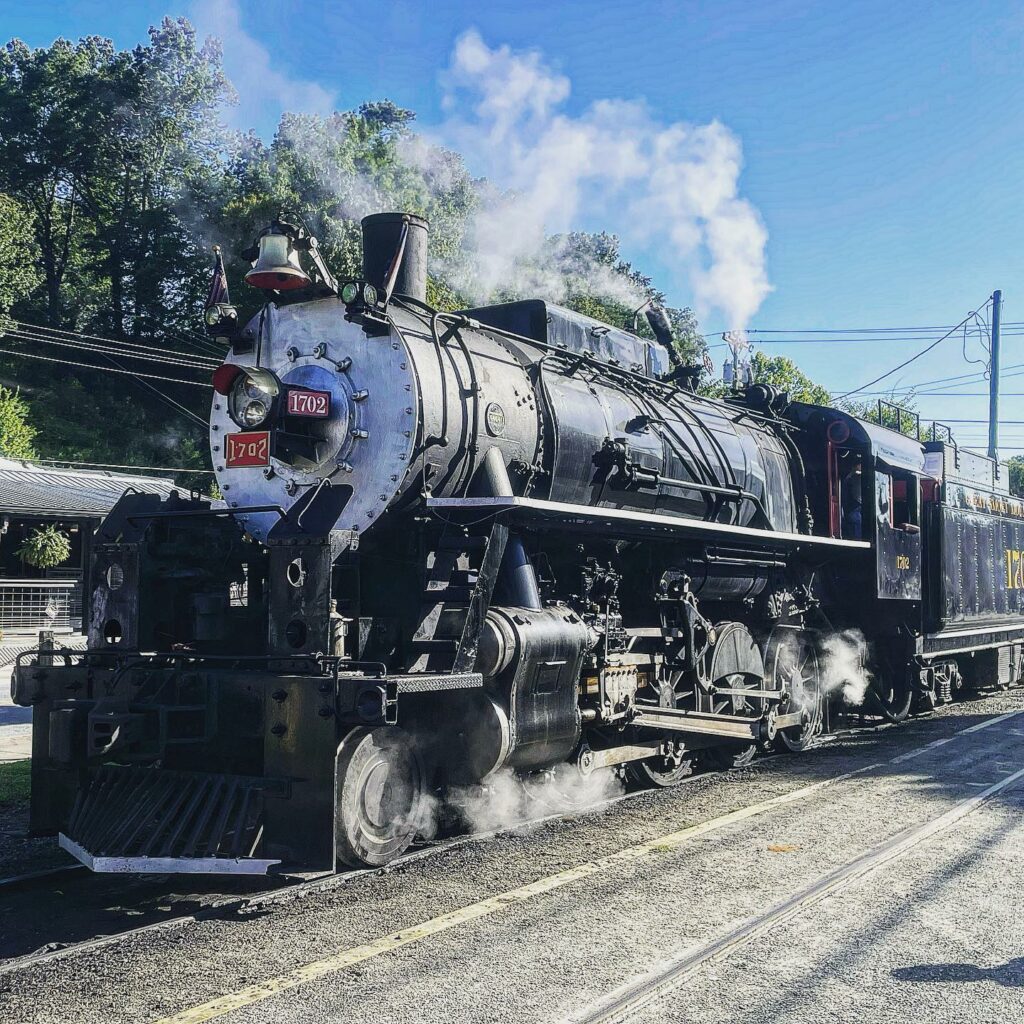 Price: From $58 (depending on the package)
Just 15 miles (24 km) away from the Blue Ridge Parkway, the Great Smoky Mountains Railroad's Tuckasegee Steam Train offers beautiful train journeys in the fall season from Bryson City to Dillsboro, North Carolina.
You can enjoy a 4.5-hour round trip with panoramic river and fall foliage views, with a 90-minute layover in Dillsboro. For optimal fall colors, you'll want to pick Saturday and Sunday departures in mid-October.
Some of the highlights also include fiery sugar maples along the Tuckasegee River and the Nantahala Gorge excursion.
Tips
The fall foliage excursions are super popular, so be sure to book in advance!
You can choose between a modern diesel train or a vintage steam engine (my personal favorite) to suit your preferences.
Midwest: The Empire Builder (Chicago to Pacific Northwest)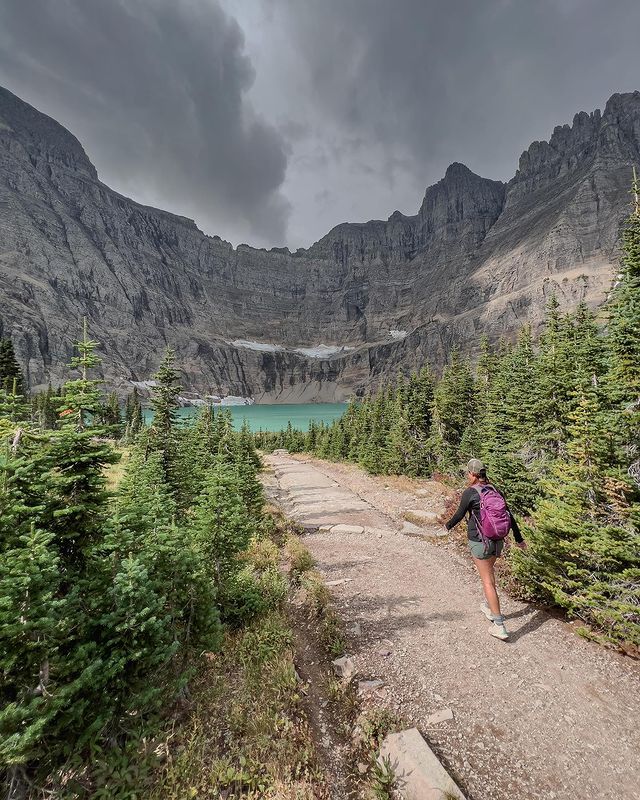 The Empire Builder is an iconic US train trip and is part of Amtrak's most stunning routes. It spans a whopping 46 hours from Chicago to the Pacific Northwest, retracing the expedition by Lewis and Clark. On this journey, you can encounter both urban and natural wonders, like the Glacier National Park and North Dakota Plains, crossed via the impressive Gassman Coulee Trestle bridge.
The journey is best from late September to early November when the fall colors are most vibrant.
Tips
Make sure to spend time in the observation car for the best fall foliage views!
Take advantage of layovers in cities like Chicago, Minneapolis-St. Paul, Glacier National Park, Seattle, and Portland.
Mountain West: The California Zephyr (Chicago to San Francisco)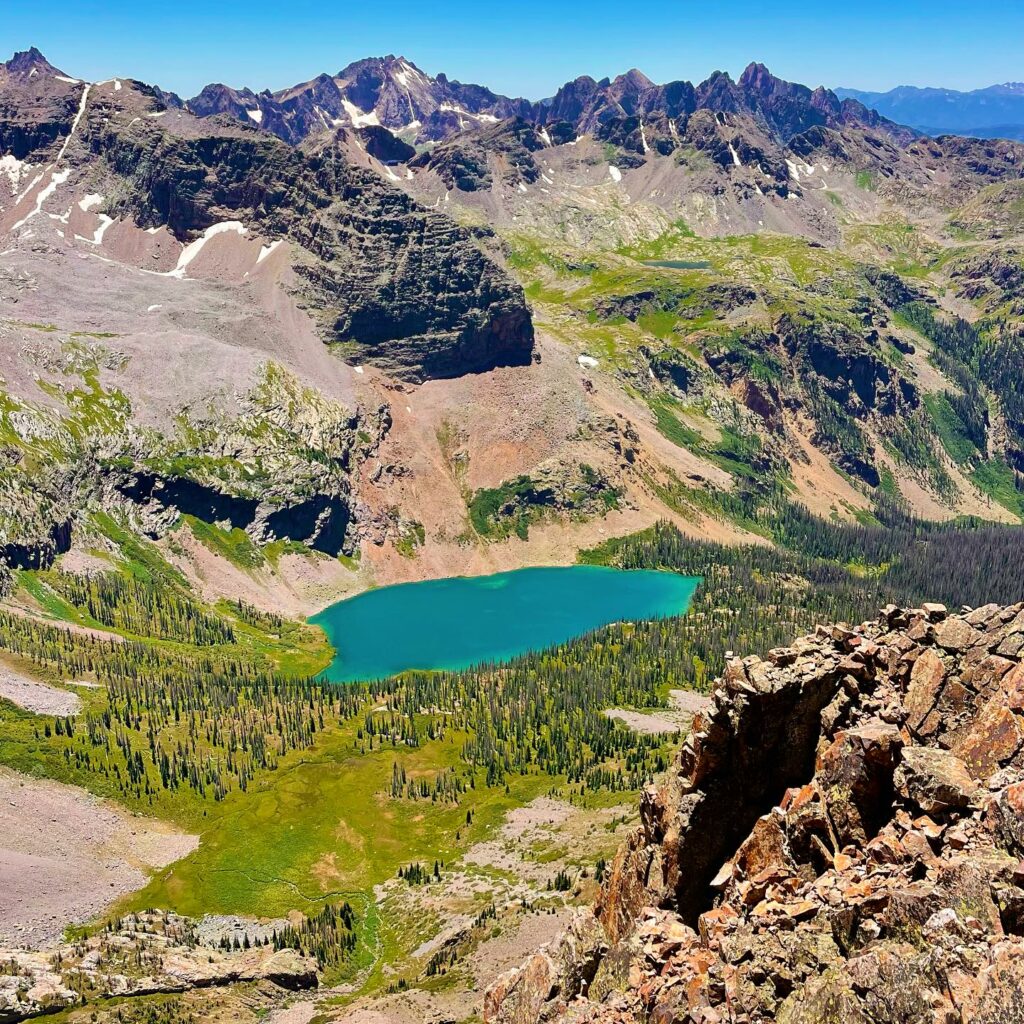 Want to go leaf-peeping on an extraordinary 51-hour journey? Then the California Zephyr from Chicago to San Francisco is the train ride for you! The western segment passes through Colorado, Utah, Nevada, and Northern California for the most incredible scenery. On this train ride, you can witness the Rocky Mountains, Colorado's canyons, and the grandeur of the Sierra Nevada.
Be sure to take this train ride between late September and early October for the best fall foliage. Sometimes, mid-October also has fall foliage.
Tips
Prepare for a long journey and pack all of the essentials you may need.
Consider making a stop at the scenic Glenwood Springs, Colorado. Here, you can explore the 42-mile (around 68 km) Rio Grande Trail leading to Aspen.
Southwest: The Southwest Chief (Chicago to Los Angeles)
Get your fall foliage fix on the Southwest Chief. This Amtrak train offers you a captivating 40+ hour journey from Chicago to Los Angeles. The journey spans eight states and crosses the Mississippi River to give you a front-row seat to the fall colors along mountain peaks and desert terrains.
Some of the key stops on this journey include Chicago, Kansas City, Albuquerque, and Flagstaff. Make sure to book your tickets from mid-to-late October to make the most of the attractions along the route.
Tips
Don't miss the opportunity to explore the Grand Canyon with bus connections in Williams, Arizona.
Take time to enjoy more than just leaf-peeping at the Arabia Steamboat Museum in Kansas City and the International Balloon Fiesta in Albuquerque in mid-October.
West Coast: The Coast Starlight (Los Angeles to Seattle)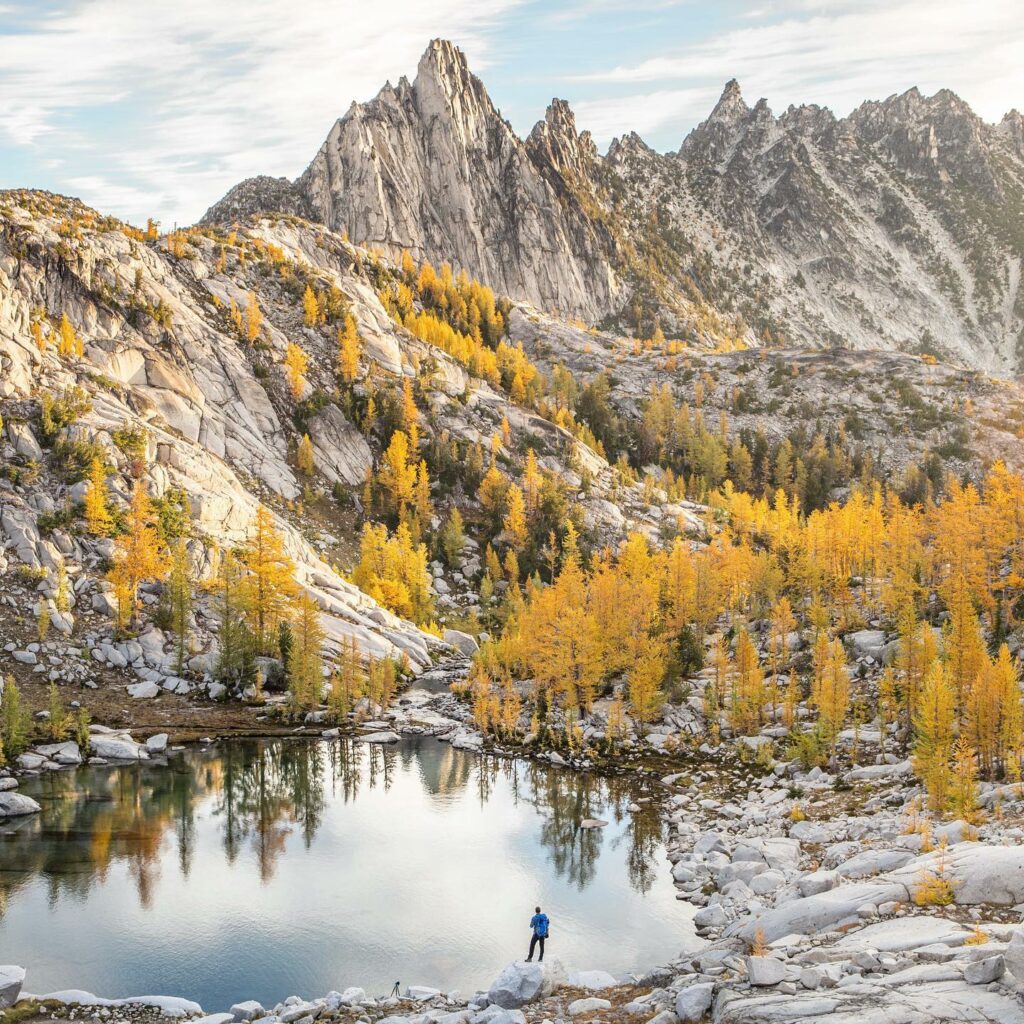 Amtrak's Coast Starlight gives you the opportunity to enjoy a 35-hour journey between Los Angeles and Seattle. This train journey stops in iconic West Coast cities like Santa Barbara, San Francisco, Sacramento, and Portland along its 1,377-mile (2,216 km) route.
In the sightseer lounge car, you can enjoy floor-to-ceiling windows to take in the views of the fall foliage at the Cascade Range, Mount Shasta, lush green mountains, and the Pacific Ocean shoreline. This West Coast adventure is usually best in the fall periods – particularly late September, early October, and mid-October.
Tips
Book your tickets in advance for the best seats and accommodation.
Spend some time in the 'sightseer lounge car' to get the best views of the fall foliage.
Alaska: The Alaska Railroad's Denali Star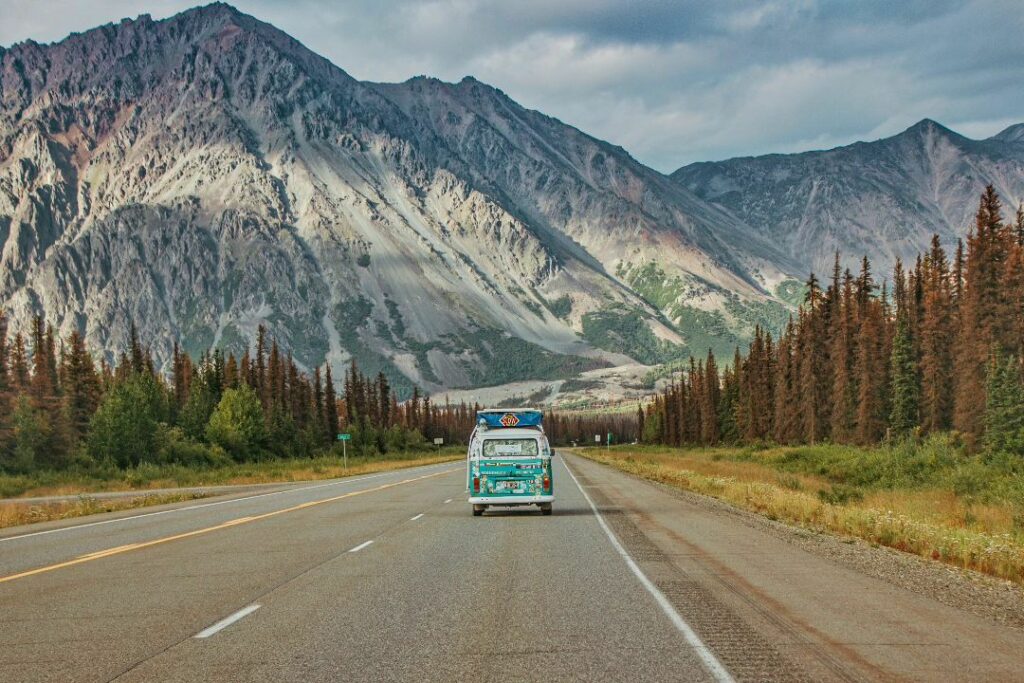 Price: From $376 (round trip)
The Alaska Railroad's Denali Star Train gives you a unique opportunity for a 12-hour journey through the heart of Alaska. The route spans 350 miles (563 km) from Anchorage to Fairbanks and passes breathtaking vistas like birch forests and rushing rivers. You may even get the chance to spot more than the fall foliage and catch a glimpse of some of the local caribou and bears.
The train passes Mt. McKinley and through the Denali National Park as well, so be sure to bring your camera along!
Tips
Tickets can be scarce, especially during the fall foliage season. Be sure to book your spot in advance!
Consider upgrading to GoldStar Service for a better experience with open-air viewing cars (talk about the best way to experience leaf peeping in the fall).
Georgia: Blue Ridge Scenic Railway (Georgia to Tennessee)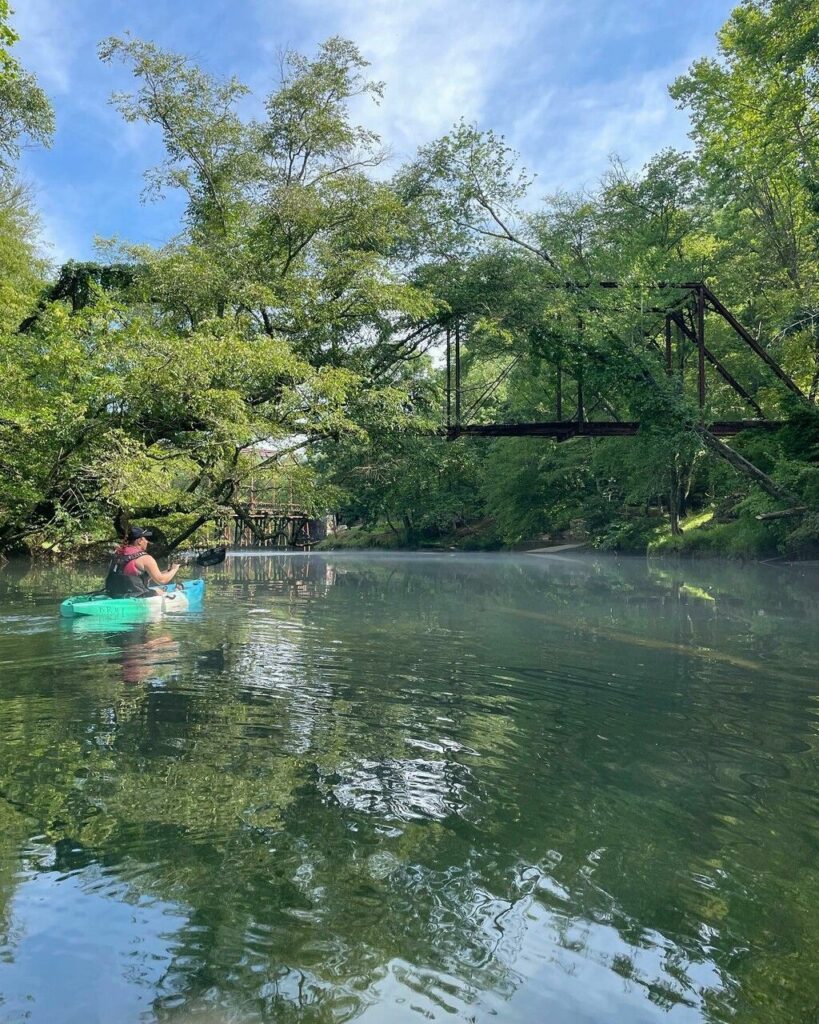 One of the most popular things to do around the Blue Ridge Mountains is the Blue Ridge Scenic Railway. Starting at Blue Ridge, Georgia, the train meanders through 26 miles (42 km) alongside the Toccoa River within the Chattahoochee National Forest. For the best fall foliage, you'll want to take the train from late September to early November.
There are two different trips you can take: The 2-hour Express Tour and the 4-hour Extended Tour. There are also several coaches to choose from to suit your preferences.
Tips
Premier rides are exclusively available to adults over 18.
If you opt for the 4-hour Extended Tour, make the most of the layovers in McCaysville, Georgia, and Copperhill, Tennessee, to explore these charming mountain towns.
Colorado: Durango & Silverton Narrow Gauge Railroad
Get ready to embark on a stunning trip with the Durango Narrow Guage Railroad, which takes the captivating route from Durango to Silverton. The Scenic Round Trip Silverton is perfect for enjoying the fall colors and fall foliage until mid-October, and taking a scenic journey to Silverton is steeped in rich history. The round trip is just over 9 hours long with a 2 or 4-hour layover in Silverton.
Tips
Colorado's weather can be unpredictable, so be sure to dress appropriately and bring extra clothes in case.
If you choose a journey with a layover in Silverton, be sure to take the opportunity to explore!
New England: Conway Scenic Railroad (New Hampshire)
To catch the New England fall foliage from September to late October, the Conway Scenic Railroad in New Hampshire is the train ride. This gorgeous 5.5-hour round trip route through New Hampshire's landscapes passes through the Crawford Notch pass in the White Mountains.
White Mountain National Forest is also famous for its fall foliage, so it's an amazing pick for anyone who wants to enjoy the fall colors and the cozy atmosphere of a vintage 1950s-era train car.
Tips
Outside food isn't allowed on the train, but luckily there is a cash-only snack bar onboard.
Be sure to book a lunch for yourself on the same day as your excursion to keep yourself well-fed on your journey.
Why Train Travel in the Fall?
Train travel during the fall season offers a really unique and enjoyable experience for several reasons. Some of the reasons I absolutely love train travel in autumn include:
One of the biggest advantages of taking a train in the fall is being able to avoid traffic congestion. Rather than taking a 'scenic drive' on a gridlocked highway, you can enjoy your journey without the stress and delays of standard travel.
Train travel is surprisingly comfortable and relaxing depending on the train you take. Some trains have onboard accommodation as well, so you can think of it as a moving hotel with amazing views of the fall foliage.
Fall is synonymous with cozy vibes, and a train ride perfectly complements the atmosphere. The ambiance of the fall season when you're on a train is unmatched!
Train travel is usually more environmentally friendly than taking a car on a road trip. So, if you want to travel and reduce your carbon footprint, train travel is a fantastic choice.
What Makes a Fall Train Journey Special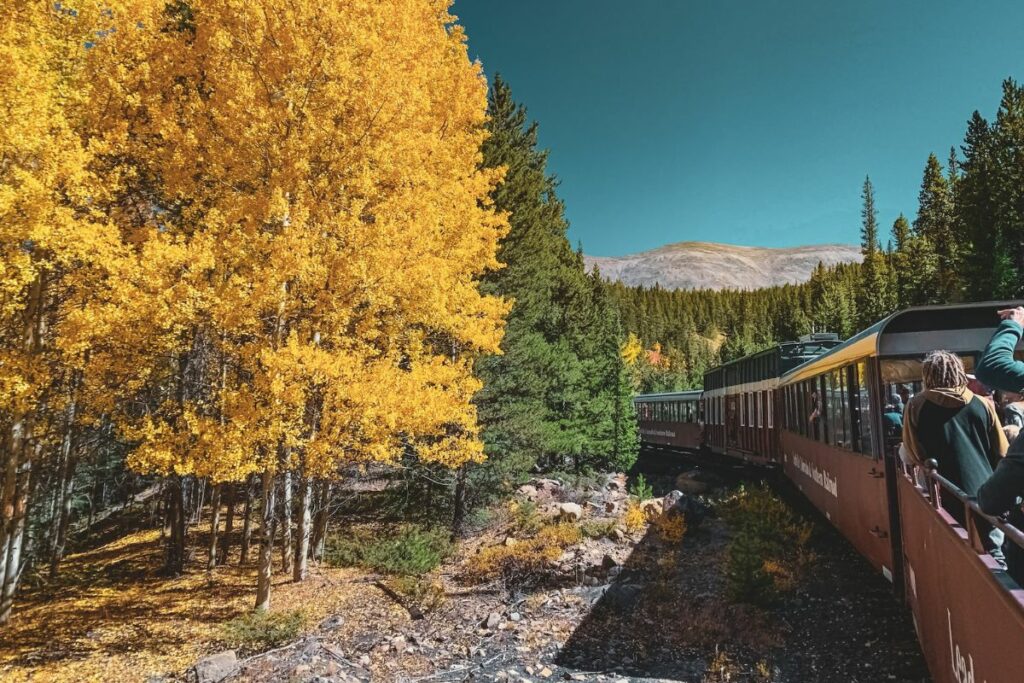 There is something so magical about a fall train ride, and I always want to encourage travelers to try it out (at least once). If you want to go leaf-peeping, a train is the way to go. Unlike some parkways and driving routes, trains usually pass through some of the most scenic landscapes. This means you get a front-row seat to some of the most beautiful backdrops around.
As an added bonus, you won't have to focus on the road! When you're driving, you can easily miss some of the natural beauty around you since you're focused on navigation rather than slowing down and taking it all in. On a train, you only need to sit back and drink up the gorgeous fall atmosphere.
Additionally, trains are less crowded during the fall. Unlike the summer months when tourists and travelers crowd train stations and scenic spots, you'll have a lot more room to breathe and enjoy the journey during the autumn months.
Planning Your Train Trip This Fall
Planning a memorable fall train trip is incredibly exciting, but it can be tricky if you've never done it before. Don't worry, though, because I'm here to help!
Here are some of my top tips for planning your train trip this fall season:
Choose your route: Be sure to research train routes that are known for their scenic beauty during fall. Look for routes that pass through areas with vibrant fall foliage, picture-perfect landscapes, and perhaps a even few popular attractions!
Book your tickets early: Although trains are less crowded in the fall, there are some routes that tend to attract tourists. Depending on which train you pick, you may want to book your tickets early to ensure you get the seat you want and the best views from the train.
Pick the right class: Trains offer various seating classes, from standard coach to first class and even private accommodation. Remember to consider your budget and preferences when you book your tickets to make the most of your trip.
Check the schedule: Pay attention to the train schedule, including departure and travel times. Some journeys also have extended layovers that you may want to take advantage of.
Research your stops: If you want to take in popular attractions along your route, be sure to research the stops so that you can plan your journey accordingly.
Onboard Amenities and Tips
Some travelers tend to worry about what is and isn't included onboard the train. However, most modern trains have specific amenities to make your journey more comfortable.
Some of these onboard amenities include:
Many trains offer snacks or dining cars onboard so that you can enjoy a delicious meal while traveling in style.
Some trains include observation cars or decks where you can get an even better view of the stunning fall colors along your journey.
Most trains have restrooms for your convenience, so you can relax and enjoy food and beverages without worry.
In more modern trains, you may even have Wi-Fi connectivity so that you can stay connected no matter where you are.
Photography Tips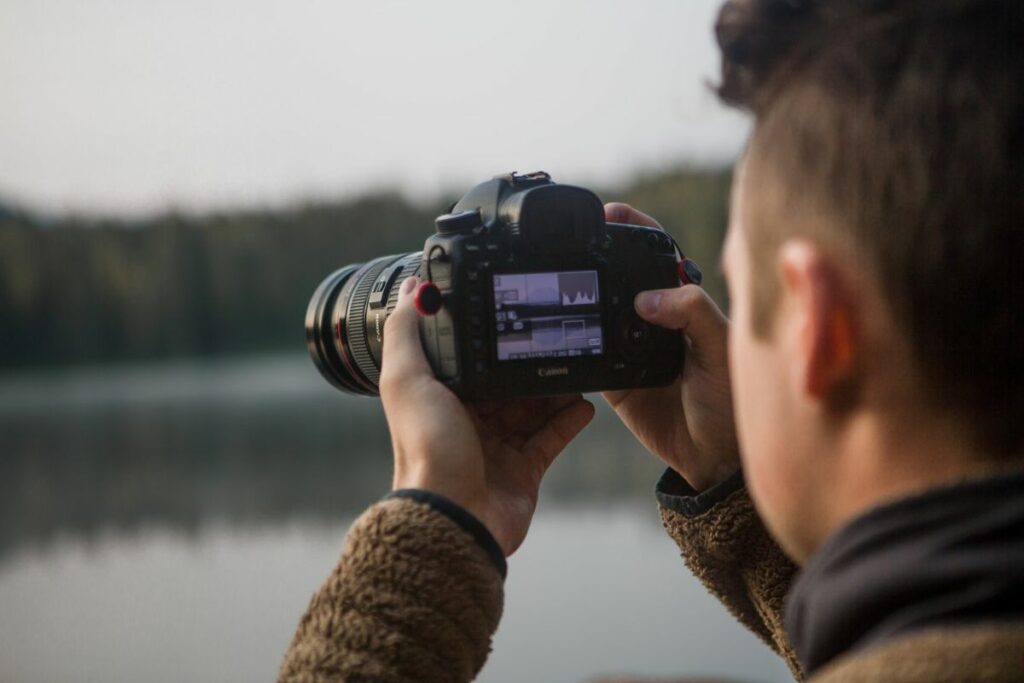 Capturing the beauty of the fall season from your train can be a rewarding photography challenge – emphasis on the challenge. Although it can be hard to get the perfect snapshot, there are a few tips and tricks that I've learned to help you capture the best fall foliage pics.
Here are my top tips for getting stunning pictures from the train:
Shutter speed: To avoid motion blur caused by the movement of the train, be sure to use a fast shutter speed. Typically, a shutter speed of 1/500th of a second or faster is a good starting point.
Stabilize your camera: Even with a fast shutter speed, the vibrations from the train can affect the sharpness of your images. To avoid this, use a tripod or monopod to stabilize your camera. If you don't have one, try to brace yourself against a stable surface.
Pick the right lens: A versatile camera lens, like an 18-55 mm or 24-70 mm, can be ideal for train photography. It can allow you to capture both wide-angle landscape snapshots and incredible detail. If you have a longer lens, you can isolate specific elements like mountains or trees.
Adjust your ISO: Set your camera's ISO to a level that balances the need for a faster shutter speed with great image quality. In well-lit conditions, keep the ISO low to minimize noise.
Shoot in RAW: Shooting images in RAW format gives you more flexibility during post-processing. You can adjust the exposure, color balance, and other settings without losing any of your image quality.
Conclusion
Fall is one of the most incredible times of the year. It has a whimsical feel and some of the most beautiful colors and weather for you to enjoy. And what better way to immerse yourself in all of the natural beauty than with a train journey? With this simple guide, you can easily plan your next train trip. All you need to do is sit back, relax, and enjoy the ride!
Frequently Asked Questions
What are the best train journeys in North America?
Going leaf-peeping around North America is one of the best things to do in the fall. From the White Mountains to Acadia National Park and Blue Ridge Mountains, there are tons of places to see fall foliage. But there's another way to take in the beauty of autumn – with an amazing train journey.
Some of the best train journeys in North America include:
– Amtrak's Coast Starlight along the West Coast
– The Alaska Railroad's Denali Star Train
– The California Zephyr
– Amtrak's Southwest Chief
Where can I ride the train to see fall foliage in NJ?
In New Jersey, you can enjoy a few fall foliage train rides like the Delaware River Railroad Excursions. This jaw-dropping train ride takes you along the Delaware River and has fantastic views of the stunning autumn colors in the Delaware Water Gap region.
Which state in the USA is most beautiful during fall?
There are plenty of amazing states in the USA that look incredible during the fall. Still, Vermont is often regarded as one of the most beautiful states for leaf peepers. The maple trees, rolling hills, and covered bridges also create a picturesque fall landscape.
What month is best for fall leaves?
The USA has one of the longest fall foliage seasons. Although it can vary depending on the region you're in or visiting, fall foliage season usually begins in late September and runs until late October. In some cases, it can even trickle into the beginning of November, too!
What state has the most beautiful fall colors?
While there are a handful of states that love to boast their bright fall colors, some are naturally more vibrant than others. States like Vermont, Colorado, New Hampshire, and Maine are truly the best of the best for enjoying the fall foliage when the autumn season rolls in.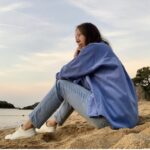 Hello, my name is Nadia.
I usually write about traveling (there are so many places to fit all the lifestyles), relocation (finding a job overseas or moving without losing an income), and living in a foreign country (adapting to a different culture and mentality). Follow me on Twitter, Facebook, Instagram, or LinkedIn!
This post might include some affiliate links. If you make a purchase through these links, I may earn a small commission at no additional cost to you. I appreciate it when you use my links to make purchases.